Laine Watches Introduce the 13ZN Chronograph Piece Unique
Sector dial powered by the Longines 13ZN.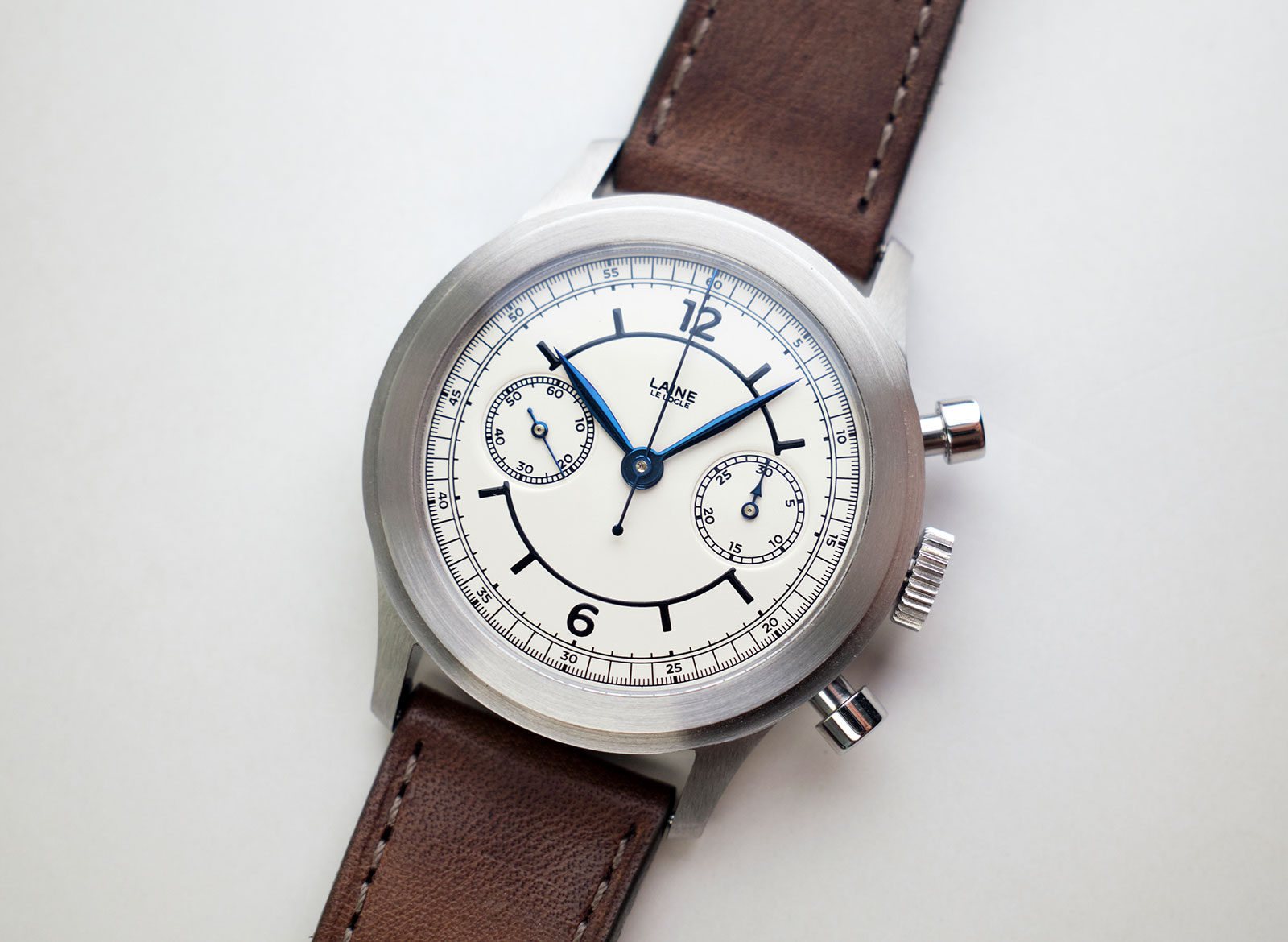 Best known for his affordable, customisable watches, Torsti Laine recently completed a chronograph that was several years in the making. Commissioned by one of his earliest clients, the Laine Watches AKIL13ZN Piece Unique reimagines a fabled Longines 13ZN chronograph movement, while still retaining originality in style and substance. The watch is powered by a vintage 13ZN movement that was rejuvenated by Mr Laine and matched with a newly-made case and dial inspired by chronographs of the 1930s and 1940s.
Initial thoughts
Even though the watch is a one-off that will not be repeated – Mr Laine is no longer making chronographs – it is a well-executed realisation of the owner's vision that is worth a quick look. And it was also done at reasonable cost, illustrating Mr Laine's focus on excellent but affordable watchmaking.
The aesthetic is clearly vintage inspired, but done with an eye for detail that clearly came from a collector. Elements like the arrow-shaped hand on the minute register, or the large, flat crown, are small yet important in establishing the pleasing, period-correct look.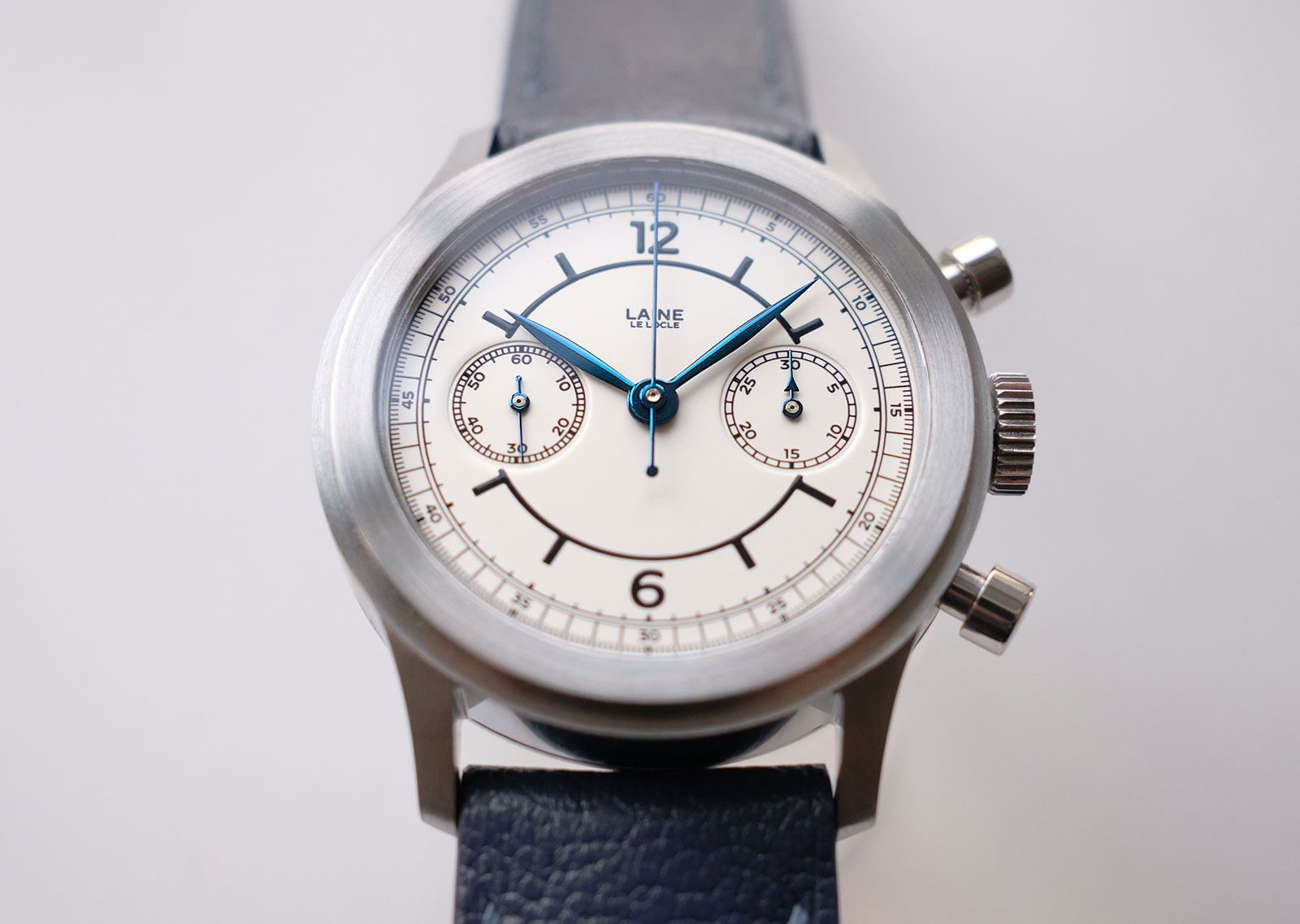 Notably, the movement is nearly identical to how it was when it left the factory, having only been modestly modified. This is contrary to current tastes in refinishing vintage movements to a modern standard, but it is sensible in both aesthetics – the vintage-inspired dial and case suit the movement well – and also cost, since extensive decoration is not necessary.
The watch is unquestionably a vintage remake, yet it also goes a step further than other remakes by incorporating an original movement, as well as getting the smallest of details right.
Origins
The 13ZN began with a collector in San Francisco, who ordered a custom watch from Mr Laine in 2018. Being Indian by descent, the collector commissioned a watch with a Hindu-Arabic numeral dial, which Mr Laine executed perfectly.
That led to the second, more ambitious project. The owner wanted to combine several elements he loved in vintage watches, namely a 38 mm case with large pushers and a "sector" dial. But most crucial was the Longines 13ZN movement – widely regarded as the finest chronograph movement Longines has ever made, and one of the finest of the era, period. Mr Laine took a bit of persuading, but finally agreed.
The first step was to obtain a 13ZN movement, specifically one with a gilt finish, which was the owner's preference. In order not to ruin a perfectly good watch, the donor movement had to come from either a homeless movement, or one that had suffered a bad redial.
With the help of a friend, the owner found a movement on eBay being offered by a seller in Texas. Originally inside a chronograph ref. 3504 sold in 1942 to Italy according to the Longines archive extract, the movement was then shipped back home almost 80 years later. It returned to Mr Laine's workshop in Le Locle, about 30 minutes from its original birthplace, the Longines factory in St. Imier.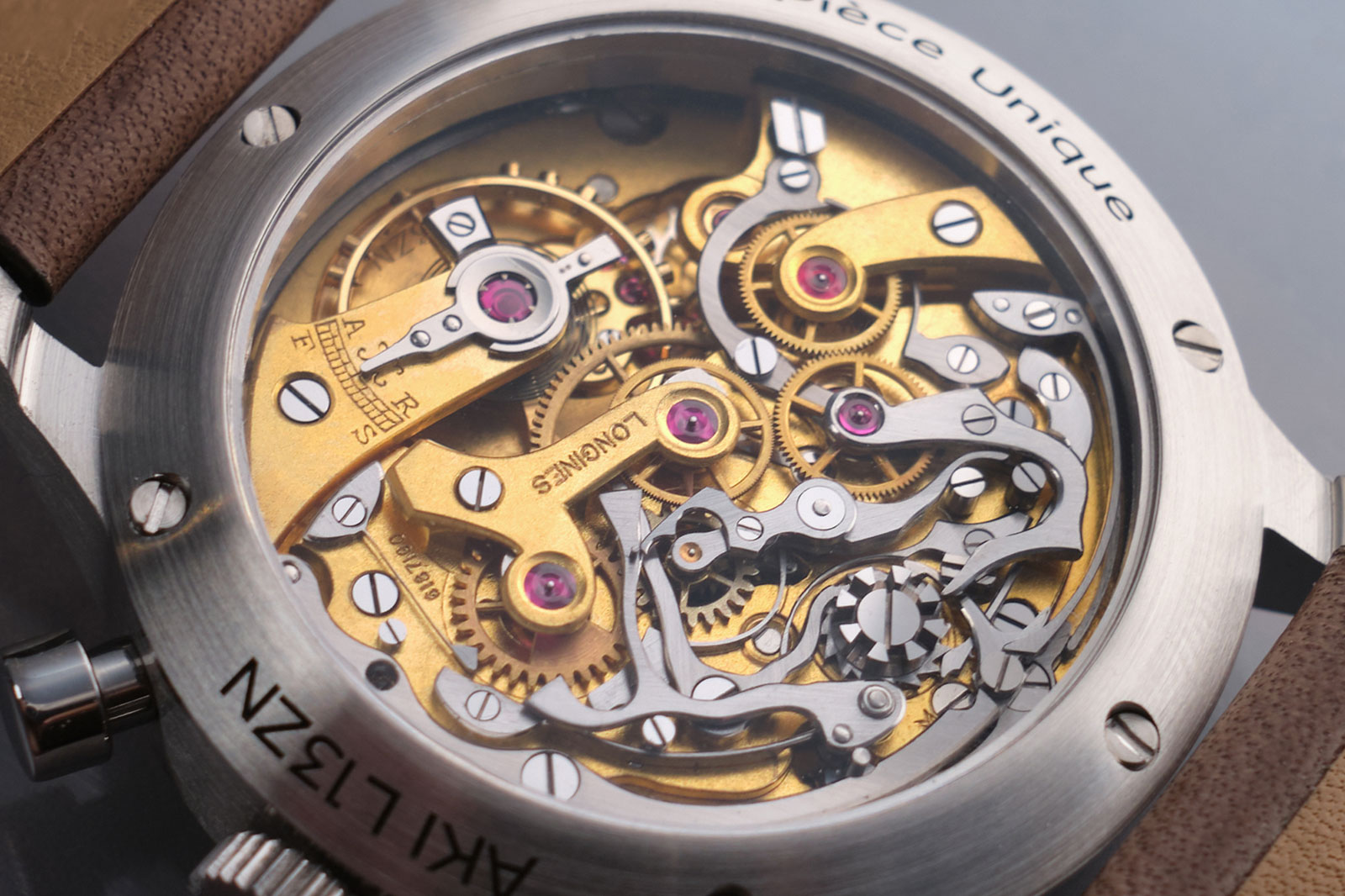 13ZN
Because the owner wanted to retain the overall patina of the movement, the 13ZN was sympathetically restored – the overall look and feel was preserved, while many of the functional parts were refinished.
Specifically, that meant keeping the frosted gilt bridges and base plate as they were, while refinishing many of the steel parts, including the levers of the chronograph mechanism that have a fine straight graining on top and bevelled edges. The result is a movement that looks like a finely-preserved vintage movement, rather than a modern take on an old calibre.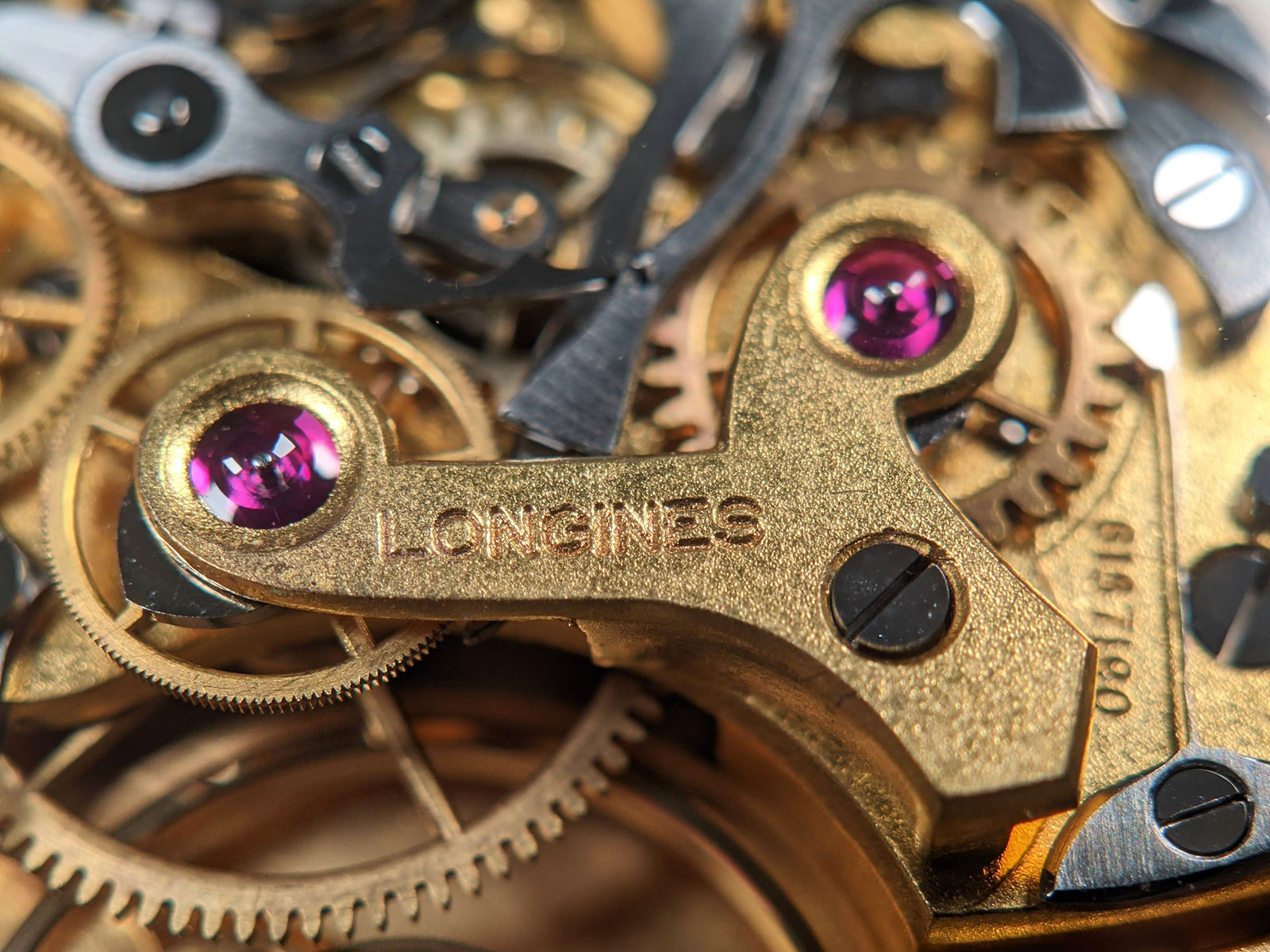 Specifically "sector"
"I looked at over a dozen vintage sector dial chronographs from both Patek Philippe and Longines," explained the owner, "I was most drawn to the ones that had no scales – tachymeter, pulsations and so on – and also a single-tone finish; I also did not want a two-tone dial."
Notably, the owner's choice of dial is not found on vintage Longines chronographs, and is instead more common encountered on watches made by Patek Philippe and Vacheron Constantin in the 1930s and 1940s.
With a clearly-defined aesthetic in mind, Mr Laine designed the dial, which was then made by dial specialist Gilwatch. Two dials were produced, one in black and the other in white, each an inverted version of the other. Both, however, have thickly printed markings in a nod to the raised, champleve enamel markings on vintage dials.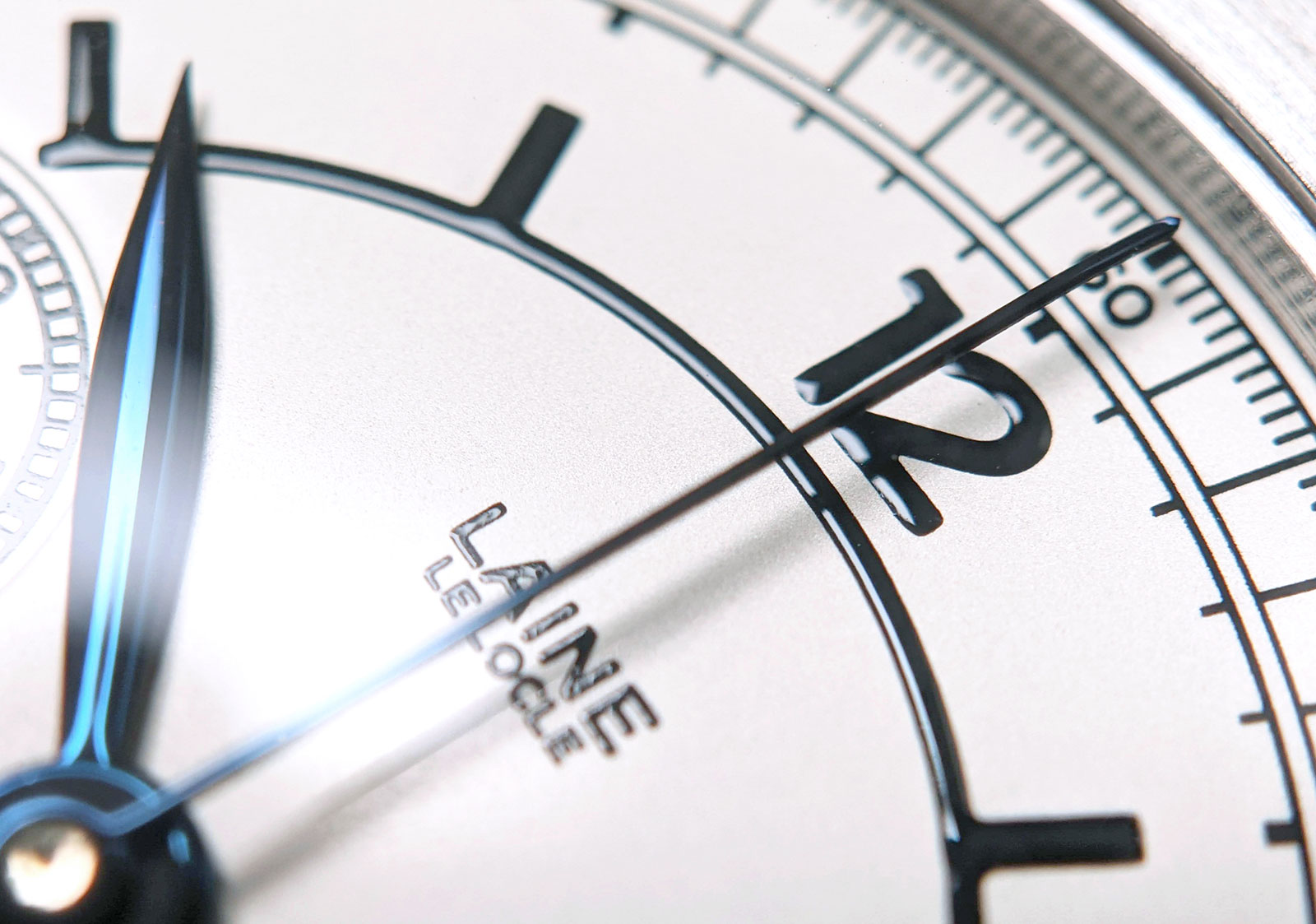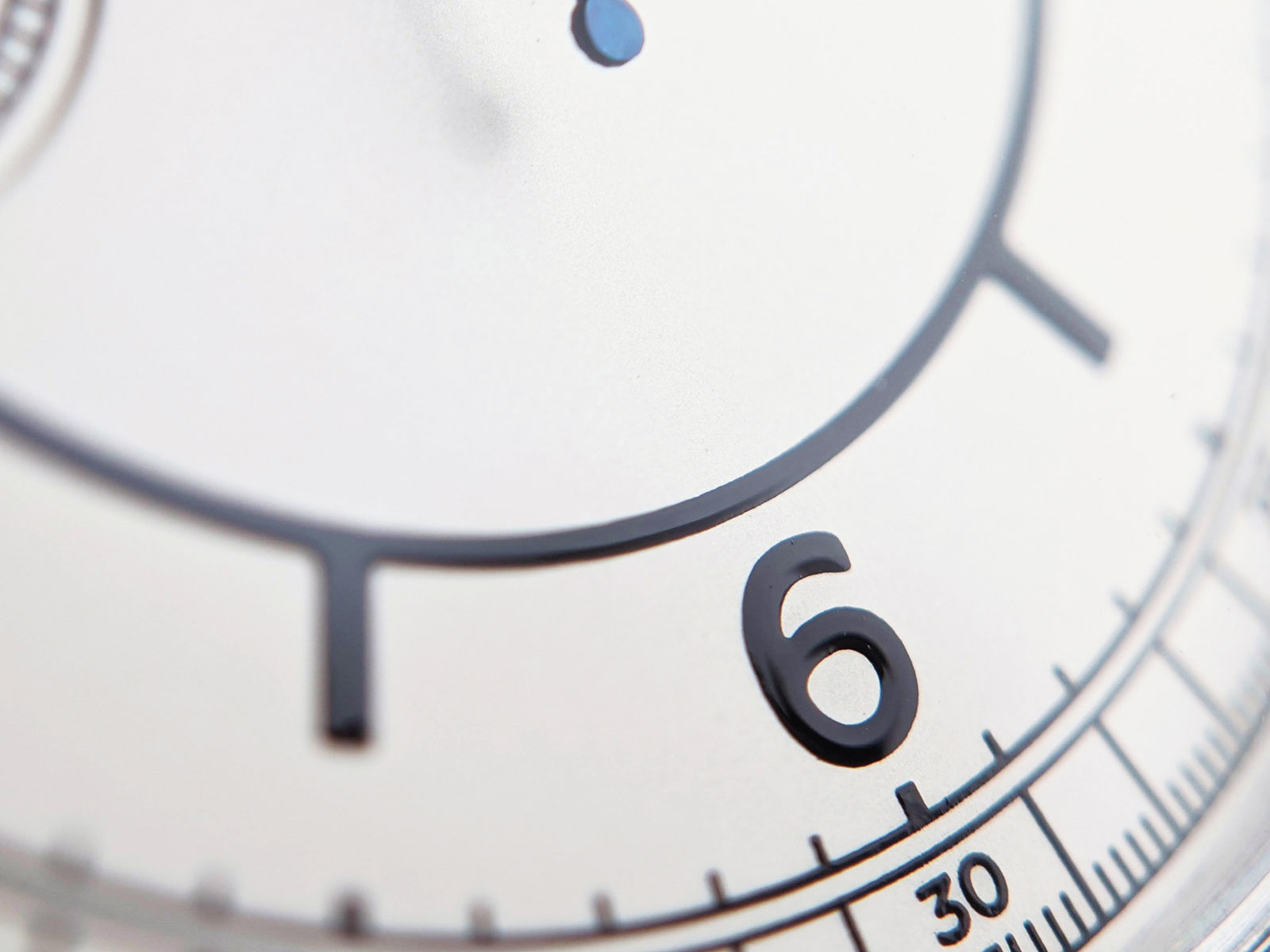 All of the hands are traditional in style and material, and were made by Mr Laine himself. Two sets were produced – one in blued steel to go with the white dial, and the other in rhodium plate to go with the black dial.
The hands were heavily inspired by hands on vintage Longines 13ZN chronographs, most notably in the arrow-shaped hand for the minute register. According to the owner, the length of the hands were particularly studied, including minutiae like the length of the tail and where exactly each hand should terminate.
Also modelled on vintage 13ZN watches, the case was hand made by a Finnish case maker, and then refined by Mr Laine – a Finn himself – who also did the engraving on the case back. With its wide, stepped bezel and "pump" pushers, the case instantly evokes watches of the era it pays homage to.
One and only
The 13ZN is a one-off – it will not be repeated for simple reason: Laine Watches has shifted its focus.
Mr Laine made his debut with a chronograph, which was powered by a vintage Valjoux 22, but he has since pivoted with focus on time-only watches with a high level of customisation on both the dial and movement. The owner of the 13ZN was simply fortunate in being present at a time when the brand was still making chronographs.
All photos by Andrew Viny, who publishes his images on Instagram as @watchingsf.
---
Key Facts and Prices
Laine Watches AKIL13ZN Piece Unique
Diameter: 38 mm
Thickness: 11.6 mm
Material: Steel
Crystal: Sapphire
Water resistance: 30 m
Movement: Longines 13ZN
Functions: Hours, minutes, and chronograph
Winding: Hand-wind
Frequency: 18,000 beats per hour (2.5 Hz)
Power reserve: 40 hours
Strap: Leather
Availability: No longer available, but Laine Watches offers time-only customised watches
Limited Edition: Piece unique
Price: 28,000 Swiss francs
For more, visit Lainewatches.com.
---
Correction September 12, 2020: The case maker is Finnish, but not based in Switzerland as stated in an earlier version of the article.
Back to top.
---
You may also enjoy these.