J.N. Shapiro Introduces the Infinity Series P.01 Guilloche Meteorite
Engine-turned space rock.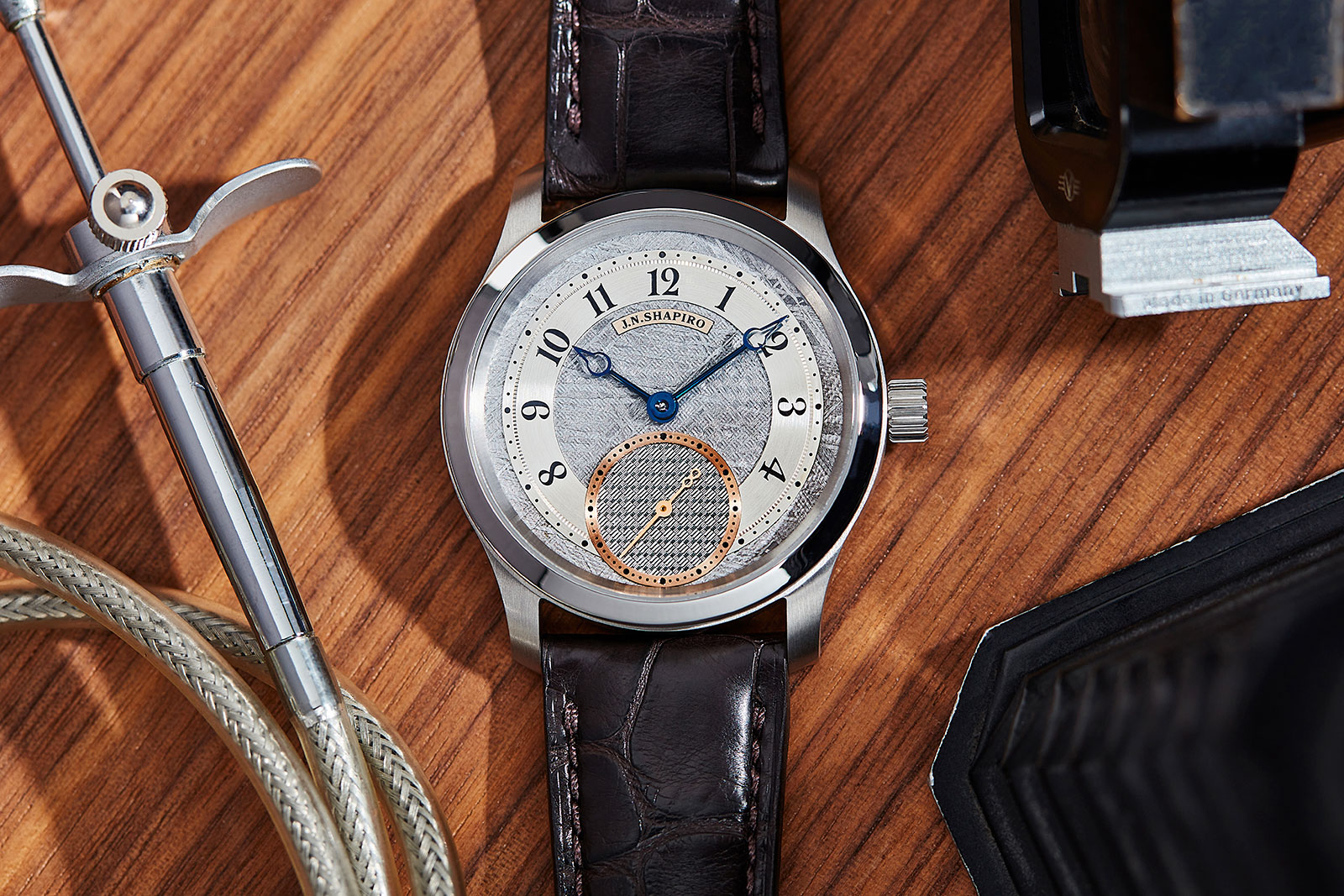 An educator turned guilloche specialist, Joshua Shapiro launched his namesake brand, J.N. Shapiro, in 2018 with the Infinity Series. a classically-styled wristwatch with a hand-made guilloche dial featuring a nested engine-turned pattern of his own invention.
His latest creation is the Infinity Series P.01, a collaboration with Collective, an American watch-collector club. Though it looks similar to the standard Infinity Series at first glance, the P.01 most definitely isn't. While it does have a guilloche dial, the dial material is not the usual silver and gold, but meteorite – a first in watchmaking.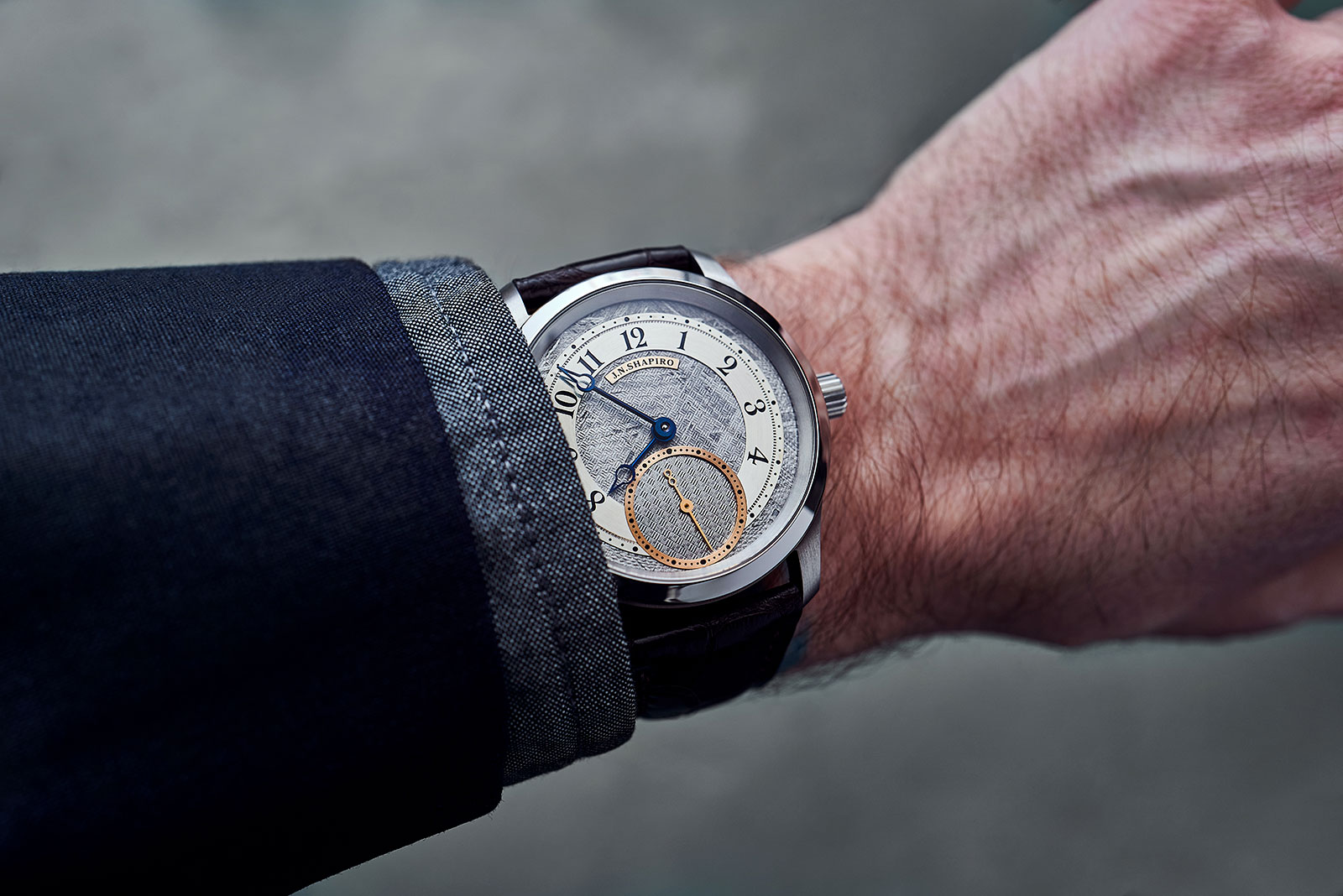 Initial thoughts
Two things stand set the P.01 apart from Mr Shapiro's work so far. The first is tangibly impressive – an engine-turned meteorite dial, a significant accomplishment in terms of craft and skill. The result is a striking surface that overlays the natural and random Widmanstätten pattern of the meteorite with Mr Shapiro's sharply-executed engine turning, which sounds confusing but appears to be a pleasing mix of order and chaos.
But perhaps more important for J.N. Shapiro as a brand is the brand-new serif typeface for the Arabic hour numerals. Designed with the help of an artist, the numerals give the watch a style that's distinct – and more 20th century contemporary – compared to the typical J.N. Shapiro watch that features Roman numerals and a Breguet-inspired aesthetic.
And the P.01 starts at US$21,500 in steel, which is not that much more than the standard Infinity Series with a silver dial, making it an eminently reasonable proposition.
The P.01 does come with one caveat: it was developed in collaboration with Collective, a private club of watch enthusiasts, and is only available to club members. That said, a representative of Collective has anyone can apply to be a member, and importantly, the watch is being sold by Mr Shapiro himself, rather than through a middleman.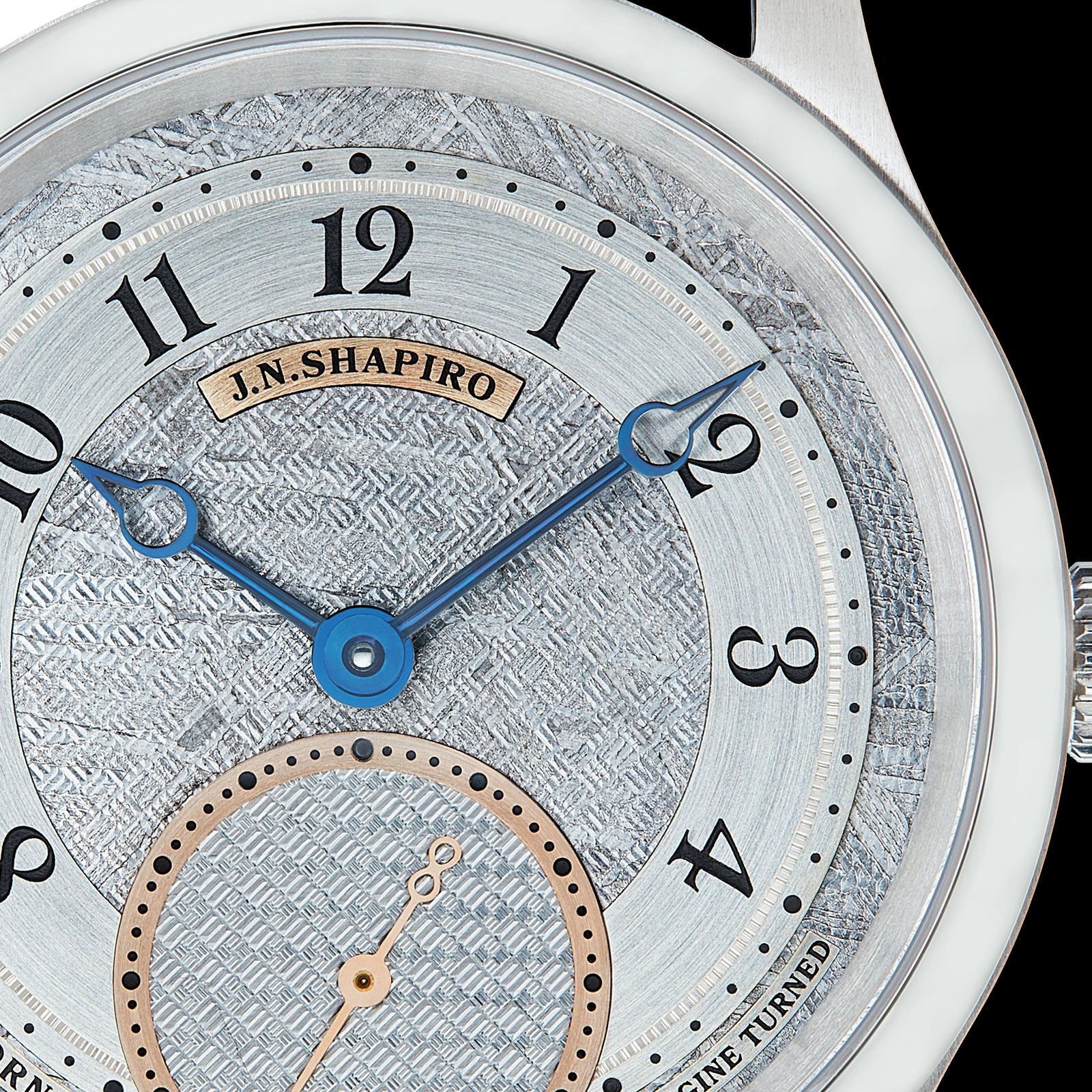 Engine-turned
Though meteorites sound like stones from space, not all of them are. A minority of them are iron meteorites, made up of both rock and an nickel-iron alloy. The crystalline structure of the nickel-iron mix within is what gives iron meteorites the characteristic, streaky Widmanstätten pattern – made vivid after slicing, polishing and etching – that makes them prized material for decoration.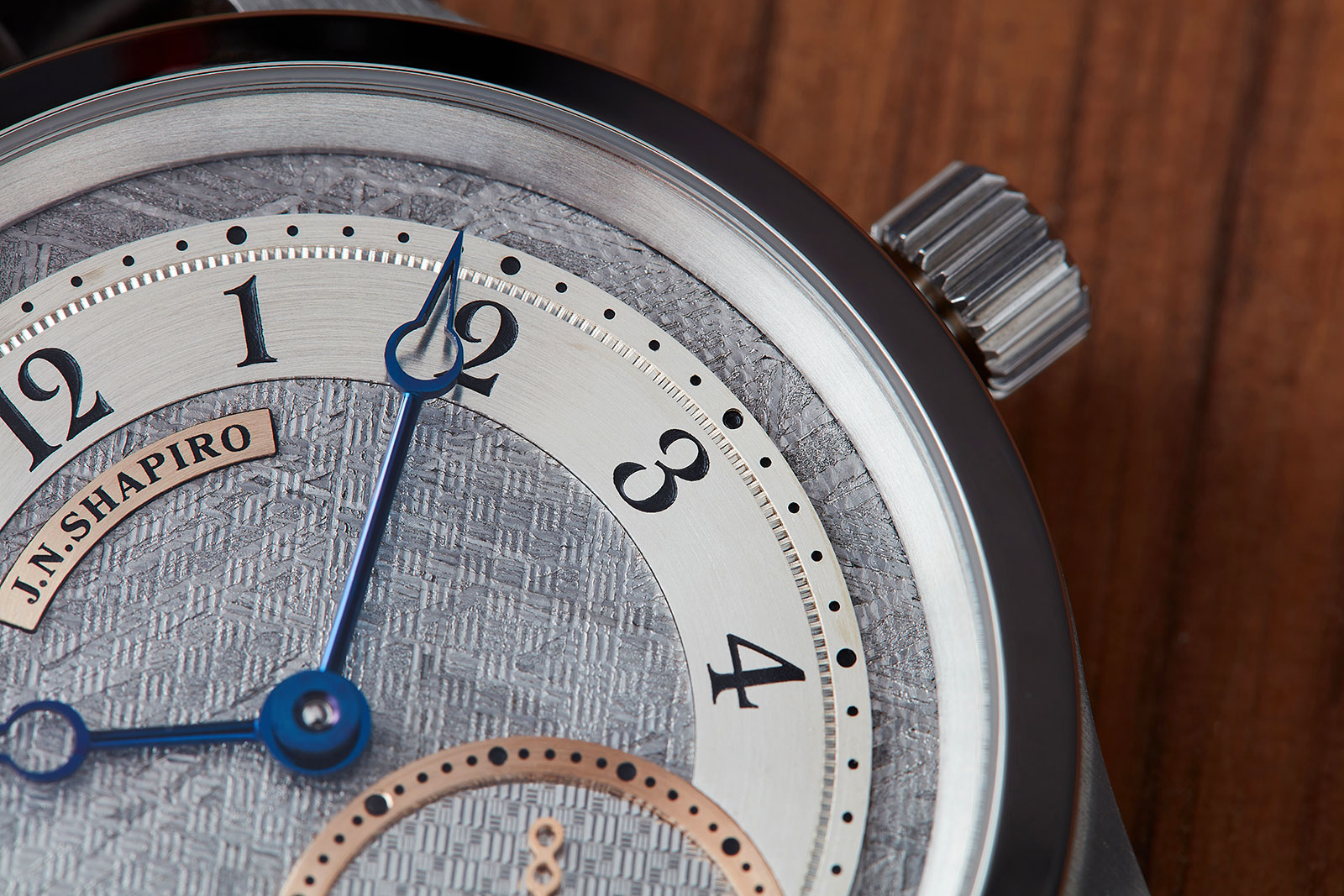 "Meteorite is both exciting and challenging at the same time… exciting because most metals I engrave on have a uniform grain structure," responded Mr Shapiro when I reached him by email, "With meteorite you are never quite sure what you are going to get when you engrave. Some of the challenges are when selecting a piece of meteorite to avoid slices with large cracks or actual rock embedded in the meteorite."
"I use Gibeon meteorite which is made up of iron and nickel," he continued, referring to the meteorite that landed in modern-day Namibia millions of years ago, "The Iron engraves very smoothly but the nickel can be quite hard and come and unexpected moments. Rock will not engrave at all and must be completely absent."
While the material is a first, the decoration is in traditional J.N. Shapiro style – engine turned with a basketweave guilloche and fitted with a silver chapter ring for the numerals. But the numerals are unique – literally – rendered in a new typeface designed by Lee Yuen-Rapati, an artist based in London, in collaboration with Mr Shapiro and a client of his.
And the sub-dial for the seconds is finished with the Infinity Weave, Mr Shapiro's patent-pending guilloche that's a nested basketweave.
It might appear to be silver at first glance, but the sub-dial is in fact meteorite. Unlike the main section of the dial, the meteorite sub-dial has not been etched with acid. A chemical process that removes a microscopic, top layer of the meteorite, etching is done to highlight the natural grain of the Widmanstätten pattern.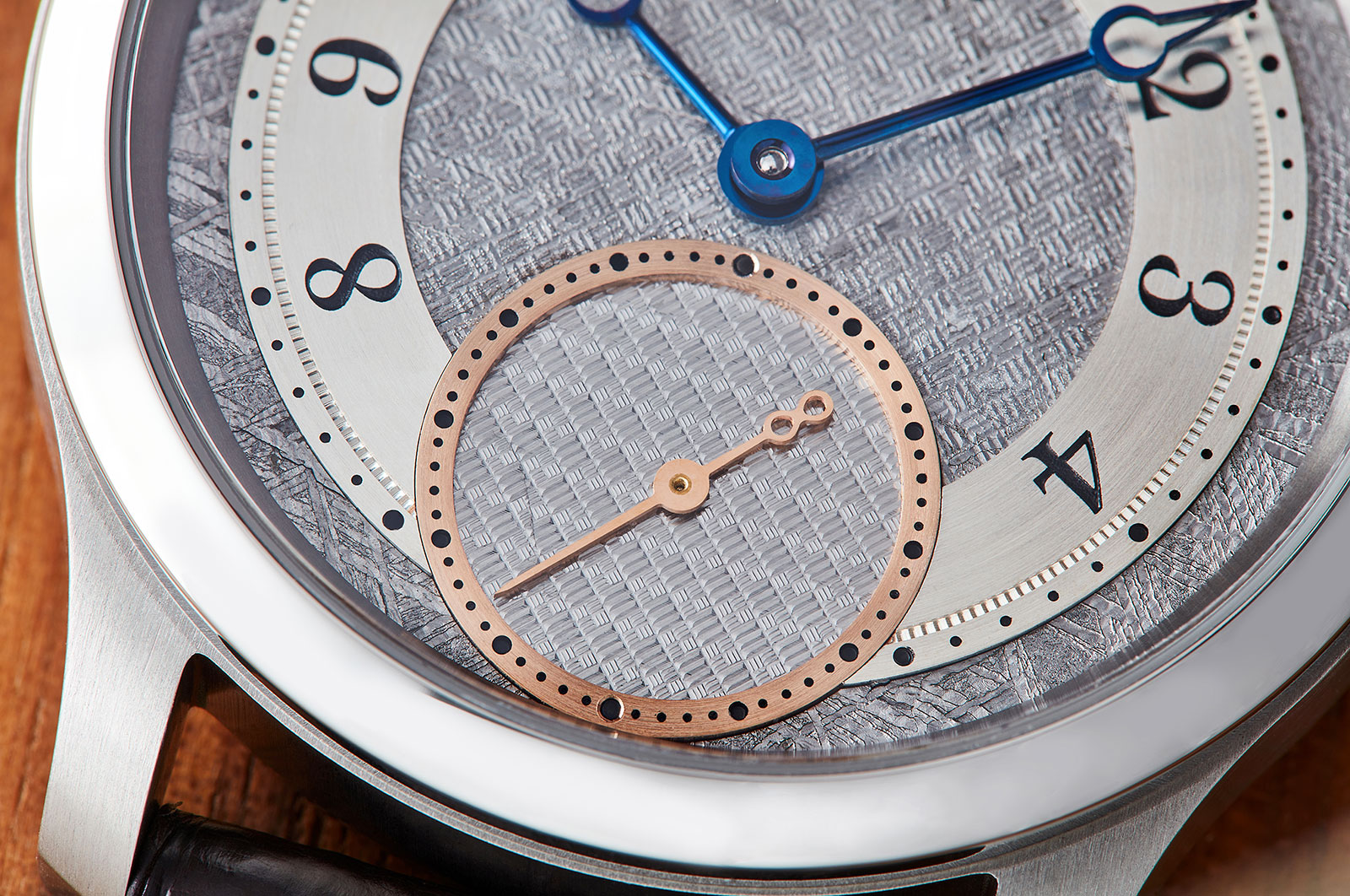 That proved impossible with engine-turned meteorite, as the etching also eliminated the guilloche. "I did the Infinity Weave then etched it in acid," explained Mr Shapiro, "The guilloche was so fine that the etching process completely removed the Infinity weave!"
"I actually had to experiment with how much etching to get a visually pleasing balance of engine turning and meteorite in the main part of the dial," continued Mr Shapiro, "Not enough etching and you cannot really see the  Widmanstätten patterns. Too much etching and the engineturning completely disappears. I decided to etch it enough where the meteorite is very obvious and you  need to look to see the engine turning."
The case is the standard J.N. Shapiro case, which is 40 mm in diameter and a bit under 10 mm high. It's available in steel, as well as 18k red or white gold.
The movement inside is supplied by Uhren Werke Dresden (UWD), the German movement specialist that's a sister company of Lang & Heyne. It's a large, hand-wound movement with open-worked bridges that reveal the going train.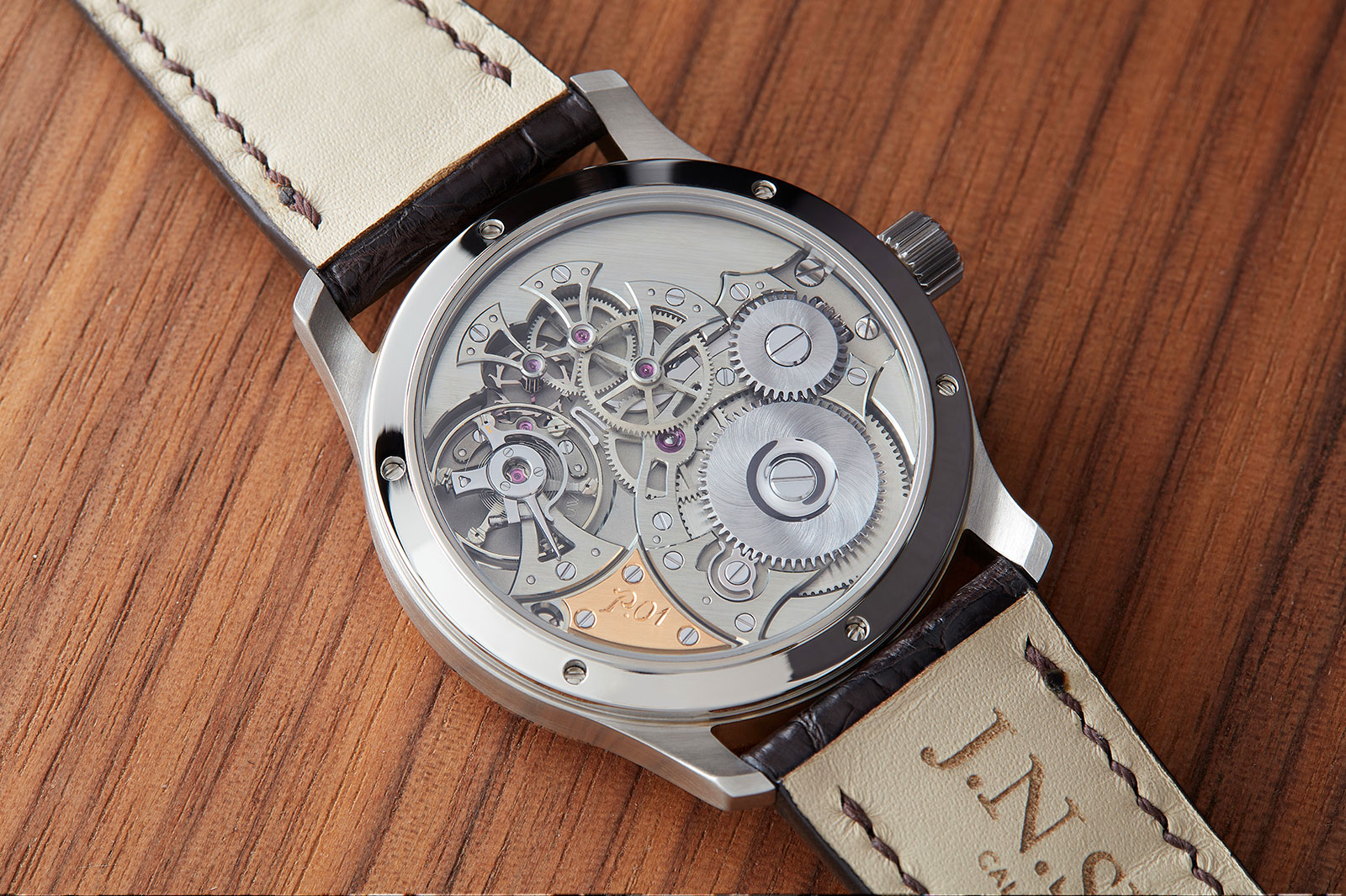 A collectors' community
The P.01 was developed together with Collective, an private enthusiasts club. Set up in 2019 by a pair of Silicon Valley tech executives, Asher Rapkin and Gabe Reilly, Collective is made up of watch collectors around the world. Its purpose is organising events for its members, as well as collaborating with watch brands on club-specific editions, the first of which was the Zenith El Primero Chronomaster C.01.
The P.01 is available direct from J.N. Shapiro, but only to members of Collective. Though membership is by invitation only, those interested can indicate their interest via the club's website.
---
Key Facts and Price
J.N. Shapiro Infinity Series P.01
Diameter: 40 mm
Height: 9.75 mm
Material: Stainless steel, rose gold, or white gold
Crystal: Sapphire
Dial: Meteorite with guilloche
Water-resistance: 30m
Movement: UWD 33.1
Functions: Hour, minutes, and seconds
Winding: Hand-wind
Frequency: 21,600 beats per hour (3 Hz)
Power reserve: 53 hours
Strap: Alligator leather
Limited edition: 10 watches
Availability: Direct from J.N. Shapiro, but only to Collective members
Price: From US$21,500 in steel
For more, visit Jnshapiro.com.
---
Back to top.
---
You may also enjoy these.