Interview: Edouard Meylan, CEO of H. Moser & Cie.
On hairsprings, in-house production, and the upcoming chronograph.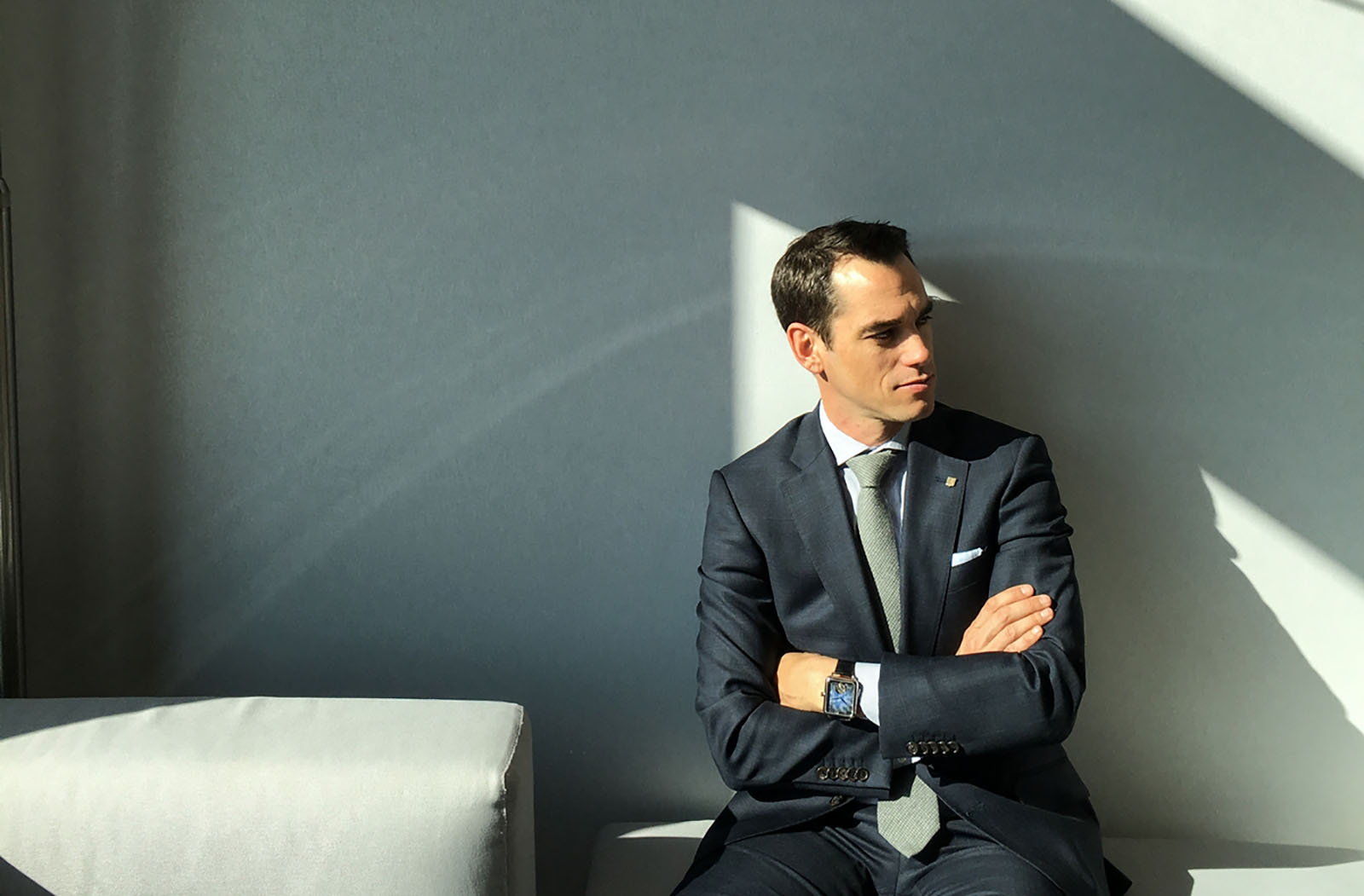 Since Edouard Meylan took the top job at H Moser & Cie. in 2013, after his family acquired the struggling brand a year earlier, he righted the ship and the brand is now forging ahead with technical ambition and a surprising degree of commercial nous.
Wielding a Wharton MBA, Mr Meylan devised creative, and at times, controversial marketing campaigns – from the "Frankenstein" watch to one covered in grass – that have allowed Moser to punch above its weight as a maker of just 1,500 watches a year. Yet Moser has retained its technical know-how that has allowed it to refine its signature perpetual calendar, amongst other things.
That's aided by the fact that besides Moser, the Meylan family interests also control its sister company Precision Engineering, via a 90% ownership of the holding company Moser Watch Holding. The component specialist produces hairsprings, as well as other key movement components like escape wheels, pallet forks, and balance wheels, supplying Moser as well as a host of the independent brands.
During his recent visit to Singapore to inaugurate the newly inked partnership with retailer Cortina Watch, we sat down with Mr Meylan to discuss a spectrum of topics, from his mischief-making promotional activities to the firm's manufacturing, as well as the soon-to-be-launched chronograph.
The interview was edited for clarity and length.
---
When you took over the company seven years ago, it was struggling financially and suffered from manufacturing issues. How did you fix it?
Production, first of all. Moser was a very traditional manufacture with a lot of people and machines. We have a much leaner organisation today – 65 people. At that time, it was almost 80. But we produce three times as many watches today, so we have become much more efficient.
We invested in new machines, in quality control and systems, so the processes have improved tremendously, and consequently, the quality and reliability of our watches have also improved. For instance, we implemented systems like Lécureux tables [a specalised type of workbench], with each station optimised for production of one part and is able to produce it in batches.
And we have younger watchmakers today, so it is a lot easier. We had to be strict about that as older watchmakers tend to be very resistant to change.
We also worked a lot on the product range, it is much wider. Now we have an entry-level tier at around US$11,900, and we have automatic movements. But we have also created much more expensive watches – jewellery watches and complications such as the tourbillon and minute repeater, and soon a chronograph.
We also developed very strong Moser design features. The fume dials, for instance, have become extremely strong – they were a crucial element in our rejuvenation. We also worked a lot on the straps, as it adds a lot of personality and character to the watch. The diversity and new materials is sometimes a logistical nightmare, but they brings a lot of excitement.
In terms of branding, we created a language for Moser that is different from the others, and it doesn't just appeal to watch collectors. Far younger consumers have discovered the brand. We also brought a more human dimension with our sense of humour, provocation and activism.
Your guerrilla, start-up style of marketing isn't common at the high-end of watchmaking. Why do you believe such an approach works?
Because you cannot be mainstream if you want to stand out. As an independent brand, you have two choices – either you stand out by being different and creative, or you'll have to spend a lot of money on advertising and creating visibility.
Well, we don't have that kind of money. So, we have no choice but to be different, creative, and at times polarising, so that people can never compare our brand to another. Some people might hate us, but that means some others will love us. And that is the key to success for an independent brand.
What are some of the other challenges you face today as a small, independent family business?
Distribution is a challenge as you need to fight for space. Yes, we're growing and growing fast, but at the same time, there are a lot of big brands who are looking for more and more visibility, and small brands like us would be left in the shade.
It is less of an issue in Singapore because there is a very mature market that understands independent brands, but there are many other markets where even industry professionals have no idea about independent brands.
Moser has worked with Andreas Strehler in the past. Will you continue to work with partners?
We still do and will continue to do so.
There are two options to develop a new movement: you can either work with experts who know what they are doing, or you try to do everything internally, blow a couple of million francs, spending many years developing a movement that is not as good as the best out there, and then having to deal with reliability issues. We don't want to make those mistakes.
For instance, we haven't mastered minute repeaters; we worked with Pierre-Laurent Favre and his team [at MHC Manufacture Hautes Complications] in Geneva. We are very transparent about it and the watch has been a great success.
And now we are working on a chronograph and we are working with an external movement maker on that.
Today, Precision Engineering develops most of the movement parts including the modular escapements and Straumann hairsprings, right?
Yes, especially the double hairsprings. We are now also producing cylindrical hairsprings. You'll see it in our watches – which will be launched before the end of the year – as well as in some other independent brands. So you'll see more and more of those on the market; we do many of them.
We have also been working on the paramagnetic hairsprings. When we announced it in 2016, I thought everyone would think this is the future, but the reaction was subdued. However, now all the big brands are coming to us for the technology. It's surprising to me that it took two years to catch on.
The idea of modular escapements is very smart. But with Precision Engineering, there is a lot of potential to take escapements even further, like what you probably have done for other, bigger brands. What are your thoughts?
We can, but it is a lot of investment; we need new machines, tests and everything. We need volume [to make it viable], which we don't have ourselves. Right now, we have gone through a few phases of the paramagnetic niobium and titanium hairspring.
It is easy to do a small series like what we have done for bigger brands, but industrialisation is a different level of investment. So we are in discussion with much bigger partners to industrialise it.
Is Precision Engineering also capable of producing silicon components?
We do supply, but we work with [parts specialist] Mimotec. For instance, people come to us saying they want a movement with a PE4000 [a proprietary alloy] hairspring but with nickel phosphorous and silicon parts, so we would go to Sigatec for silicon and Mimotec for nickel phosphorous.
But every client is different. We've done work for some of the biggest brands, but in small volumes, because people cannot go to [industry giant] Nivarox and order just 100 or 1,000, or even just 10 hairsprings. We have even requests for one hairspring. If you went to Nivarox, they would laugh.
Having developed paramagnetic alloy hairsprings, where do you stand on silicon?
It has a great future for a certain range of watches, particularly the entry level. I think niobium-titanium is the future of high-end watchmaking.
The reason being it is very difficult to adjust silicon hairsprings. Basically, you use it as it is, so you need a very industrialised movement. Whereas niobium-titanium is pretty much like Nivarox, where you can do the fine regulation, adjust the curves and so on.
Apart from movements, are fume dials done in-house too?
No, but we will eventually, because it is our signature and there are so many people doing it right now. But we need the volume to do that. We do our own hairsprings and escapements, but cases and dials are another investment that we cannot afford today. But if we continue to grow, one day we will.
Now onto the watches. One of the watches that flew under the radar this year was a diver with a "ghost" bezel and a fume dial. I caught a glimpse of it on Instagram. What happened to that?
We didn't want to launch it, but it kind of launched itself by accident.
Remember a year and a half ago, we created the Swiss Icons watch with a rotating bezel and metal bracelet? Well, that backfired [and Moser was forced to withdraw it], so instead we created a few of these divers which were a little bit different, more muted with a "funky blue" dial.
We had no intention of commercialising it, but at SIHH we left it on a tray of prototypes to show retailers and get some feedback. The problem was somebody left it on the wrong tray, so when I looked at the sales report, I was like, what is this reference? The team was telling me how it was a great success, and that they sold 50 pieces.
So we had no choice but to deliver them, and they are now sold out. We didn't announce it to the press, but people still came to me and asked about this watch.
Will you eventually produce a variation of it?
No, it is just those 50 pieces. That's it.
It wasn't what I wanted as the first Moser with a metal bracelet because we are working on another watch with an integrated bracelet. Customers can buy the Pioneer with a metal bracelet if they want, but the diver was a "one-shot".
Launching a variation of that or another diver is not in the pipeline. I had the idea of creating the most minimalist diver, but not now, maybe one day.
We are working on a model with a 120m depth rating, but not an actual diver.
I have heard talk that a respected movement maker in Geneva is working with you on a new chronograph. How is that going?
It is going well. The case is a bit of a gamble because it really is a new design for us. The movement is complete, but we don't know how people would react to the choices we made in terms of design.
We will have the first prototypes soon, but we will be launching it only next year. So, we'll be launching the chronograph as well as the new steel model with a shaped case and an integrated bracelet.
---
Back to top.
---
You may also enjoy these.