Interview: H. Moser & Cie. is Back on Track, Says CEO
Edouard Meylan is upbeat on Moser's prospects after turning the company around and tells us what's next.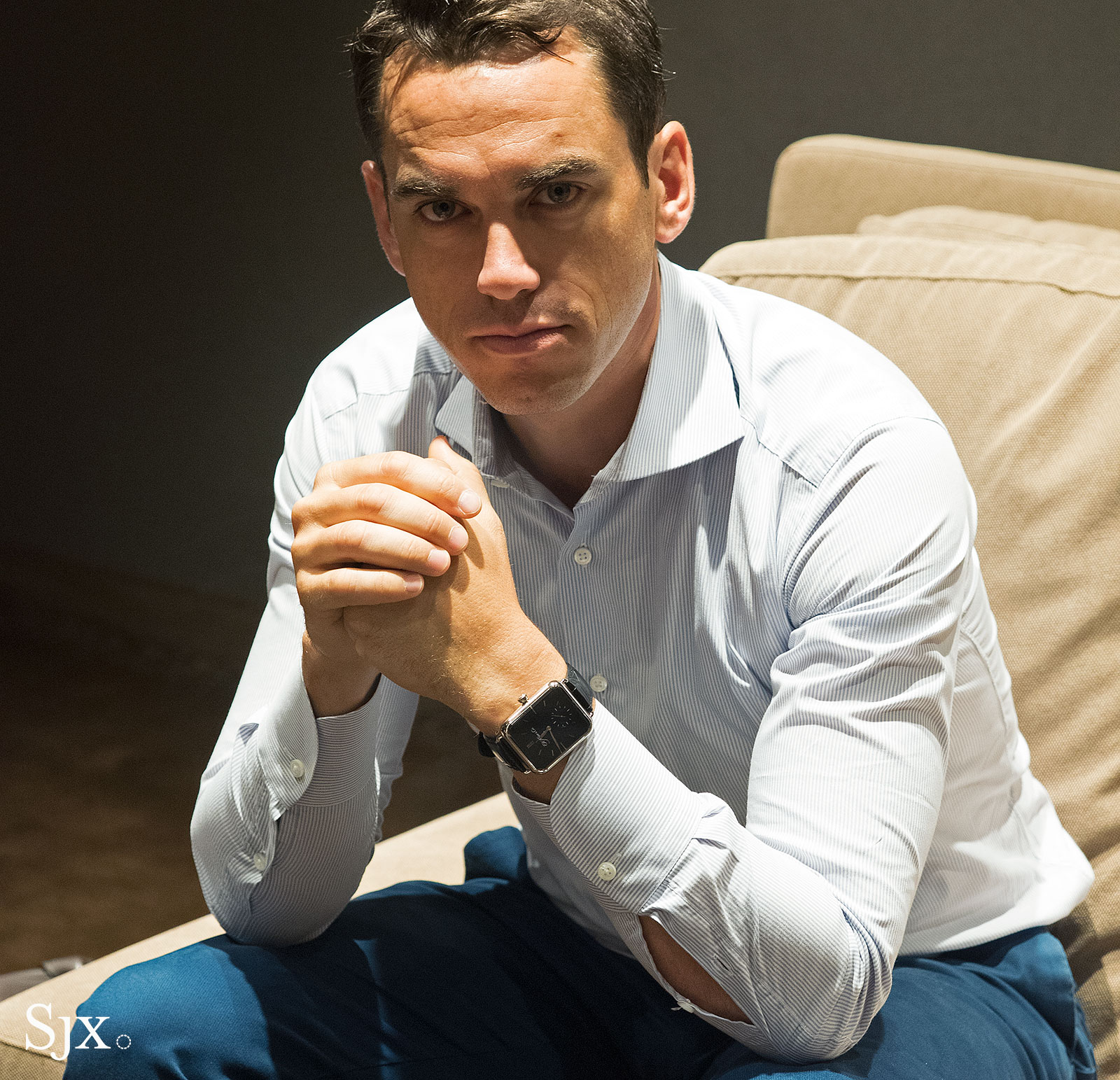 Edouard Meylan took the helm at H. Moser & Cie. in 2013, a year after the struggling watchmaker was acquired by his family's investment firm. Beloved by watch enthusiasts for its clever and proper watches, Moser was at the time a failing proposition financially, having cost its previous owner some SFr100m according to contemporary news reports.
Your correspondent spoke with Meylan shortly after he took on the top job at Moser, as he outlined plans to get the brand back on track. Three laters later, Meylan is almost ready to declare mission accomplished with Moser's turnaround, and on a recent visit to Singapore he shared with us the watchmaker's strategy to stay on track.
Interview was edited and condensed.
---
Investing in brand building and viral marketing
In Asia we invested in marketing, even though the market was going down – that [boosted] demand for us.
The launches we did with concept watches and the Swiss Alp Watch meant we created demand amongst early adopters who have been very visible [with their Moser watches] on social media. Those opinion leaders started looking at Moser again. Demand creates demand – the more [opinion leaders] like it, the more the buy it, the more other people see it, the more we get orders.
Now we are on the breakeven point, but with marketing expenses I'm not making any money. So it's a question of how much I believe in the future. We were losing so much money three years ago, now it's breakeven but at the same time we believe so much in it that we want to grow further.
Limited editions…
[Limited editions are] part of our strategy, which is that Moser is very rare. Some people see it as opportunistic to make limited editions, but at the end of the day you want to buy something that you don't see everywhere.
I can say my production is limited, that's one point. When I say this is a limited edition, it's another. We have that flexibility. We might do 20 in gold, five in platinum, and three in palladium. We do such things and it creates demand because people want something special.
Even if you buy the most produced watch in our collection, there are maybe 200 [produced to date]. And that's the small second, red gold, silver [dial Endeavour]. If you put [the numbers] in perspective, people will better understand our positioning.
Our objective is everybody who buys a Moser should understand how many are produced. The only way to do something like this would be to have an application that gives you those numbers, that pulls figures out of our [database], putting it in the shops or [allowing access to Moser] owners. We are working on something like this.
And exciting new complications
Next year we are going to relaunch the Perpetual Moon, which is a movement we have already, but there's also going to be another complication, a jumping hour. And we are working on a chronograph and a minute repeater, but those are far off. 
But keeping them very rare
We are never going to be at 10,000 watches a year. Our objective is to have a certain stability [in revenue]. At 1000, 1500 watches a year, it's a fight as recurring revenue can change very quickly. You do a bad design one year and you have a difficult year; you do a great one and you have a great year.
You want to get to a point where it's recurring, so you can really so you can focus on the long term and brand building. That's why we need a critical size and we're not there yet. We don't want to stay a niche brand of a few hundred watches, we want to be anywhere between 2000 and 3000.
We are in many markets the biggest of the niche brands, but we want to be in all markets the smallest of the established brands.
Entry-level watches? Not yet.
I have doubts around the business model of [focusing on entry-level watches]. Let's say for brand X the entry level is SFr20,000 in gold, and tomorrow I launch a product at SFr10,000 in steel. But in the meantime I have the same number of shops and the same number of people working for the brand. Am I going to sell that many more watches that it's going to compensate for the fact that I am going to sell less watches? I don't think so.
[An entry-level line] has to come gradually, and if possible it has to be a new collection. For example Piaget is trying something [with the Polo S]. We might question the design, but at least they didn't have [a steel version of] the [existing models] in gold.
For Moser we are really well priced for gold watches, so I'm not planning to have a huge series in steel. We're working very hard to one day have the possibility of something in our Pioneer collection in steel. But the price will then have to be right, our movements being very expensive and high quality.
Two years ago if I wanted to make a steel watch, the entry-level for us would be SFr17,000. Today we slowly managing to get some [production efficiency], so eventually if we can be within SFr9000 and SFr11,000, we might [go there]. But for that we need the right [distribution] network, because you need volume, and we don't have that network yet… with few points of sales.
The horological equivalent of "Intel Inside"
A lot of work is being done with hairsprings, with new curves, new materials. We will launch a new hairspring material this year, one that is not a common material but something that takes the best of silicon and the best of Straumann [the proprietary hairspring made by Moser's sister company Precision Engineering].
[Our hairsprings are] very successful except when the markets go down, then we are a supplier like everybody else [Precision Engineering being about 20% of the group's turnover]. We can tell that the watch brands are suffering, because many of our clients are postponing orders. It's not an easy business because we are in the supply chain.
So we need to innovate, and it's important to build a strong brand [and Straumann] should really be a label of quality. So that's the project for the next few years.
We work with great brands, many don't want to mention us, but some do. In the near future with the innovations we are bringing in and building a brand, I want brands to be proud to say: 'Hey, we don't have a standard hairspring, we have Precision Engineering'. That should give them the power to put a premium on the price of the watch… [just like] 'Intel Inside'.
---
Back to top.
---