Introducing the Hasta la Vista Revolver 8-Day Table Clock
By L'Epee 1839 and The Unnamed Society.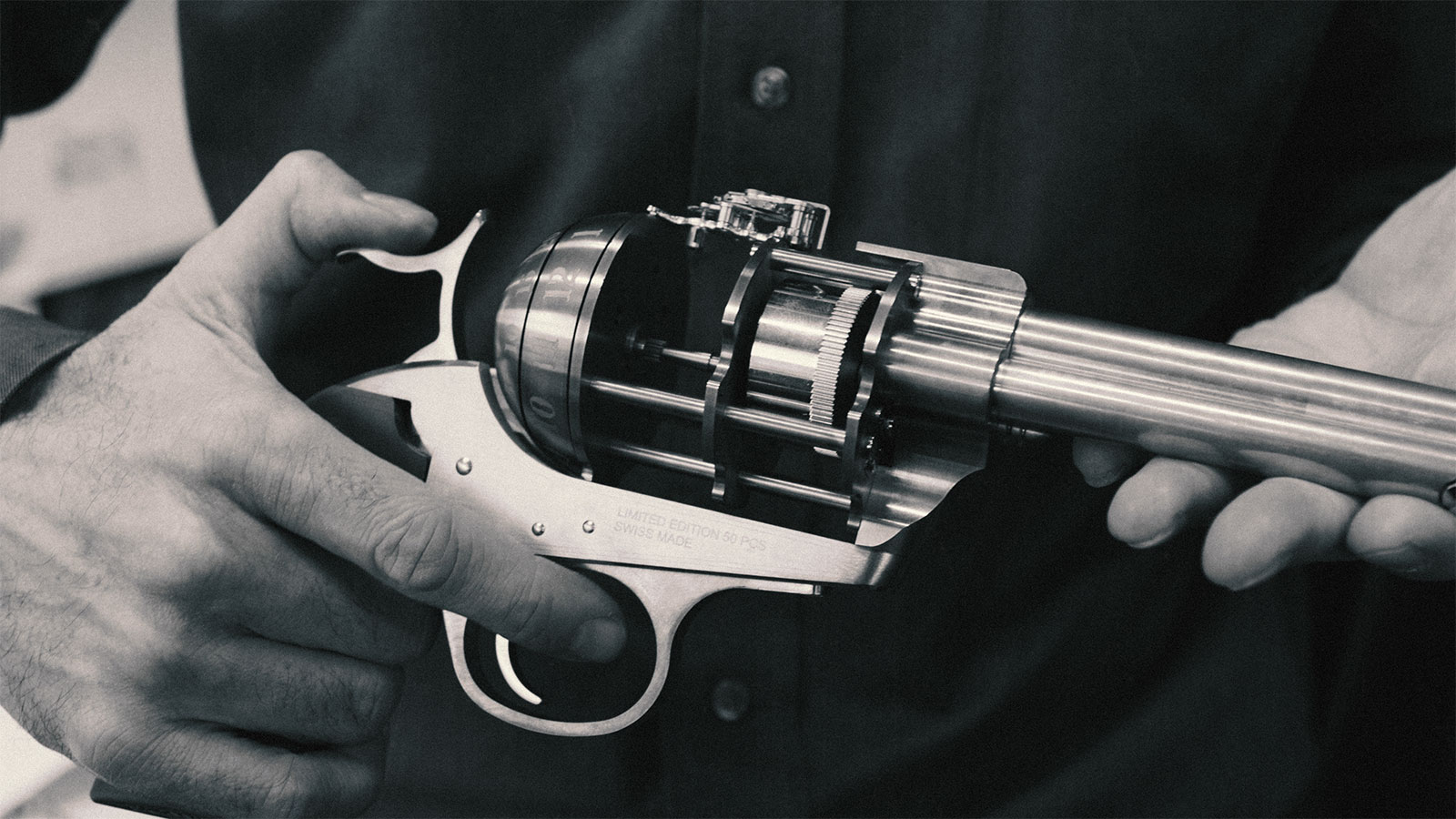 A recent startup dedicated to creating unusual objects, The Unnamed Society makes its debut with a table clock shaped like the Colt Bisley Model revolver of the early 20th century. The clock is produced by L'Epee 1839, the Swiss clockmaker that is responsible for practically all of the unconventional and avant-garde mechanical clocks of recent years, most famously those designed by MB&F but also Chanel. But it's undoubtedly the success of MB&F's sci-fi clocks that have compelled various brands, old and new, to develop their own L'Epee 1839 clocks.
Named Hasta la Vista, "goodbye" in Spanish, the clock is the shape and size of an actual revolver, measuring 350mm or just under 14 inches long. It's made of steel and palladium-plated brass, and can be mounted on its accompanying base either via the grip or the barrel.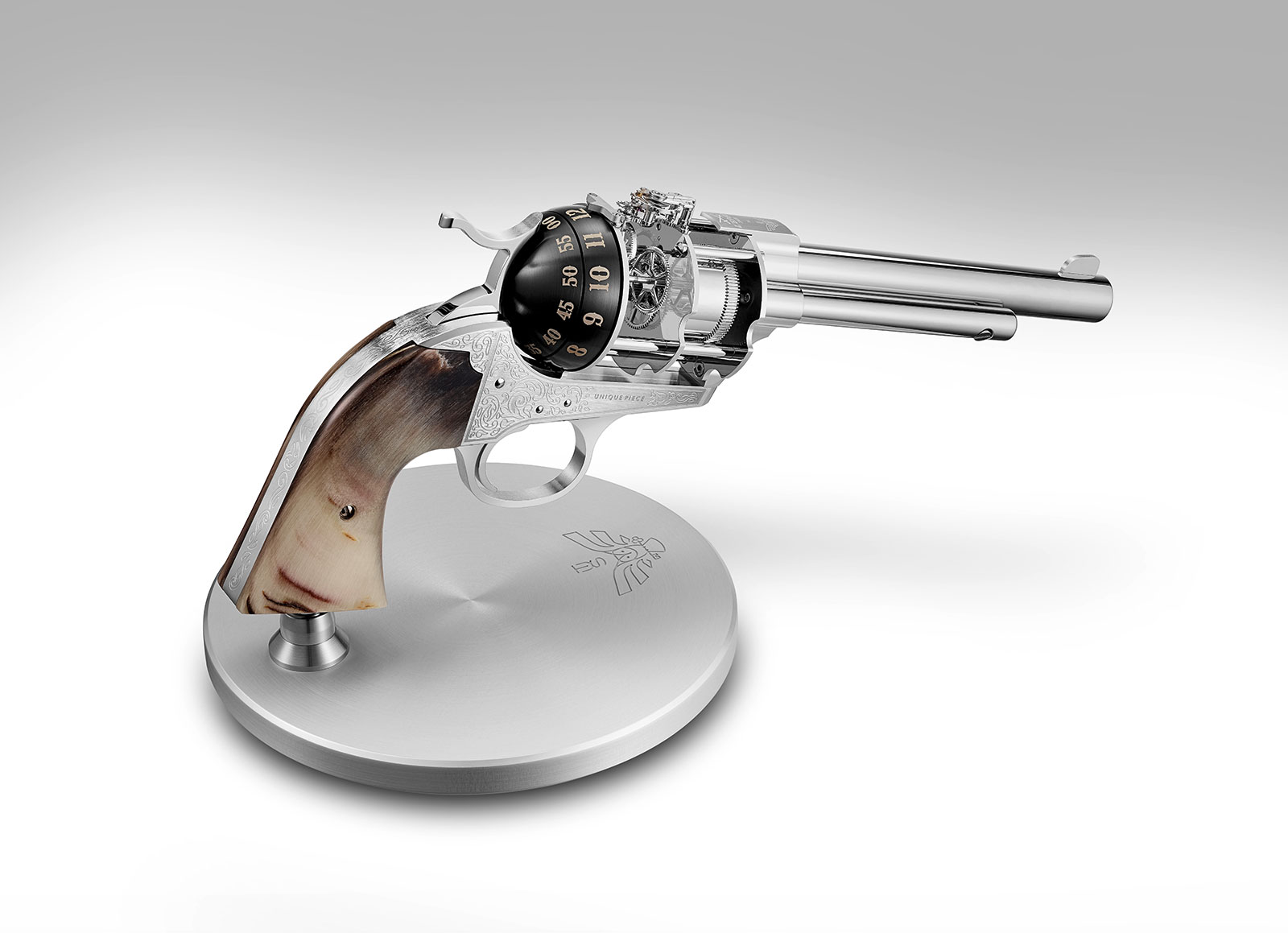 Mechanically it is identical to the 8-day clocks L'Epee 1839 has produced in other shapes and sizes.
The time is indicated by two revolving cylinders – one each for the hours and minutes – that take the shape of the rear section of the pistol frame. The escapement, wheel train and mainspring are where the cylinder (which contains the bullets) would be. Winding is accomplished by a key that's inserted into the end of the barrel.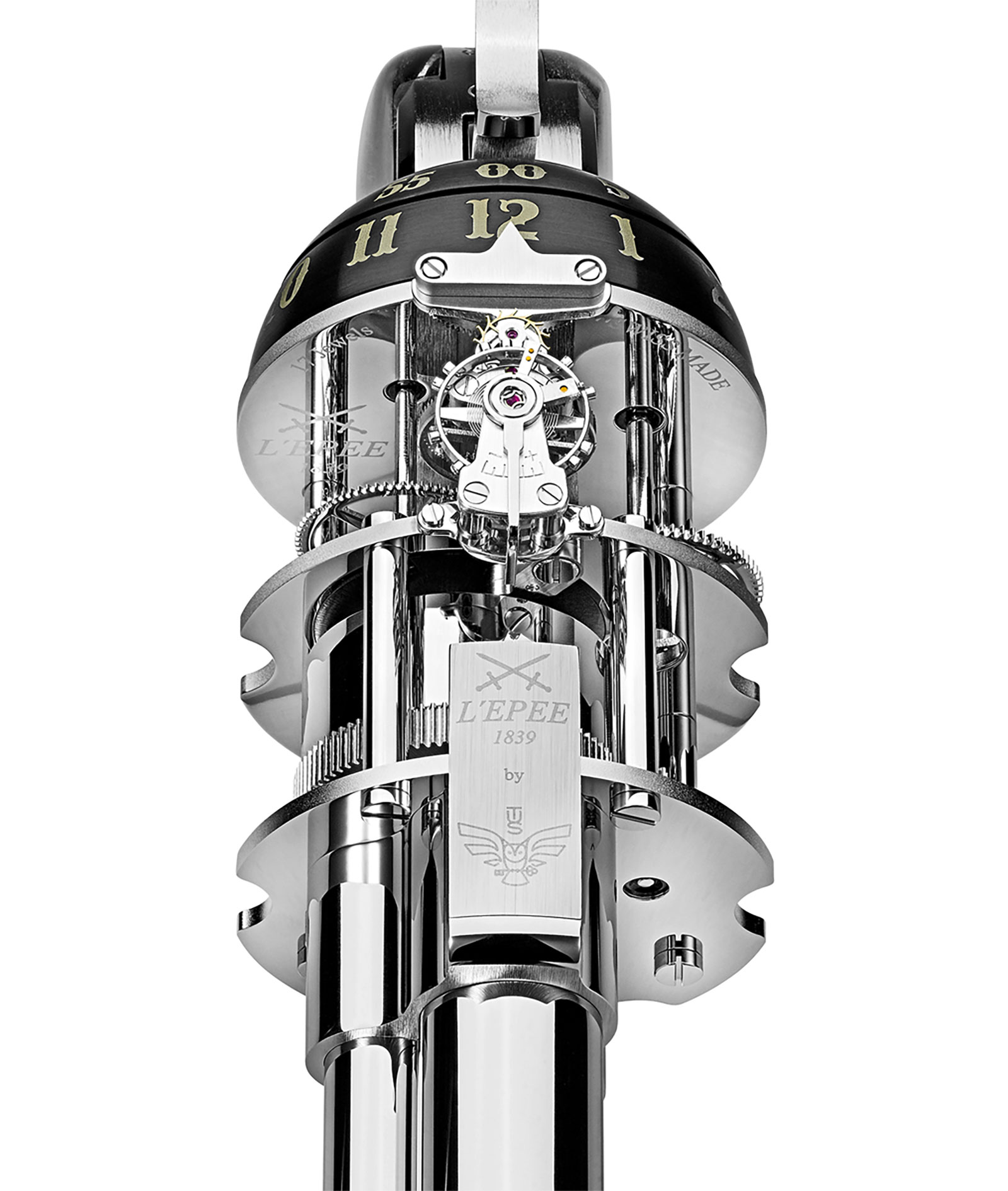 Though it's a limited edition of 50, each clock can be customised with a variety of options offered for the grip, including leather or animal horn, as well as assorted decoration for the frame, including engraving and precious stone setting.
---
Key facts and price
Hasta la Vista table clock
Material: Steel and palladium-plated brass
Dimensions: 350mm length (pistol), 60.5mm diameter (base)
Weight: 3.3kg (total); individually 2kg (pistol) and 1.3kg (base)
Grip: Exotic skin or animal horn
Decoration options: Wood inlay, precious stone setting and more
Movement: Calibre 47
Functions: Hours, minutes
Frequency: 18,000bph (2.5Hz)
Winding: Key wound
Power reserve: 8 days
Availability: Limited to 50 pieces
Price: US$31,000
For more, visit Lepee1839.ch.
---
Back to top.
---
You may also enjoy these.