Baselworld 2013: Konstantin Chaykin Cinema – motion picture animation wristwatch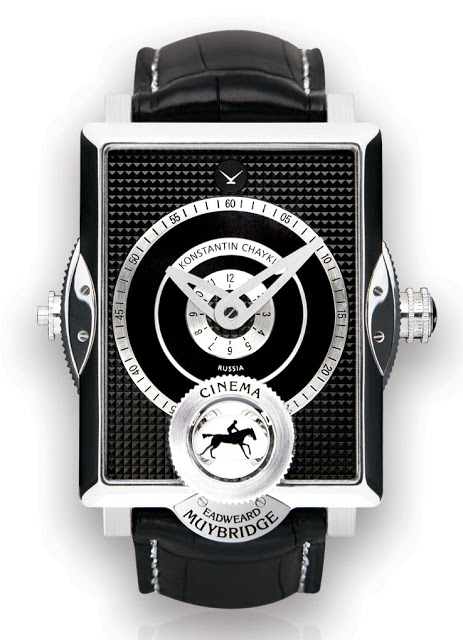 Russian independent watchmaker Konstantin Chaykin presents the Cinema, a wristwatch incorporating a zoopraxiscope. This shows a short animation of a rider on a galloping horse, visible through the window at six o'clock.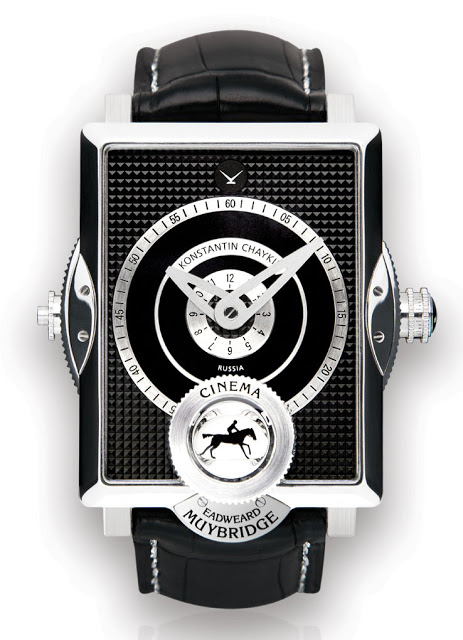 With a steel case shaped like a vintage camera, the Konstantin Chaykin Cinema Watch contains an animation mechanism with a disc, which is engraved with 12 images of a galloping horse. The disc spins at the rate of one frame per 0.07 seconds in order to create the animation. This mechanism is activated by the pusher at nine o'clock. Viewed through the aperture at six o'clock, the animation shows the horse in much as the same style as an old-fashioned motion picture. Also built into the animation mechanism is a shutter which blocks off the first few seconds of the animation to prevent a blurred image from appearing as the disc just begins to spin. Created as a tribute to Eadweard Muybridge, the 19th century photography pioneer, the Konstantin Chaykin Cinema Watch has two movements, one for the time and the other for the animation. Each movement has its own barrel, both of which are wound by turning the crown in different directions, clockwise for the time and vice-versa for the animation. The time movement has a 48 hour power reserve, while the animation will run for 20 seconds.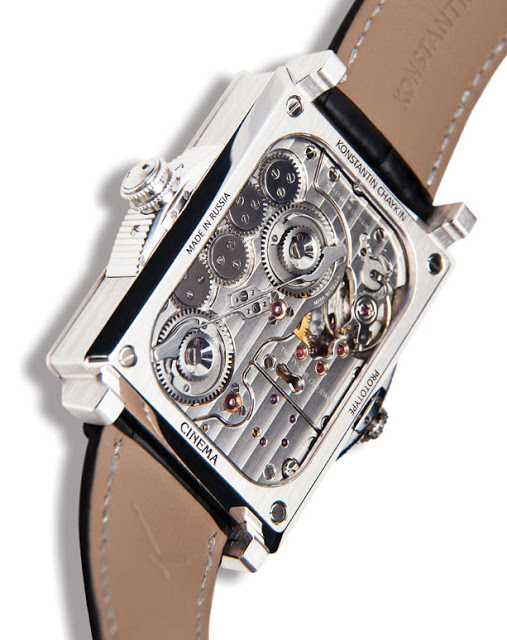 Visible through the back is the decorated, form movement. Notable features include the two jewels set in screwed, gold chatons. All of that is inside a moderately sized case that is 32 mm wide and 42.5 mm long, with a height of 7.5 mm. The price for the Cinema Watch will be approximately EUR50,000, with the final price to be announced during Baselworld 2013. – SJX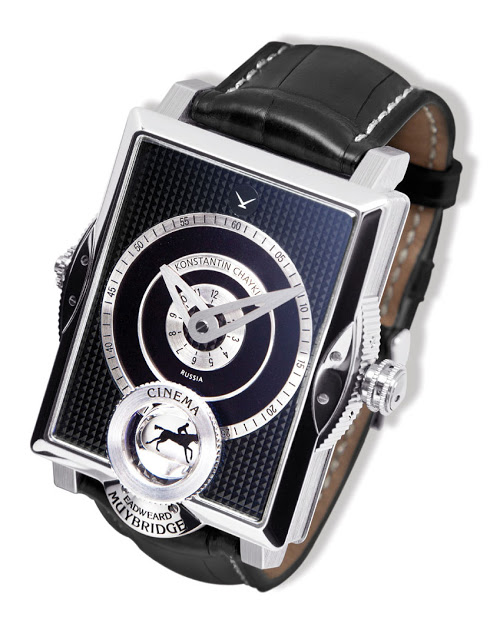 Back to top.
---
You may also enjoy these.

At Baselworld 2013 Hamilton will launch the Hamilton Jazzmaster Face2face, a reversible, double-faced wristwatch. Inside the massive 53 mm by 44 mm oval case are two automatic ETA movements, placed side by side.