The disappointing Graves collection soon to be sold at Sotheby's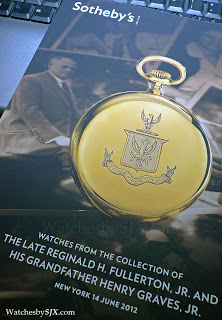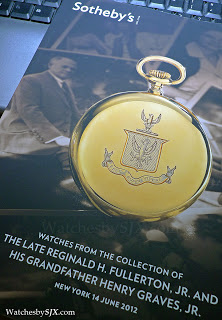 On 14 June, Sotheby's in New York will auction about 50 timepieces which belonged to Reginald H. Fullerton Jr and his grandfather, Henry Graves Jr.
This auction has generated a lot of buzz, mainly because Henry Graves Jr was a legendary watch collector who commissioned the Graves supercomplication which was bought by Patek Philippe for US$11 million in 1999. So it's not surprising Sotheby's has dedicated an entire catalogue to the 61 lots in this sale. I received the catalogue a few weeks ago but only just had the time to go through it. I was somewhat disappointed, I expected to be floored by page upon page of great timepieces but that isn't the case.
There are a few highlights like the tonneau-shaped repeater, the unique 3450 and the oversized rectangular wristwatch, but it is mostly regular fare, nothing that can't be found regularly at other auctions. That's because most of the good stuff has already been sold, and over a dozen ex-Graves watches are now in the Patek museum.
And the fact that the sale includes lots which comprise boxes and papers for pocket watches previously sold somewhat lowers the tone of the auction.
Even less interesting are the modern timepieces, which are mostly the sort of watches a wealthy person with conservative but not extremely sophisticated taste would buy, in my opinion. Besides the usual Patek Philippe watches, the bulk of the contemporary timepieces are Breguet watches from the last 15 years – watches like the platinum Type XX and the Lemania-based tourbillon chronograph – hardly the stuff of legend. Sotheby's has done a great job of marketing this auction, but to me it's more about the provenance about the watches than the timepieces themselves.
– SJX
Back to top.
---
You may also enjoy these.