LIVE FROM GENEVA: Patek Philippe Henry Graves Supercomplication Becomes Most Expensive Watch Ever Sold
Sotheby's has just sold the Patek Philippe Henry Graves Supercomplication for 23.2 million Swiss francs, or US$24 million, to a unsurprisingly, victorious bidder - making it the most expensive timepiece ever by a wide margin. We bring you a quick rundown of the sale right here.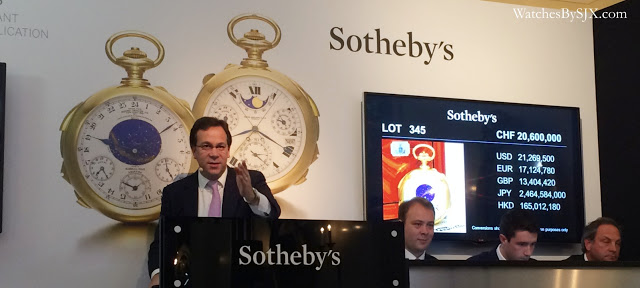 In one of the most anticipated watch sales ever, the Patek Philippe supercomplication made for American collector Henry Graves Jr. was just sold for 20.6 million Swiss francs. With the buyer's premium the new owner will have to pay 23.2 million francs, or about US$24 million.
The sale took place in a packed room, with luminaries from all corners of watchmaking, including representatives from major brands like Audemars Piguet and Vacheron Constantin, and even Philippe Dufour himself.
Two major personalities in the international watch auction market were competing for the Grave super complication, Aurel Bacs and Claude Sfeir, a Lebanese jeweler who is one of the world's biggest watch collectors.  They were bidding against each other for the most complicated watch ever made before computers came along. Conceived, manufactured and finished by hand, the Graves supercomplication is a landmark in watchmaking not just for its complexity but for when it was made.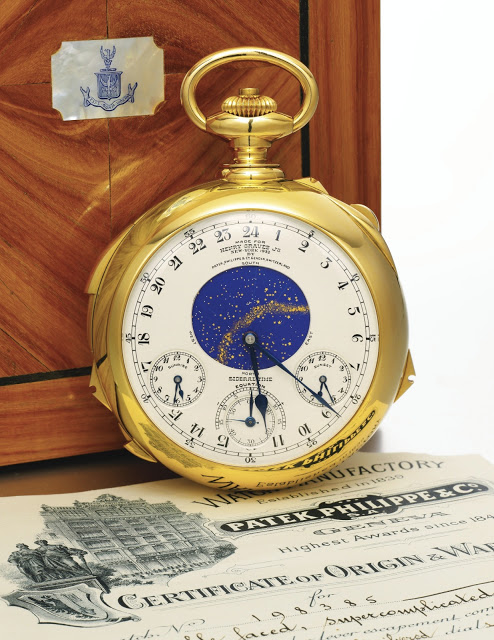 It took several tense minutes for each bid increment with the bidding was in 250,000 franc jumps, though there was some laughter when one of the bidders offered 19,999,000 francs.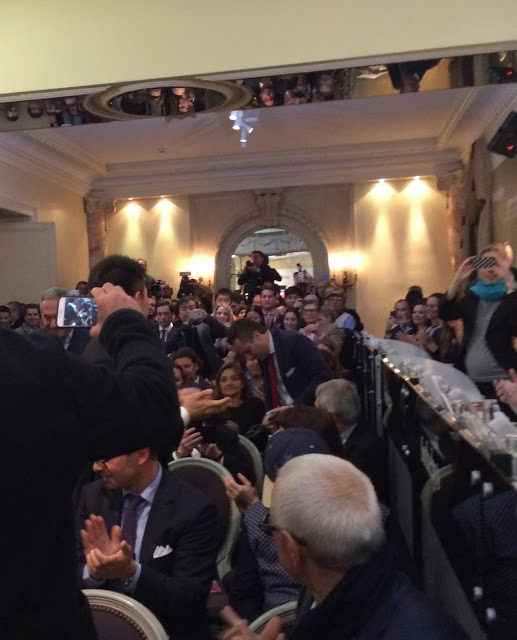 Just after the hammer came down, Aurel Bacs (in red tie) rises from his seat to shake hands with Claude Sfeir
When the hammer came down the room broke into sustained applause. The winner was Aurel Bacs, the inimitable former head of watches at Christie's, and now the key man at the watch department of the rejuvenated Phillips auctioneers.
The US$24 million result makes it the priciest watch ever sold, whether at auction or privately. That's more than double the US$11 million it last sold for back in 1999.
Back to top.
---
You may also enjoy these.