A look at the process of electroplating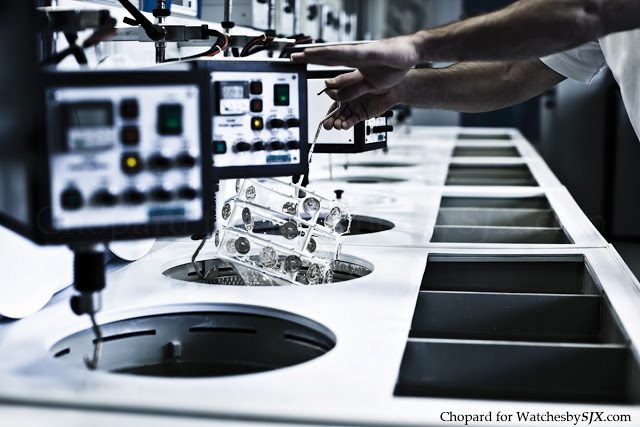 Chopard just issued an enlightening press release outlining the process of electroplating parts after they have been finished at the LUC workshops in Fleurier – this is where the LUC Engine One Tourbillon and LUC Tech Fleurier are made. This is a vital process in watchmaking as nearly all the large components in a movement, most obviously bridges and base plate, are plated, typically in rhodium or gold.
Press release:
The Electroplater
The electroplating workshop looks very much like an alchemist's laboratory. Its function is to change brass into gold… or something similar. It actually works by in using electrolytic processes to apply layers of metal to parts that are out of metal themselves in order to protect and embellish them. An electroplating workshop is therefore first and foremost a set of liquid vats serving as containers for coating, washing and rinsing.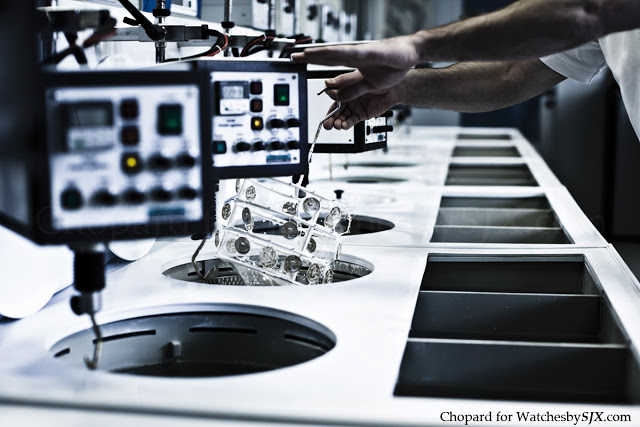 The parts arrive there from the decoration workshops of Chopard Manufacture in Fleurier, where the L.U.C watches are made. They have been treated to a wide range of finishes including bevelling, circular graining, hand drawing, Côtes de Genève and engraving. Some of them – such as the tourbillon bridge – have been the object of many hours of craftsmanship, and their cost price is so high that their handling and treatment call for extreme care. Therfore meaning the electroplating specialist cannot afford to make any mistakes. The parts are mostly in brass, a metal that tends to oxidise over time or simply by being touched. They will thus need to be protected by a stainless metal, which is why gold and rhodium are ideal because of their air resistance.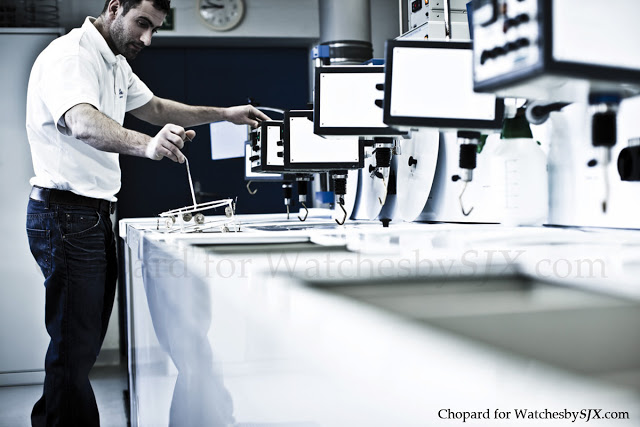 To begin the cycle, the plates and bridges are first hung onto cone-shaped current-conducting racks. These funny-looking "Christmas trees" are first immersed in solutions designed to eliminate any traces of grease, starting with a grease-moving solution reinforced by ultrasound waves, followed by a simple soapy water bath, and then an electrolytic bubble bath.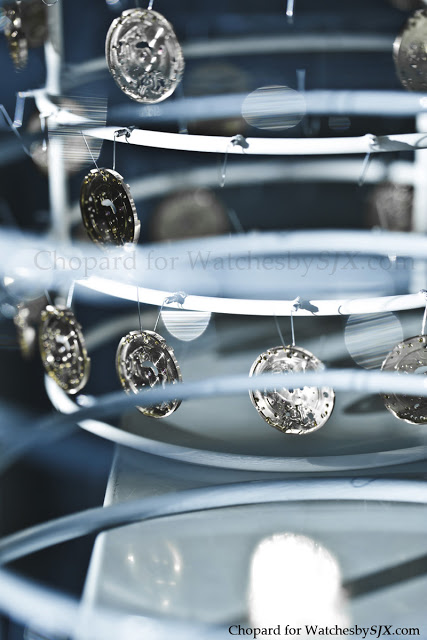 The electrolytical baths are conducted at a voltage of 7 to 10 volts, whereas the amperage and the duration are both determined by the total surface area to be treated. Between each immersion, the components are rinsed in clear water and then in purified water – meaning water from which all mineral salts have been removed. Once this washing process is completed, the parts are soaked in an electrolytic "activation" bath, an extremely acid solution (with a 0 pH) intended to neutralise any trace of soap and to "activate" their surface, meaning to make it more robust to receive and retain a layer of metal. The first "plating" bath is designed to deposit a layer of nickel that serves as an additional barrier against corrosion and also to facilitate the adherence of the finishing layer. Next come the colouring baths as such, in which four gold colours – 5N, 4N, 3N, 2N – and two rhodium colours – white and black – are available.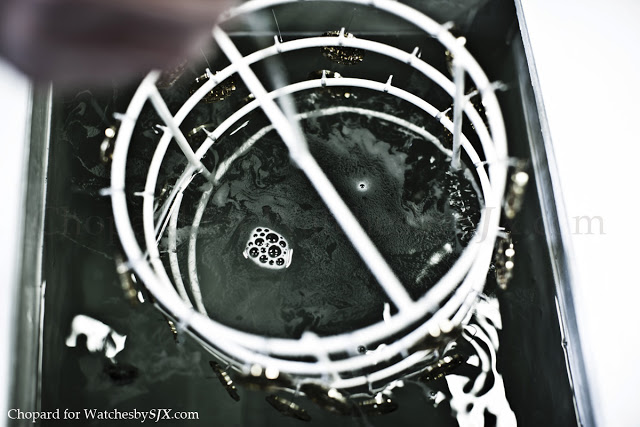 In quantitative terms, these metallic deposits are only "flashes" a few tenths of a micron thick, but they will give the part its final colour. Once this stage is complete, a last degreasing and a final "activation" operation is performed. After being rinsed in pure water and dried, the parts have acquired their definitive appearance and are ready to be sent to the workshop of the watchmaker who will assemble them.
Back to top.
---
You may also enjoy these.