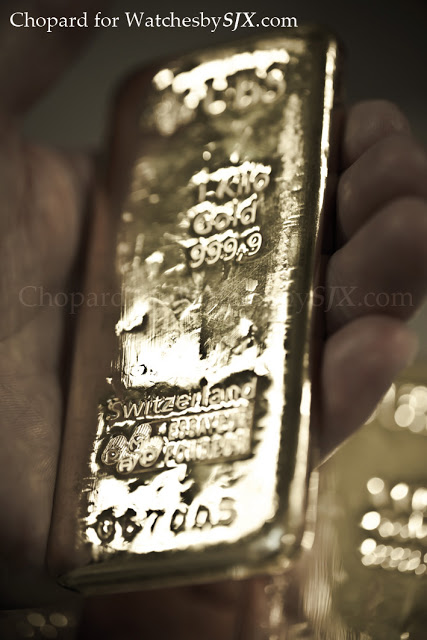 In the latest instalment of a highly informative series of press releases on various crafts related to watchmaking, Chopard explains the process of casting gold at its factory in Meyrin, Geneva. This is unusual as few watch manufacturers have an in-house foundry; scale is needed for such a facility. The prior two explained electroplating and installing hairsprings.
Press release:
The Gold Caster
Within the world of watch and jewellery manufacturers, Chopard is one of the rare companies to have its own in-house gold foundry. Driven by a concern to ensure extreme quality, to achieve vertical integration of its production and to provide a fast response to its own needs, the company produces its own gold alloys from fine gold ingots.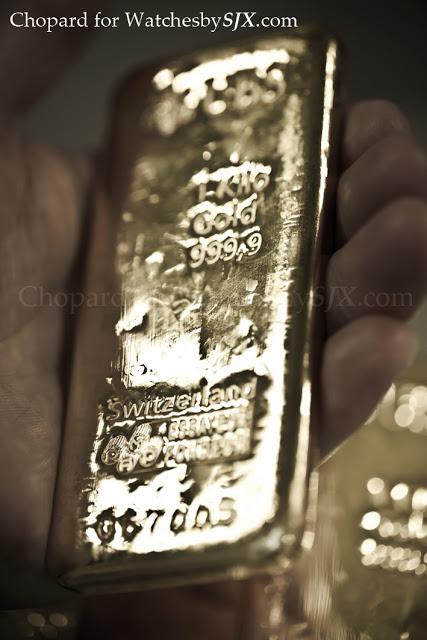 The workshop, located in Chopard's headquarters in Meyrin, makes five categories of 18-carat gold: a white gold shade, two shades of yellow gold (2N and 3N) and two shades of rose gold (4N and 5N). 18-carat or 750/1000 gold (meaning 750 grams of pure gold for 1 kilo of matter) is greatly appreciated in jewellery-making because, unlike 24-carat gold which is too malleable, it boasts an excellent balance between resistance, excellence and fine gold content. It is ideal for setting precious stones and also stands up well to the small jolts and impacts sustained in daily life.
Gold casting, associated with the mechanical and stamping department, involves two members of staff. Paulo learned chemical and metallurgy techniques in an independent foundry before joining Chopard ten years ago. "I never tire of this profession", he says with a smile. "The material is magnificent and techniques are evolving in a way that makes our task even more fascinating. We have a huge responsibility because our role comes into play at the very start of the creative chain. If the gem-setters suddenly realise that our gold is porous, that causes disaster. We are under an obligation to supply a perfect product."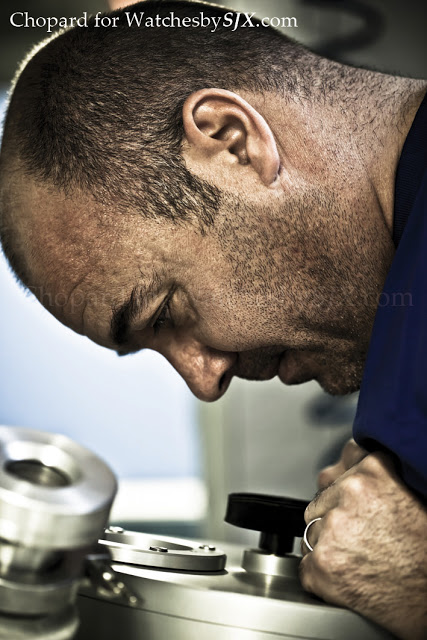 Paulo worked solo for a long time, but an apprentice has recently been hired in order to help to keep pace with the development of the watch and jewellery production. At the same time, the workshop has been equipped with a second vacuum induction oven that is entirely computerised and serves to cast 6 to 20 kilos of gold at a time. Nonetheless, whatever the proportion of new technologies employed within the profession, human expertise remains of crucial importance. Like in the kitchen of a great chef, gold is made according to an extremely precise recipe, using carefully controlled gestures. Depending on the alloy he is seeking to obtain (white, rose or yellow gold), the gold casting specialist places the necessary metals in a graphite and clay crucible. To produce rose gold for example, he will need a certain quantity of 24-carat fine gold, silver and copper, whereas white gold involves adding palladium.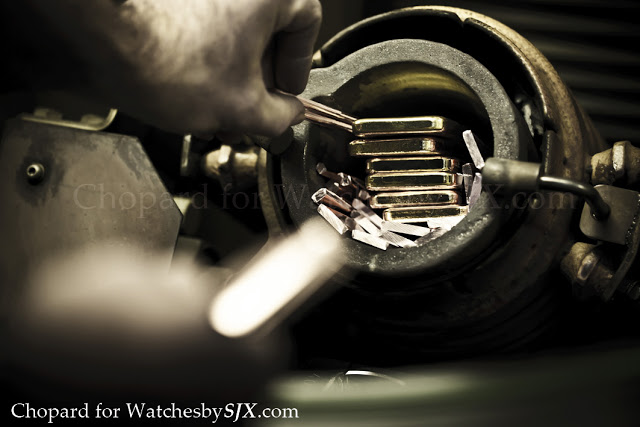 Once the recipient is placed in the oven, the casting process can begin. The temperature of the oven varies according to the type of alloy: rose gold for example calls for a temperature of 1000°C. Internal magnetism brings the metals to melting point and Paulo and Nicolas can follow the various casting stages through a special round window. The sight is indeed dazzling. In less than 30 minutes, a flaming red liquid begins to bubble at the heart of the crucible. Once fired, it pours like a flow of lava into a 6 or 8-kilo steel mould. The ingot thus obtained is always composed of a little over 750 grams of fine gold, the standard weight. "It's a Chopard guarantee, an additional token of quality", says Paulo.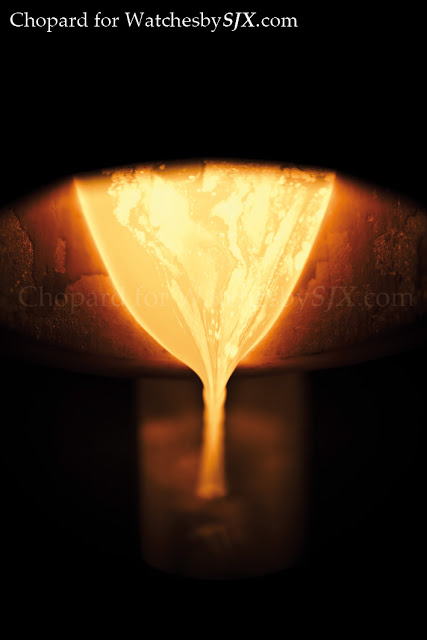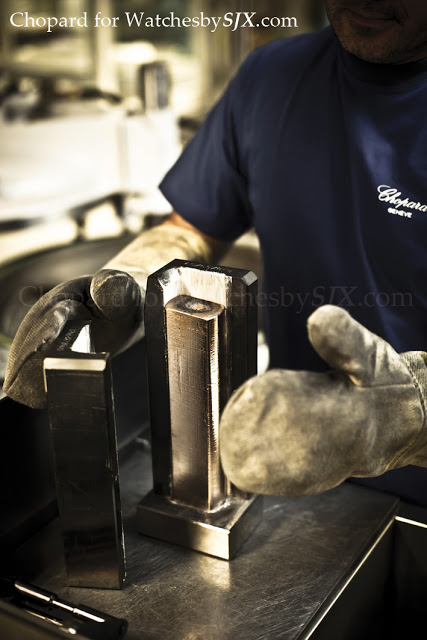 It is at this point that a sample is cut out, weighed, numbered and sent to the Swiss Precious Metals Control in order for it to analyse the alloy and officially determine its fineness standard (meaning the ratio between the weight of fine gold contained in the alloy and the total weight). Only once it has received the official CMP certificate, one or two days after its production, the alloy is ready for usage.
But prior to this, further firings at an average temperature of 600°C are needed in order to restore the ingot to its initial structure. It may then be rolled one last time in order to give it the necessary thickness that is required by the creations for which the gold is intended.
The gold is then rolled by two artisans into a long 12 mm strip. Just after the casting process, the gold appears in the shape of a material composed of large grains. The pressure exercised by the rolling process refines these grains and makes the metal harder and more compact – almost to breaking point.
Back to top.
---
You may also enjoy these.