Explaining the Ancient Technique of Gold Filigree
An ancient technique several millennia old, filigree makes its debut in watchmaking with the Ronde Louis Cartier XL Filigree Panthers, with the dial made up of intricately worked gold and platinum wires that form a panther motif.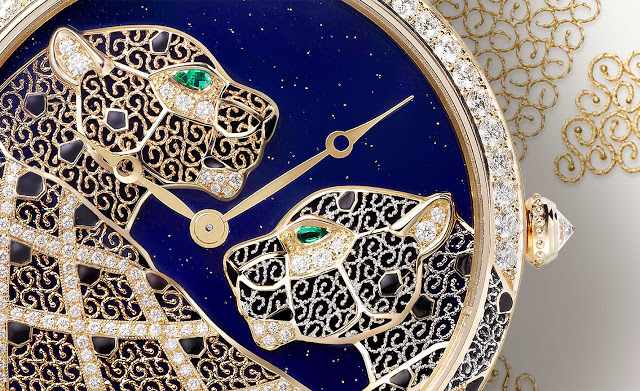 La Maison des Metier d'Art is a farmhouse beside the Cartier watch manufacture in the Swiss town of La Chaux-de-Fonds that has been transformed into a workshop dedicated to metier d'art, or artisanal crafts. The workshop employs well known techniques like enamelling and engraving to decorate timepieces, but also applies age old crafts that have never before been used in watchmaking, like gold filigree. This decorative art was used for the first time on the Ronde Louis Cartier XL Filigree Panthers wristwatch, featuring a pair of panthers formed with tiny twisted threads of gold and platinum.
Filigree is precious metal wires soldered together to form a motif, something that dates back some 5000 years to the Sumerians. The technique subsequently spread across the world to Ancient Egypt, Greece, India, Medieval Europe, and now Cartier's converted farmhouse.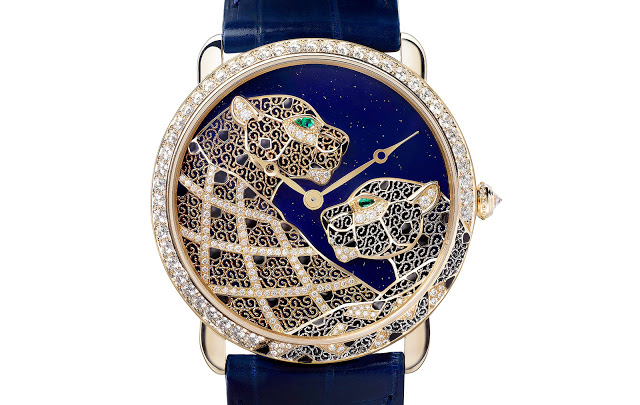 The dial of the Ronde Louis Cartier XL Filigree Panthers begins with extraordinarily fine wires of gold and platinum on spools, much like a roll of fabric thread. The gold thread is 22k, softer than the 18k normally used for watch components, while the platinum thread is the conventional 950 platinum alloy common in watchmaking.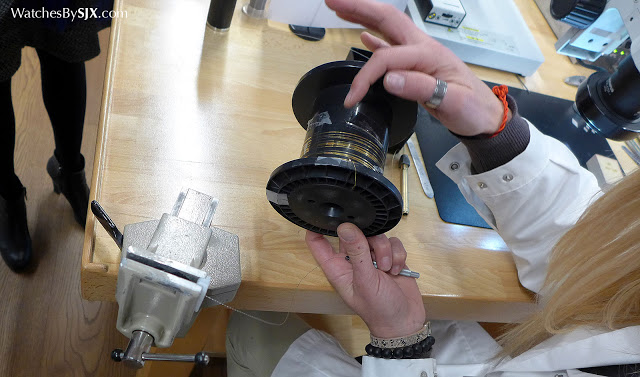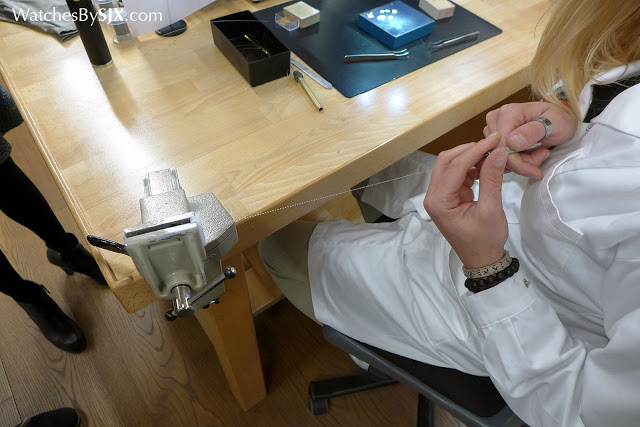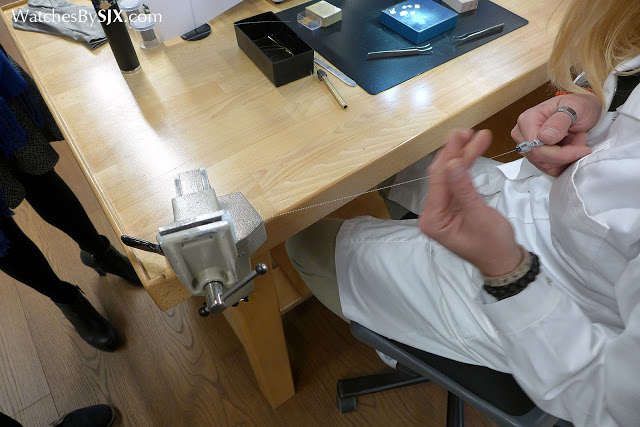 The raw wire being plaited by hand
Wires of differing diameters are used to create various sections of the motif. But these are raw precious metal wires, with a lengthy process of handwork ahead to turn them into a watch dial. Various plaiting techniques can be applied to working the wires, resulting in a different appearance, ranging from fine to coarse.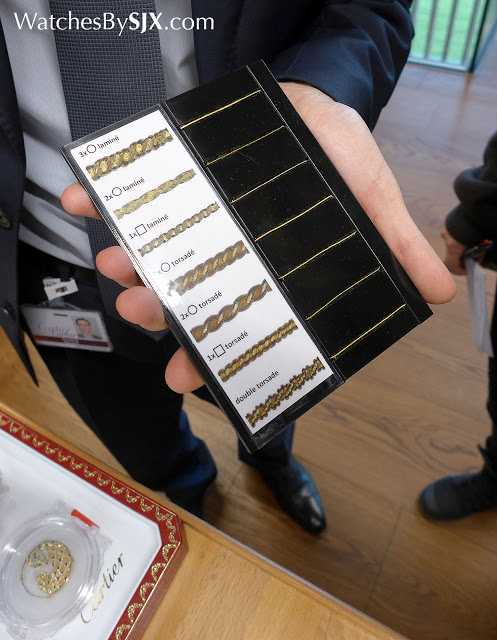 A sample of gold filigree threads plaited in different ways
For the Ronde Louis Cartier XL Filigree Panthers dial, the wires are twisted and rolled, then curled and cut into tiny rings, forming the elements that make up the body of the panthers. The filigree is then enhanced with black lacquer spots and diamonds, with green emeralds for the eyes. From start to finish the dial takes a month to complete.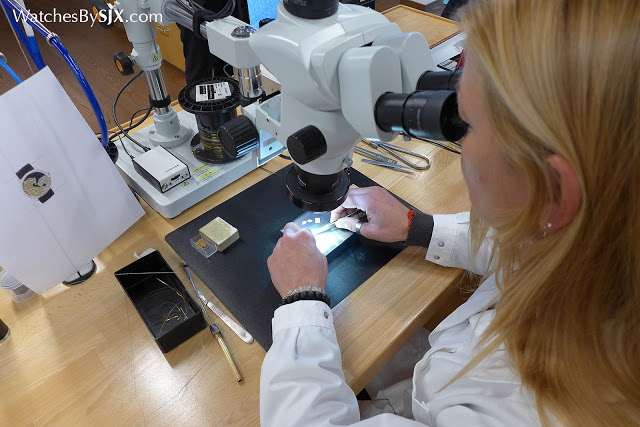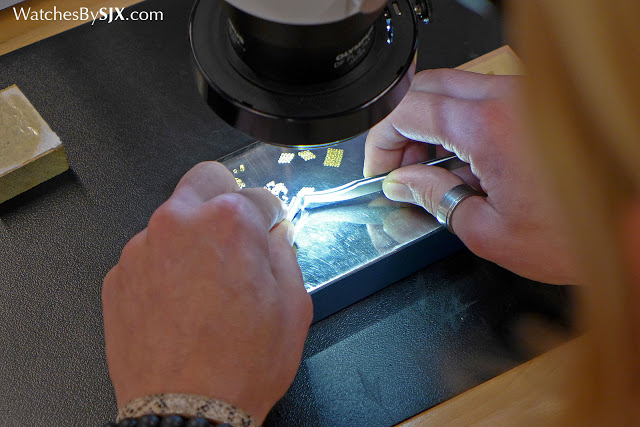 Curling and cutting the wire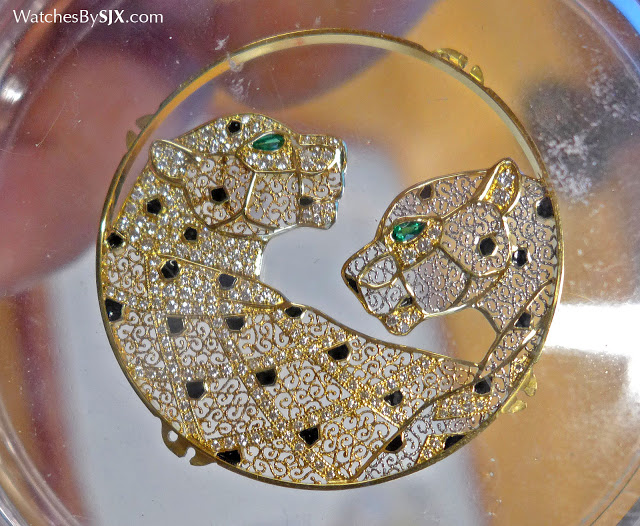 The complete filigree dial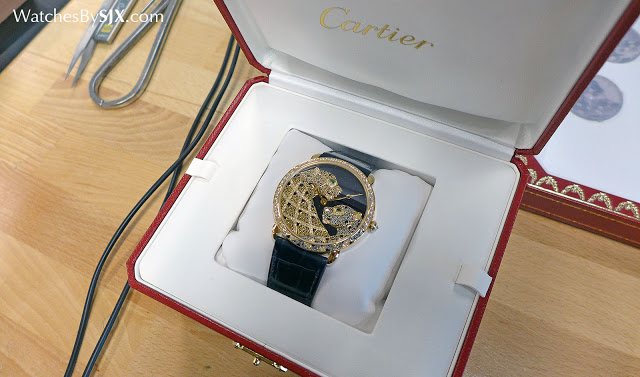 The Ronde Louis Cartier XL Filigree Panthers is a limited edition of 20 pieces in yellow gold. The case is 42mm in diameter, with the hand-wound 430 MC movement inside (it's actually an ultra-thin movement made by Piaget).  While it is the first wristwatch to feature a filigree dial, the Ronde Louis Cartier XL Filigree Panthers will not be the last, now that the technique is a part of Cartier's metier d'art repertoire.
Back to top.
---
You may also enjoy these.