Tissot Goes Retro with the PRX Digital
An old-school electronic makeover.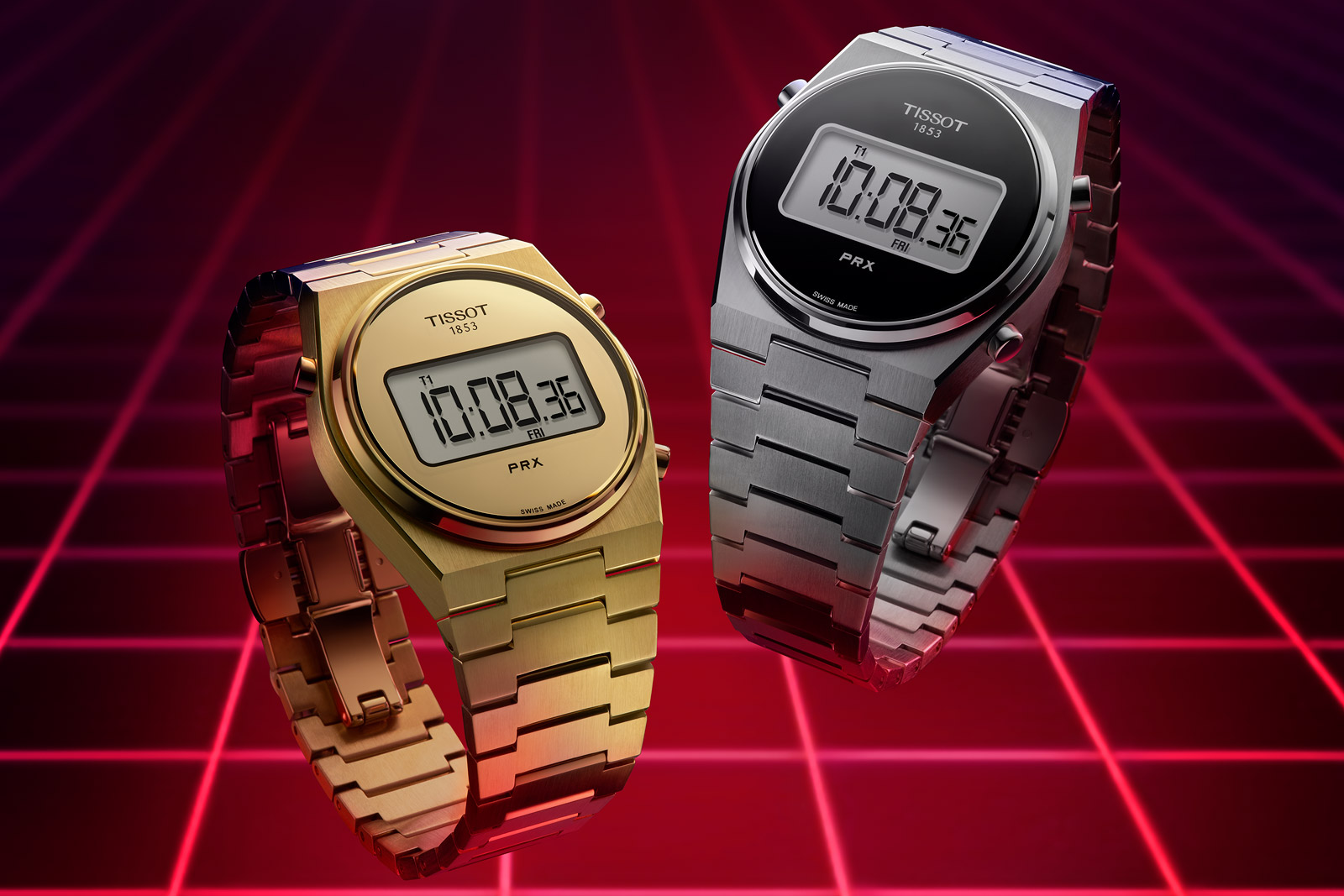 Following the recent introduction of scaled-down automatic models, the Tissot PRX lineup takes a decidedly nostalgic turn with the PRX Digital. A slightly more refined take on the digital wristwatch, the new PRX captures the future as seen from the late 1980s with a streamlined LCD display and integrated bracelet.
Initial thoughts 
The PRX in all its flavours has proven popular thanks to a vintage-inspired design that caters perfectly to today's taste for integrated bracelets. A retro-style quartz watch with an LCD screen, however, is unexpected but appealing in its thoughtful design that doesn't try to do too much and is just right. For a mechanical-watch enthusiast, the PRX Digital is a diversion, but one that's fun and affordable.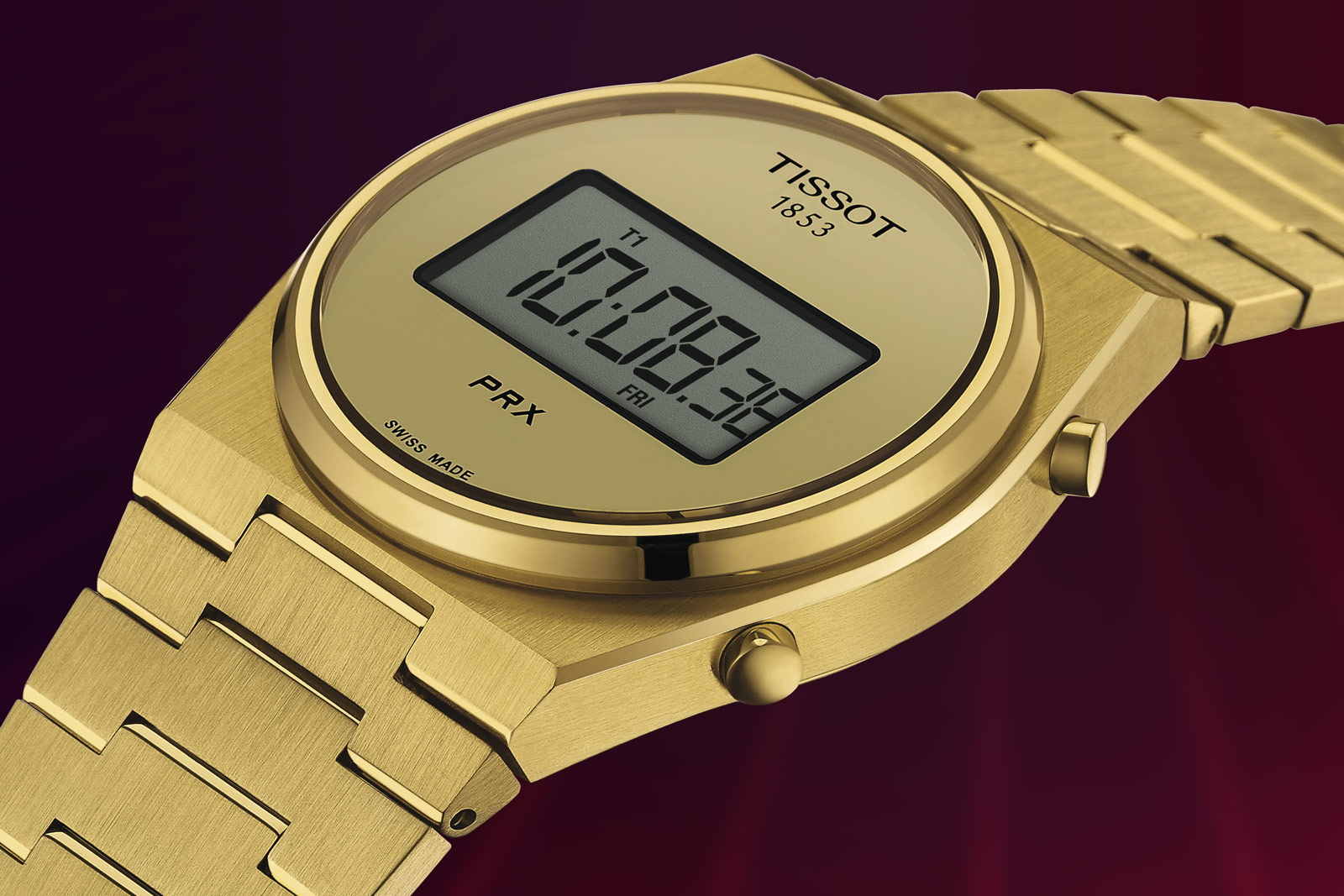 On its face, the new PRX immediately evokes Casio's lineup of digital watches on bracelets (namely the A171WEG-9AEF and A171WE-1AEF). The Japanese brand is clearly the market leader in affordable digital watches, but the PRX Digital is a step up in terms of branding and presentation, as opposed to Casio's primarily utilitarian approach (though Casio's upscale G-Shock models are another matter). 
At US$375 for steel models and US$75 more for the gold-plated variants, the PRX Digital is pricier than its Casio counterparts. This premium is significant, but justified in part by the slightly more upscale feel of the PRX and of course the "Swiss made" provenance. However, it's worth noting Casio trumps Tissot in terms of tech: the PRX Digital has a battery life of up to four years, whereas the Casio equivalents boast at least seven years.
A Swiss-made digital 
Introduced in 2021, the PRX collection began with time-only models and quickly established itself as a bestseller. It subsequently expanded to include an automatic chronograph. Soon enough, it grew to include dials in a spectrum of colours and case in a wide array of sizes, as well as quartz and automatic movements.
The latest PRX is influenced by the brand's earliest digital watches, particularly the oblong Tissot Digital from 1977. The face of the PRX incorporates a LCD display under a sapphire crystal with polished pushers positioned at two, four, and ten o'clock to operate the electronic functions. The dial is available in black, silver, and gold, all in a reflective, mirror-like finish that enhances the retro aesthetic.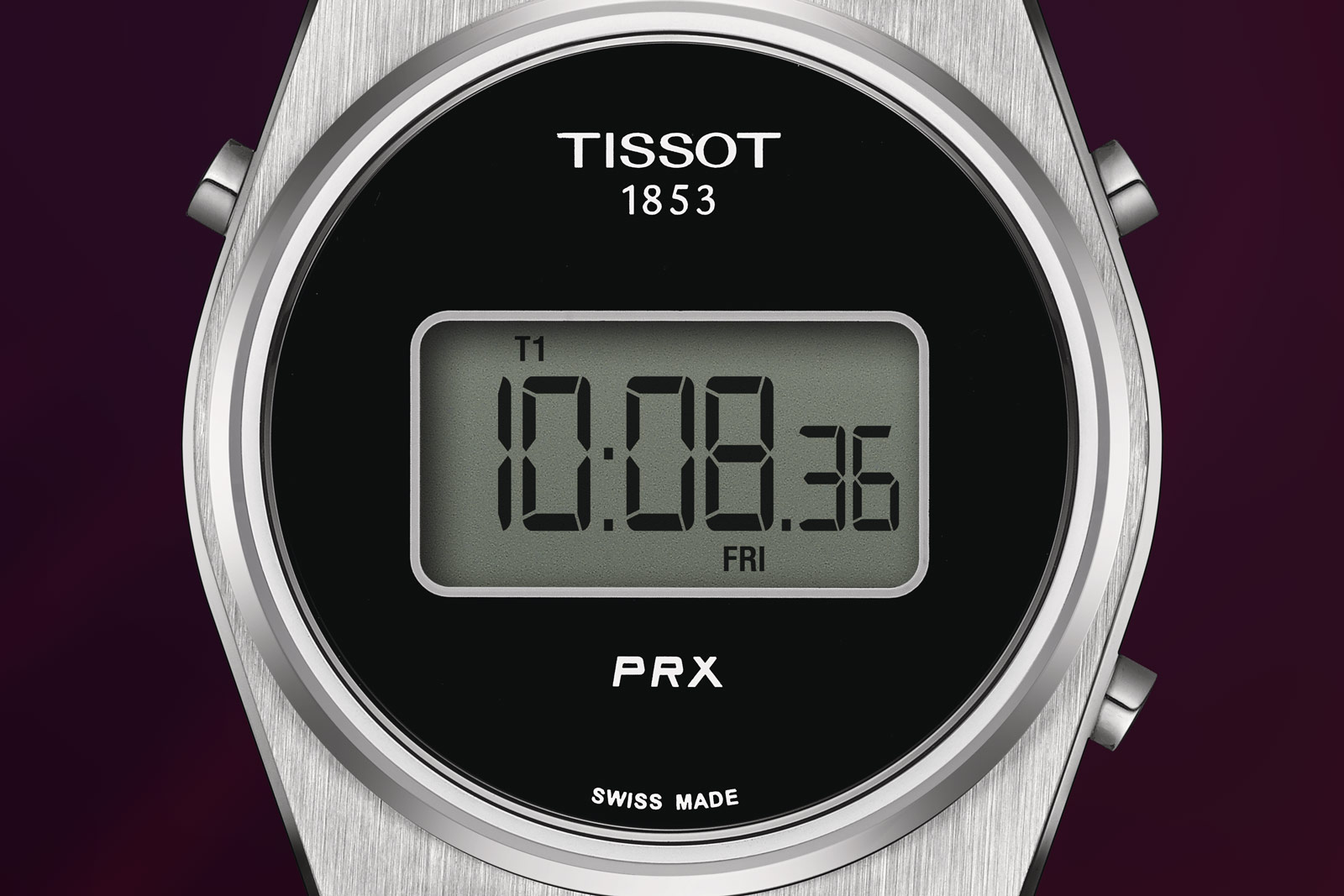 Offered in steel or PVD-treated gold, the PRX Digital shares the same case design found on the analogue PRX three-hander. It sports a brushed finish case and matching integrated bracelet. Like its analogue sibling, the PRX Digital is available in either 35 mm or 40 mm, with both cases sizes having the same height of 10.9 mm.
Notably, the PRX Digital also features a quick-release bracelet, giving owners flexibility in strap choices, albeit at additional cost since straps are sold separately.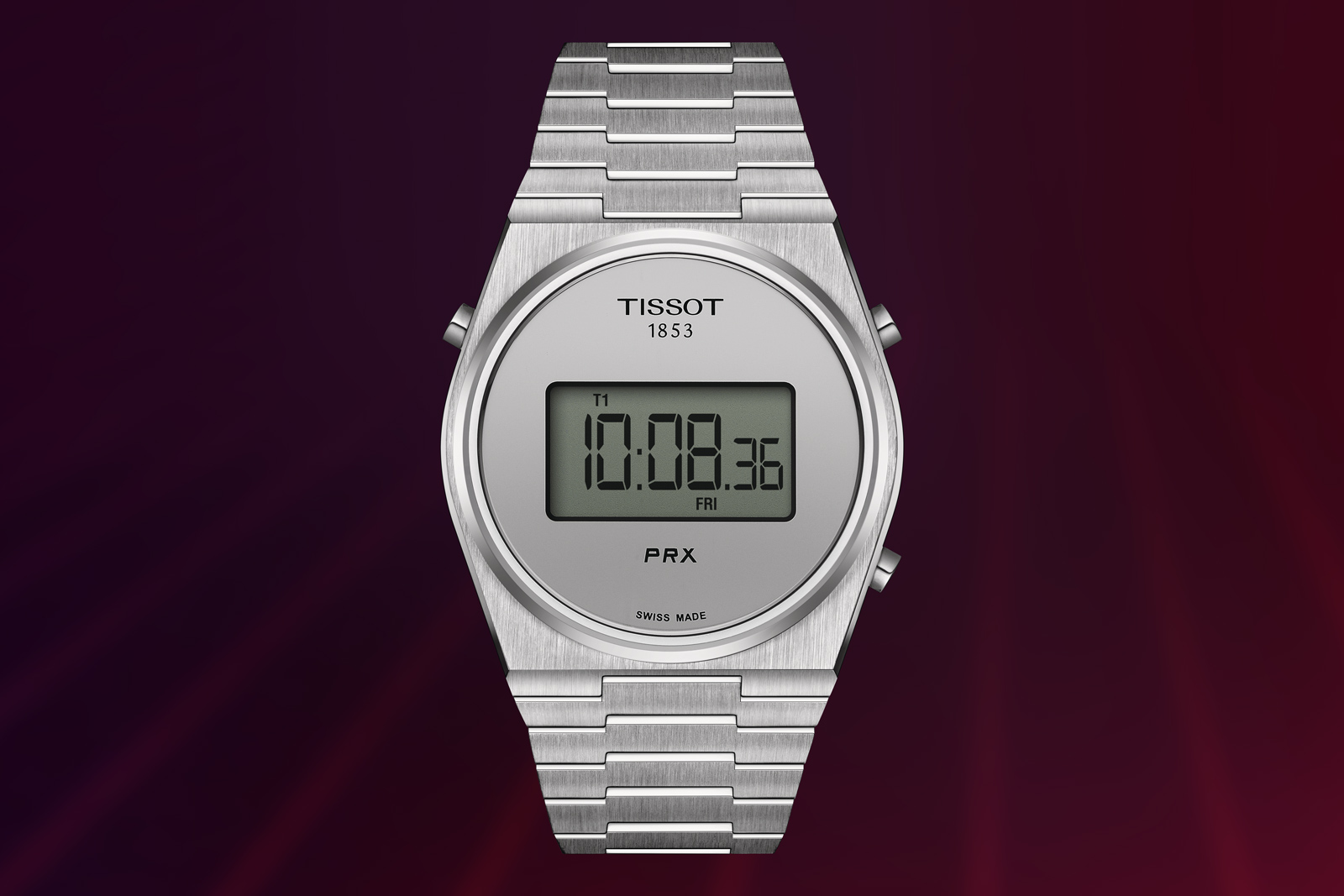 Underneath the solid case back, the Digital houses the ETA DGT-2040 which has a battery life of up to four years. Like most digital watches, it has the standard suite of functions, such as a chronograph, day-date display, countdown timer, and dual time zones.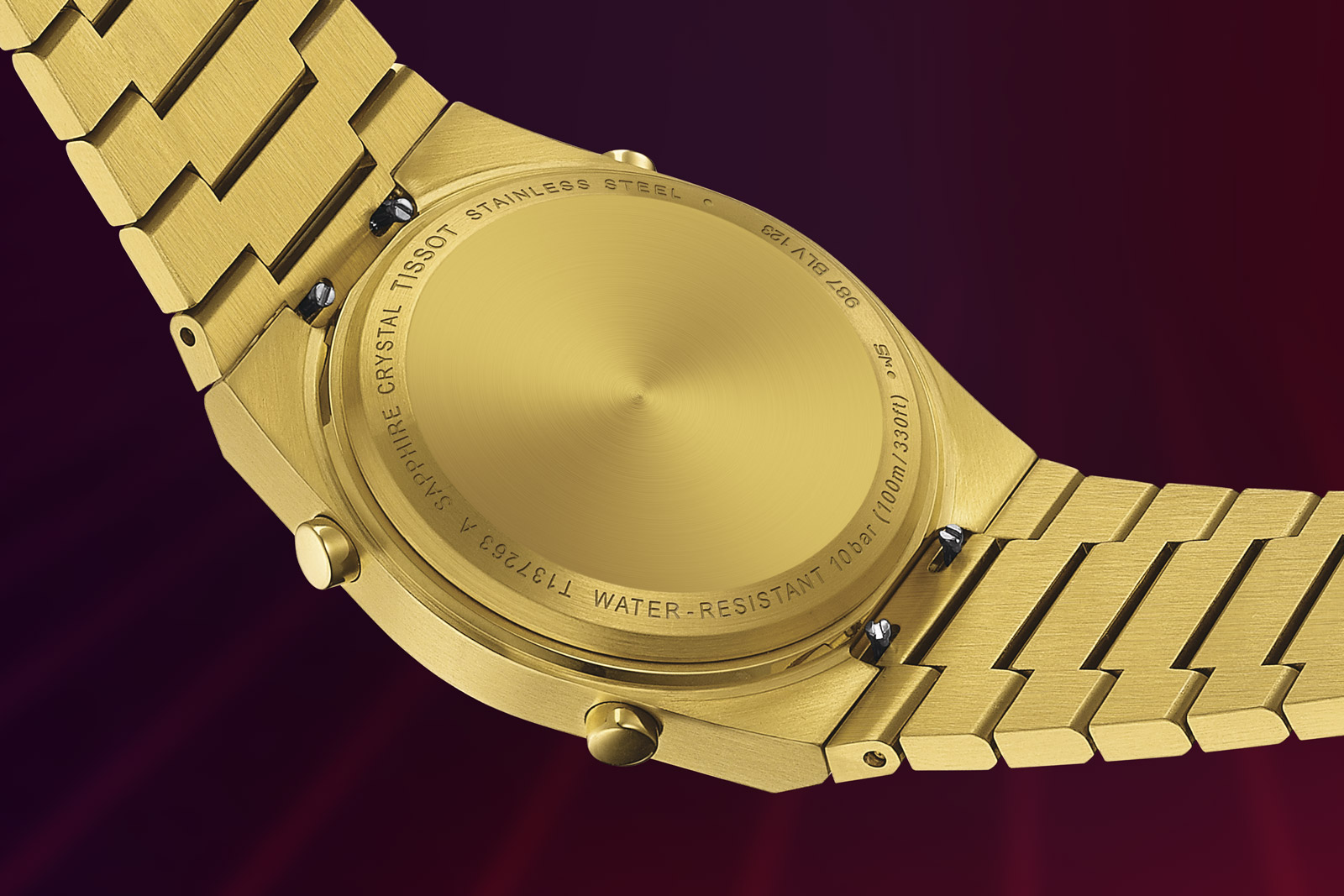 ---
Key facts and price
Tissot PRX Digital
Ref. T137.263.11.050.00 (black, 35 mm)
Ref. T137.263.11.030.00 (silver, 35 mm)
Ref. T137.263.33.020.00 (PVD-treated gold, 35 mm)
Ref. T137.463.11.050.00 (black, 40 mm)
Ref. T137.463.11.030.00 (silver, 40 mm)
Ref. T137.463.33.020.00 (PVD-treated gold, 40 mm)
Diameter: 35 or 40 mm
Height: 10.9 mm
Material: Steel or PVD-treated gold
Crystal: Sapphire
Water resistance: 100 m
Movement: DGT-2040
Functions: Hours, minutes, dual time zones, day-date, chronograph, timer and alarm
Winding: Quartz
Frequency: Battery
Power reserve: Four years
Strap: Matching bracelet
Limited edition: No
Availability: At Tissot boutiques and retailers
Price: US$375 or 490 Singapore dollars (steel); US$450 or 630 Singapore dollars (PVD-treated gold) 
For more information, visit Tissotwatches.com.
---
Back to top.
---
You may also enjoy these.