Highlights: Notable Complications at Sotheby's Hong Kong Autumn Auction
From an original-owner Rolex ref. 6062 "Stelline" to a travel-ready Richard Mille RM62-01.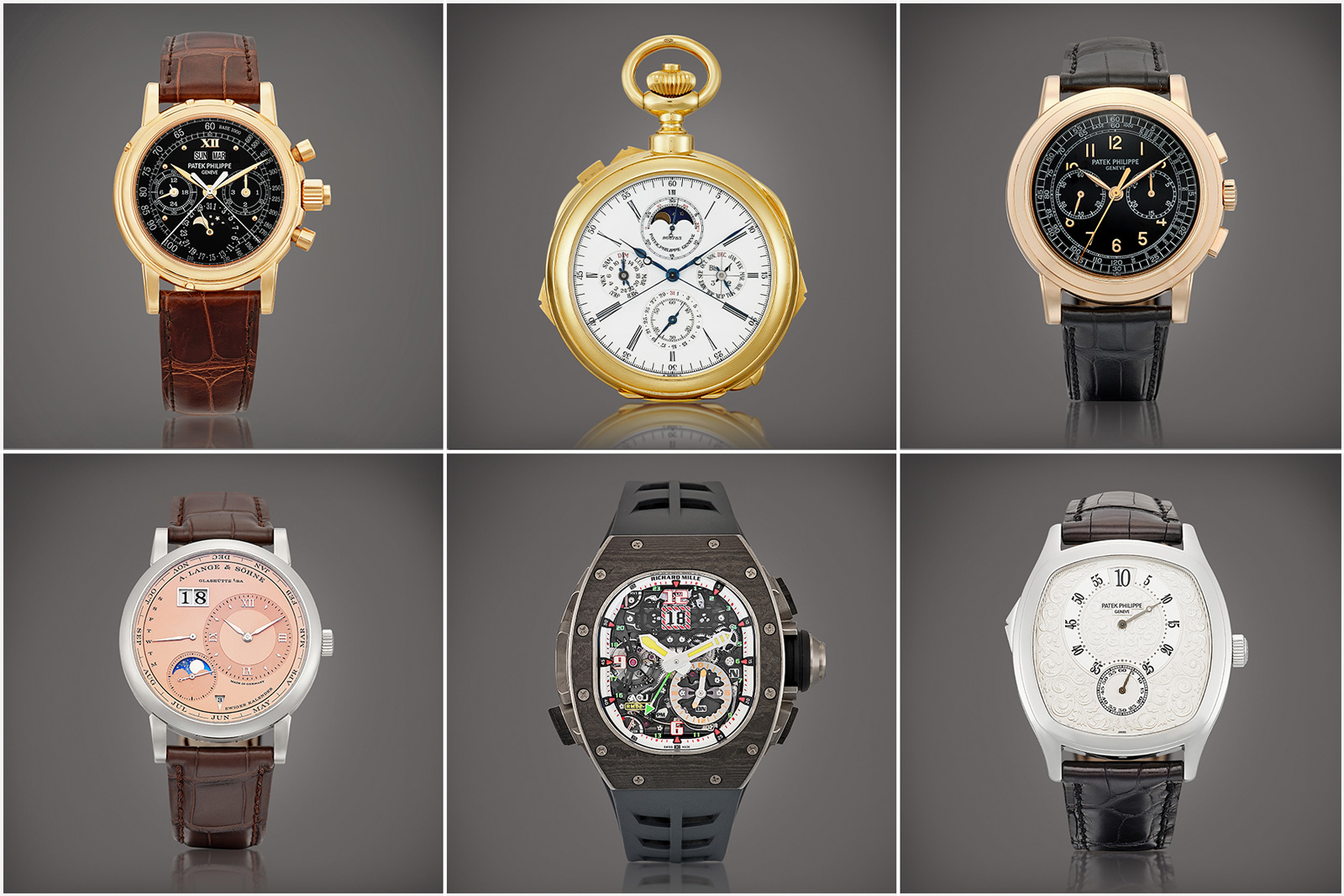 Commencing in early October, the autumn auction season begins with Sotheby's Important Watches I, a catalogue of 205 lots that will be sold on October 7 in Hong Kong. The auction includes artisanal timepieces, examples of independent watchmaking creativity, and exceptional complications.
Here, we present eight notable complications including some unsurprising, six-figure picks like a Patek Philippe ref. 5004R with a special-order dial and a Rolex ref. 6062 "Stelline" from the original Japanese owner.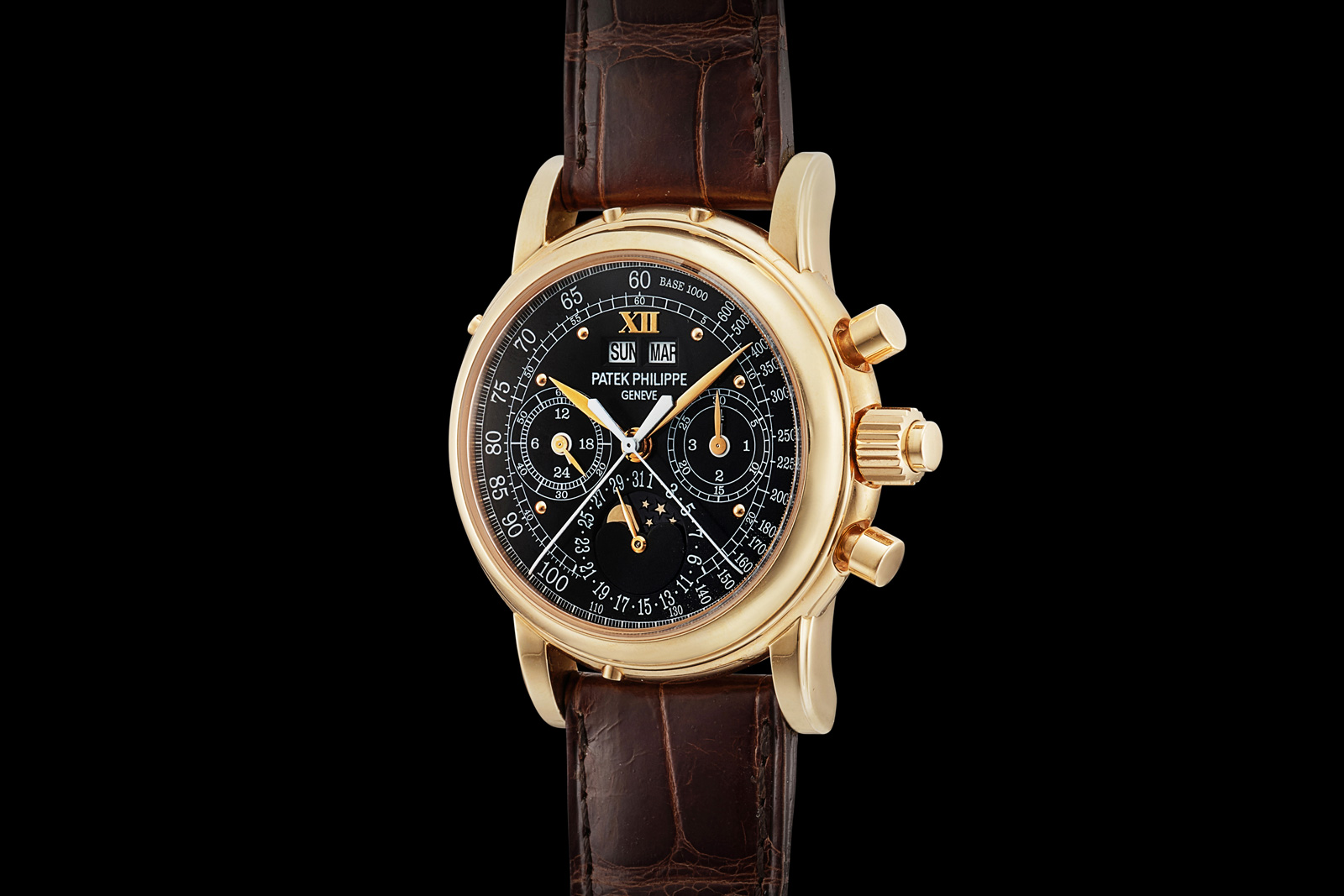 But the list includes some that may fly under the radar but deserve recognition, such as the travel-ready Richard Mille RM62-01 (albeit conceived for flying private) and an impressive Patek Philippe ref. 942 grand complication pocket watch that includes a grande and petite sonnerie, putting it in the top rank of all pocket watches.
Important Watches I takes place on October 7, 2023. Registration for bidding and the full catalogue can be accessed here. 
---
The Lange 1 Perpetual Calendar has effortlessly fuses the renowned Lange 1 design with a complex movement, conspicuously excluding the tourbillon found in its larger counterpart. At launch, the watch was available in two guises: pink gold with a grey dial or the more popular, limited edition white gold with a "salmon" (pink gold) dial, as we see here.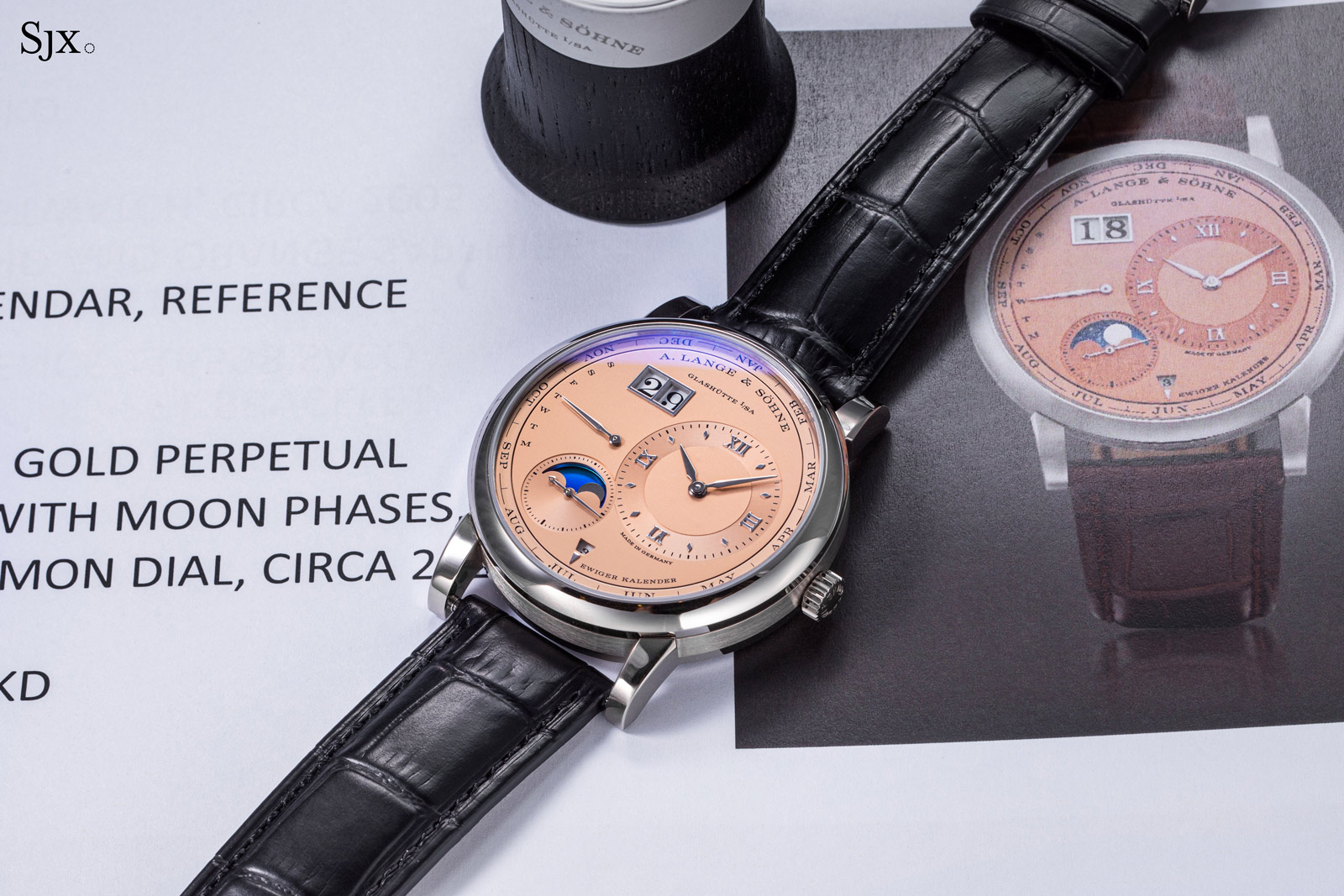 In contrast to conventional calendars that employ sub-dials, the Lange 1 perpetual calendar seamlessly incorporates its indications within the familiar Lange 1 dial arrangement. Consequently, the months are displayed using a circular scale around the dial, read from a small golden hand positioned at six. Additionally, the day of the week is elegantly presented on a retrograde scale at nine.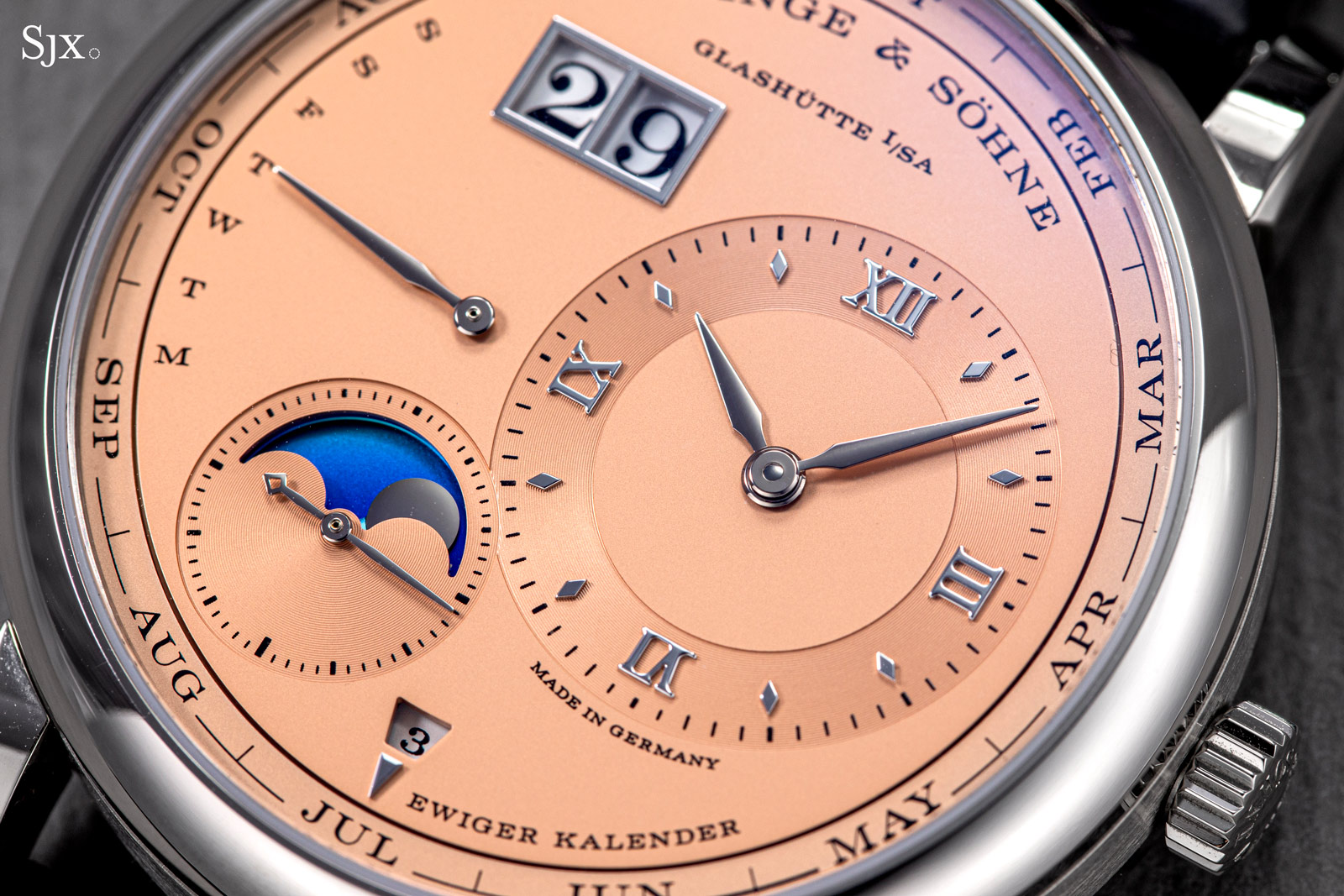 Housed in a platinum case measuring 41.9 mm in diameter, it is equipped with the automatic L021.3 movement, with a substantial 50-hour power reserve. As with other Lange complications, the mechanical perpetual calendar is seamlessly incorporated into the base plate, eschewing the need for an extra module.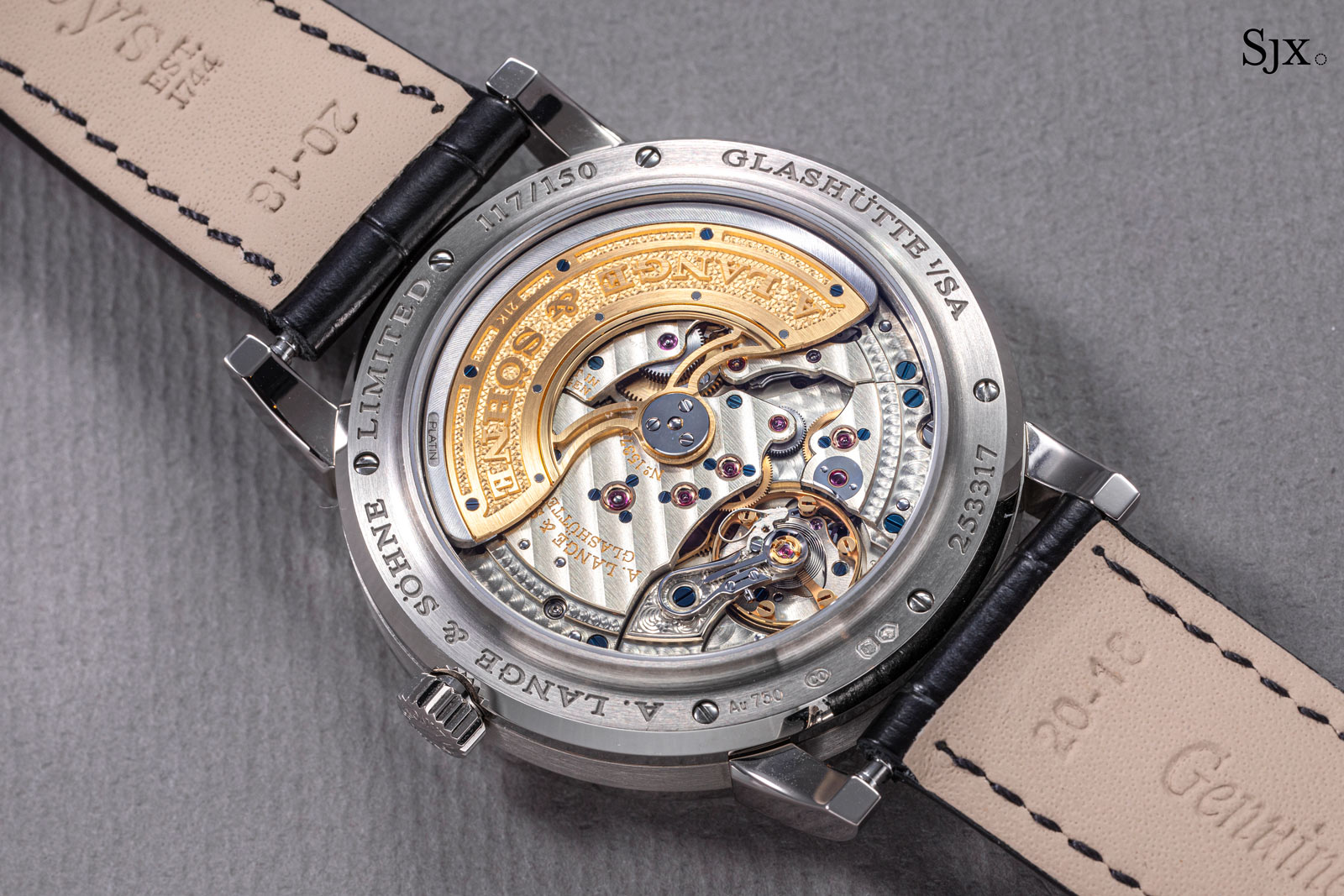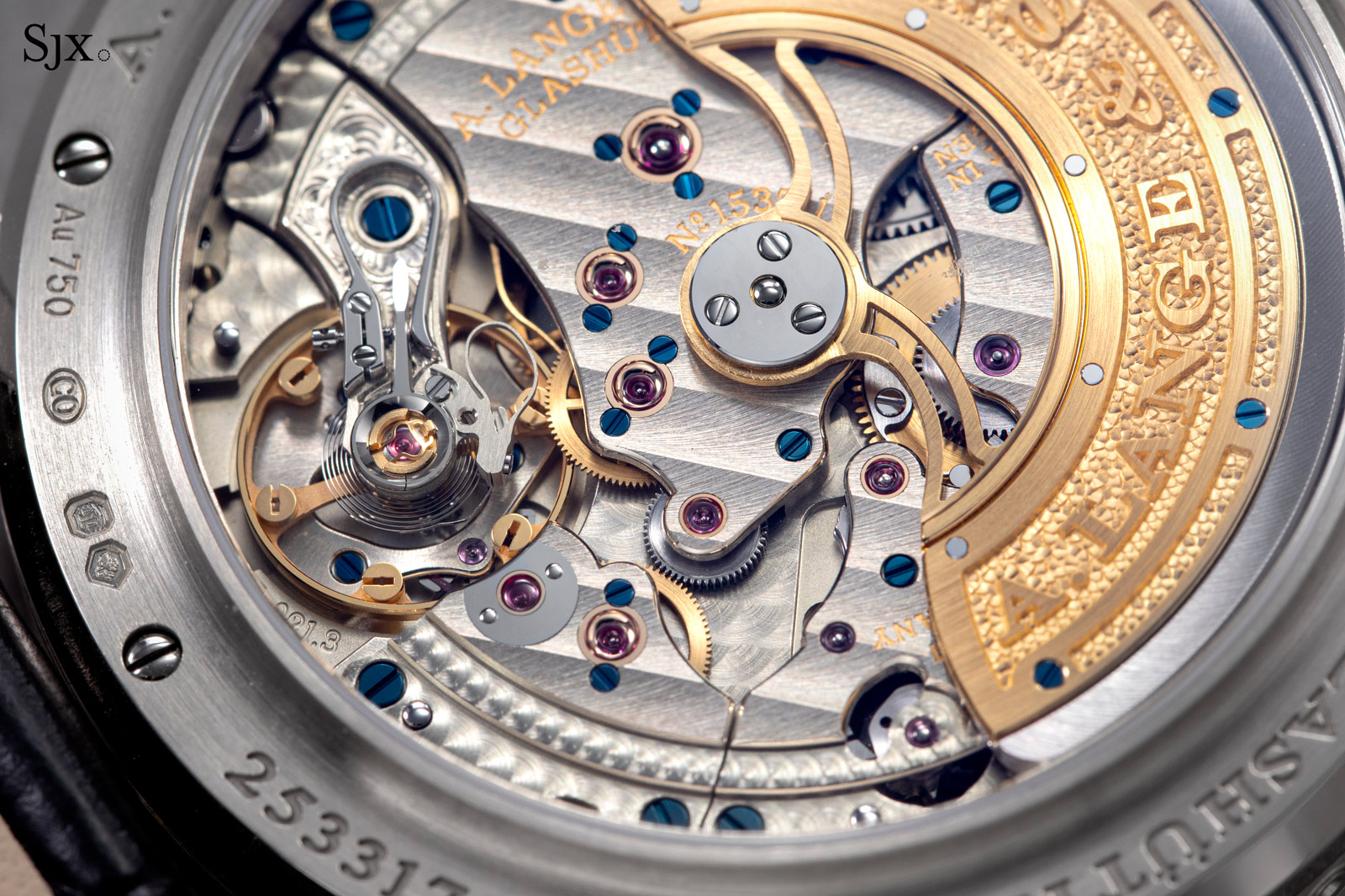 This example, numbered "117/150," is offered in excellent condition with its presentation box, manual, setting pin, and the brand's guarantee certificate.
With the softening of the market for Lange watches, it might be an opportunity to obtain a limited edition that sold out quickly at launch. It carries an estimate of HK$800,000-1.5 million, or about US$103,000-192,000. Full lot details here.
---
One of the most coveted vintage Rolex models is the ref. 6062 "Stelline", the brand's first Oyster wristwatch to feature both a triple calendar with moon phase (it was preceded by the ref. 8171 "Padellone" that did not have a water-resistant Oyster case). This particular variation is often referred to stelline, Italian for "small star," derived from the star-shaped hour markers. While not the rarest version of the model, the "stelline" dial is arguably the quintessential ref. 6062.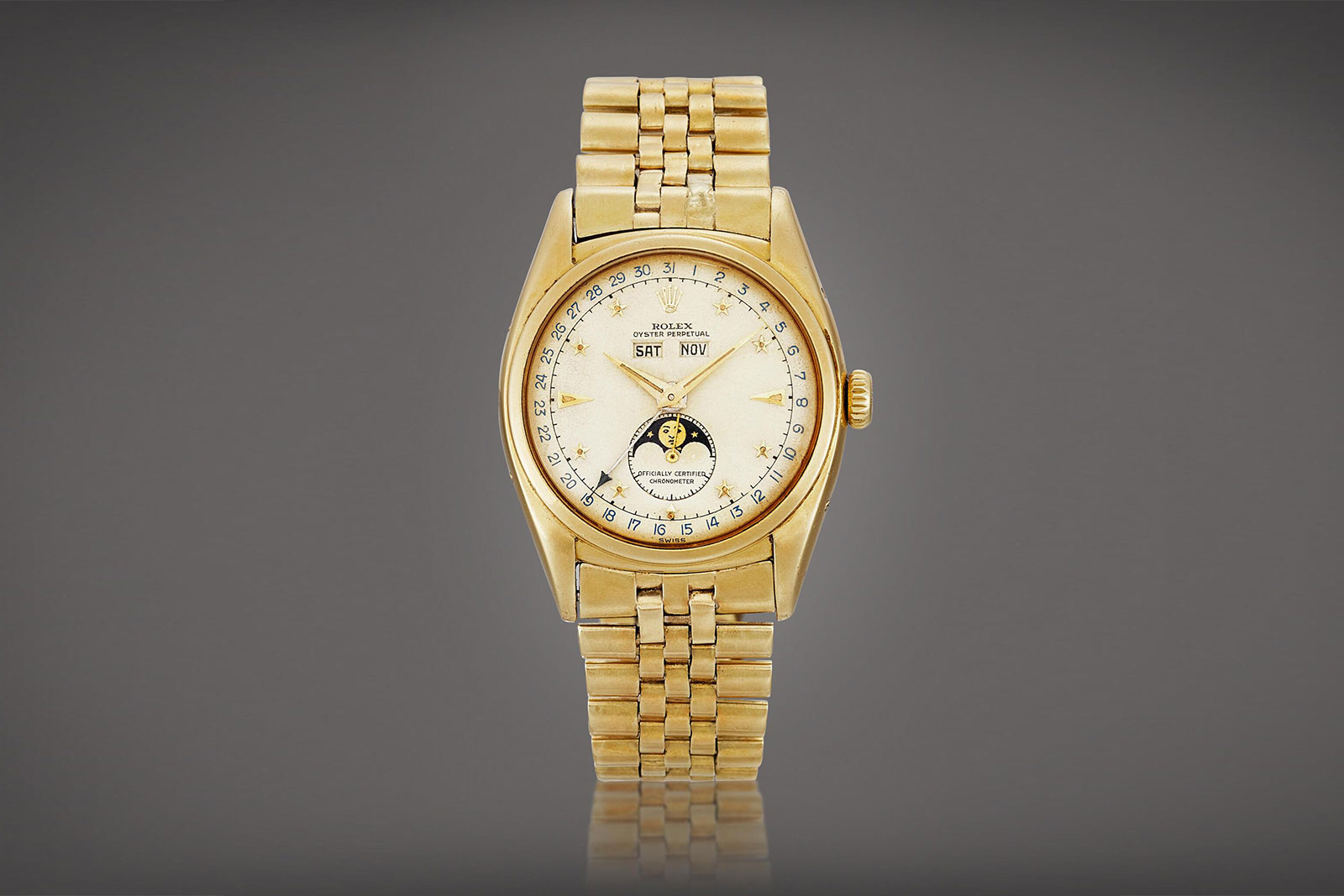 This fresh-to-the-market example features star-shaped indices with luminous dots, all of which have aged to a similar shade as the hands. The signs of age are consistent on the 36 mm yellow gold case and bracelet, which also has signs of repair to one of the end links.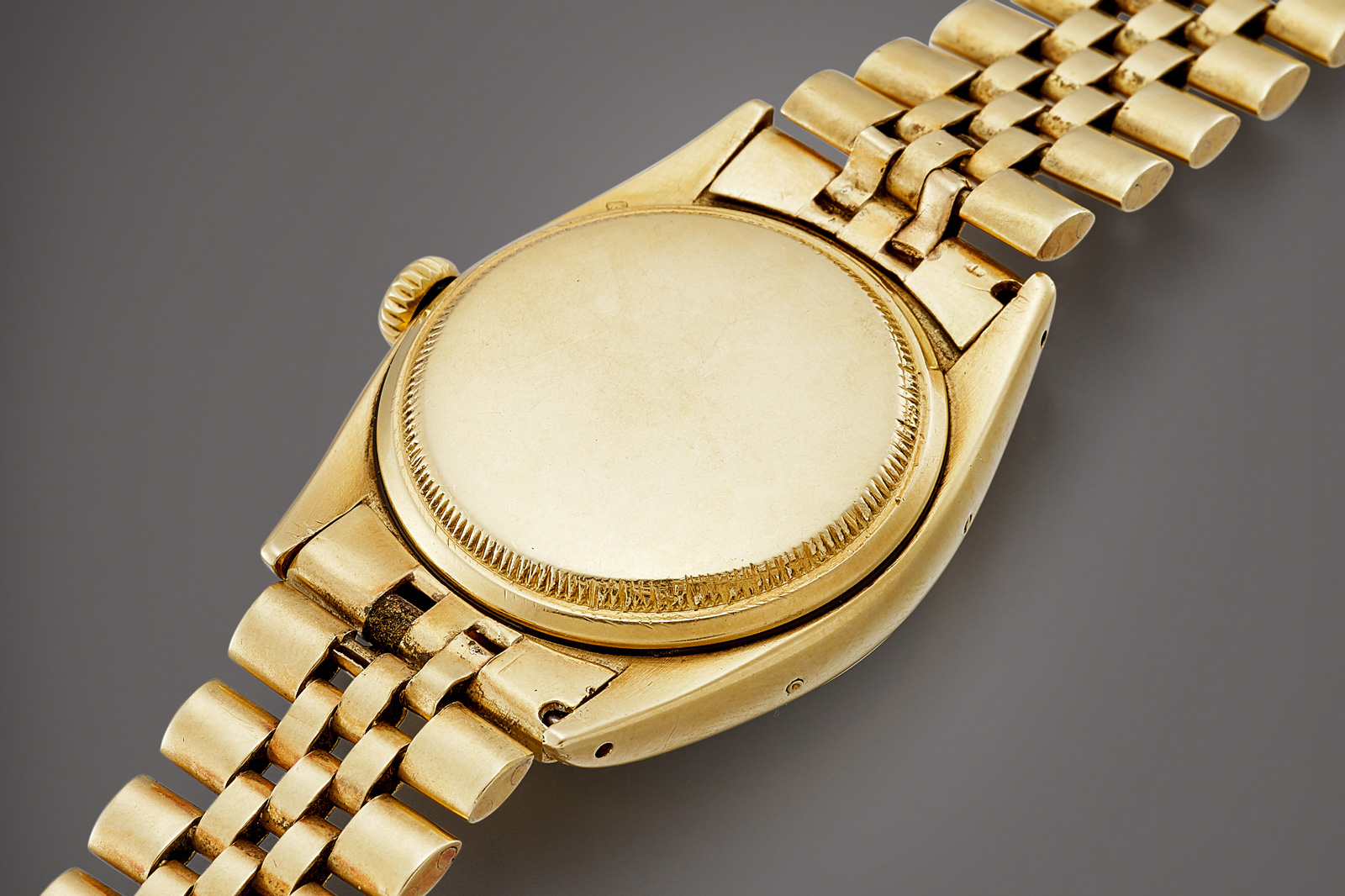 While the watch shows noticeable wear all over, it appears original and retains the hallmarks on the back. In other words, the condition is worn but honest.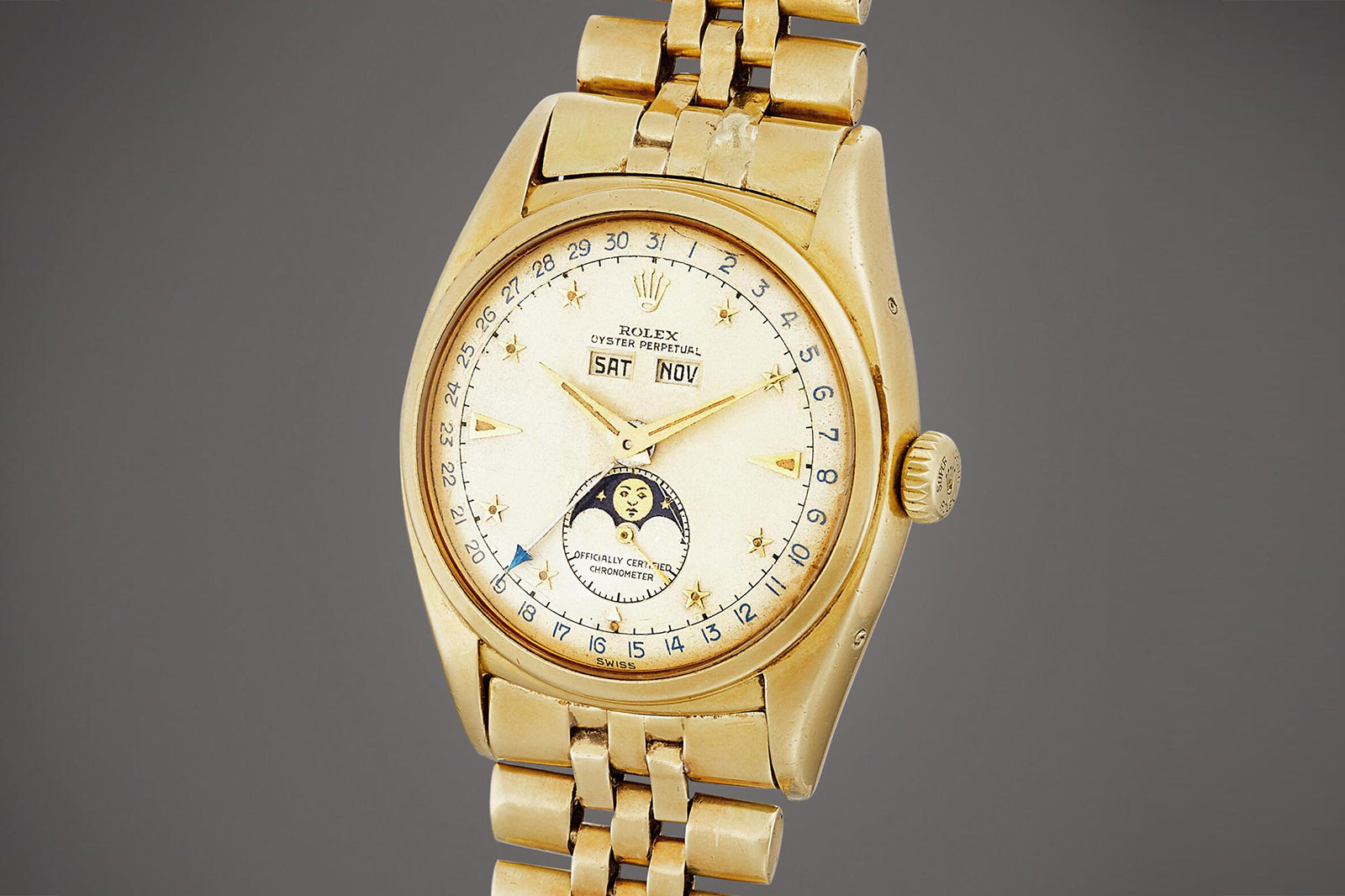 This is likely explained by the fact that it was consigned by the family of the original owner, a Japanese gentleman who received this timepiece as a gift from his business partner around 1955.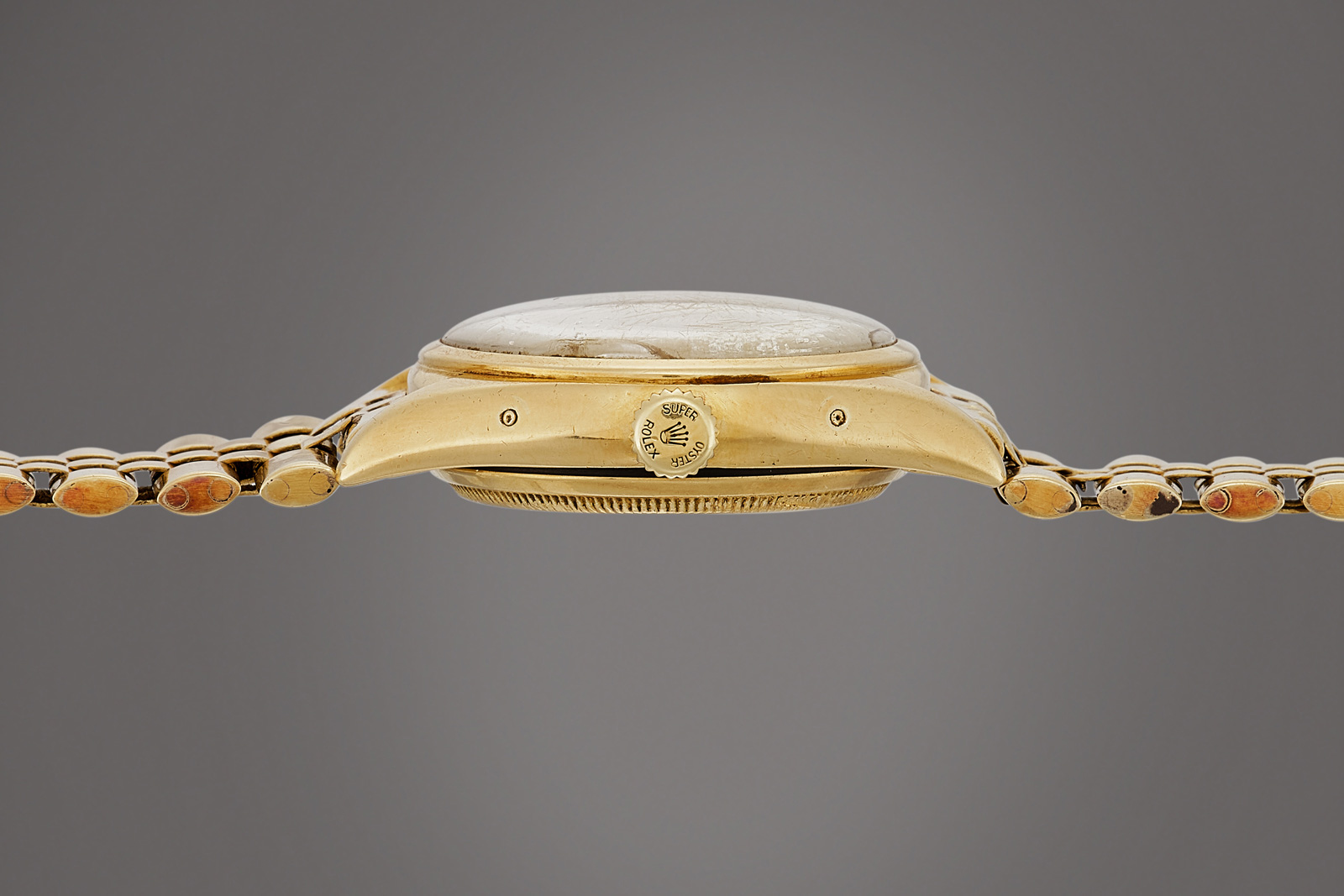 The former owner presumably wore the watch often, and the catalogue includes various photos of the owner wearing the watch over the decades.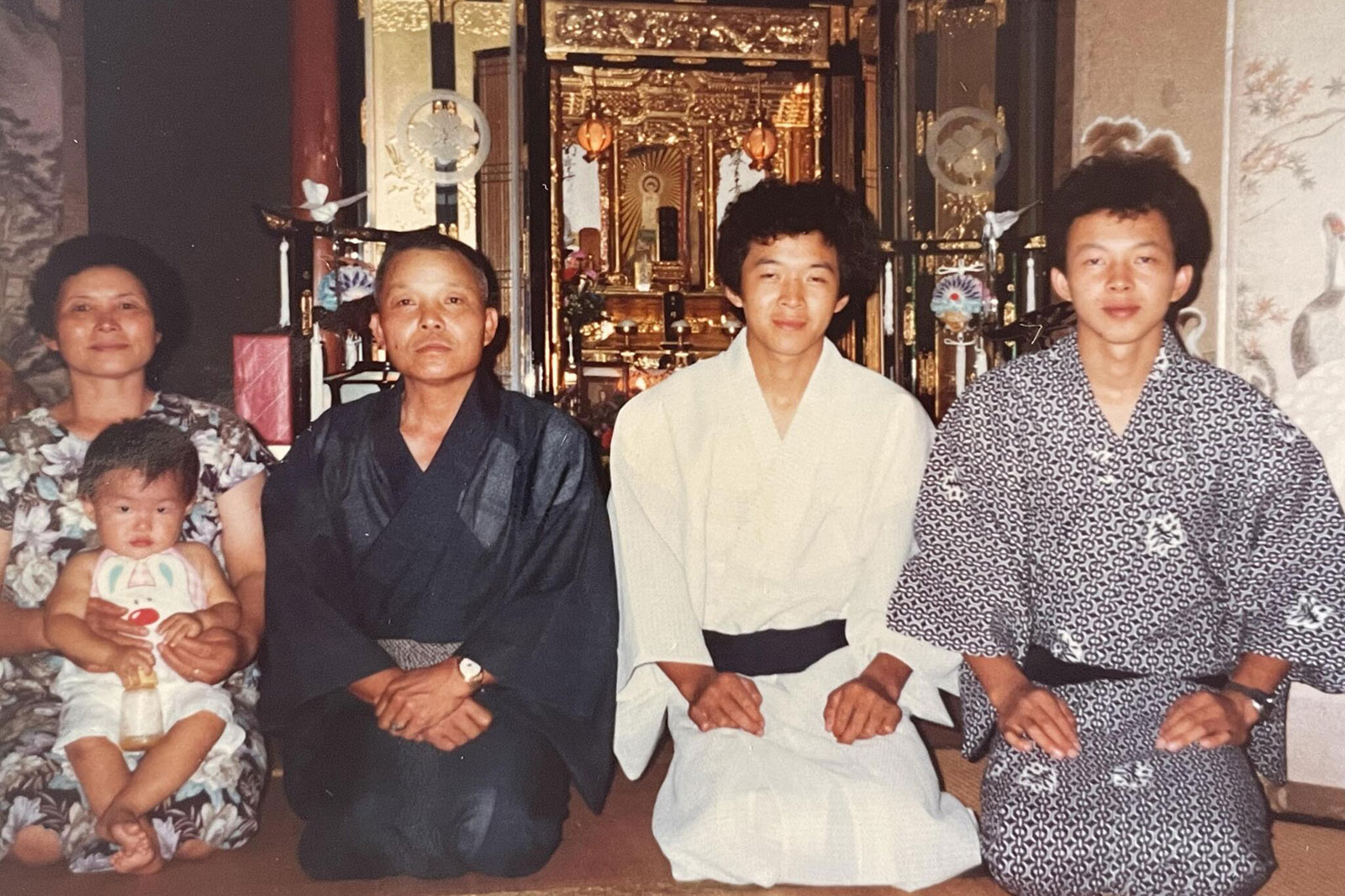 The ref. 6062 has an estimate of HK$3.2-4.8 million, or about US$410,000-614,000. Find out more in the catalogue. 
---
Though best known for its open-worked tourbillons in outrageous colours, Richard Mille has nonetheless presented numerous interesting and unusual complications over the years. One such example is the RM 62-01, which was created in partnership with Airbus Corporate Jets (ACJ), the aircraft manufacturer's subsidiary specialising in private aircraft. Perhaps the result of ACJ and Richard Mille sharing the same clientele, the partnership gave birth to, unsurprisingly, an extremely high-end travel watch.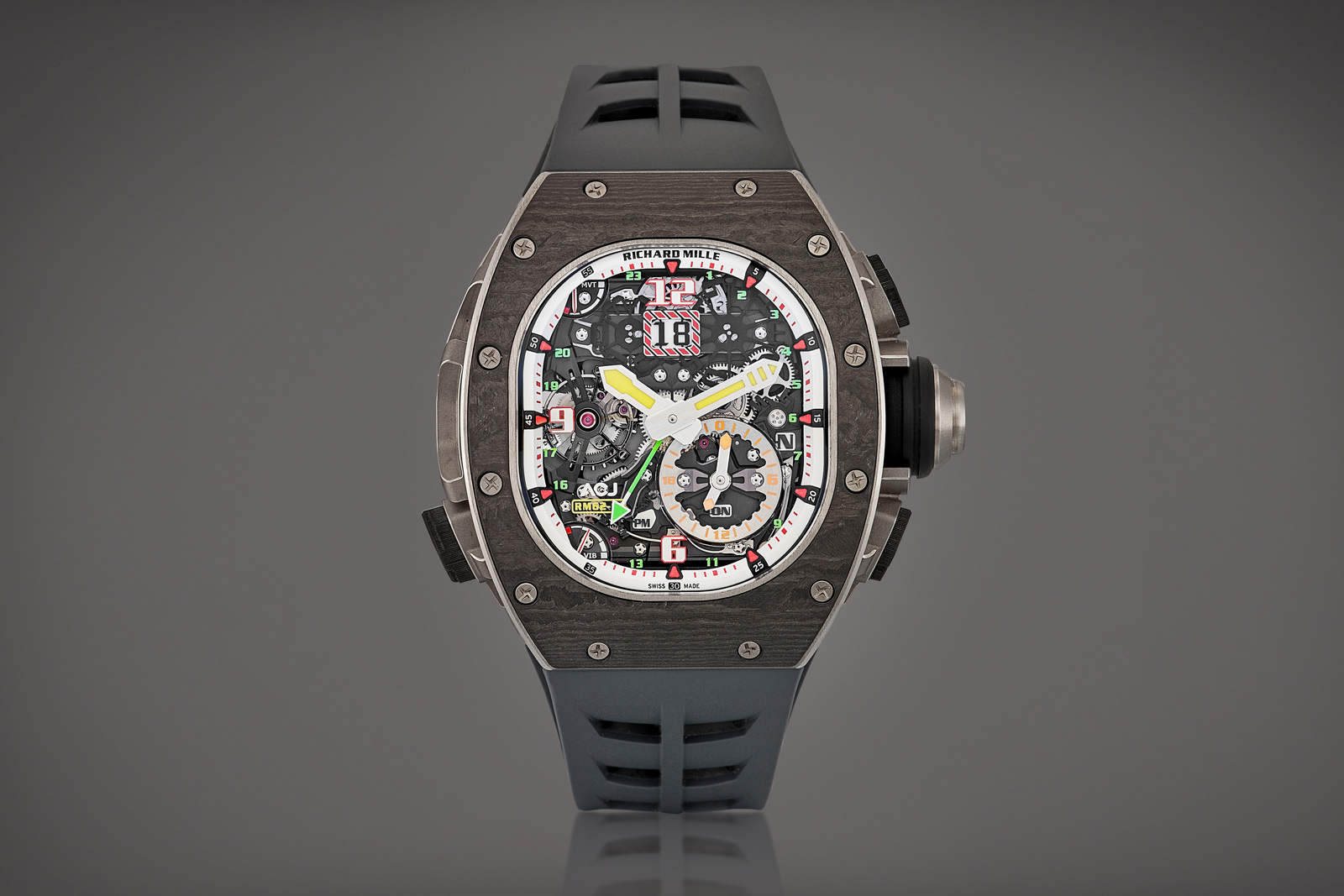 The RM 62-01 combines a tourbillon, a discreet vibrating alarm, and second time zone in the signature Richard Mille tonneau-shaped case in titanium and carbon fibre, but here fitted with an oval crystal instead to echo the shape of a jet's windows.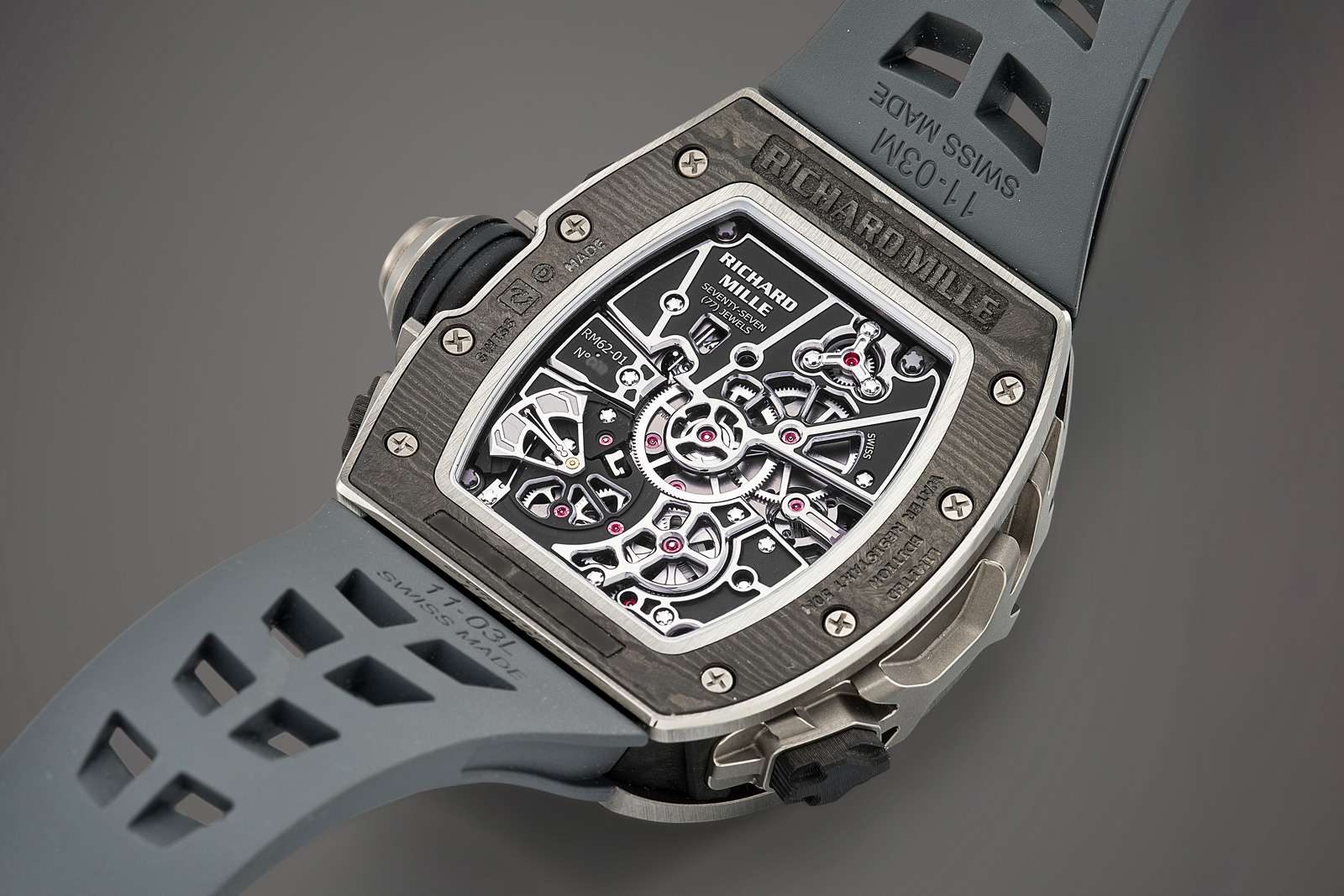 Like other Richard Mille watches, this has a function-selector crown, but one with addition functions. A pusher at seven o'clock controls the five functions of the crown: N (Neutral), W (winding), T (time setting), U (UTC hand setting), and A (alarm setting), with the function selected displayed on the gear at three o'clock.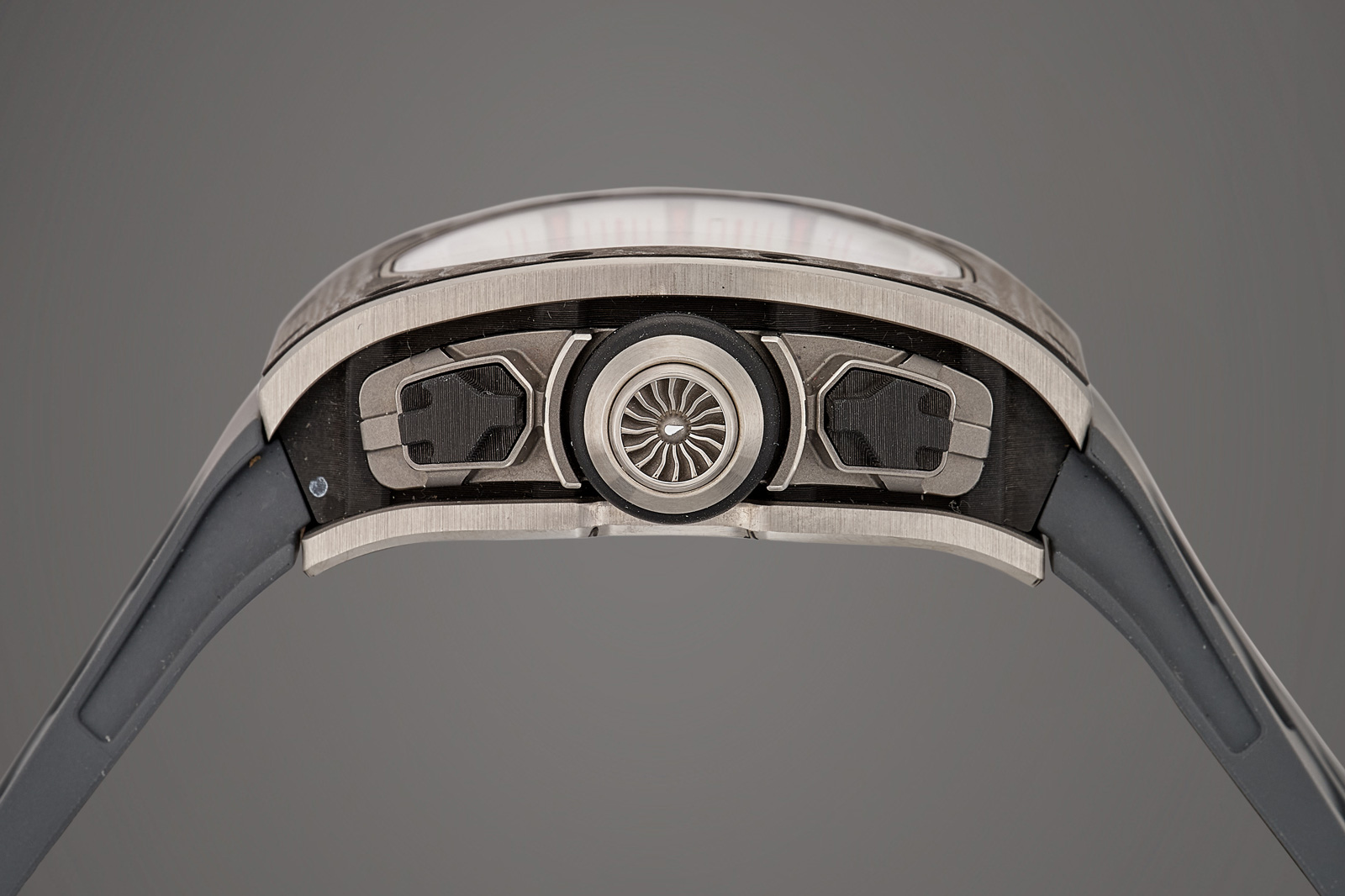 More notable is the alarm. Unlike traditional alarms that chime or buzz, this features a silent alarm using a gold oscillating weight that generates subtle vibrations, ensuring discretion.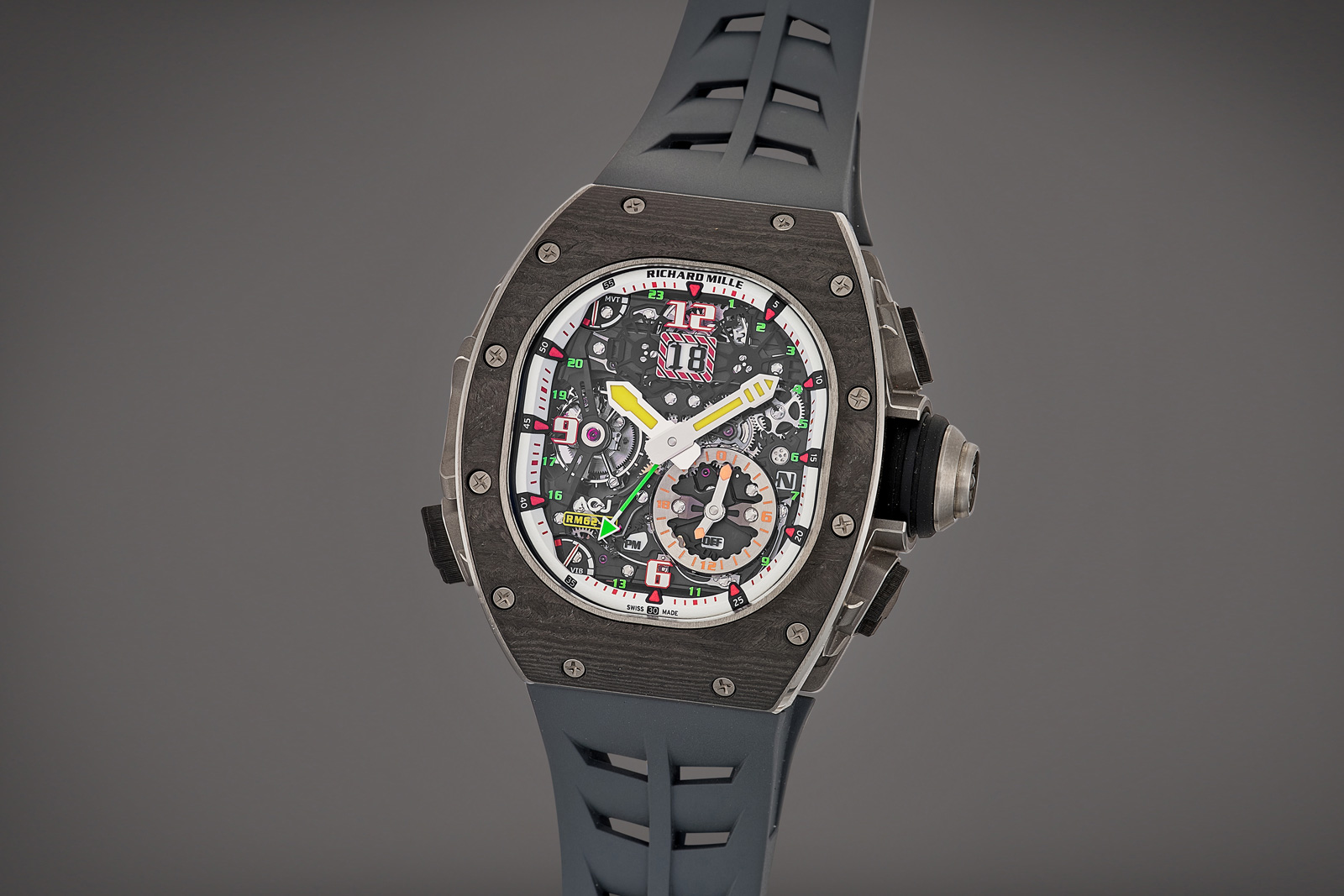 This particular model is part of a limited series of just 60 pieces. The RM 62-01 includes its presentation box, instruction manual, certificate, and a trio of Rimowa suitcases. It carries an estimate of HK$4.8-6.5 million, or about US$614,000-831,140. Full lot details here.
---
In 2015, Patek Philippe hosted the Watch Art Grand Exhibition in London's Saatchi Gallery, a showcase of its diverse collection of historical and contemporary timepieces while also highlighting its latest innovations in watchmaking. As is tradition for its Grand Exhibitions (the latest just happened in Tokyo), the brand introduced a series of limited-edition watches exclusively available through retailers in the United Kingdom for the occasion.
Among the London exhibition editions were revivals of discontinued models, including this ref. 5070R-014 in rose gold with a black dial, a combination that was never part of the regular catalogue.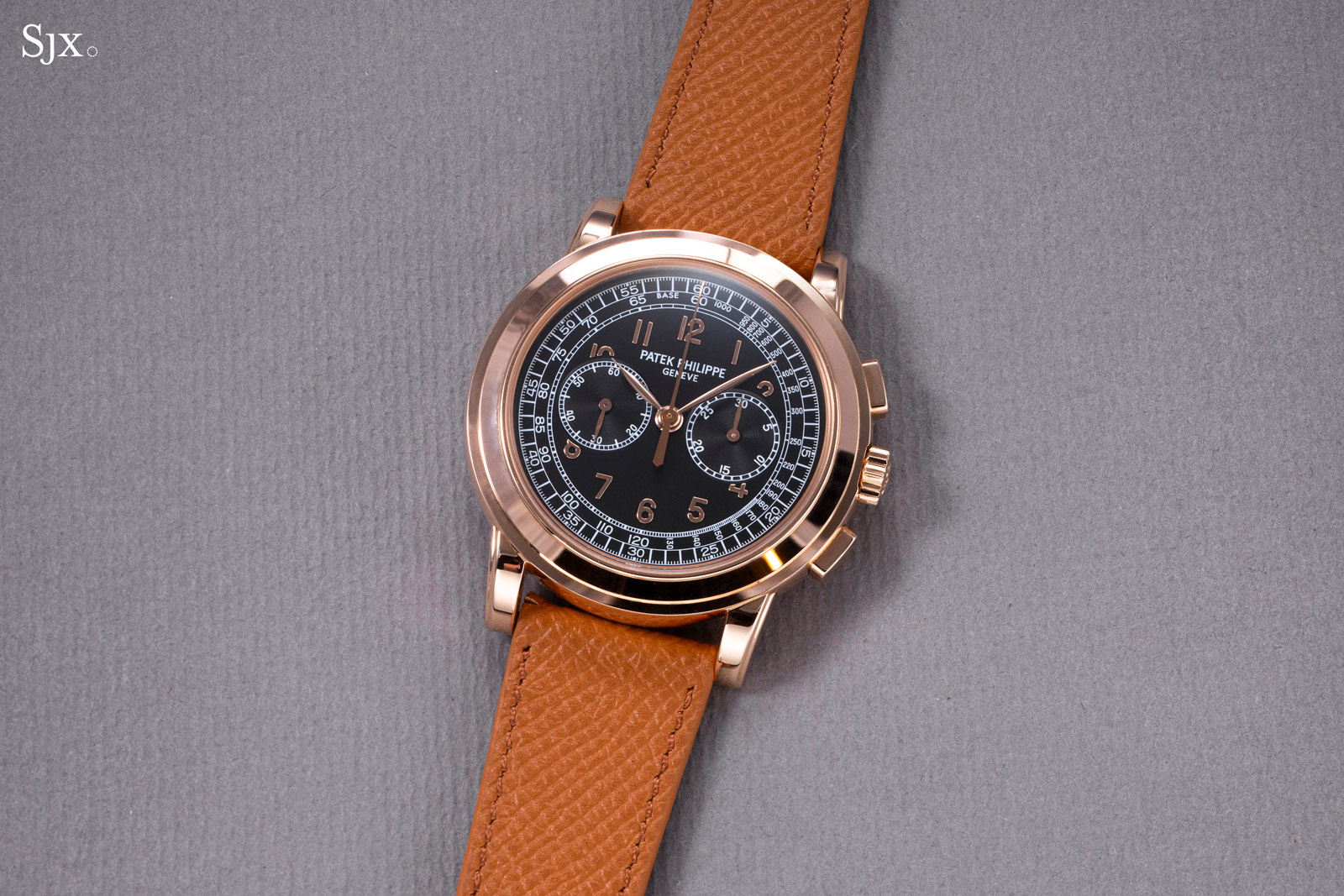 While the case and dial are novel, this edition retains the same design and layout as the standard ref. 5070. The case dimensions and movement remain unchanged as well, with a 42 mm case which houses the CH 27-70 movement, derived from the Lemania cal. 2310.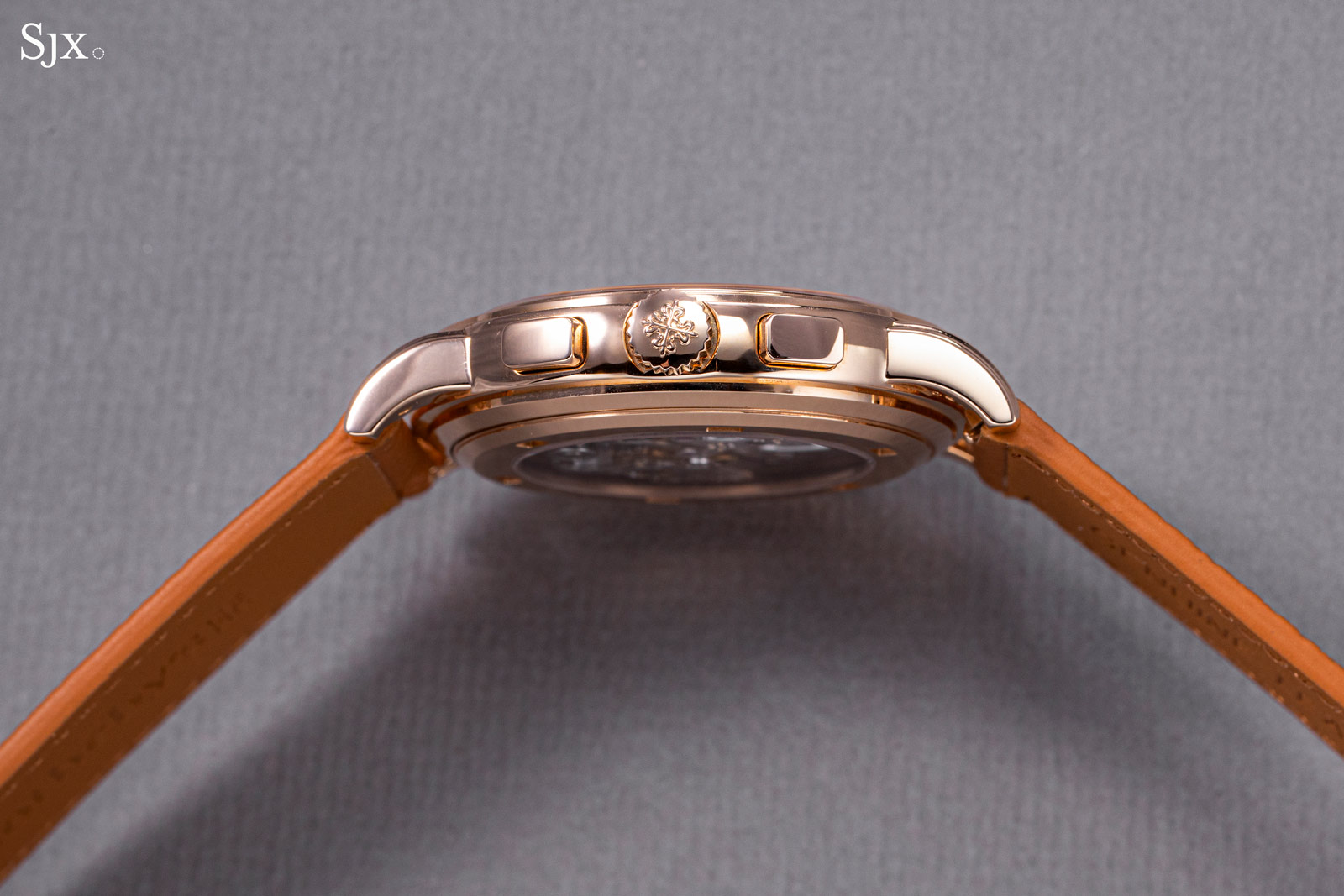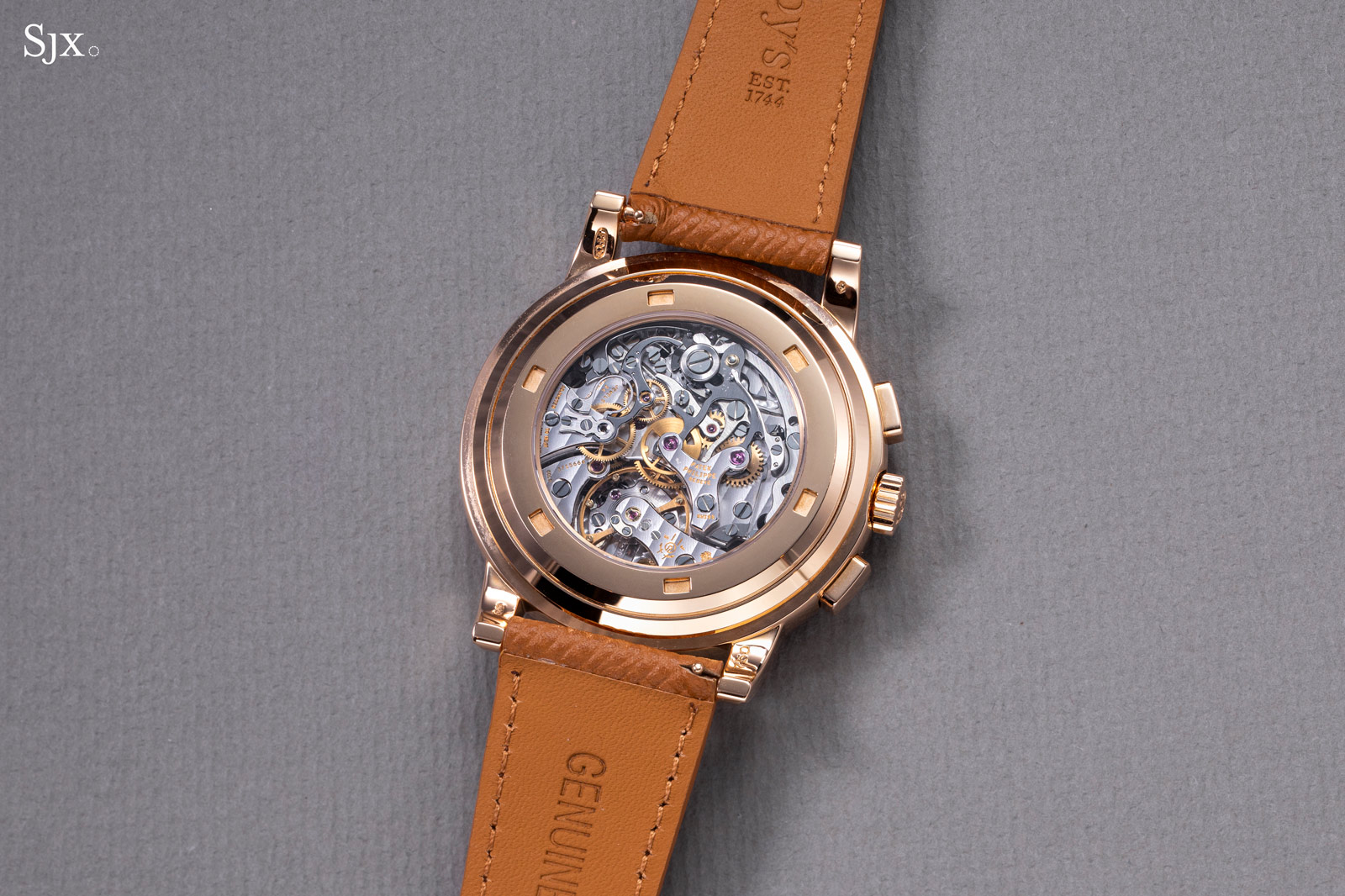 While Patek Philippe never revealed officially how many of each reissue edition were made, Sotheby's says that only five of the ref. 5070R with black dial were made.
Intriguingly, however, this example has a certificate dated 2019 that indicates it was sold by the Patek Philippe Salon in Geneva – whether this was part of the London exhibition edition or a subsequent special-order is unknown.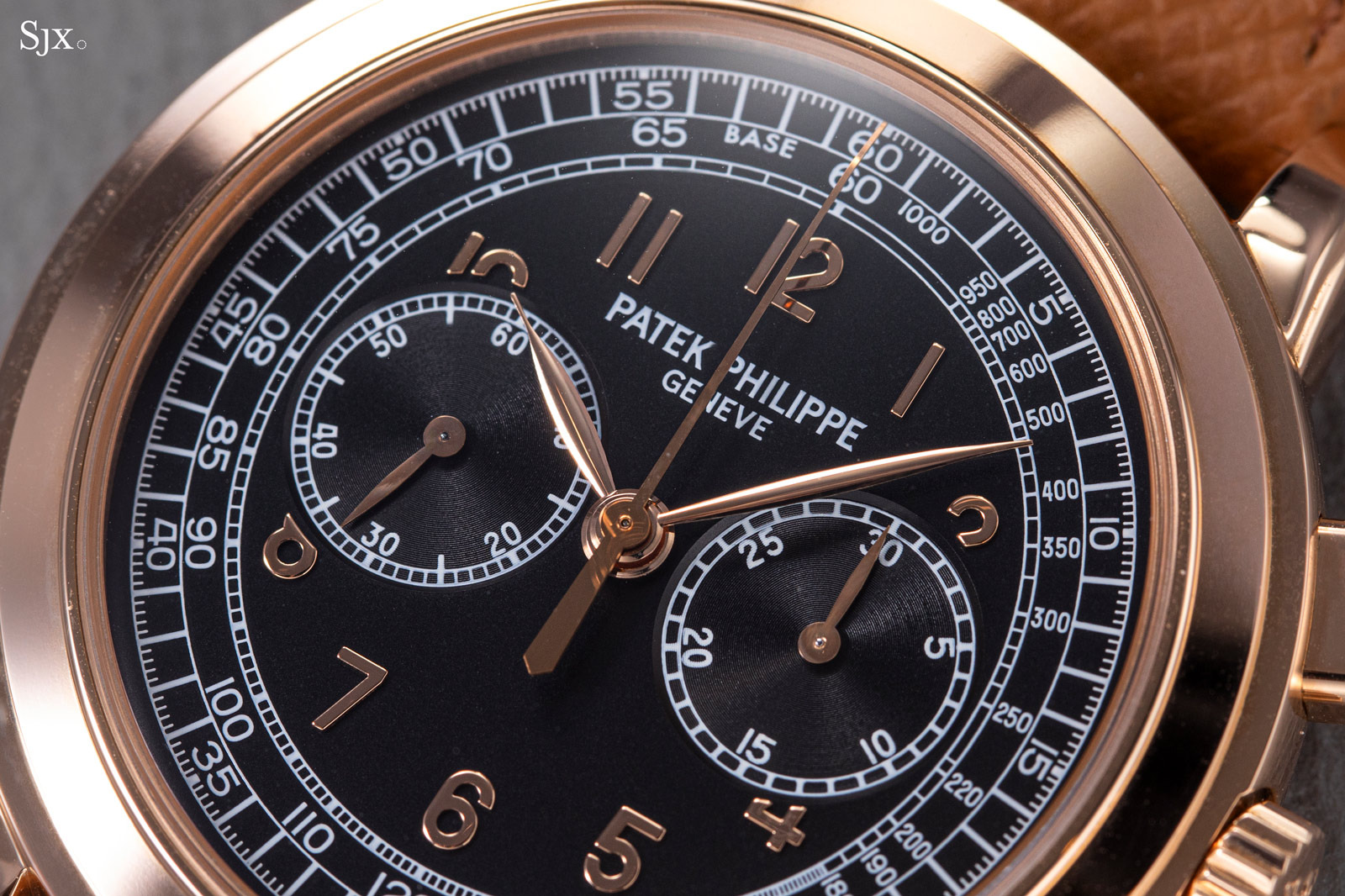 The ref. 5070R-014 is offered with its presentation box, certificate, and accompanying accessories. It has an estimate of HK$2-4 million, or about US$256,000-511,430. Find out more, visit the catalogue. 
---
Traditionally, the label "grand complication" encompasses chronograph, perpetual calendar, and minute repeater. However, the ref. 942/2J is even more than that. It is also a clockwatch boasting a grand and petite sonnerie striking on two gongs, as well as the upgrade of the chronograph to a rattrapante, setting it apart as a truly exceptional timepiece.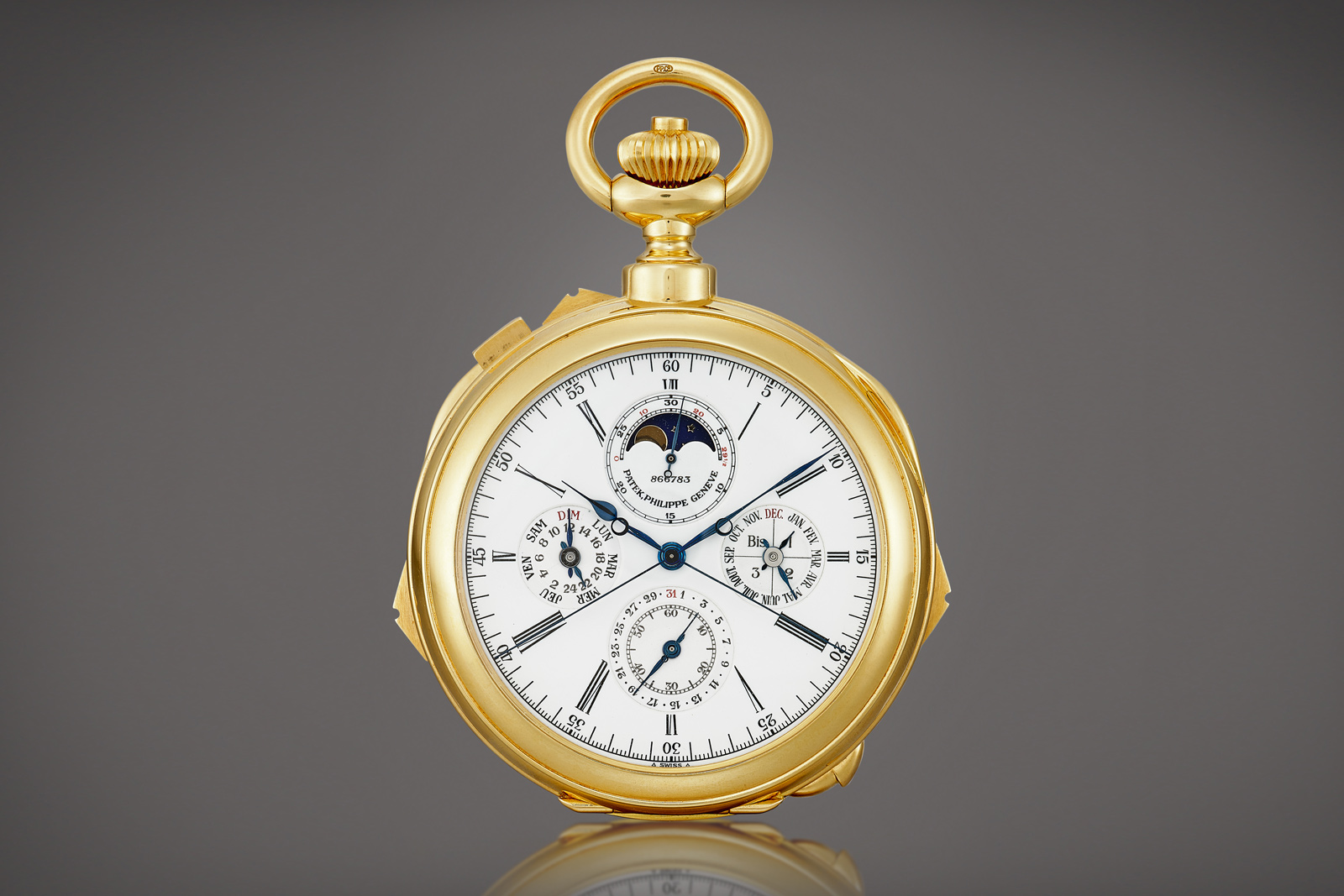 Encased in a 60 mm yellow gold case with a hinged case back, the remarkable 20"' calibre boasts 12 complications, 44 jewels and a movement stamped with the Poincon de Geneve. Taking about five years to complete originally, it exudes an air reminiscent of the golden age of such complicated pocket timepieces during the first quarter of the 20th century. 
Although the archive extract indicates it was made in 1993, the movement is almost certainly based on a late 19th century or early 20th century ebauche made by one of the greats of the Vallee de Joux.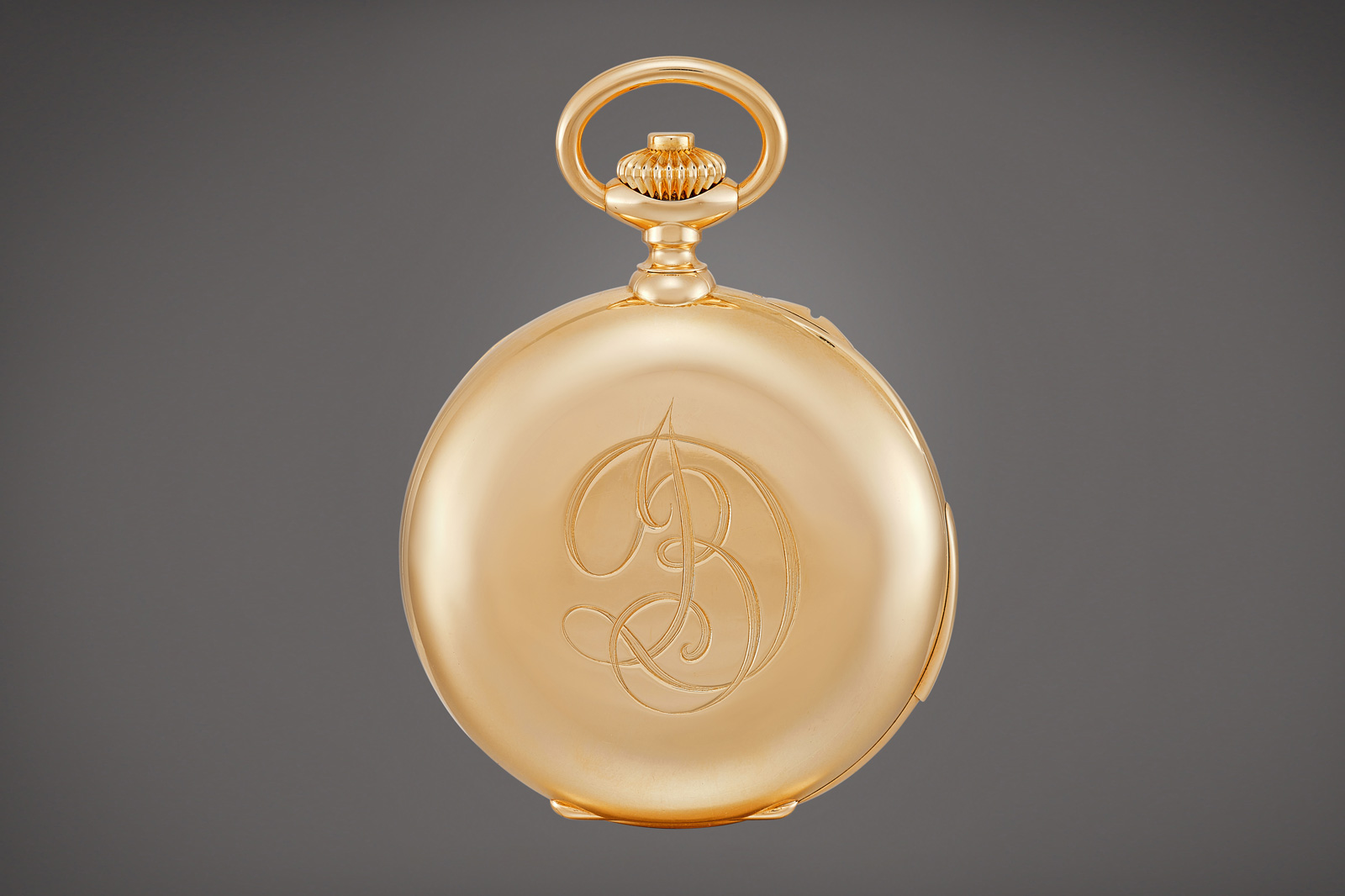 The timepiece comes complete with the certificate of origin, setting pin, instruction manual, leather portfolio, and presentation box. Additionally, it is accompanied by an extract noting the production of this watch in 1993 and subsequent sale on June 7, 2012.
The lot previously sold also by Sotheby's for US$468,500 in 2016. It now carries an estimate of HK$3.5-5 million, or about US$447,400-639,200.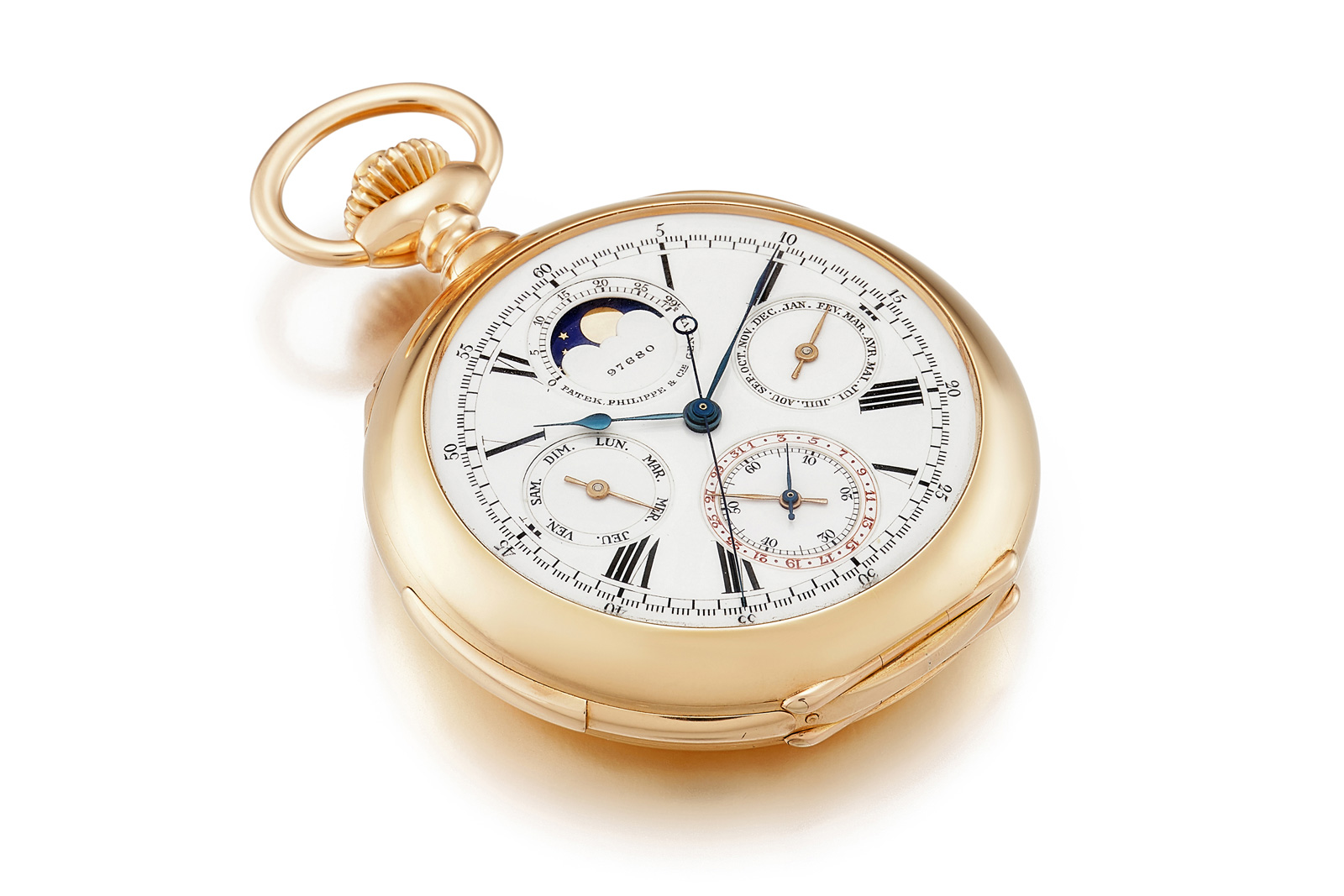 Full lot details here. 
---
Made for the 175th anniversary of Patek Philippe, the ref. 5275 is unique amongst the brand's complications in form, movement, and decoration. It is presented in a classic tonneau-shaped case, but three jumping time indications of hours, minutes, and seconds, with a chiming indication at the top of every hour. A followup to the ref. 3969 made for the brand's 150th anniversary in 1989, the ref. 5275 also inaugurated a new calibre at the time of its launch, which has not been found in any other model since.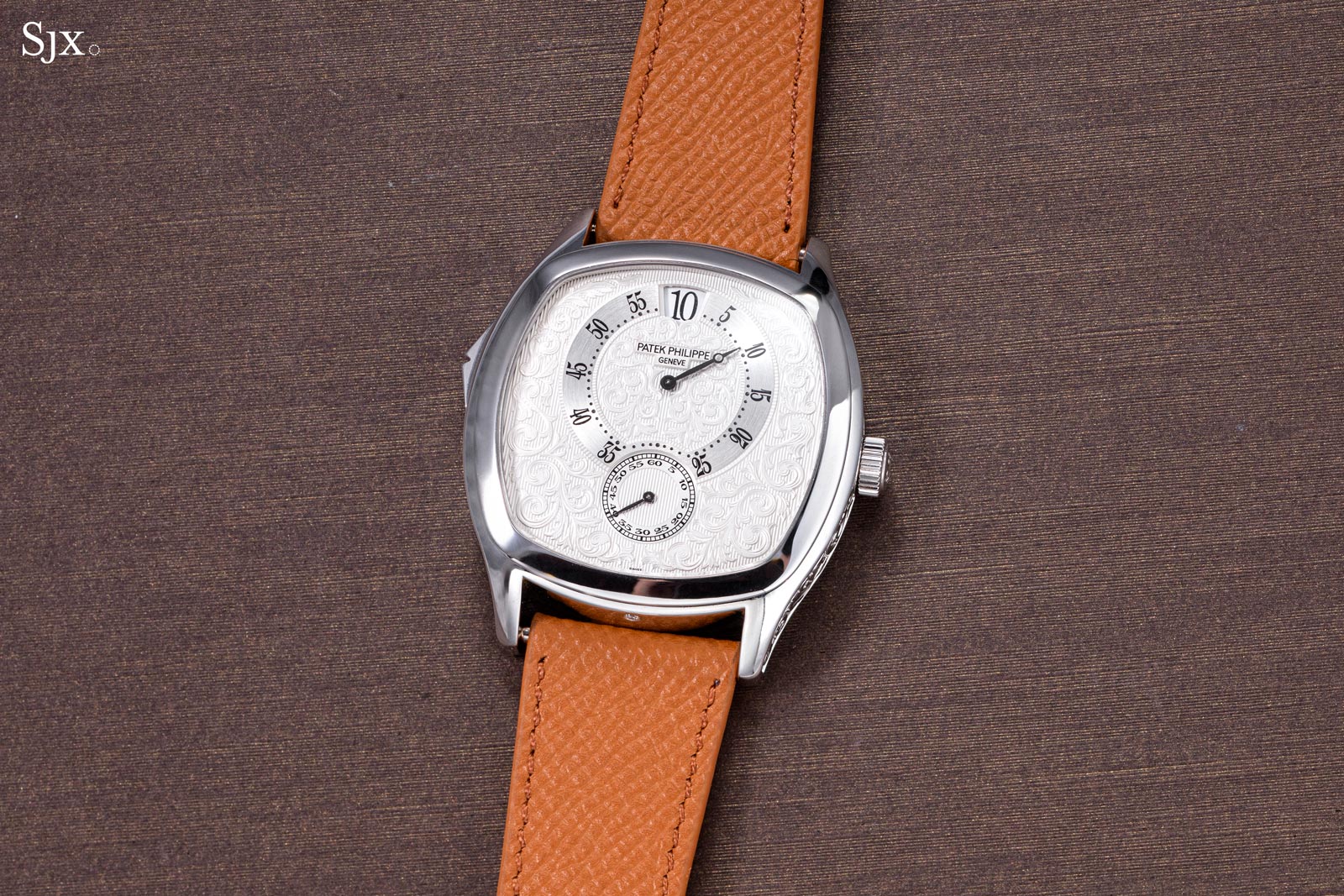 The cal. 32-650 HGS PS required five years of development due to a mechanism that needed not only to store the energy required for the jumping indications, but that would also, simultaneously, synchronise the jumps of the seconds, minutes and hours as well as the hourstriker that sounds a single note as each hour passes. A slide at 10 o'clock can silence the striking mechanism when desired.
The jumping indications, two on hands and one on a disc, are shown on a dial decorated with a floral motif against a linear guilloche. Though likely stamped rather than hand engraved, the motif is appealing and also discreet since it is tone-on-tone with the dial.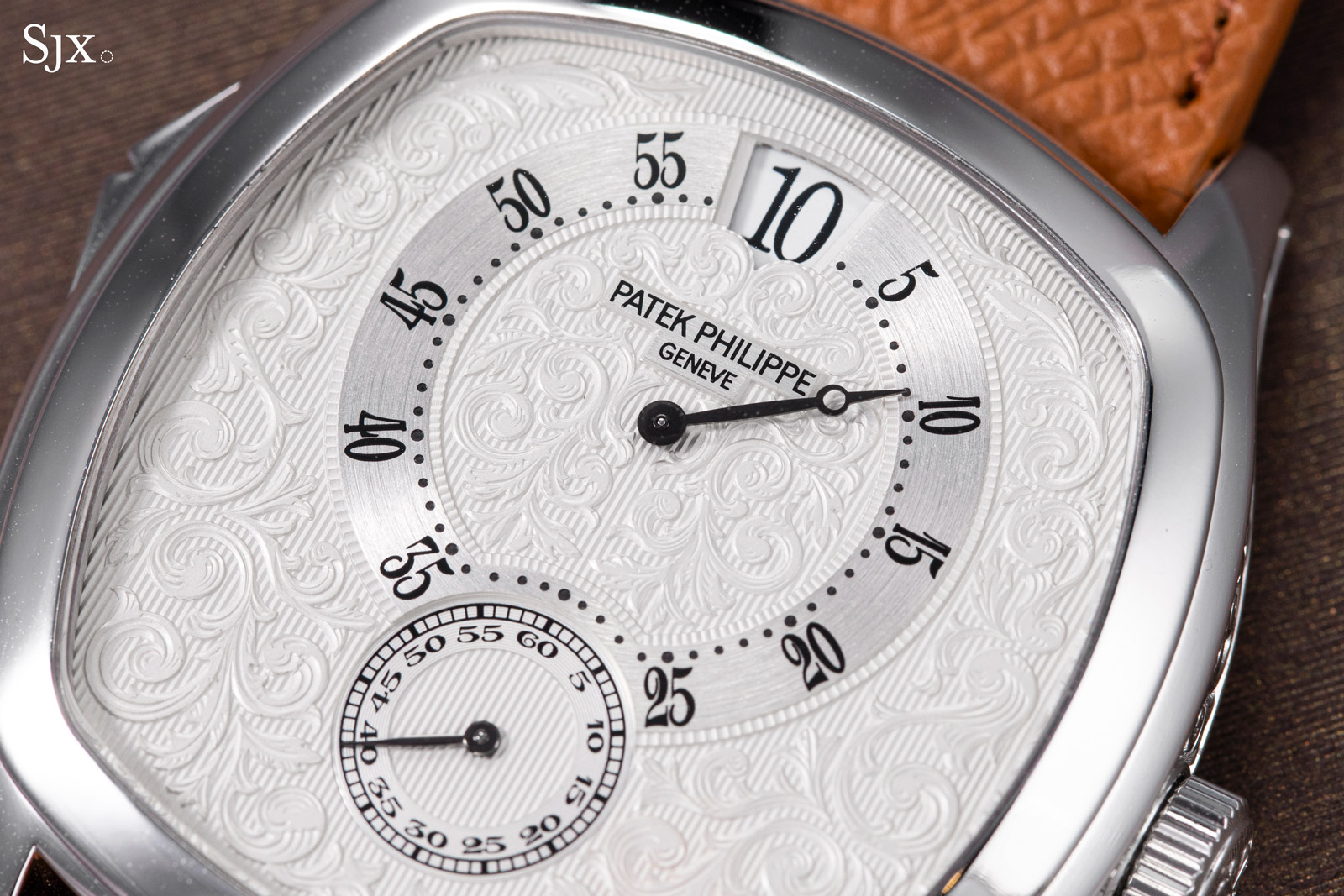 The complicated calibre is housed in a 40 mm platinum case that also features a solid platinum case back with the commemorative engraving. But more interesting are the flanks of the case, which are hand engraved with a floral motif that echoes the dial decoration.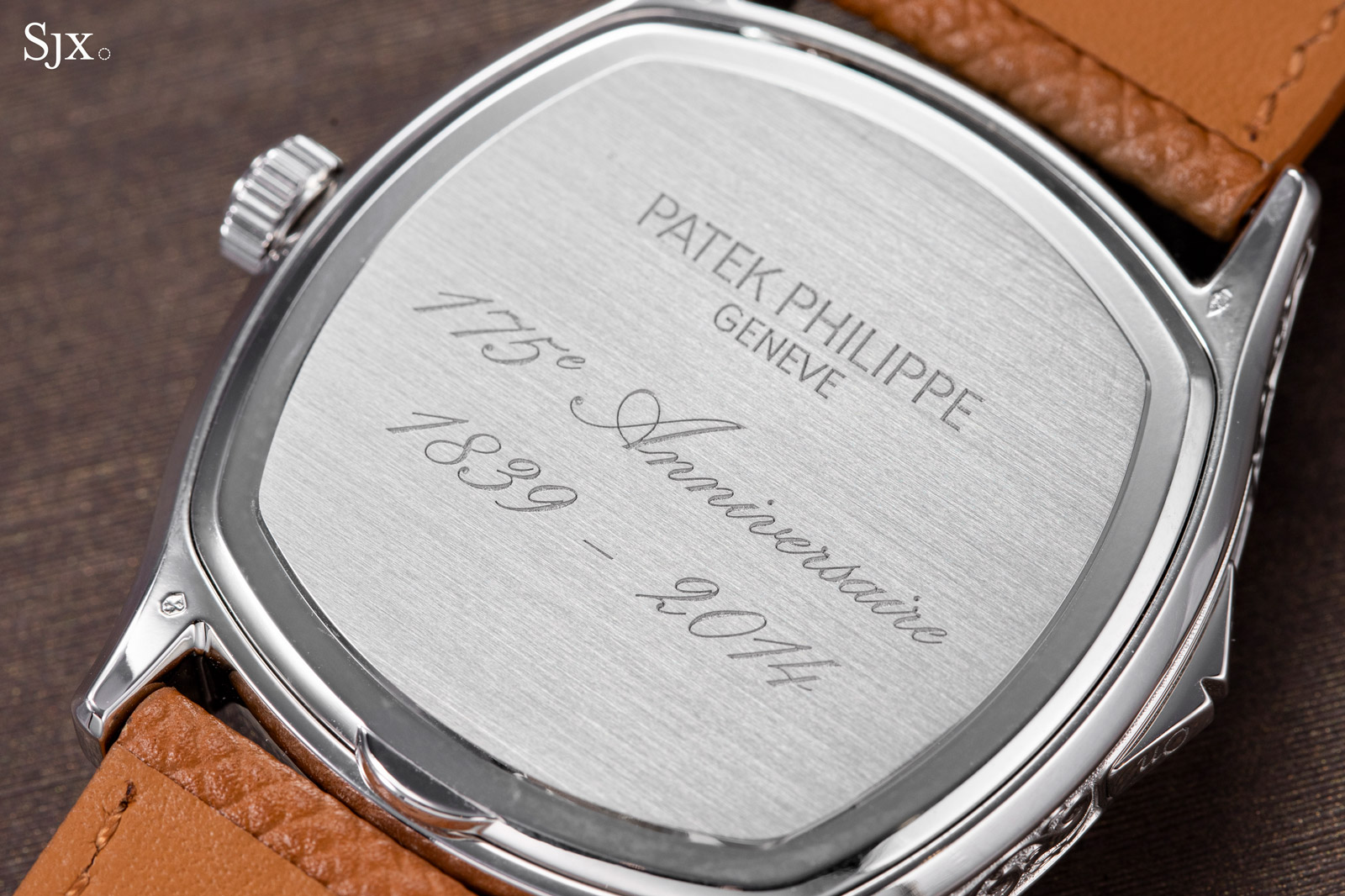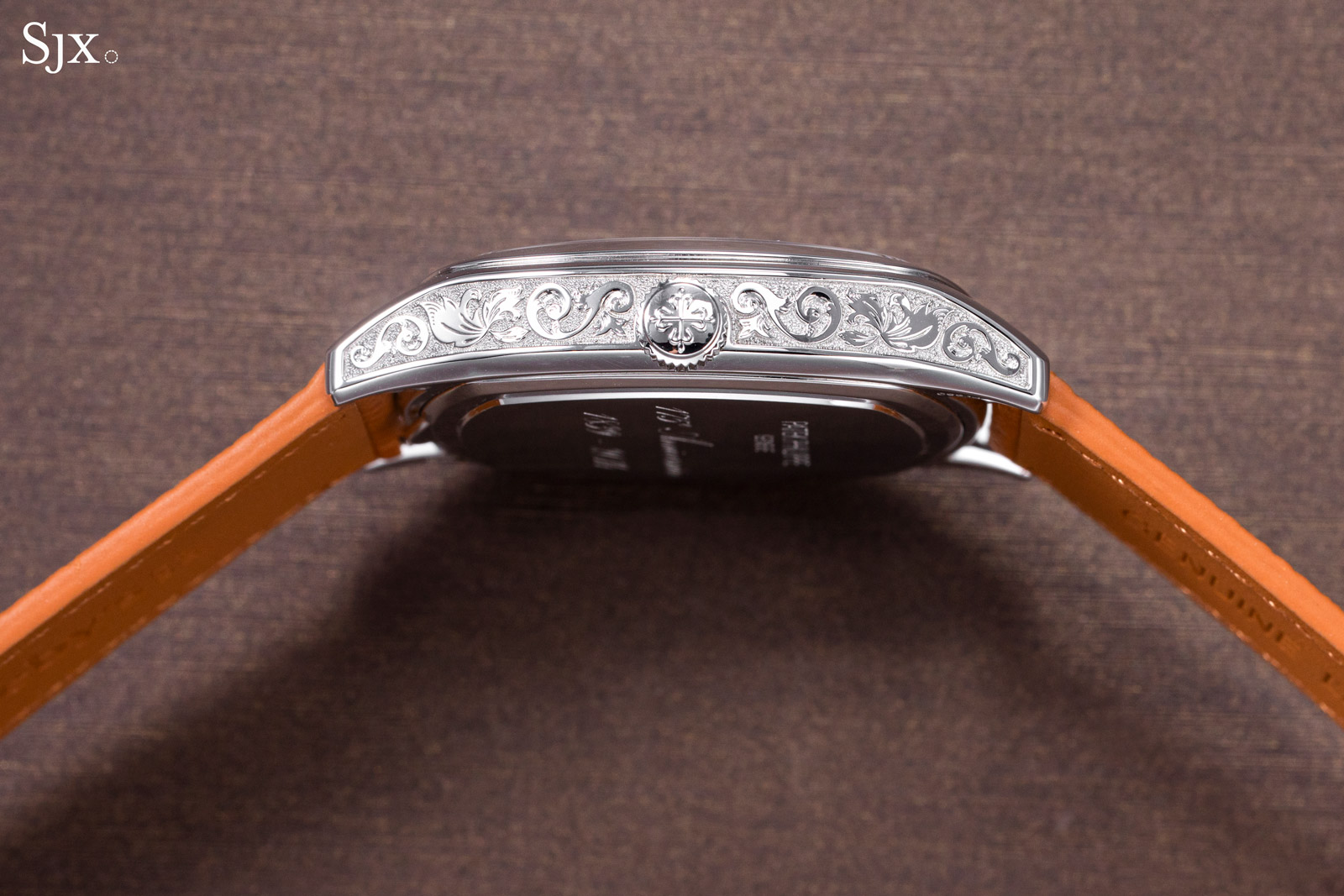 Accompanied by the certificate and assorted literature, commemorative medal, and presentation box, the ref. 5275 carries an estimate of HK$2.8-4.8 million, or about US$357,900-613,600. Find more information on this lot here.
---
The ref. 5004R-018 belongs to Patek Philippe's lineage of split-second chronographs that originated in the 1930s with the ref. 1436 and also its perpetual calendar chronographs that started with the ref. 1518 in the 1940s.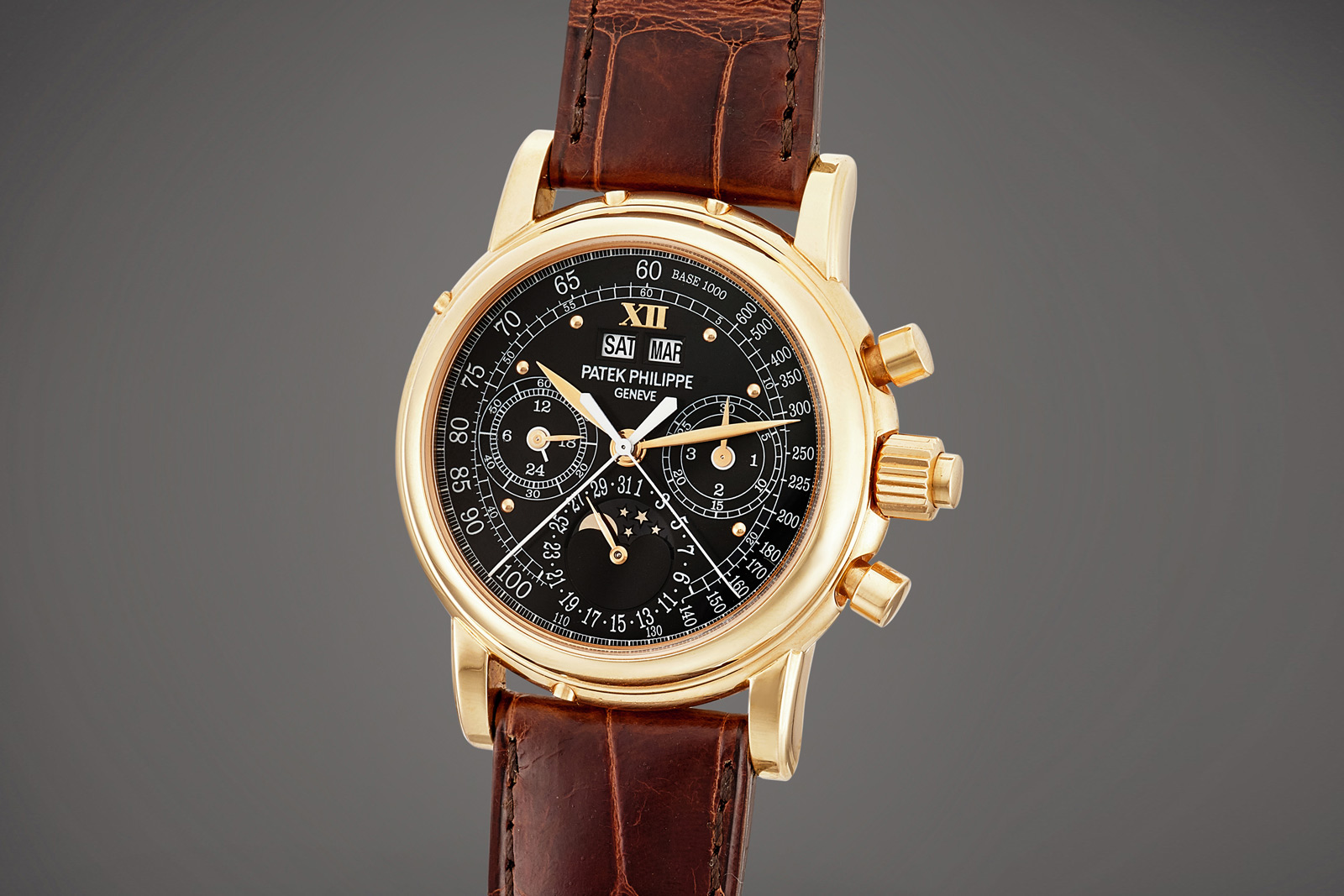 The present example is highly desirable not just for being a ref. 5004, but a ref. 5004 with a special-order dial. It has a 36.5 mm rose gold case and a black dial featuring rare elements such as a tachymeter scale, dot hour markers, and single Roman numeral at 12, this is instantly distinguishable from the standard production run.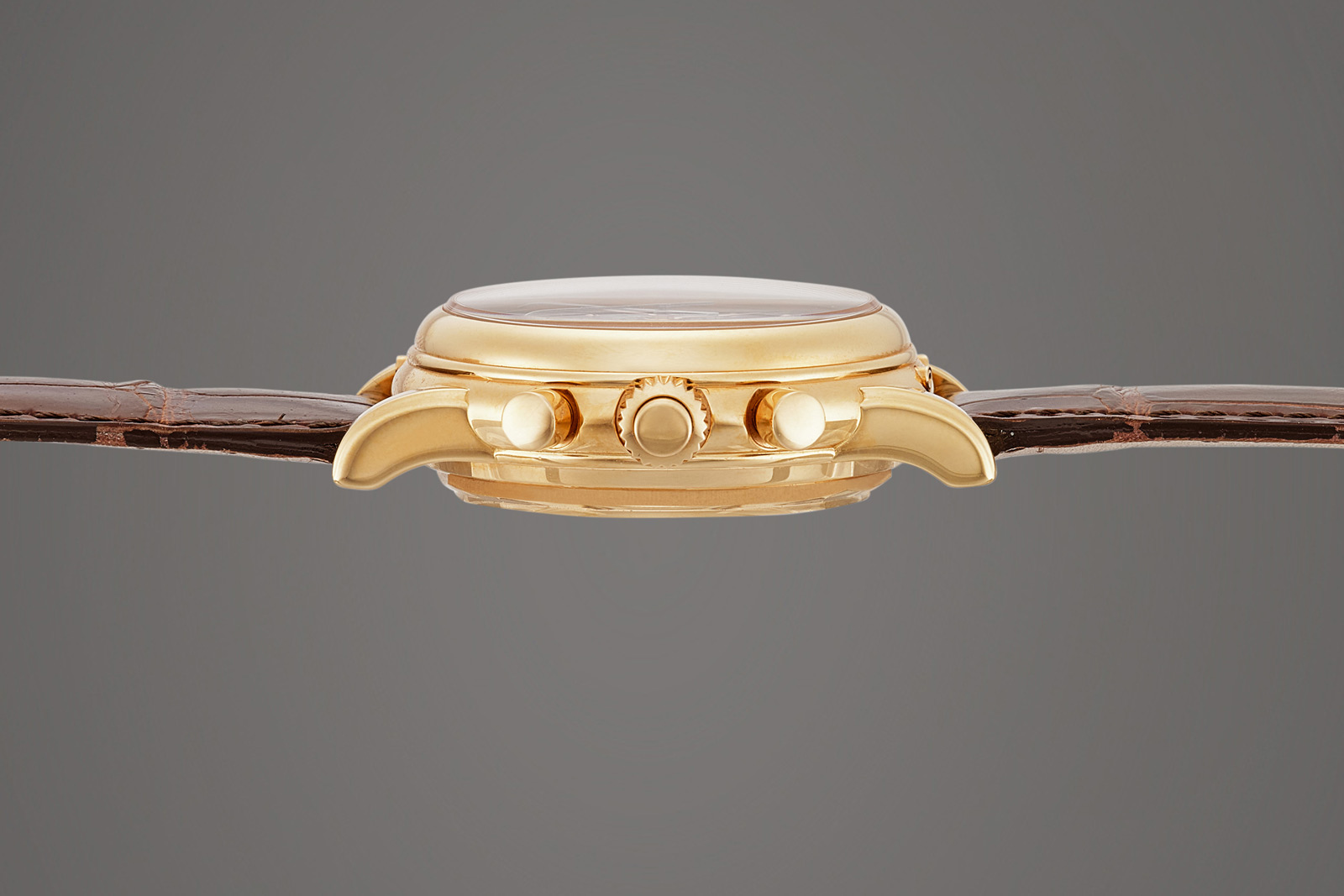 Interestingly, this example bears a strong resemblance to one Christie's sold last year, which was a special order for the former president of Disney and co-founder of the Creative Arts Agency (CAA), Michael Ovitz, the Hollywood "super agent" who reputedly received several dozen Patek Philippe watches with special order dials featuring his initials at six o'clock. While not identical, the similarity between the two is striking, illustrating Patek Philippe's frequent use of the same favoured elements in its special orders.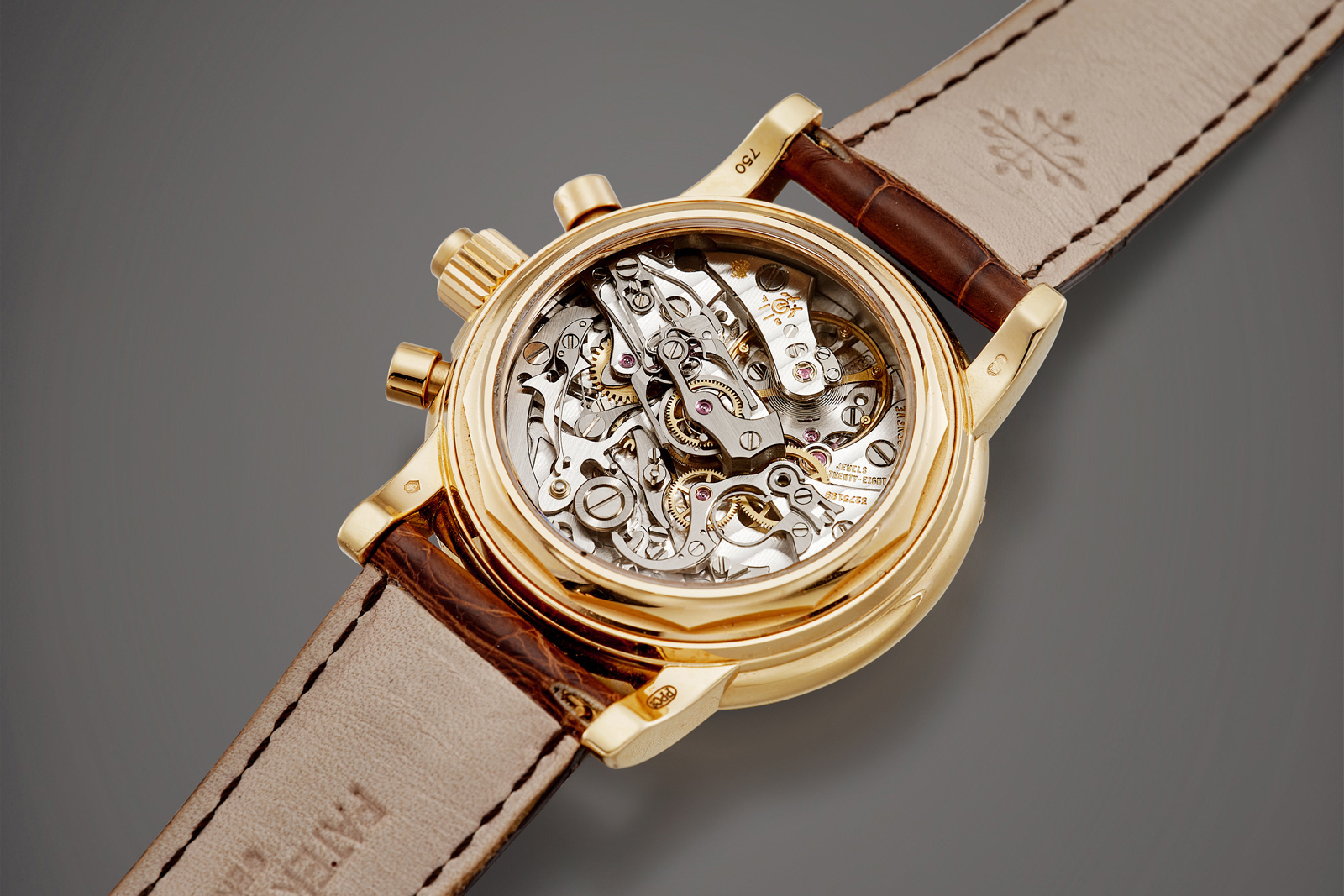 Manufactured in 2009, the final year of production for this reference, the present watch is offered as a complete set and carries an estimate of HK$5.0-8.0 million, or about US$639,200-1.02 million. Full lot details here.
---
"Retailed by Tiffany in collaboration with Patek Philippe" is a line that holds a special allure for many collectors since it links Geneva's most storied watchmaker with its oldest and largest retailer in America. This third-series ref. 3940P is one such watch, but made even more appealing since it is the only known example in platinum to bear the "Tiffany & Co" signature on the sub-dial at six.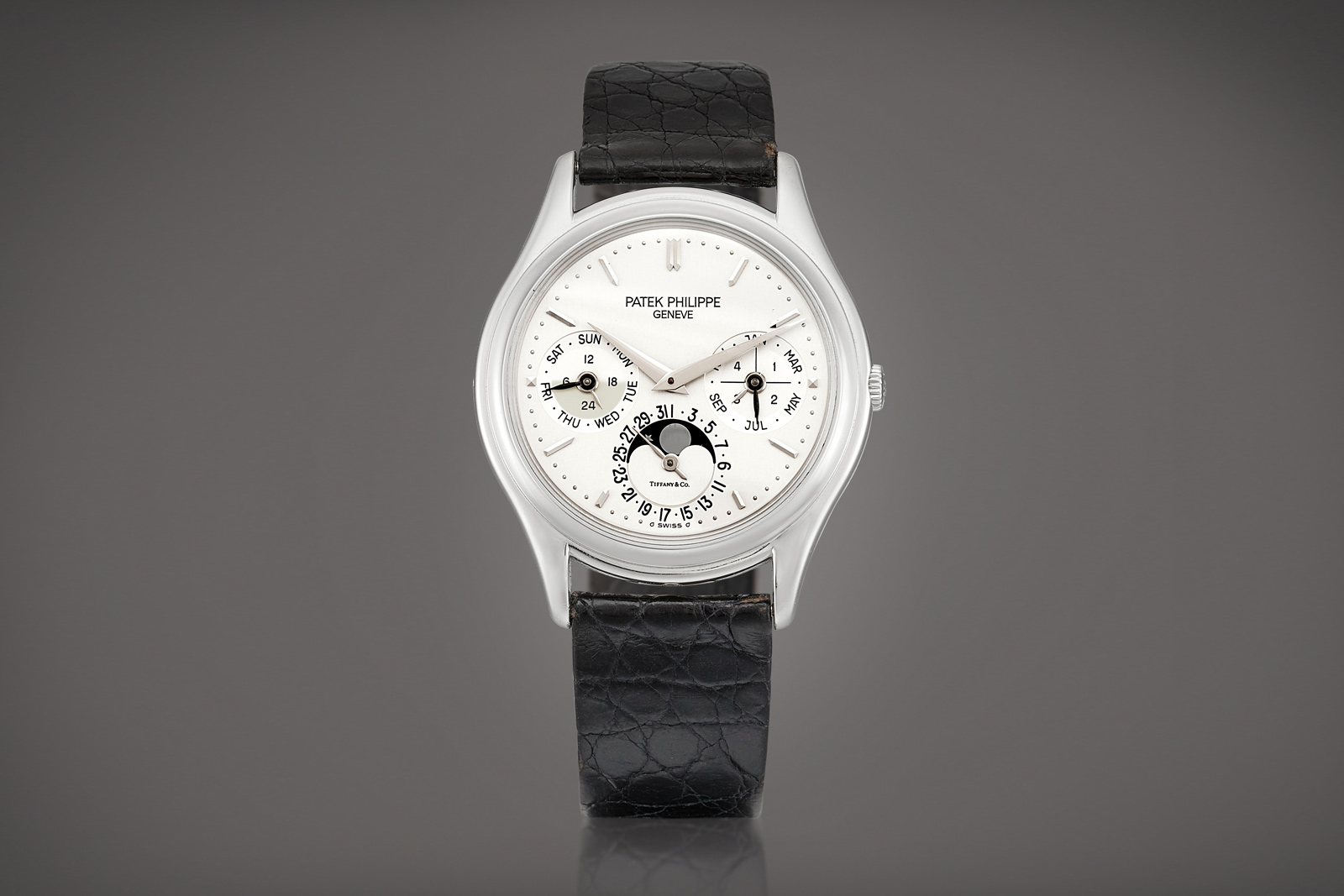 Originally launched in 1985, the ref. 3940 was the third self-winding perpetual calendar model in the history of Patek Philippe but perhaps the best known, having been in production for over three decades.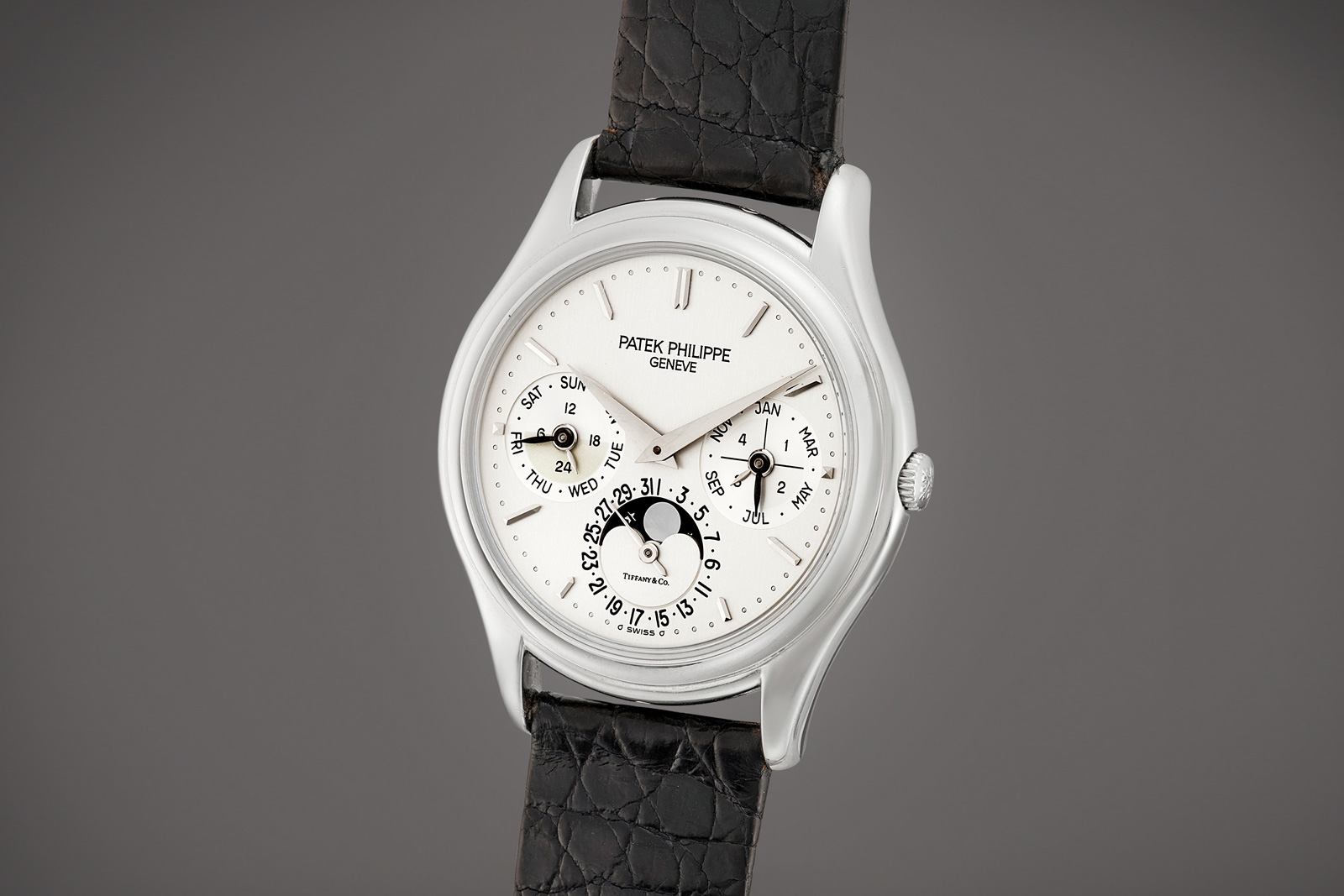 Sold as a complete set including a certificate marked "Tiffany & Co.", the present lot dates to 2004 and has an estimate of HK$1.0-2.0 million, or about US$127,800-255,700. It was sold in 2007 at Antiquorum for CHF70,000, about double the going rate for the reference at the time.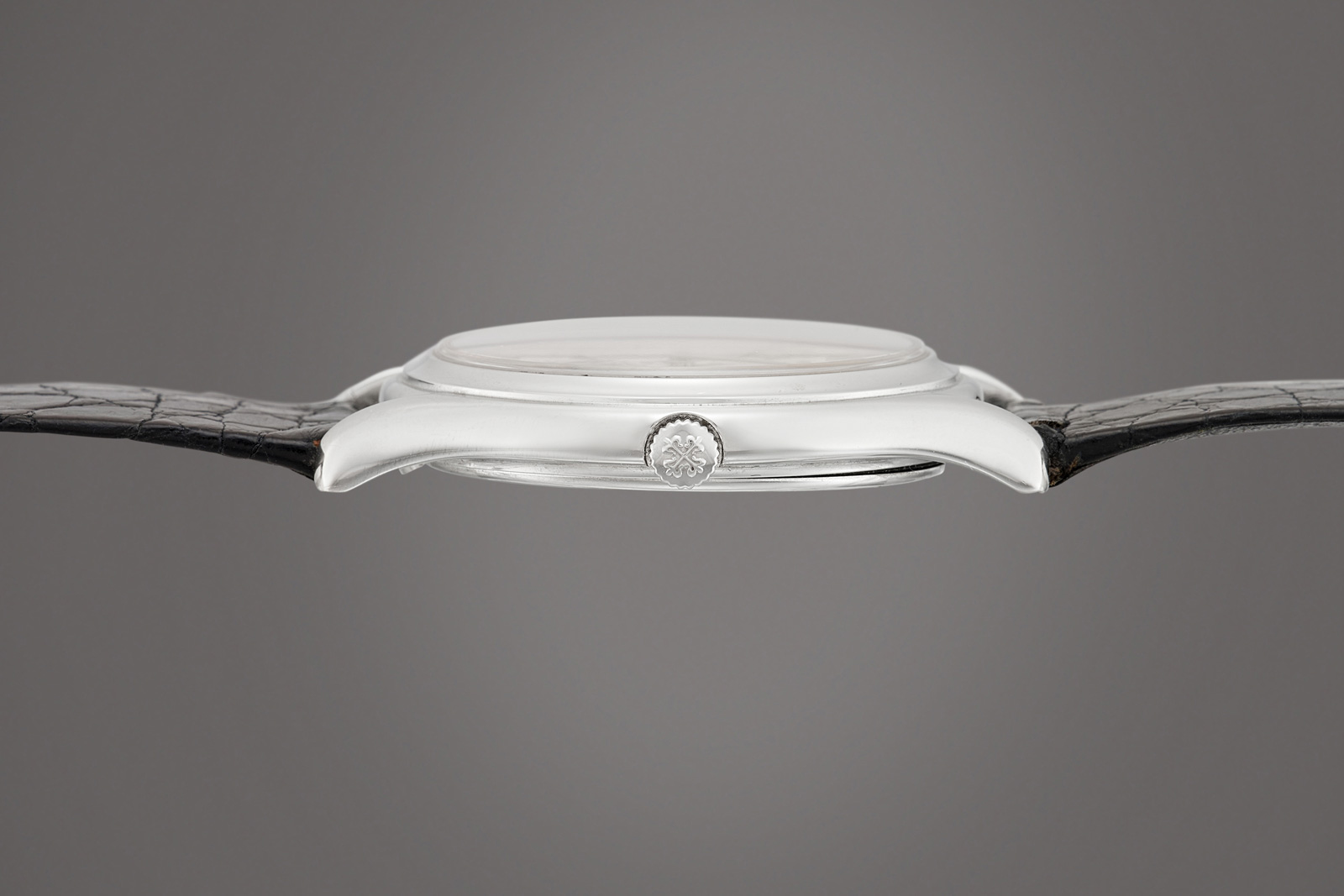 For more, view the catalogue entry. 
---
Preview and auction details
All lots will be on show during the preview exhibition in the run-up to the auction. Both the auction and preview will take place at the Sotheby's Hong Kong Gallery located in Admiralty.
Preview
Open daily October 2-6 from 10:00 am-6:00 pm
Auction
October 7, 10:00 am
All times are local to Hong Kong, GMT+8.
Sotheby's Hong Kong Gallery
5/F, One Pacific Place
88 Queensway, Admiralty
Hong Kong
For the full catalogue, as well as viewing appointments and online bidding, visit Sothebys.com.
---
This was brought to you in collaboration with Sotheby's.
Back to top.
---
You may also enjoy these.