Patek Philippe Introduces the Rare Handcrafts Tokyo 2023
Spectacular as ever.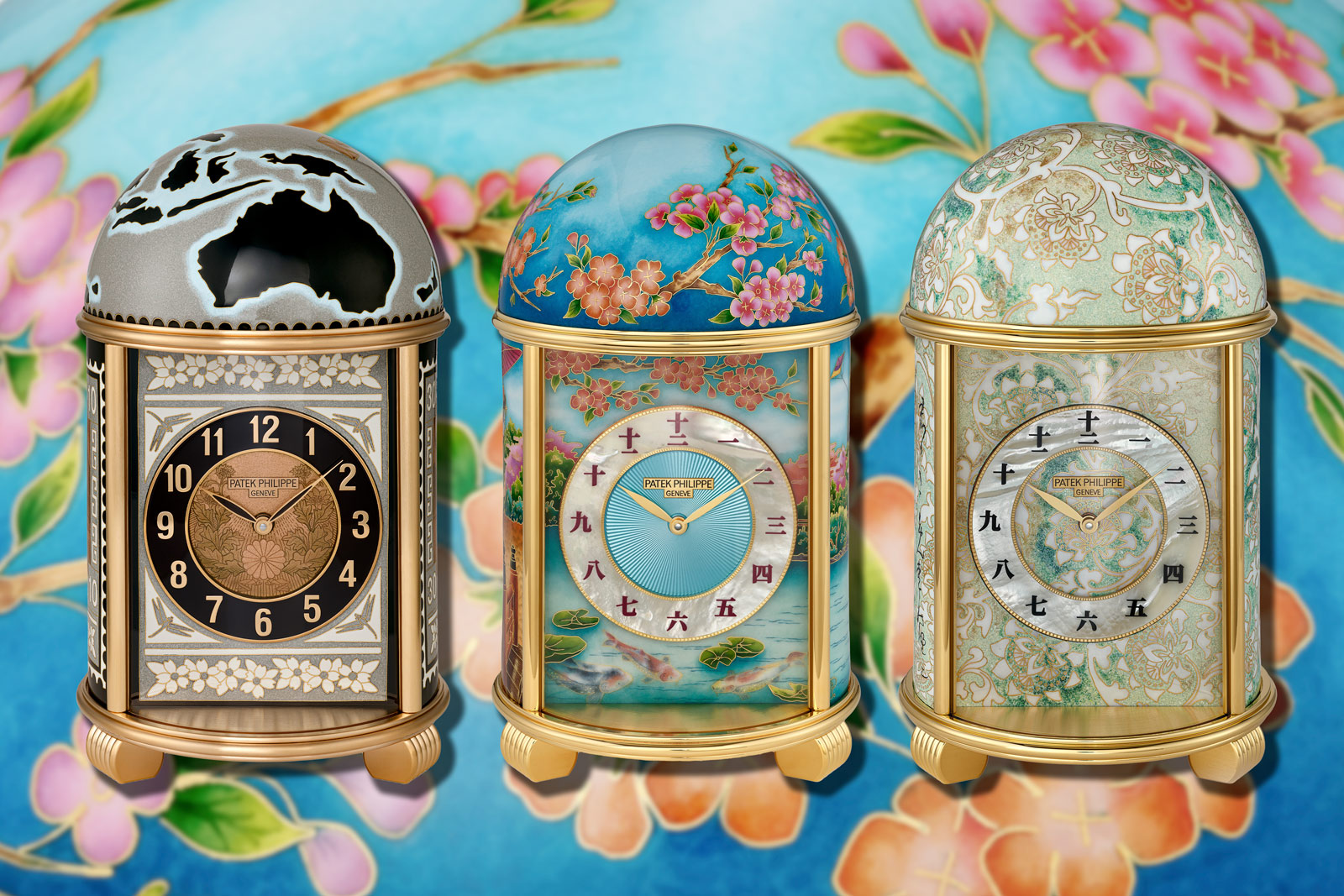 True to form, Patek Philippe has debuted more than a dozen new timepieces from its Rare Handcrafts collection at the brand's Watch Art Grand Exhibition in Tokyo. Reserved exclusively for the Japanese market, the new collection includes dome clocks, table clocks, pocket watches, and wristwatches.
Featuring traditional Japanese motifs, the new releases reflect Patek Philippe's expertise in a range of precious crafts and techniques, including marquetry, guilloché, and various forms of enamelling including Grand Feu cloisonné, paillonné, flinqué, and grisaille enamel. 
The event is taking place at the Sankaku Hiroba expo centre in Shinjuku and runs from now until June 25, 2023. Admission is free and no registration is required to attend.
Dome clocks and table clocks
When it comes to Patek's Rare Handcrafts, nothing serves as a better backdrop for an artist's skills than the brand's iconic dome clocks. Measuring 213.5 mm tall and 128 mm in diameter, each clock is powered by the mechanical cal. 17''' PEND, which is conveniently rewound by an electric motor.
While I often find that miniature paintings on wristwatch dials can look cramped at such a small scale, the large panels of a dome clock provide ample space for more dynamic compositions.
Case in point is the Dome Clock ref. 20137M-001 "Hanami", which uses Grand Feu cloisonné enamel to depict the Japanese custom of appreciating blooming trees, particularly cherry blossoms. This elaborate scene, which portrays everything from a Koi pond in the foreground to the imposing NTT Tower in the background, uses 100 different colours of translucent enamel.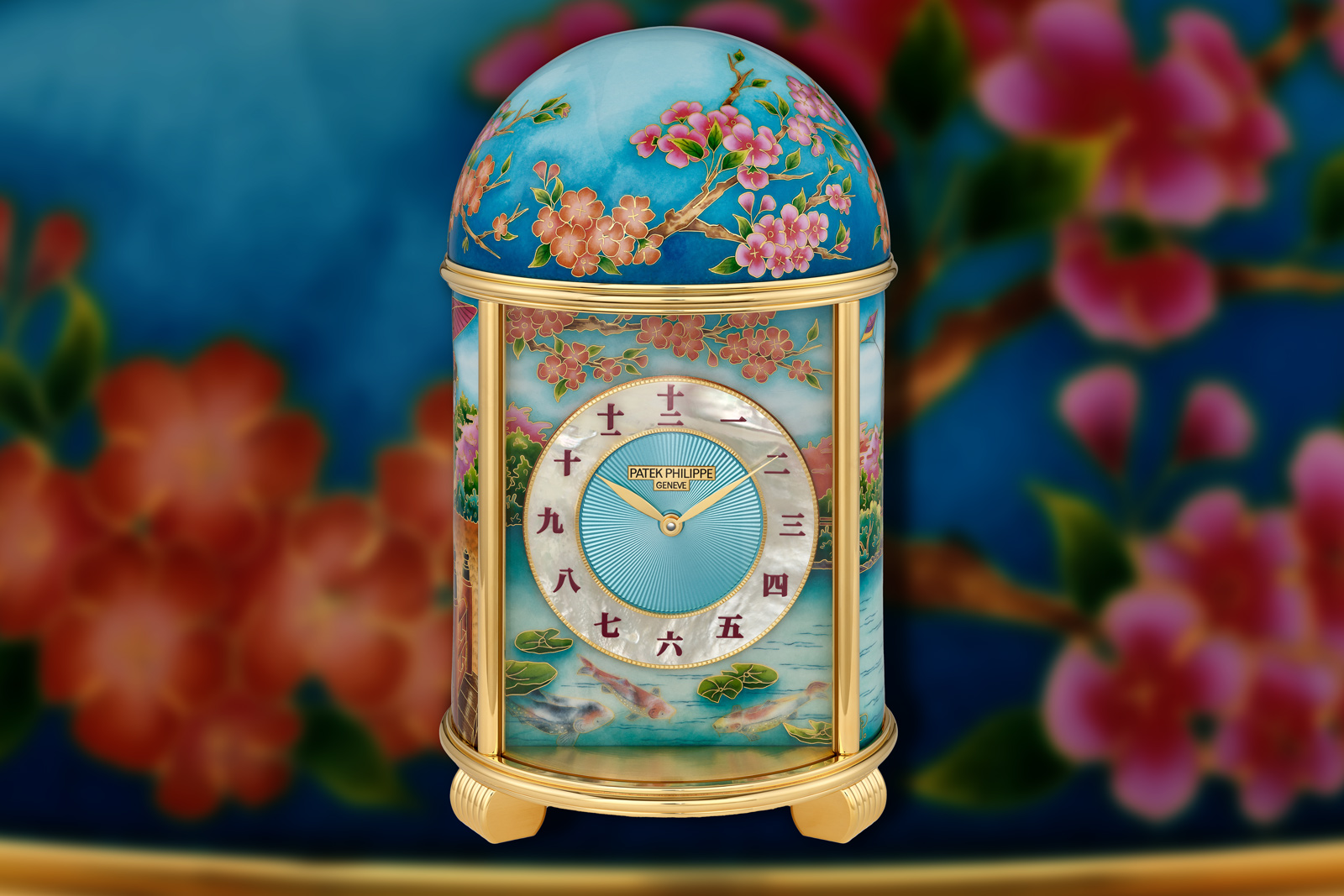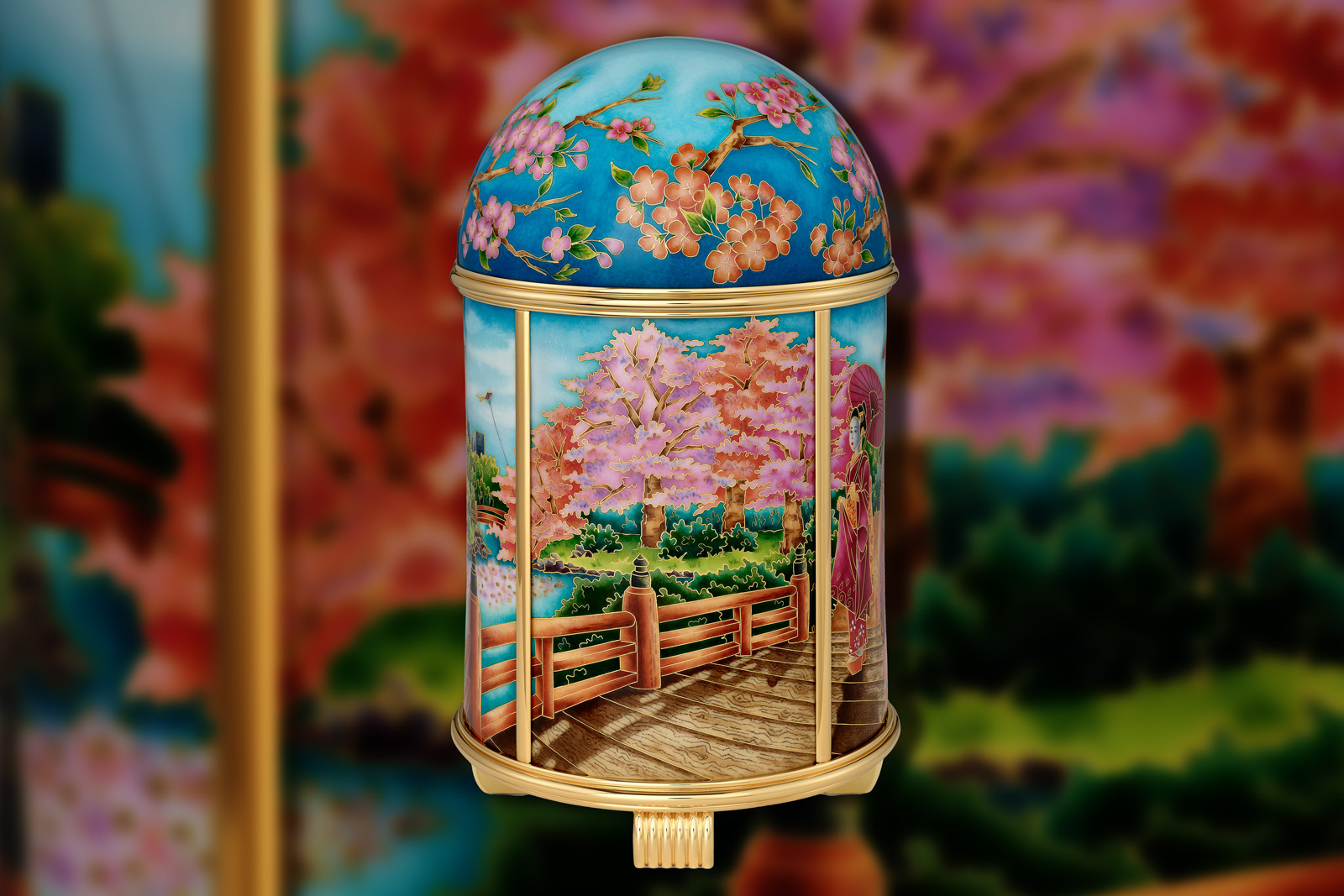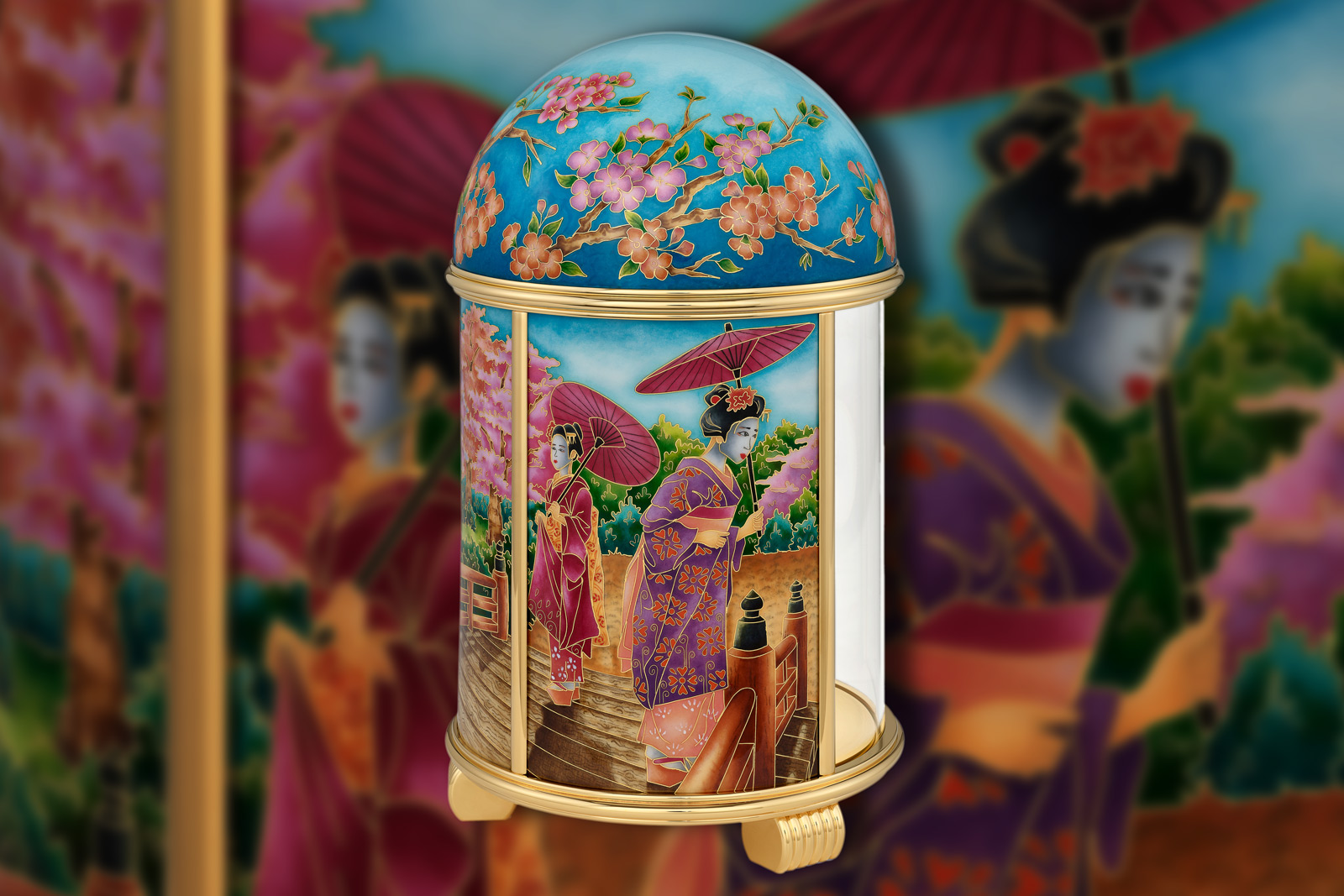 Another new release is the Dome Clock ref. 20141M-001 "Japanese Stamps", which pays tribute to vintage Japanese stamps depicting a temple gate, Mount Fuji, and traditional architecture. The dome presents a depiction of the Asia-Oceania region, placing Japan at the heart, complemented by a carrier pigeon delivering a letter.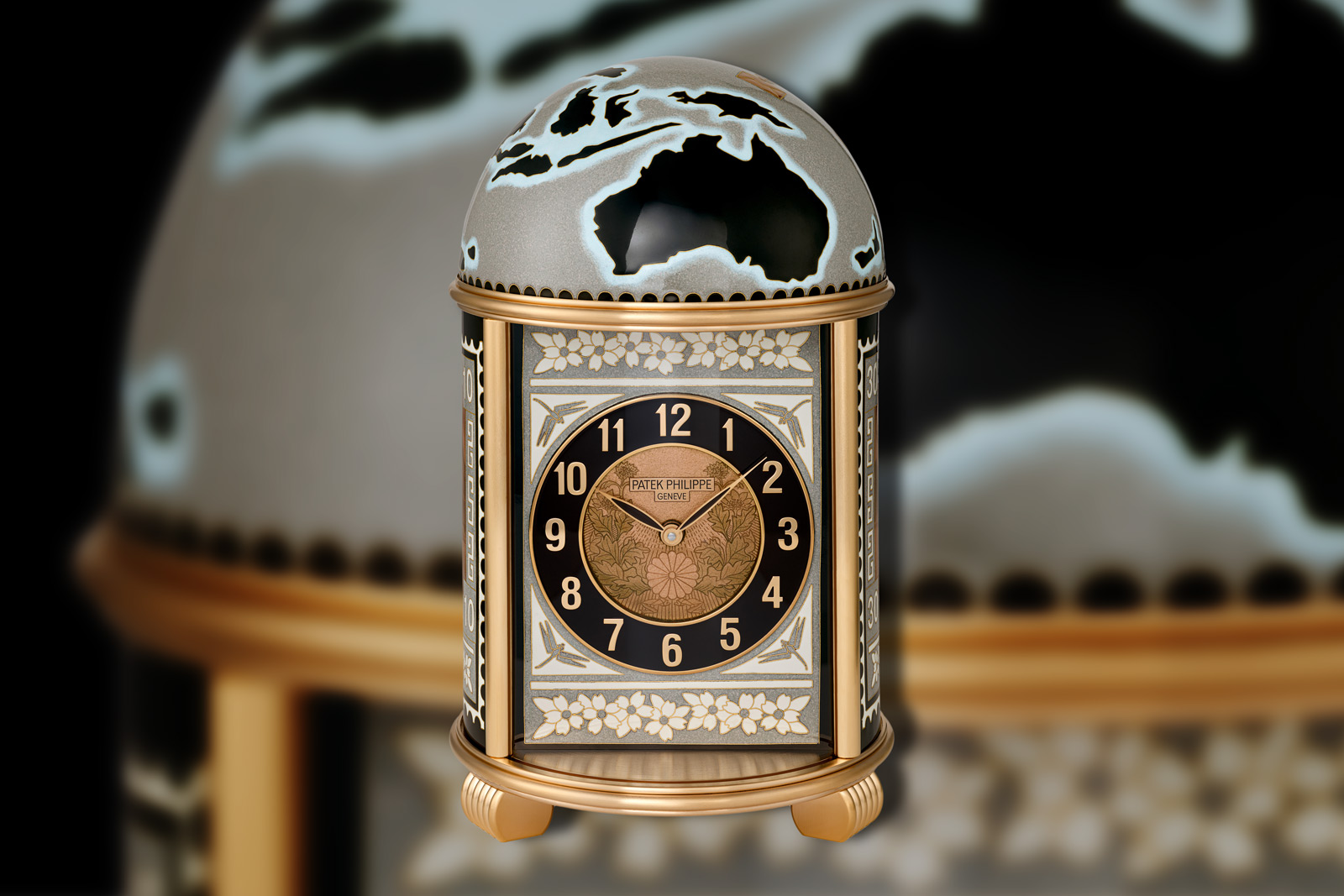 Each motif was created by hand using line engraving and coated with translucent brown enamel to evoke the effects of shadows and patina. The stamp borders and the dome's decoration involved about 15.15 m of gold wire and 14 colours of opaque and semi-opaque enamels, requiring 5 to 8 firings at 820°C.
But my favourite design might be the Dome Clock ref. 20140M-001 "Calligraphy". Though simple in concept, the Calligraphy is deceptively ornate, requiring over 50% more gold wire than the Hanami, 33 m in total.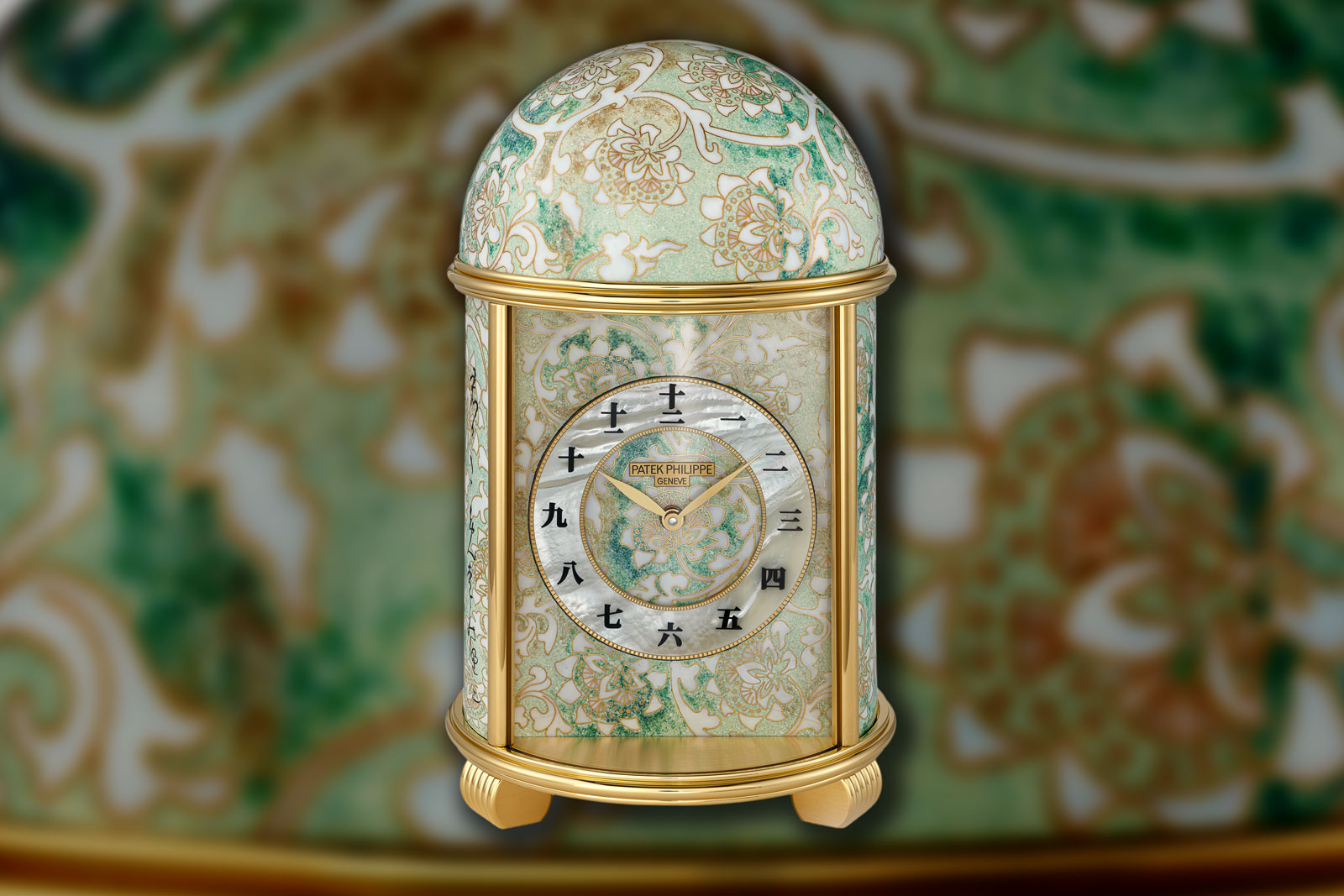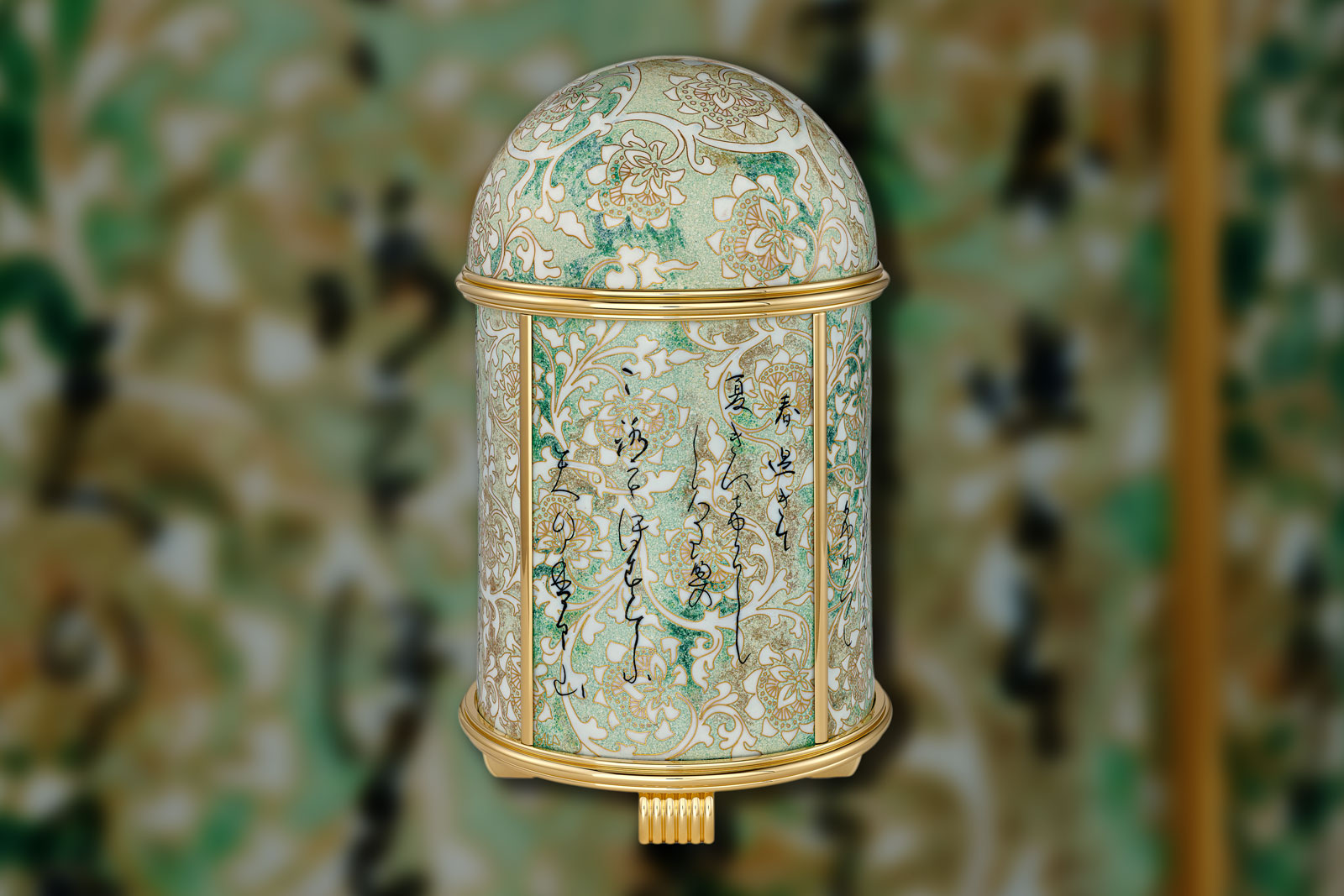 The floral pattern is executed in Grand Feu cloisonné enamel and celebrates the art of Japanese calligraphy with hand-painted calligraphic text that is fired six times at 760°C. To my eye, the muted shades of green and gold complement one another extremely well.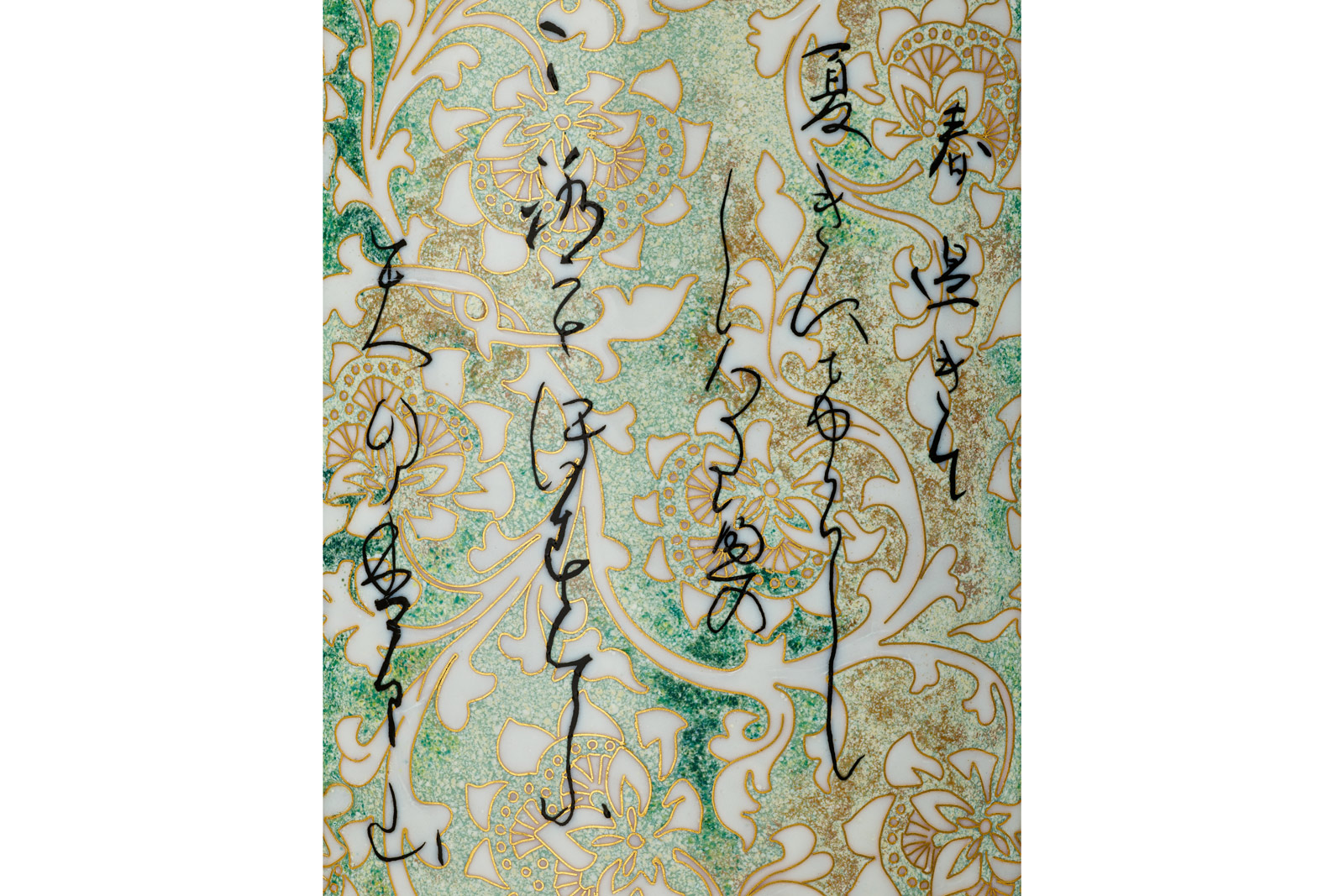 In addition to dome clocks, Patek Philippe has also unveiled the unique Table Clock ref. 25014M-001 "Tokyo As The Crow Flies". At 53.5 mm in height and 126 mm in diameter, the clock features a stylized rendering of the Tokyo street plan, as viewed from above. An expanded version of the view found on the World Time Minute Repeater ref. 5531R-014, released at the same exhibition.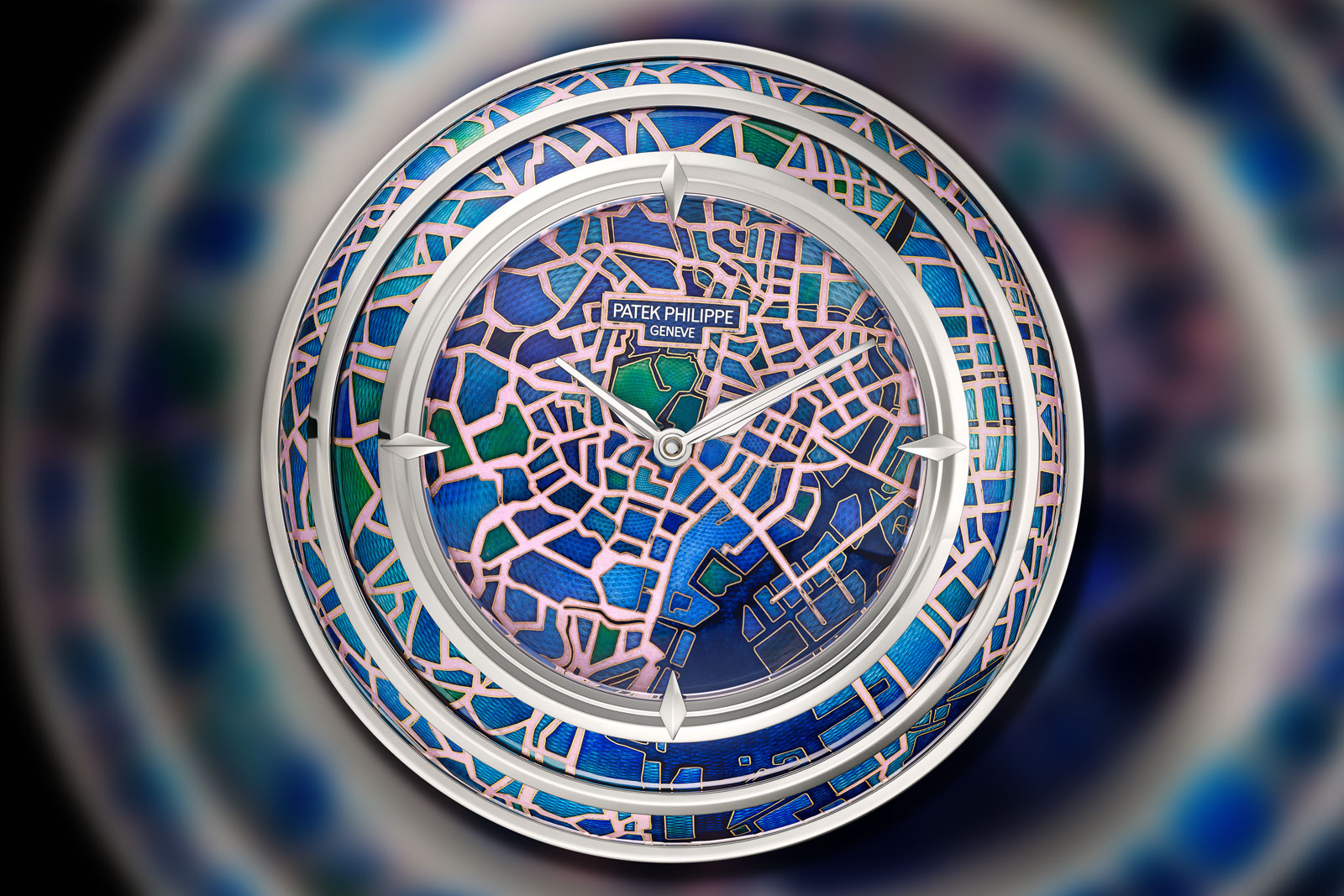 This design of streets, parks, and lakes extends from the dial onto the silver convex side panels. Before enamelling, all areas were decorated with a guilloche "barleycorn" pattern designed to gleam through the translucent enamel layers. To construct this vivid palette, the enameller used approximately 12.4 m of gold wire and 16 shades of opaque and translucent enamels. Each enamelled element required 10 to 12 firings at temperatures between 800°C and 840°C.
The table clock is powered by the cal. 17''' PEND TABLE, a mechanical pocket watch movement that is wound daily by an battery-powered electric motor.
Pocket watches
Patek Philippe is one of the few remaining luxury watch brands that still produce pocket watches. For the Tokyo exhibition, the brand has launched several new artisanal pocket watches powered by the cal. 17''' LEP PS. Though anachronistic even within the context of mechanical watchmaking, these pocket watches serve primarily as a vehicle for enamelling and other forms of artistic decoration. 
Nowhere is this more true than the ref. 995/134G-001 "Shizuoka and Mount Fuji", which features several forms of enamelwork and hand engraving on the case, dial, and caseback. The cloisonné enamel portrays tea plantations, while the flinqué enamel represents the sky with a hand-guilloche sunburst. Hand-executed relief engravings depict Mount Fuji and a train.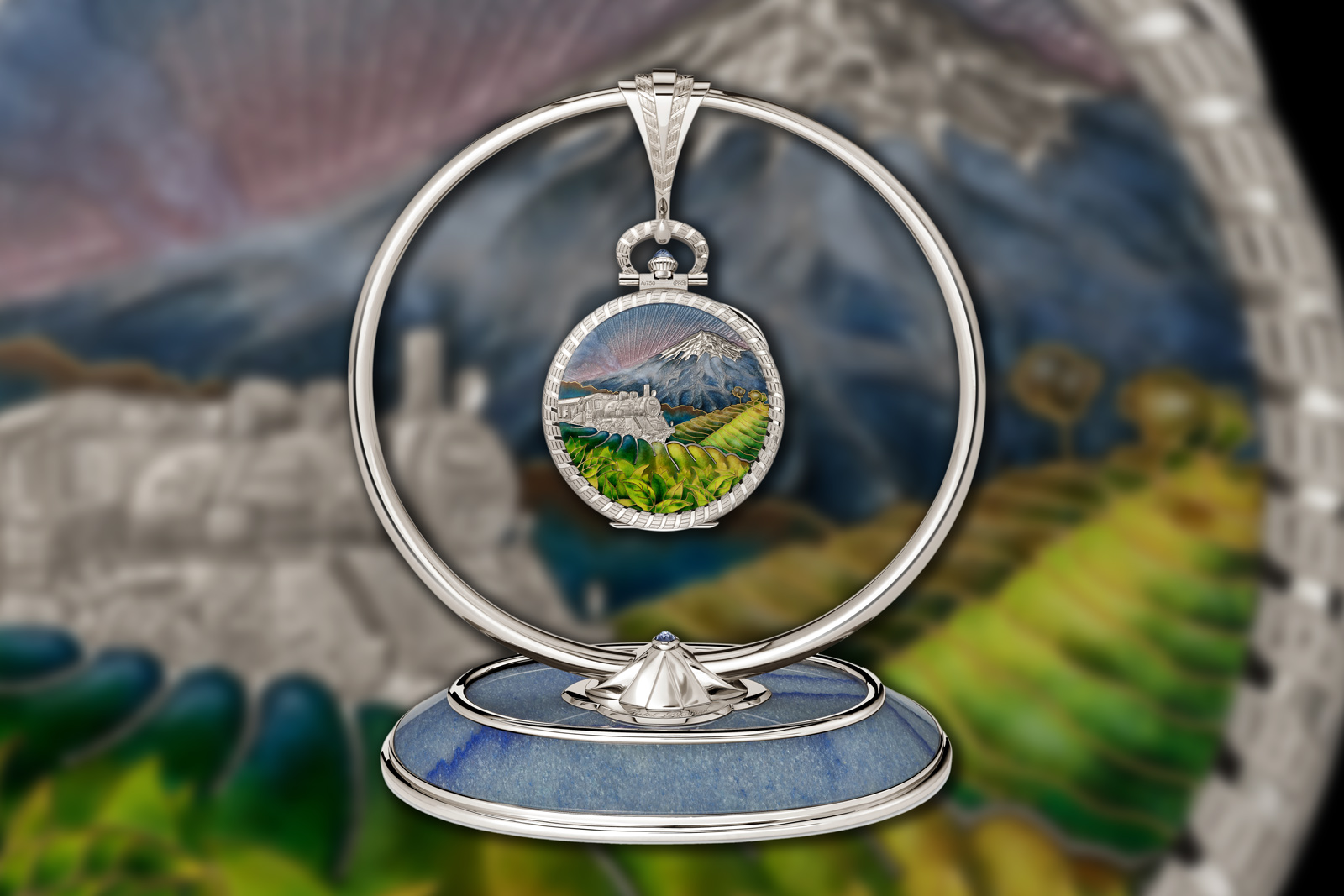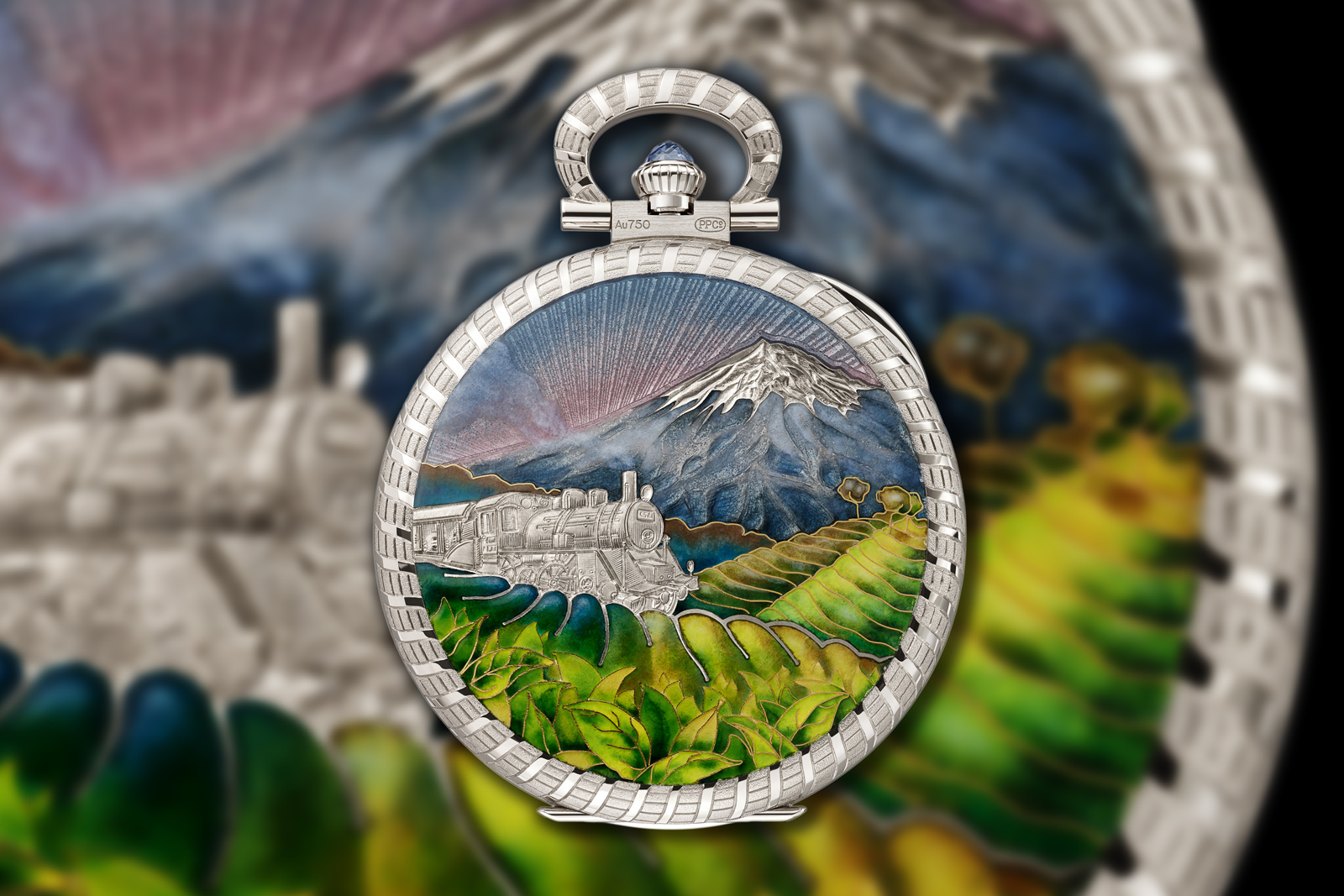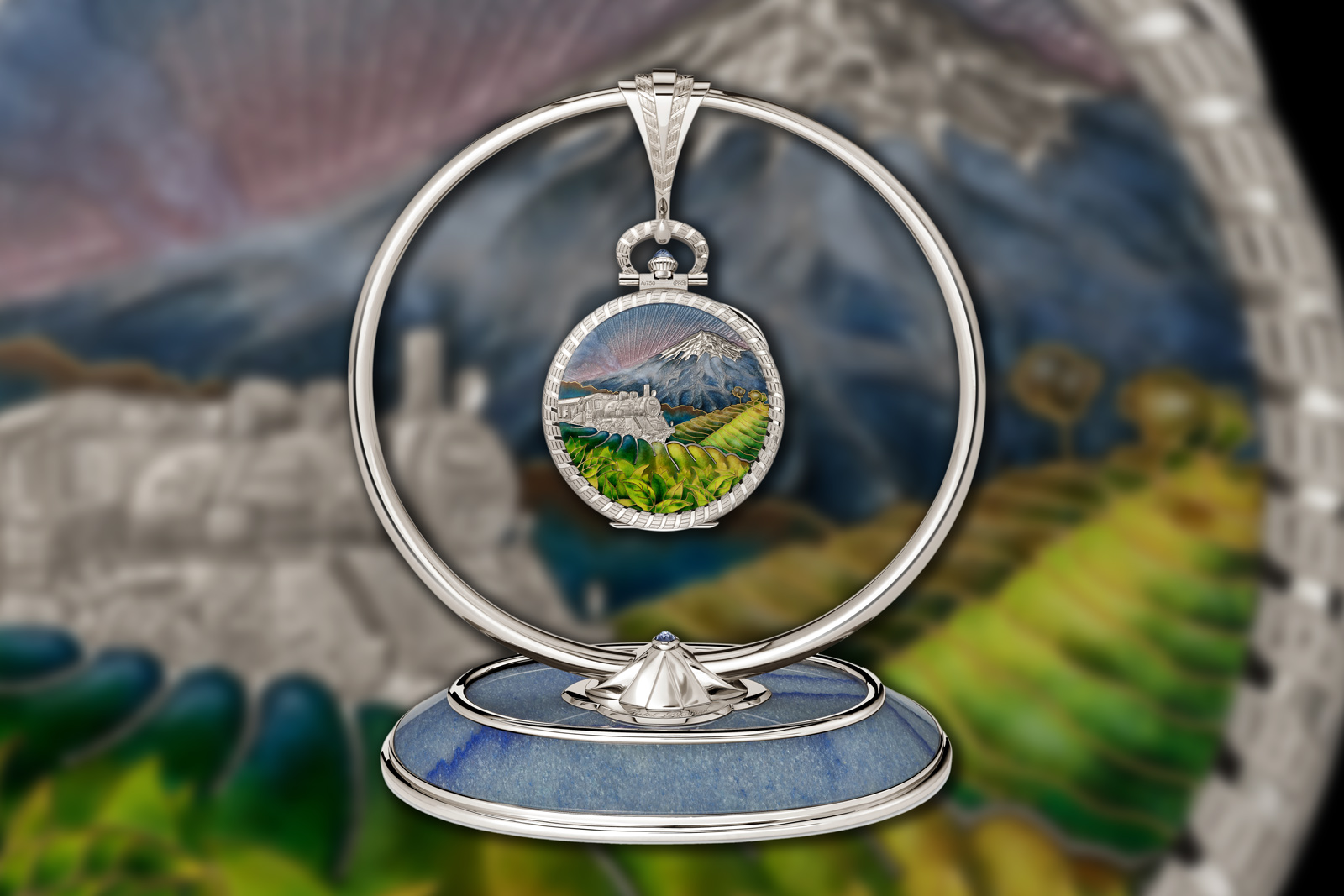 Another release is the ref. 992/158J-001 "Kyudo", which showcases several rare handcrafts, venerating the Japanese martial art kyudo, or the "Way of the Bow," which has its roots in feudal warfare. The case back features a hand-engraved and hand-guilloche depiction of an archer, set against a backdrop of a Japanese garden, and is coated with translucent and opalescent enamels in a technique known as flinqué enamel.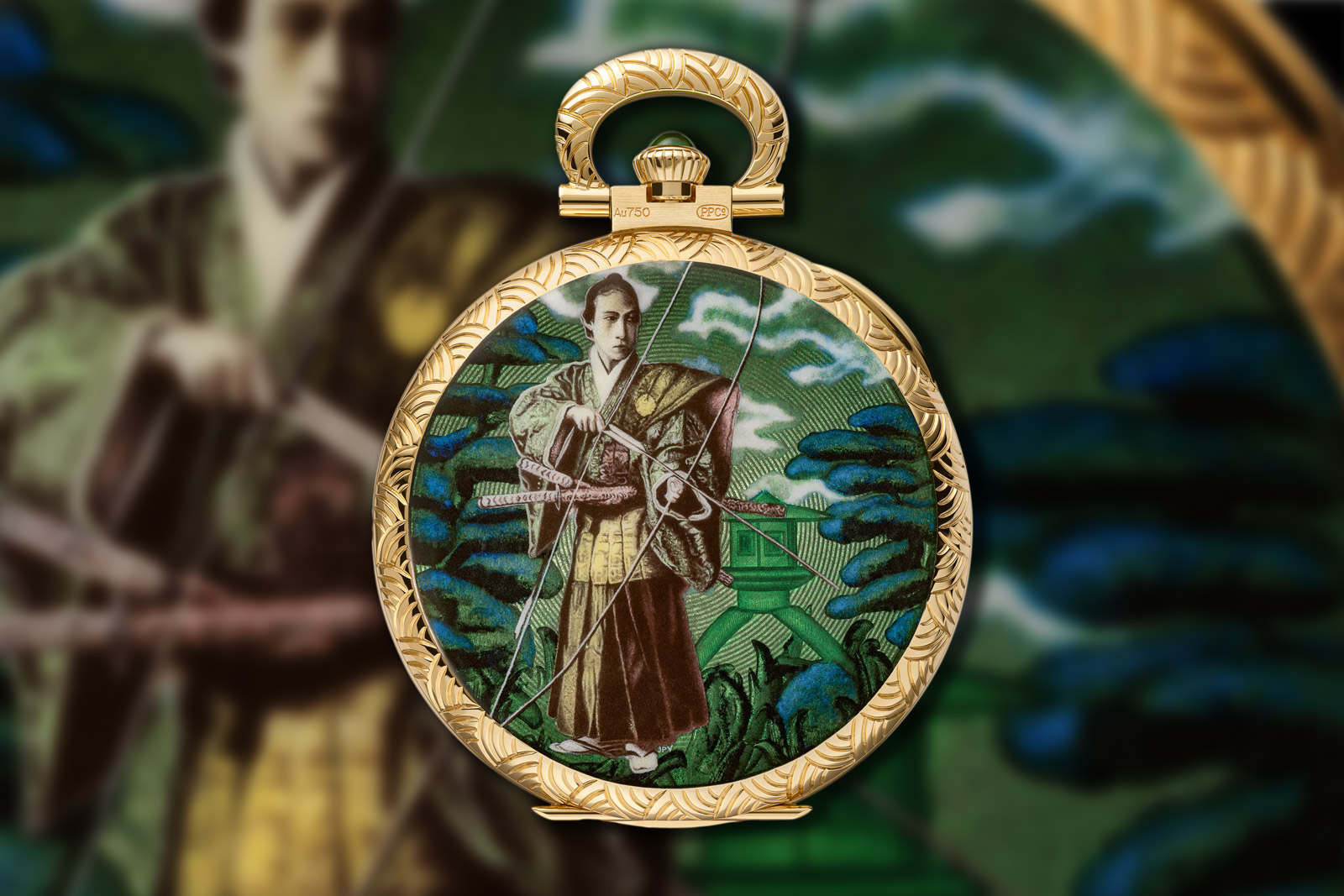 The dial, symbolic of the mato (target), is decorated with hand-guilloche and overlaid with two shades of green translucent enamel. The hands, which are made of yellow gold and hand engraved, depict two arrows fired into the bullseye. The Kyudo features an especially intriguing base made of smoked oak. The watch hangs from an arrow's shaft, just below the fletching.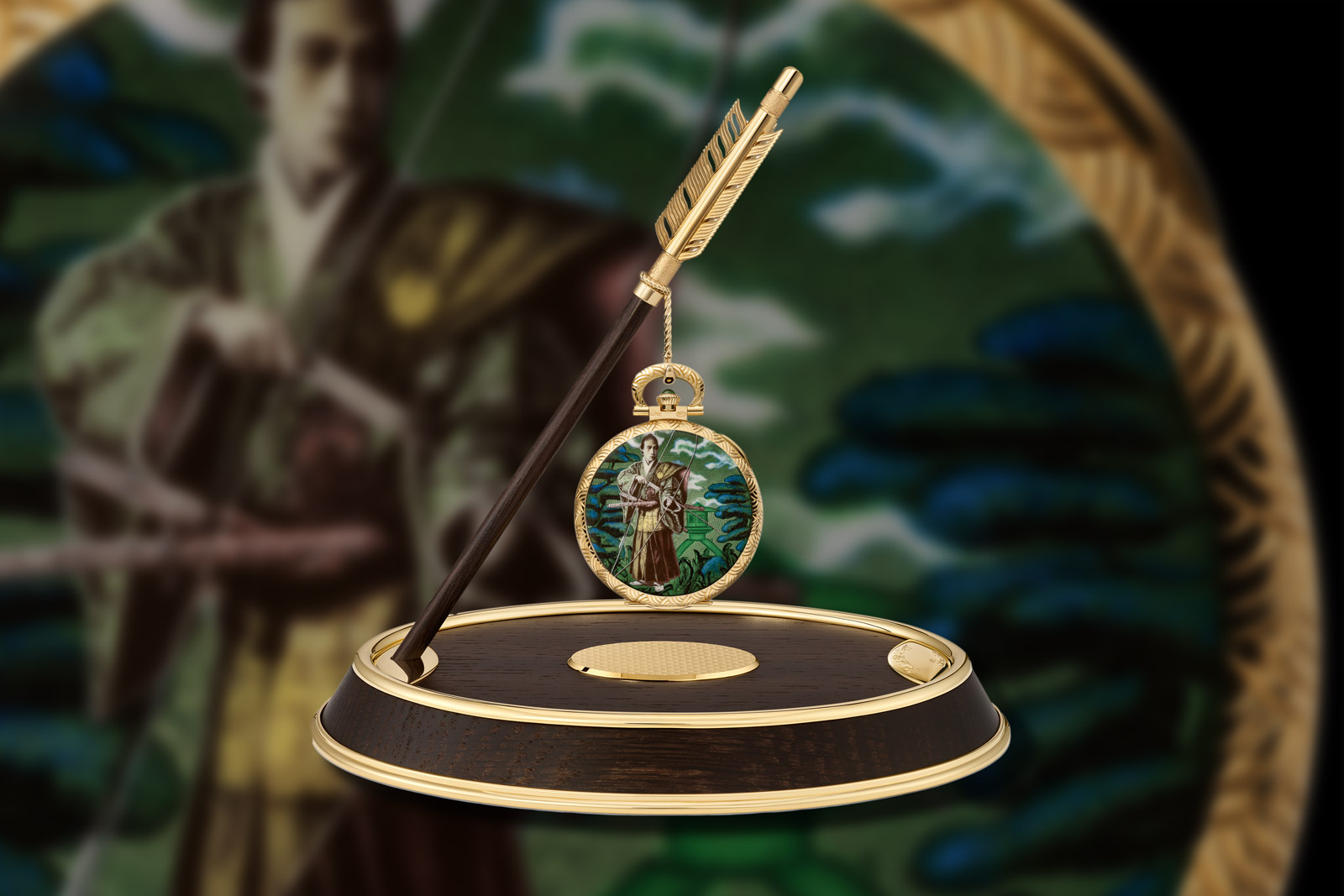 But arguably, the most impressive is the ref. 995/131G-001 "Portrait of a Samurai". Composed of 800 veneer parts, 200 inlays, and 53 different wood types, the portrait on the case back features one of the most complex executions of wood marquetry ever created by the brand.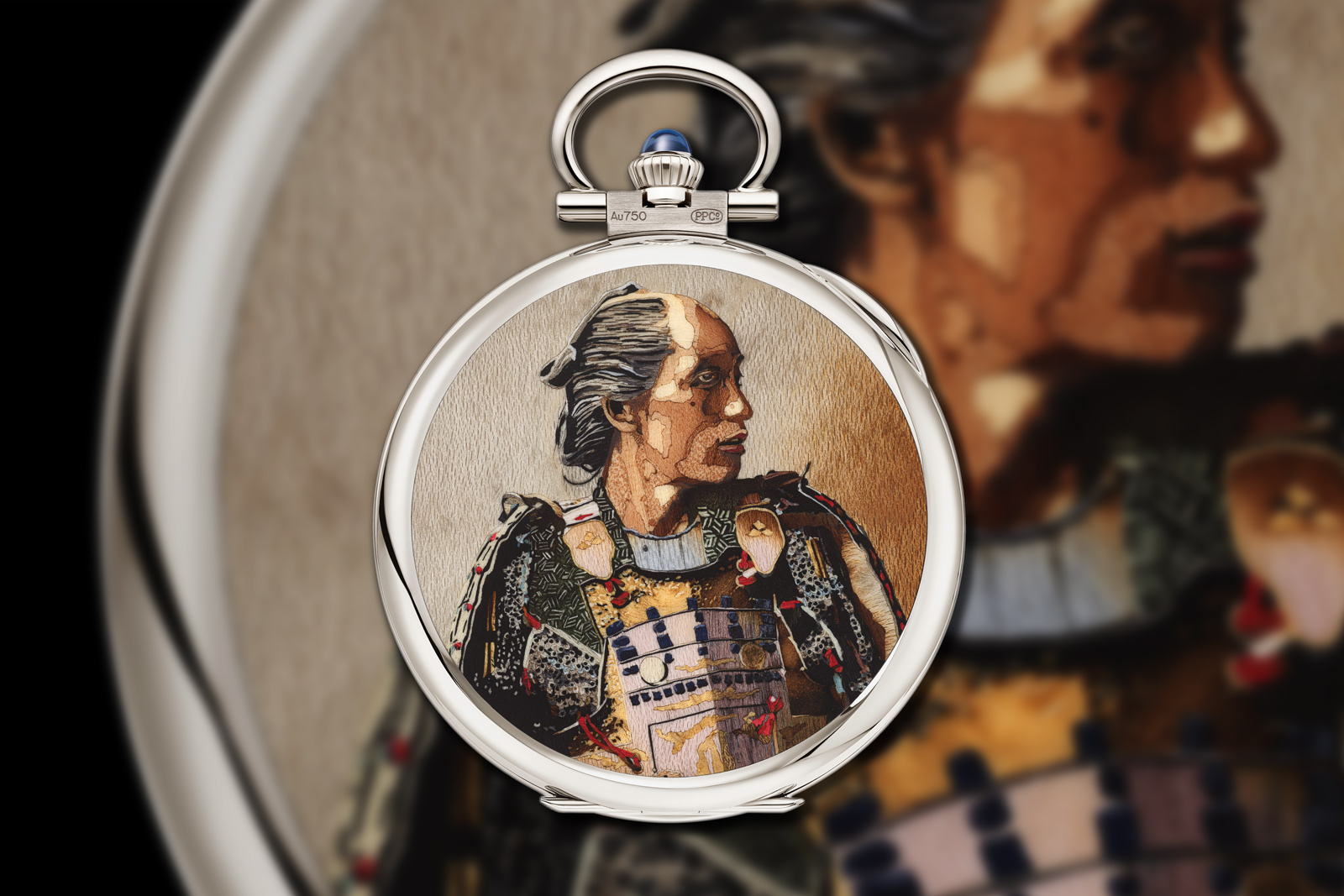 In addition to the spectacular portrait, the Portrait of a Samurai also features an interesting stand inspired by the traditional low Japanese table. Made of ebony and white gold, the stand displays the watch with an appropriate level of ceremony.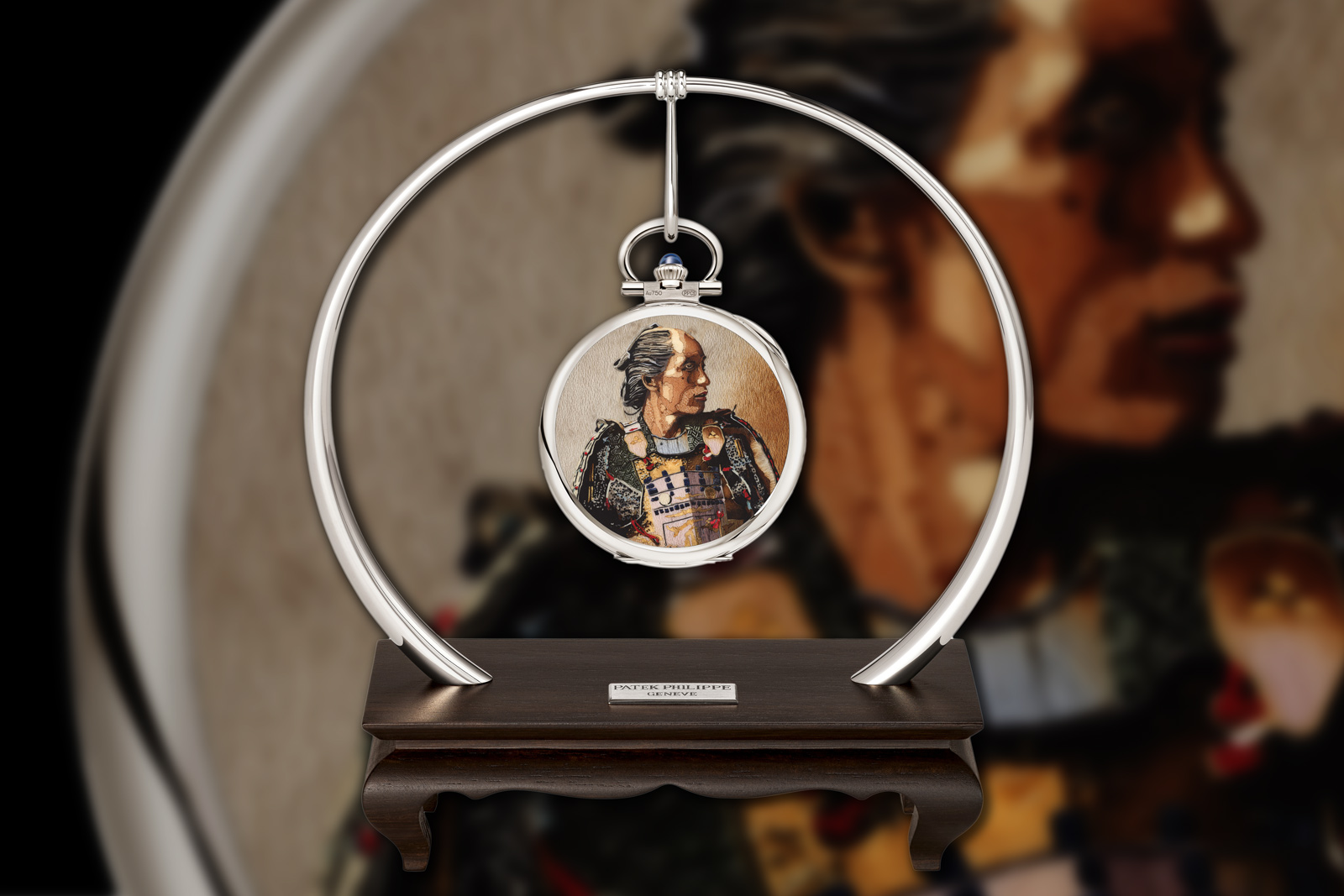 Other releases include the ref. 995/135G-001 "Eagle", which features a miniature painting on enamel executed by legendary enameler Anita Porchet, adorned with paillonné enamel gold leaf, and the ref. 992/178J-001 "Katagami", which takes its inspiration from Japanese stencils. The latter features a hand-engraved case back reminiscent of vine leaves.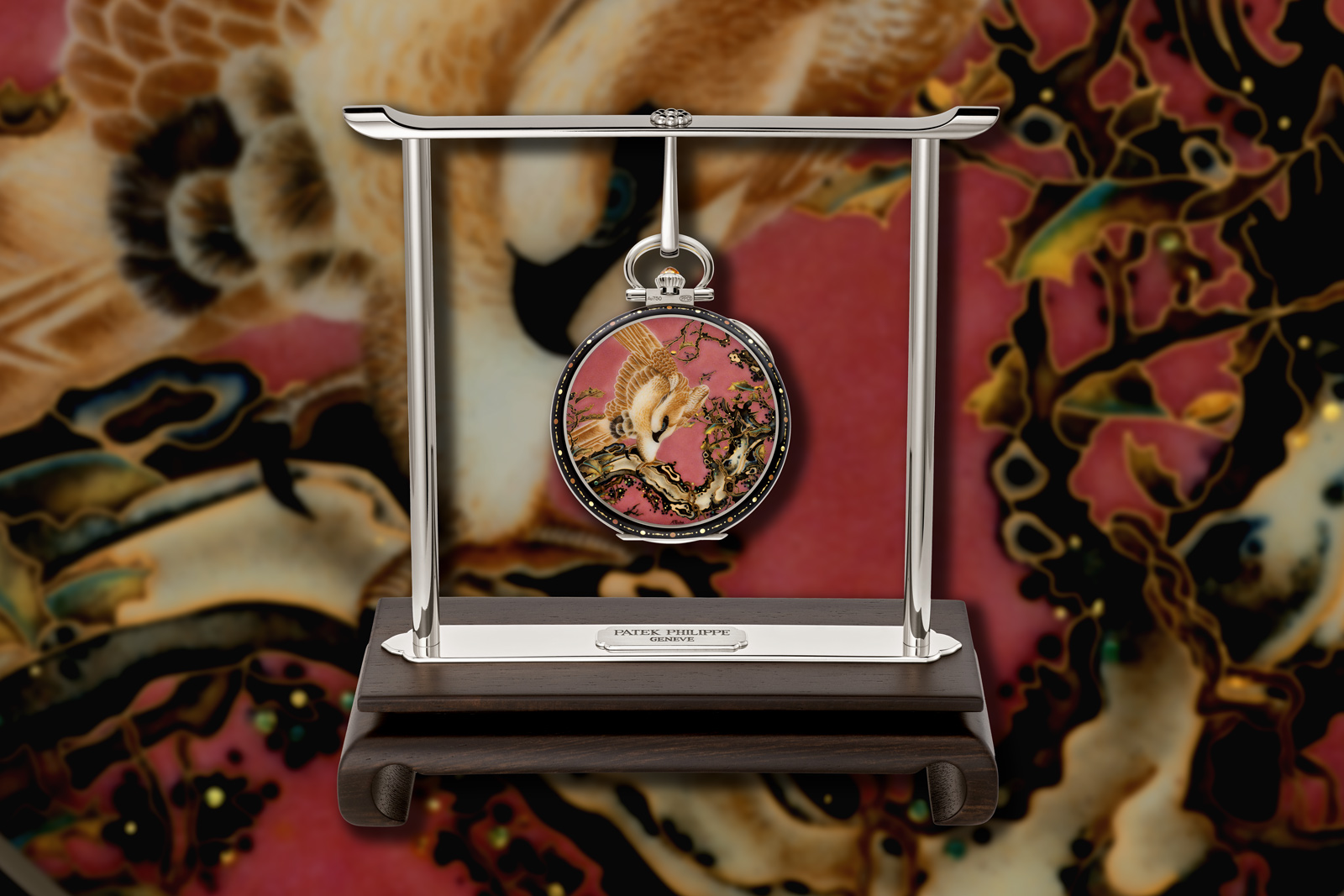 Achieving an interplay of matte and shiny finishes through line engraving and chasing, it's adorned with a translucent green enamel layer, applied via seven 800°C firings. The dial, sharing the case back's motif, features Grand Feu cloisonné enamel and green enamels.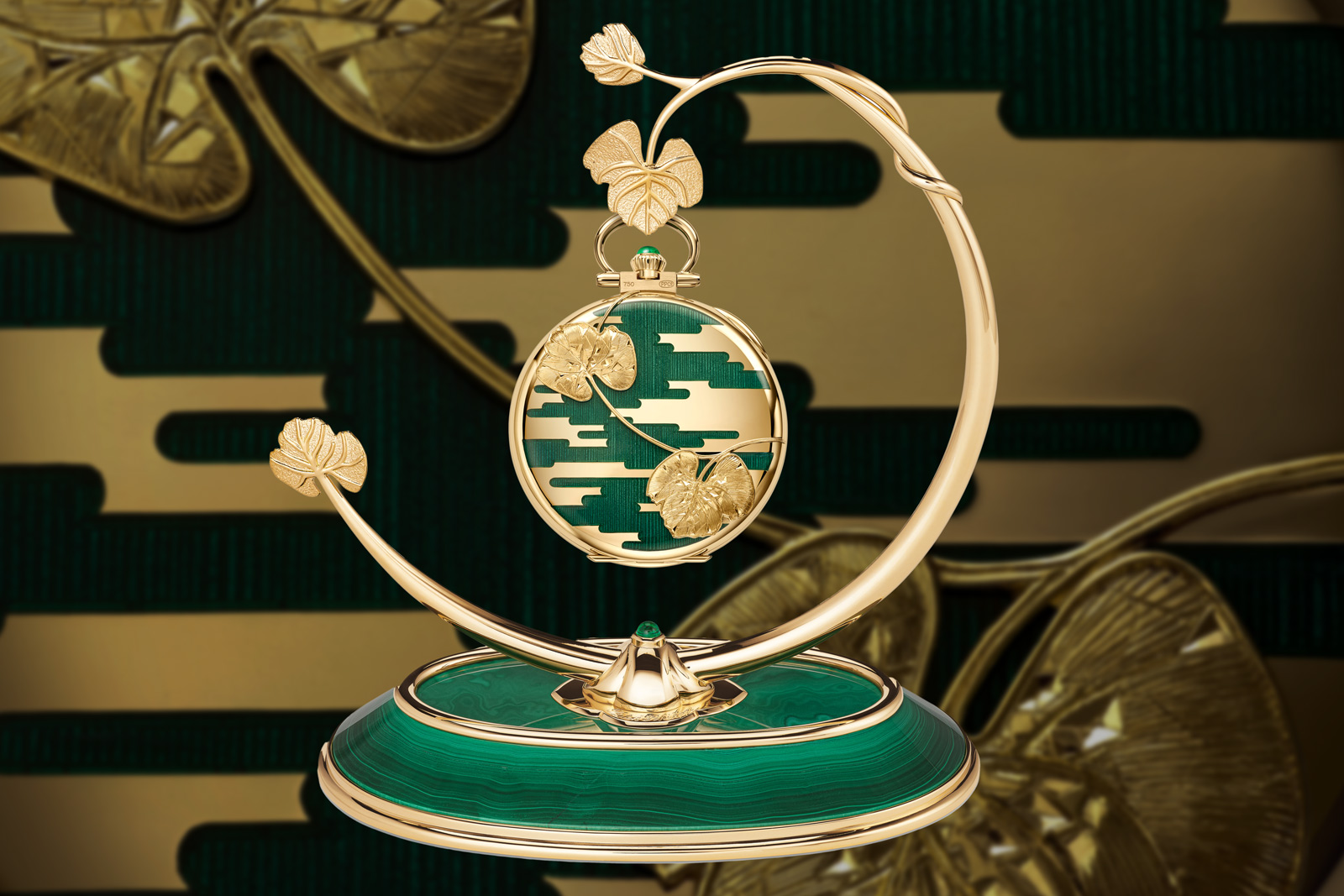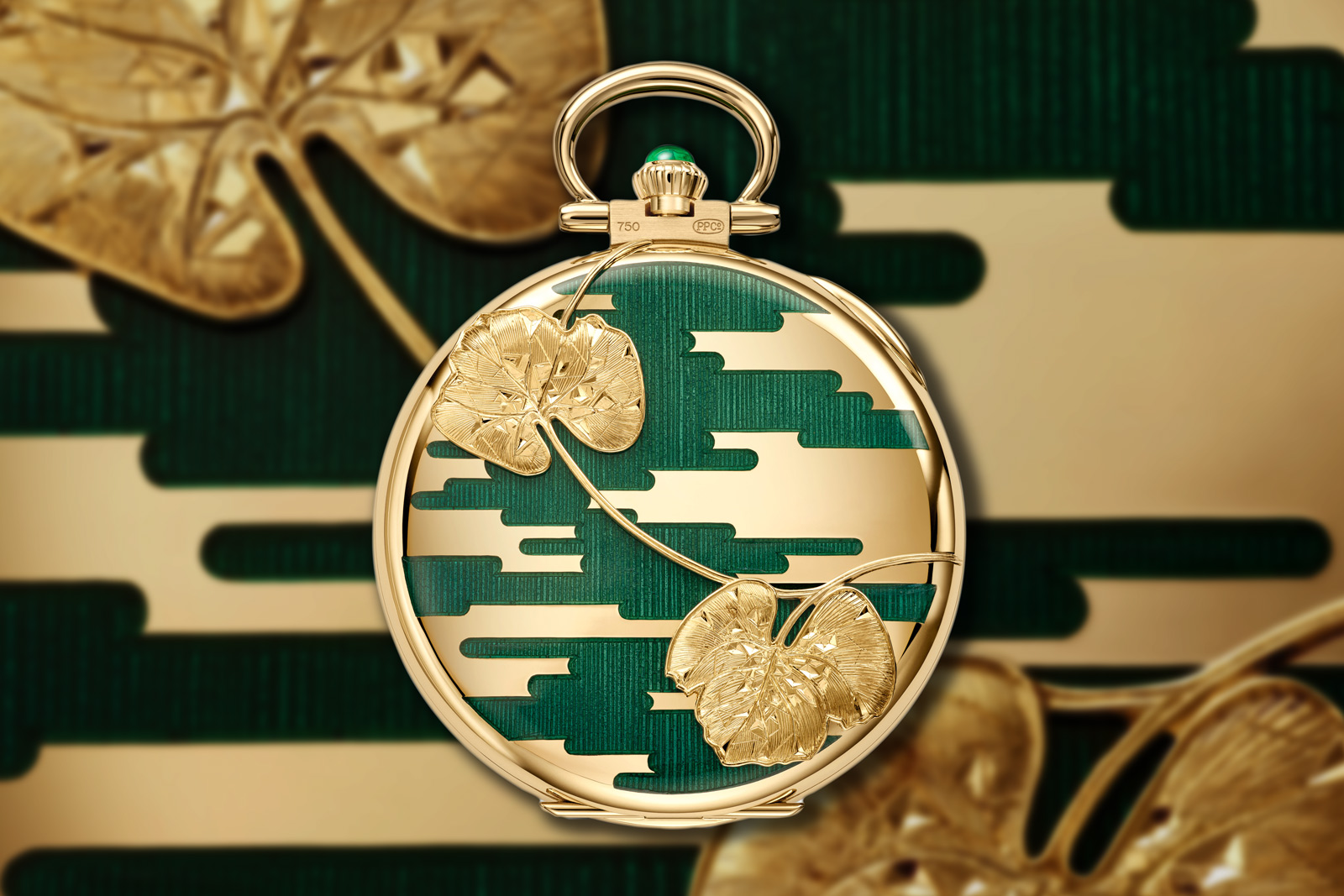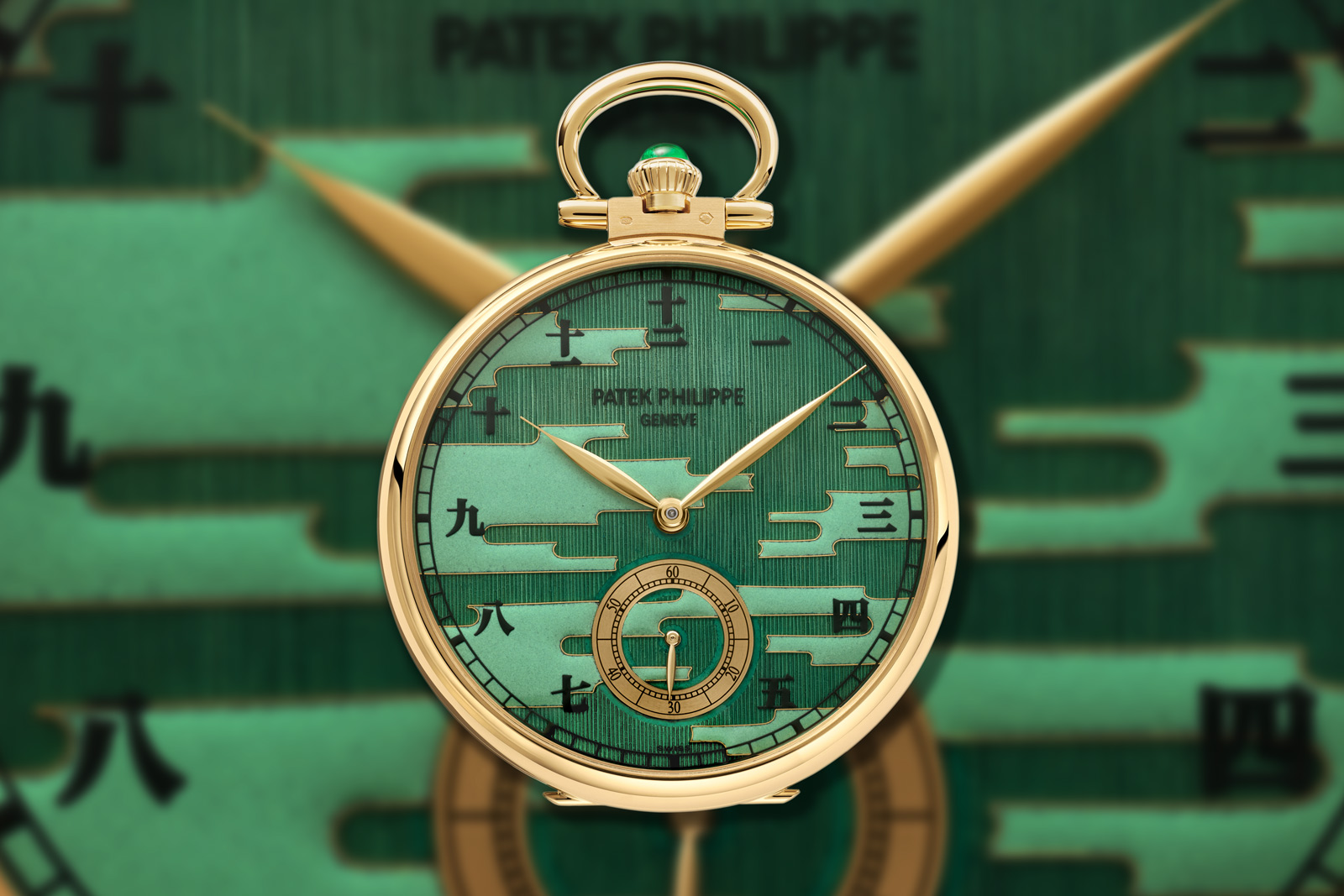 Wristwatches
While the clocks and pocket watches are naturally more intricate from an artistic craft standpoint, Patek Philippe has not neglected collectors' wrists. To start with, the brand has introduced two five-piece limited editions built around the R TO 27 movement, and housed in an "Officer's" style white gold case complete with straight lugs and screwed bars.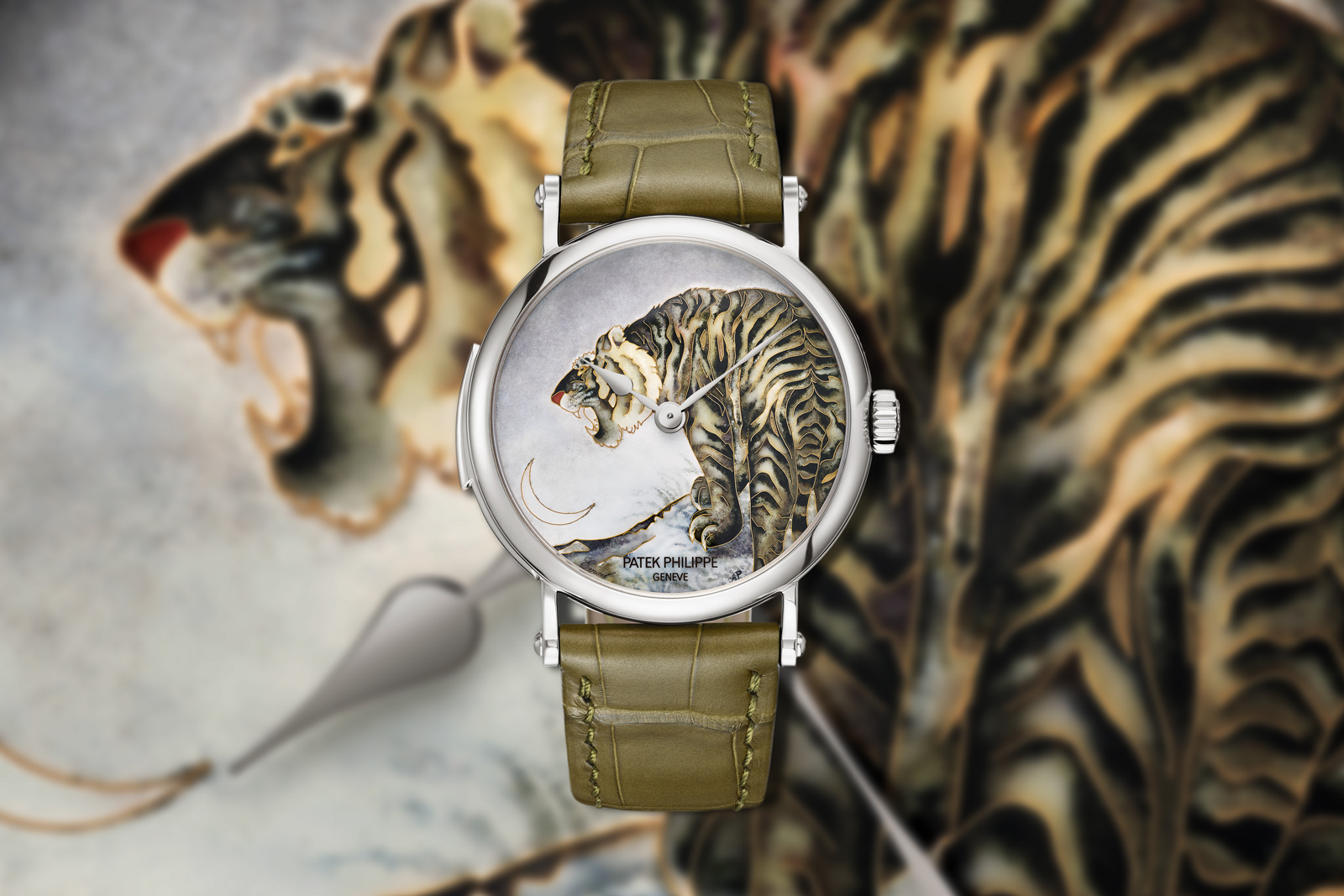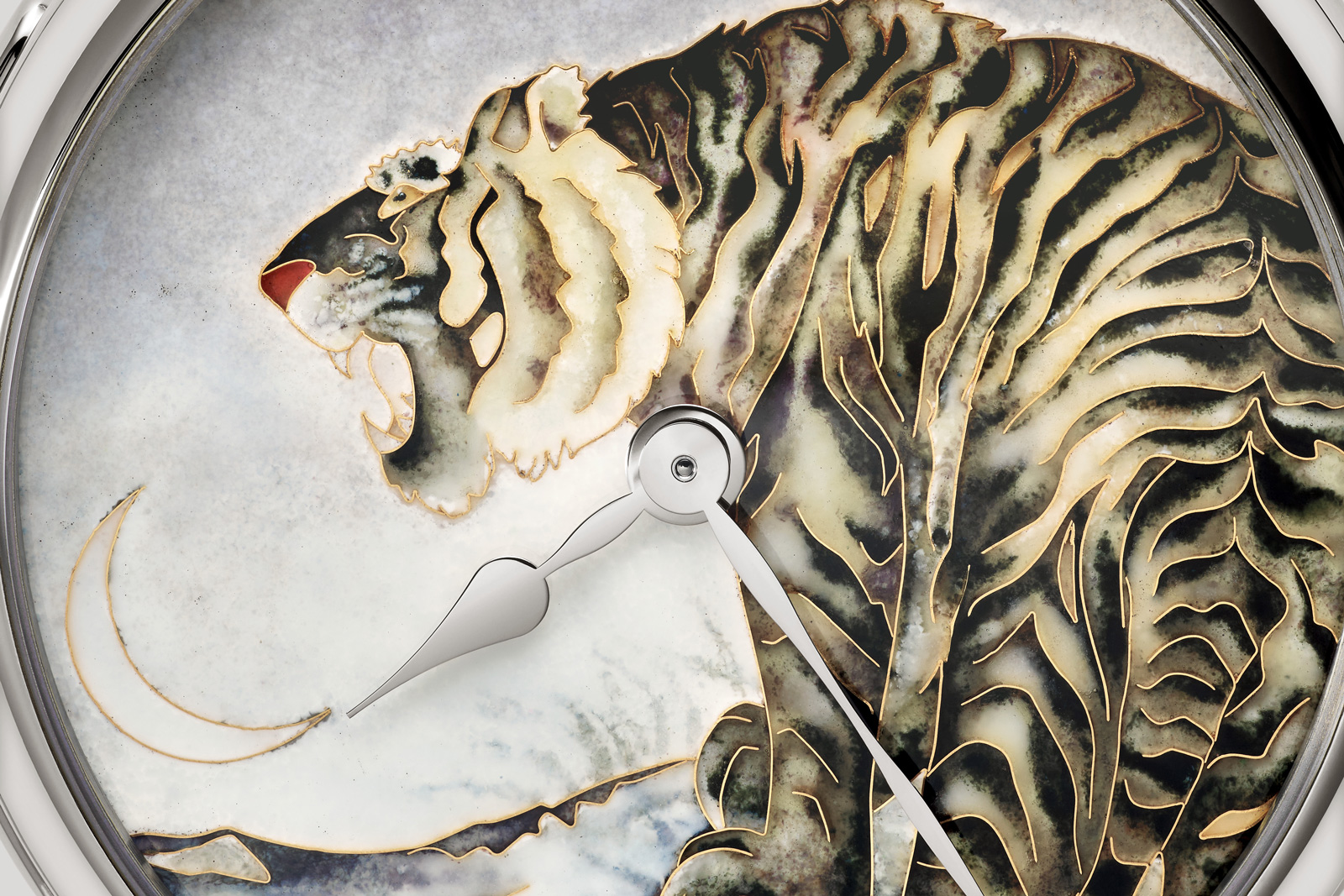 The first is the ref. 5538G-016 "Tiger" features a Grand Feu cloisonné enamel depiction of a tiger and a crescent moon, in a design derived from a Japanese print. The second is the ref. 7000/50G-011 "Bird on a Red Maple", which uses the same technique to depict a bird delicately perched on a branch of a red maple tree.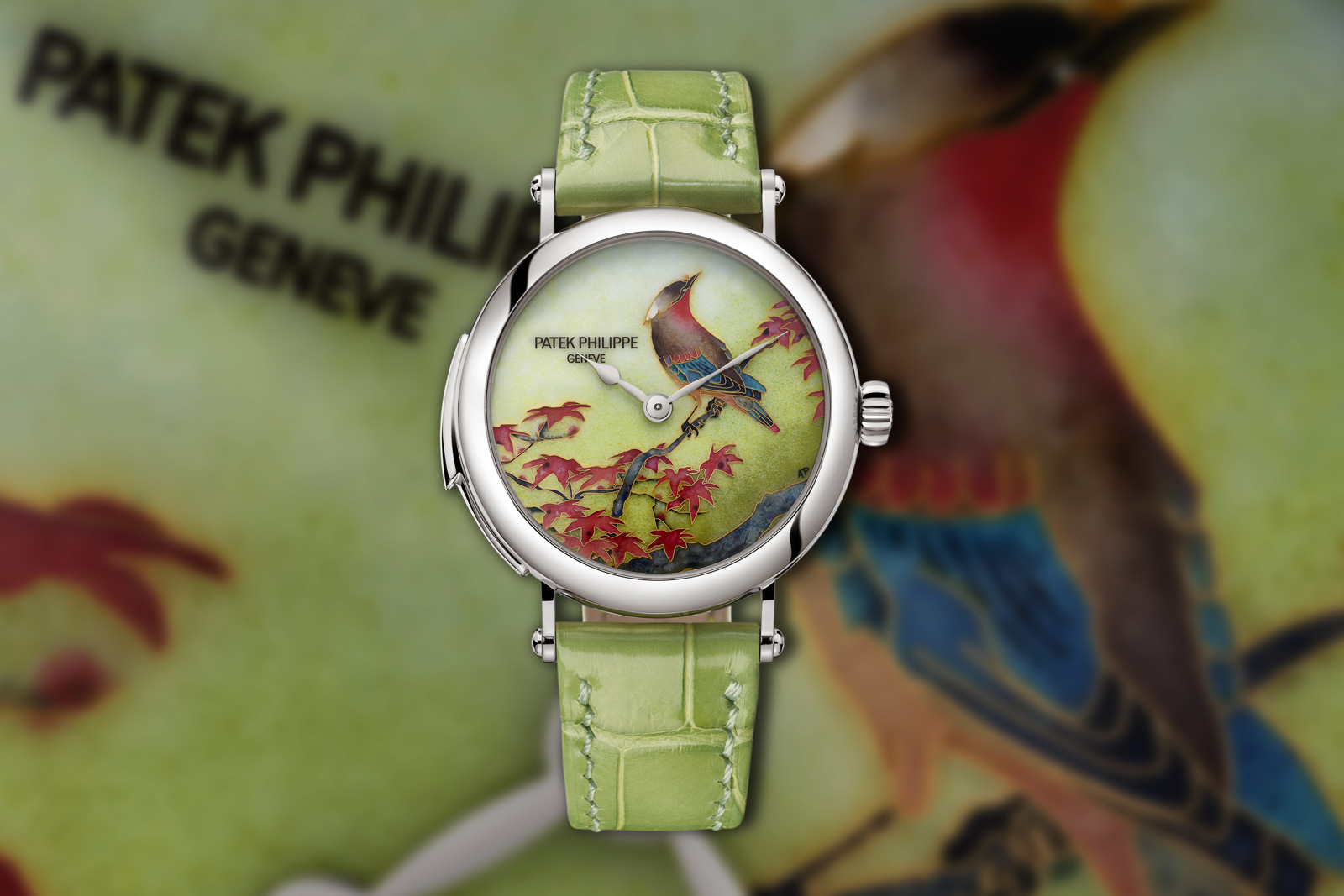 Each dial requires around 50-60 cm of gold wire, cut into small pieces and manually shaped. The enameler utilised a palette of 17-20 shades of translucent and opalescent enamels to achieve the desired colours. On average, each dial undergoes 15-18 firings at approximately 800°C.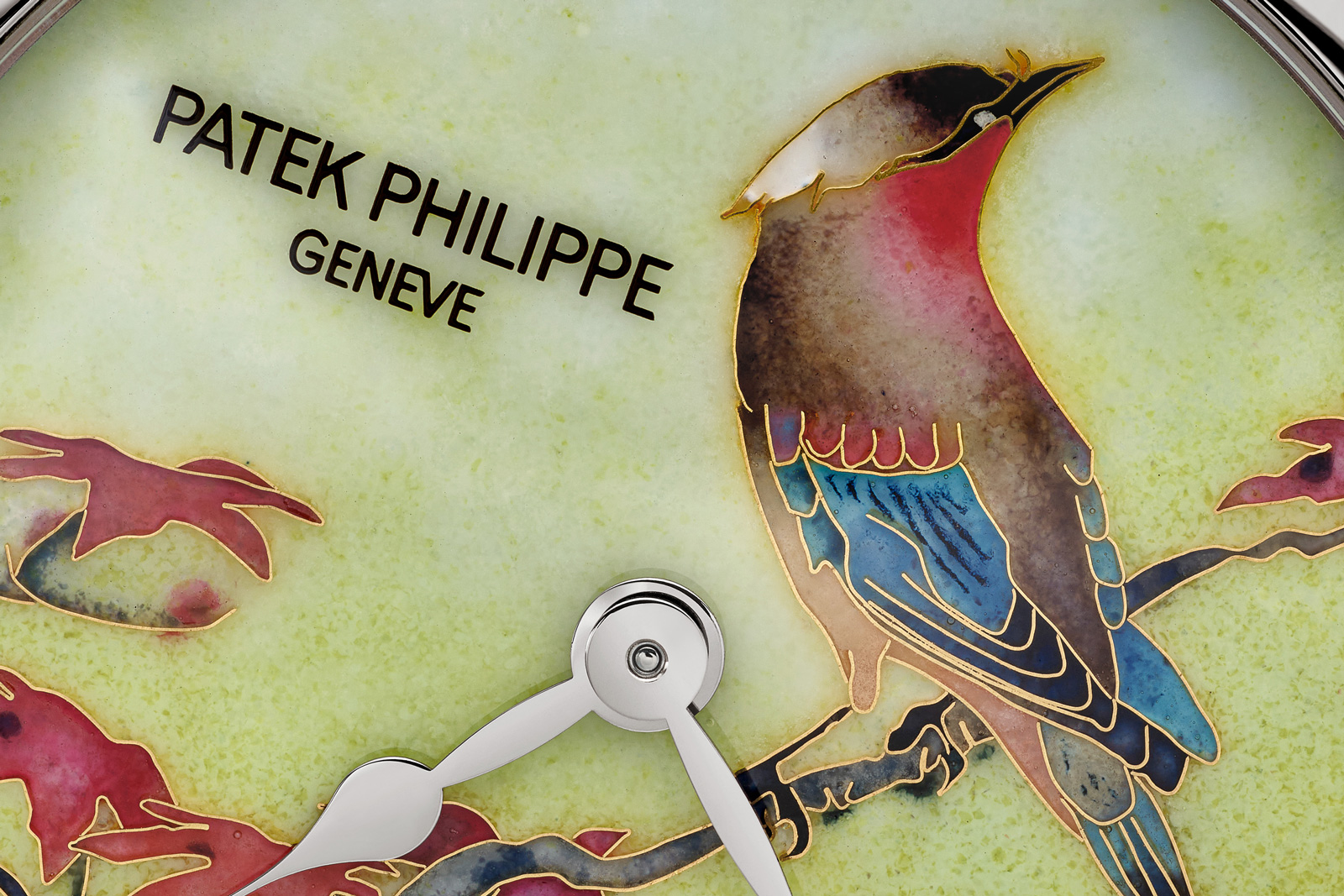 From a design perspective, however, I am even more impressed by the ref. 5738/50G-025 "Snow-Covered Landscape". Using the Golden Ellipse as a canvas, the Snow-Covered Landscape is a limited edition of 10 watches, featuring a Grand Feu cloisonné enamel decoration inspired by a Japanese print.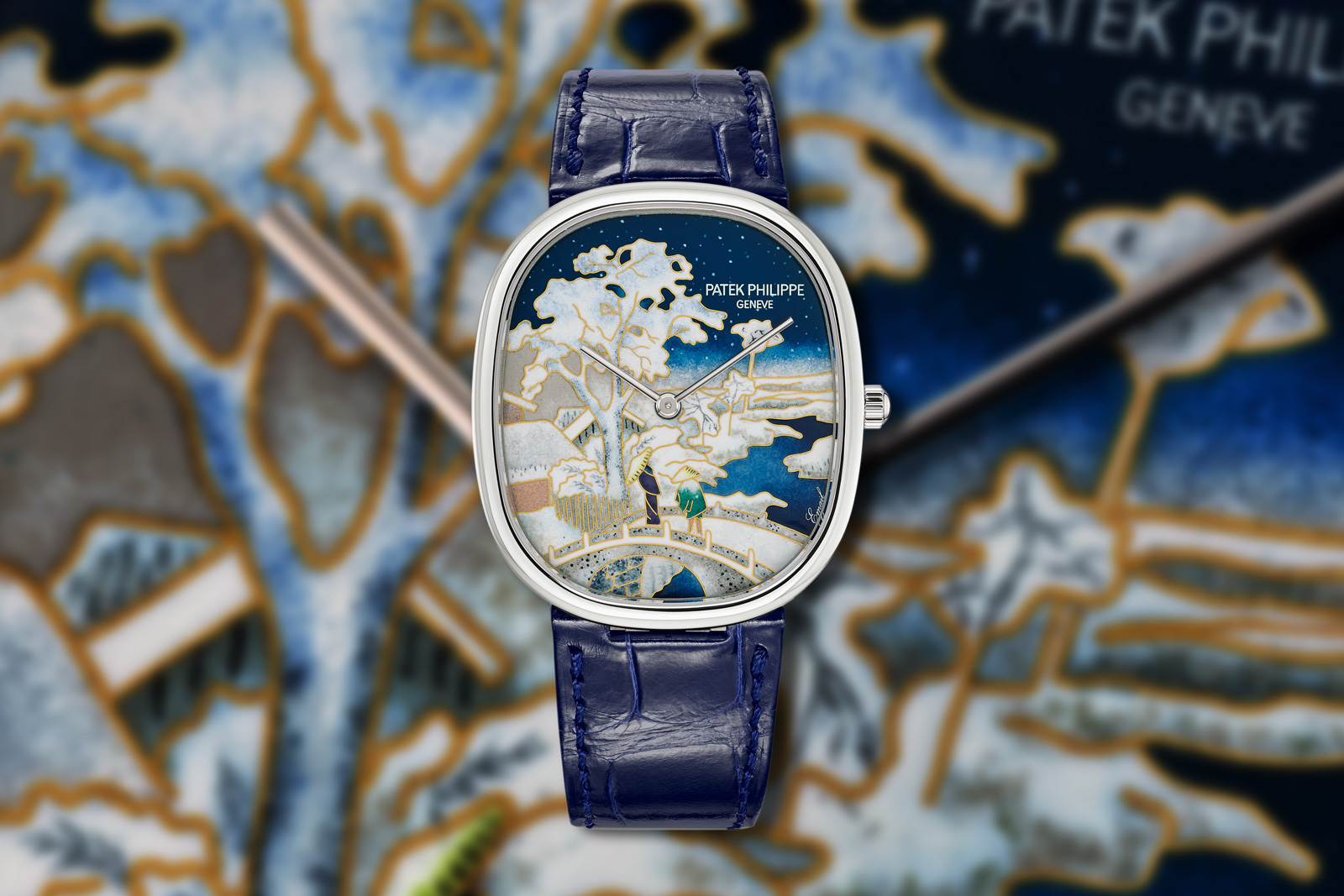 It showcases a picturesque bridge set within a snow-laden Tokyo landscape. The enameler has used approximately 75 cm of gold wire, meticulously cut and shaped by hand, to mirror the intricate details of the original print, including the trees and figures. 
To evoke the wintry ambiance, a range of opaque, translucent, and semi-opaque enamels in 17 different shades were employed. Additional details were achieved with miniature painting on enamel. On average, each dial required around 40 firings at temperatures between 780°C and 800°C.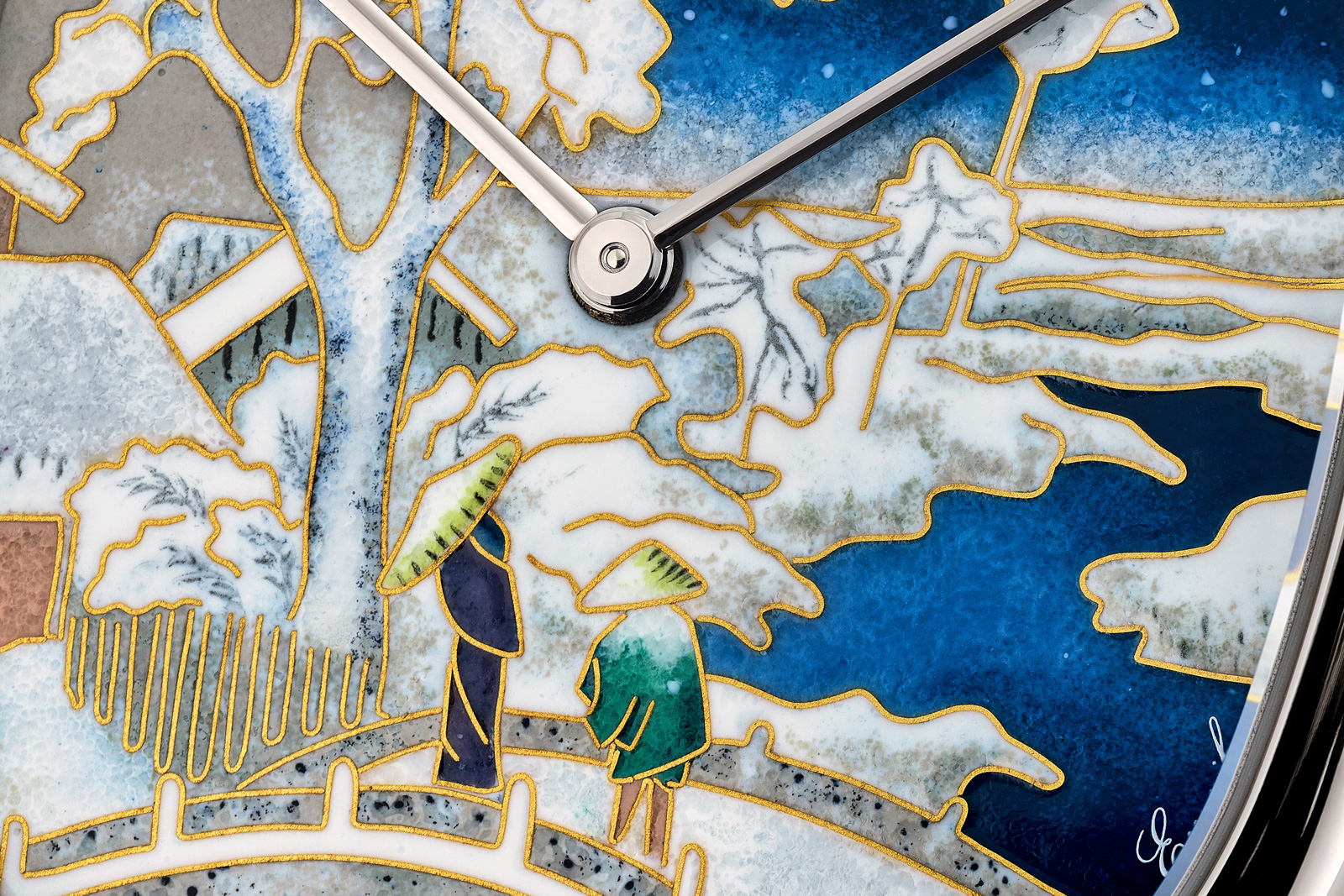 Otherwise, the watch is a typical white gold Golden Ellipse, and is powered by the cal. 240. 
Patek Philippe has also introduced two five-piece Calatrava limited editions with hand-engraved dials depicting the tsuba, or hand guard on a traditional Japanese sword. Historically, tsubas were often decorated with floral motifs, as is the case with the dials of the ref. 5089G-124 and 5089G-125 "Tsuba – Oranges and Flowers".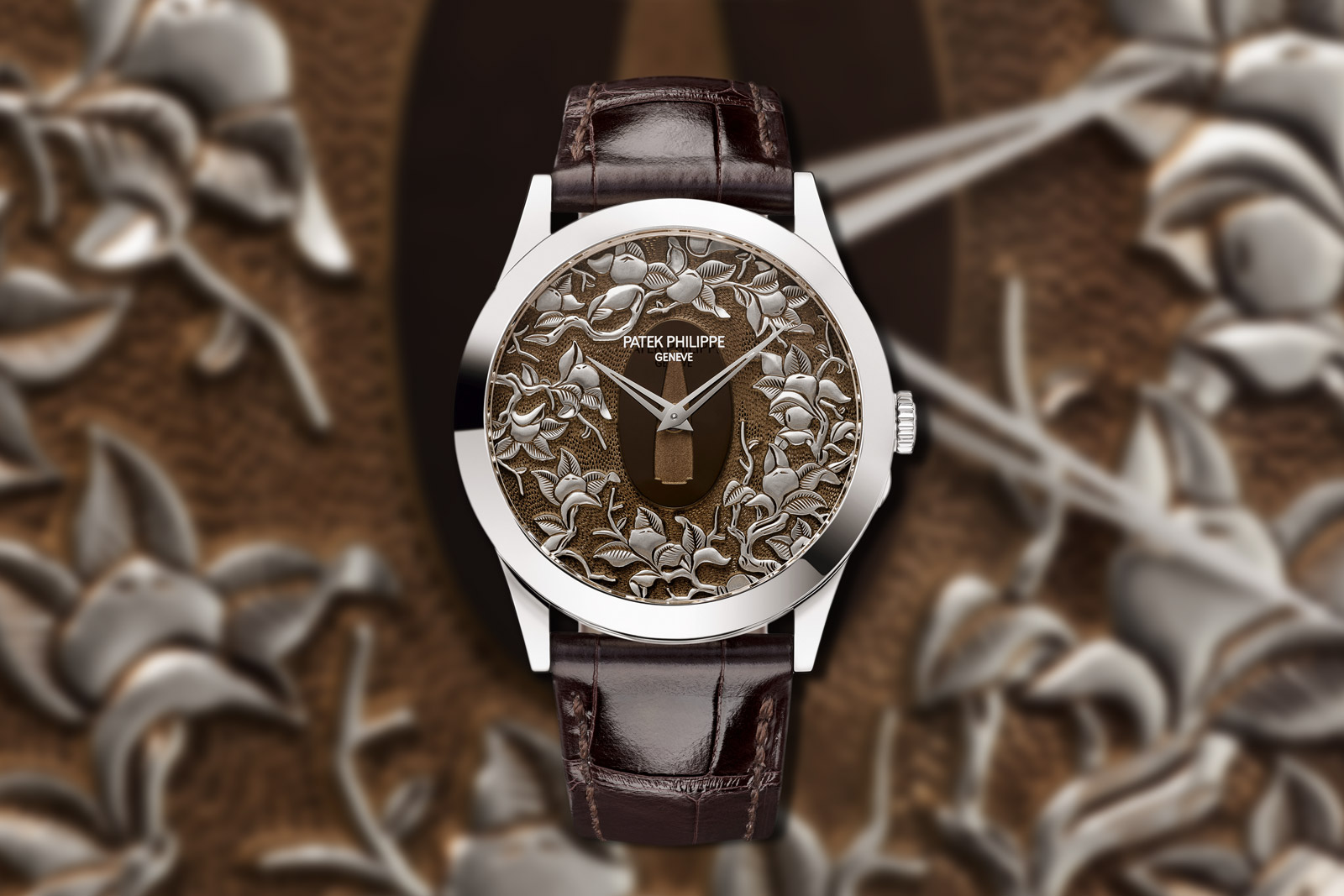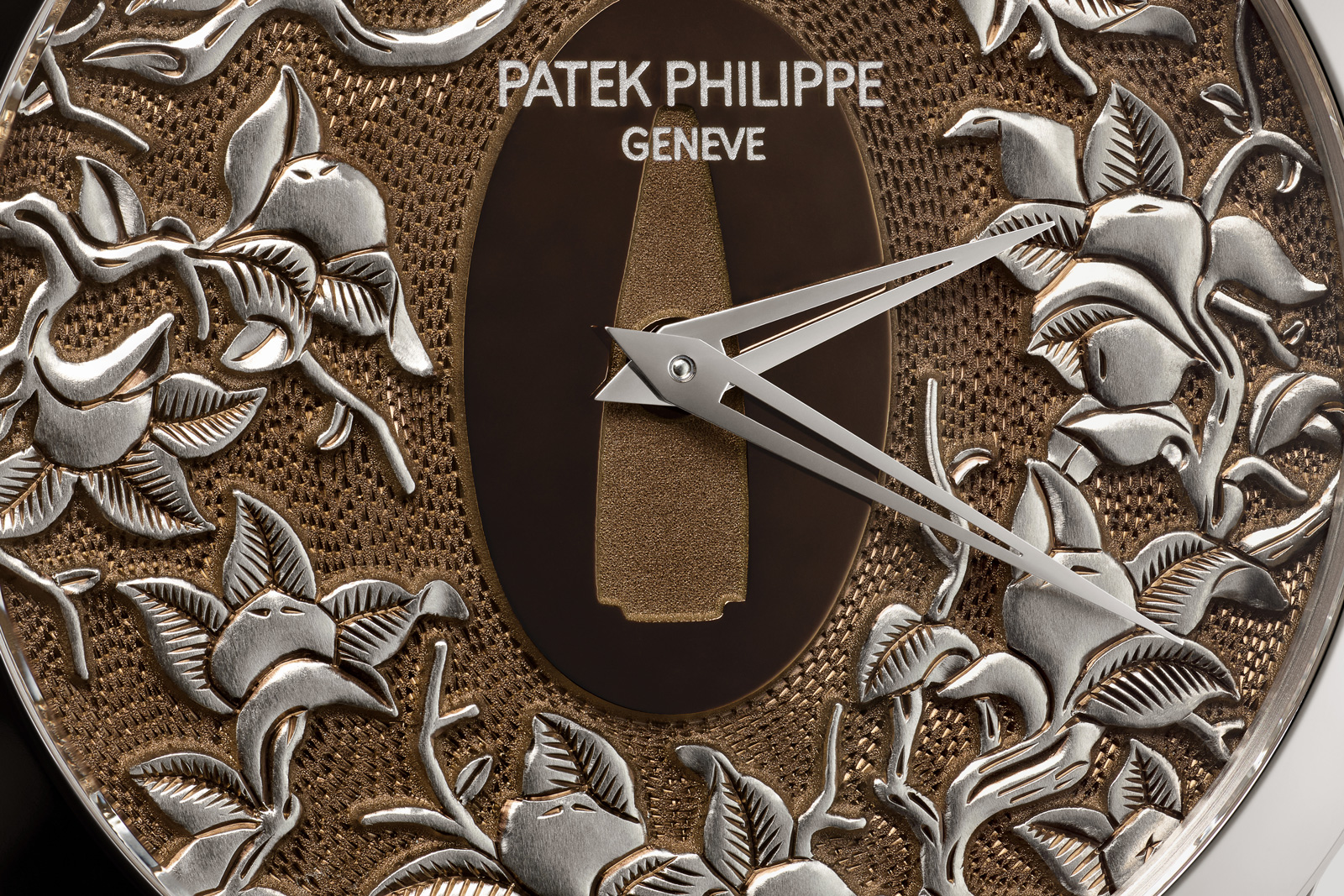 The dials are crafted of solid white gold and yellow gold, respectively, and are engraved by hand. The bullet-like motif in the centre references the opening in the tsuba, through which the blade of the sword passes. Both references feature a white gold case with a hinged dust cover, revealing the cal. 240 inside.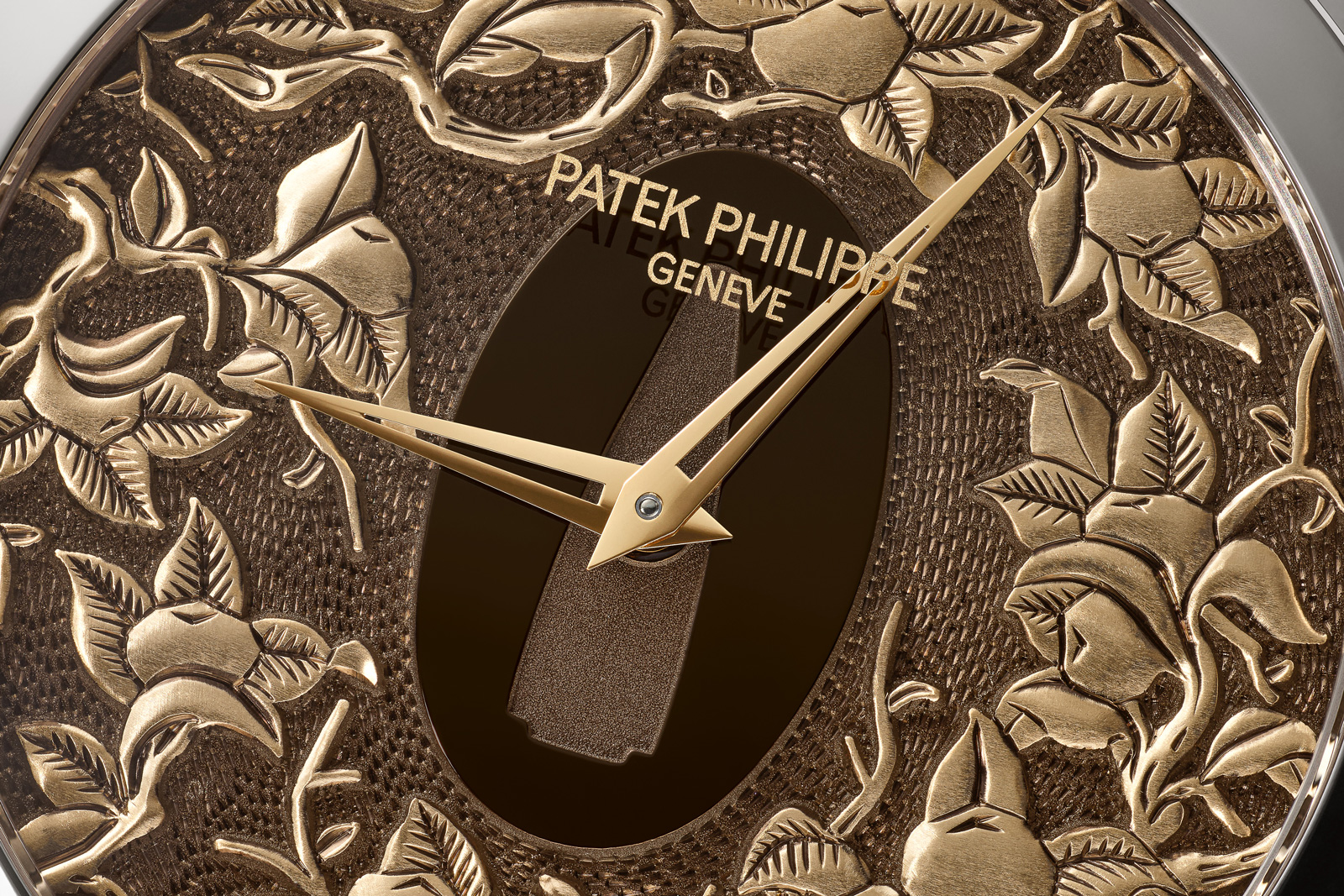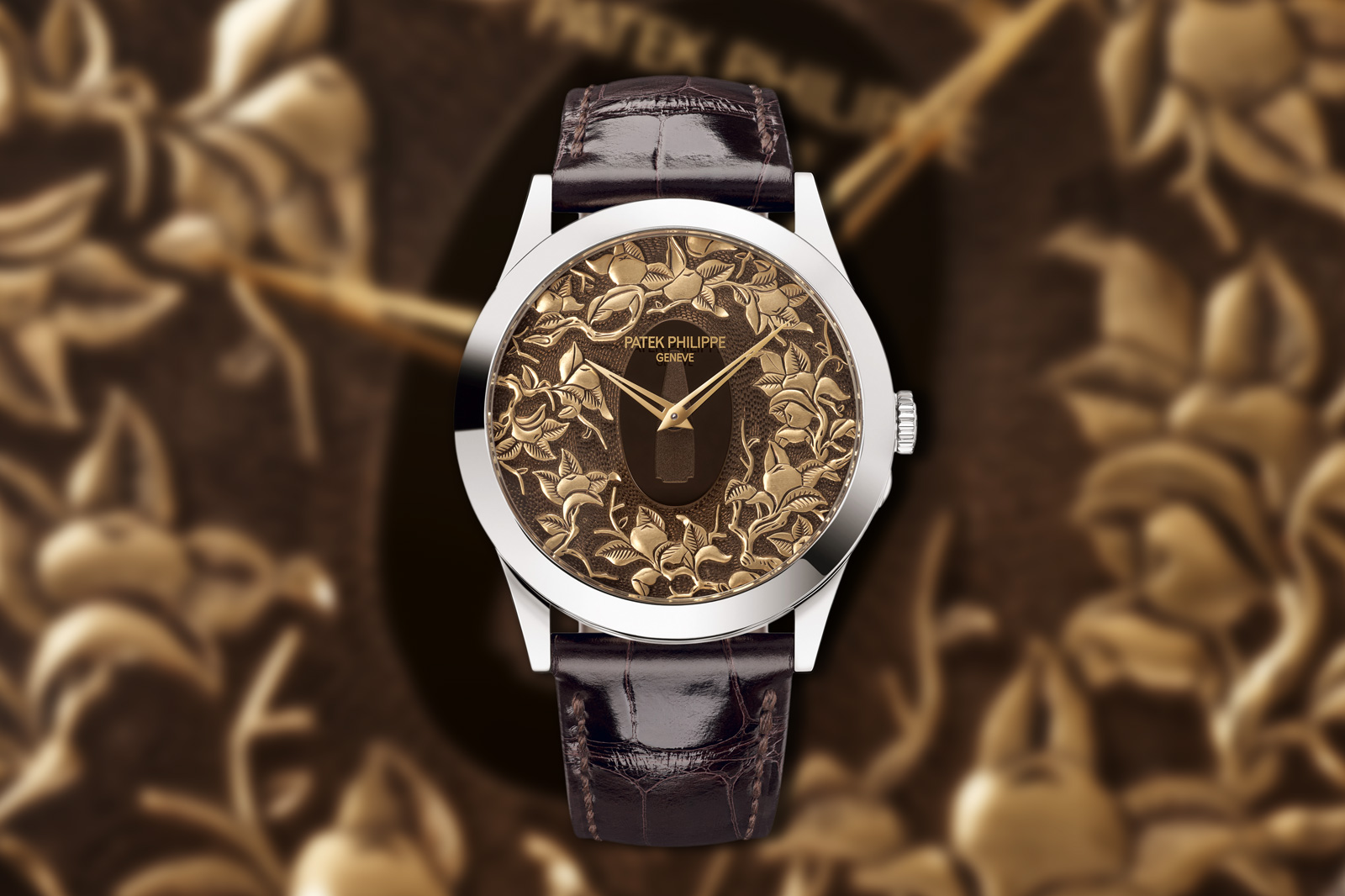 The Patek Philippe Watch Art Grand Exhibition takes place from June 10th-25th 2023 at the Sankaku Hiroba. It is open to the public daily from 10:00 am-8:00 pm. Admission is free and no registration is required to attend.
Sankaku Hiroba
2 Chome-6-1 Nishishinjuku
Shinjuku City, Tokyo
Japan 160-0023
For more information, visit Patek.com.
---
Back to top.
---
You may also enjoy these.