Pöhlmann-Bresan Premieres with the Prestige
A German duo finely reworking a Soviet calibre.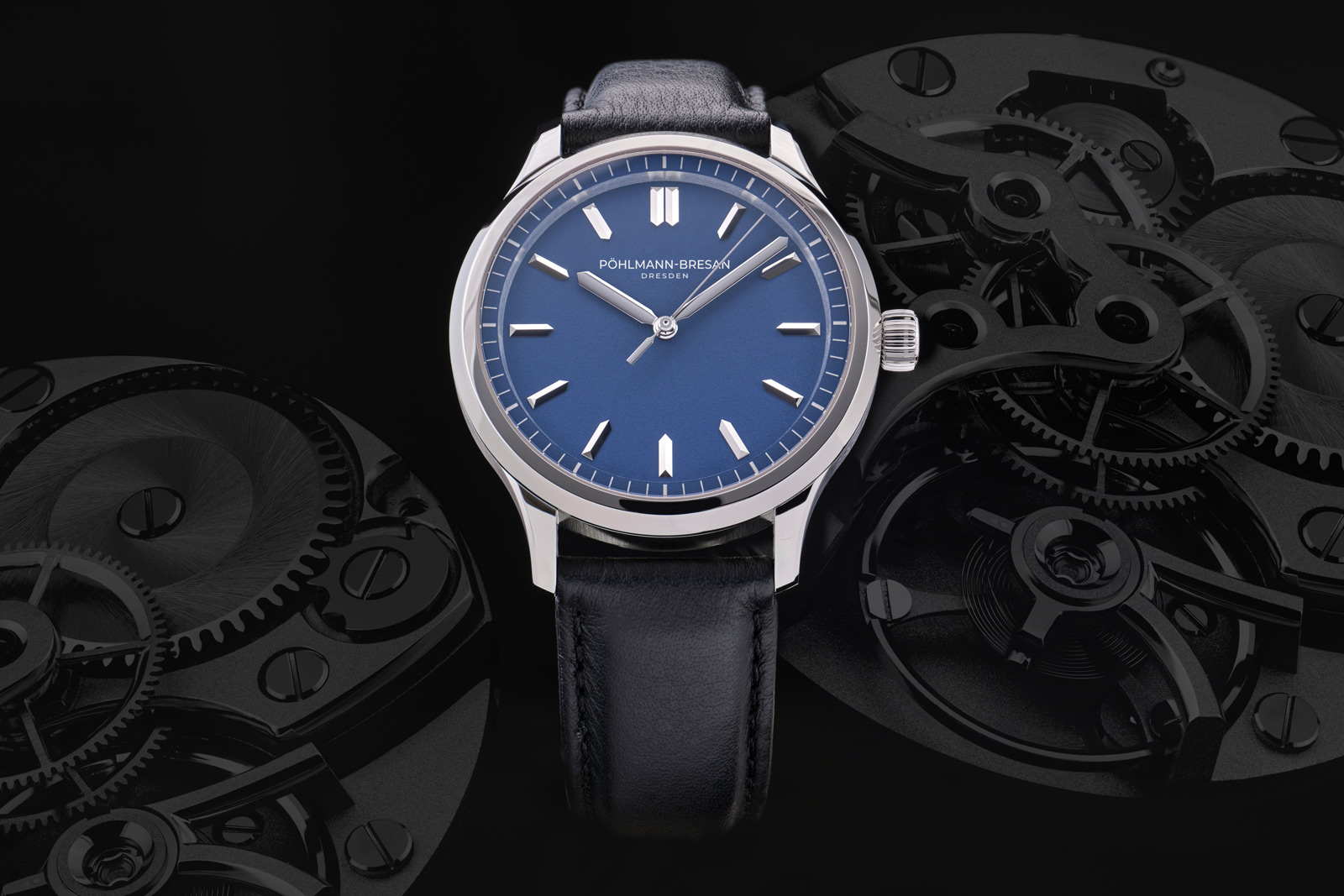 The Prestige from the newly renamed Pöhlmann-Bresan (the brand started life as Junge Uhrmacher) is one of the latest additions to Saxony's long and storied history as the epicentre of German watchmaking.
Based in Dresden, just a short drive from the nation's horological heart in Glashütte, the Pöhlmann-Bresan workshop is up and running with all of the traditional hand skills one might expect. Remarkably, this has been achieved just ten years after the founders met each other while working with and learning from Marco Lang while he was still at Lang & Heyne.
Initial thoughts
The watch in question is the perfect showcase for the artisanal techniques mastered by founders Lukas Pöhlmann and Josef Bresan during their careers thus far. Inside is the Pöhlmann-Bresan JU26-01 that was originally designed by LIP and subsequently produced under licence in the Soviet Union as the Pobeda cal. 2608. Pöhlmann-Bresan found this calibre attractive because of its unusual bridge architecture.
Thanks to the central seconds hand wheel being set directly above the centre wheel of the gear train, the bridges are uncommonly high. This double-layered effect means that incredible visual depth can be achieved if the train bridge is appropriately skeletonised, as Messrs Pöhlmann and Bresan have done here. Additionally, the rapidly-moving central seconds wheel acts as a natural and dynamic focal point, a somewhat unexpected bonus for a manual wind calibre.
Being priced at €16,750 makes this a great entry-level piece for the type of finishing and movement work that is on display here. While you are getting good value for money, there are certainly watches in this price point that offer better design or more complicated movements.
A product of the Soviet Union
Generally, the perception of Soviet-made calibres is that the materials used in their construction were inferior to those used in Swiss or German movements, but this is, in reality, something of an overstatement. The biggest gulf between Soviet movements and their more traditionally-sourced counterparts was in the finishing and surface treatments. The basic finish was often a heavy brushing, which was then cheaply coated to protect the movement against degradation. The practice was functional but aesthetically unrefined.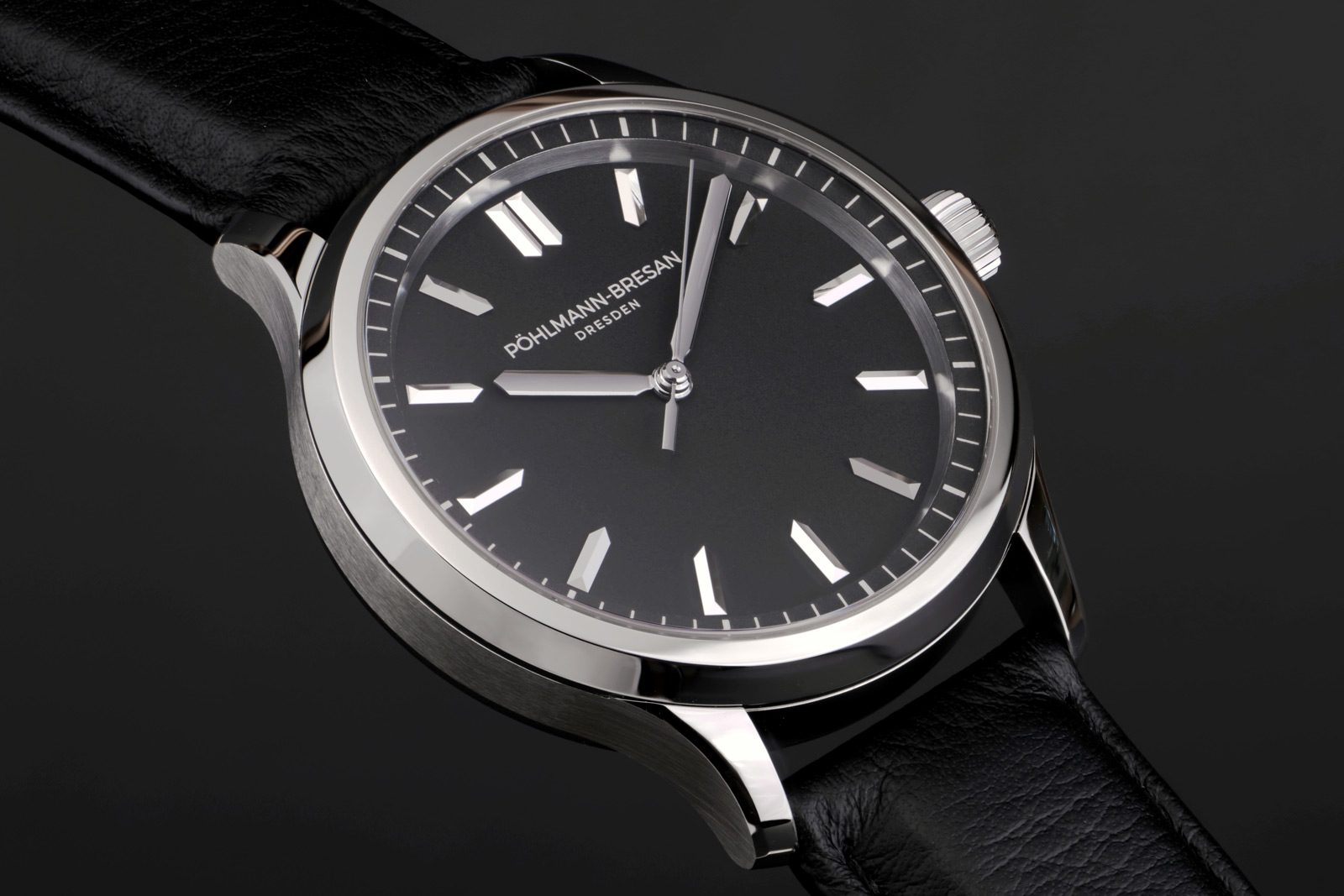 Pöhlmann-Bresan has stripped the Pobeda cal. 2608 back to the bare bones and refinished every component to an exceptional standard. This is not too dissimilar to the work done by Struthers Watchmakers on old pocket watch calibres, for example.
Looking at the original movement next to the utterly transformed JU26-01, it is barely possible to imagine they were once identical. The list of modifications, however, goes some way to explaining the change. Pöhlmann-Bresan has entirely redesigned and newly manufactured the balance cock and regulatory system, upgraded the balance wheel itself to include 14k yellow gold eccentric adjusting screws, added a seconds hacking function, remodelled the barrel bridge, opened up the train bridge, and treated every plate to a new industrial surface finish with high-polished, hand-applied anglage.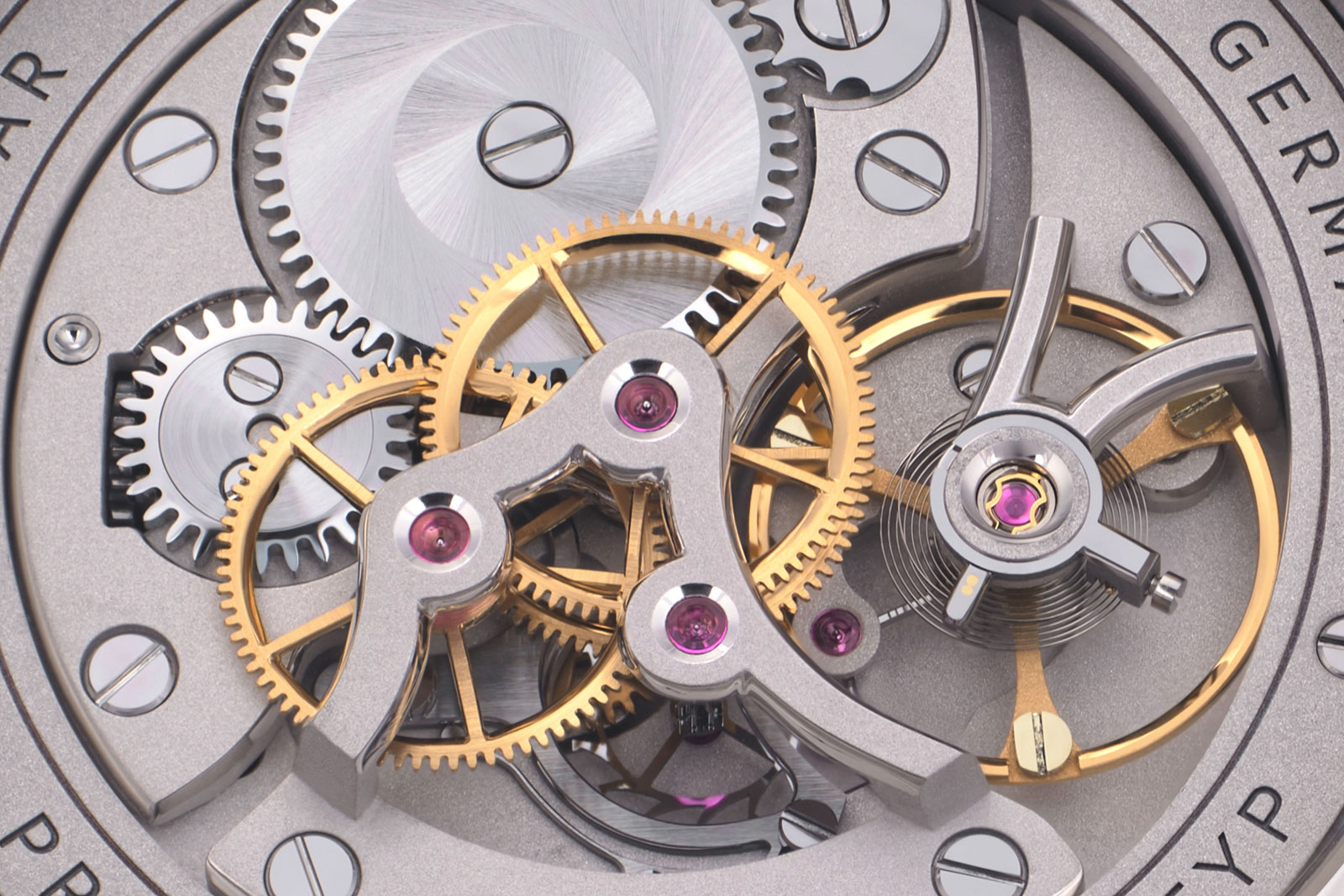 Unsurprisingly, this metamorphosis takes at least 200 hours of painstaking handwork to realise. Such artisanal skill is the calling card of this young brand. To take an otherwise industrial ebauche calibre and bring to market an exquisitely finished piece that honours the traditions and the heritage of Saxon watchmaking, is horological alchemy at its finest.
An expertly finished 40 mm steel case, standing 12.2 mm tall on the wrist, and measuring 48.8 mm lug-to-lug, it boasts an edge-to-edge display case back, which presents the heavily reworked movement.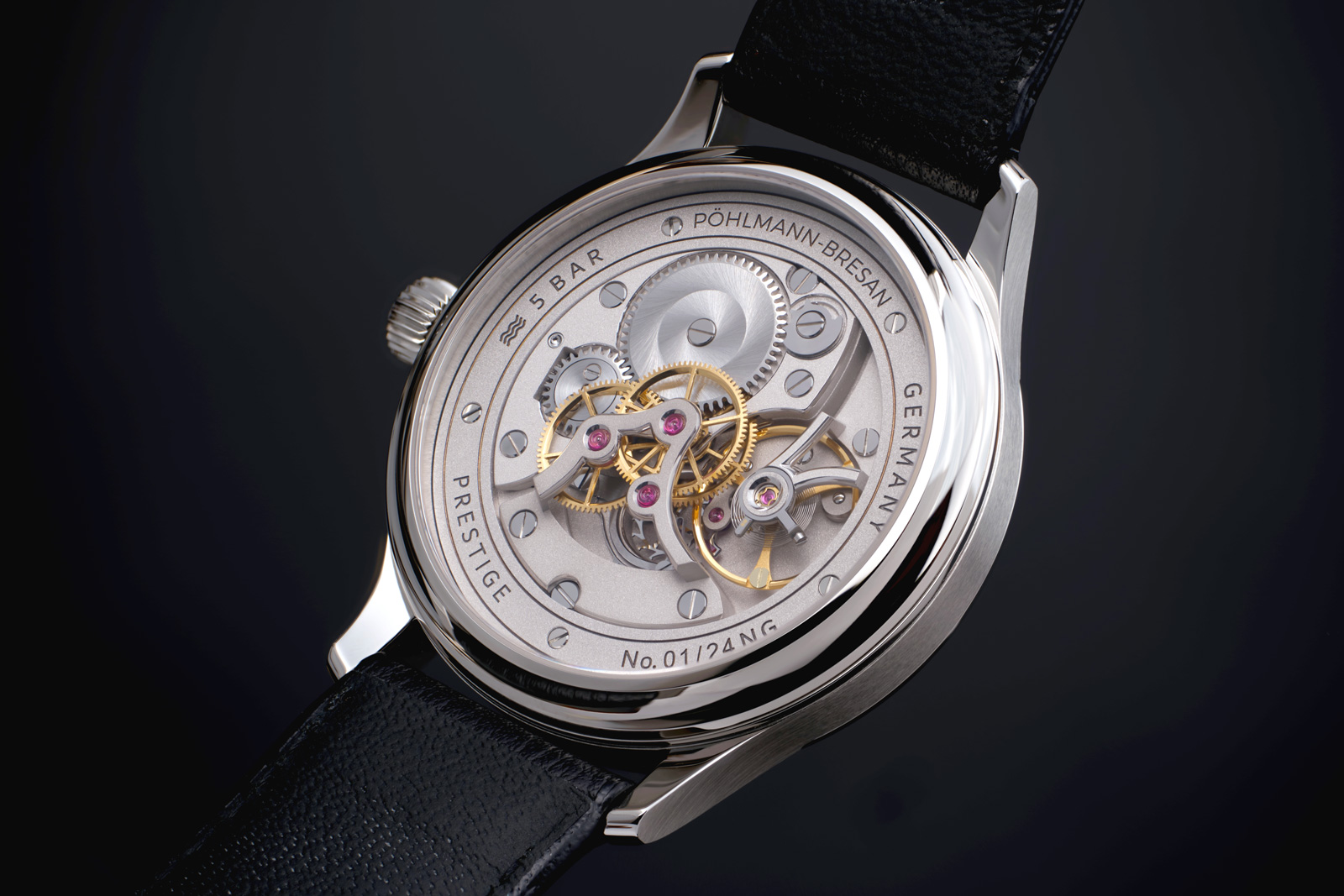 Available in two colours, night grey and night blue, the Prestige is limited to just 24 pieces of each execution. For those looking to invest in this fledgling brand and support the company's development, it is worth noting that Pöhlmann-Bresan has taken pains to not only source enough movements to power all 48 pieces but also enough surplus components and full movements to ensure the pieces can be serviced and kept in good order for decades to come.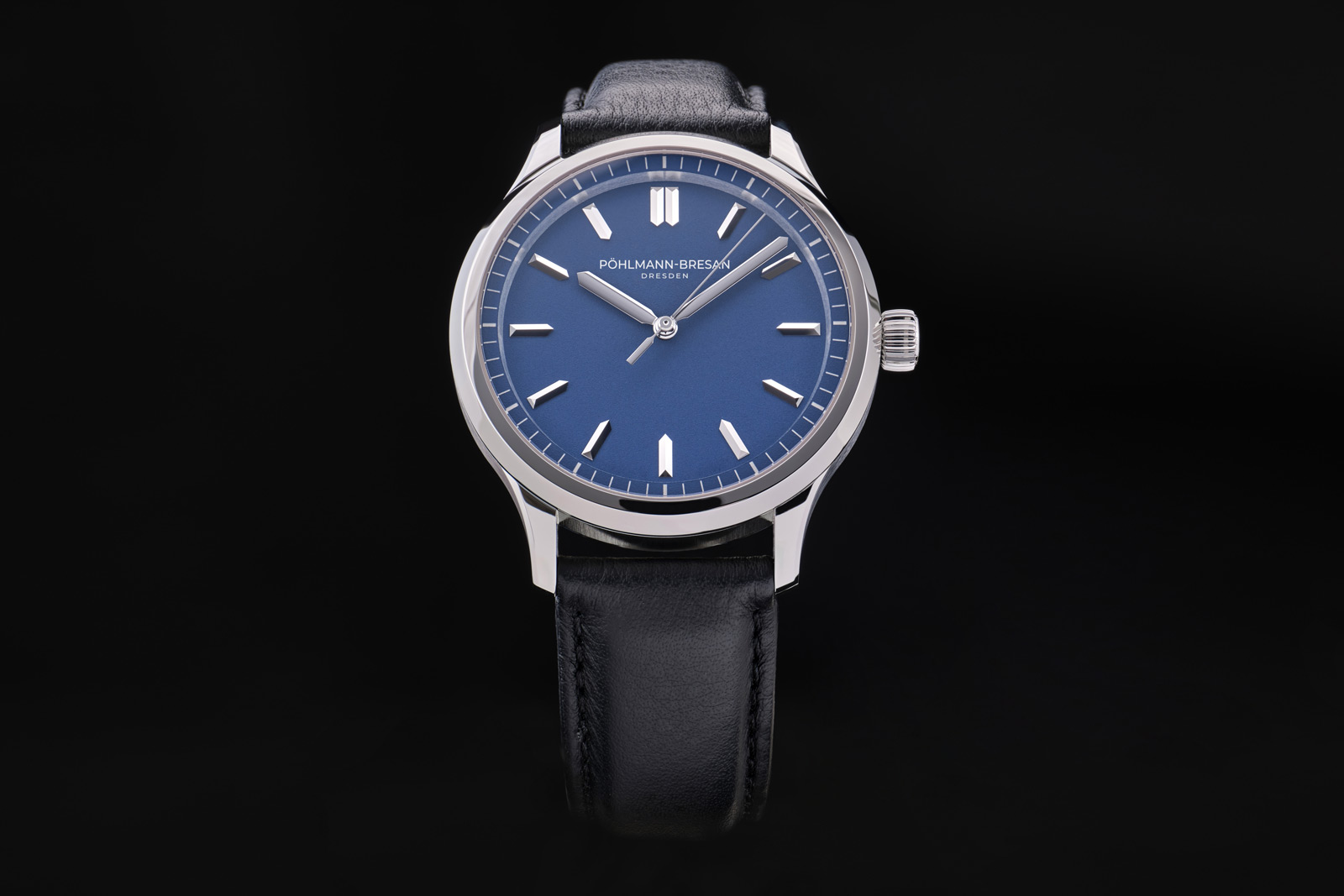 ---
Key facts and price
Pöhlmann-Bresan Prestige
Diameter: 40 mm
Height: 12.2 mm
Material: Stainless steel
Crystal: Sapphire
Water resistance: 50 m
Movement: JU26-01 (base Pobeda cal. 2608)
Functions: Hours, minutes and central seconds
Winding: Manual
Frequency: 18,000 beats per hour (2.5 Hz)
Power reserve: 39 hours
Strap: Calf leather
Limited edition: 48 pieces, 24 pieces of each color
Availability: Direct from Pöhlmann-Bresan
Price: €16,750 (excluding taxes)
For more information, visit poehlmann-bresan.de
---
Back to top.
---
You may also enjoy these.