Tiffany & Co. and Richard Mille Debut Unique Pendant Watches for Only Watch 2023
Horological jewellery in different styles.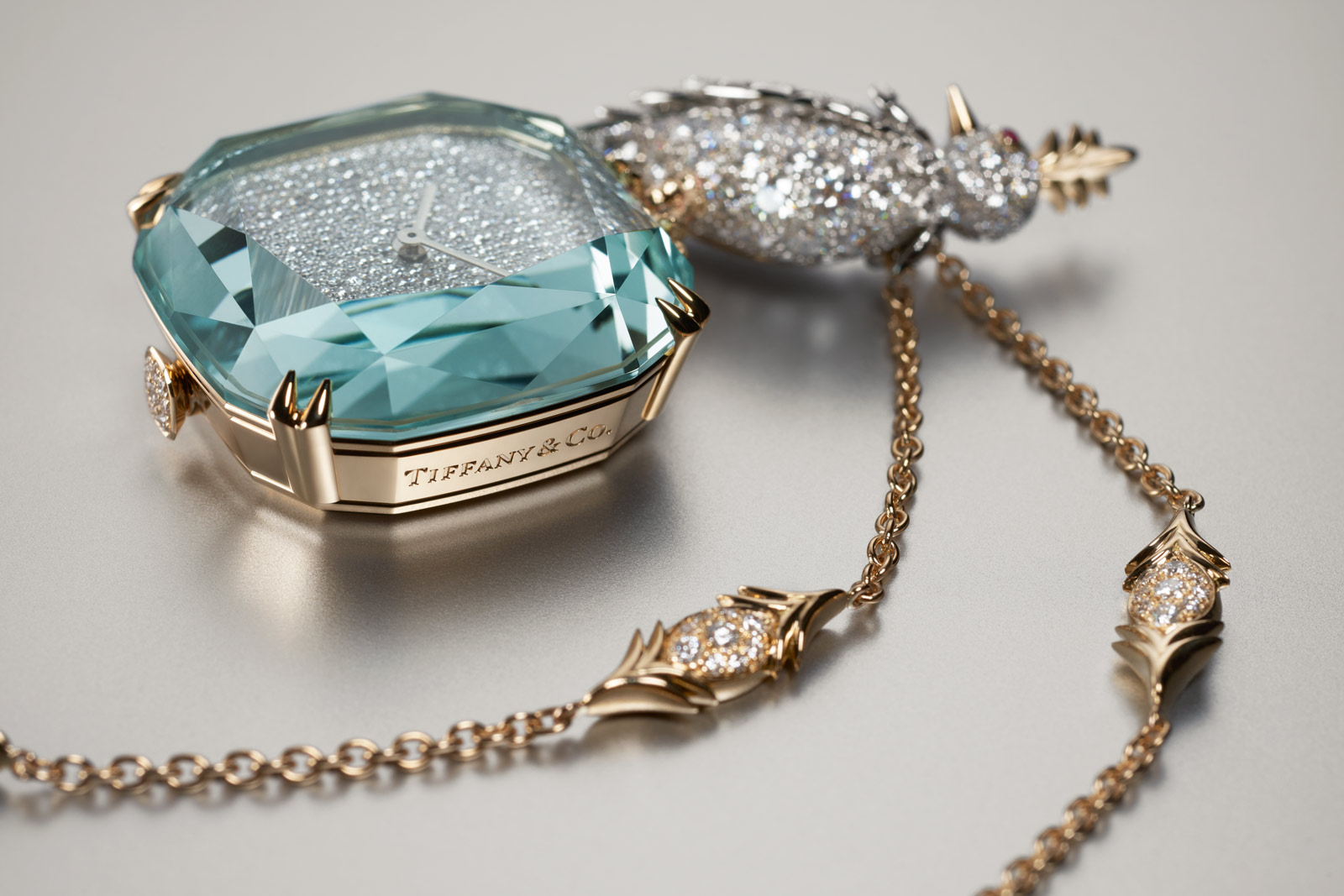 The upcoming instalment of Only Watch sees both Tiffany & Co. and Richard Mille unveiling one-of-a-kind pendant watches for the charity auction. Despite having having the same basic form, both watches are drastically different.
The American jeweller reimagines its trademark Bird on a Rock brooch, transforming it into a watch that features a front-facing bird perched on an aquamarine crystal set on an 18k yellow gold watch case, showcasing the artful fusion of jewellery artistry and functional timekeeping.
Richard Mille's offering, on the other hand, is the RM S14 Talisman Origine that combines ancient shamanic motifs with the brand's avant-garde, open-worked mechanics. And like many Richard Mille watches, the movement boasts a tourbillon.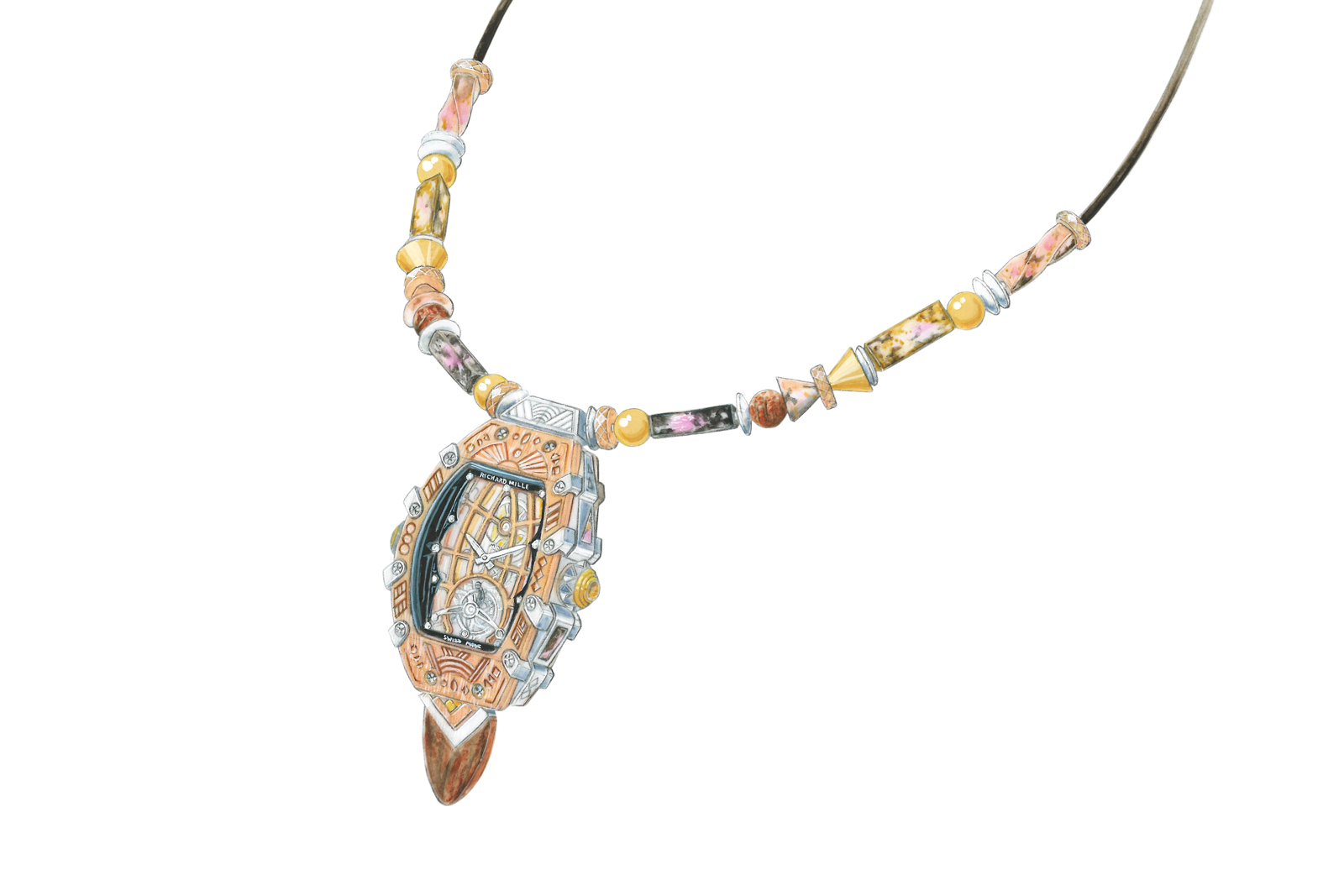 Initial thoughts
By opting for a pendant watch, Tiffany & Co. and Richard Mille demonstrate their creativity and willingness to explore fresh avenues.
Of the two timepieces, the offering from Tiffany is arguably more compelling because it is more sculptural. In fact, it is not apparent that the Bird on a Rock is a watch at all from a distance. And the "Bird" is not mere jewellery, it is a proper mechanic watch with a manually wound calibre, albeit a basic one.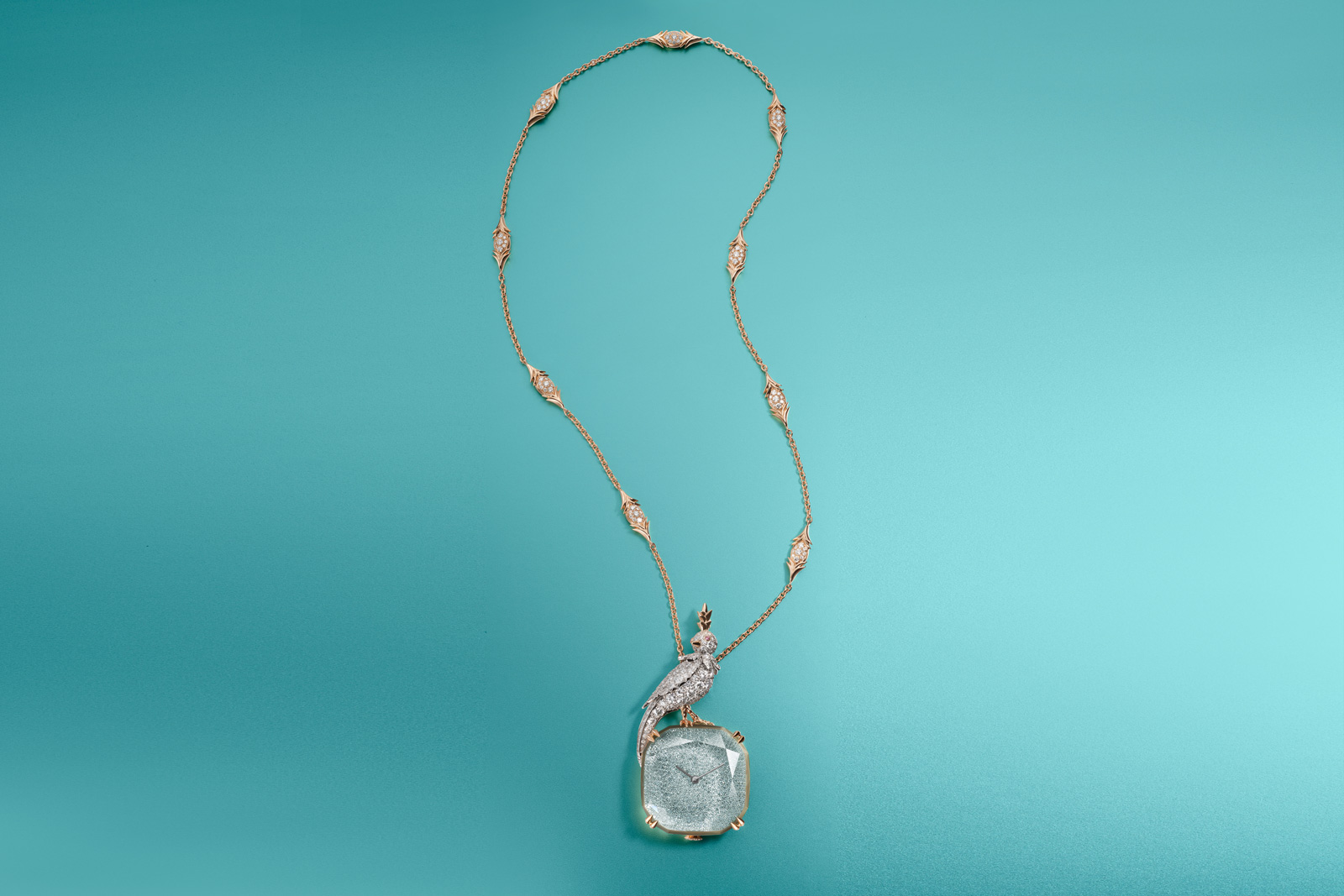 Richard Mille, usually a watchmaker through and through, shows its remarkable ability to transcend expectations by transforming its distinctive, tonneau watch case into jewellery that doubles as a work of art. Despite its unusual form, Talisman is still typical Richard Mille with its extravagant, streetwear-appropriate style.
Notably, the Richard Mille has an automatic movement, perhaps an odd choice for a pendant watch since a necklace probably doesn't move enough to wind a movement sufficiently.
The Bird on a Rock carries an estimate of CHF350,000 to CHF500,000, while the Talisman Origine is CHF 600,000-800,000, reflecting the typically incredible retail prices of Richard Mille.
The estimates are reasonable as such things go – both are high jewellery timepieces – and both are likely to be amongst the valuable lots in the sale. Even though Tiffany & Co. is making its debut at Only Watch, the strength of the jeweller's brand name will probably propel it past the million-franc mark.
Bejewelled pendants
Both of these creations for Only Watch are pieces of jewellery meant to be worn around the neck that happen to contain watches. They feature mechanical movements within cases meticulously adorned with semi-precious stones.
According to Richard Mille, the Talisman Origine was inspired by a pendant several millennia old that was discovered in Switzerland's Jura Mountains and predates modern society. The modern-day pendant watch is a necklace meant to be reminiscent of that ancient amulet that was perhaps employed to summon spirits.
To bring this concept to life, Richard Mille started with the RM74-02 as the base. The watch features the same skeletonised tourbillon, but the titanium case has been replaced by a red gold pendant that's been meticulously satin-brushed, inlaid with Swiss rhodonite crystals, and carefully engraved with symbolic motifs. According to the sketch that Richard Mille released – no image of the watch is available yet – the Talisman Origine will be attached to a necklace featuring grapevine wood, marble, and rhodonite threaded onto a metal and rubber cord.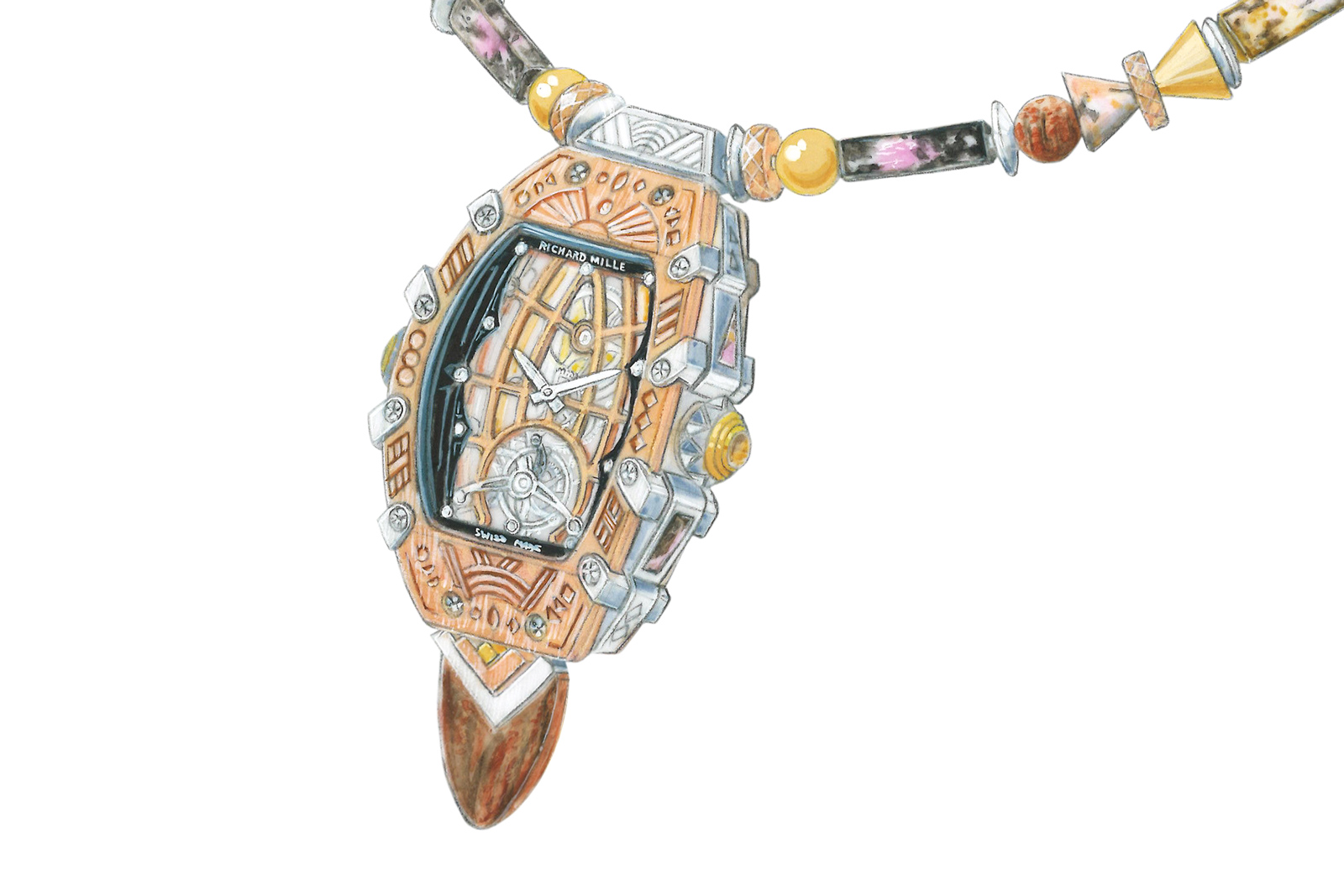 The Talisman Origine is equipped with the in-house automatic CRMT5 movement also found in the RM74-02. The movement features bridge plates and bridges made from 18N and 15N red gold and has a power reserve of up to 50 hours. Additionally, it incorporates a variable-geometry rotor that adjusts the efficiency of the automatic winding mechanism according to the wearer's activities in order to optimise winding.
Meanwhile, Tiffany's distinctive creation draws inspiration from one of its best known pieces of jewellery, the "Bird on a Rock" brooch designed by Jean Schlumberger, the Frenchman who was a longtime designer for the jeweller. Introduced in 1965, the original was made up of a gem-encrusted bird gracefully perched atop a crystal. That has been reinterpreted for Only Watch with a mechanical movement inserted into the "rock".
The bird is made of platinum and set with diamonds, with eyes of pink sapphires, perched on a shimmering aquamarine crystal. Under the crystal is a watch dial "snow" set with 461 diamonds totalling over a single carat. Within the 18k yellow gold case is the compact, hand-wind LTM2000 made by movement specialist Le Temps Manufacture.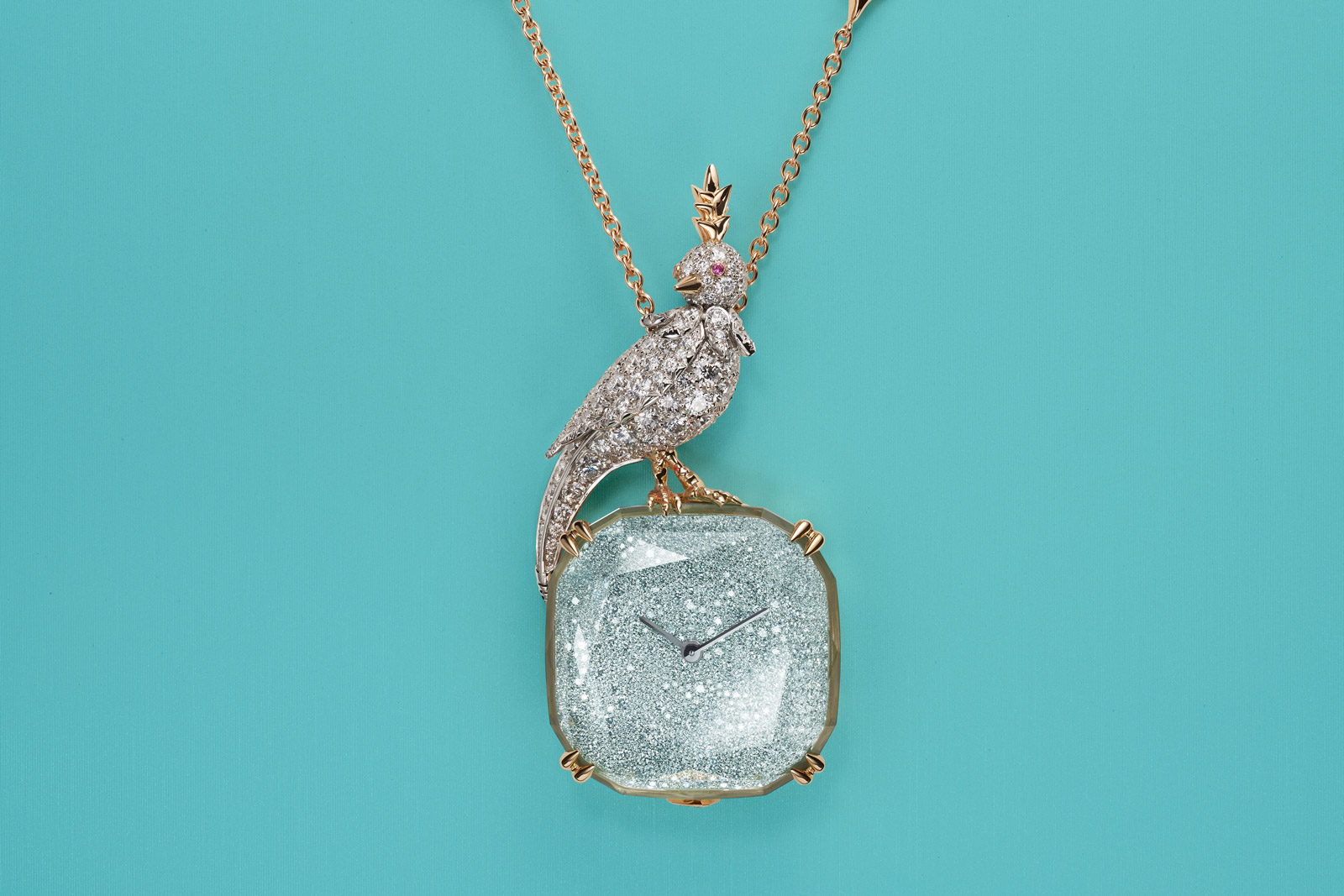 ---
Key facts and price
Tiffany & Co. Bird on a Rock Mechanical Pendant Watch Only Watch 2023
Diameter: 27 by 27 mm
Height: 11.6 mm
Material: 18K yellow gold case with a faceted aquamarine crystal and adorned with a platinum and 18K diamond-set bird
Crystal: Polished aquamarine crystal
Water resistance: Not available
Movement: LTM2000
Functions: Hours and minutes
Winding: Manual
Frequency: 25,200 beats per hours (3.5 Hz)
Power reserve: 38 hours
Strap: 18K yellow gold chain with diamond accents 
Limited edition: Piece unique
Availability: To be sold at Only Watch on November 5, 2023
Estimate: CHF350,000-CHF500,000
---
Richard Mille RM S14 Talisman Origine
Diameter: 46.77 by 77.25 mm
Height: 13.10 mm
Material: Titanium with rhodonite crystals
Crystal: Sapphire
Water resistance: Not available
Movement: CRMT5
Functions: Hours, minutes and tourbillon
Winding: Automatic
Frequency: 28,800 beats per hours (4 Hz)
Power reserve: 50 hours
Strap: Necklace with parts made from grapevine wood, marble, and rhodonite
Limited edition: Piece unique
Availability: To be sold at Only Watch on November 5, 2023
Estimate: CHF600,000-CHF800,000
For more information, visit Onlywatch.com.
---
Back to top.
---
You may also enjoy these.