Auction Watch: Sotheby's to Sell Gerald Genta's Own Royal Oak
And 100 of his original sketches accompanied by NFTs.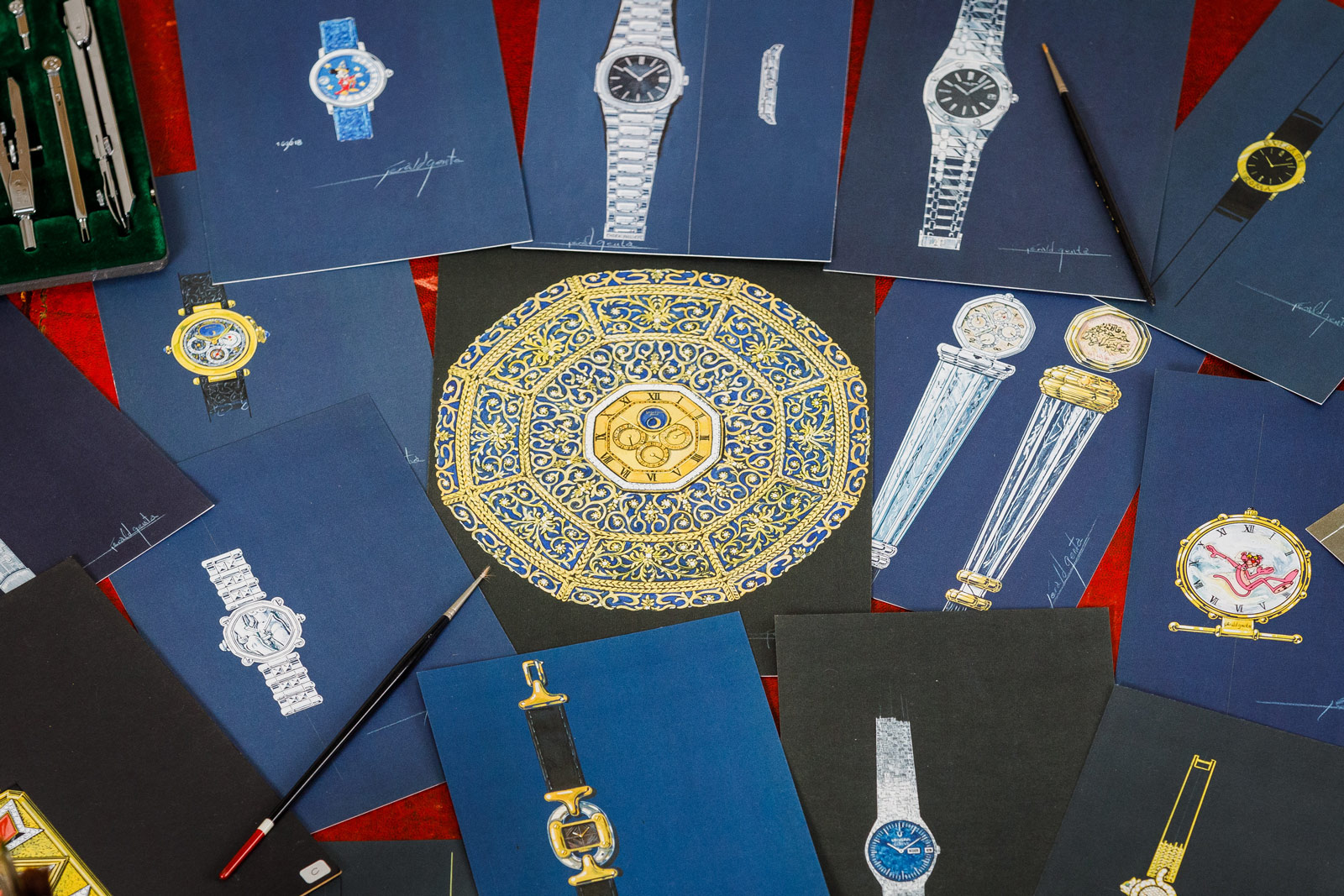 A watch designer whose talent lives on in his work, the late Gérald Genta was exceptionally prolific – he claimed to have penned over 100,000 creations. His family still possesses some 3,400 original sketches covering a bewildering diversity of timepieces. From that, a hundred sketches have been curated to form Gérald Genta: Icon of Time, a series of four thematic auctions staged by Sotheby's in the first half of the year.
The brainchild of Genta's wife, Evelyne, the auctions will offer original sketches of his best known creations, including the Royal Oak, Nautilus, and Disney Fantasy watches – each accompanied by a non-fungible token (NFT).
Essentially digital representations of the sketches, the NFTs "serve as a record of ownership and proof of provenance for each design, ensuring the value of each physical artwork is intrinsically connected to its digital counterpart which cannot be resold without the NFT that attests to the legitimacy of the piece" according to Sotheby's.
And these original works will be affordable, with each sketch and its NFT starting at just US$100, CHF100, or HK$1,000, depending on the sale location.
But the highlight of the event is an actual watch – Genta's own personal Royal Oak.  Slated to be sold at the final instalment of the event taking place in Geneva in May 2022, just in time for the 50th anniversary of the Royal Oak, Genta's watch is a unique example in steel with an 18k yellow gold bezel. It has an estimate of CHF300,000-500,000.
Pioneering style
The drawings on offer include unique timepieces commissioned by prominent personalities, royalty, as well as established watch brands. While the designs are varied and fascinating, they are typical of Genta, who relied on geometric shapes ornamented by flamboyant details, especially during his later career.
Notably, some sketches are hitherto unseen. Most intriguing is an early draft for the Royal Oak, which shares the characteristic angular bezel – but with few sides – yet is an entirely different watch.
Among the most extravagant creations were those for sovereigns and royalty of the Middle East. Interestingly, his sketches for these commissions often hark back to his origins as a jewellery designer – before he pivoted to specialising in watch design after realising most of his clients wanted ideas for watches rather than baubles.
While most of Genta's best known works were produced for watch brands in his early career, he later set up his eponymous brand in 1969, which designed and prototyped wristwatches, and later developed its own complicated movements.
In fact, the all-star team he recruited for his own brand developed several world-firsts, including what was then the thinnest minute repeater wristwatch ever in 1981.
But the highlight of the Gerald Genta brand is no doubt the Grand Sonnerie, which was the most complicated wristwatch in the world at the time. Combining a grande et petite sonnerie with Westminster carillon, perpetual calendar, tourbillon, and even automatic winding, the Grand Sonnerie was also one of the first ever wristwatches to boast a grande et petite sonnerie, having arrived just three years after Philippe Dufour debuted the first.
And Genta's innovative streak went beyond aesthetics. His was one of the first brands to debut a wristwatch with a bronze case, when he unveiled the Gefica in 1984. The choice of material was practical rather than stylistic, as the watch had been conceived for friends of his who were enthusiastic hunters and wanted a low-key wristwatch that didn't reflect sunlight.
Auction schedule
Gérald Genta: Icon of Time takes place over four auctions in different cities.
Geneva, February 10-24, 2022
Featuring sketches for the Royal Oak, including the unreleased and hitherto unknown first draft
Hong Kong, March 10-24, 2022
Original sketches for the Nautilus and three drawings for the Grand Sonnerie
New York, April 13-27, 2022
Including sketches for a range of Disney Fantasy watches and clocks
Geneva, May 2022
Headlined by Genta's own Royal Oak wristwatch in steel with an 18k gold bezel, and including oil paintings by Genta inspired by the Nautilus and Royal Oak
For more, visit sothebys.com.
---
Back to top.
---
You may also enjoy these.