Interview: Frédéric Arnault, Chief Executive of TAG Heuer
Avant-garde ideas.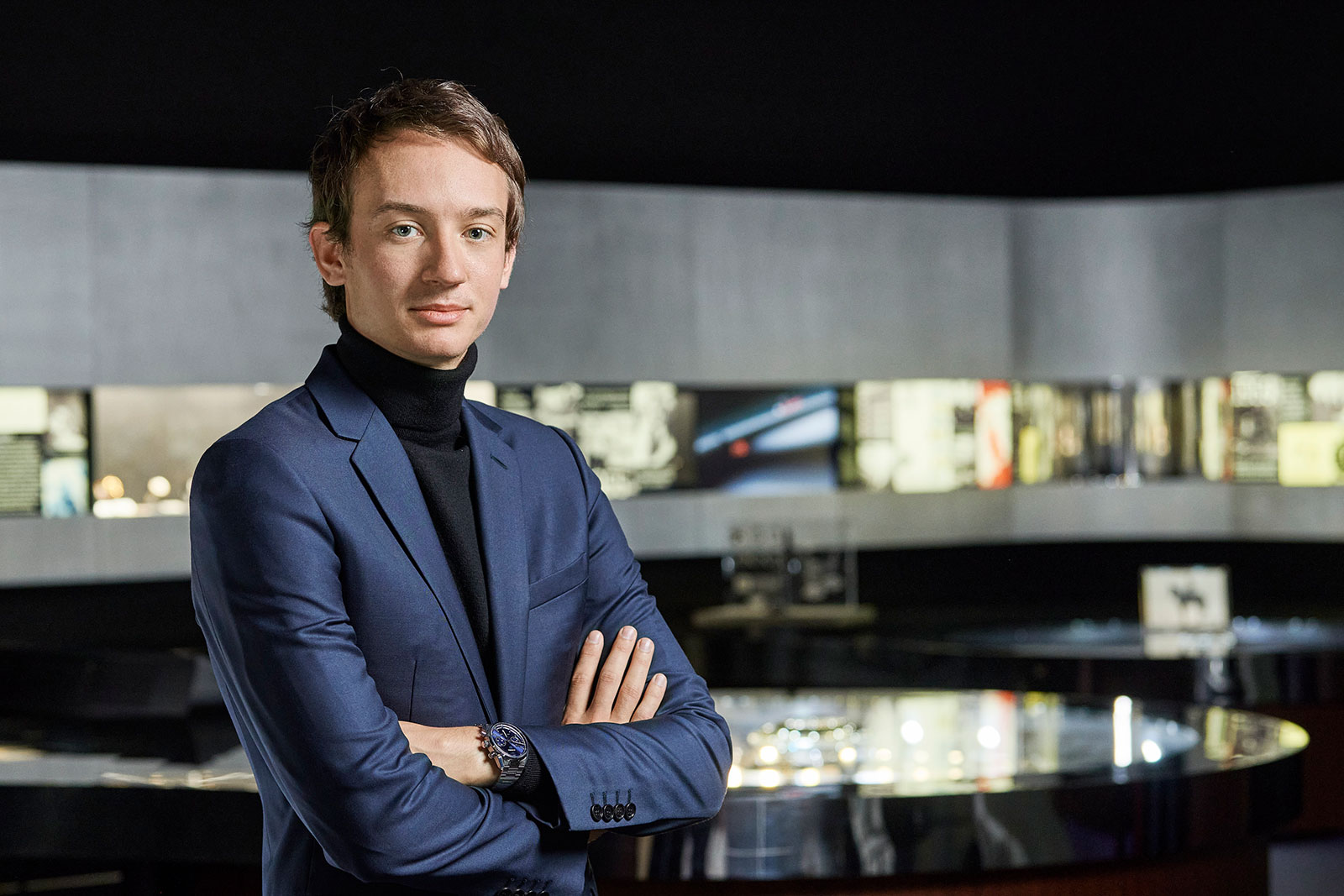 Appointed chief executive of TAG Heuer in 2020, Frédéric Arnault is often described as a son of Bernard Arnault, now the world's richest man thanks to his controlling stake in LVMH. But the younger Arnault, who was just 25 when he took the job, is notable amongst watch industry bosses for his background.
In contrast to the marketing or sales background that characterise most executives in the business, Mr Arnault has a degree in computational and applied mathematics from École Polytechnique, a French science and technology university with a long list of accomplished alumni, including Nobel laureates, presidents, and captains of industry (including the senior Arnault).
Mr Arnault has been in the top job for two years, while it typically takes three to five years to develop an all new watch and even longer for a movement. As a result, his vision for TAG Heuer has yet to fully materialise in its products, but hints of his outsider's perspective and inclination towards technology are already apparent.
This has manifested itself in TAG Heuer's Connected smartwatch and its solar-powered dive watch, but more notably in its flagship mechanical offering, the Carrera Plasma, an unorthodox jewelled chronograph that makes liberal use of synthetic diamonds.
But the most tantalising creations lie perhaps two to three years in the future, given that one of Mr Arnault's first big hires was the duo of Carole Forestier-Kasapi and Edouard Mignon, now TAG Heuer Movements Director and LVMH Chief Innovation Officer respectively.
In their previous jobs, the pair helped shaped movement development and industrialisation at Cartier and its parent Richemont, creating cutting-edge complications utilising exotic materials but also mass-produced in-house movements.
For an insight into where TAG Heuer is heading, I spoke with Mr Arnault at LVMH Watch Week that took place earlier in January.
---
Frédéric Arnault (FA): I think we saw each other at Watches & Wonders…
SJX: Indeed, Watches and Wonders [where you showed] the Plasma. Are concept watches like the Plasma going to be a recurring theme?
FA: Yes, but now we don't consider them as concept watches the same way we had them in the past.
SJX: Like Mikrogirder and so on…
FA: We will sell this; not in significant volumes, but allocated to select customers.
SJX: You will continue with the experimentation with different materials?
FA: Of course. And even with the Plasma. You'll see a new Plasma at Watches & Wonders, along with high horology – new movements and new complications.
SJX: Something that is unconventional for a luxury watch brand is the Connected watch. It is in a way your brainchild because Connected was the first thing you took on when you joined the brand. What is the rationale for Connected, and where do you see it going?
FA: We have a unique position in the smartwatch segment. We are the most elegant offering and we also take inspiration from traditional watchmaking. And we see that's what our customers love about the Connected – it doesn't look like a smartwatch. We can track the watch faces wearers use and the most popular are those inspired by the world of mechanical watches.
But we do it with the best technology that we can have, from the chipset to the operating system. Every day we track usage of the Connected, we look at the numbers, like how many people were wearing a Connected watch yesterday. That allows us to ensure we develop features that adds value for the wearer on a day-to-day basis.
SJX: So consumers like digital faces with hands, more or less.
FA: With hands of course. Or even skeletonised dials where you can see some parts of the movement. In fact, we will go one step further to make complications for the Connected that look mechanical but are impossible from a mechanical perspective. We can create them on a screen and our team will have a lot of fun designing them.
SJX: Where do you want to take it in, say 10 or 15 years?
FA: I would love to tell you that we have a 10- or 15-year vision for the Connected watch. That's true for our mechanical watches where we have a roadmap going up to 10 years.
But the pace is much faster for the Connected, especially for the movement, and we have to react to the market's evolution. There's a large ecosystem of partners for Connected, while the competition is going very fast. So we have to be much more agile in the development process, in pivoting, and making product solutions.
What I can say is that the vision for Connected has been set. It's about continuous improvement. We have two sizes. We'll do a launch every two years. We have some key themes designed into our watch faces, like health and wellness, sports, golf, triathlon. We have strong ideas and a strong strategy, while in terms of execution, we have to be very agile.
SJX: I guess this must be 15 years ago, TAG Heuer made [the Monaco Sixty-Nine] that was one half-mechanical and the other half-electronic, with a hinged case. Is this something one day you will bring back? Combining Connected and mechanical in one watch?
FA: Never say never, but I don't think both worlds are compatible. If you want the best in Connected technology, it has to be fully Connected. If you want the best in mechanical technology, it has to be fully mechanical. And we don't like compromise.
SJX: As for your traditional watch line-up, I remember when we met at Watches & Wonders you mentioned the brand is segmenting itself according to movements – Sellita, Kenissi, in-house, solar, quartz. Can you tell us more about this?
FA: The movement is heart of the brand; key to the quality of the watch. So we are segmenting the offering into three movement types.
Quartz – standard and solar. But solar quartz will take more and more space going forward because we believe it's an amazing value-add for the customer.
For mechanical, there's the three-hand [at the entry-level], where we want to bring the best quality to all of our three-hand movements. We are working on eventually having a five-year warranty [for three-hand], largely for our own movements.
And then there's the chronograph. We are concentrating all of our efforts on the Heuer 02, which is now taking more and more space in the collection [within the] Carrera and Monaco. And we will also develop complications on the Heuer 02. You will see one complication this year, another one next year. They will be simple complications but ones that tell an amazing story.
And last but not least, we are considering working a comeback in the high-horology segment with ground-breaking, innovative complications. You will have a small preview of it [at Watches & Wonders] this year.
SJX: Ground-breaking complications must be one of the reasons you hired Carole Forestier-Kasapi and Edouard Mignon. In their previous roles they developed avant-garde complications and I assume that is where you want to go. Can you share your vision for this?
FA: I can definitely share a vision. We will stay in a territory where we are legitimate and credible. For that there's one complication that is fundamental for us, which will be the focus of all of our efforts. It's the chronograph of course.
Before doing wristwatches, Heuer did stopwatches. Our first wristwatches were chronographs. We were the first to do a micrograph that measured a hundred of a second – more than a hundred years ago. There's so many things we can do with the chronograph, so before doing anything else we will really focus our efforts there.
SJX: I look forward to that. The last question returns to the Plasma. This is probably the first high-end mechanical watch with synthetic diamonds as decoration. What was the appeal of the material?
FA: Ever since I joined the brand, I saw the "avant-garde" in our name. This idea is so powerful and we needed to make it a reality in terms of product. So we need to come up with avant-garde technical innovations every year.
But the idea also gives us a lot of freedom: avant-garde in the movement, avant-garde in materials, avant-garde in design. Why not avant-garde jewellery? But what is avant-garde jewellery?
Naturally, it has to be lab-grown diamonds. Watch brands have not yet figured out the right way of entry in this field. So that was also a reason we went into this segment.
We wanted to create something new and not just replace natural diamonds with lab-grown diamonds. We realised we needed to leverage this technology to design something that will be impossible to do with natural diamonds.
You saw the first expression of the concept. There are so many other expressions we could have done. And there so many more expressions of the idea that you will see from us in the future. [laughs]
SJX: In luxury goods, the convention is natural diamonds. What do you say to the consumer who believes that natural diamonds are a must-have?
FA: We sold already quite a few of these pieces and the lab-grown diamond aspect was one of the key points of appeal, especially with this execution. If you want this design, you have no solution in natural diamonds. You cannot have a diamond crown of 2.5 carats, a functional component that's one block of diamond. You cannot have this dial in this polycrystalline diamond – it simply doesn't exist.
SJX: Will synthetic diamond be used for functional components in the movement one day?
FA: We are working on it.
SJX: Thank you for your time.
---
---
You may also enjoy these.