Grand Seiko Introduces the 44GS 55th Anniversary Specially-Adjusted 9F Quartz
With a "blue clouds" dial.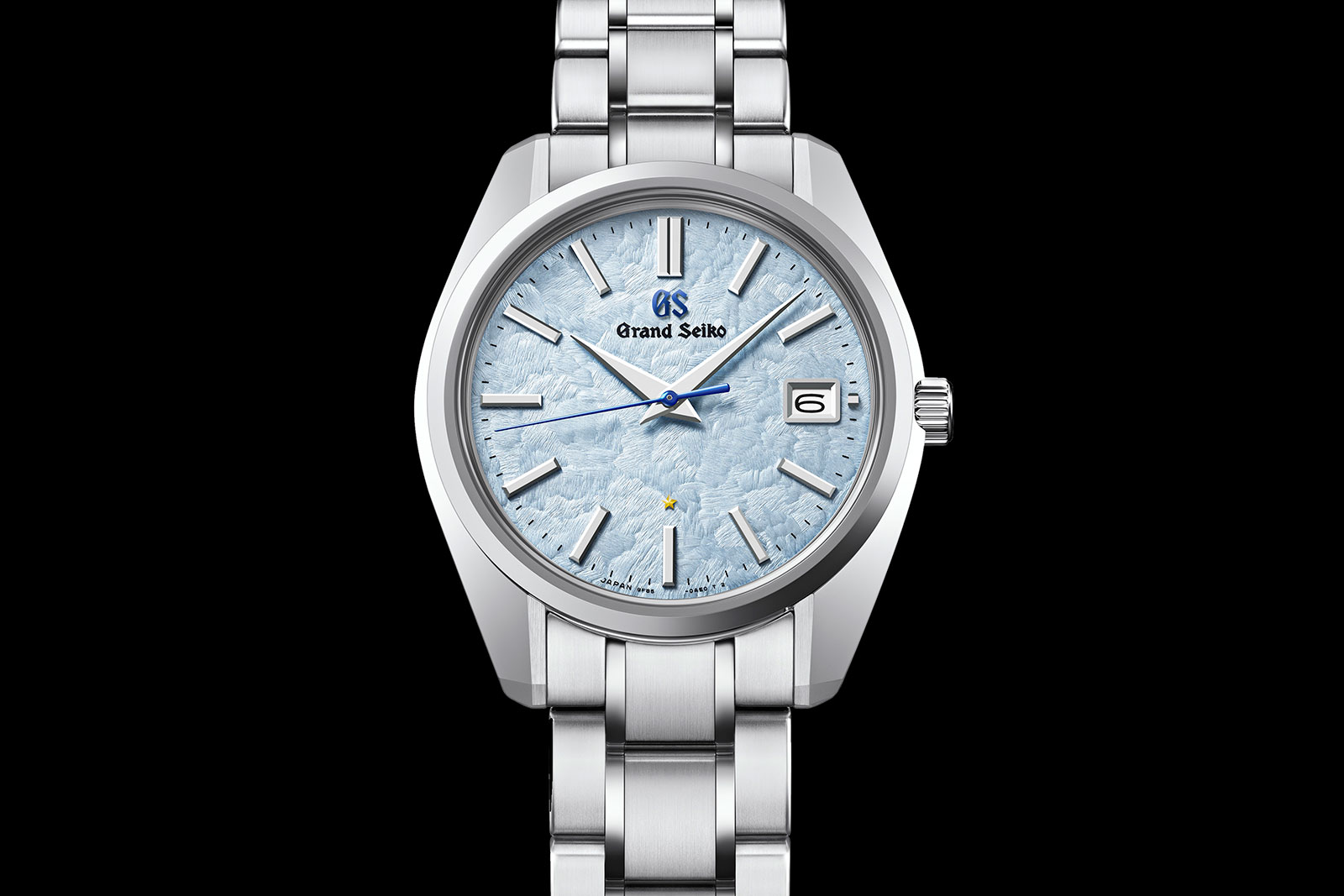 Long a leading player in the arena of high-end quartz watches, Grand Seiko's flagship offering is the 9F quartz movement that is built with an attention to detail comparable to that of its mechanical calibres. Beyond the almost-artisanal production, 9F movements are all about accuracy – the standard movements are rated to within 10 seconds a year.
Now Grand Seiko a limited edition equipped with a specially-adjusted 9F calibre, the Heritage Collection 44GS 55th Anniversary SBGP017 "Blue Clouds". Signified by the star emblem on the dial, the movement within is regulated to run within five seconds a year – an average of less than a half second deviation a month.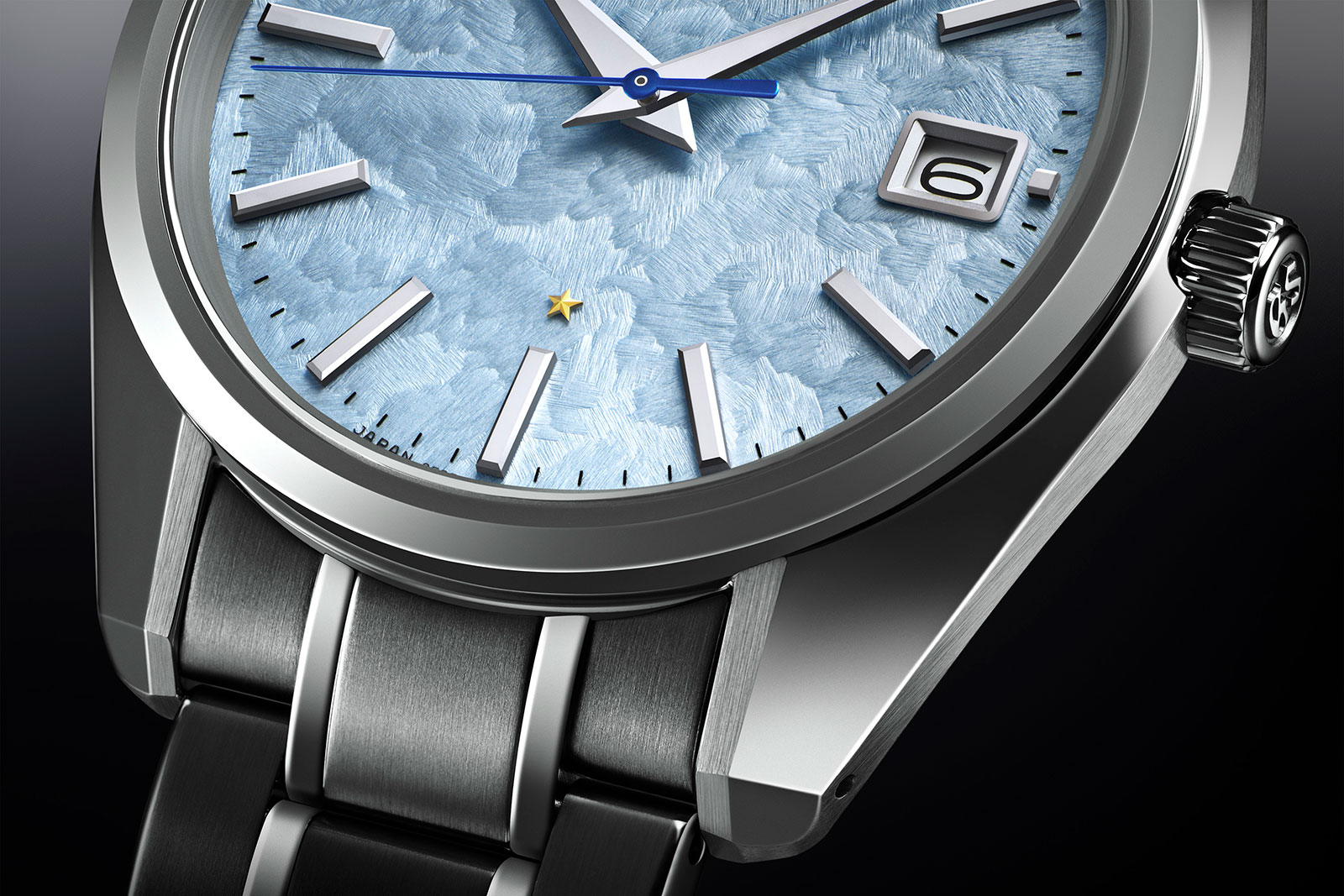 Initial thoughts
Watches with colourful, textured dials are almost the norm at Grand Seiko, which has rolled out enough limited editions that such watches seem almost more common than their plain dial counterparts. The SBGP017 dial has a familiar texture, so at first glance it seems like yet another Grand Seiko limited edition.
But a closer look reveals the fact that the SBGP017 is unusual. For one, it's quartz. Grand Seiko quartz watches rarely have patterned dials and when they do, the dials typically have motifs made up of repeating symbols. In contrast, the abstract pattern found on the SBGP017 is similar to that found on Grand Seiko's mechanical and Spring Drive models. Put another way, the SBGP017 is an atypical Grand Seiko limited edition because it's quartz but has the aesthetic of a mechanical watch.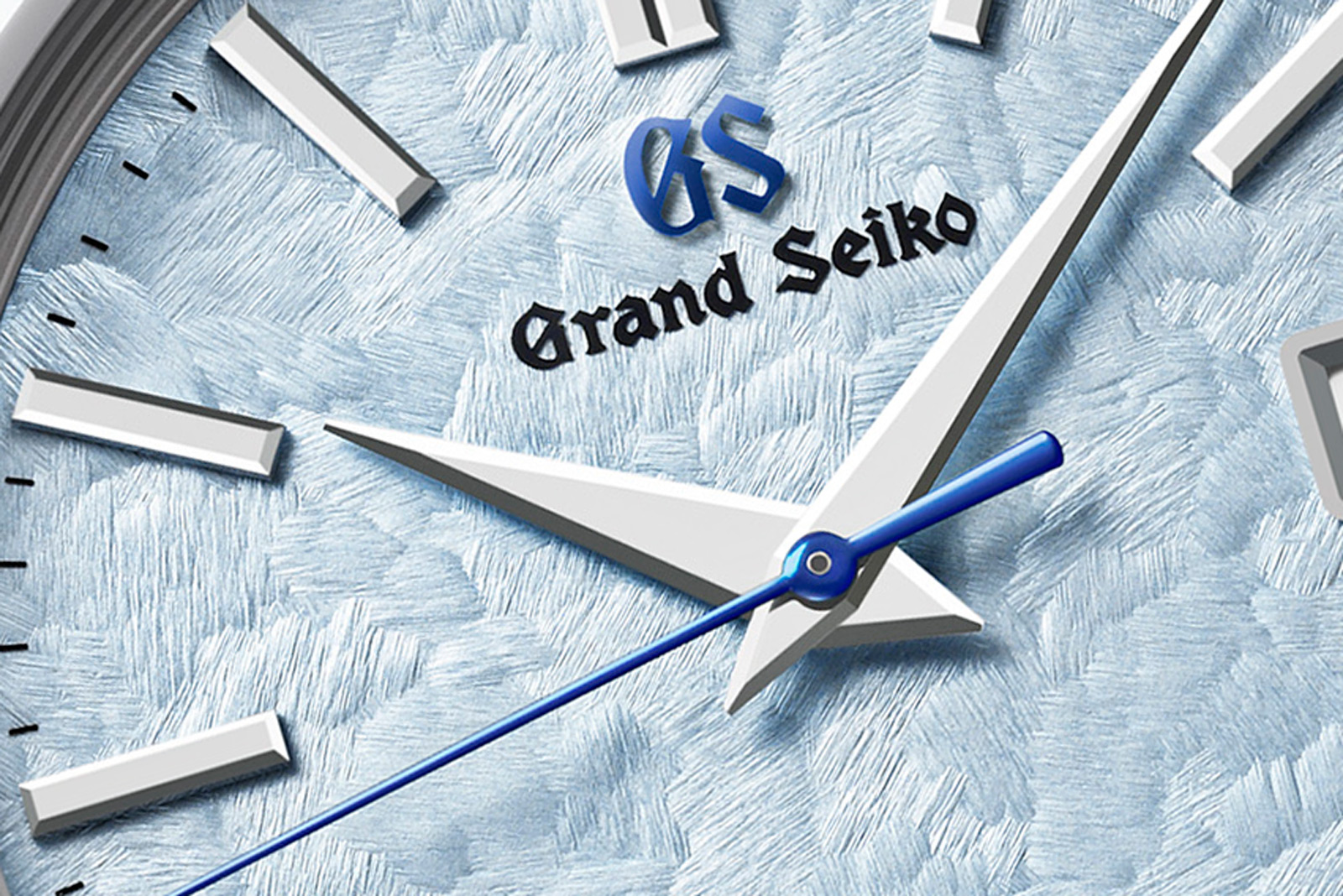 And then there's the open case back, which is uncommon for a quartz Grand Seiko; only a handful of limited editions in the past had display backs. It might seem to be an odd thing to have on a quartz watch, but this is far from an ordinary quartz movement. Not only it is elaborately constructed, it is also attractively finished. The bridges are gilded and striped, while the screws are blued, making this one of the best decorative quartz movements at any price.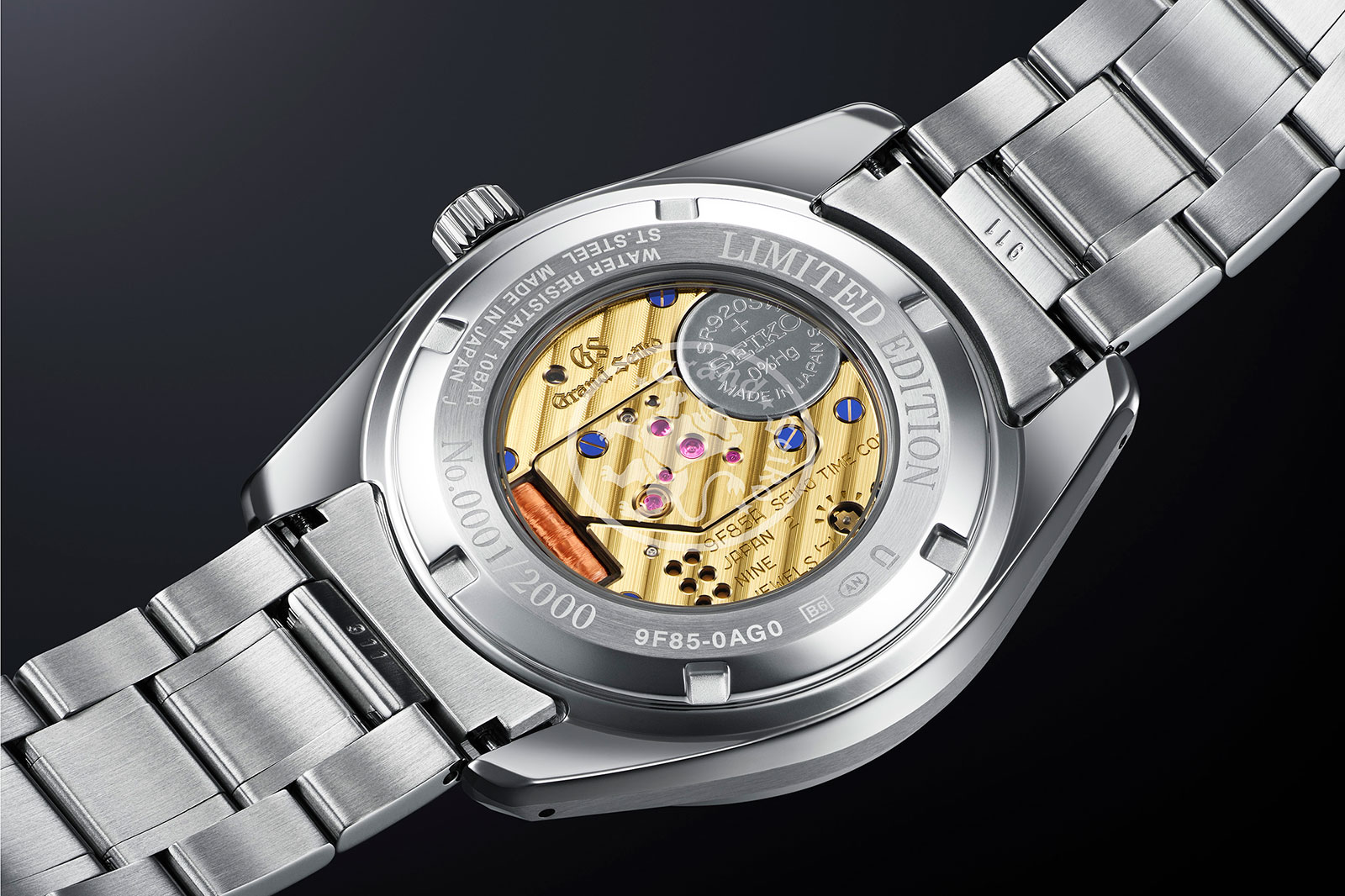 Specially adjusted
First seen on the Spring Drive 20th Anniversary SBGC231 and SBGA403 launched three years ago, the dial texture on the SBGP017 is intended to evoke lion's mane. But the fine, irregular pattern also brings to mind cumulus clouds – the puffy, white sort – and that is exactly what the SBGP017 is meant to do. According to Grand Seiko, the dial texture and colour are inspired by the "blue-tinged clouds found in the Shinshu region" where the Shinshu Watch Studio is located.
But fans of the brand will no doubt have seen many such textured dials before, so the highlight is the back where the cal. 9F85 is visible in all its glory.
Grand Seiko's top-of-the-line quartz movement, the cal. 9F85 has an hour hand that can be set independently without stopping the seconds, making changing time zones when travelling a breeze. The independent hour hand is especially useful for a high-accuracy quartz watch, since it means the time setting isn't lost when changing time zones.
In addition, this is not just a standard 9F movement, but a specially-regulated example that boasts a tighter annual accuracy range of within five seconds a year, as compared to the 10 seconds of the conventional calibre.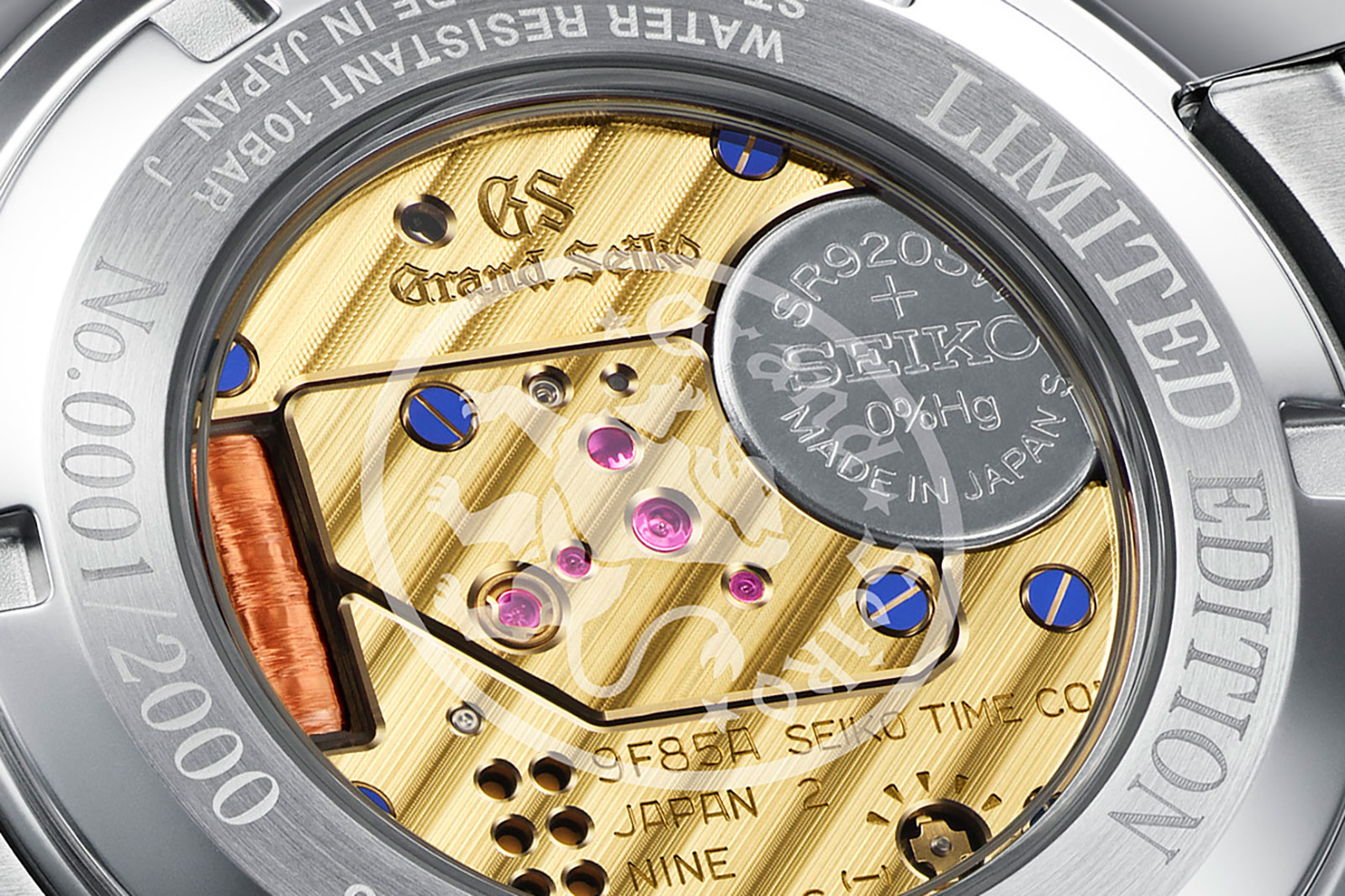 Fittingly, the cal. 9F85 is decorated better than almost all typical quartz movements. Its striped and bevelled bridges are finished in a similar manner to the earlier generation of mechanical and Spring Drive Grand Seiko movements – done industrially but neatly in other words – although the gilt finish is unusual, since Grand Seiko movements are usually rhodium plated. And the blued steel screws are a pleasing touch that add to the visual richness of the movement.
---
Key facts and price
Grand Seiko Heritage Collection 44GS 55th Anniversary Limited Edition
Ref. SBGP017
Diameter: 40 mm
Height: 10.7 mm
Material: Steel
Crystal: Sapphire
Water resistance: 100 m
Movement: 9F85
Features: Hours, minutes, seconds, date, and independently-adjustable hour hand
Winding: Quartz
Power reserve: 3 years
Accuracy: +/- 5 seconds per year
Strap: Steel bracelet
Limited edition: 2,000 pieces
Availability: Starting July at Grand Seiko boutiques and retailers
Price: 440,000 Japanese yen
For more, visit grand-seiko.com.
---
Back to top.
---
You may also enjoy these.