Custom Bovet Watches for the Rolls-Royce Boat Tail
Special timepieces for a grand automobile.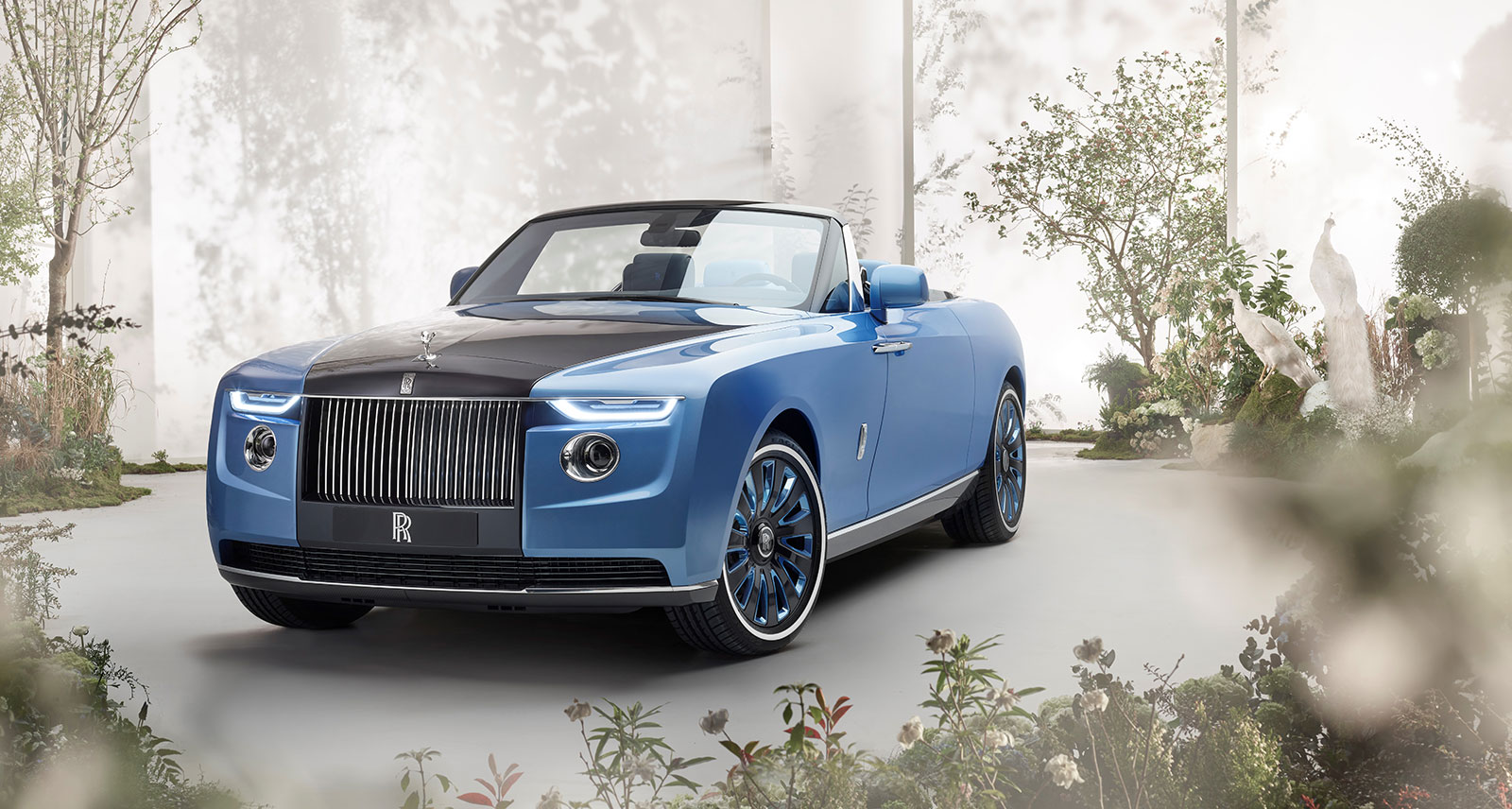 Having just debuted its Coachbuild division where spare-no-expense bespoke automobiles are built, Rolls-Royce revealed the very first car to roll off the Coachbuild production line – the Boat Tail. Reportedly priced at US$25 million – and reputedly sold to Jay-Z and Beyoncé – the Boat Tail is a yacht-sized convertible with a built-in cocktail bar.
Likely the most expensive car today, the US$25 million automobile is delivered with a champagne chiller, tea towels, and crystalware – and a pair of unique Bovet watches that double up as dashboard clocks.
Best known for its elaborate, double-sided watches, Bovet created a pair of watches for the Boat Tail's husband-and-wife owners. The two timepieces required some 3,000 hours of work for both development and execution according to Bovet.
The two timepieces are based on the Amadeo, Bovet's signature wristwatch that can be converted into a pocket watch – or mounted on the Boat Tail's instrument panel – a nod to the brand's history as a leading maker of ornate pocket watches for the 19th century Chinese market.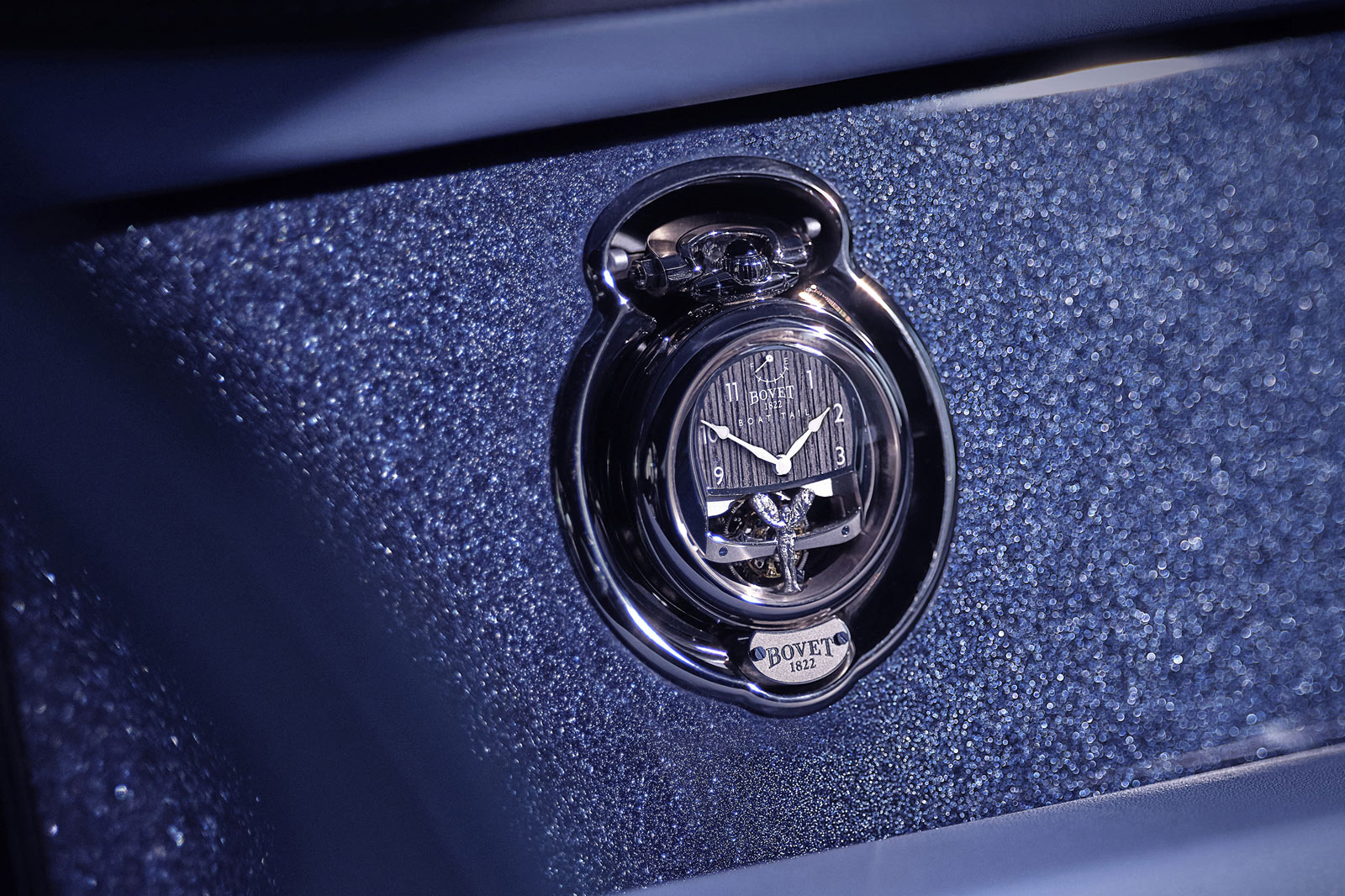 Initial thoughts
Collaborations between watchmakers and luxury automobiles manufacturers are common, with Girard-Perregaux having just announced a partnership with Aston Martin and Richard Mille signing with Ferrari last year. Most are a good match in terms of position, with some exceptions like the longstanding tie-up between Breitling and Bentley, which sit at opposite ends of the price spectrum in their respective fields.
Bovet and Rolls-Royce, however, make sense together. Both are high-end makers with an extravagant, lavish style that is hard to miss. And the annual output of each is in the same ballpark – Bovet produces less than 3,000 watches a year, while Rolls-Royce made just 3,756 cars last year.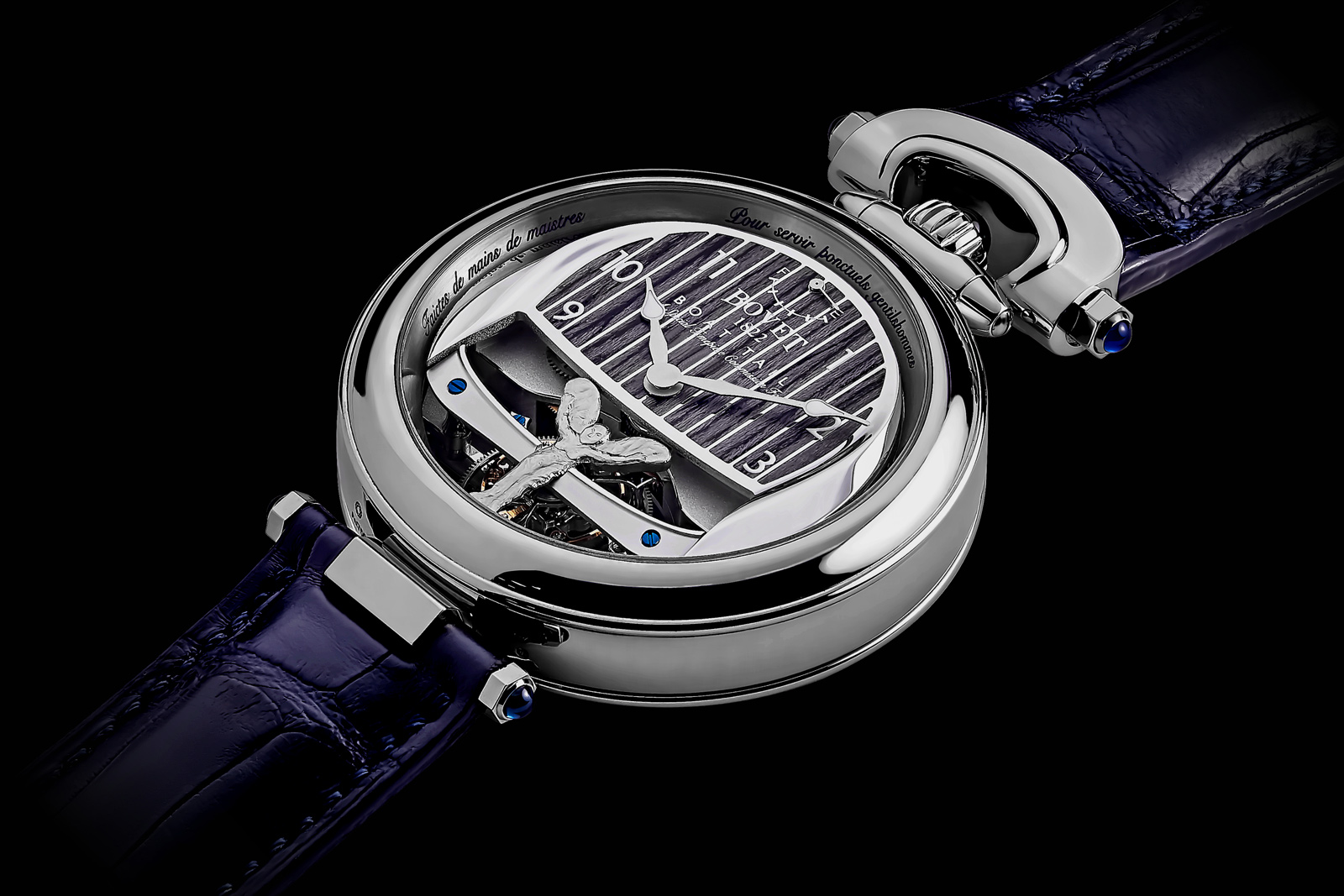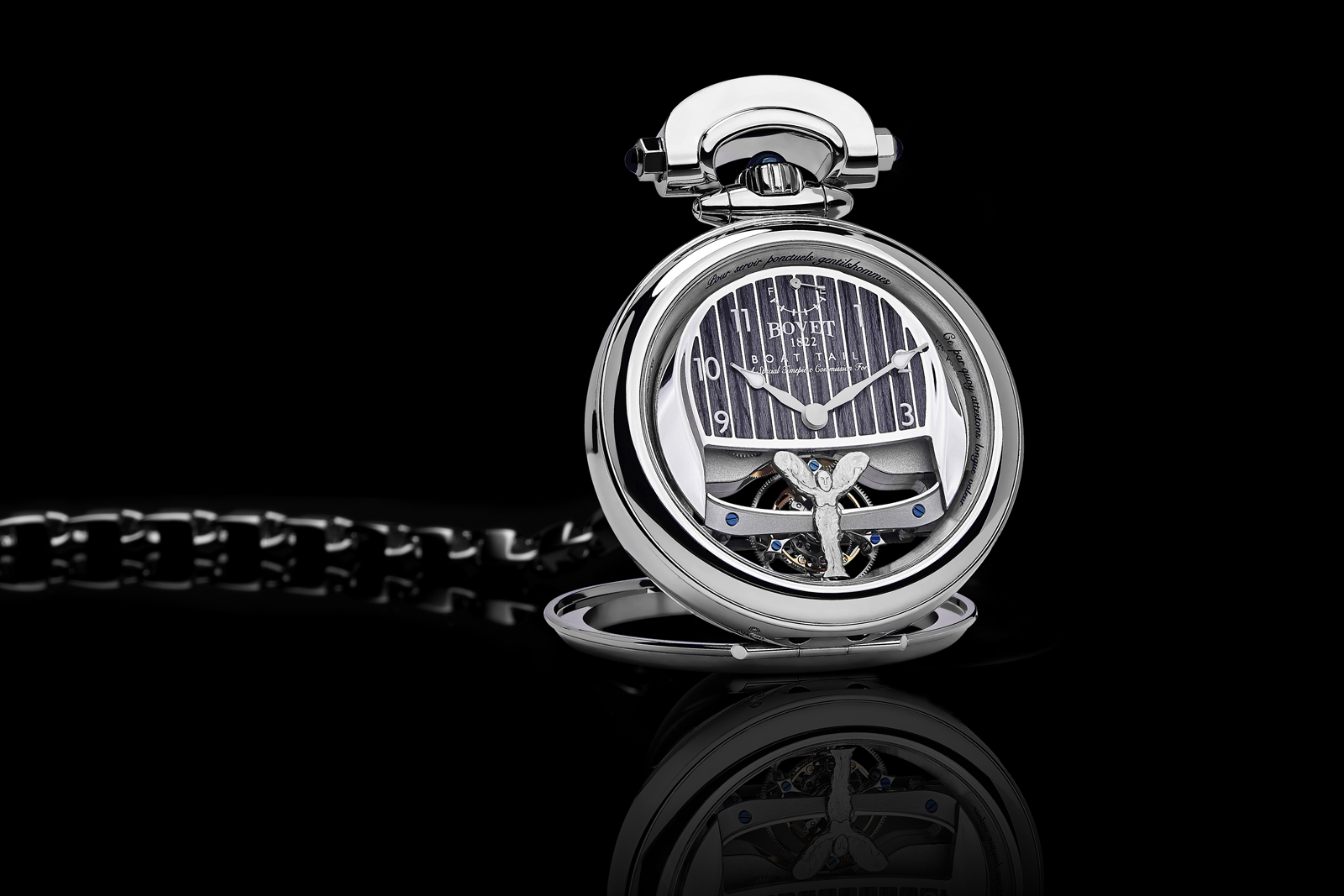 The twin watches were conceived according to the couple's preferences and to match the car, so it makes little sense to critique the design. That being said, I do like the execution. The timepieces are elegant but still ornate, being decorated with a variety of artisanal techniques, ranging from engraving to wood marquetry. And they are also technically impressive, having a double-faced movement with a tourbillon.
As the two watches were a custom commission to accompany the car, they are not available for sale. They are, however, a good representation of Bovet's custom watches. I wouldn't be surprised if commercially-available watches will spring from this collaboration.
Four-in-one
Both watches are identical in size and movement, but distinguished by their decor.
The cases are 18k white gold, with dials on the front and back. On the front, both watches feature a dial finished in wood marquetry, with narrow strips of ebony hand-applied to replicate the Boat Tail's deck in both style and material.
Just below is a miniature, two-dimensional replica of the Spirit of Ecstasy, the iconic Rolls-Royce hood ornament. Made of 18k gold, it's engraved by hand and inset on the tourbillon bridge.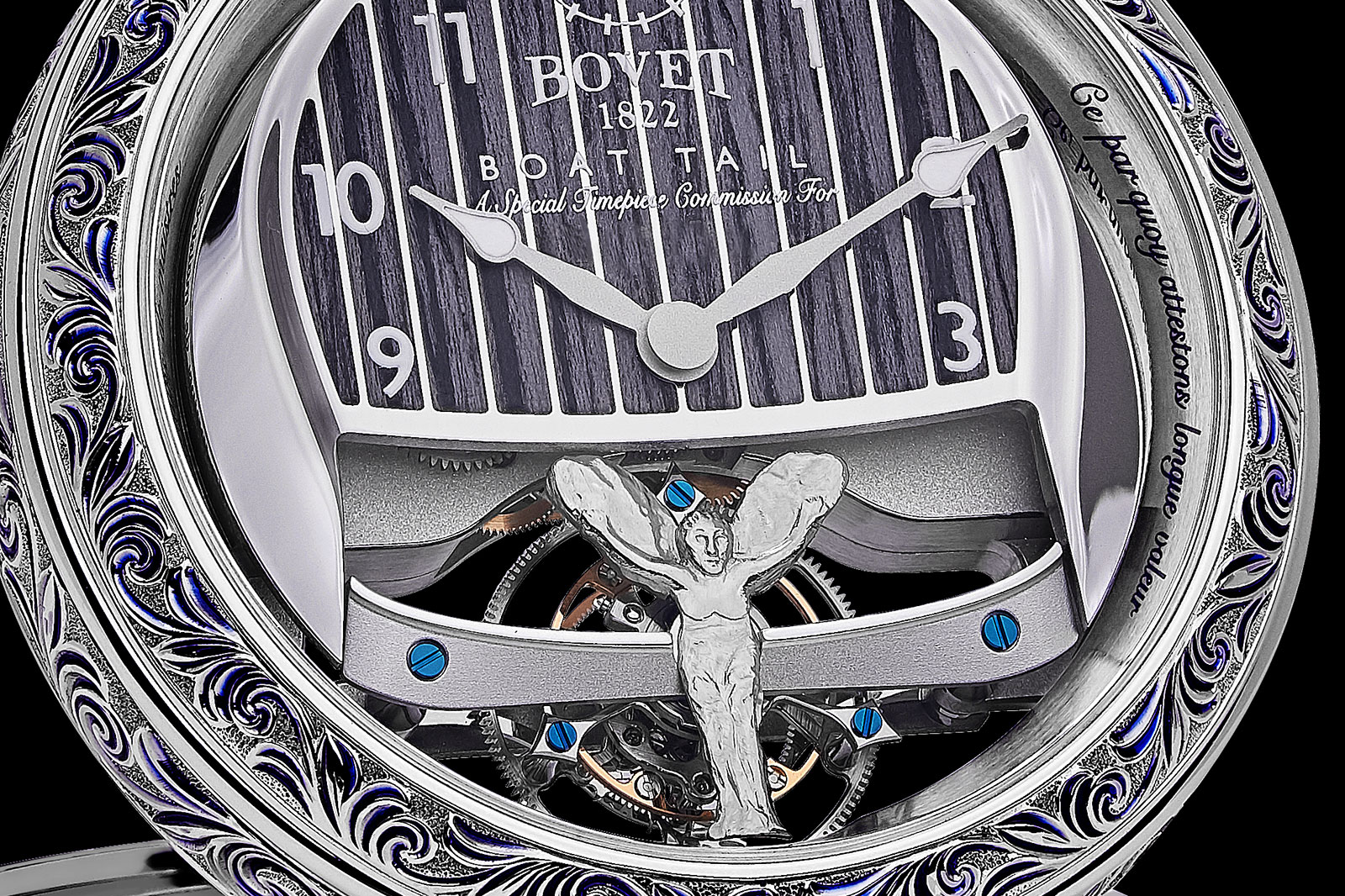 On the back, the two timepieces are similar, but more obviously different.
The gent's watch has an aventurine-glass dial featuring a sky chart showing the night sky over the owner's birthplace on his birthday. The lady's model is more decorative, with a mother-of-pearl dial bearing a miniature painting of a flower bouquet.
But both watches share the same miniature sculpture of the Boat Tail overlaid on the sub-dial for the time. Like the Spirit of Ecstasy over the tourbillon, the car is manually sculpted in white gold then hand engraved.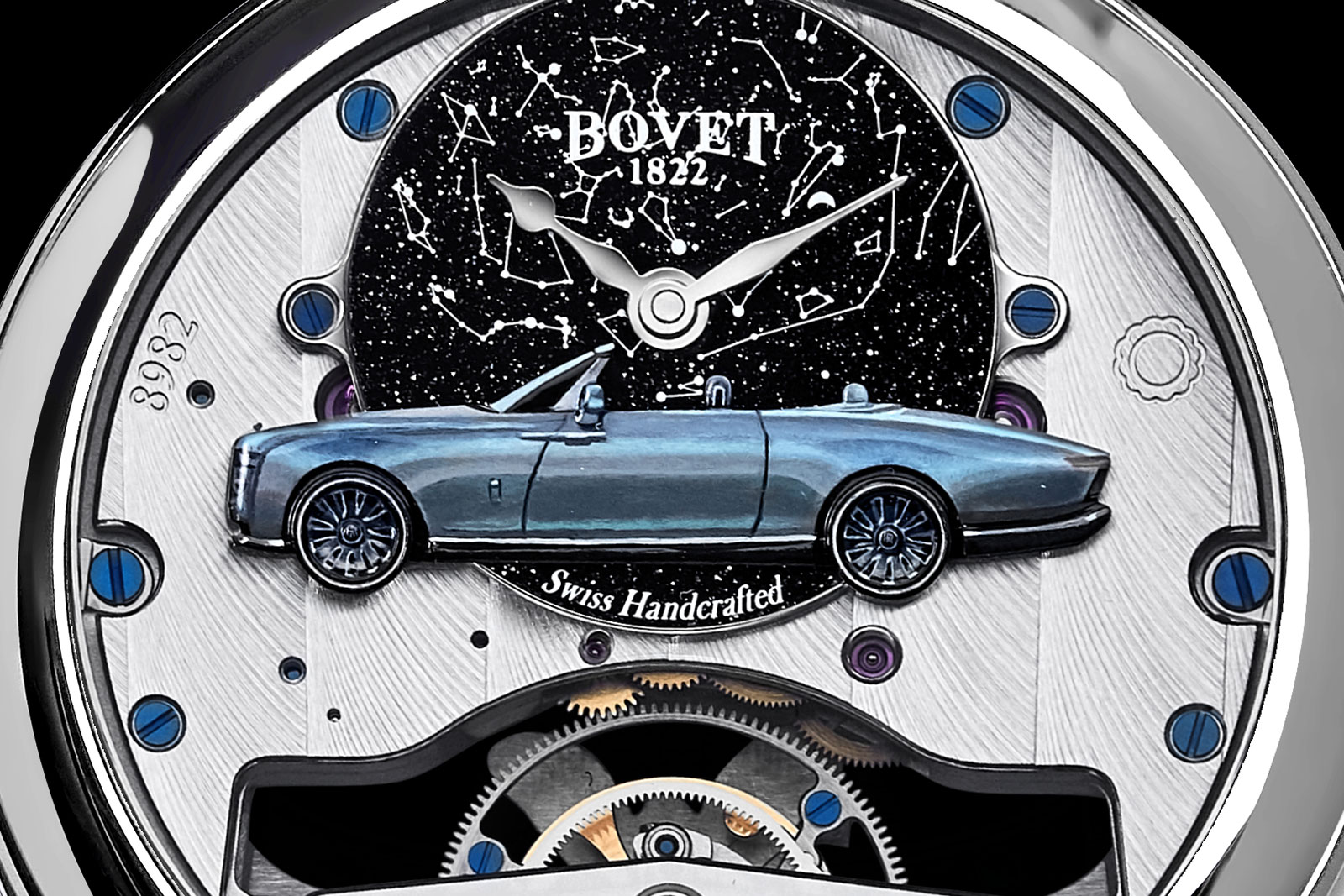 And crucial for this pair of watches was the mechanism to fasten them on the dashboard, which was perhaps the most difficult aspect of the watch since it has to meet automobile-safety regulations.
Designed to integrate seamlessly into the instrument panel, the mounting for the watches is shockproof so that the running of the car doesn't affect their timekeeping, while also being secure enough to be stay in place during a crash.
Notably, the tourbillon is eminently practical in a dashboard clock, since it was originally invented for timepieces that are stationary and vertical – making it perfect for the Boat Tail.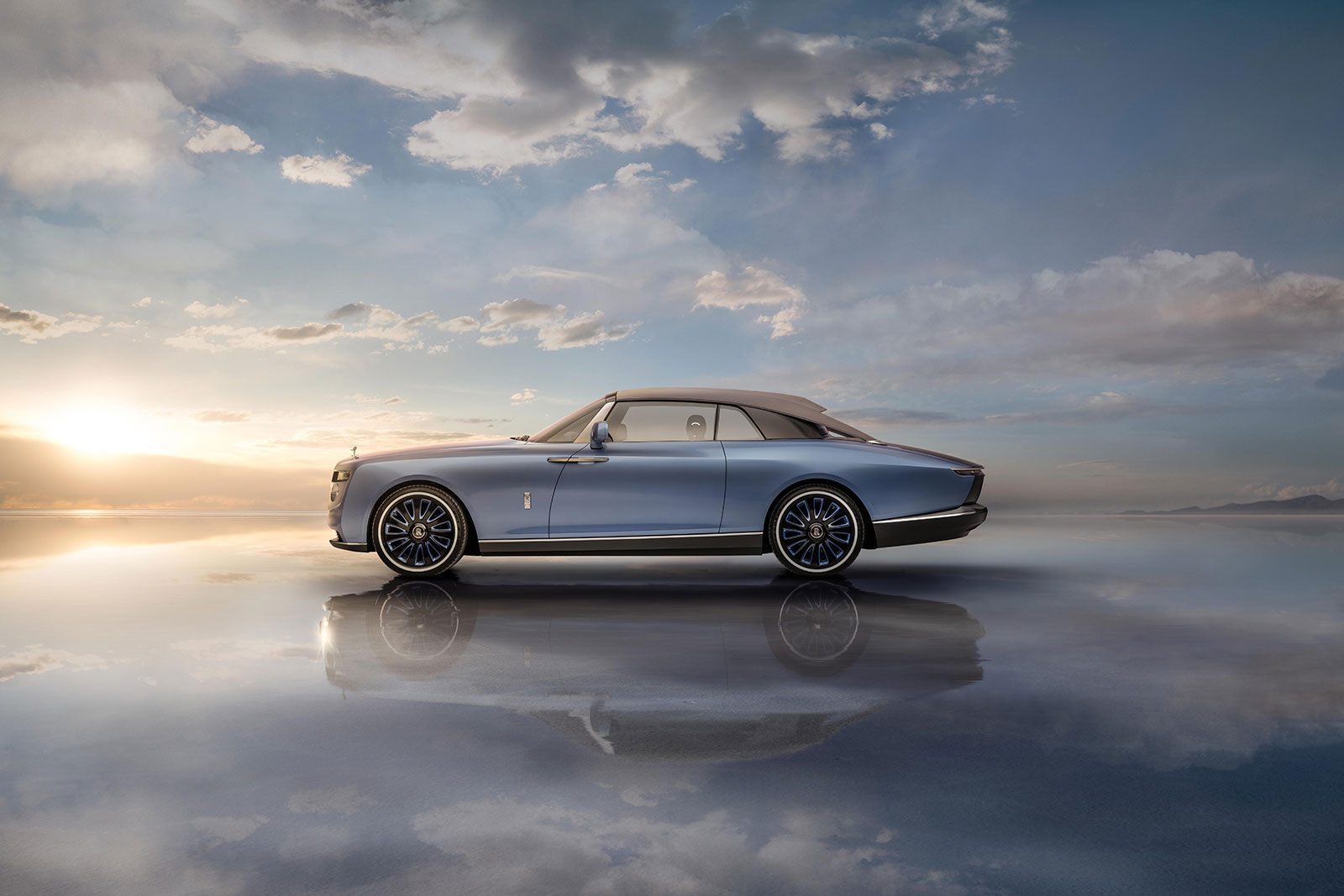 ---
Key facts
Bovet Rolls-Royce Boat Tail
Diameter: 44 mm
Height: 14 mm
Material: White gold
Water resistance: Unavailable
Movement: Custom calibre comprising 284 components
Functions: Hours and minutes on both faces; power reserve indicator on front; tourbillon
Winding: Hand-wound
Frequency: 21,600 beats per hour (3 Hz)
Power reserve: Five days
Limited edition: Unique pair
For more, visit Bovet.com.
---
Back to top.
---
You may also enjoy these.