G-Shock Unveils Full Metal "Rainbow" in TranTixxii Titanium
A good kind of crazy.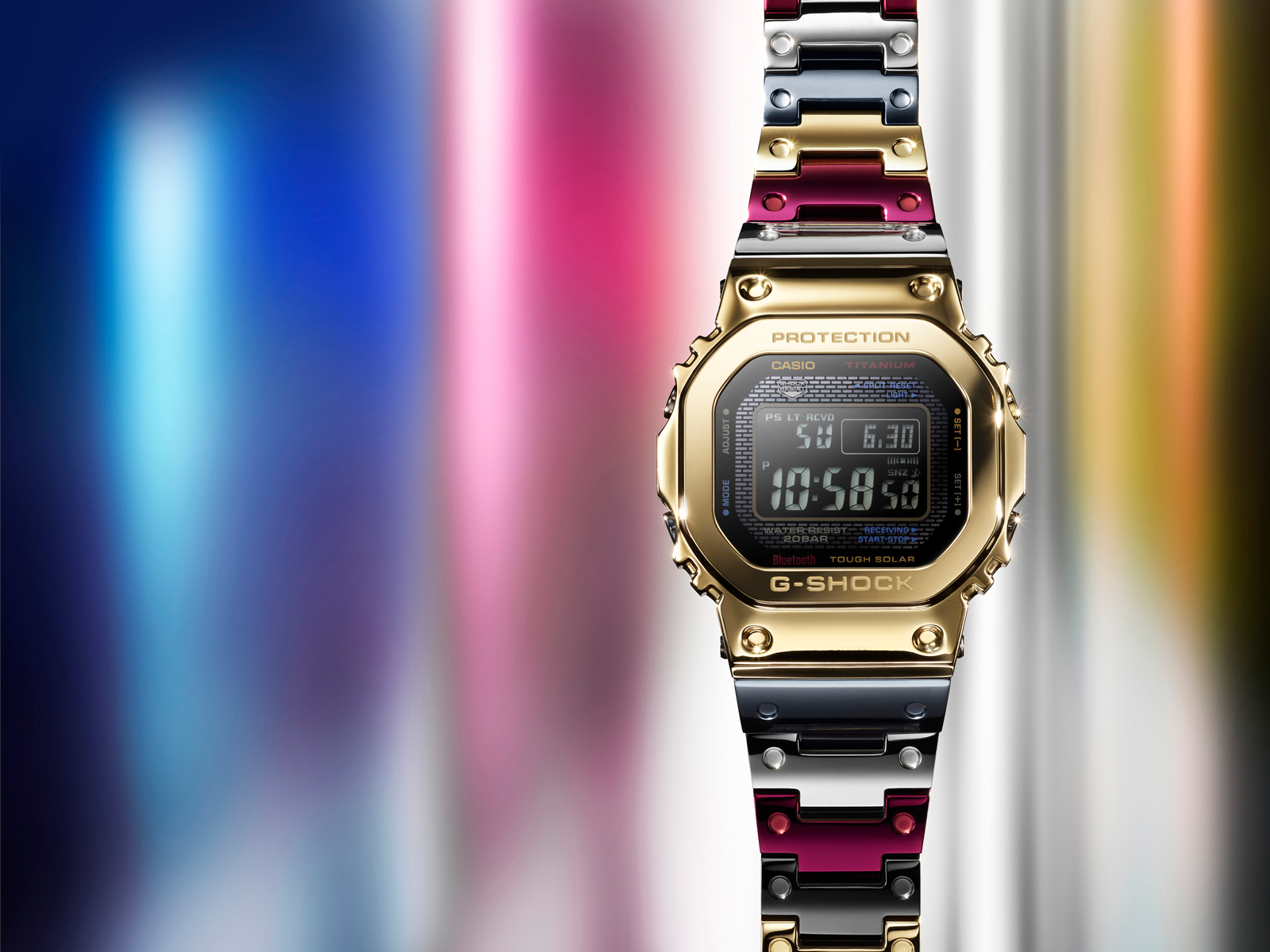 Oblong in shape and entirely resin, the original G-Shock has evolved in recent years into something altogether more fancy, while retaining the signature 5000-series design. While the traditional resin models remain in the line up, the Full Metal collection has rapidly grown to include models in steel, titanium, as well as in ridiculous-but-cool 18k yellow gold.
Taking things to the next level is the G-Shock Full Metal GMW-B5000TR. Made of a newly-developed titanium alloy that's twice as hard as pure titanium, the latest Full Metal model has an unapologetically bold  "rainbow" bracelet with links in four different colours.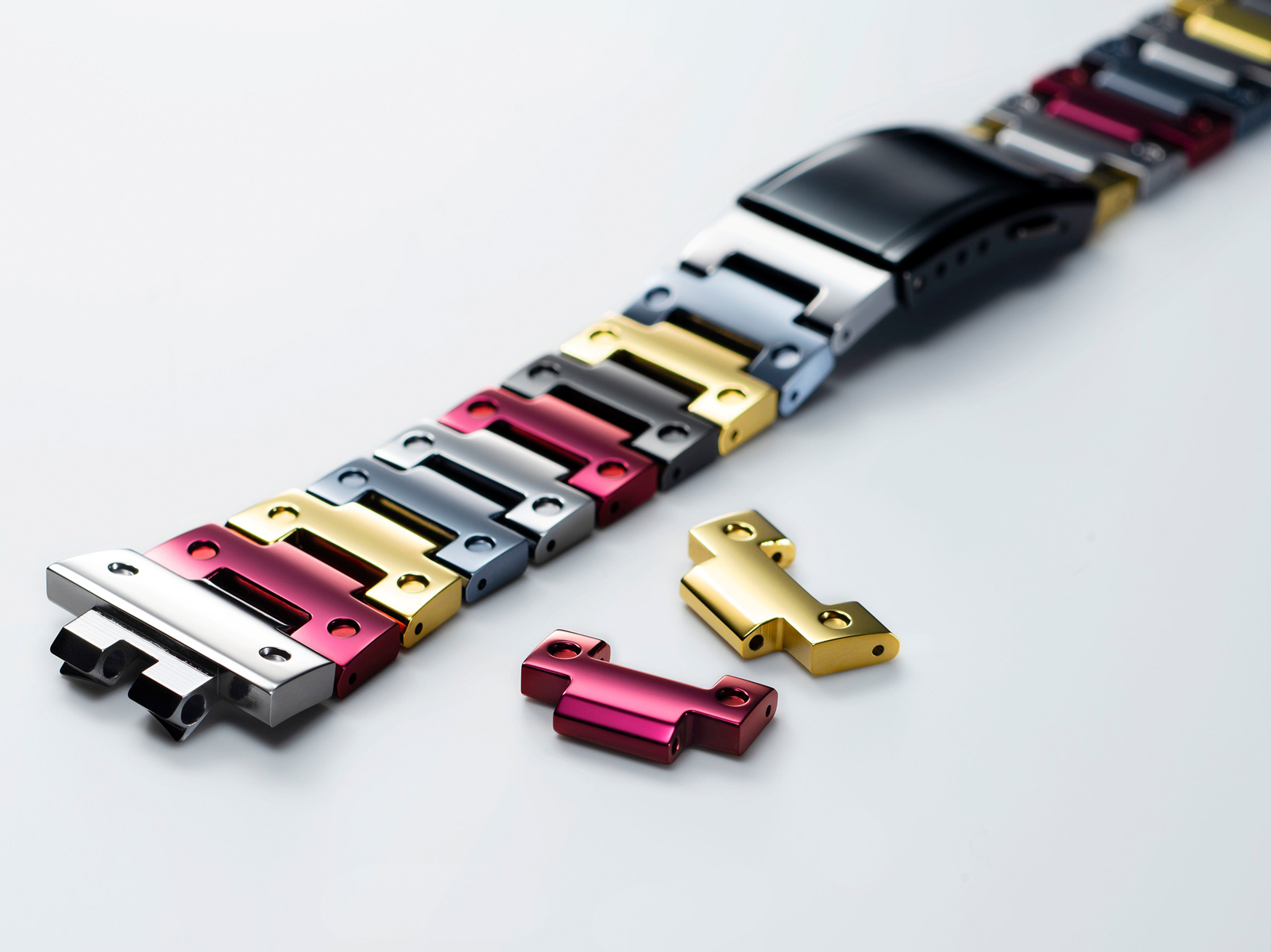 Initial thoughts
I was shocked when I first saw the multicolour bracelet – it seemed too much. But I let it sit for a day, and the look started to grow on me. The Full Metal "Rainbow" is a G-Shock that truly caters to the enthusiasts, because it is so different and so unexpected, yet executed to a high standard – attributes that mark it out as a serious G-Shock for the collector who is willing to pay a premium for such things.
The foundations of the watch are strong. Now almost 40 years old, the design remains durable – the square case is the iconic G-Shock – and looks as good as it did in 1983 when the DW-5000 made its debut. Rendering the design in rainbow colours and a new titanium alloy only adds to the appeal.
That said, this is the latest of many, many Full Metal models. Iterations of the 5000-series have proliferated rapidly since the launch of the first Full Metal in 2018. The Full Metal in steel, for instance, is now available in an assortment of finishes – natural steel, yellow gold, pink gold, burgundy, blue, black, and even a grid pattern. And the top of the line Full Metal in titanium is similarly available in several colours.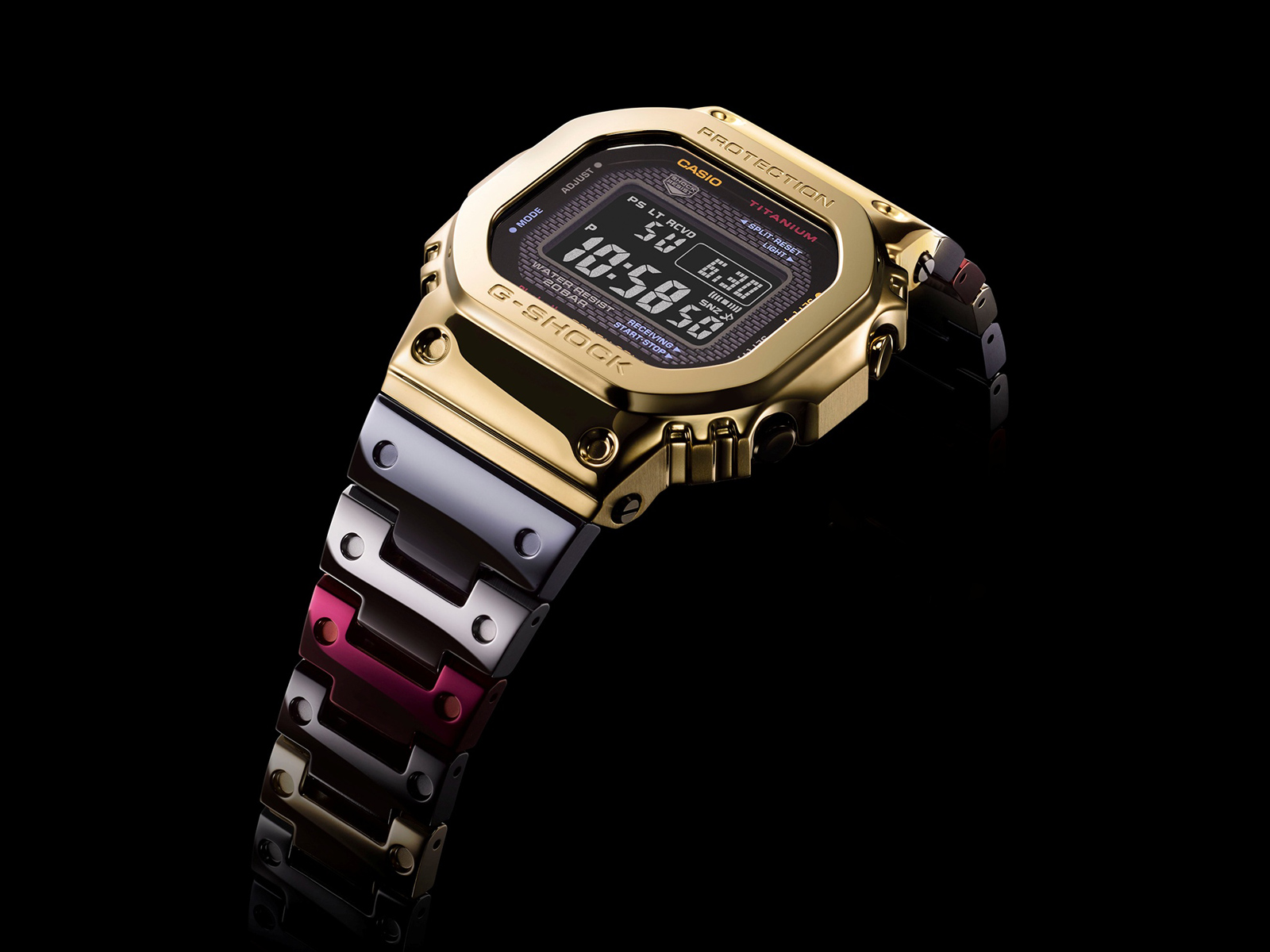 Despite some versions being limited or special editions, there are so many of them that the all-metal construction has lost some of its appeal, especially combined with the high price. And the Full Metal "Rainbow" is expensive at US$1,700. That's almost three times the price of the Full Metal models in steel, but the same as the earlier Full Metal models in titanium.
Still, the Full Metal "Rainbow" is both original and entertaining, on top of being an exceptionally robust watch that is an iconic design. That's quite a feat, especially at this price point, which is a lot for a G-Shock, but not so much as watches go.
Colourful titanium
The latest Full Metal essentially combines all the colours offered in the line in a single watch – the bracelet links are ion plated in blue, grey, gold, and red, while the case is entirely gold plated. The colours are to showcase a new titanium alloy, Super-TIX 20AFG, which was developed by Nippon Steel in collaboration with Casio.
Super-TIX 20AFG is part of the TranTixxii family of titanium alloys developed by the Japanese steelmaking giant that can be plated in colours that are immensely durable. According to Nippon Steel, the colours of TranTixxii alloys are resistant to acid rain, ultraviolet light, and seawater corrosion, making them ideal for automobiles and buildings.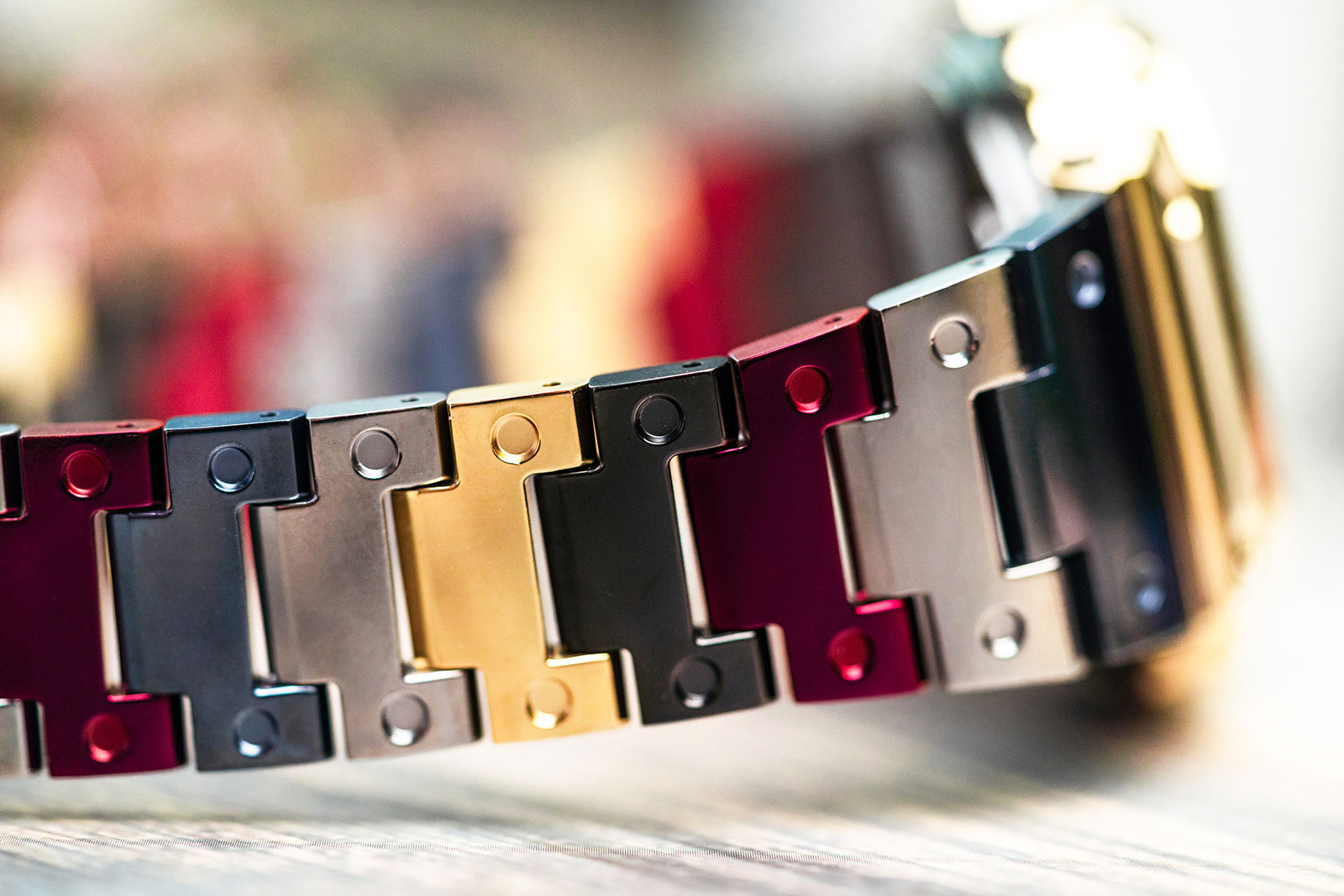 According to Casio, Super-TIX 20AFG required six years of research and development in order to create a titanium alloy with a hardness comparable to steel as well as excellent radio-reception properties given the functions of the G-Shock.
The result is a lightweight alloy that is twice as hard as pure titanium, allowing for surface finishing comparable to that of steel, which is illustrated by the mirror-polished finish on the entire watch. In fact, the Full Metal "Rainbow" is the first titanium G-Shock with a mirror-polished finish.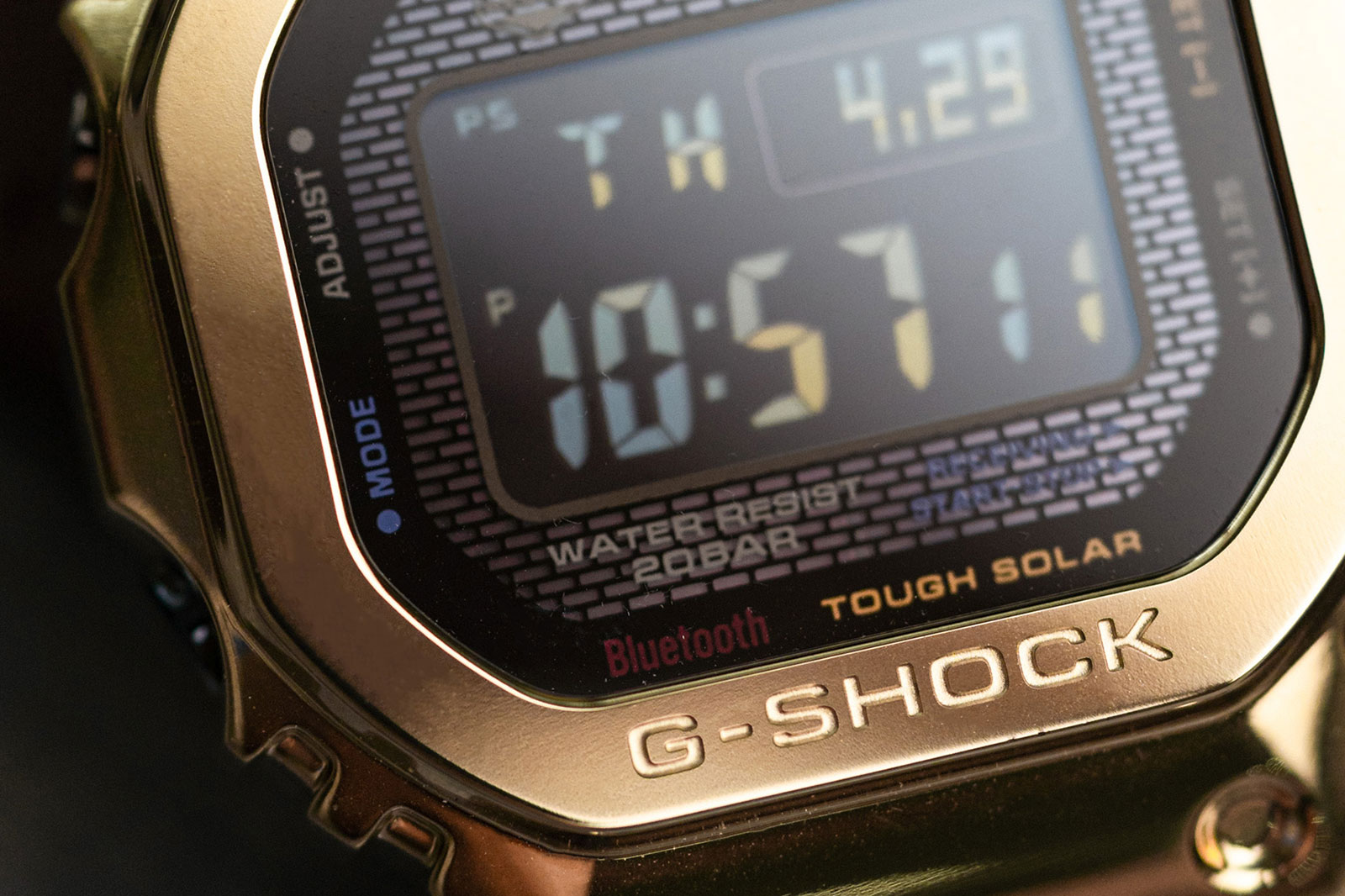 Besides the radio-wave connectivity that sets the time six times a day (but only in Japan, China, USA and Germany), the Full Metal "Rainbow" is equipped with everything else that is now standard on most G-Shock watches. That includes Bluetooth connectivity that allows pairing with a smartphone for easy time synchronisation, as well as the usual suite of digital functions like alarm, stopwatch, and multi time zones.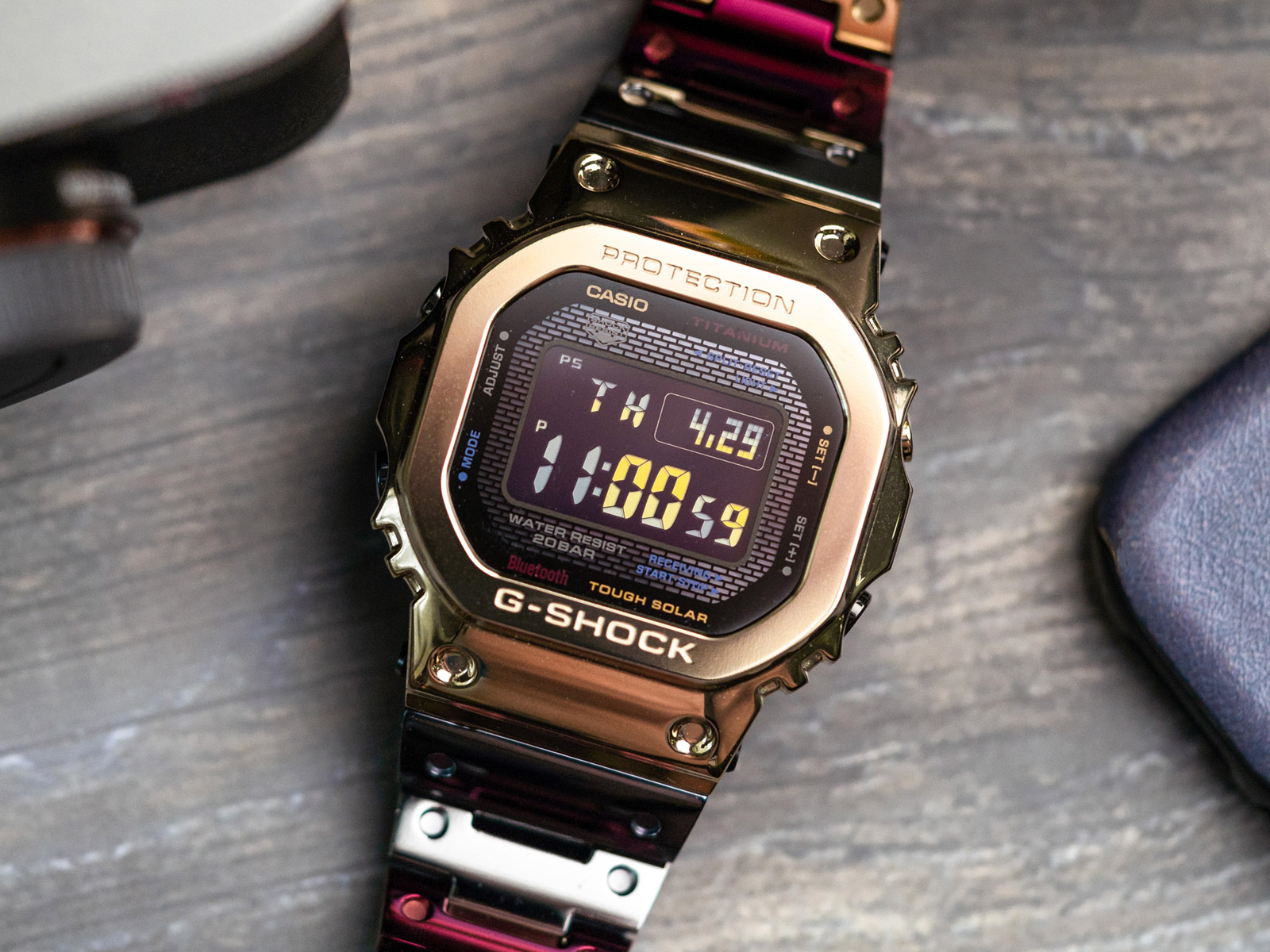 ---
Key facts and price
G-Shock Full Metal Titanium
Ref. GMW-B5000TR
Diameter: 49.3 mm by 43.2 mm
Height: 13 mm
Material: Titanium with IP coating
Water resistance: 200 m
Functions: Digital, multifunction, Bluetooth connectivity
Winding: Solar
Power reserve: 22 months with power-saving function on
Strap: Titanium bracelet
Limited edition: No
Availability: Starting May 2021 at G-Shock stores and retailers
Price: US$1,700, or 2,199 Singapore dollars
For more, visit Gshock.com.
---
Back to top.
---
You may also enjoy these.