Conversations: Wilhelm Schmid of Lange on New Launches and Allocation
Hot topics and hot watches.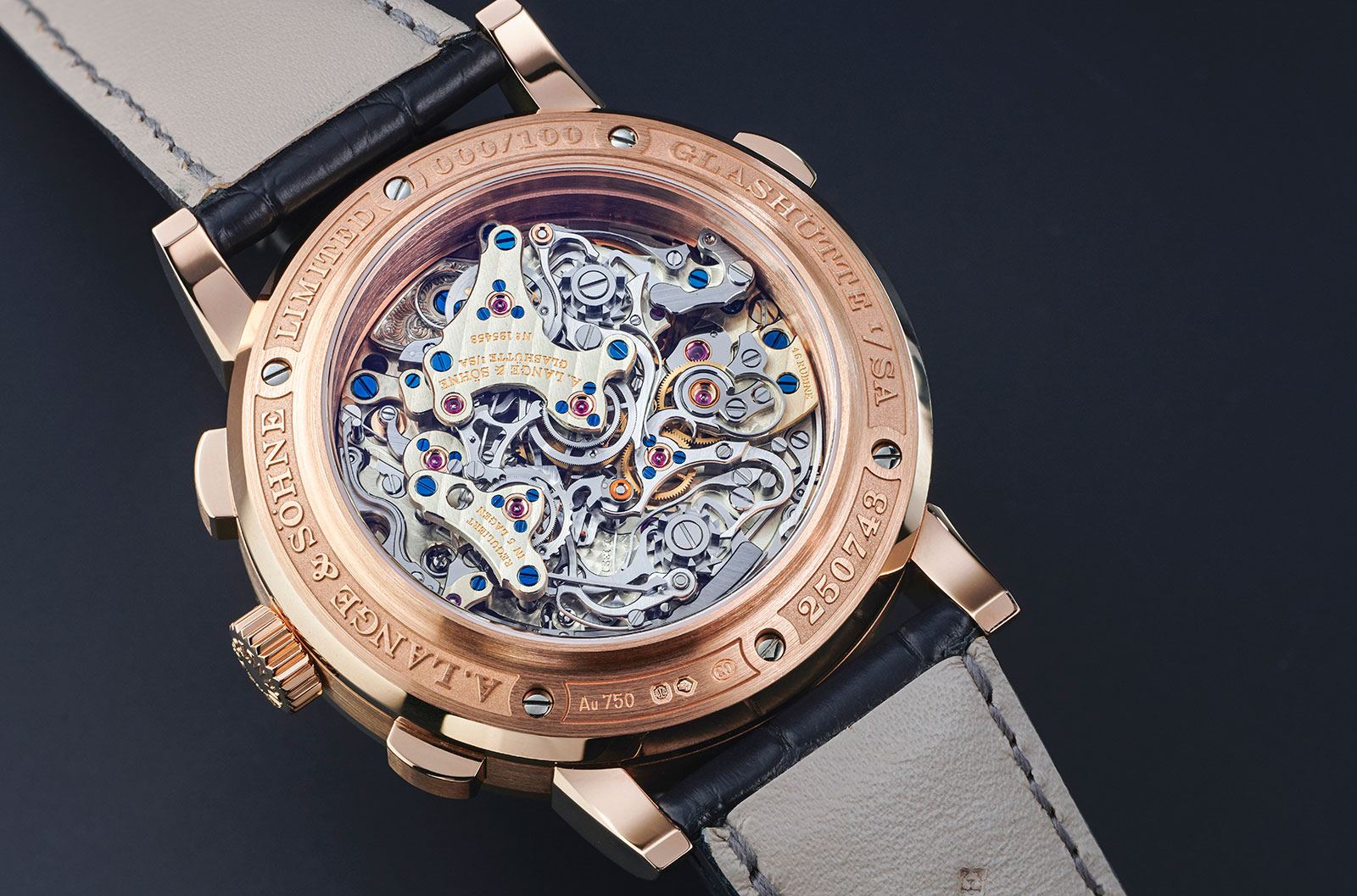 With A. Lange & Söhne having unveiled a compact line-up of new models – just three strong – at Watches & Wonders 2021, I had assumed my chat with its chief executive Wilhelm Schmid would be similarly concise. But last week's video interview turned out to be more interesting, because we went on to discuss Lange's strategy for distribution and allocation.
Mr Schmid outlined the new models for 2021 (so far), and then detailed the tweaks to the brand's retail strategy – in the face of overwhelming demand for certain models, and shortages due to pandemic-induced disruptions.
The discussion is worth a read for a Lange aficionado, but also more broadly for anyone interested in a well-reasoned explanation of how a watch brand has to balance all of the factors involved in getting a desirable watch onto the wrist of a client.
The interview was edited for clarity and length.
---
SJX: Lange only introduced three models at Watches & Wonders, but they were all warmly received – I liked them myself. Tell us about how the new watches came about.
Wilhelm Schmid: So for this year, we decided to go back to the core of the business, which is always the Lange 1.
We launched the Lange 1 Tourbillon Perpetual Calendar in 2013, which was a great watch, because of its two big complications. But we also realized that we were running our Langematik Perpetual Calendar since 2001, almost 20 years, well, actually 20 years this year. That was the only standalone perpetual calendar in our product range. So why not do a Lange 1 perpetual calendar?
If you think it's pretty easy to take the tourbillon out, and here's a perpetual calendar – I'm sure our construction team had the same idea at the beginning. But then they realised the perpetual calendar was so integrated that we instead took the Lange 1 Daymatic base and developed the perpetual calendar on top of that. So here we have a completely new perpetual calendar.
And then the second was the appetite for Triple Split [in white gold] – you can imagine it was huge and a lot stronger than our ability to build these watches. However, [additional watchmakers] are now fully trained, and therefore we decided to come up with a second iteration of the Triple Split that's totally different from the first one. It's a clear distinction between the first and second iteration, because of the strong contrast between the dark blue dial and pink gold case.
SJX: I noticed that probably this is the first time ever in Lange's history when you launched a new collection at a fair and there is no watch with a black or silver dial. You have gold, blue, grey, and aventurine. Why the direction of more colours and more textures?
WS: If you go through the launches in the last 18, 24 months – take the Saxonia Outsize Date, the Odysseus in white gold – you see the more traditional colours, so we then wanted to launch some sparkle, something that we never did before. And therefore the combination of dark blue and pink gold, or the combination of aventurine for the Lange 1.
On the other hand, the pink gold-grey dial [of the Lange 1 Perpetual Calendar] is like the [first-generation] Lange 1 Time Zone that was in exactly the same combination but built rather rarely, and often discussed on [social media]. So we are going back to something that we haven't done in a long, long time, because we know [the combination] is appreciated by our clients.
But I can also say that the year isn't over. Go back a year: remember what we launched at Watches & Wonders [2020] and how many watches we launched later in the year, and you know that we keep a little bit of fun for later.
SJX: The Triple Split in blue and rose gold is, to me, more attractive than original. I really like the colour and it's very unusual for Lange. But I read in the news this morning that German is imposing new restrictions due to the pandemic. How is that going to affect your production for the new models, especially since they will probably sell very well?
WS: It's a challenge that we have been working on since we started facing something which human mankind hasn't faced before.
The restrictions – specifically for the factory – are immense because the watchmakers can't work from home. And they usually sit in a big room, many of them together.
Fortunately, we have the new manufactory [built in 2015], which has a very controlled environment in terms of humidity and temperature. So the watchmakers are safe, but we had to space them further apart, and they are not allowed to move between the floors [within a building] or between the buildings.
That limits communication, and it slows down production. It has an impact on all the little steps that make our manufactory go faster or slower. In this case, it's slower.
On top of that, we have a rather young workforce in the factory; lots of them are women. With schools and kindergartens closed, we now work in shifts from six o'clock in the morning till eight o'clock in the evening to give them a chance to go and fetch their children, do home-schooling [during the day] – it's all not very positive for efficiency.
So we are experiencing huge challenges in our production, and these challenges, I'm sure you've heard, have fuelled quite a few discussions about shortages and how we allocate the limited production.
SJX: I saw the lengthy discussions on social media and forums. There seems to be a lot of second-hand information and hearsay, so it will be good to know – from the horse's mouth so to speak – what exactly is happening.
WS: First of all, you know that there have always been boutique editions. It's pretty clear for us: when we launch a watch, we determine whether it's a boutique exclusive or not. And if we don't comment on it, then that's the watch is status quo [which means it will be available at authorised retailers].
So for the new watches [launched at Watches & Wonders], it's pretty clear they are open to the whole retail network with no restrictions.
But what we did in the past is to send watches to authorised retailers, whether they had customers for it or not. If they wanted it, we supplied.
Then we realised – and it happened quite often – that one dealer in the one country has watches that he can't sell, whereas in other countries, we have customers that couldn't get the watches, which I think was pretty silly.
So what we changed is simple: we do not want to deliver watches of a more complicated nature to sit in inventory, [so we will not deliver] without a client who wants the watch.
SJX: Here for the sake of the readers, I should explain the traditional model of third-party distribution. A retailer visits SIHH or another watch fair at the beginning of the year, where he places orders for new launches based on expectation of customer demand, rather than having actual customers for the watches.
So a retailer can go to the fair and say, 'I want five Double Splits, 20 perpetual calendars'. And he will then receive the watches throughout the year. But he may not necessarily be able to sell five Double Splits and 20 perpetual calendars, which means the watches remain in the store's inventory.
WS: Exactly, it's nothing to do with bundling, nothing to do with allocation. We simply want to know who applies for such watches. I don't need a CV and a bank statement. All I want is a name so that we know here's a real customer, so that we can take that into consideration for production and distribution. From a customer's perspective, that is probably the wisest move, and something we should have done that a lot earlier.
SJX: I gather what you describe is a method of removing inefficiencies in distribution [for complicated watches]. A retailer who asks for a Double Split will have somebody who wants to buy a Double Split. And what you're also saying is there is no requirement as to how the retailer sells the Double Split. A client doesn't have to buy 20 other watches to get the Double Split.
WS: No, as a matter of fact I don't want that. In the peak days, that was exactly what led us into overstuffing certain point of sales with watches, creating problems in sell-out. As I said, we rather produce too few watches, so the worst thing we can do now is to send the few watches to points-of-sale that can't sell them.
[Editor's note: In the run-up to the financial crisis of 2007-2008, it was known within the industry that Lange was dedicating a large proportion of its production to highly complicated watches, which led to a glut of such watches once the crisis hit, particularly in the United States.]
SJX: I am guessing that right now, because of the pandemic, this disparity in geographical demand and supply has become more pronounced because some countries have shops open and business booming, while others are just not working out. But everyone everywhere wants an Odysseus.
WS: At the moment I think about 65% of our points-of-sale are open, which still means that 35% are closed. So yes, there are certain countries where you don't feel the pandemic anymore – you probably live in one of them – and there is a stronger appetite there [for our watches].
For us, it's not about the fairness because that doesn't exist in the business world. It's about where our customers are. How do we get the watch to the customer in the most seamless way?
And to speak specifically about the Odysseus – and it doesn't really matter whether we talk steel or white gold, because the challenge is for both of them.
People tend to forget that we only launched the Odysseus on 24 October 2019, then we launched the white gold watch in April 2020.
Please, just remember what happened in between. The whole industry was shut down for a month, and the demand for these watches is gigantic compared to what we are able to produce, so there is no chance to [distribute it] in a traditional way.
At the moment, we just ensure – with some good success so far – that these watches go to people that we know, who have not been known for selling these watches quickly. I know that a few thousand people want the watch because they know that they can sell it tomorrow for twice or triple the price.
If you go to your authorised retailer, and you get on its waiting list, you will wait – and I can only apologise for it. You just have to be patient, because I cannot move all my capacity to the Odysseus.
We want to have a balanced product portfolio. We still have strong demand for Lange 1, 1815, Zeitwerk, and Datograph, but I only have the capacity to do 5,000, maybe five-and-a-half thousand, watches a year. I know it will take time for us to fulfil the demand for the Odysseus.
SJX: I remember when the Odysseus was launched, we spoke in the boutique and you mentioned that production of the Odysseus would remain a couple of hundred per year, regardless of how many people wanted one to prevent it from becoming the majority of output.
WS: I definitely will avoid that. That's why demand is far outstripping supply. And again, I hope that everybody accepts my apology, because I really mean it when I say that I don't want to upset people. But if you deal with something limited as our watches, you automatically upset people when you create something desirable.
SJX: I think it matters that Odysseus is not going to make up a greater proportion of output, since the brand is about more than the sports watch. But with the demand for the Odysseus, does that mean you'll start with other models in steel?
WS: I think steel throughout the range is quite poisonous [for a brand like A. Lange & Söhne]. Steel is good as an exception. Steel is good if it's built for purpose.
But why would we build a dress watch in steel when traditionally we are known for building these watches in precious metal? We are pretty clear we keep steel for the Odysseus family, but we don't have a steel family.
SJX: You mentioned something that is worth going into – is any official policy in how the brand allocates the Odysseus?
WS: It's pretty easy. If you're a known customer at the boutique, you put your name on the waitlist and as soon as it gets to you, you're done.
If you're unknown to us, we will check as far as possible if we should supply a watch to you. So if you are a first-time buyer to us with no known history, it will become rather difficult to buy the watch.
But let I share something with you: a little collector panel [took place about two months ago] where we discussed A. Lange & Söhne. Some of these people were A. Lange & Söhne collectors and some of them were just watch collectors, but I believe everybody wanted the Odysseus.
I asked a simple question of the ten people, "Which of you already have an Odysseus?" Five raised their hands.
Taking into consideration that the Odysseus has only been in the market for 15 months, our allocation system is working quite well because the five who are A. Lange & Söhne collectors already have the watch.
SJX: The strategy makes sense to me, and I'm sure also for people who understand the industry. If I go to Ferrari today and ask for a Monza or some other limited edition, they are not going to sell me one, regardless of how much money I have.
I predict the new launches this year will probably be quite desirable, well, maybe not as much as the steel Odysseus, but more people will want them than you will produce. Are you applying the same policy for these watches, that they go to existing clients who you know well?
WS: For the Triple Split, for sure [only to existing clients due to the limitation and demand]. I don't want to oversupply the Triple Split to one store, and in another there are good customers crying to get it.
With the Lange 1 Perpetual Calendar [limited edition in white gold] – the watches go into the whole authorised-retailer network. So I hope that our dealers know their customer, which customer has strong purchase history, and so on. The same system applies for our boutiques, and I think good retailers will do exactly the same.
The Lange 1 Moon Phase is different, because at its price point, we want to see it in a window in the shop. The aventurine looks great, but comes with some production restrictions, because the dial is a delicate little glass thing with a tendency to break.
Still, I am convinced that this watch will be hugely successful, so I am afraid we probably won't see it too often in a shop because it will go in and out.
SJX: You have great watches and great demand, but you have said several times in the past – you don't plan to increase Lange's production substantially. Is that still true?
WS: I wish I could, but I can't. That's a simple fact. Without the pandemic restrictions, we may be able to improve efficiency. But to significantly increase our capacity we need to hire already-skilled people, or we need to train very dedicated people to become skilled people. Both take a matter of years and not a question of ramping up production tomorrow. There's no [quicker route] because of the way we do the things. And if I change how we do things, it would be very short sighted.
SJX: Thank you for explaining all of this clearly. I think we now have a better grasp of the whats and whys.
WS: And people will still complain, but again, I'm not here to please everybody, because I can't, not with 5,000 watches. Probably not even with 10,000 watches.
At the moment, we see a strong rise in the demand for Lange across the range. And we also see the impact of our strategy on resale values of a lot of older models. What we are doing is great for old customers, present customers, and future customers.
My job is simple – make sure that A. Lange & Söhne stays vital, vibrant. And with these hot watches, that is exactly what's happening.
---
Back to top.
---
You may also enjoy these.