Insight: The History of Rolex in Iran
The coronet endures.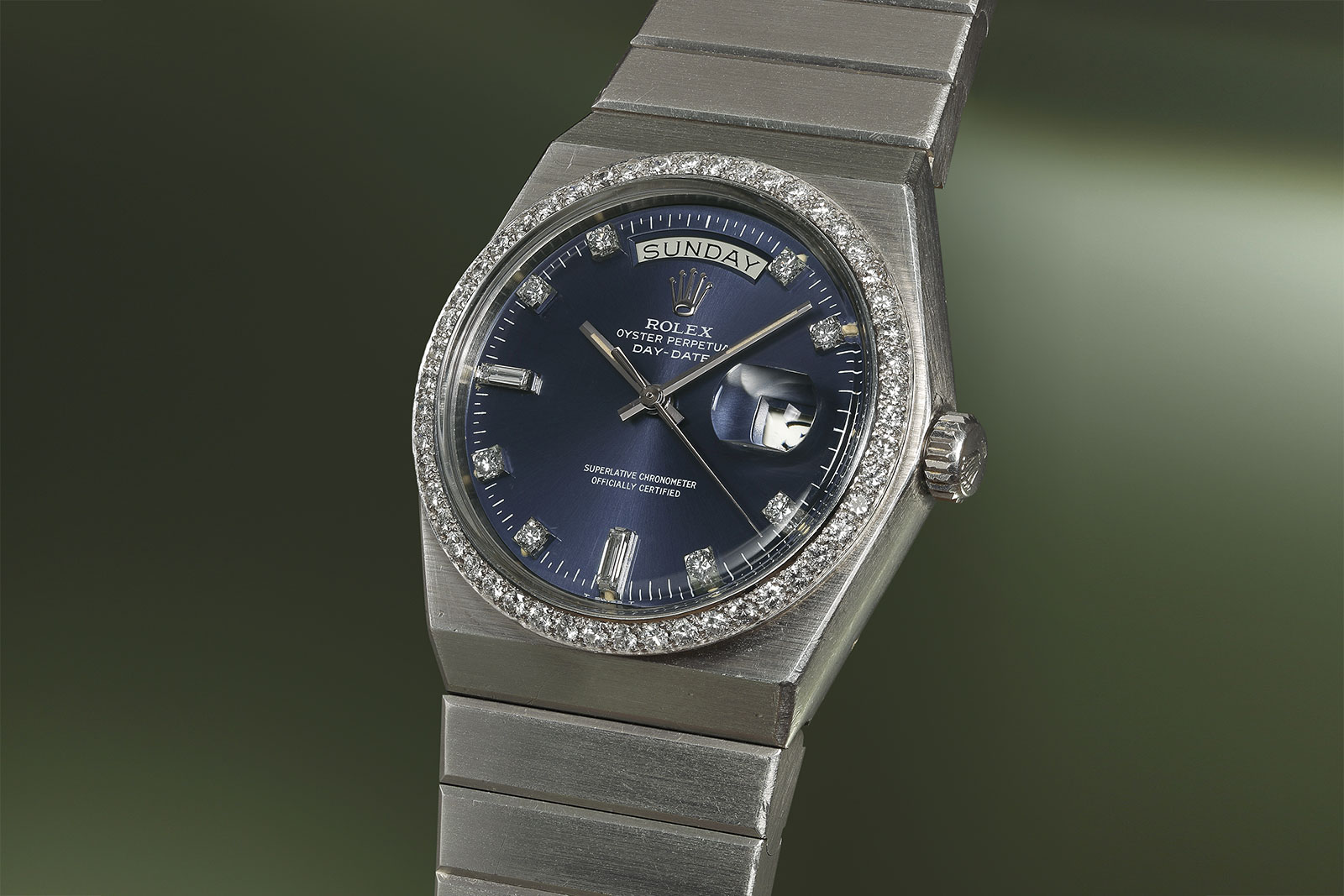 Despite their long-established global prominence, brands like Patek Philippe and Audemars Piguet are relatively new to the Iranian consumer, even among the affluent sections of society – Rolex reigns supreme in Iran's luxury watch market. The brand's position as the most enduring luxury watch brand in Iran is likely stronger than in most other countries.
Perhaps the truest reflection of this are the countless, tiny shops across the country that have windows filled with a bewildering variety of counterfeit Rolex watches – their number far greater than stores selling Casio and Seiko, the brands that probably sell in the greatest volumes.
Rolex has a long history in Iran, one that's been shaped by events in the country. The Rolex coronet has been an uninterrupted presence on the streets of Tehran since the early 1950s, making it a witness to much of Iran's 20th century history.
As many a watch collector would know, the Shah of Iran was a well-known patron of the brand, even commissioning a unique model, the Day-Date ref. 1831. Resembling an Oysterquartz with its angular case, the ref. 1831 was a run of just eight watches, all in platinum. Rolex was already present in Iran for some decades before, but having the Shah as a client help cement its unique position amongst the country's governing class.
While the brand's position in the mind of the consumer remains unchallenged, demand for Rolex watches is not what it once was. Sanctions and Iran's political position have devalued its currency sharply over the past nine years. As economic hardship began to close in, one of the first items ordinary citizens stopped consuming were undoubtedly luxury goods. However, in the wealthier neighbourhoods of big cities, many stores claim they continue to sell considerable quantities of luxury watches, and often just one brand, Rolex.
Their man in Tehran 
In the latter half of his ninth decade, Naser Javaheri is one of the three brothers – along with Abas and Hamid Javaheri – who founded the one and only authorised Rolex retailer in Iran, Javaheri Brothers. His family's roots in the watch business are deep, with his grandfather having started importing watches in 1900.
Amongst other things, the family were the agents for Zenith in the 1920s and 1930s, and Mr Javaheri's side of the family now own the only two Rolex boutiques in Tehran. Another branch of the family owns Tehran Watch, which retails brands like Audemars Piguet, Cartier, and Richard Mille.
Wearing a formal but comfortable suit, Mr Javaheri sat in his store located in the upscale Roma Towers complex telling the story of Rolex in Iran. "About 25 years before the 1979 Revolution, the situation was different. The market was good until [the revolution] happened. After that, we had nothing to do until after the Iran-Iraq war [from 1980 to 1988]", says Mr Javaheri.
"The government at the time had – very respectfully – told merchants that since no foreign currency could be allocated to us, we would not be allowed to import [watches]," he continues, "It was only after the end of the war that the reopening [of the economy] took place and we were able to resume our activities, slowly but consistently."
Interest in luxury watches before the revolution started at the very top. Mr Javaheri pointed out the Shah of Iran's great interest in watches. "Shah owned a lot of watches and Rolex was just one of them," explains Mr Javaheri, "However, most of the watches that he received as gifts from world leaders and politicians were Rolex, and the largest number of watches he gave to others were none other than Rolex".
"And it was not just the Shah of Iran," adds Mr Javaheri, "Once the king of Saudi Arabia was invited to Iran by the Shah. After the king returned home, the waiters, cooks, and bodyguards came to our store to sell the Rolex watches they had received as gifts from the King. The Saudi King had given his hosts 80 Rolex watches during that one trip".
Decades after the revolution, Rolex continues to be preeminent. "Rolex is not a cheap watch at all," points out Mr Javaheri, "Inevitably, only certain groups of people can afford it. Not all those who can afford it necessarily come to Rolex, but Rolex always has its place, especially since many consider Rolex the gift for special occasions in life, and gifting a Rolex gives identity and recognition to their memories".
According to Mr Javaheri, the ability of Rolex to maintain its position in the market for so long, despite all the upheaval, is simply due to the product: "We, as retailers of the brand, believe that is because of the most eminent feature of Rolex – its materials and high quality of construction, and the fact that it always maintains its value, standing various tests of time."
"Many watches we sold for $400 about 50 years ago now sell for up to $250,000 in international auctions," says Mr Javaheri, who sighs and adds, "I wish I had bought one."
But brand's reputation for quality has never been the sole reason for its popularity. Another is the currency fluctuations and the Iranian economic crisis.
The value of Iran's national currency, the toman, has fallen by about 95% against the US dollar over the last decade. In 2011, one US dollar was worth about 1000 tomans, but today, it costs 25,000 tomans to buy a single US dollar.
"It has happened several times in the past: we sold a watch for, say, 30 million tomans, only to see that a few months later, the customer would not sell it even for 100 million tomans," says Mr Javaheri of this inflation, "It is clear as day he would not sell, because he knows that the value of his watch could be way more than the currency on any given day".
Despite the relatively closed nature of Iran, global trends in demand for Rolex watches are also happening in Iran, albeit on a smaller scale. When I ask Mr. Javaheri which models are the most popular, the answer is simpler than I expect, but one that makes perfect sense: "If you want to know which one is going to be the next trend, just look at which model the company has stopped making."
As for the steel sports watches that are desirable everywhere else? His answer was plain: "There are many popular and rare models that the company gives us only in small numbers. For some models, we only import and sell two or three pieces, so we have come to the conclusion that we should clearly and very easily tell the customer that we do not have them."
I finally muster the courage to ask how he thinks the supply problems for the bestselling models can be solved. "Rolex is undoubtedly aware of the supply and demand for certain models," says Mr Javaheri, "But they always have a plan [already in place] for dealing with the production volume of these specific models and may not have a particular strategy to change it [due to the long-term strategy]."
The success of Rolex means that there's a brisk trade in its watches, especially pre-owned examples. Javaheri Brothers is now merely one of many players in this game – albeit the only authorised retailer.
Mr Javaheri has a lot to say about the broader market for Rolex in the country. "Competing with the grey market does not make sense at all, because the playground is not set fairly," explains Mr Javaheri, "For every 100 Rolex watches sold in Iran, at least 90 are smuggled into the country, and the smuggled goods as we know, require no taxes, no customs duties, no advertising."
"Many customers who come to us to ask the price of a watch will claim they know of many stores offering the exact same reference cheaper," he continues, "And the problem is that they do not lie."
"In many cases, some watches in the grey market are up to 20% cheaper than our list price," says Mr Javaheri, "Being able to offer lower prices means the dealer does not import the watch in the completely formal and legal way we do – he does not have to pay taxes, customs, advertising, staff training, let alone the official decoration you see here [in our boutique]".
I look at the interior of the store and it does look exactly like the Rolex retailers I once visited in Dubai and Istanbul. However, the showcases are almost empty. All I see are a few Datejusts.
"Yes, this store is so empty", says Mr. Javaheri, who notices my gaze. "In order to import watches, we have to get a permit from the Ministry of Commerce," says Mr Javaheri, "We had the permission, but the government could not give us the foreign currency we needed to pay for the watches, and it took so long to allocate us the money that our license expired and our opportunity was missed."
"That's why our watches come in short, because we have not had any significant imports for a year and a half," continues Mr Javaheri.
"I could not predict the future before the revolution, which is the case even now," says Mr Javaheri, "The poor economic situation, currency fluctuations, and the complexities and hurdles to legal imports and sales – all come together to make this one of the most risky, slippery markets".
"Sometimes the problems and circumstances get so tangled that I cannot even imagine any future for the Rolex retailer in Iran," he concedes sadly.
To lighten the conversation, I point to the Datejust ref. 1601 Mr Javaheri has on his wrist – the shoemaker himself is running barefoot. "I bought this 1601 for myself 55 years ago," explains Mr Javaheri, "But my daughter took it from me once and I had to buy her a watch ten times more expensive to get it back."
"I do not like bracelets, so I put it on this leather strap", he says with a smile, and adds, "I could never make myself wear any watch other than this one."
Officially certified
Morteza Poursangari also has many a story about Rolex in Iran, having been the longtime head of servicing at Javaheri Brothers.. Over 70 years old, Mr Poursangari now runs his own watch repair workshop specialising in Rolex, having been trained by Rolex in Geneva.
Before the 1979 Revolution, Mr Poursangari owned a watch store on Naderi Street, one of the oldest and busiest streets in Tehran. His clientele then was a cross section of Iranian society.
Mr Poursangari says the then Prime Minister of Iran, Amir-Abbas Hoveyda, was a regular customer and always entrusted him with watches to repair. "Almost all secretaries, famous singers, and artists wore Rolex, and many of them brought their watches to my shop for repair and service," he says.
"Before the revolution, people had a better eye and taste than they do now," says Mr Poursangari, "A significant portion of our doctors, engineers and scientists have emigrated from the country, and a large portion of Rolex's target clientele in Iran were such people."
Mr Poursangari goes on to explain, with great regret, the reason for the booming demand for his services just after the revolution. "Hundreds of Rolex watches with the imperial emblem on their dial were erased; these watches could be invaluable today," says Mr Poursangari, "But with revolution, many court employees and relatives of Shah brought their watches to me to remove the royal emblem from the dials. They did it out of fear of getting into trouble, and they were right to do so."
Mr Poursangari has a similar perspective on the impact of the Iran-Iraq war on business. "By the time the war broke out, I had to sell my house and store, and return to Kerman [a city south of Tehran]," says Mr Poursangari, "In Kerman, I set up a small watch store before returning to Tehran a few years later".
Apart from the pre-revolution years, Mr Poursangari regards the period during the presidency of the reformist politician Mohammad Khatami to be one of the best stretches in Iran for the watch business. The economic stability of the time generated business that occasionally left him exceptionally busy, though it was short-lived.
After the revolution, Mr Poursangari was the director of service and repairs at Javaheri Brothers for some 20 years, during which he travelled to Geneva at least three times for specialised training at Rolex headquarters. His decades of working on the mechanics of Rolex calibres over the years has given him a watchmaker's insight into the brand.
Historically, the bestselling Rolex watches were Oyster models with hand-wind movements, namely the cal. 1225 and cal. 1210, in his opinion. But today, tastes have changed.
"With more than half a century of experience under my belt in the Iranian Rolex market, I can say that true watch lovers have welcomed Daytona and Submariner more than anything, and I consider Submariner an ideal Rolex as a whole," says Mr Poursangari, "But if I only want to consider the movement, I think 1570 was the best calibre in the history of Rolex, because it had good durability and accuracy, it was not needlessly complex and was very easy to repair."
Without needing me to raise the subject, Mr Poursangari leads the discussion to the market for counterfeit Rolex watches in Iran. "Most of the daily visitors to my store come to verify authenticity," says Mr Poursangari, "A part of the problem is the entry of unskilled, uninterested people into the watch market, which is the result of currency fluctuations and the profitability of shady transactions. Such people can easily buy counterfeit watches at very low prices and sell them as originals."
"I once talked to a senior executive at Rolex and asked about solution they had in mind to deal with factories making counterfeits," adds Mr Poursangari, "He said that not much could be done, because once a production facility is closed, the operators are on the loose and quickly start growing like mushrooms, with a new workshop in another location."
The Old Market
In Iran, as in many parts of the world, Rolex is more than just a brand, it is a culture in itself. And like many other anachronistic objects that have evolved from a high-quality instrument to a symbol of success, Rolex resonates among the affluent strata of Tehran, as well as in many other large cities in Iran.
Mitra Ahmadi is a young architect who recently graduated from university and is about to start her own firm. I talk to her about her interest in watches, which of course is very much specific to Rolex. "There is nothing wrong with a brand being a symbol of distinction between economic and social conditions," she says, "For me, Rolex is a sign of prosperity. And the fact is many people I know think the same way, even though they may not have the courage to admit it."
What Ms Ahmadi says is confirmed by a young entrepreneur, Alireza Sadeghpour, who owns a small watch store in Tehran's downtown that sells everything from Seiko to Longines, and TAG Heuer to Rolex. Mr Sadeghpour says, "There are many customers who do not care about the features of the watch they buy, all they want is a Rolex, maybe because one of their relatives has bragged about his at a party and they simply want to keep up with the Joneses."
In times of economic crisis like Iran is experiencing now, the idea of overcoming hardship to attain financial success is such a dream that some are willing to do literally anything to equip themselves with symbols of wealth. This is why sales of counterfeit Rolex watches are growing in Iran.
Unfortunately, the government has not formally outlawed the import or sale of counterfeit goods, and the Iranian legislature has always ignored this issue. As a result, there are no significant laws in Iran that criminalise the sale of counterfeit goods, and so no substantial penalties. Often, wearing a counterfeit watch is not regarded as wrong by many ordinary Iranians, but rather a clever accomplishment.
That said, it is still relatively easy to buy an authentic Rolex in Tehran. Apart from Javaheri Brothers and a handful of newish, luxury boutiques in expensive areas of the city, there is Mohseni Bazaar on Mirdamad Street, which many locals consider to be the main centre for pre-owned luxury watches, primarily Rolex.
The bazaar includes several stores run by veterans who have been buying and selling Rolex watches for decades. Customers typically need no longer worry about counterfeits in these shops. Beyond Mohseni Bazaar, there are several other stores located in other parts of the city.
A tradition once upon a time
Even though Rolex has maintained its position as the most important watch brand in Iran over the decades, the country's history has diminished many citizens' ability to buy a Rolex.
Kiumars Heydarian, a retired pilot who flew fighter jets for the air force both before and after the revolution, recalls the importance of Rolex amongst the members of the country's military: "The most important luxury accessories for fighter pilot were his Ray-Ban sunglasses and a Rolex GMT-Master."
"It was tradition to gift a GMT-Master to a pilot who had clinched the Top Gun title, a top prize in fighter school," says Heidarian, "But that tradition did not endure, because after 1979, almost everything changed, and no pilot ever received a Rolex again. The last time fighter pilots were given a Rolex was two years after the 1979 revolution, but it was not the air force that had bought the watches."
"I was going to Kuwait for an assignment, and my commander gave me a considerable amount of money and asked me to buy three Rolex watches," recounts Mr Heidarian, "It surprised me because I couldn't figure out why he would need such watches."
"Once home, I grasped what was going on," continues Mr Heidarian, "Our commander had taken money from his own savings so that he could gift watches to the best pilots – he wanted his men to receive the reward they truly deserved."
A native of Iran, the author is a horology enthusiast and writer who has resided in Tehran for a decade. By profession, he is involved in political and societal journalism.
---
Back to top.
---
You may also enjoy these.