Highlights: Phillips Geneva Watch Auction XII
From a platinum Cartier Crash to a "restomod" AP.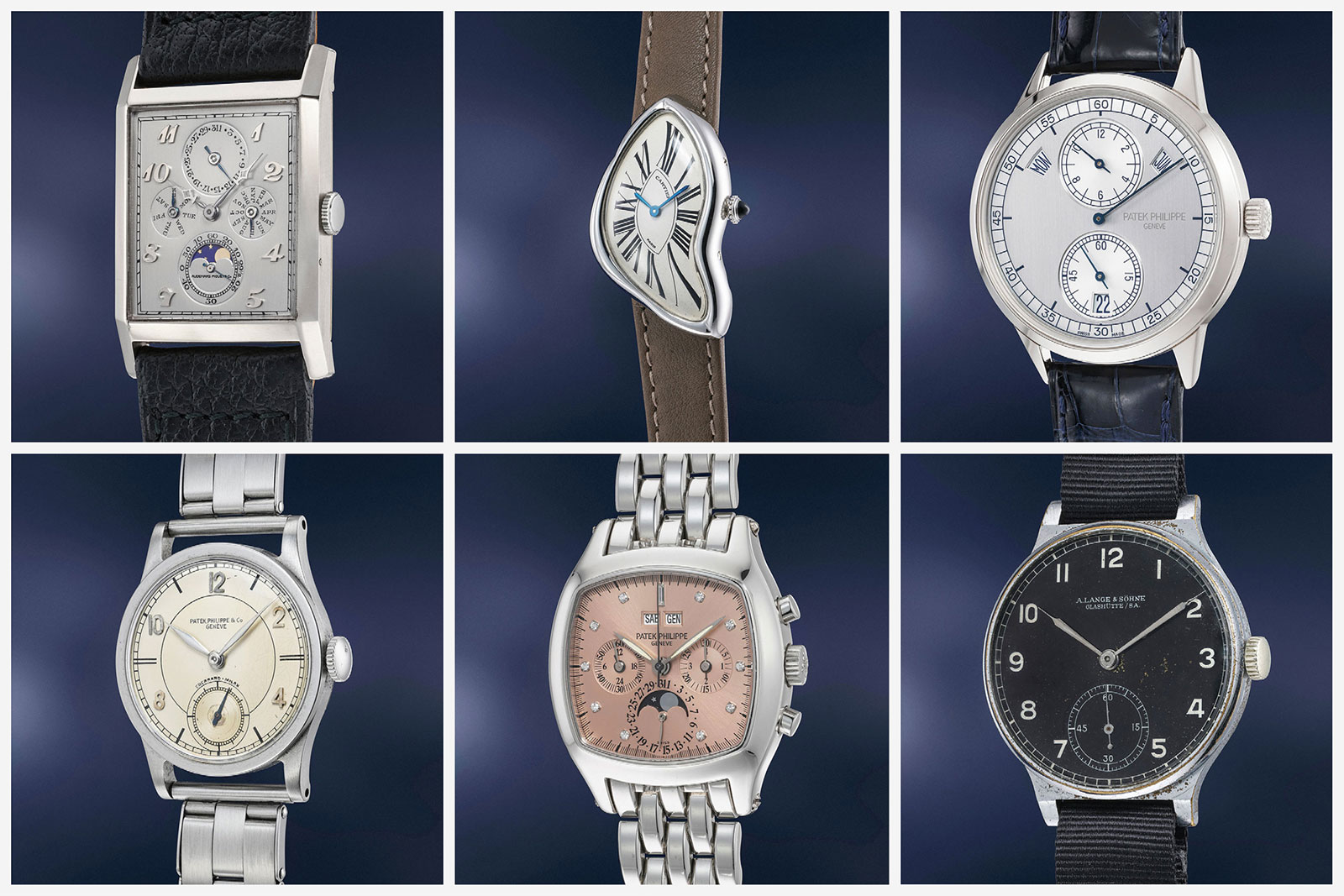 Taking place over two days – Friday, November 6 and Saturday, November 7 – The Geneva Watch Auction: XII at Phillips is the first sale of the fall auction season.
A compact sale of under 180 lots, the auction comprises a diverse line up, ranging from the obviously notable – like a Cartier Crash in platinum and a unique Patek Philippe ref. 5020P – to the obscure but extremely interesting, like the postwar A. Lange & Söhne wristwatch made after the company had been nationalised by the Soviets, as well as a vintage Audemars Piguet perpetual calendar with a paradoxical brand-new but factory-original case. Here's a look at handful of standouts from the sale.
You'll find the full catalogue, as well as online bidding, right here.
---
Lot 31 – Patek Philippe Annual Calendar Regulator ref. 5235G
Unlike many of the other watches in the auction, the ref. 5235G is neither rare nor complicated, or even especially valuable. But it is an under-appreciated gem in Patek Philippe's line up. Lightly designed and full of unusual details – ranging from the brushed dial finish to the engraved logo at three – the ref. 5235 also boasts a distinctively-designed movement unique to this reference and found in no other model.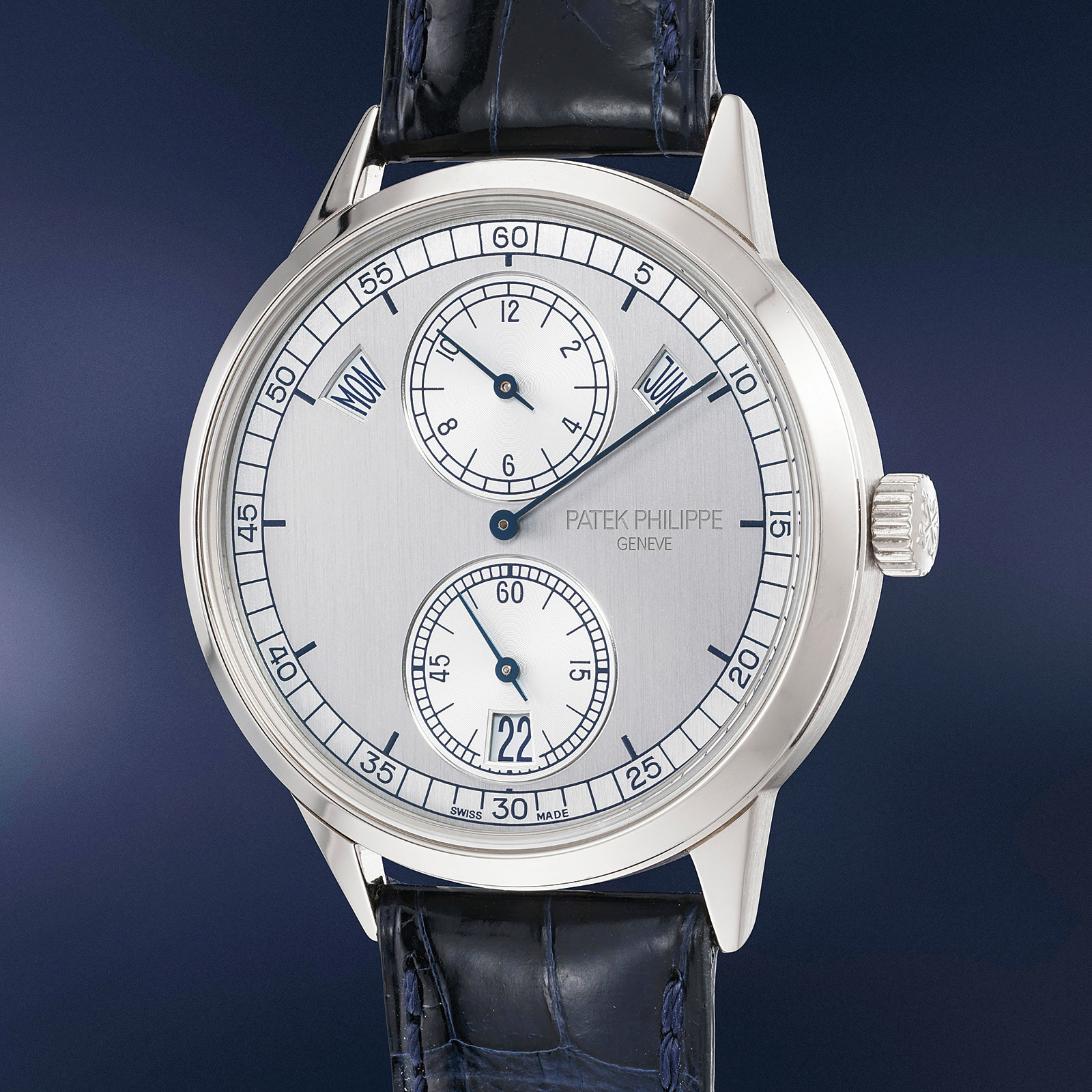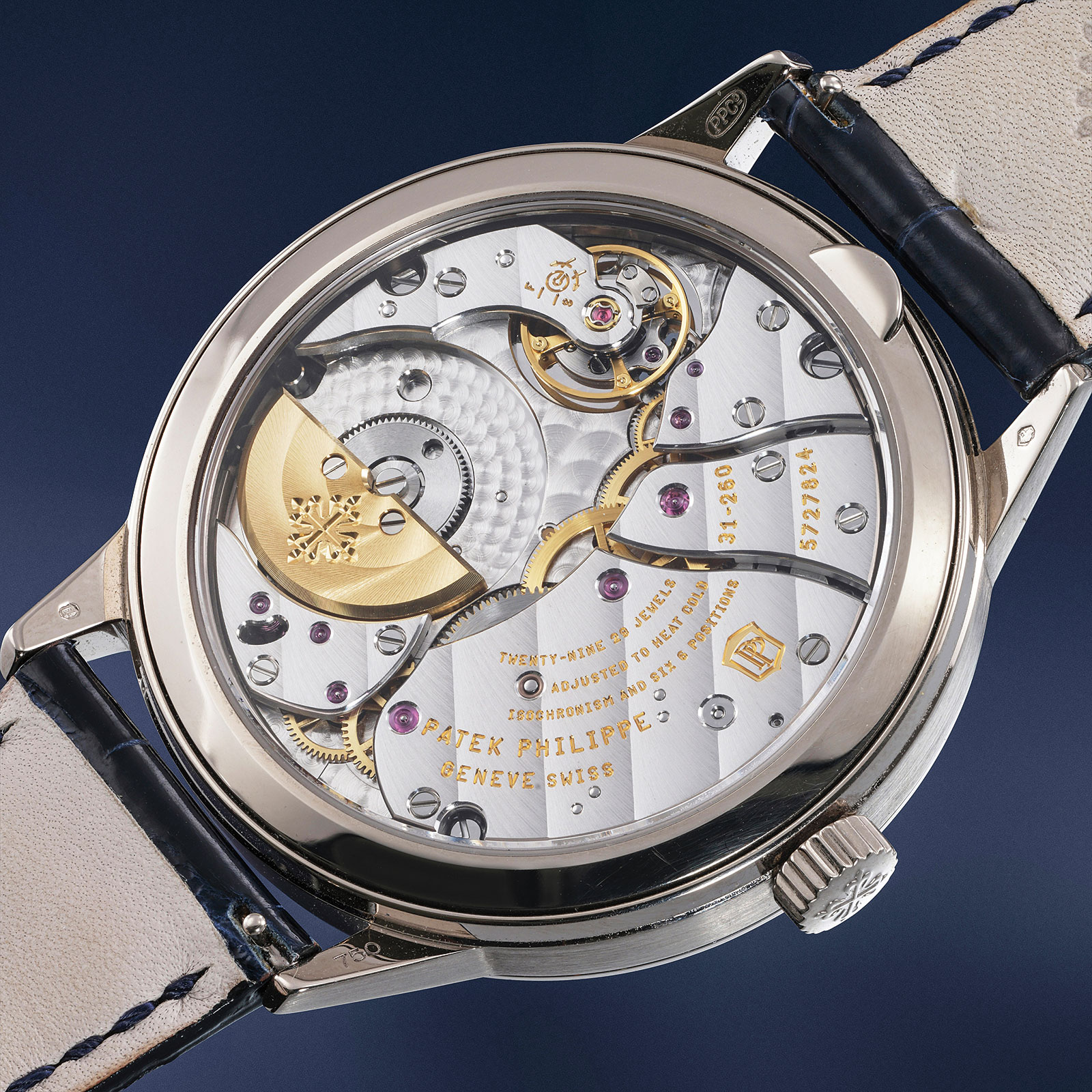 This example of the ref. 5235 is in white gold, which was discontinued last year and replaced by the same in rose gold with a black dial. While the new version is far more striking, the almost monochromatic white gold version is deeply appealing in its simplicity.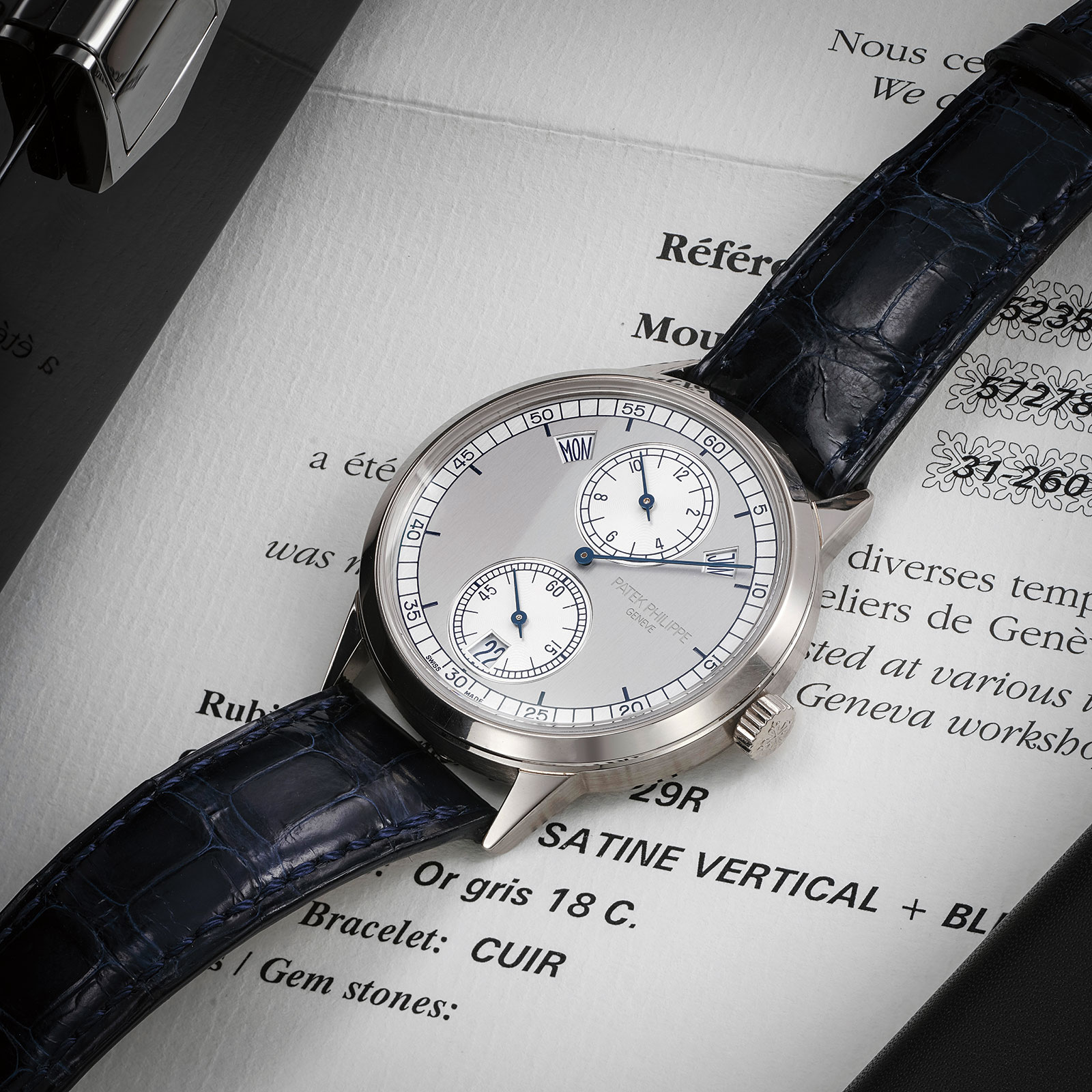 Lightly worn and accompanied by the box and papers, this has an estimate of CHF25,000-35,000, and the model usually sells for about the high estimate, making it a value proposition amongst complicated Patek Philippe watches, a feat in itself.
---
Lot 63 – Cartier Crash in platinum
Perhaps the most iconic of Cartier's watch designs, the Crash is the deliciously asymmetric wristwatch with a macabre backstory that's entirely apocryphal.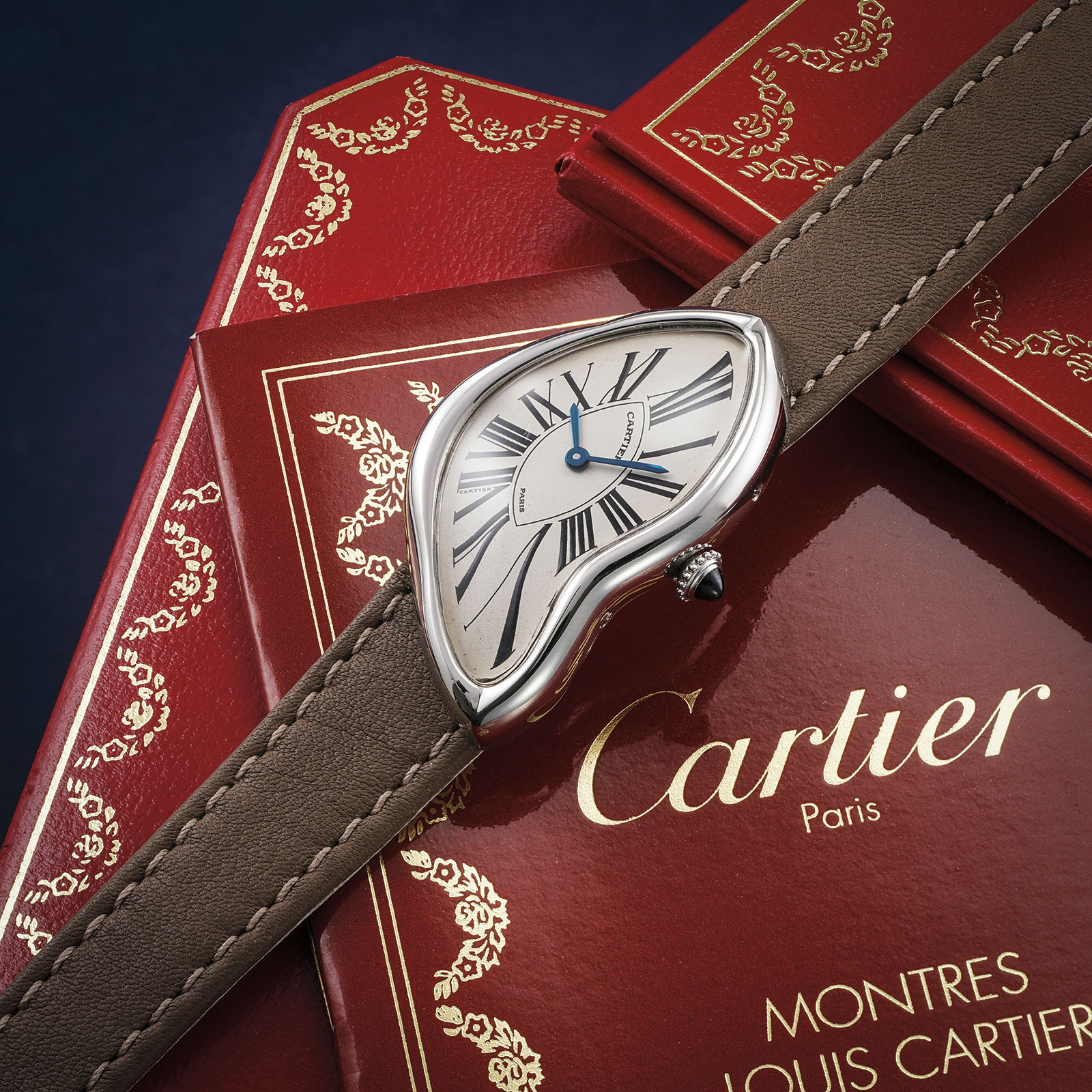 Most commonly encountered in yellow gold, it is occasionally found in white gold, and almost never in platinum. One of the rarest variants of the Cartier Crash is the "Paris" Crash in platinum made in the early 1990s in tiny numbers. Specifically, it was believed to have been made as a limited edition in 1992 for SIHH a year later. Only a handful have surfaced to date, making them many orders of magnitude less common than the yellow-gold versions.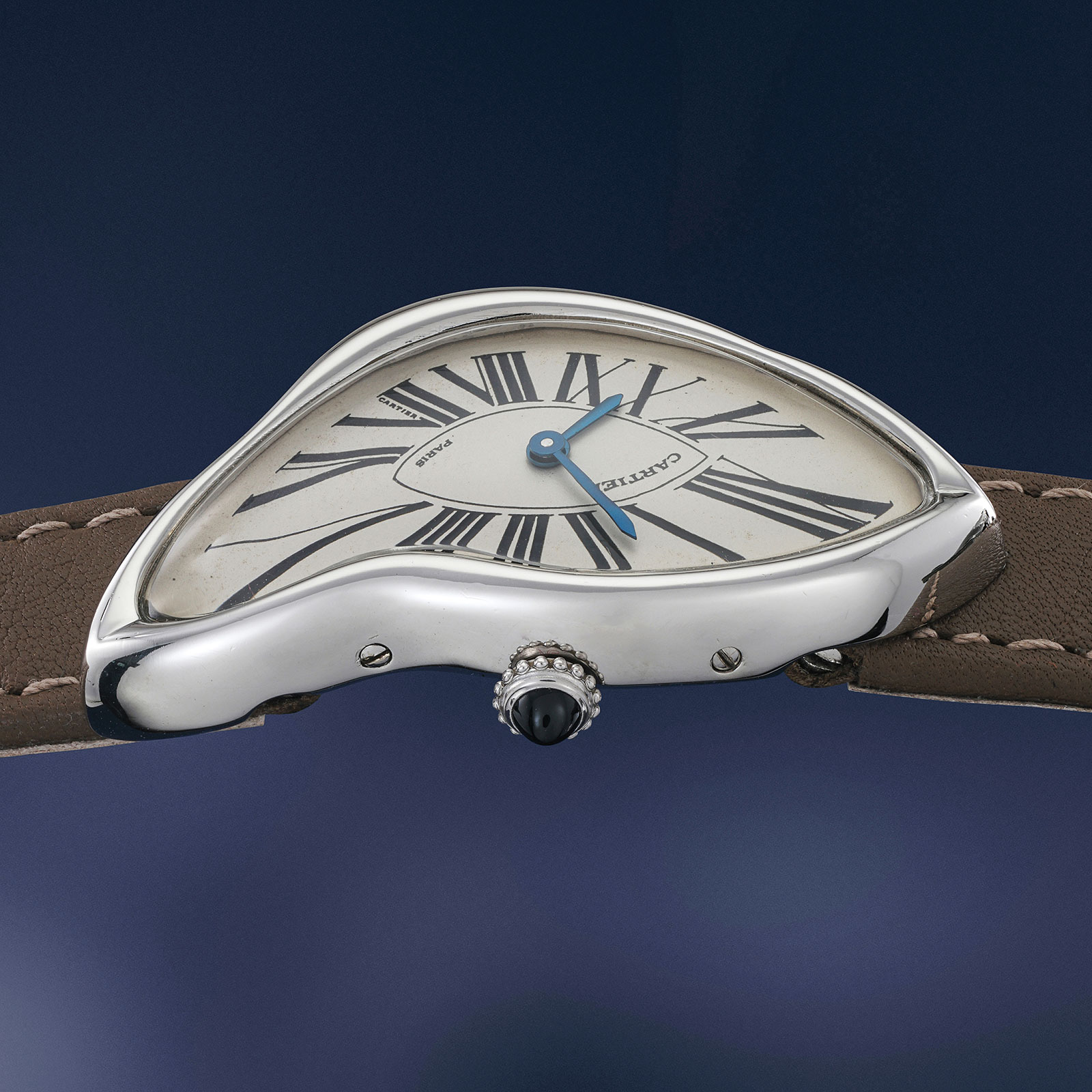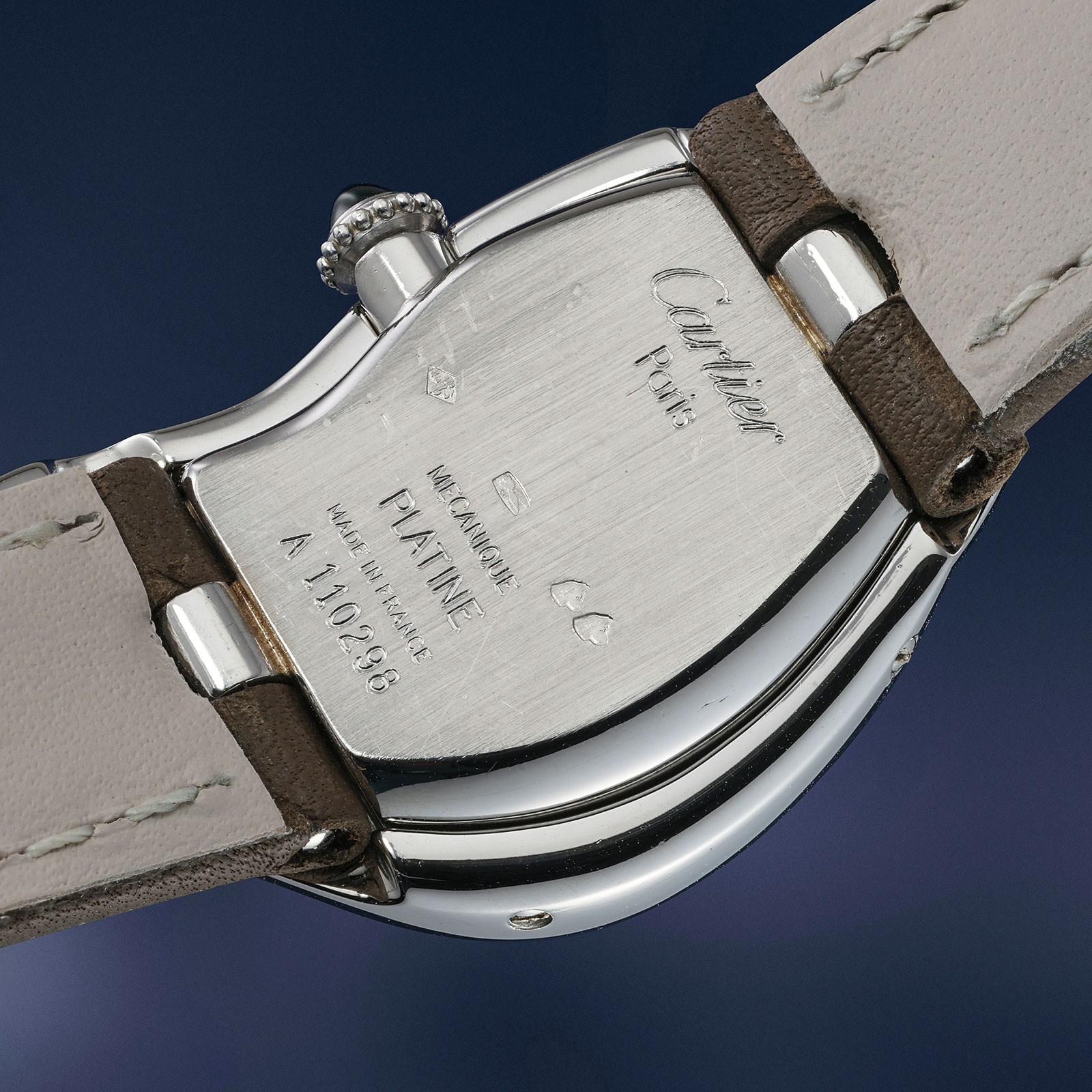 Notably, Cartier no longer produces the Crash in platinum today, and only offers it in the various colours of gold, and only upon special order for select clients.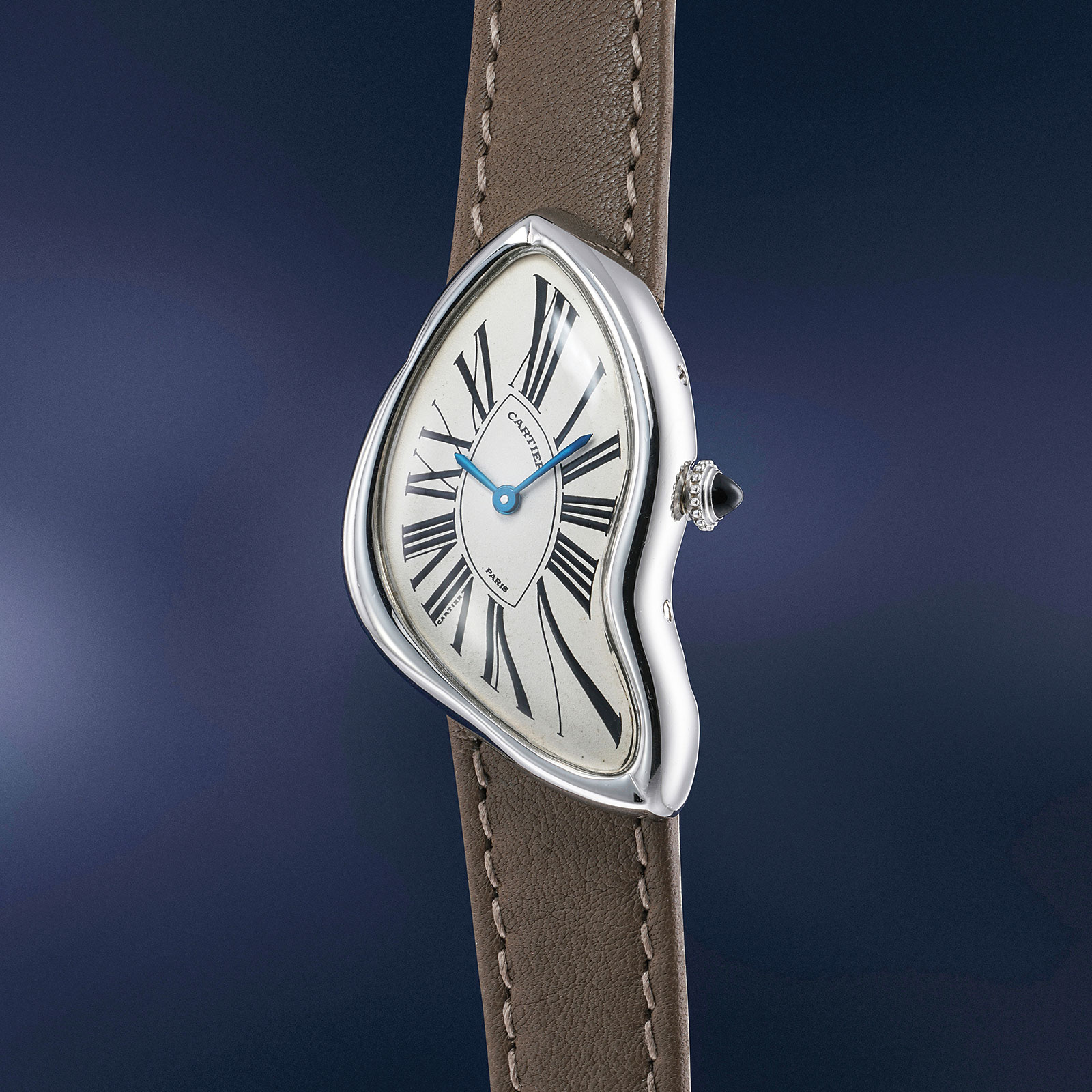 This has an estimate of CHF60,000-120,000, which is about what a standard, yellow-gold Crash would cost today.
---
Lot 73 – Patek Philippe Calatrava ref. 96 in steel
This Calatrava has both attributes often found in ultra-valuable vintage Patek Philippe – a steel case and retailer signature on the dial. But it is relatively affordable, as such things go, because it is a ref. 96, which is a small watch by modern standards.
Usually found in yellow gold, and rarely in steel (or platinum), the ref. 96 was the first Calatrava and the archetype of a collection that remains in production. Featuring widely spaced lugs that were typical of Patek Philippe designs of the era, it is 31 mm in diameter, more or less the accepted size for a gentlemen's watch until the 1960s.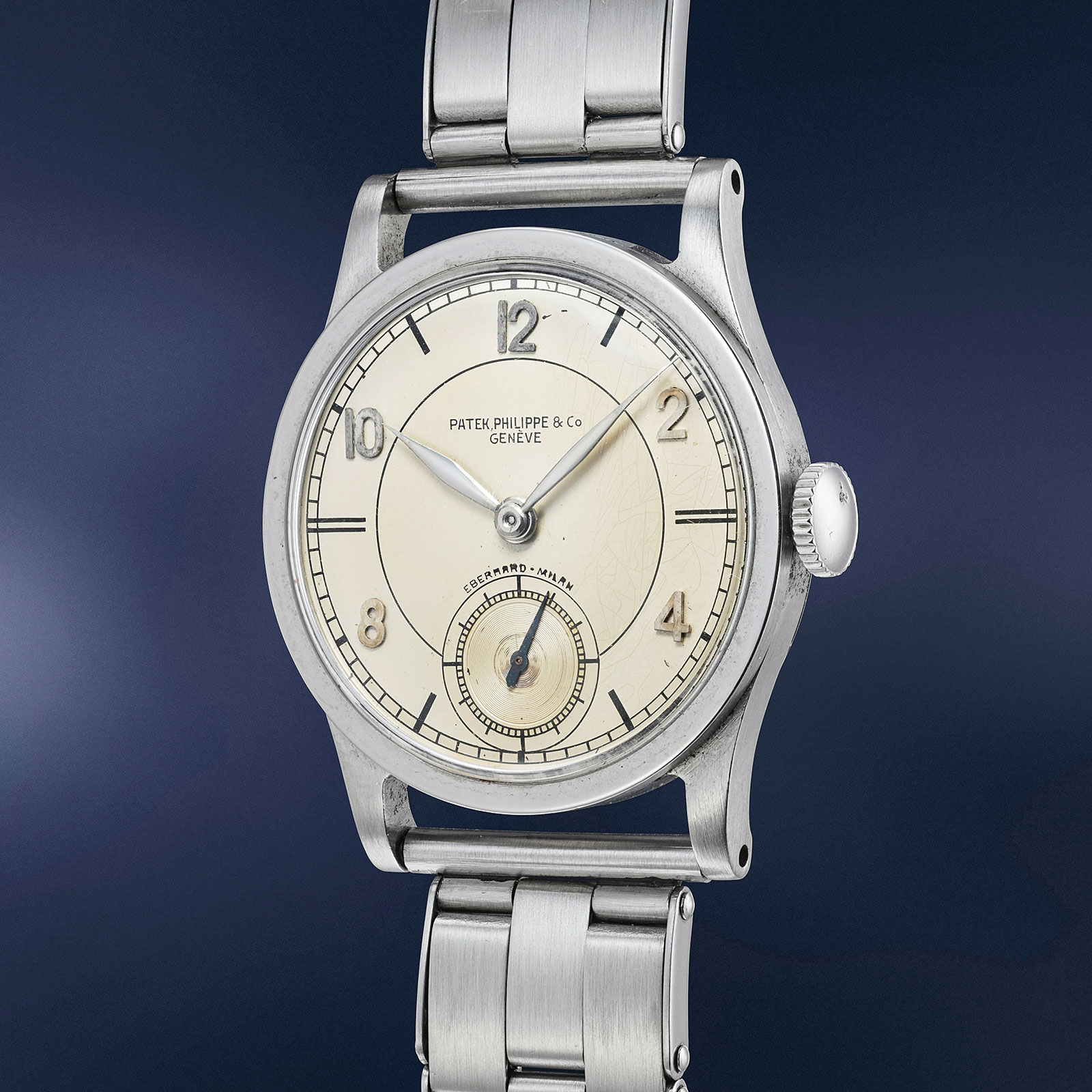 The dial is eminently classical in its layout and design, and carries the name of Milan retailer Eberhard above six o'clock. And the case back contains something of a historical curiosity: a hand-engraved dedication from 1972, some 35 years after the watch was originally sold.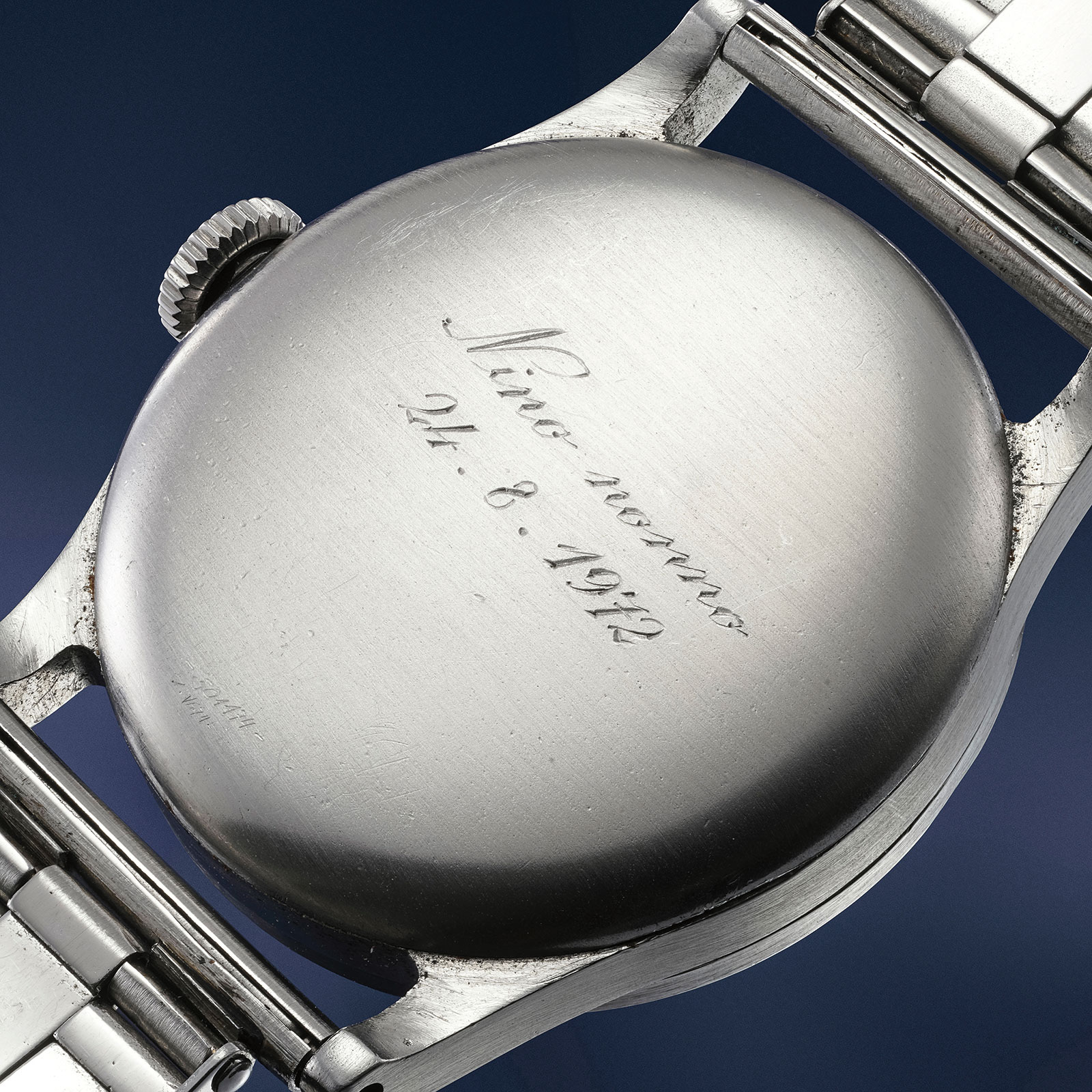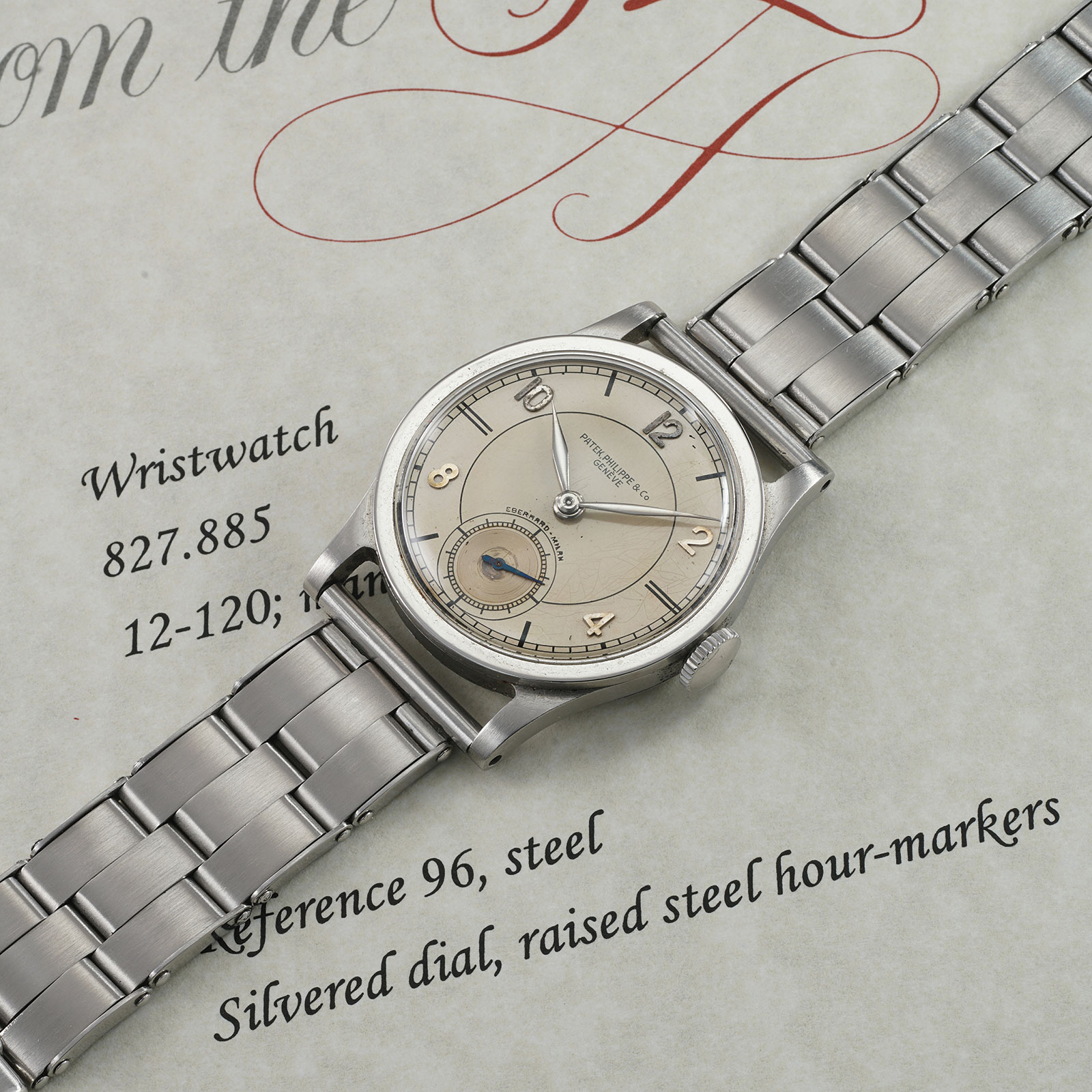 The steel case appears to have survived the decades in excellent condition, although the dial does show wear, particularly on seconds register, which are probably abrasions that resulted from prolonged contact with the seconds hand.
The estimate on this is CHF40,000-60,000.
---
Lot 77 – Audemars Piguet perpetual calendar in rectangular case, c. 1930
This lot is an intriguing, and perhaps controversial watch, that is unexpectedly good value. It's an early Audemars Piguet perpetual calendar wristwatch with an original dial and movement made in 1930, along with a brand-new case made by Audemars Piguet itself in 2020.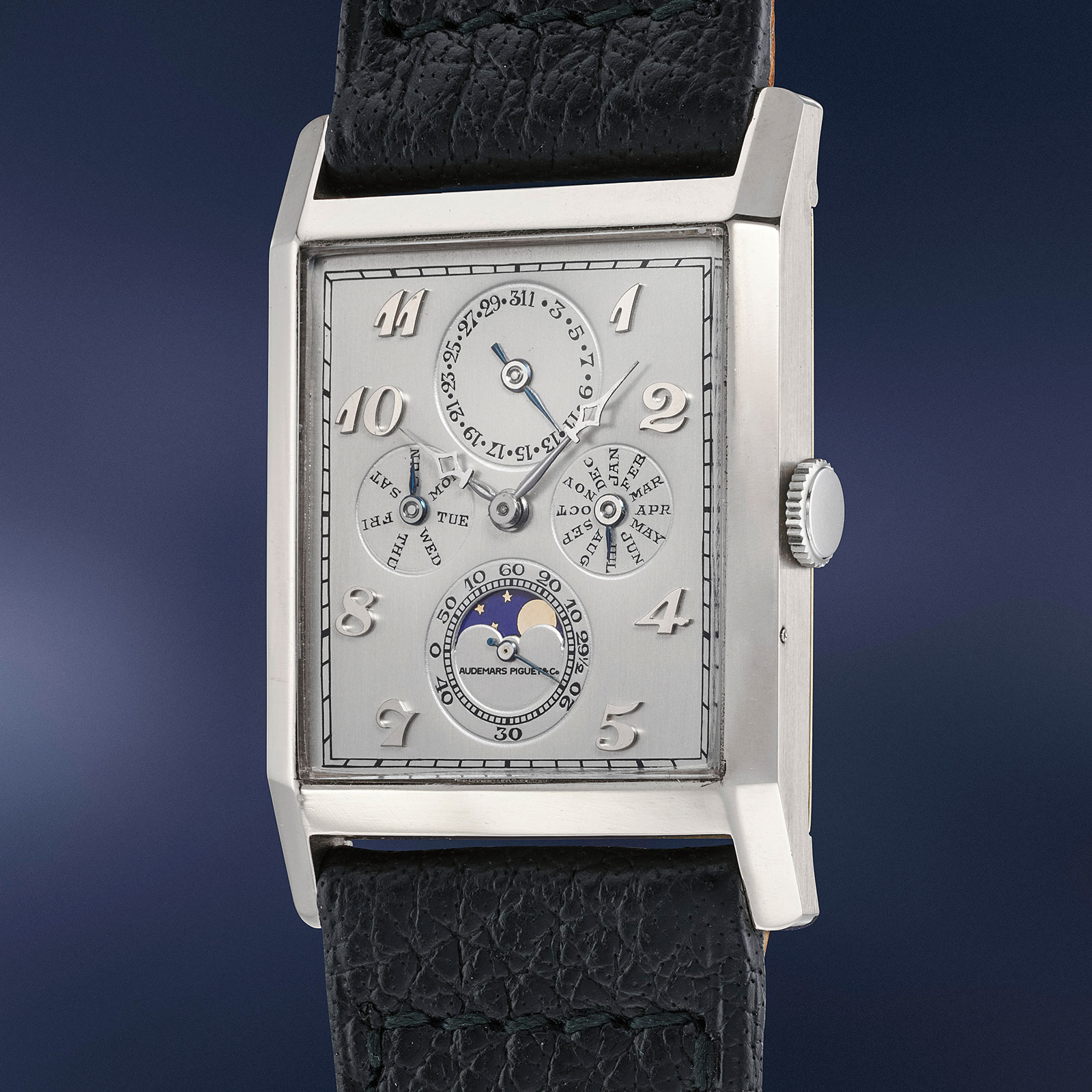 Like many vintage watches (and often pocket watches simply because they had larger cases), this watch lost its original case sometime in its history, most probably because the gold case was sold for its scrap value.
The most recent owner of the homeless dial and movement had the shrewd idea of getting Audemars Piguet to replicate the original case, working off photos in its archives – which is noted in the accompanying certificate.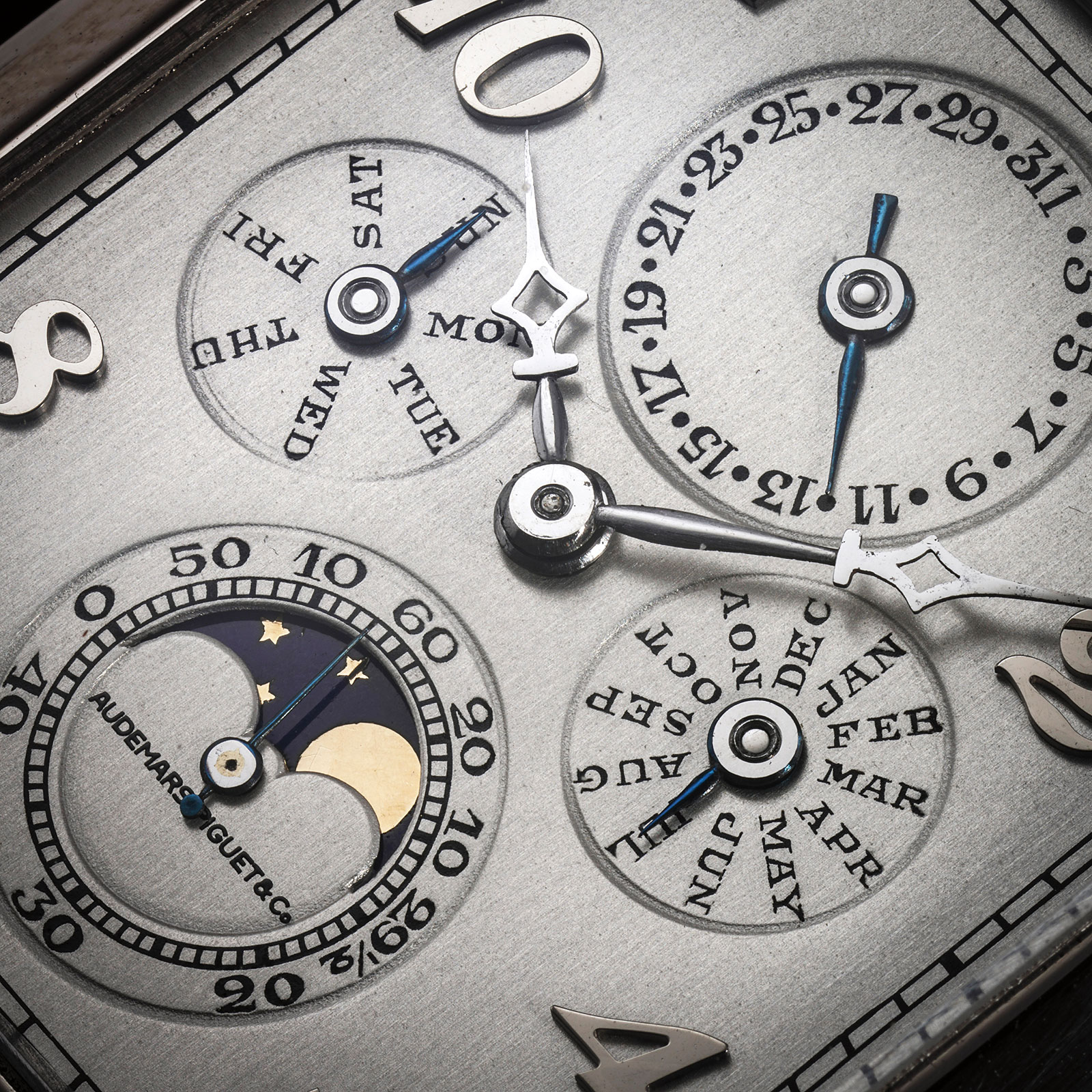 Going by the photos, Audemars Piguet recreated the case faithfully, with a white gold case middle and pink gold case back (though the numbers on theback are engraved rather than stamped as they would have been originally).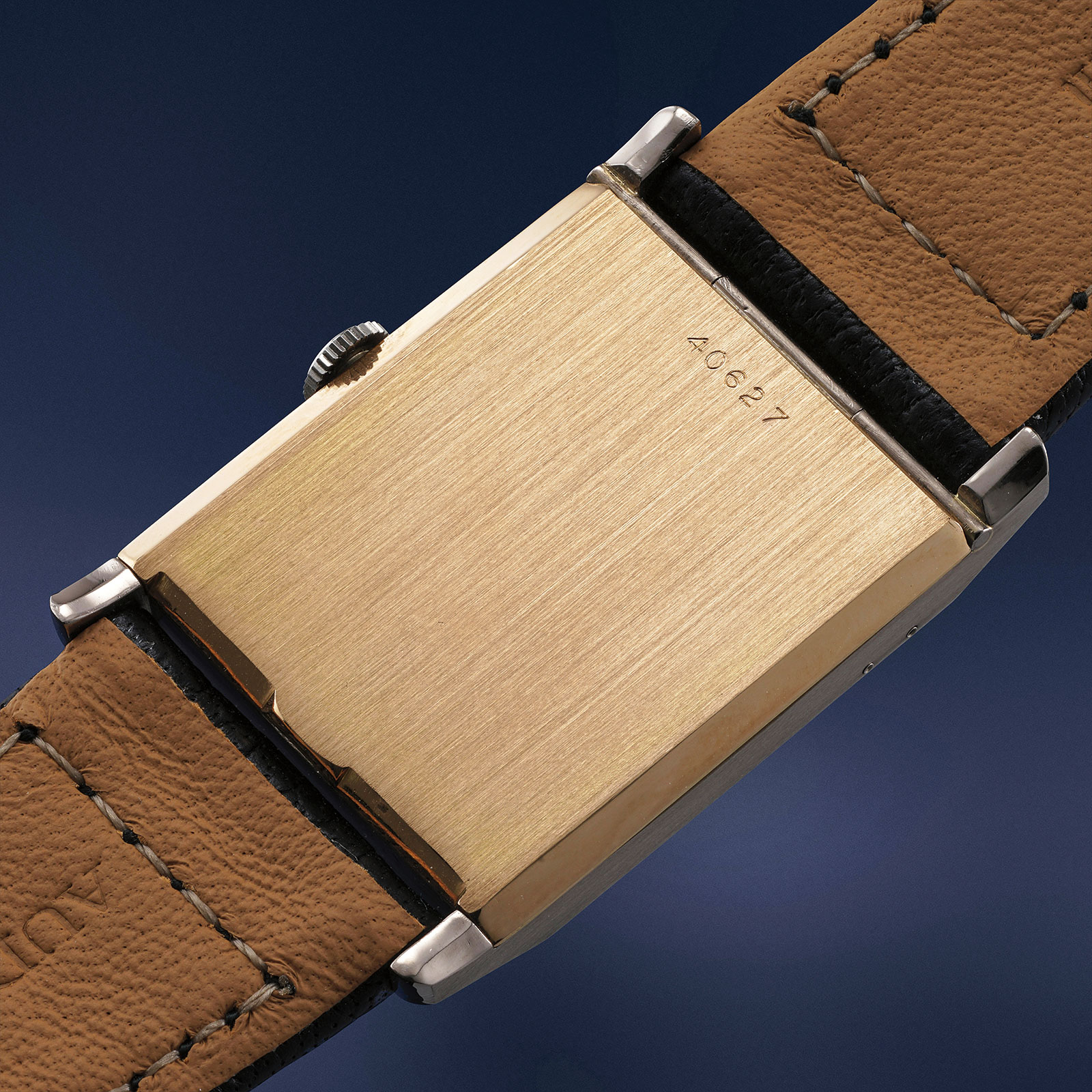 Granted, from a strict, traditionalist perspective, the watch is not entirely original, and thus less desirable. But the remade case gives new life to a wonderfully classical dial and movement, and also results in a commensurately more affordable watch.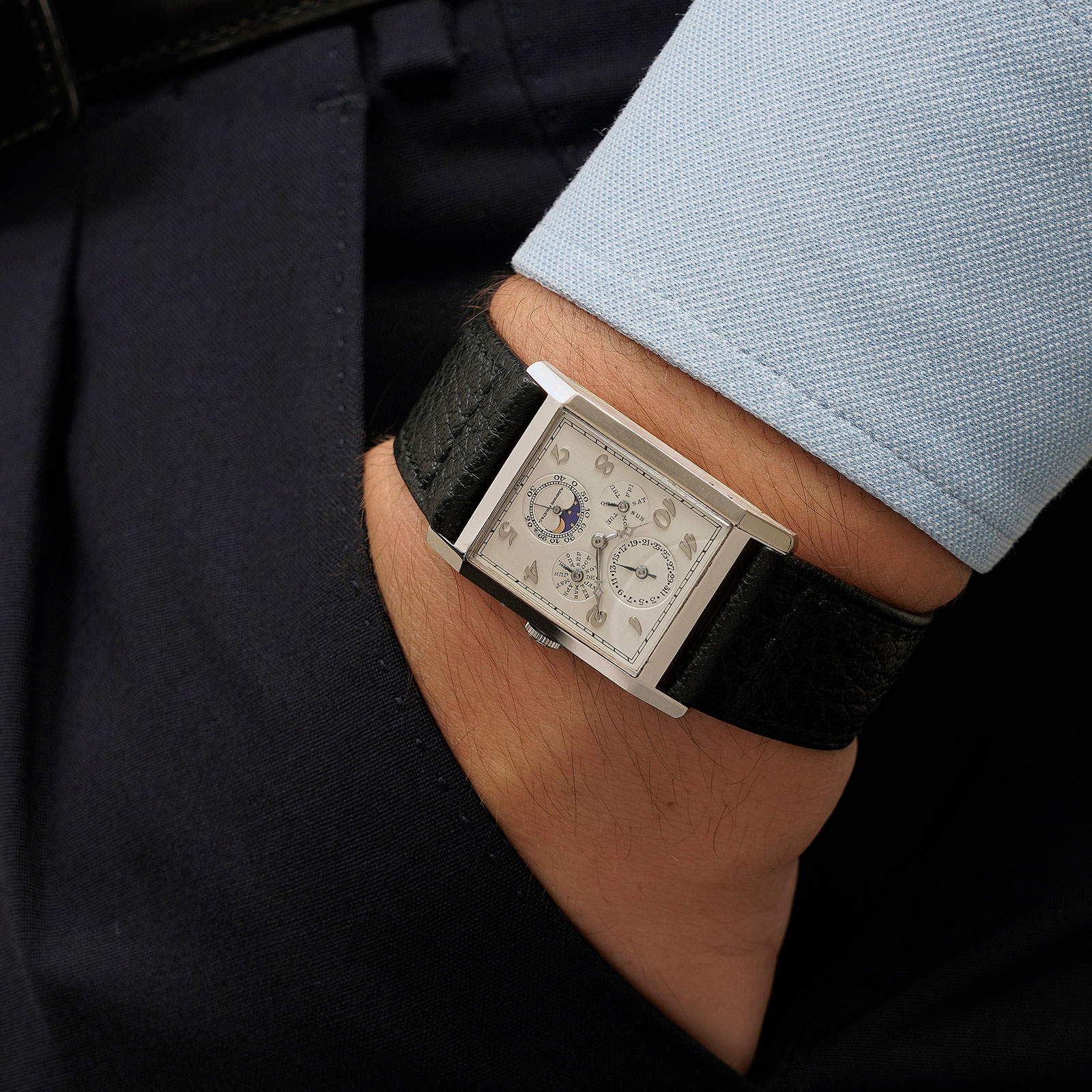 In entirely original condition, such a watch would easily clear six figures – probably mid six figures – but here the estimate is CHF70,000-100,000, which is less than what one of the brand's current perpetual calendars cost.
---
Lot 91 – Patek Philippe ref. 5020P with salmon dial and bracelet
One of the most curious Patek Philippe "Grand Complications" when it was in production, the ref. 5020 was never popular until it was discontinued. Its chunky TV-shaped case takes a bit of getting used to, but has substantial charm nonetheless. The ref. 5020 is attractive in its own way, and I have always liked it.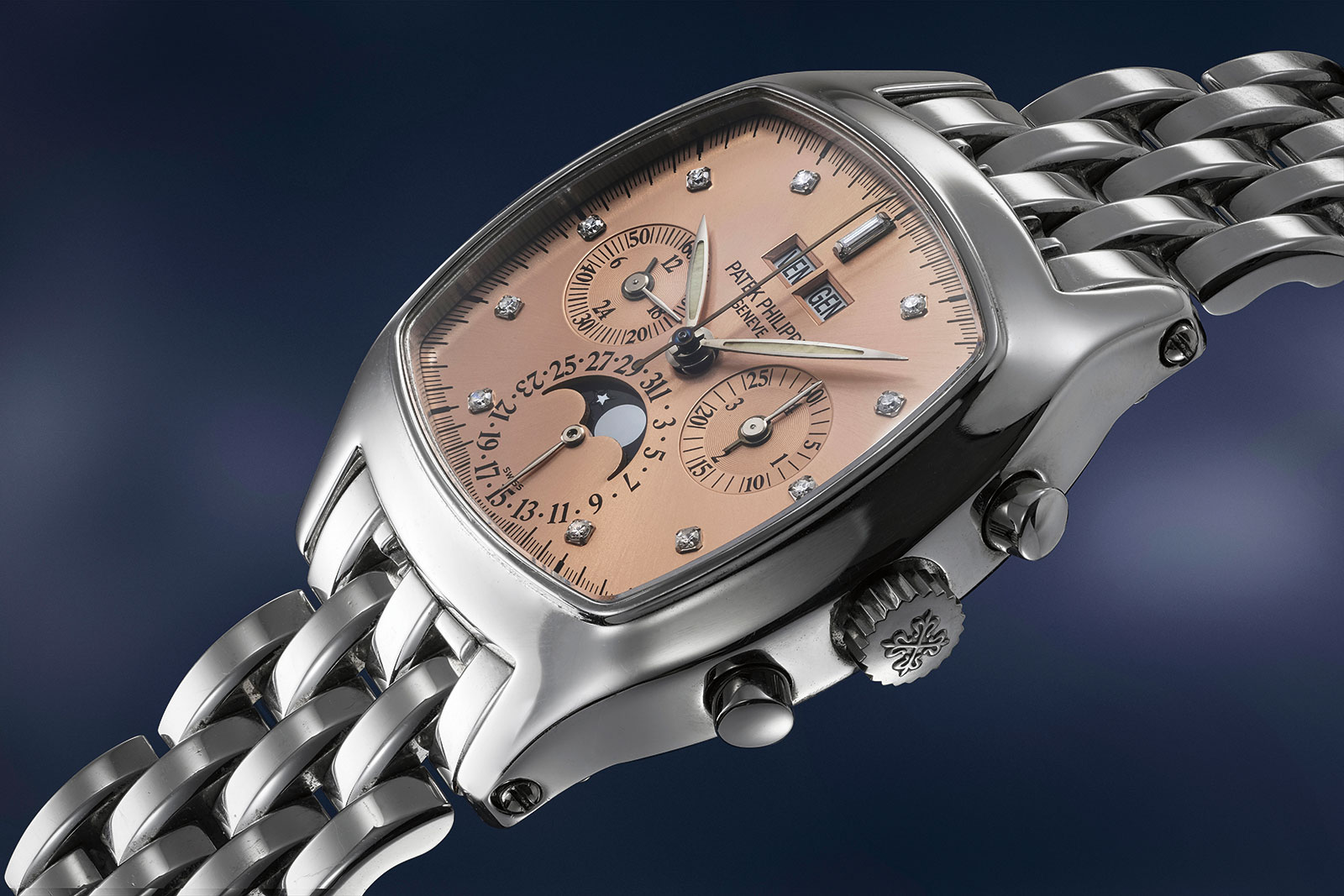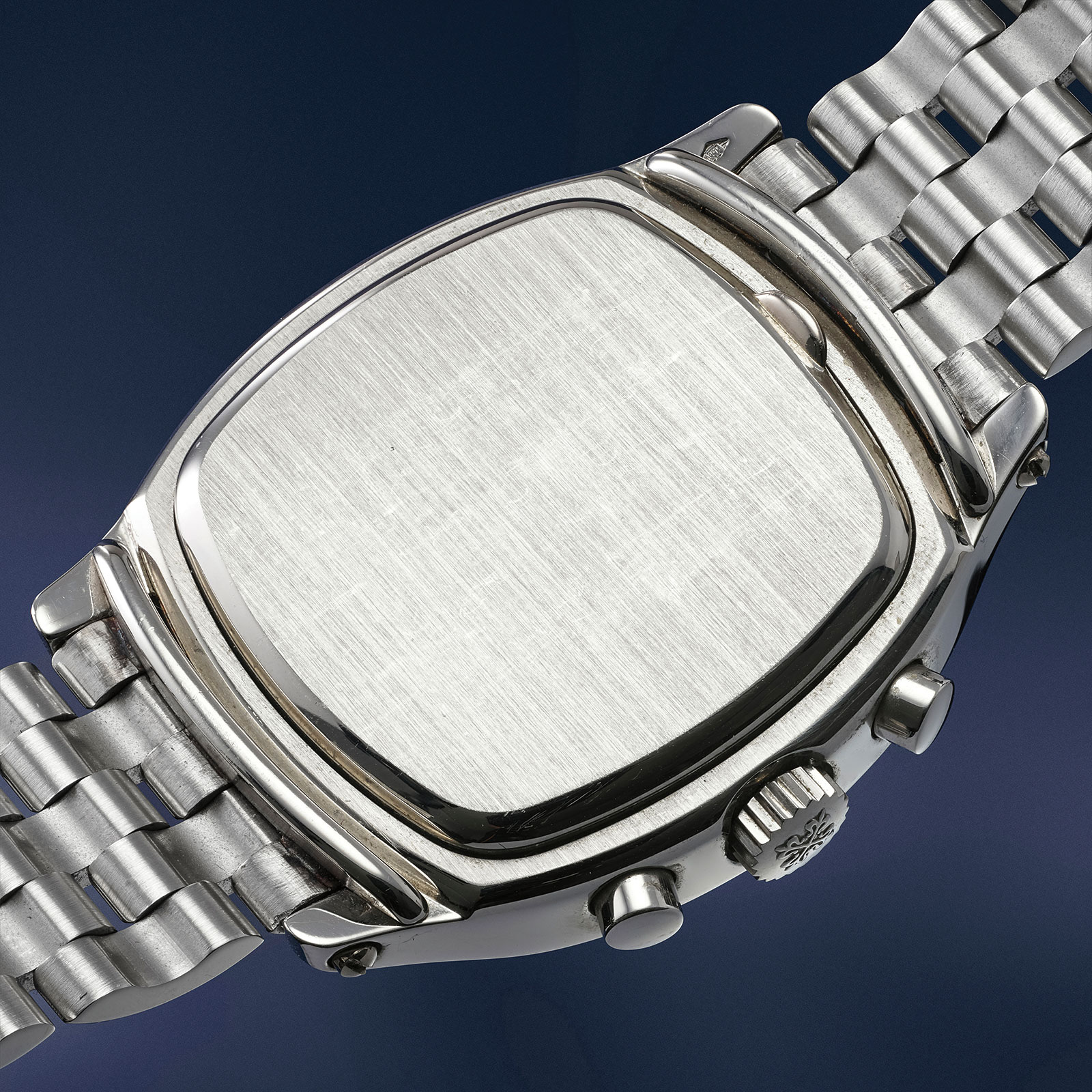 Some 200 were made according to consensus, with perhaps 20 in platinum. This is unique amongst the platinum examples as it has a special-order dial in salmon with diamond hour markers and luminous hands, along with a platinum bracelet – all of which is noted in the archive extract.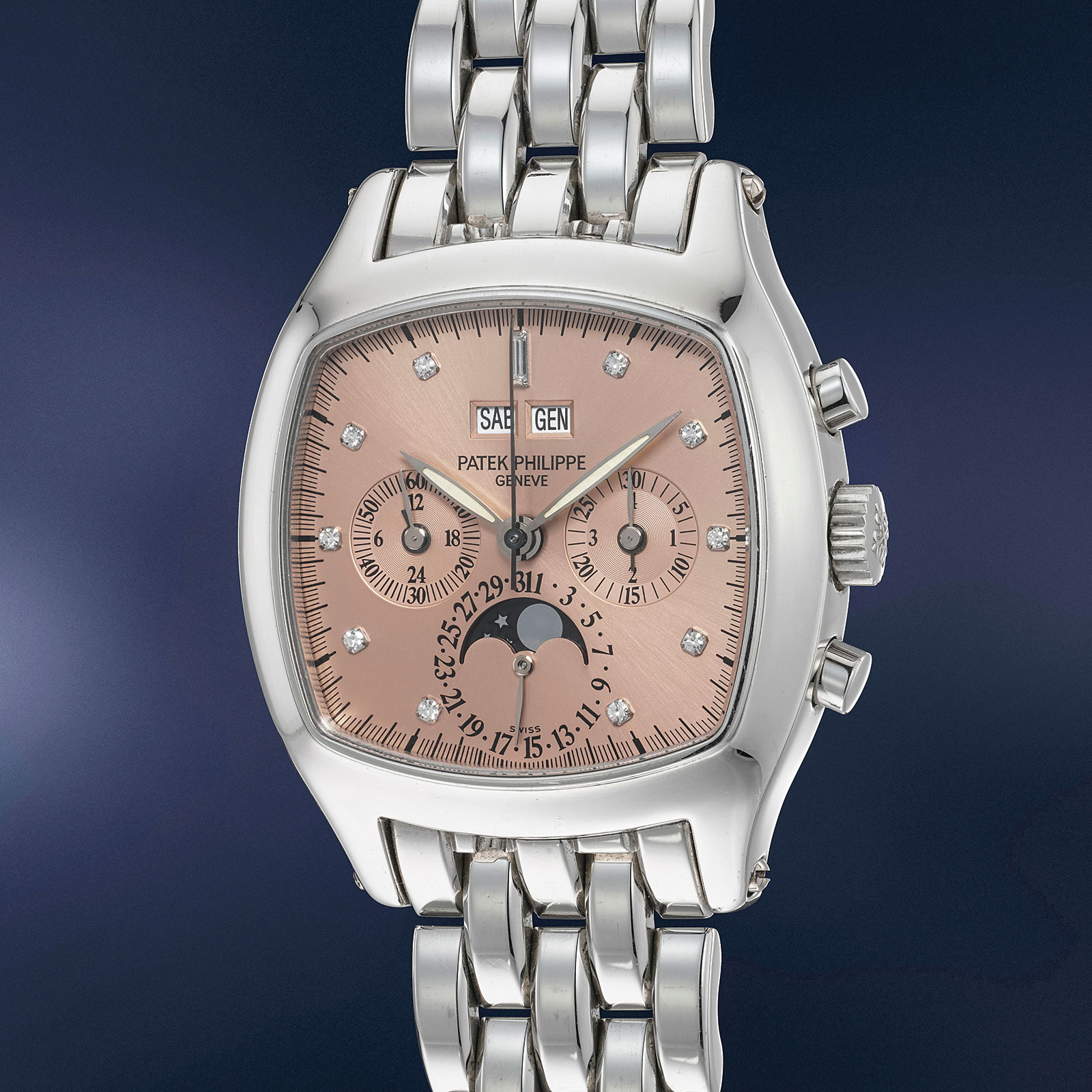 Unfortunately this has neither the original box nor papers, though that doesn't take away from its intrinsic appeal. The shape, weight, and price of this watch is not for the faint of heart. The estimate is CHF350,000-700,000.
---
Lot 118 – A. Lange & Söhne postwar wristwatch, c. 1950
Perhaps most intriguing watch in the auction from a historical perspective is a wristwatch bearing a grand name but of middling quality.
This A. Lange & Söhne wristwatch was produced in 1950, well after the watch industry in its hometown of Glashütte had been nationalised by the Soviet authorities after the Second World War. It is probably one of a handful of watches bearing the brand name on the dial, as all of the watchmakers in the town were amalgamated into the state-owned VEB Glashütter Uhrenbetriebe (GUB).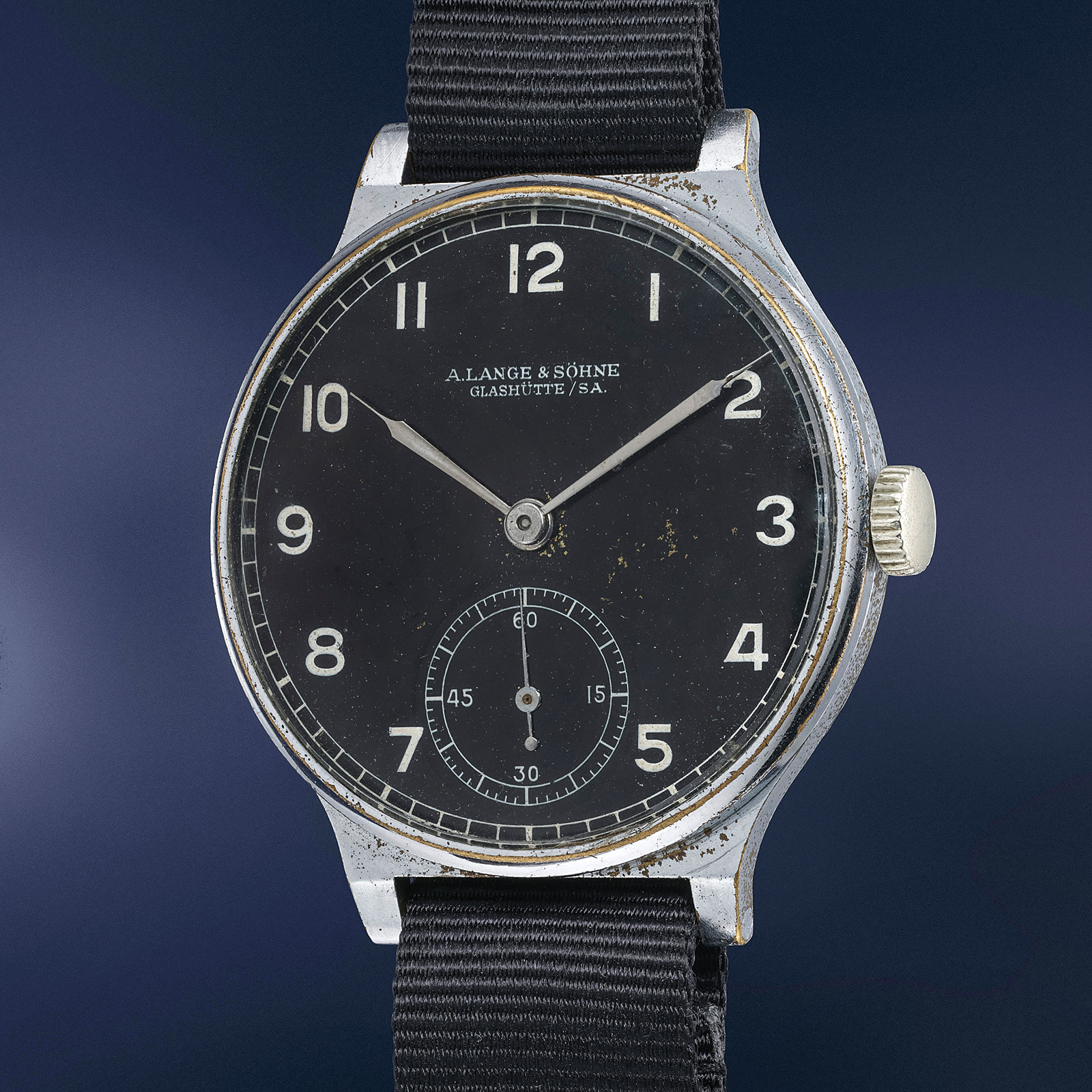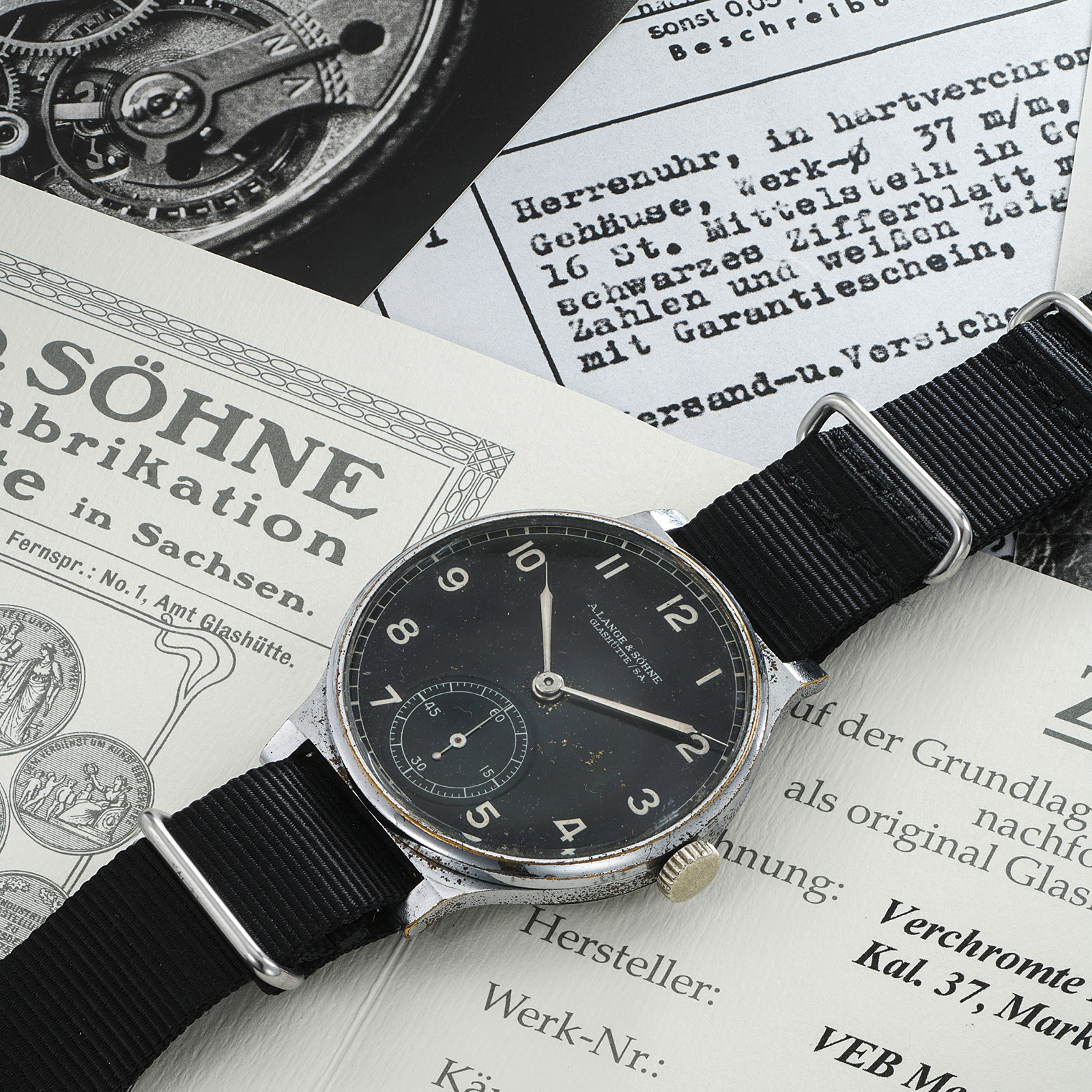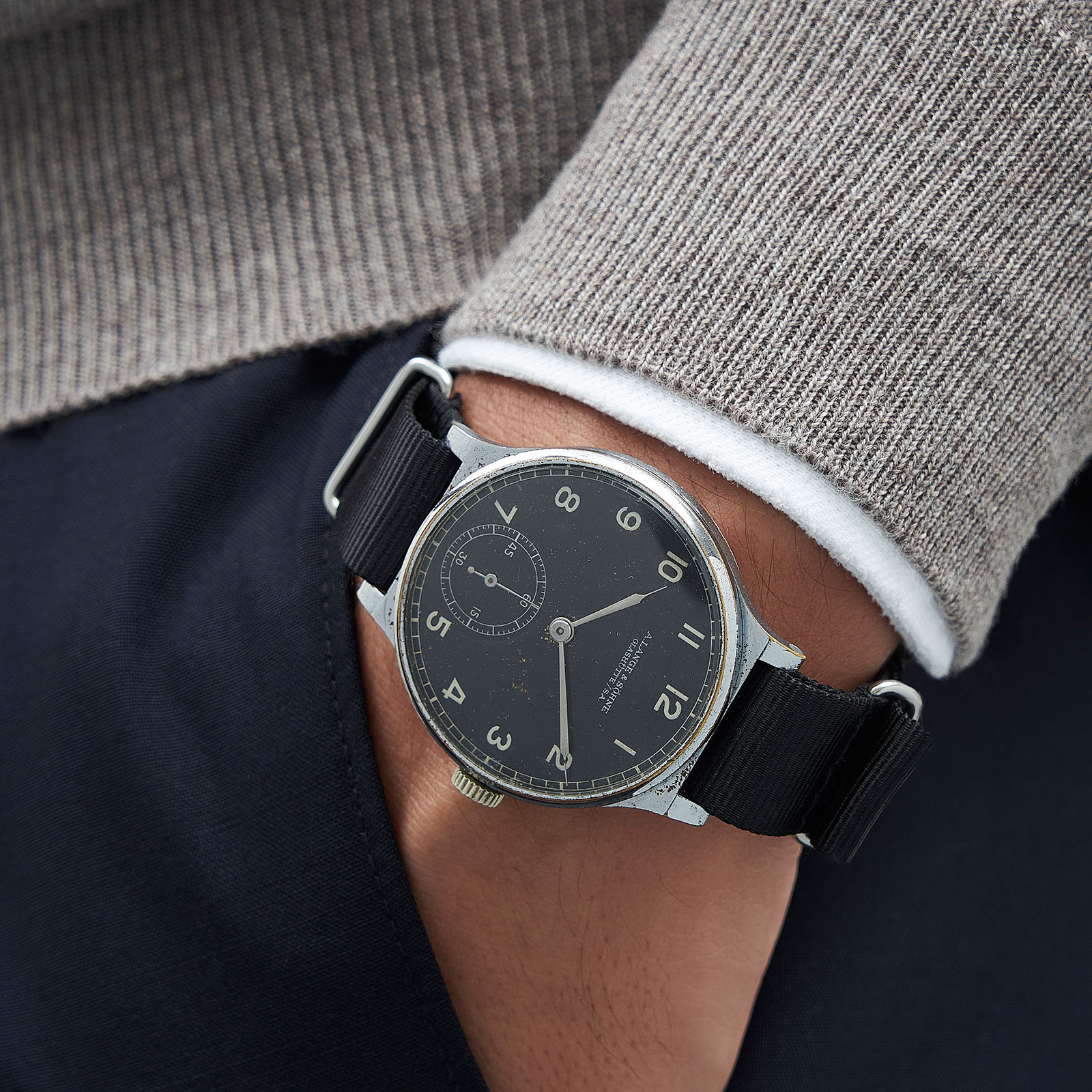 The watch is a surprisingly large 40 mm – likely due to the pocket-watch movement inside – but because it was produced in Soviet East Germany, it is a distinctly low-cost watch. It has a case of chrome-plated brass, along with slightly better gilt-finished movement. Though not impressive in terms of quality, it has historical significance. And it doesn't cost very much – the estimate is just CHF5,000-8,000.
---
Preview and Auction
The preview exhibition is open daily from November 4-9 – by appointment only. And the auction starts at 2:00 pm CET (GMT+1) daily on Friday, November 6 and Saturday, November 7. Everything takes place at Hôtel La Réserve.
Hôtel La Réserve
301, route de Lausanne
1293 Bellevue, Geneva
Switzerland
For the full catalogue, as well as appointments and online bidding, visit Phillips.com.
---
Back to top.
---
You may also enjoy these.