Highlights: Phillips 'Intersect' Online Auction
Watches, contemporary art, and jewellery.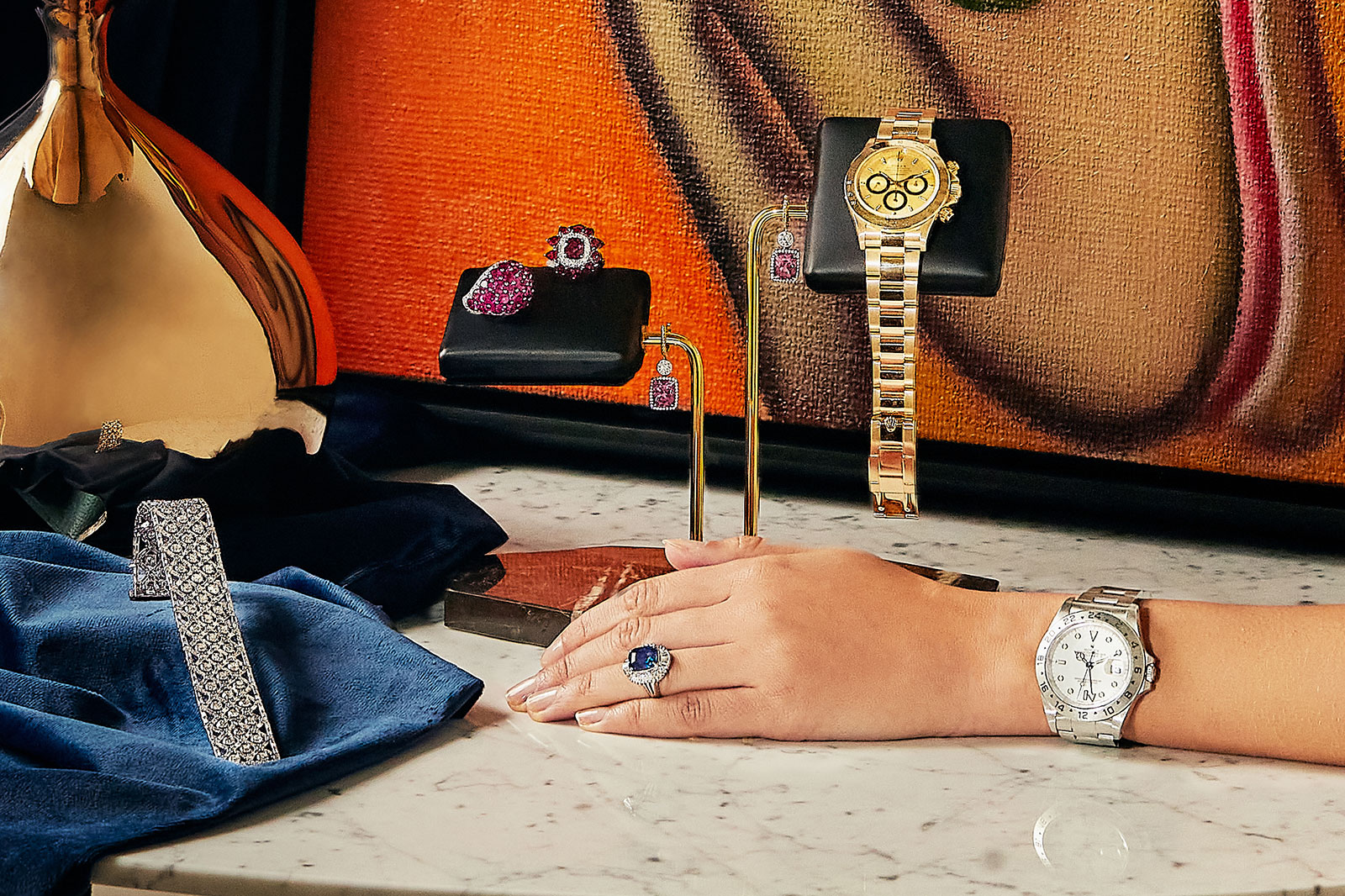 Having debuted its first online watch auction earlier this year, Phillips returns with the second instalment, Intersect, once again offering a cross-category selection spanning watches, art, and jewellery. Made up of 110 lots – a third are watches – the auction is live from now until 6 pm (GMT+8) on September 14.
While the line up naturally features the usual suspects like Rolex and Patek Philippe, it also includes watches from independent brands like H. Moser & Cie., Daniel Roth, and Urwerk, as well as a notably artisanal pair if Chopard L.U.C watches decorated with maki-e.
Some highlights of the sales are included below, and the full catalogue is available here.
[Full disclosure: Lots 97 and 98 were consigned by our founder SJX.]
---
Lot 15 – Rolex Daytona ref. 116520
Having been overshadowing by its successor with a ceramic bezel (and other more recent sports models), the Daytona ref. 116520 is relatively good value in the world of Rolex sports watches. Interestingly, the ref. 116520 was the first Daytona to boast the in-house cal. 4130, and also the last to have a stainless steel bezel.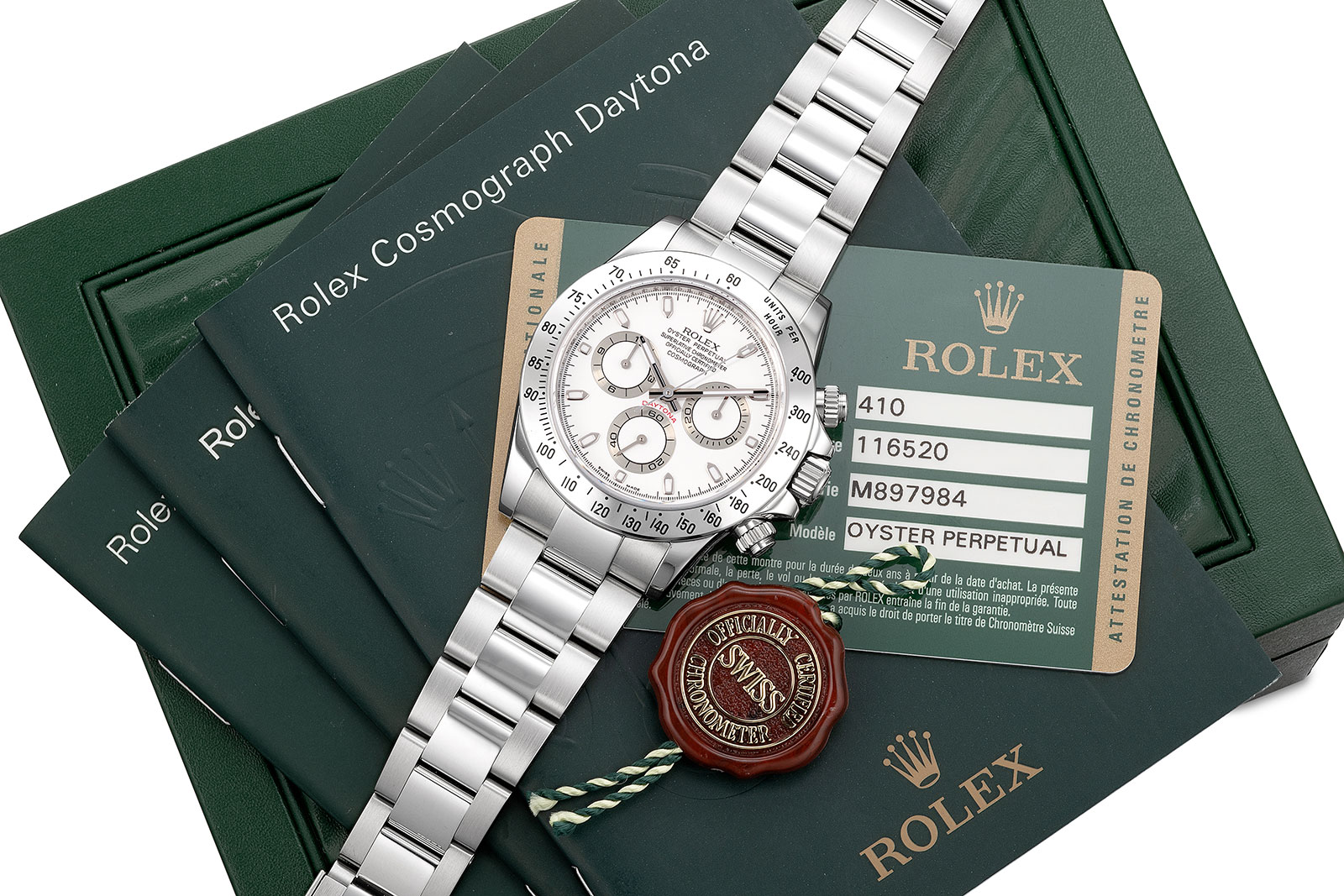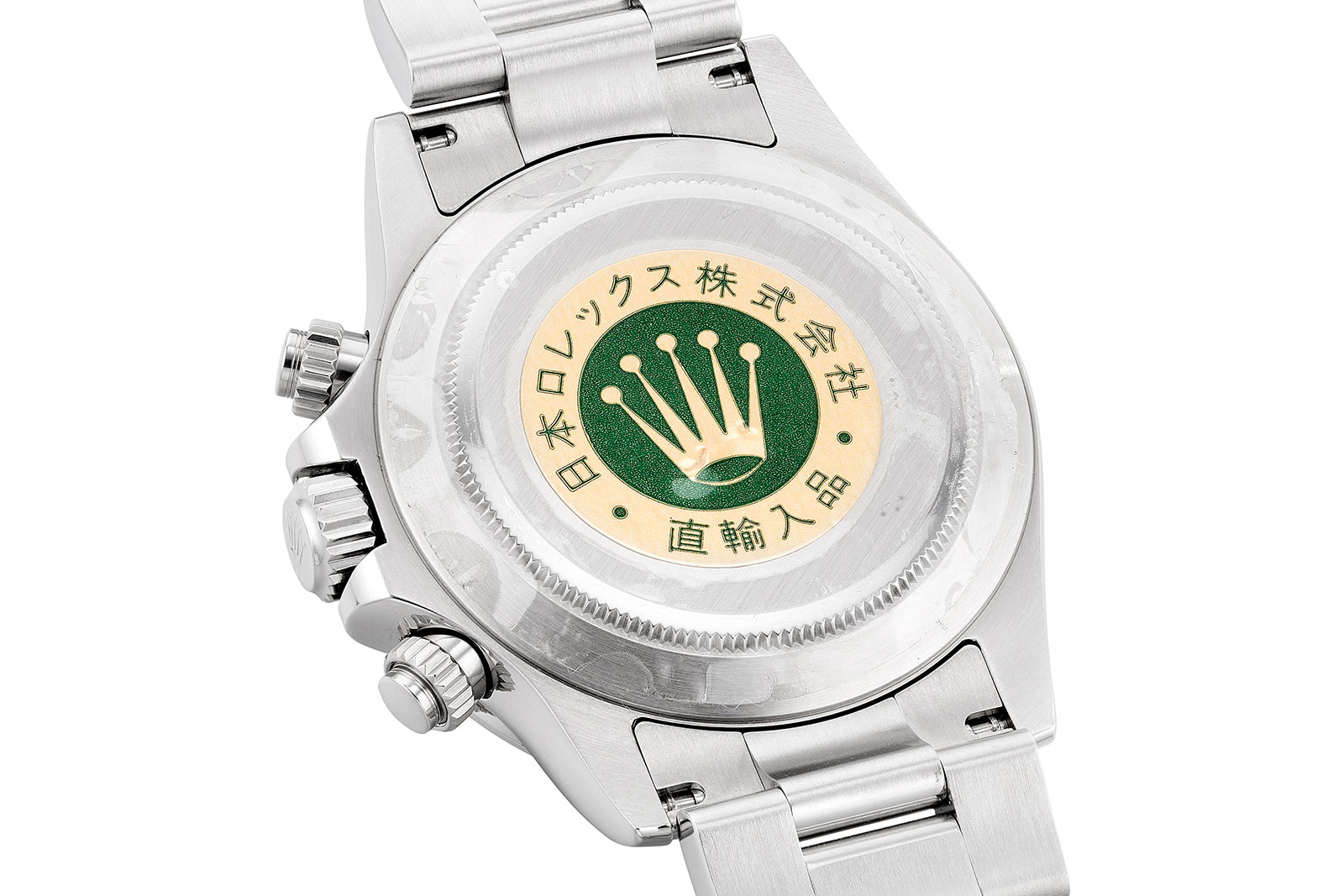 The present watch is offered in well-preserved, "full set" condition, with an unusual extra – the Rolex Japan sticker on the case back once found only on Rolex watches sold in the country.
It has an estimate of HK$94,000-190,000, or about US$12,100-24,400.
---
Lot 30 – Urwerk UR-202 in white gold
A pioneer in avant-garde watchmaking best known for its atypical displays of time, Urwerk's biggest invention was the satellite cube complication that made its debut in 2005 with the collaboration Harry Winston Opus V. Urwerk followed up with its very own UR-202 in 2008, which combined the patented hour display with a  "turbine" automatic mechanism that relies on spinning discs to regulate the winding rate.
But despite its complexity and significant in the independent watchmaking landscape, the UR-202 isn't widely appreciated a decade after its introduction, making it quite a deal on the secondary market.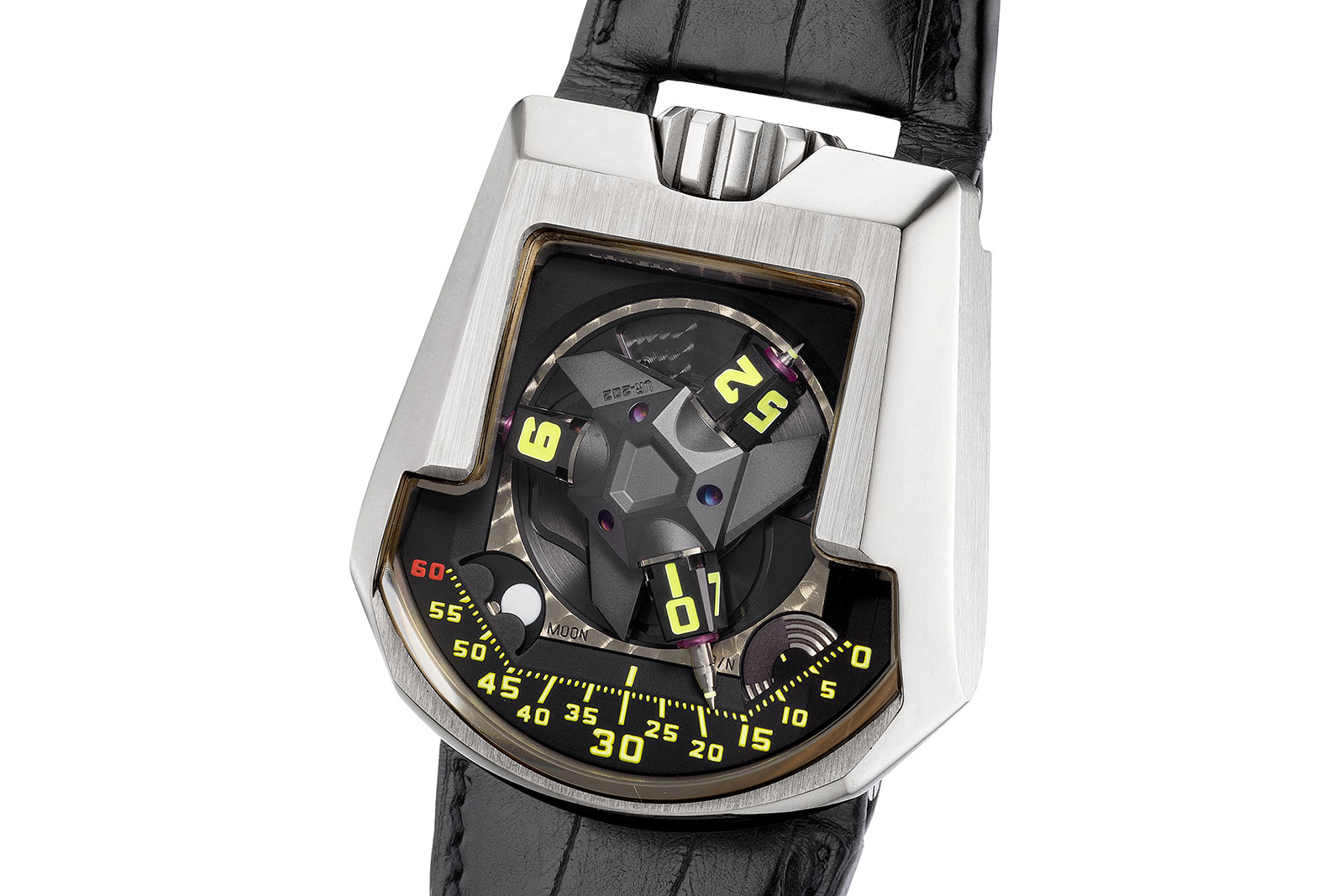 This UR-202 is an early example from 2010, and in 18k white gold with a titanium case back, which reveals the twin "turbines" of the winding mechanism.
The switch between the turbines allow the wearer to vary the winding speed according to his level of motion. It should be reduce, for instance, during sports or other vigorous activities.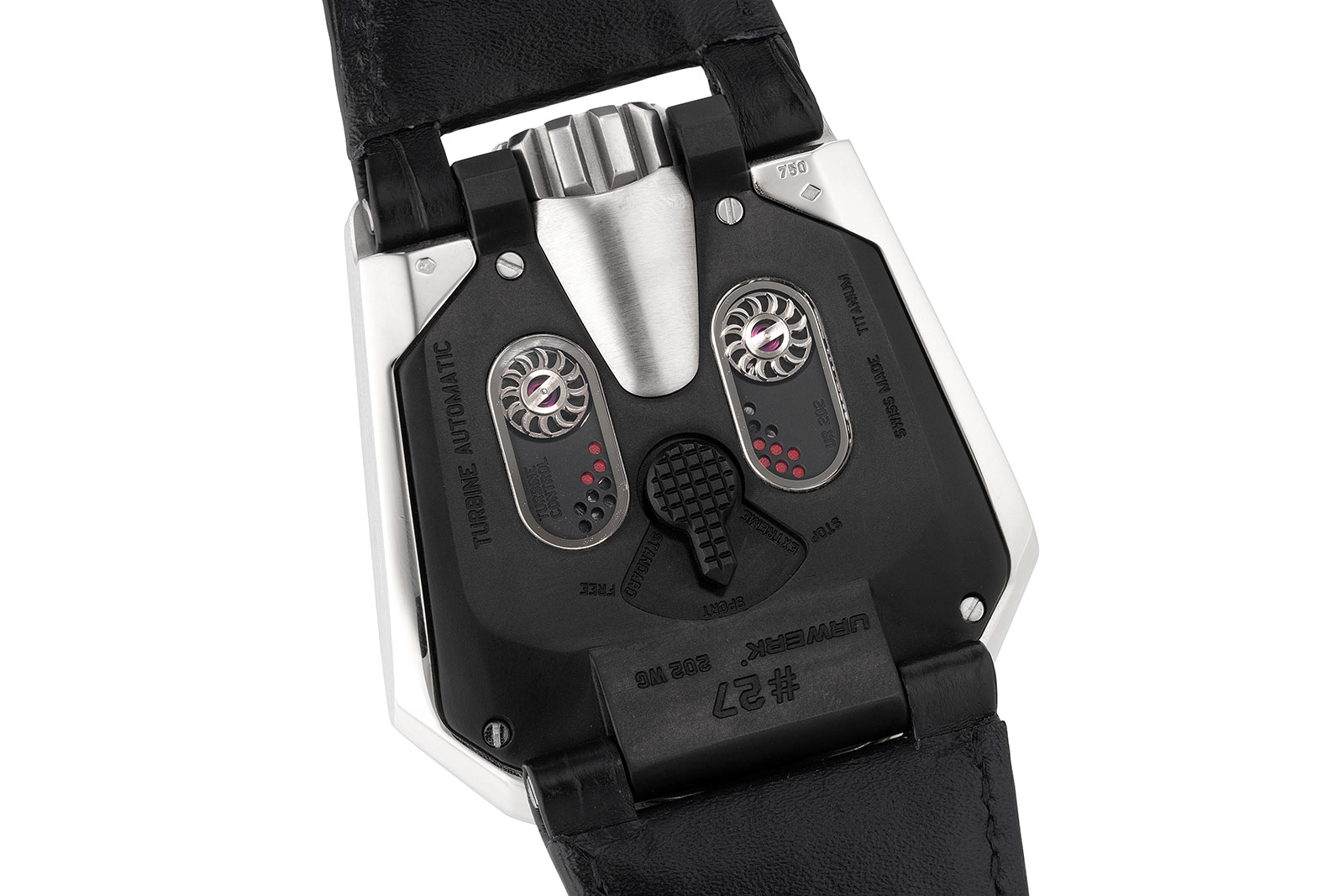 The UR-202 has an estimate of HK$200,000-310,000, or $25,600-39,700 – not very much for a substantial complication from a leading independent watchmaker.
---
Lot 44 – Chopard L.U.C XP Urushi "Goldfish" with maki-e dial
An unusual melding of Japanese and Swiss craftsmanship, this L.U.C XP was born from Chopard's collaboration with Japanese lacquerware maker Yamada Heiando, which is also purveyor to the Japanese Imperial Household. It's essentially a Japanese version of the artisanal, metiers d'art decoration often found on Swiss watches.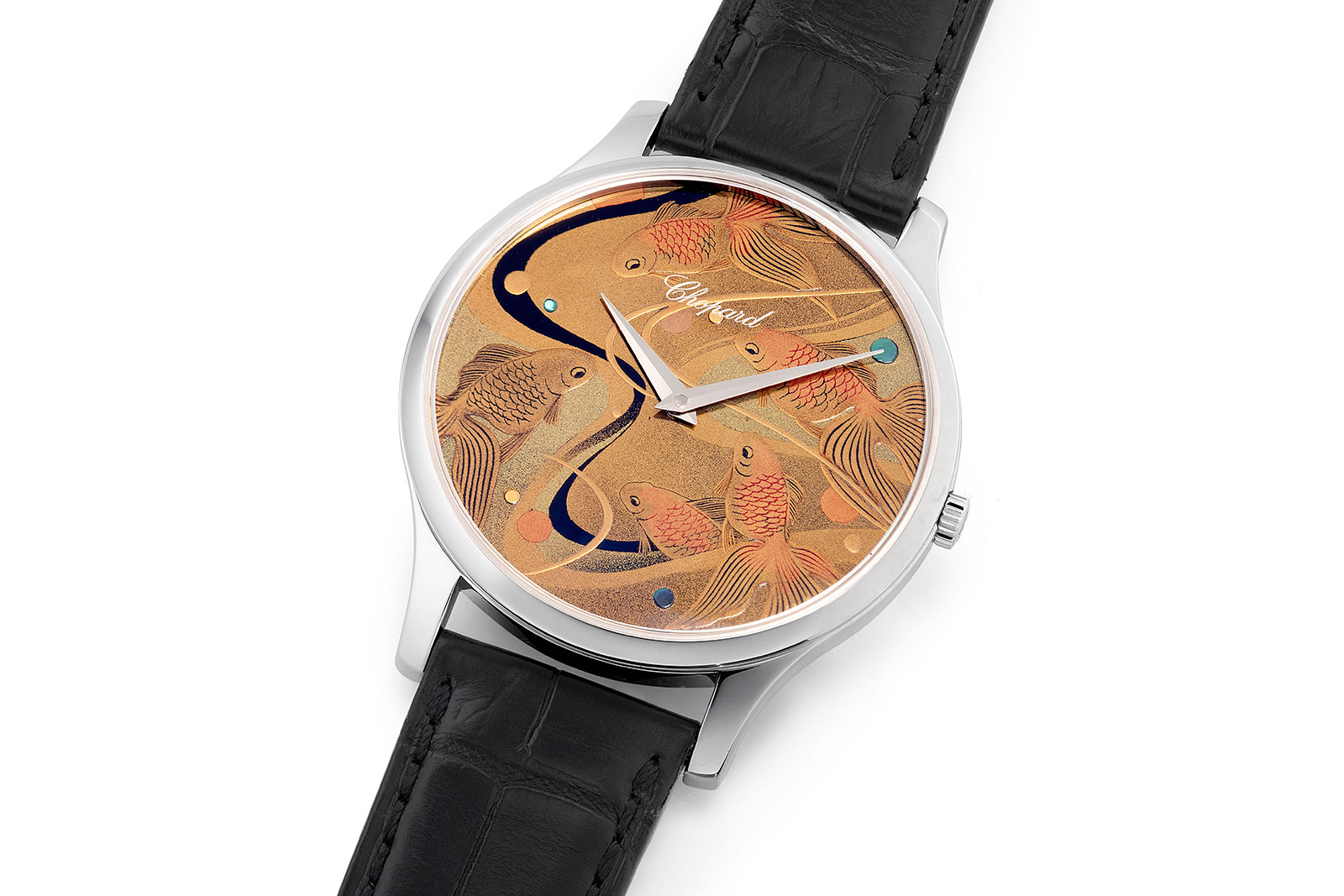 The lavishly decorated dial features five goldfish, a symbol of prosperity in East Asian culture. Created with artfully sprinkled gold, silver, and copper dust, as well as mother of pearl, all set against a glossy Urushi background, the dial is lively and lustrous.
Complementing the dial is the cal. 3.96, an in-house automatic movement with micro-rotor that is sophisticated in construction and finely decorated.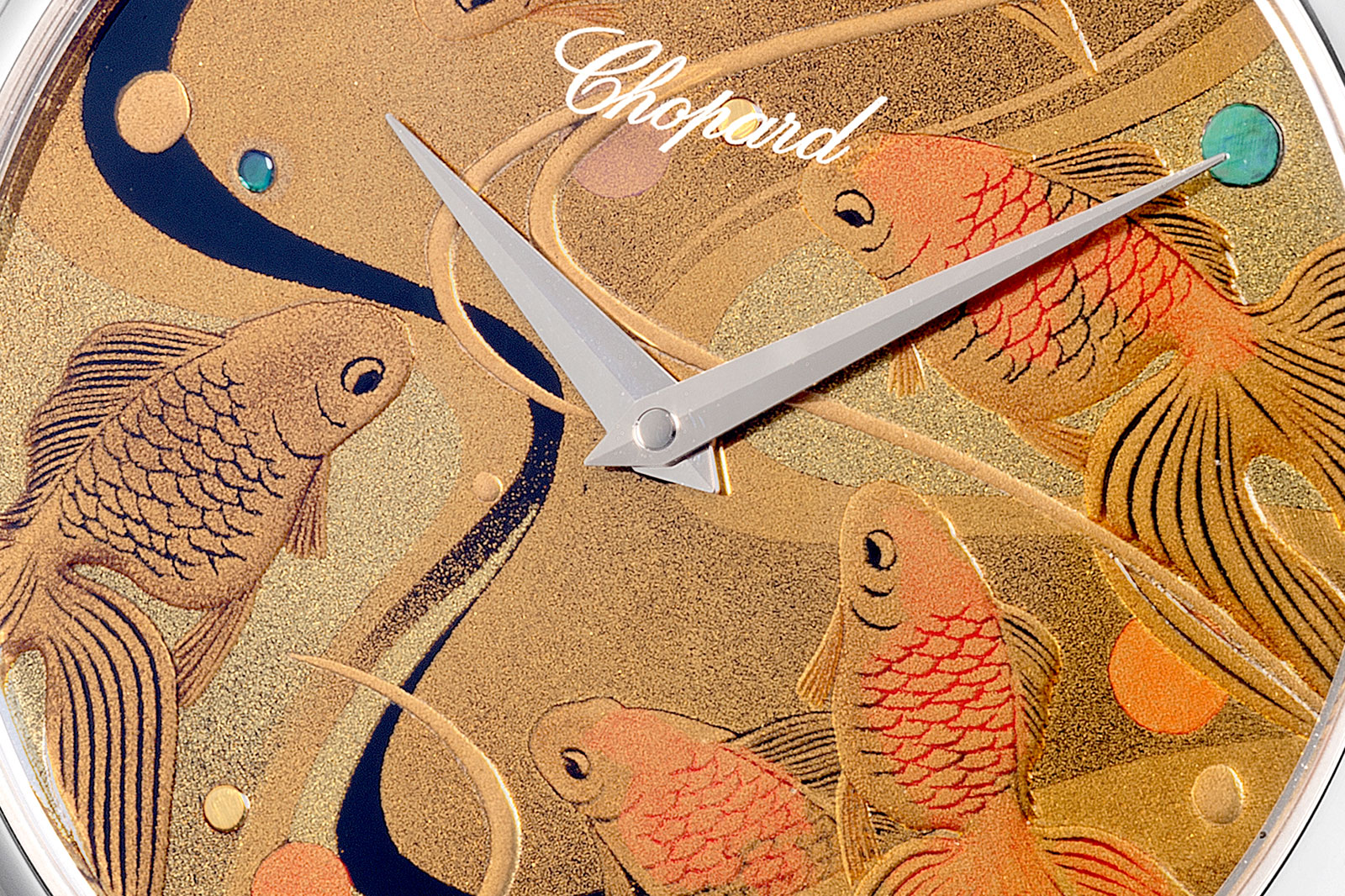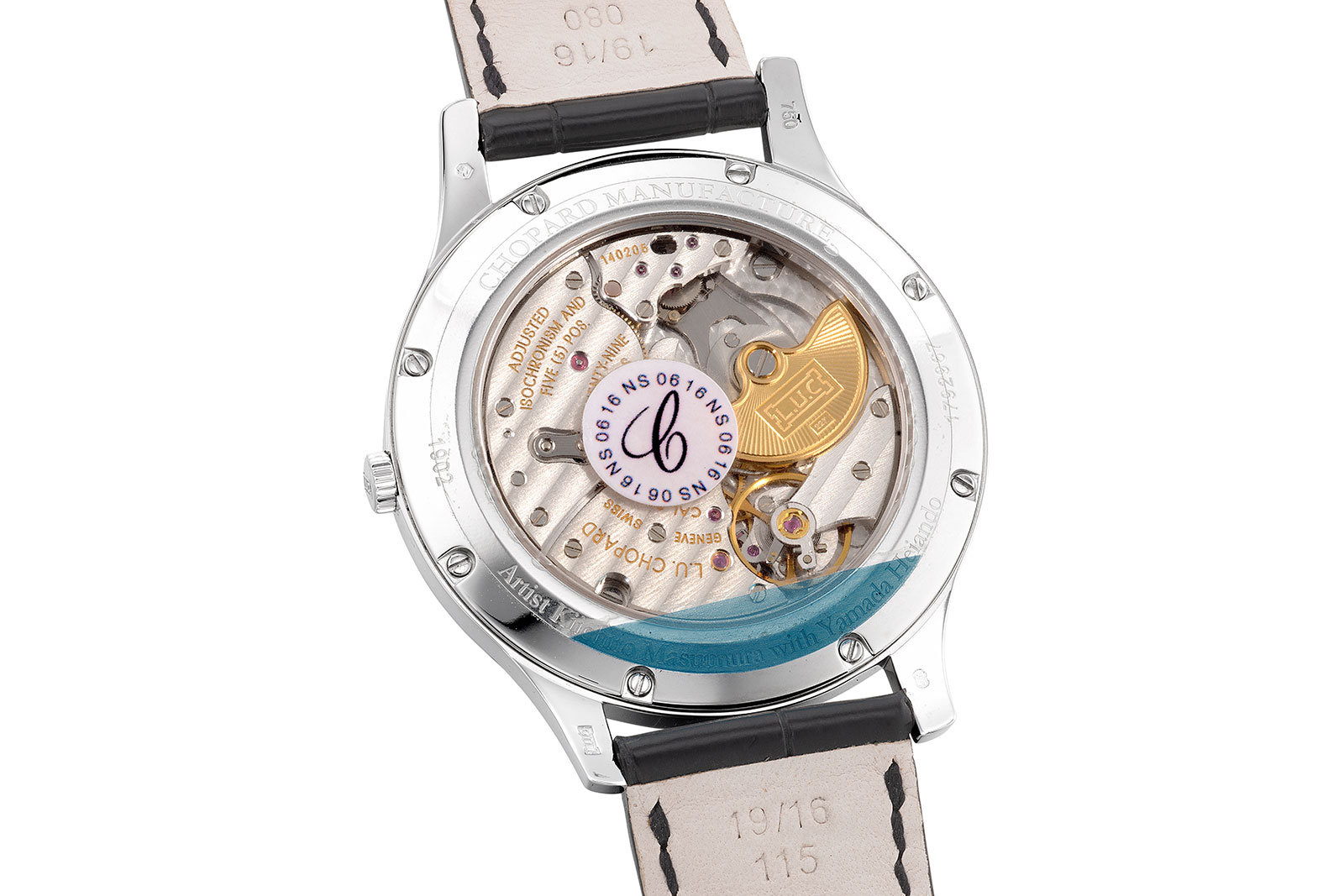 Complete with all accessories and in "like-new" condition – with even the case-back sticker in fact – the L.U.C is a value proposition with an estimate of HK$80,000-160,000, or about US$10,300-20,500.
---
Lot 67 – Rolex Datejust ref. 16234 with blue sodalite dial
Arguably the definitive Rolex, the Datejust is available in a bewildering diversity of dial styles, including semiprecious stone. The highlight of this 36 mm Datejust is the unusual dial in sodalite, a blue-and-white speckled mineral that is difficult to work due to its hardness.
The dial is complemented by diamond indices, but with the case and bracelet being monochromatic steel and white gold, the overall look is casual and fairly low key.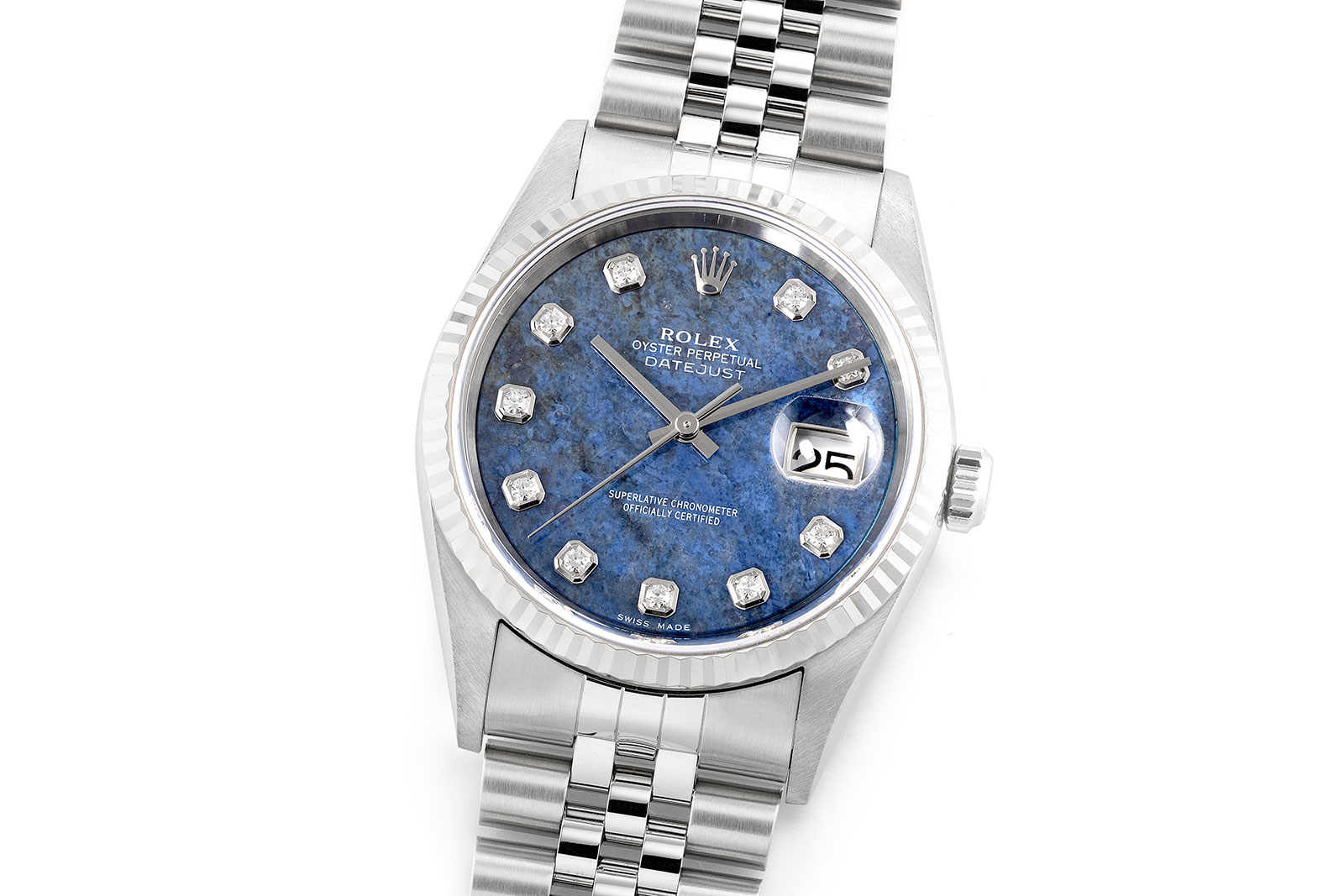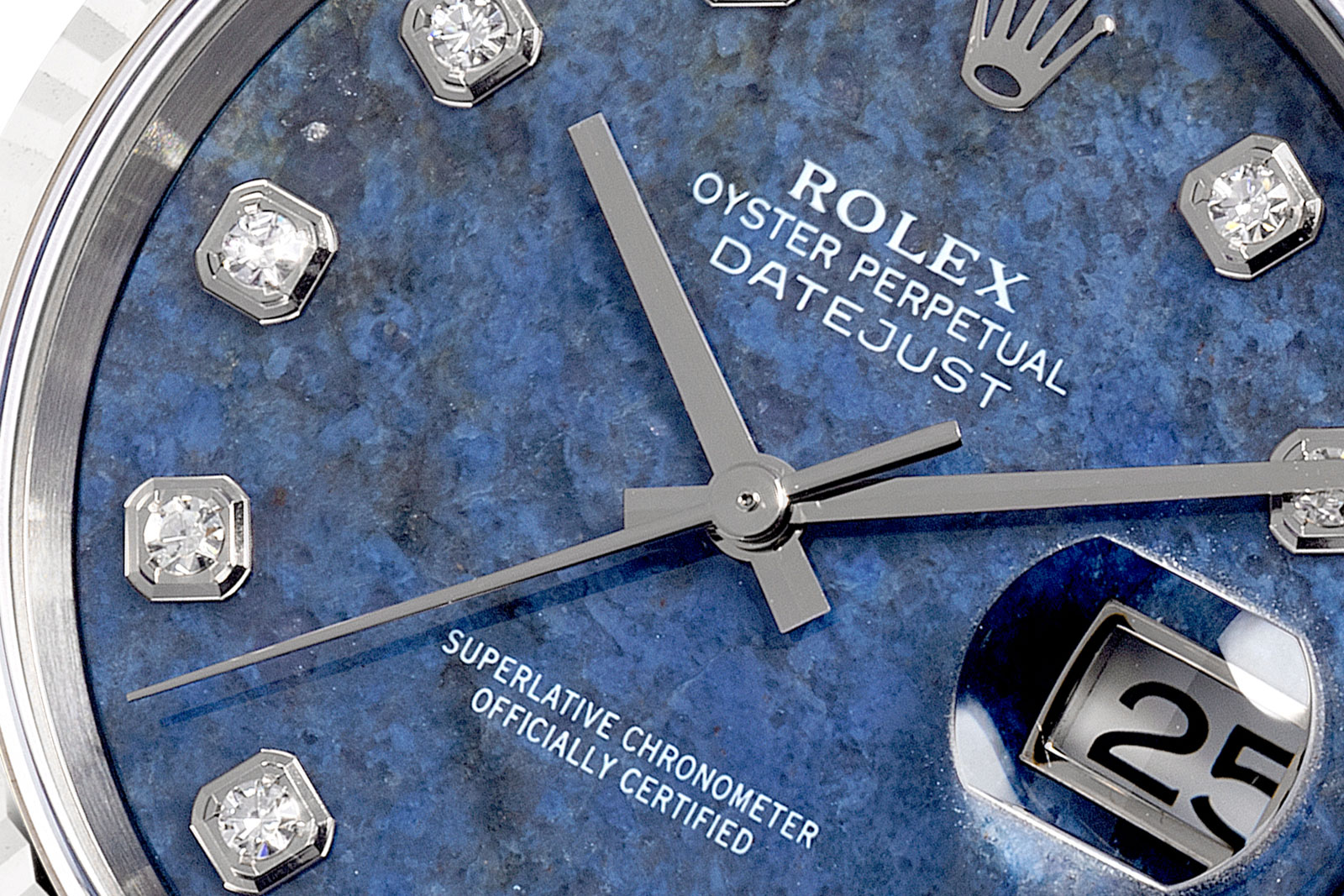 Offered in excellent condition with its case back sticker, albeit without its accessories, this Datejust is estimated at HK$55,000-110,000, or about US$7,100-14,100.
---
Lot 96 – IWC Da Vinci ref. 3750 in steel
One of the biggest bargains in complicated watches, the IWC Da Vinci combines both a perpetual calendar and chronograph – and can be had for well under US$10,000.
The key innovation of the Da Vinci was the ingenious, easily-operable perpetual calendar where all adjustment are made via the crown instead of case-band correctors. Designed by the venerable Kurt Klaus, the perpetual calendar module was installed on the rock-solid Valjoux 7750. But the 7750 case left it a relatively thick watch, especially given the 38.5 mm diameter, which does make the Da Vinci one of the more wearable perpetual-calendar chronographs on the market.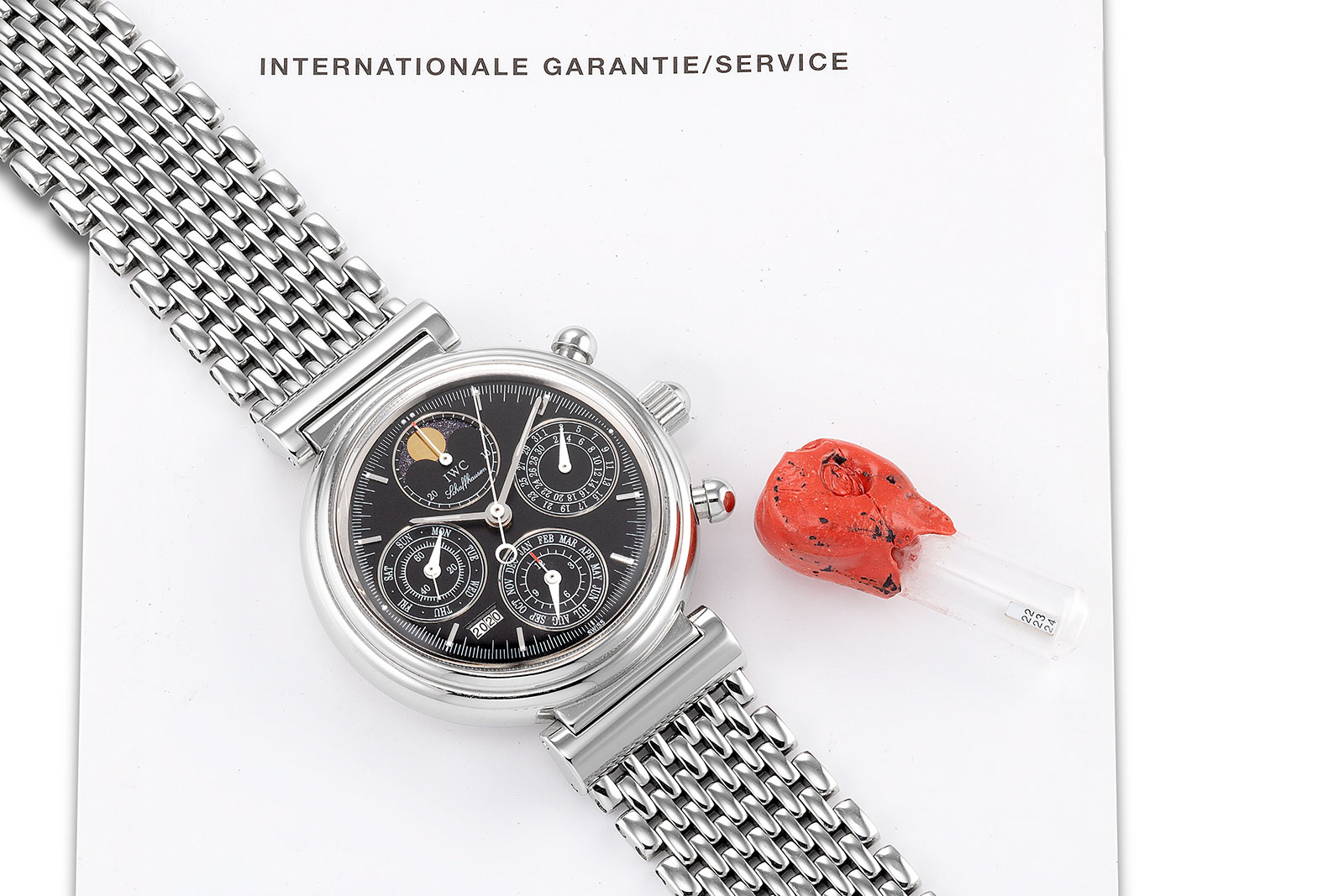 Because of the base movement and smart construction, the watch is surprisingly robust for a 1980s-era complication. Its affordability can be ascribed to two factors: the large number produced, making it quite common; and the love-it-or-hate-it lugs.
This example is in steel with the original mesh bracelet, giving its more modern look than the trademark yellow-gold model that is also more common.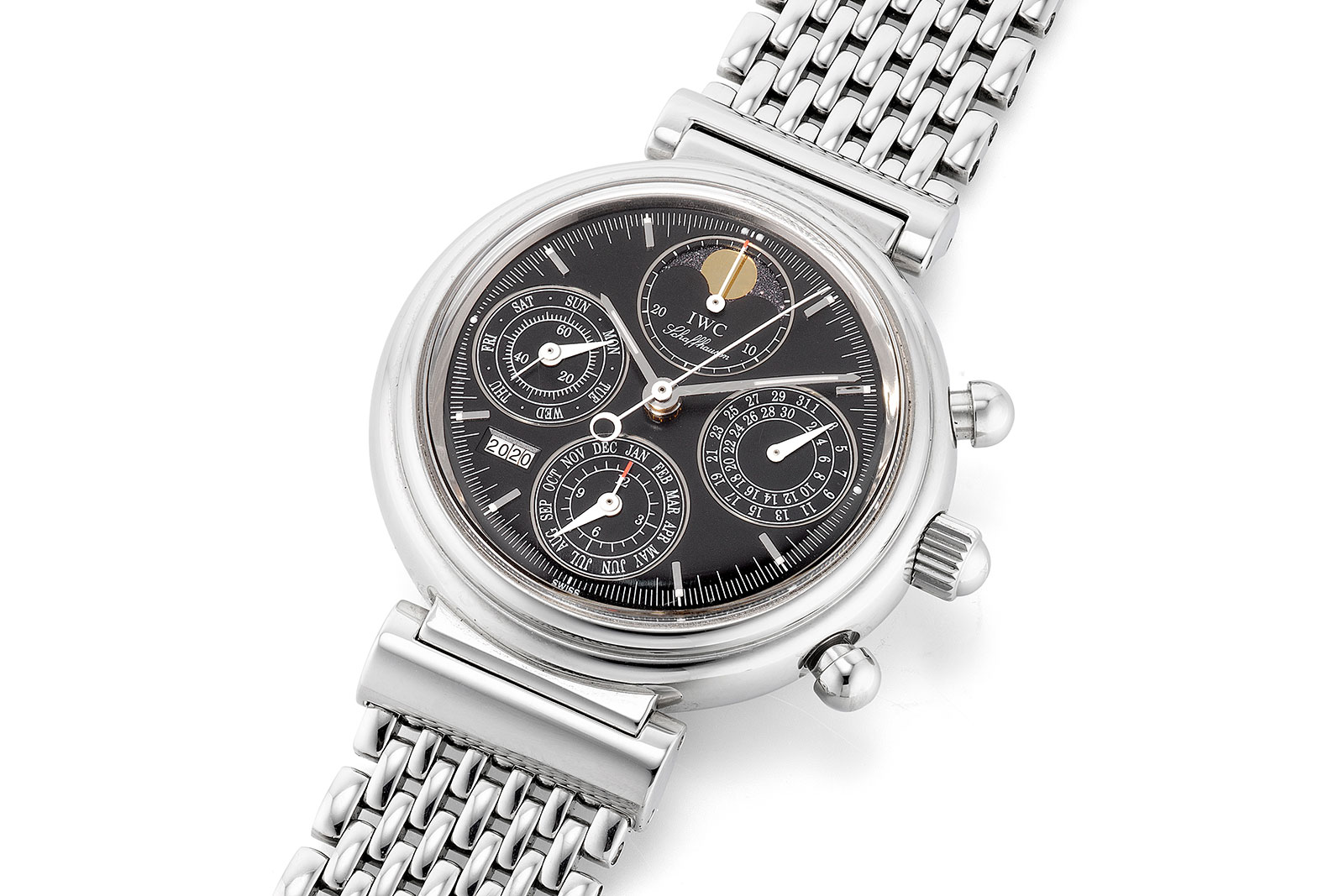 It is offered with boxes and papers – including a tiny glass vial containing the centuries slide for the perpetual calendar – and show some signs of use on the case band. The estimate is HK$45,000-74,000, or about US$5,800-9,500.
---
Lot 97 – Minerva Pythagore
One of the darlings of watch collectors in the late 1990s and early 2000s, the Minerva Pythagore is a classic Swiss wristwatch in design and size.
This example has a silver dial with contrasting surfaces to create a two-tone effect: a vertically brushed centre and circular-grained chapter ring. The case is an elegant but small 34 mm, making it an attractive and versatile time-only watch.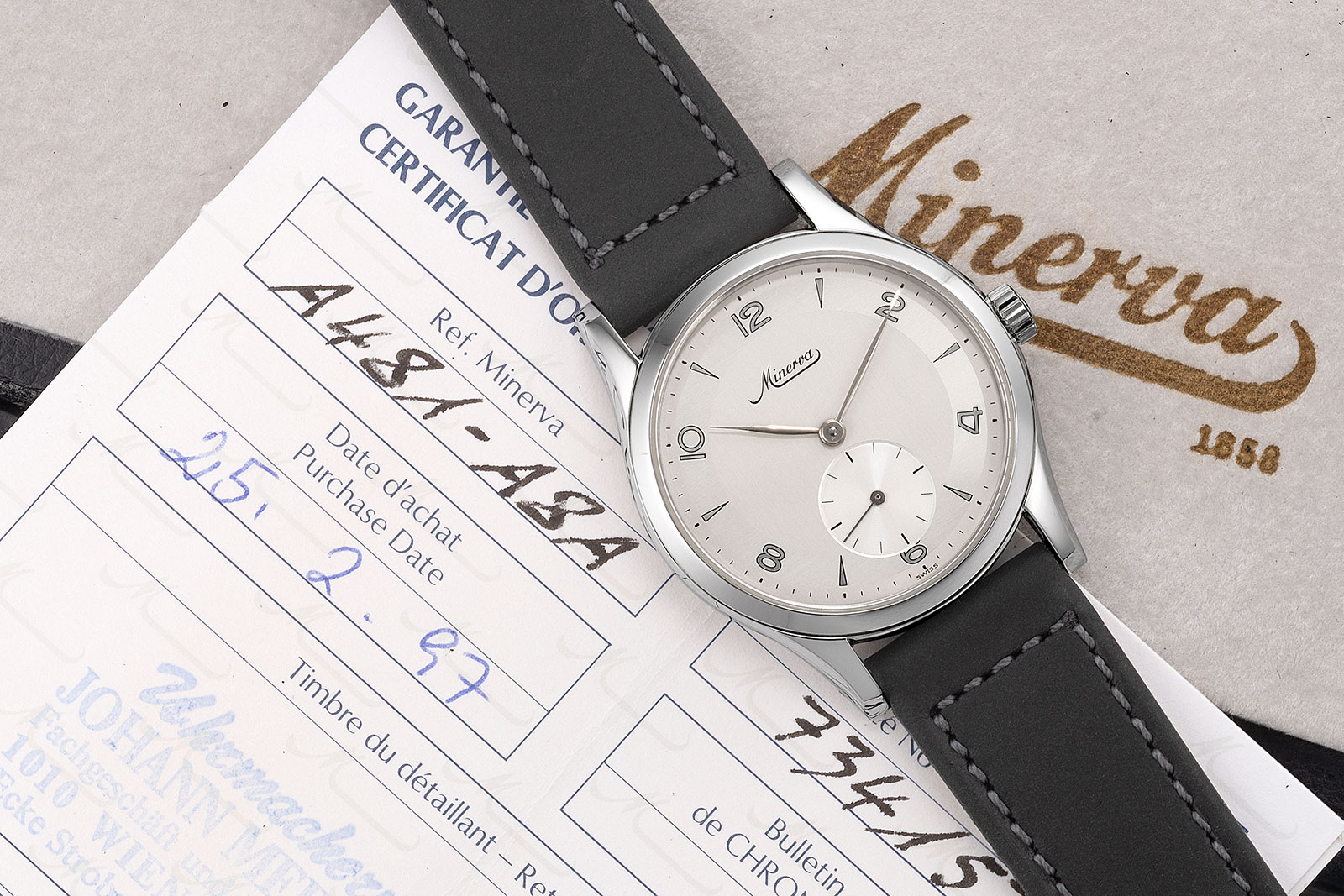 Inside is the manual-wind cal. 48 that was designed in 1943 by Andre Frey, whose family owned the company Minerva until 2000. Inspired by Pythagoras' golden ratio, the layout of the cal. 48 is linear and parallel, which is an unusual departure from the curvaceous bridges of mid-20th century Swiss watchmaking. In fact, the cal. 48 was later redesigned by Minerva's new owners, giving it more classical, flowing bridge shapes.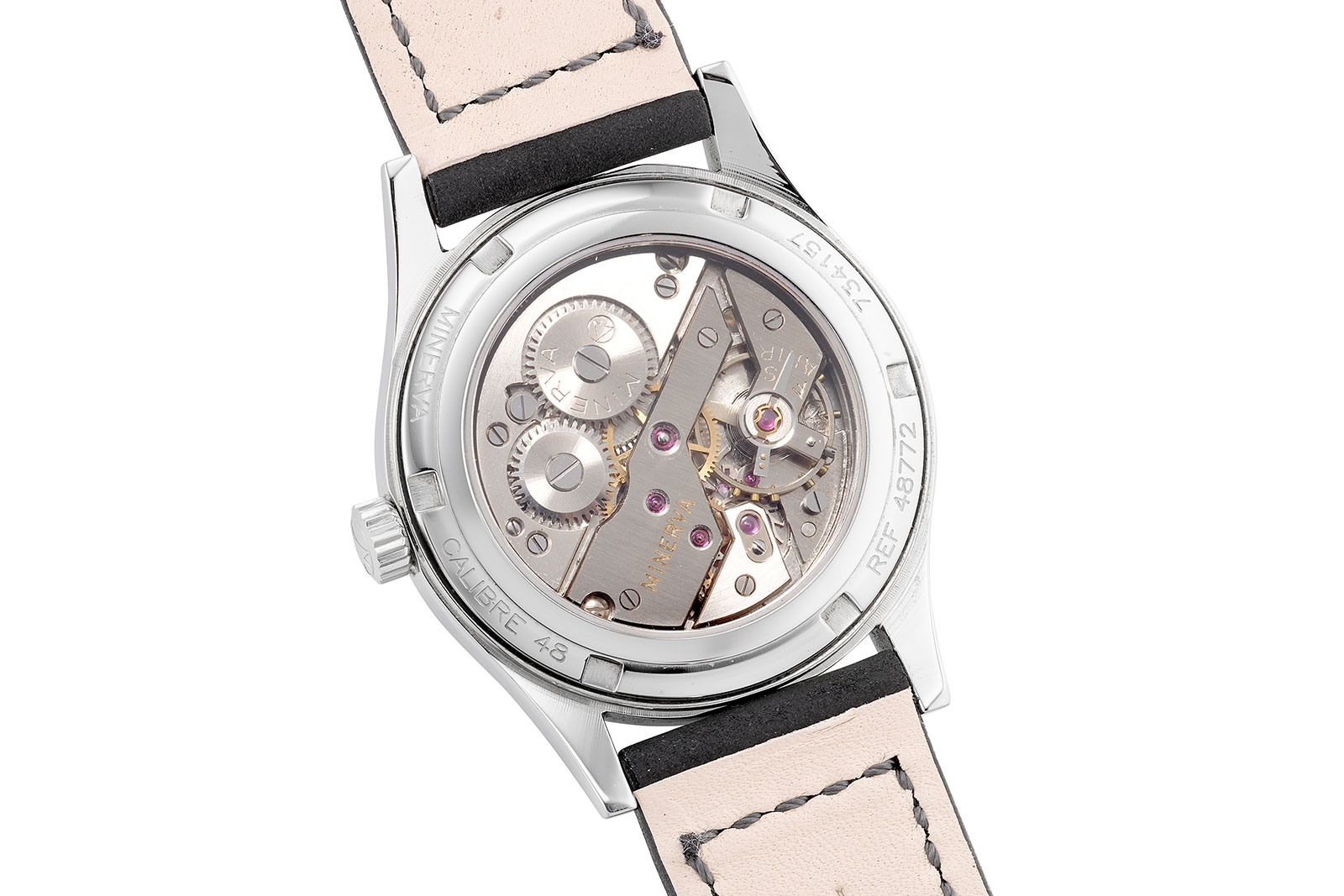 The feature example dates to 1997, and includes the original guarantee and box. It has an estimate of HK$8,000-15,500, or about US $1,000-2,000, but has no reserve – so it might end up being a very good deal.
---
Lot 98 – Daniel Roth Premier Retrograde
One of the earliest independent watchmakers that became a brand, Daniel Roth was founded in 1998. The brand made a name for itself by combining Breguet-inspired aesthetics with its trademark "double ellipse" case.
This is a Premier from the early 2000s, part of a range conceived to be the brand's younger, hipper offering. It has a pinstripe guilloche "salmon" dial with blued steel hands, along with red accents and luminous numerals for a youthful touch.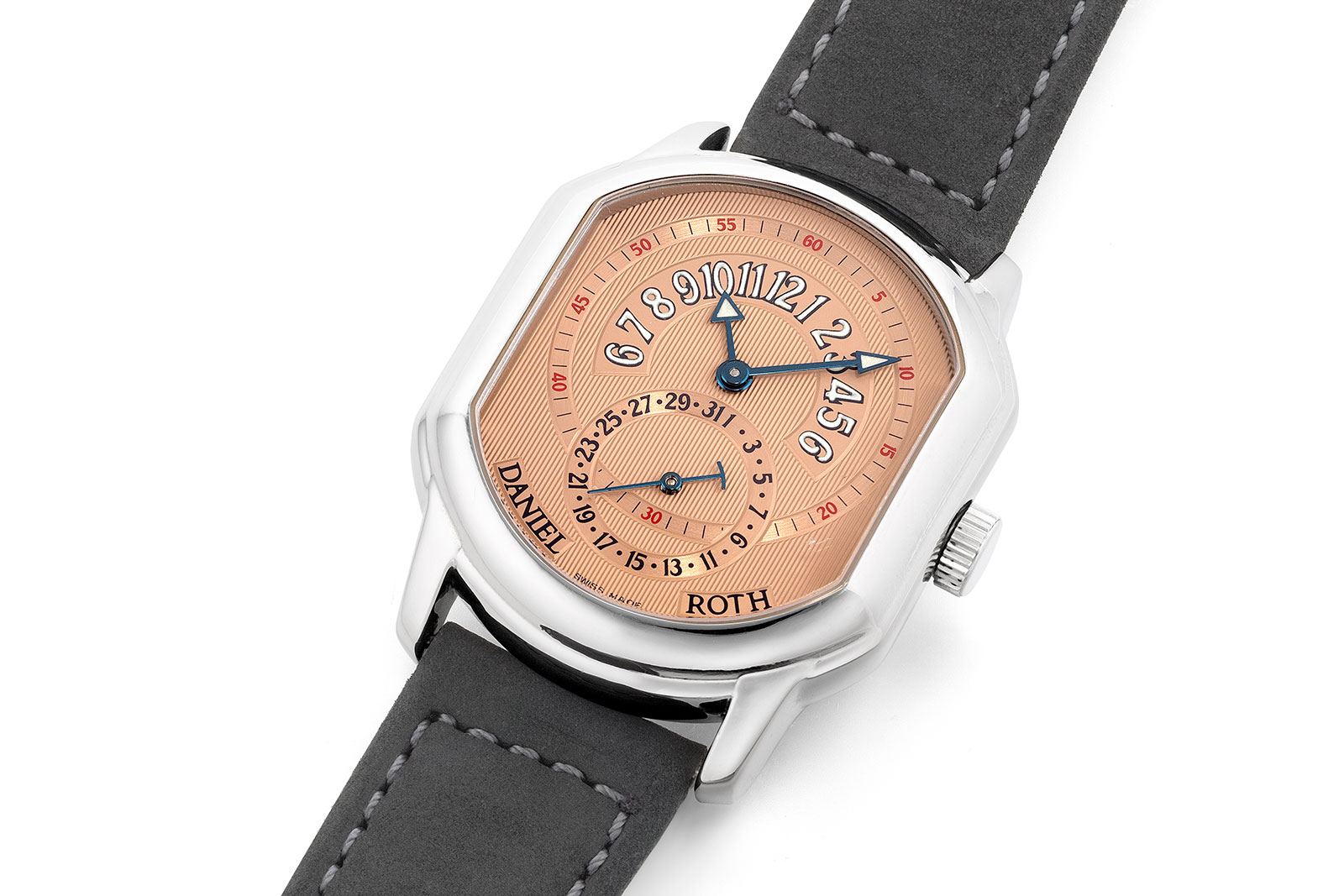 The time is indicated with a retrograde hours display, a signature complication of the brand and one that was inspired by the work of Abraham-Louis Breguet. The hour hand travels across an arc before jumping back to zero at six o'clock, while the minute hand moves conventionally, as does the date indicator at six. It is powered by an in-house complications module on an ETA base movement.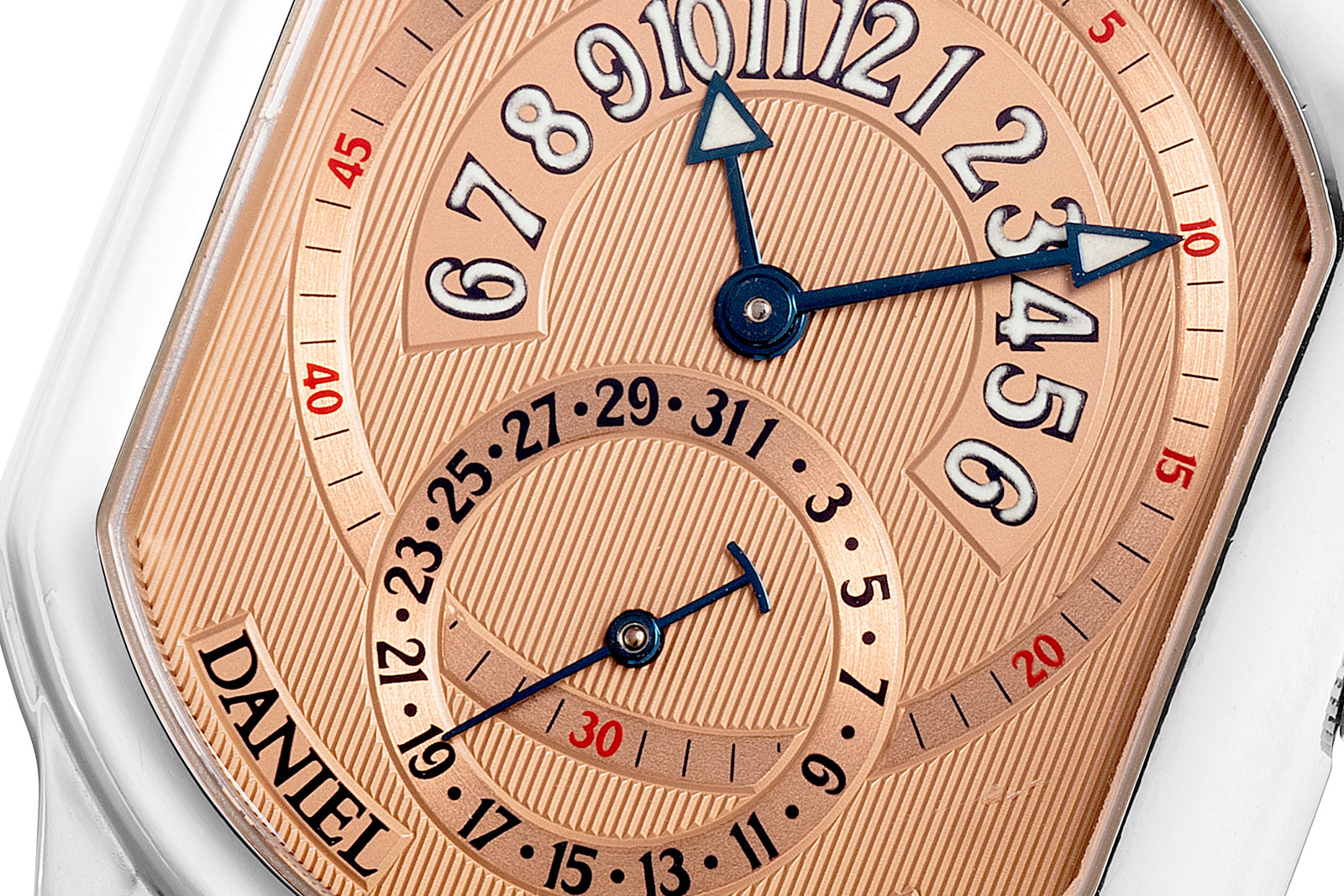 The estimate is HK$24,000-40,000, or about US$3,100-5,100, and it has no reserve.Lot
---
Lot 106 – Breitling Cosmonaute Ref. 809
A pioneer in aviation watches, Breitling introduced the slide-rule bezel in 1940s, which has since become part of the brand's iconic watch introduced in 1954, the Navitimer. This is essentially a more elaborate Navitimer, conceived for timekeeping in space, hence the 24-hour dial.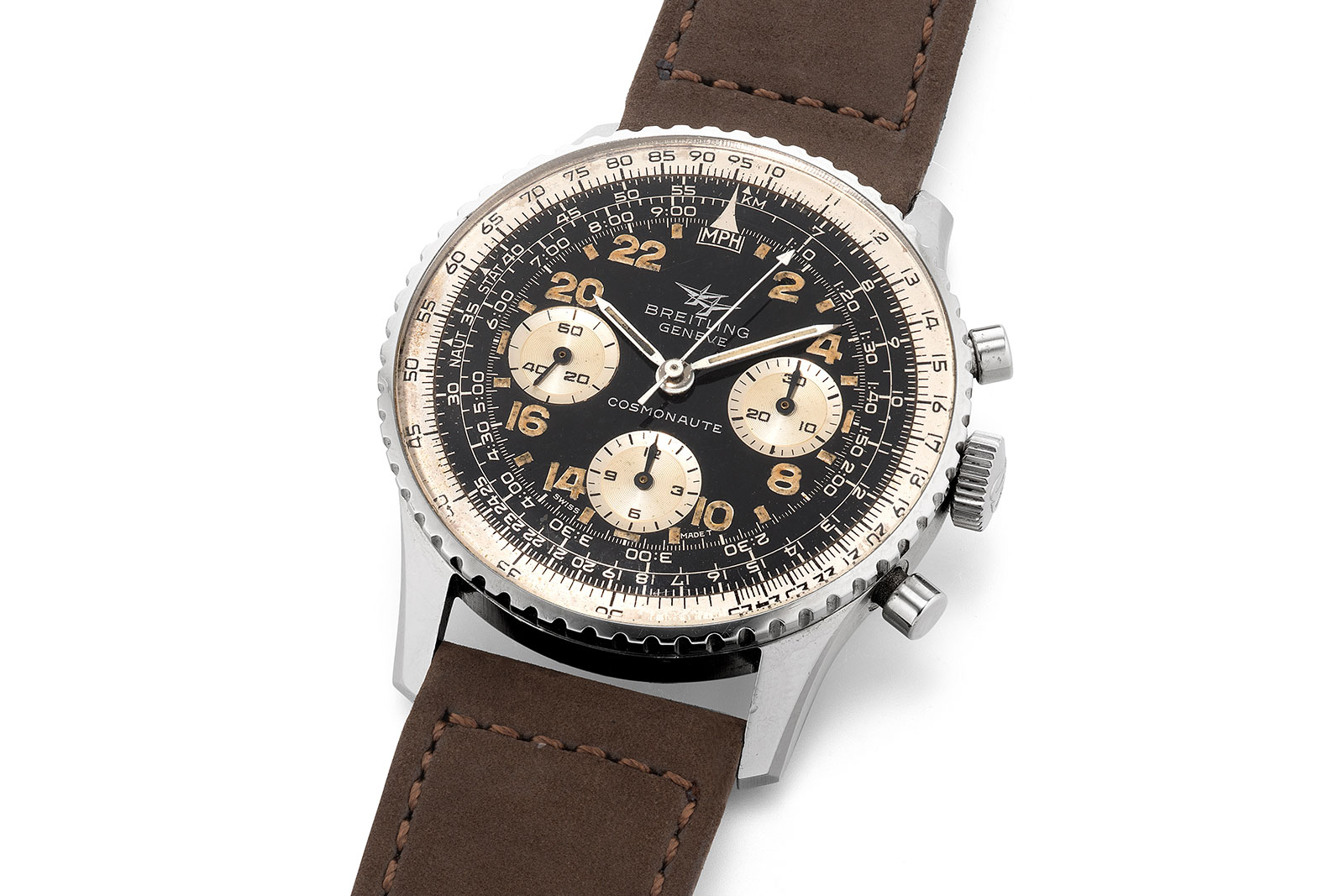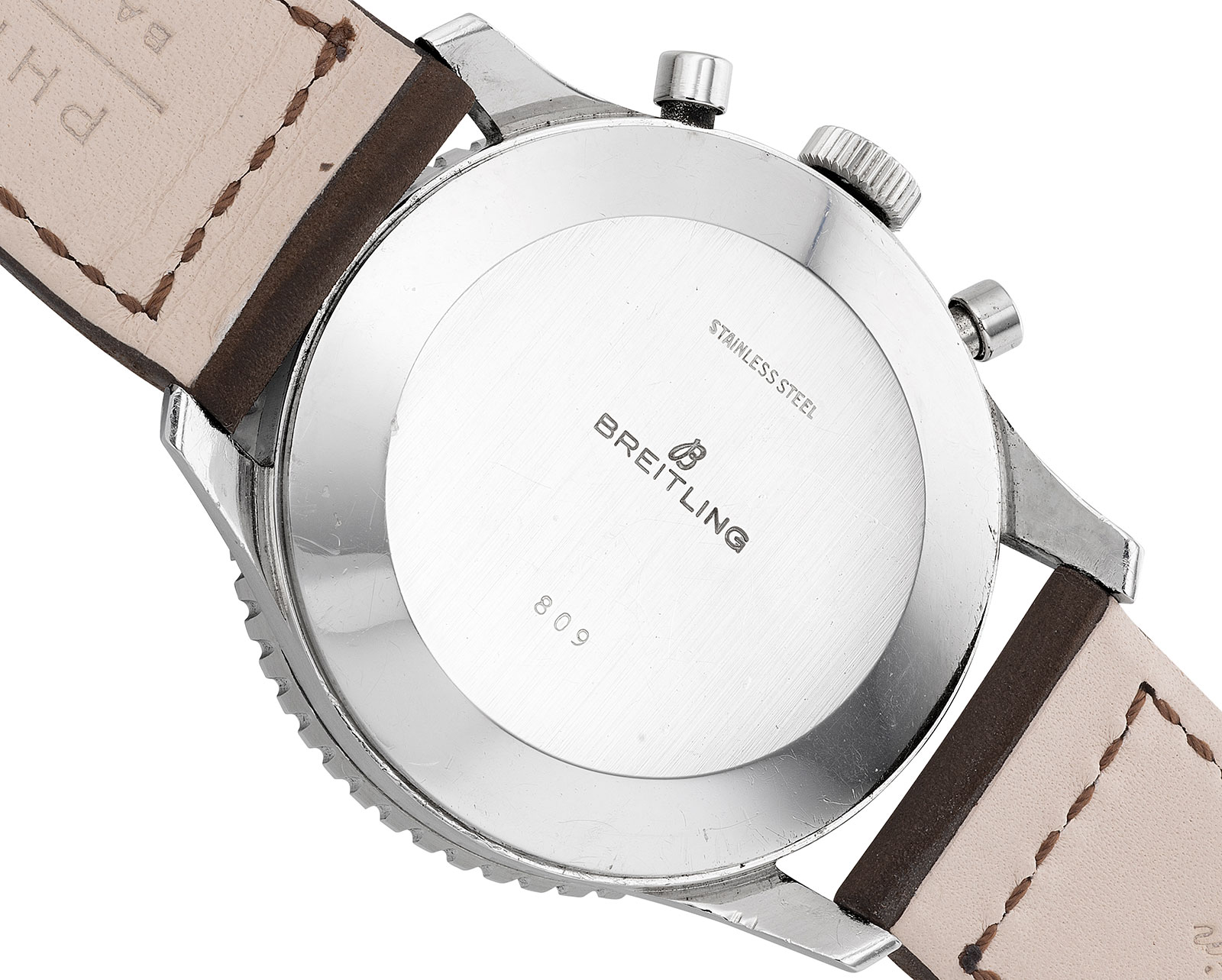 The Cosmonaute originated in 1959 with a request from astronaut Scott Carpenter, who wanted a 24-hour version of the Navitimer that would make it easy to know whether it was day or night on Earth while in orbit.
Making their debut in 1961, the earliest examples of the 24-hour chronograph retained the Navitimer name and model reference of "806", while having a 24-hour dial. But within several months, the watch came into its own when it was christened the Cosmonaute, and given the model reference "809".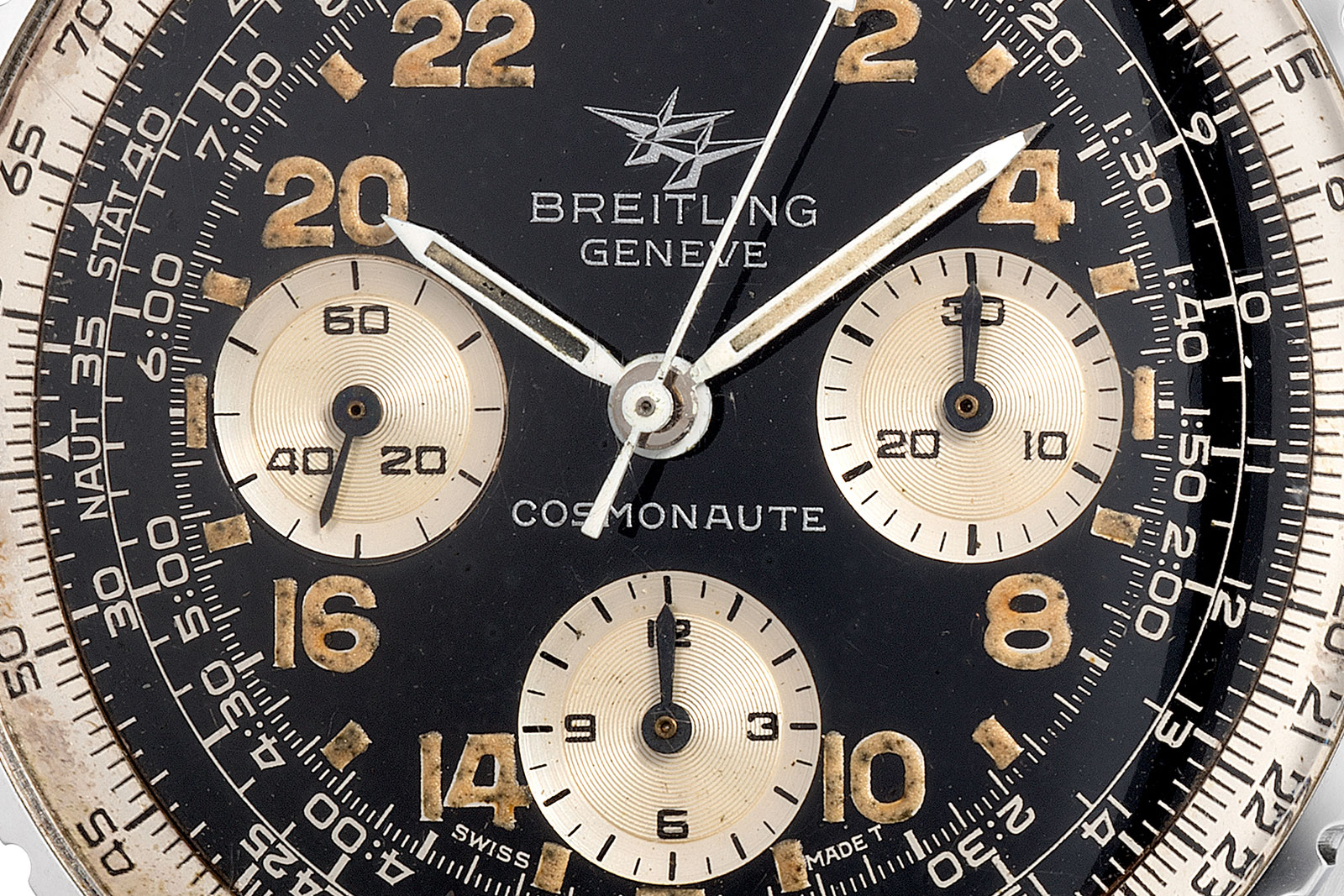 Dating to 1968, this example shows the ageing typical of the Navitimer and Cosmonaute, which were both not water resistant timepieces. It shows ageing on the dial, with slight staining on the bezel and darkening of the radium "lume", but is preserved well for this type of watch.
This has an estimate of HK$25,000-45,000, or about US$3,200-5,800.
---
Auction information
Intersect closes at 6 pm (GMT+8) on September 14, 2020.
All lots are available for viewing at Phillips' gallery in Hong Kong at St. George's Building in Central, but only by appointment. The full catalogue and online bidding are available on Phillips.com.
---
Back to top.
---
You may also enjoy these.