Up Close: Louis Vuitton Tambour Curve Flying Tourbillon
Sharply designed and finely executed.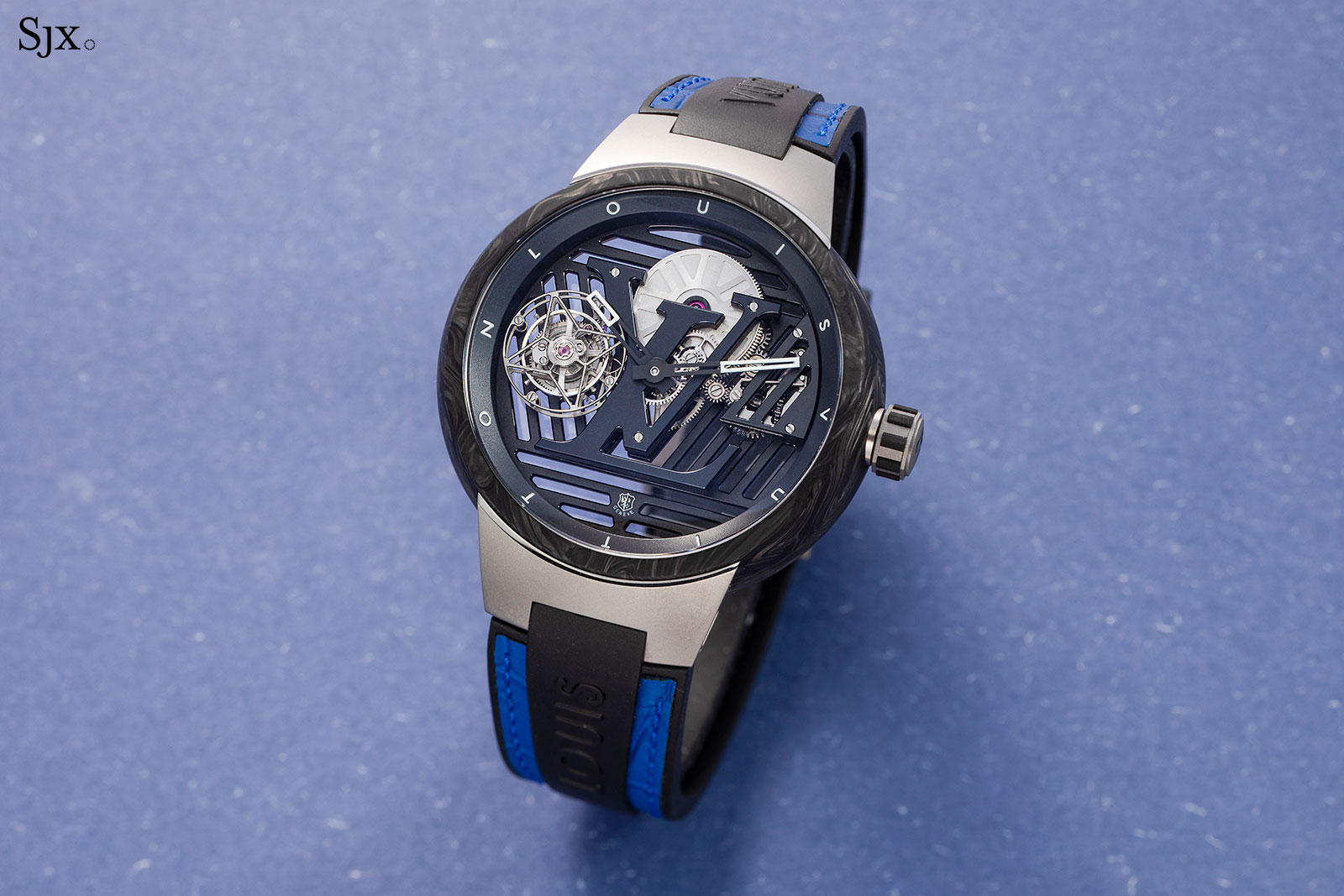 Since Louis Vuitton acquired complications specialist La Fabrique du Temps (LFDT) in 2012, the trunk maker has made impressive strides in its haute horlogerie. The newly launched Tambour Curve Flying Tourbillon Poinçon de Genève encapsulates Louis Vuitton's complicated watchmaking – confident, modern styling combined with a first-rate calibre.
Granted, the Tambour Curve is pricey – US$250,000 pricey – but it is clearly catered for a specific consumer. That buyer wants an ultra-high end, contemporary, and slightly sporty watch, the type of watch found in the segment dominated by Richard Mille and Hublot.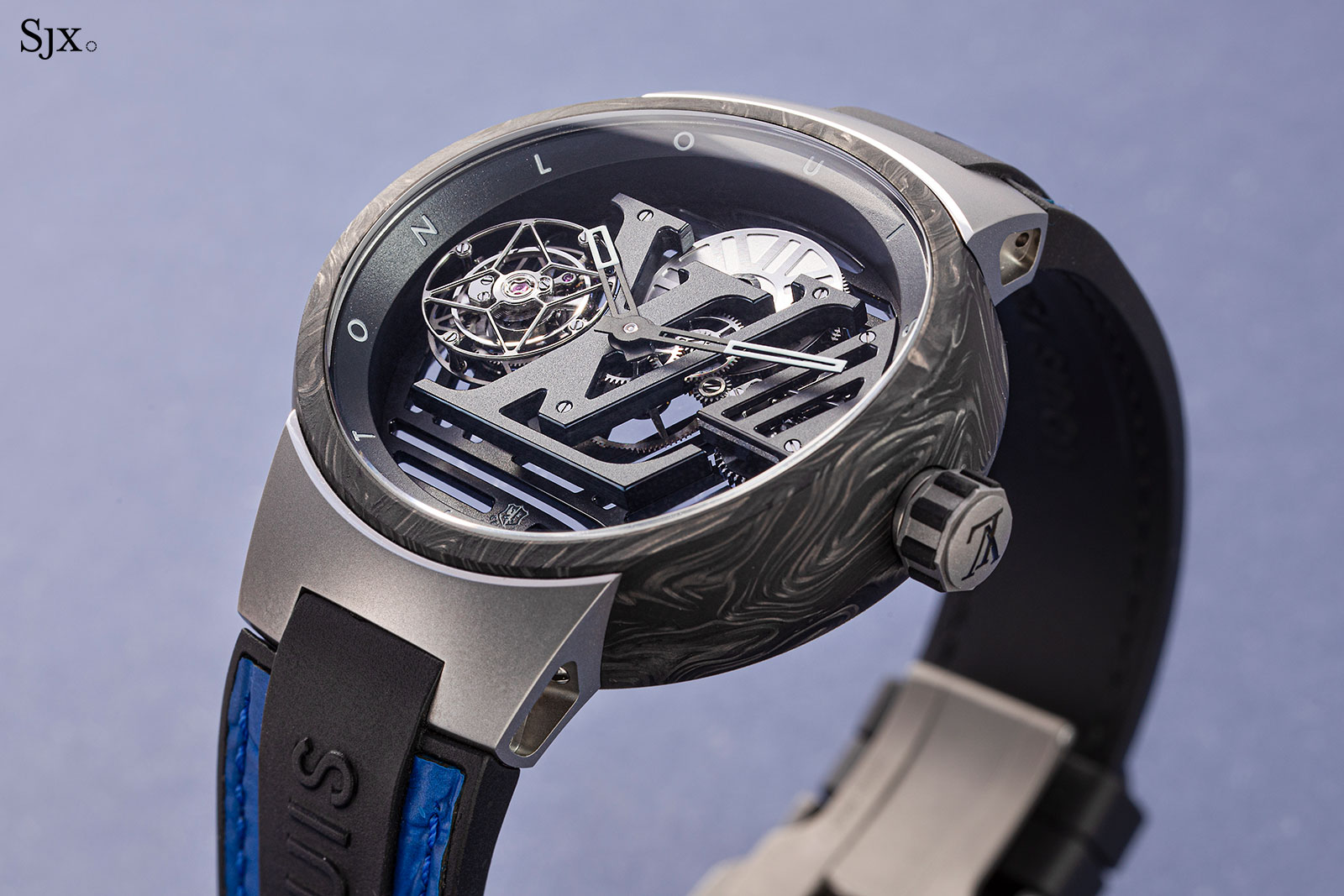 But Louis Vuitton has executed the Tambour Curve extremely well, creating an appealing – and importantly, cohesively designed – wristwatch that is more than just looks. The LV 108 movement inside was developed and made by LFDT, which is led by veteran watchmakers Michel Navas and Enrico Barbasini, both of whom I hold in very high regard.
Louis Vuitton long-term strategy in developing its watchmaking – essentially do it well and expensively – is demonstrated by the quality of the Tambour Curve. The brand could have gotten away with building a so-so watch, just because it is Louis Vuitton. But it didn't, and the Tambour Curve exhibits a notable level of attention to detail in styling and craft.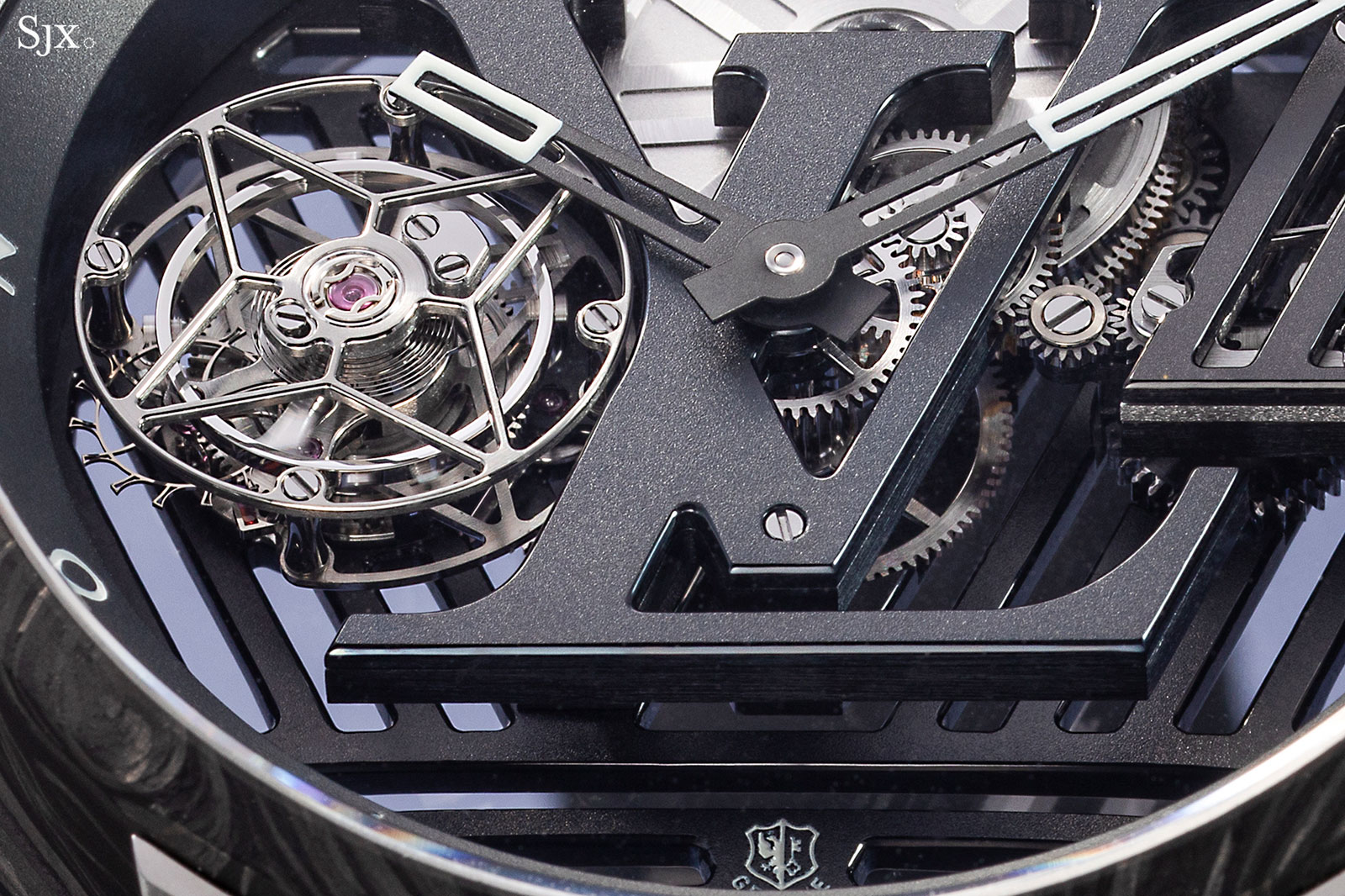 CarboStratum
The Tambour Curve is a big watch with a streamlined, rounded form that is almost organic. Not only is the case round, its flanks are concave, while its crystal is gently curved on the vertical axis.
The lugs, inner case and back are sandblasted titanium, while the outer case is a smooth, seamless shell of CarboStratum, a carbon-fibre composite. Though similar composites are widely used in watch cases, CarboStratum has a more refined structure, illustrating the attention to aesthetic detail in Louis Vuitton's watches.
CarboStratum has a fluidly patterned surface with much finer grain than usual, especially in the context of a wristwatch. While most carbon composites used for watch cases have either a striated, woodgrain-like appearance, or a slightly untidy, squiggly look, CarboStratum looks almost exactly like marbled paper.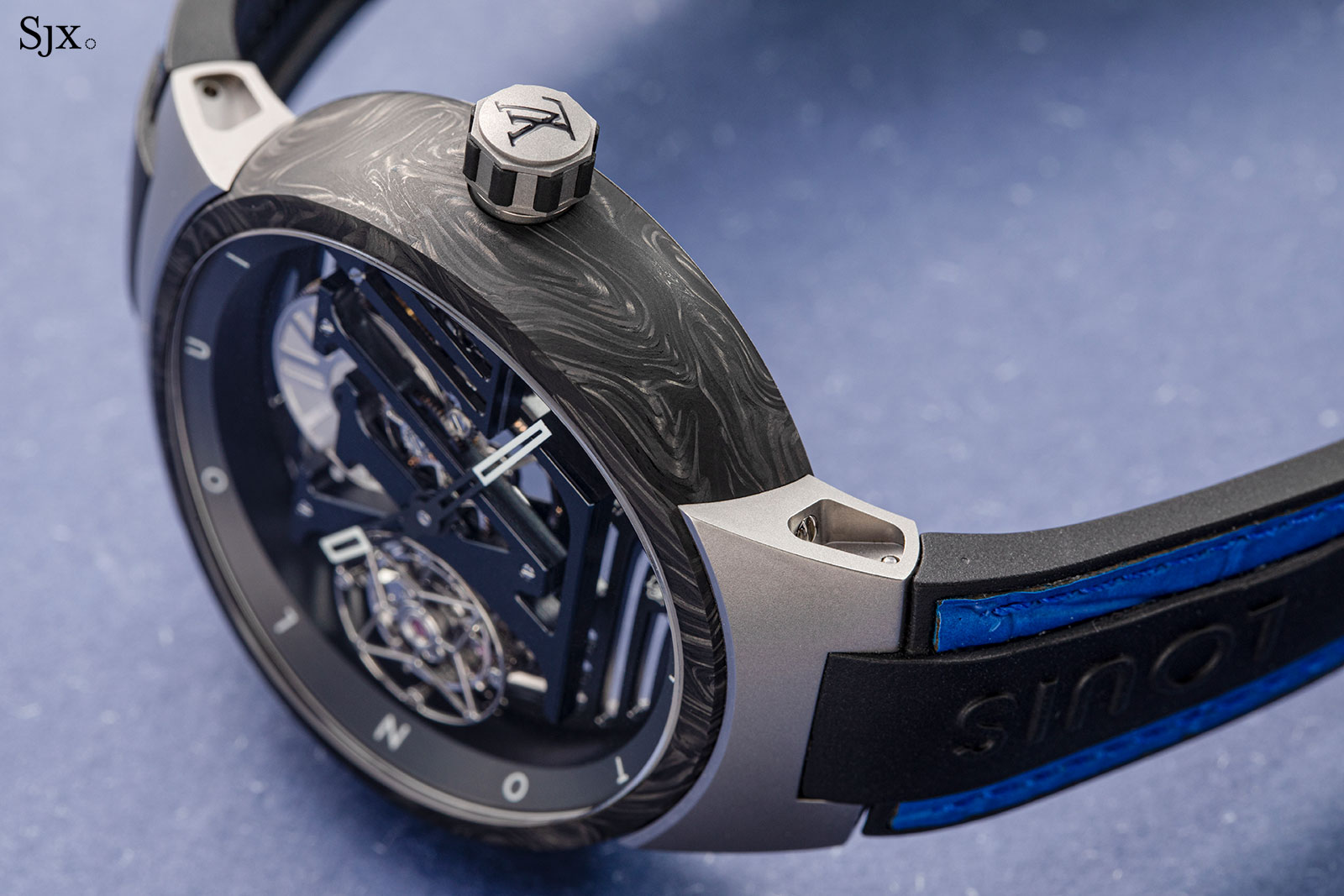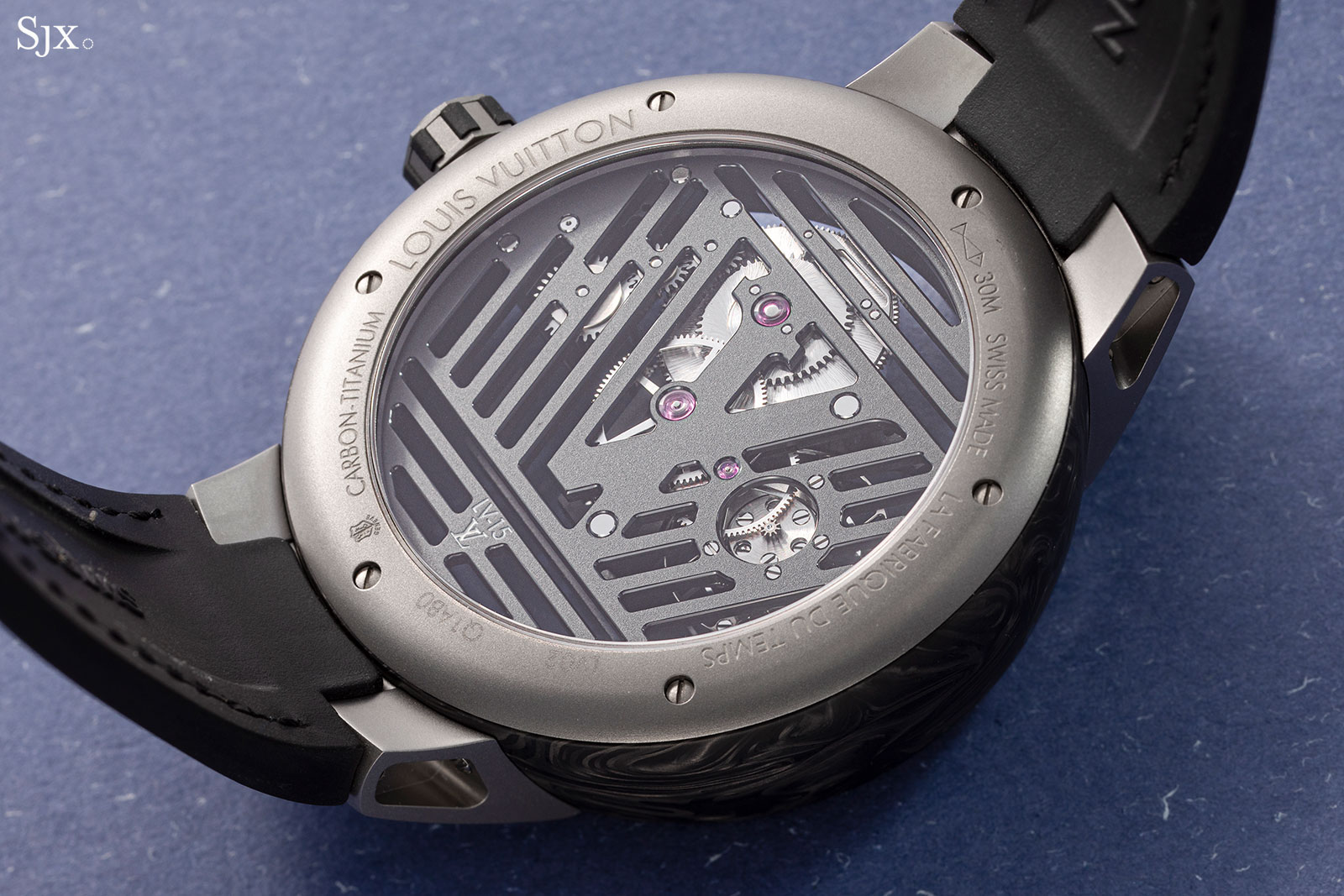 Fundamentally, however, CarboStratum is produced with the same process as any other carbon-fibre composite. Pieces of carbon fibre are randomly arranged in a liquid polymer – curation of the size, shape, and arrangement of the pieces are what create the marbled finish – which is then baked in an autoclave, an oven that operates at high temperature and pressure. The baking sets the polymer, creating a block of carbon-fibre composite that's then artfully machined into the shell for the case.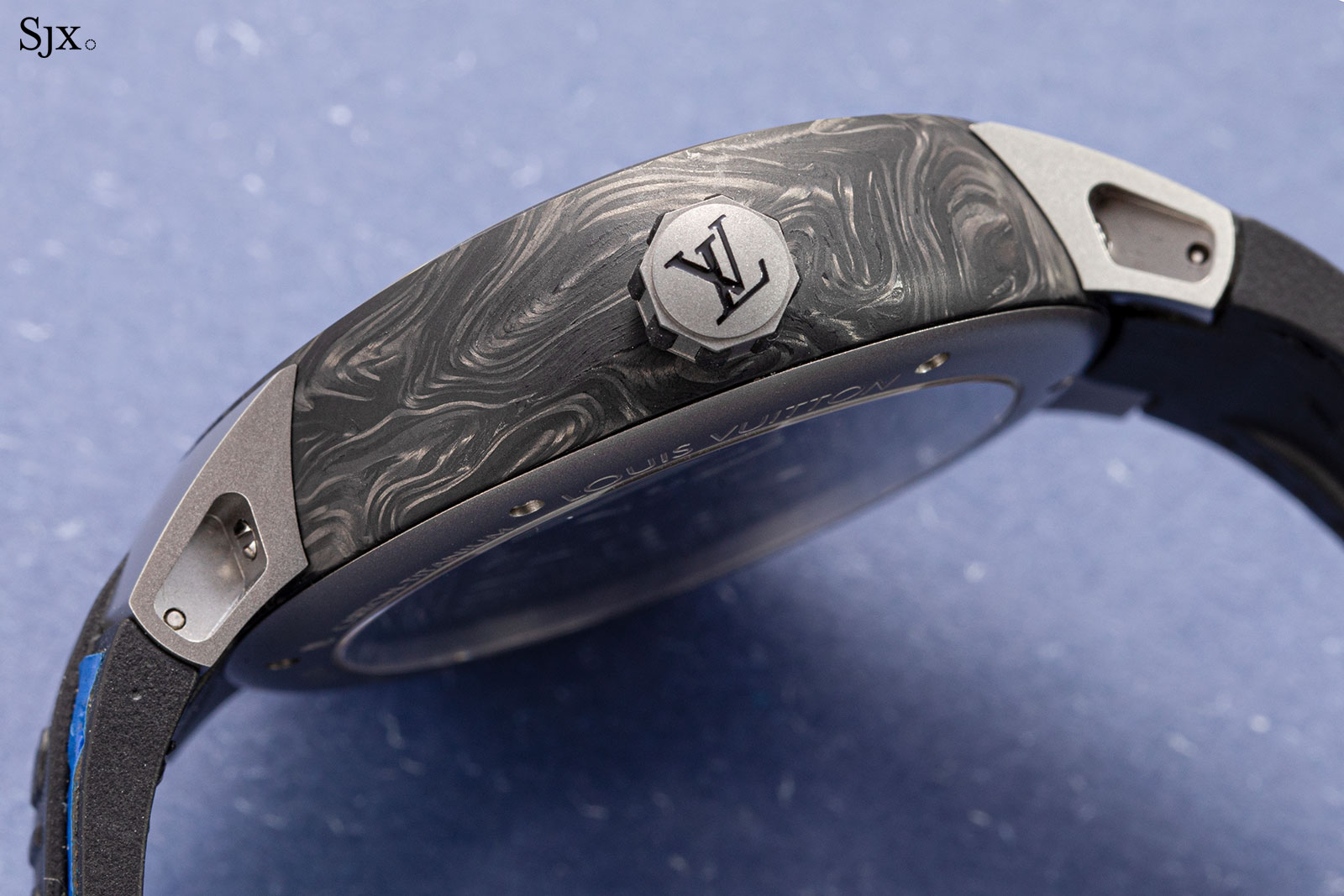 As a result of the materials, the case is strikingly lightweight. But it is also very big, measuring 46 mm in diameter and 12.75 mm high.
While Louis Vuitton has made similar large Tambour watches in the past, they were typically fitting to straps that pivoted at the lugs, improving the fit. The Tambour Curve, on the other hand, opts for a stiff, integrated rubber strap. As a result, the fit isn't great, which is usually the case for such straps.
The lugs are pretty standard, however, and would probably accommodate the standard Tambour watch straps, though that would mean sacrificing the sleek, unbroken line of the case and strap.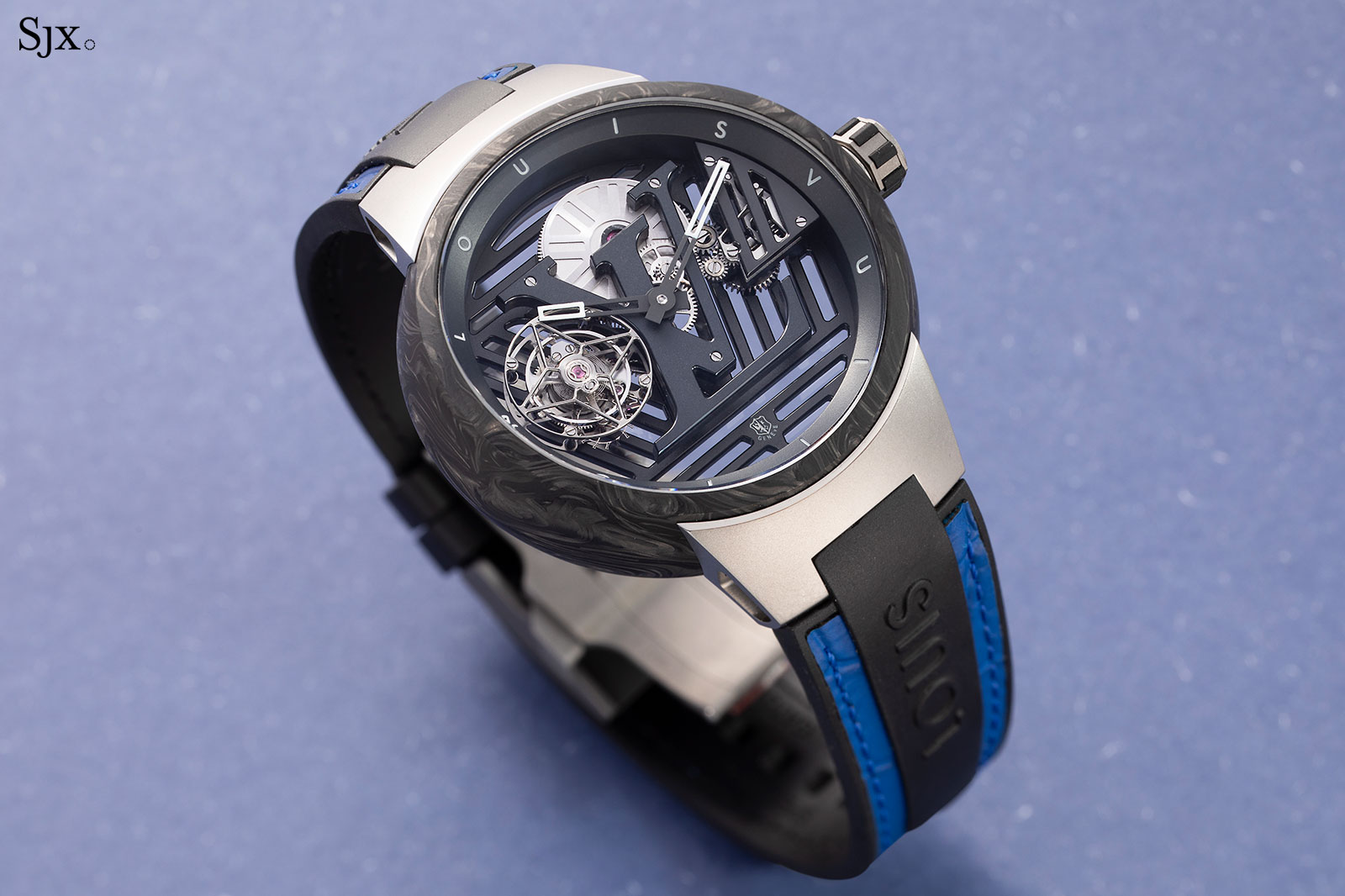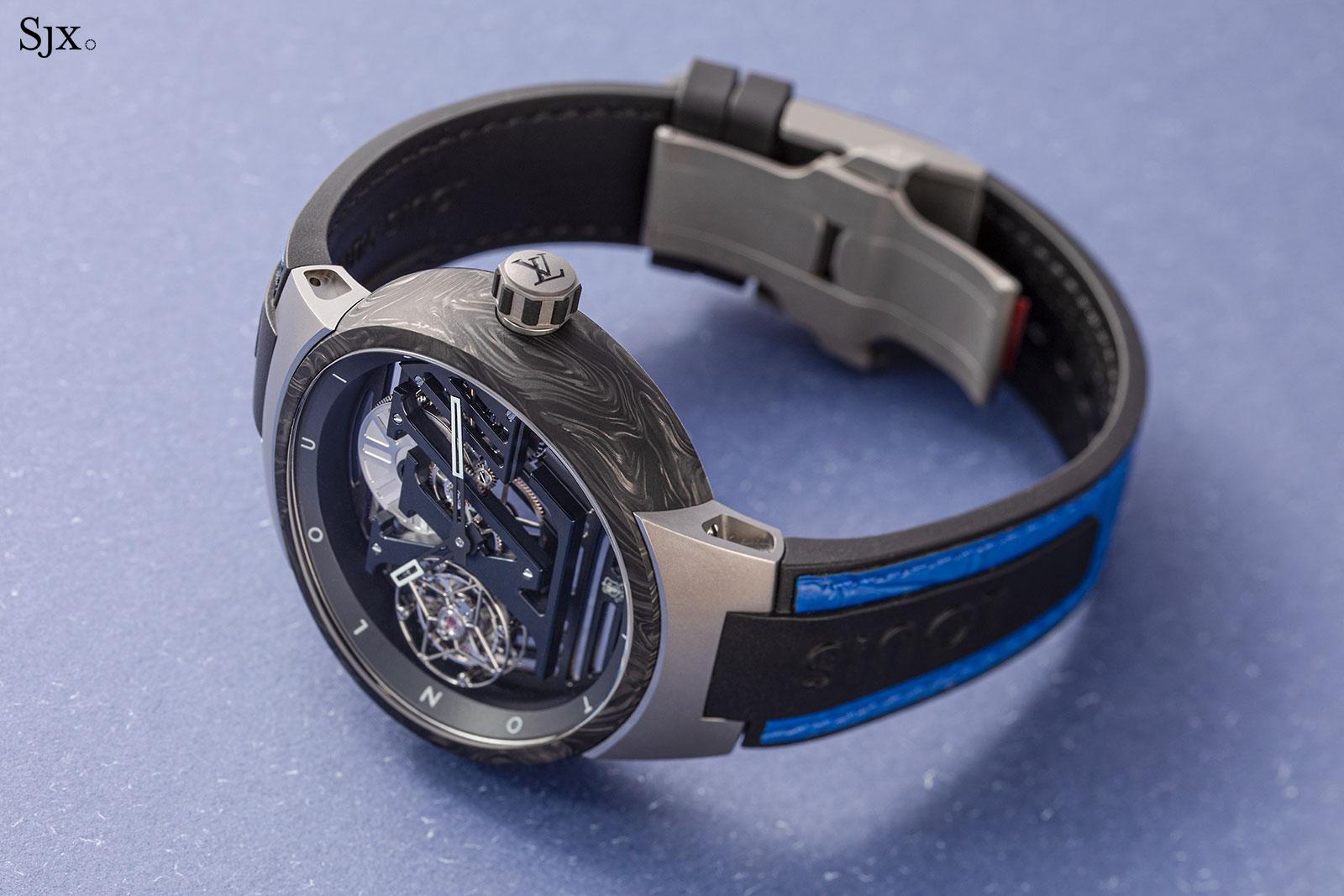 Unmistakably LV
The LV 108 movement inside is a hand-wound calibre with a one-minute flying tourbillon, 80-hour power reserve, and the Poinçon de Genève, otherwise known as Geneva Seal. It's also a skeleton movement constructed in a novel manner, but more obviously an over-the-top exclamation of the brand that brings to mind the creations of independent watchmaker Vincent Calabrese that have skeleton movements shaped like a letter of the alphabet.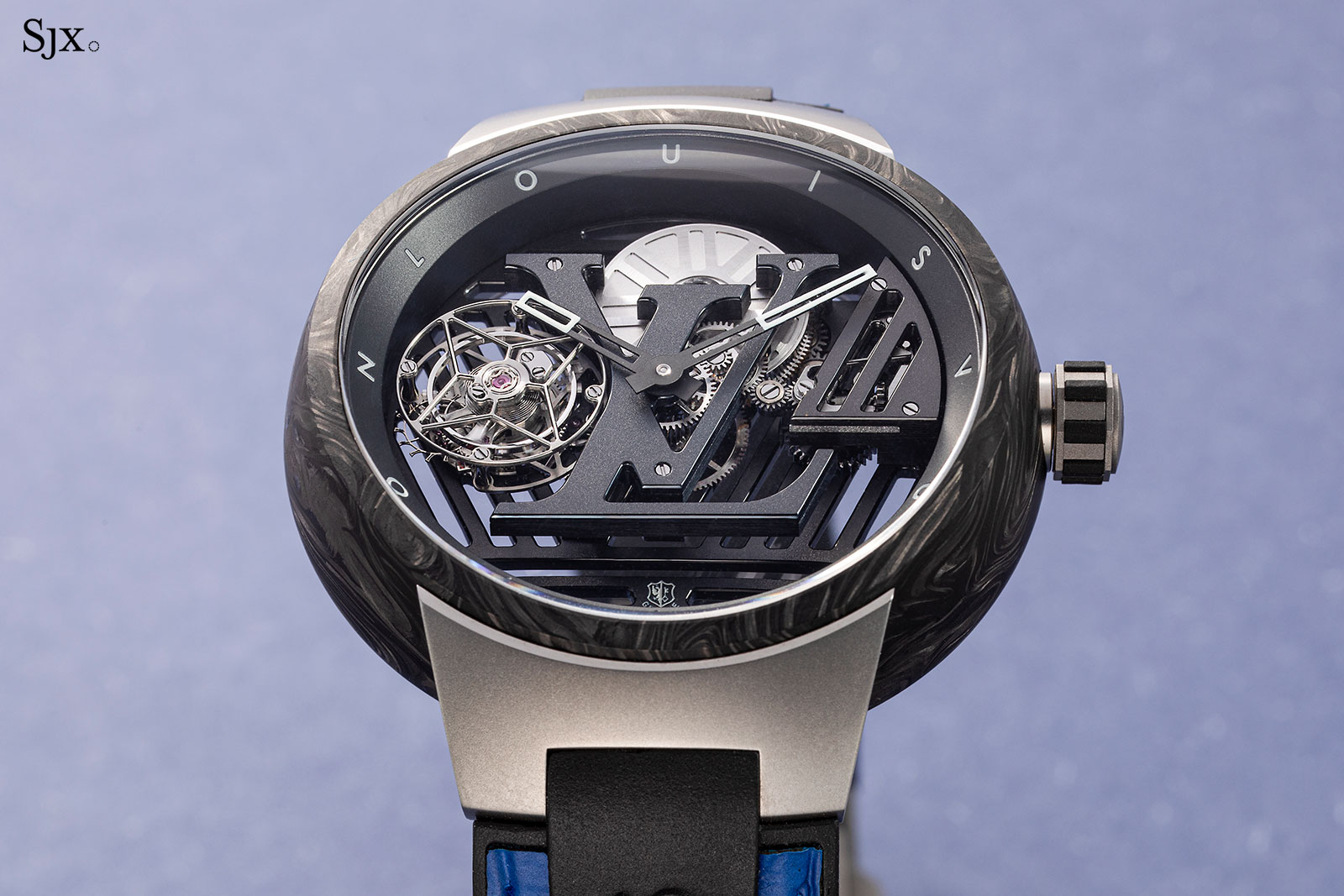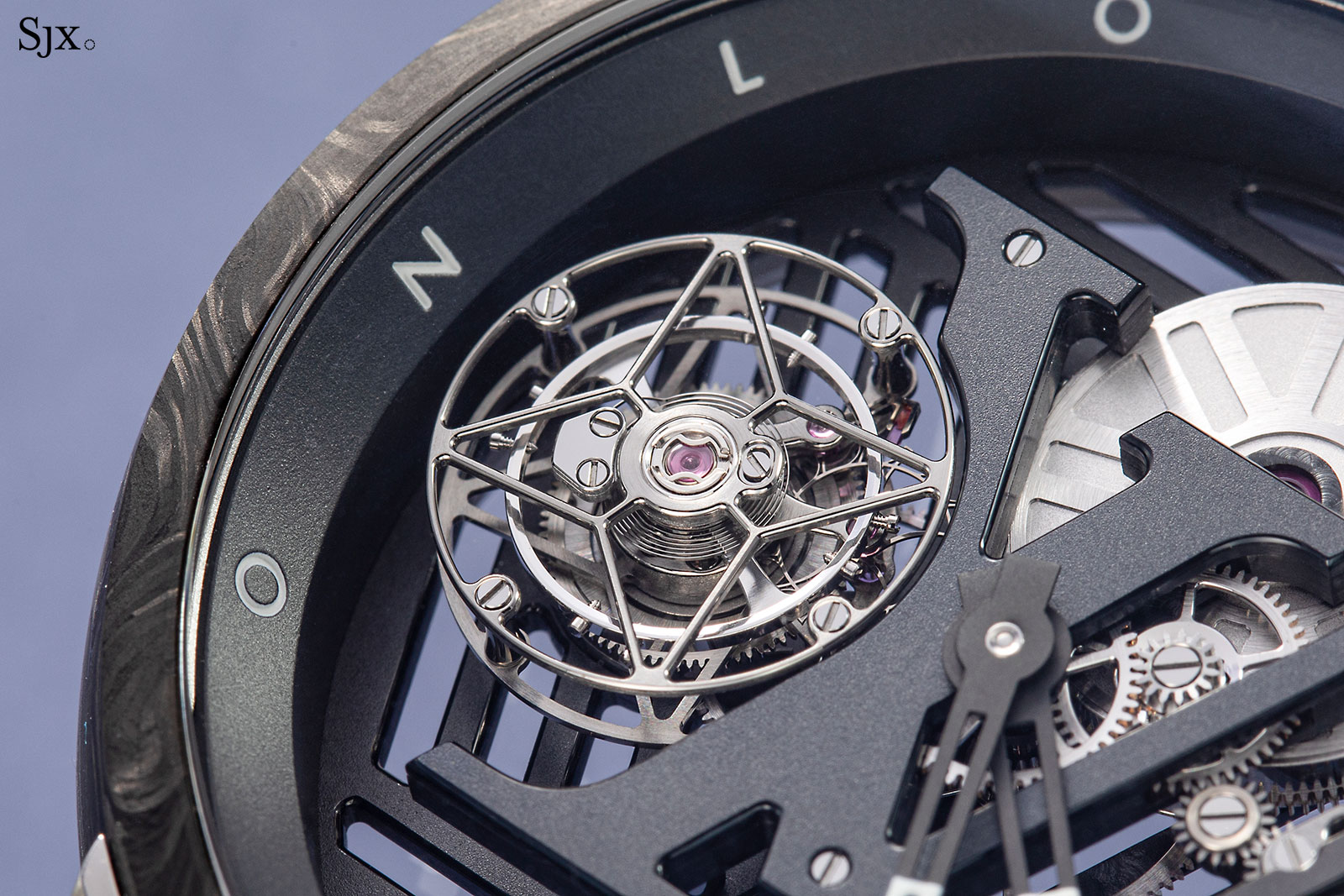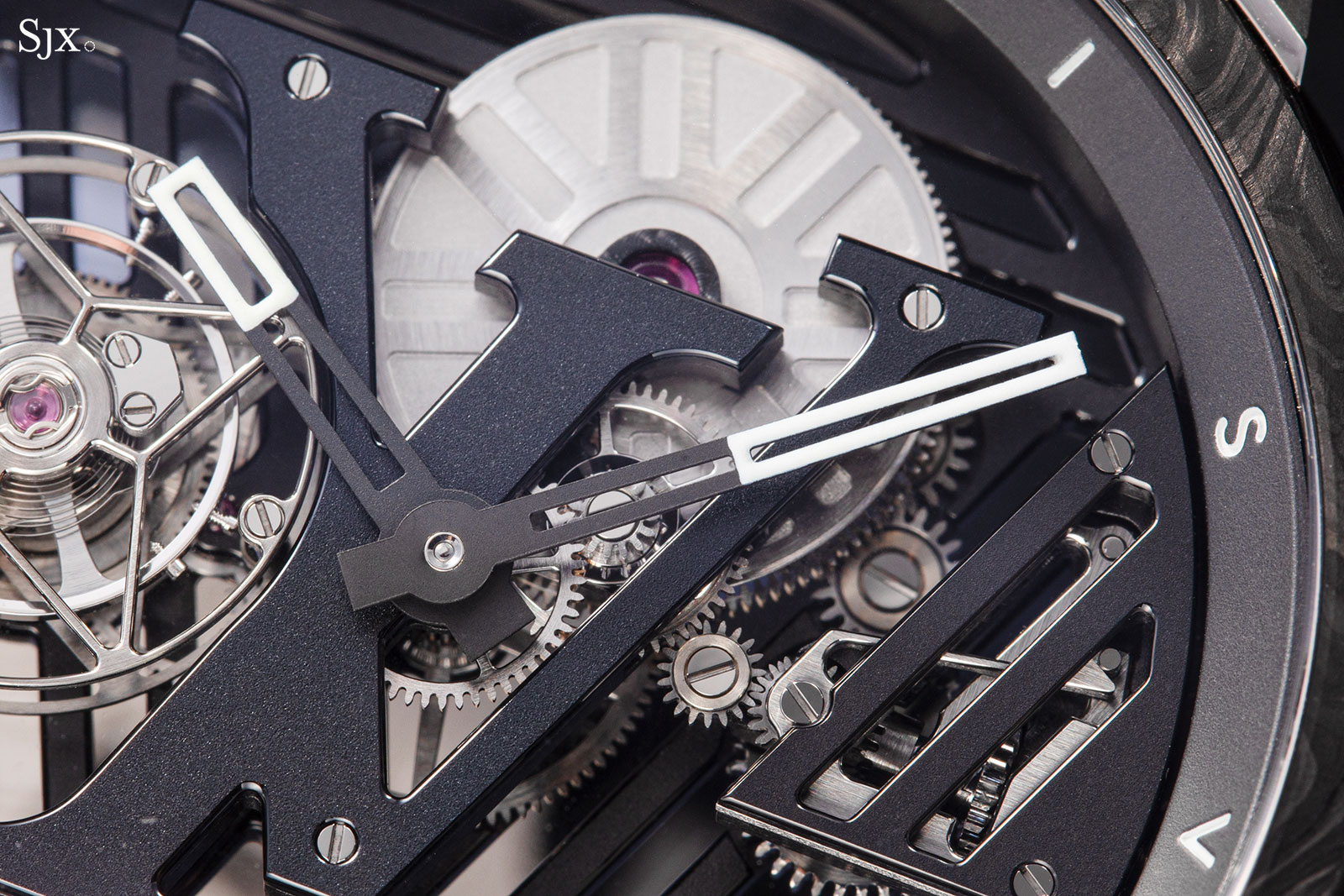 In most other watches, movement construction like this would look silly, because most watch brands are pretty humourless. A. Lange & Söhne debuting a tourbillon with the bridges forming "ALS" would be a catastrophe, as would a Patek Philippe tourbillon with a double-P cage. But for Louis Vuitton it's consistent with the brand, especially with its focus on casual clothing and streetwear.
Surprisingly, the movement is constructed like a sandwich, in the style of 18th century pocket watch movements. Two large plates on each side contain the moving parts in between – on the dial-side the plate is takes the form of "LV", while on the black it echoes the motif with a geometric open-working forming a repeating "V".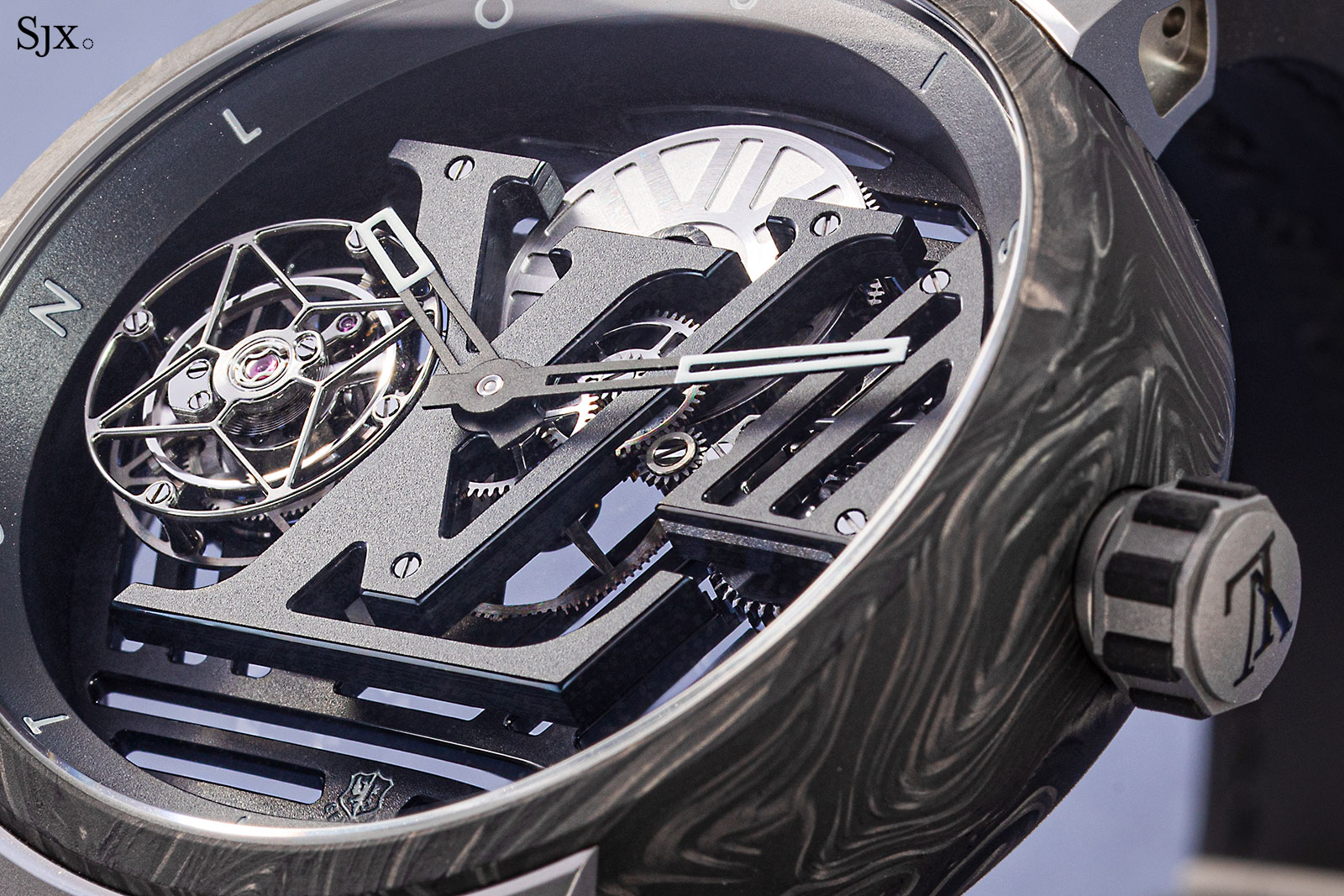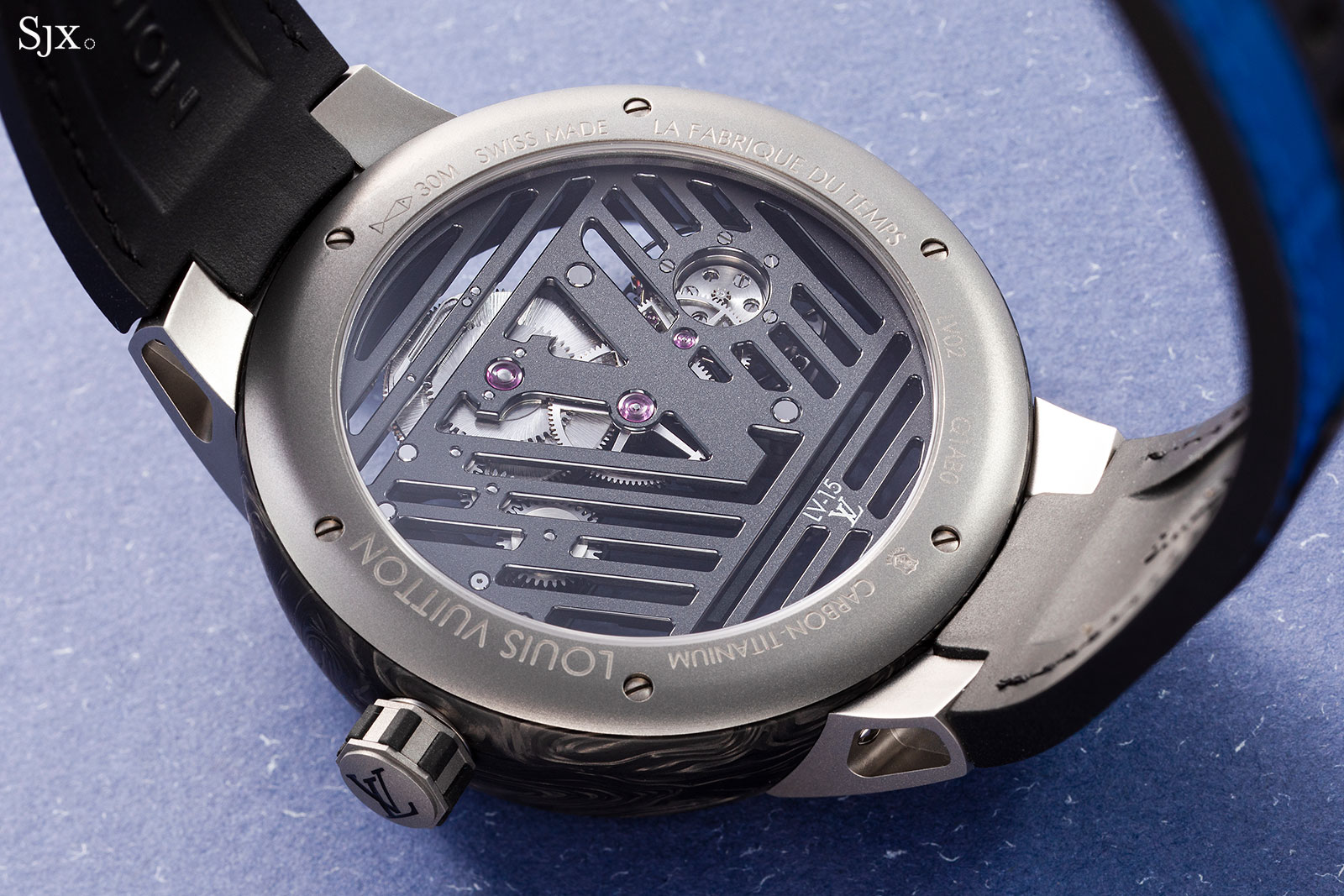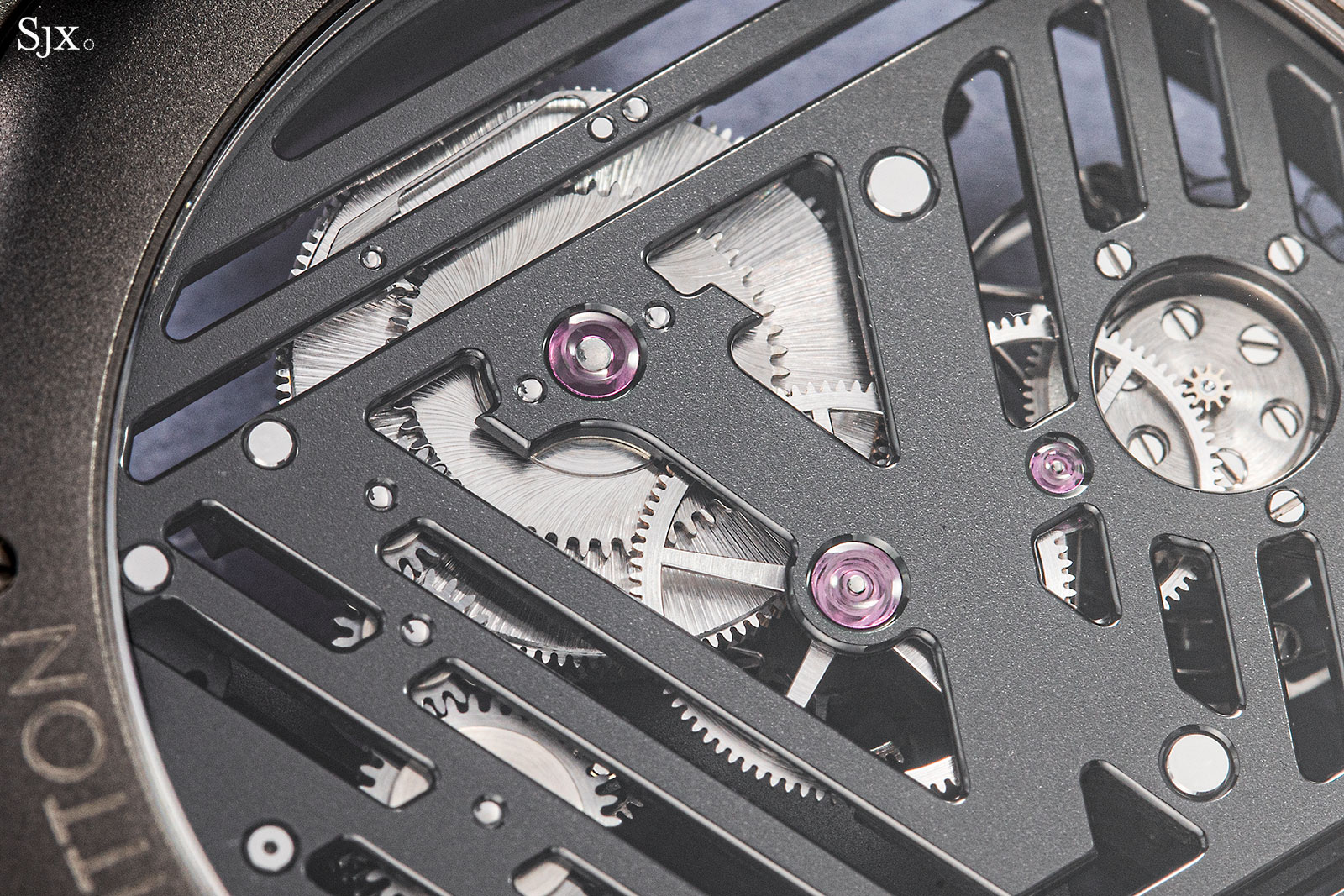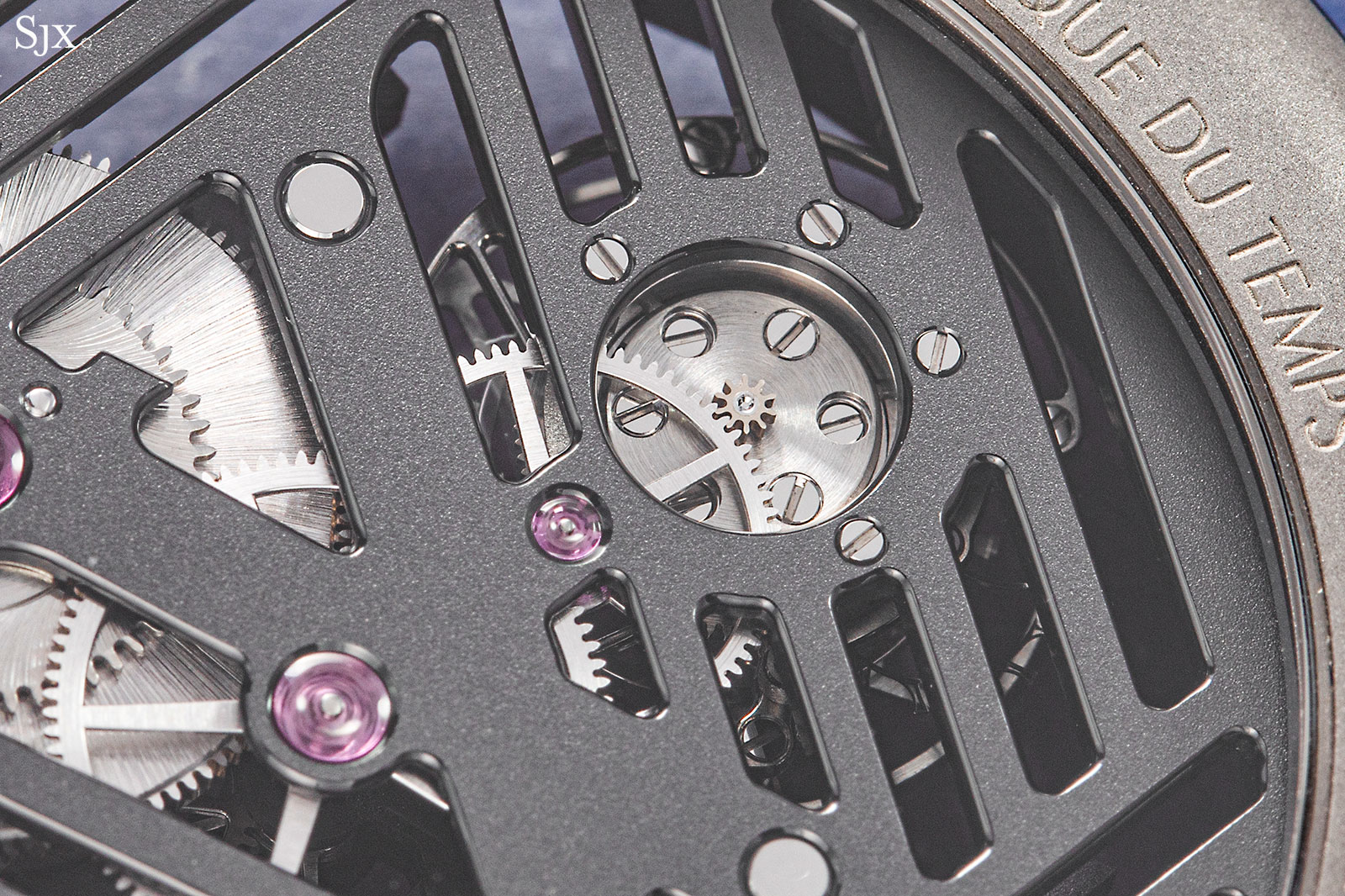 As a result, most of the movement is visible from the front and back, with the barrel at 12 o'clock and the tourbillon regulator at nine o'clock. Though a new calibre, the LV 108 doubtlessly shares components with the brand's other tourbillon movements, including the LV 97 in the Tambour Moon Flying Tourbillon.
In keeping with the "LV" theme, the tourbillon carriage takes the form of a four-petalled flower, one of the emblems of the Louis Vuitton monograms made famous by its bags and trunks. In another bit of smart detailing, both the upper and lower cages are mirror images of each other, with the hidden lower cage also being flower-shaped.
Another element that's characteristic of LFDT movements is the skeletonised escape wheel of nickel phosphorus produced via the LIGA technique of photolithography. Because LIGA can create tiny but intricate components, the escape wheel has a fancy, open-worked form that improves its efficiency by reducing its weight while also improving retention of lubricants with specially-shaped teeth.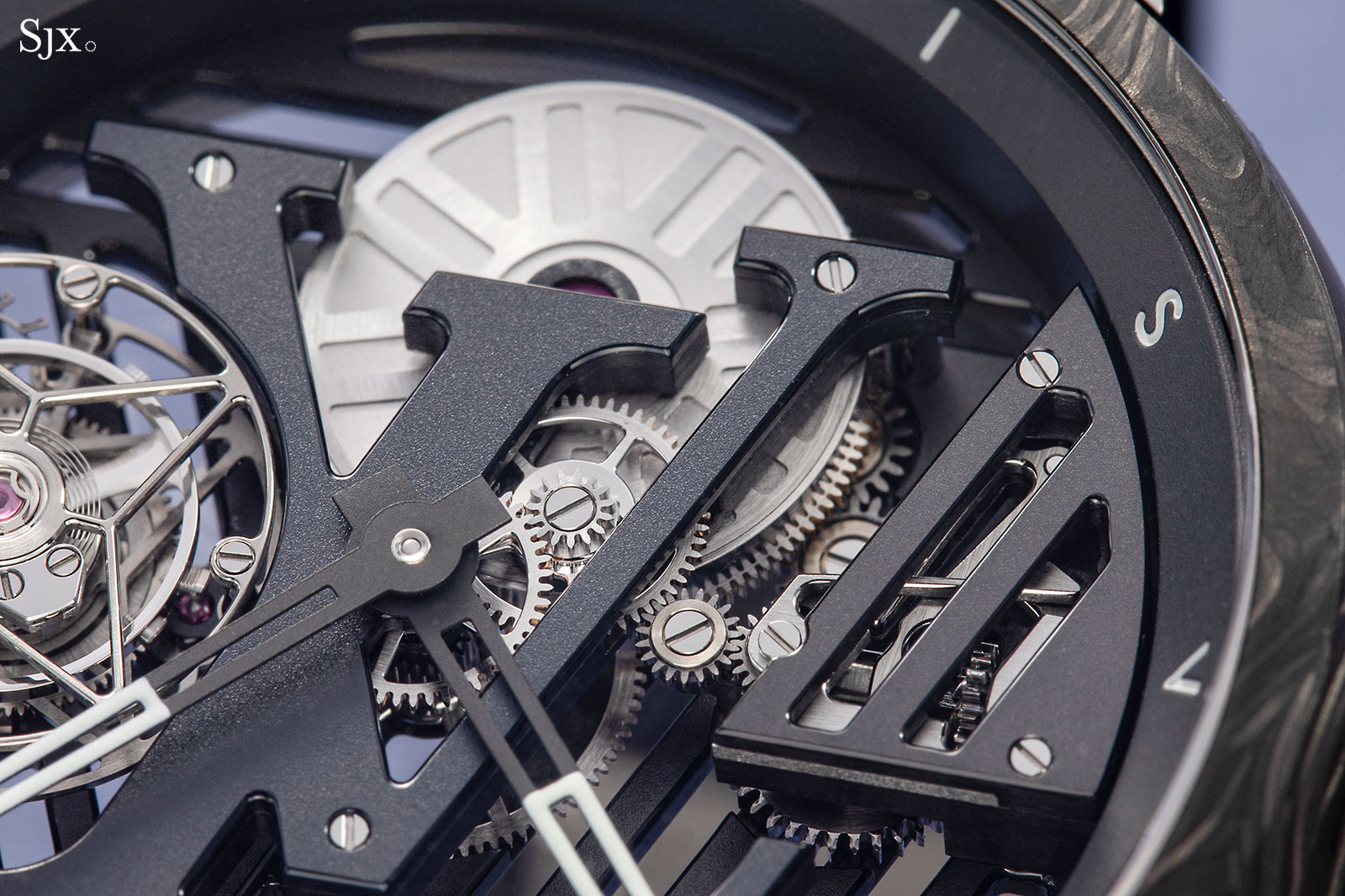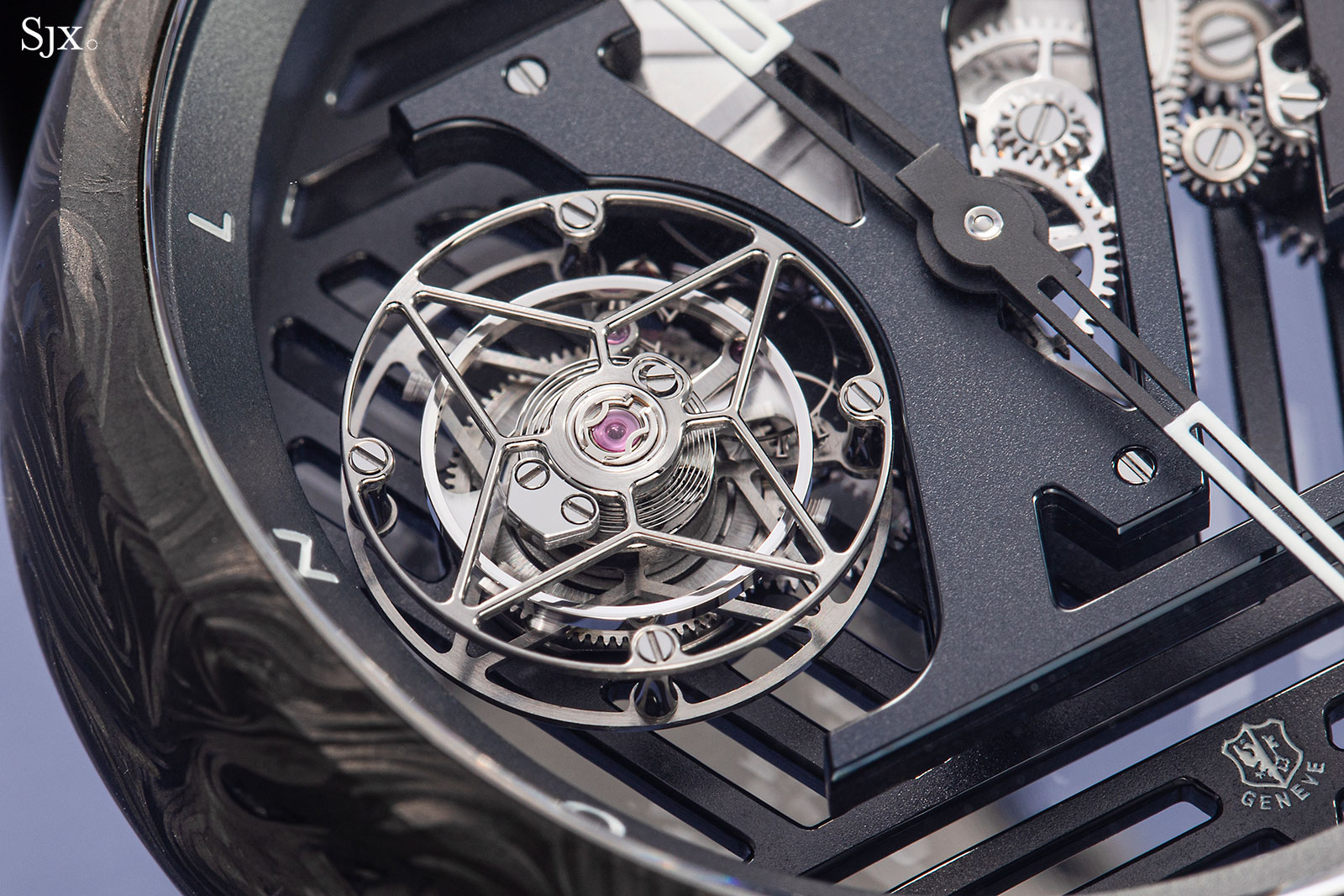 Because the finish of the movement is mostly dark, the decoration isn't much visible, which is a shame, because it is well done. The movement is hallmarked with the Poinçon de Genève, which means a high standard of finishing on all parts. That entails components finished on front and back faces; edges bevelled and polished; gear spokes and edges chamfered; countersinks for jewels, screws and pins.
Because of its design, the movement actually boasts a significant length of polished, bevelled edges across its skeletonised plates, all neatly and cleanly executed. At the same time, the interior angles of the bevelled edges are rounded rather than sharp, indicating the finishing was done with hand-operated mechanical tools. Such combinations of hand- and machine-applied finishing is essentially the industry standard for high-end Swiss watchmaking.
That also means the movement finishing is as good as that on comparably-priced complications from establishment names like Patek Philippe and Vacheron Constantin. While the decoration is neither elaborate nor artisanal, it is excellent and as good as gets for a watch from a mainstream Swiss brand.
Concluding thoughts
The Tambour Curve is well designed, showing good attention to detail, while the movement reveals a high quality of fit and finish. The only intrinsic shortcoming, in my mind, is questionable fit of the integrated strap.
Horology aside, the context of the watch is crucial in understanding it. Louis Vuitton is the world's biggest luxury-goods brand, one that's able to sell out of limited edition, ruthenium-and-titanium trunks (that start at about US$30,000 for an eight-watch storage box). The brand equity is immense, which is why a watch like this makes sense for the Louis Vuitton client at the top of the food chain who wants a sporty, bang-around timepiece.
For that reason, the Tambour Curve is expensive – retail is over US$250,000 – even when compared the competition like Audemars Piguet and Hublot (though it's a bargain against Richard Mille). And unlike any of the competition, Louis Vuitton watches are only available at its boutiques at full list price.
In short, the Tambour Curve holds its own against timepieces from traditional watchmakers in all tangible aspects, but it's ambitiously priced – which makes sense when set next to an US$84,000 crocodile-skin backpack.
---
Key facts and price
Louis Vuitton Tambour Curve Flying Tourbillon Poincon de Geneve
Diameter: 46 mm
Height: 12.75 mm
Material: Carbon composite and titanium, with 18k white gold lugs and crown
Water resistance: 30 m
Movement: LV 108
Functions: Hours, minutes, and tourbillon regulator
Winding: Hand-wound
Frequency: 21,600 beats per hour (3 Hz)
Power reserve: 80 hours
Strap: Black rubber with folding clasp
Limited edition: No
Availability: Only at Louis Vuitton boutiques
Price: US$256,000; or 382,000 Singapore dollars
For more information, visit Louisvuitton.com.
---
Back to top.
---
You may also enjoy these.