Auction Report: What Went Down at Only Watch 2019
An insider's look at the biggest watch auction ever.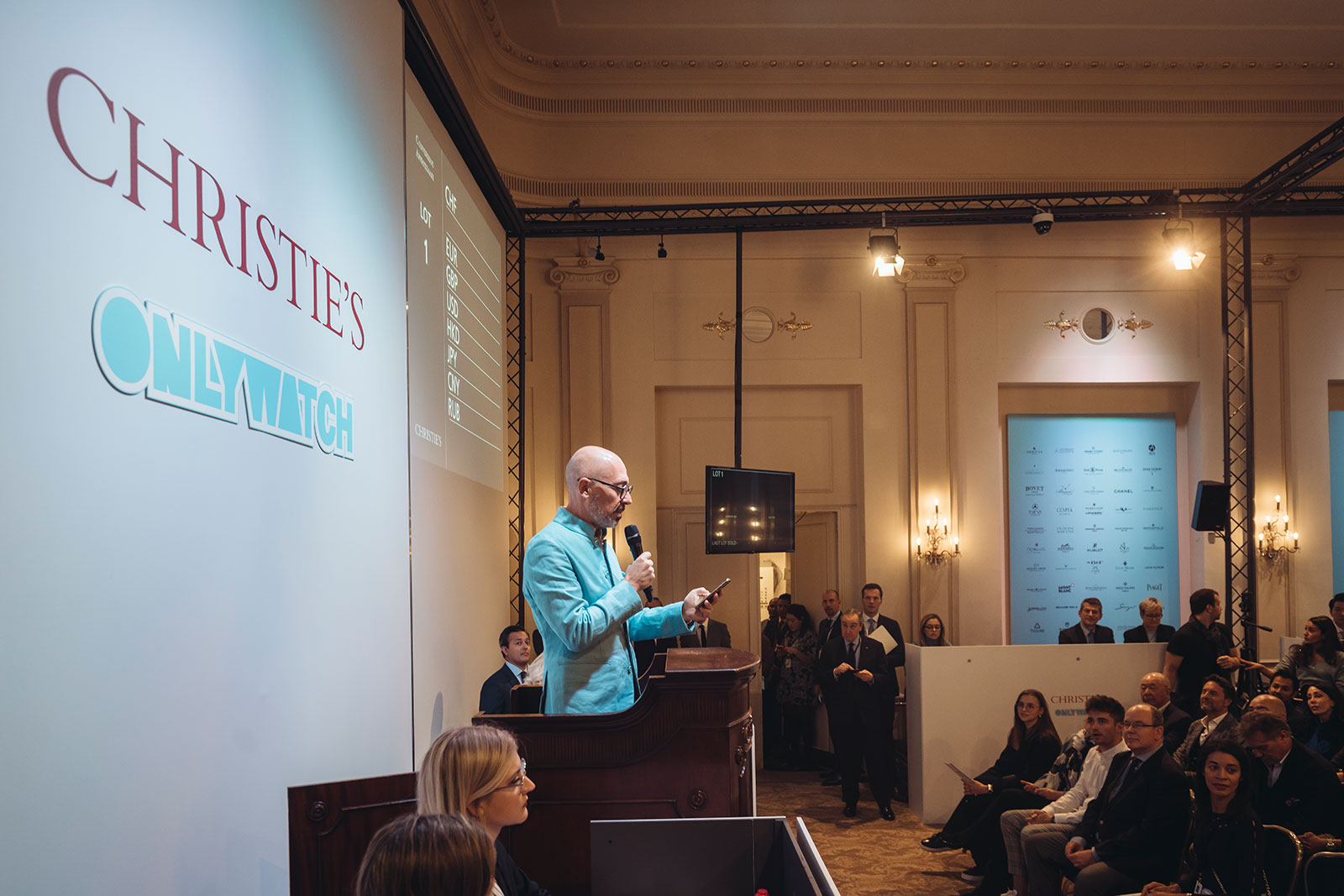 Only Watch 2019 is the biggest watch auction ever – and it was the most exciting sale in a notably quiet Geneva auction season – with 50 lots selling for 38.59m Swiss francs. The last Only Watch auction in 2017 raised a mere 9.29m francs in comparison.
And of course 31m francs of that came from just one watch, the Patek Philippe Grandmaster Chime in steel, which went to a determined buyer from Asia bidding via telephone with Wei-Ting Jud of Christie's London.
Presided over by Christie's jewellery department head Rahul Kadakia, the best watch auctioneer who is not a watch specialist, the saleroom in Geneva's Four Seasons Hotel des Bergues was jam-packed, so full even Audemars Piguet chief executive Francois-Henri Bennahmias had to stand. And there was even a famous face in attendance, or at least in the same building – former Thai prime minister Thaksin Shinawatra, who is a a known watch collector, was spotted in the lobby of the hotel.
Though the Patek Philippe accounted for most of the sale proceeds – which all go to a medical charity – the other 49 lots in the auction still sold for an average of 155,000 Swiss francs, which is well above the average for a watch auction. The Antiquorum watch auction that took place a day later, for instance, averaged only 10,000 francs a lot.
Notably, eight of the watches, including several of the top lots, went to the same bidder known only as paddle 9199, who was bidding via telephone with Stephane Von Bueren of Christie's Geneva. This enthusiastic buyer, however, was not the winner of the Patek Philippe. Similarly, much of the action on the top lots were driven by a handful of bidders in room and on the phone.
Also worth noting were the strong prices achieved by various independent watchmakers, including Konstantin Chaykin and Akrivia. In fact, the 360,000 franc result for the Akrivia Chronometre Contemporain sold was more than the 320,000 francs for the Richard Mille RM 11-03 McLaren.
Above all, aside from the major brands like Patek Philippe and Audemars Piguet, the watches that performed well were those that were heavily marketed by their makers, above and beyond the basic marketing done by Christie's. That was what MB&F did with its clock that sold for 85,000 francs, or about four times the retail price of the standard version. In contrast, brands that left it purely to the market tended to have soft result.
The sale highlights
One of the surprise results arrived early in the sale with lot 4, the one-off Hermes Arceau L'Heure de la Lune, which had an estimate of 35,000-55,000 francs, already above its retail of about 25,000 francs. The bidding was quick and enthusiastic, driven by an exuberant young lady seated in the VIP area at the front, accompanied by a notably older gentleman who's a French real estate entrepreneur and important watch collector, and Mr Von Bueren, who won with a 210,000 franc bid with his client, paddle 9199.
Another major result, though less surprising, came quickly after with the F.P. Journe Astronomic Blue. With an estimate of 300,000-600,000, the opening bid was a shocker: 1.5m francs bid by Danny Govberg, who is both owner of Philadelphia-based Govberg Jewelers, which is an authorised F.P. Journe retailer, as well as Watchbox, a preowned watch merchant that is perhaps the world's largest, with annual revenue of over US$200m.
The massive opening bid was quickly countered, and eventually Mr Von Bueren won the Astronomic Blue for paddle 9199.
Two lots later came the Konstantin Chaykin Joker Selfie, with an estimate of just 18,000-24,000 francs. Bidding started at 15,000 francs, and climbed in 1,000 franc steps until an Asian bidder standing at the side of the room raised it to 40,000 francs. That was quickly countered by a seated gentleman speaking with a Russian accent, who won it against Asian bidder for 70,000 francs.
Yet another independent watchmaker came out tops with lot 15, the De Bethune and Urwerk collaboration named the Moon Satellite. I thought the estimate of 120,000-150,000 francs was high as a starting point, but was proved wrong.
The opening bid was placed by Steven Rostovsky, an American distributor of independent watch brands like Greubel Forsey and Romain Gauthier, who is also a pre-owned watch specialist, but more importantly, a shareholder of De Bethune. But soon two phone bidders joined in, and again Mr Von Bueren won for paddle 9199 with a bid of 300,000 francs.
Two lots later came the Louis Vuitton Escale Spin Time with a gorgeous enamel dial made by noted enameller Anita Porchet. With an estimate of 80,000-100,000, this was the subject of a three way tussle between the exuberant lady in the front, a phone bidder, and Jean-Claude Biver, the non-executive chairman of the LVMH watch division.
Mr Biver, seated in the VIP area in front, clearly wanted the watch, and won it for 280,000 francs.
Lot 23 was a pair of Chanel J12 The Inseparables, the first of the new generation J12 to roll off the line and given a unique matte finish. With an estimate of 22,500-27,000 francs for the pair – compared to a retail of about 6000 francs for the standard version – the opening bid was a surprise for two reasons.
Firstly, it was 100,000 francs, and more surprisingly, it was placed by Mr Bennahmias of Audemars Piguet, standing off to the side in his trademark leather bomber jacket made by Seraphin of Paris. He was quickly outbid by the exuberant lady bidder and stopped bidding, until the lady commented in jest that he must be "tired". A visibly annoyed Mr Bennahmias put in another bid, but was once again countered by the lady, who won it for 130,000 francs.
A few lots later came the critically acclaimed Breguet Type 20 remake. What started off as a contest between the exuberant lady and Mr Von Bueren became a repeat of the Chanel battle when Mr Bennahmias put in a bid against the lady bidder, though in the end Mr Von Bueren won with a bid of 210,000 francs – just over four times the high estimate – again for paddle 9199.
And just after that came the Patek Philippe Grandmaster Chime – once the hammer came down on that, with Ms Jud of Christie's winning it for paddle 9198, the level of excitement in the room dropped tangibly, and a number of spectators left.
The atmosphere reinflated with lot 37, the Audemars Piguet Code 11.59 Tourbillon Openworked, part of a widely panned collection but one of my favourites from the sale. The 190,000-240,000 franc estimate was quickly exceeded in a bidding battle primarily between Mr Von Bueren and Masa Tamaoki of Christie's Japan.
There was a palpable surprise when the watch exceeded the 800,000 francs achieved by the Royal Oak Perpetual Calendar Ceramic made for Only Watch 2017, and even more once the watch finished at 1m francs, going to Mr Von Bueren's paddle 9199.
After a couple of lower value lots came lot 44, the Tudor Black Bay Ceramic One. Though the estimate as just 4,500-5,500, the watch was expected to sell for far more, given past results for Tudor's Only Watch creations.
Bidding started briskly with a 100,000 franc bid from Claude Sfeir, a Lebanese gem dealer and noted watch collector. He went up against an Asian gentleman standing at the side of the room, in a brief back and forth that quickly ended with Mr Sfeir taking home the Tudor for 350,000 francs to join the last two Tudor Only Watch timepieces he also won.
And almost at the end was one of the most anticipated watches in the sale, the Akrivia Chronometre Contemporain with a hammered, enamelled dial. As expected, interest in this was high, with several Christie's representatives on the telephones bidding for clients.
Early bidding included Sabine Kegel of Christie's Geneva, but past 300,000 it was a three way fight between Remy Julia and Bob Xue, both of Christie's Dubai, and American Rolex specialist Eric Ku, who was seated in the room. Mr Ku finally won the watch with a 360,000 bid.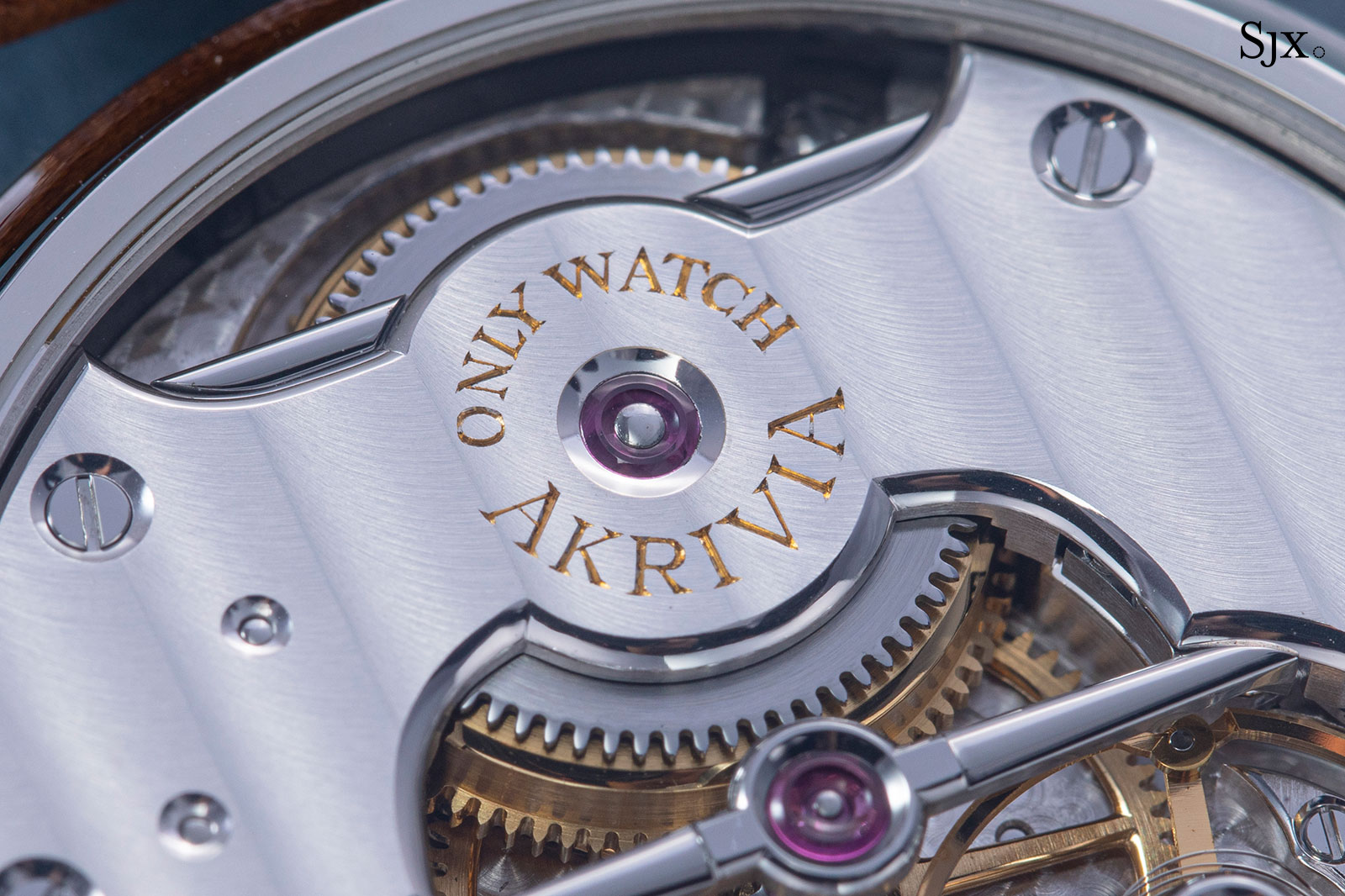 Other notables
Major results in the sale included the Montblanc 1858 Split-Seconds with an agate dial that sold for 100,000 francs, double the high estimate of 48,000 francs.
And there were some surprises with brands not widely considered mainstream watchmakers, including the Boucheron Ajourée Amvara that sold for 140,000 francs, or three times the high estimate, and the Bovet Récital 23 "Hope" that sold for 280,000 francs, against a high estimate of 80,000. Both went to paddle 9199.
But perhaps the biggest surprise was the Carl F. Bucherer Patravi ScubaTec with a 18k gold case and manta ray motif that sold for 60,000 francs, double the high estimate, to an internet bidder in Melbourne, Australia, which fortunately has manta rays native to the country.
---
Back to top.
---
You may also enjoy these.