Auction Report: Only Watch 2021
A landmark event and a social occasion.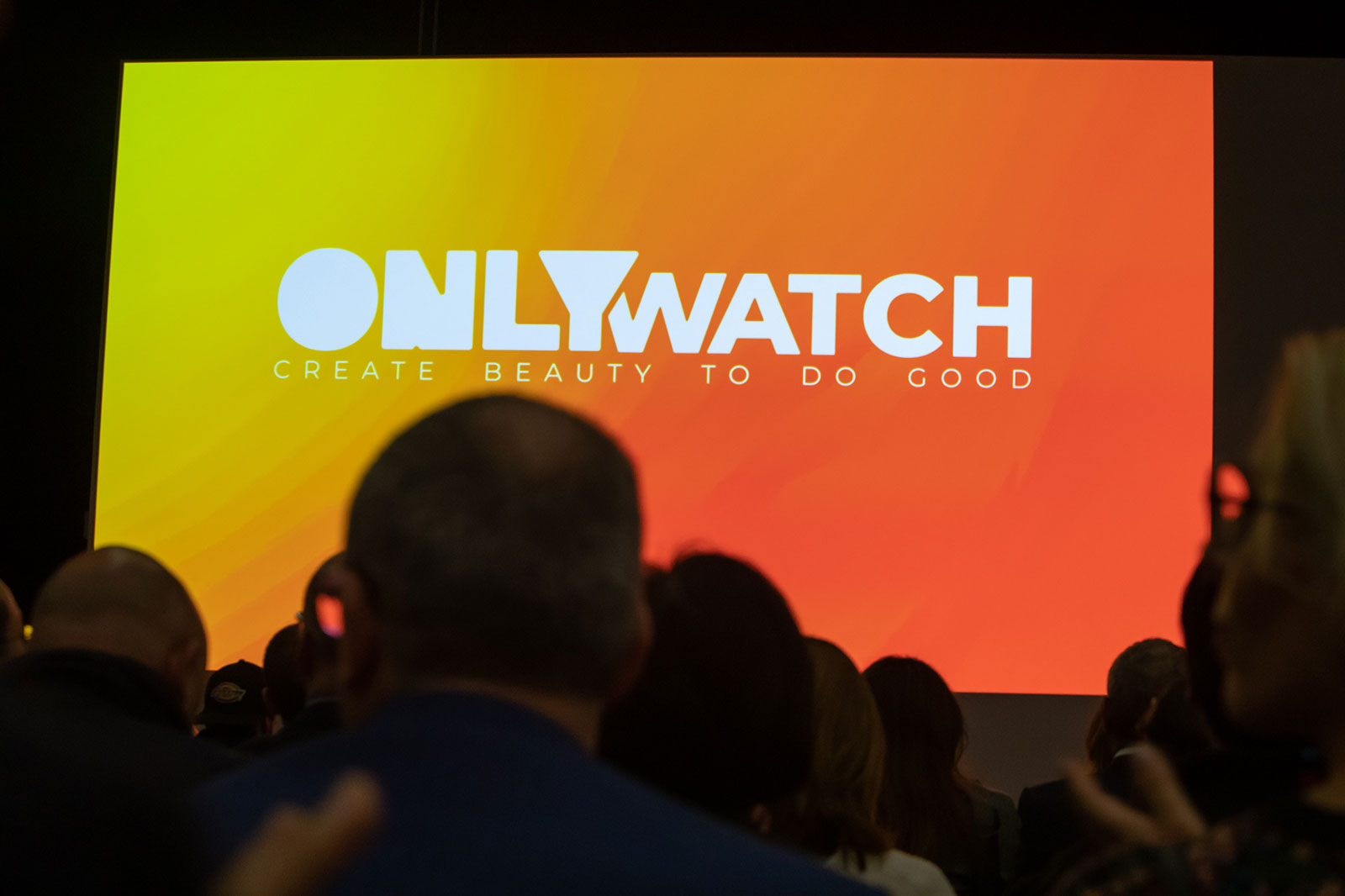 Only Watch 2021 was a landmark for the biennial charity auction in both scale and value. Organised by Christie's, the ninth edition of Only Watch just took place in Geneva, with 53 timepieces having been sold for CHF30 million, or about US$32.8 million.
Held for the first time in Palexpo, the sprawling convention centre near Geneva's airport, Only Watch 2021 saw a turnout of over 850 people inside the cavernous room, a massive uptick in attendance compared to the one or two hundred in past years.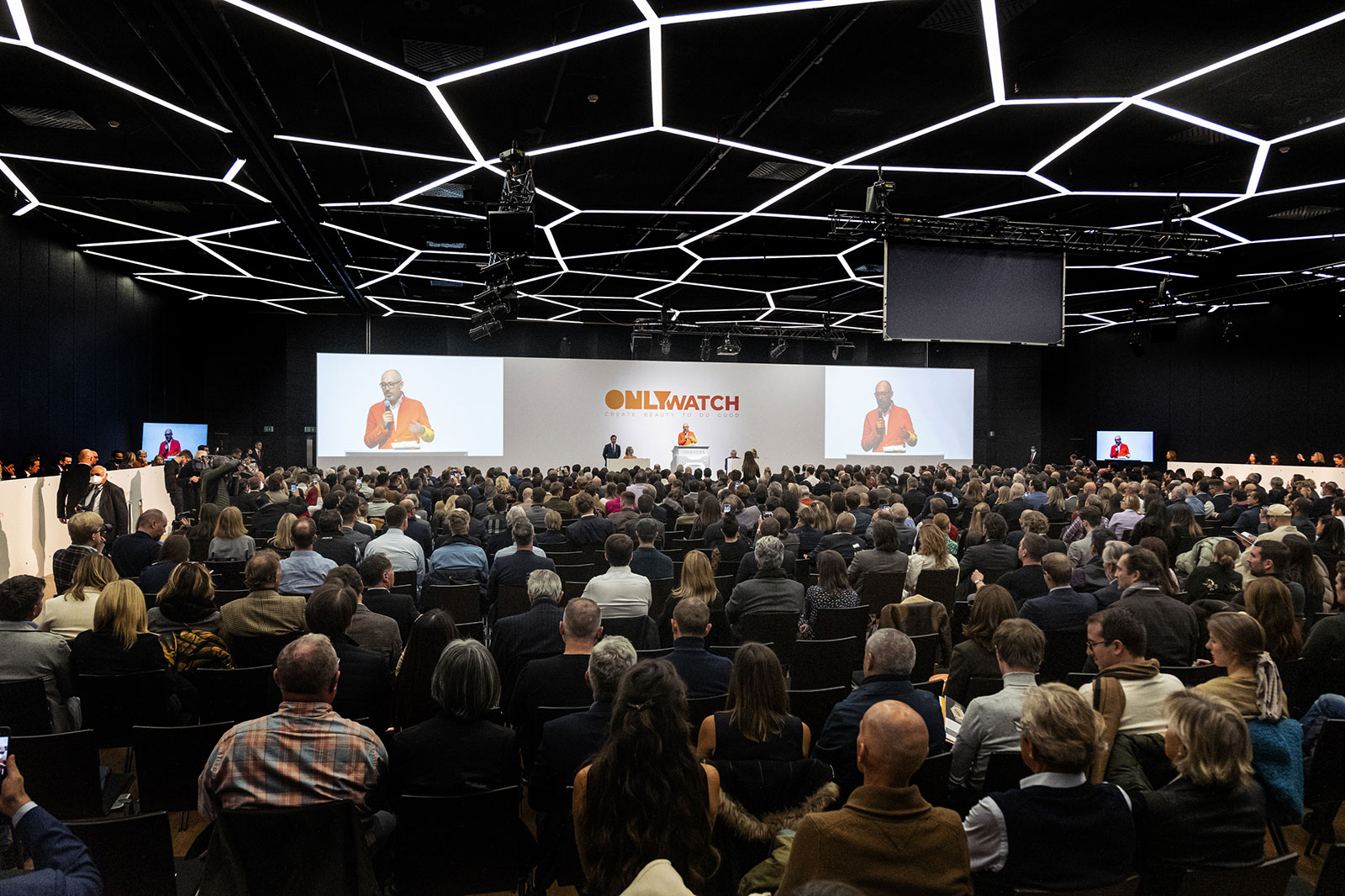 People and faces
Practically everyone who is someone in Swiss watchmaking turned up, including Thierry Stern of Patek Philippe, Frederic Arnault of TAG Heuer, Tudor chief executive Eric Pirson, as well as independent watchmakers like Kari Voutilainen and Francois-Paul Journe. Even Aurel Bacs and Alex Ghotbi of rival auction house Phillips were spotted seated in the room.
Some of the boldface names were also bidding on lots in the auction, including Francois-Henri Bennahmias of Audemars Piguet who bid enthusiastically on the Chanel J12 pair and Jean Arnault of Louis Vuitton La Fabrique du Temps who was after a creation by an independent watchmaker.
While there were watch collectors from around the world present – including a contingent from Dubai Watch Club – there were fewer Asian bidders in the room compared to past years, presumably because of the travel restrictions still in place in most Asian countries. That said, many of the crucial bidders from Asia did turn up, including Michael Tay of Singapore retailer The Hour Glass.
While the packed room was a tribute to the success of Only Watch, both as a charity and a social event, it made life difficult for bidders. For one, it was impossible to discern who was bidding on a lot, unless the other bidder was seated close by.
And it was challenging for the auctioneer, Rahul Kadakia of Christie's jewellery department, to spot bidders in the sea of faces. And even when a bidder won a lot, Mr Kadakia and his colleagues found it tough to make out the paddle number from across the room. Despite those challenges, Mr Kadakia kept things going at an engaging pace, despite it being longer than usual for an auction, with the 53 lots taking over three and a half hours to sell.
Big numbers for everyone
And the auction was also notable the strong results across the board. The total sum raised was a quarter below 2019's result only because that year's auction included the record-setting Grandmaster Chime ref. 6300A that sold for CHF31 million.
That aside, Only Watch 2021 was surprisingly strong, with even timepieces from the most esoteric of brands racking up strong results, including CHF240,000 for a Czapek chronograph and CHF100,000 for a Trilobe clock.
In past years I managed to have a competitive go at a handful of lots in Only Watch, even managing one win and being the underbidder a few times. But this year everything went high quickly. It is telling that the most affordable lot at Only Watch 2021 was the Frederique Constant with a oscillator that sold for CHF24,000, slightly below the low estimate but still far above the brand's typical price range.
As a result, it was unsurprising that five lots sold for above CHF1 million. The top five were predictable and achieved values within expectations.
The top lot was the Patek Philippe desk clock at CHF9.5 million, followed by the F.P. Journe FFC Blue at CHF4.5 million, the Audemars Piguet Royal Oak "Jumbo" at CHF3.1 million, Richard Mille at CHF2.1 million, and then De Bethune at CHF1.3 million.
But more surprising were those that can close, namely Akrivia Rexhep Rexhepi at CHF800,000, H. Moser & Cie. at CHF750,000, and Tudor at CHF650,000. This is perhaps an indication that the broader market believes these brands have a future – an opinion that I share.
Overall, the large sums are driven by a few factors. One is the frenzied demand in many countries for all sorts of luxury groups. And that demand has been magnified in certain "hot" segments, which in the case of horology is luxury-sports watches and independent watchmaking.
Specific to independent watchmaking is the influx of new, well-heeled buyers who often see independent watchmaking as a label that implies quality and innovation regardless of brand or maker. This has propelled values for establishment independents like F.P. Journe and Philippe Dufour to new highs, while also buoying less accomplished marques. Some of the new money, in other words, seems to be undiscerning.
A few highlights
Only Watch 2021 started with the Rexhep Rexhepi Chronometre Contemporain II (RRCC II) as lot 1 – and it was a strong start. There was frenzied bidding online, on the phones, and in the room, though it slowed down at the CHF500,000 mark, which was the widely-agreed minimum for the RRCC II before the sale. Eventually it was down to a bidder in the room and a rival on the phone represented by Bob Xue of Christie's Dubai, who won the watch for his client.
A few lots later, was also Mr Xue on the phone against someone in the room for the Audemars Piguet Royal Oak "Jumbo" ref. 15202XT. Here the room bidder, seated on the very first row, triumphed and set a record for the most expensive Audemars Piguet watch ever sold at auction.
The interest in the Akrivia was repeated with the De Bethune and Voutilainen Kind of Magic, a double-faced wristwatch with a tourbillon, deadbeat seconds, and Voutilainen's quirky ISO time display.
It started with a flurry of bids, but past a million it was an Asian gentleman standing at the far end of the room versus an American collector seated closer to the front. But in the end it was an online bidder in New Jersey who claimed the watch, with the American gentleman as the underbidder.
And the numbers grew even bigger with the most important example of independent watchmaking at Only Watch 2021. The F.P. Journe FFC Blue opened at CHF2 million with a bid by someone in the room, which was instantly topped by a CHF3 million bid.
Then it became a three-way fight between two gentlemen in the room and someone on the phone, but eventually it was one of the room bidders who claimed the watch (and the very same gentleman who won the Audemars Piguet a few lots before).
But the timepiece that most people had turned up to see came towards the end. Lot 41 was the Patek Philippe Complicated Desk Clock ref. 27001M-001. Inspired by a pair of clocks made I the 1920s for a pair of prominent American collectors – banker Henry Graves Jr. and automobile entrepreneur James Ward Packard – the desk clock had an estimate of CHF400,000-500,000.
Bidding unsurprisingly opened at CHF3 million, jumped to CHF5 million, before slowing down slightly, with increments then coming in one- or two-hundred-thousand franc steps. There were a handful of bidders on the lot, but past CHF7.5 million only two were left, Bob Xue of Christie's on the phone with his client and an Asian gentleman seated on the aisle who was previously also bidding on the De Bethune.
Mr Xue's client bid consistently, albeit at a measured pace. The room bidder made one big jump, going from CHF8 million to CHF8.5 million, but that did not deter Mr Xue's client, who continued bidding at a steady clip of CHF100,000 increments all the way to CHF9.5 million. Now Mr Xue's client joins Graves and Packard in the pantheon of storied Patek Philippe collectors.
(Though the CHF9.5 million result makes the desk clock the most expensive clock ever sold at auction, eclipsing the Duc d'Orléans Breguet Sympathique that sold for US$6.8 million in 2012. Technically the title belongs the Faberge Egg made for the Rothschild family containing a clock, though the clock is secondary in an Imperial Easter egg.)
---
Back to top.
---
You may also enjoy these.