The Last Golden Age of English Watchmaking – All 77mm of It
The monumental S. Smith & Son grand complication.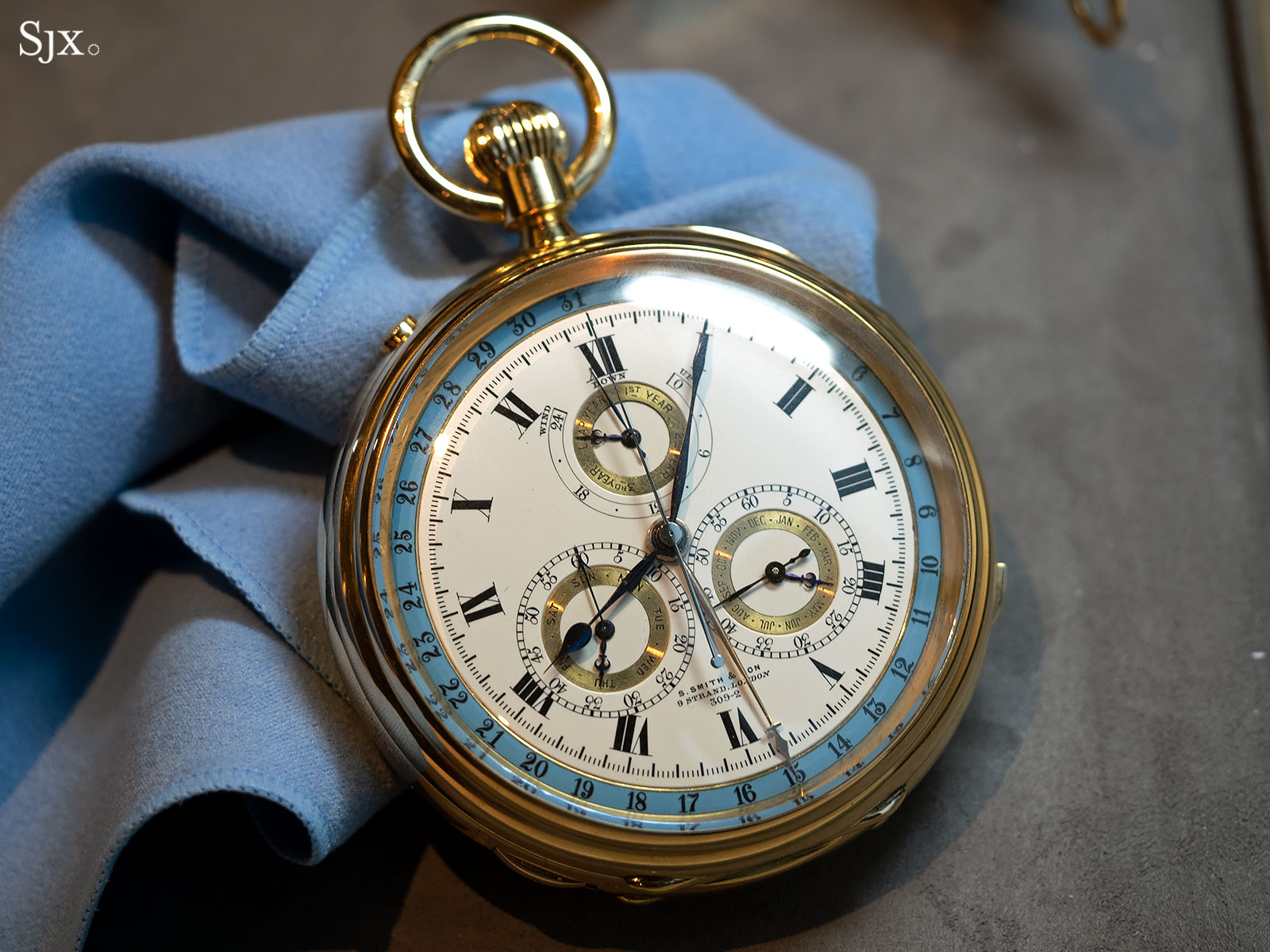 Sotheby's upcoming sale of pocket watches and clocks includes several well known watches, most notably the George Daniels Space Traveller I. But the sale also includes a less known English masterpiece, produced almost a century before.
The S. Smith & Son watch no. 309-2 is one of the most complicated English watches ever made, featuring a grande and petite sonnerie with trip minute repeater, perpetual calendar, and split-seconds chronograph, with everything displayed on a gorgeous tri-colour enamel dial.
But it is representative of the fading years of English watchmaking, as the country's watchmakers were going out with one last hurrah and producing some of the most complex watches ever made.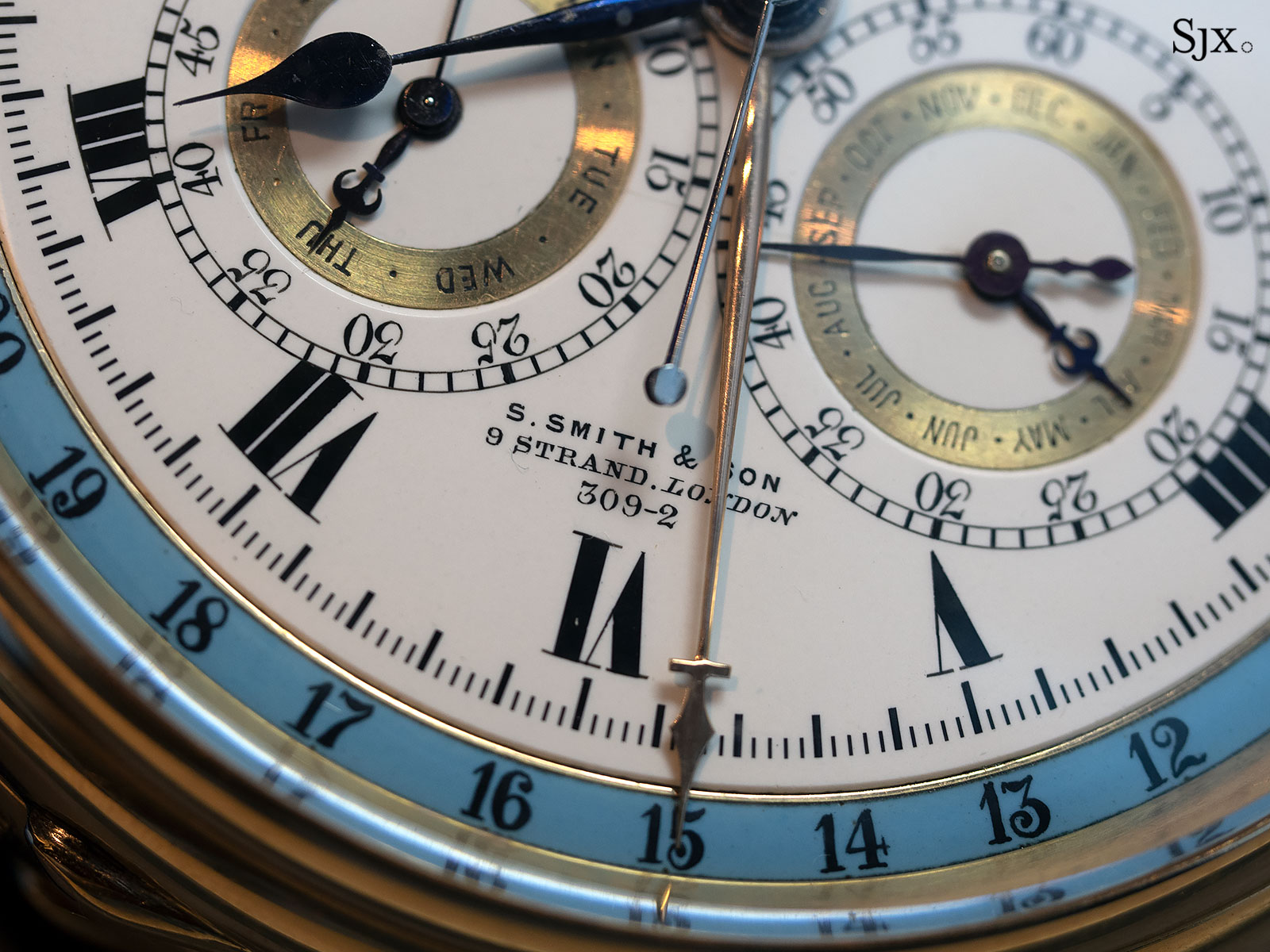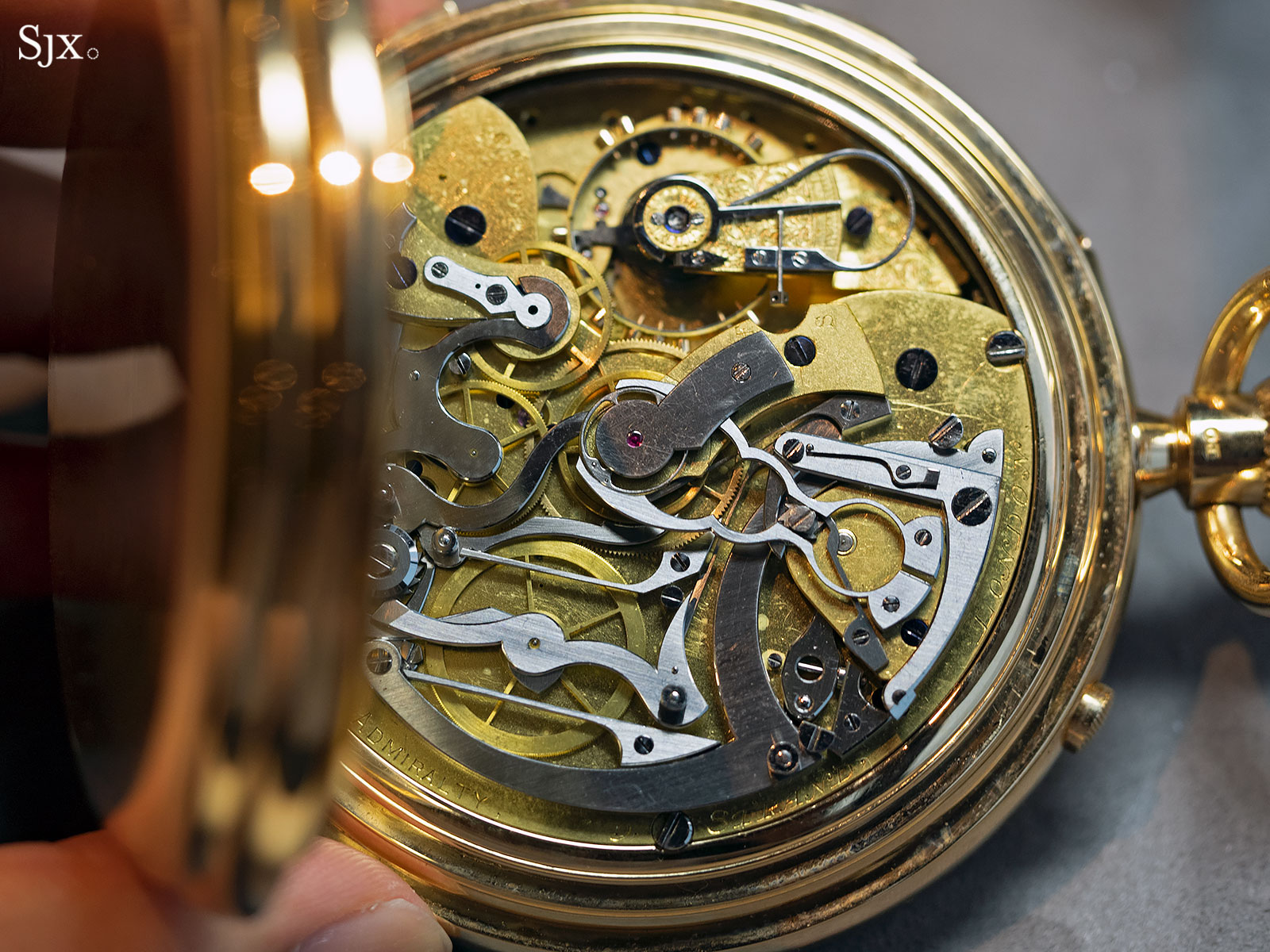 The golden age fading away
By the early 20th century, English watchmaking had been eclipsed by rivals in the United States and Switzerland. In the 18th and early 19th centuries, the English once produced the world's greatest watches. John Harrison's invention of the accurate marine chronometer helped the Royal Navy rule the waves, which in turn made the British Empire possible.
But by the time the 20th century arrived, watchmaking in England was declining. Across the Atlantic the Americans were producing watches en masse on an unprecedented scale.
In the early 20th century, the Elgin Watch Company was the world's biggest watch manufacturer with an annual production of some two million watches, though that would mark the peak of Elgin and American watchmaking as a whole.
At the same time Switzerland was growing its watch industry in both size and quality, a development that would make it the world's biggest watch exporter by the mid 20th century.
In response, English watchmakers went upmarket, and focused on the most complicated watches. In those fading years of English watchmaking, a handful of firms, namely Smith, Frodsham, Dent and Player, produced watches that ranked amongst the greatest in the world in both quality and complexity.
In fact, English watchmakers were producing grand complication watches – albeit with the help of specialist suppliers in Switzerland – in the early 1900s, well before the Swiss did, about a decade later.
Money can buy everything
In fact, many prominent individuals of the day – men who could have bought anything they wanted – chose to buy English watches.
Banker J. Pierpont Morgan, found of the eponymous bank, owned the most complicated English watch ever made, produced by J. Player & Son of Coventry in 1909. Having last been seen in the 1970s, it is a double-faced pocket watch with grande and petite sonnerie, tourbillon, and numerous astronomical indications including the zodiac, declination of the Sun.
Better known as a watch collector, James Ward Packard, the American automobile tycoon, avidly collected highly complicated watches – though not in competition with banker Henry Graves as widely believed – and commissioned several grand complications from both Patek Philippe and Vacheron Constantin.
The Patek Philippe pocket watch he received in 1916 (with movement number 174'129) had 16 complications, and in 1927 he received another masterpiece by Patek Philippe (with movement number 198'023) that had 10 complications.
But Packard bought the best, not just from Switzerland, which is why he also commissioned one of the most complicated English watches ever, produced by Edward Dent of London. It was delivered in 1902, well before any of the major Swiss pocket watches Packard owned.
Signed "E. Dent", Packard's grand complication watch was a whopping 72mm in diameter, and features a tourbillon, perpetual calendar with leap year, minute repeater, split-seconds chronograph, and power reserve indicator.
Packard's Dent pocket watch then brings us to the S. Smith & Son that Sotheby's is selling. Both the Dent and this Smith share a similar dial layout, as well as certain elements of the movement, most likely because both movements were produced by London movement maker Nicole Nielsen.
While Packard Dent was sold almost three decades ago, the Smith will soon go under the hammer, at the first sale of several to dispose of the gargantuan watch collection of the late Erivan Haub, a German supermarket billionaire.
When the Smith was last sold at Antiquorum Geneva in 2004, it fetched a whopping 487,500 Swiss francs, then equivalent to US$372,000, making it one of the most expensive English watches ever sold. The same watch today has an estimate of US$220,000-340,000, which might still prove to be a tough sell given how out of fashion pocket watches are.
But examine the Smith up close, and it is easy to see why it is regarded as a triumph of English watchmaking, a last hurrah as the golden age came to a close.
A lot of watch, literally
Beautifully preserved, especially since it is now 116 years old, the Smith is a titanic timepiece, with a diameter of 77mm and a thickness of 31.5mm. More object than portable timekeeper, its dimensions are reminiscent of the Patek Philippe Calibre 89 or "Henry Graves".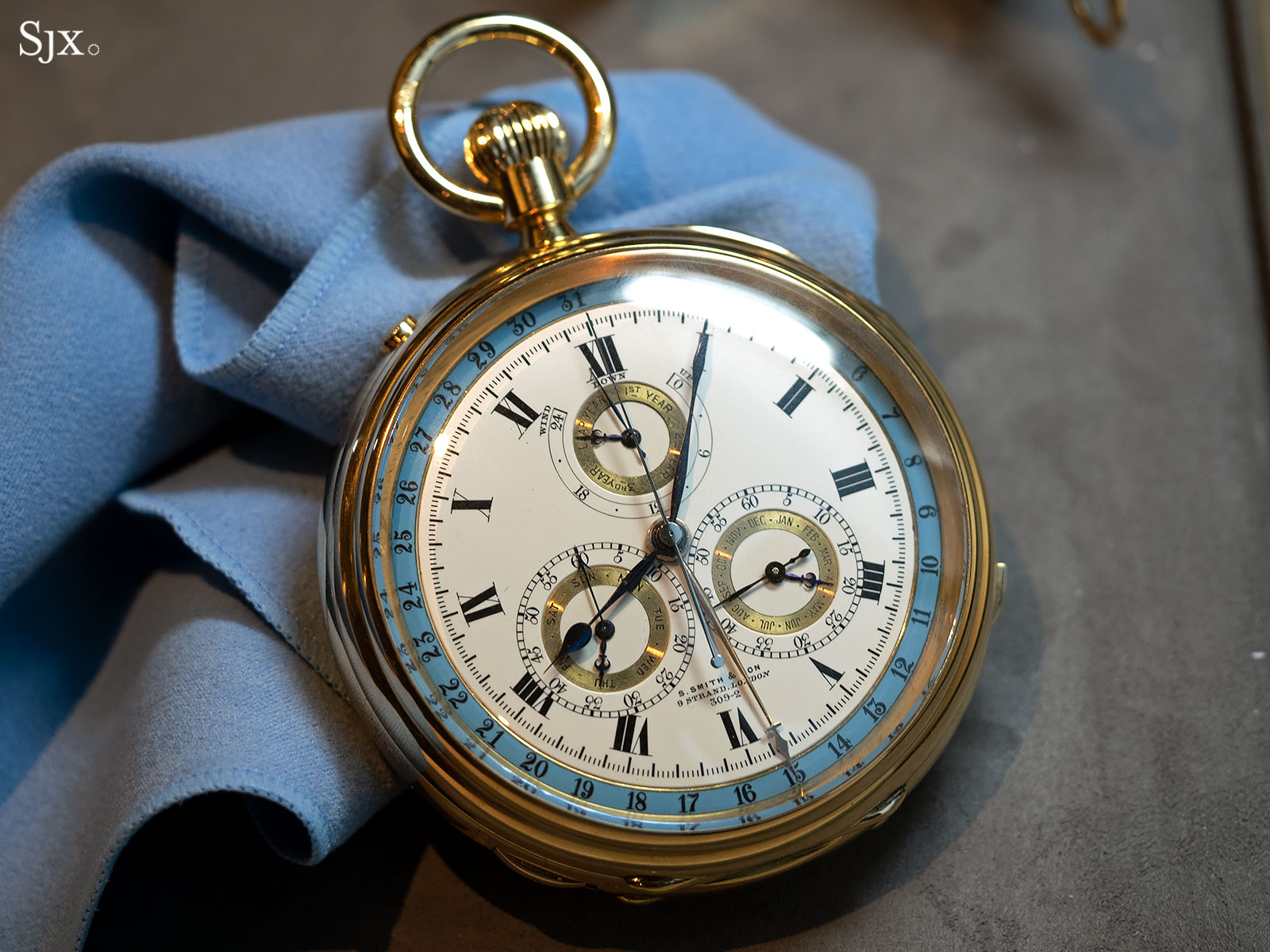 According to horological historian Terence Camerer Cuss, writing in The English Watch: 1585-1970, the dial is made up of 10 separate pieces, mostly fired enamel but with several chapter rings in solid gold. It is signed on the back by Willis, a defunct dial maker based in Smithfield, London, an area best known today for its meat market.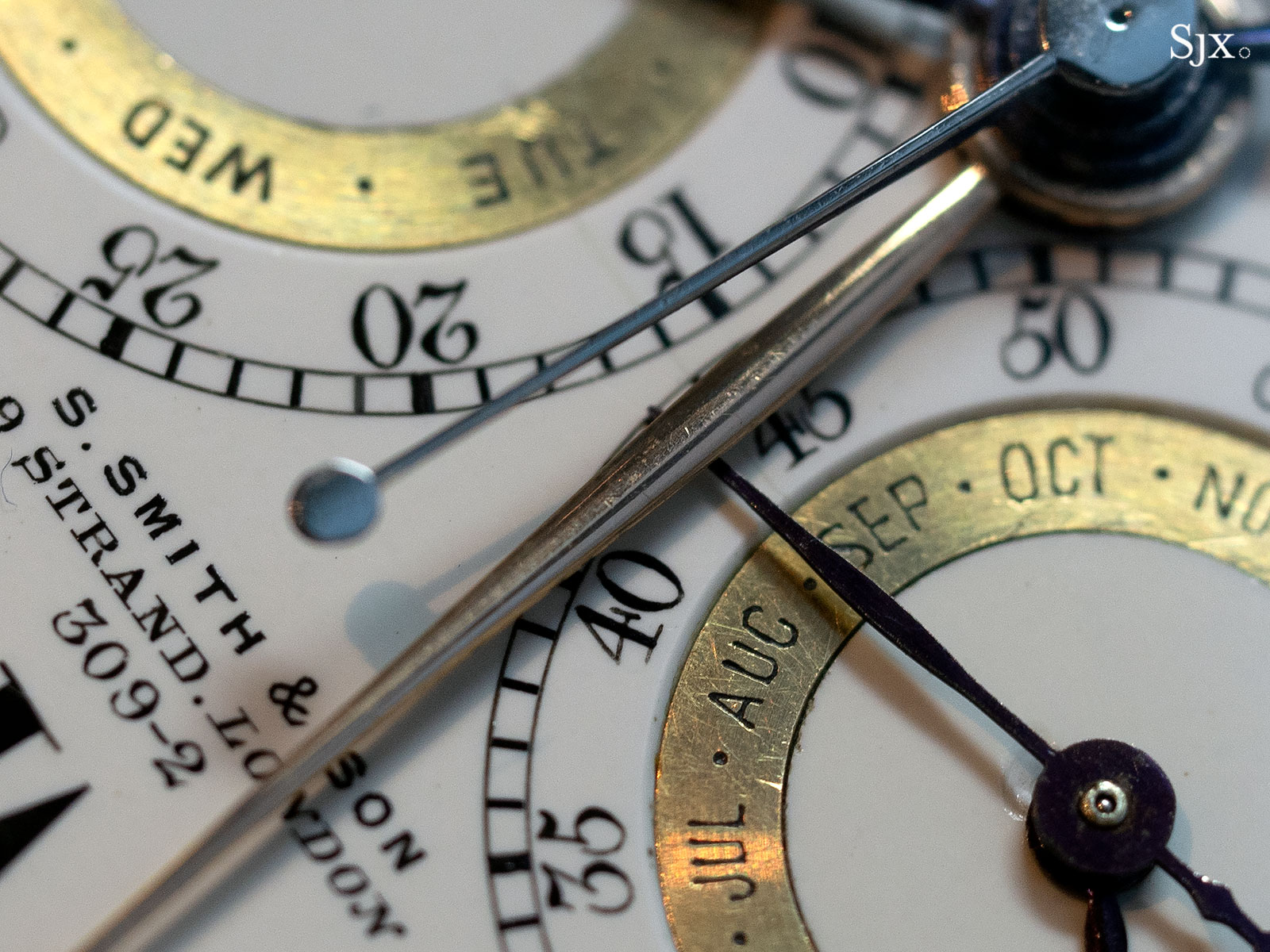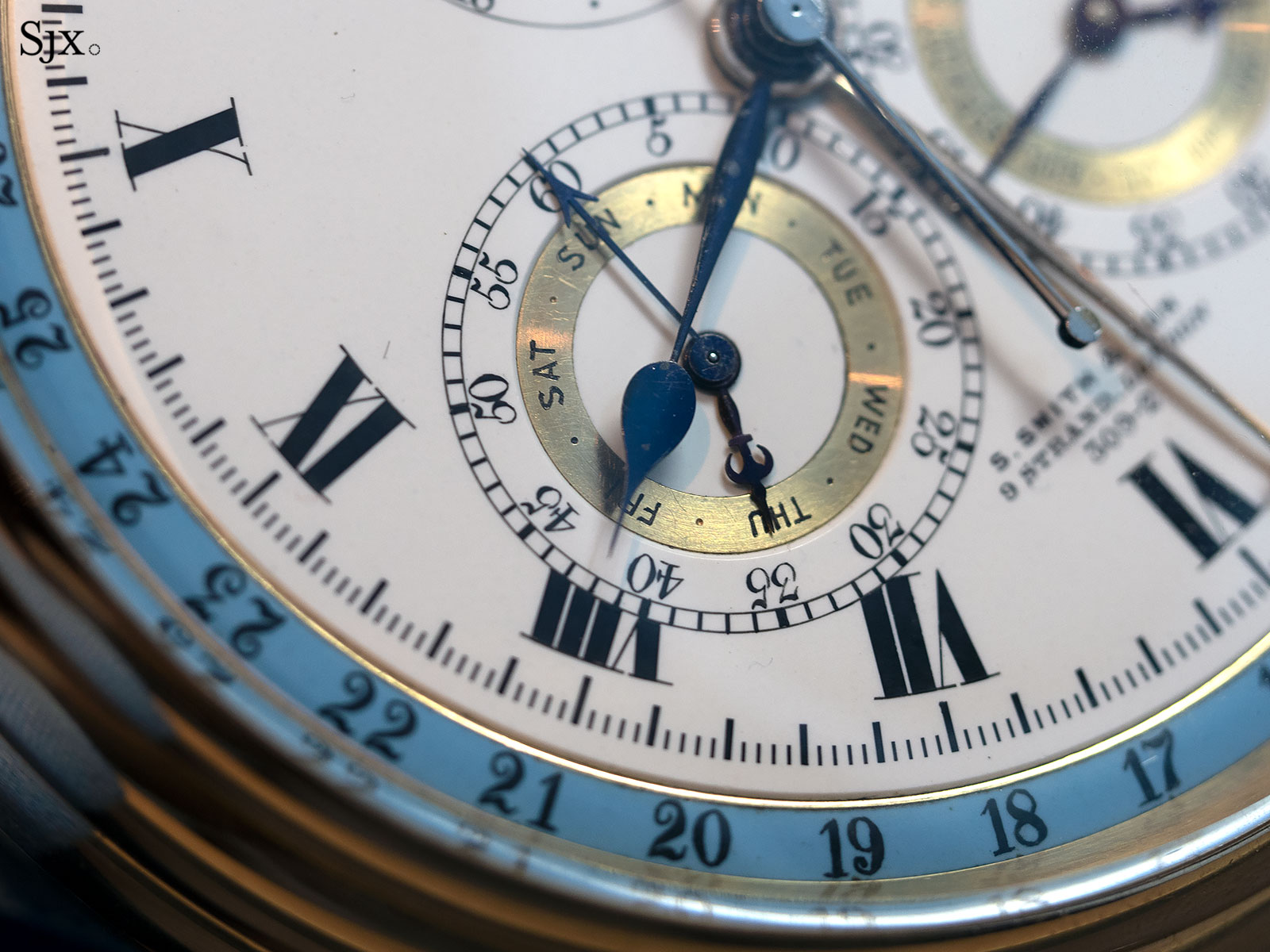 While the reason for the unusual, turquoise enamel chapter ring for date has been lost to time, Sotheby's speculates that it was done to make the date for legible; perhaps the watch was originally produced for an astronomer. The Sotheby's catalogue points out that the dial bears similarities to astronomical watches produced by 19th century German watchmaker Jacob Auch.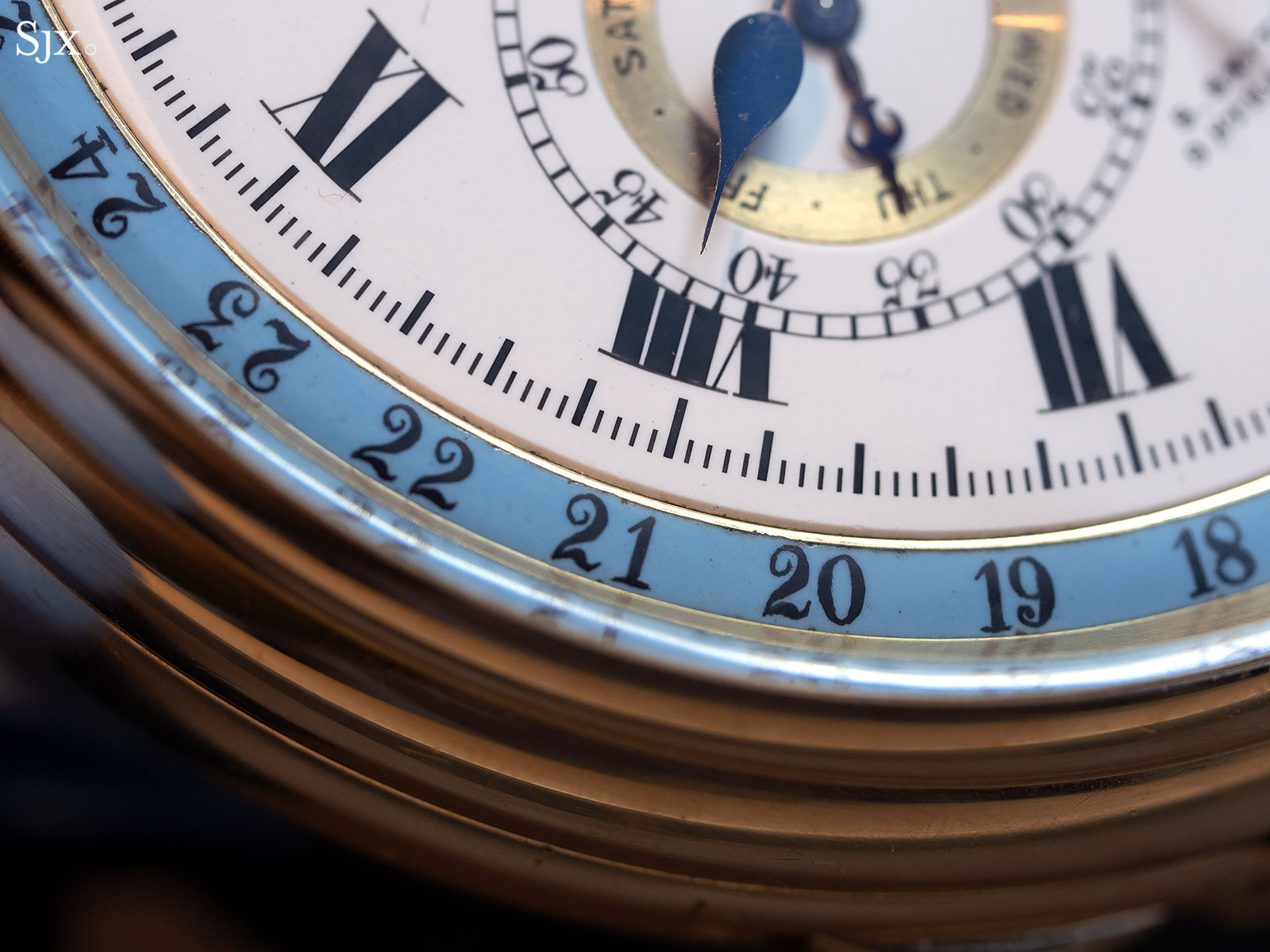 Even as the reason for its design have been forgotten, the dial remains gorgeous. All of the markings on the dial were evidently painted by hand, and executed with style and finesse that is almost impossible to find on watch dials today.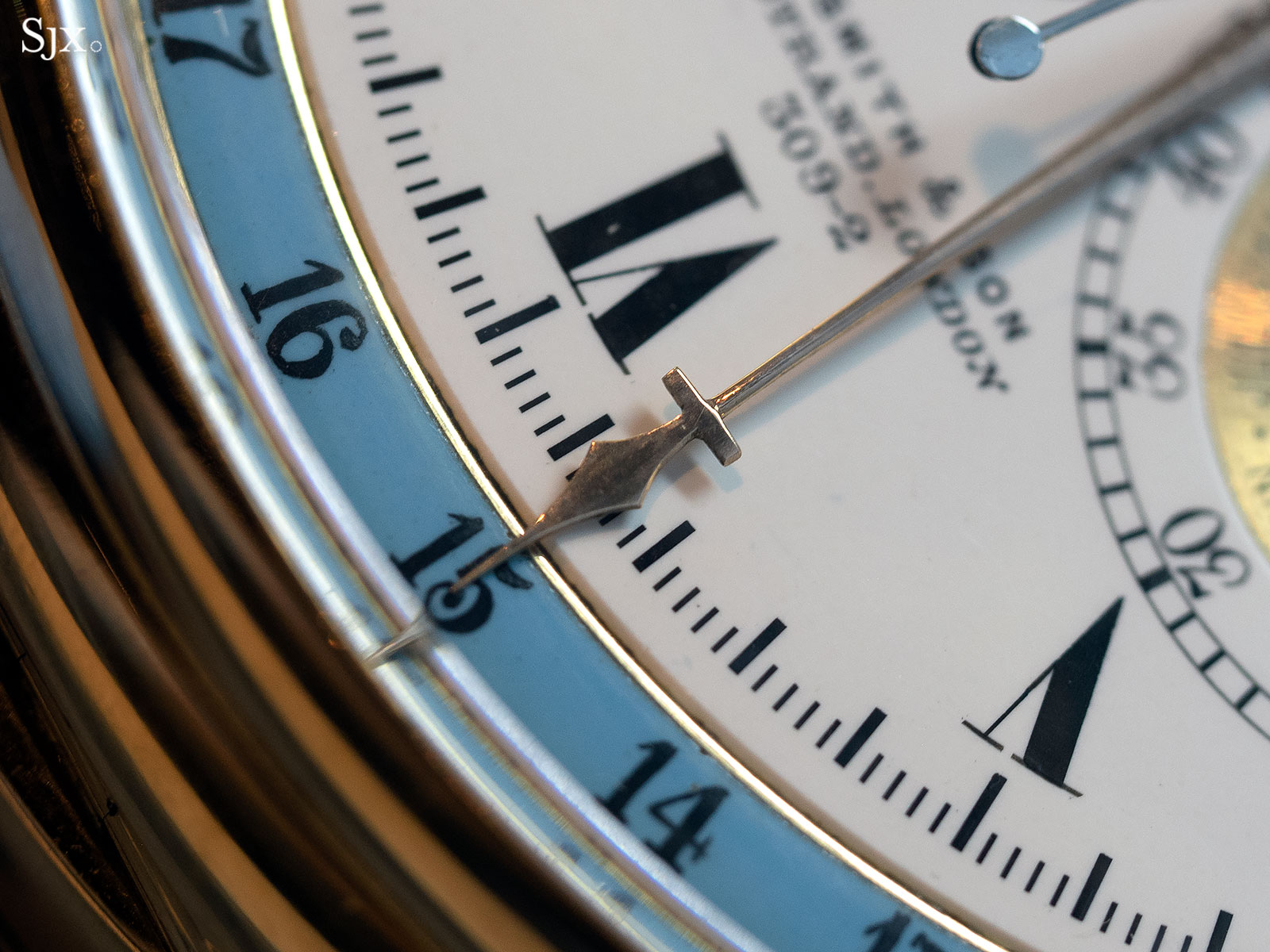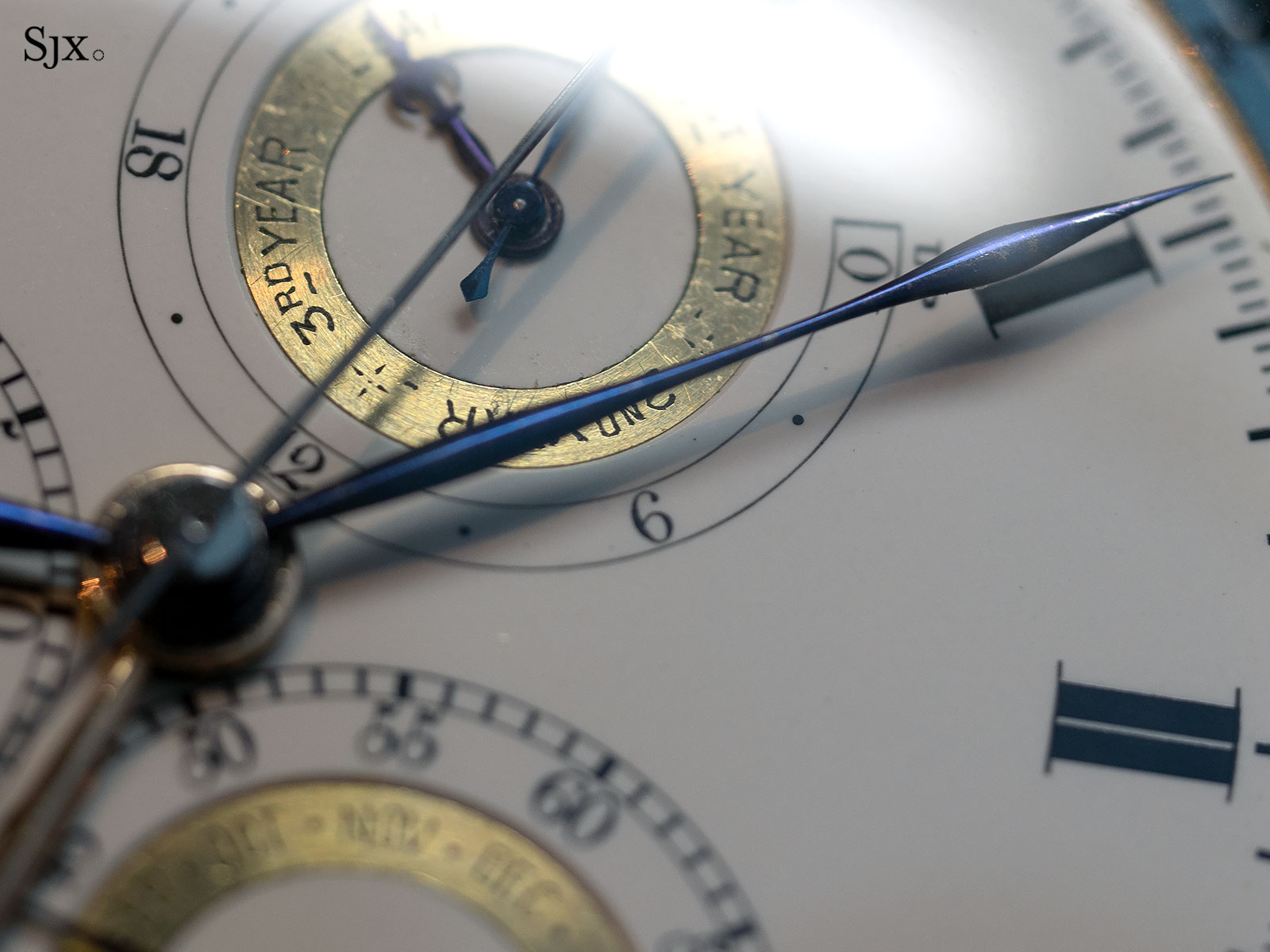 The same goes for the hands, which are either gold or blued steel, and beautifully shaped. Although the dial has 11 hands, nearly all of them are different, with only the three calendar points on the sub-dials being of the same design.
Nicole, Nielsen & Co.
The movement was likely produced by Nicole Nielsen, a movement maker that supplied numerous English firms besides Smith.
It was set up in the mid 1800s by a pair of Swiss transplants to London, Nicole and Capt. Both came from the Vallee de Joux – from the village of Le Solliat in fact, today Philippe Dufour's hometown – where they started their first workshop. After Danish watchmaker Nielsen joined the firm, its name was changed to Nicole Nielsen & Co.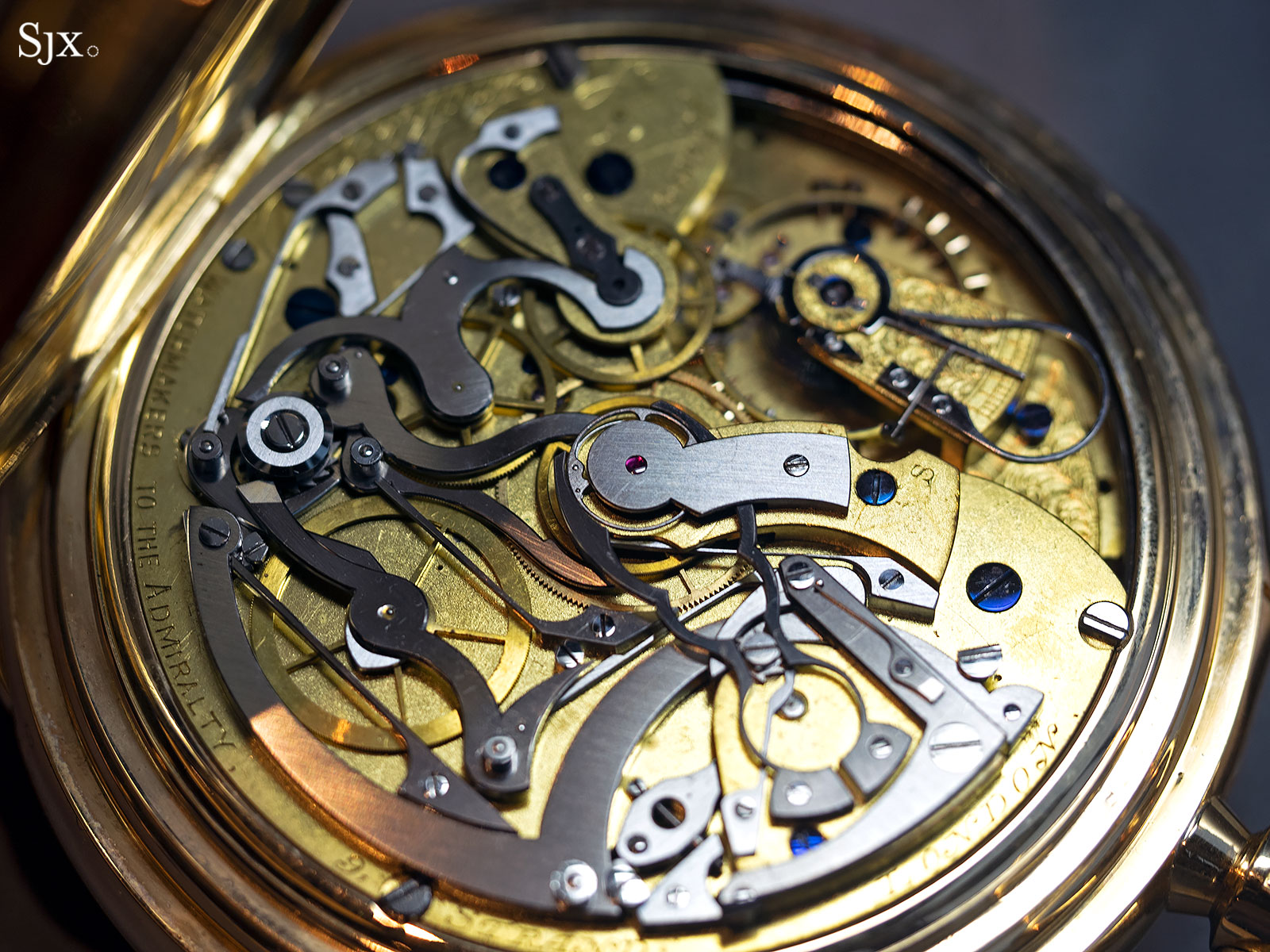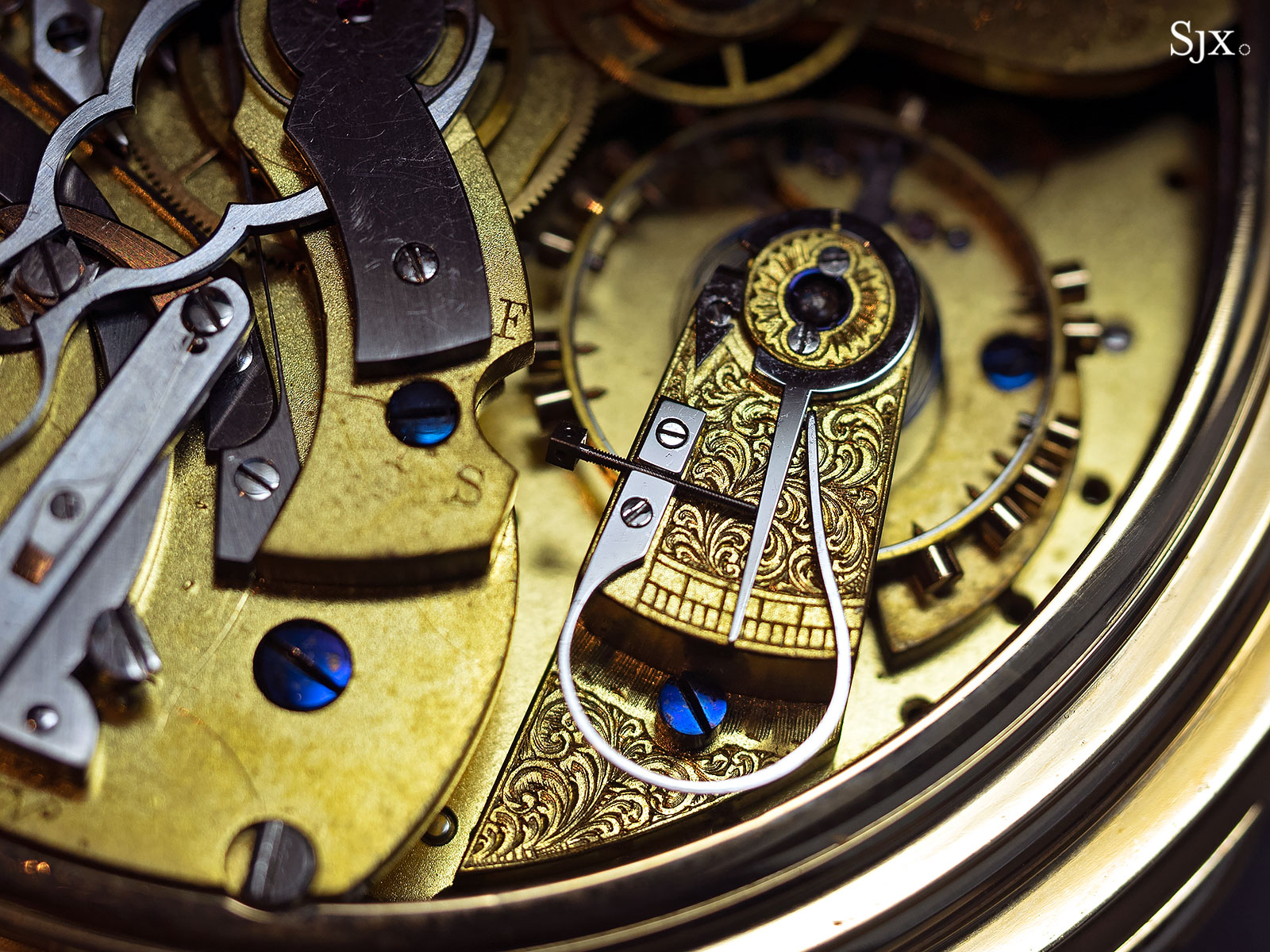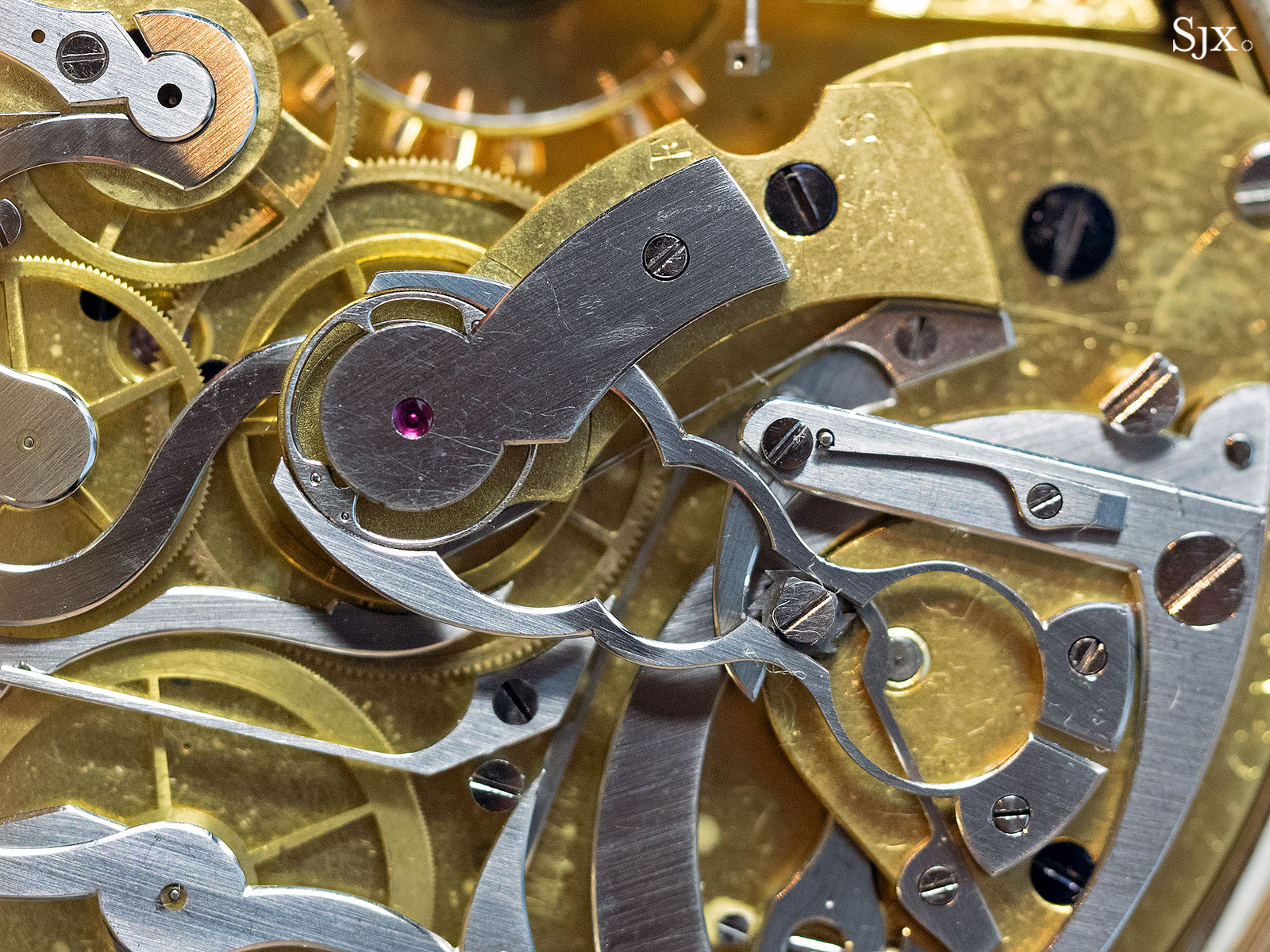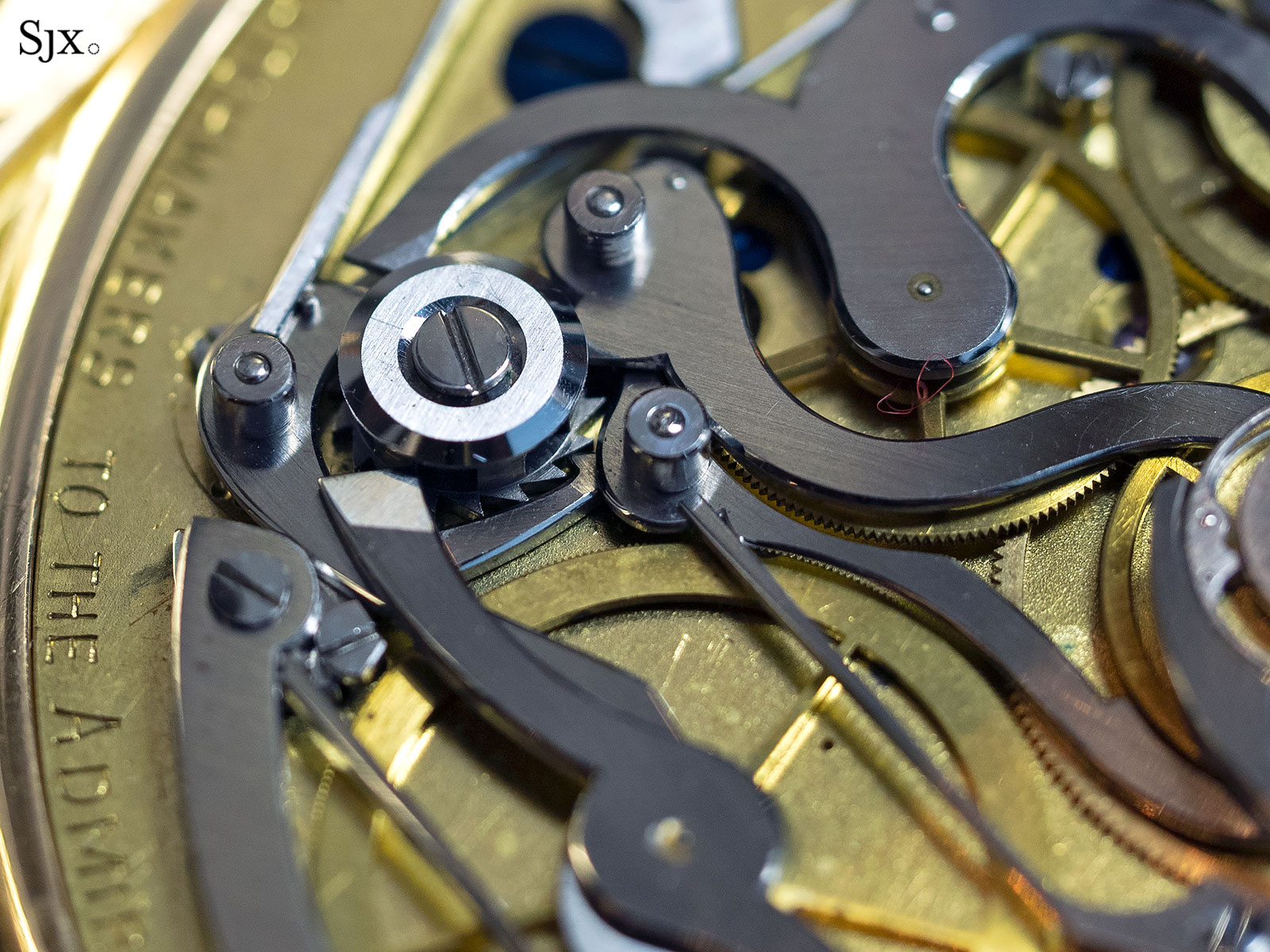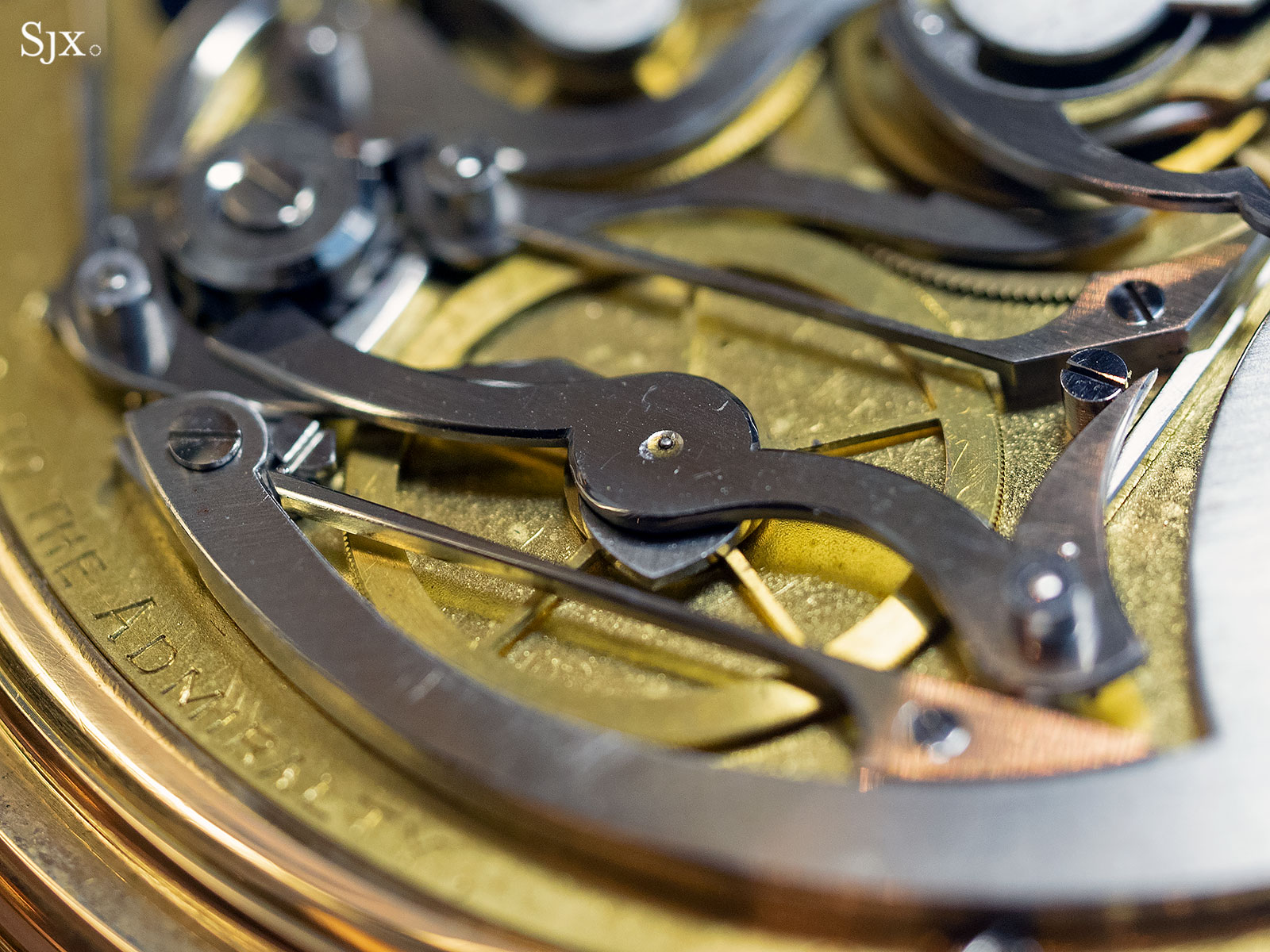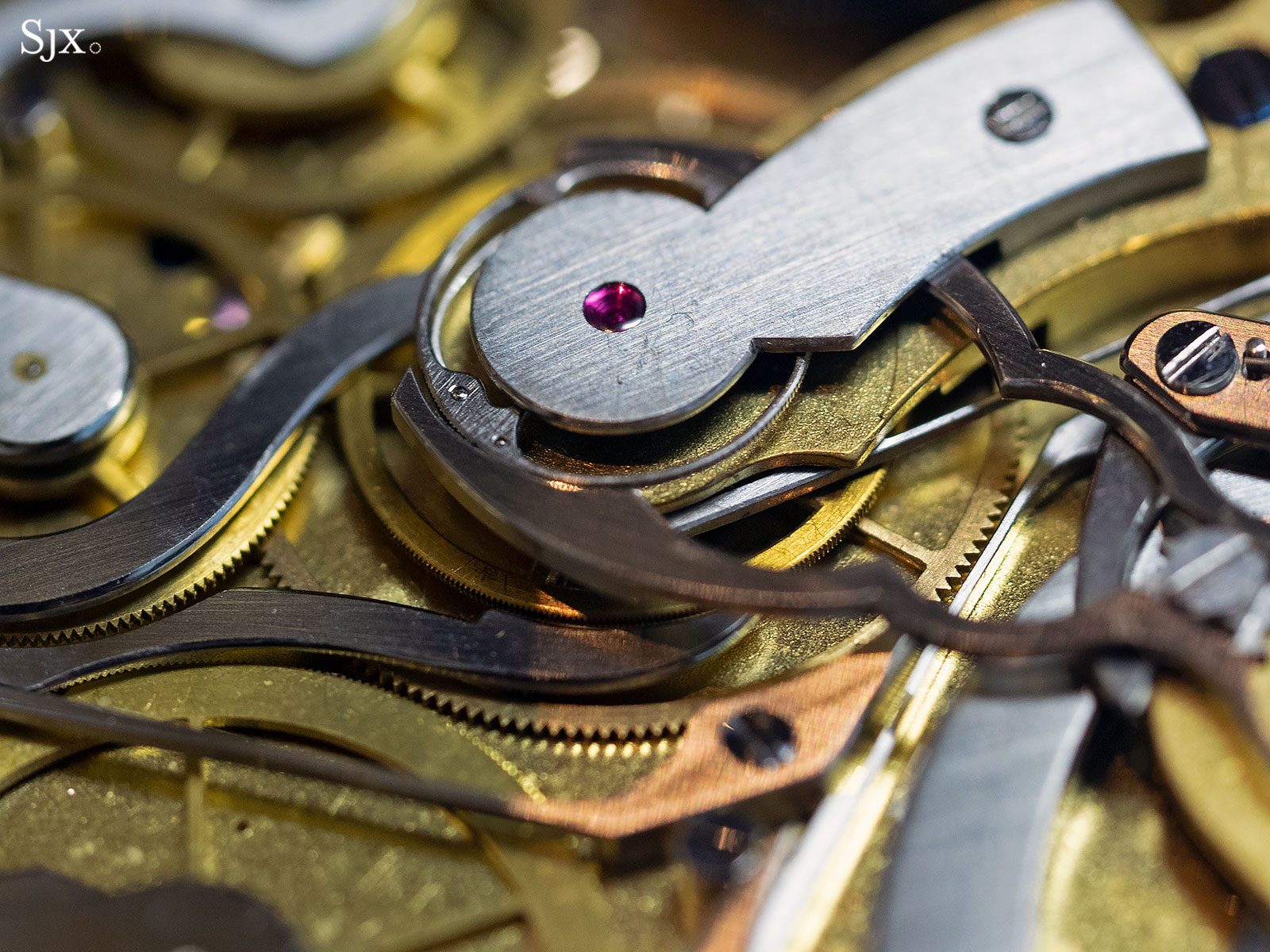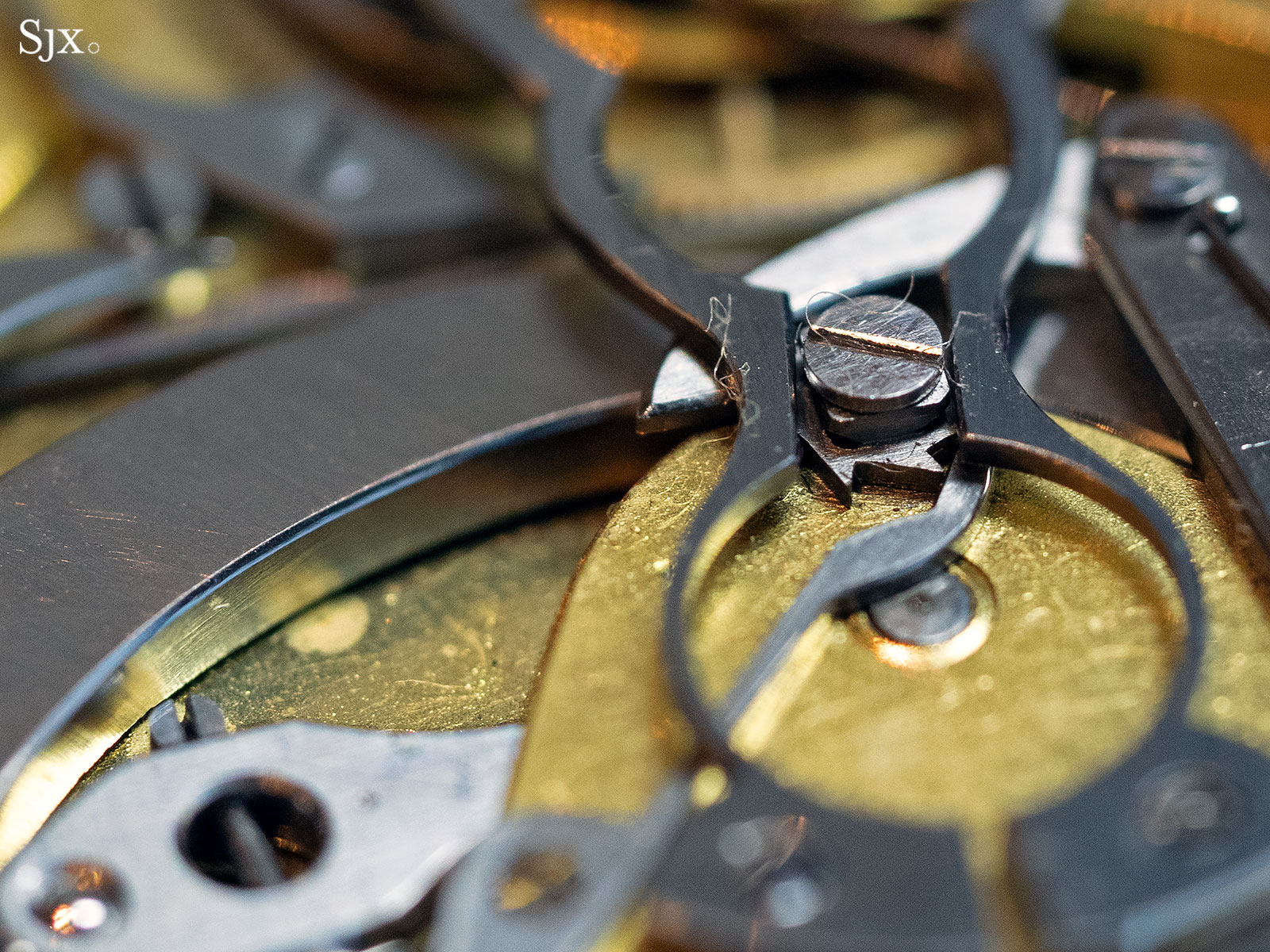 Most of its movements were built using ebauches, or movement blanks, imported from Switzerland, as was probably the case for this Smith. According to Mr Camerer Cuss, the striking and chronograph mechanisms are probably Swiss, although the split, bimetallic balance wheel as well as the balance cock with diamond endstone and micrometer regulator index are typically English.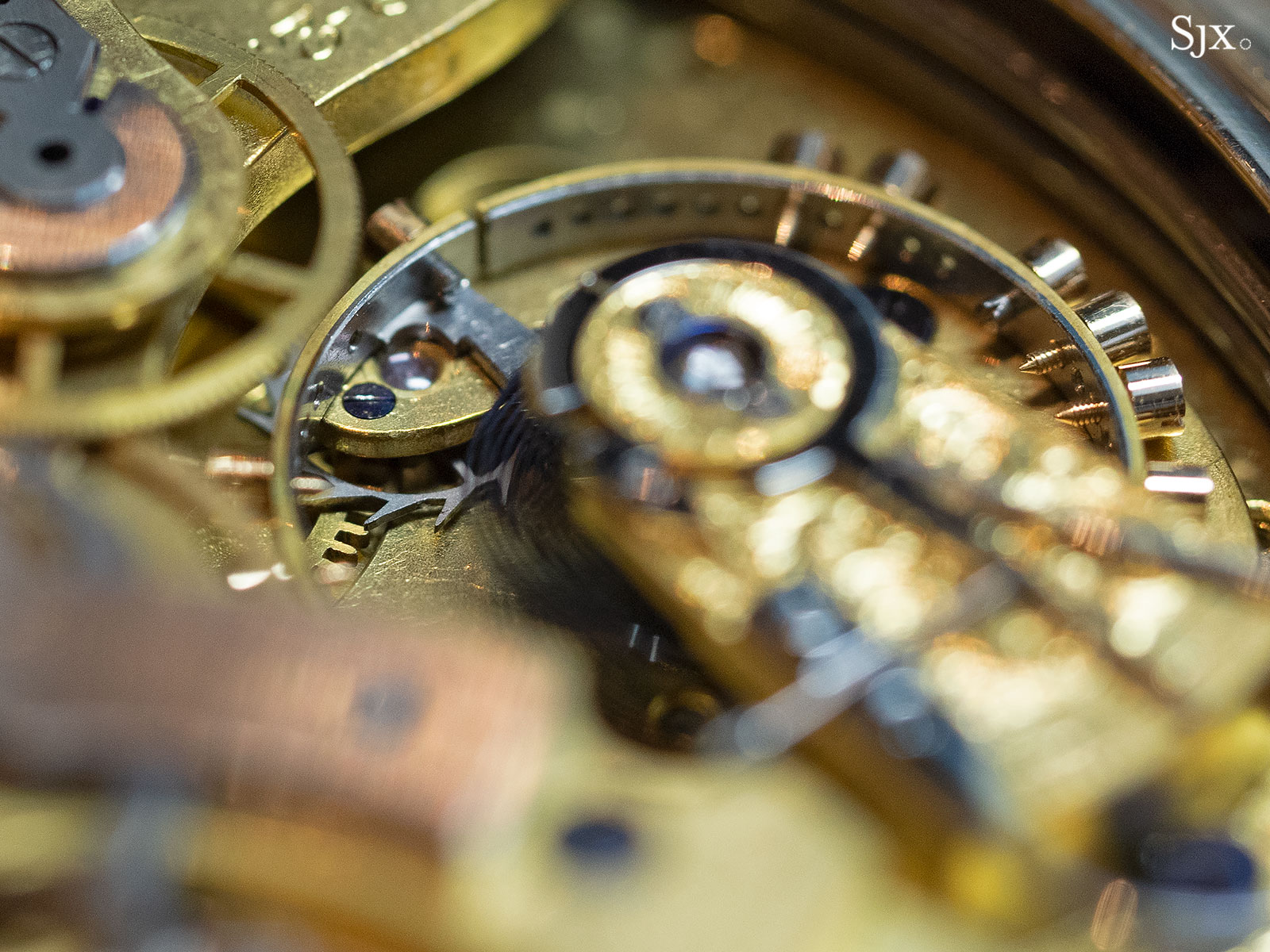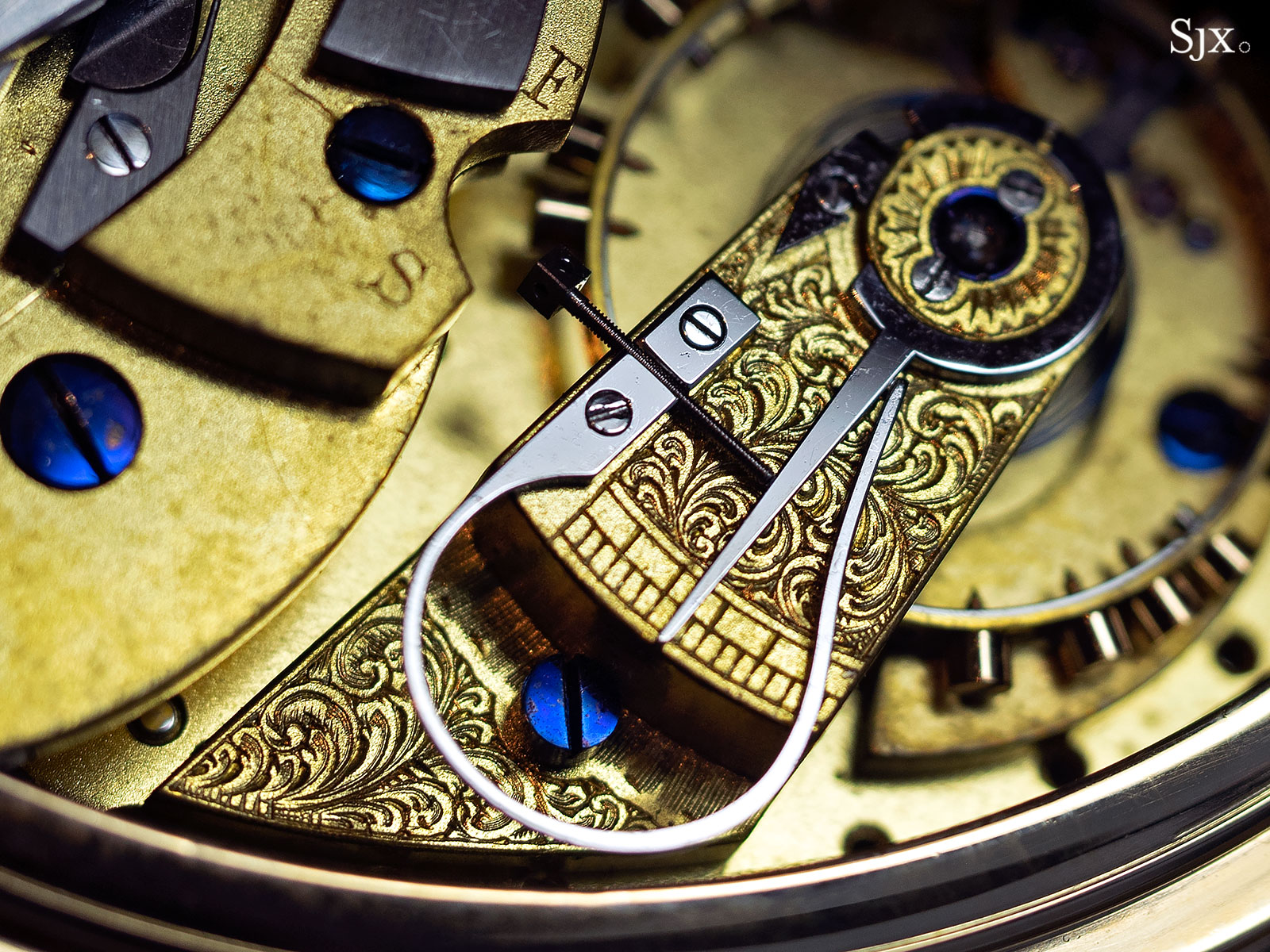 The finishing was also done in England, hence the distinctive style, with gilt frosted bridges and an engraved balance cock – elements that were adopted by the watchmakers of Glashütte in the 19th century and are now regarded as typical German watchmaking.
The S. Smith & Son grand complication has an estimate of £170,000-260,000, or about US$220,000-340,000, and it will be sold at the Masterworks of Time auction on July 2, 2019 in London.
---
Many thanks to Richard Stenning and Philip Whyte for their help in researching this article.
Back to top.
---
You may also enjoy these.