Top Picks from Contemporary & Independent Watchmaking at Christie's Hong Kong
A look at top picks including well-priced high complications.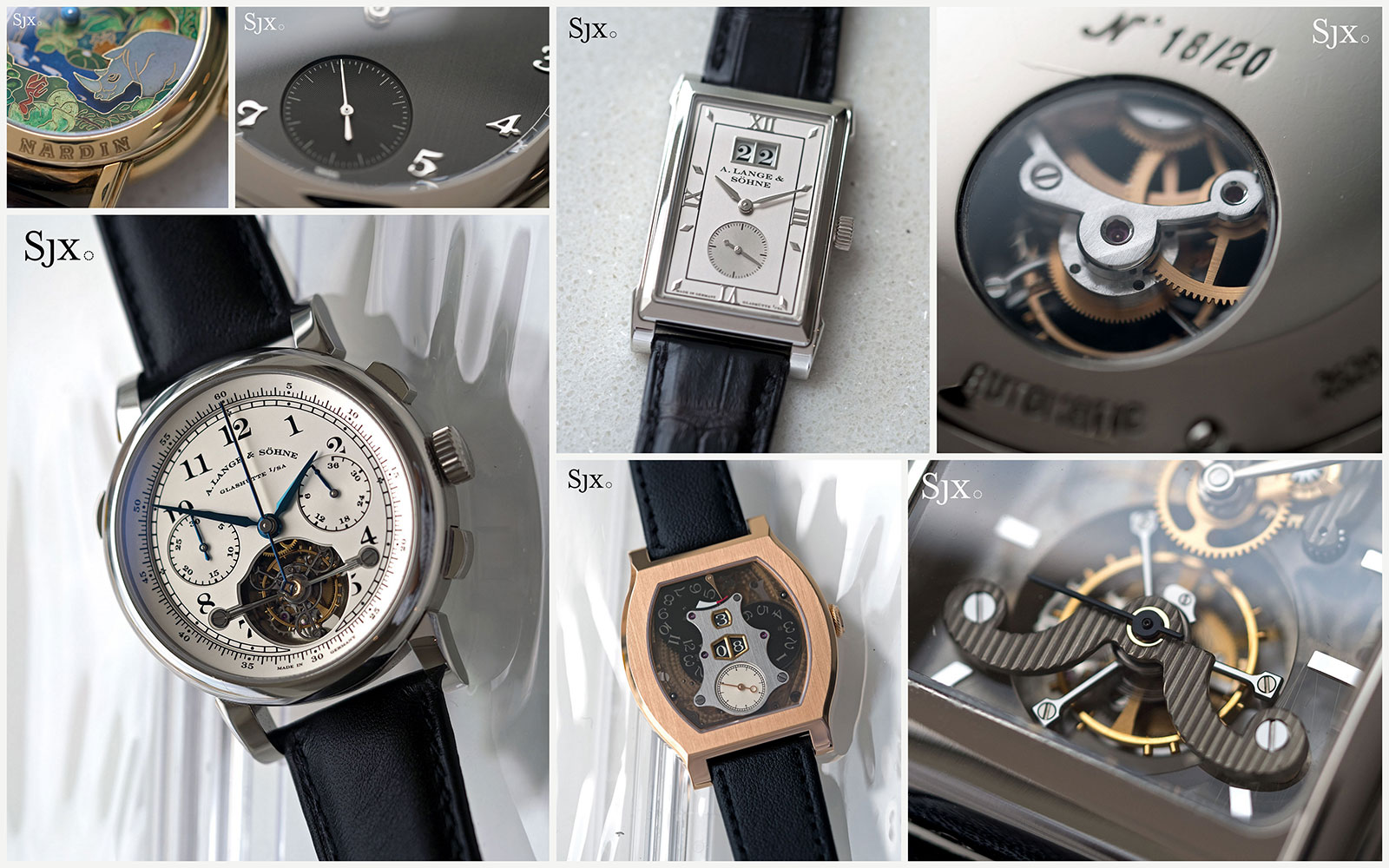 True to form for a watch auction in Hong Kong, Christie's sale at the end of May is a diverse 257 lots that includes a good number of high complications and creations by independent watchmakers.
Many of the complications represent notably good value, offering a lot of function and movement for less.
Here are a dozen highlights, all produced within the last decade or so, that represent the entire spectrum of contemporary watchmaking.
[The full catalogue is available here.]
---
Lot 2307 – Urwerk UR-110 Eastwood in Macassar ebony 
Clad with a front plate made of Macassar ebony – a wood so hard it wore out the drill bit as quickly as steel – the UR-110 Eastwood was the final edition of the model.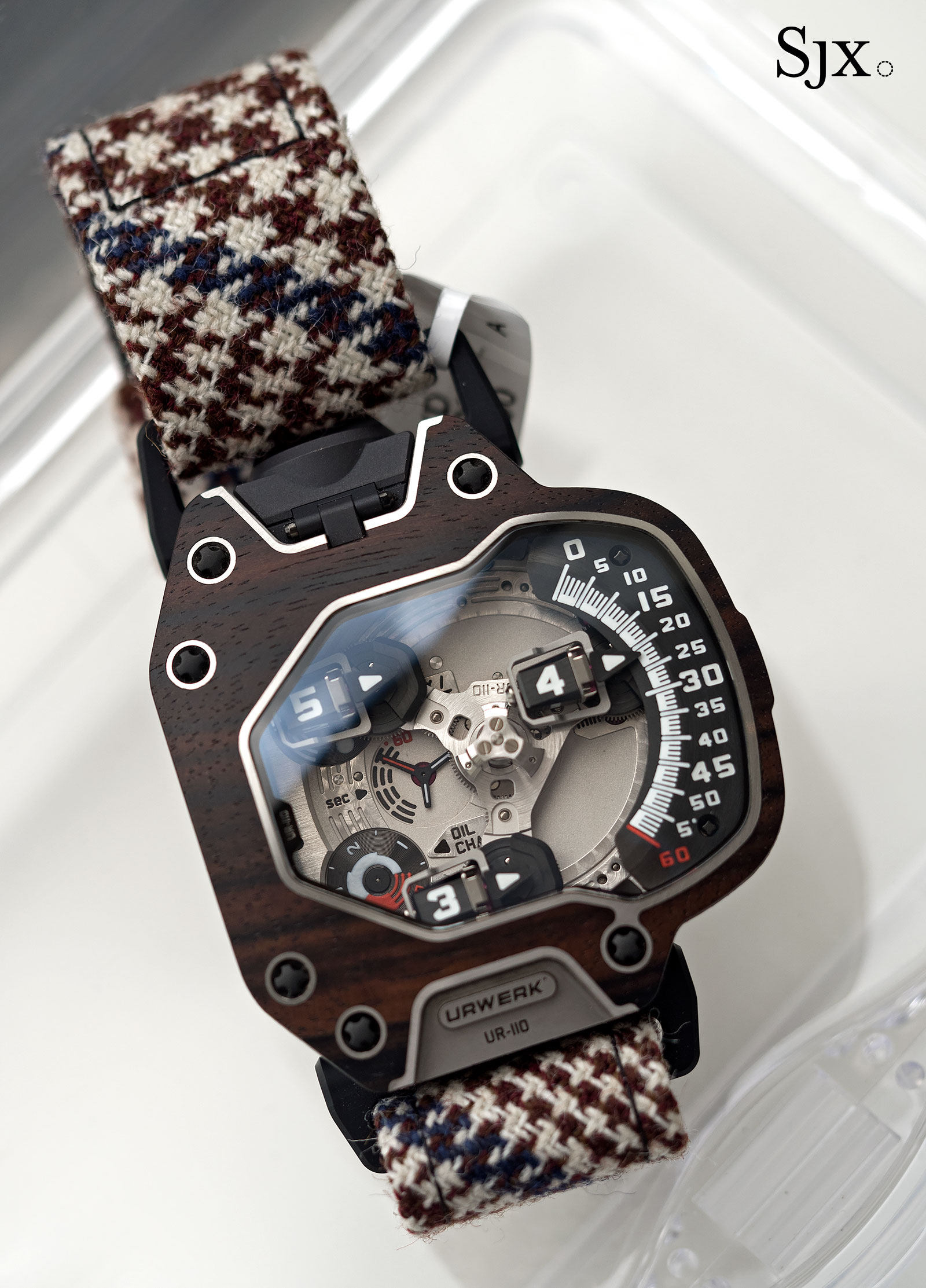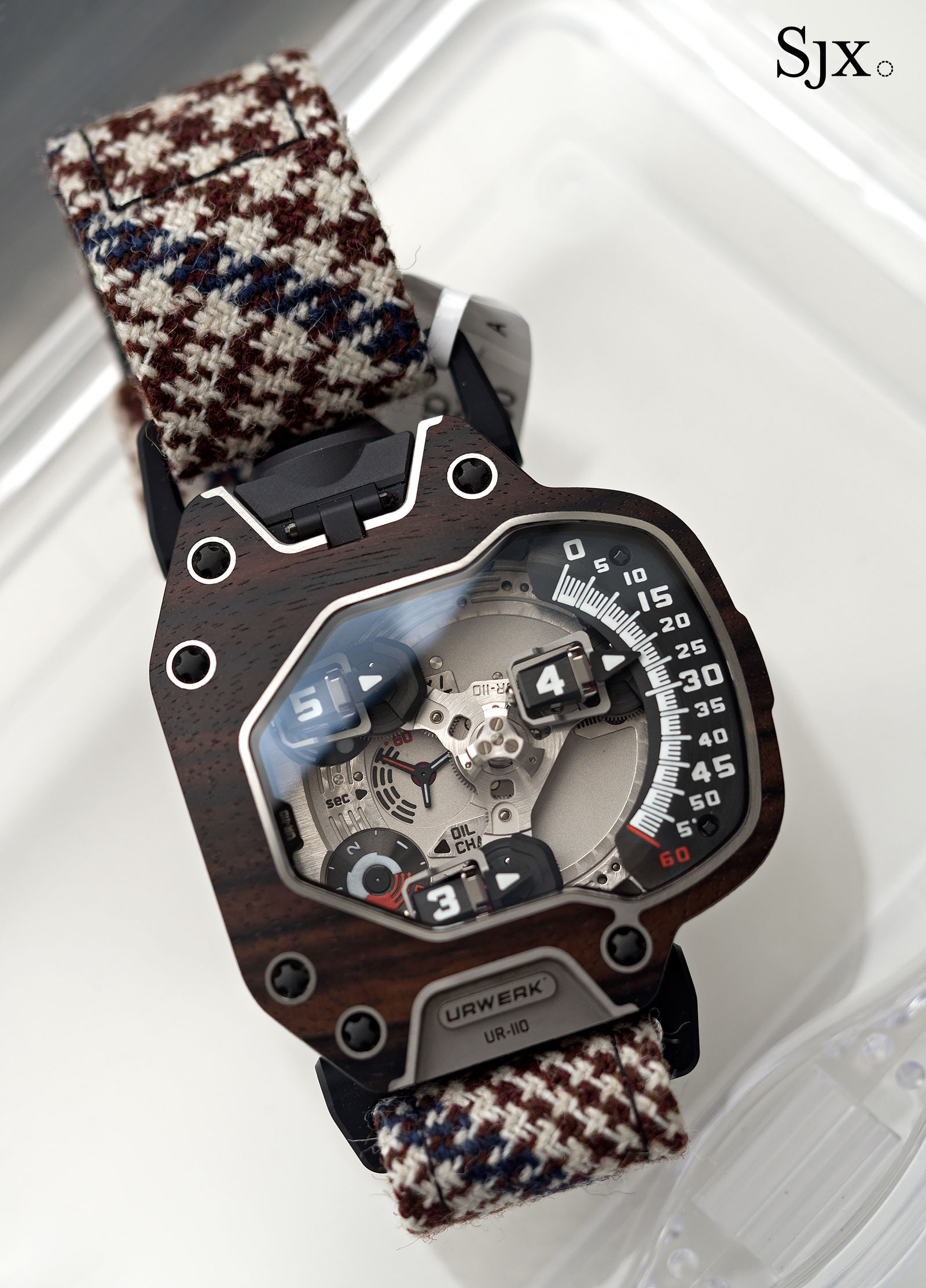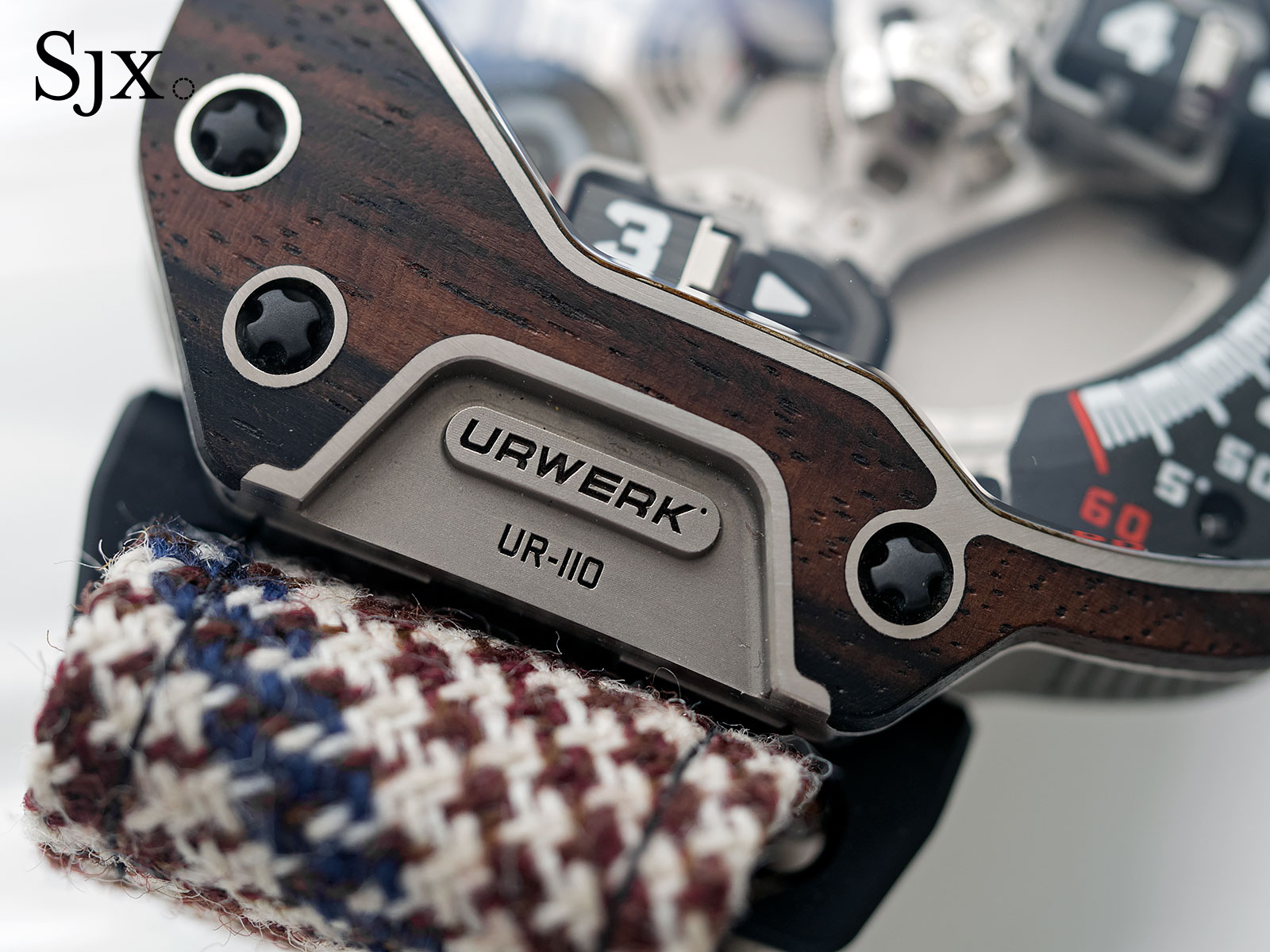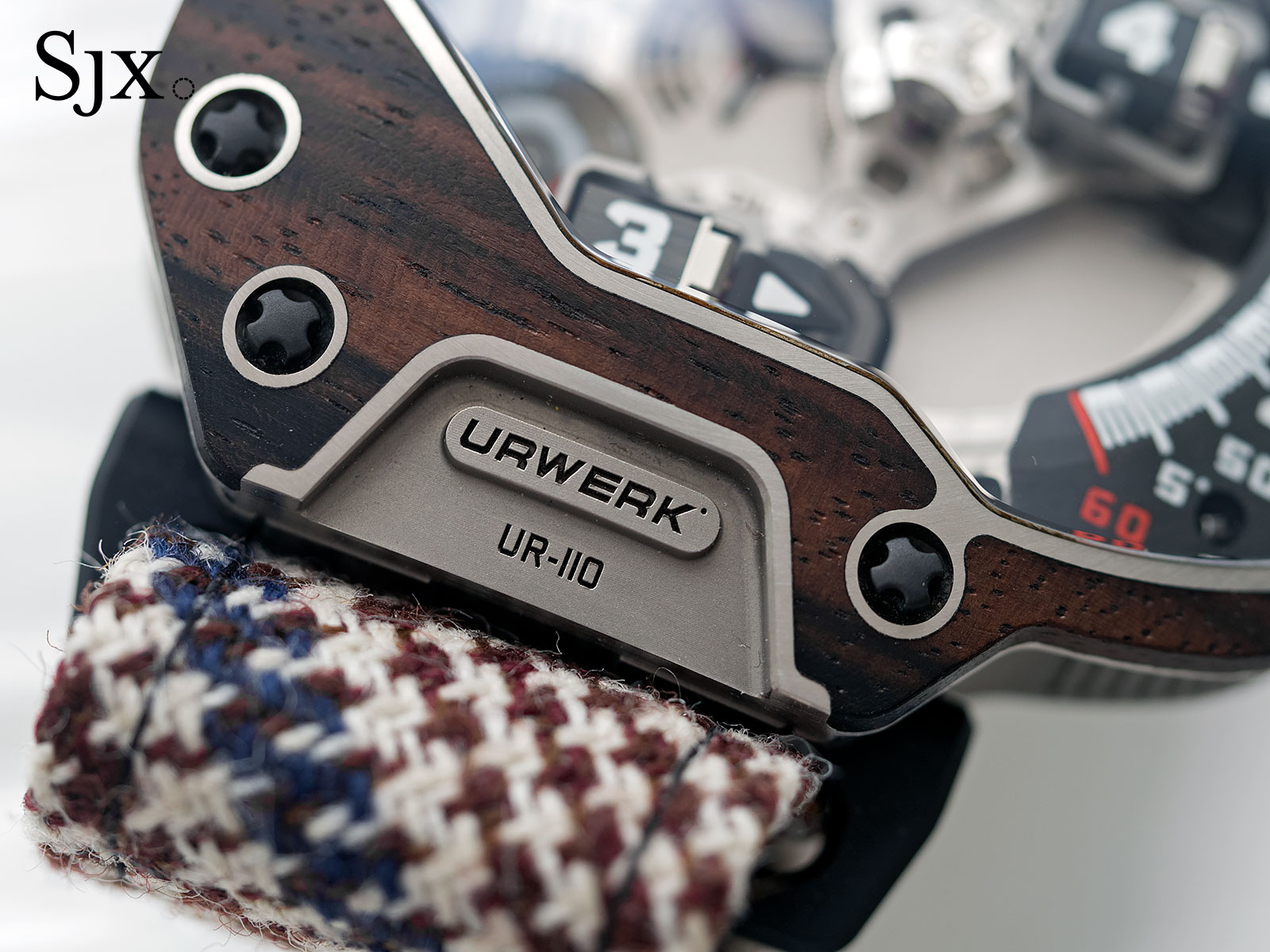 Despite the hardness of the wood, the Macassar ebony front panel is perfectly formed and fitted, sitting against the titanium frame seamlessly.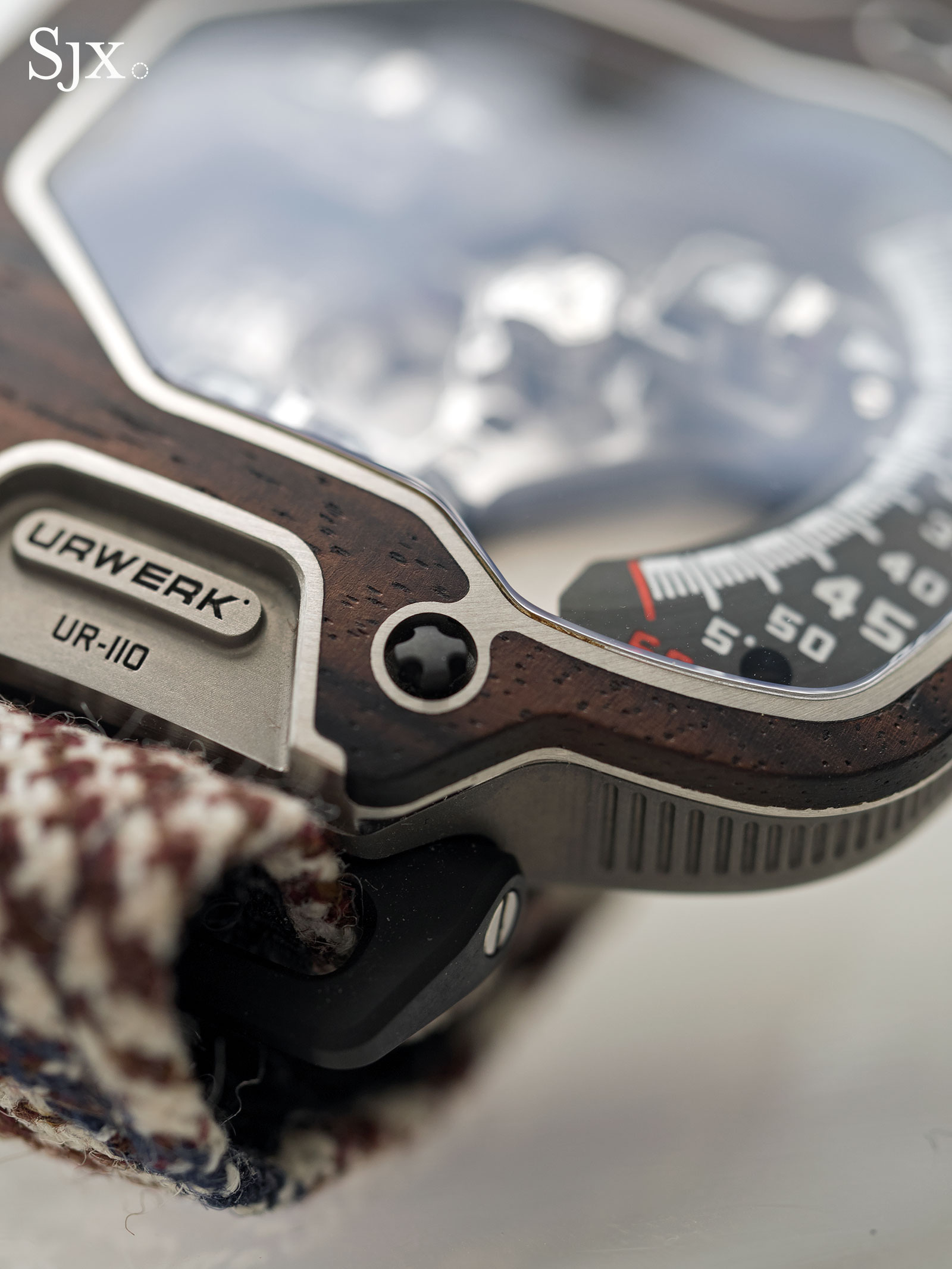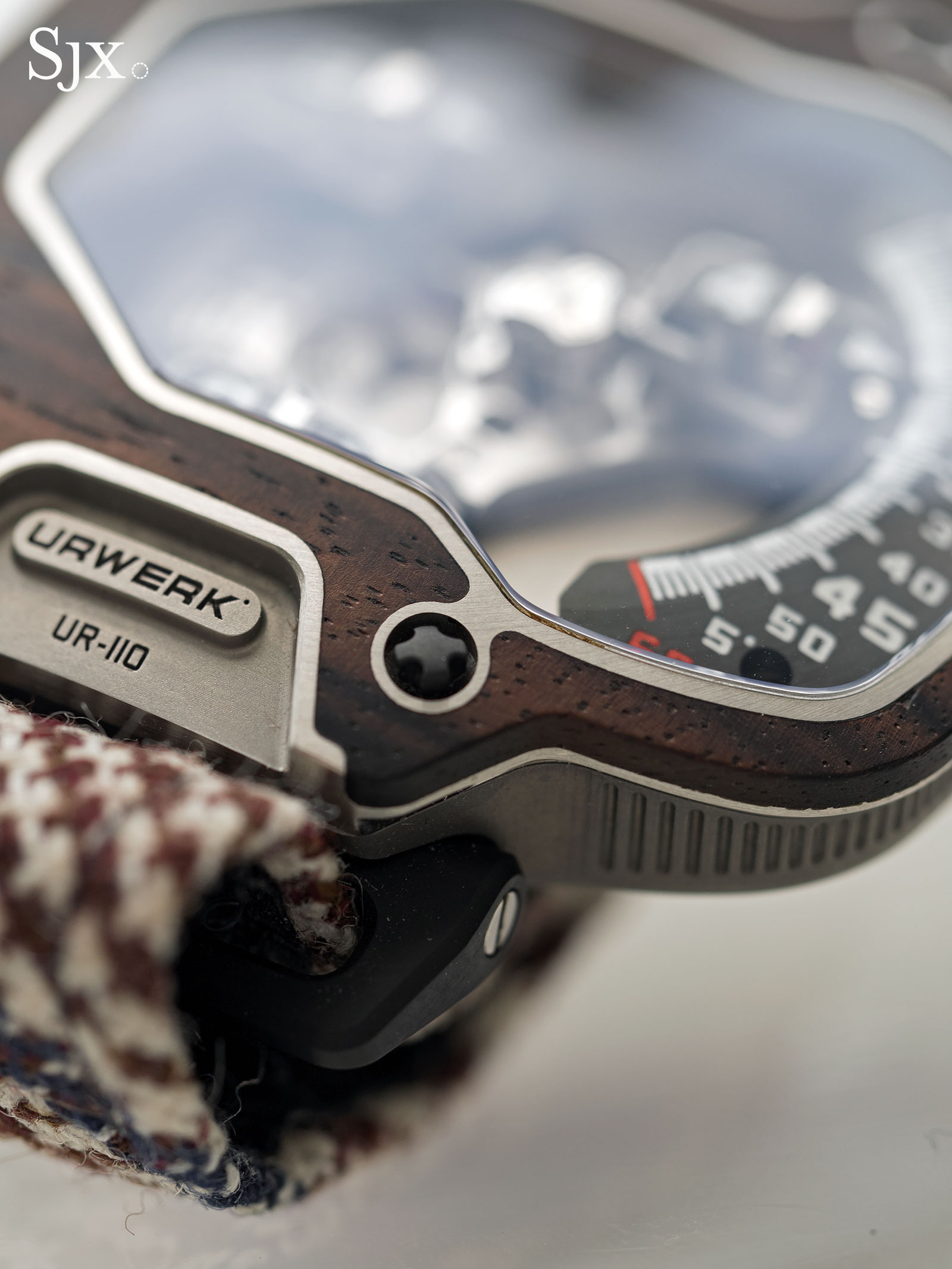 Combining both the satellite cube and wandering hour time display that's Urwerk's signature, the UR-110 was produced in limited numbers for just over five years. The wood-fronted Eastwood models were limited to just five each in Macassar and red ebony. They remain the only Urwerk models that has an organic material for the case, which is titanium below the wood.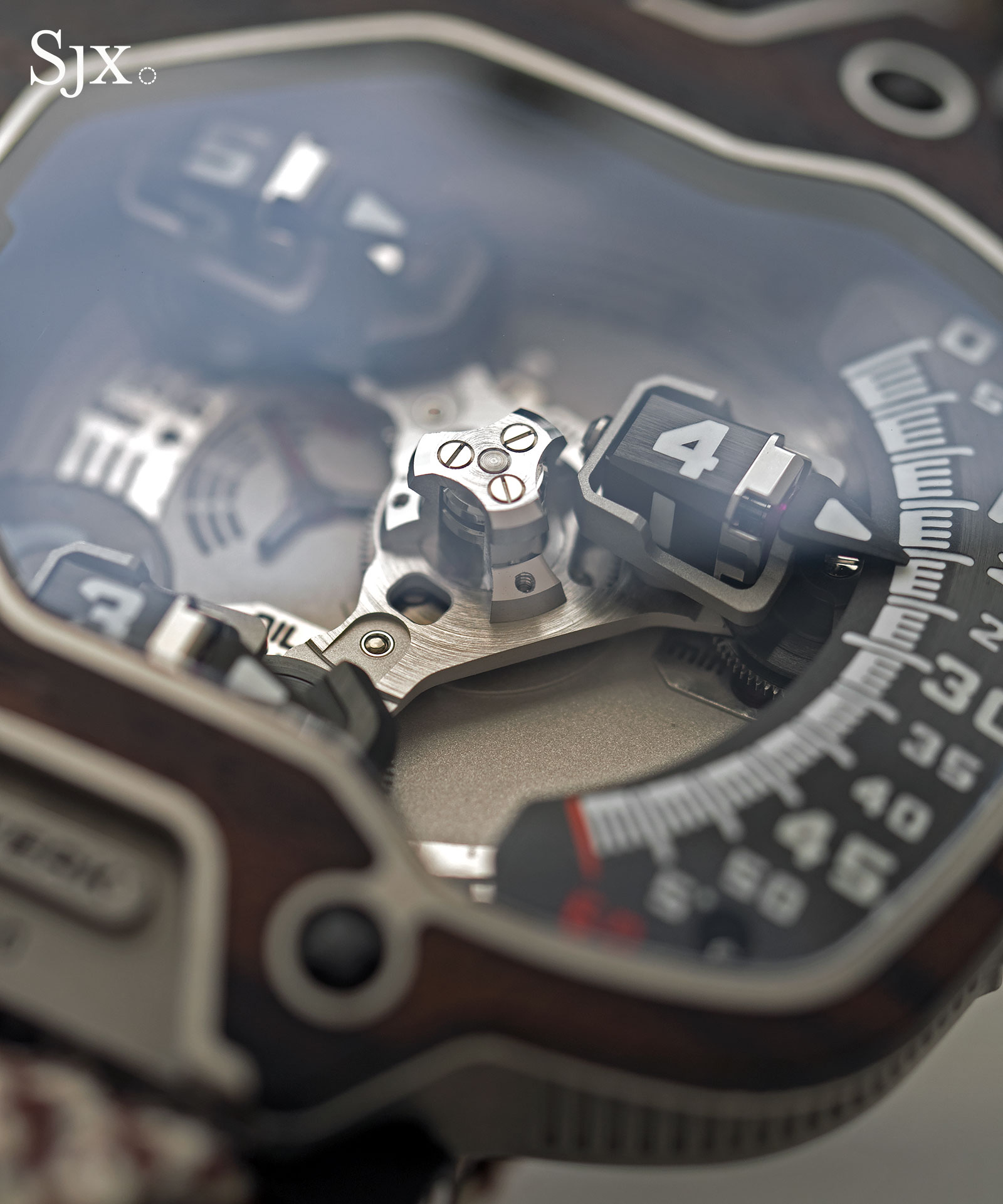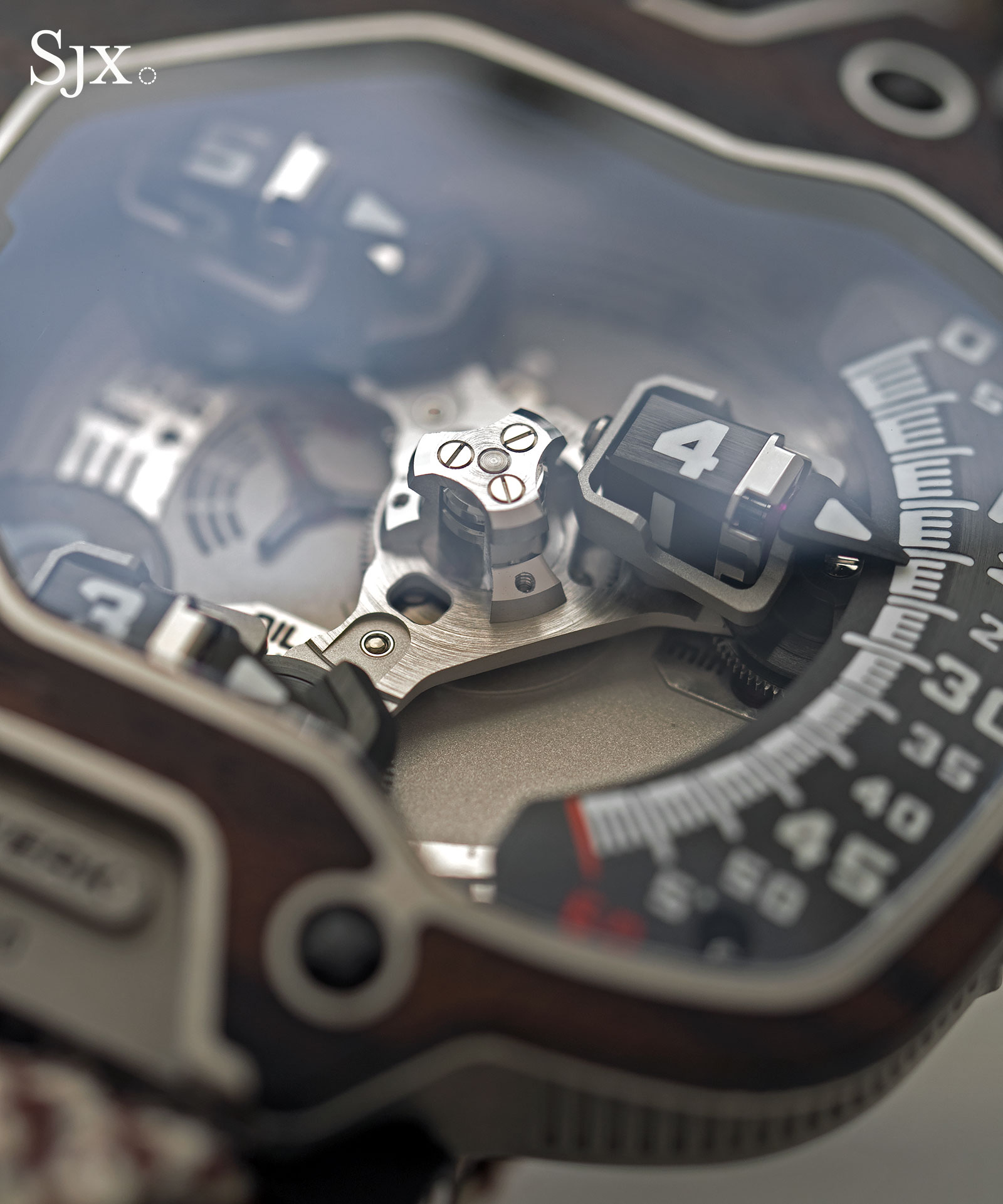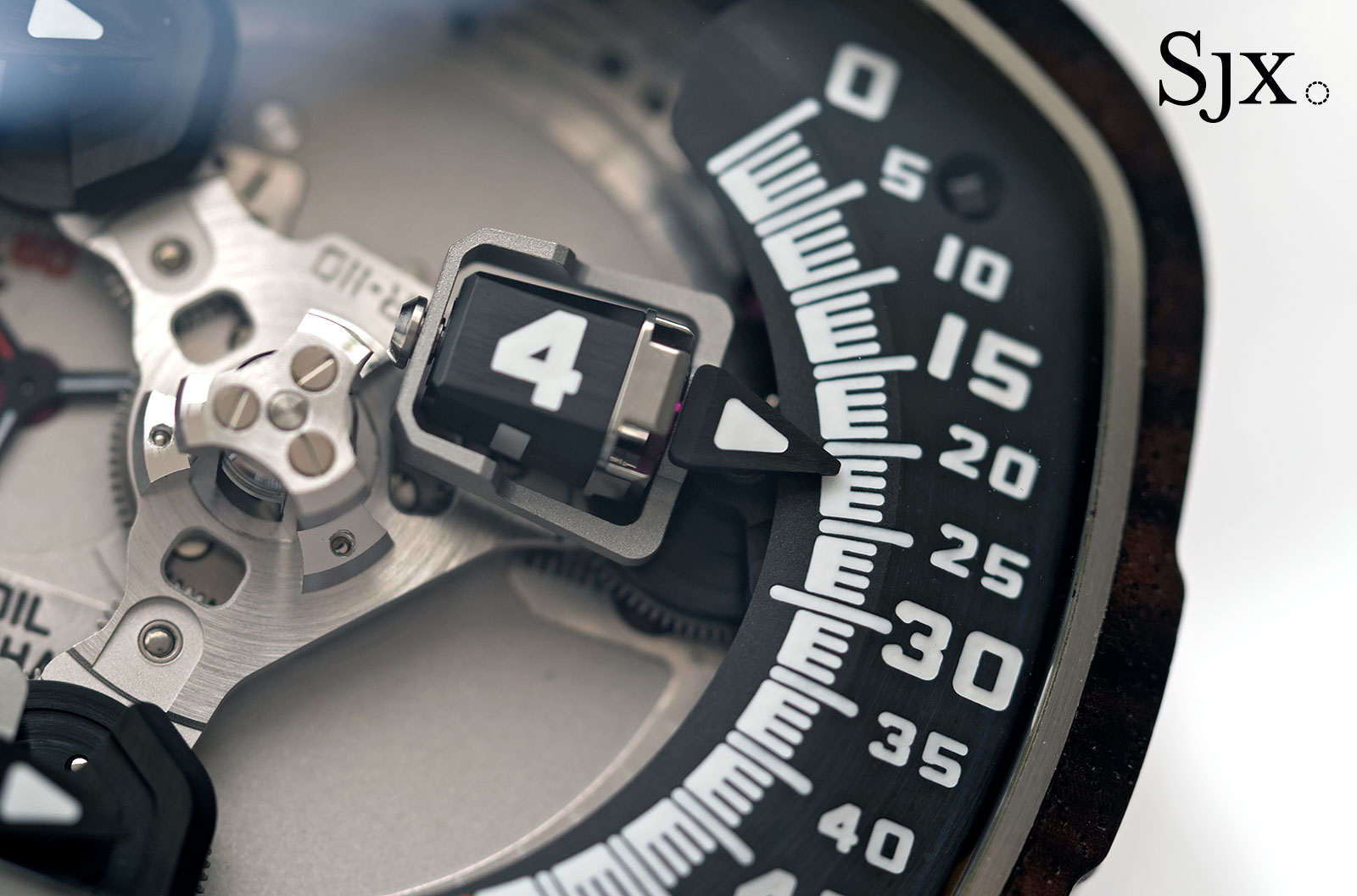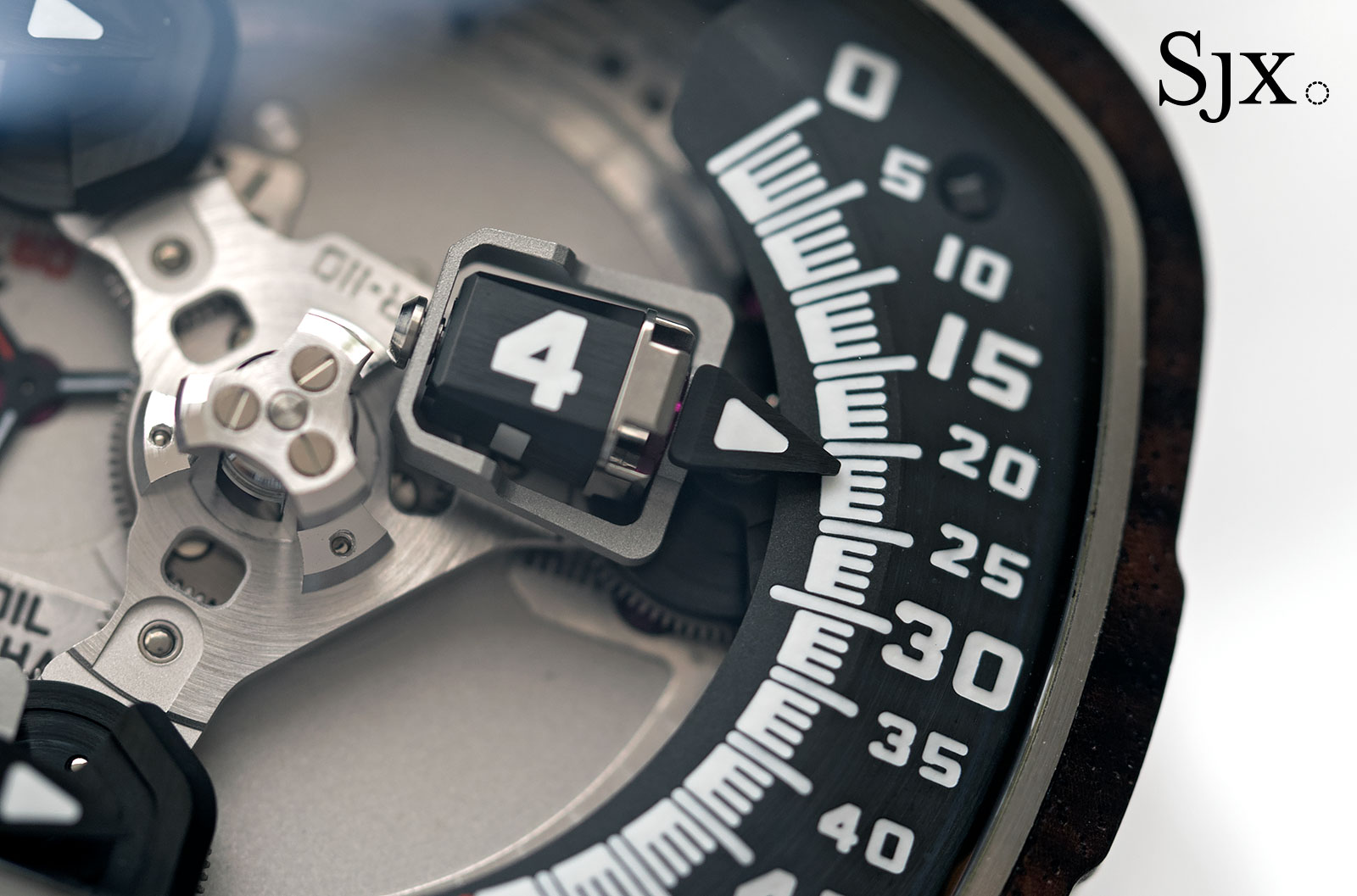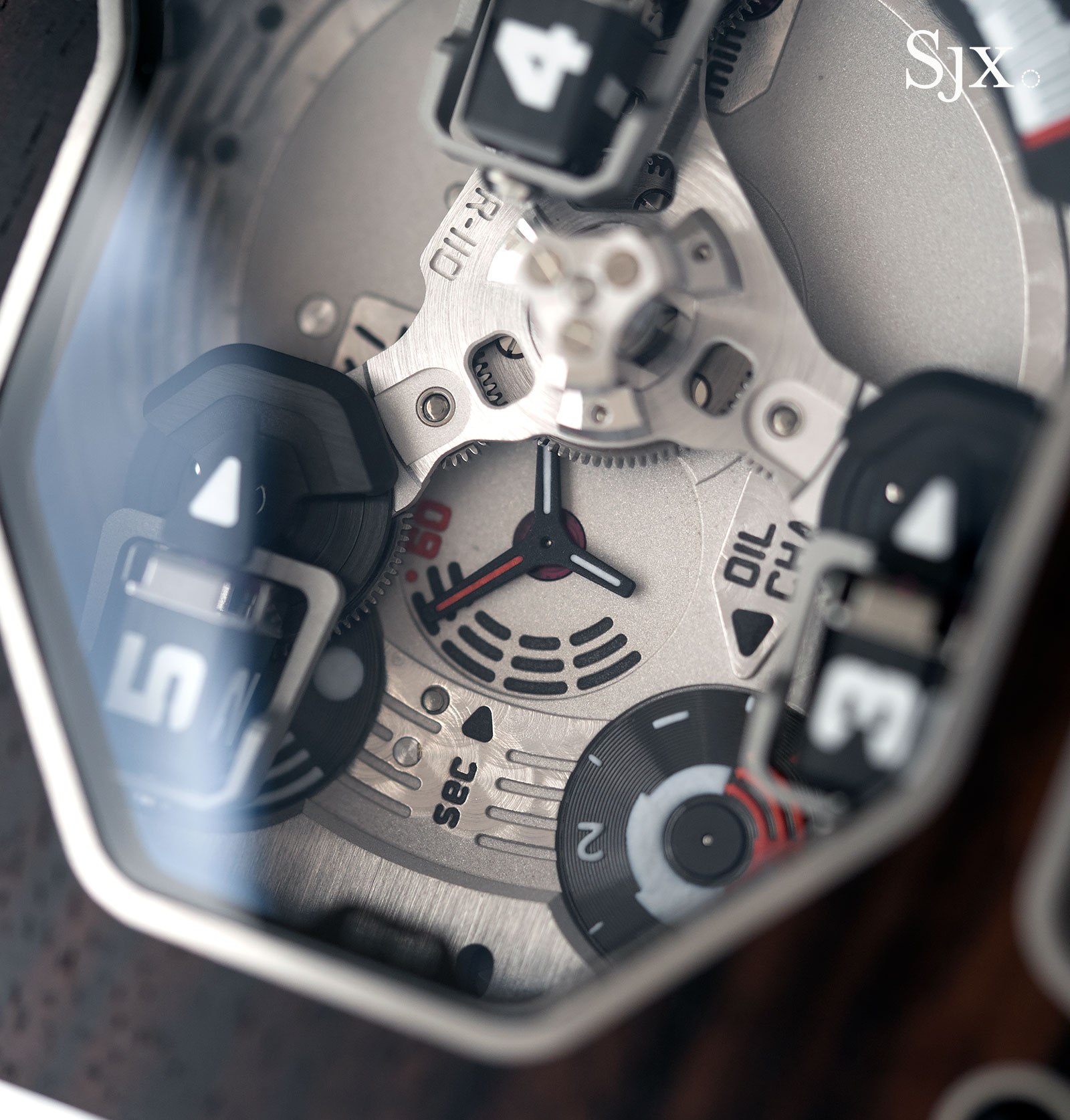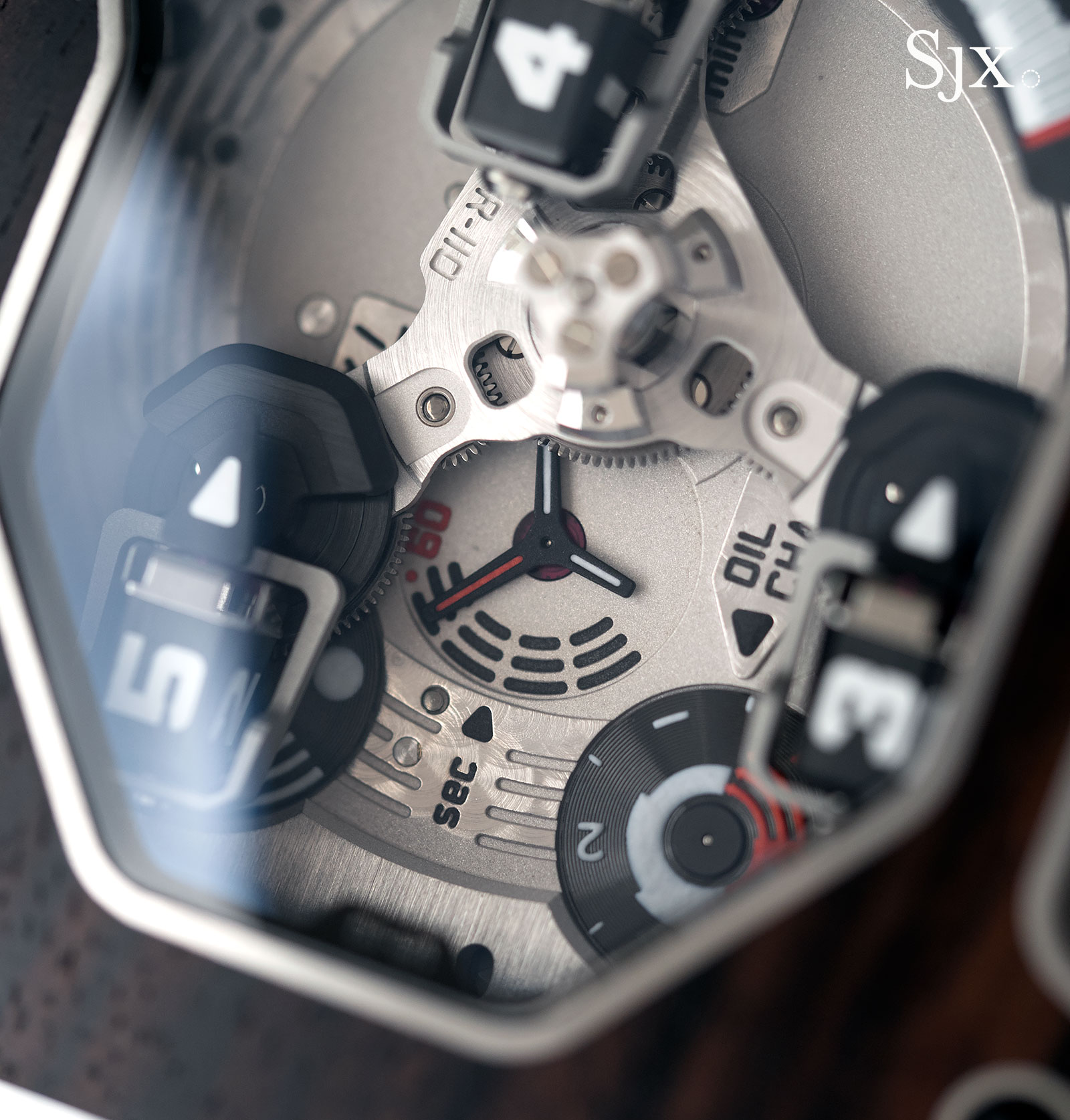 Beyond the exotic wood panelling, the Eastwood is also distinguished by the tweed strap produced by the fashion-forward Savile Row tailor Timothy Everest.
This specimen is like new and estimated at HK$600,000 to HK$800,000, or US$78,000 to US$100,000. For more on the Eastwood, check out our in-depth report published when it was launched.
---
Lot 2309 – Cabestan Winch Tourbillon Vertical
One of the most interesting movements conceived by an independent watchmaker in recent memory, the Winch Tourbillon Vertical has a vertical construction, with the gears standing perpendicular to the plane of the watch, plus a chain and fusee constant force mechanism. And the time is displayed on a pair of rotating drums, continuing the vertical layout.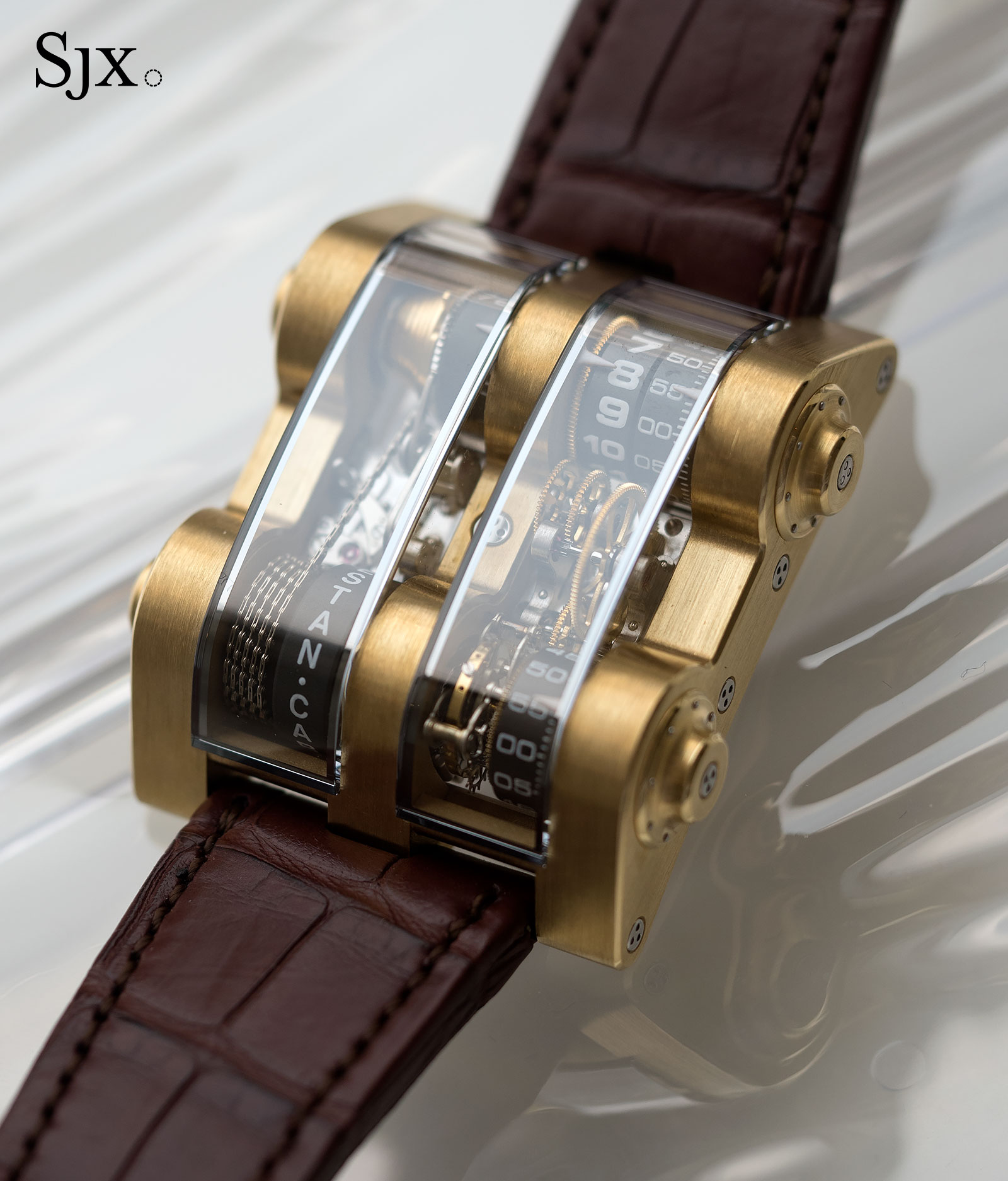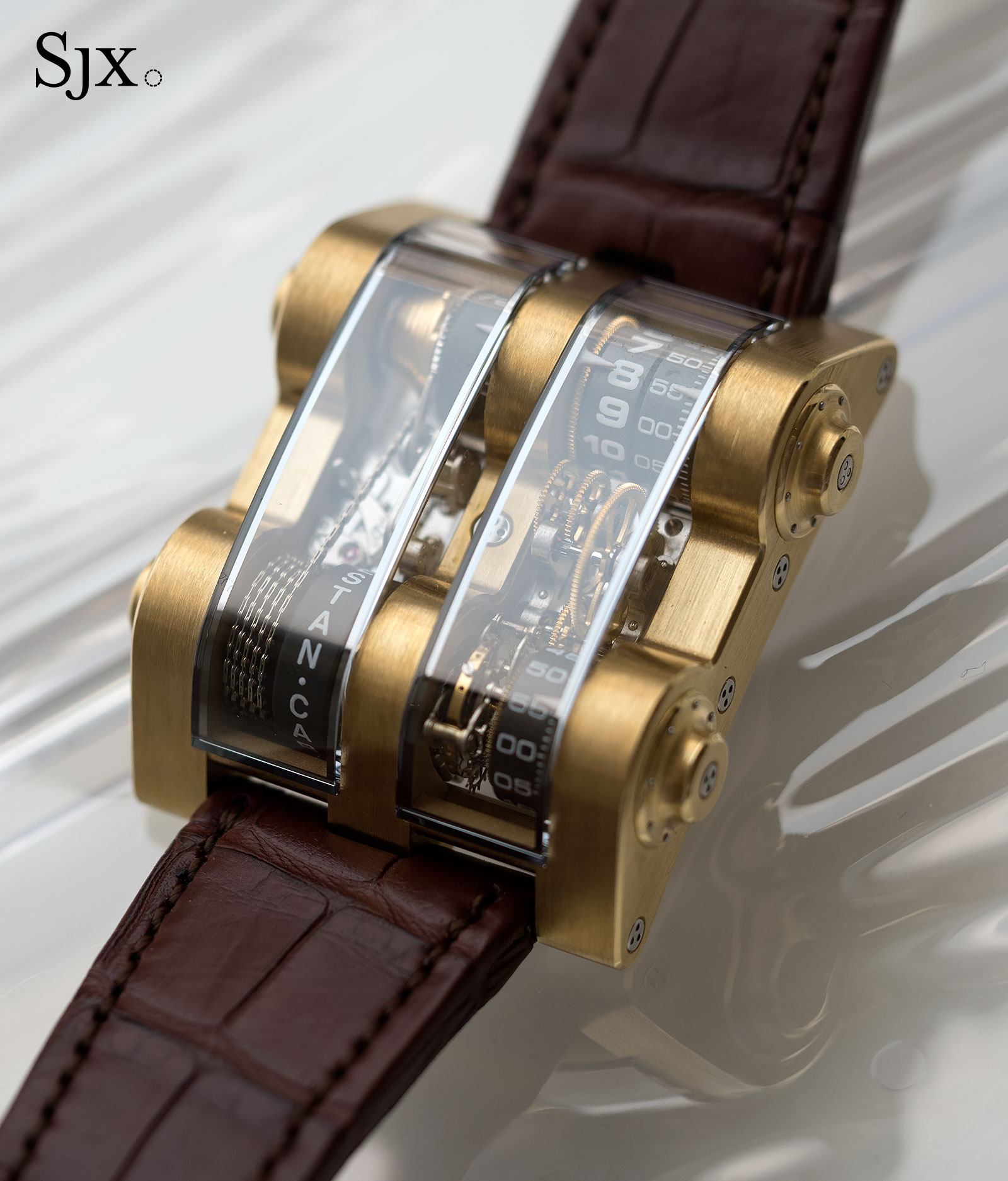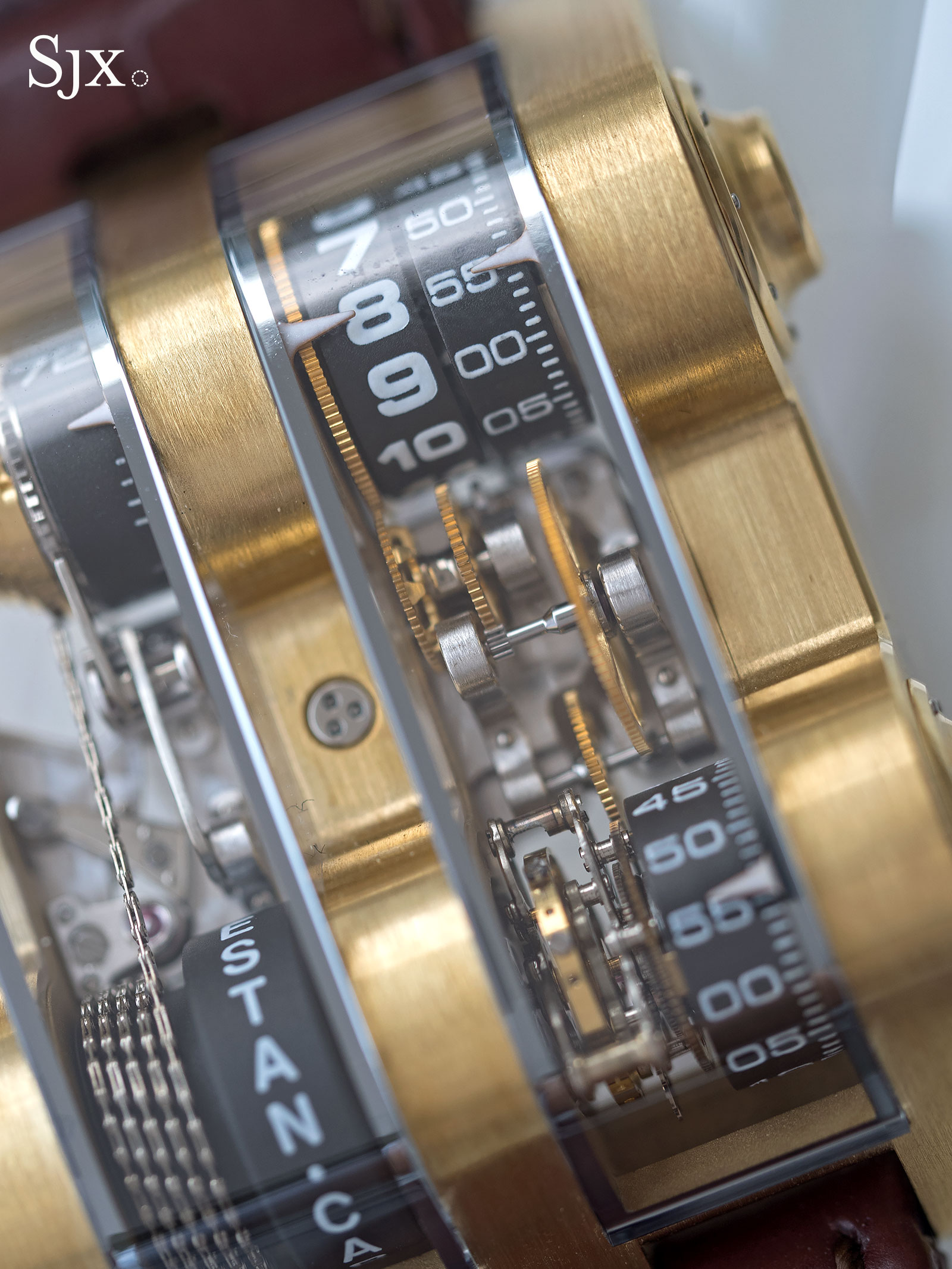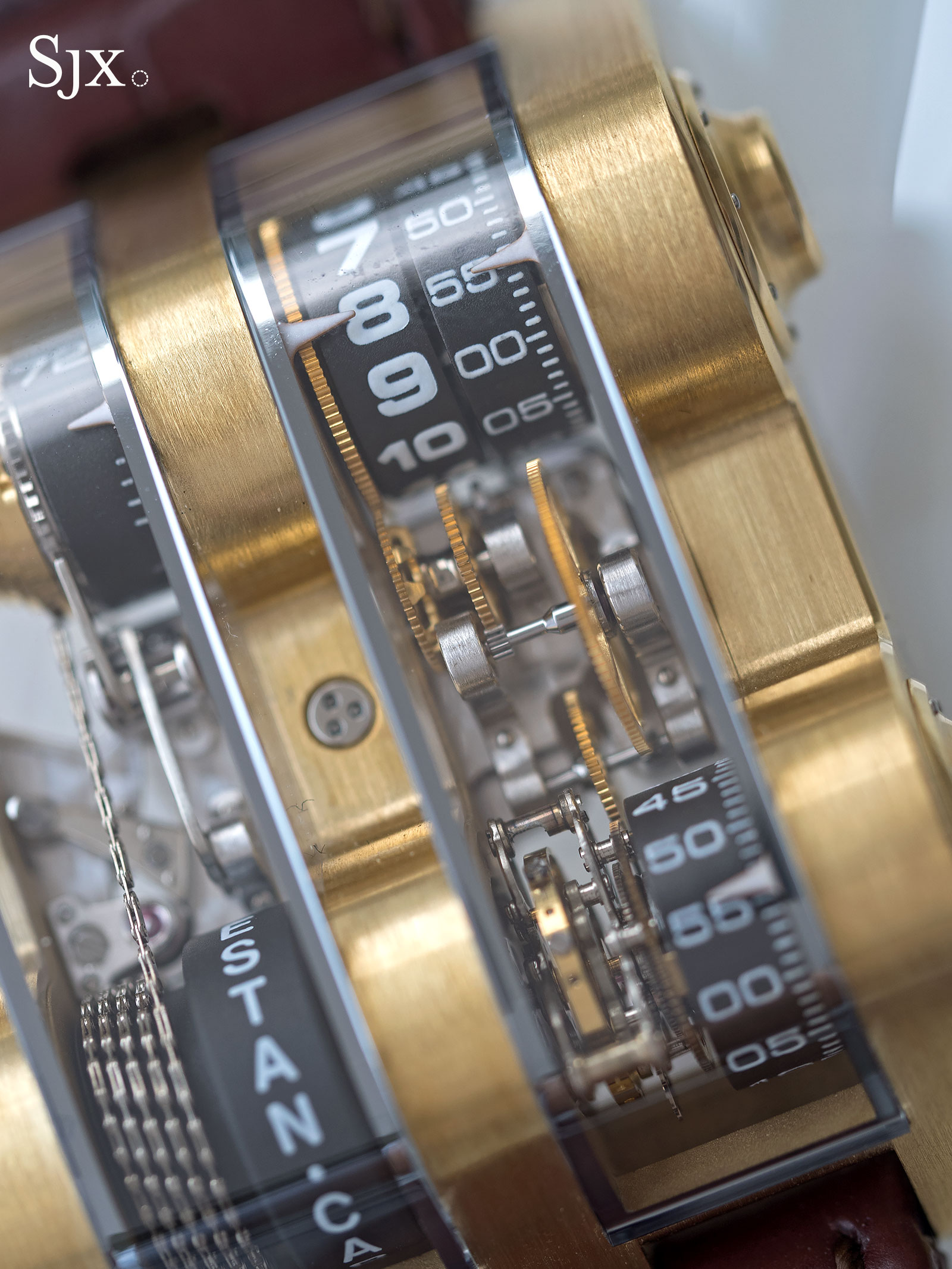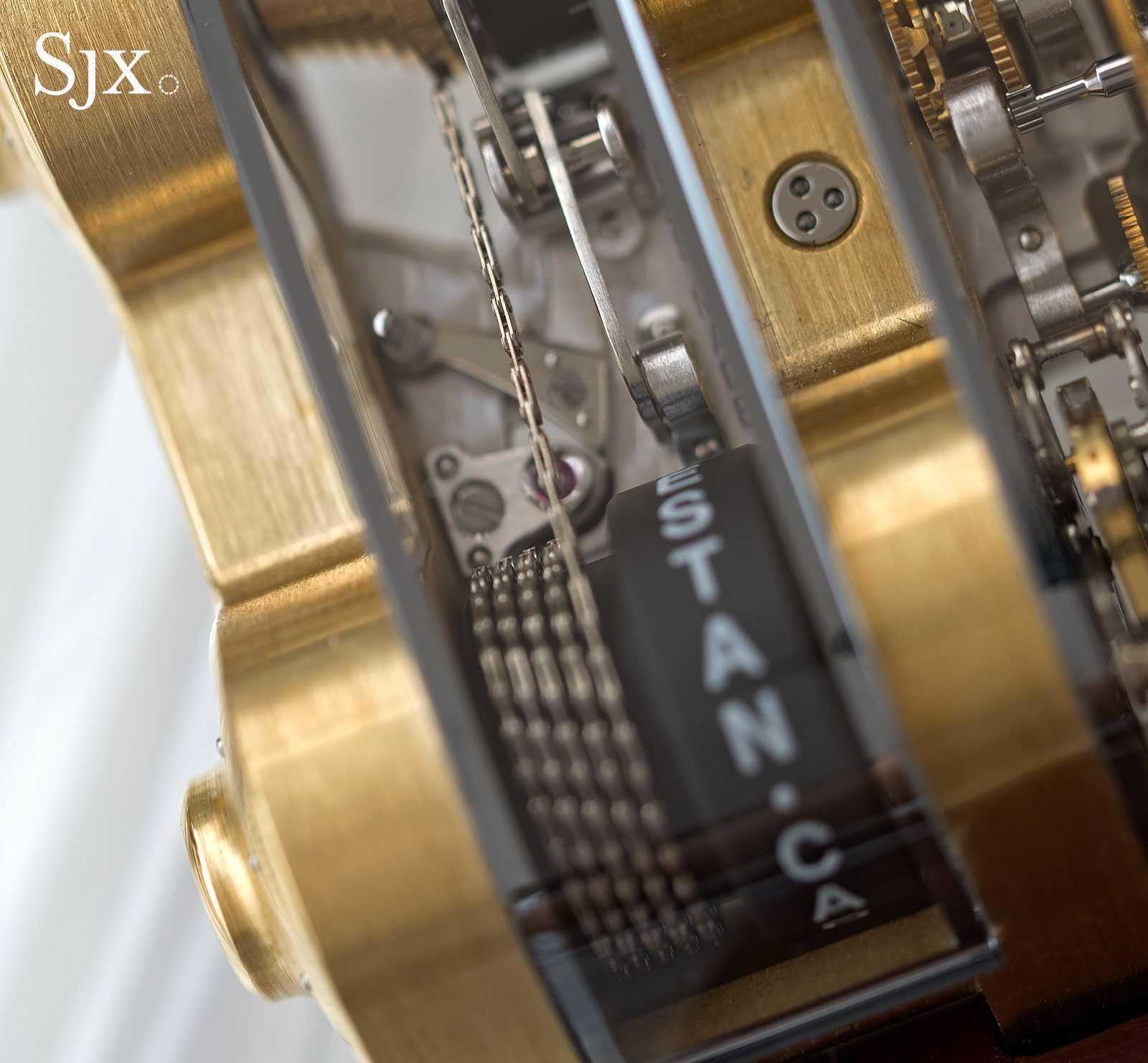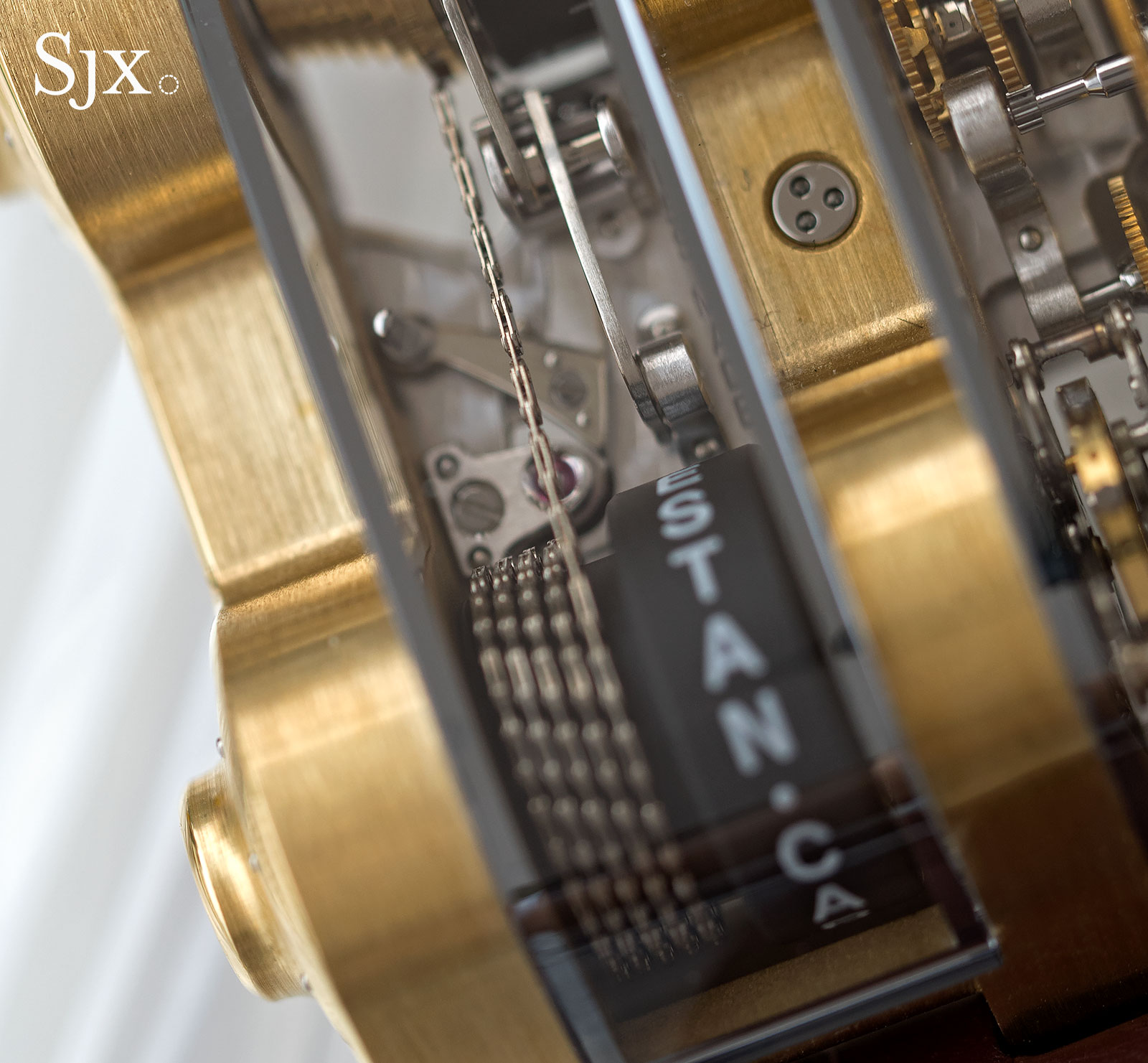 It was originally conceived by Jean-Francois Ruchonnet, a watchmaker whose heyday was in the mid-2000s exotic complications boom, and then first realised by Vianney Halter, whose signature rivets still adorn the case.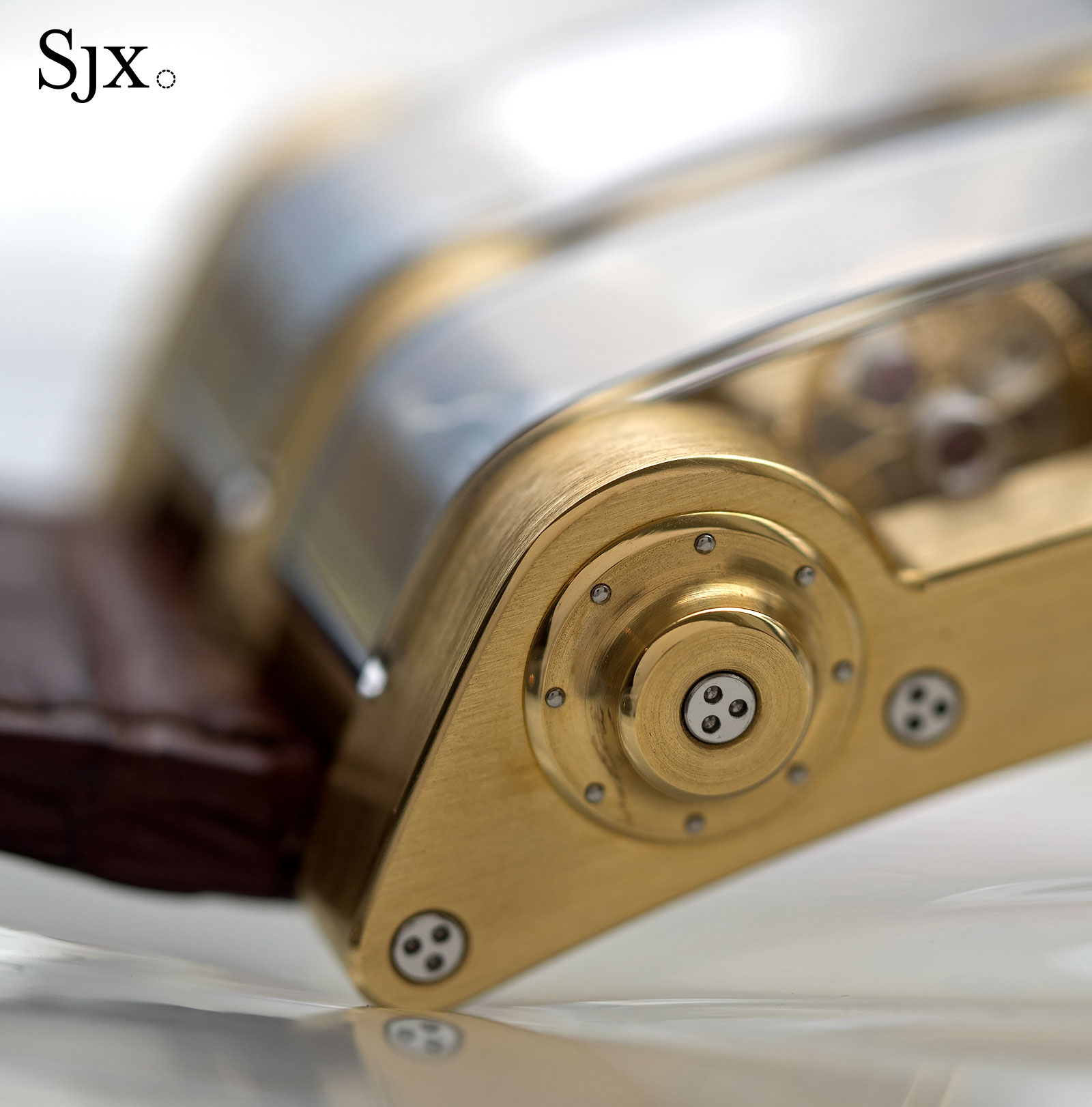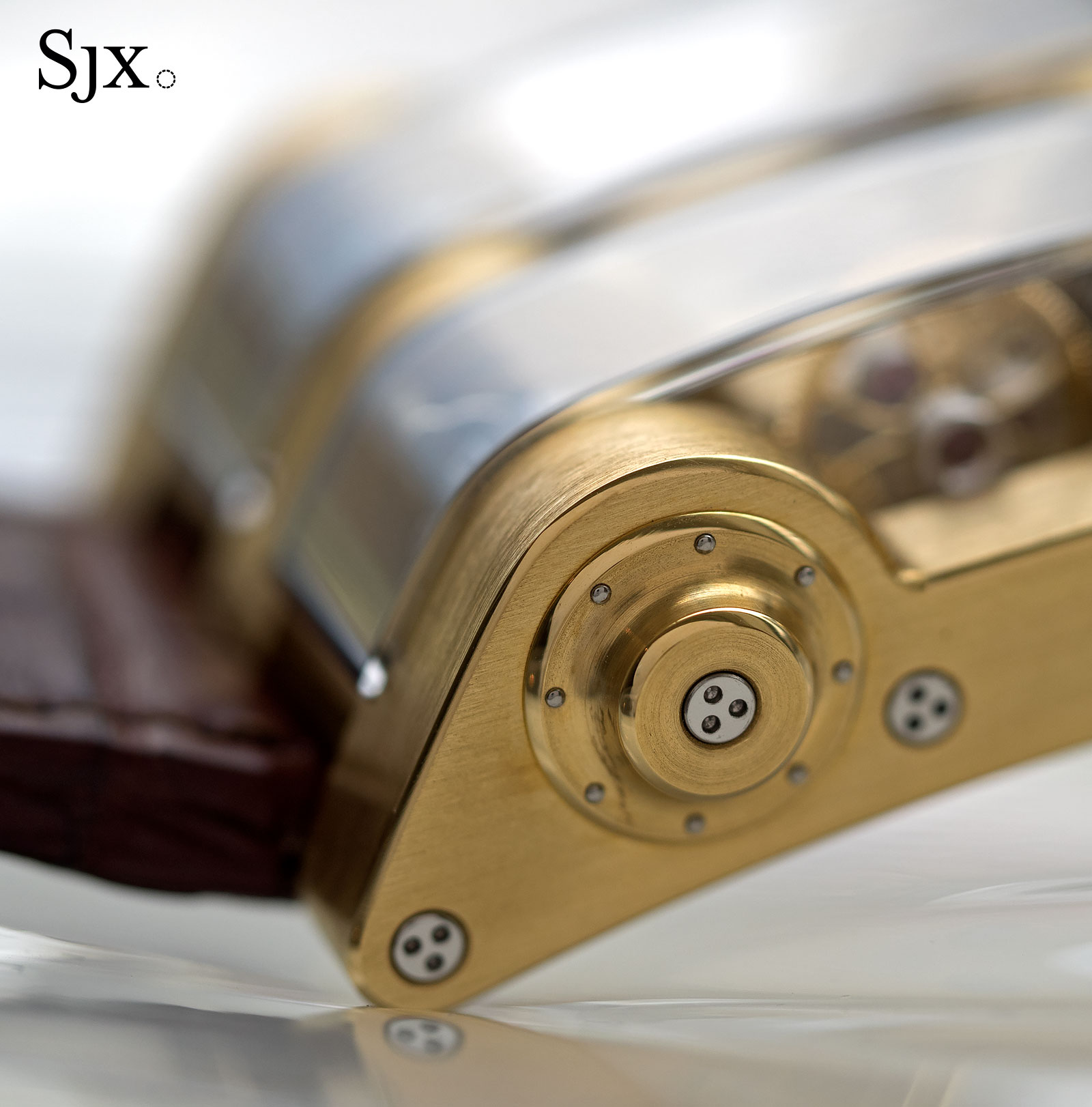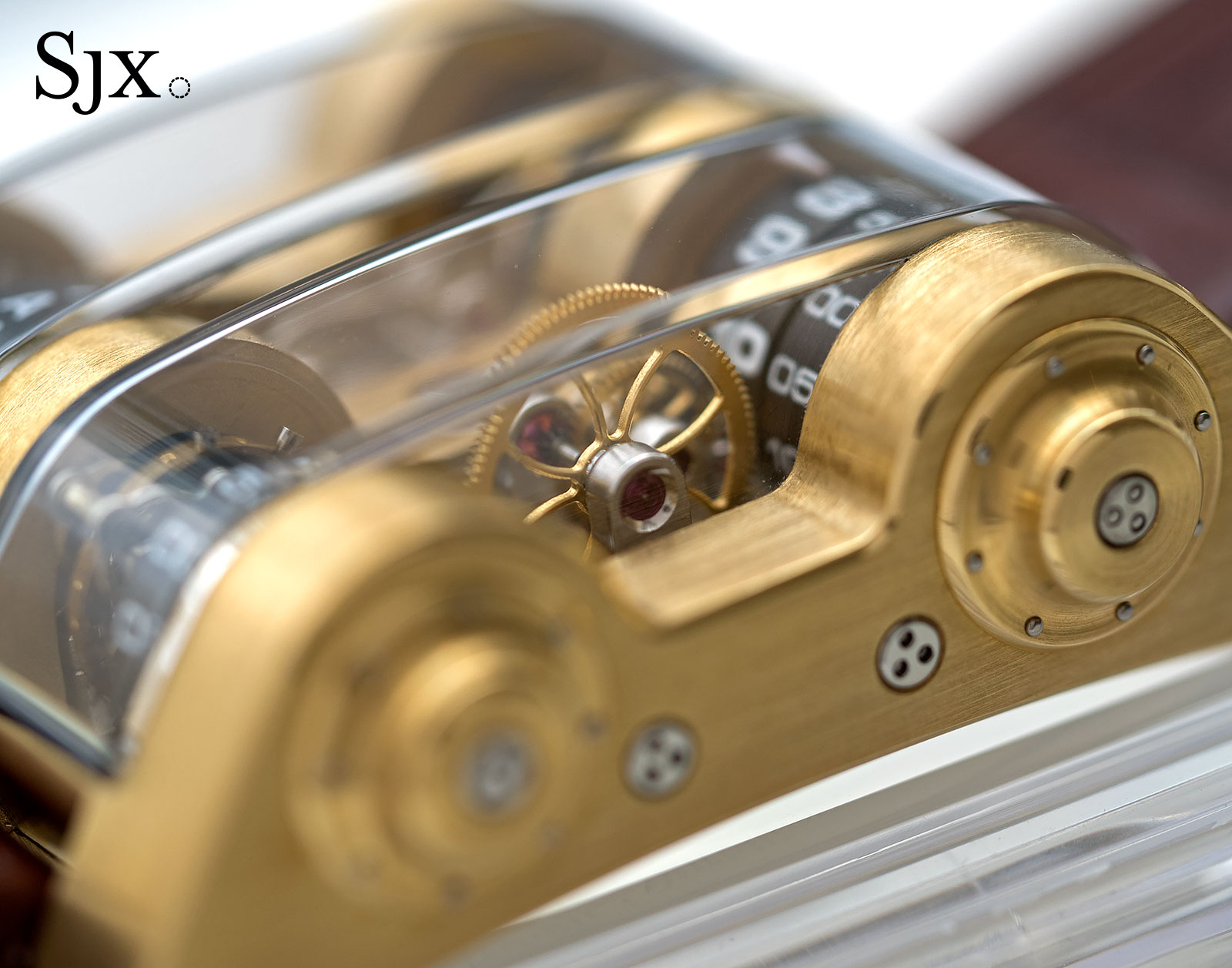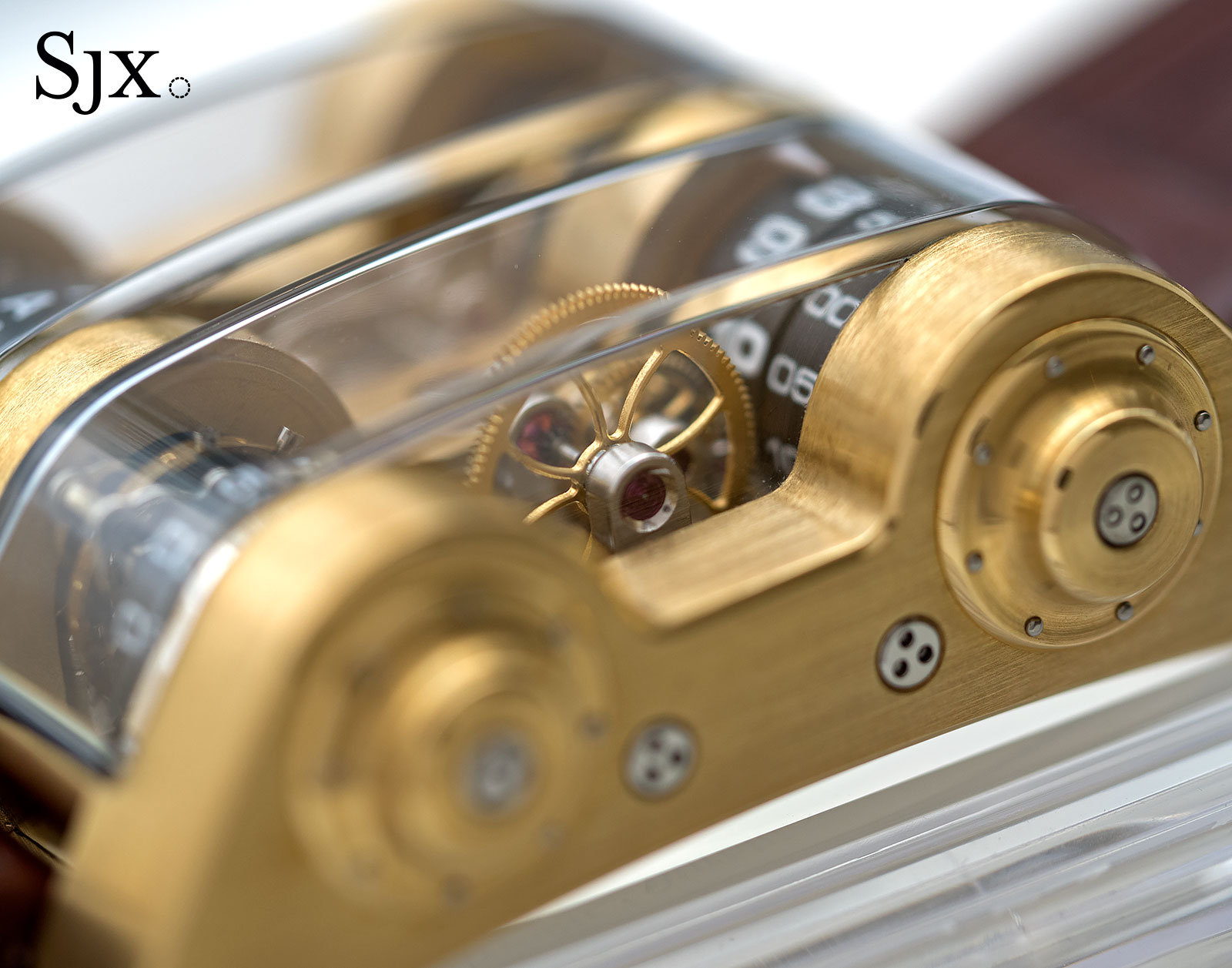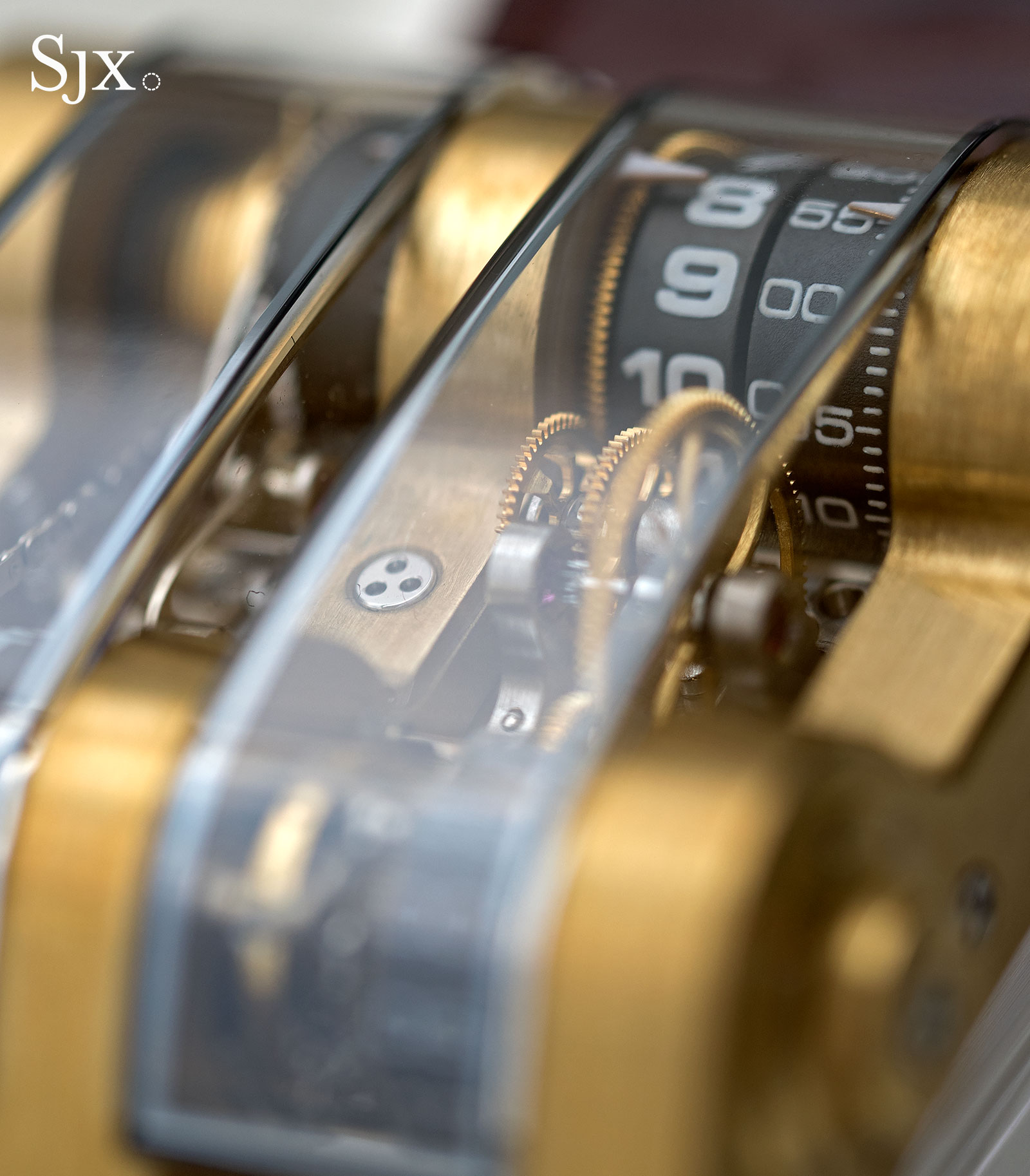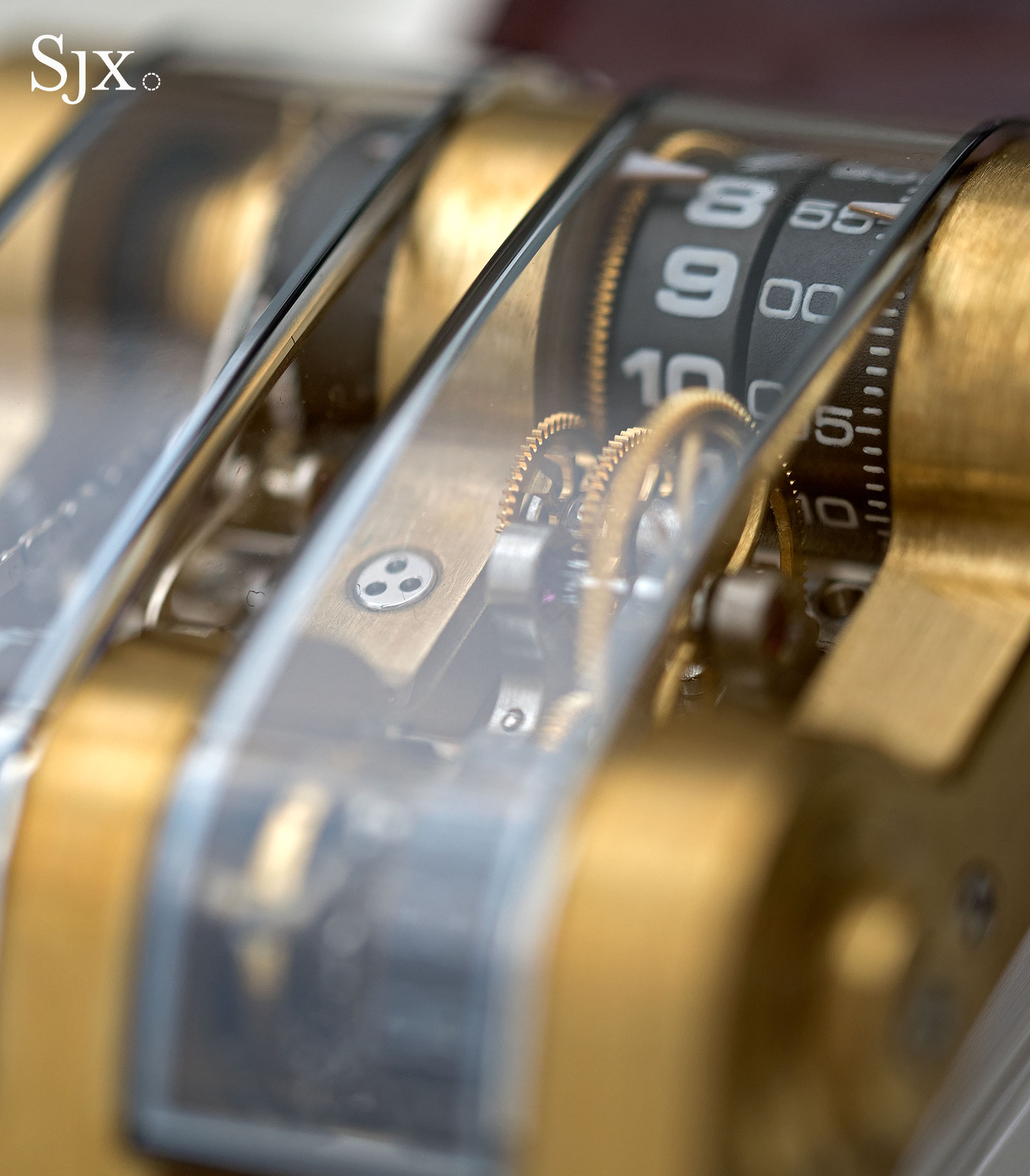 But because of repeated ownership changes, the company never really lived up to its potential, explaining why this example is available at just one-fifth of the original retail price of a decade ago.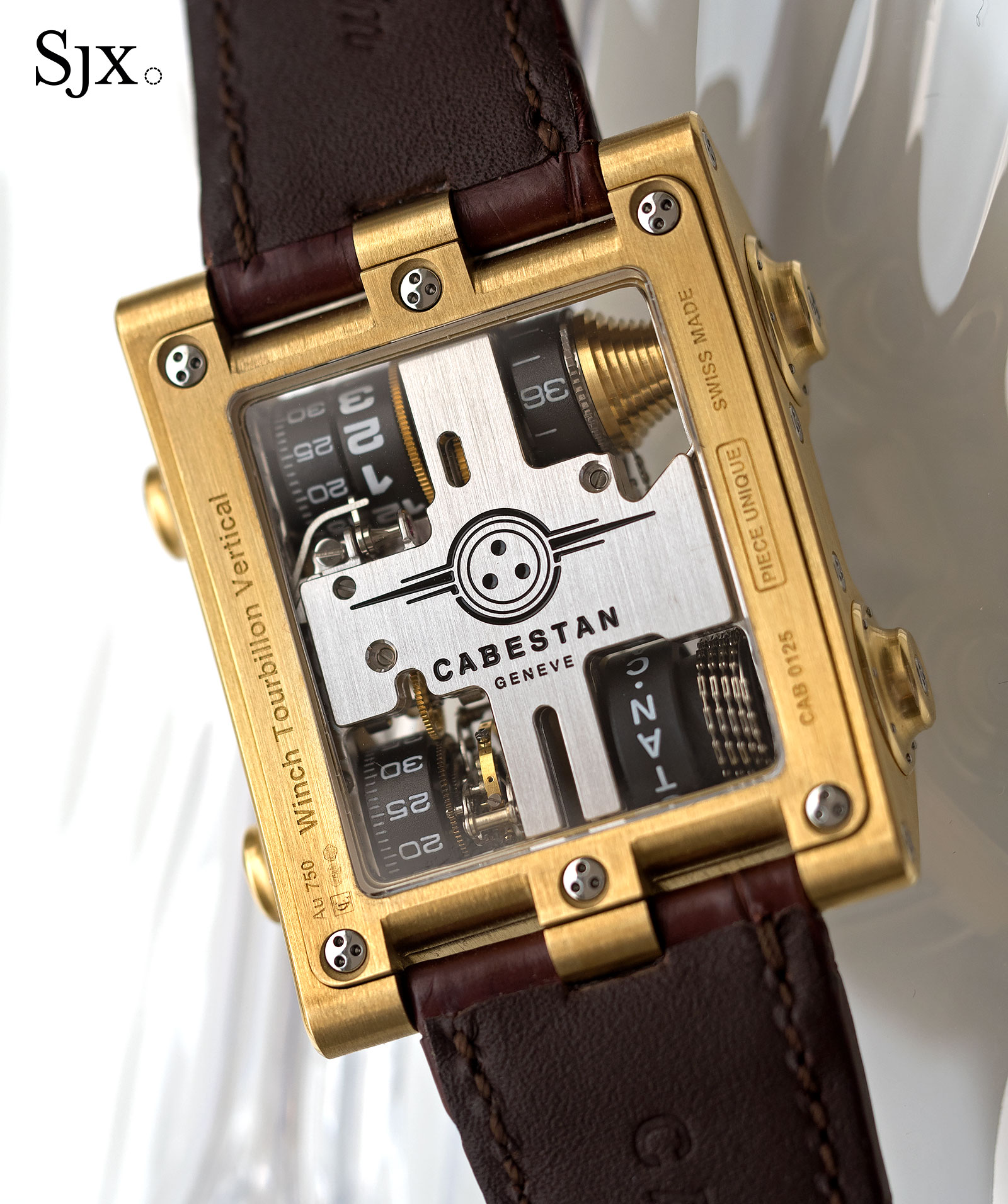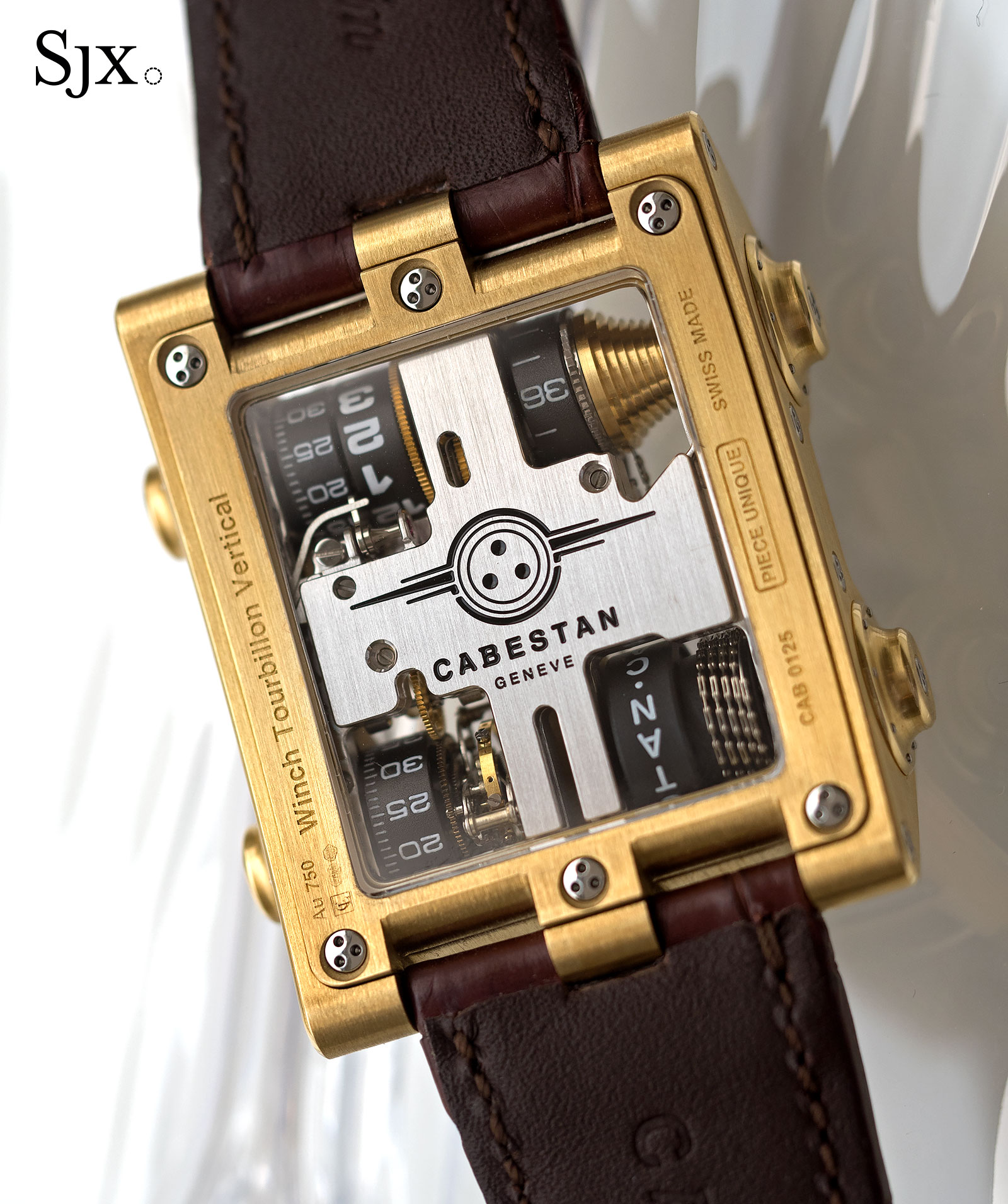 This Cabestan is customised example in brushed yellow gold, and is practically unworn. The estimate is HK$450,000 to HK$650,000, or US$59,000 to US$84,000. When first introduced the Cabestan retailed for over US$300,000, though subsequent management reduced the list price to about half that.
---
Lot 2326 – Ulysse Nardin Jungle Minute Repeater with automaton 
In the late 1980s when Ulysse Nardin was still owned by the late watch entrepreneur Rolf Schnyder, the company was a pioneer in putting automata into wristwatches. These tiny mechanical figures moved in sync with the striking mechanism of the watch.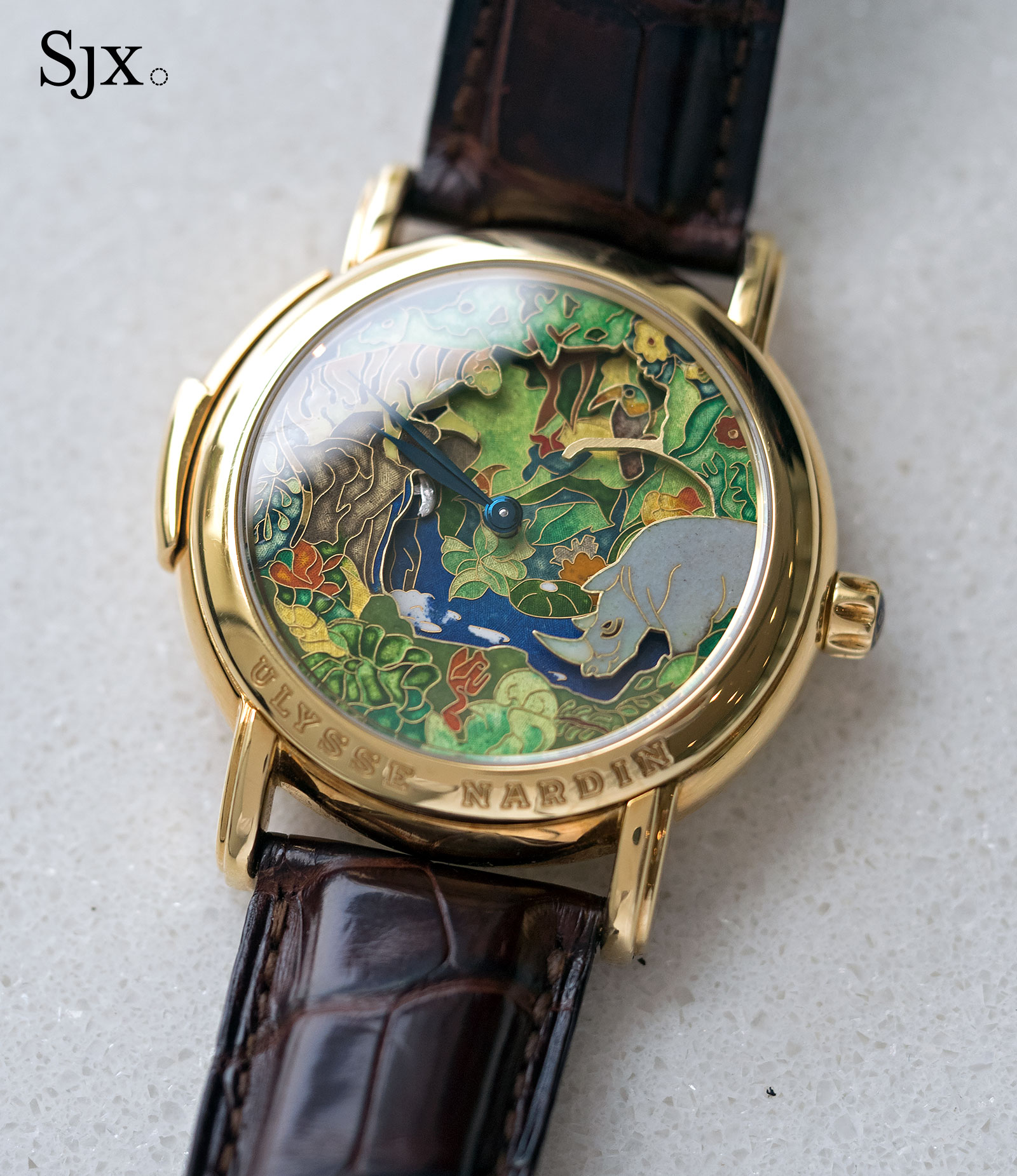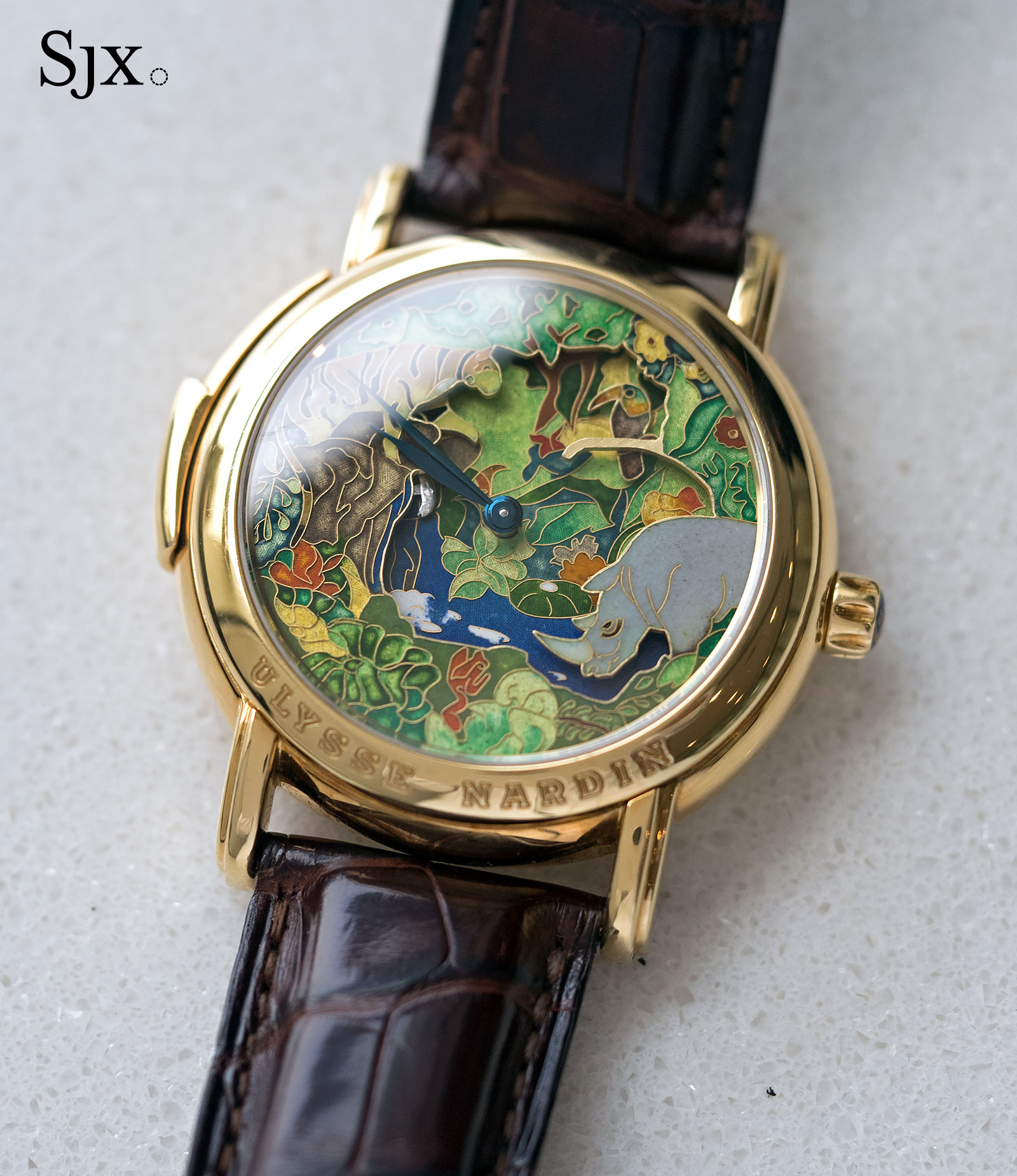 The Jungle Minute Repeater depicts the wilderness – probably in Indian given the tiger and rhino –  in lavishly coloured and remarkably fine cloisonné enamel. When the repeater is activated, the tiger's paw, toucan and fish in the stream all move in sync with the chimes.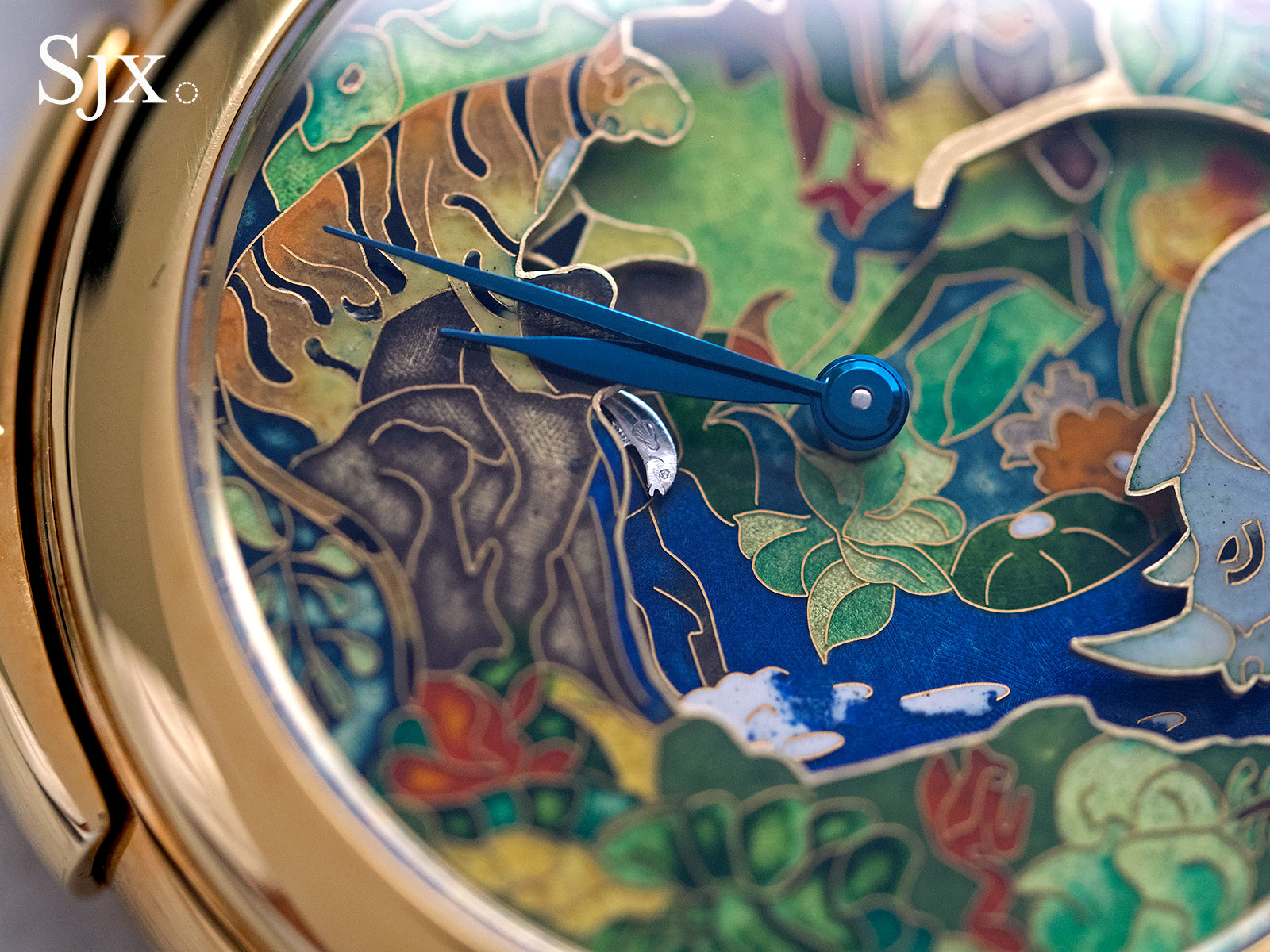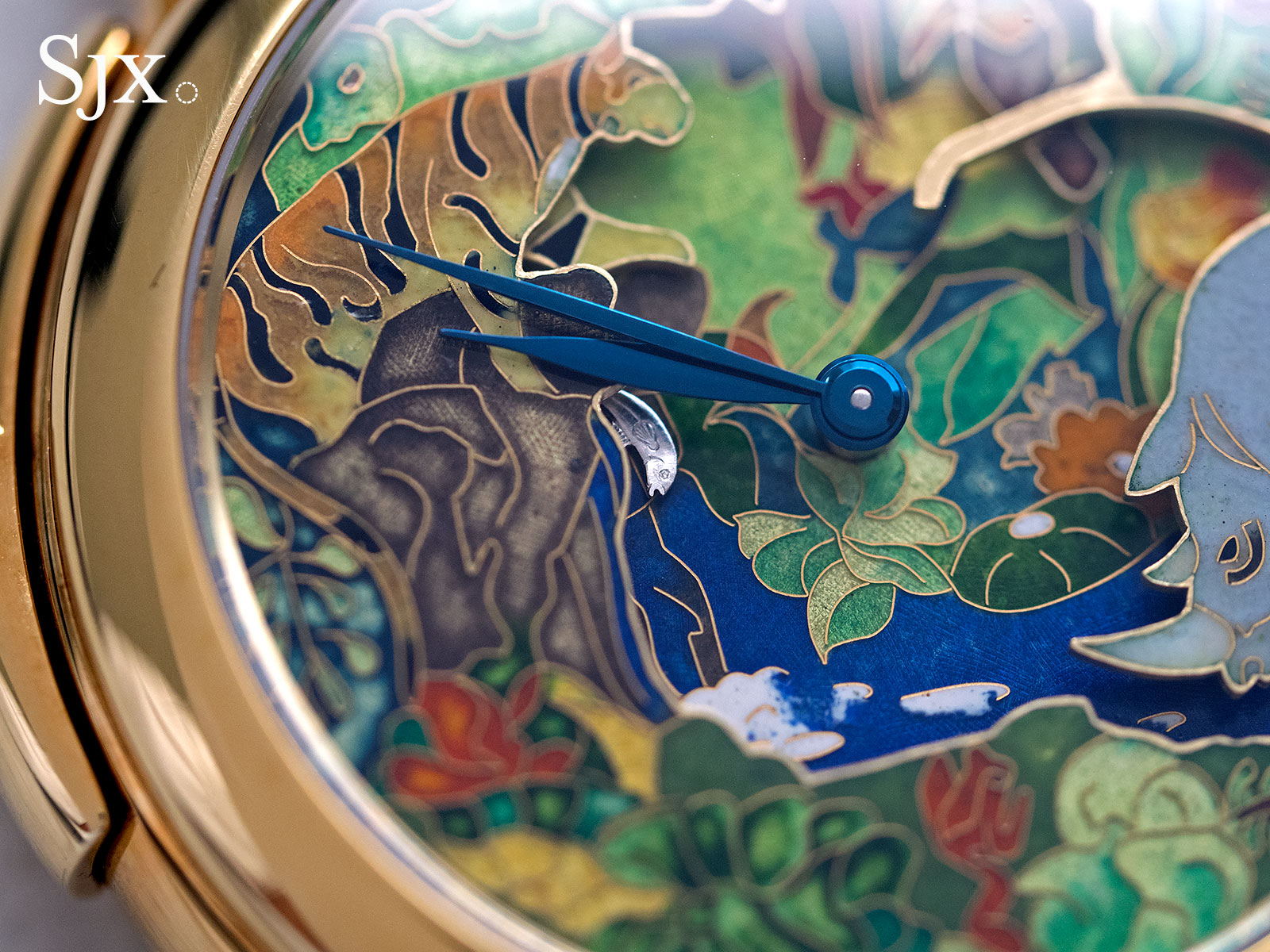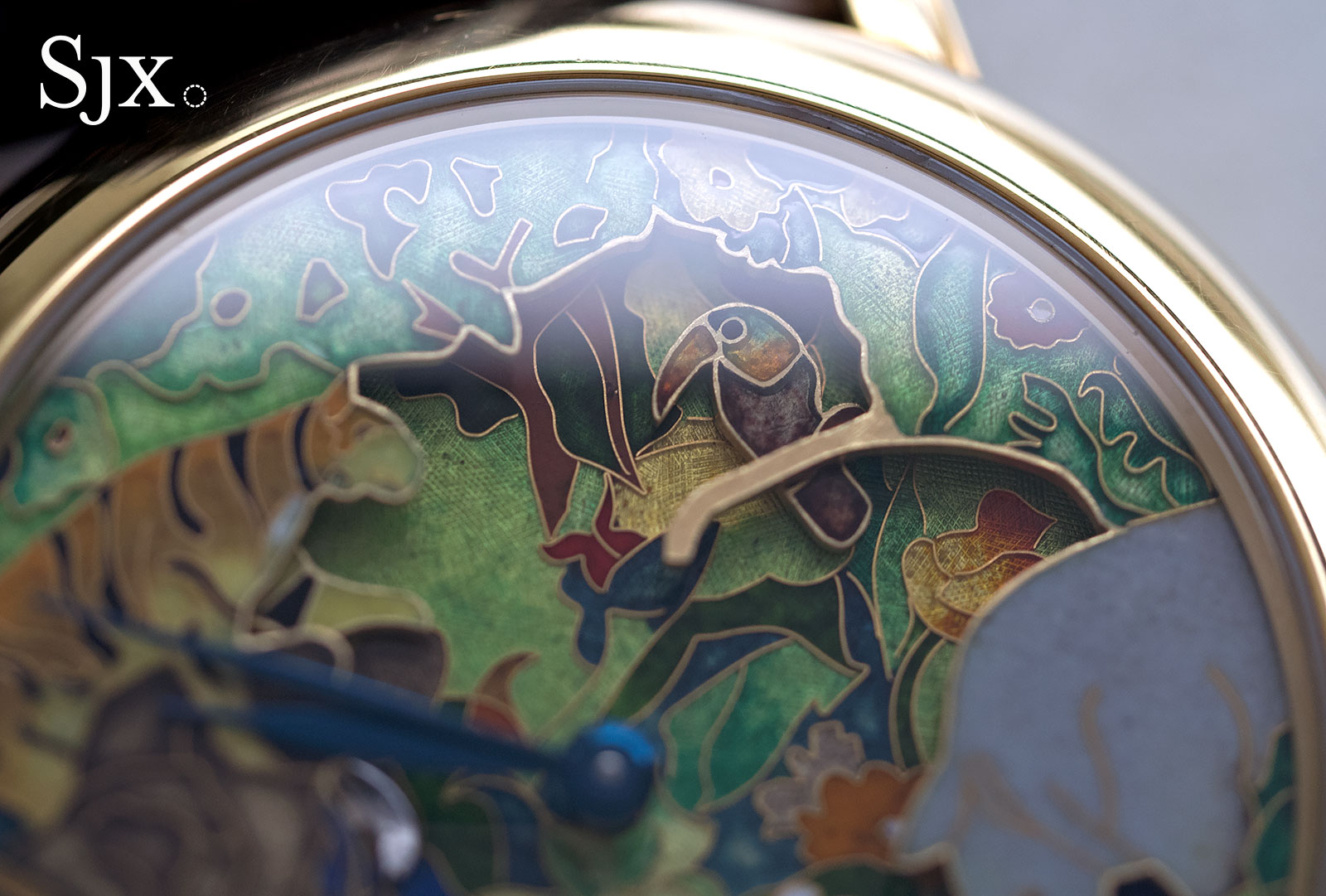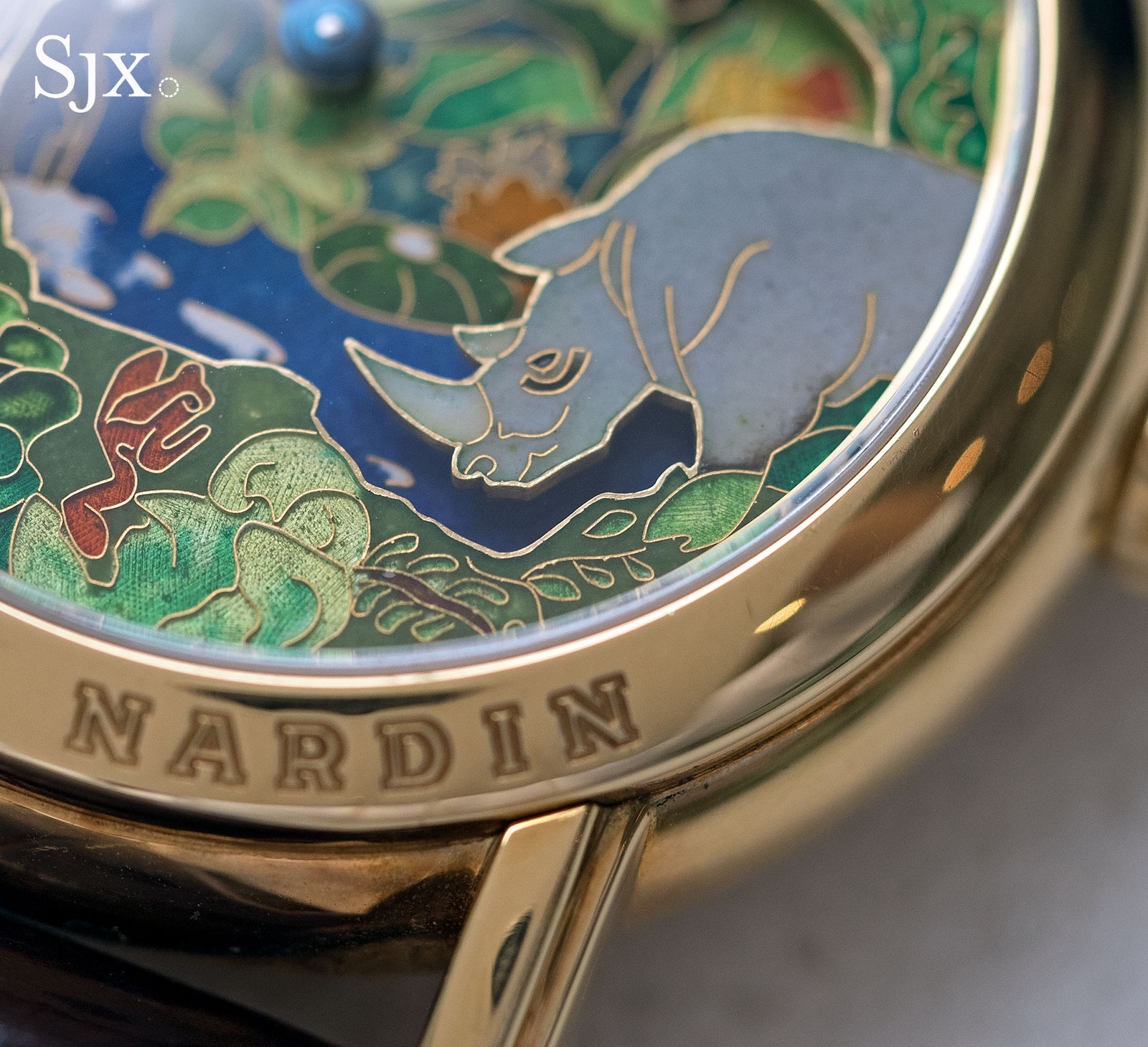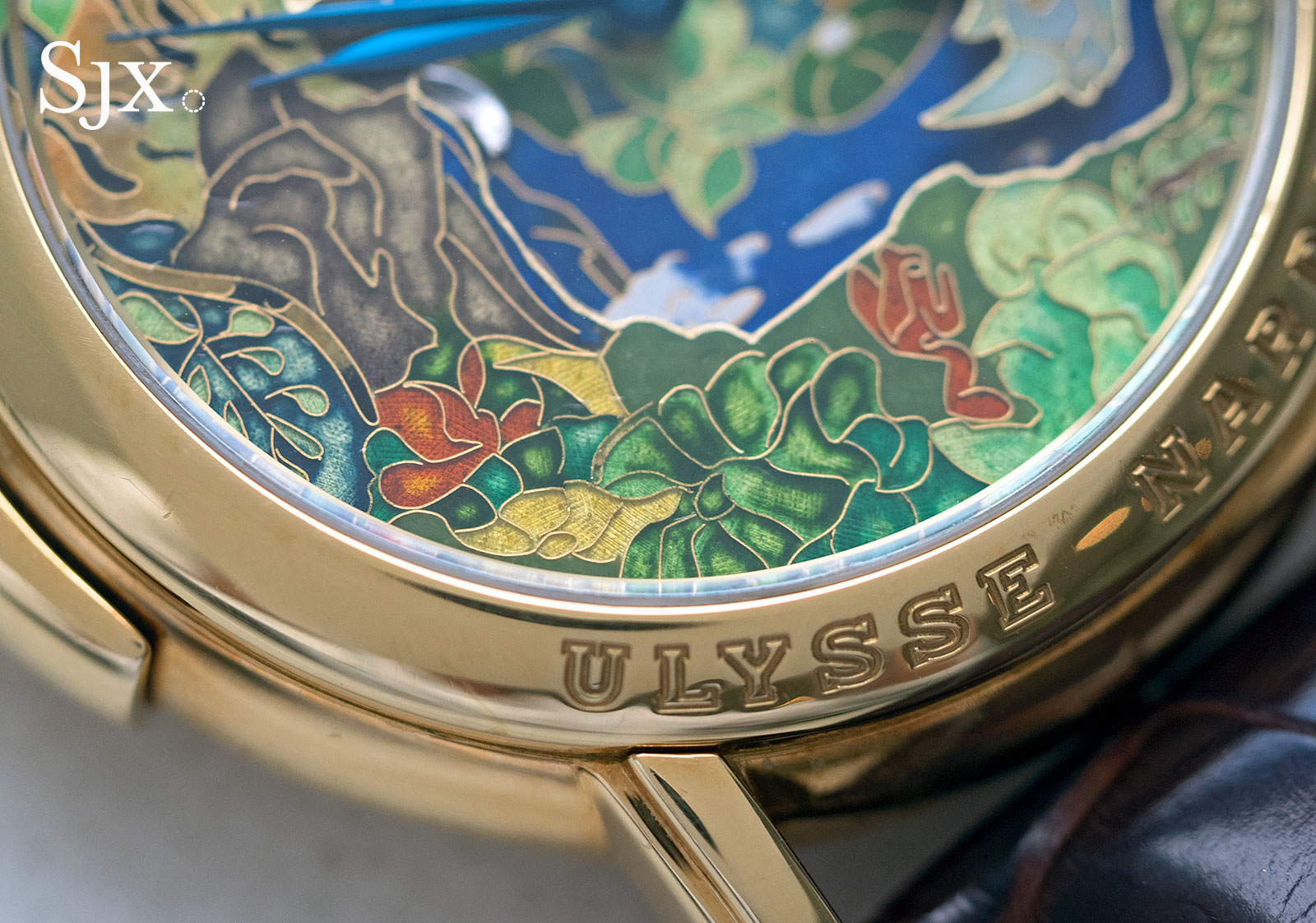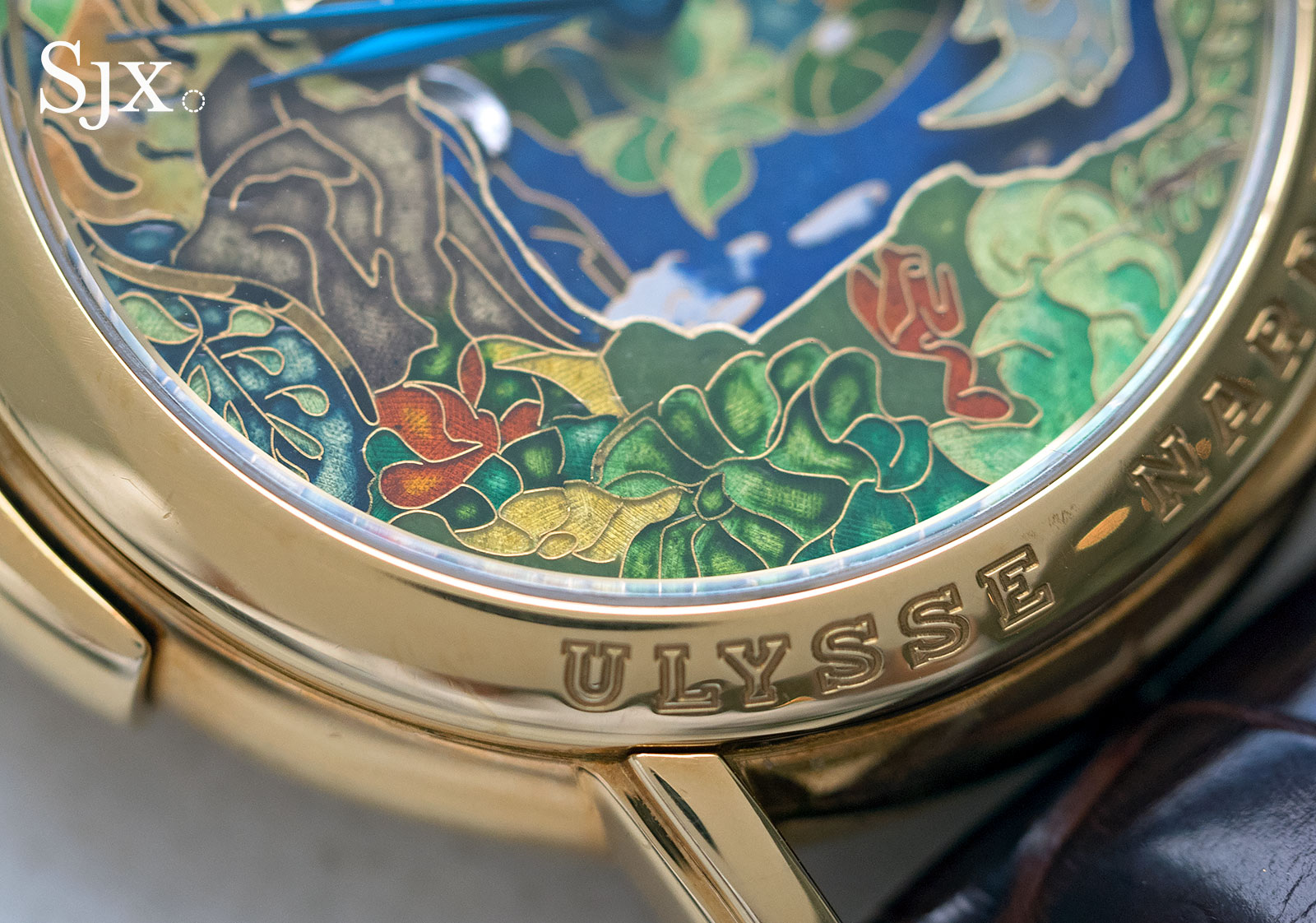 Like all other Ulysse Nardin automaton repeaters, this is powered by a hand-wound movement produced by complications specialist Christophe Claret, a relationship that started in the late 1980s.
The calibre is in turn based on 19th century pocket watch movements, with the finger bridges for the gear train and guitar-shaped bridge for the centre wheel that are characteristic of vintage movements.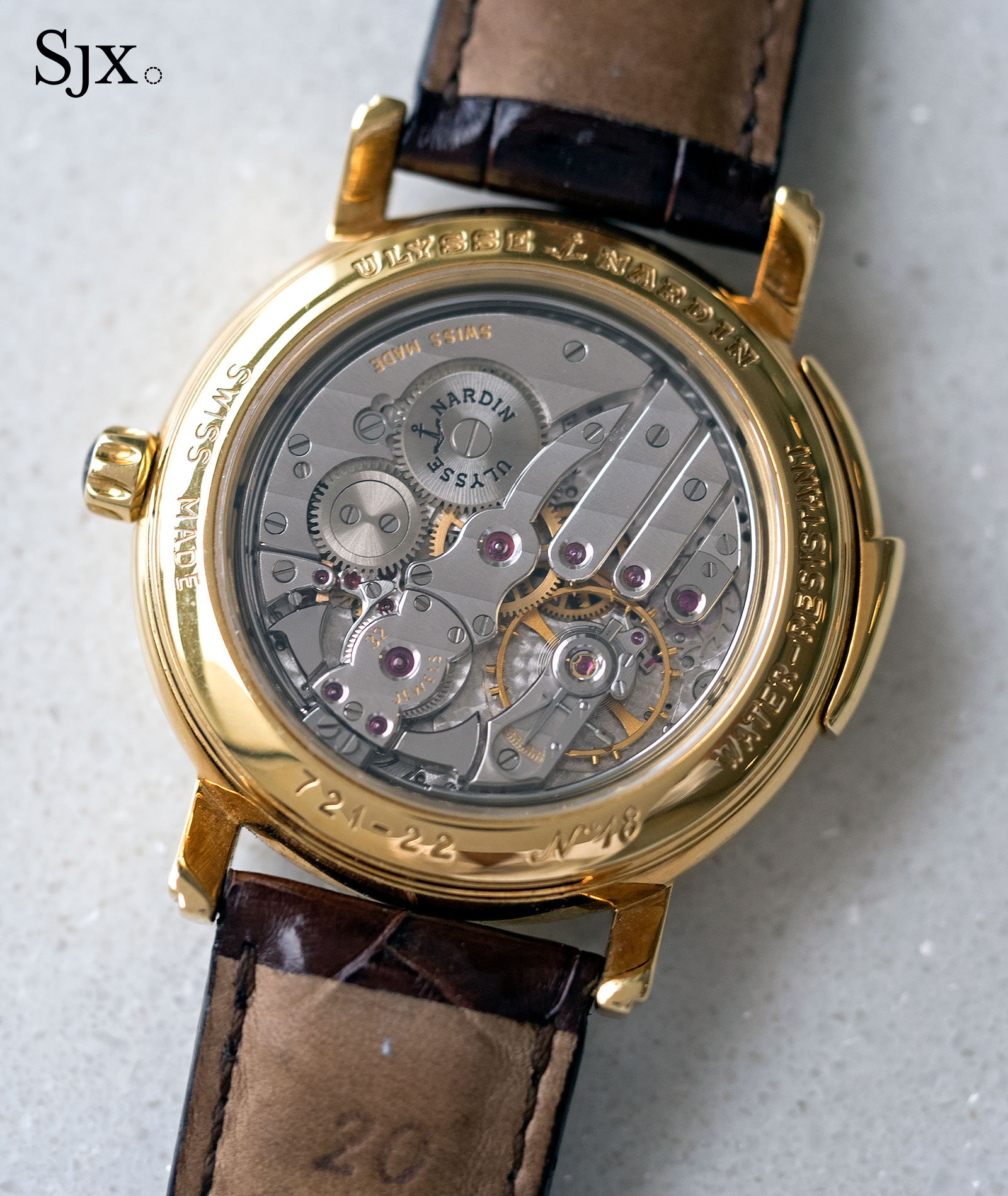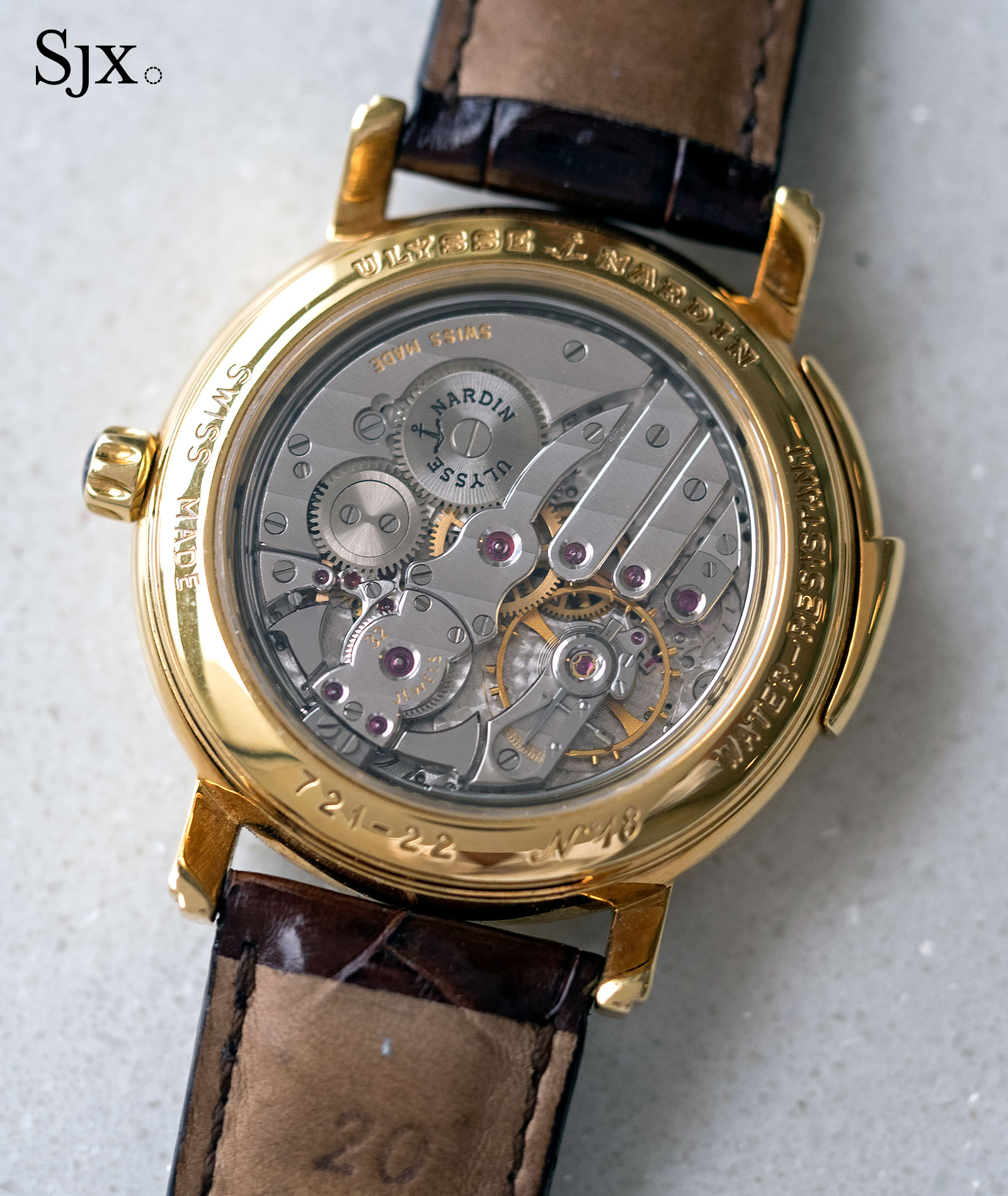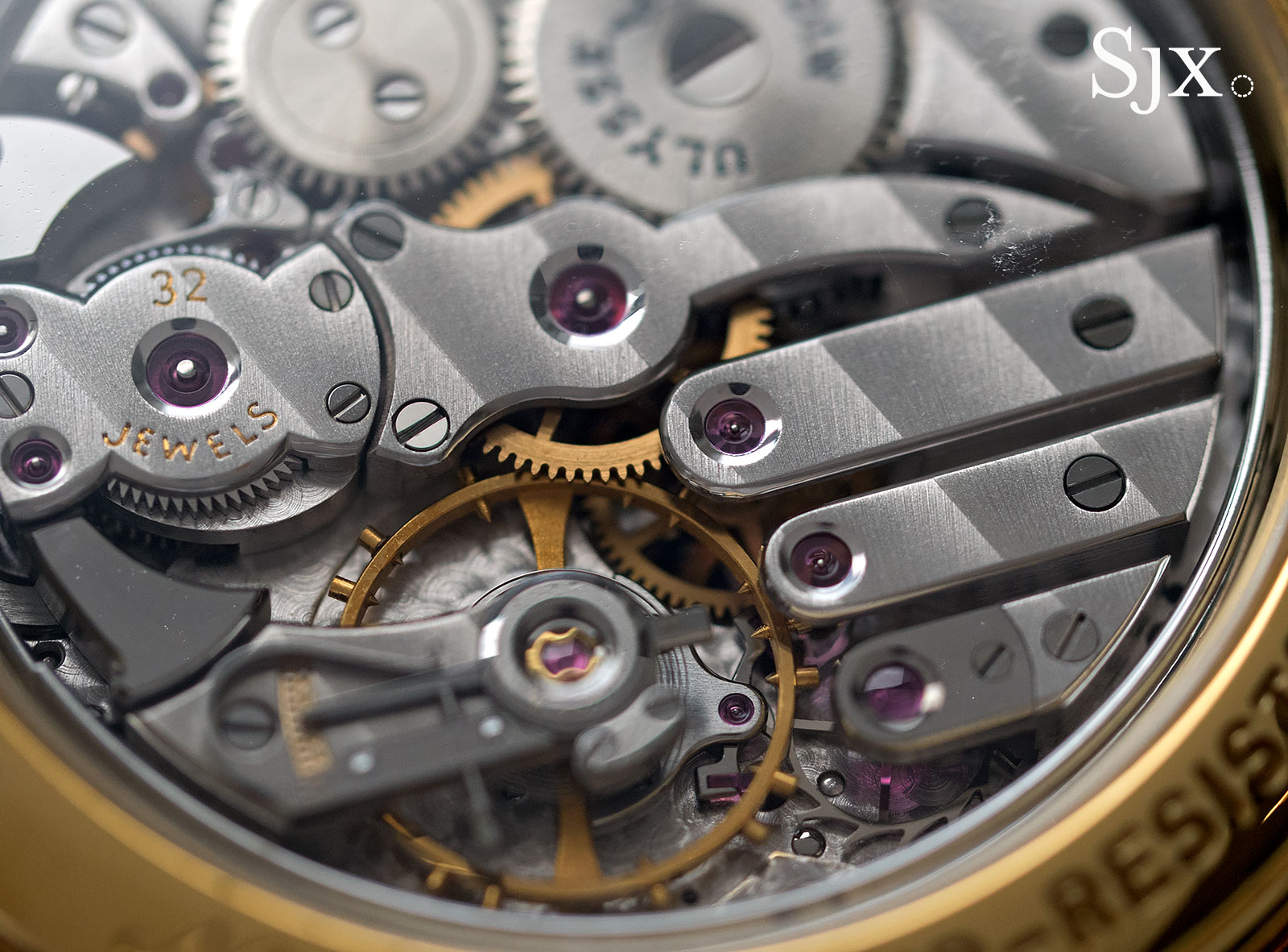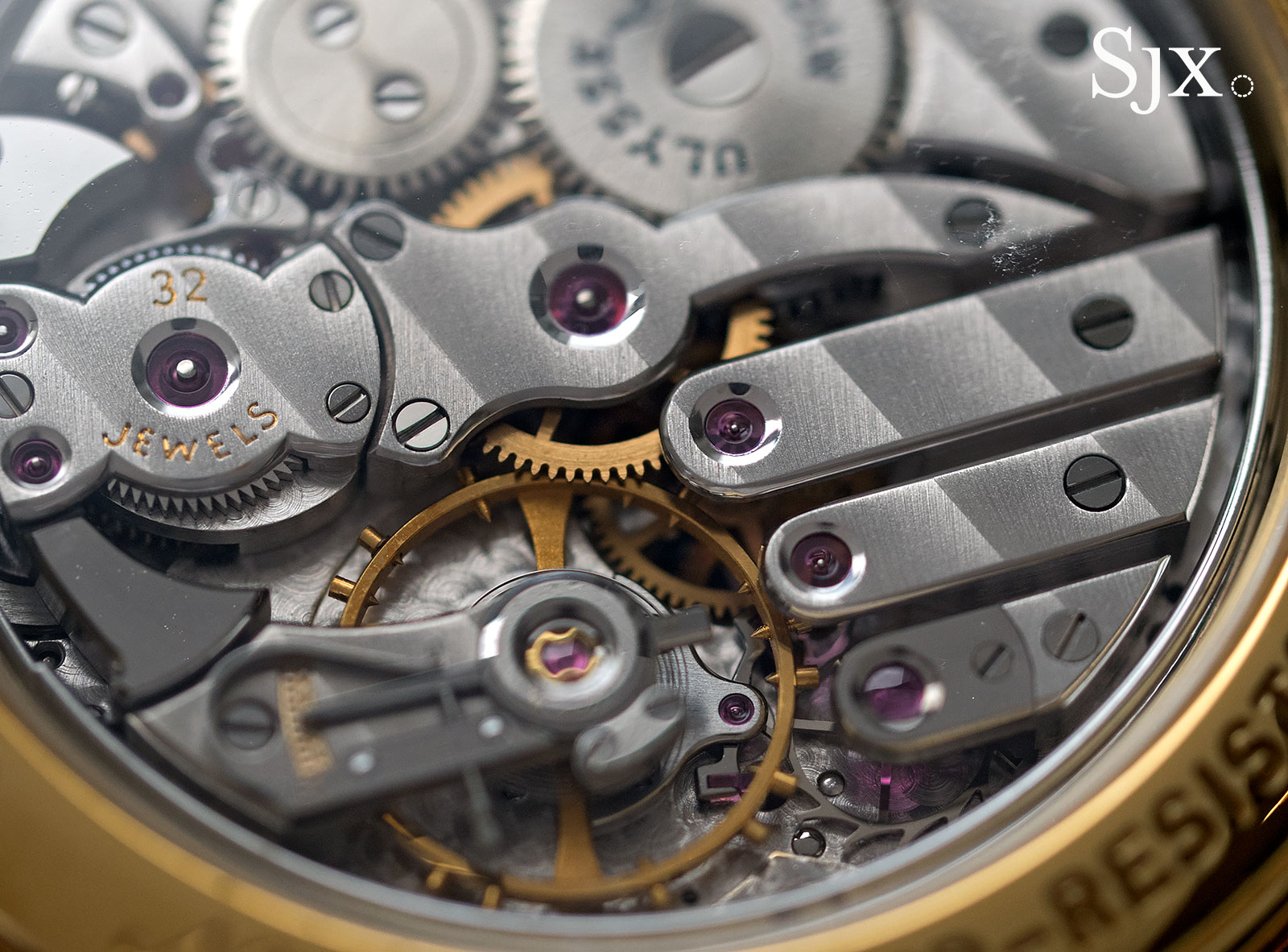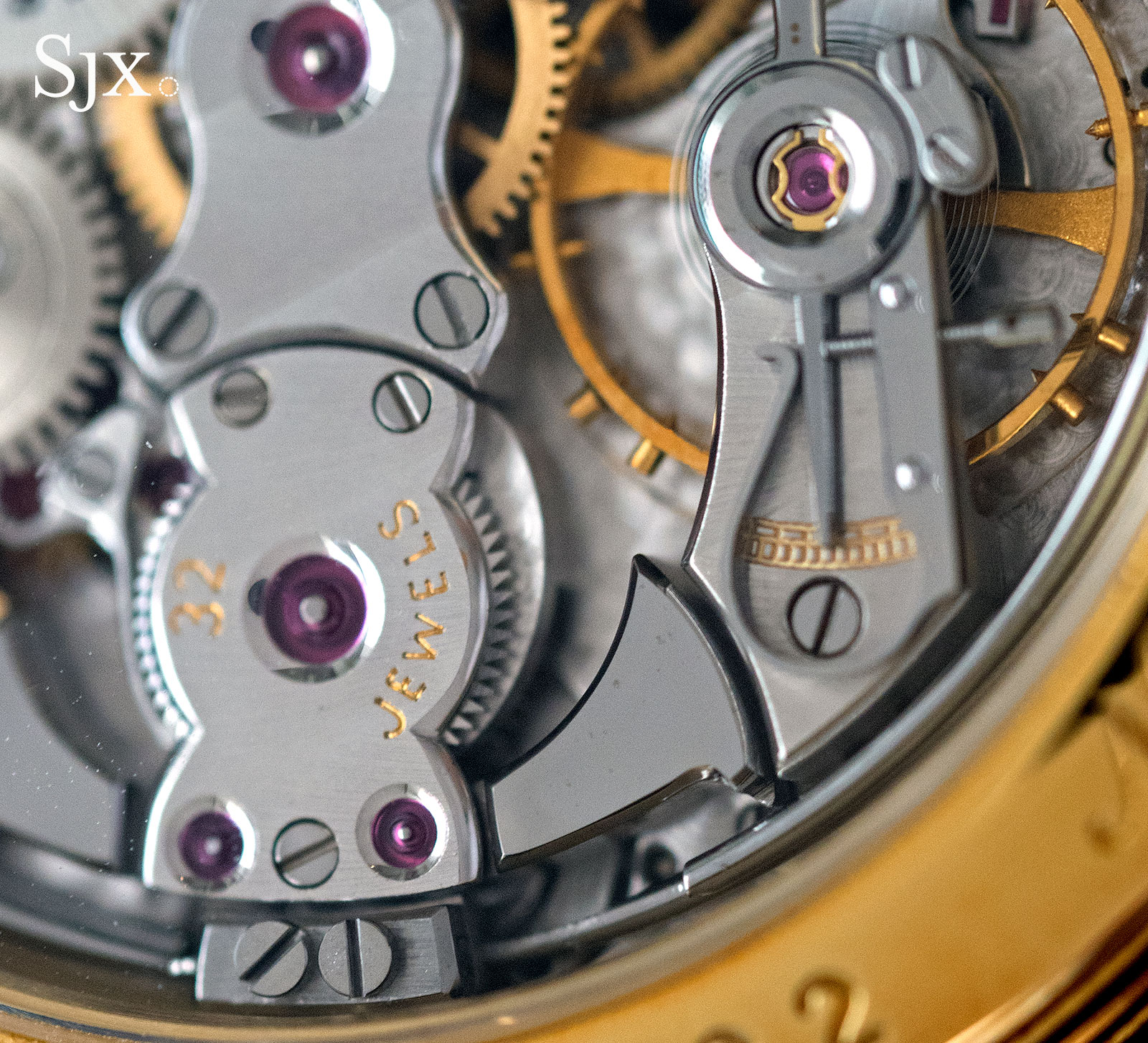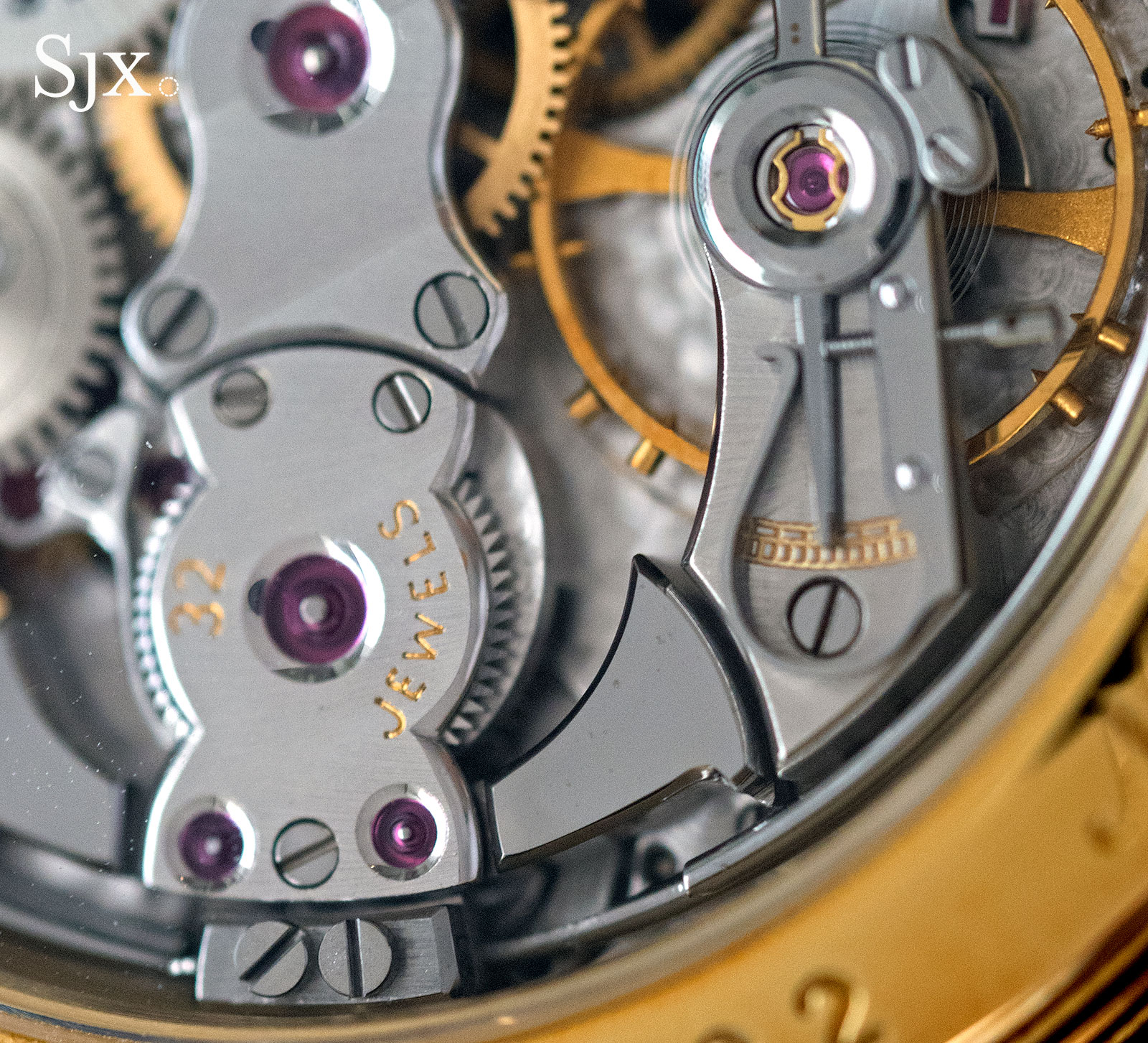 The case is yellow gold and a good 38.5mm in diameter, though its thickness leaves it feeling slightly smaller. This carries an estimate of HK$480,000 to HK$720,000, or US$63,000 to US$93,000.
---
Lot 2343 – Audemars Piguet Jules Audemars minute repeater with perpetual calendar 
Fitted with an unusual black and white dial that has a vague military look that's atypical but appealing, this repeater is notably large, with the white gold case 39mm in diameter.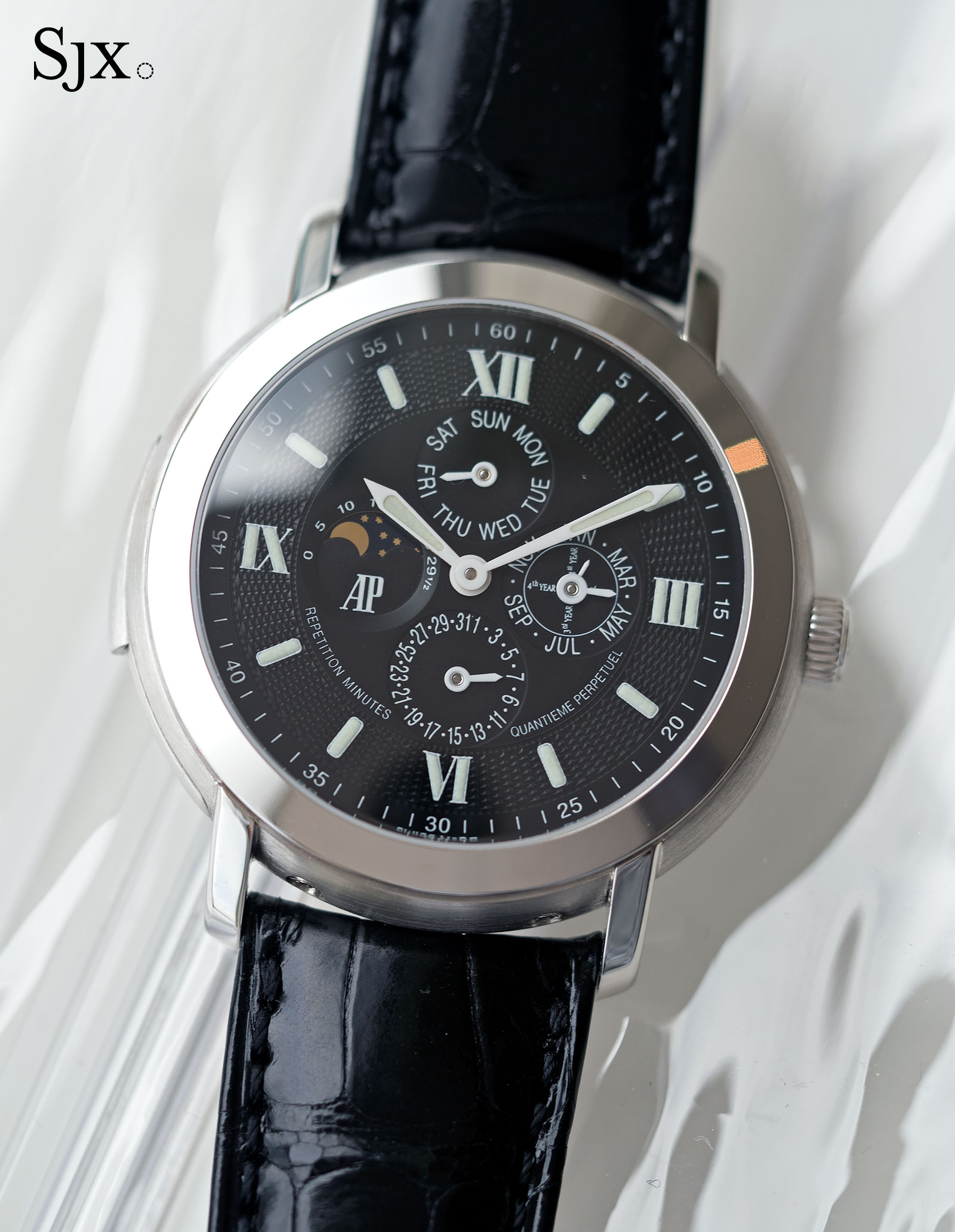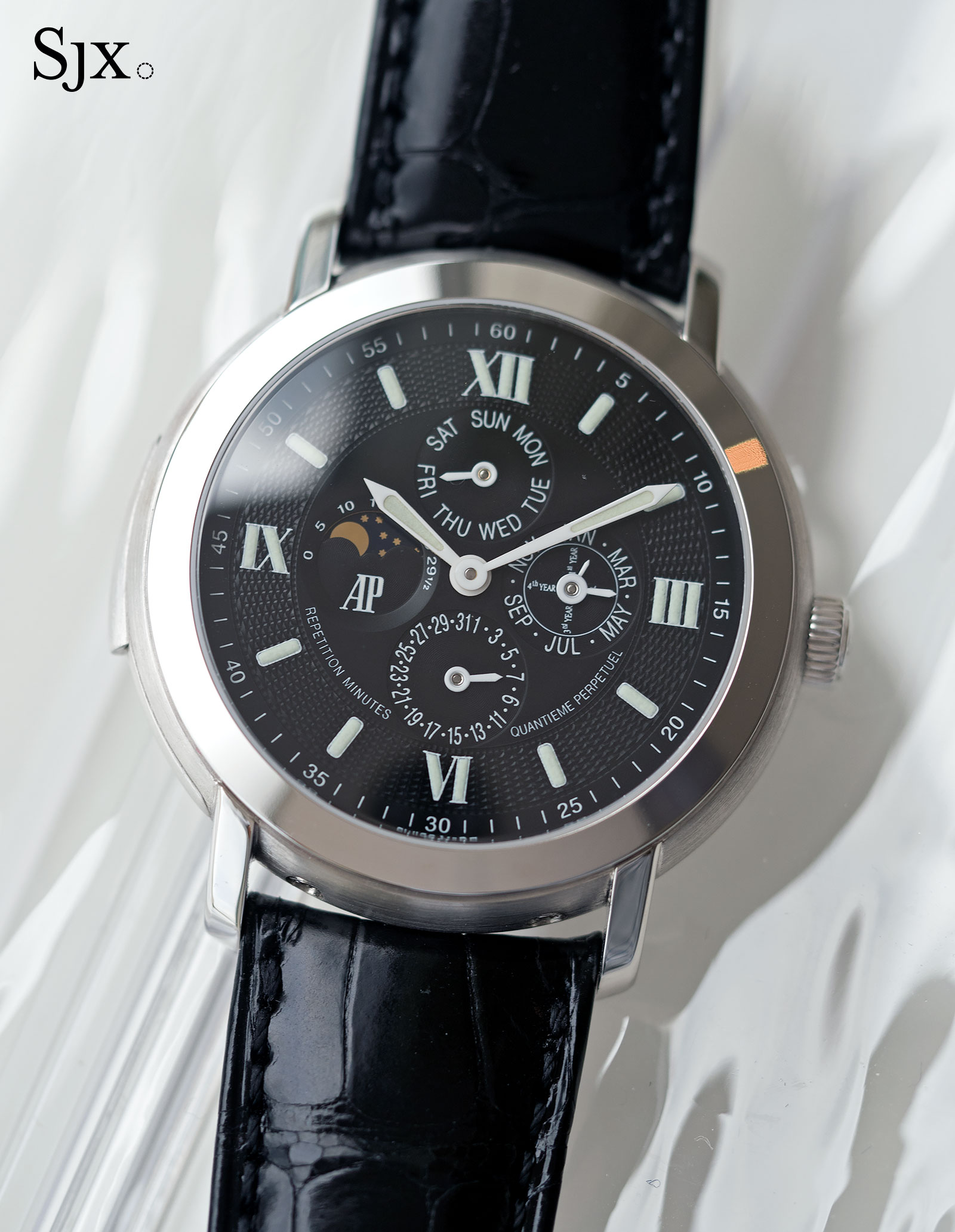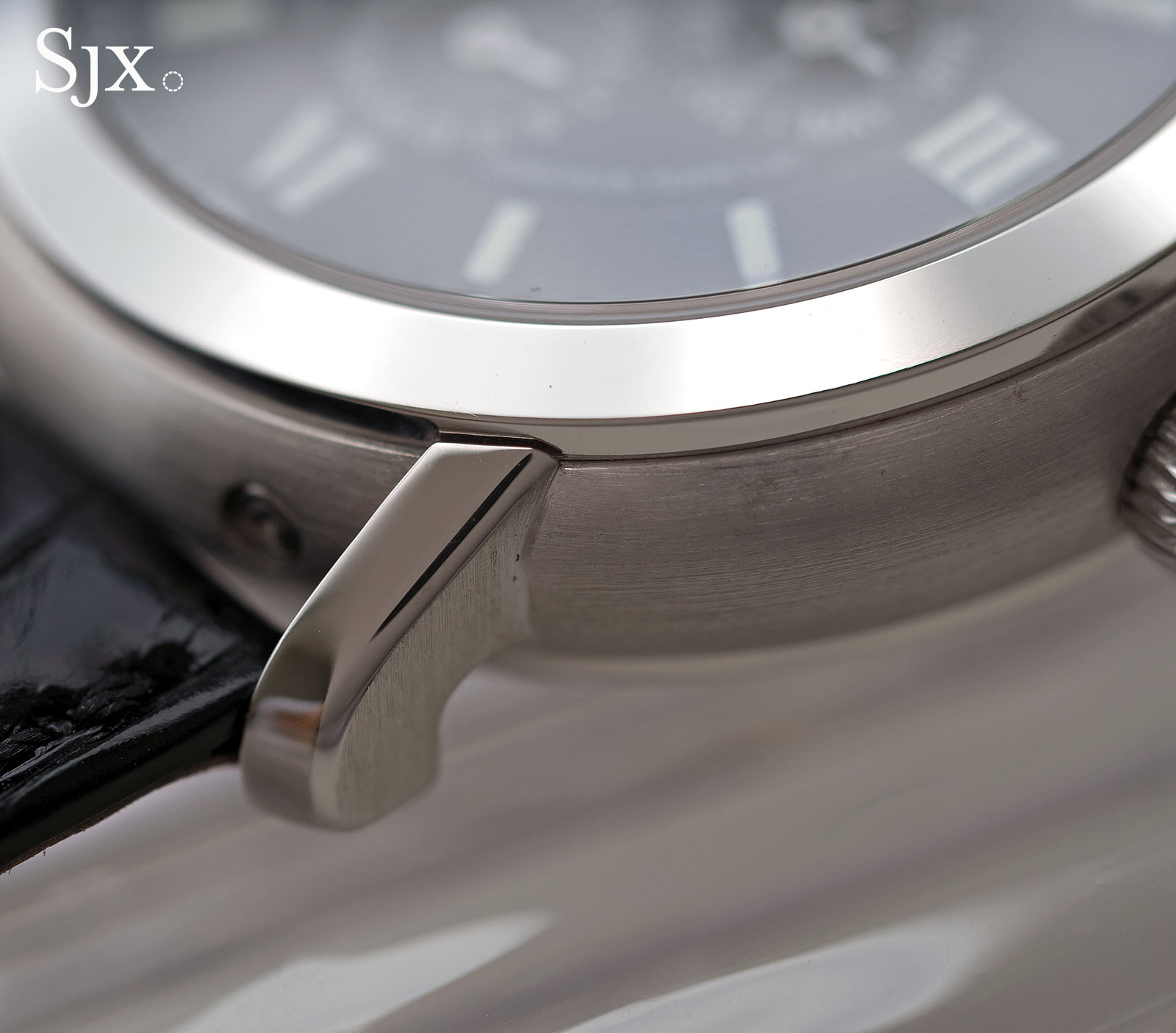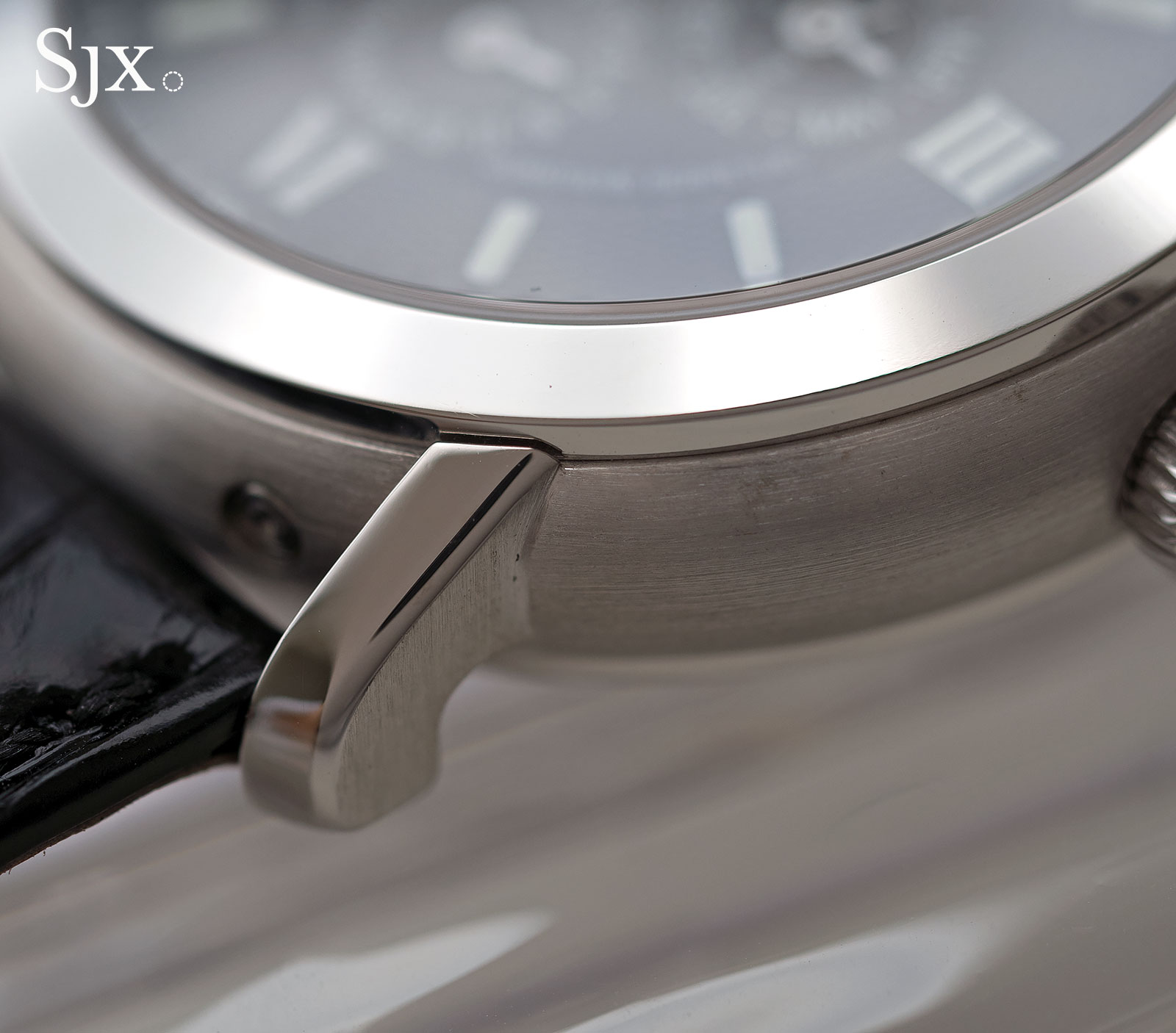 While the look is fairly stark at the distance, up close the dial reveals a barleycorn guilloche on the chapter ring for the hours.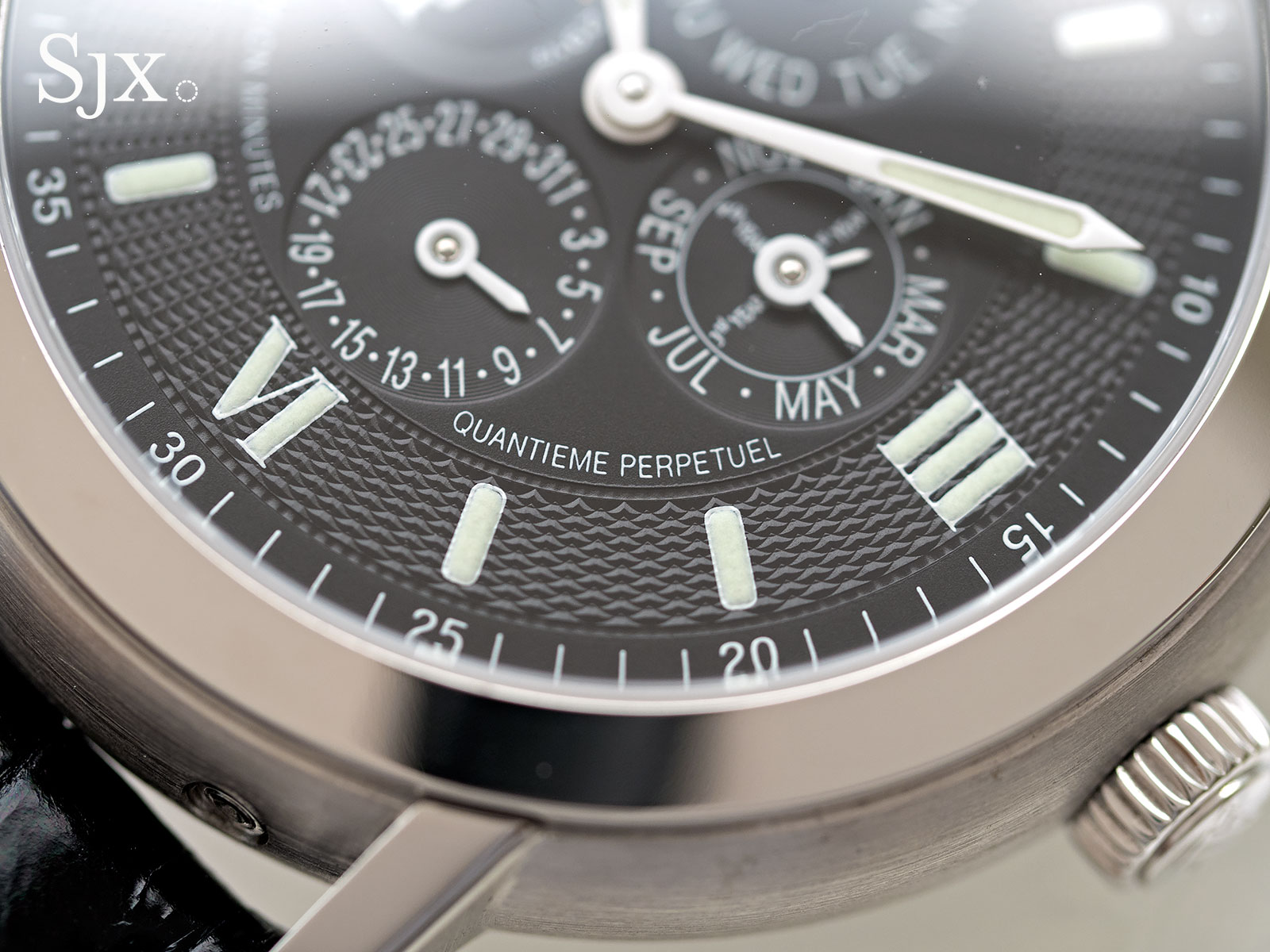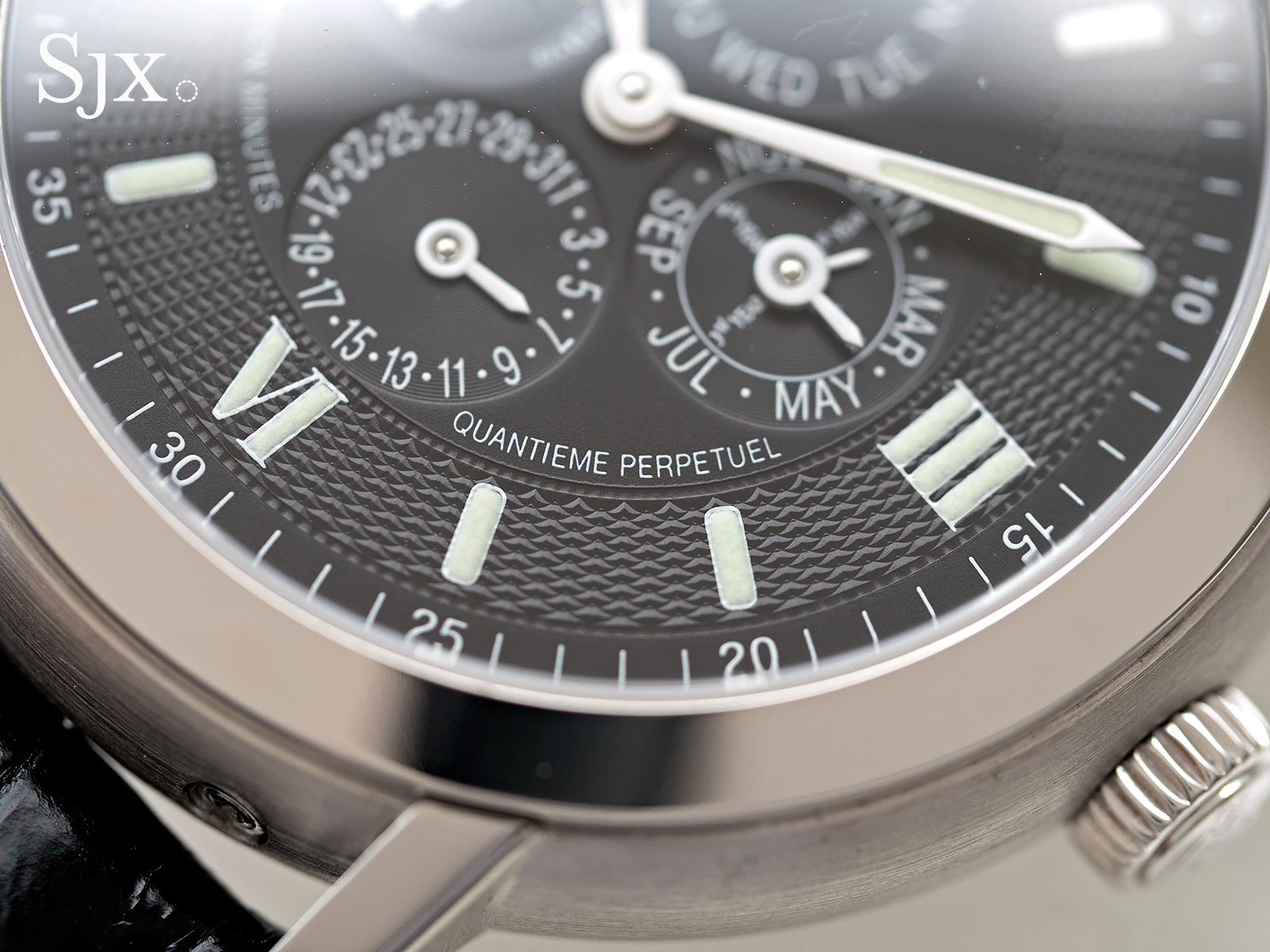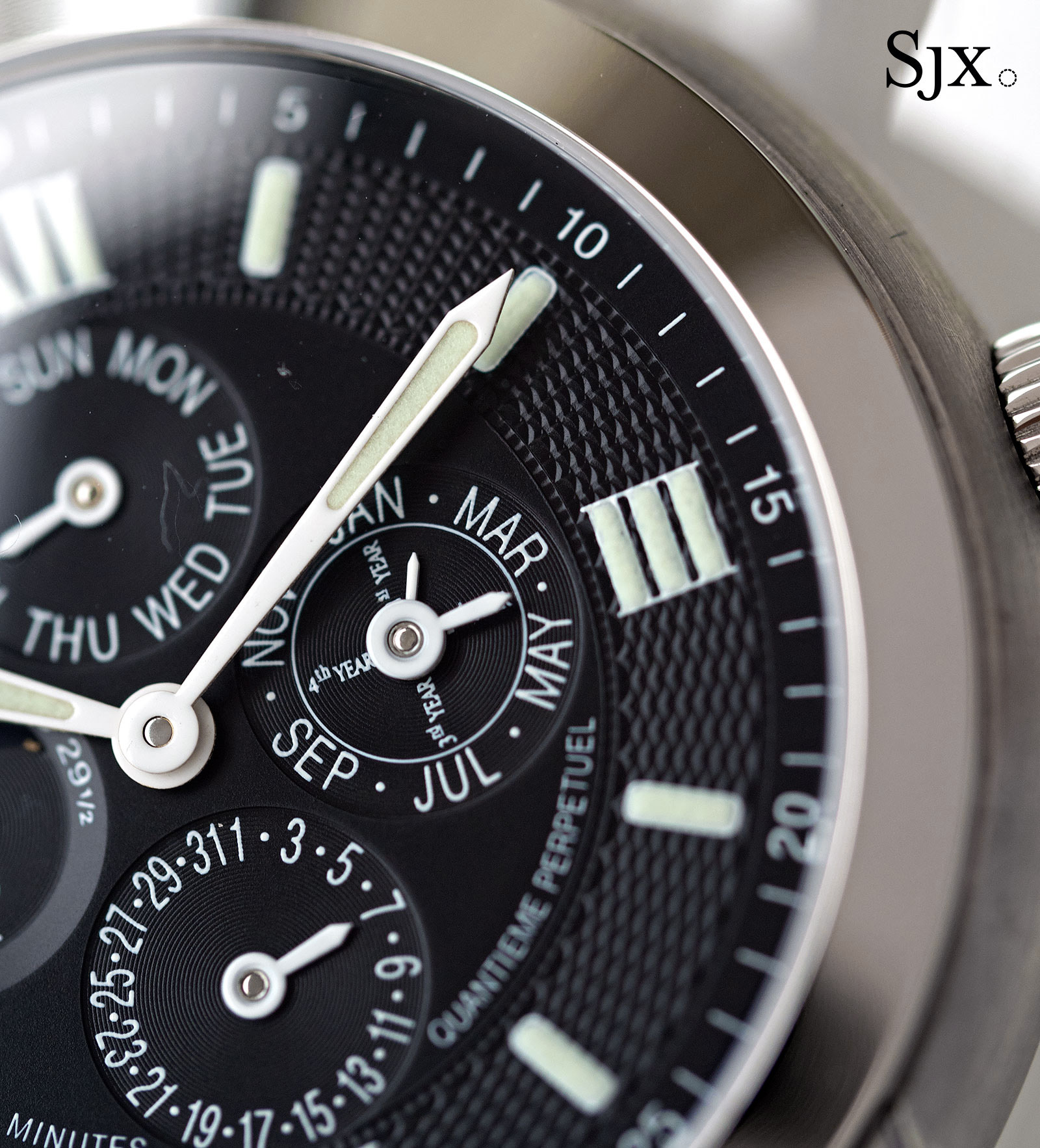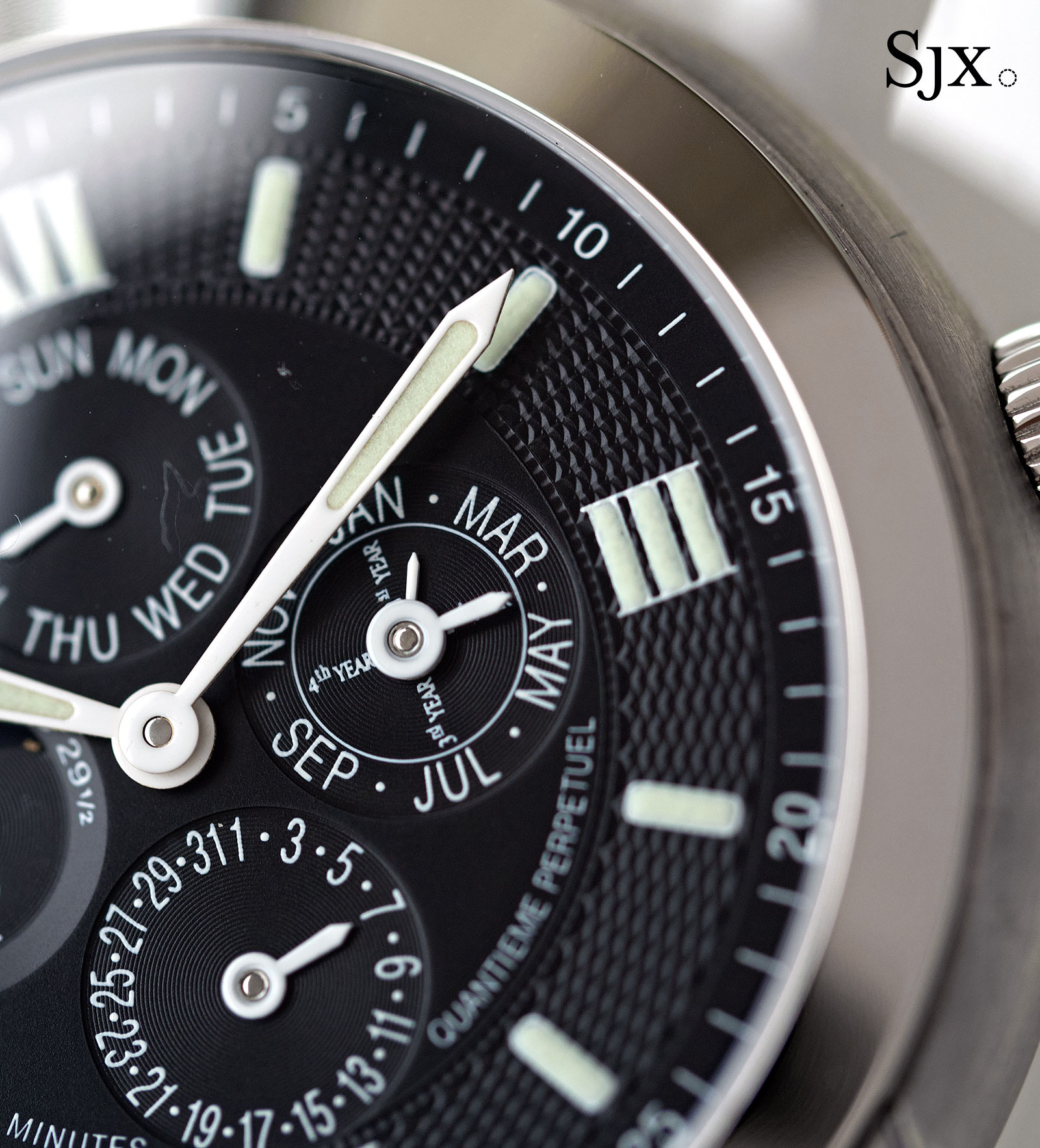 It's equipped with a traditionally constructed calibre built by Renaud & Papi, which like the Ulysse Nardin movement above is inspired by 19th century watchmaking, with a perpetual calendar mechanism on top. And as with most high-end AP complications, the lettering on the case back is hand-engraved.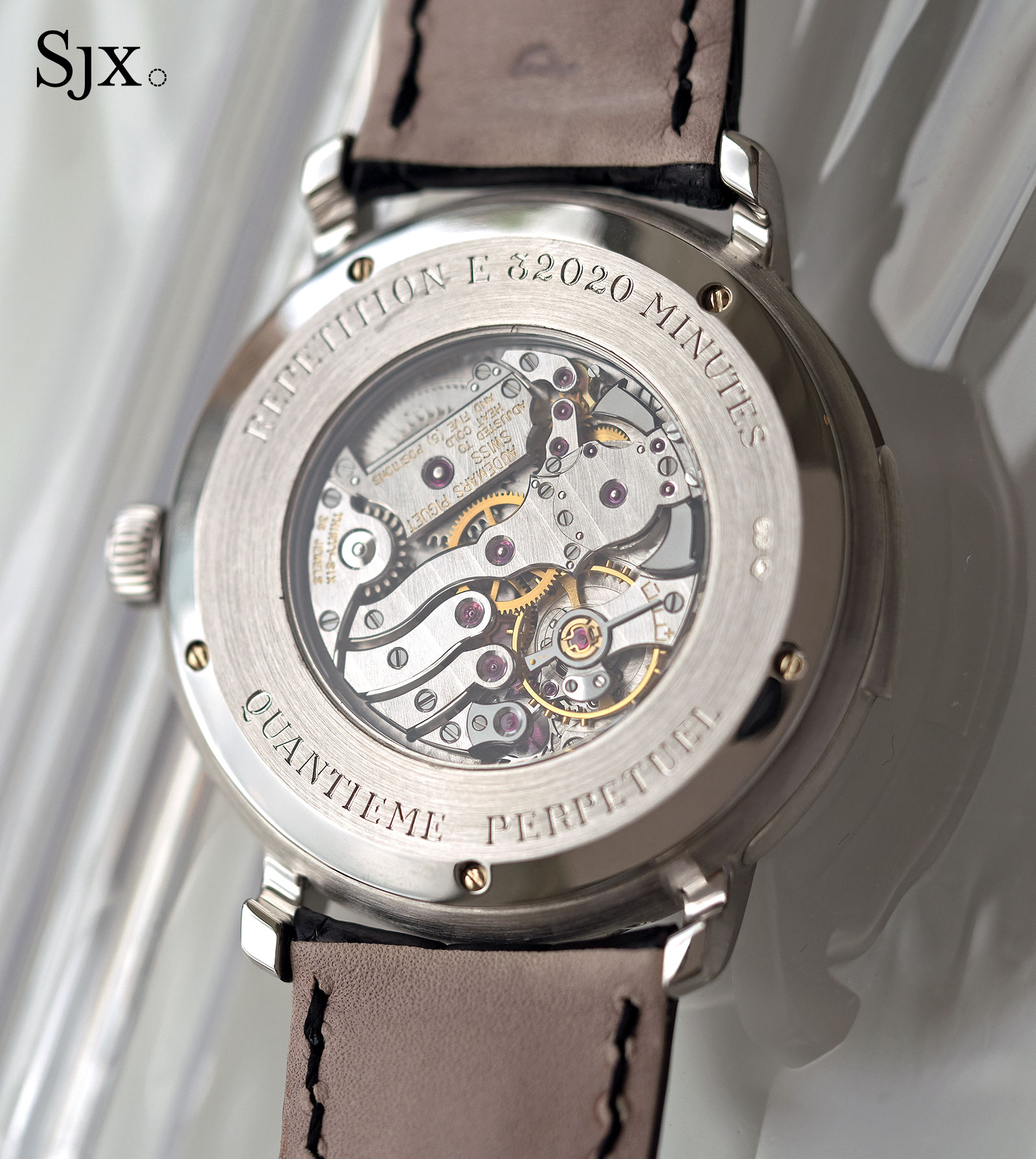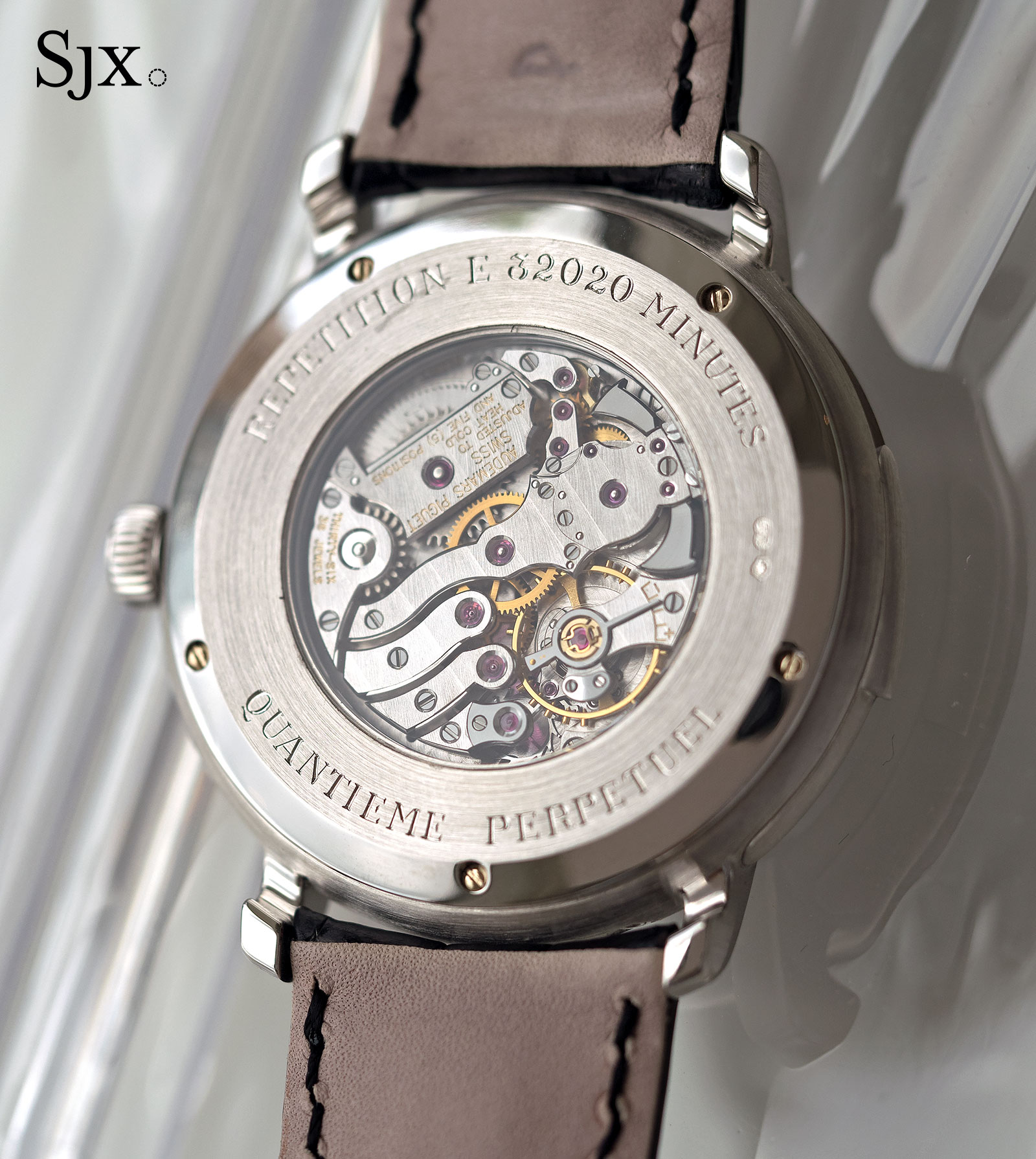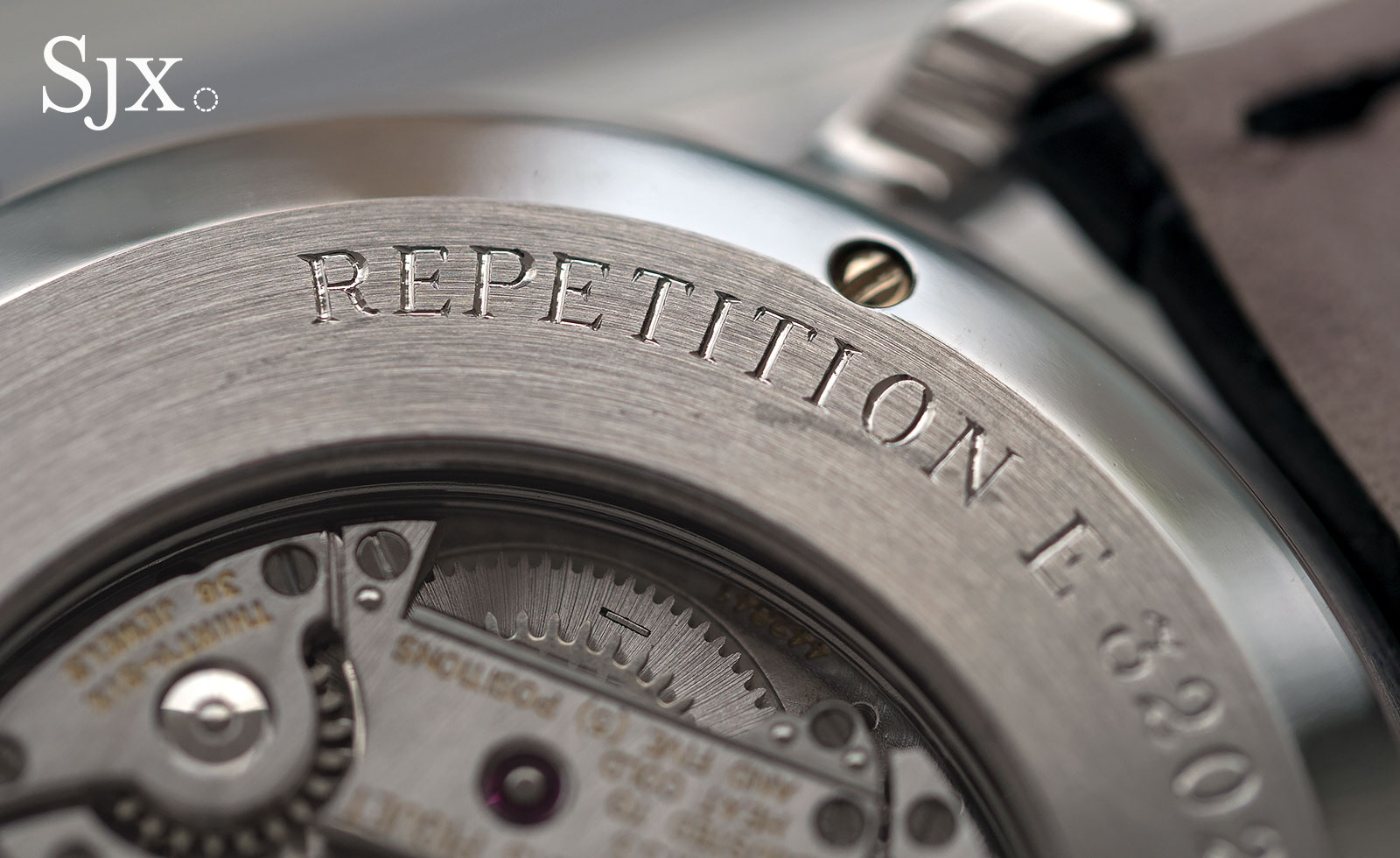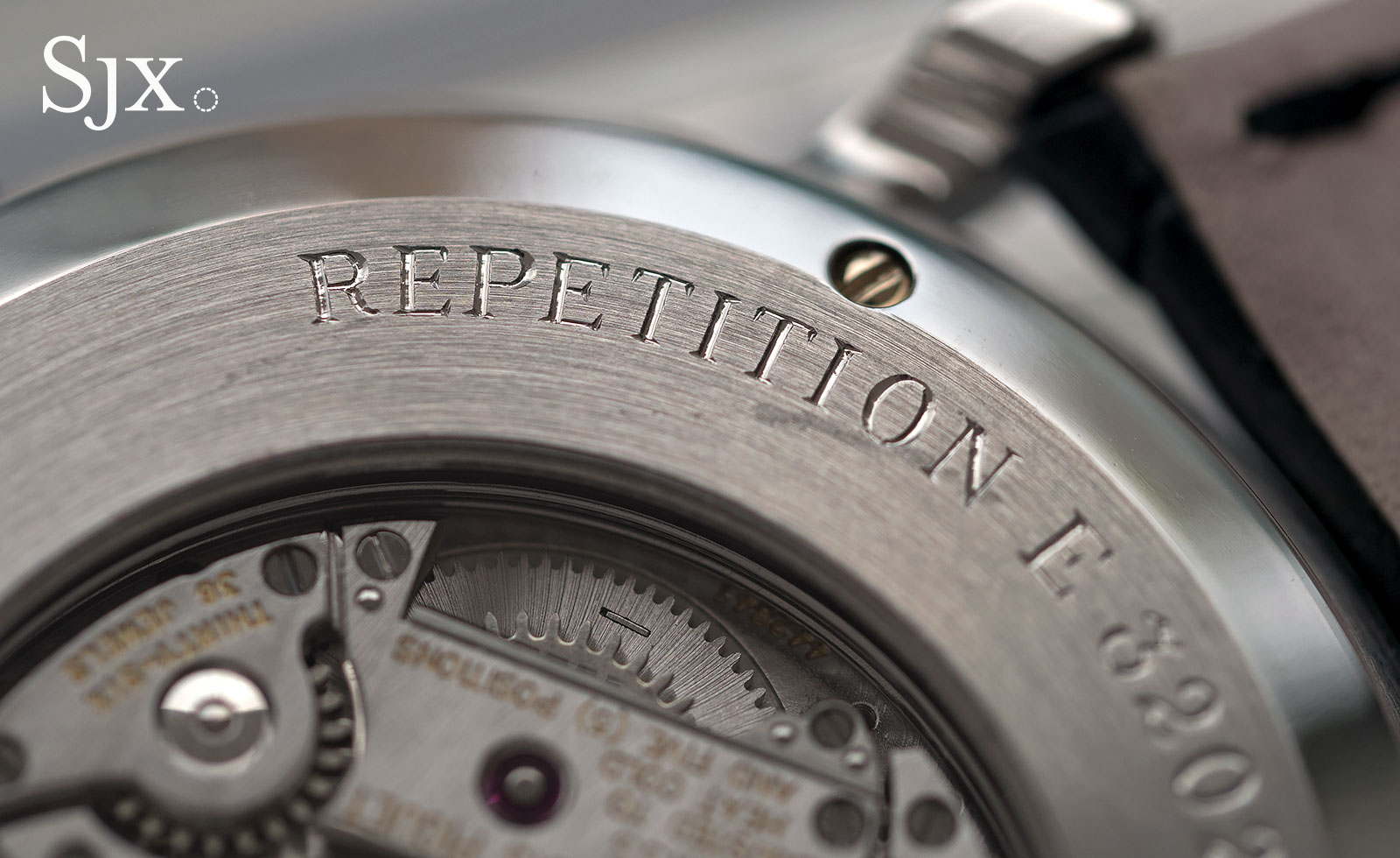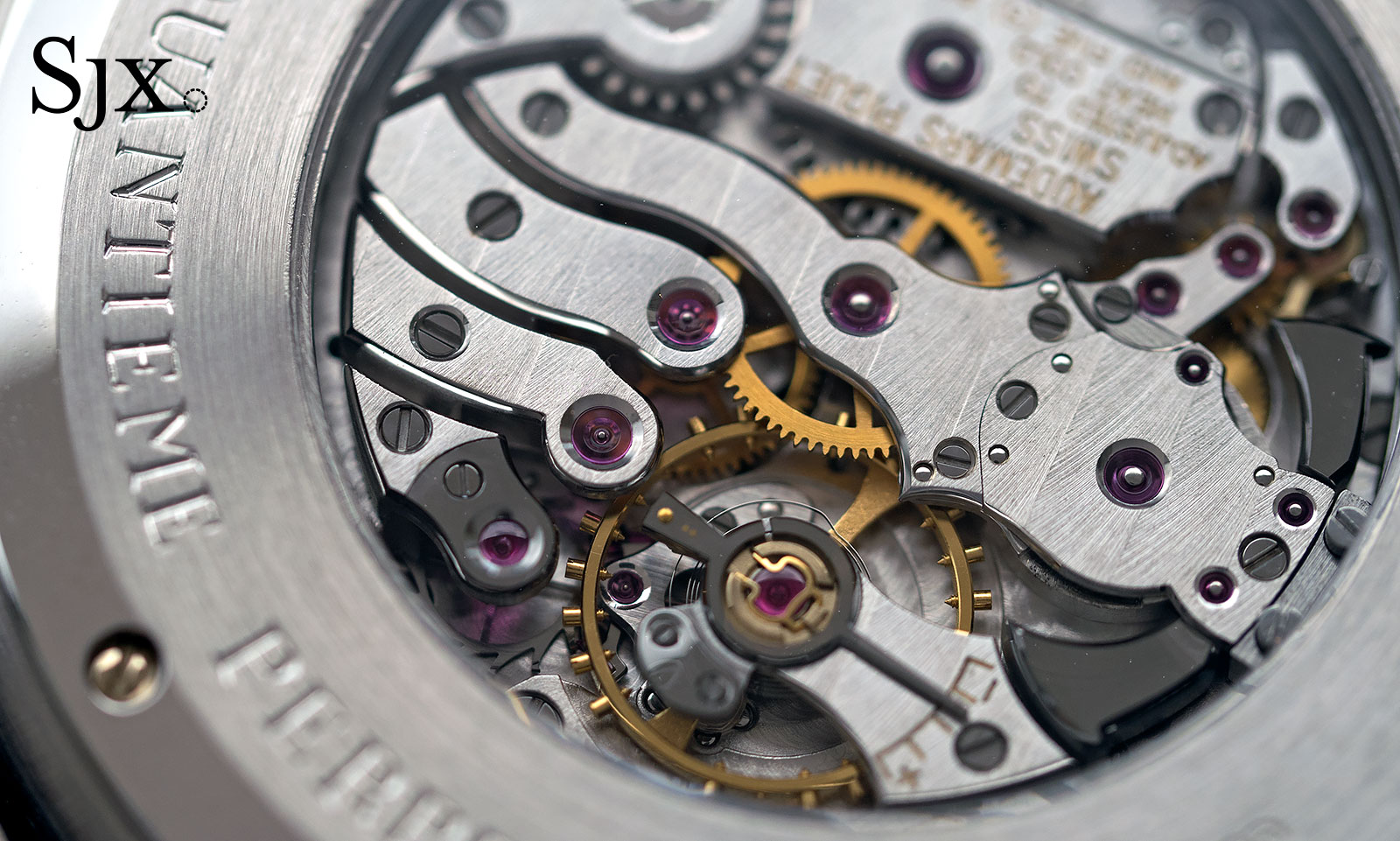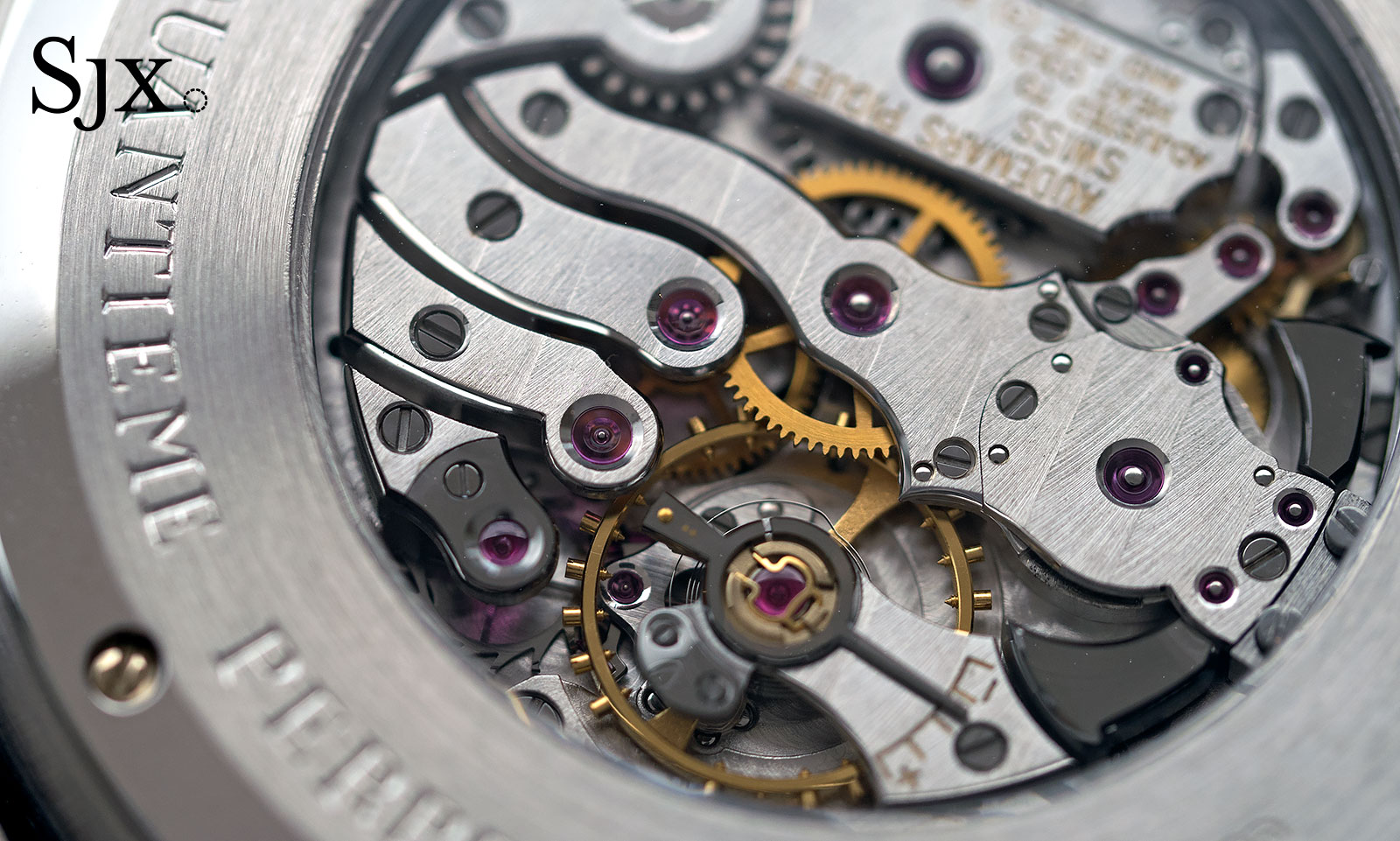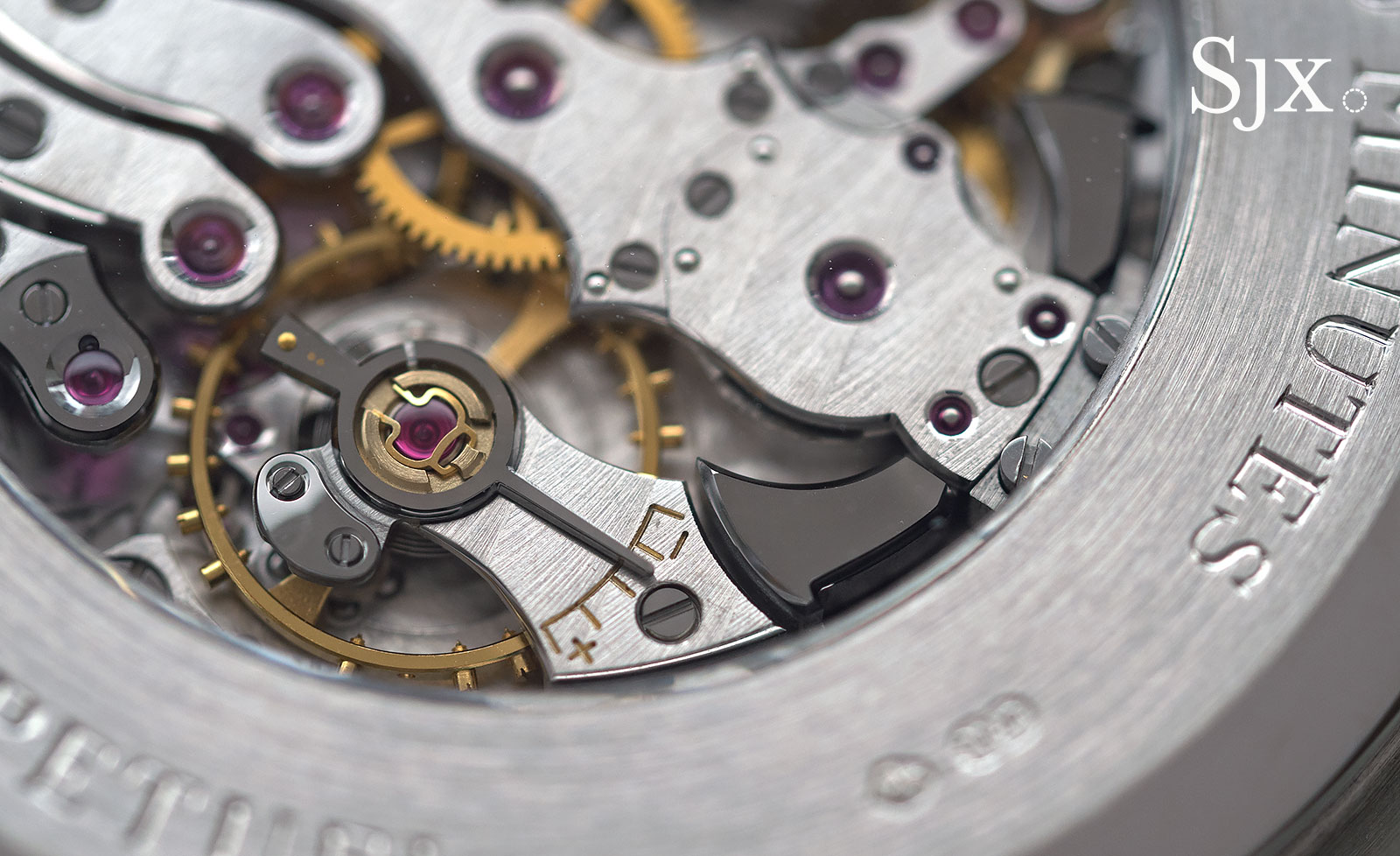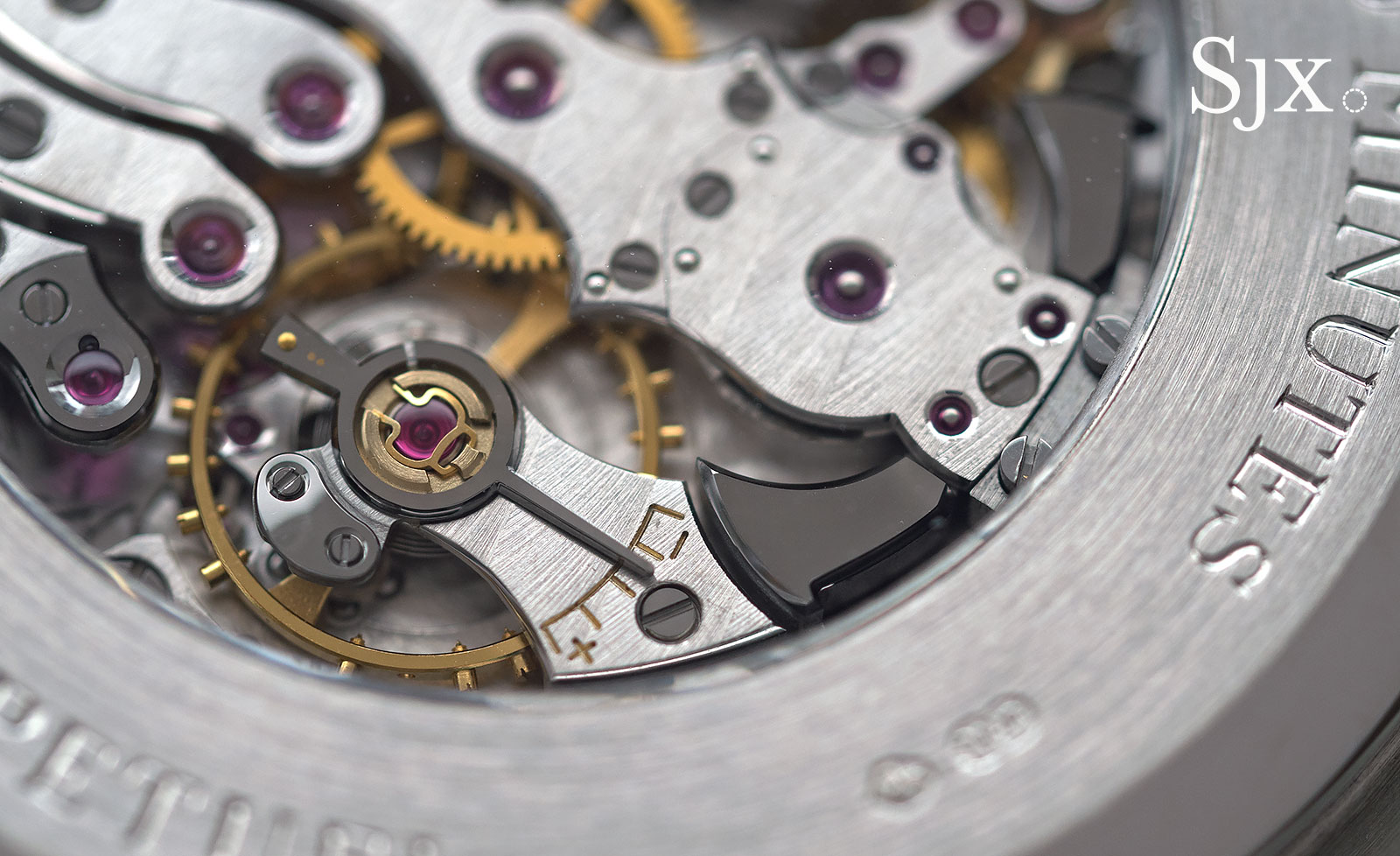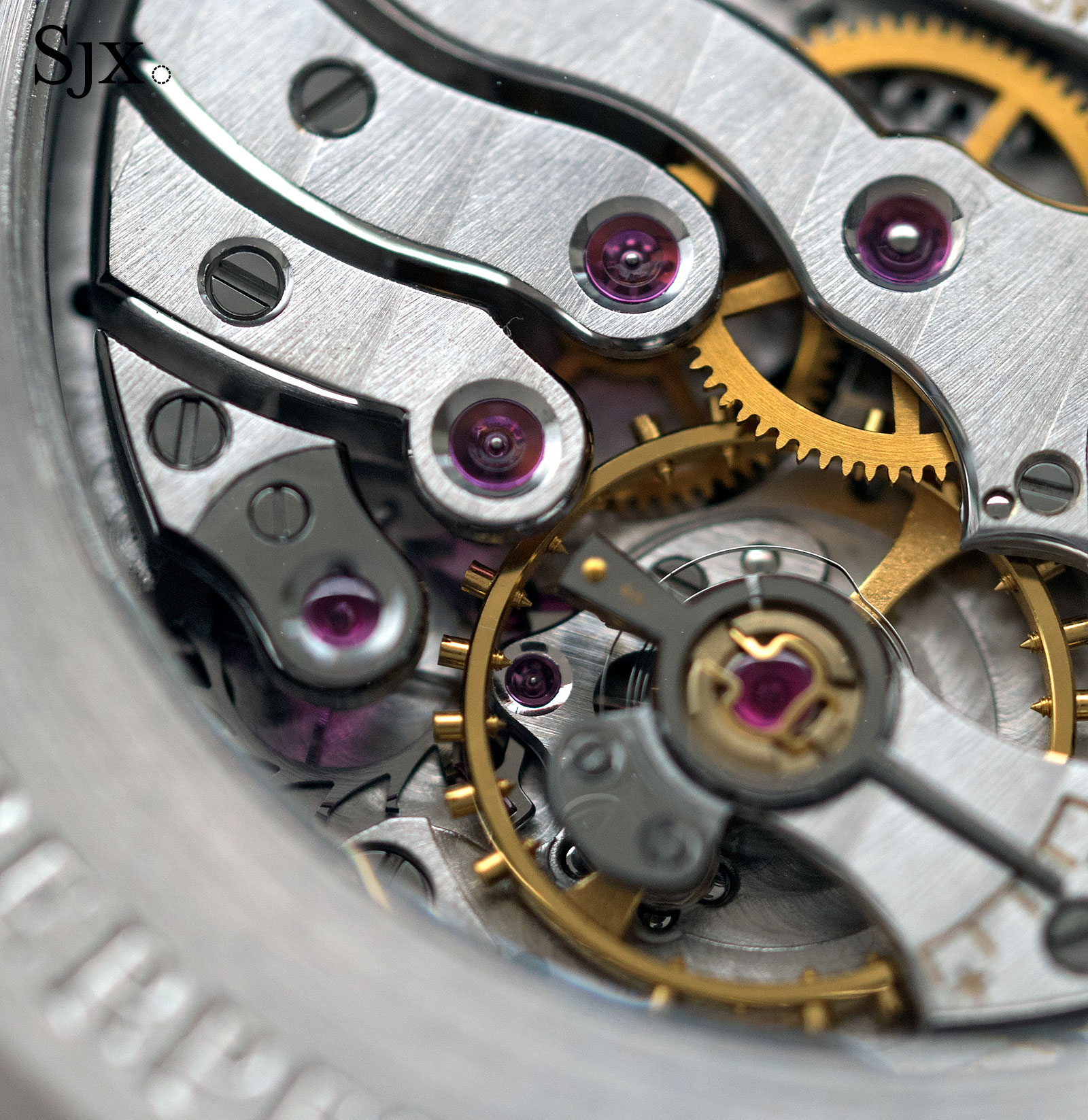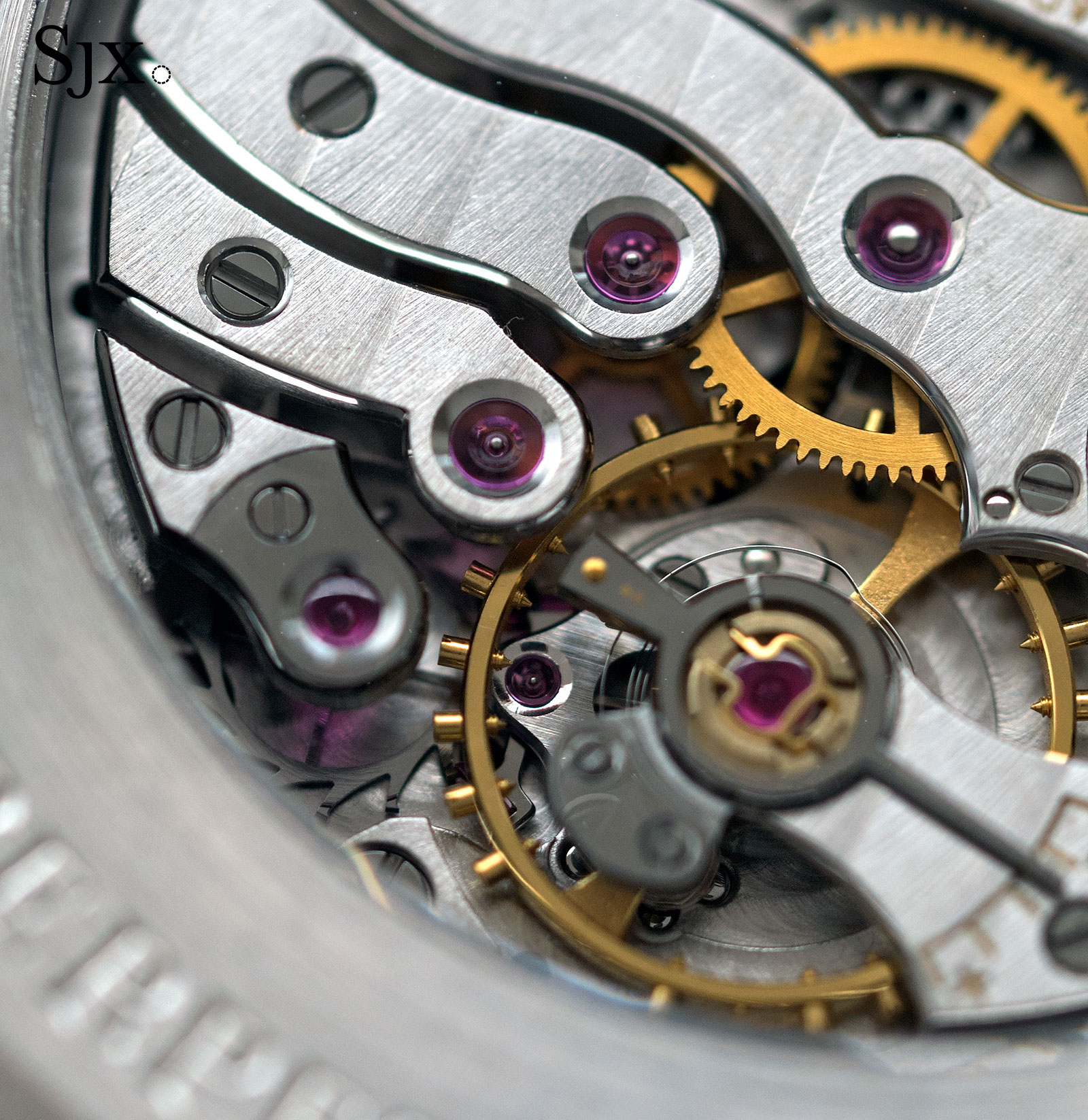 It's estimated at HK$320,000 to HK$500,000, or US$42,000 to US$65,000.
---
Lot 2390 – Laurent Ferrer Galet Micro-Rotor
Laurent Ferrier has produced numerous variants of its time-only Galet Micro-Rotor, many as limited editions or custom orders.
This example is a strong example of a custom Galet Micro-Rotor, featuring a white gold case, Breguet numerals and a railway minute track.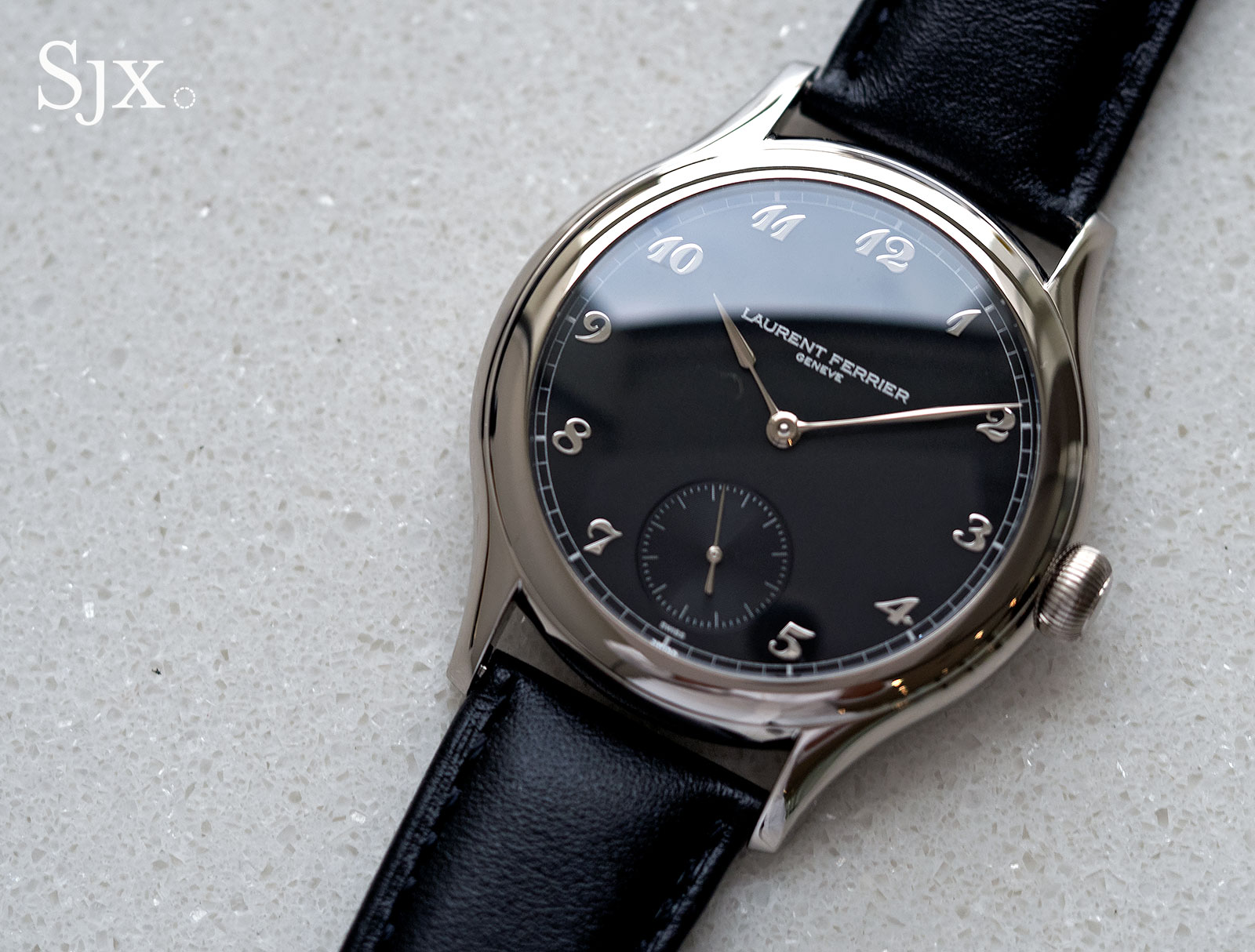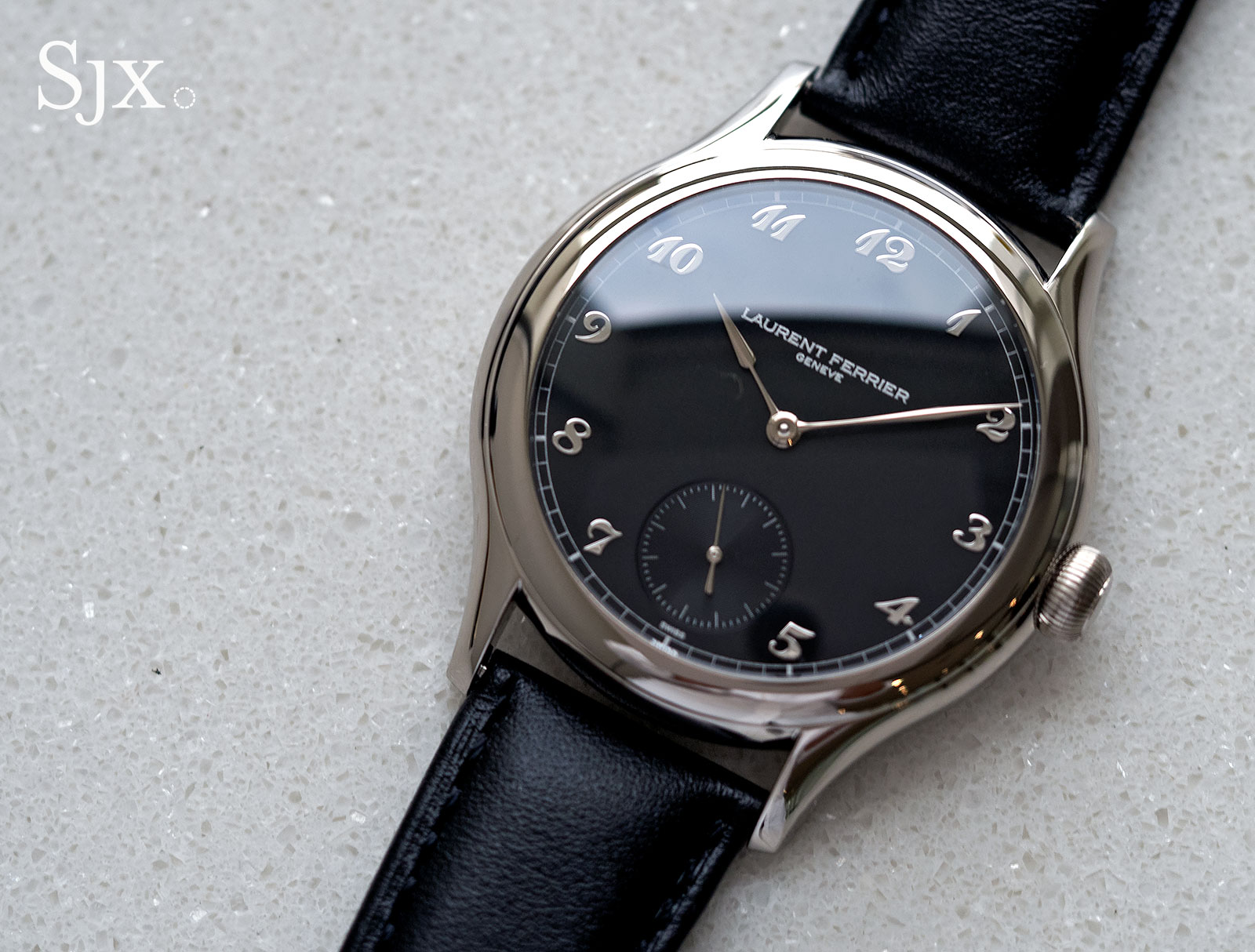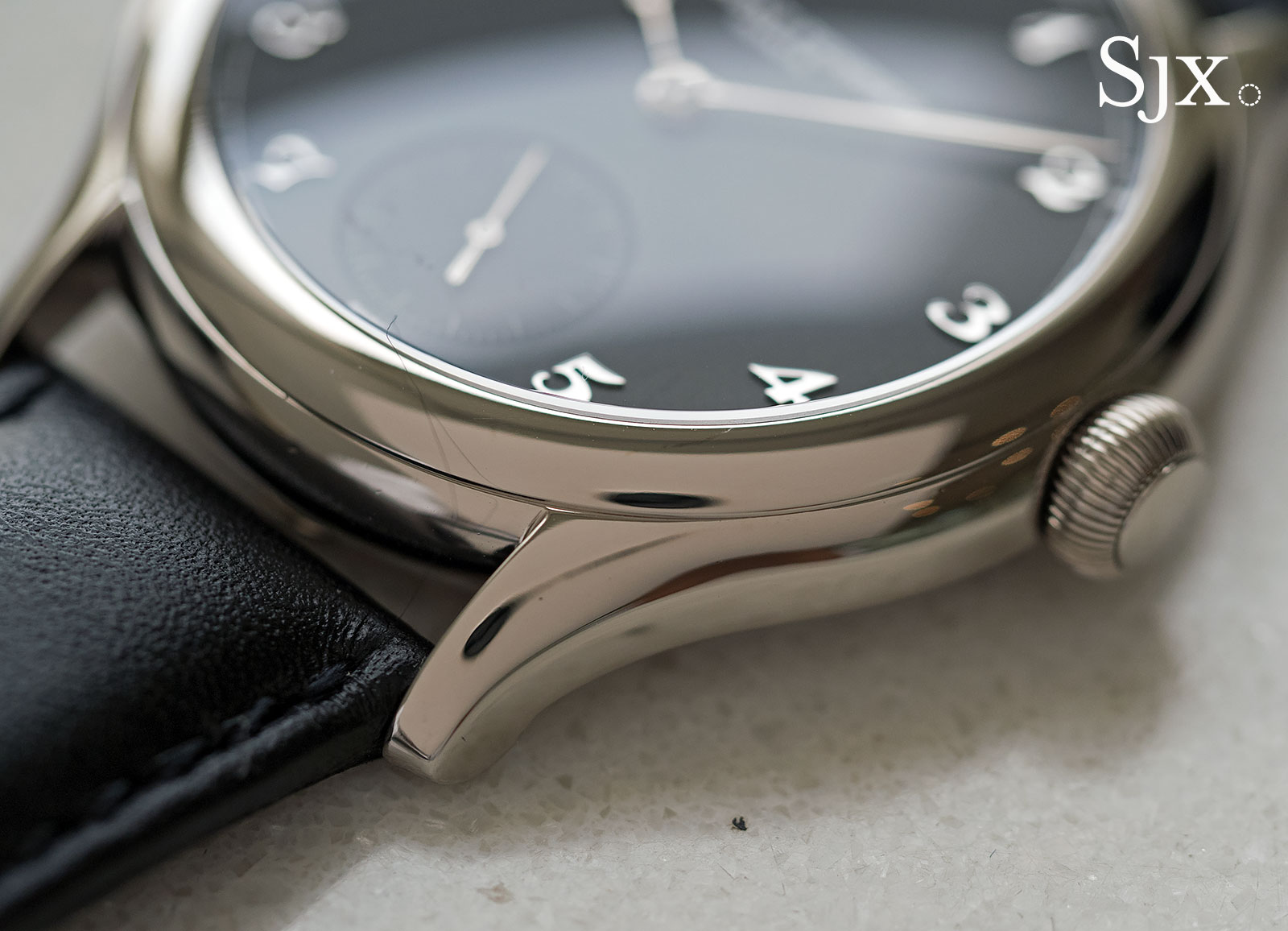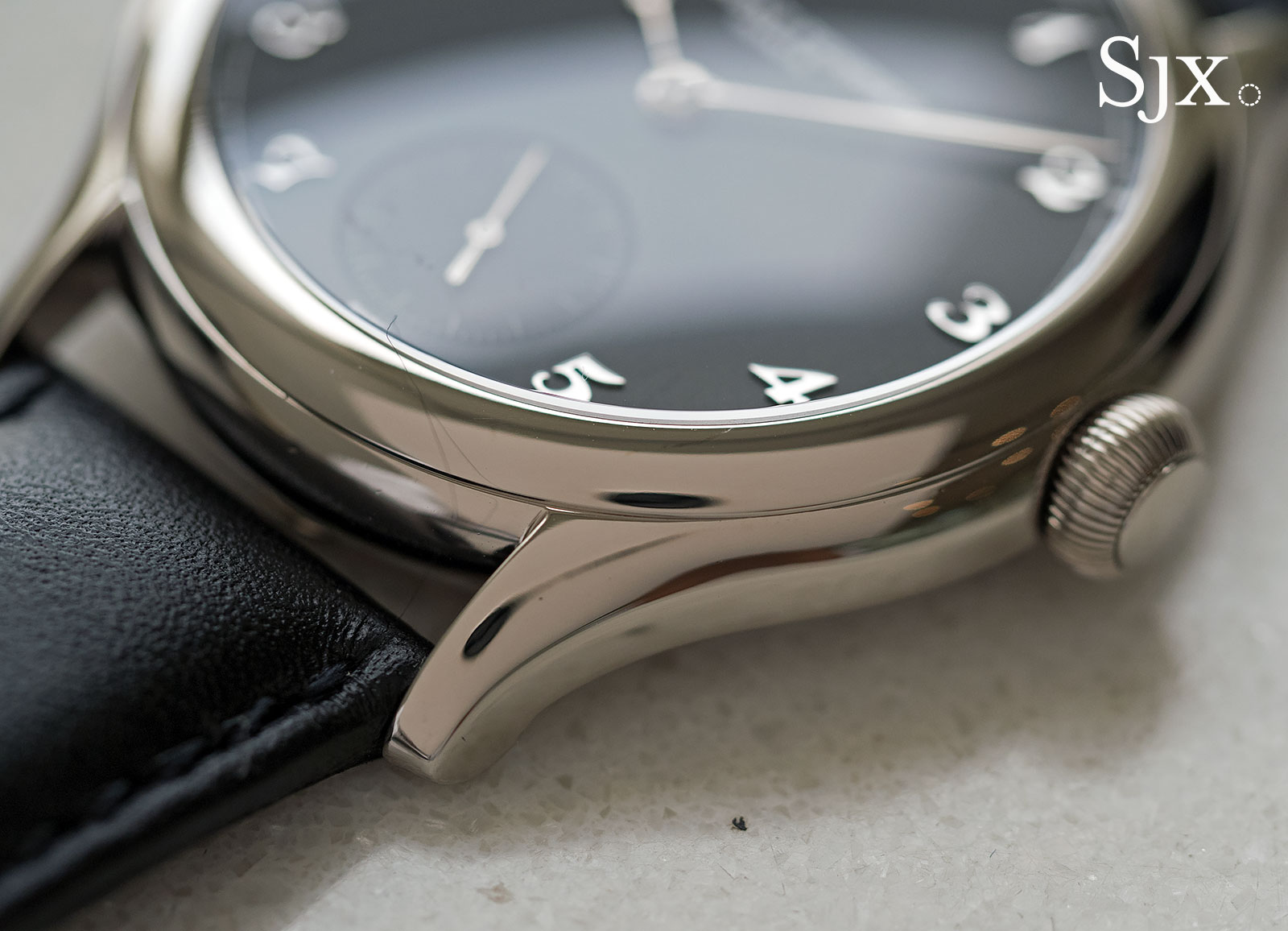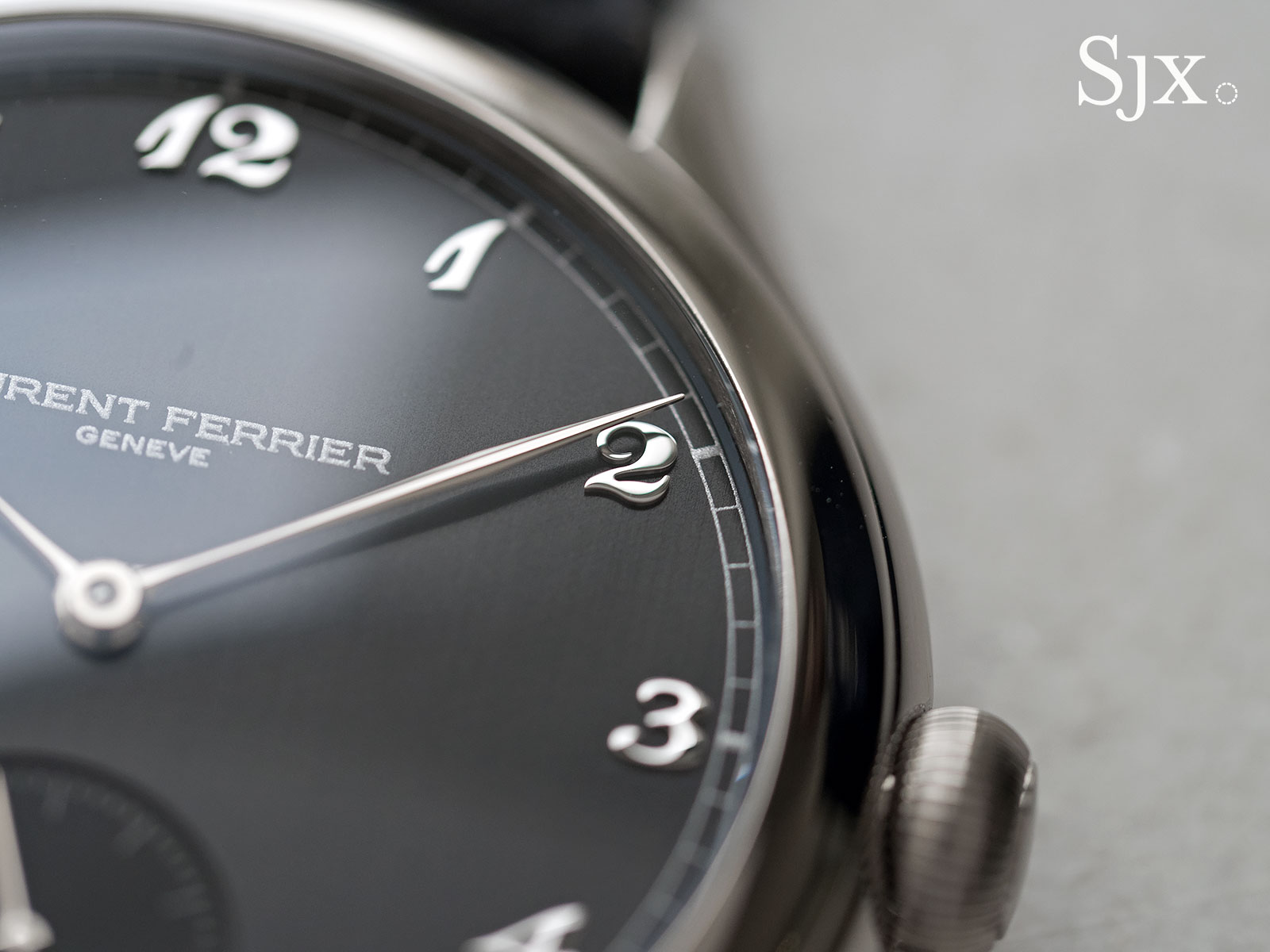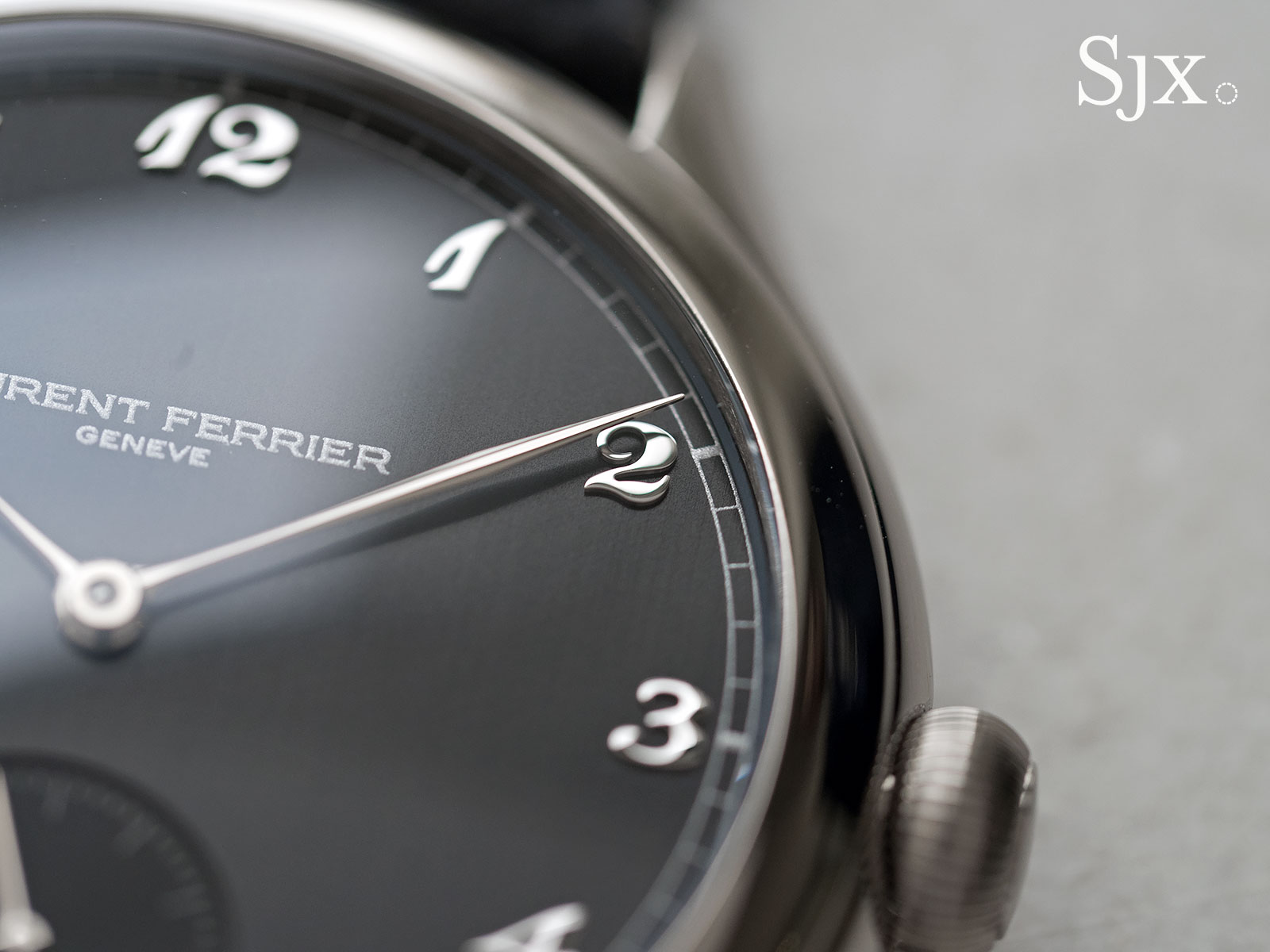 The combination is classical but appealing, as well as being relatively uncommon since the railway minute track isn't often used.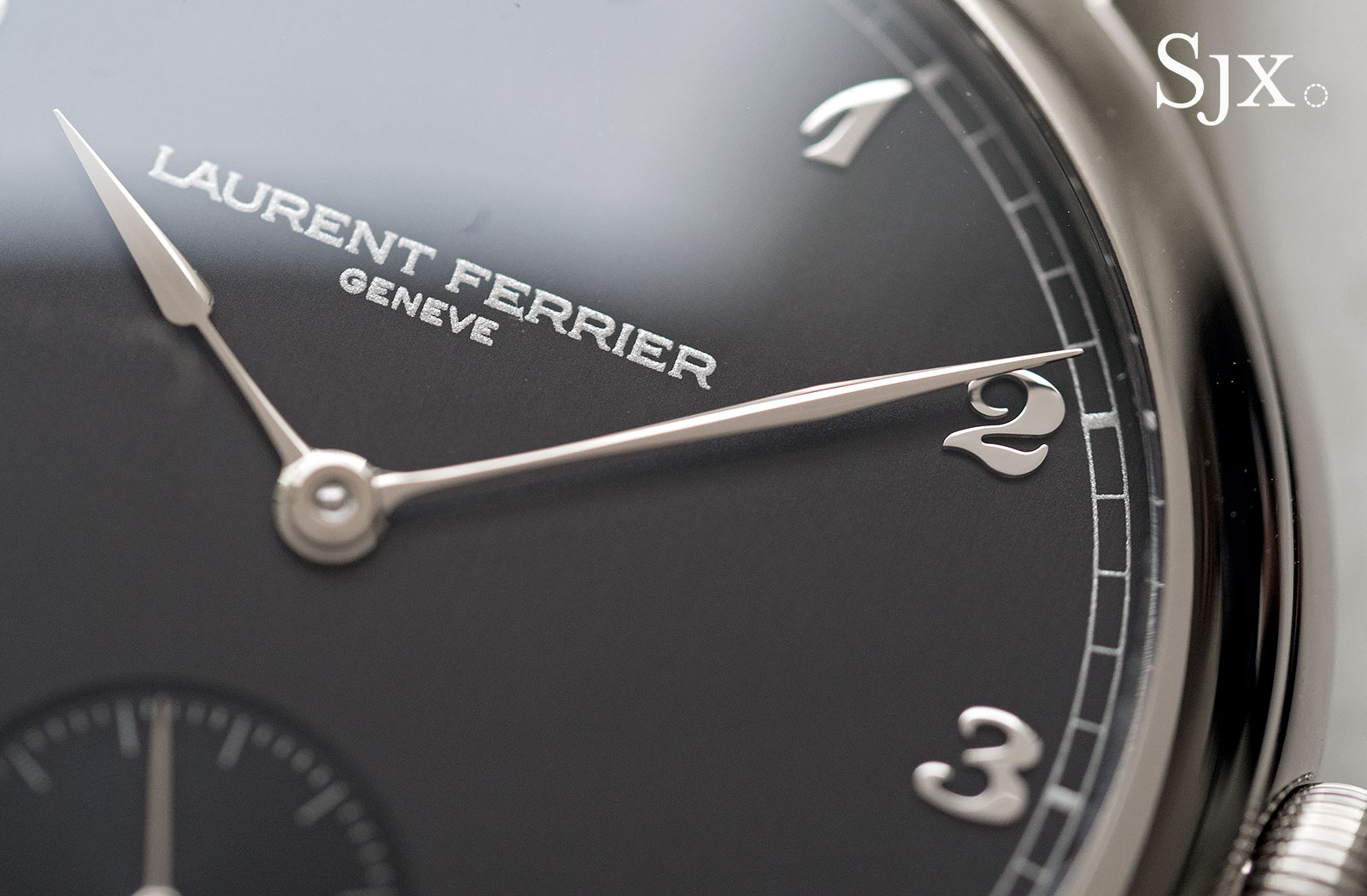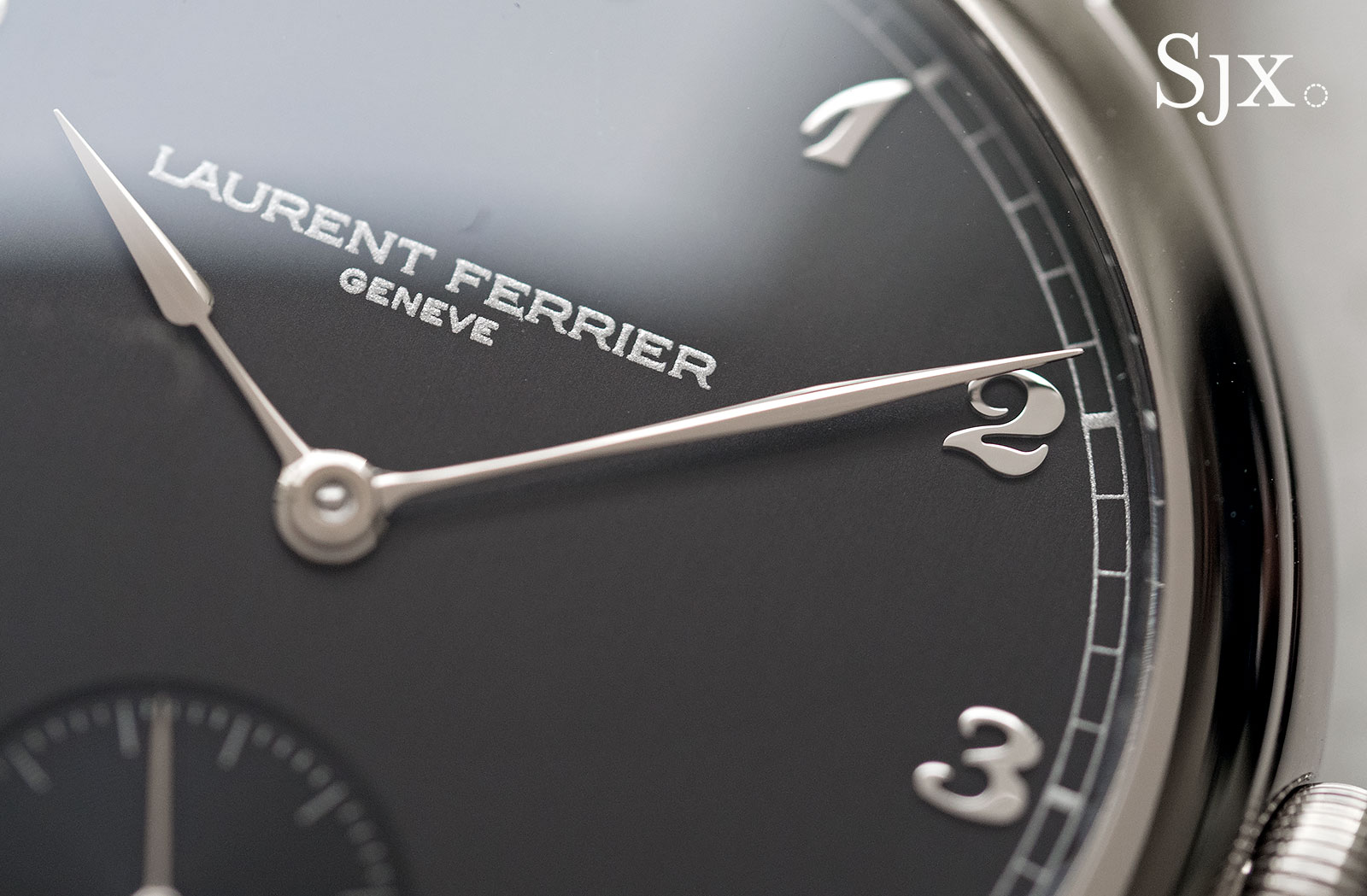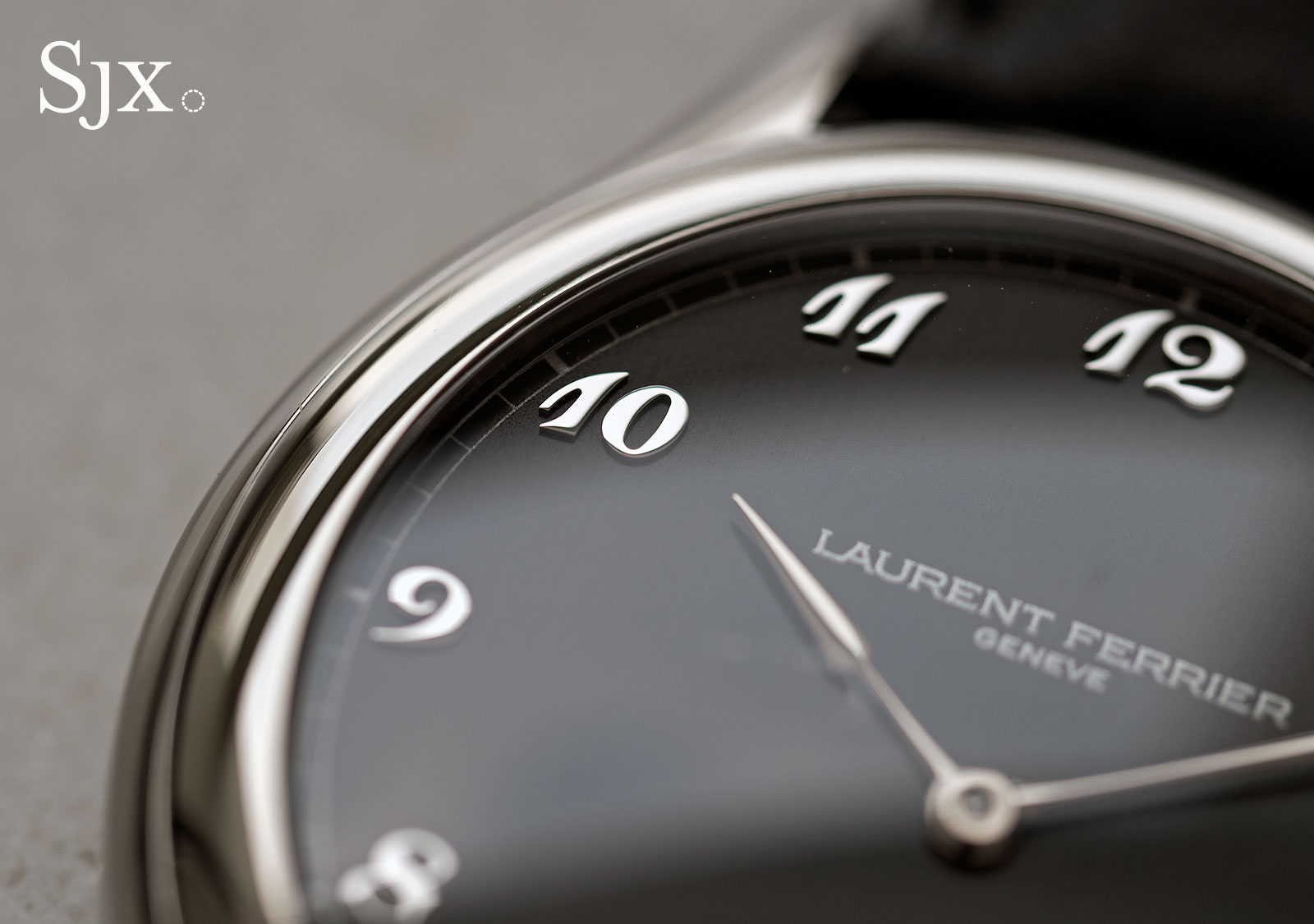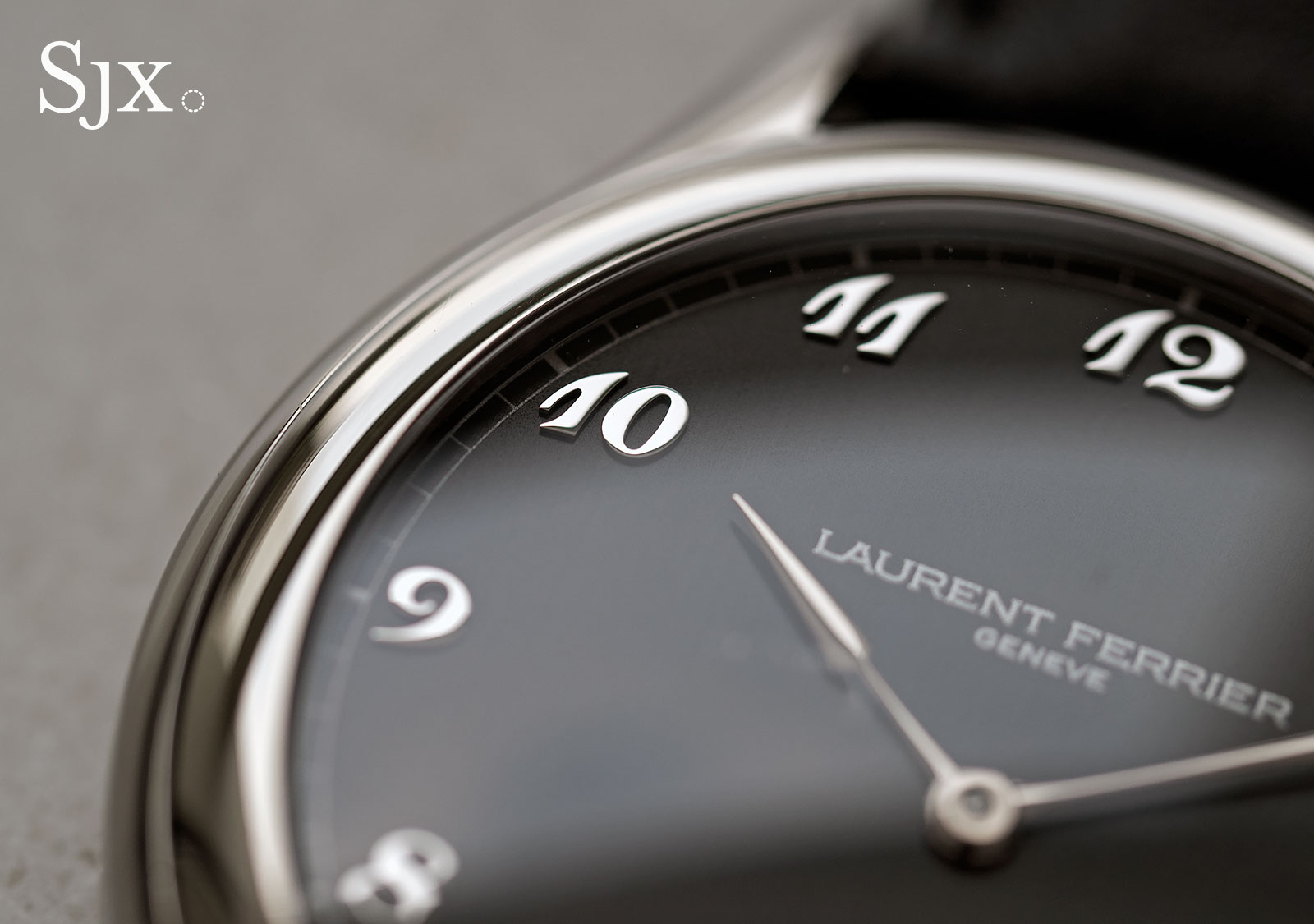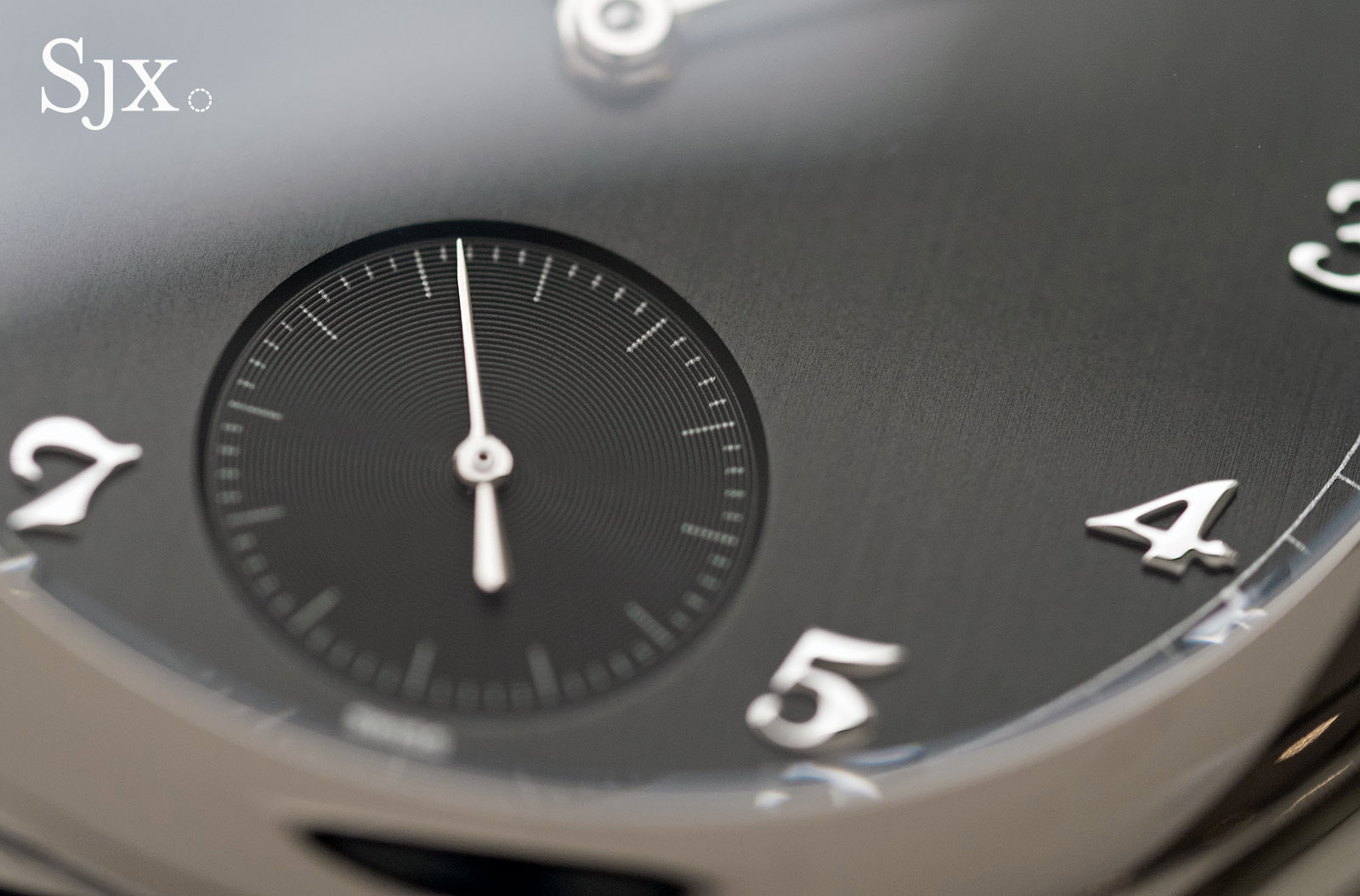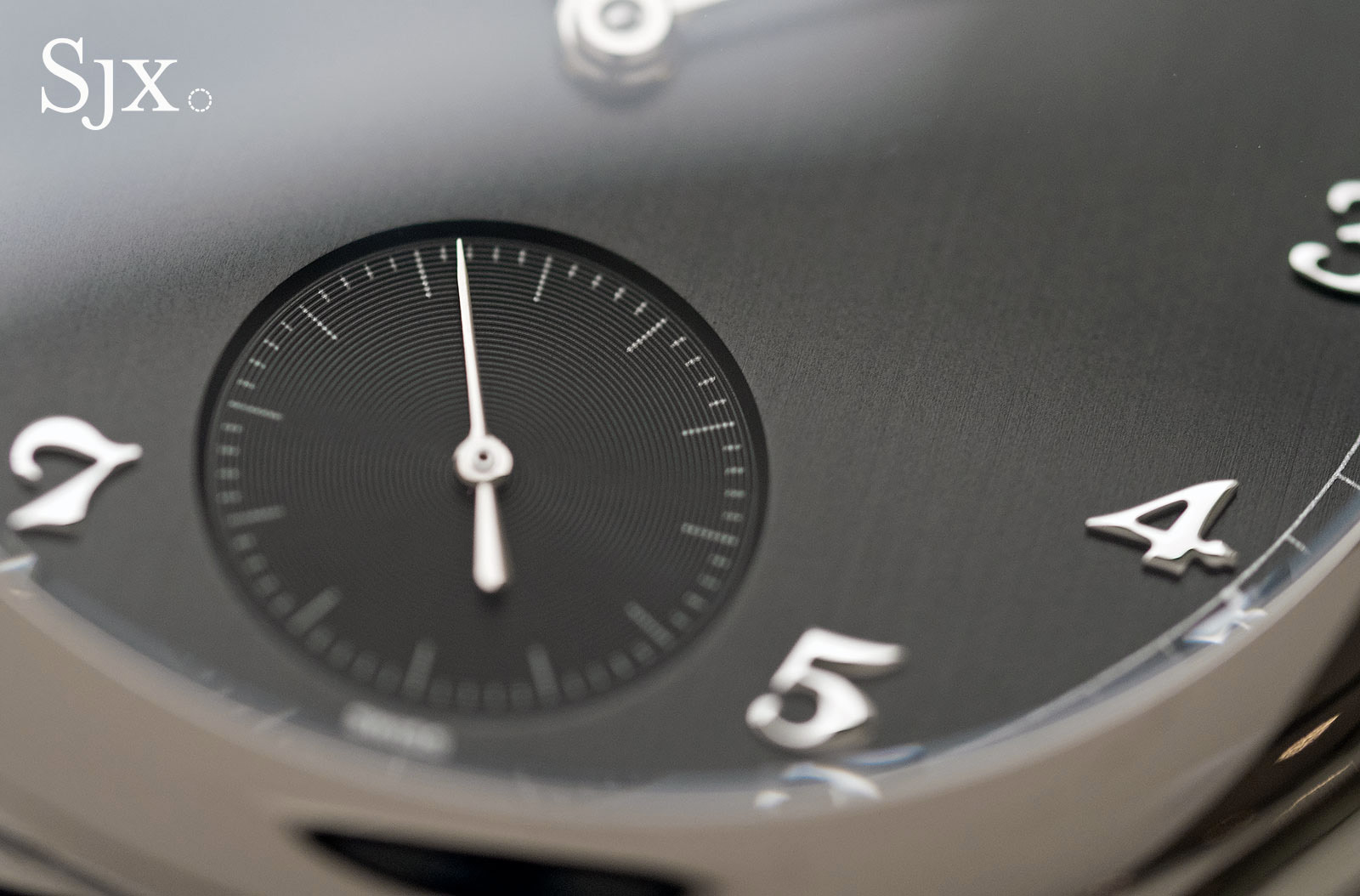 While the front is quietly properly, the back is an extravagant sight. Laurent Ferrier's greatest strength is arguably its elaborated constructed and finely decorated movements.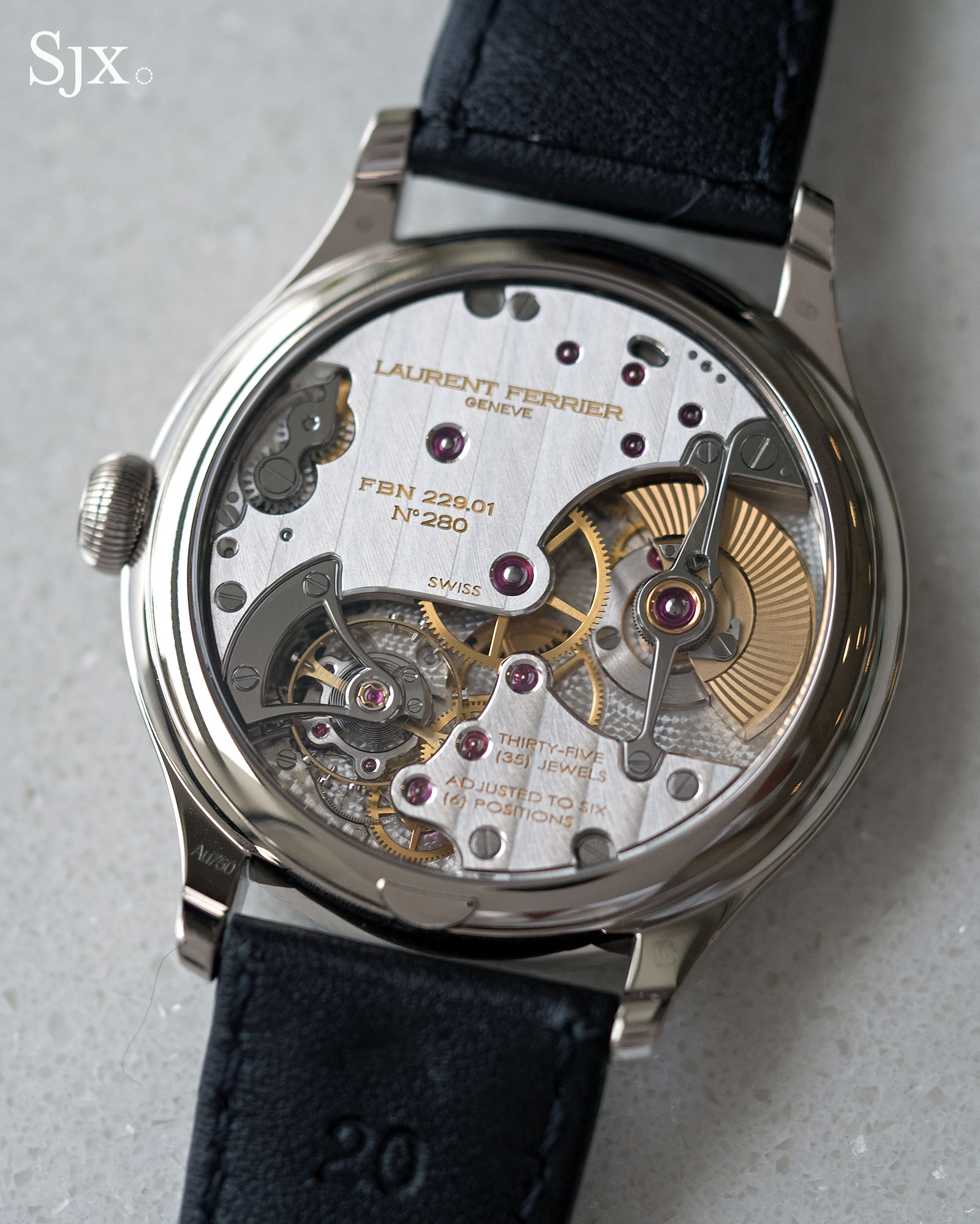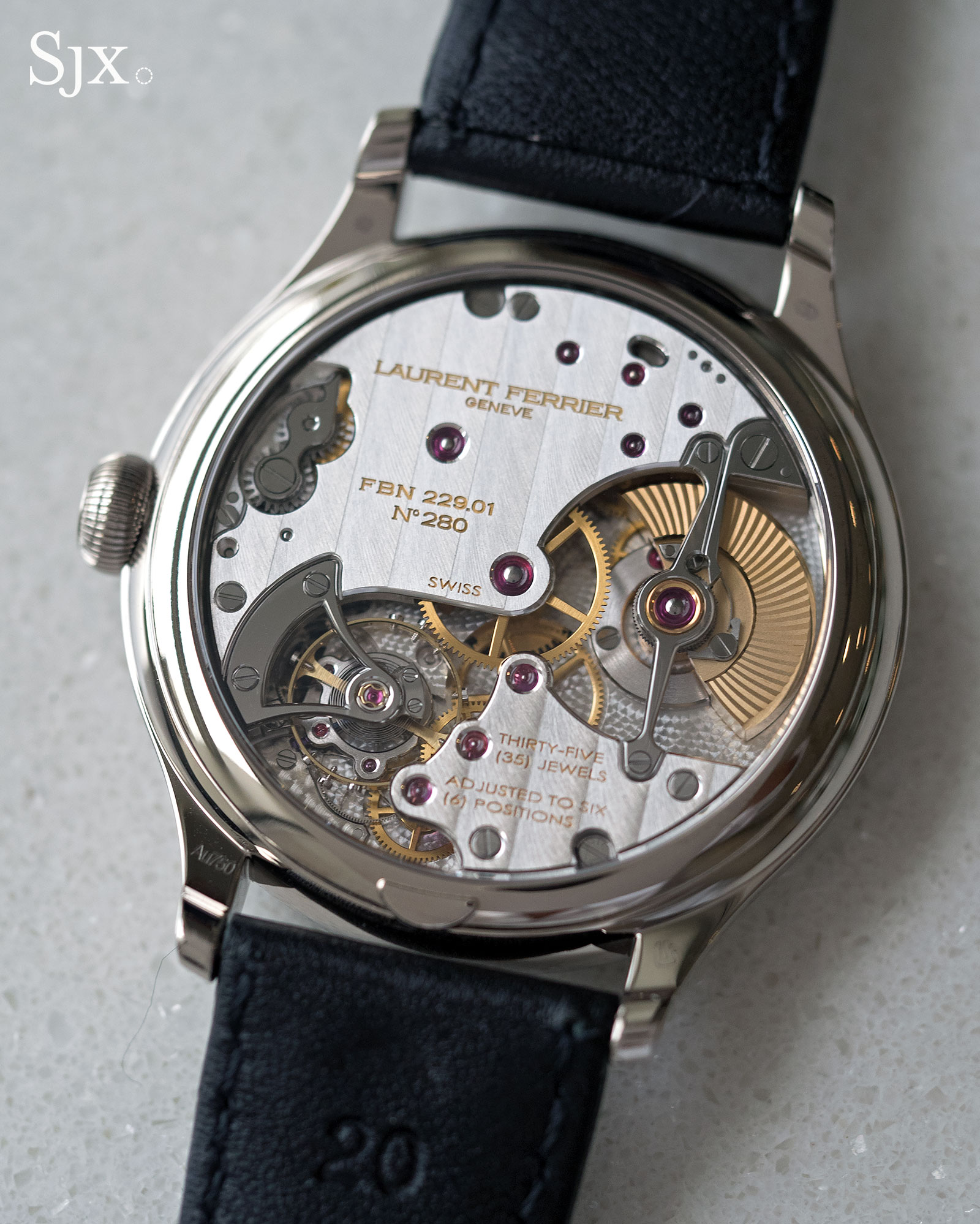 Though the FBN 229.01 inside is a time-only movement, it's beautifully put together. The engine-turned, solid gold micro-rotor for instance, is held in place by a black polished steel bridge featuring a wonderfully shaped winding click alongside.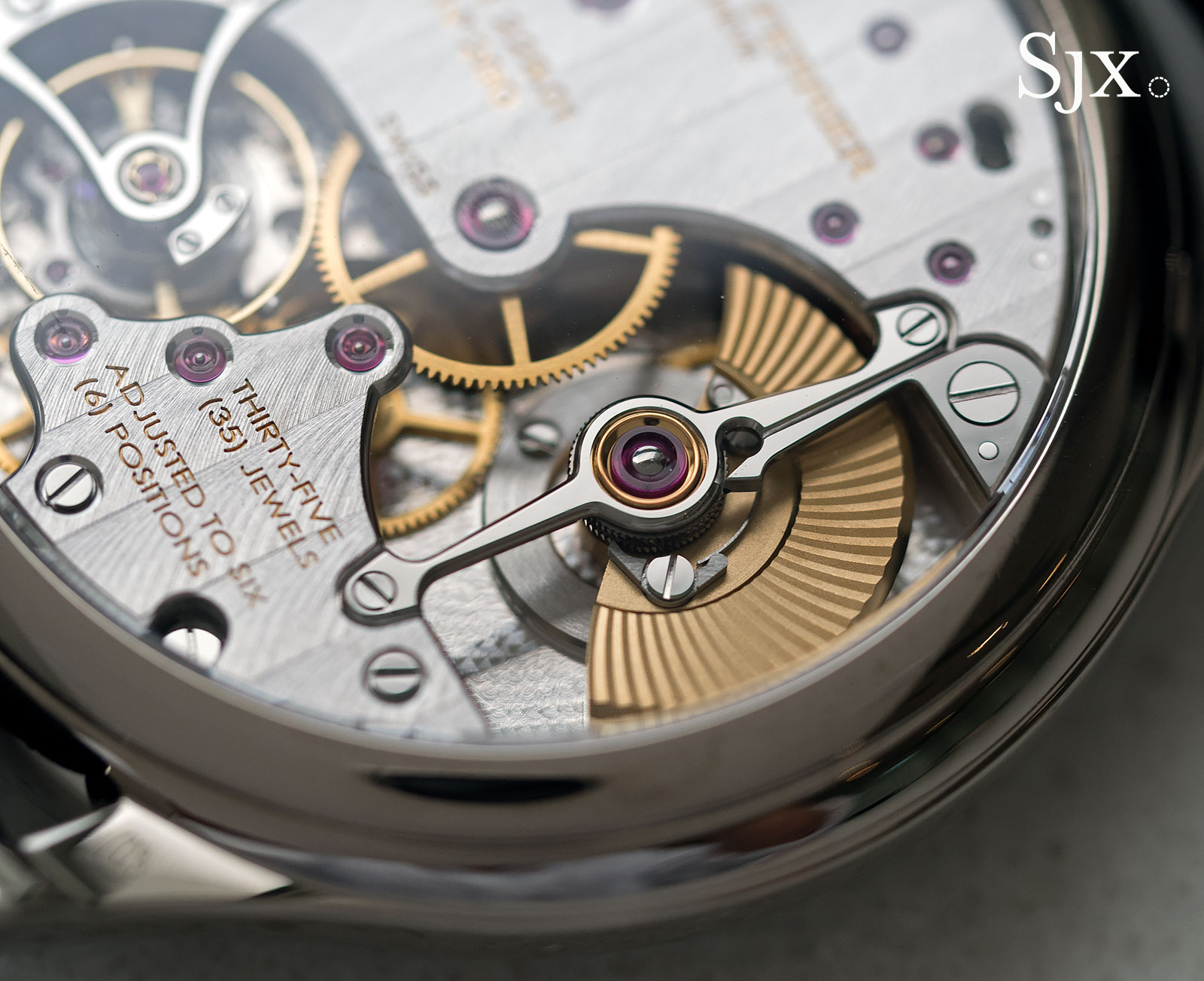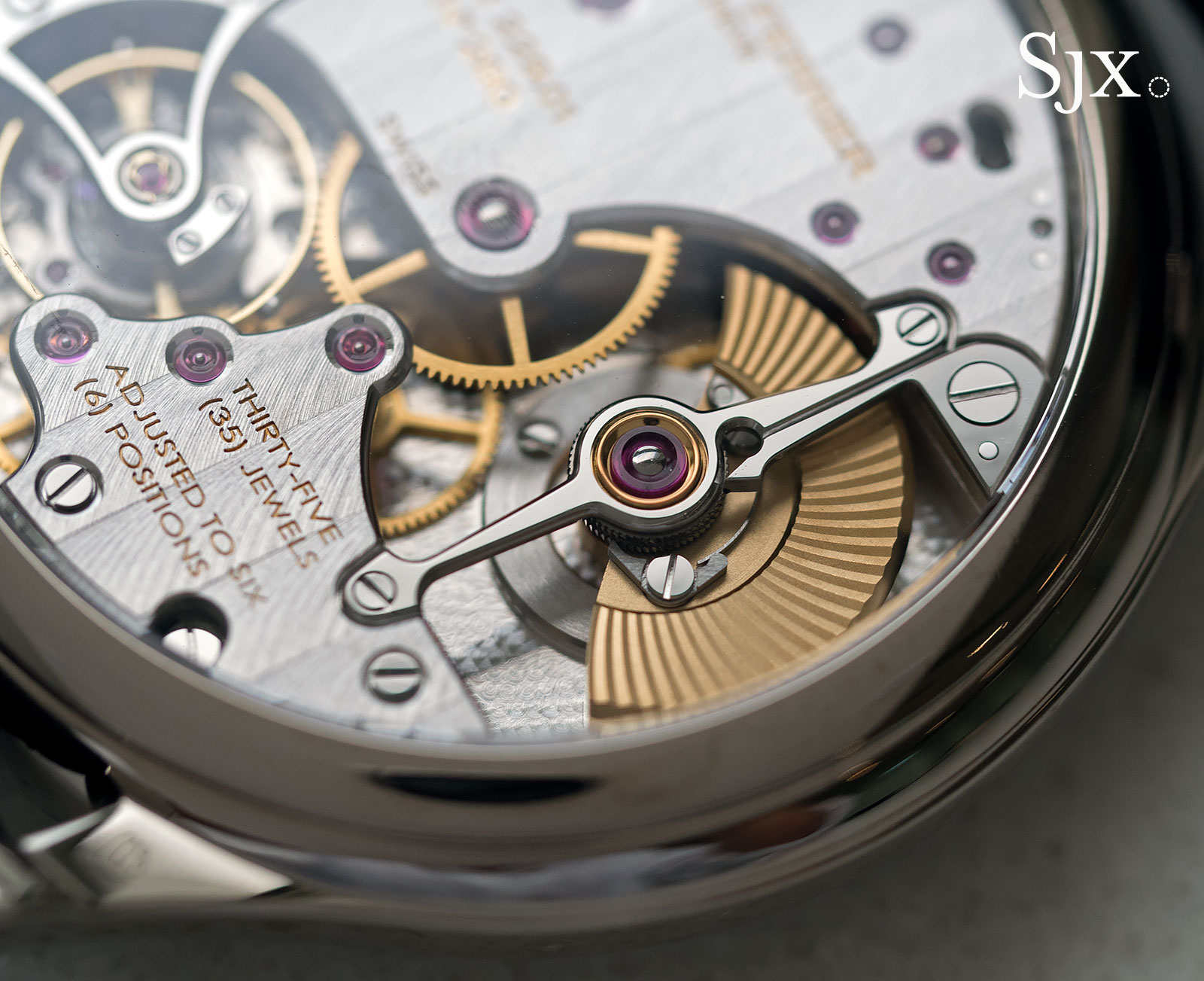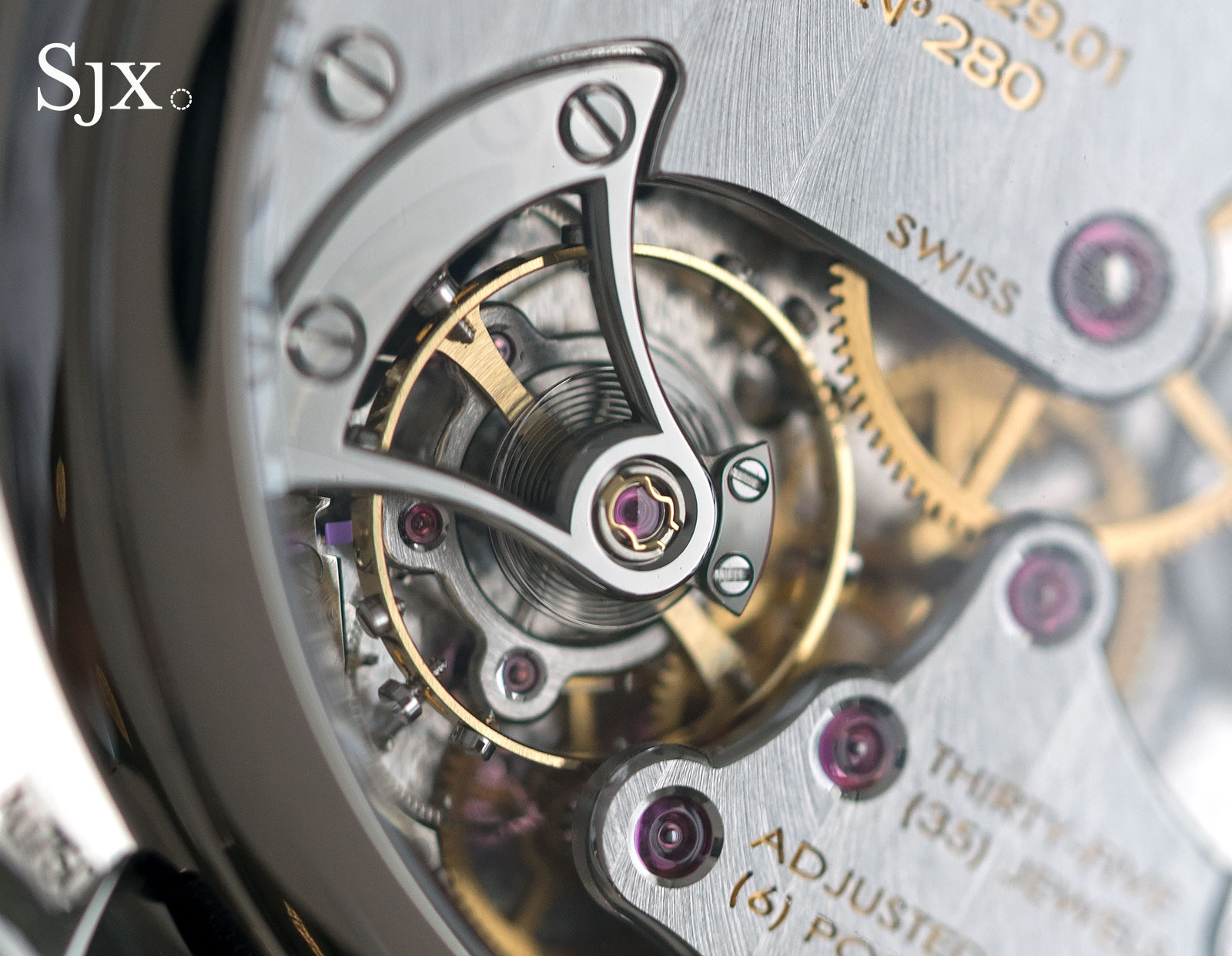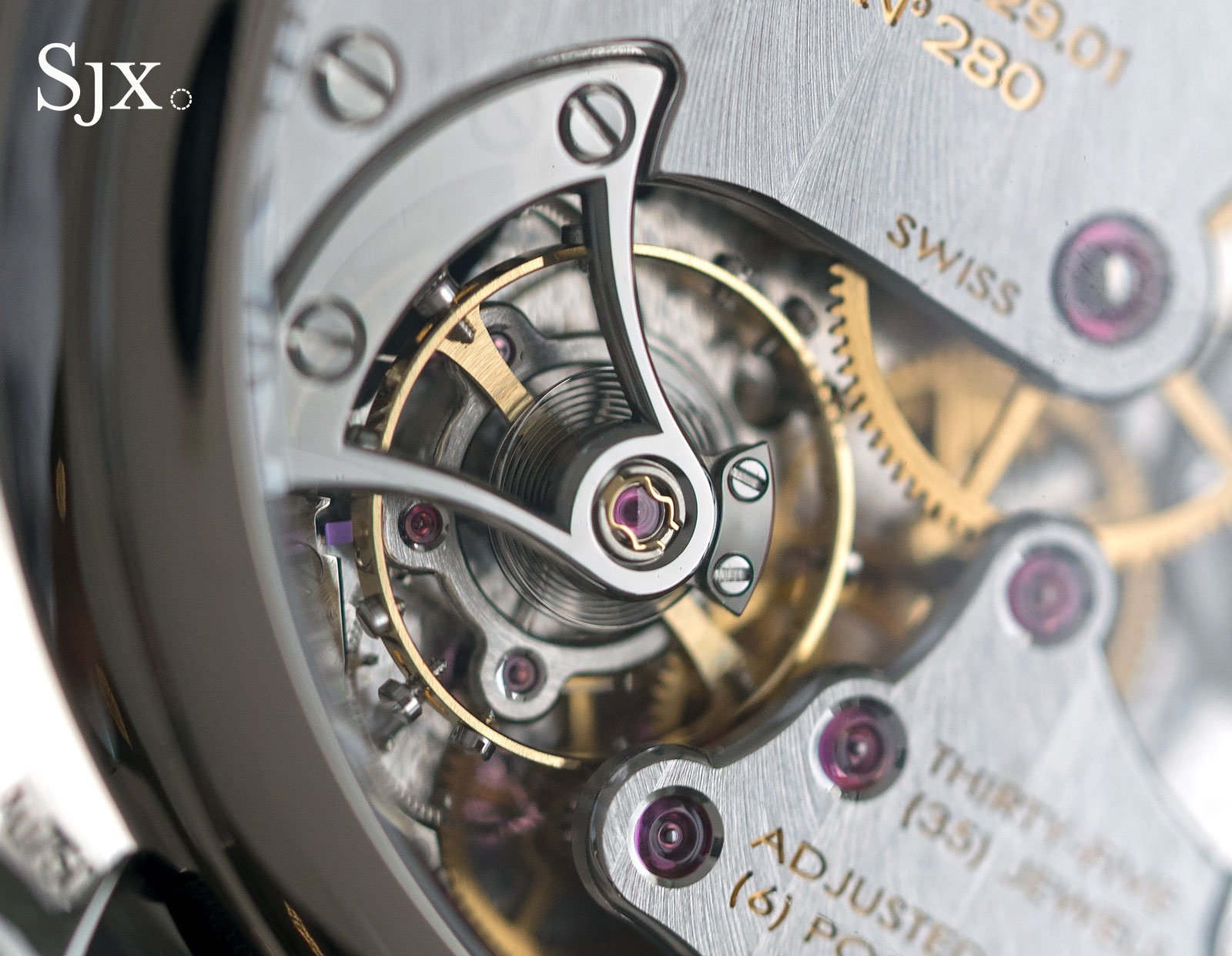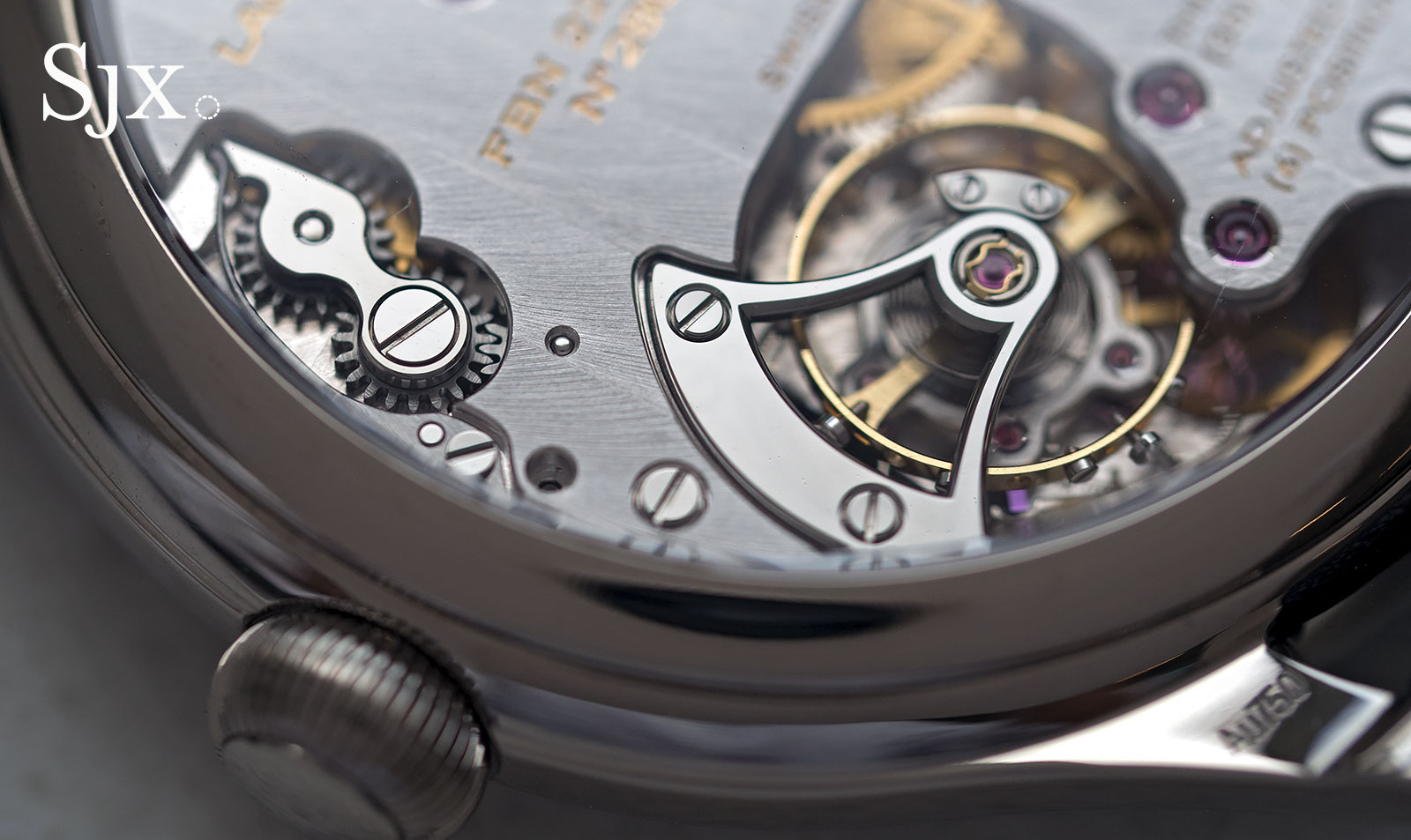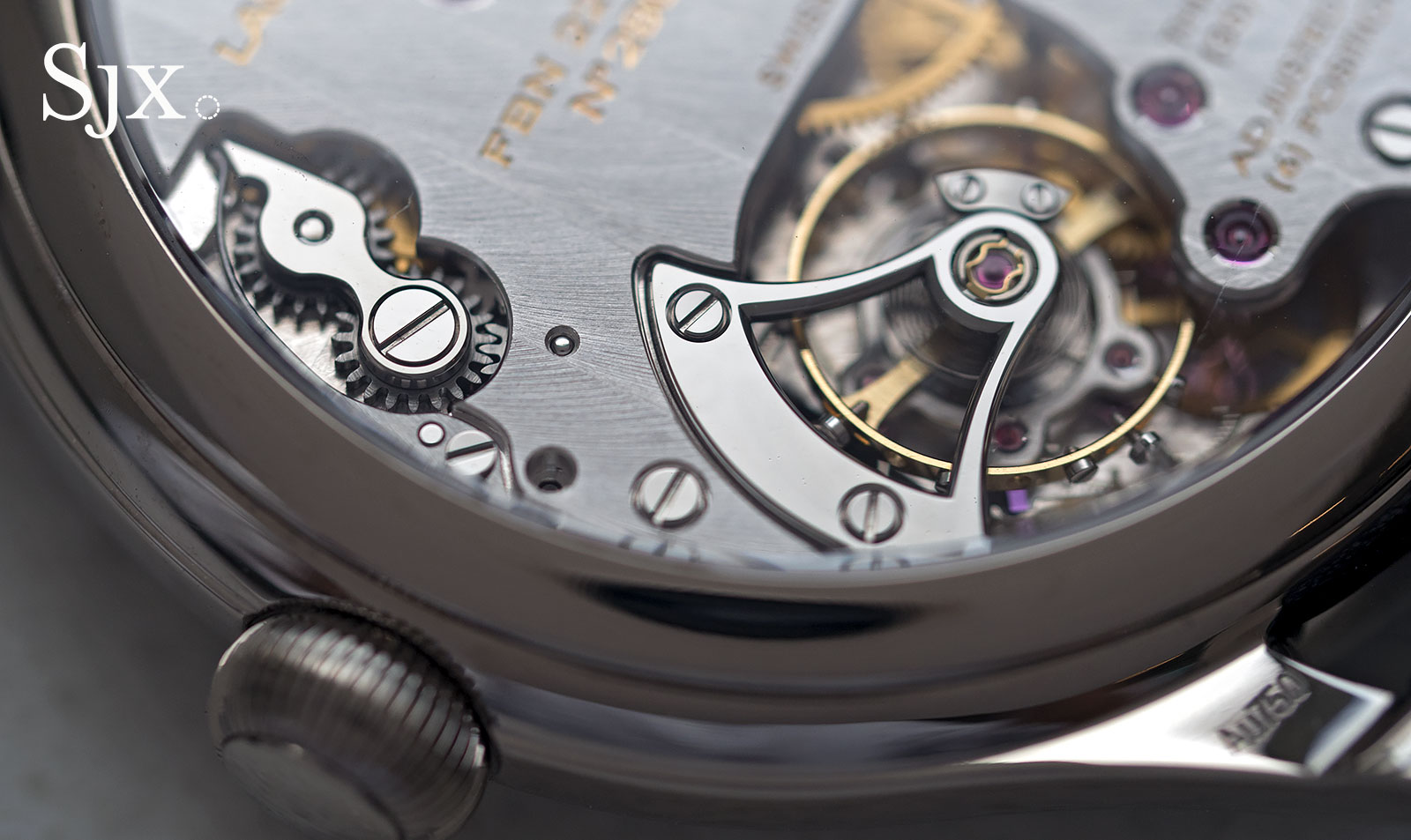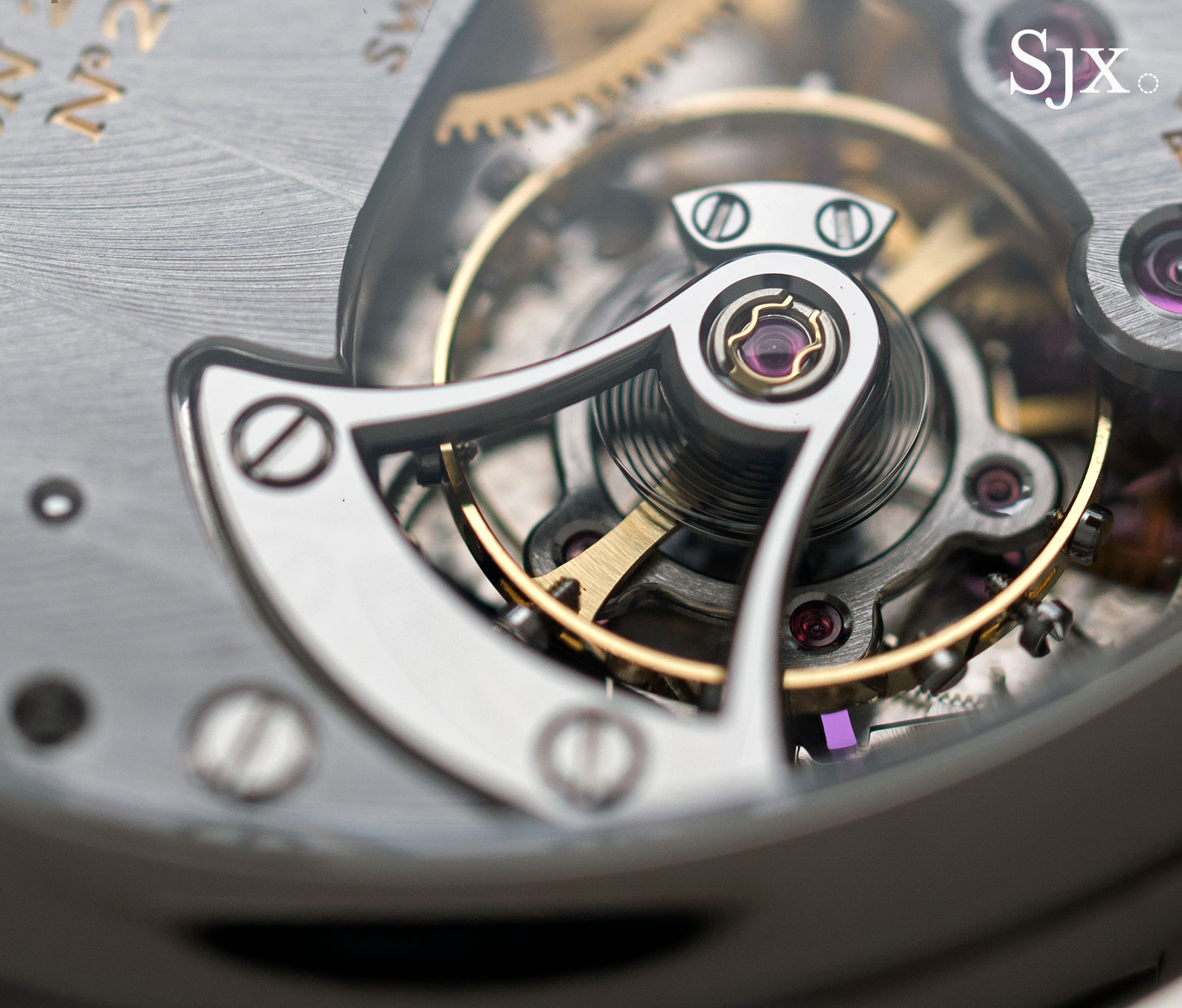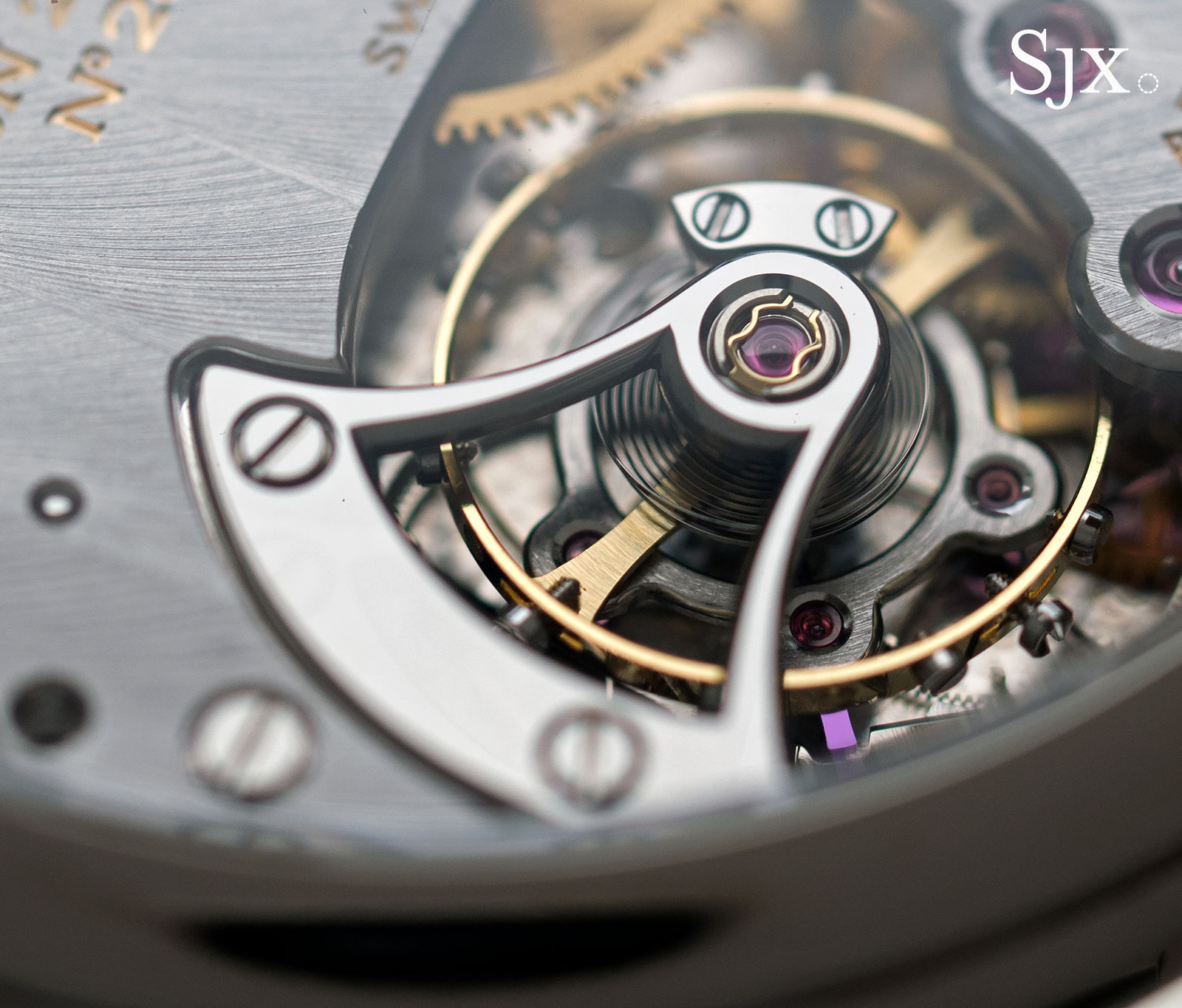 This is estimated at HK$200,000 to HK$300,000, or US$26,00 to US$39,000.
---
Lot 2391 – F.P. Journe Vagabondage II
With the third and final instalment of the series having been launched earlier this year, this Vagabondage II comes to market at an opportune time.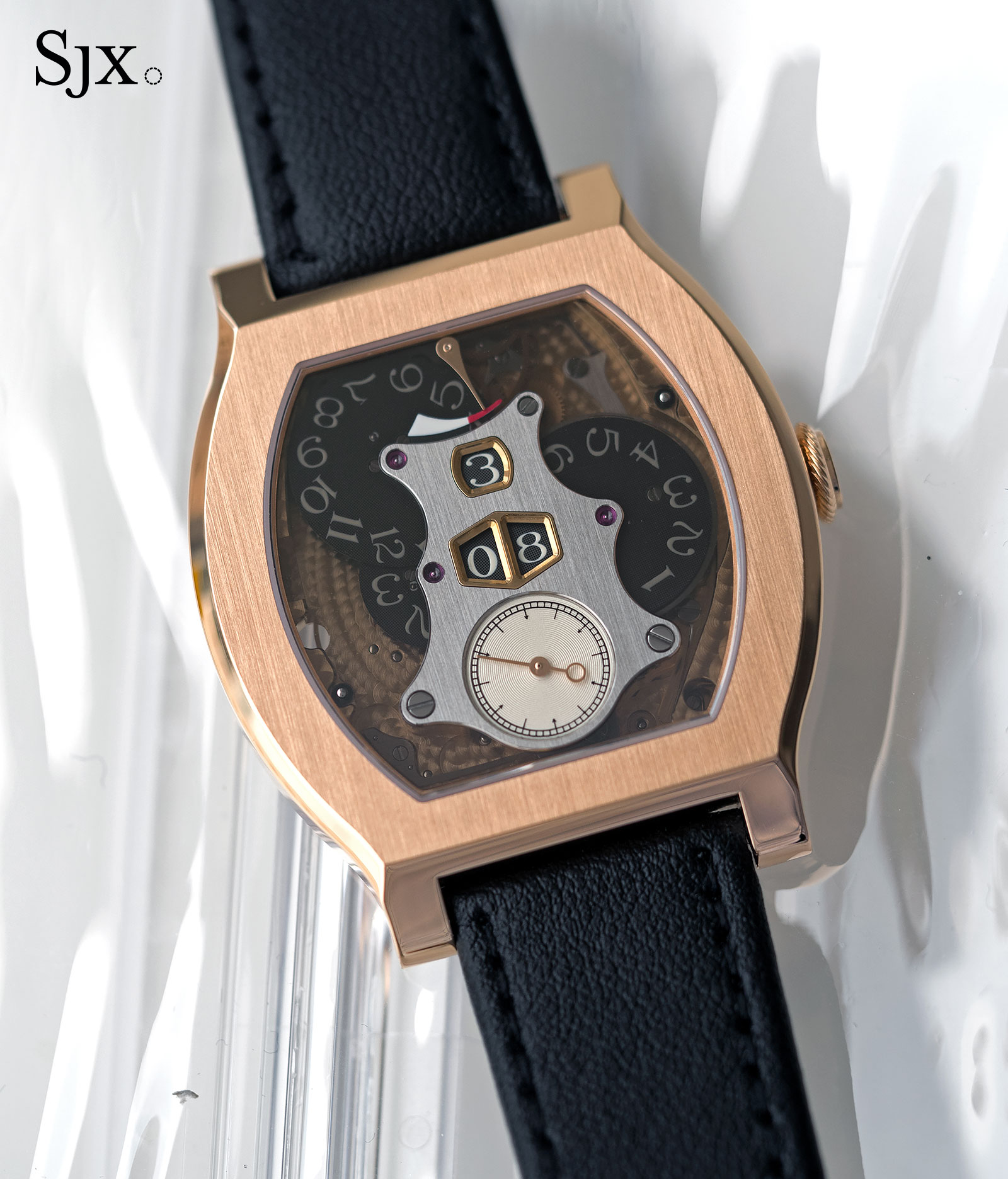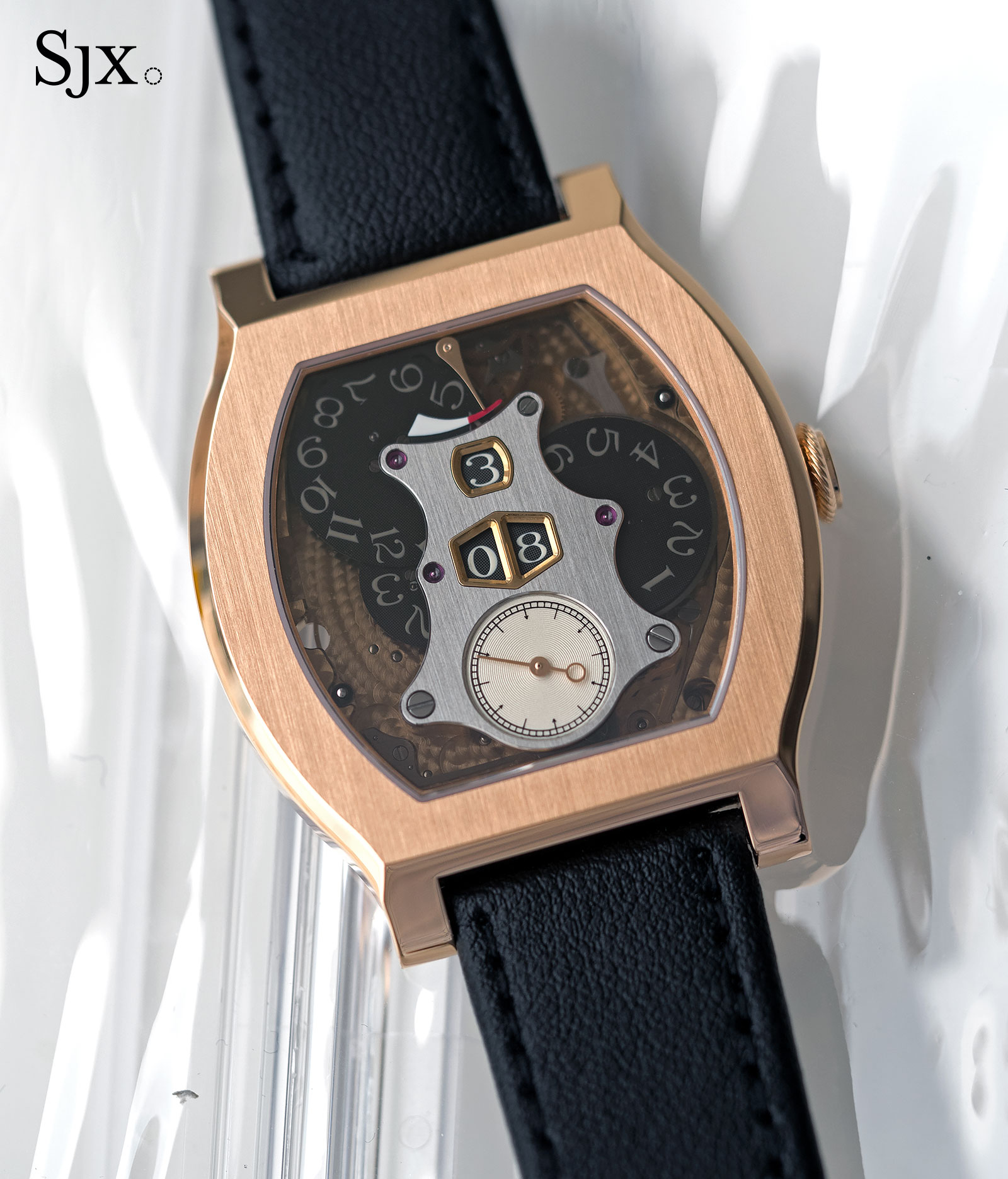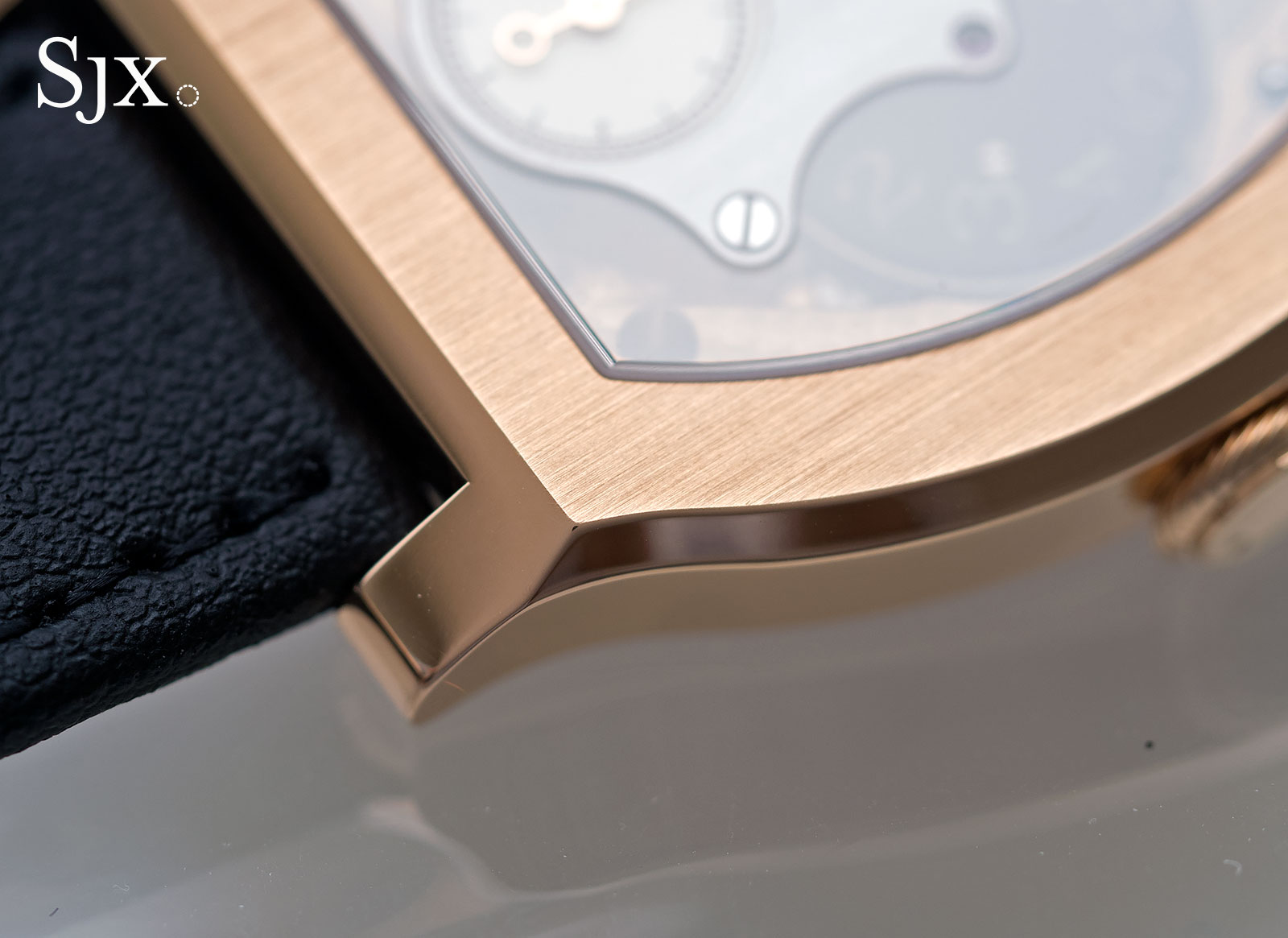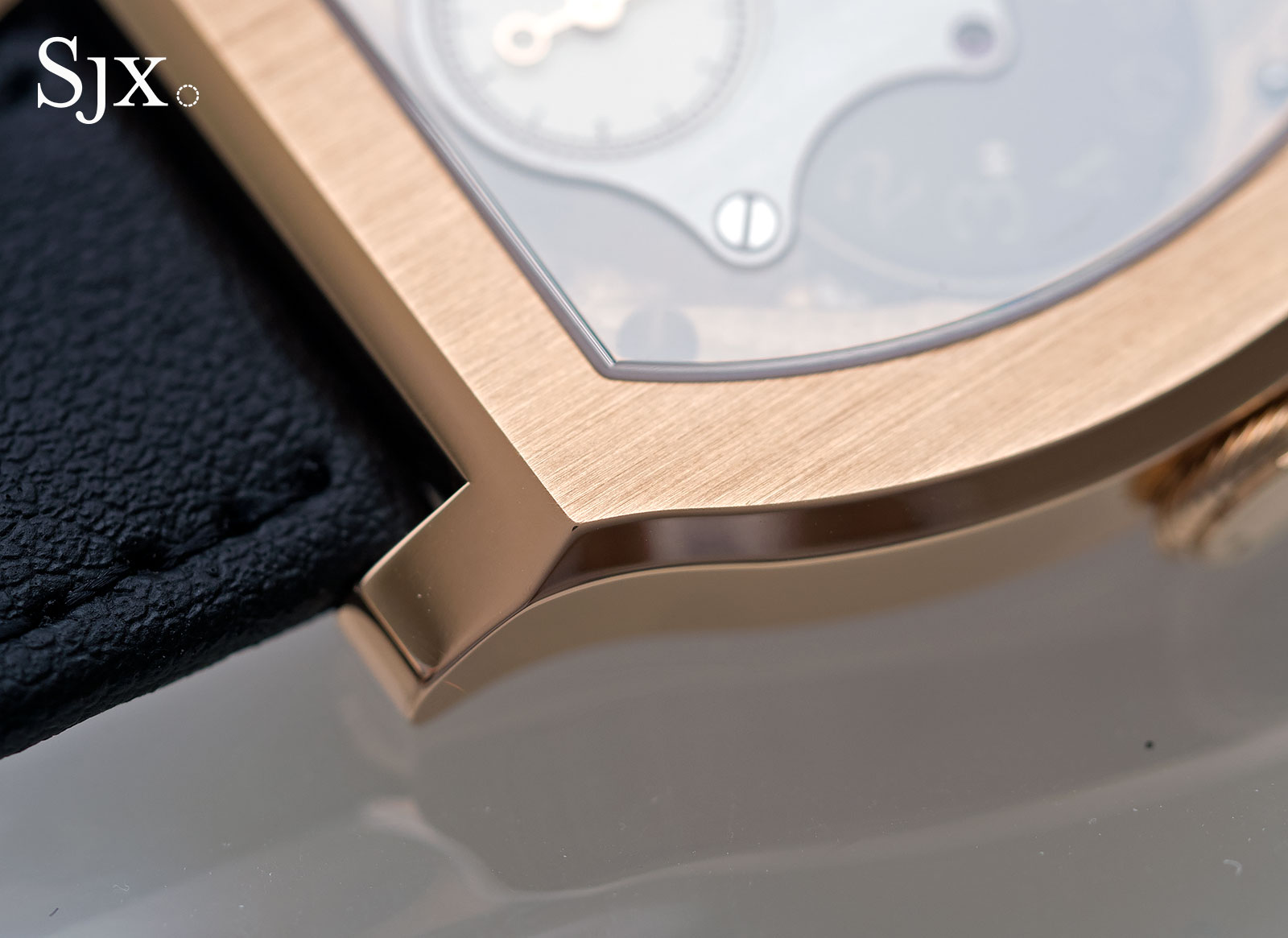 Produced in 2010 in a limited edition of 68 in pink gold (along with 69 in platinum), the Vagabondage II features a double jumping digital display. Hours are shown in the upper window, while minutes are in the two windows below.
With the power reserve above and seconds below, the dial layout is almost symmetrical, especially with the bridge in the middle. And below the tinted sapphire dial the time display discs are visible, as is part of the mechanism.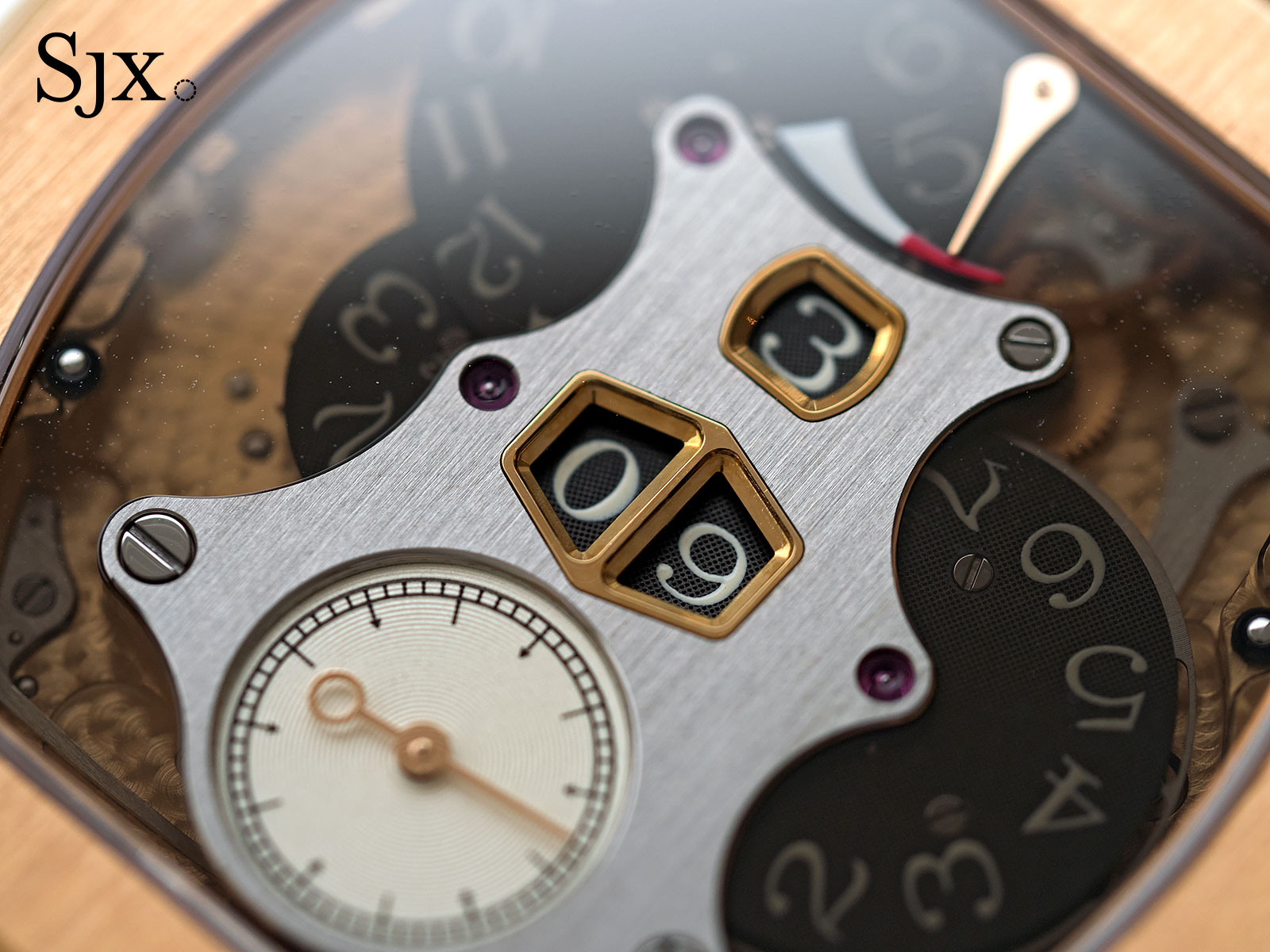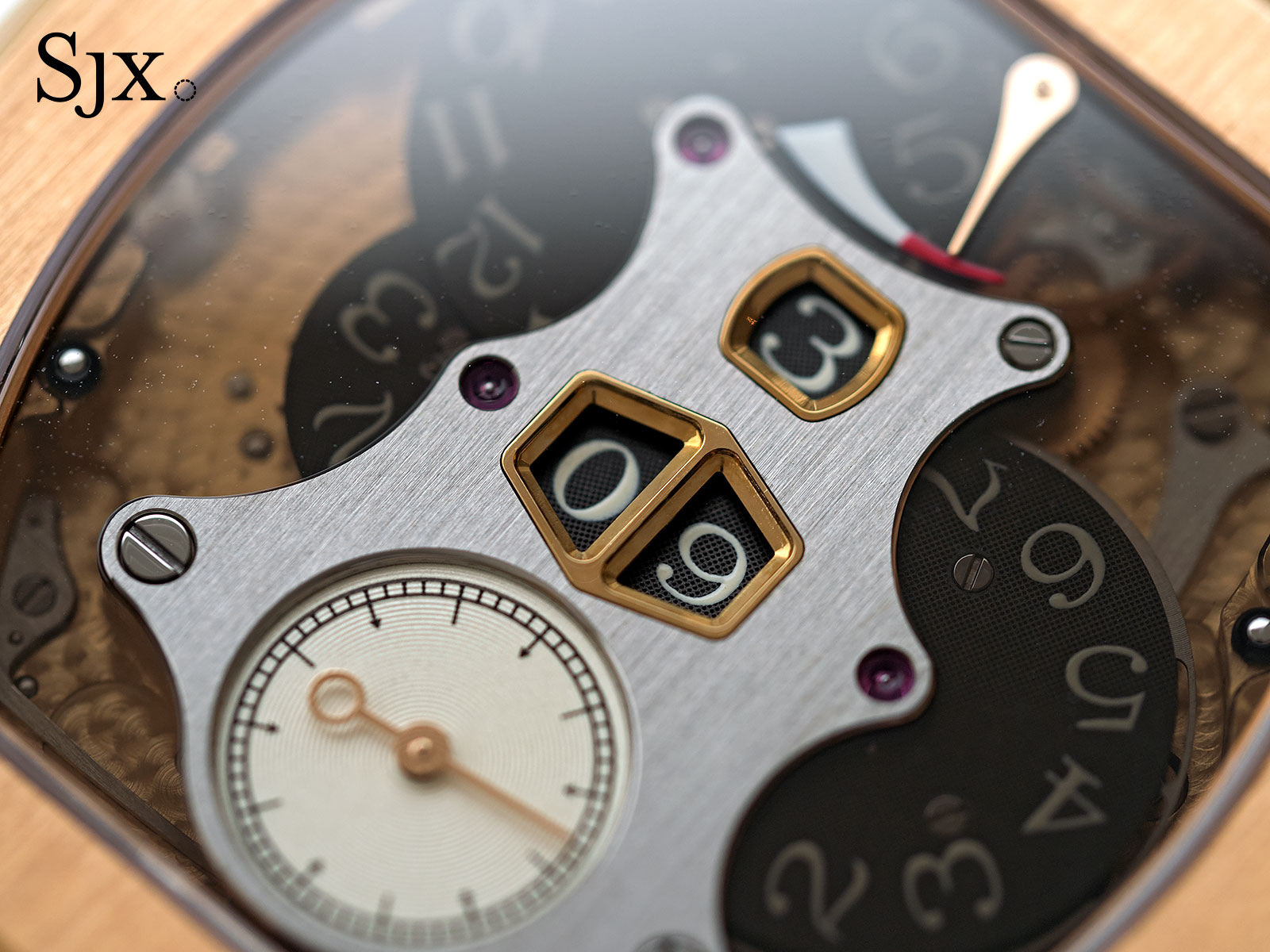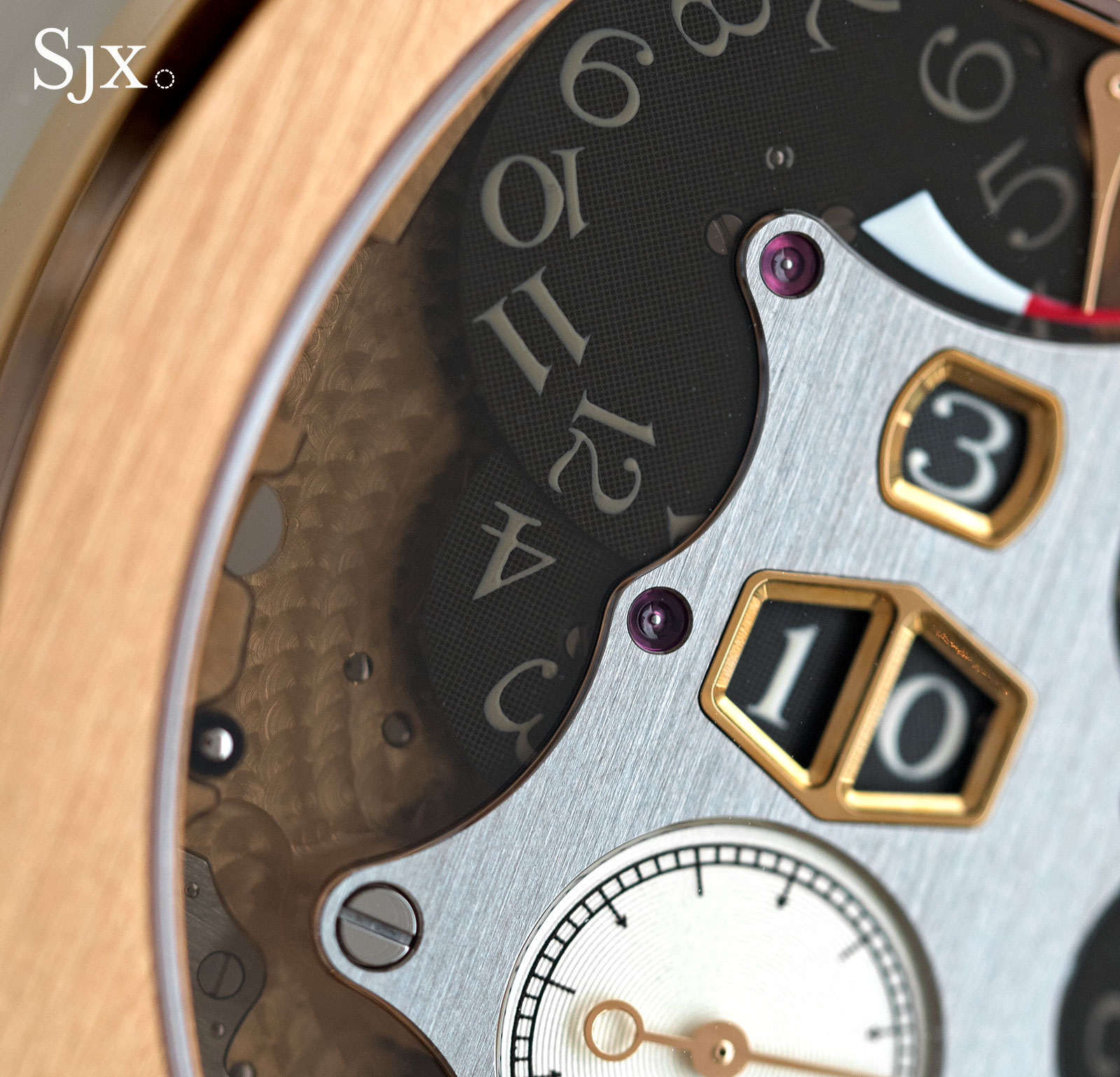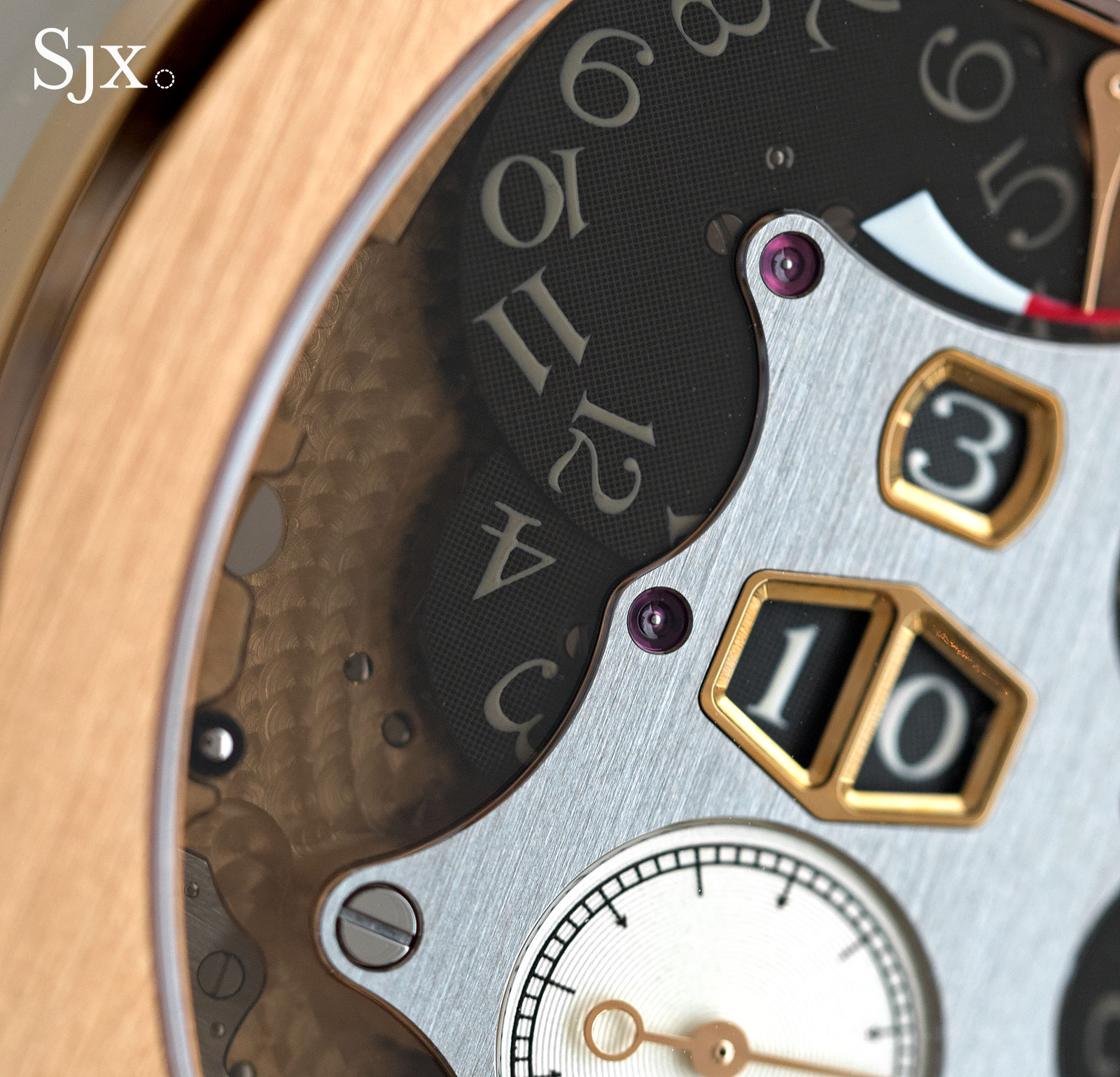 And unlike most watches with such displays, the Vagabondage II is relatively compact at 38mm wide and very thin, a style typical of F.P. Journe.
Likewise the movement has its bridges and base plate in 18k red gold, a signature of the brand.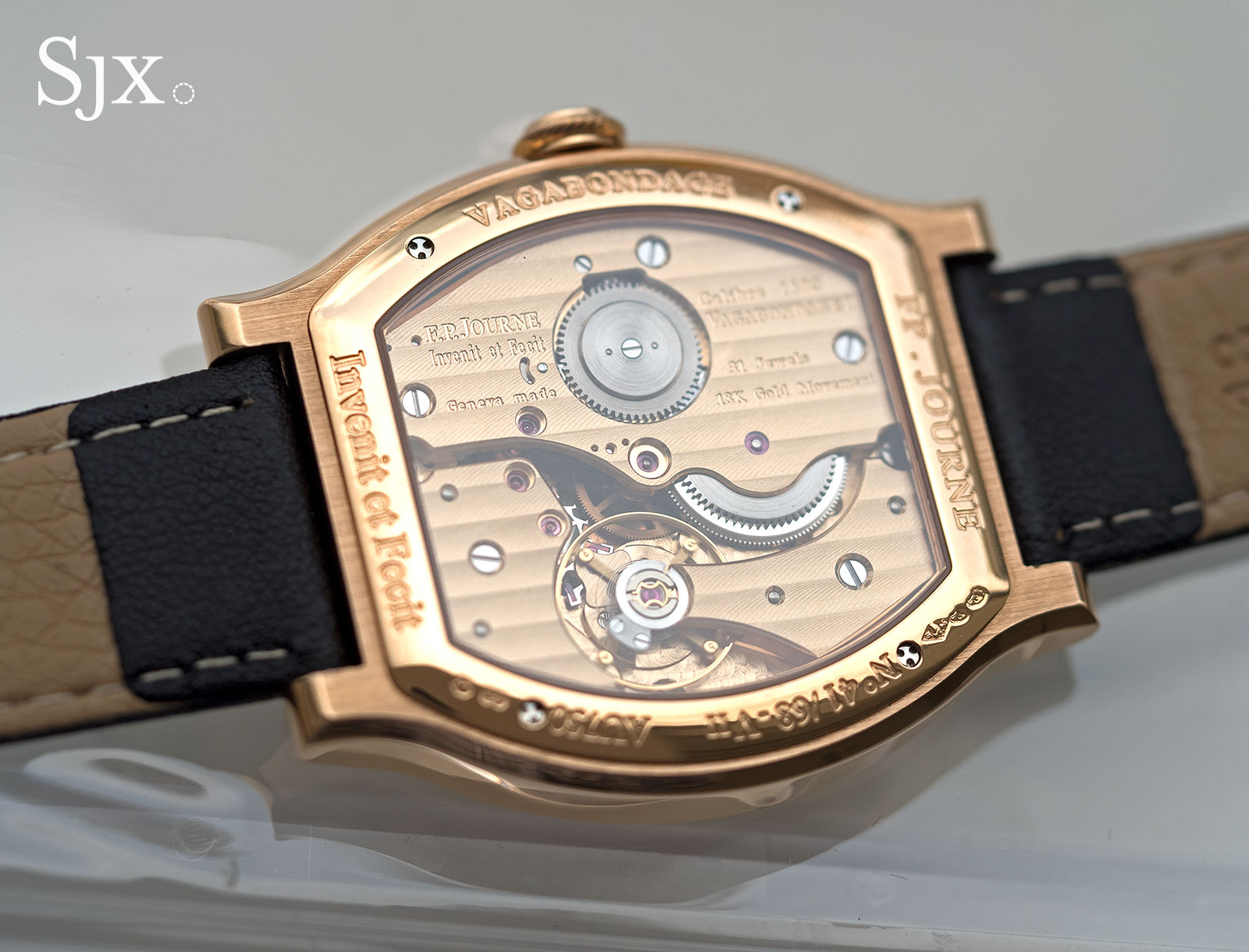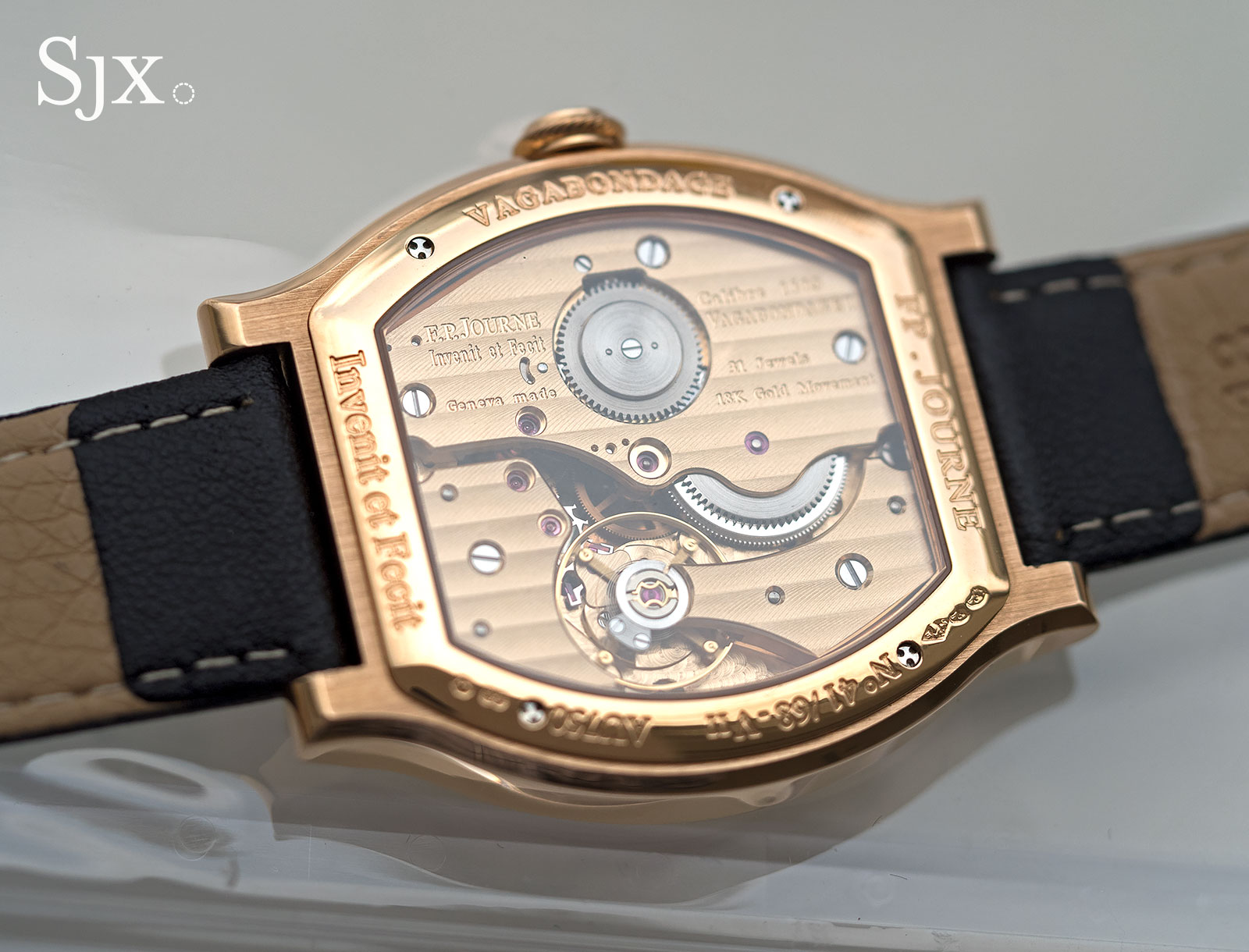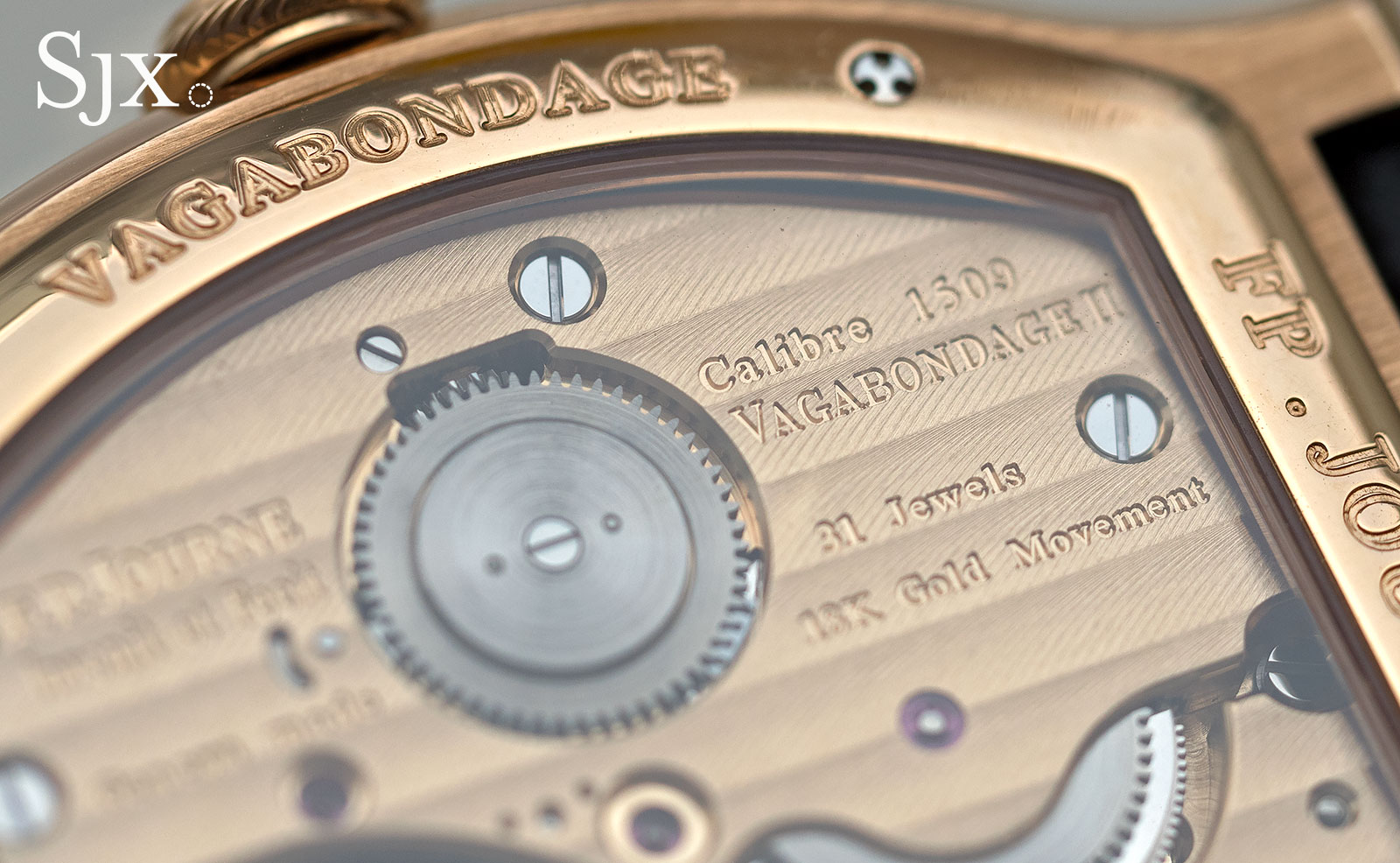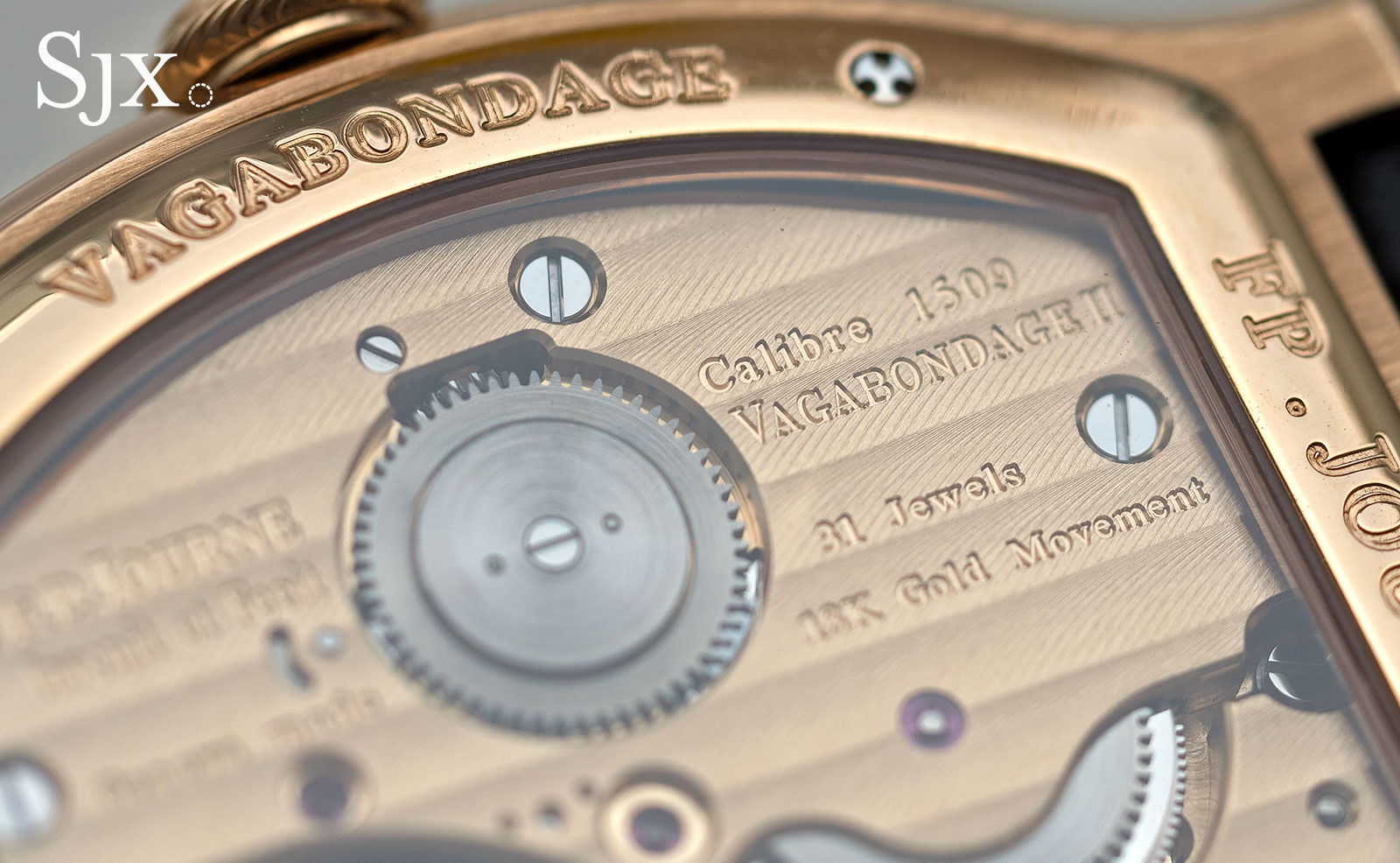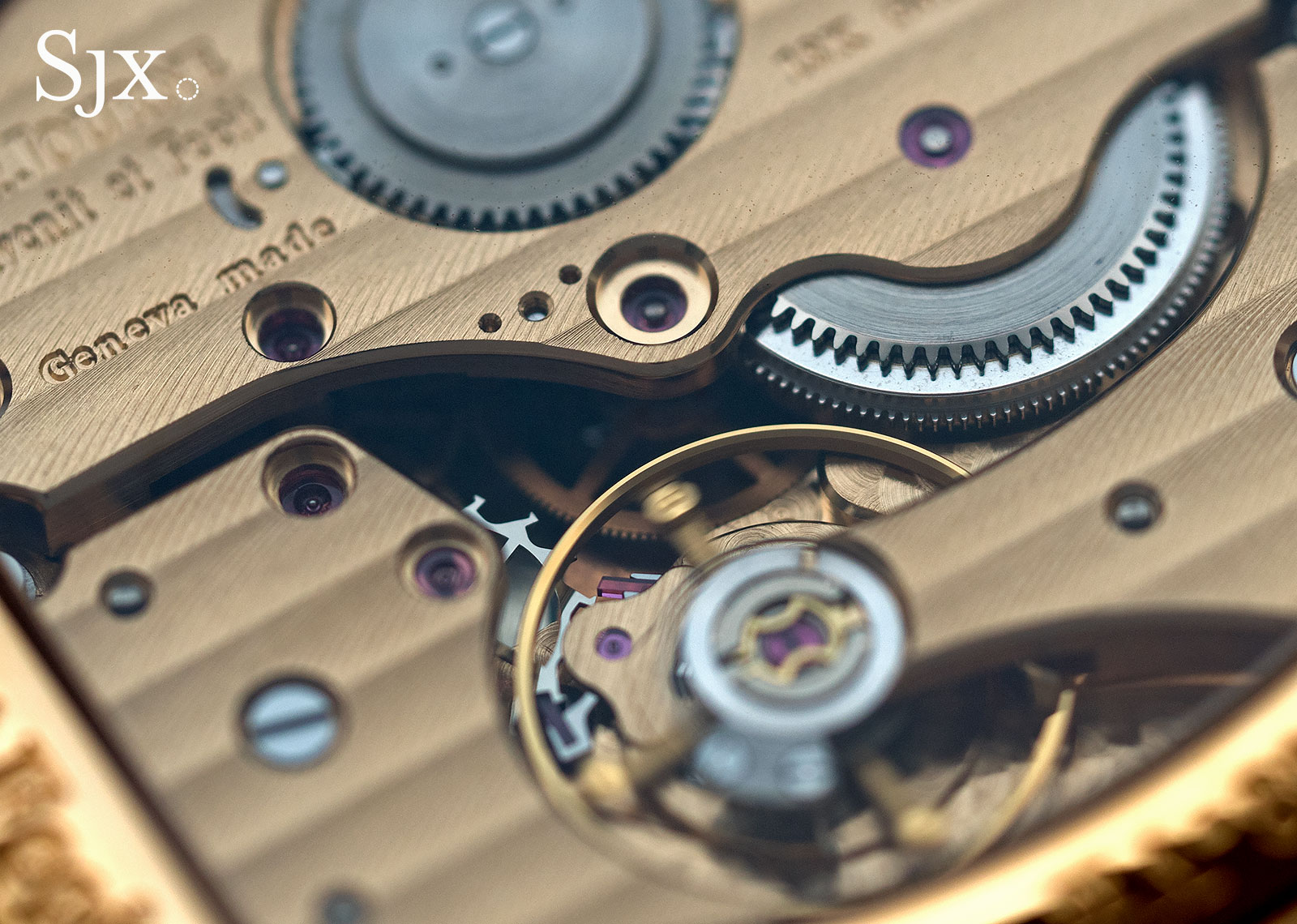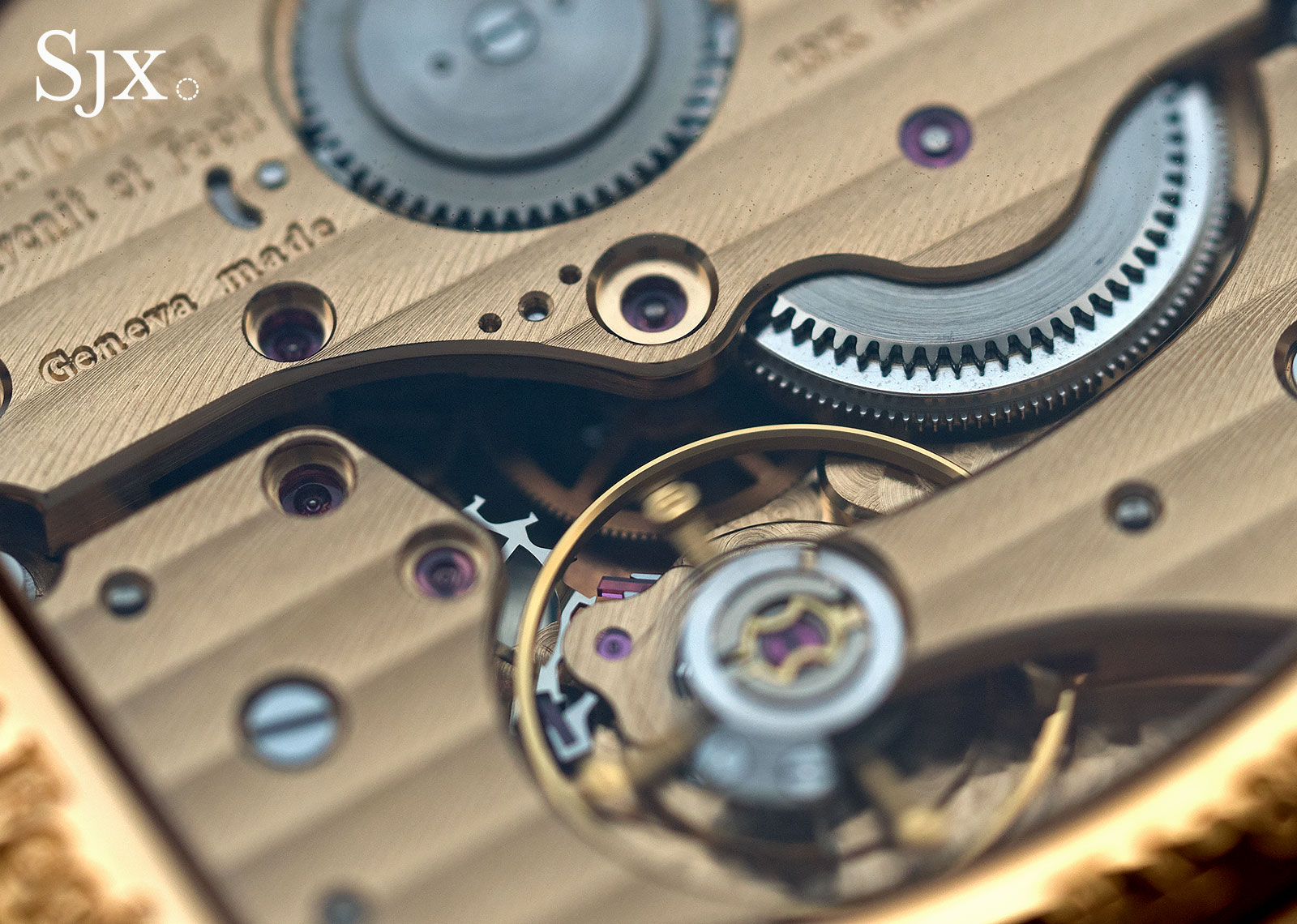 The Vagabondage II is estimated at HK$320,000 to HK$500,000, or US$42,000 to US$65,000.
---
Lot 2410 – Cartier Pasha Tourbillon
In the early 2000s Cartier produced a series of elegant Pasha tourbillons, all powered by movements supplied by Girard-Perregaux, the same calibres inside the latter's iconic Tourbillon with Three Gold Bridges in fact.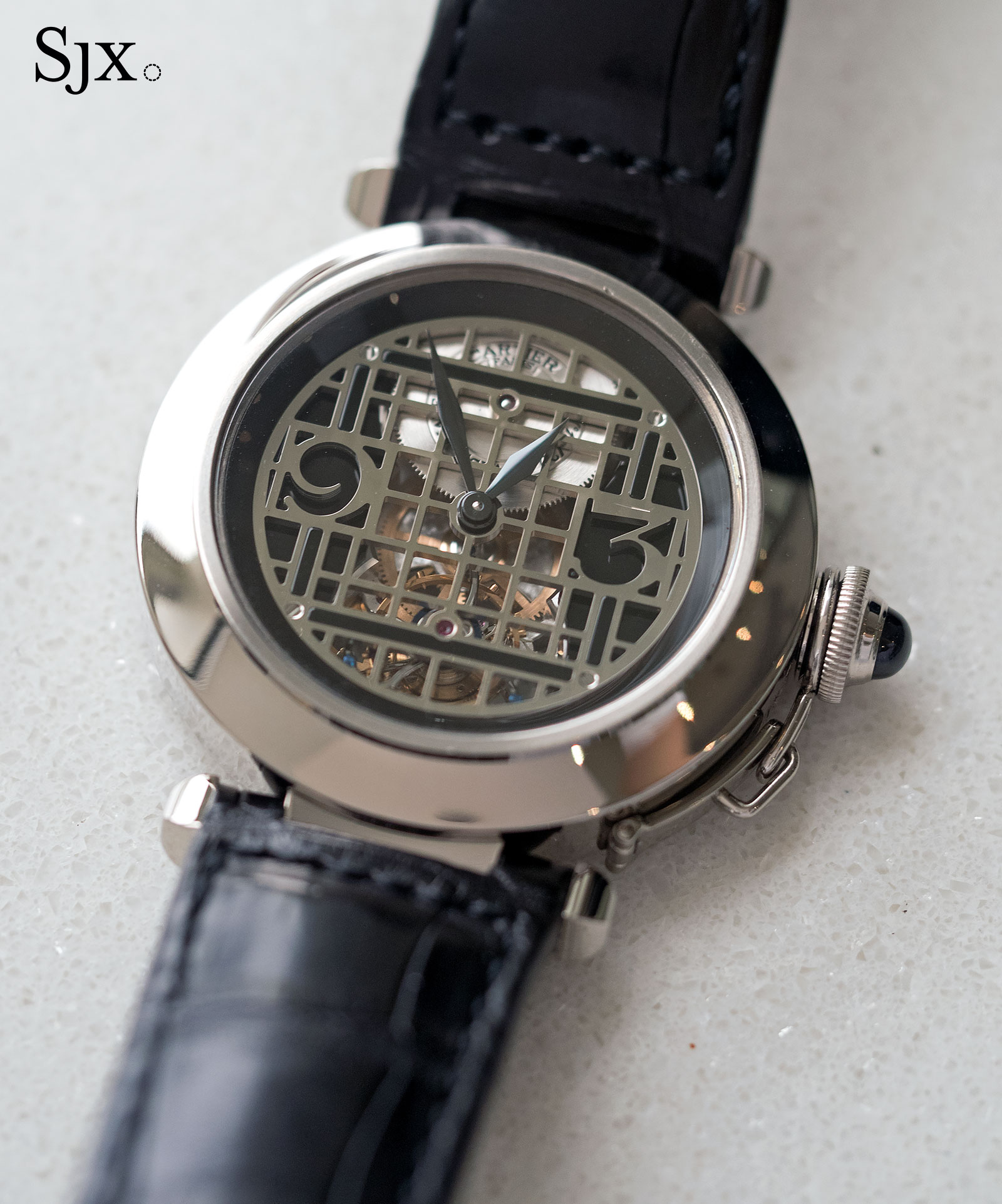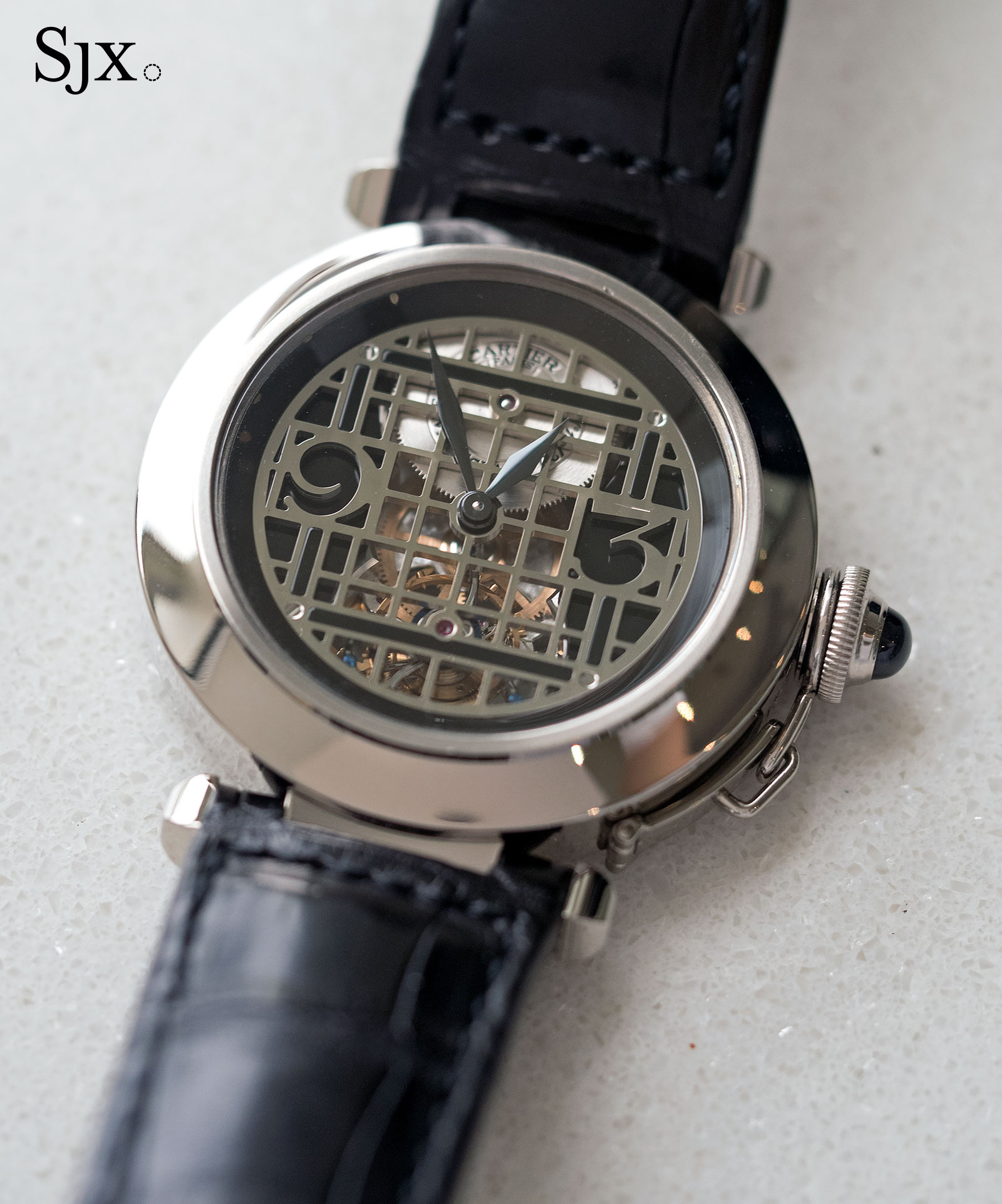 This example is one of 20 made, with a 38mm white gold case and an open-worked dial with onyx panelling, making it reminiscent of a Chinese screen.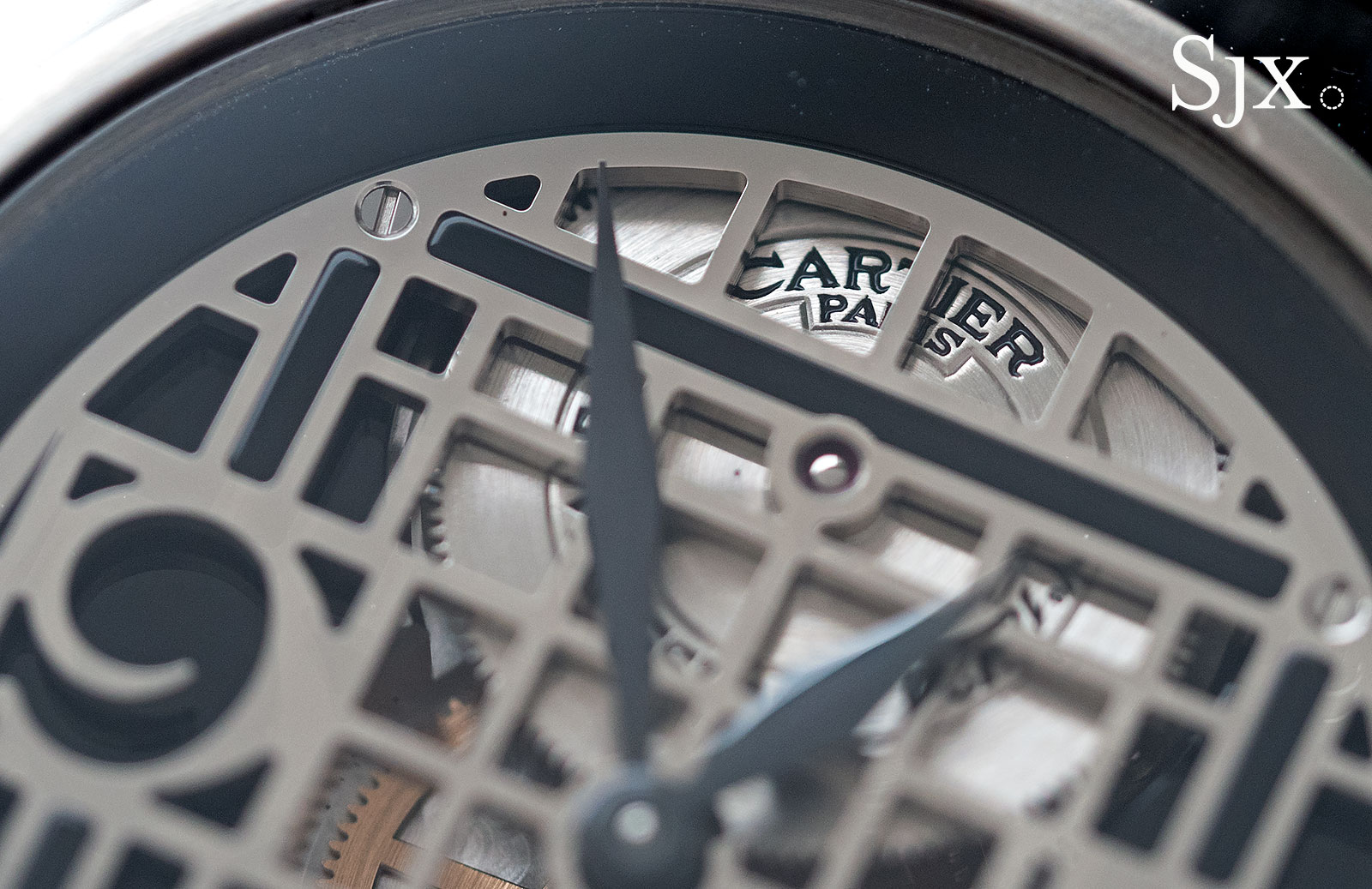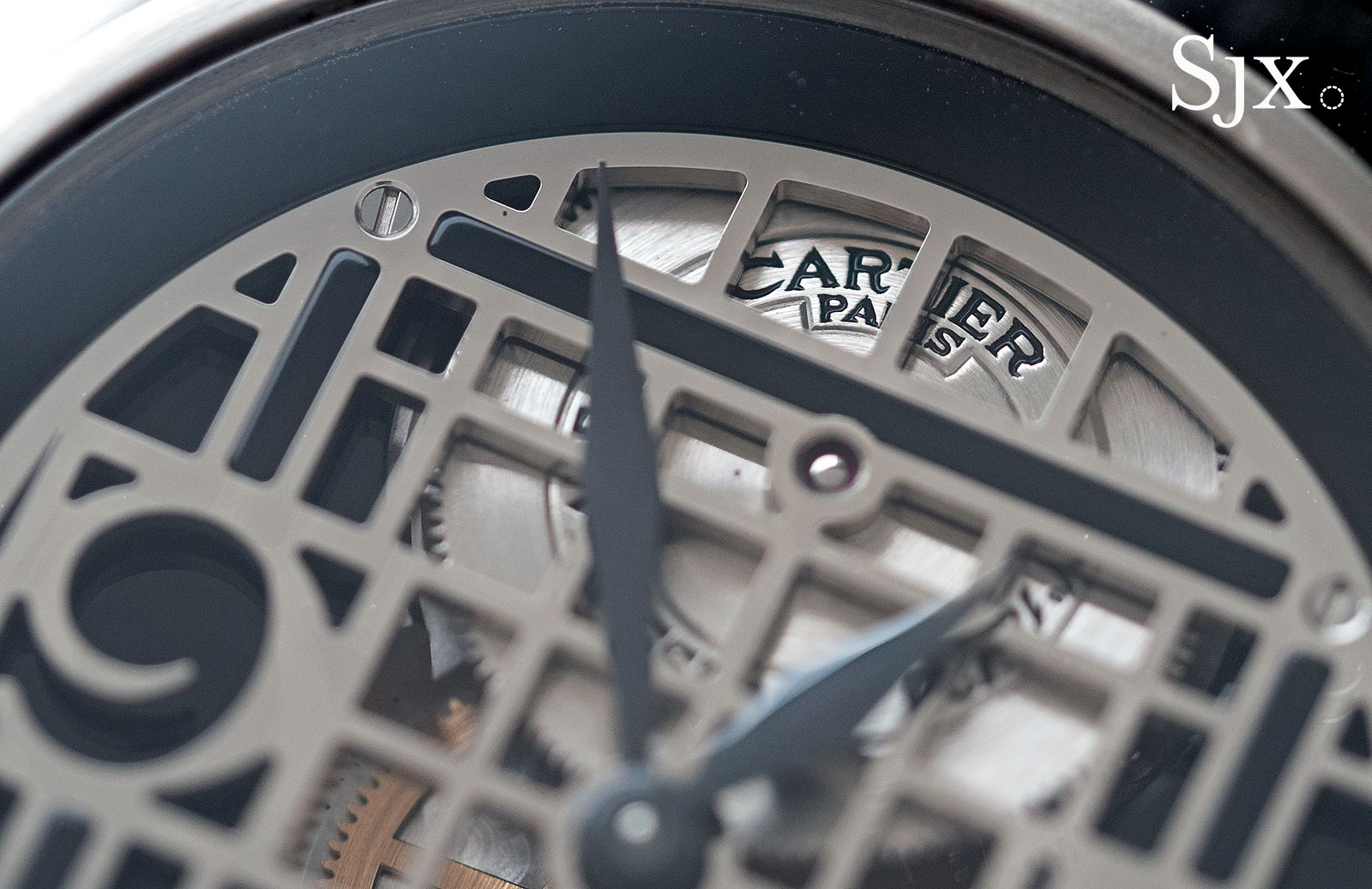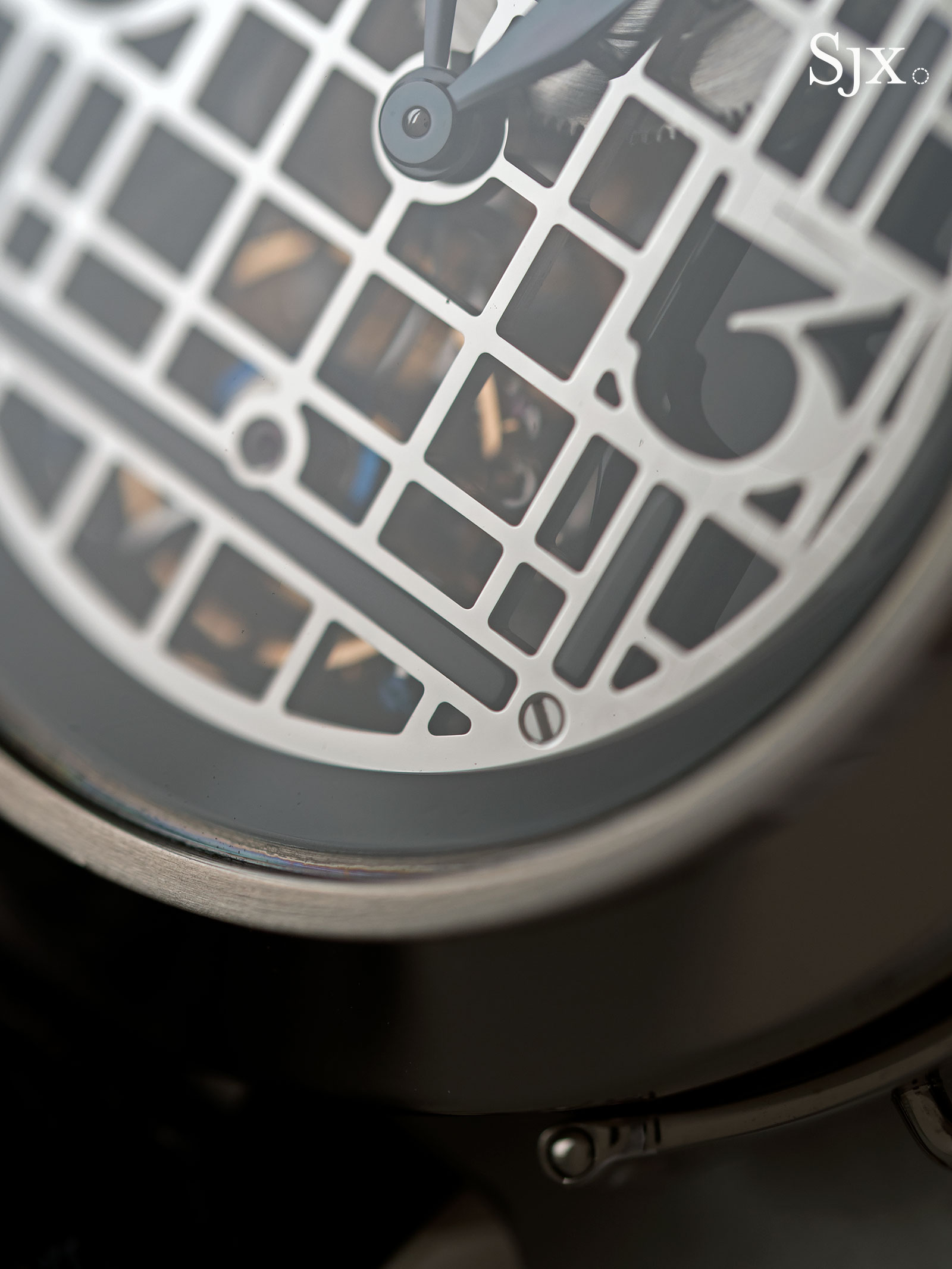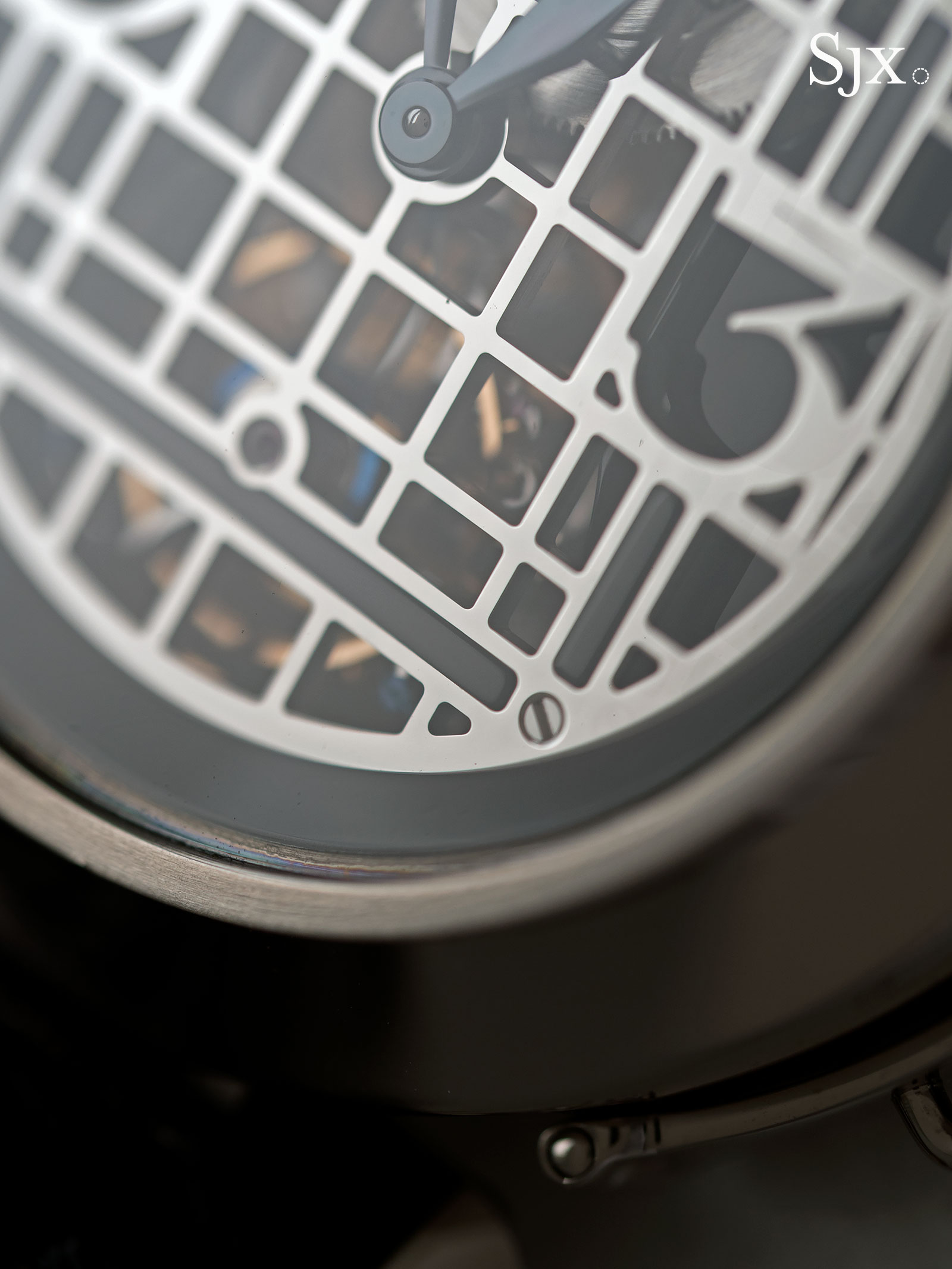 Below the open-worked dial the tourbillon cage is visible, recognisable as the trademark cage of Girard-Perregaux. And the movement is finished to  the same standard as in the Girard-Perregaux, which is to say very, very good.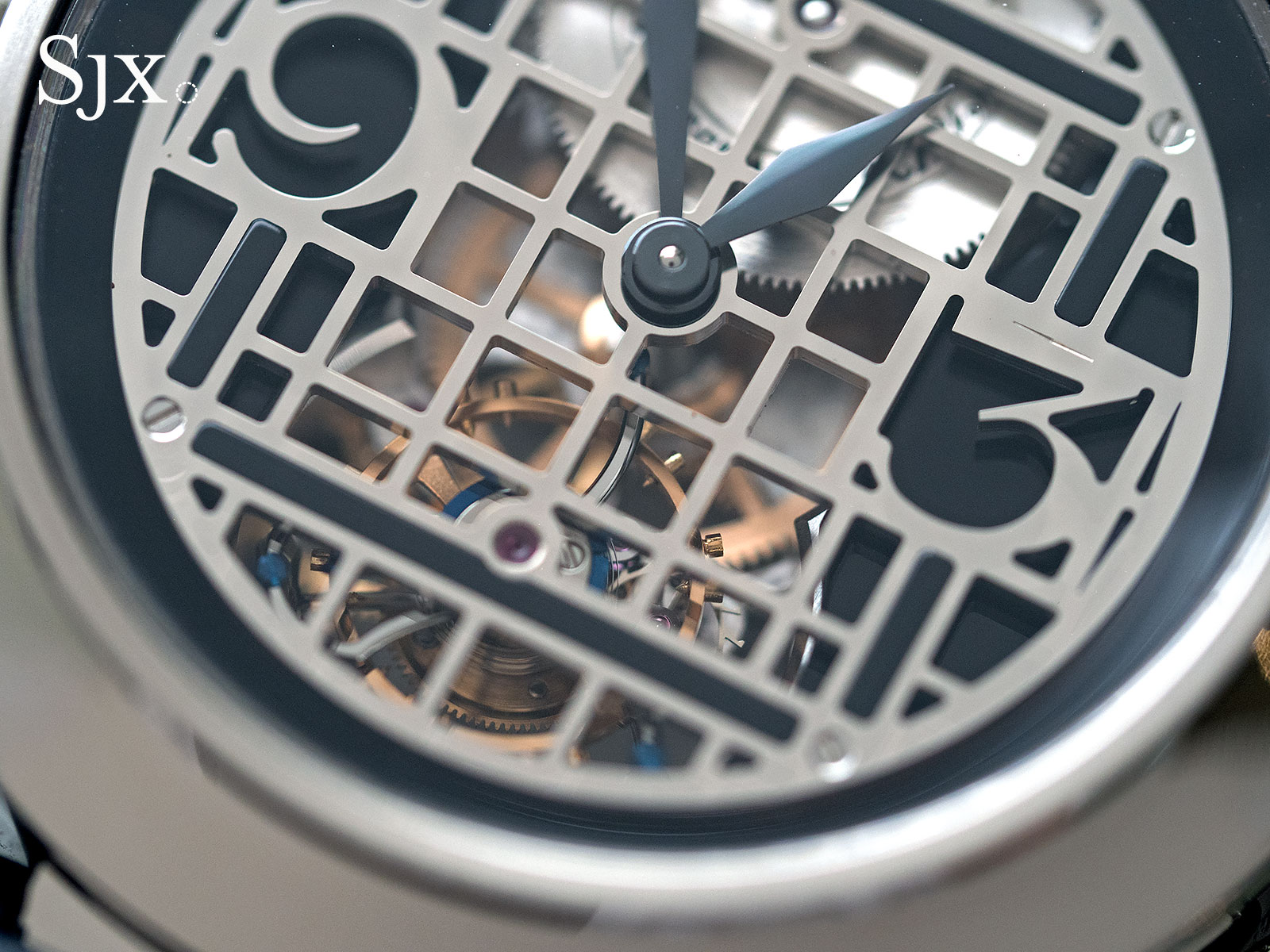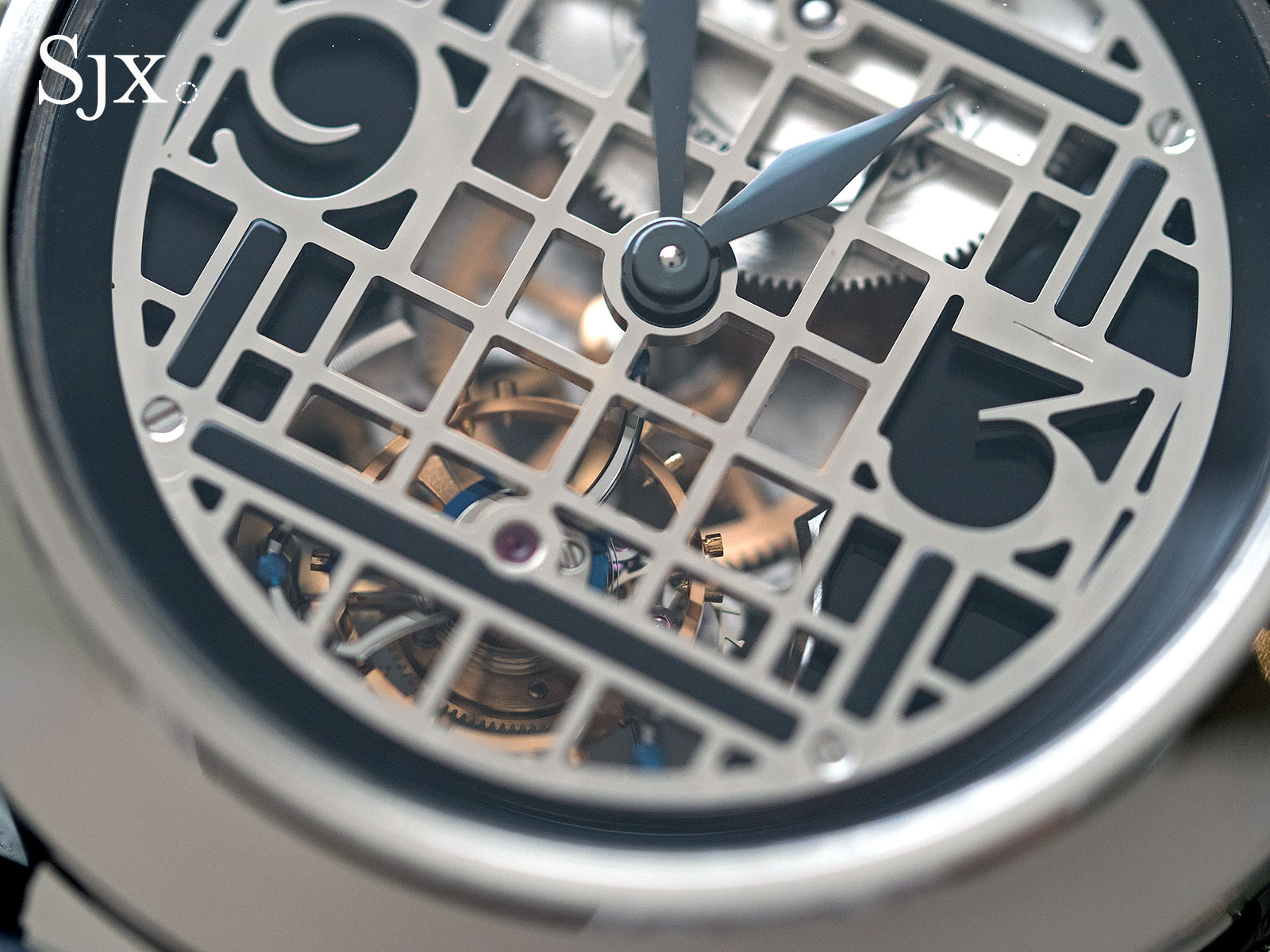 Little of the movement is visible from the back, but a small porthole reveals part of the bridge, which is impeccably finished, as are the wheels.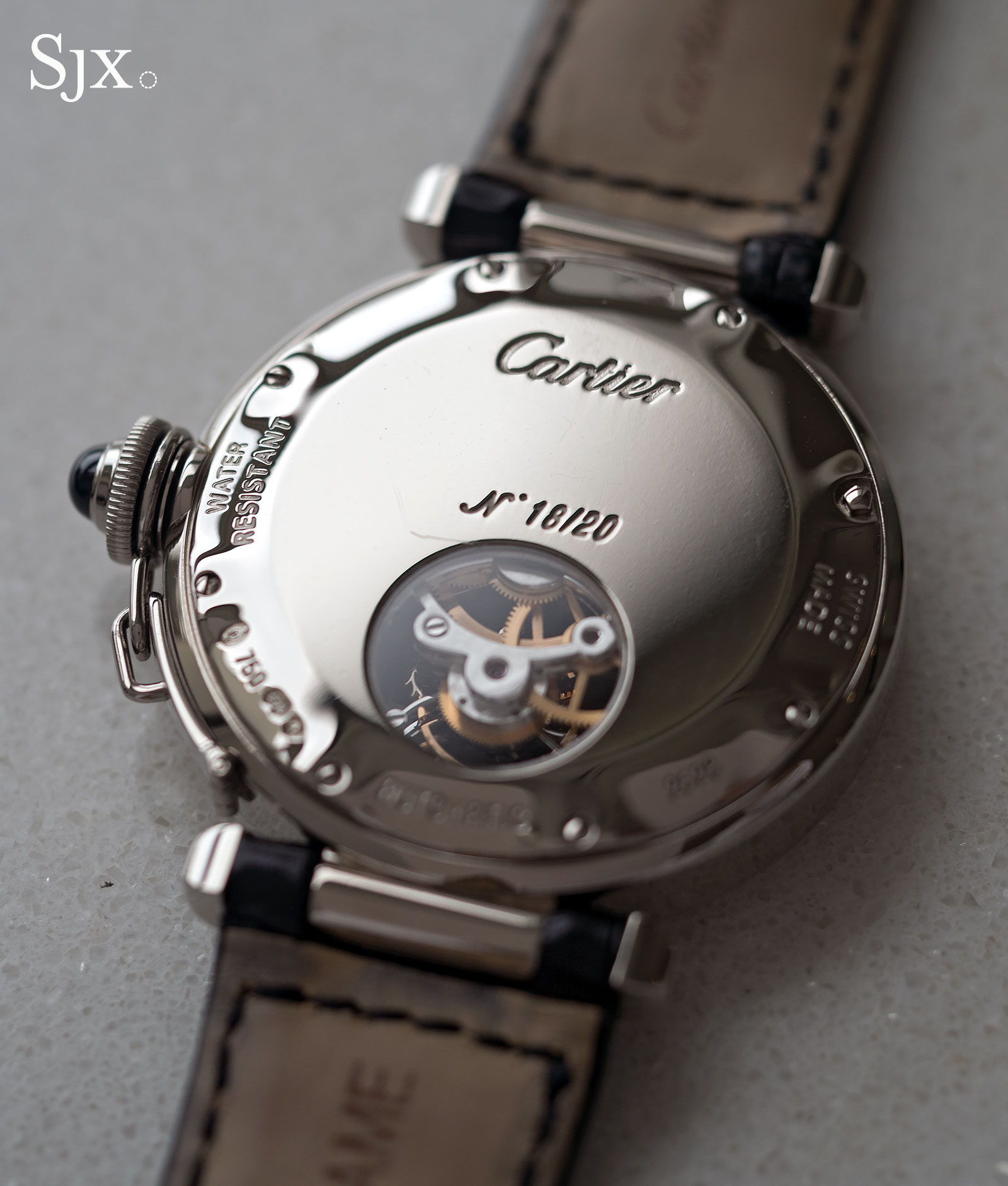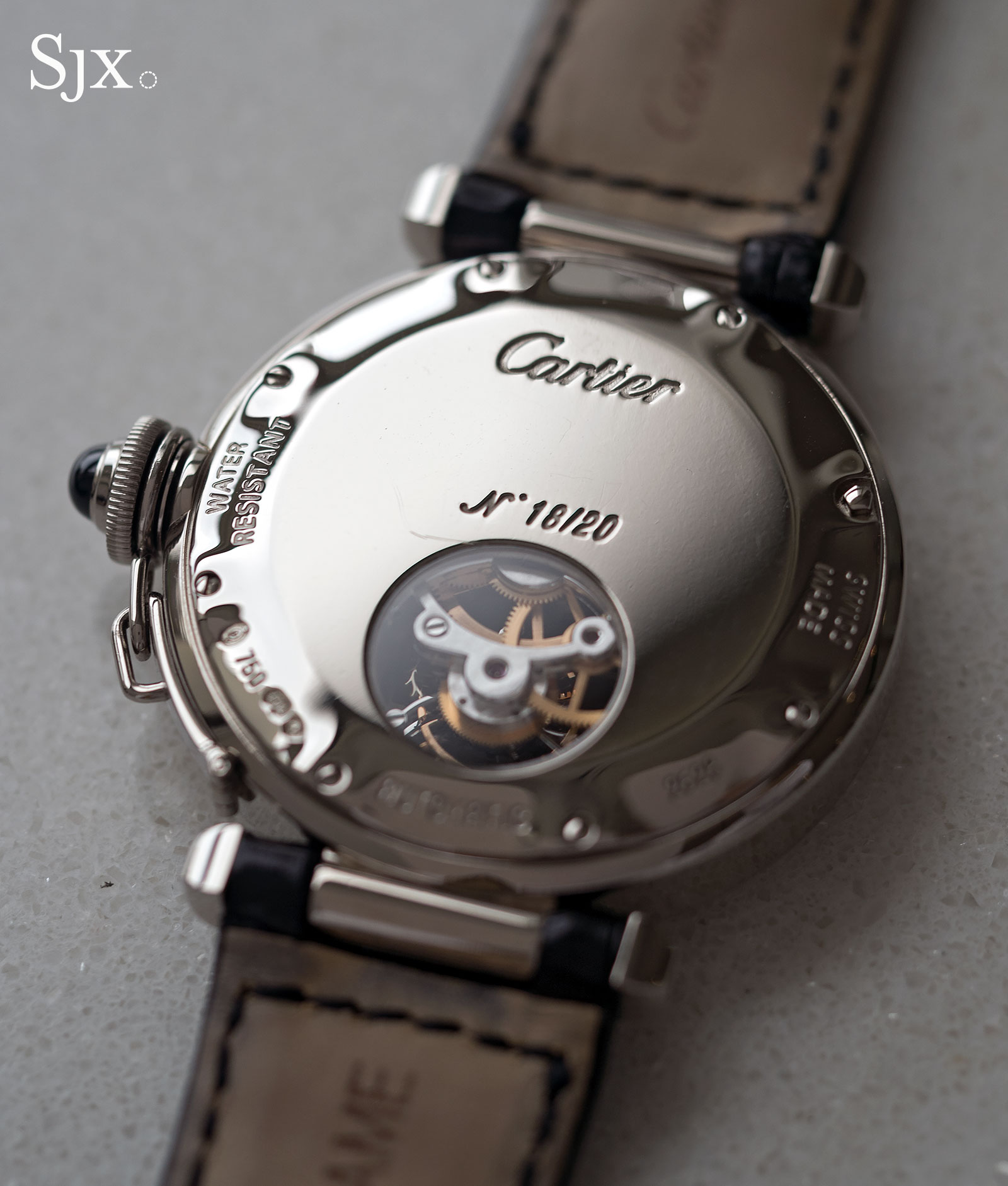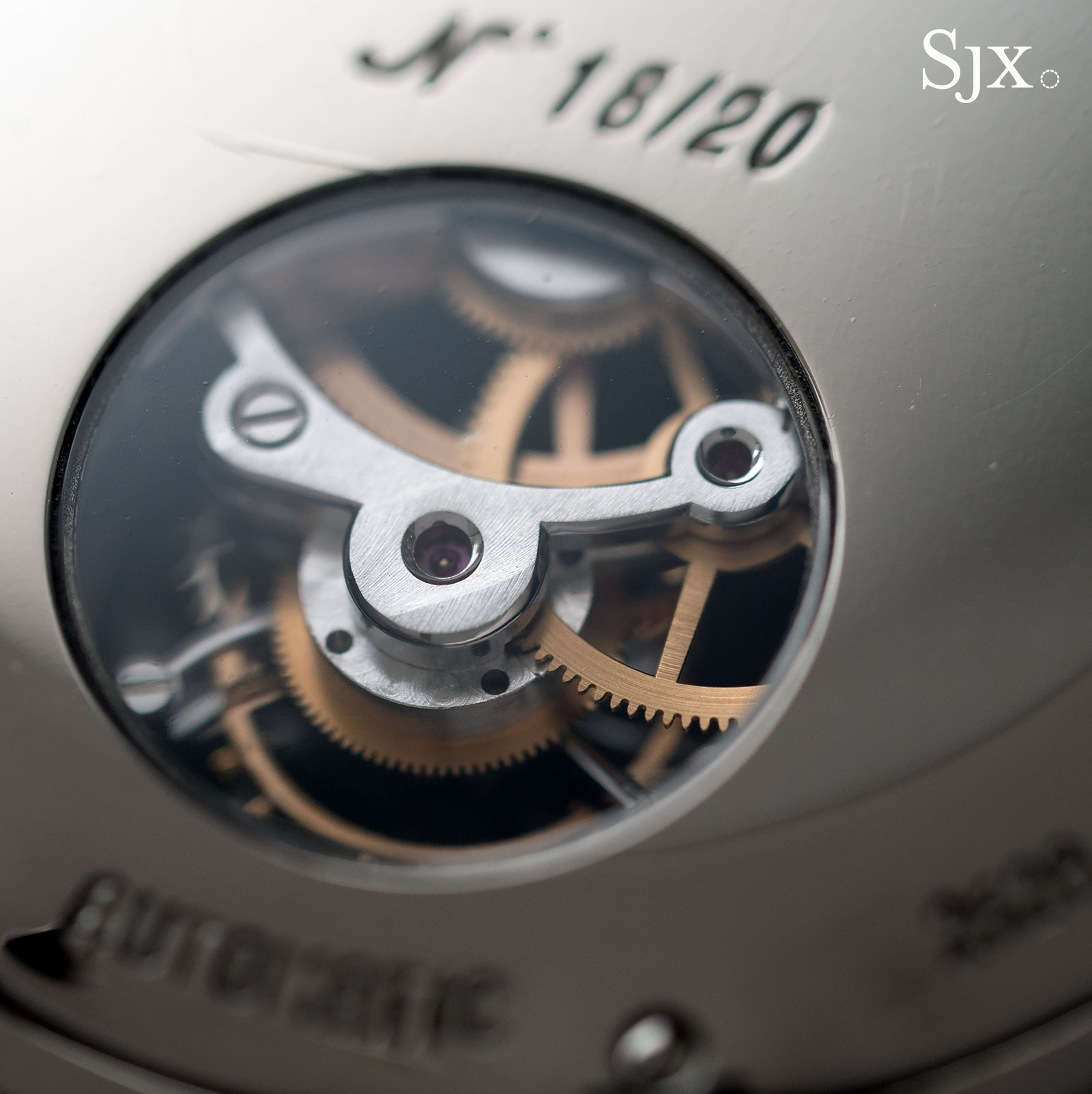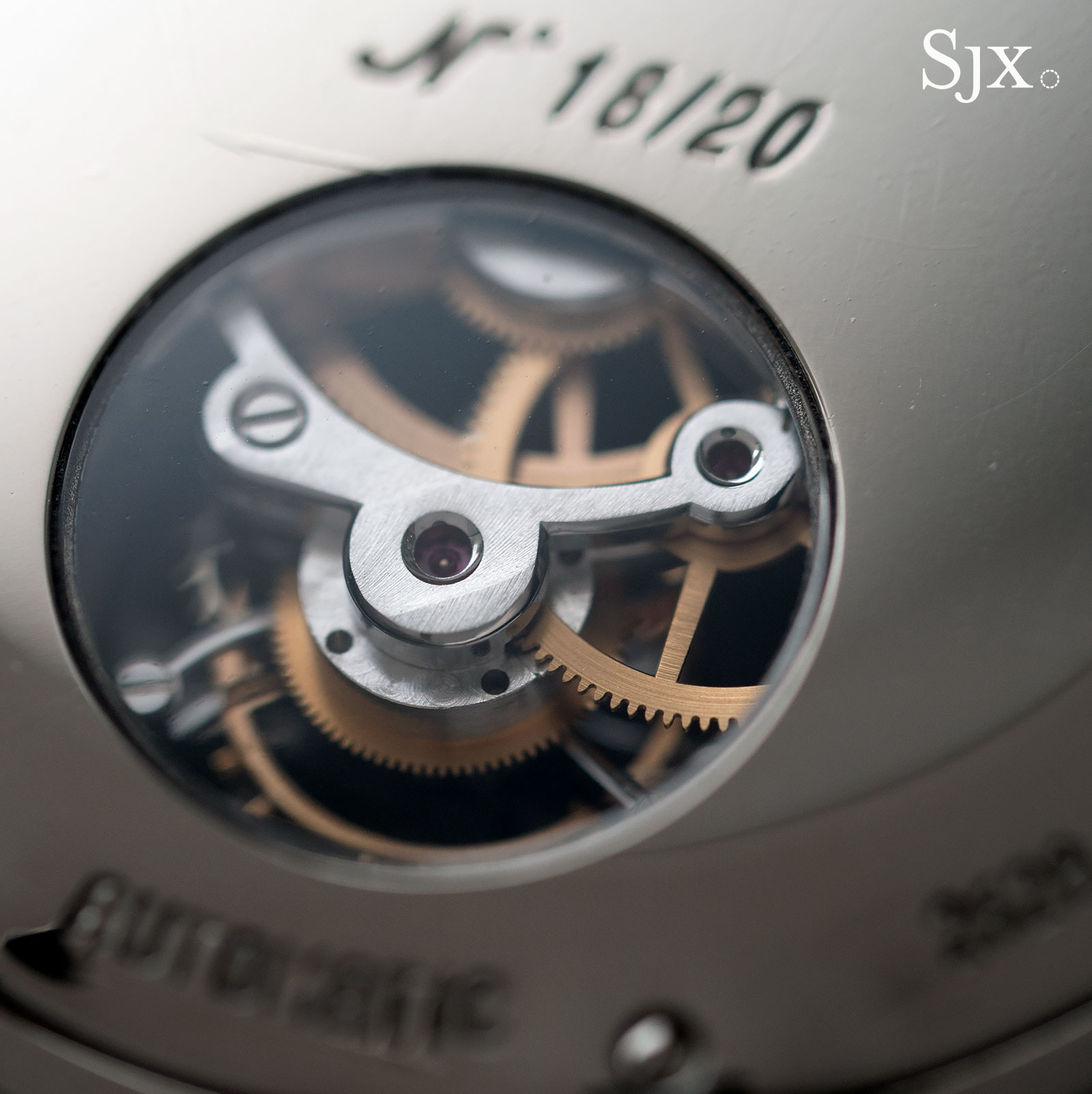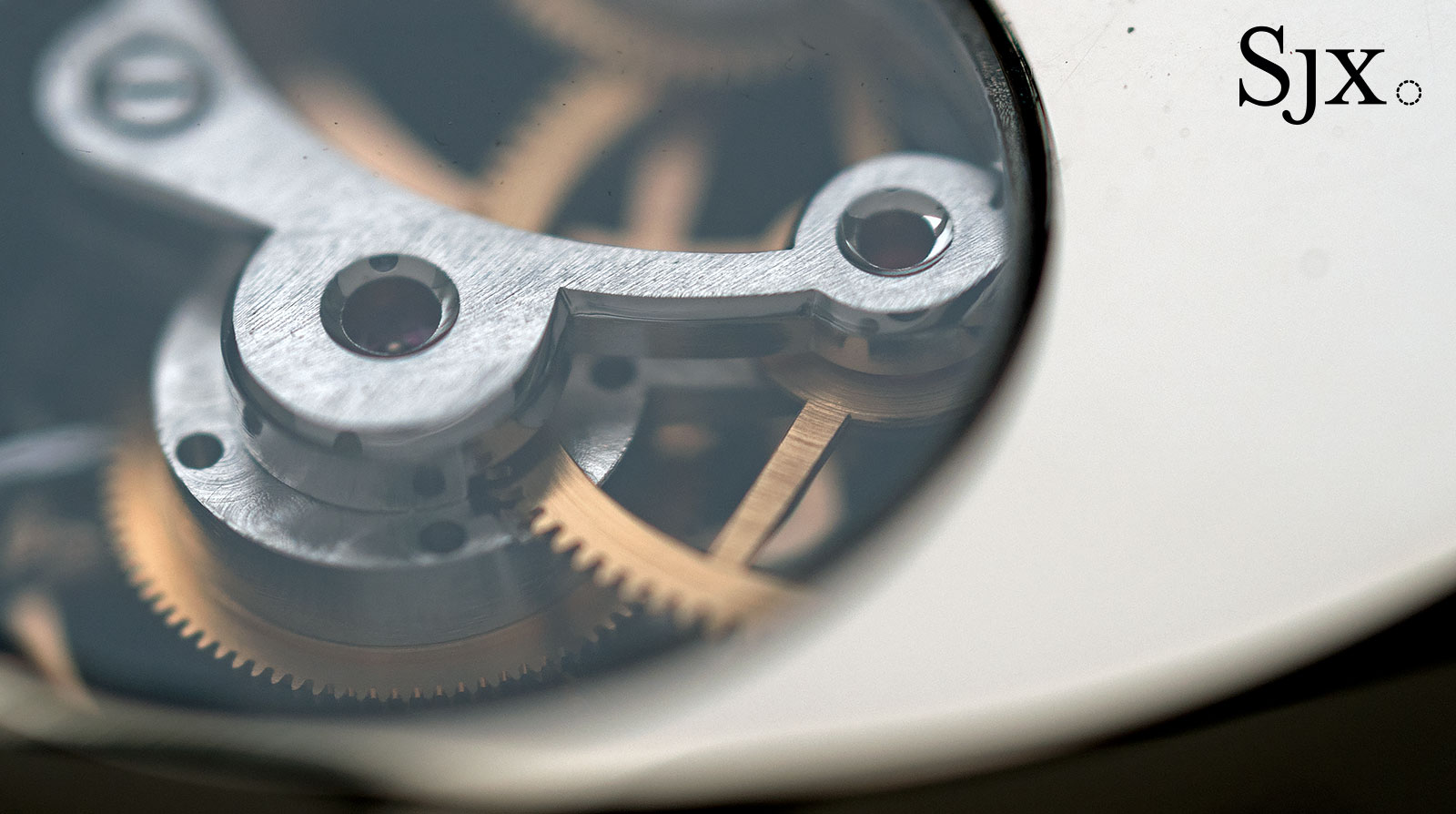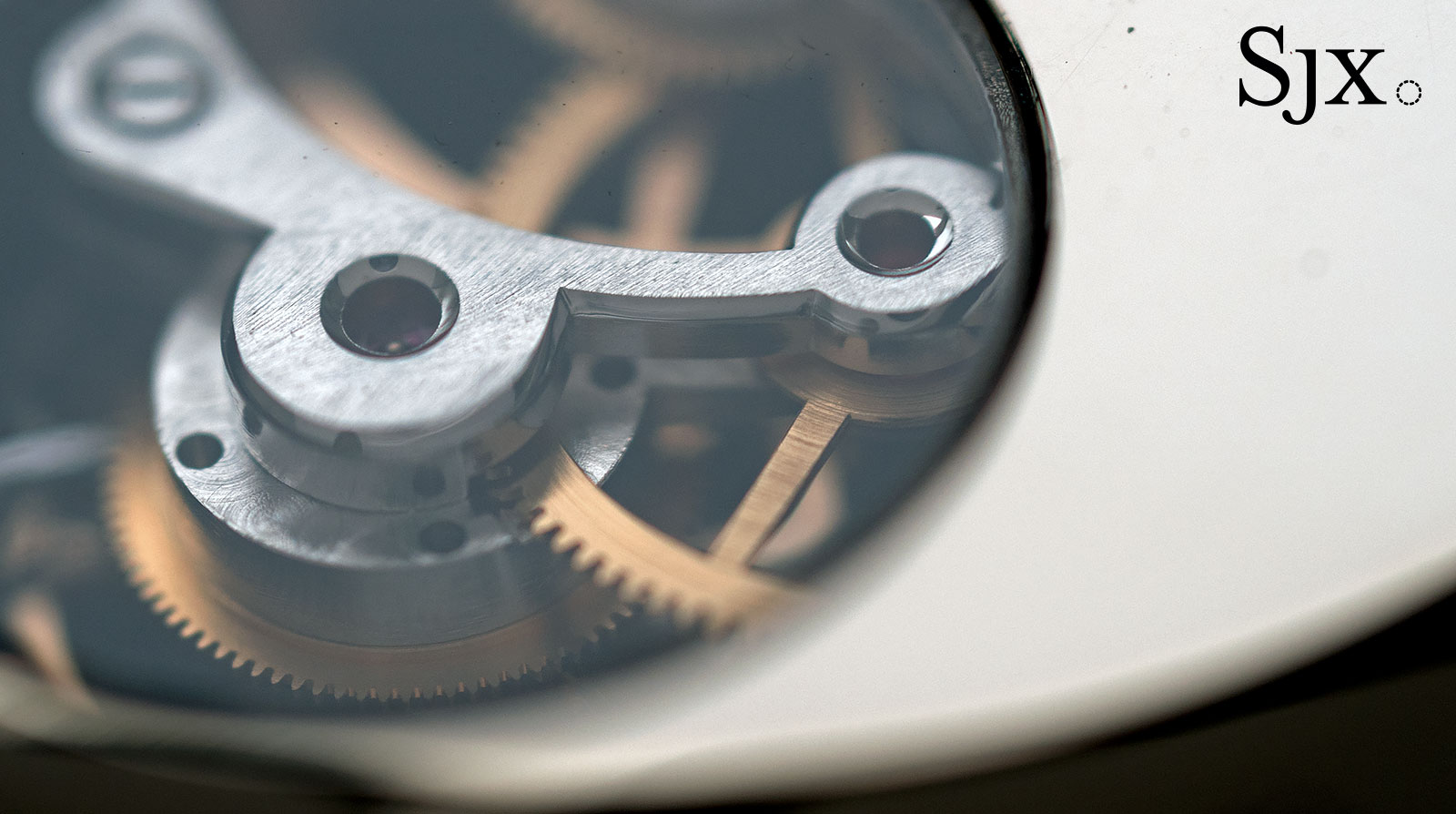 Tourbillon wristwatches are pretty much out of fashion now, which is why this is estimated at HK$180,000 to HK$280,000, or US$24,000 to US$36,000.
---
Lot 2411 – Audemars Piguet Edward Piguet Tourbillon with rutilated quartz plate
Exceedingly unusual at the time it was introduced in 2001, this Edward Piguet Tourbillon has a main plate made of "rutilated quartz".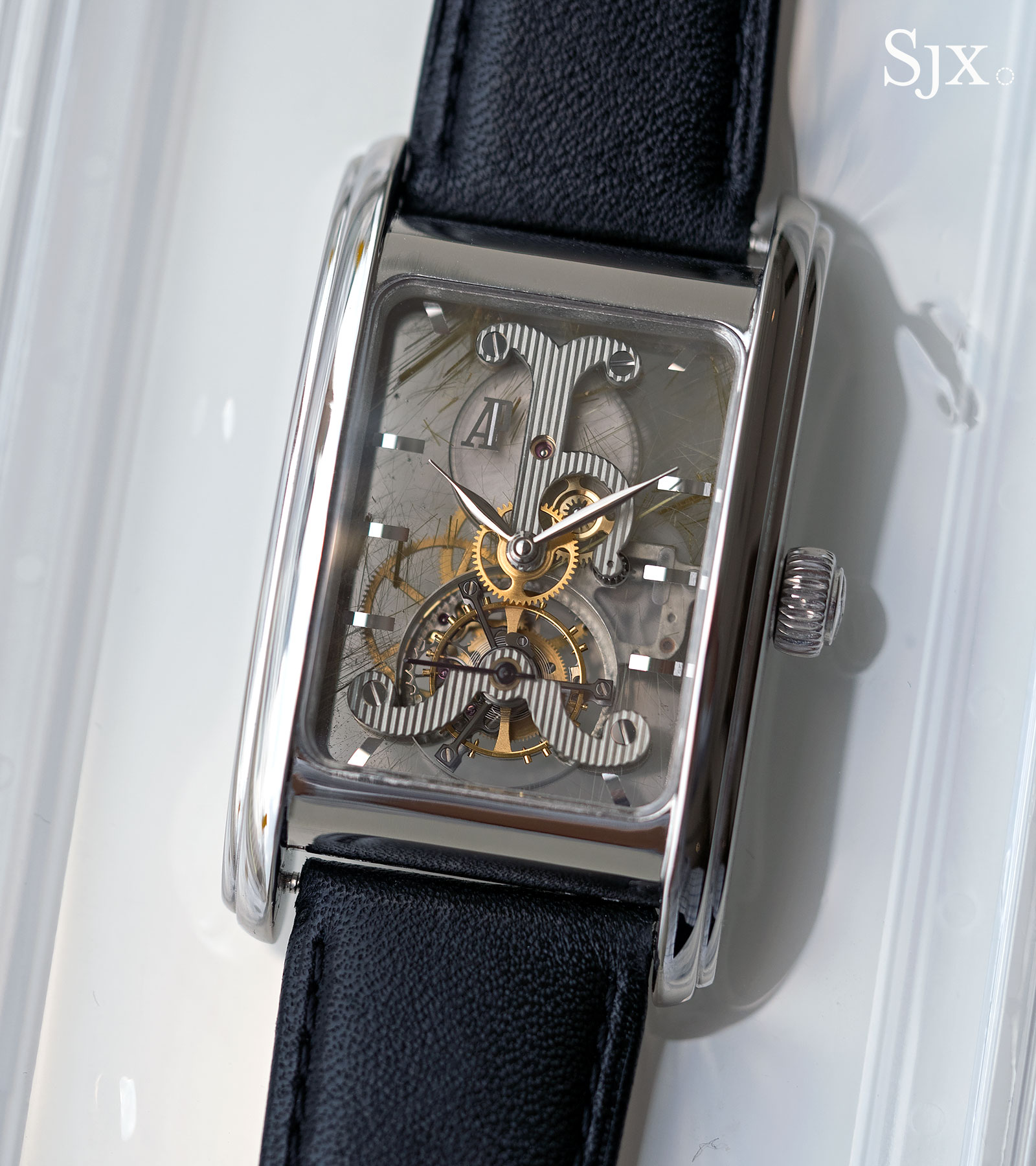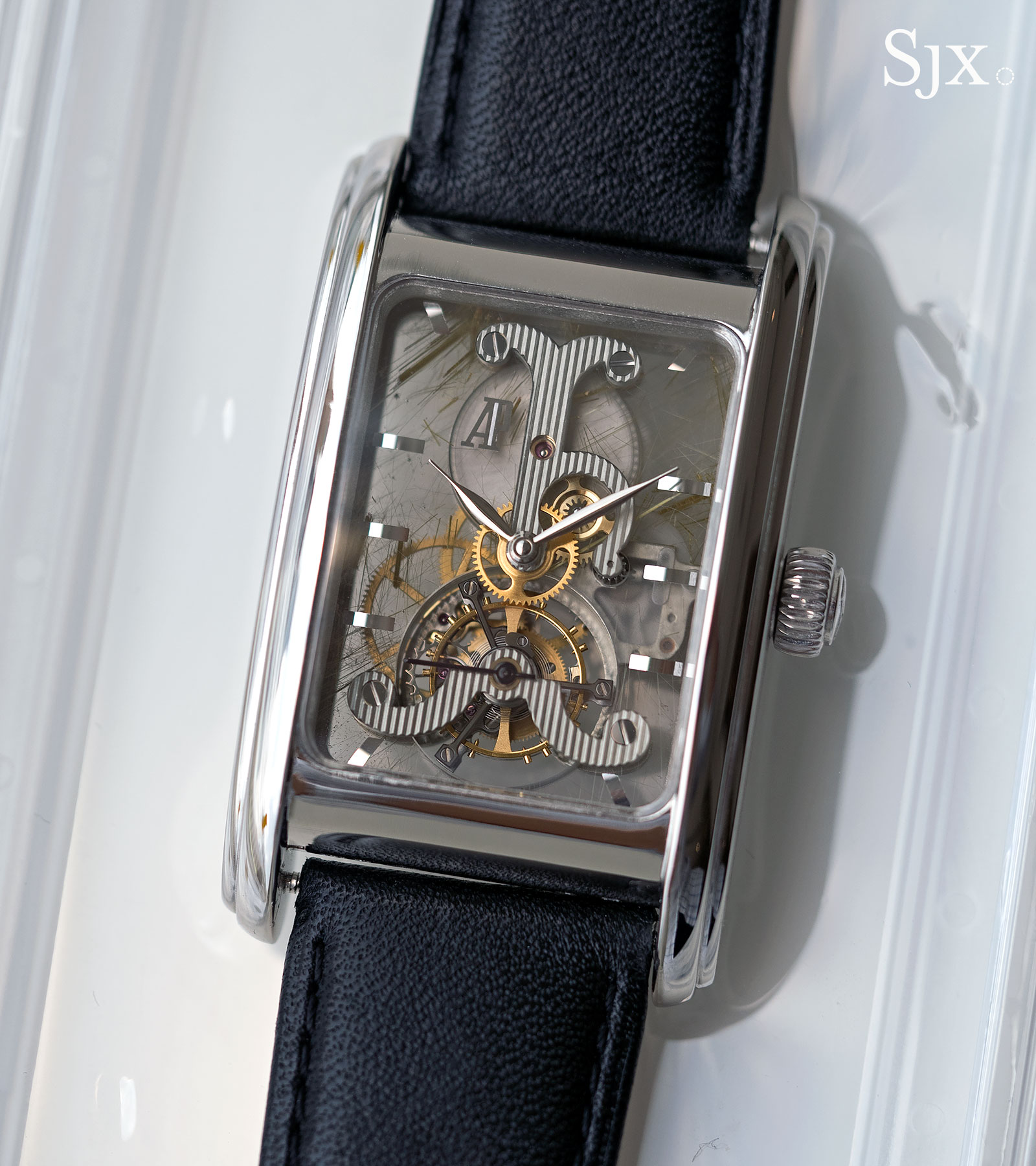 It's a clear gemstone with a yellow tinge and rutile inclusions. A dark mineral made of titanium dioxide, the rutiles are narrow and long, scattered in the clear stone like strands of straw.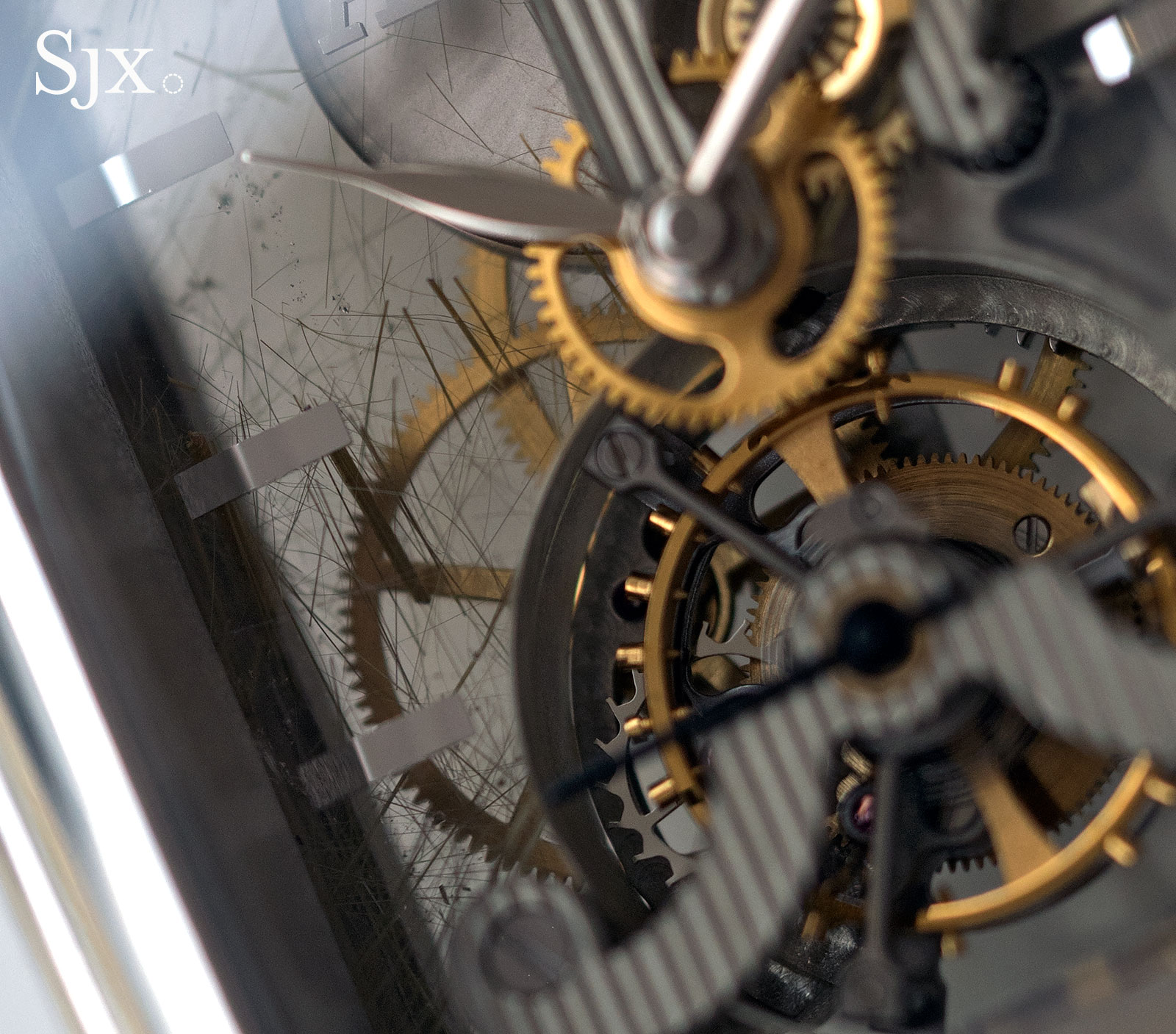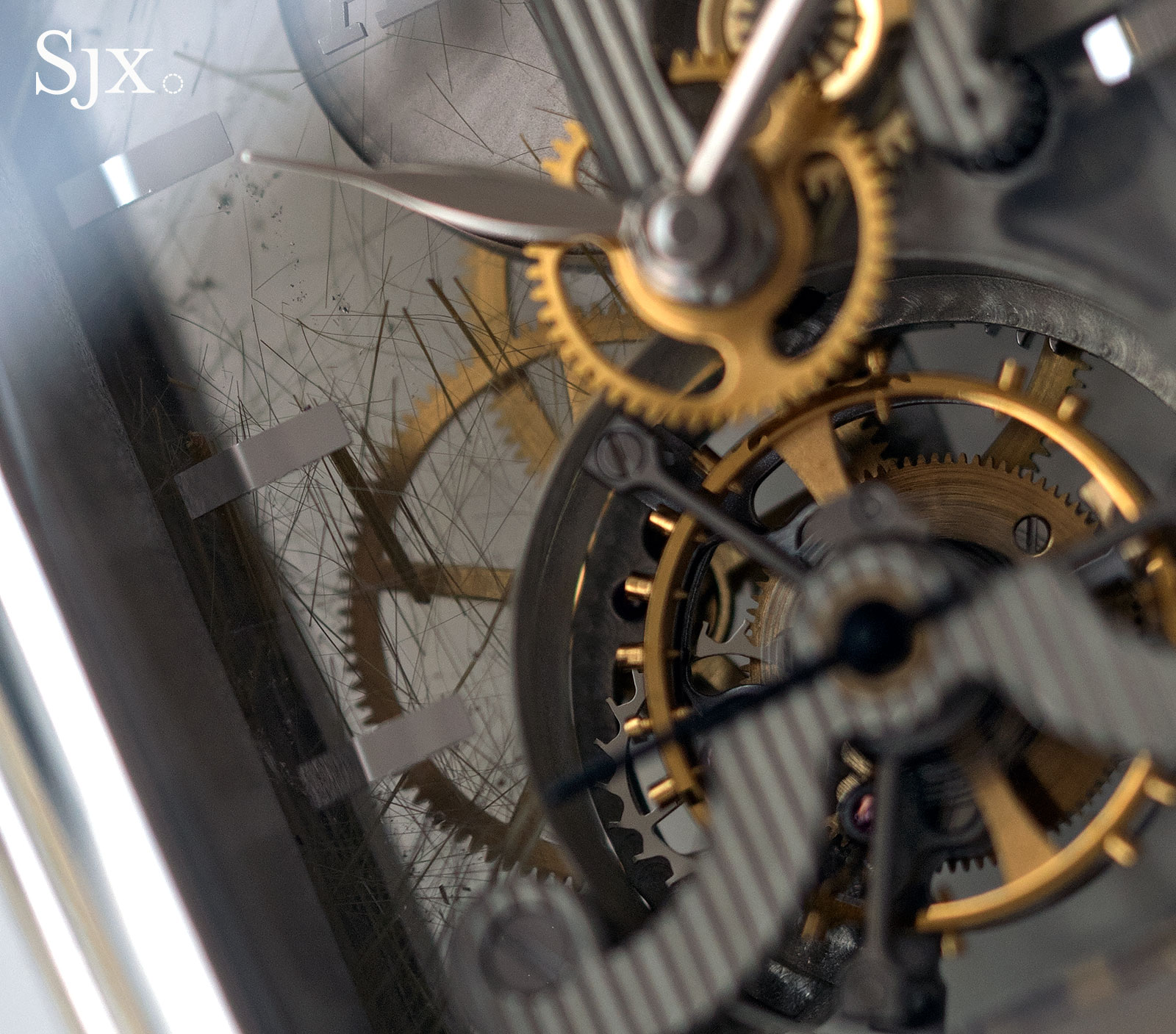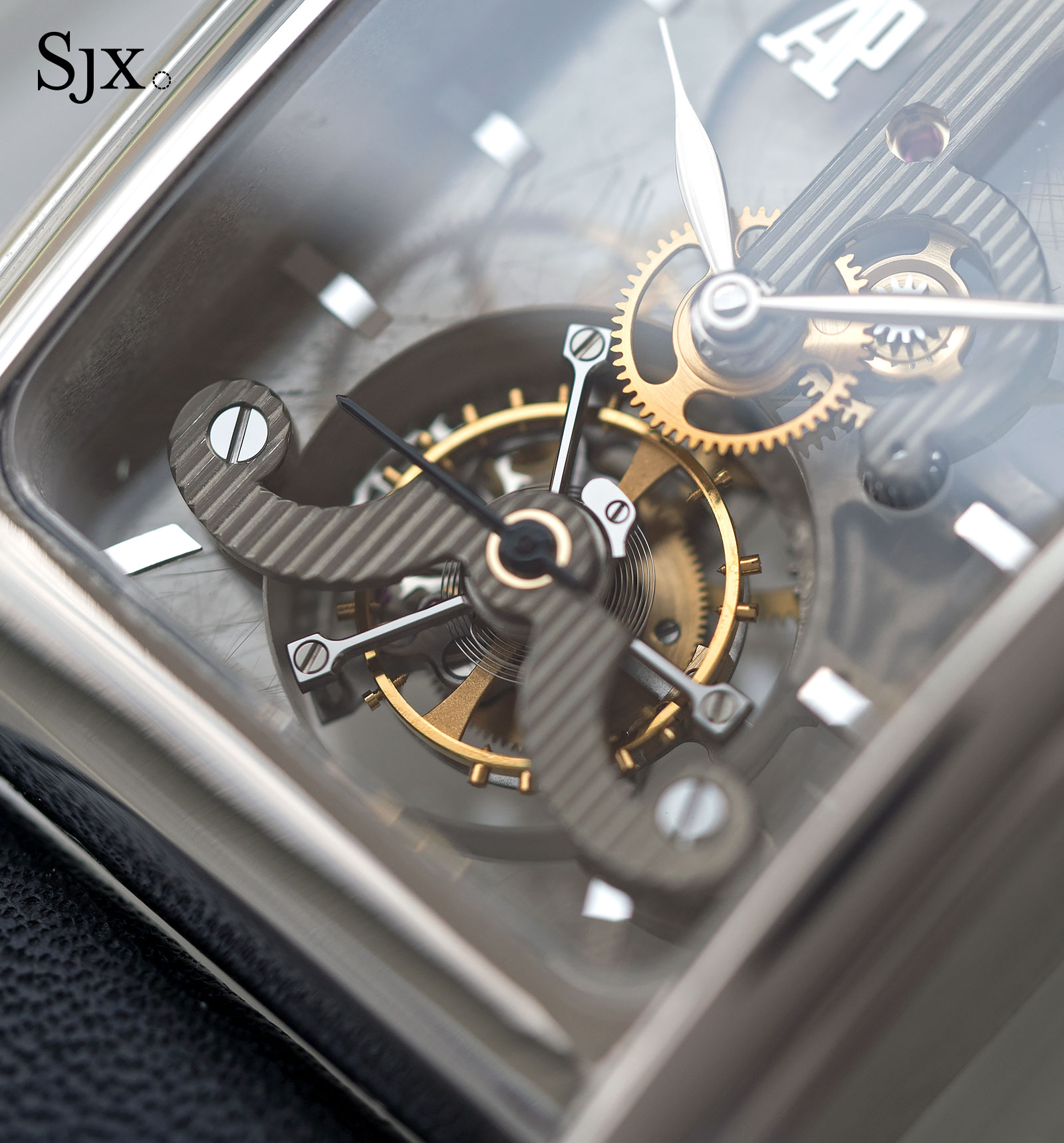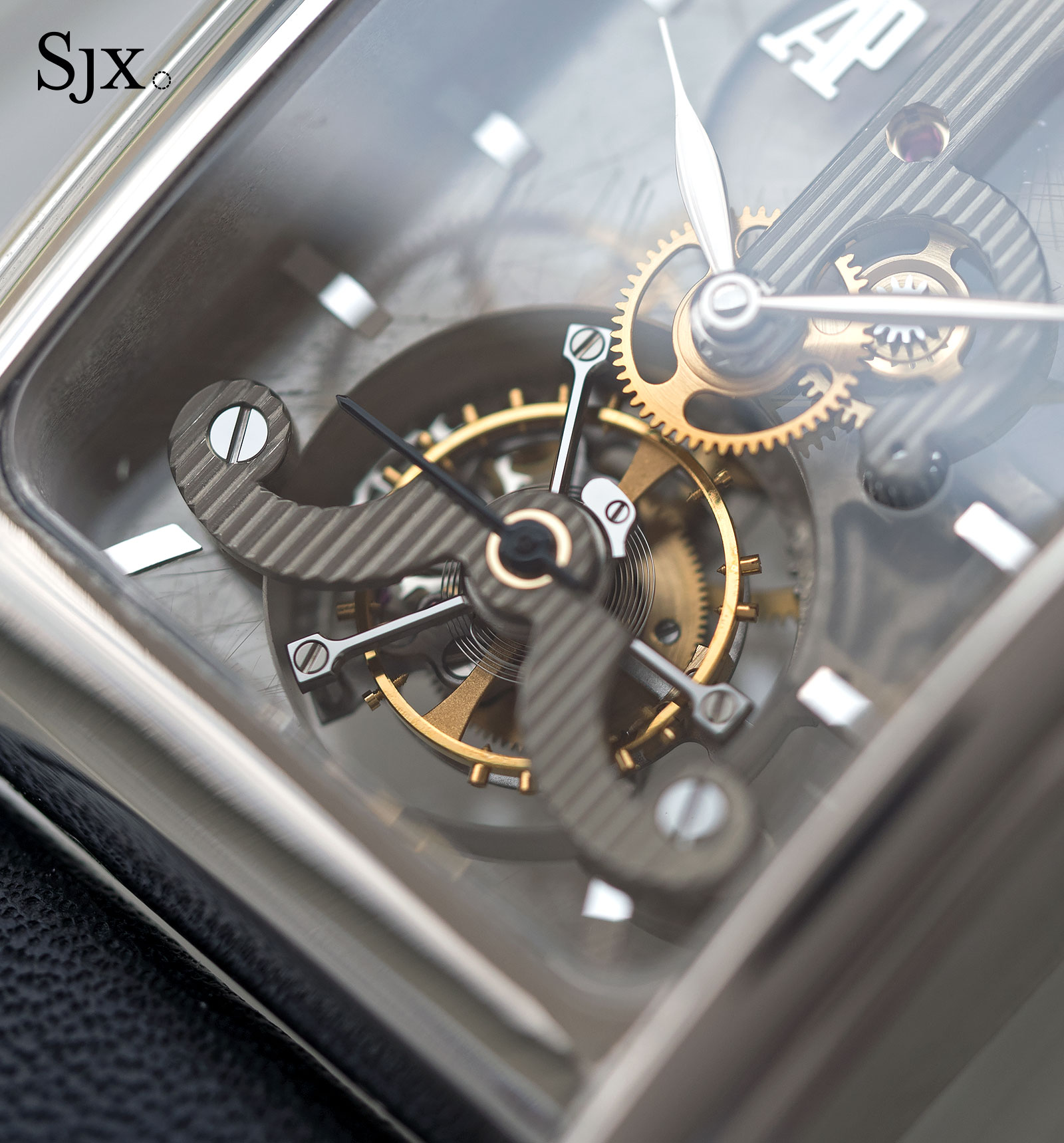 Arranged vertically (not unlike the Cartier tourbillon above), the movement components are held in place with curved bridges featuring scroll-like ends.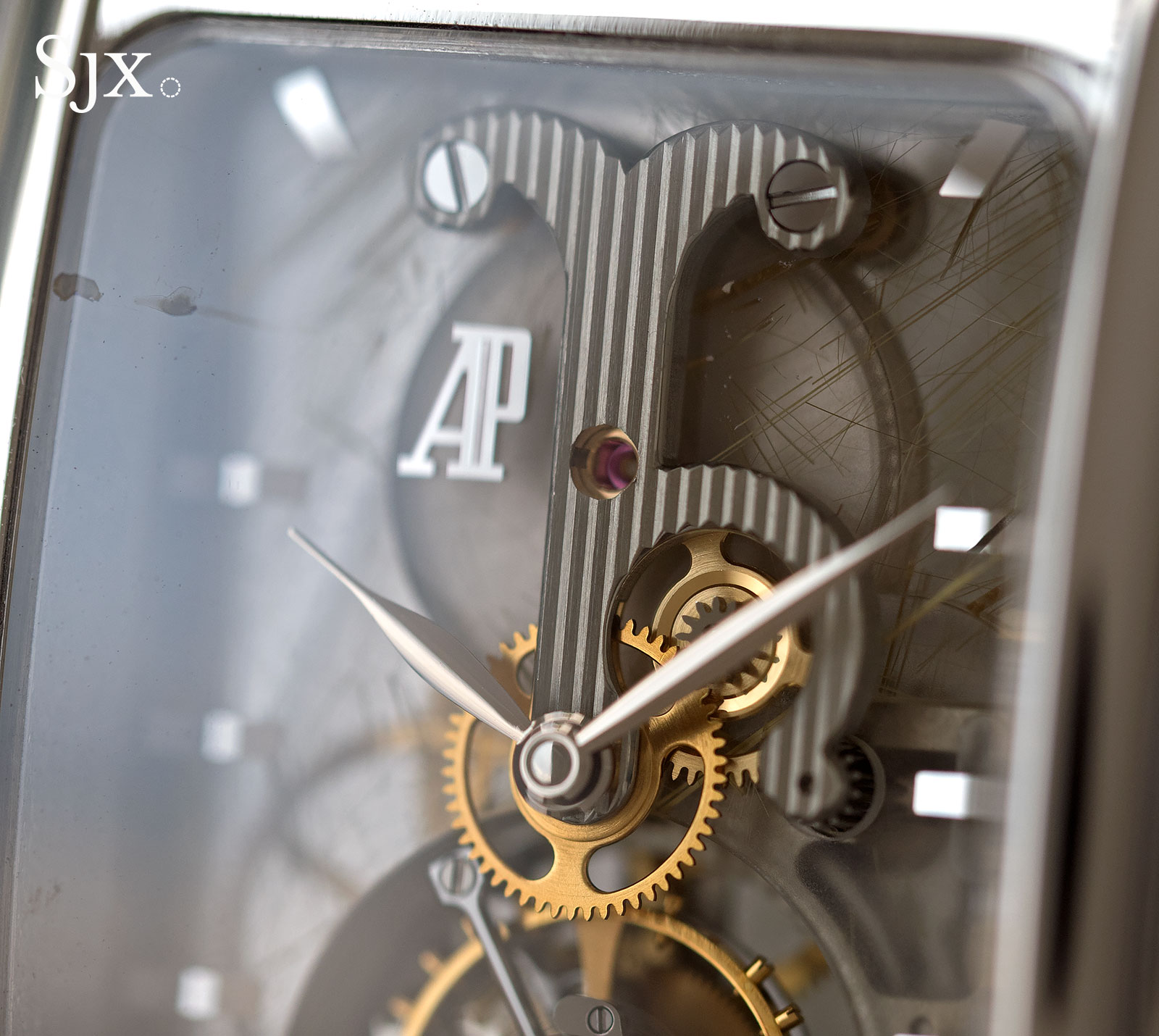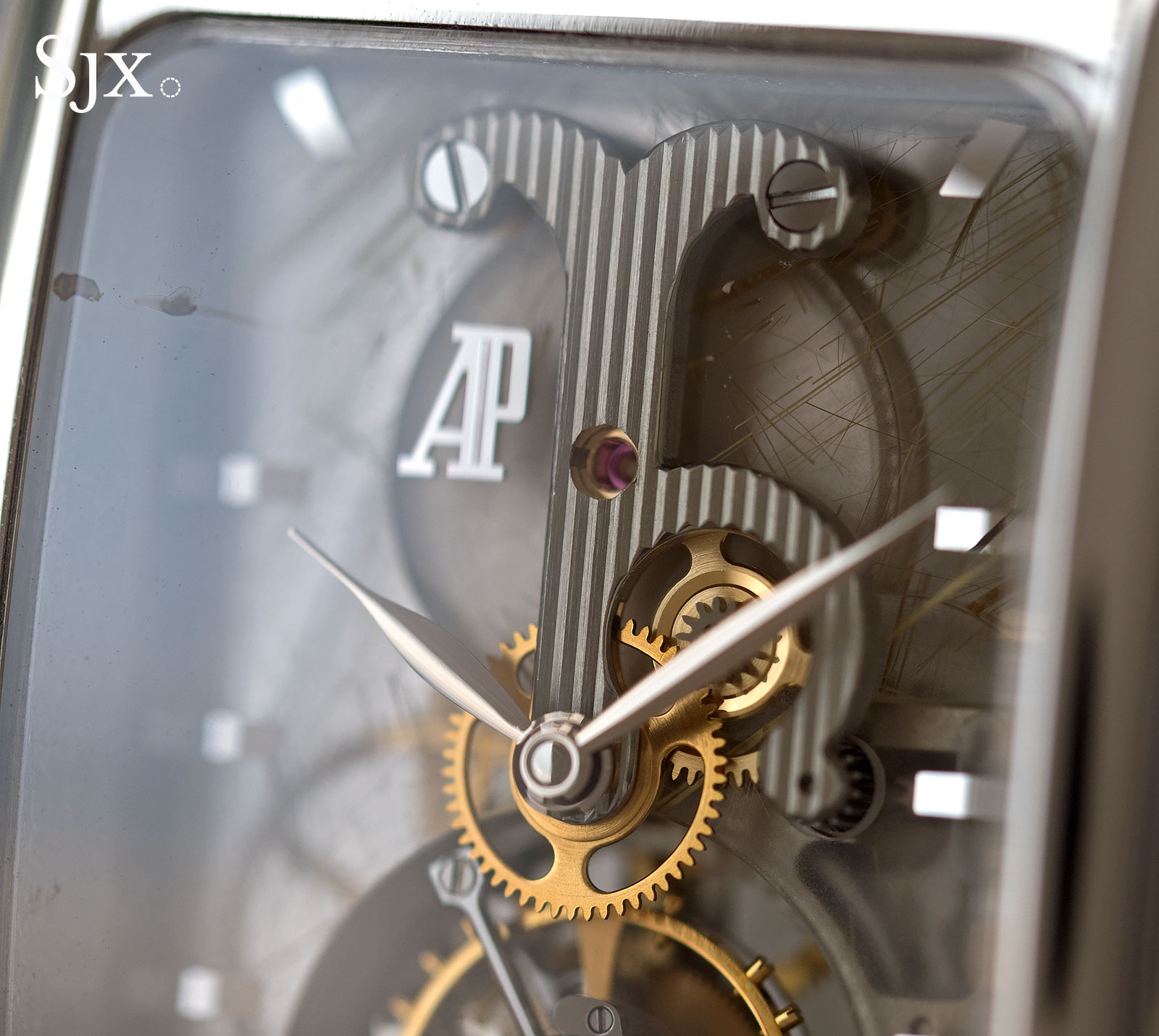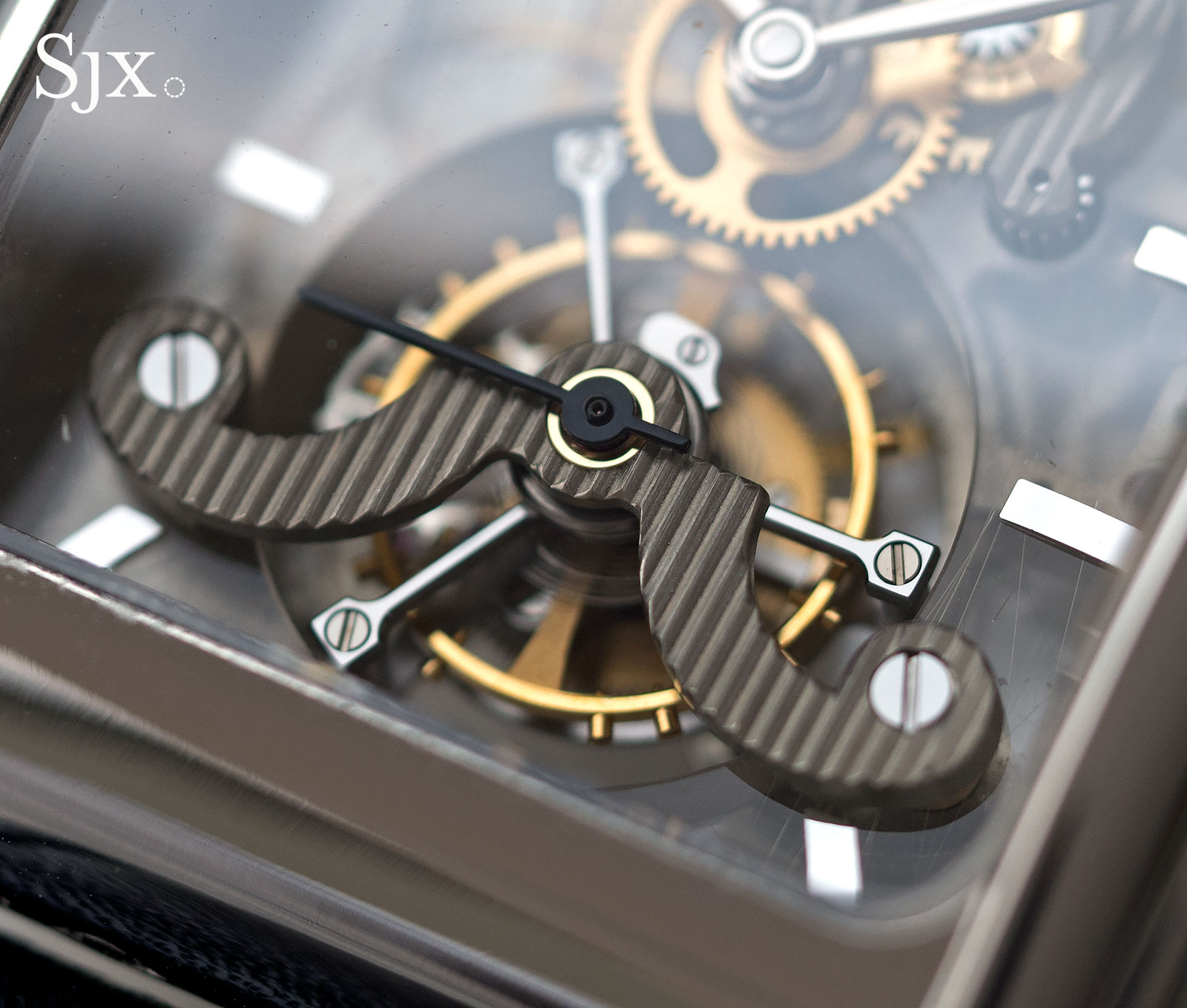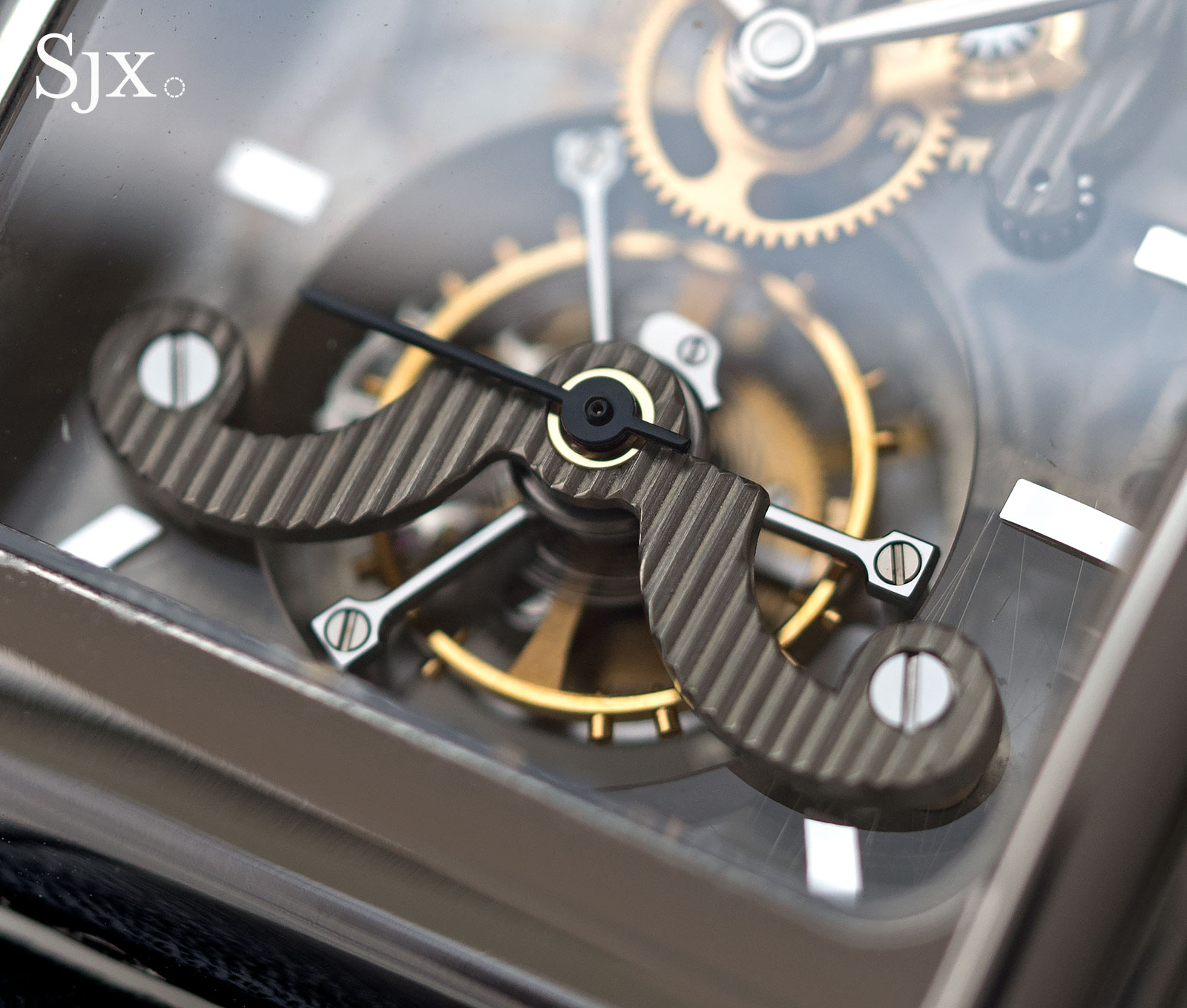 While the case is narrow at 29mm wide, being platinum and somewhat thick, it has an extremely solid feel in the hand.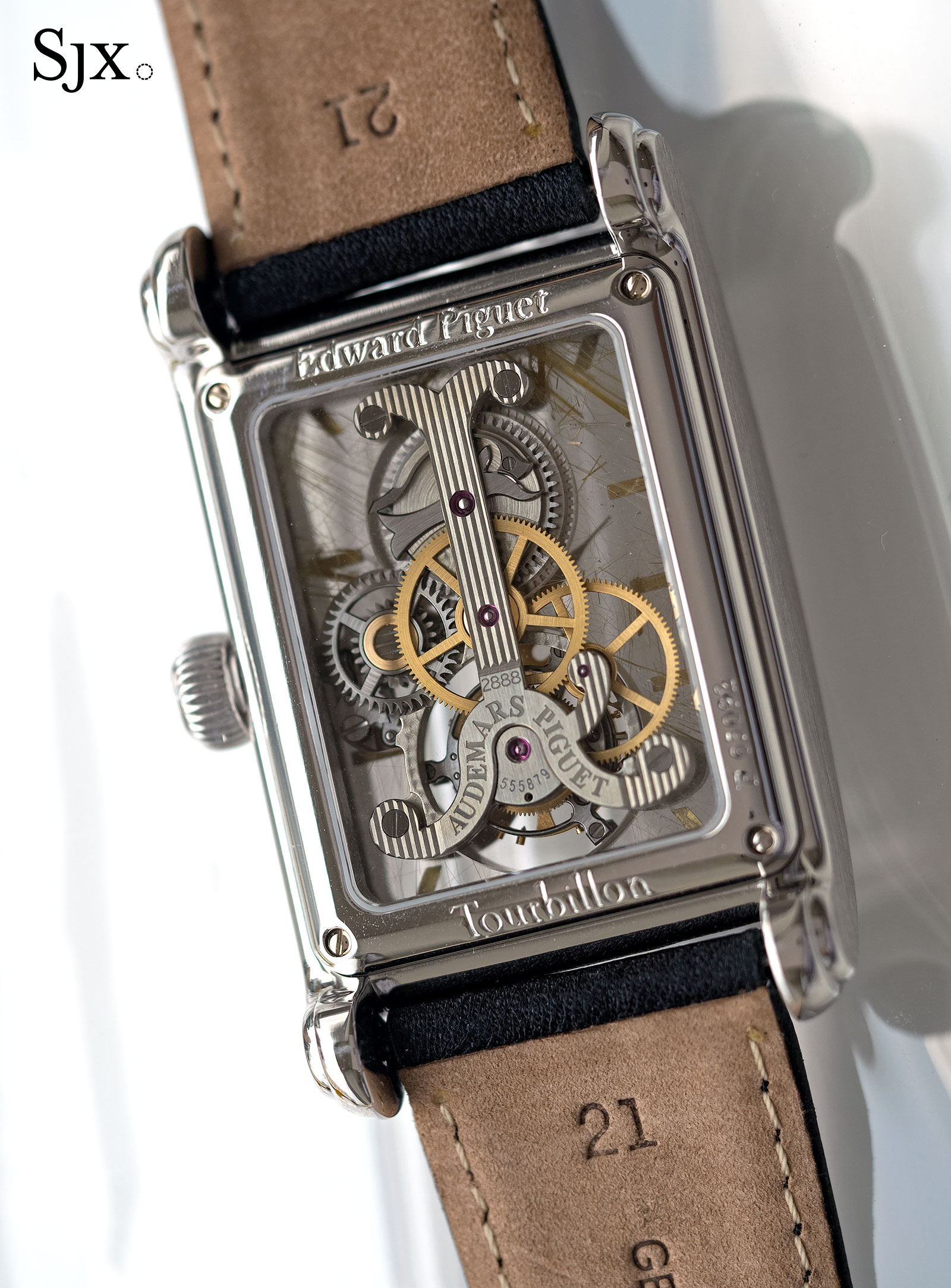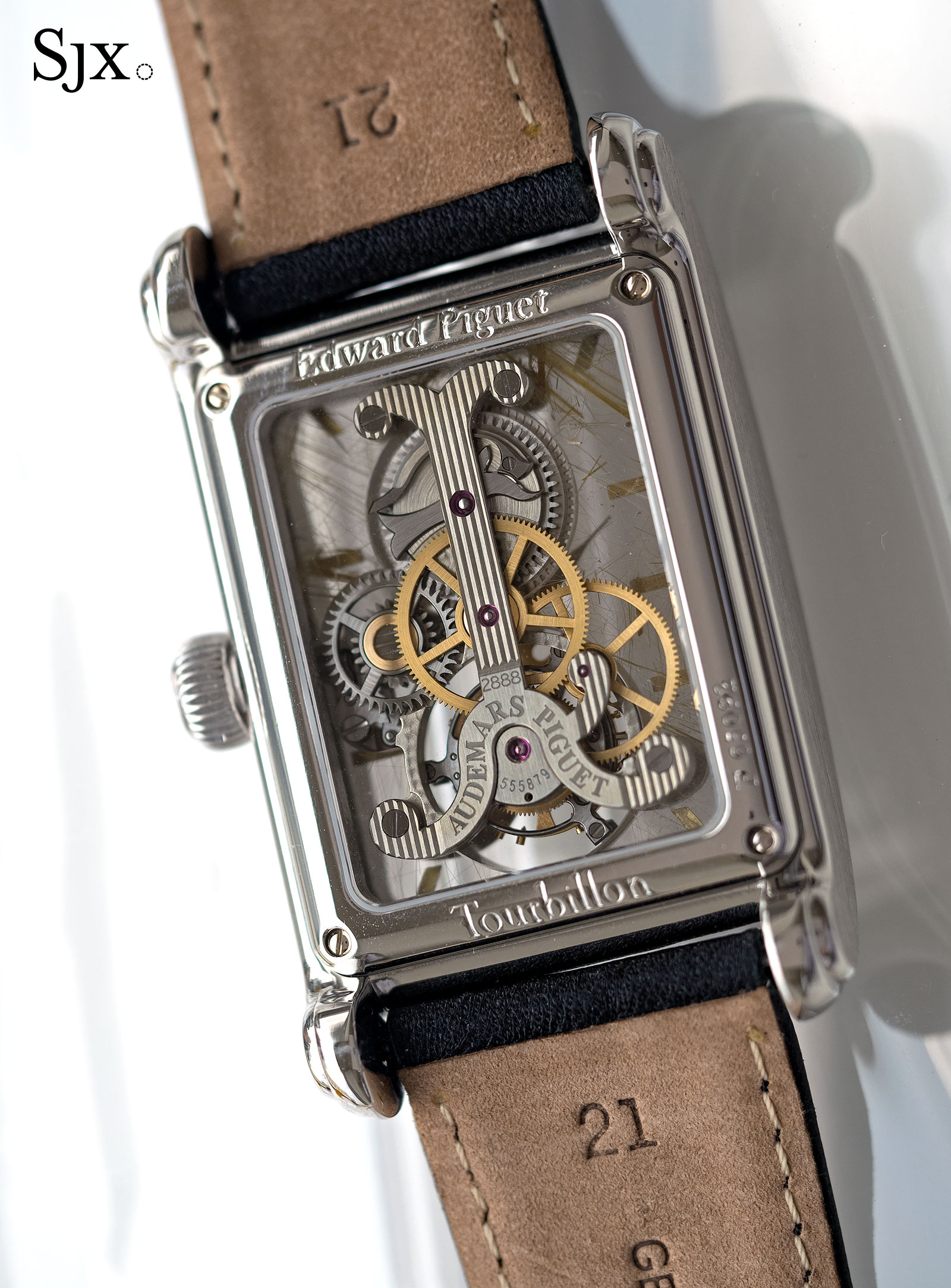 This is estimated at HK$820,000 to HK$1.65m, or US$110,000 to US$210,000.
---
Lot 2448 – Lange 1815 200th Anniversary F.A. Lange in honey gold
Unveiled two years ago to mark the 200 years since the birth of Ferdinand-Adolph Lange, the 1815 in honey gold was a 200-piece limited edition that sold briskly, being the most affordable honey gold watch produced by Lange.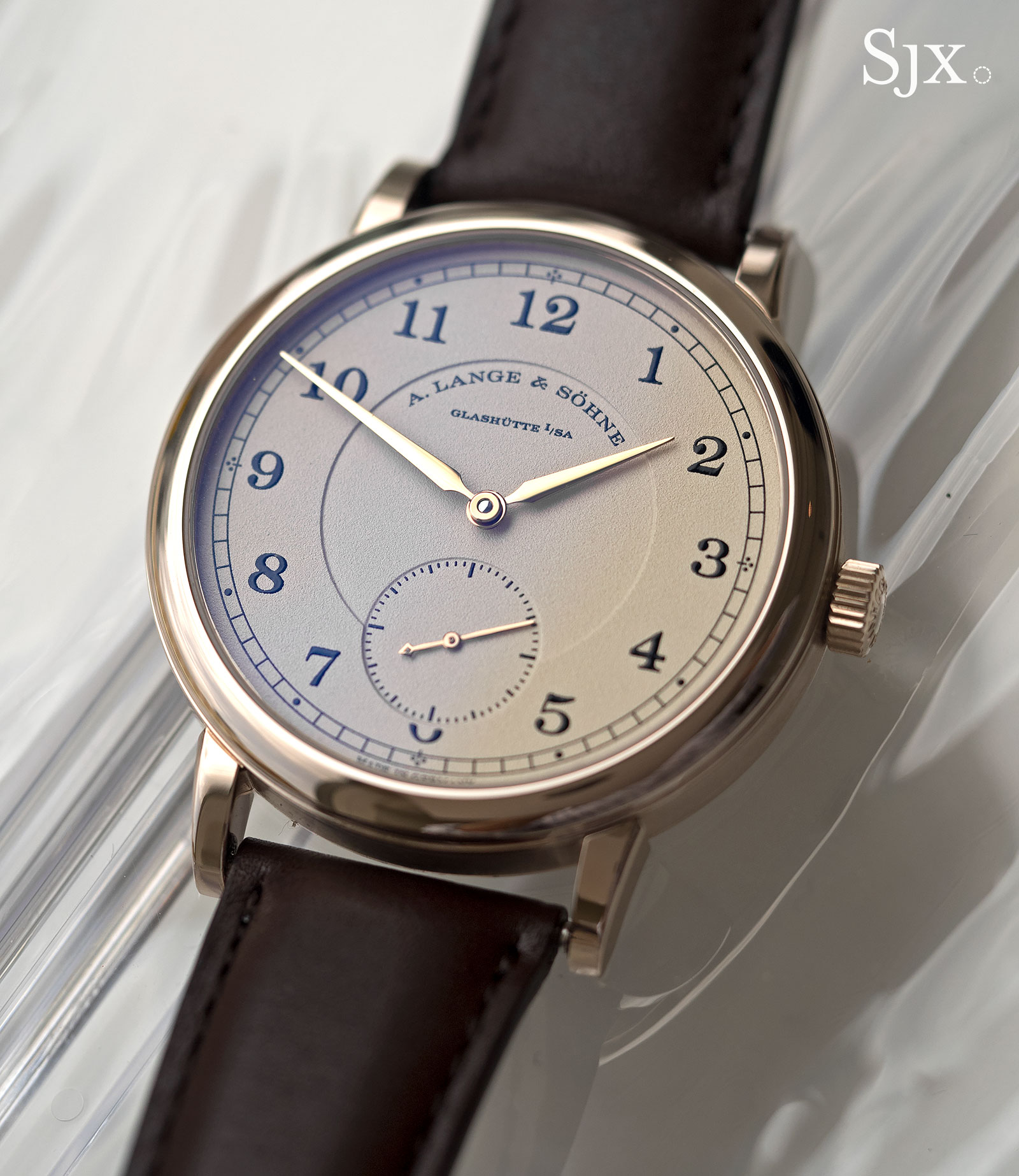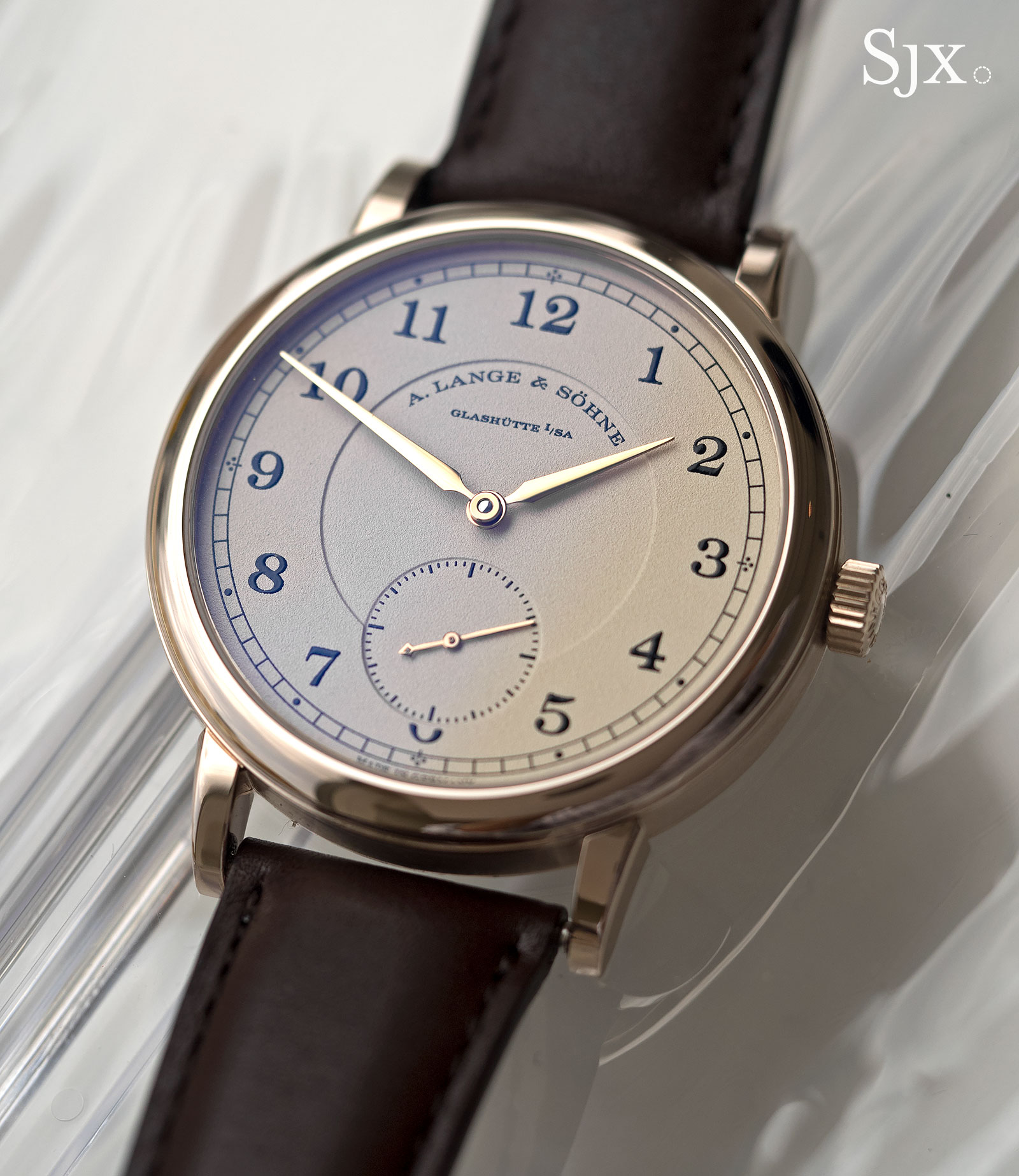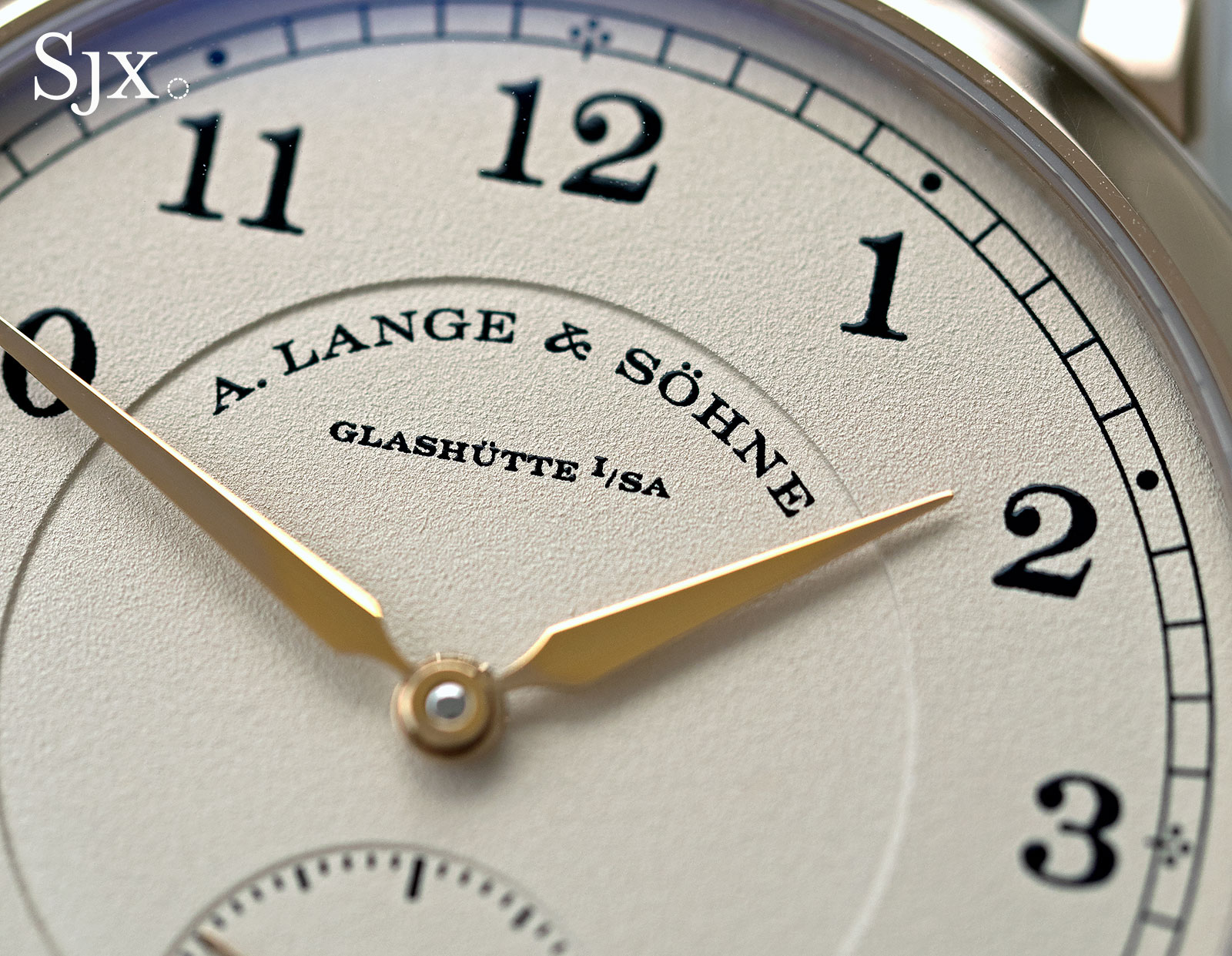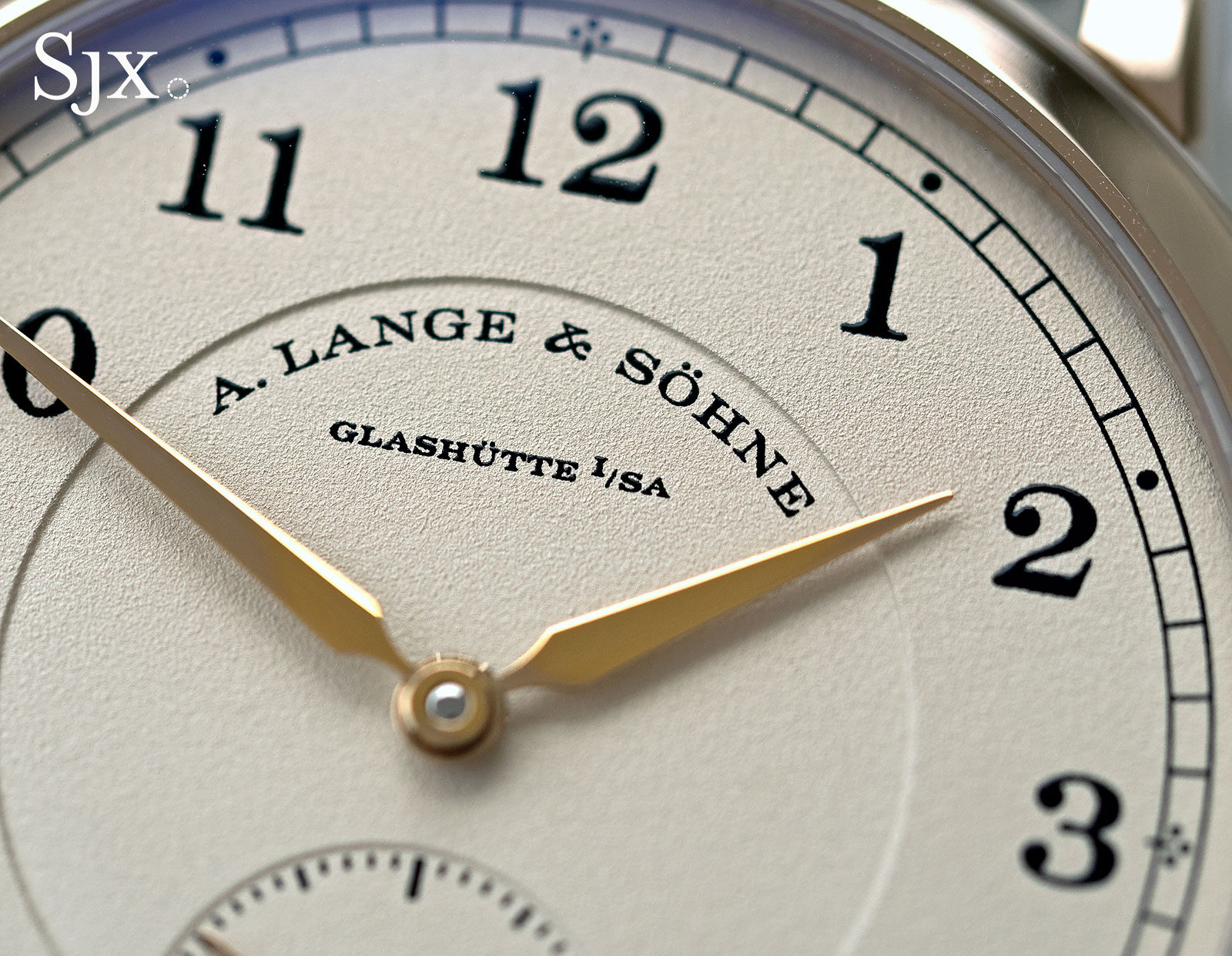 Exclusive to the brand for a fixed number of years (which Lange has yet to formally reveal), honey gold is a gold alloy that's a cross between yellow and rose. Besides its unusual colour, the metal is also harder than ordinary 18k gold, making it more scratch-resistant.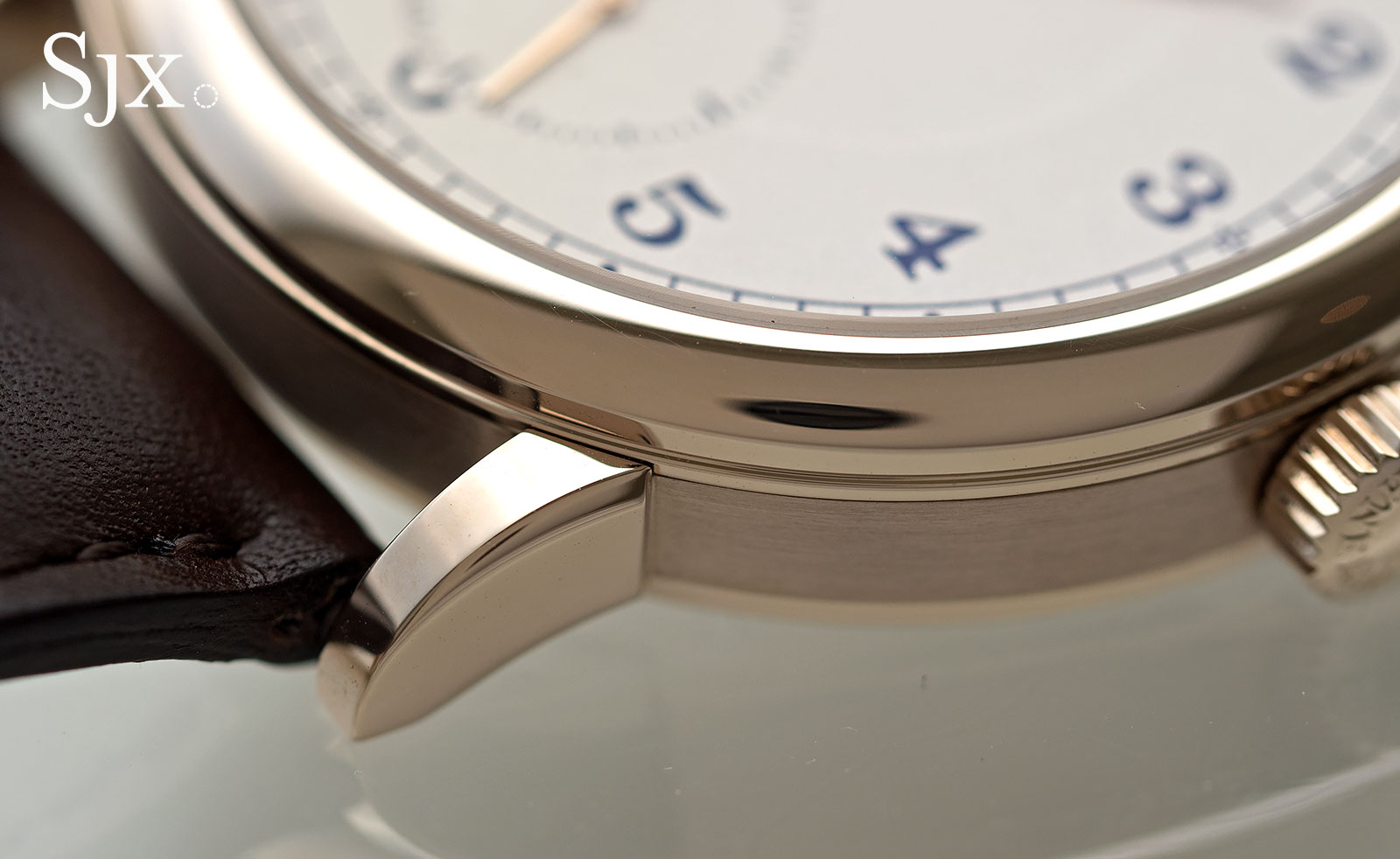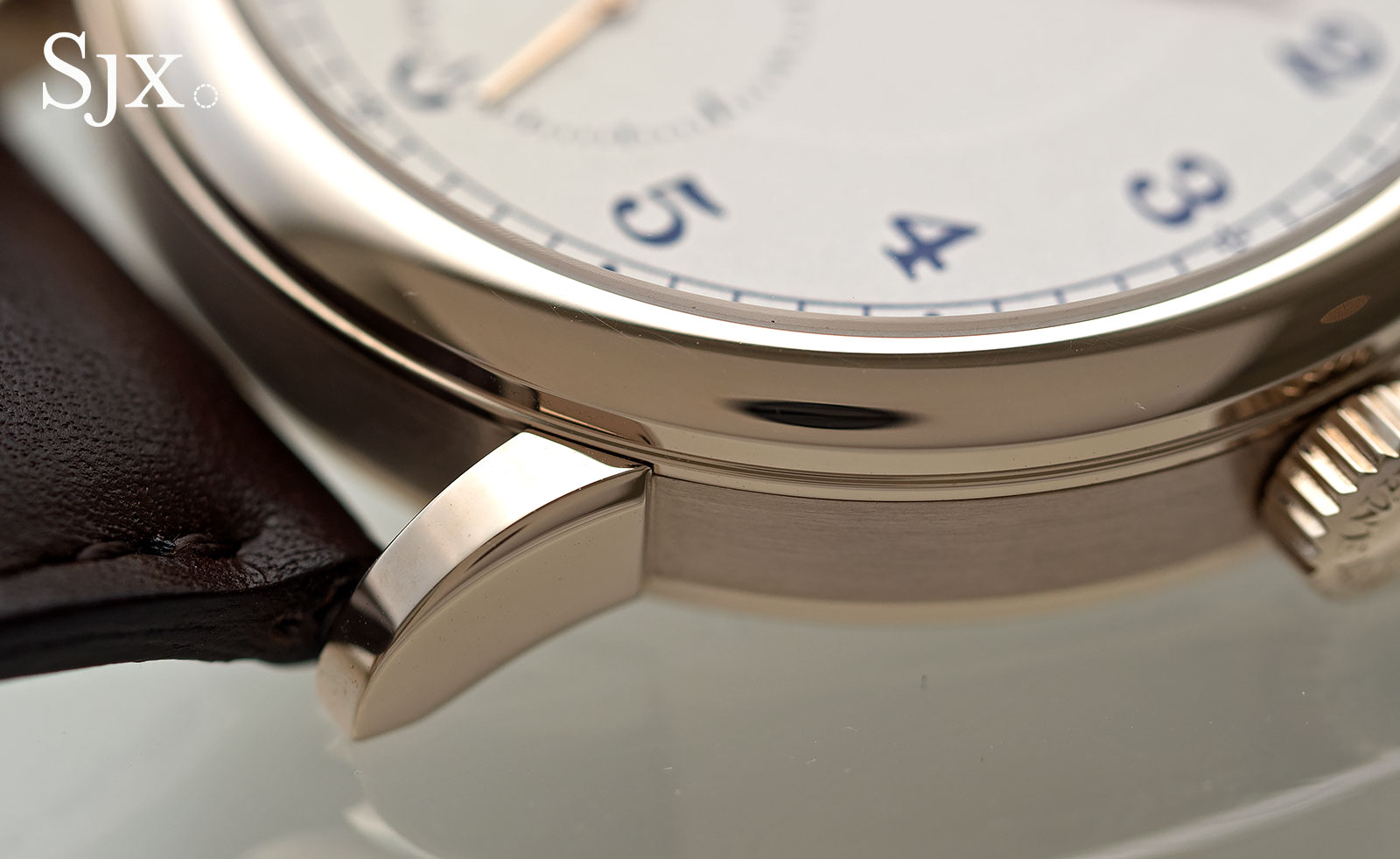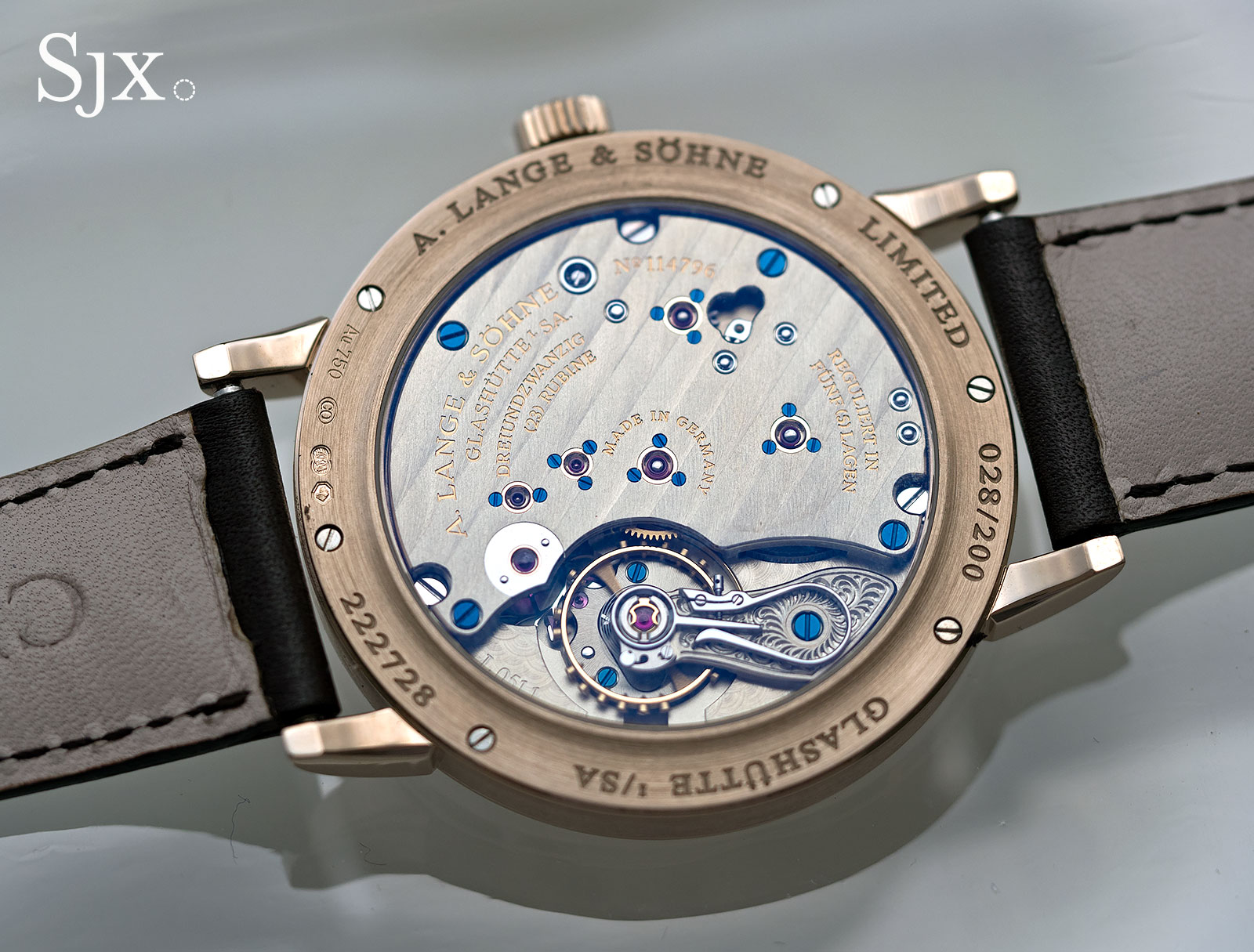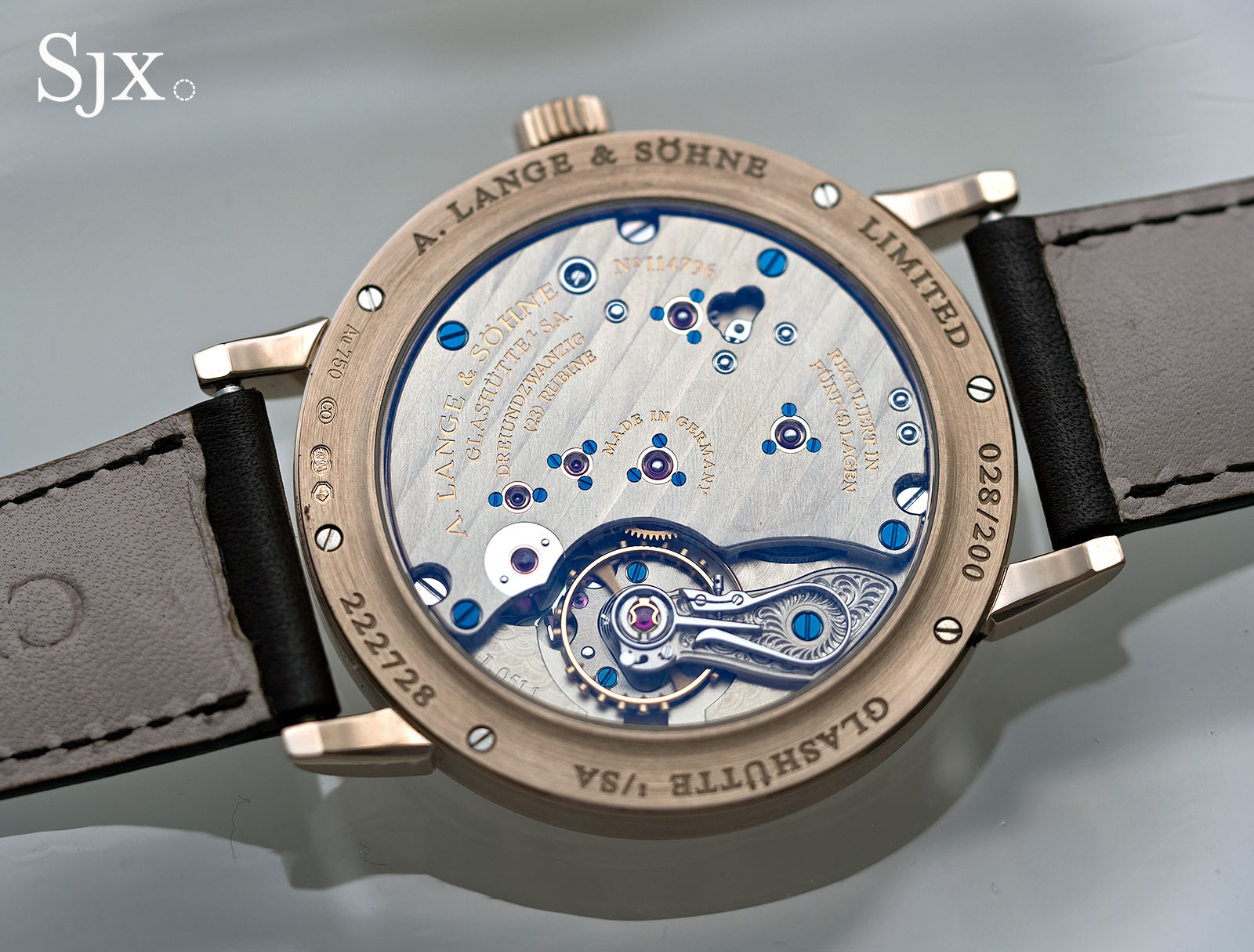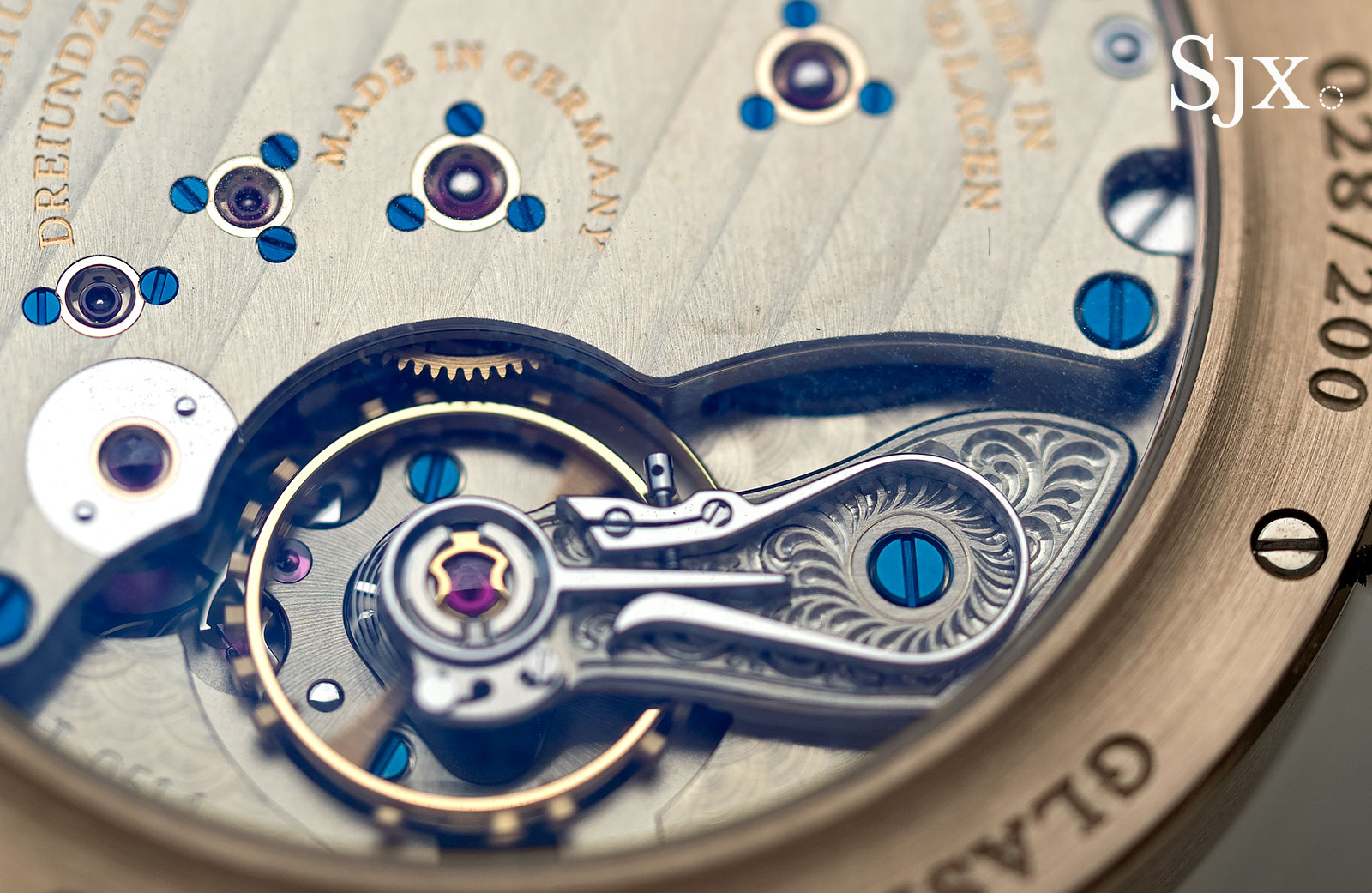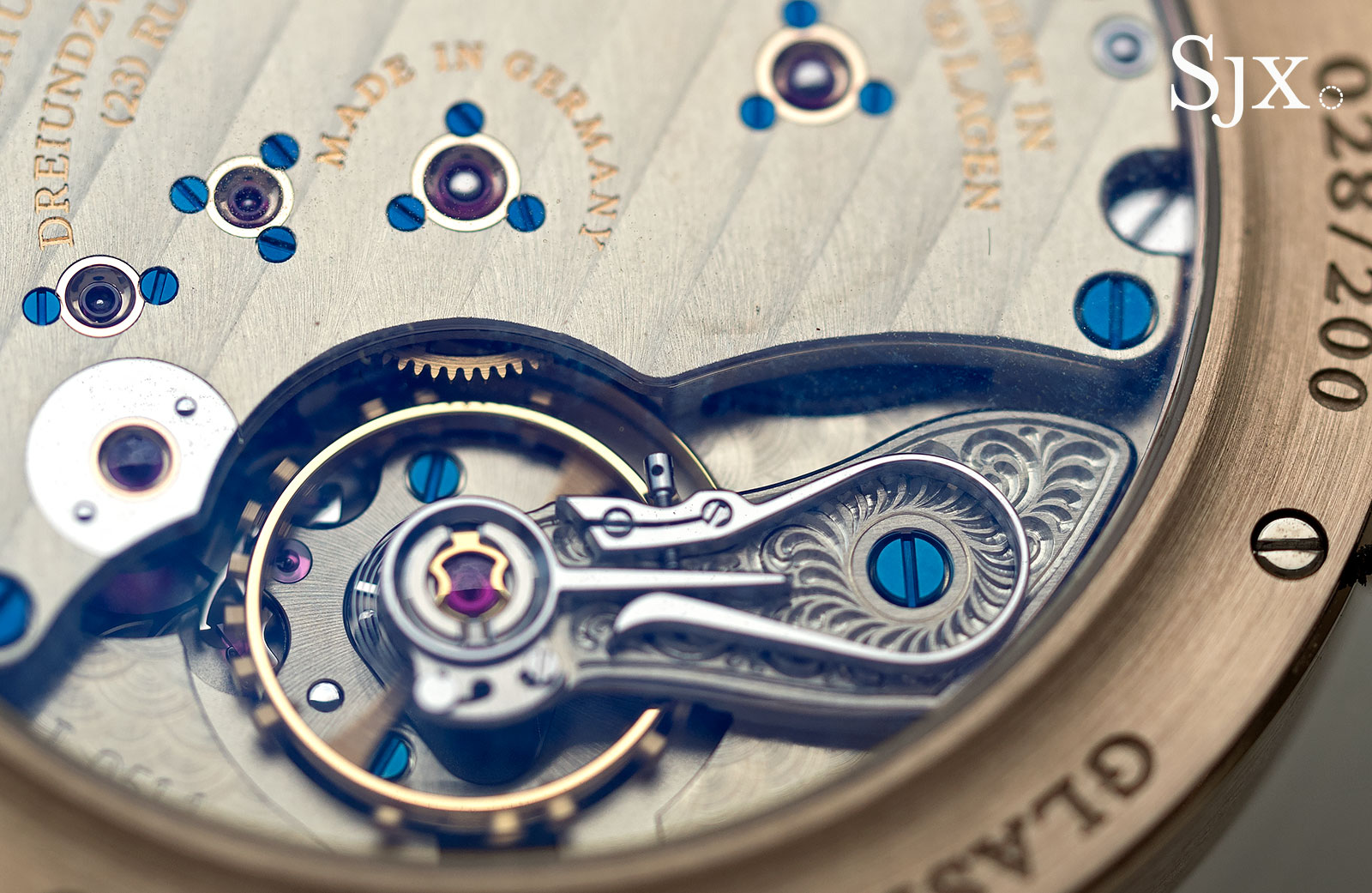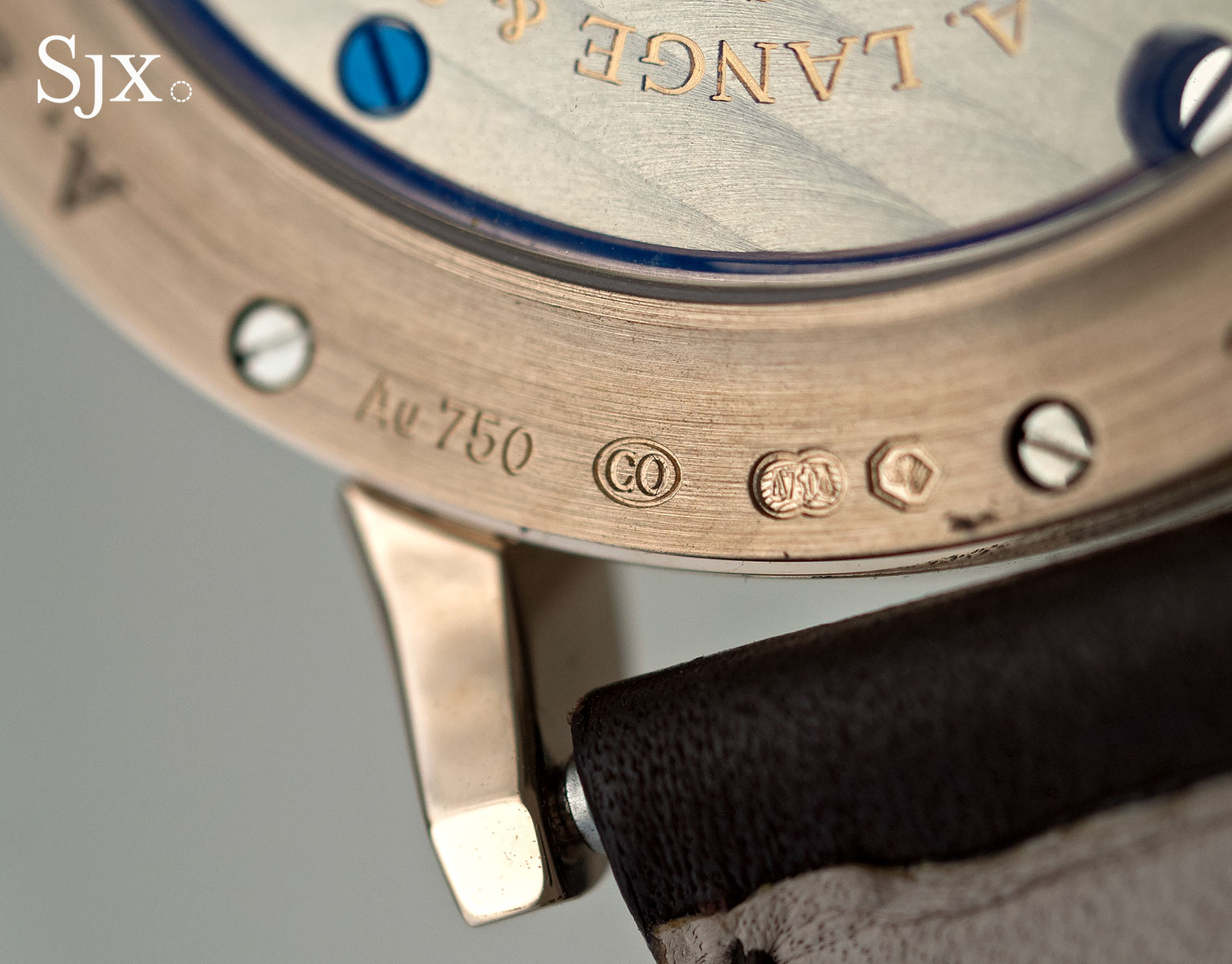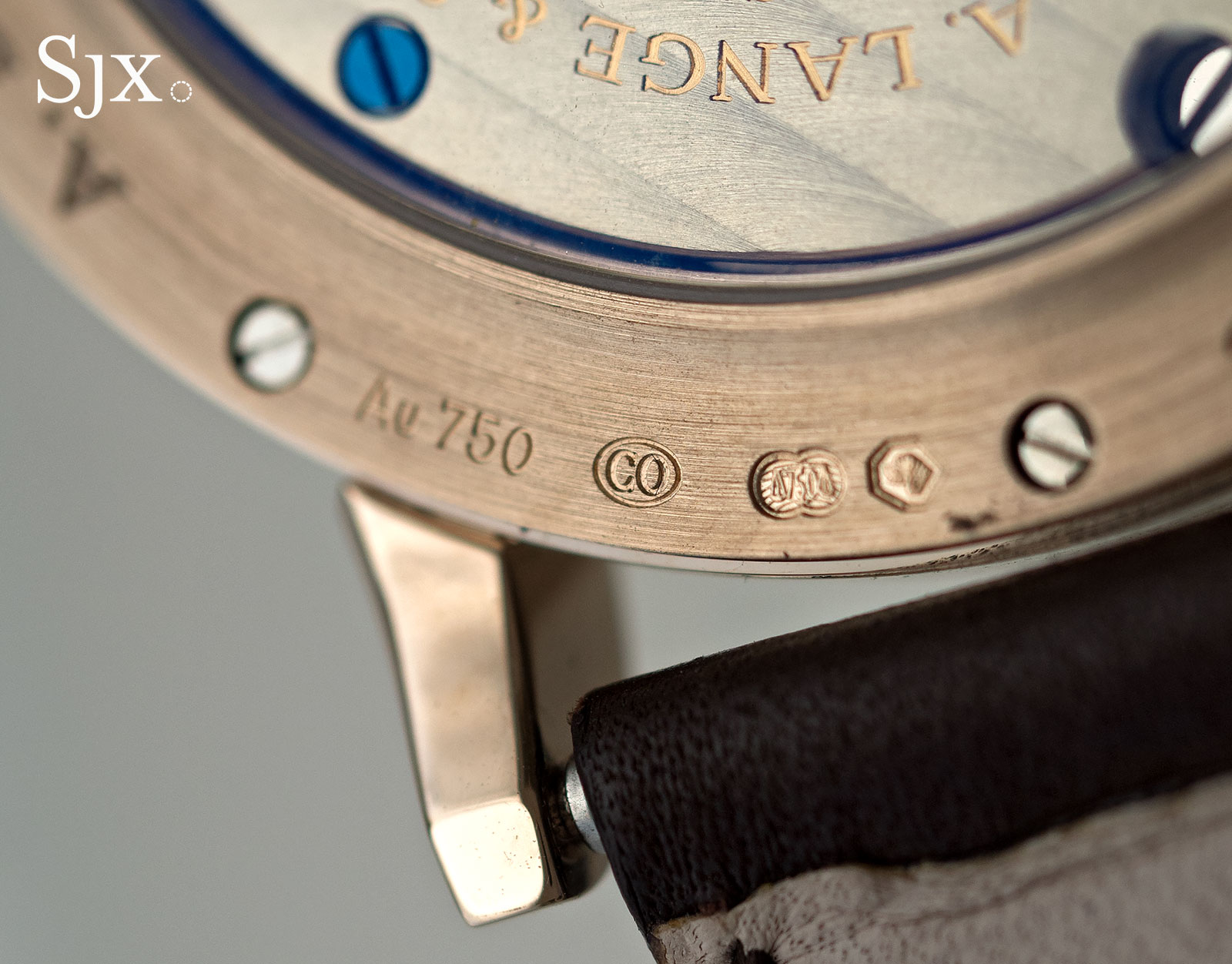 This example is in sterling condition, and complete with all packaging. It is estimated at HK$190,000 to HK$270,000, or US$25,000 to US$36,000. For more on this watch, see our coverage of it during its launch.
---
Lot 2450 – Lange Cabaret in platinum*
The Cabaret is an unusual Lange. Introduced in 1997 and in the catalogue for years, the Cabaret nonetheless has always been under the radar, because it doesn't look like any other Lange.
Though the Cabaret has several signature design elements of the brand, including the oversized date, diamond-shaped hour markers and lance hands, the case is rectangular giving it a different look, one that is vaguely Art Deco.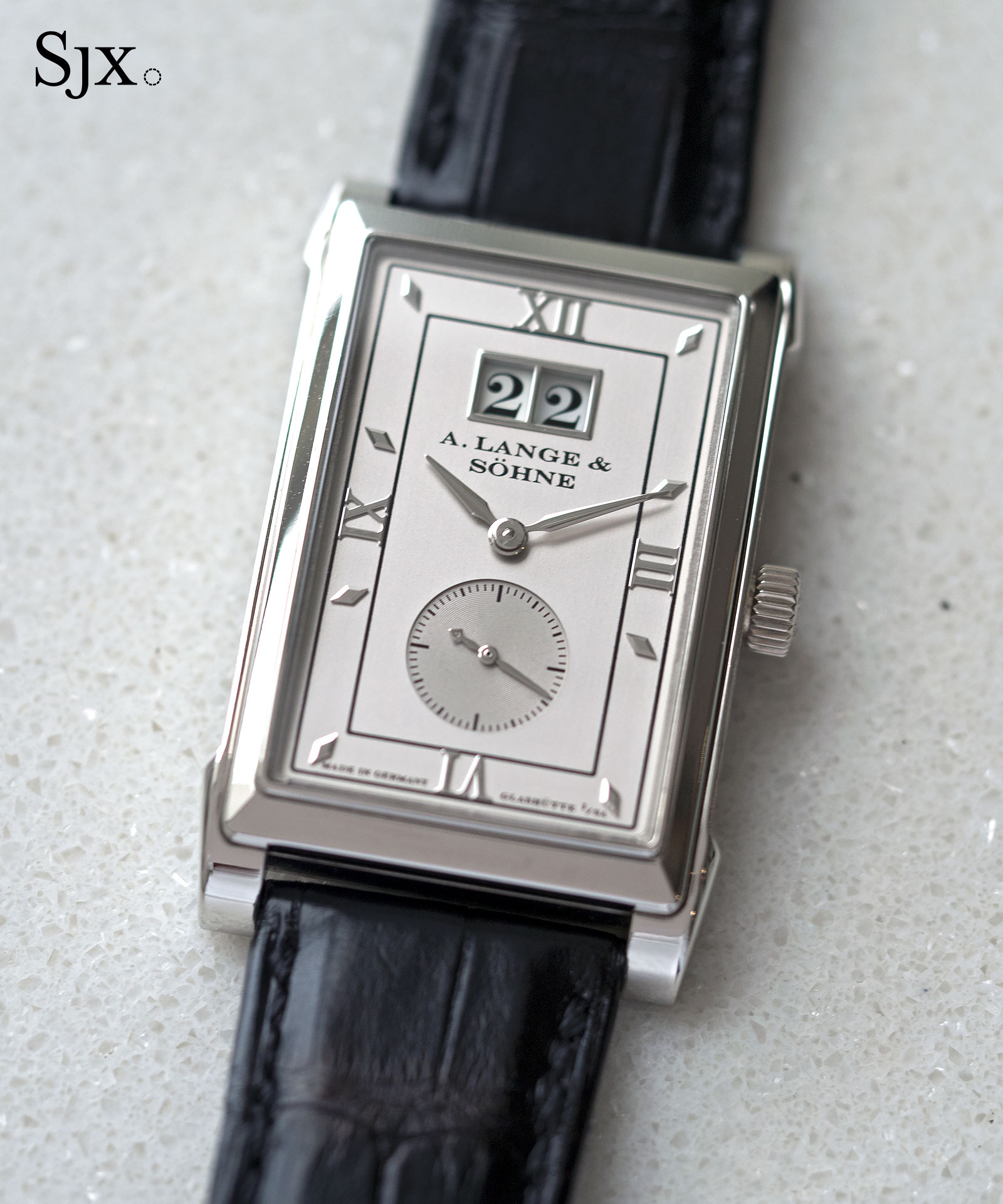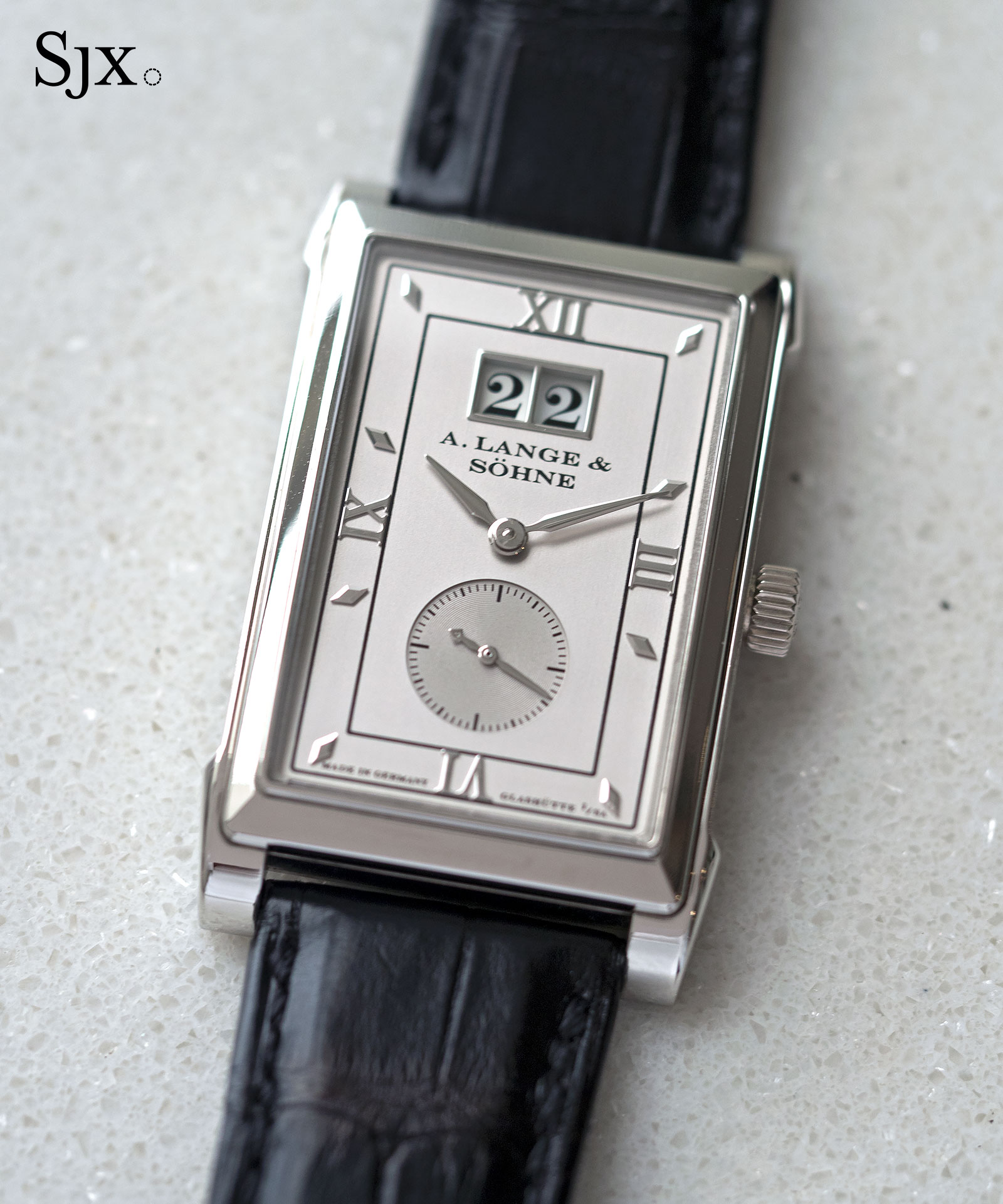 Inside is a form movement, the L931.3, constructed to fit the case shape exactly. Though the shape is novel, the L931.3 has all the hallmarks of a Lange movement – a German silver three-quarter plate, jewels in chatons, blued steel screws, and an engraved balance cock.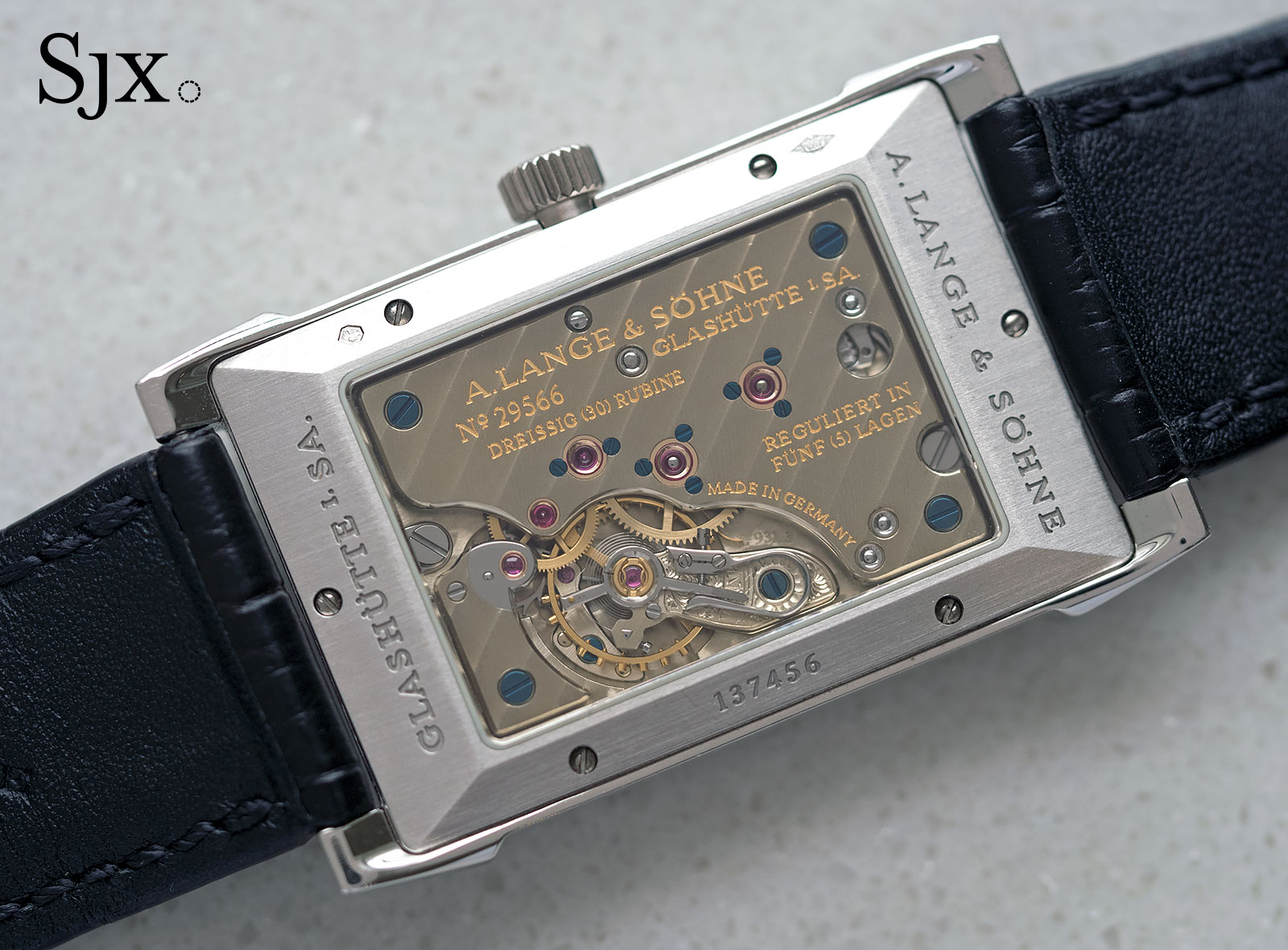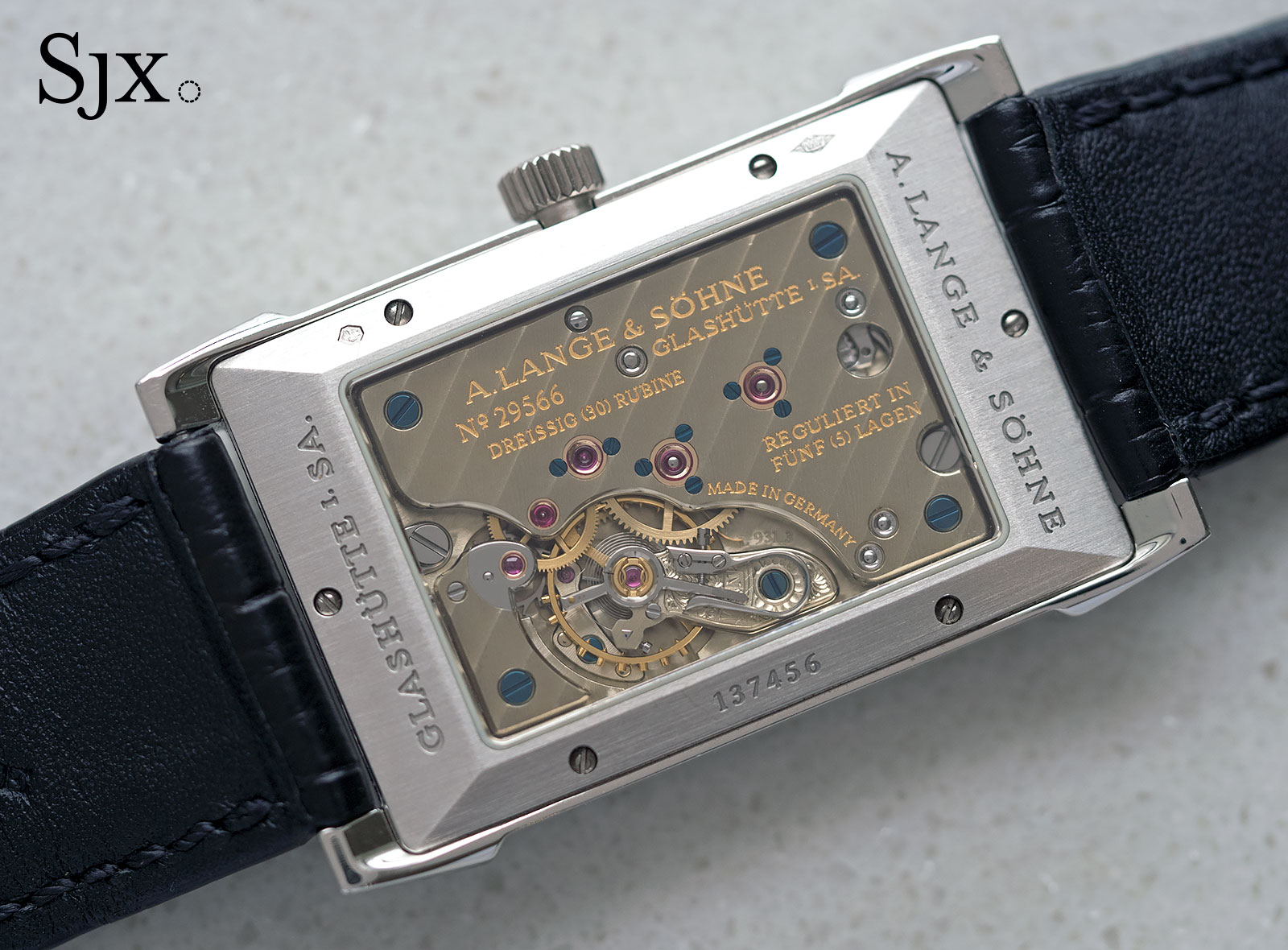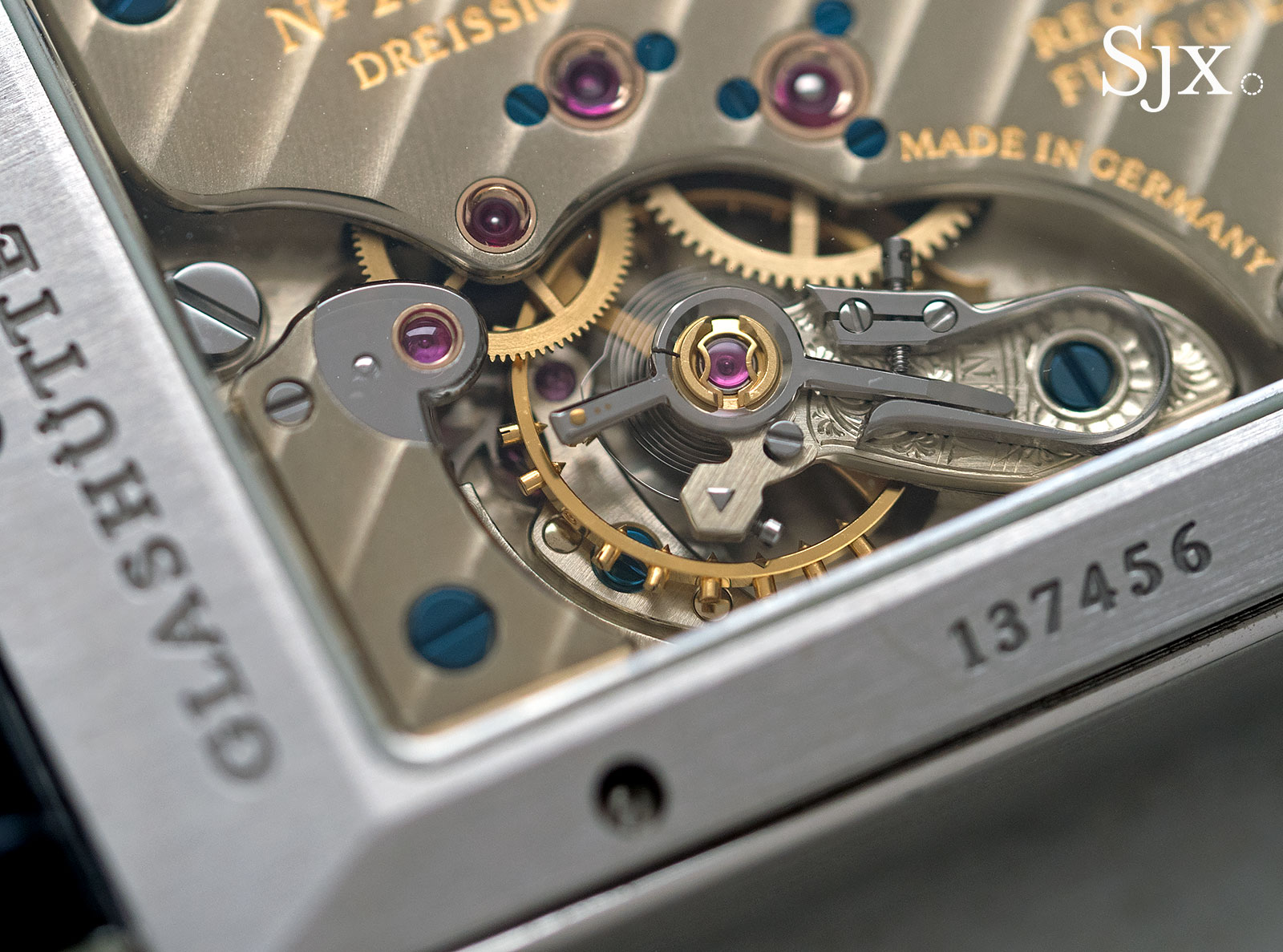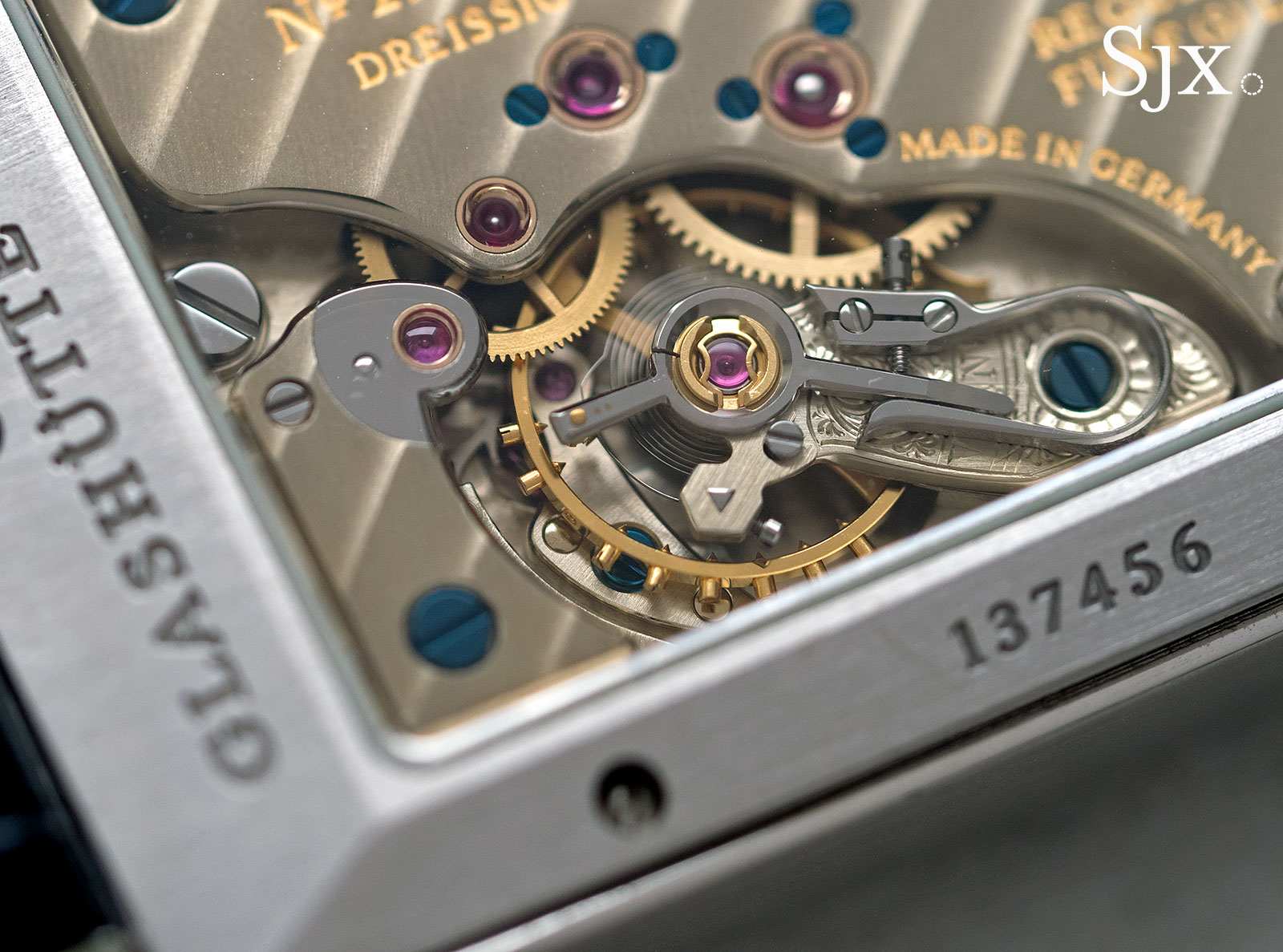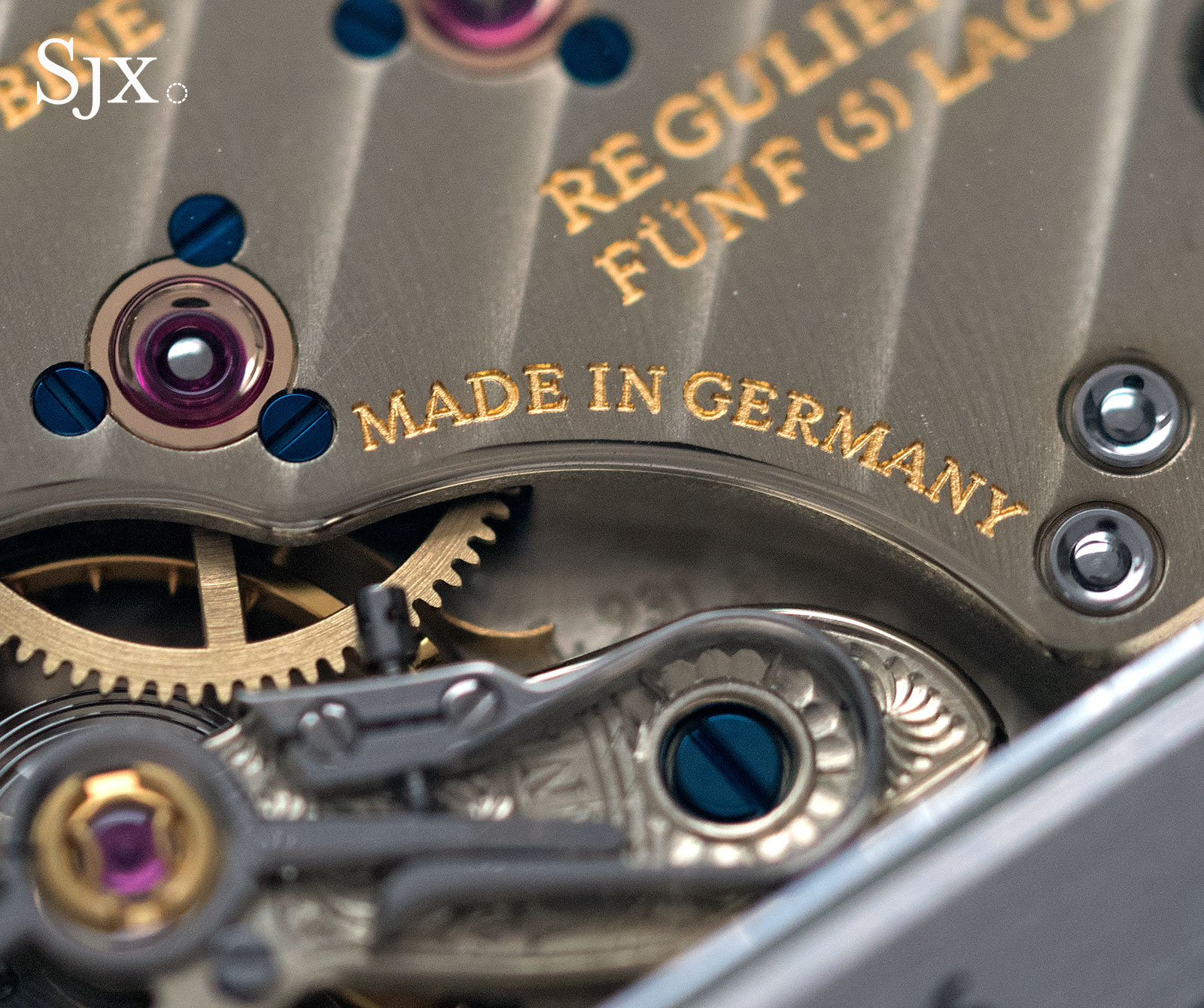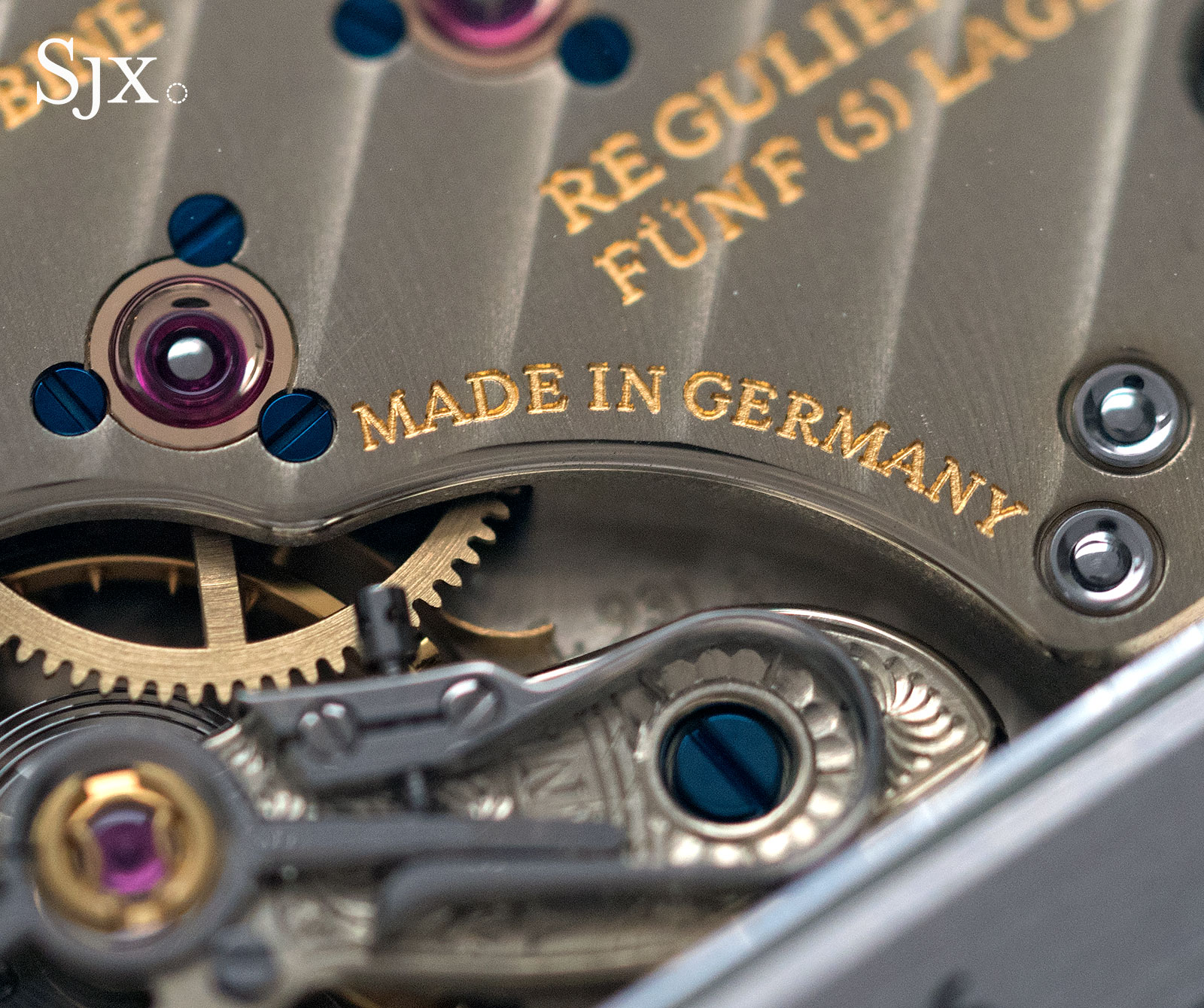 Being atypical for Lange the Cabaret was not a major seller, and was discontinued several years ago, making it relatively uncommon compared to hits like the Lange 1.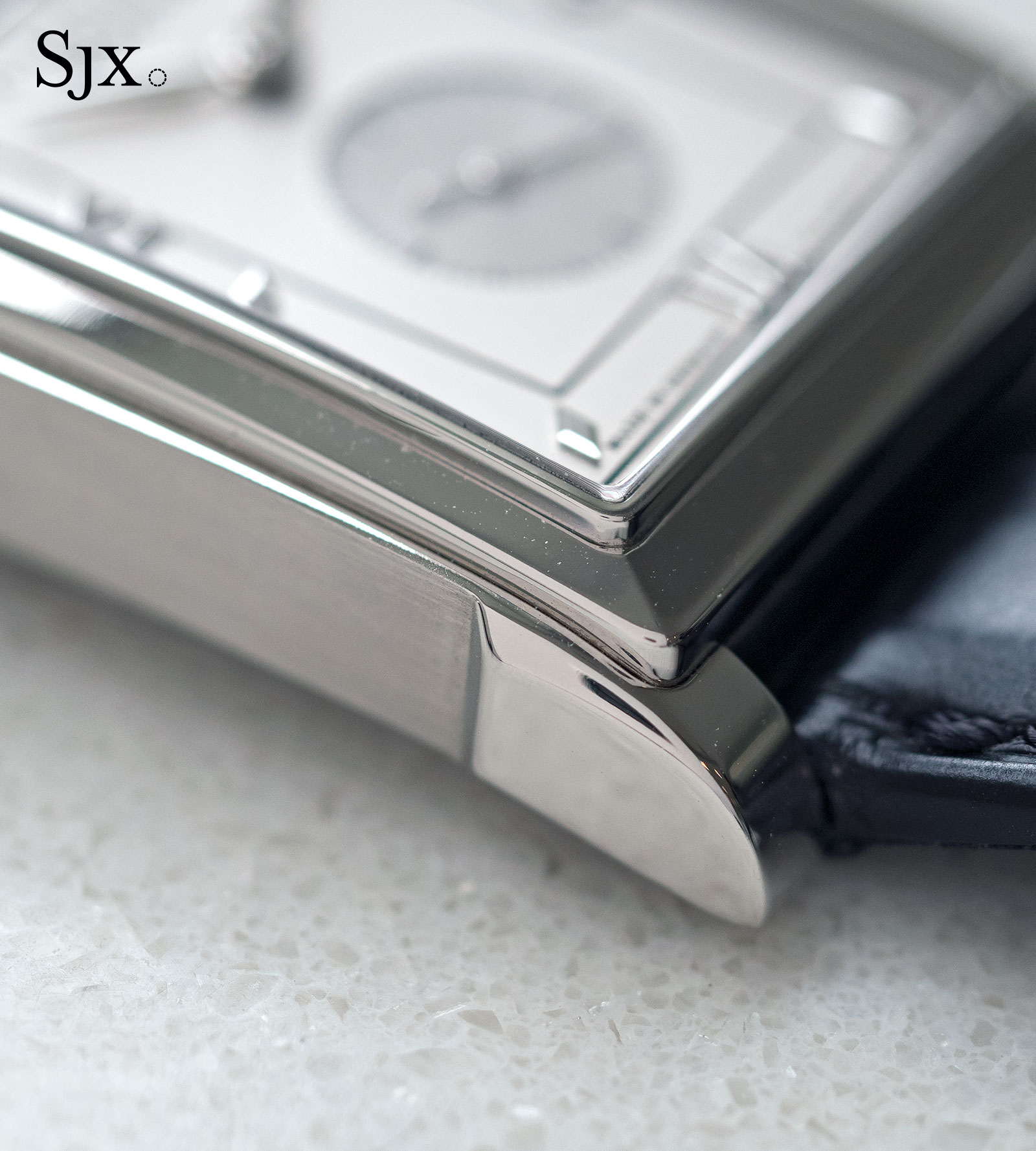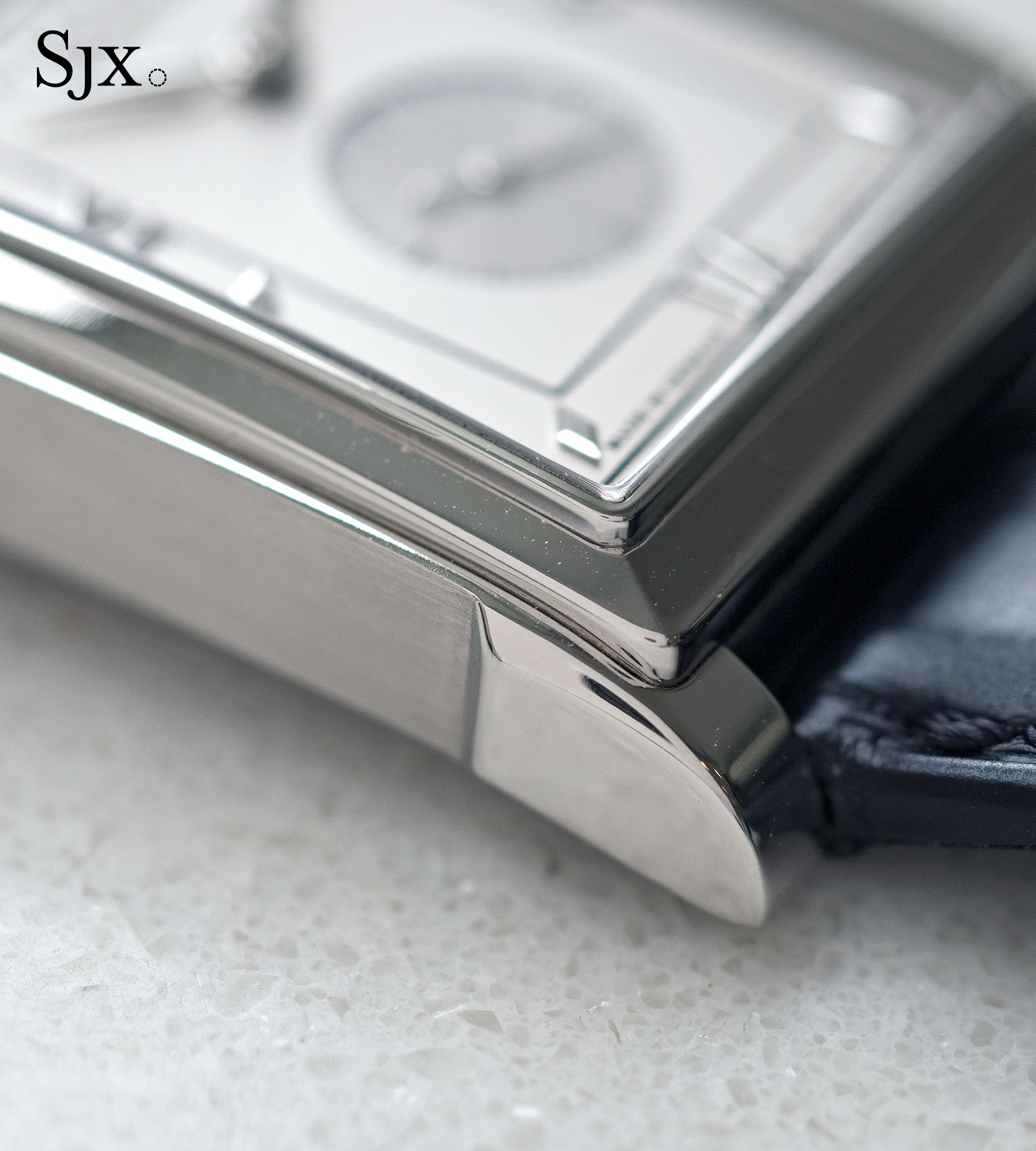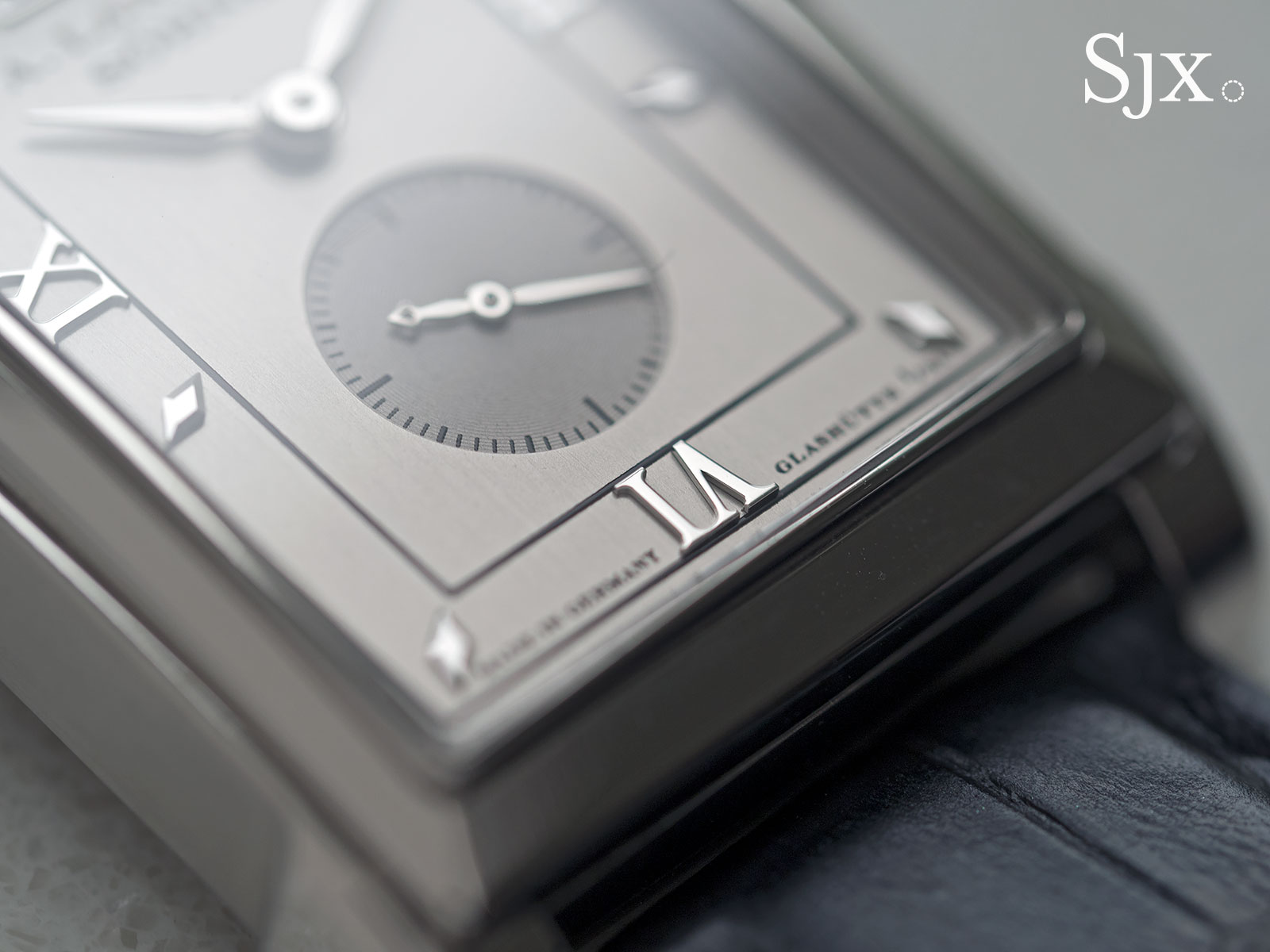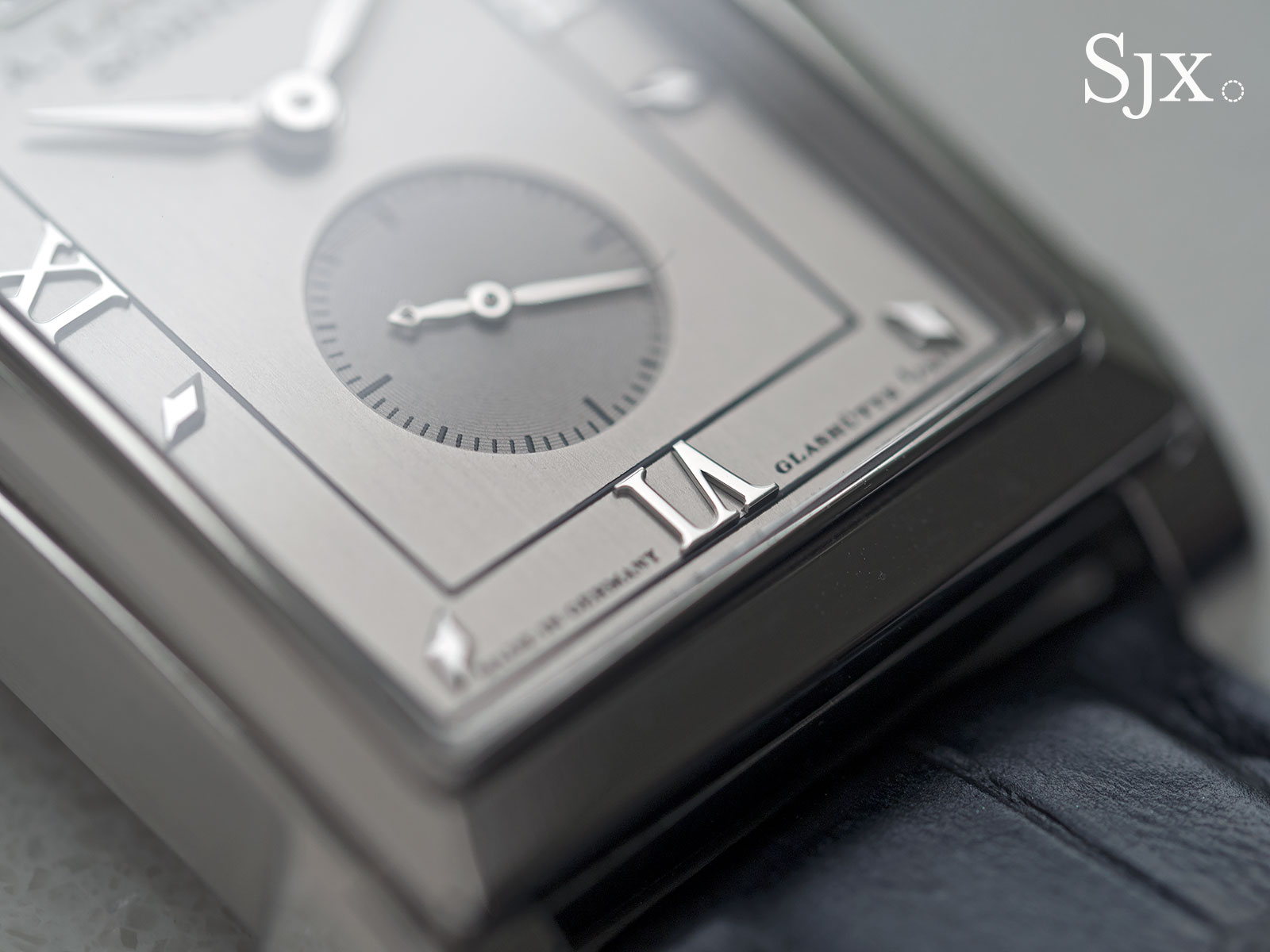 This example is in platinum and in fine condition, with all accessories and packaging.
The Cabaret is generally strong value, with the platinum versions being the most affordable platinum Lange wristwatches with a big date. This carries an estimate of HK$120,000 to HK$180,000, or US$16,000 to US$23,000.
---
Lot 2452 – Lange Richard Lange Pour le Merite
This is one of 200 original Richard Lange Pour le Merite watches in rose gold, which were launched in 2009 along with 50 pieces in platinum (Lange recently reintroduced it as a 218-piece edition in white gold).
The two original editions were all equipped with a fired enamel dial, one of the handful of Lange watches with such dials. Made of three components, the dial has a classical yet functional appearance, harking back to chronometer pocket watches.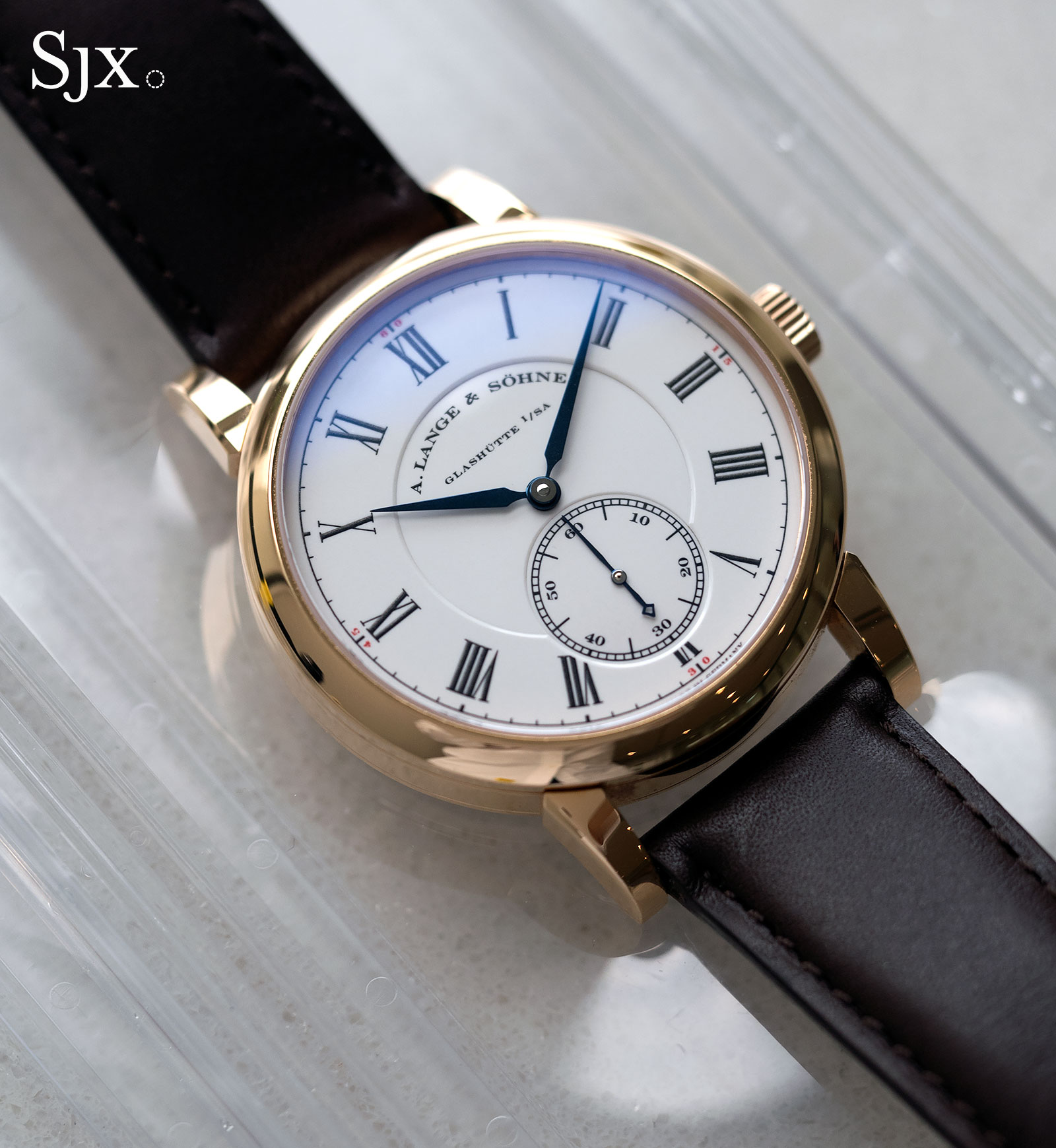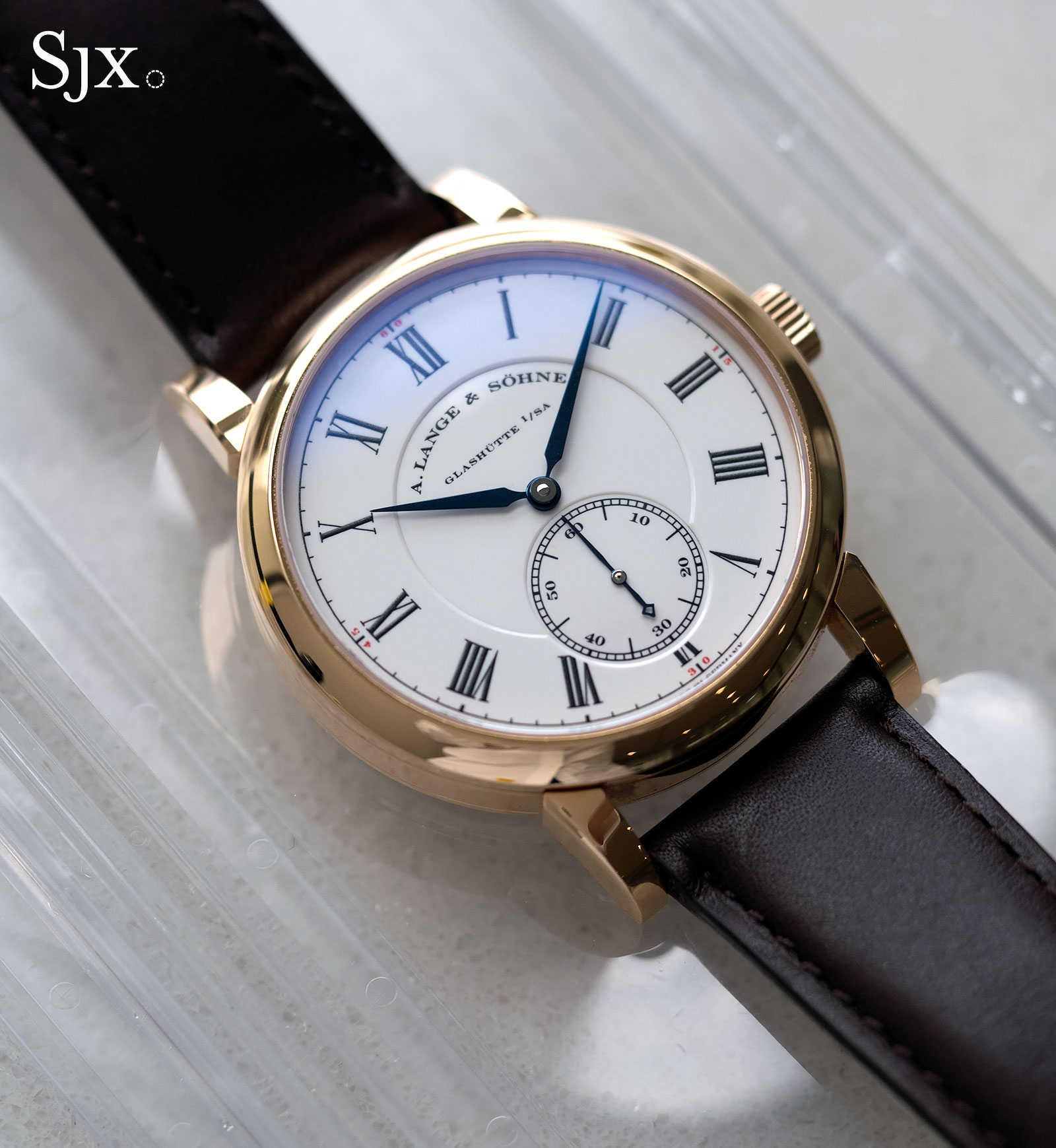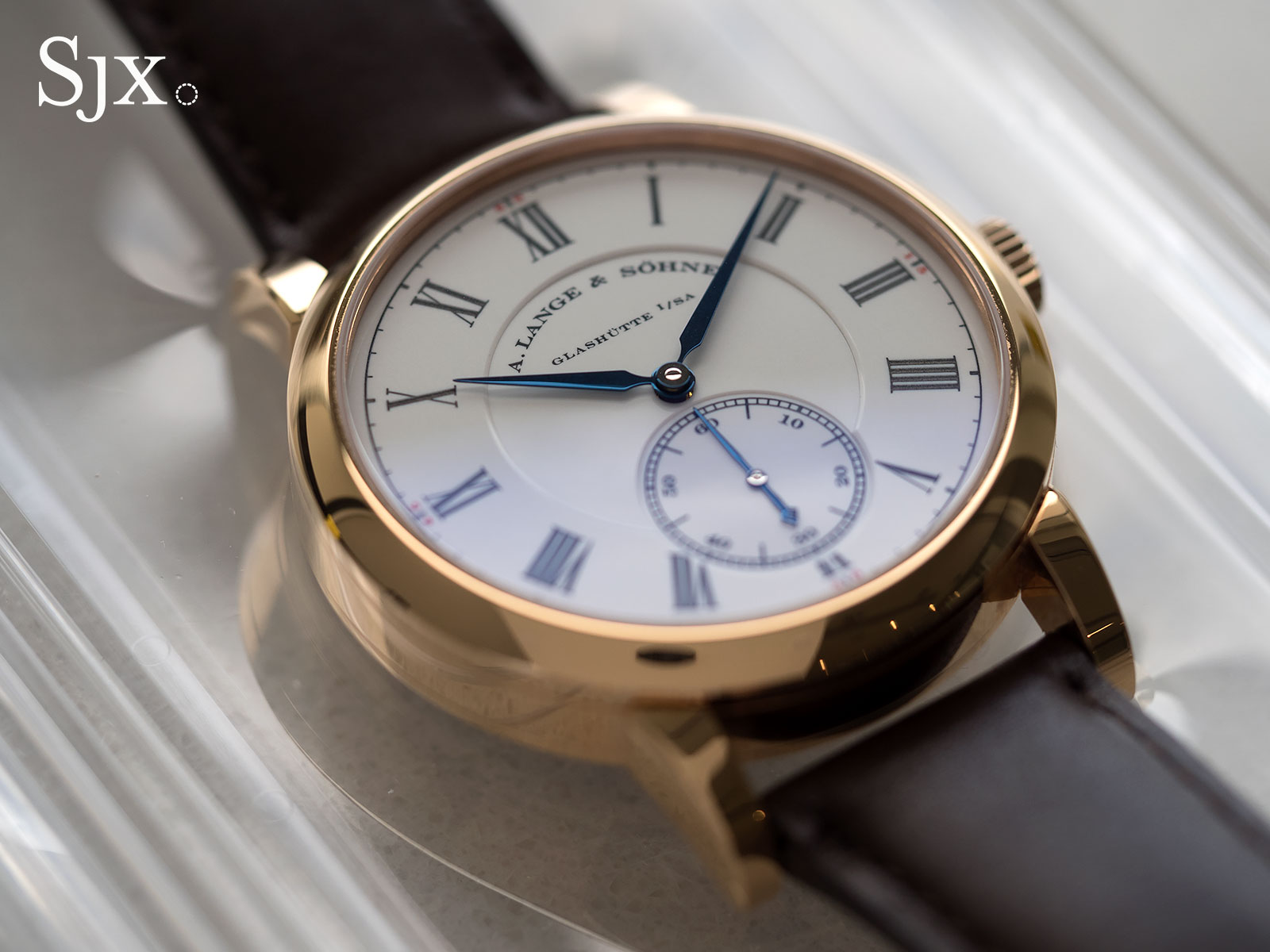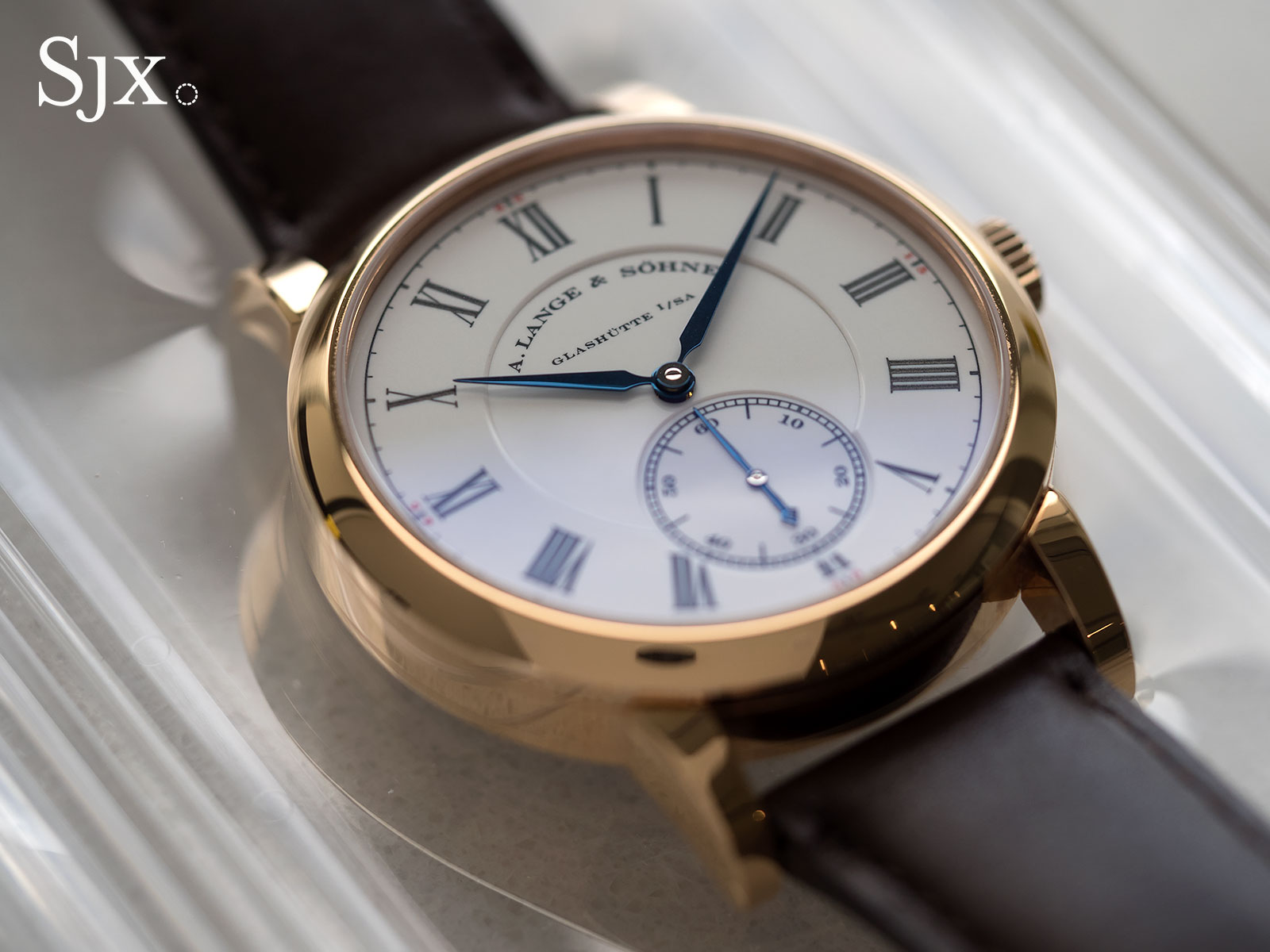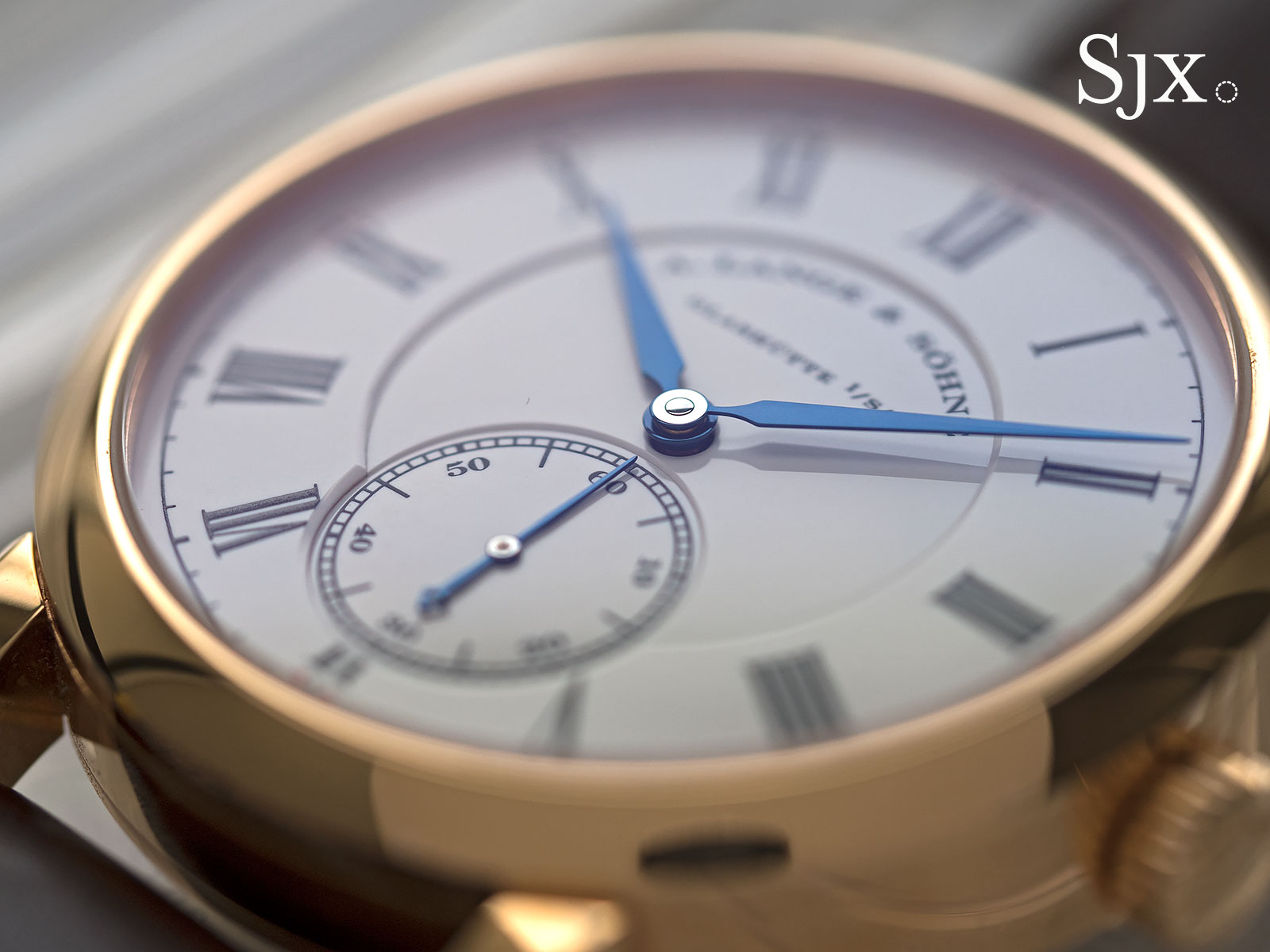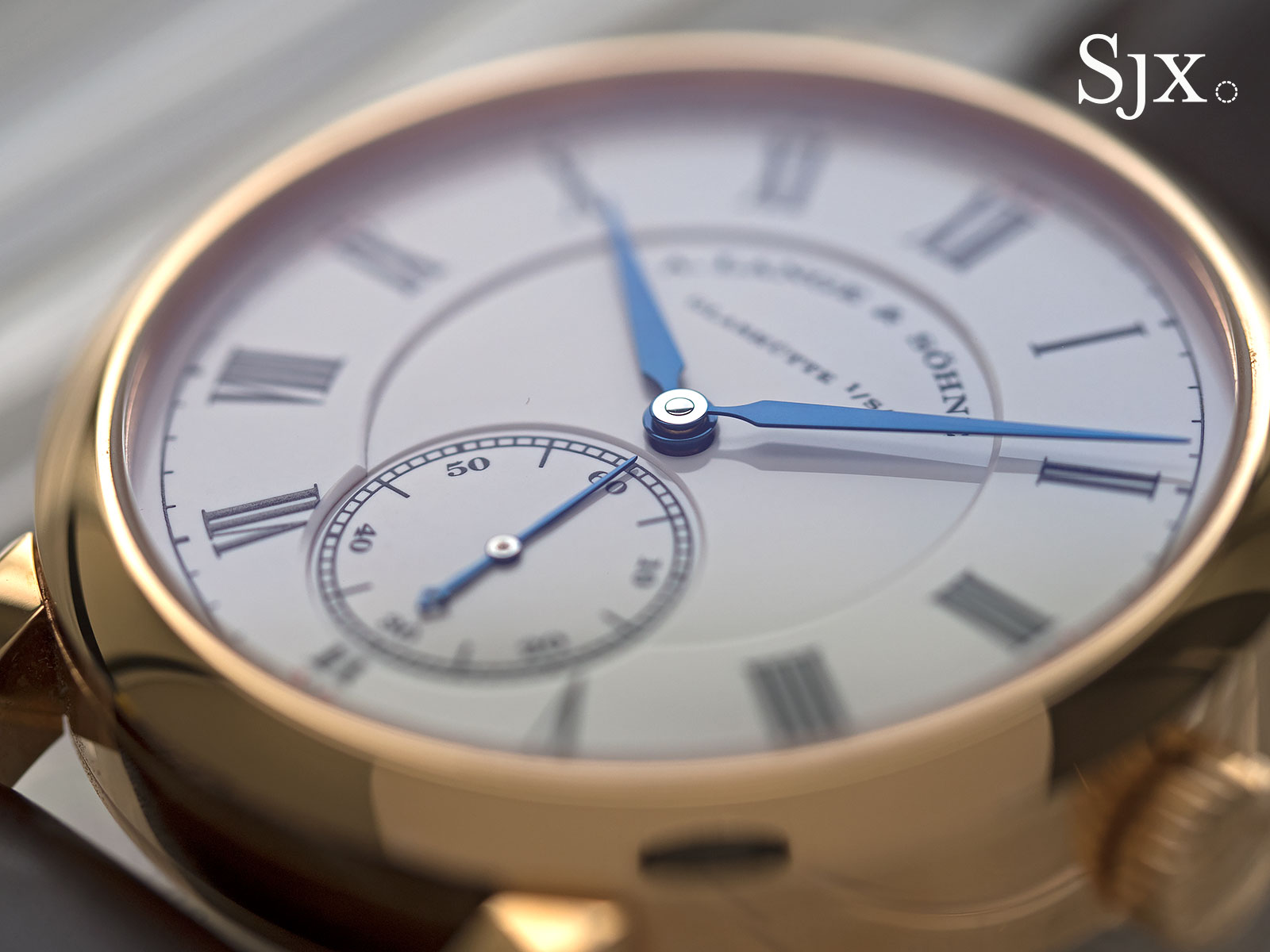 But the highlight really is on the back, where the L044.1 movement is revealed in all its glory. The only Lange calibre with a chain and fusee and nothing else, the is a delight to behold.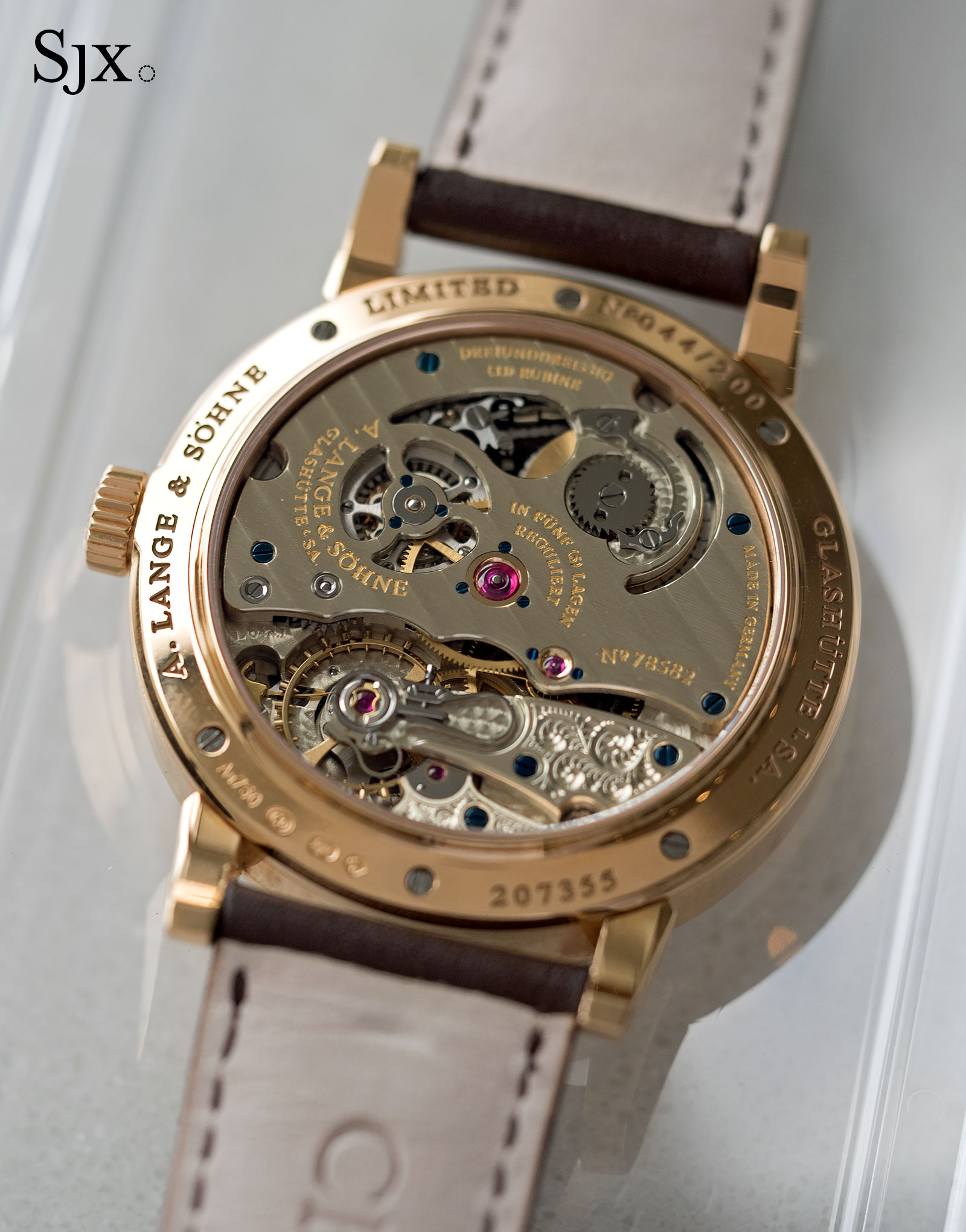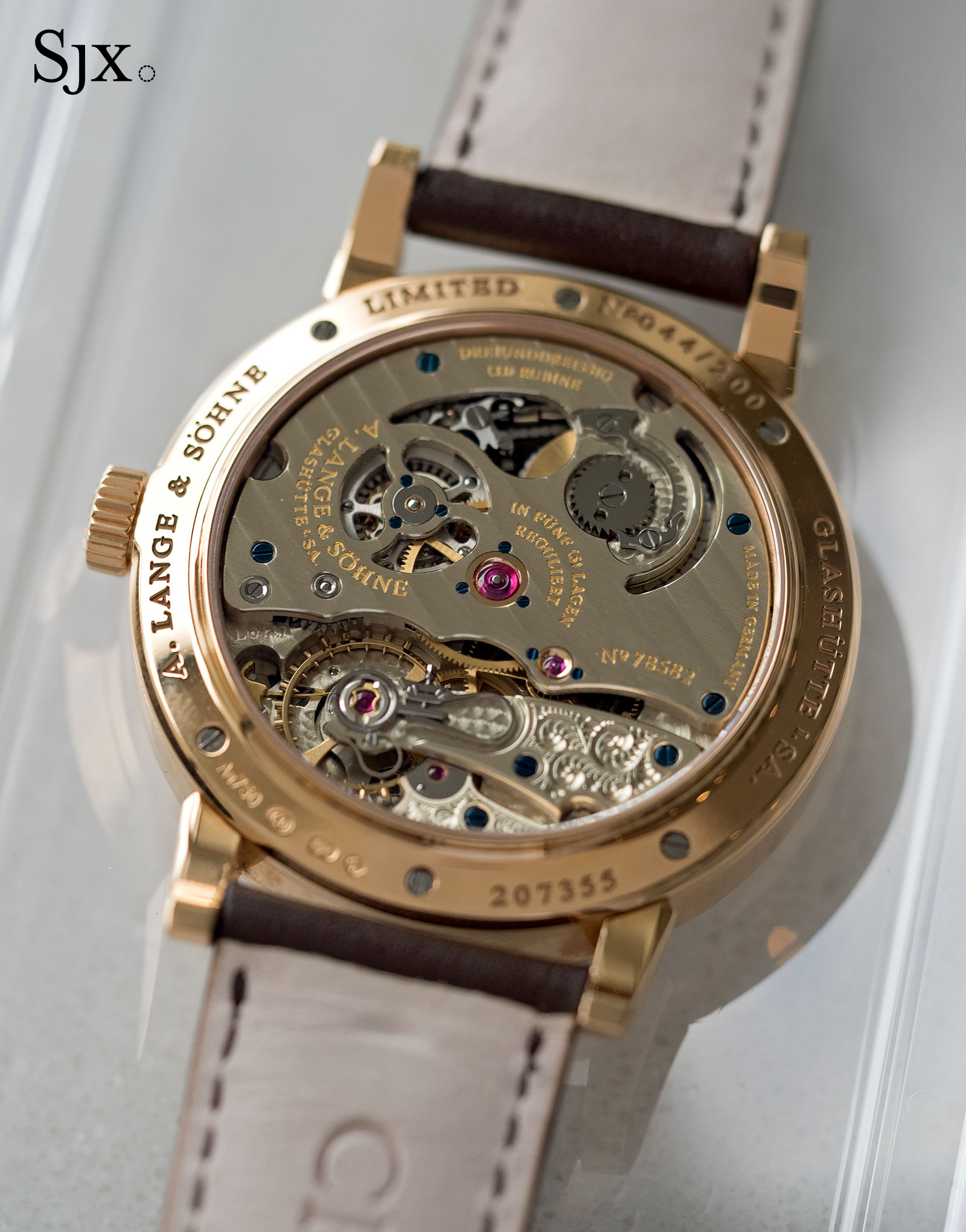 The tiny chain is visible through a aperture in the three-quarter plate, while the balance wheel sits on an elongated cock that is hand-engraved, as is the escape wheel cock.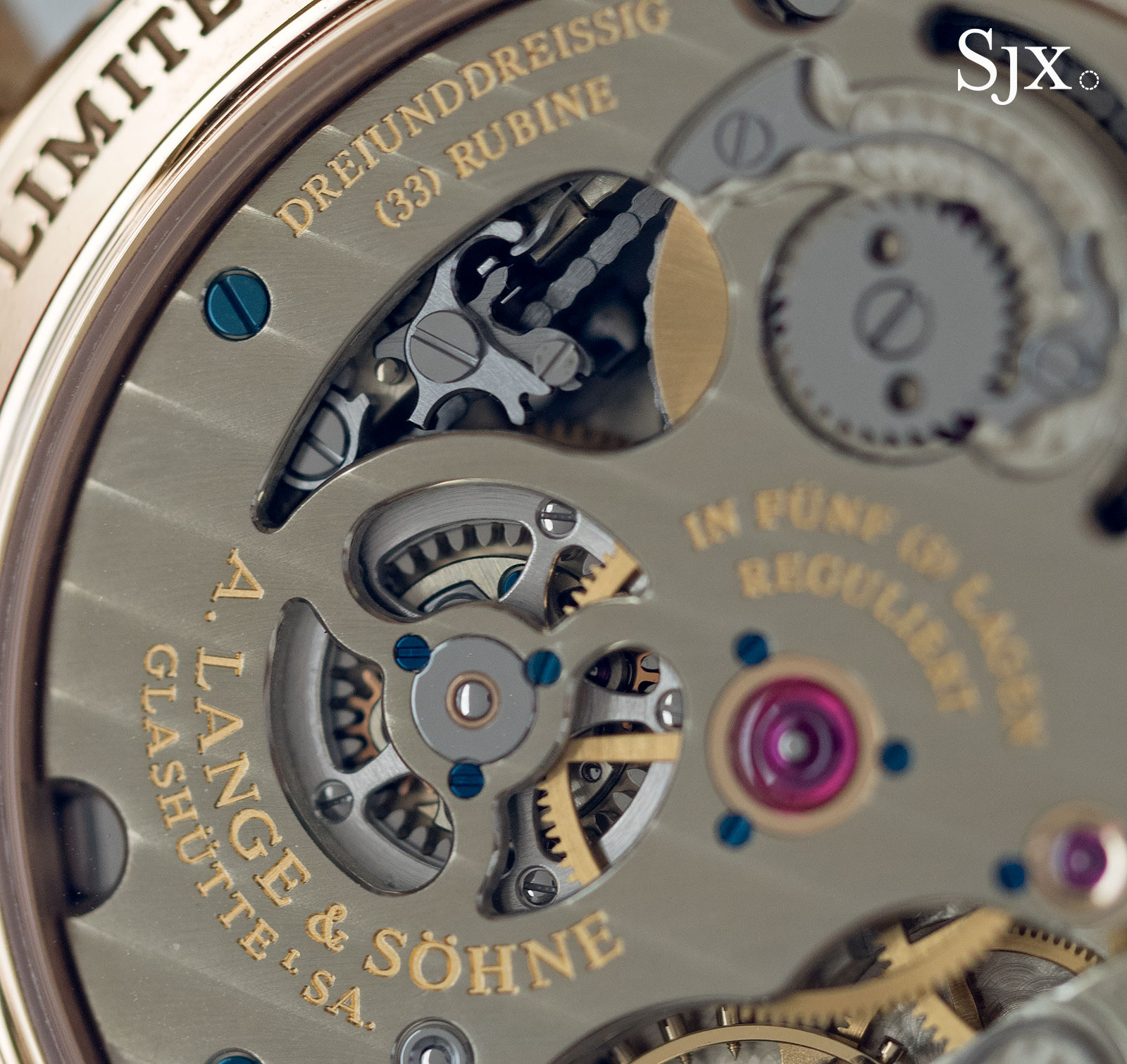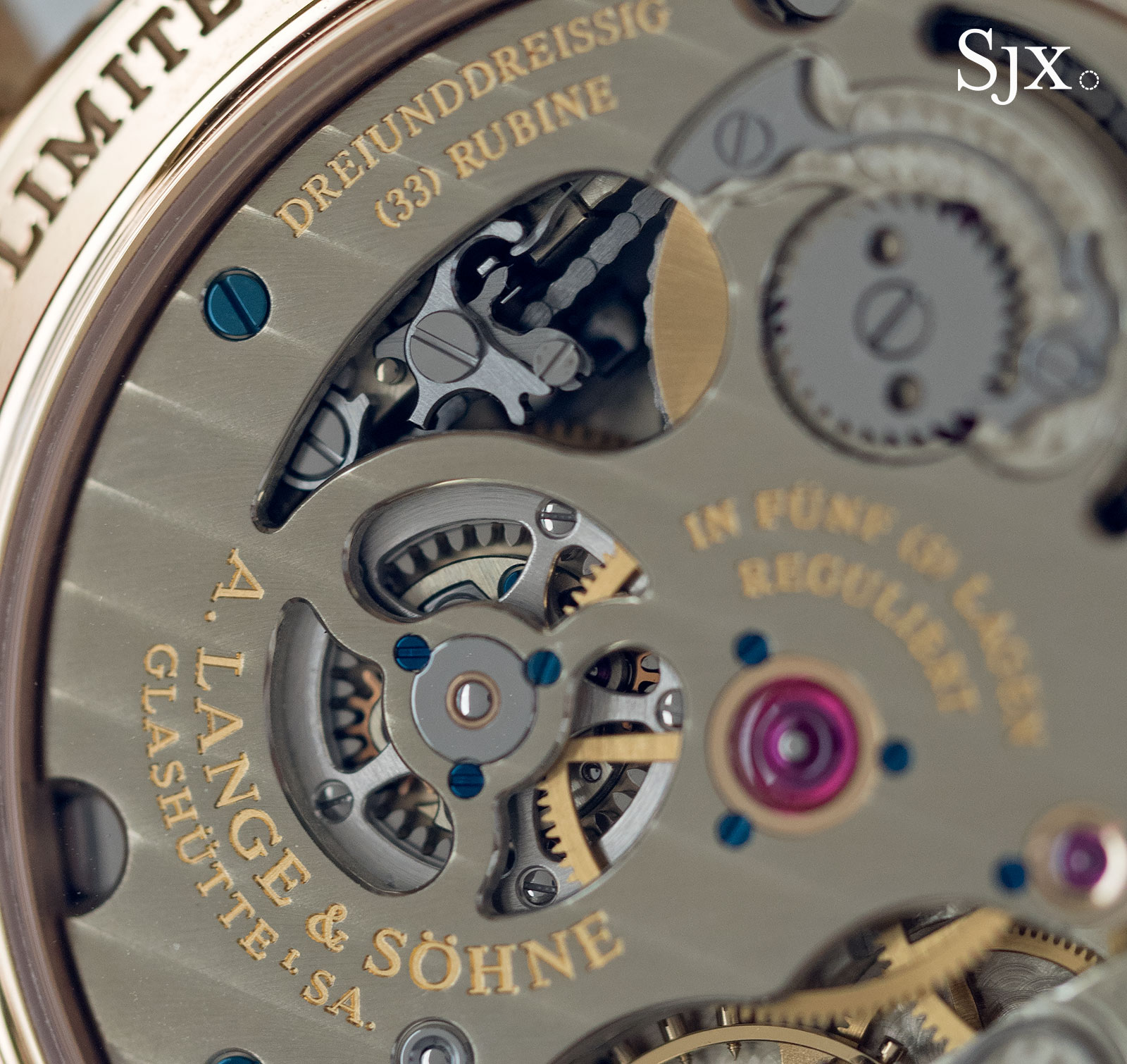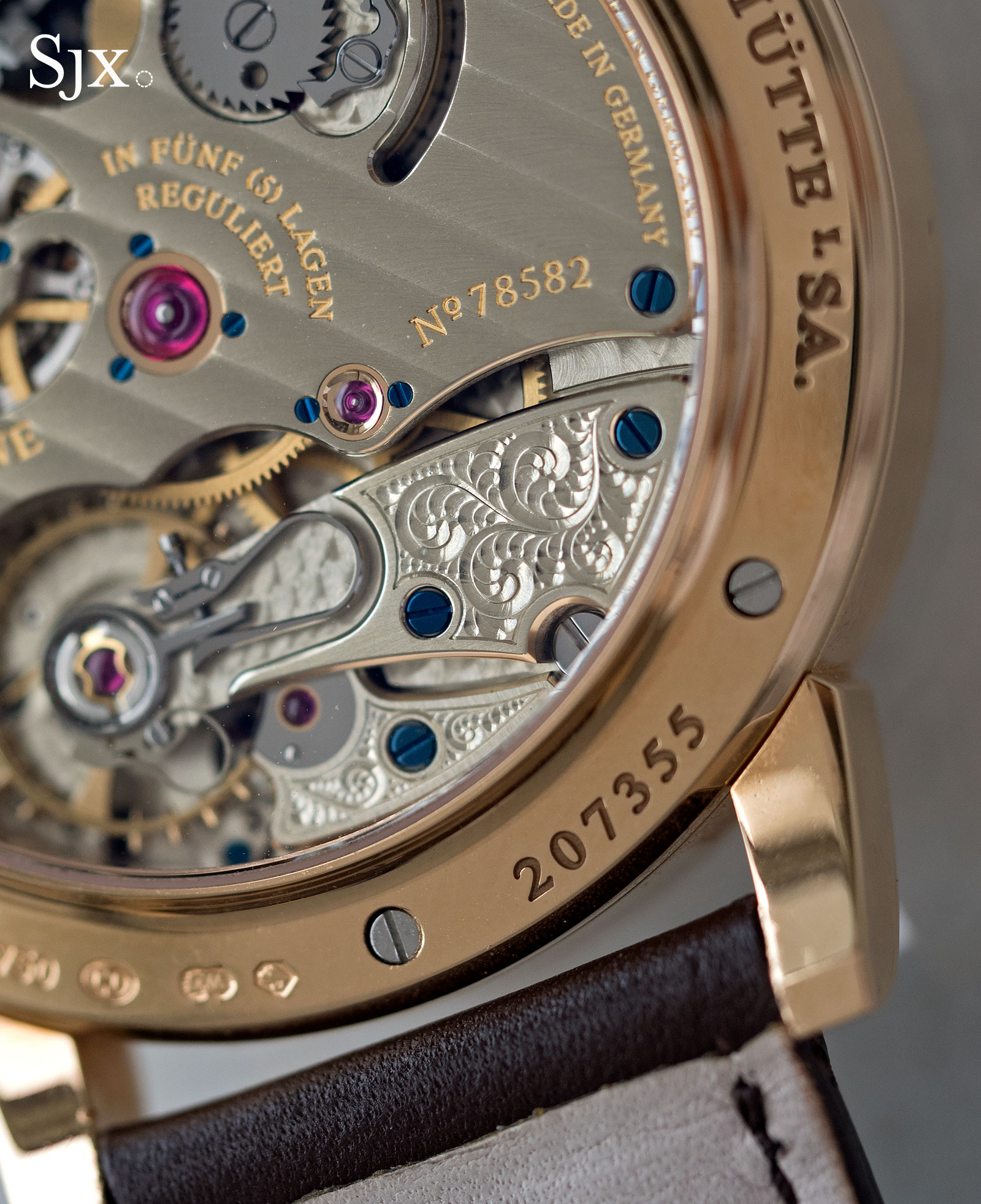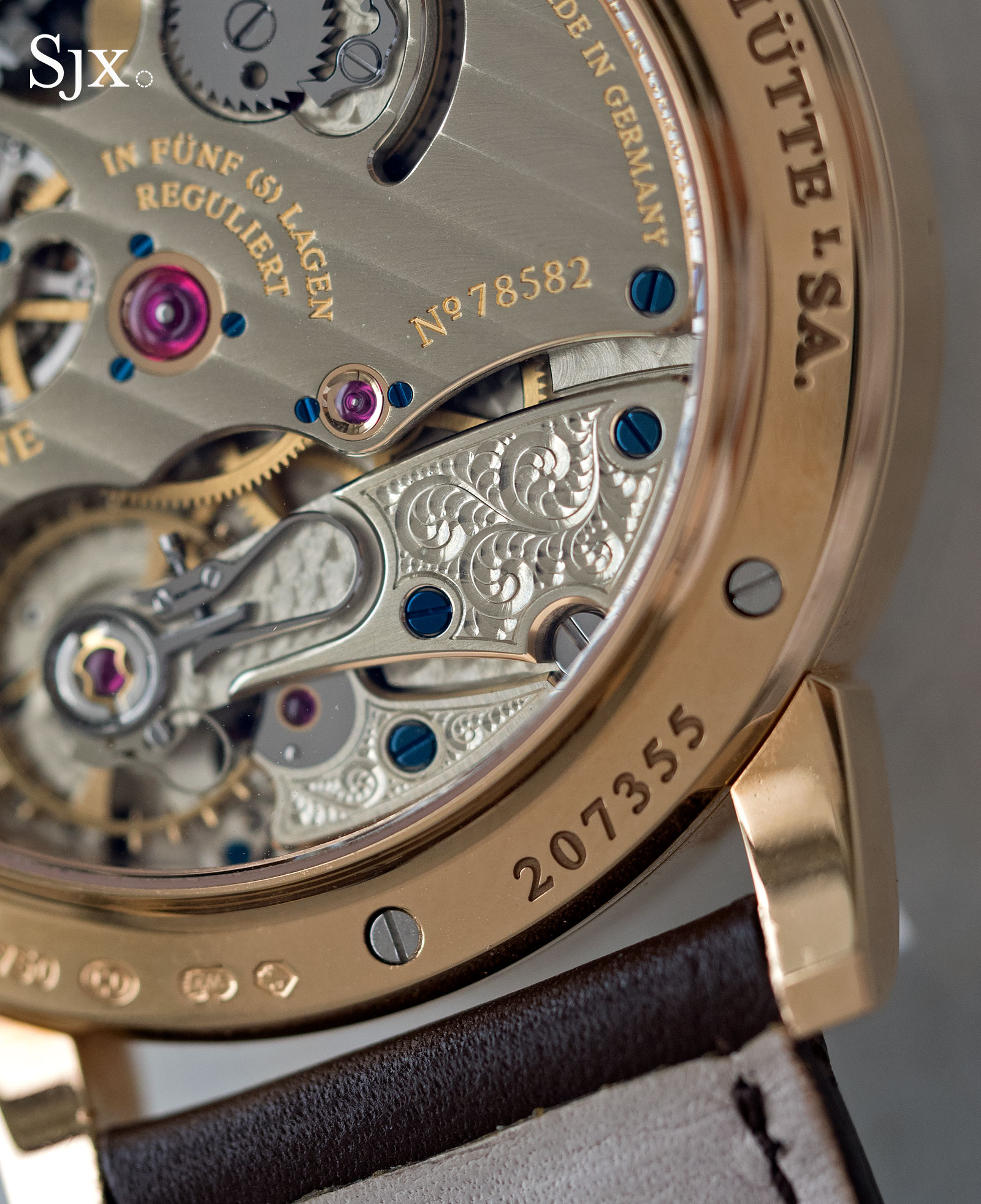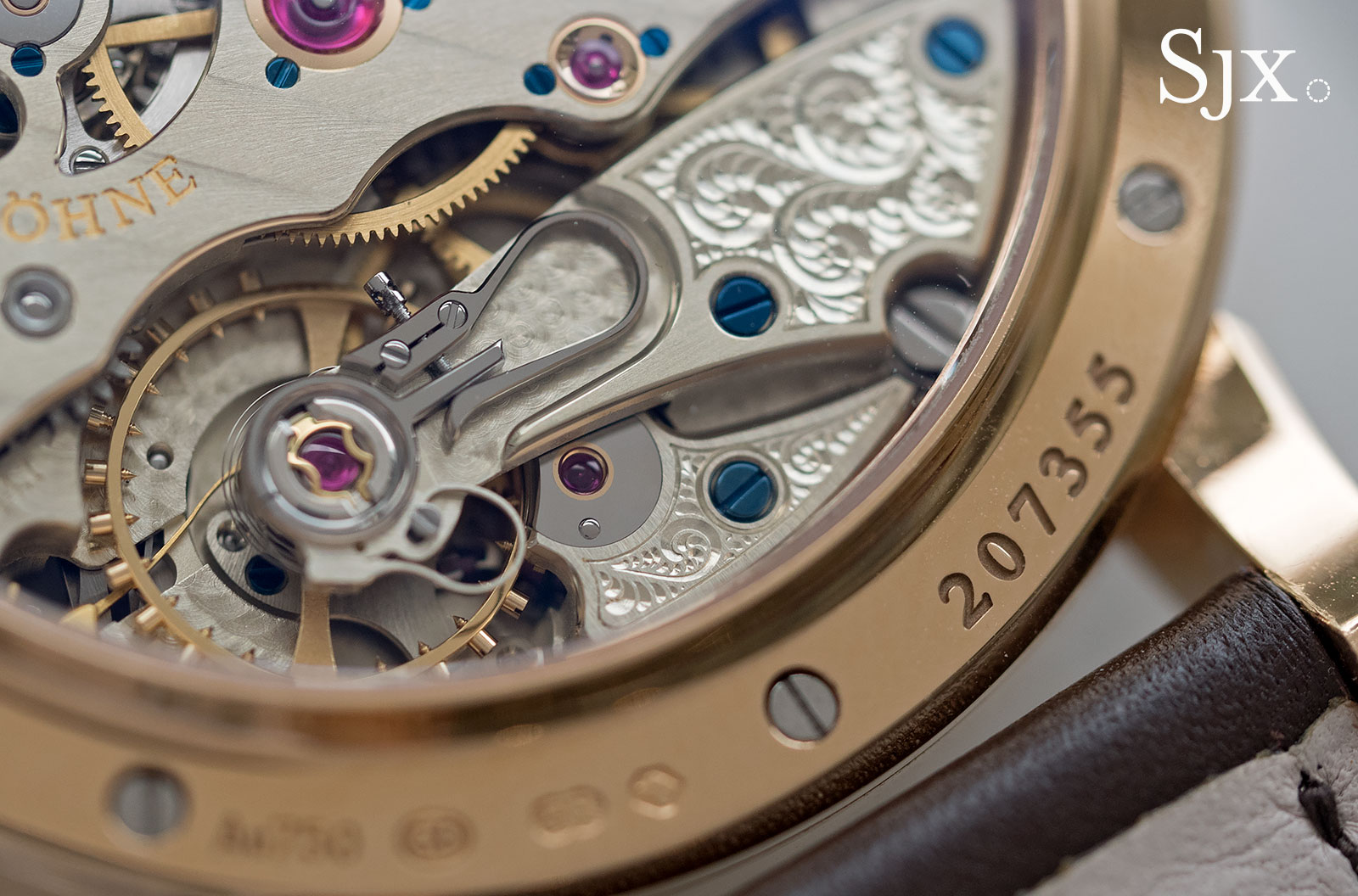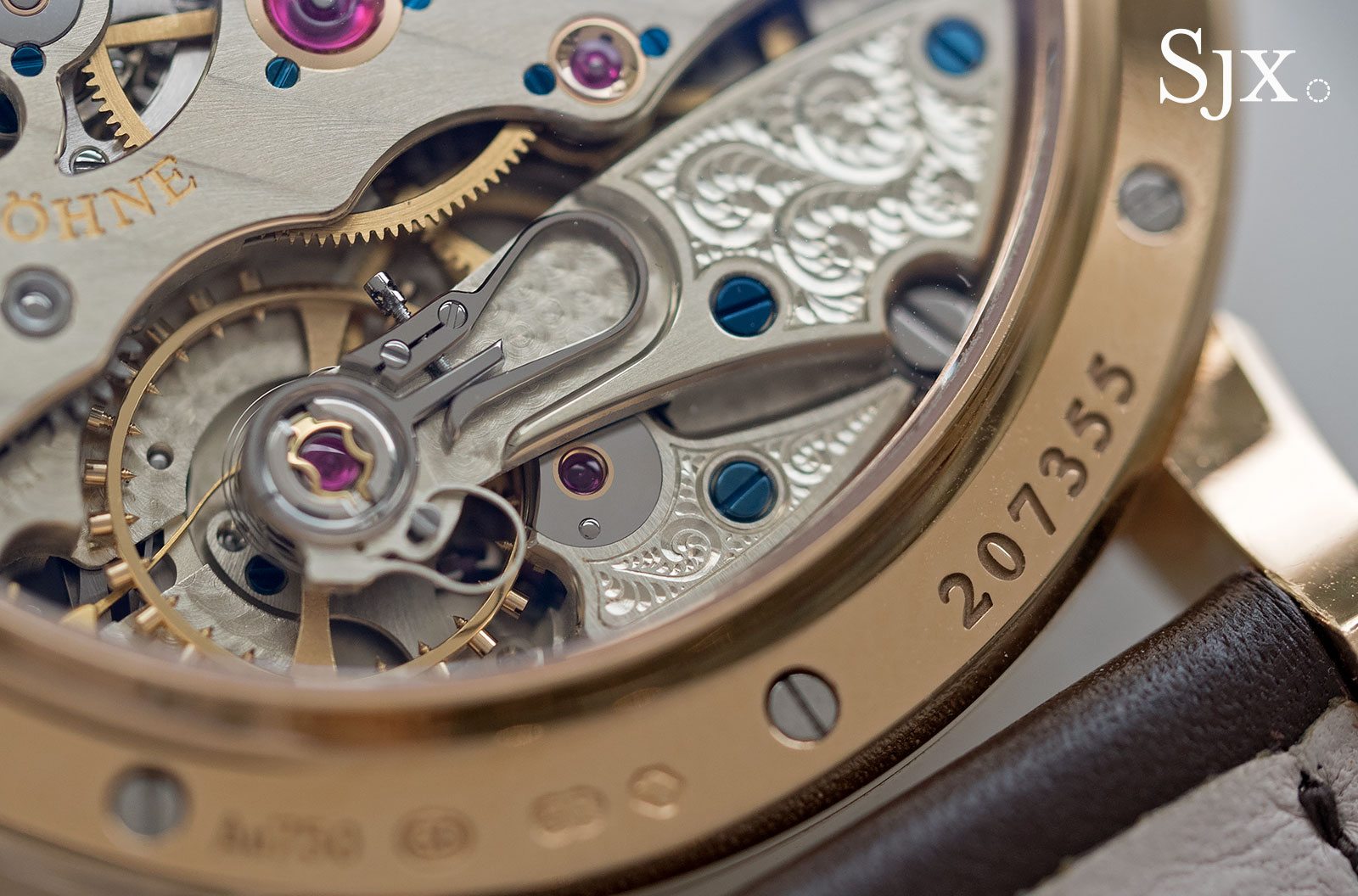 The Richard Lange Pour le Merite is estimated at HK$550,000 to HK$900,000, or US$74,000 to US$120,000.
---
Lot 2454 – Lange Tourbograph Pour le Merite
One of the most complicated Lange watches ever made, the Tourbograph Pour le Merite is a triple treat: split-seconds chronograph, tourbillon as well as chain and fusee. All of that is packed into an impressively large, 41mm platinum case.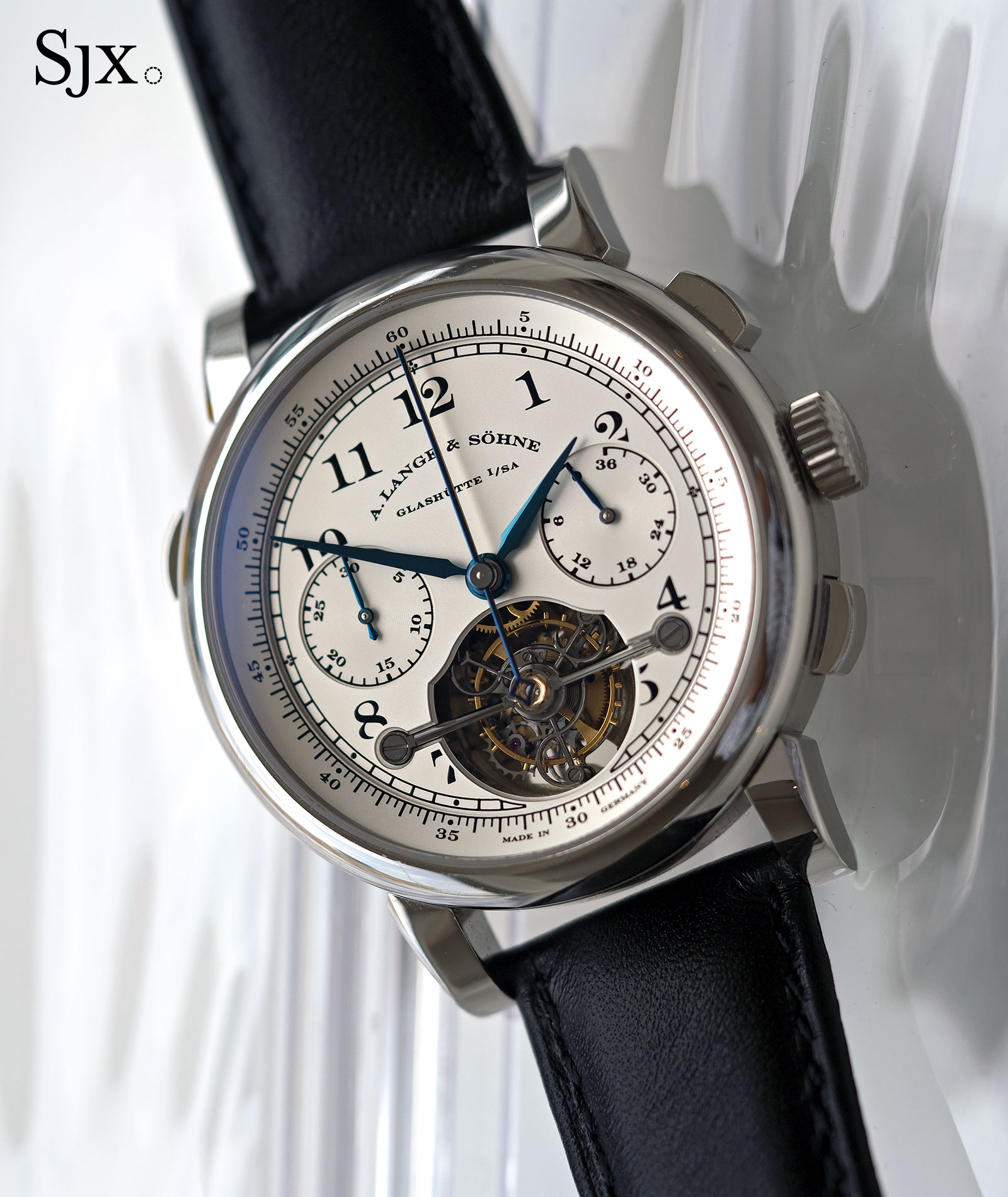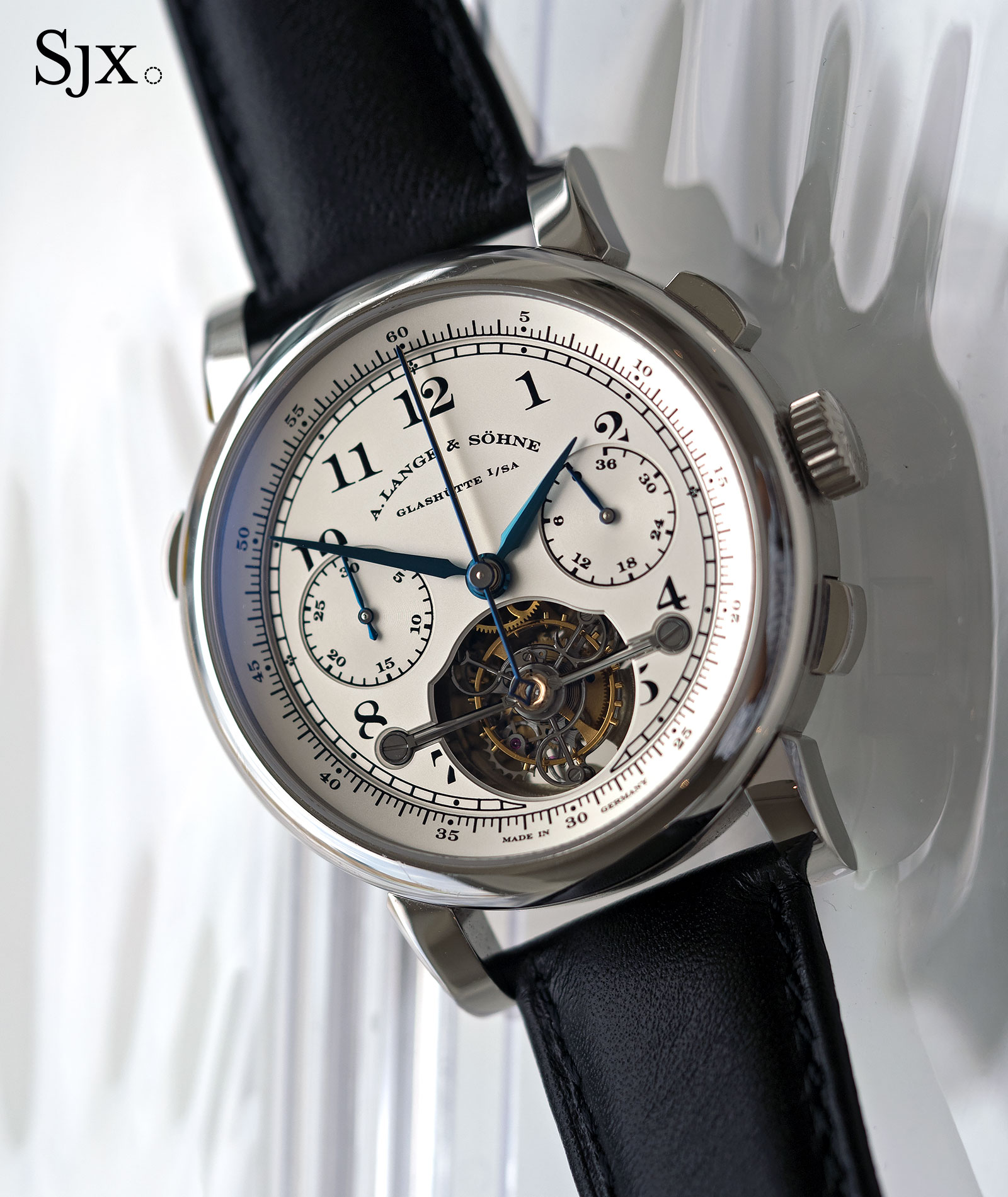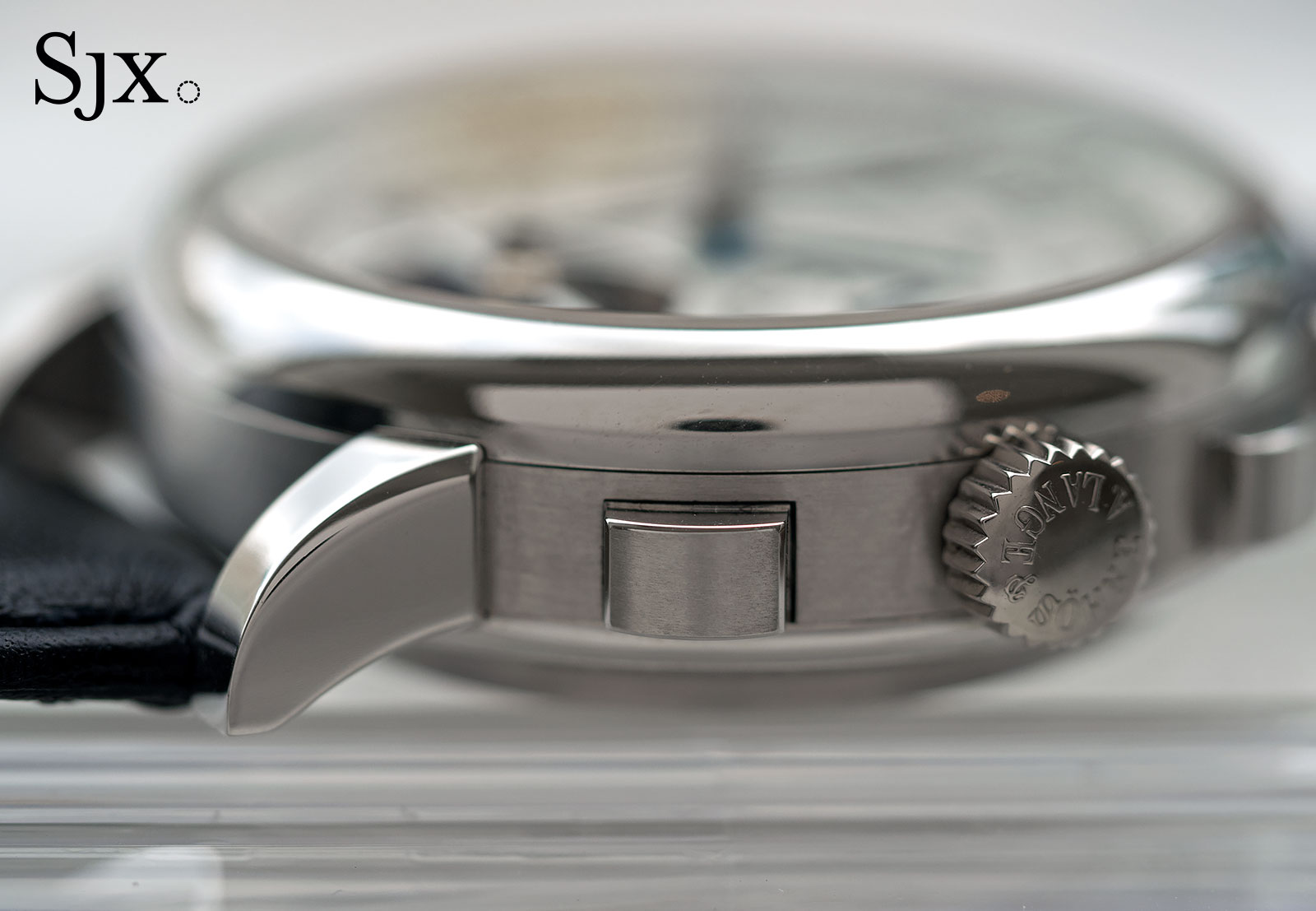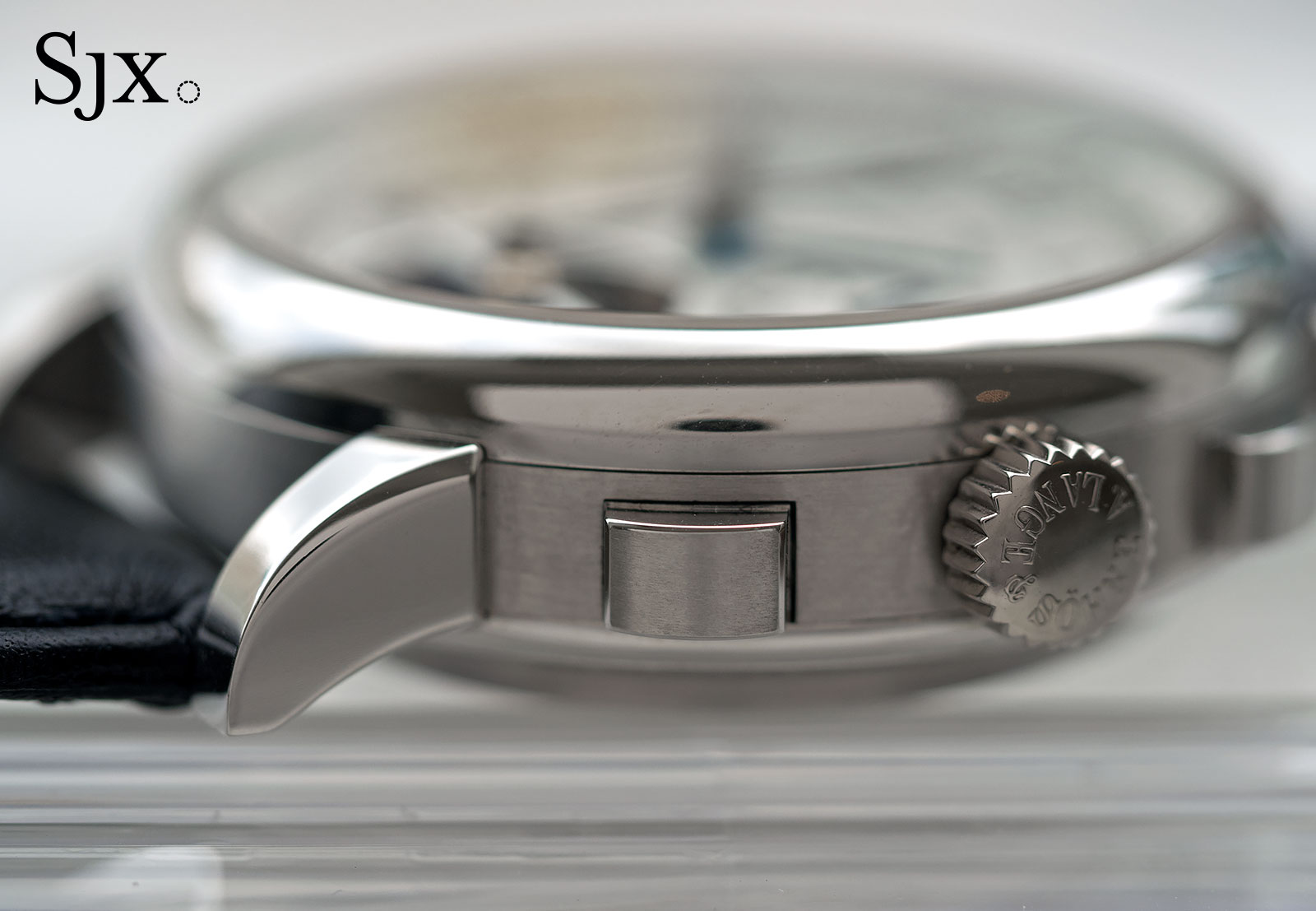 The tourbillon is visible on the front, with the characteristic Lange tourbillon cage inspired by the same in 19th century pocket watches. It's held in place by a black polished steel bridge with an angled top that terminates on the ends with sharp corners – a remarkable example of hand-finishing.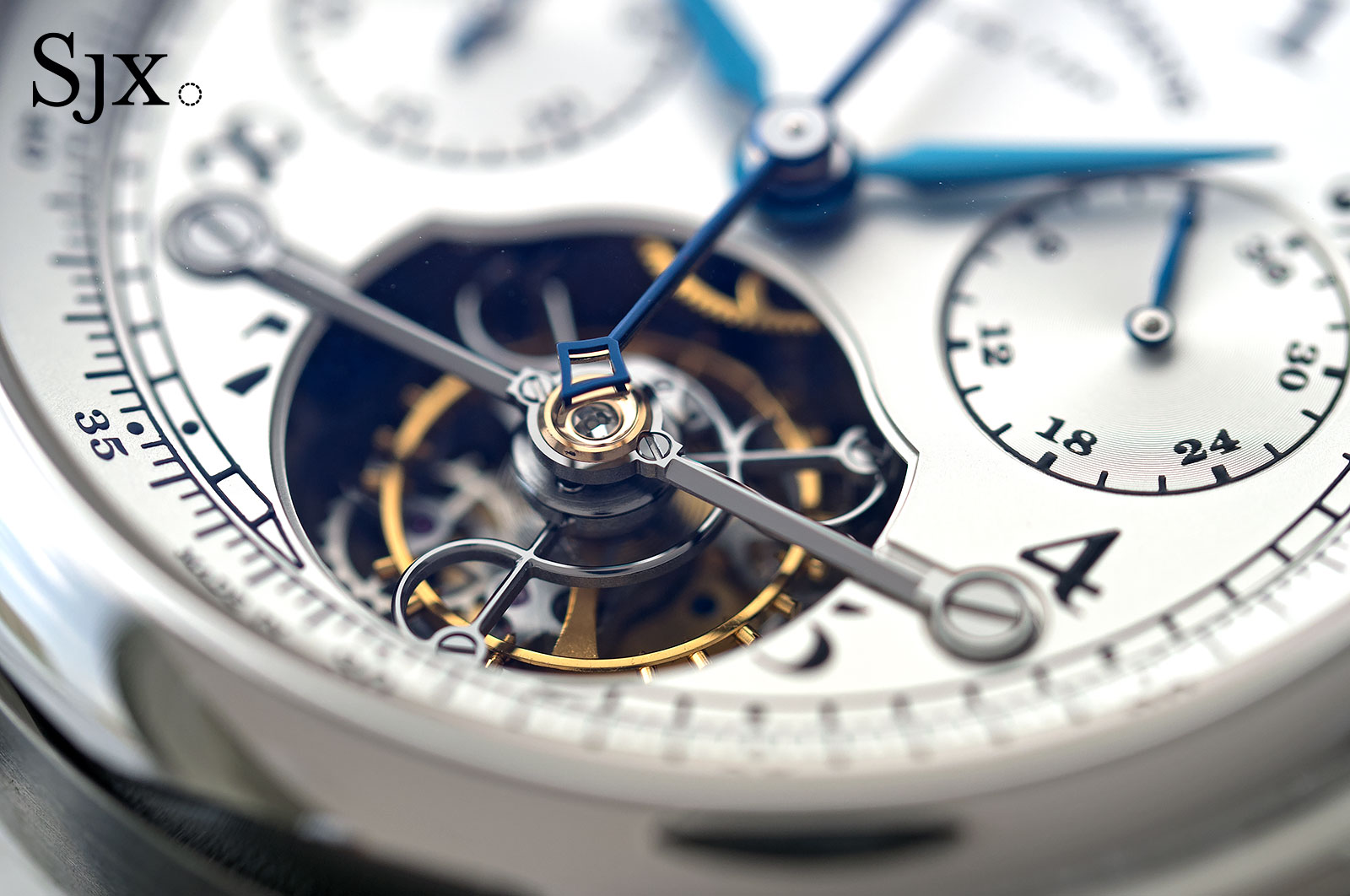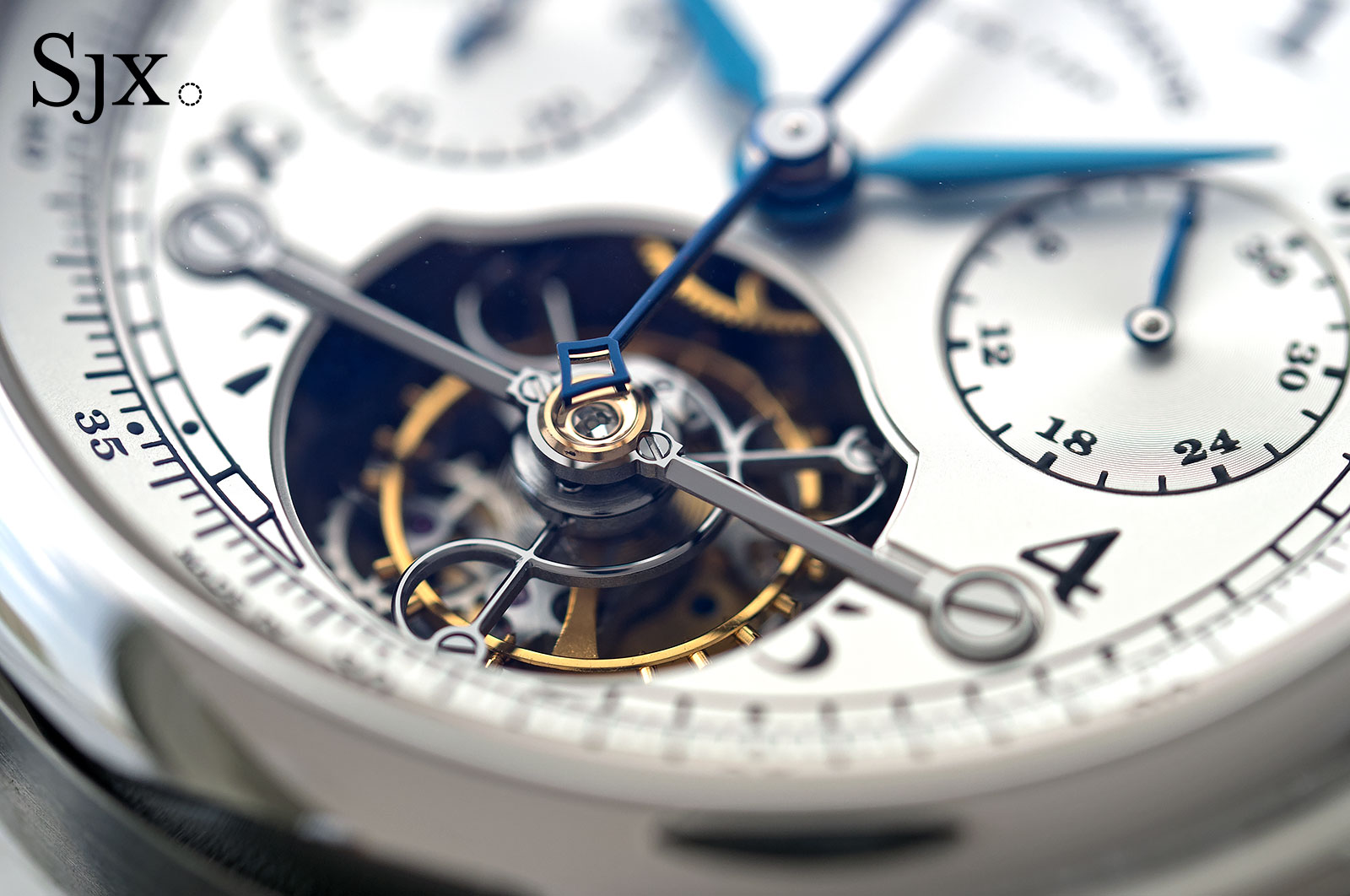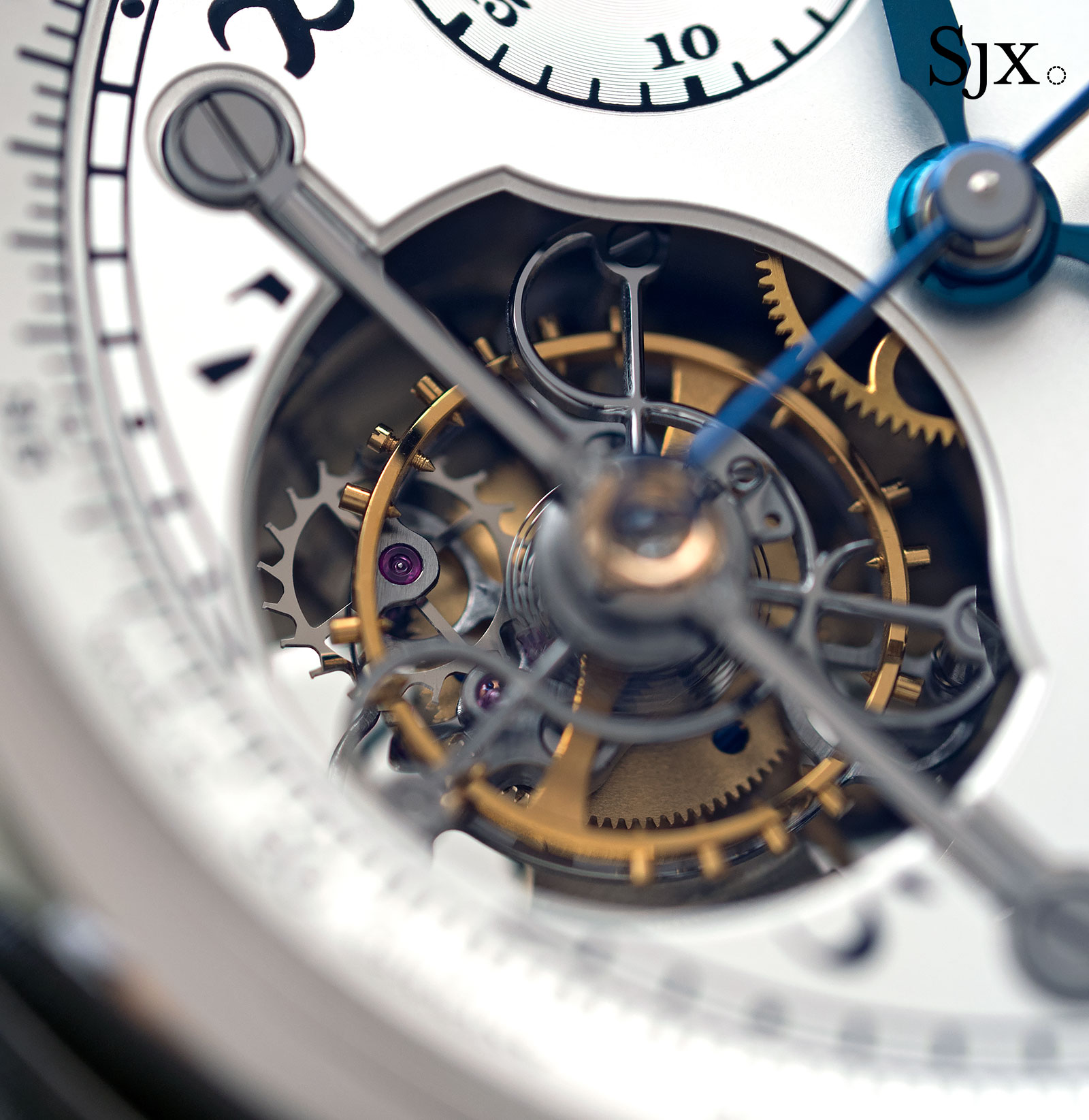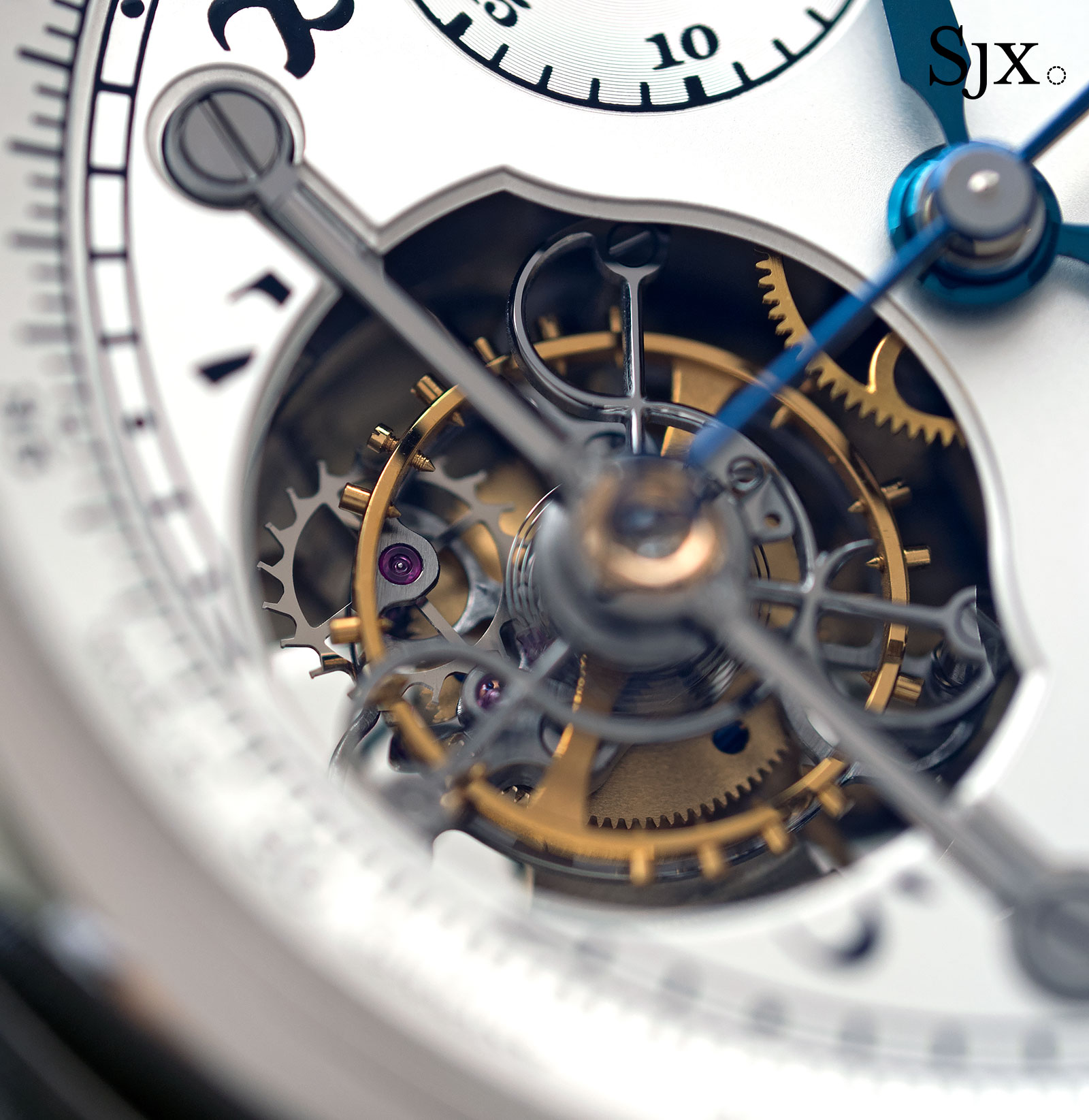 From the back the chronograph mechanism is visible, with the split-seconds mechanism along with its requisite callipers right in the centre. The chronograph levers are wider and thinner than usual, a conscious choice of the designers which helped make the movement slimmer.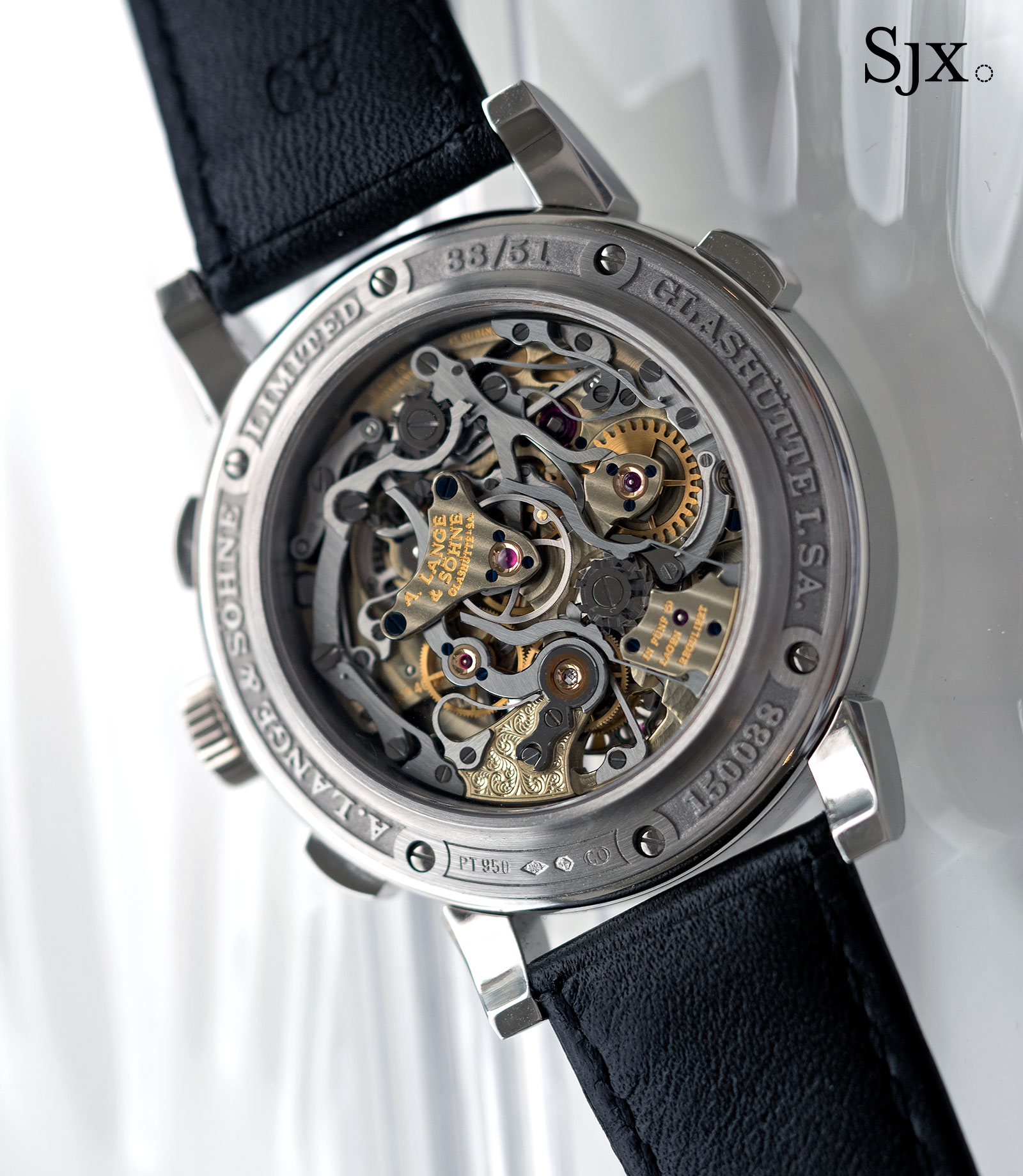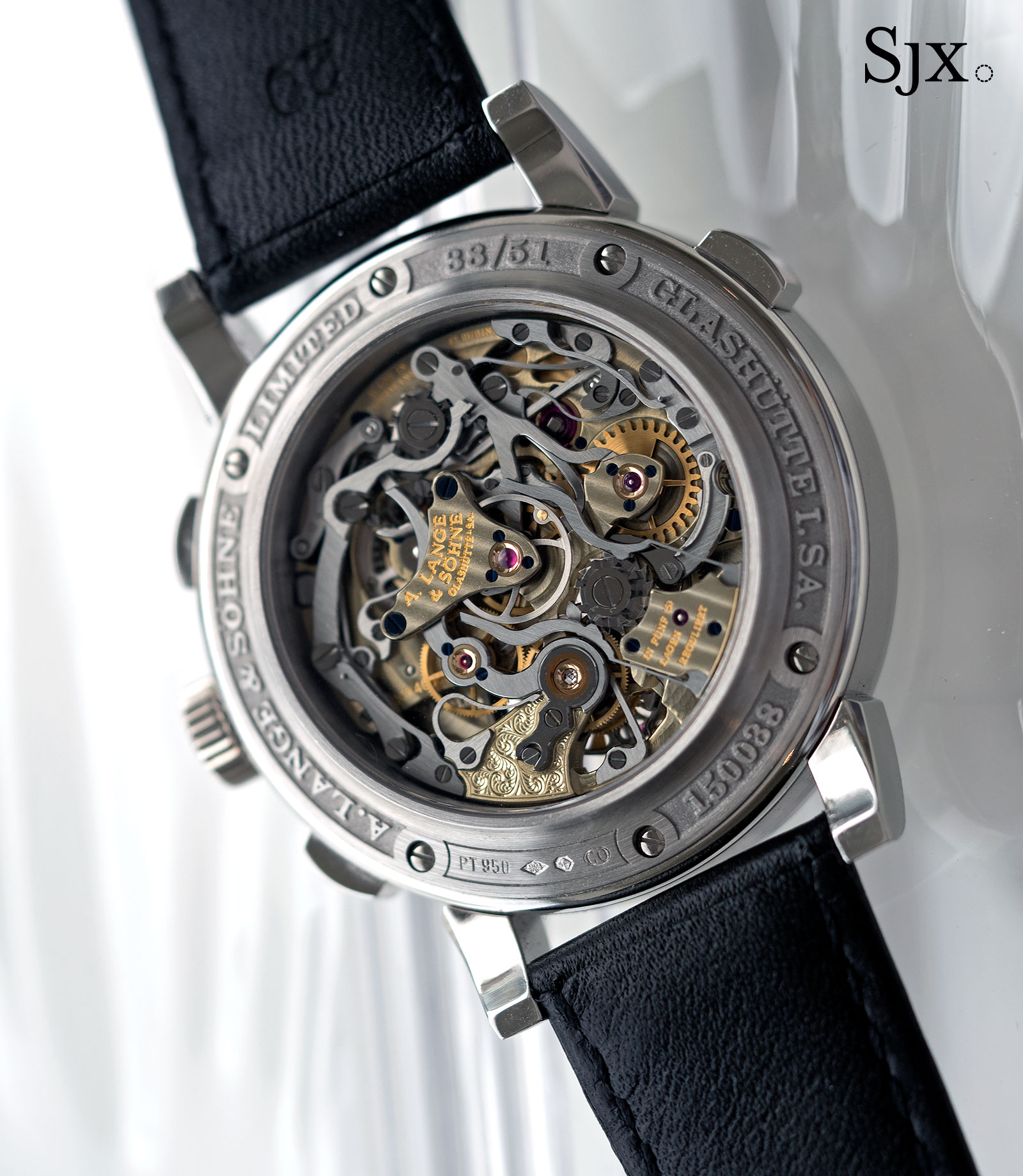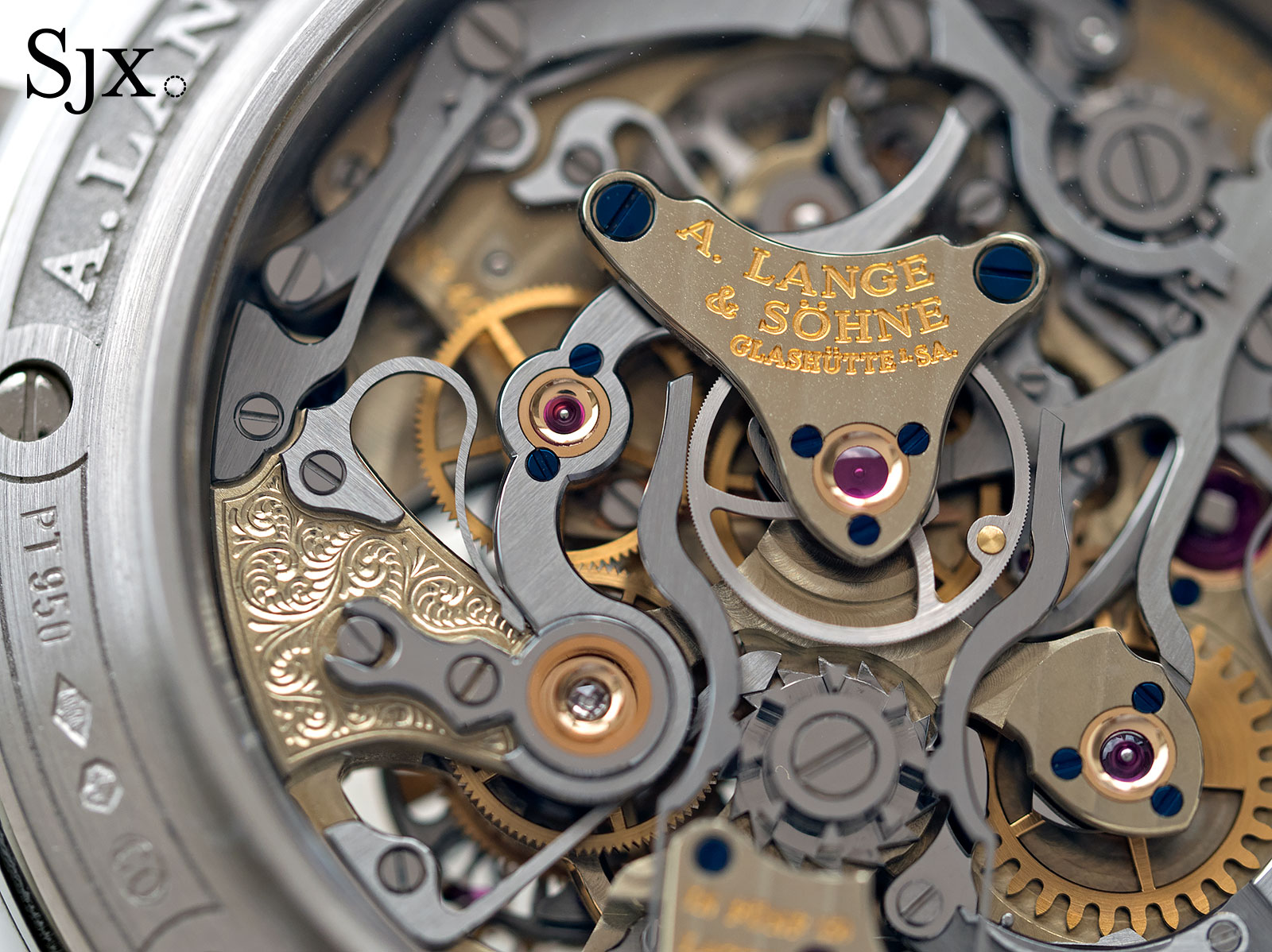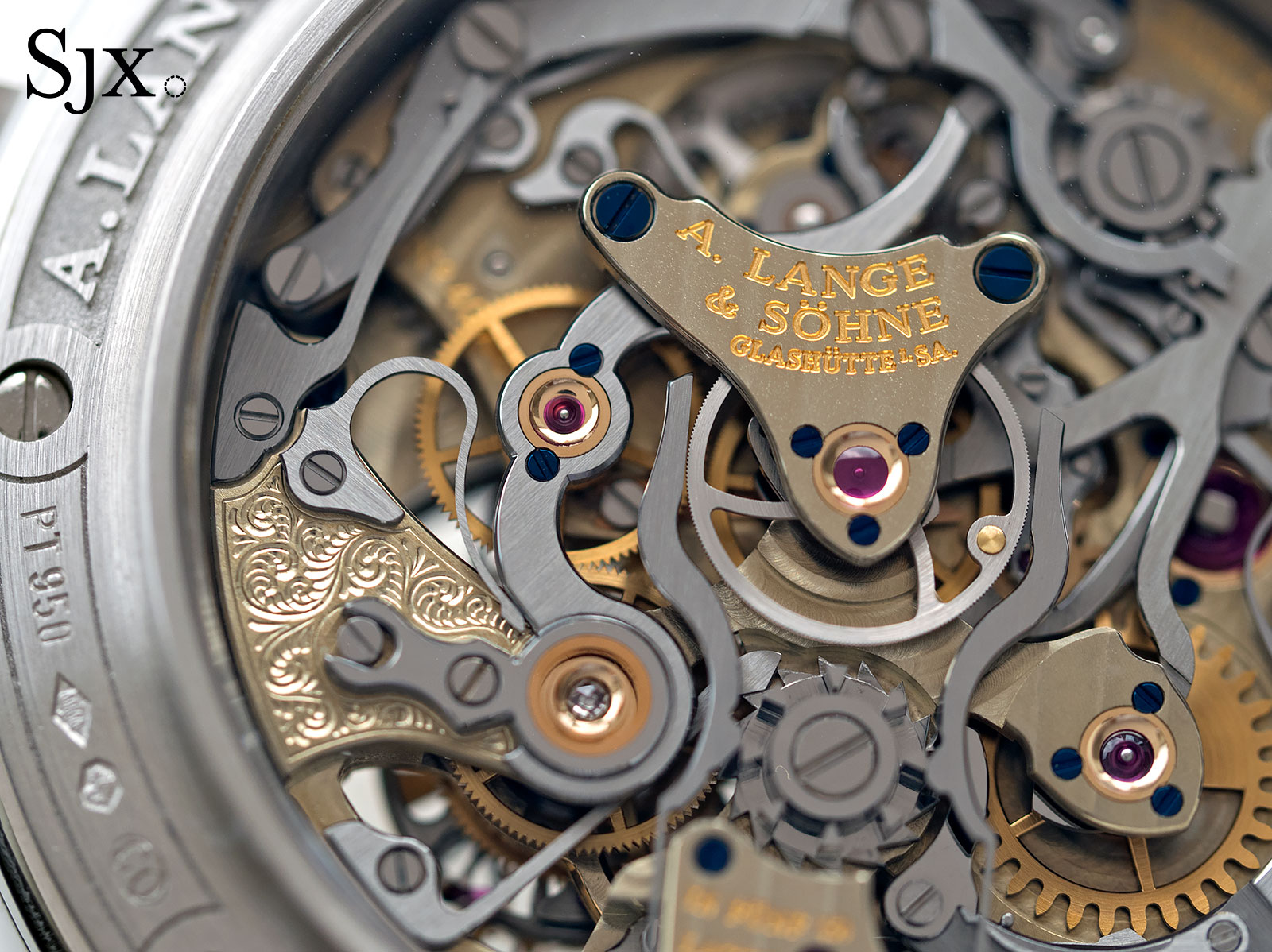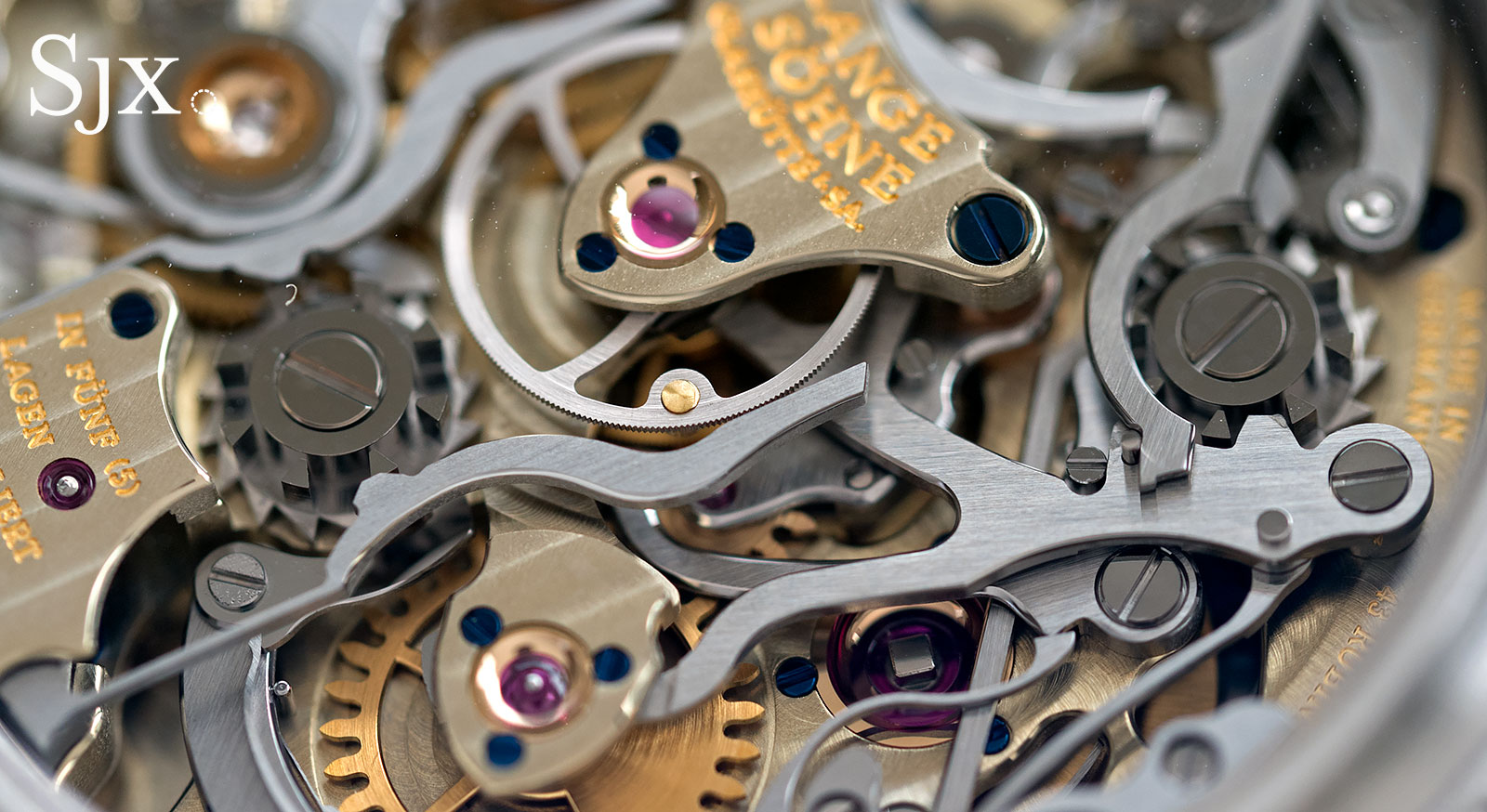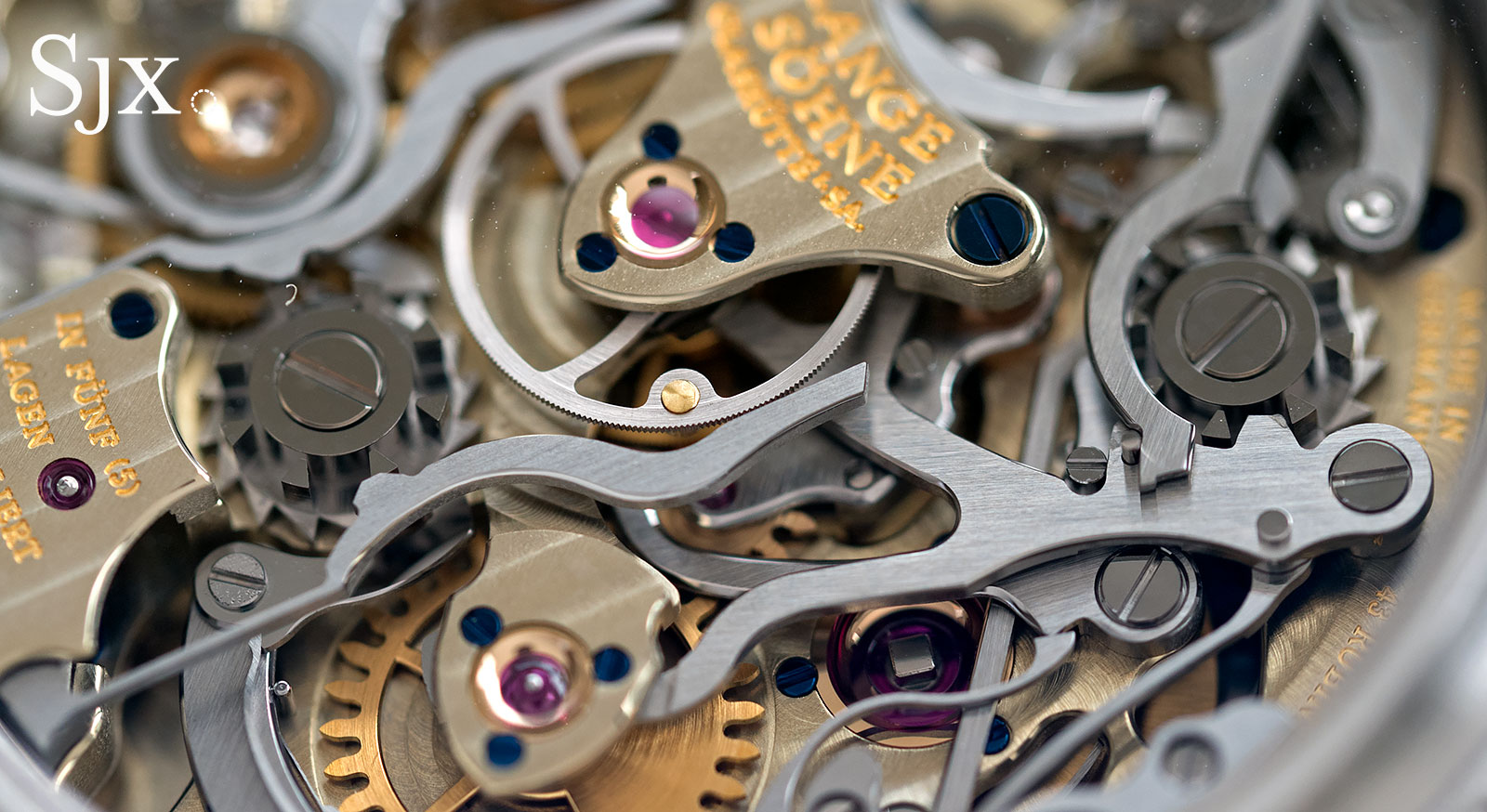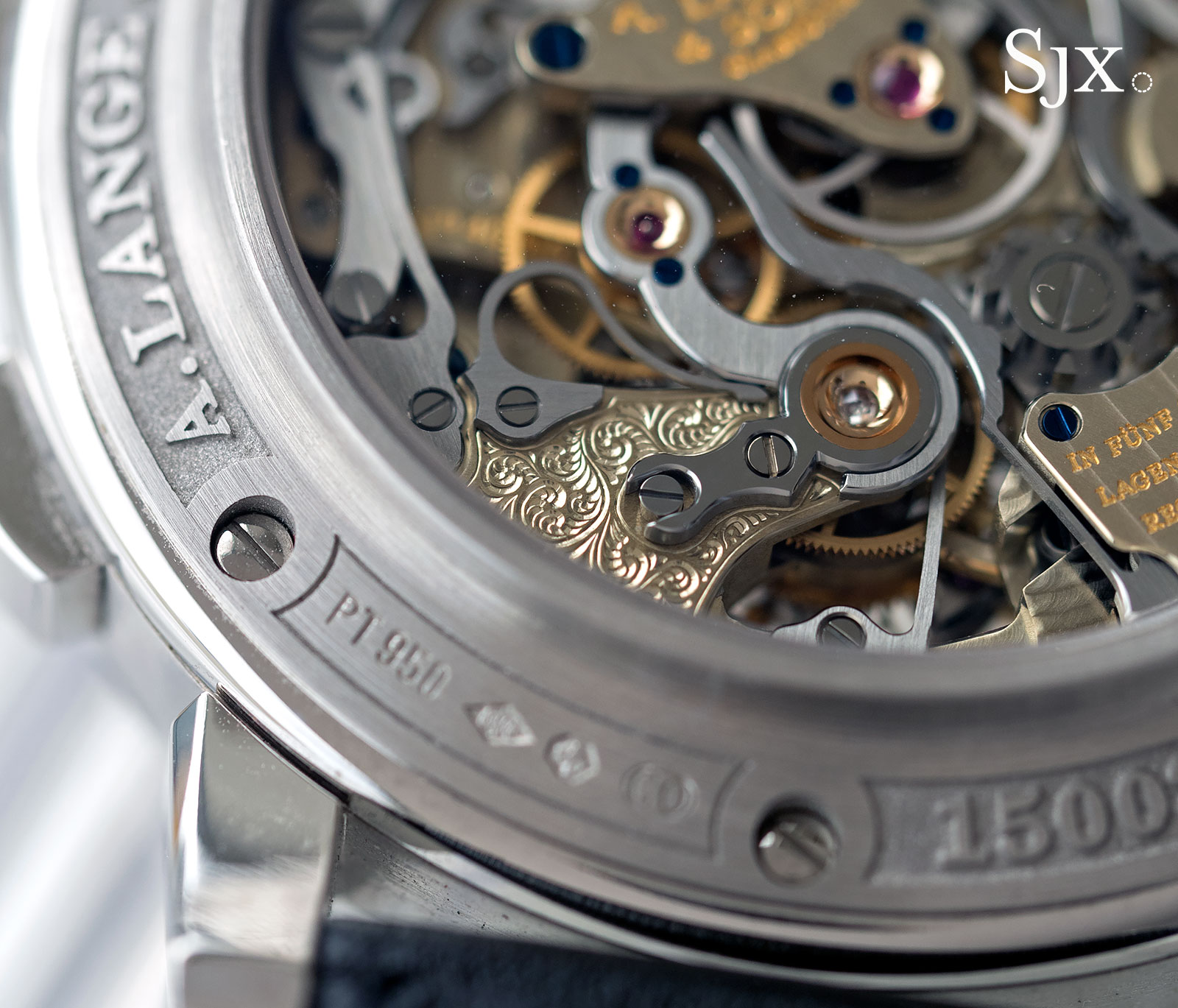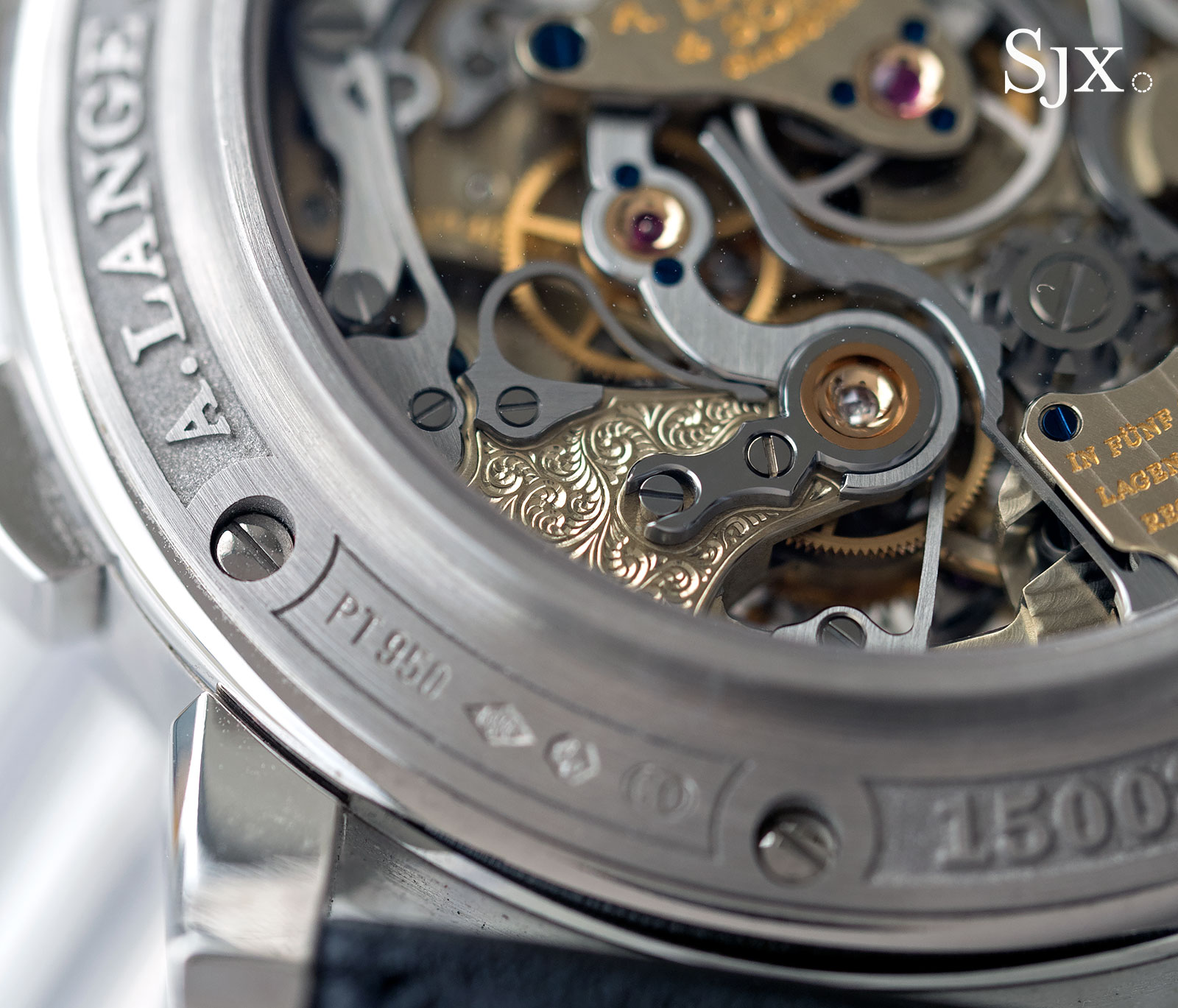 The Tourbograph is estimated at HK$1.65m to HK$3.20m, or US$220,000 to US$410,000.
---
Preview and sale information
The preview exhibition for Christie's Important Watches takes place daily from May 26 to 28, 10:30am to 6:30pm at the Hong Kong Convention and Exhibition Centre.
The auction takes place on May 29, starting at 2:00pm, at the same venue.
And the full catalogue as well as online bidding is available right here.
---
This was brought to you by Christie's.
*The author has an interest in the lot.
Back to top.
---
You may also enjoy these.