Hands-on with the Rebellion T-1000 Gotham – Batman-inspired with a 41 day power reserve (with live photos and price)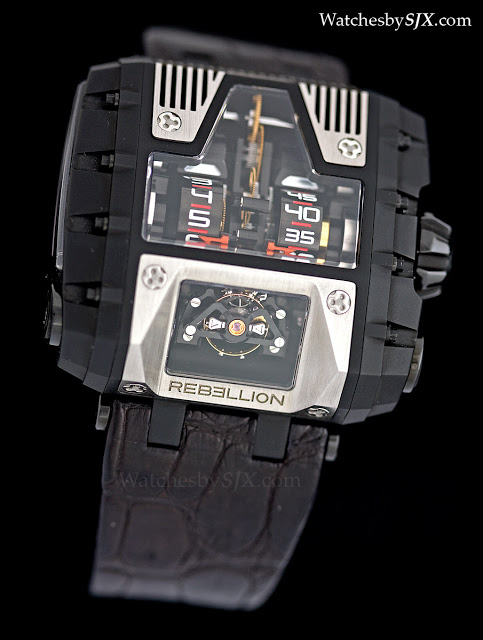 Rebellion presented the T-1000 Gotham at Baselworld 2013. Taking some of its design cues from the Christopher Nolan Batman films, the watch boasts a 1000 hour, or 41 day, power reserve.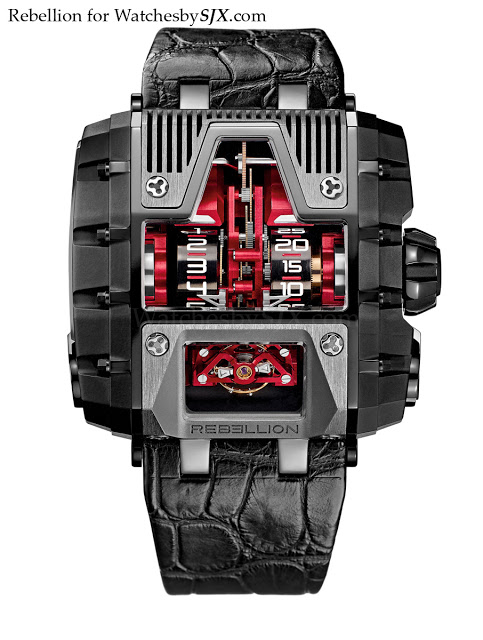 Designed by the prolific Eric Giroud, the Rebellion T-1000 Gotham gets its name from its design inspiration, the armoured Batmobile known as the Tumbler featured in Christopher Nolan's trilogy of Batman films. The result is an brilliant watch, both visually and mechanically.
Inside is the REB T-1000 movement, originally developed by Laurent Besse (who was also responsible for the MB&F HM4 but now works for Corum after his firm went bust). This remarkable calibre has a 1000 hour power reserve, thanks to six barrels linked by tiny chains, and an inclined, double hairspring balance wheel.
Measuring an impressive 52.2 mm by 47.9 mm – this does not lack for wrist presence – the titanium case has twin sapphire crystals on the front.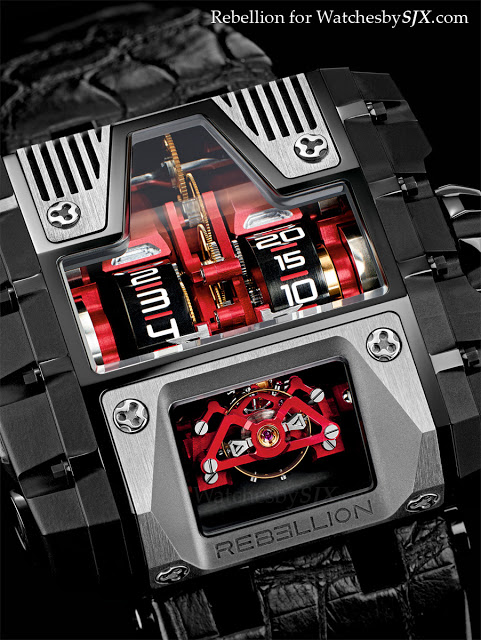 On the top is time, displayed on two revolving drums with the hours on the left and minutes on the right. In between the two time drums is the vertical gear train (the six barrels are arranged in threes on either side of the movement, more on that later).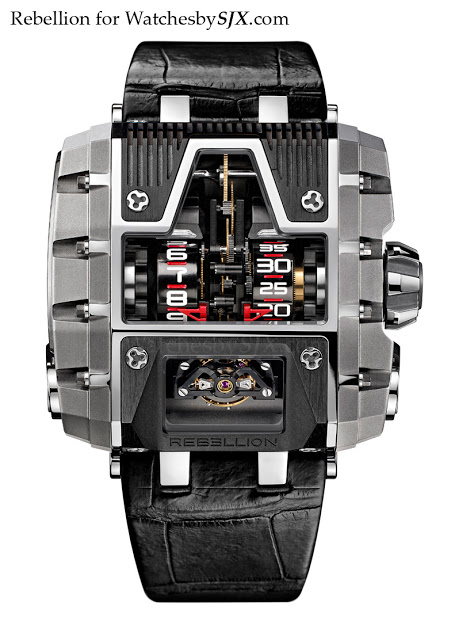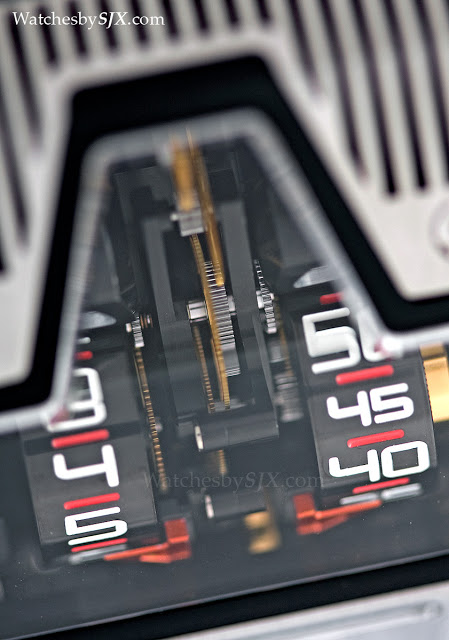 The vertical gear train in the centre
Below the time display sits the inclined balance wheel, fitted to a Straumann escapement with double hairsprings. It beats at a leisurely 18,000 bph.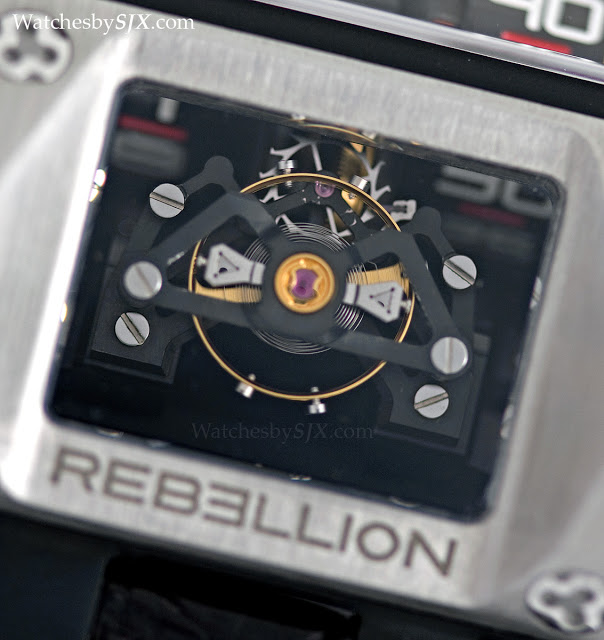 And on the left side of the case is the third sapphire crystal, under which sits three barrels. These are linked by a tiny chain, which allows them to be wound in parallel. On the other side of the watch, beneath the crown, are another three barrels, likewise linked with a chain.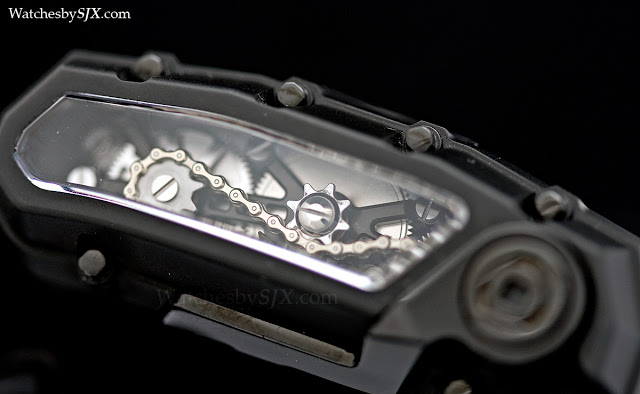 The visible barrels and chain on the left flank of the case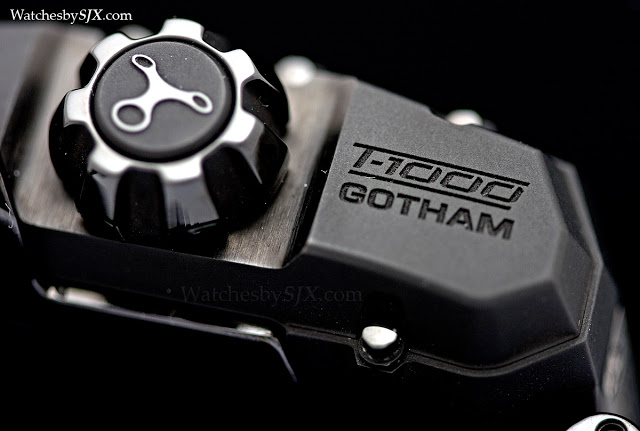 The right side of the case with the crown and engraved logo
Winding is accomplished via the V-shaped lever on the back of the watch, which pops out when needed. When not in use the lever sits flush with the case back. Approximately 60 pulls on the lever are required to max out the 1000 hour power reserve.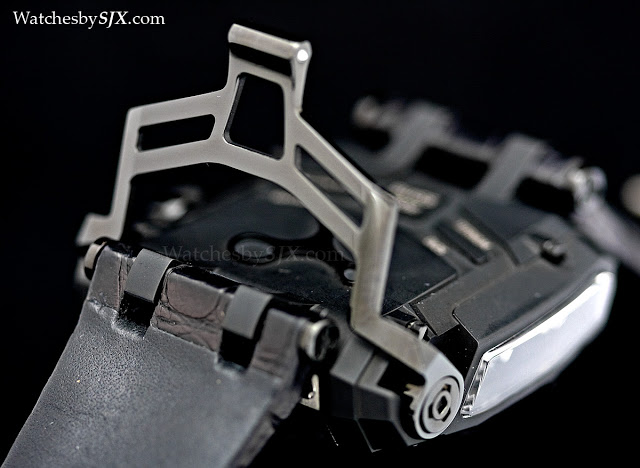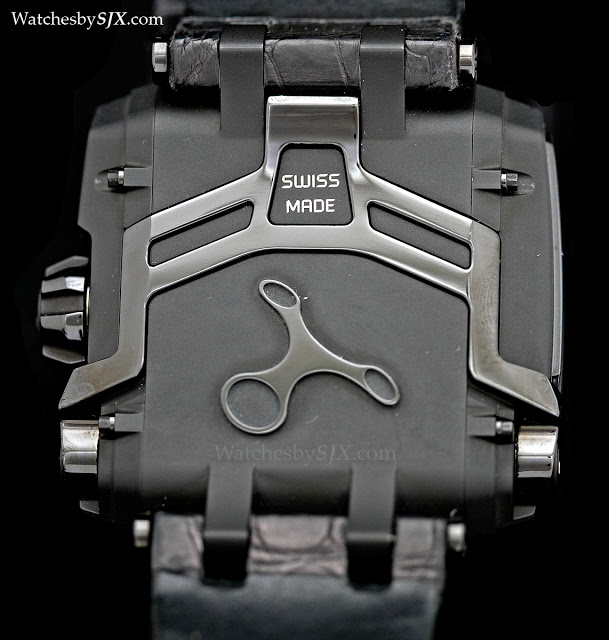 The winding lever locked in position
Though the lever is easy to use, and there is a mechanism to prevent overwinding, the lever action feels overly smooth; there is little feel that the watch is actually being wound.
The T-1000 Gotham is customisable in terms of case finish (black coated or natural finish titanium) as well as anodisiation of the movement bridge in black, gold, red, blue or purple. Pictured here is the black DLC case with a black anodised movement.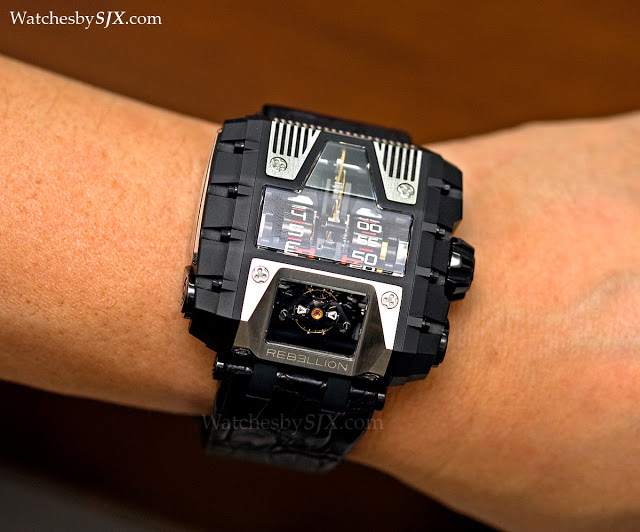 25 of the T-1000 Gotham will be made, with a retail price of SFr150,000 (~US$165,000).
– SJX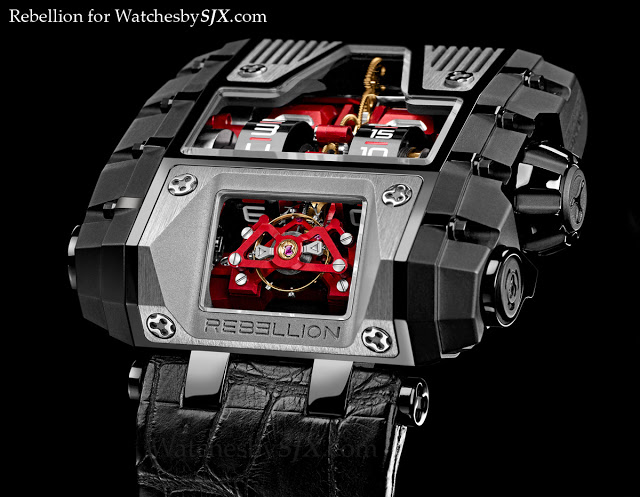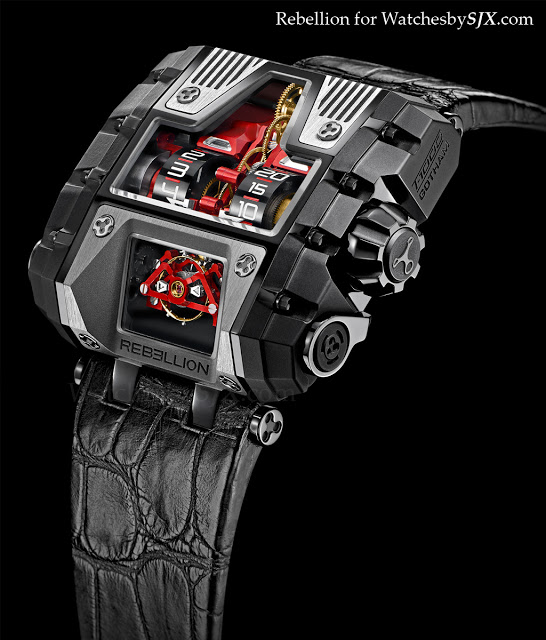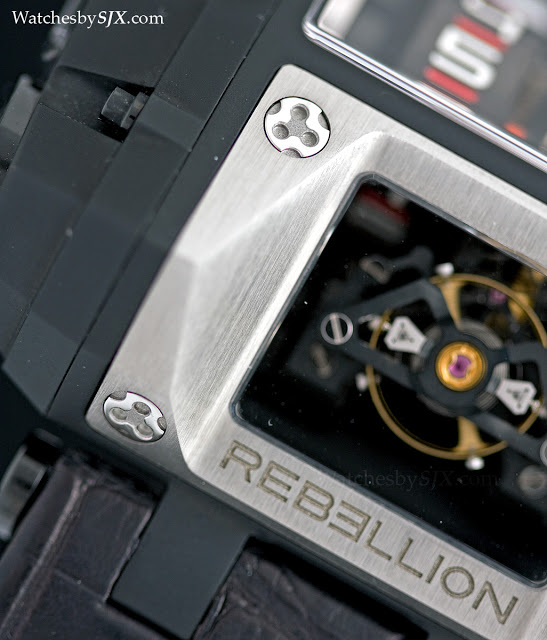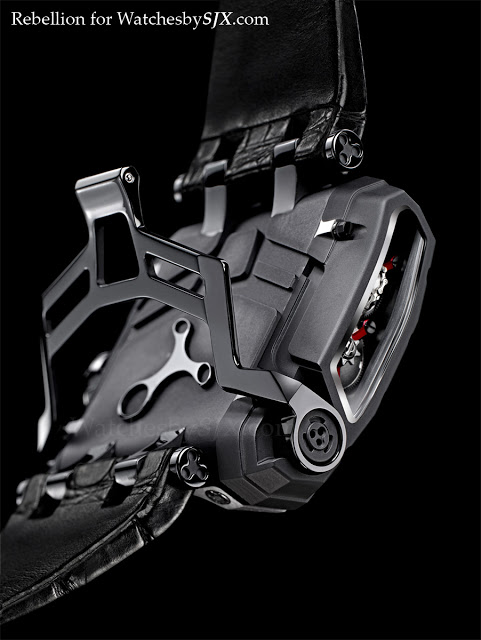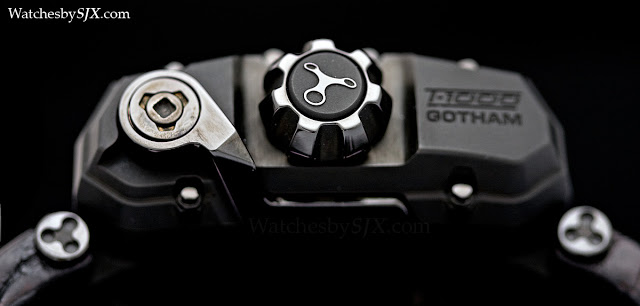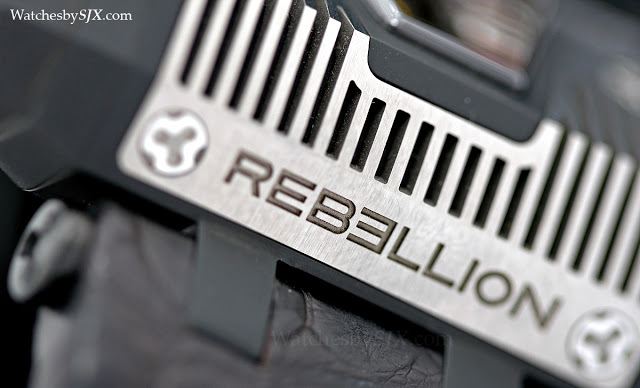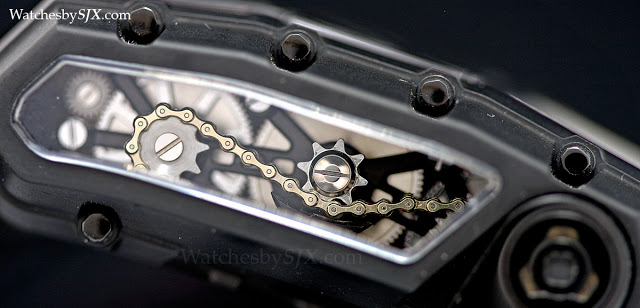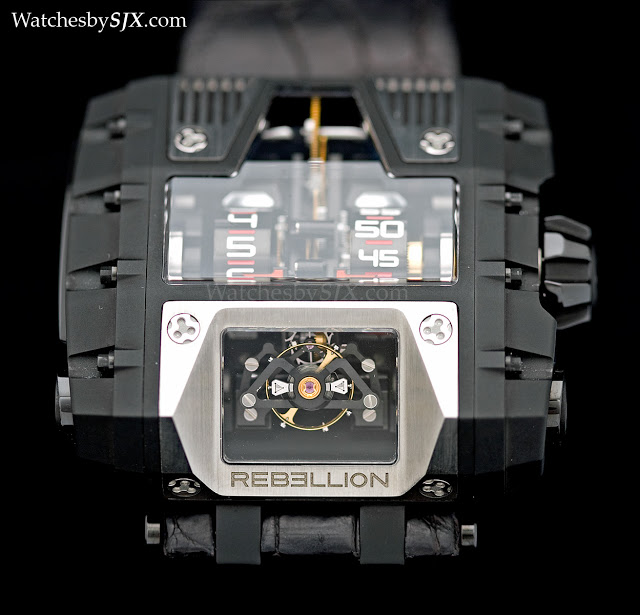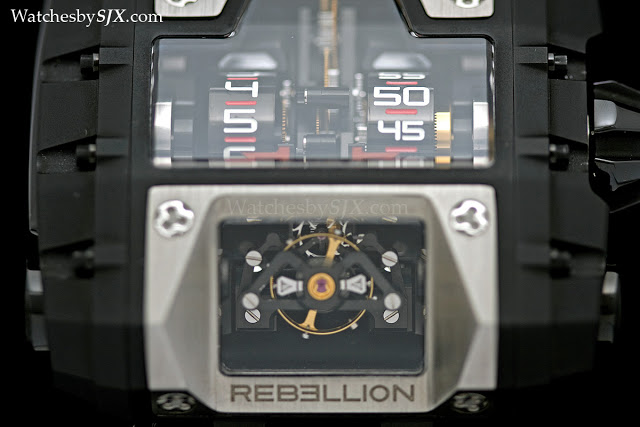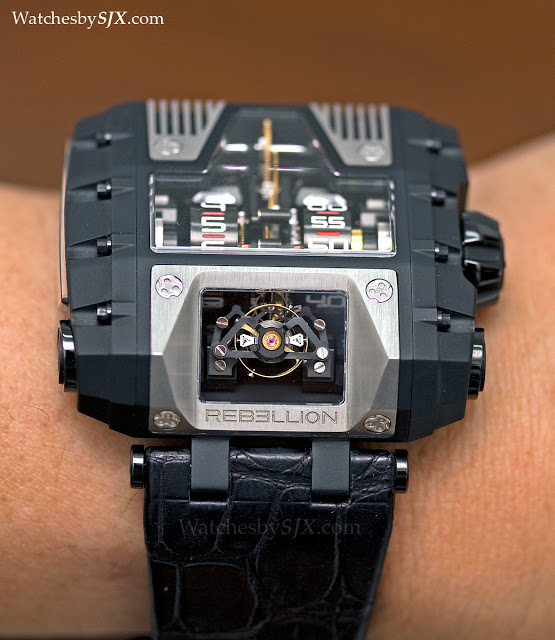 Back to top.
---
You may also enjoy these.