Hands-on with the Seiko Monster 100th Anniversary SRP455K1 and SRP461K1 (with live photos and price)
For its 100th anniversary Seiko has created a series of four, blue themed limited edition sports watches, amongst them the Monster SRP455K1.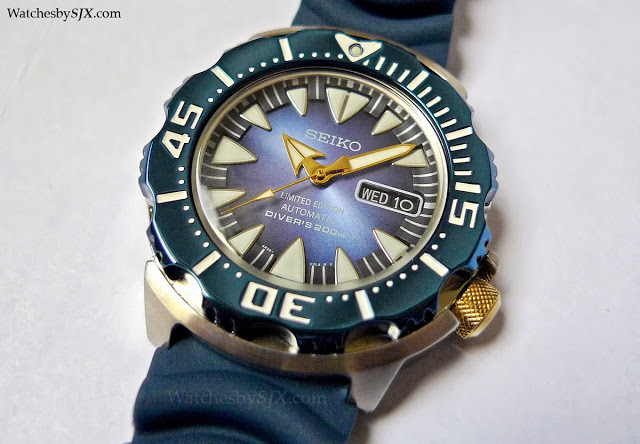 Launched just last month, the 100th anniversary sports limited editions includes the Monster SRP455K1. This is a second generation Monster with the hacking 4R36 movement.
Like the rest of the 100th anniversary sports models, the SRP455K1 has a purple-blue dial, along with a blue PVD bezel, and yellow gold-plated hands and crown.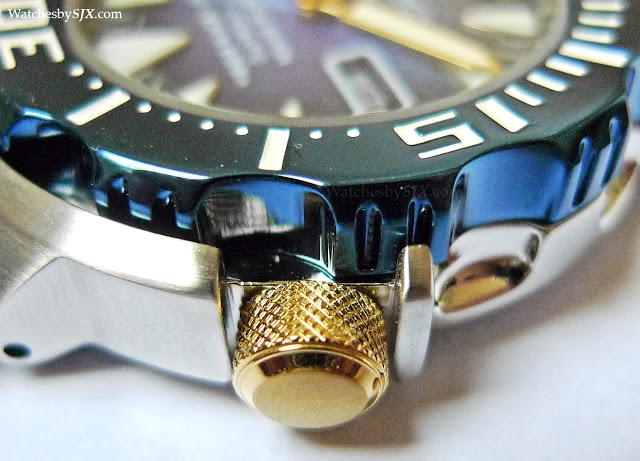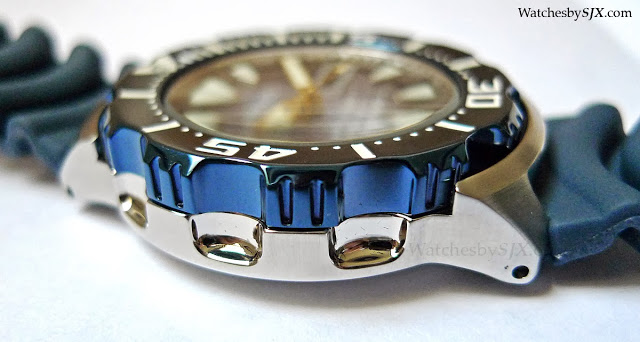 The dial has a radial brushed finished, with the tone darkening towards the edge of the dial. The colour combination is unusual, but it grows on you.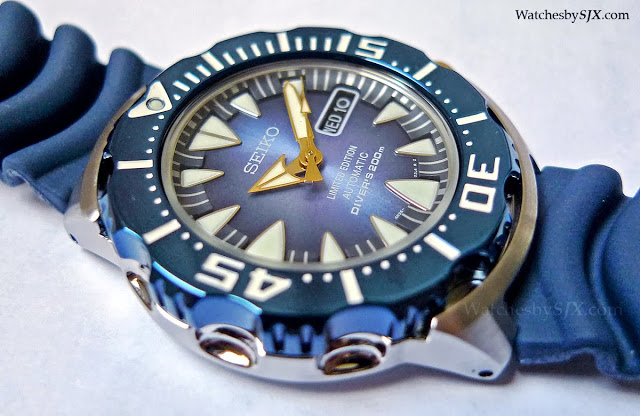 Thanks to the glossy bezel, this is probably the most ostentatious – as ostentatious as a $400 watch can be – of all the Seiko Monsters.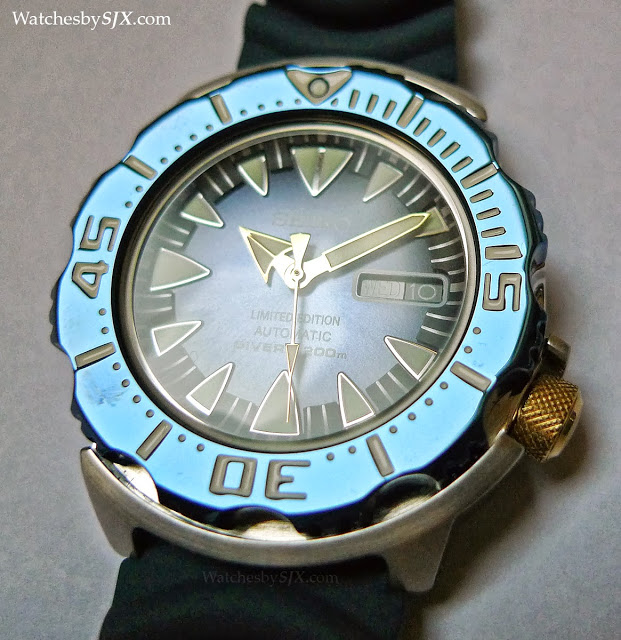 It comes with a rubber diver strap in an ugly shade of blue, one that is calling out to be swapped for a NATO strap or steel bracelet.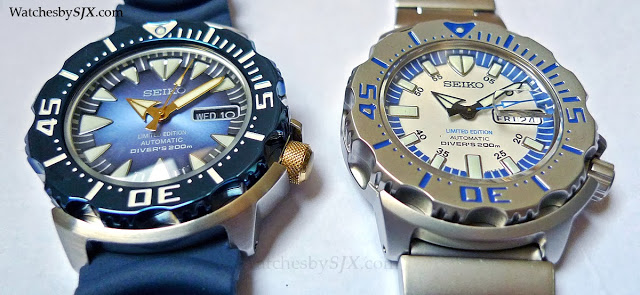 Compared with the Snow Monster
Marked "Limited Edition" on the dial and case back, this is indeed a limited edition, but of an unknown total. Seiko Watch Corp. will no divulge the total edition size, which I estimate is in the thousands, if not tens of thousands.
Like the rest of the 100th anniversary blue dial sports models, the Monster SRP455K1 is an export model for international markets, mostly in Asia, and is not sold in Japan. The retail price in Singapore is S$492.20, including 7% tax, which works out to about US$380, making this the most affordable of the 100th anniversary timepieces, which includes the Grand Seiko 44GS reissue. Addendum: Seiko has issued another limited edition, the ref. SRP461K1, which is identical to this, except it is sold on a steel bracelet. And the SRP461K1 is numbered XXX/500. According to Seiko Watch Corp, this numbered edition was made "for the limited market".
– SJX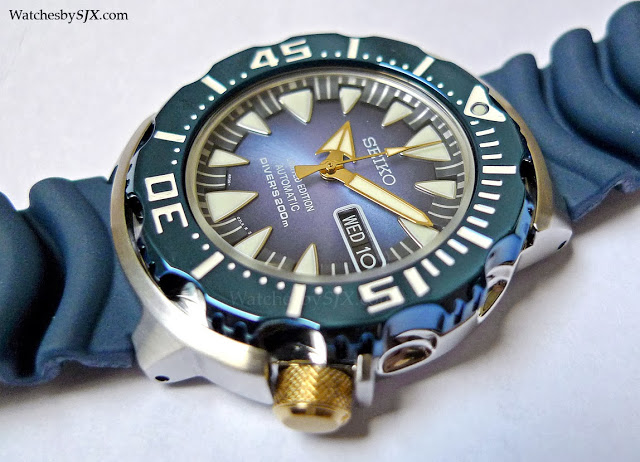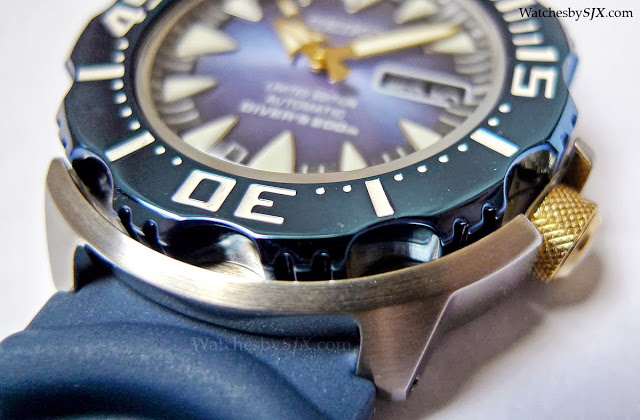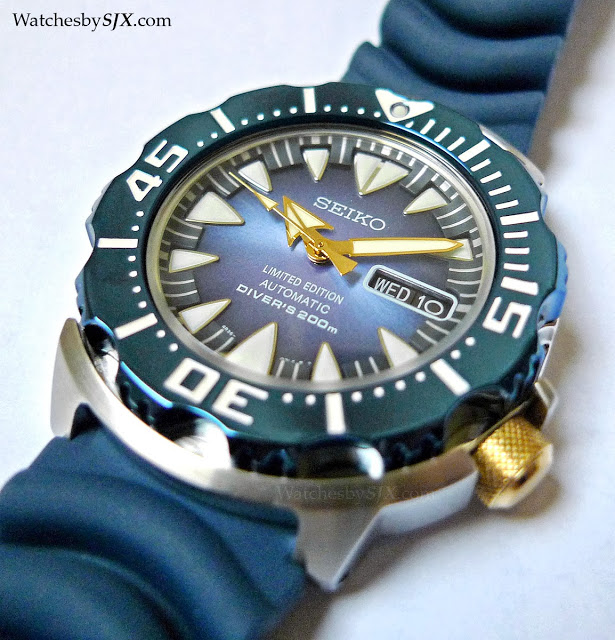 Back to top.
---
You may also enjoy these.