Hands-on comparison: Seiko Monster 4R36 Gen. 2 vs. Seiko Monster 7S26 Gen.1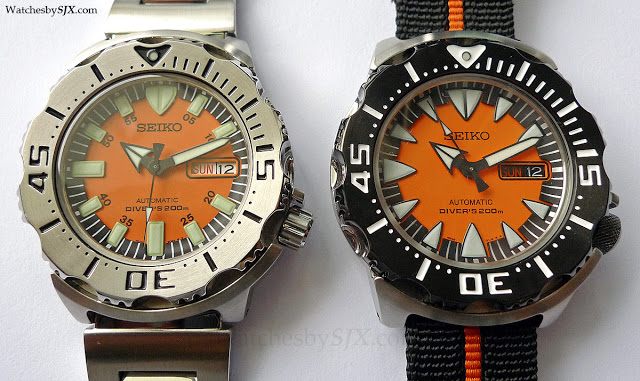 The Seiko Monster is a legendary, affordable sports watch that was recently updated. Several variants of the new Monster are available, including the orange dial with black PVD bezel version (SRP315K1) shown here (the basic steel versions are the SRP307 and SRP309 with black and orange dial respectively).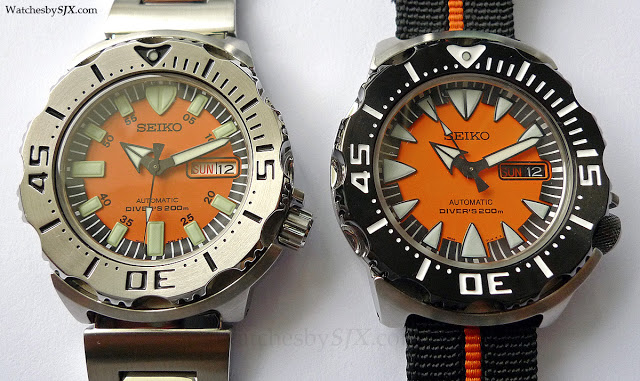 Old Seiko Monster SKX781 on left, and new Monster SRP315 on right
(Note that the old Monster shown here (SKX781K1) has had the chapter ring replaced, the original dial is entirely orange.) Several cosmetic changes were made though the case remains 42.3 mm. However, the biggest functional improvement is the new movement. The Monster now has the 4R36 movement which both winds manually and hacks. The 7S26 in the first generation Monster could do neither.
Visually the dial is similar at first glance but signficantly different. The indices are sleeker and the five minute markings are gone, resulting in a much cleaner dial.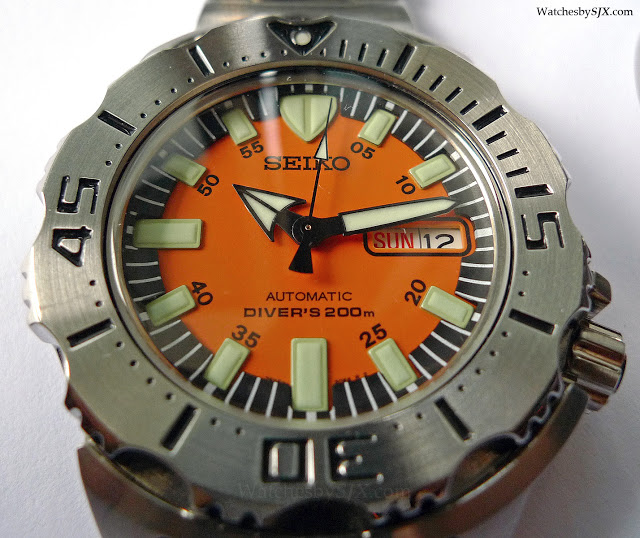 The discontinued Seiko SKX781K1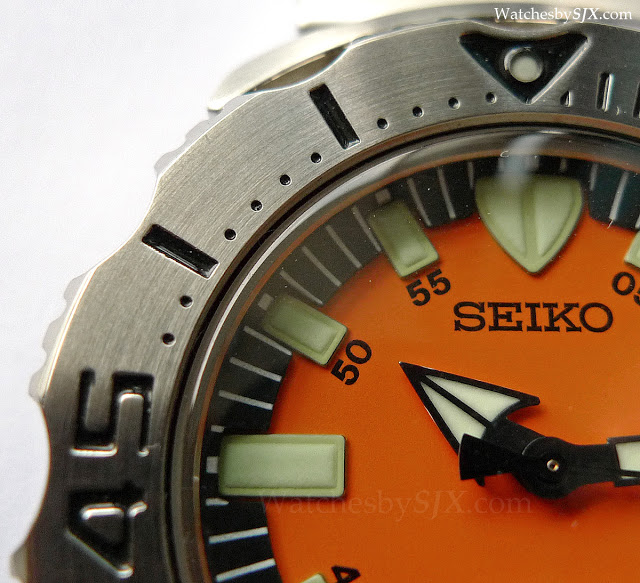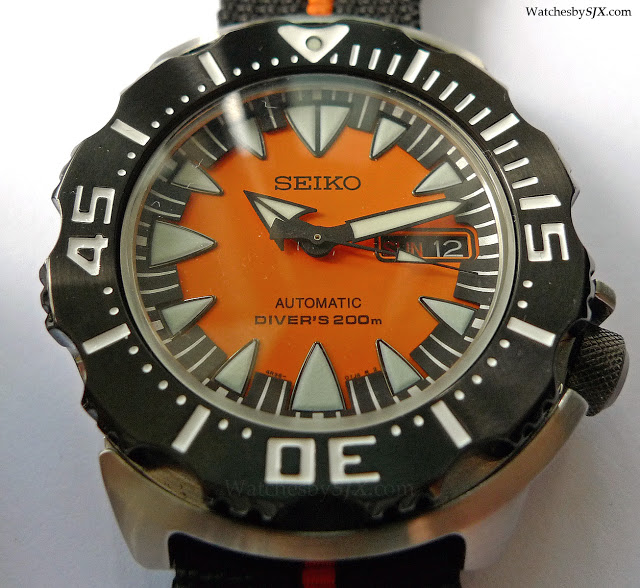 The new Seiko SRP315K1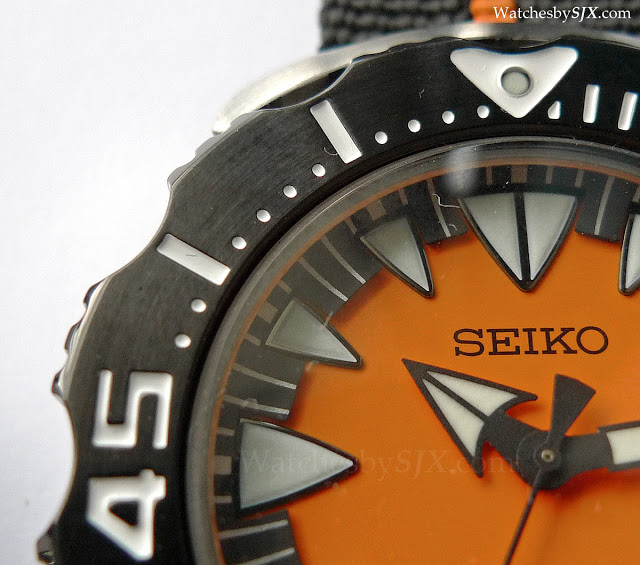 Also, the new dial is much better quality, with better definition of the printed indices and text.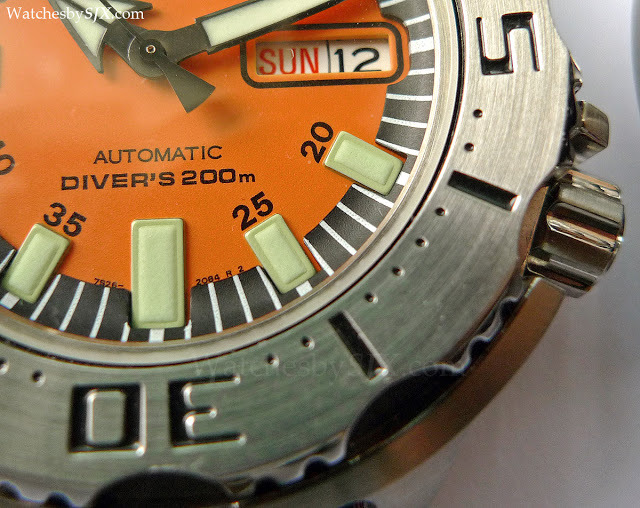 Old Monster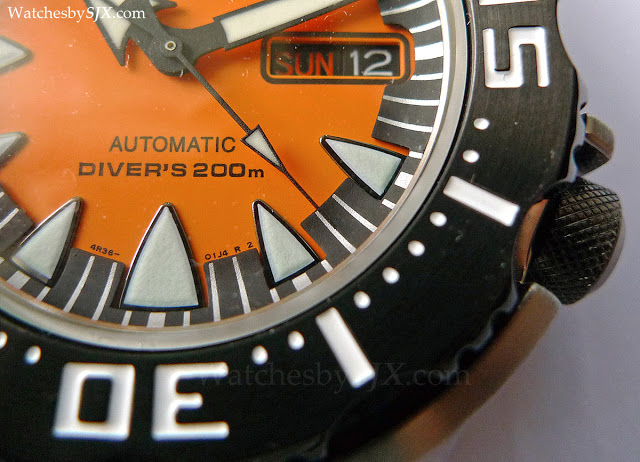 New Monster Note the calibre inside is noted in tiny script at the bottom of the dial
Though they are the same size as before, the crowns on the new Monsters are knurled, making them slightly easier to grip.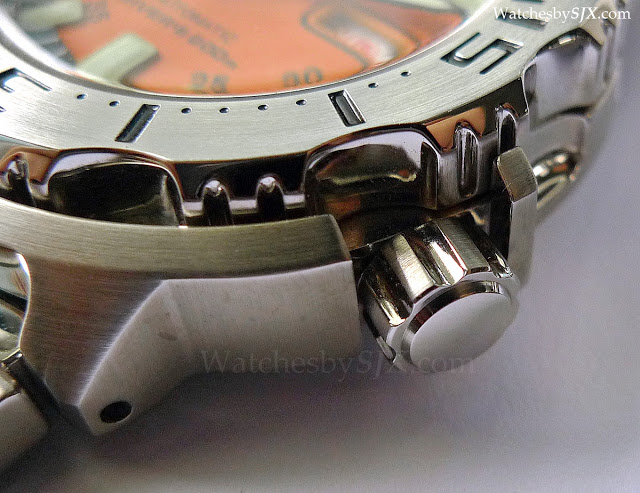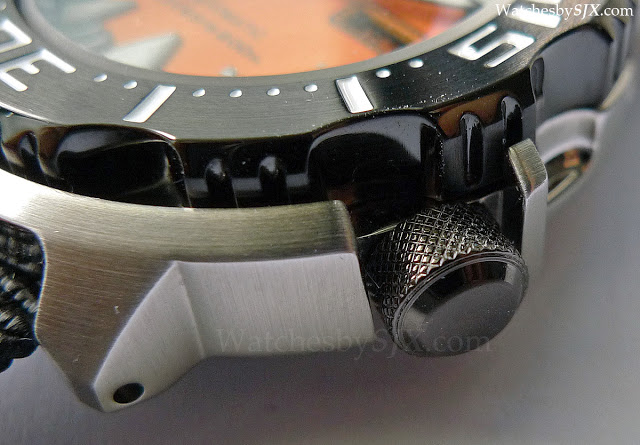 Though the case and bezel are seem identical, there seem to be minor differences. I'm not sure if these are due to production variations or are intentional changes. The bezel markings are larger and better defined on the new model, and the case edges are less sharp, especially around the crown guard, which seems to show a little bit more care being put into the case finishing of the new Monster.

Even though the new Monster is about 50% more expensive than the previous one – the new one retails for about US$450 – it is a better watch in all respects. The Seiko Monster remains a great buy. – SJX
Back to top.
---
You may also enjoy these.