Introducing the Swatch Random Ghost, the return of the Jellyfish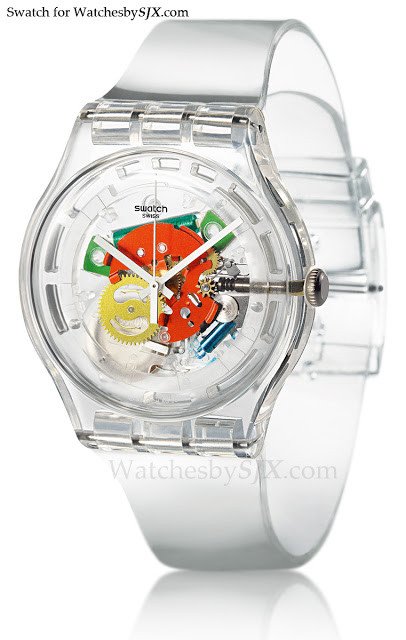 The Swatch Jellyfish of 1983, a clear plastic watch with a handful of coloured movement components, is probably the most iconic Swatch watch ever. This year the Jellyfish returns as the Random Ghost.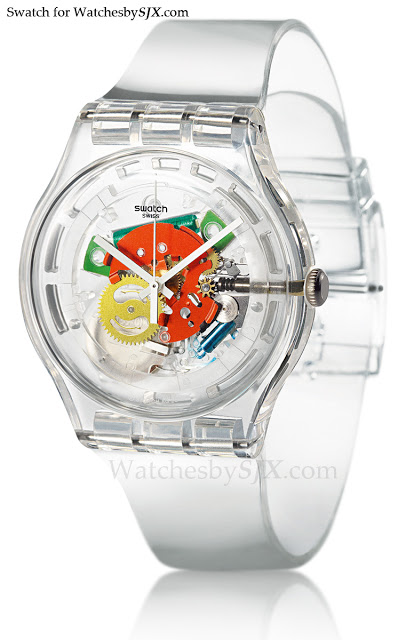 Swatch Random Ghost SUOK111
Like its inspiration, the Random Ghost (ref. SUOK111) has a clear case and strap. Most of the 51 movement components are coloured, but selected at random for assembly, giving each watch a fairly unique look. The case is the New Gent size, which is 41 mm. The original Jellyfish in the Gent size was a mere 34 mm. Three other models are available, but with single colour themes, in silver, gold and black, respectively.

Swatch Black Ghost SUOK107

Swatch Gilt Ghost SUOK106
The retail price is SGD109, or about USD88. The Jellyfish was all the rage back in the heyday of Swatch as a fashion accessory for the masses. Though the brand has taken some steps to revive itself, Swatch brand isn't quite as hip today (though a collection of vintage Swatch watches did sell for US$6.6 million last year). – SJX
Back to top.
---
You may also enjoy these.