Up Close With the Roger Smith Series 2 Bespoke (With Original Photos)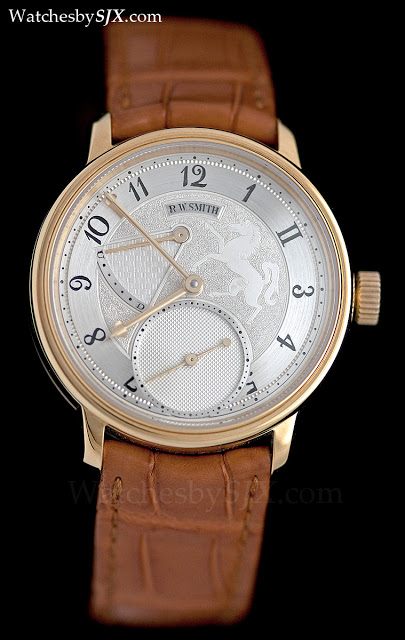 Roger W. Smith, protege of the late George Daniels, makes his very English watches on the Isle of Man. His serially produced timepiece is the Series 2, a hand-wound wristwatch with power reserve indicator, styled and constructed much like an old English pocket watch.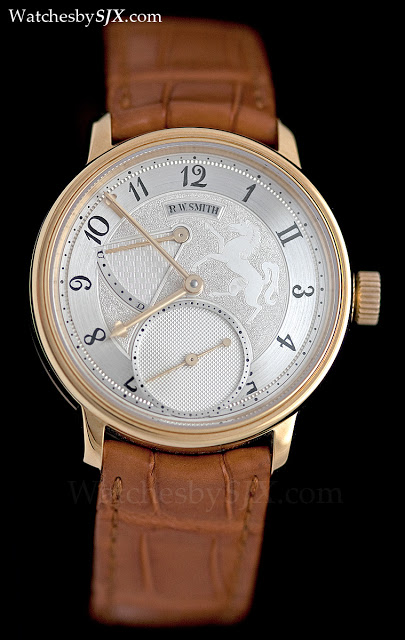 This is a unique Roger Smith Series 2 wristwatch in yellow gold, with several unusual details specified by the owner, including a unique, hand-engraved dial. The most obvious is the engraved horse set agained a grained surface; the animal has particular significance for the owner's family. Also commissioned by the same collector is the unique Peter Speake-Marin Shimoda with monkey motif.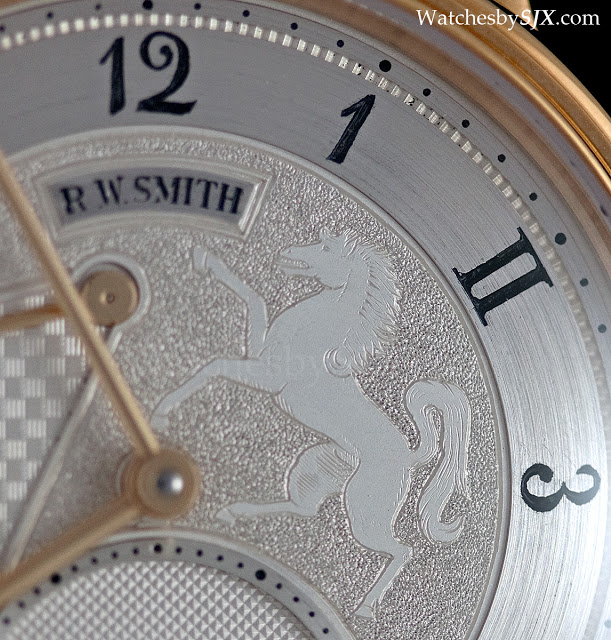 Also unusual are the hour numerals, which are all Arabic, with the exception of "II" which also has personal meaning to the owner. Most Roger Smith watches have Roman numerals, as is traditional for this style of watchmaking.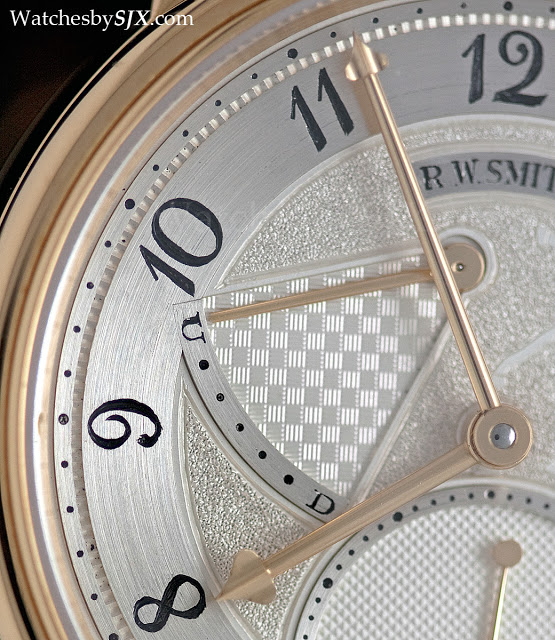 The watchmaking present here is traditional in form and appearance. That's because Roger crafts his watches in the traditional manner, and makes most of the components in his own workshop. That includes external parts like the case and dial. Consequently the components, especially the dial engraving, show signs of being hand-made. A specialist dial maker would arguably produce a more perfect dial, with cleaner engraving for instance, but that would diminish the personal character of the watch.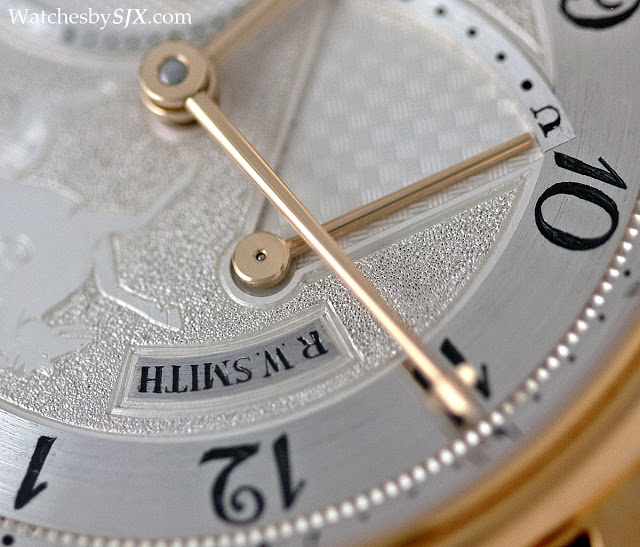 As with many parts of the watch, the dial, made from solid silver, is thick and substantial, unnecessarily but reassuringly so.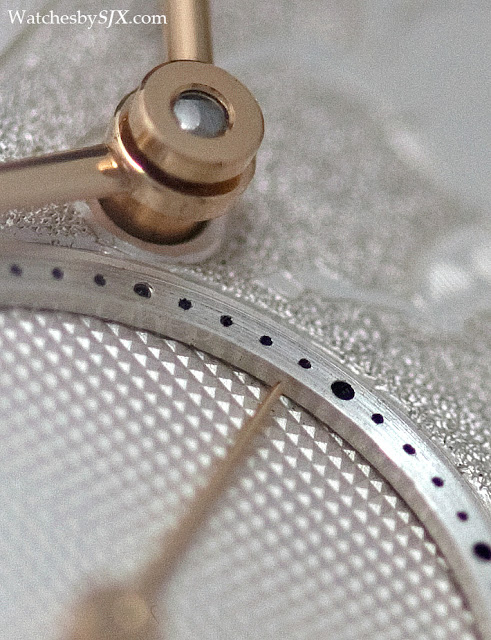 Likewise, the hands, which are solid gold and massive, deserve special mention. They are beautifully shaped, and have a presence of their own.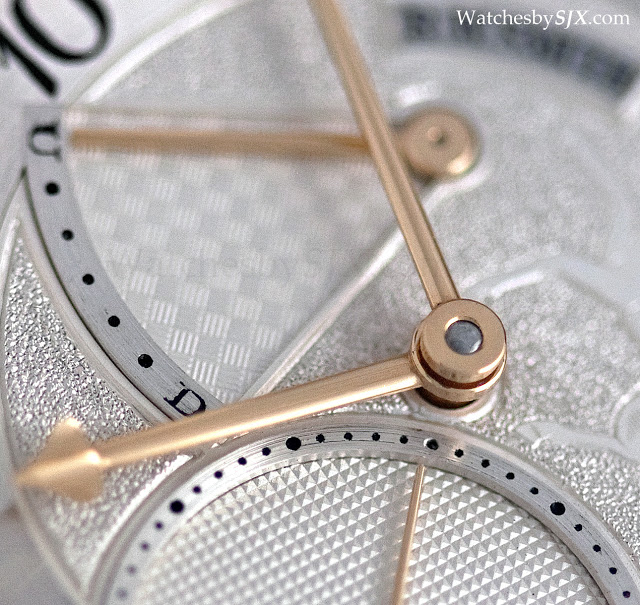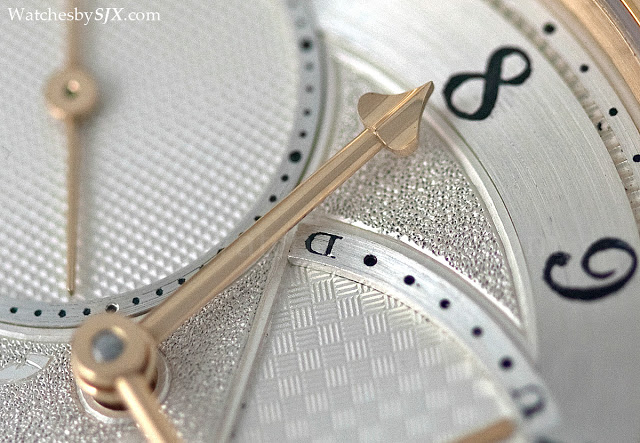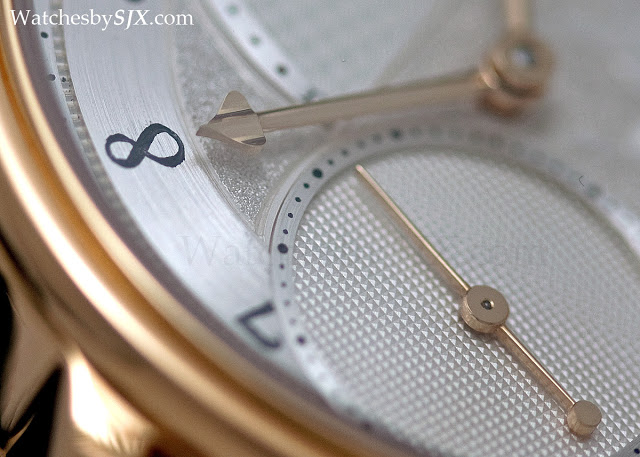 Notice the thickness of the seconds hand
The obvious human element in some parts of the watch brings to mind other independents, like Jean-Baptiste Viot, and even Vianney Halter. The movement displays a much cleaner finish. Some details stand out, like the black polished bridge that contrasts well with the frosted plate. And also the pink gold plated bridge for the Co-Axial escape wheels.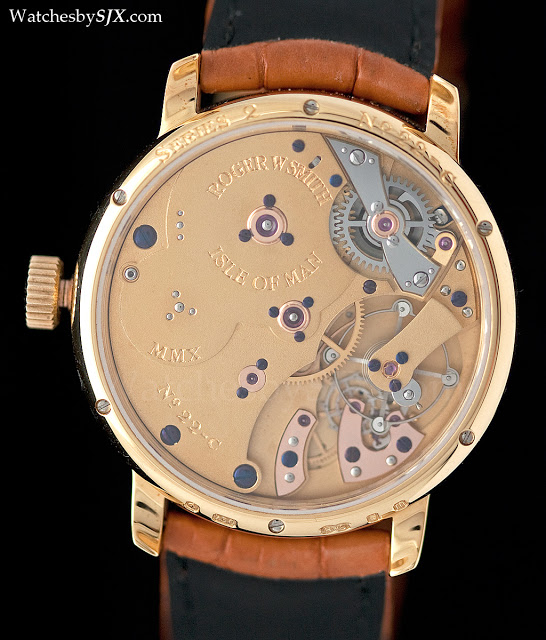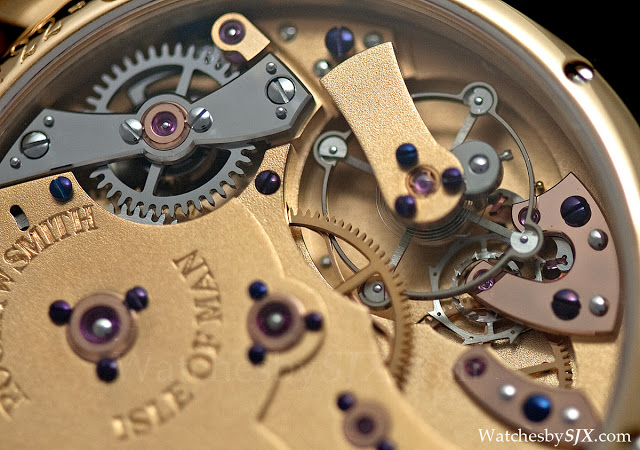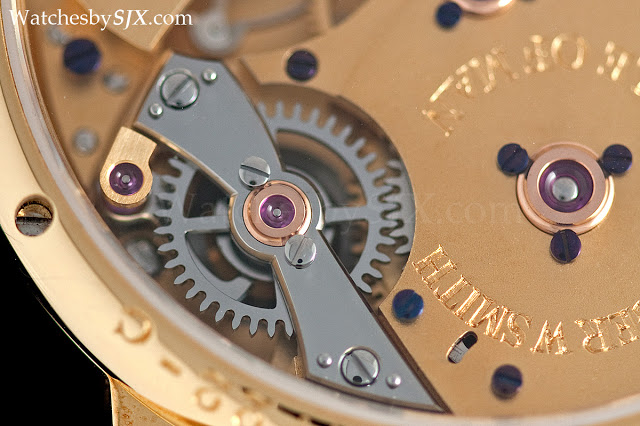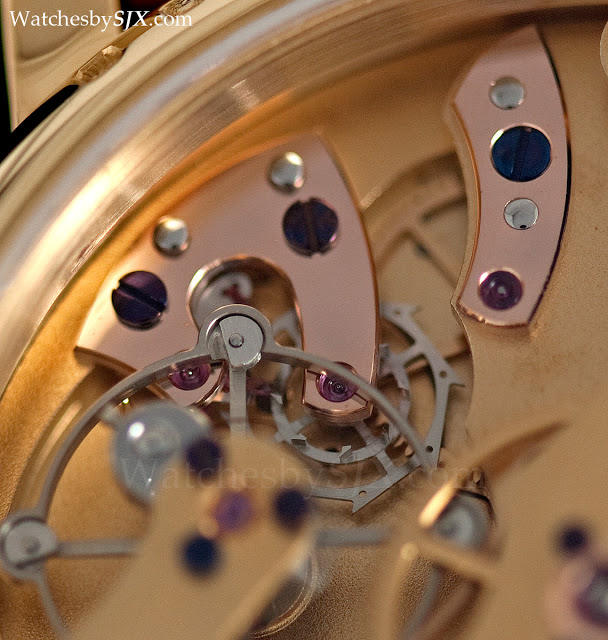 The Co-Axial escape wheels
While the execution might not be to everyone's taste, Roger Smith accomplishes his goal of traditional English watchmaking well with the Series 2. – SJX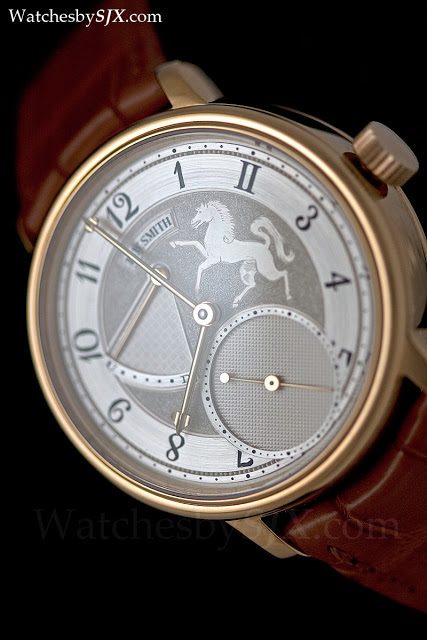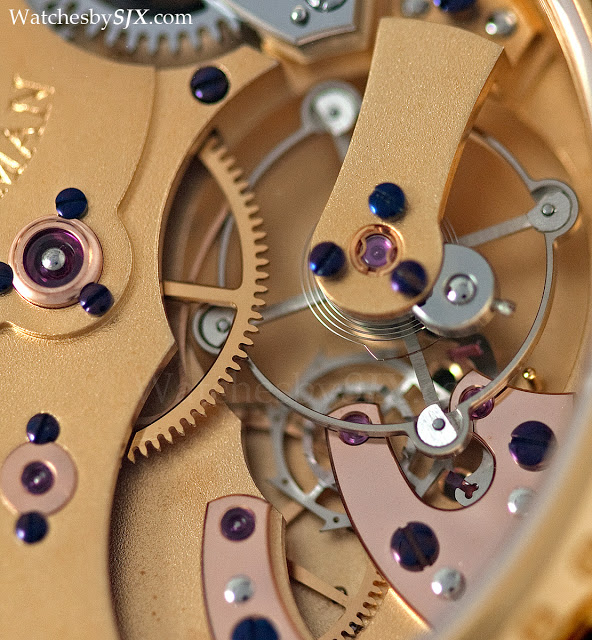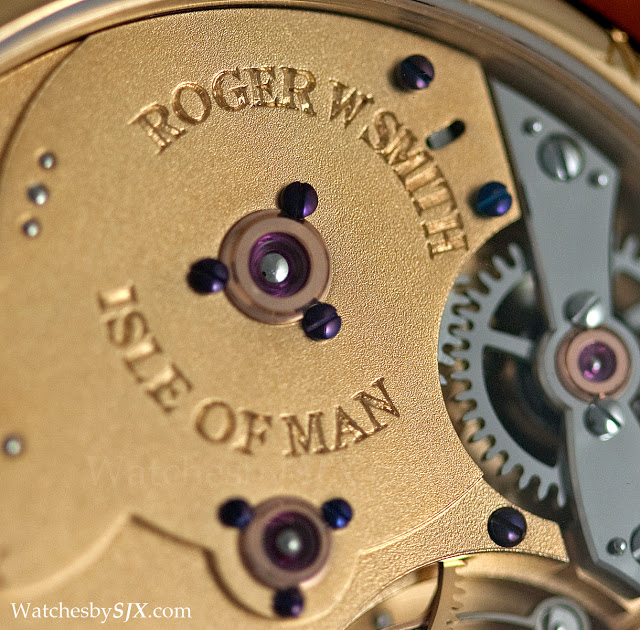 The text on the plate is hand engraved as well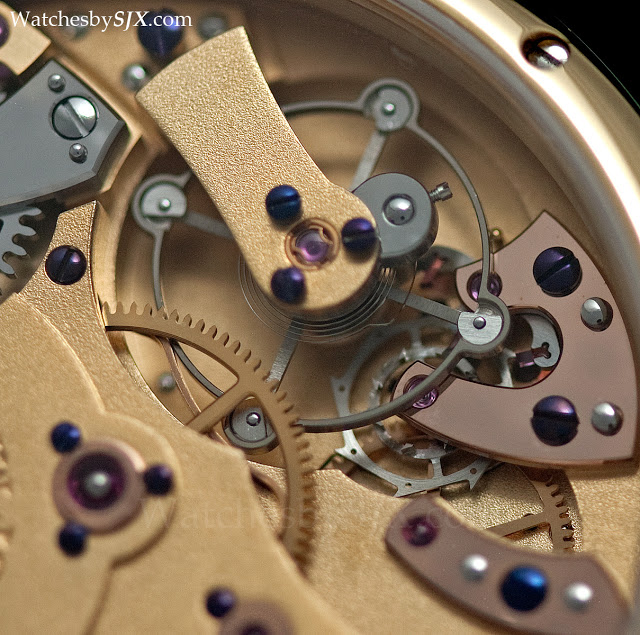 Back to top.
---
You may also enjoy these.