Introducing Oscillomax For The First Time In The Patek Philippe Ref. 5550P Advanced Research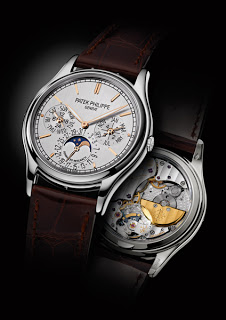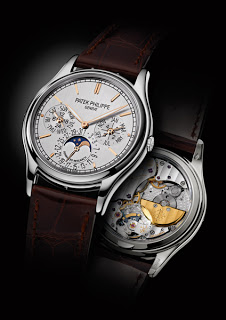 Patek Philippe 5550P Perpetual Calendar Cal. 240 Q Si
Recently Patek announced the latest in the Advanced Research series, the ref. 5550P perpetual calendar fitted with the cal. 240 Q Si movement. This new calibre features a silicium escape wheel, anchor, hairspring and the latest innovation, a silicon balance wheel, labelled GyromaxSi after Patek's adjustable mass balance. Together all the silicium escapement parts are termed surprise, surprise, Oscillomax.
The Advanced Research series began in 2005 with the ref. 5250P, followed by the ref. 5350P in 2006 and ref. 5450P in 2008. All were annual calendars based on the cal. 324, but with each of these watches Patek Philippe gradually introduced silicon components – Silinvar escape wheel, Spiromax hairspring and Pulsomax lever – into the escapement. Currently the Spiromax is standard on the CH28 movement of the 5980 and 5960 and in time to come the silicon hairspring will become standard on all Patek watches.
One of the advantages of the four silicon parts in the new cal. 240 Q Si according to Patek is a gain in efficiency, leading to a 70 hour power reserve instead of the regular 48 hours for the conventional cal. 240. The press release explains this in detail:
"It accounts for a significant increase of energy efficiency attributable to the innovative Oscillomax® subsystem, particularly of the Pulsomax® escapement and of the GyromaxSi® balance. This gain is based on the perceptibly lower mass of Silinvar® parts compared to conventional components, on the optimized geometry of the lever and escape wheel, and on the much-improved aerodynamics and mass distribution of the GyromaxSi® balance, to mention just some of the key reasons. Less energy dissipated means greater efficiency as demonstrated by a power reserve increase of about 50% without having necessitated any modifications of the mainspring, the frequency, or the moment of inertia of the balance. The efficiency of the winding train has also been perceptibly improved."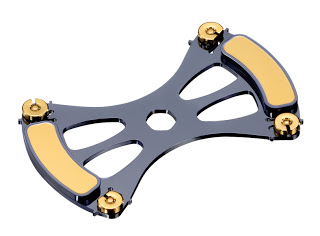 GyromaxSi balance wheel in silicon with gold weights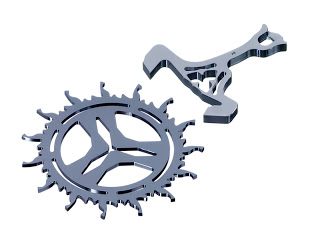 Pulsomax escape wheel and anchor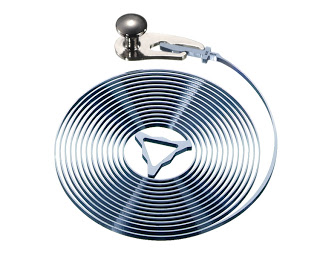 Spiromax hairspring
Cased in platinum and identical in size to the ref. 5140 perpetual calendar at 37.2 mm, the ref. 5550P is features a silver dial with gold markers which I assume is similar to the dial on the ref. 5350P. Usually for a Patek perpetual calendar, but similar to the annual calendars, the ref. 5550P has luminous hands and markets on the dial. Like the other Advanced Research watches it is a limited edition of 300 pieces.
Click here for my thoughts on the Patek ref. 5270G, another of the new releases for 2011.
– SJX
I have the book by Leonardo Arte and it's a beautifully illustrated publication with lots of large photos of vintage Pateks.

Back to top.
---
You may also enjoy these.