Urwerk Introduces the UR-100V "Magic T"
Entirely sleek, matte titanium.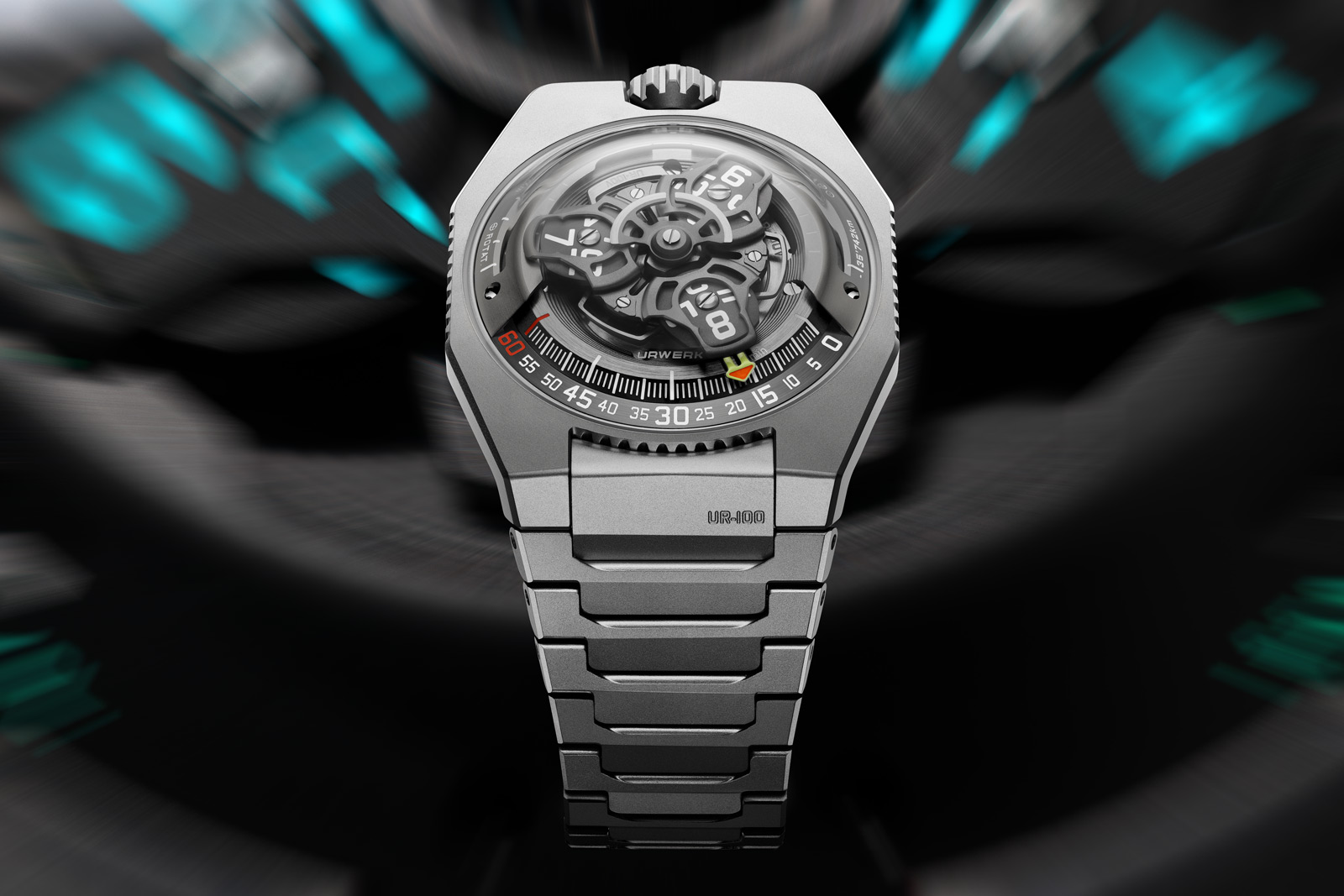 Continuing with iterations on its bestseller, Urwerk has just taken the covers off the UR-100V "Magic T". Retaining Urwerk's signature wandering hours time display, the Magic T has both its case and matching bracelet in finely-blasted titanium, giving it a look that is distinct from the UR-100V "Full Metal Jacket" launched in 2021.
Initial thoughts
At first glance, the Magic T looks identical to its 2021 predecessor. Both are identical in design and share a matte titanium case and bracelet. But in person the Magic T is clearly different, even though it's only the finishing of the titanium that differs. The Magic T has a finer, smoother finish that gives it a softer, more refined feel. This gives more tactile appeal than the Full Metal Jacket for me, so anyone who missed out on last year's model should not have any regrets.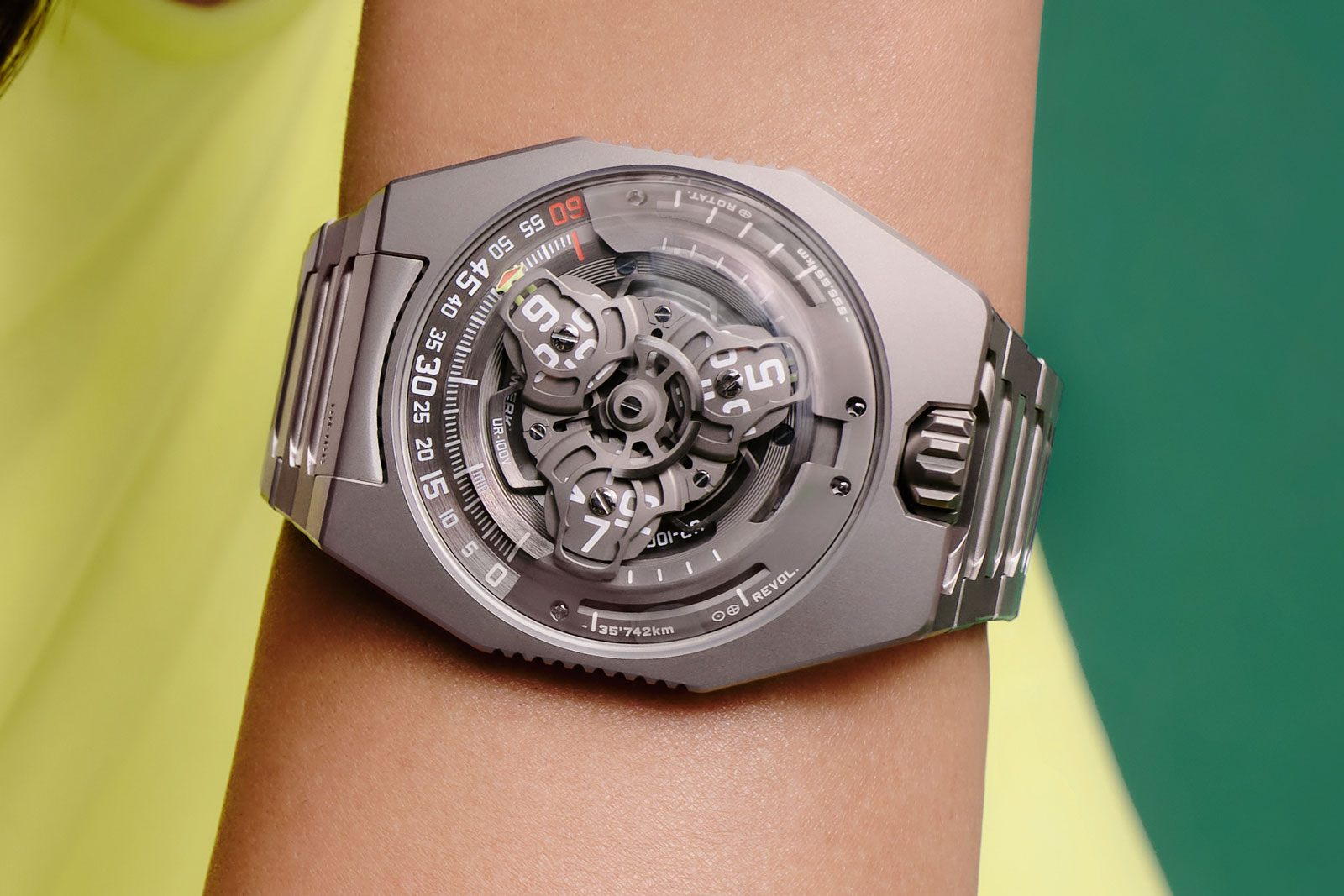 That said, I hope Urwerk doesn't do too many limited-edition variants of the UR-100V on a bracelet, because it would risk getting repetitive. For now, however, the runs are small enough and editions few enough that the model remains appealing and interesting.
Finely "shotblasted"
Unlike the Full Metal Jacket that was finished with a tangibly granular finish, the Magic T is entirely in "sanded shotblasted titanium". In other words, it was blasted with smaller abrasive particles than those used for the Full Metal Jacket, resulting in its smoother, finer finish. The difference in finish is tactile enough that both watches feel different in the hand.
But texture aside, the Magic T is identical to its predecessor. Both the case, bracelet, and movement retain the same design.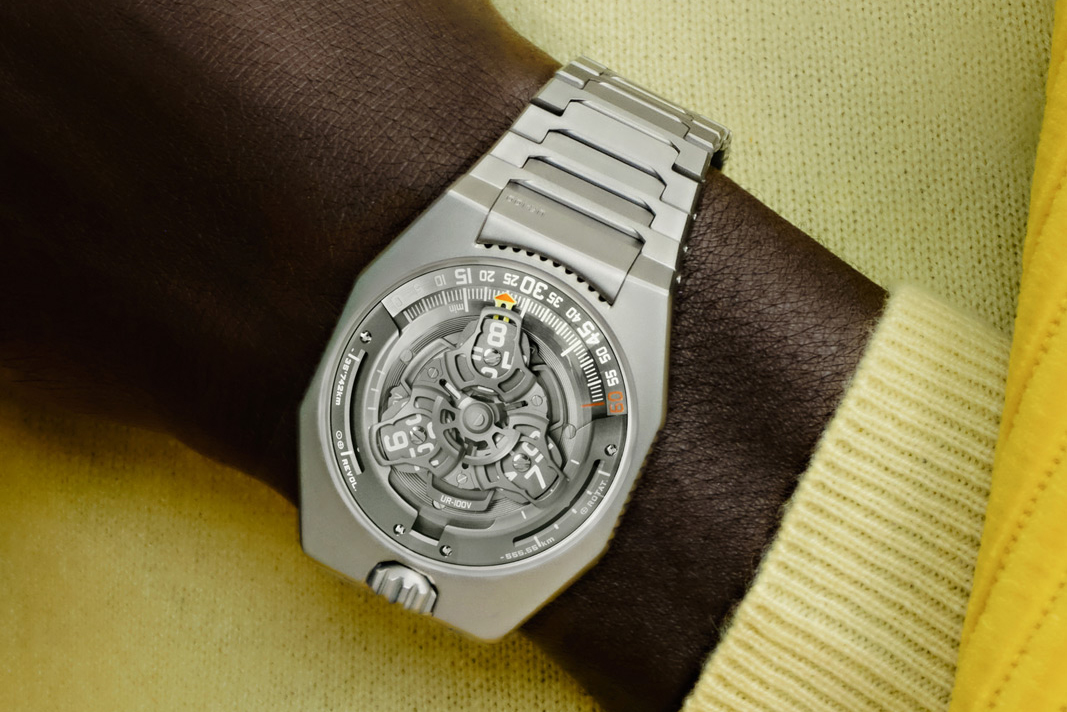 Inside the self-winding UR 12.02, which is made up of a Zenith Elite base movement with Urwerk's time display module on top. In traditional Urwerk style, the module indicates the hours with three satellites on a aluminium carousel, along with a small pointer for the minutes.
And on the upper corners of the dial sit two astronomical indications: at left the distance in kilometres travelled by the Earth on its own axis in 20 minutes (555 km), and at right the distance travelled by the Earth around the time in the same time (35,740 km).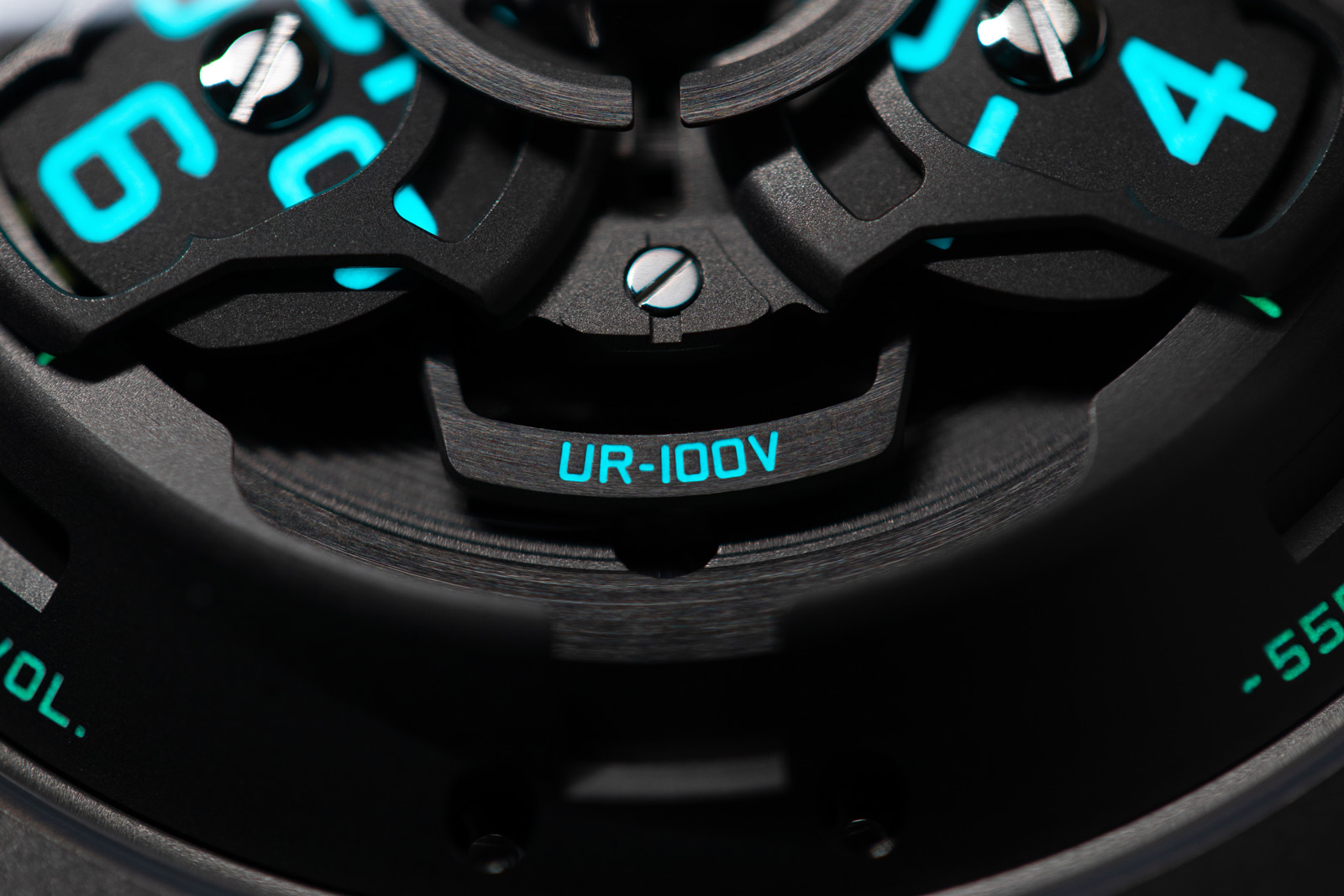 And unique to the UR-100V is the "Windfänger airscrew", a gear mounted on top of the rotor that moderates its spinning, thus regulating the rate of winding.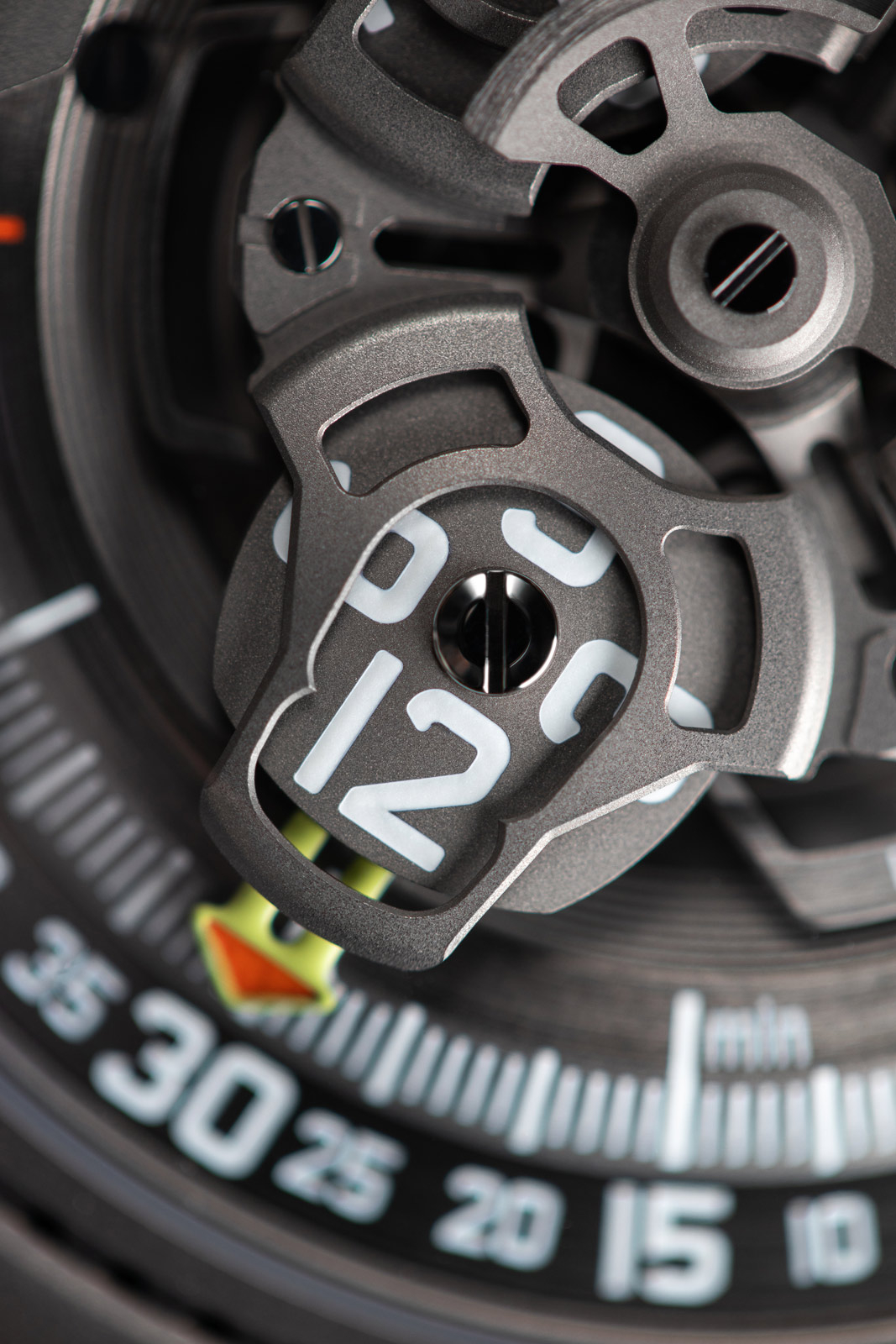 ---
Key Facts and Price
Urwerk UR-100V "Magic T"
Diameter: 41 mm
Height: 14 mm
Material: Titanium
Crystal: Sapphire
Water resistance: 30 m
Movement: UR 12.02
Features: Satellite hours and minutes; Earth's rotational and orbital distance
Frequency: 28,800 beats per hour (4 Hz)
Winding: Automatic
Power reserve: 48 hours
Strap: Titanium bracelet
Limited edition: 50 pieces
Availability: At Urwerk retailers
Price: CHF58,000 excluding taxes
For more, visit Urwerk.com.
---
Back to top.
---
You may also enjoy these.