Swatch Goes Green with Big Bold in Plant-Based Plastic Composite
The Bioceramic case.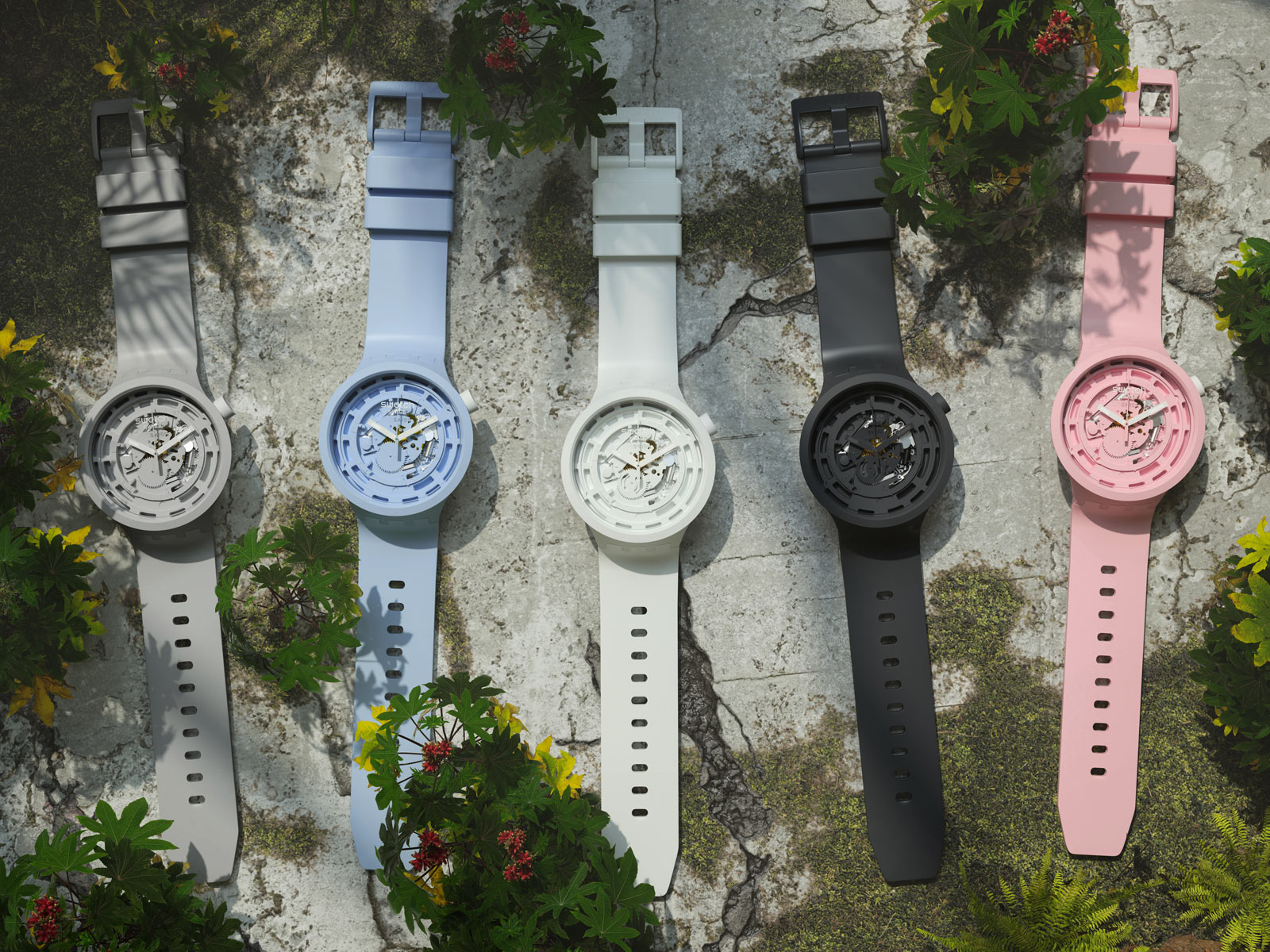 Having introduced the oversized Big Bold in bright, funky iterations such as the Jelly Fish Neon, Swatch is now going minimalist – and green – with the Big Bold Bioceramic.
Clad in solid, pastel colours, the Big Bold Bioceramic is clean and coherent. Though simple, it manages to be interesting in both style and materials. The open-worked dial reveals some of its mechanics, while the case is composite of ceramic and plastic made from plant matter.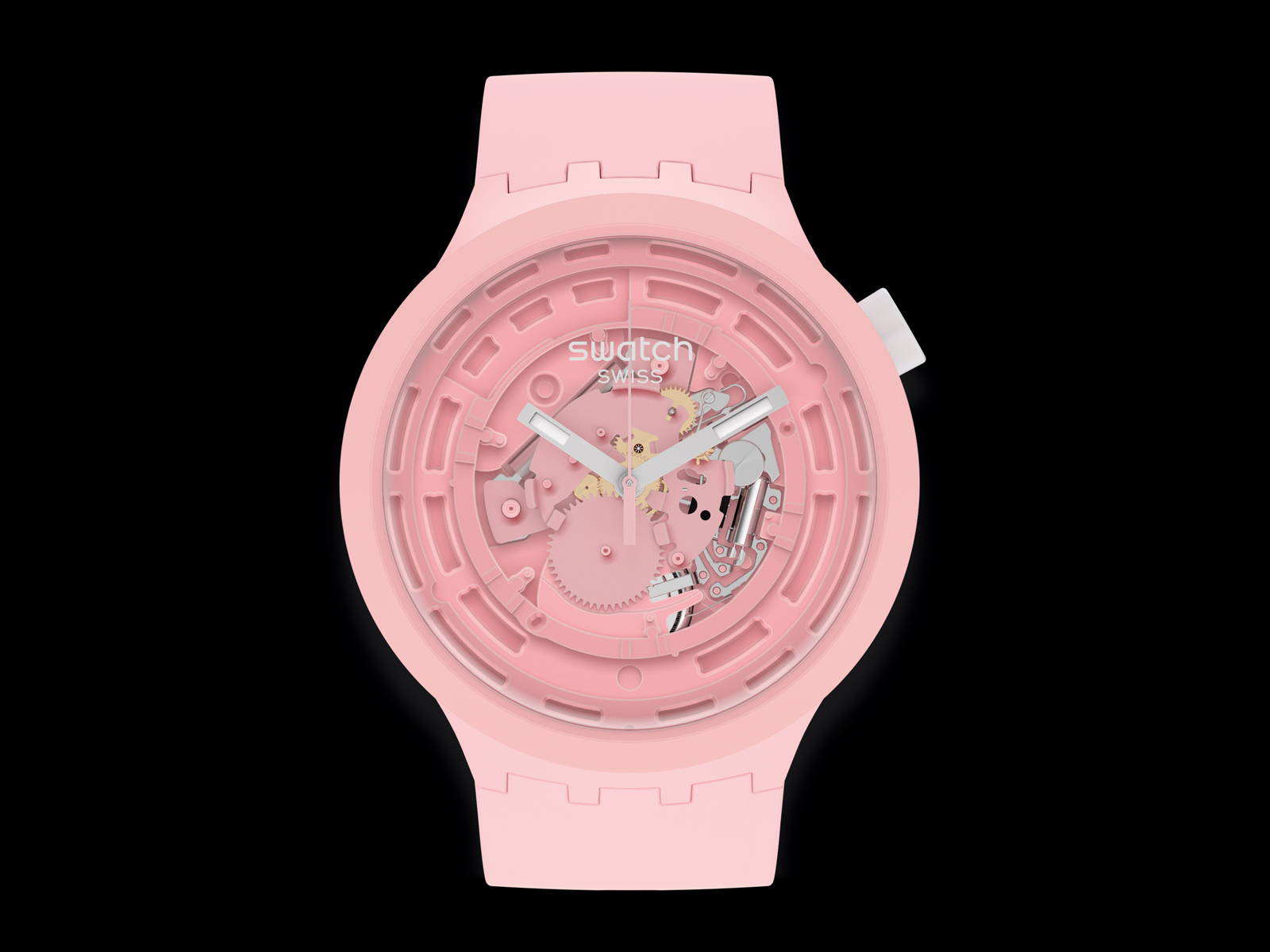 Initial thoughts
For those who appreciate the bold presence of large watches like the Royal Oak Offshore, the Big Bold is a lot of fun at a far more accessible price. So when the Big Bold was launched a few years ago, I very much liked the idea of a 47 mm plastic watch.
But I found the earlier iterations to be at either extreme – too funky or too plain. The latest version, however, lands in the sweet spot for me. Vibrant in colour – especially in "power pink" or sky blue – but pared back in design, the new Big Bold also has an open-worked movement that's intriguing despite being quartz. And the new "bio-sourced" material also adds to the appeal, as does the fact that it only costs a bit over US$100.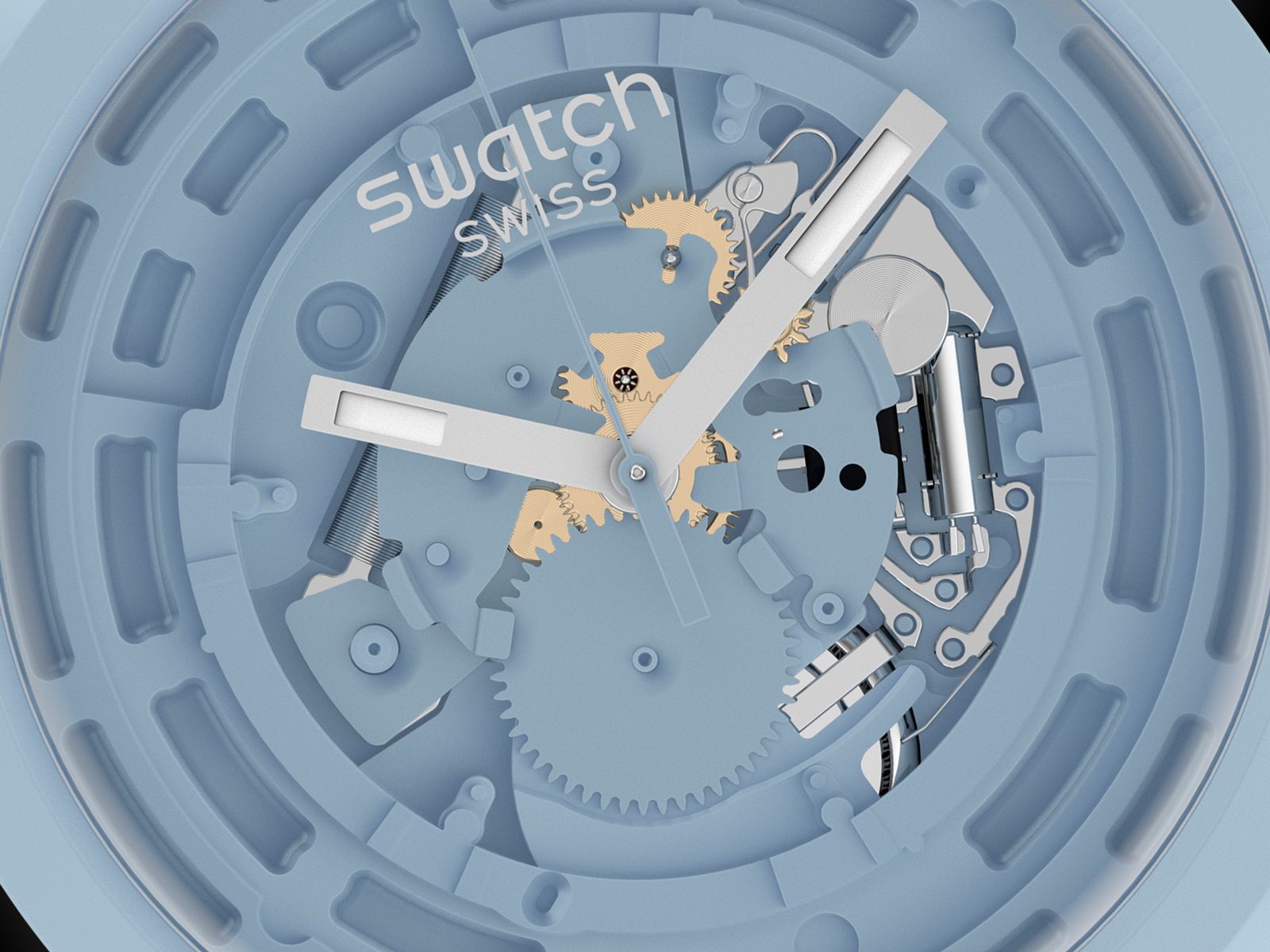 The Big Bold is ergonomic, despite the seemingly massive diameter. With almost non-existent lugs, its lug-to-lug span is a mere 44.8 mm, a length more commonly found on watches with a diameter of around 36 mm. Despite the wide case, it wears well on most wrists, without a significant overhang on either side of the wrist due to the short lugs.
Priced at US$125, the Big Bold Bioceramic is bit more expensive than Swatch models in smaller sizes or those in conventional plastic. But it's a handsome watch that's still honestly priced – and perhaps the most affordable, Swiss-made watches in ceramic – making it an attractive buy.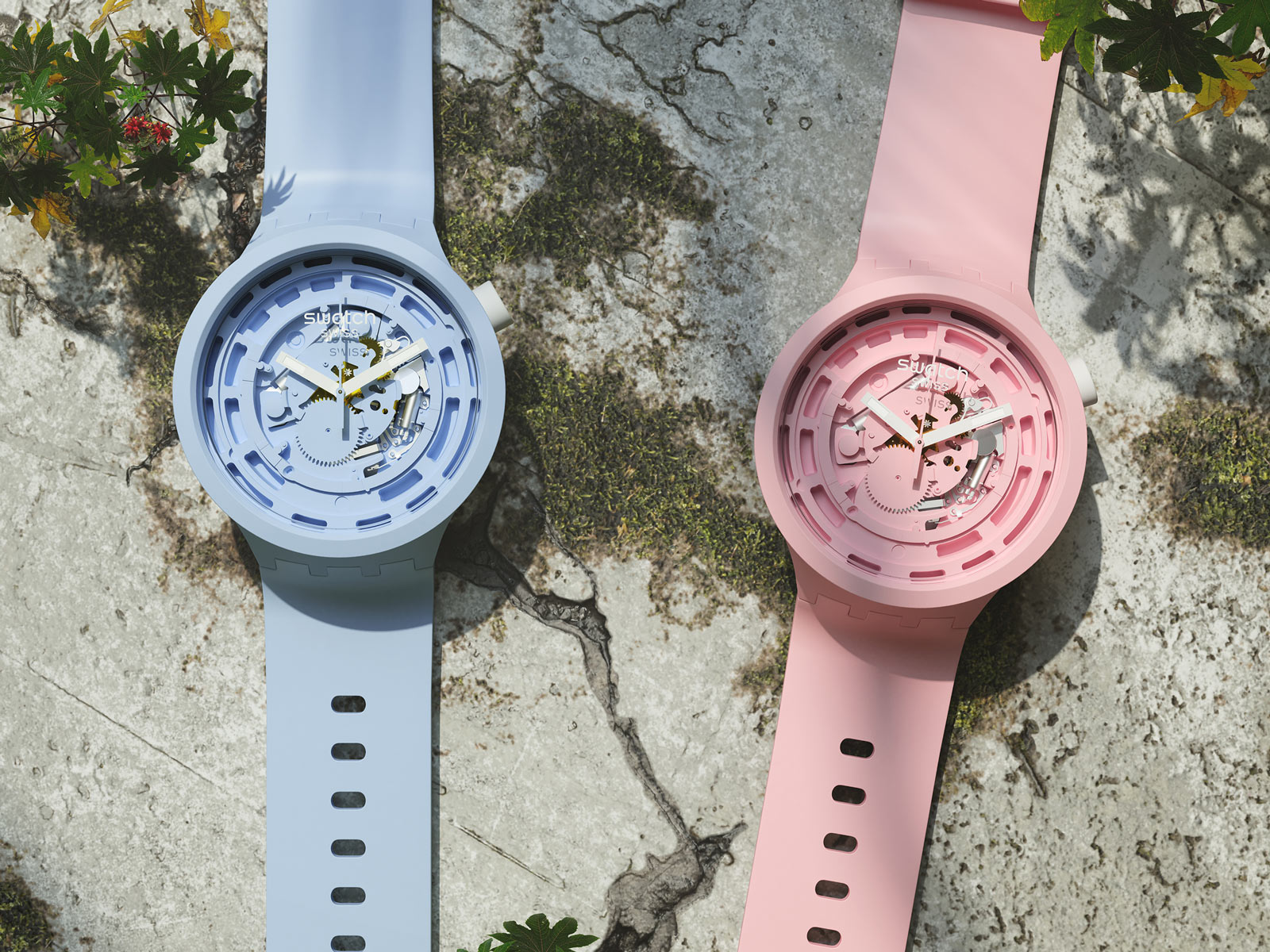 Bioceramic
The highlight of the new Big Bold is Bioceramic, a composite of ceramic and bio-sourced plastic in the proportions of two-thirds and one-third respectively. A light and strong material that is not reactive, bioceramics are typically used for orthopaedic implants.
The composite forms the case, while the crystal, glass, and strap are made of bio-sourced plastic, which is made from biological materials such as plant fibres, instead of petroleum as conventional plastic is. In theory, the use of bio-plastic helps reduce the carbon footprint of the manufacturing process. If any Swiss watch brand can make a significant difference in this respect, it would be Swatch, since its production volume is massive and most of its watches are plastic.
Subtle open-worked
And another interesting detail of the watch is the dial. At a distance, it appears simple and identical in colour with the case and strap. But up close, it reveals the moving parts of the quartz movement, which are simple but still fun to observe.
The centre of the dial is has been removed to show off the gears and electrical components like the coil around the stepper motor at ten o'clock. Although display backs on mechanical watches are now the norm, it is rare to get a look inside of a quartz watch, which makes this interesting. And the movement has been thoughtfully detail, with the larger components like bridges ands gears coated to match the dial and case.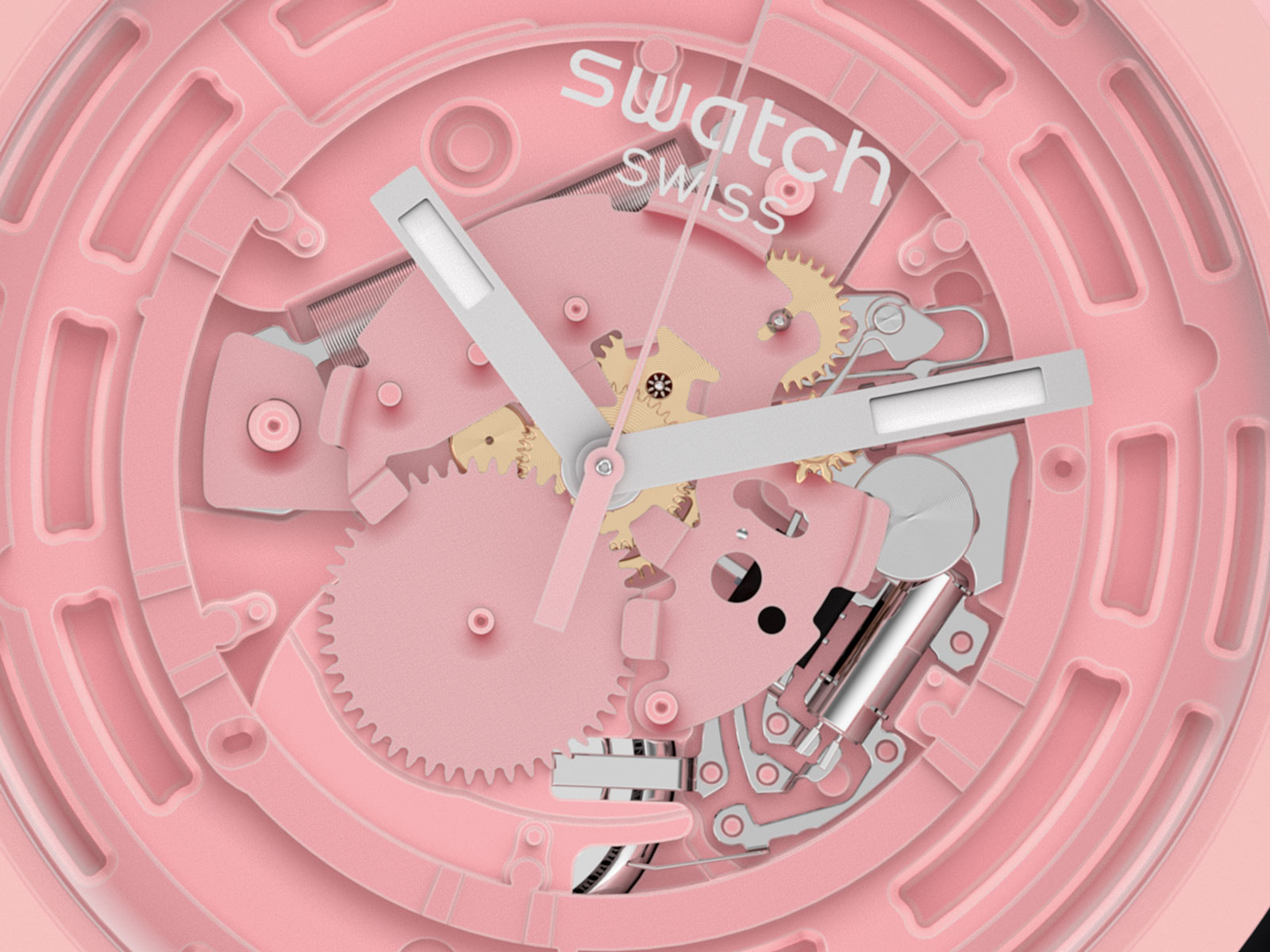 ---
Key Facts and Price
Swatch Big Bold Bioceramic
Ref. SB03B100 (black)
Ref. SB03W100 (white)
Ref. SB03M100 (grey)
Ref. SB03N100 (sky-blue)
Ref. SB03P100 (power-pink)
Diameter: 47 mm
Height: 11.75 mm
Material: Bioceramic
Water resistance: 30 m
Movement: Quartz
Functions: Hours, minutes, and seconds
Strap: Bio-sourced plastic
Availability: Now at Swatch stores and online boutique
Price: US$125; or 194 Singapore dollars
For more, visit Swatch.com.
---
Back to top.
---
You may also enjoy these.