Audemars Piguet Introduces the Royal Oak Concept "Black Panther"
And a record-setting US$5.2m that goes to charity.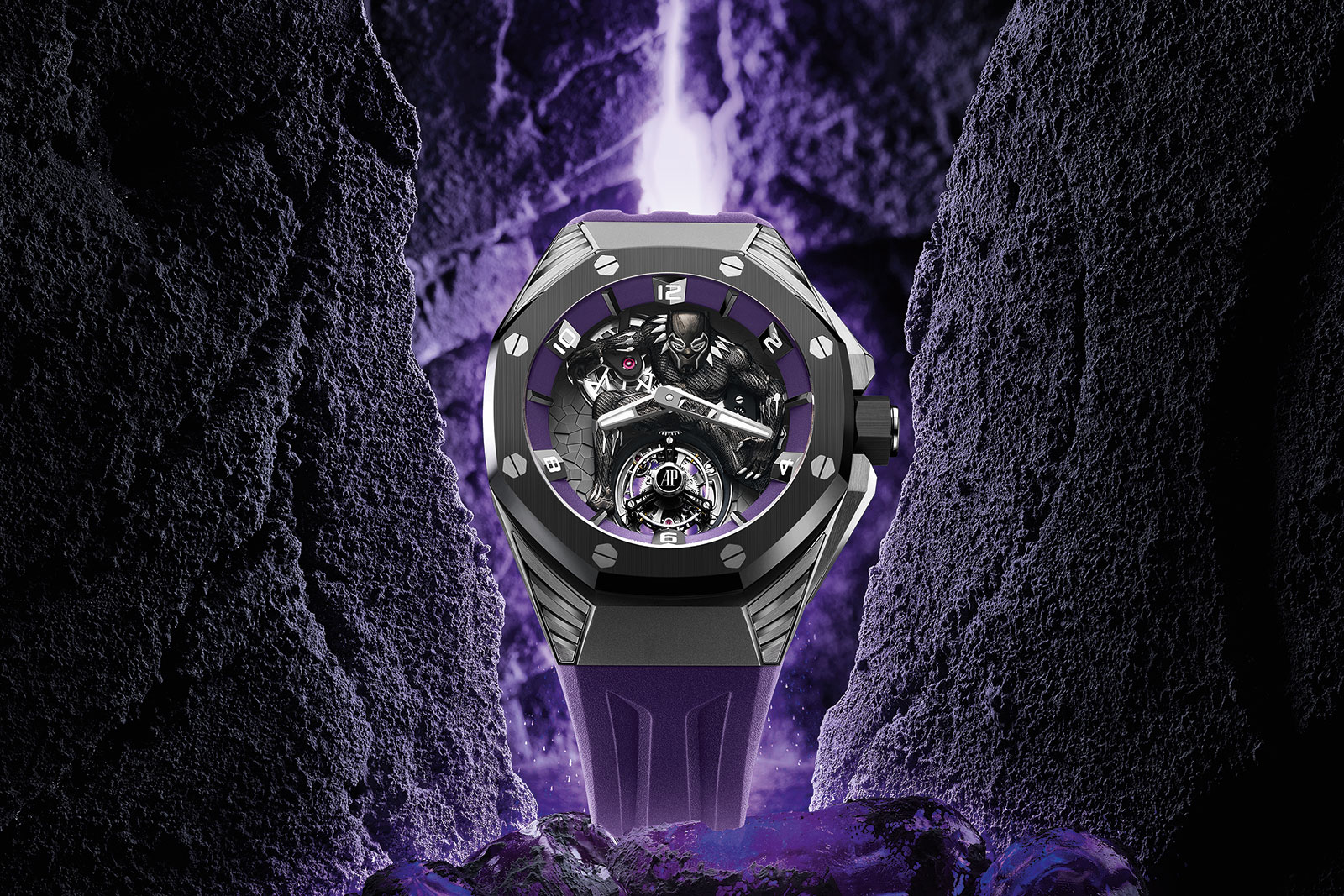 First hinted at in a late-2019 interview its chief executive, the debut of the Audemars Piguet-Marvel partnership was delayed by almost a year – and now it has finally happened. Together with American comedian Kevin Hart, Audemars Piguet boss Francois-Henry Bennahmias revealed the very first product of the Marvel tie-up yesterday during a live-streamed event in Los Angeles.
Inspired by the superhero who's also the ruler of the fictional kingdom of Wakanda, the Royal Oak Concept "Black Panther" Flying Tourbillon is also notable beyond the comic-book character depicted in hand-engraved white gold sculpture on its dial. It is a more compact version of the historically extra-large Royal Oak Concept wristwatch, making it the most wearable Concept to date.
And just after the reveal of the watch, a live auction took place, with all proceeds going to charity. The auction included several experiences with sportspeople who are Audemars Piguet (AP) ambassadors, like lunch with tennis champion Serena Williams, but the closing lot was the highlight. It was a unique version of the Royal Oak Concept "Black Panther" Flying Tourbillon in an 18k white gold case decorated with a hand-engraved Wakandan motif.
After spirited bidding by buyers from several countries, the winner clinched the watch for US$5.20m – over 30 times the retail price of the standard model – an all-time record for an AP watch sold at auction.
Initial thoughts
The Royal Oak Concept "Black Panther" has been widely and vociferously panned online – largely unfair criticism in my view.
The design approach of the watch is very similar to the Gerald Genta Fantasy watches of the 1990s, which featured printed or painted Disney characters on the dial and were popular amongst some of the world's most important watch collectors. As with the Genta watches, the interpretation on the Black Panther watch is quite literal. The dial does have a cartoonish aspect to it, which is doubtlessly the desired outcome given the comic-book inspiration.
At the same time, the watch is not that different from the Richard Mille timepieces with miniature sculptures of dragons and tigers, except for being substantially more affordable, relatively speaking.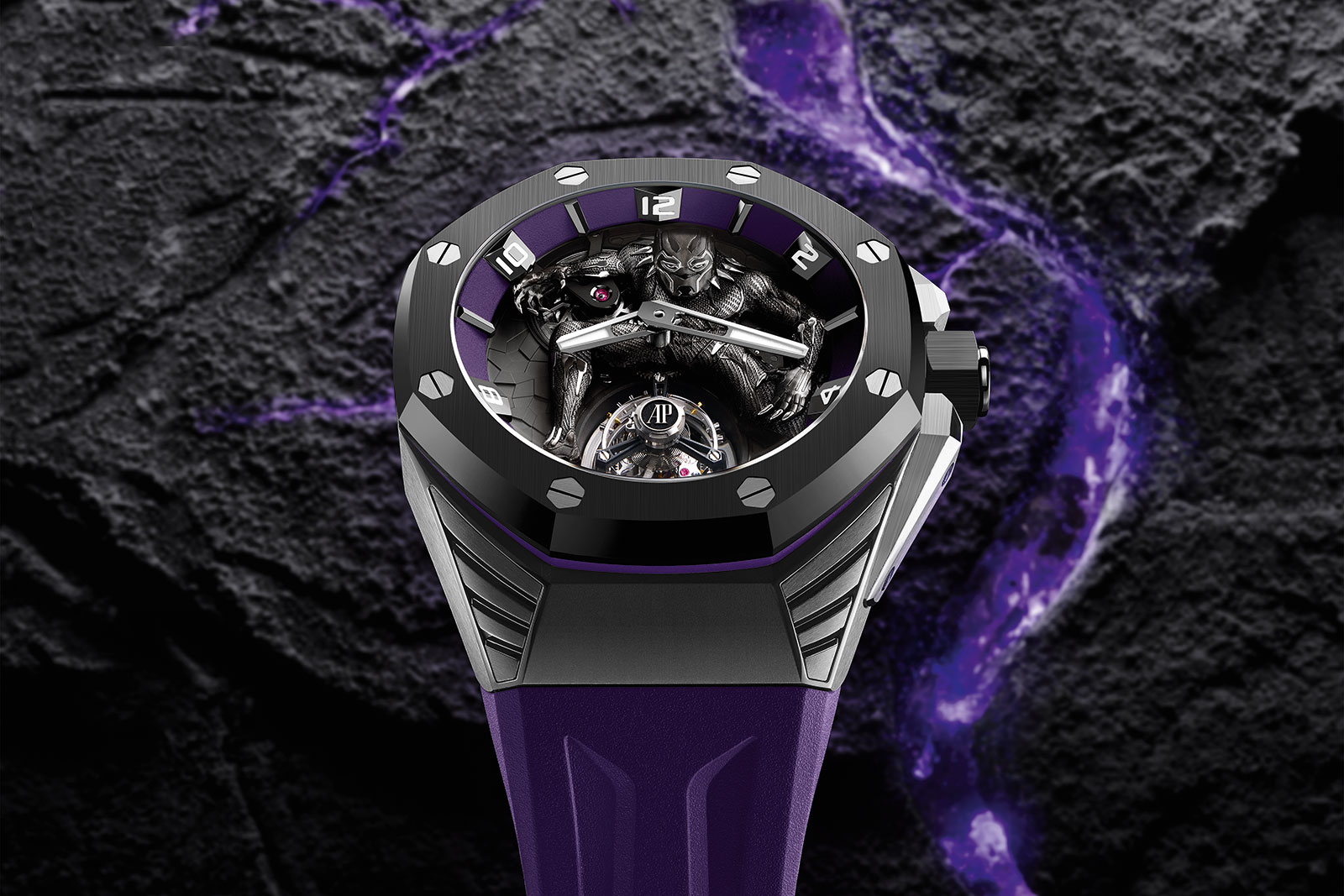 And the execution of the watch is unquestionably high quality, as AP timepieces typically are. While there are watches that look superficially similar in having comic-book characters on the dial, the new Royal Oak Concept has a solid-gold Black Panther figure rendered by hand in great detail, in a manner that would usually be labelled metiers d'art.
There's also the watch itself, which at 42 mm wide is the most manageable Royal Oak Concept ever. Earlier Concept models were uncomfortably large, and even the most lightweight models were clunky on the wrist. In contrast, the Black Panther edition is sized almost like an ordinary Royal Oak Offshore, which will improve ergonomics tremendously.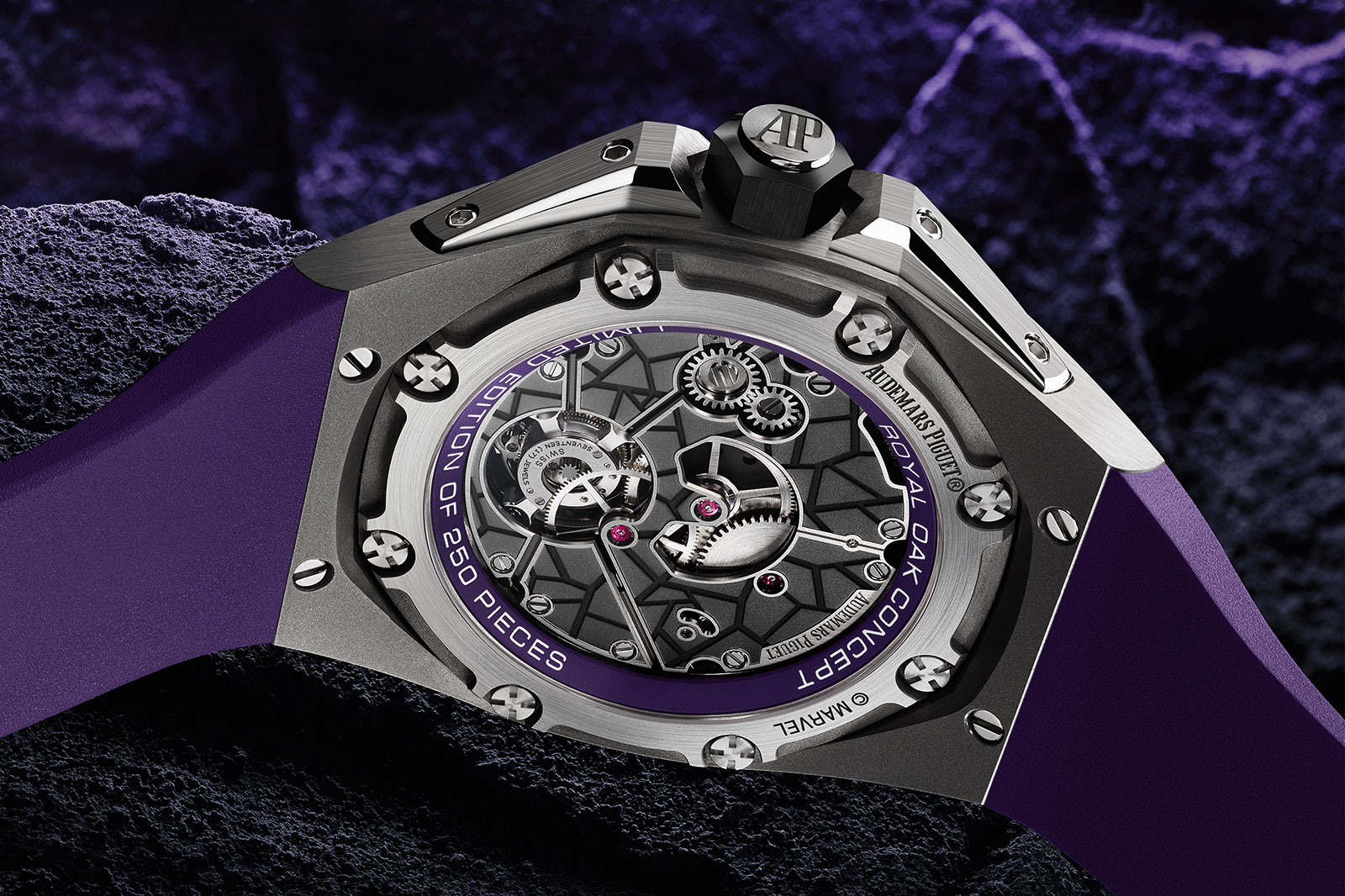 And while it was never explicitly mentioned by Mr Bennahmias or anyone from AP, there was no doubt that the watch and its launch event carried a subtle political and social message.
The Black Panther is African, most famously portrayed by the late African-American actor Chadwick Boseman. At the same time, a slim majority of the celebrities who took part in the launch event were not white; they included Kevin Hart, Serena Williams, basketball LeBron James, boxer Anthony Joshua, as well as Chinese singer Lu Han.
In an industry that is largely white European – despite most clients being Asian – the watch and its launch were atypical. Perhaps it is related to the fact that Audemars Piguet vice-chairman Olivier Audemars, who's also a member of the founding Piguet family, is of mixed parentage (and he is reputedly next in line to be chairman of the board). Mr Bennahmias and his colleagues should be commended for at least that much.
Black Panther
Clad in his trademark suit made of Vibranium – a super-metal that is resistant to everything – Black Panther is reproduced on the dial in miniature. The figure starts out as a disc of 18k white gold that's milled out on a CNC machine to form the rough blank. That's followed by a laser etching to create the fine, fabric-like texture of the character's suit.
And finally the figure is engraved by hand to realise the smallest details like the eyes and claws, before being painted, again by hand. Black paint is applied in layers to create shading, while certain portions of the costume are left unpainted, revealing polished white gold surfaces for contrast. Both the engraving and painting takes some 30 hours according to Audemars Piguet.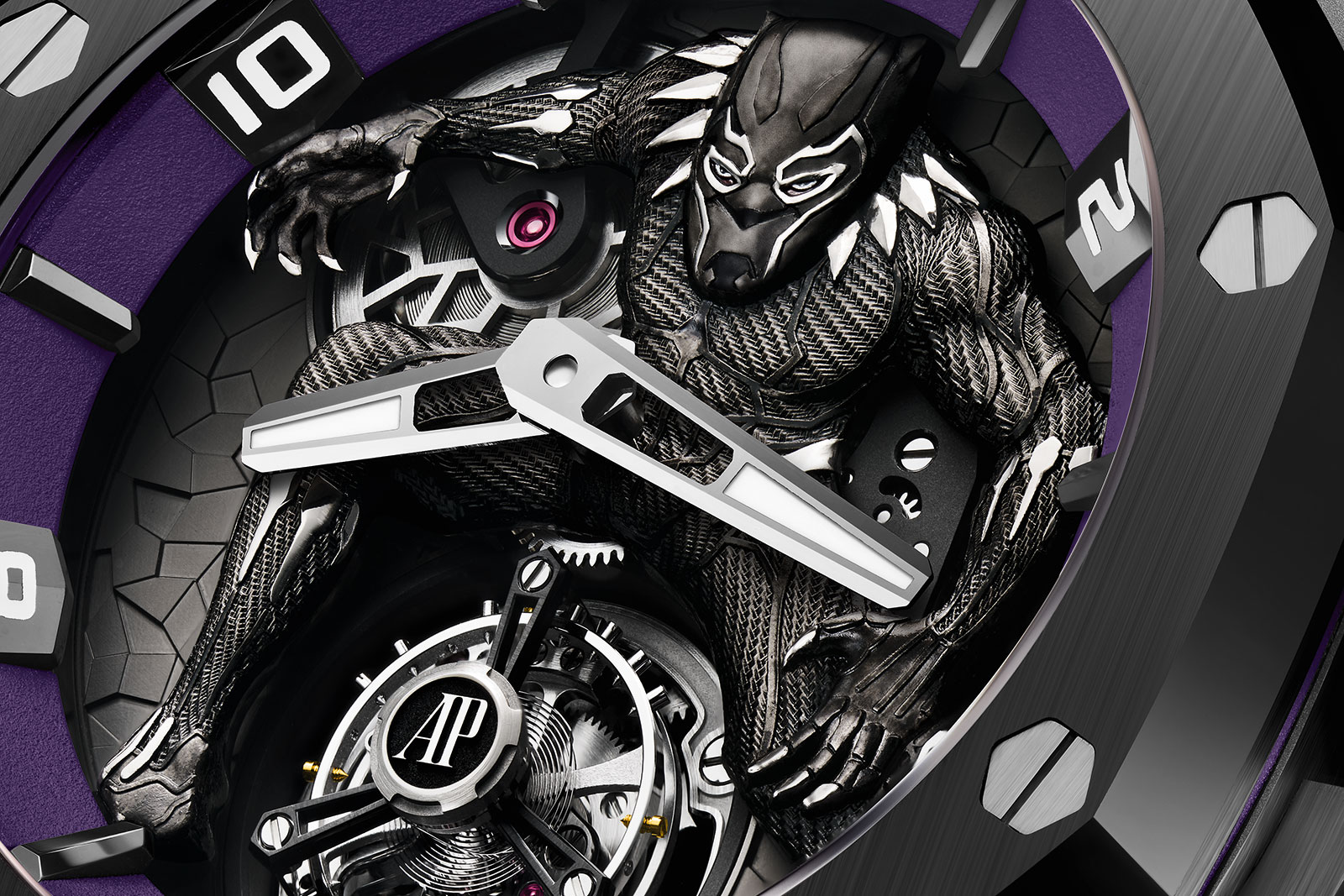 Measuring 42 mm wide and 14.6 mm high – thin for a Royal Oak Concept – the case sticks to the sculpted, angular style of past Royal Oak Concept watches – characterised by a slightly arched profile – but with the modest addition of vented titanium inserts on the lugs that are inspired by Black Panther's costume.
Made entirely of titanium, the case is topped by a black ceramic bezel. Both are finished in the traditional Royal Oak manner, which means alternating brushed and polished surfaces done to an extremely high standard.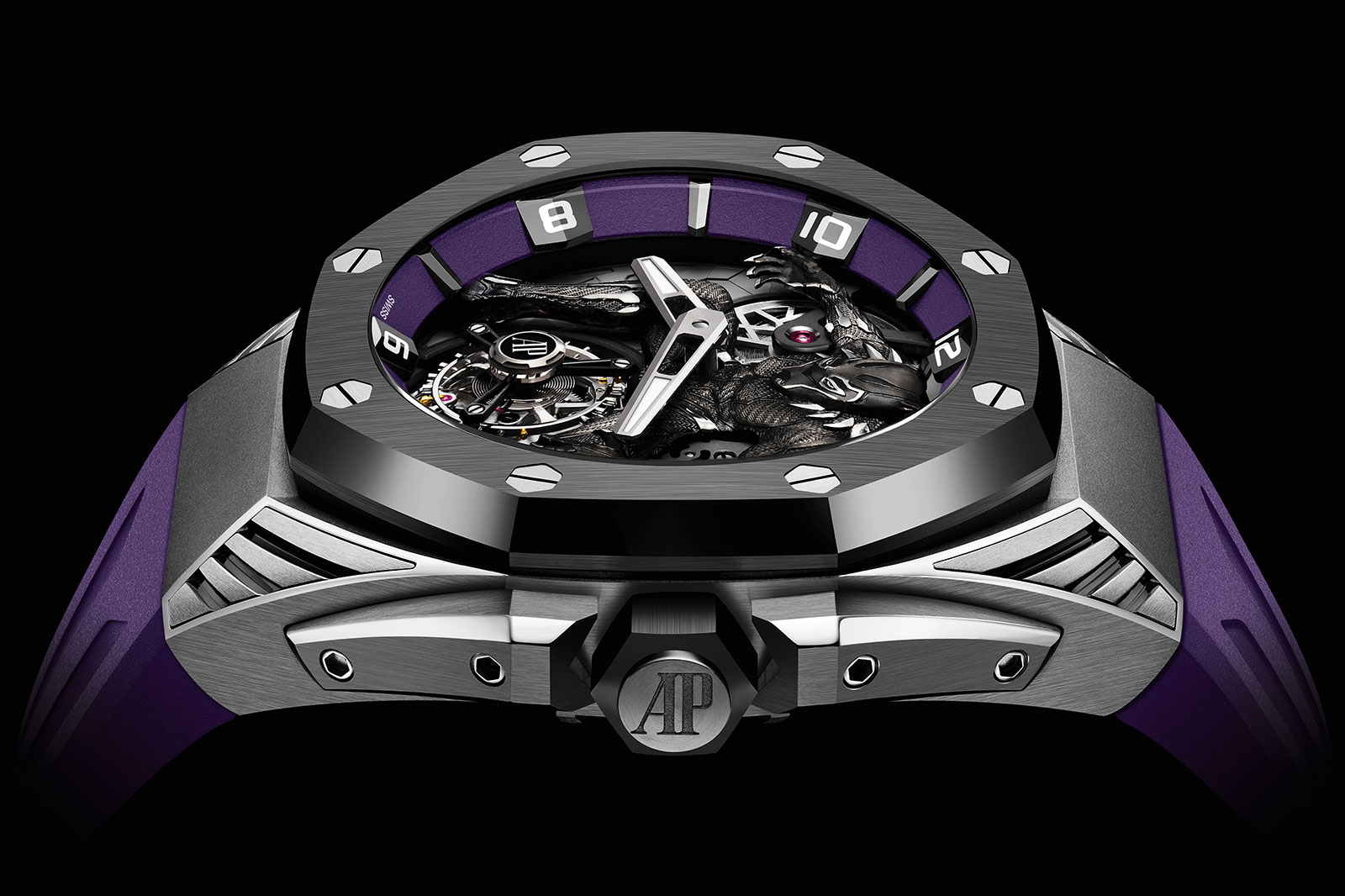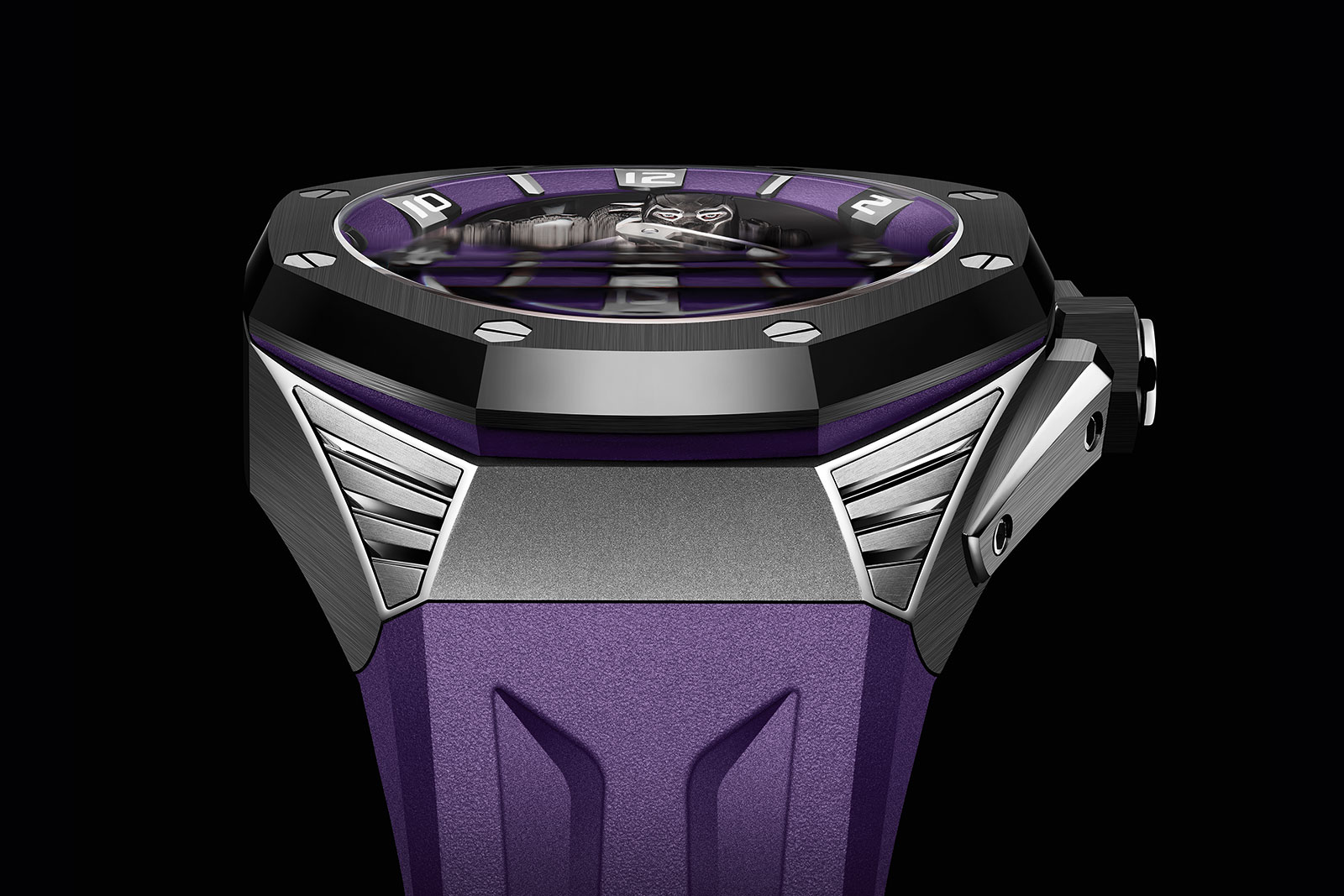 Inside is the cal. 2965, a hand-wind movement with a flying tourbillon regulator and 72-hour power reserve. Similar to the movement found in last year's Royal Oak Concept Frosted Gold Flying Tourbillon, the calibre here features strikingly textured bridges on both the front and back.
Visible below the Black Panther figure on the dial, the titanium base plate is inlaid with panels of uneven, relief polygonal surfaces that are modelled on the superhero's suit. Also in titanium, the bridges on the back are sandblasted and engraved with a similar pattern, but achieved with channels on a flat surface instead of relief. The bridges are further treated with a black and grey coating to highlight the engraved pattern.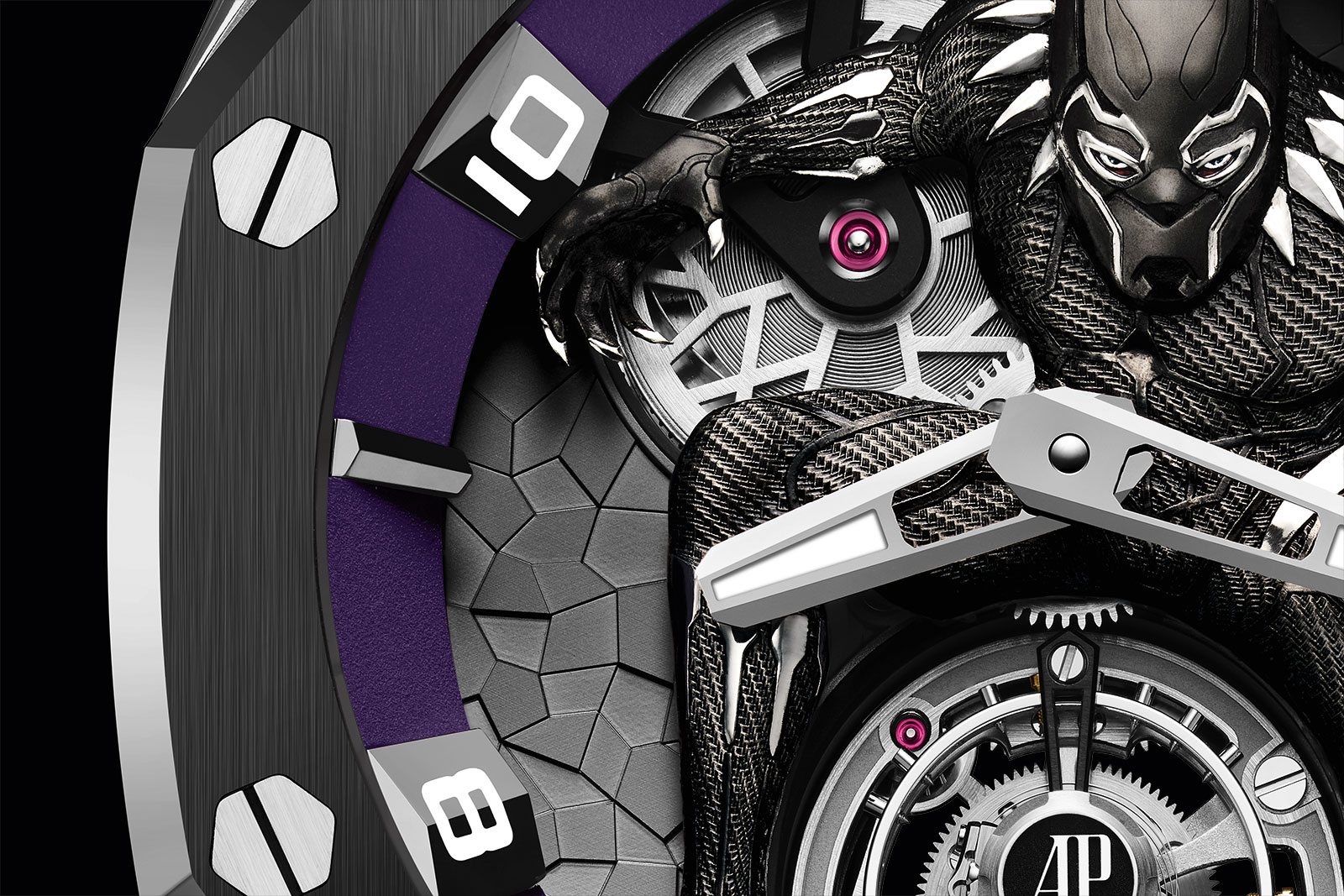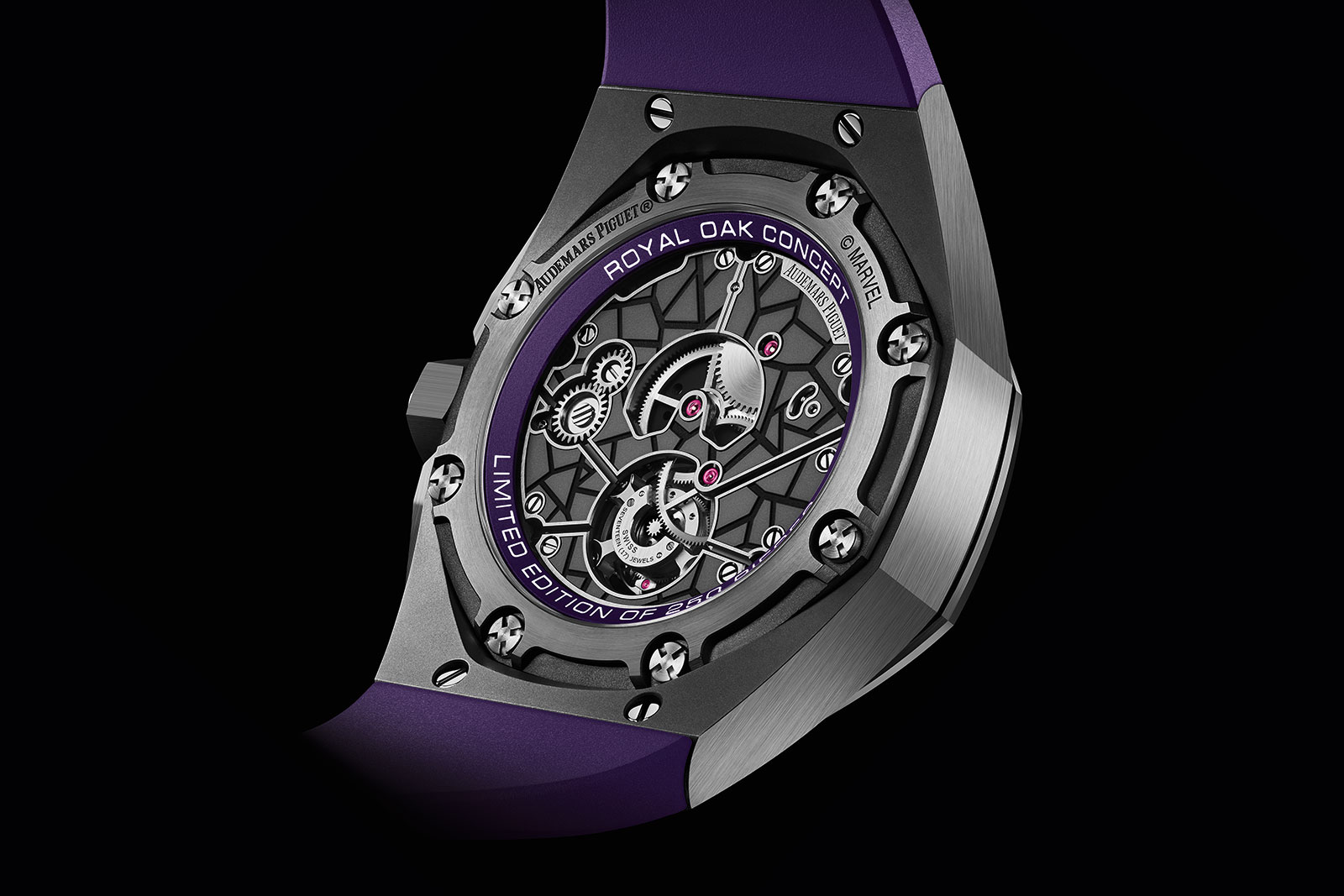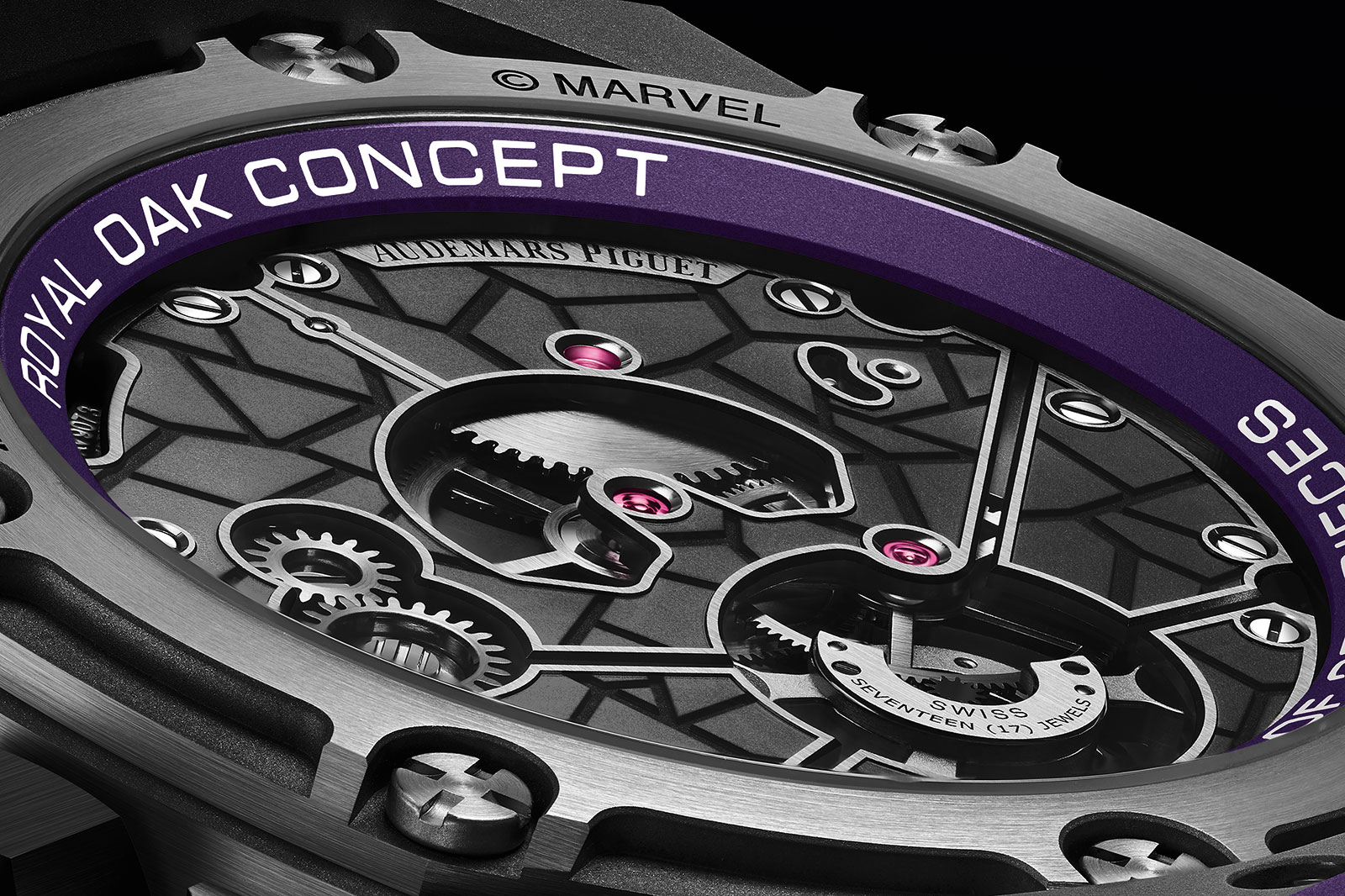 For a good cause
An auction broadcast live on the internet – with pre-registered participants bidding from local Audemars Piguet events around the world – took place after the debut of the Royal Oak Concept "Black Panther". Its proceeds were to benefit First Book and Ashoka, charities that aim to bring education to children in disadvantaged communities.
With Audemars Piguet head of complications Michael Friedman holding the gavel, the auction started off in a big way: a golf game and visit with English golfer Ian Poulter sold for US$850,000 to a bidder in China.
But it ended even bigger with the unique Royal Oak Concept "Black Panther" Flying Tourbillon in white gold (ref. 26623BC.GG.D077CA.01) selling for an astonishing US$5.20m.
Once again it went to a buyer in China, who trumped bidders several other countries, most notably Germany, Russia, the United Arab Emirates and other countries in the Middle East.
The one-off Royal Oak Concept "Black Panther" is distinguished by its white gold case, which is entirely hand engraved with a motif inspired by the superhero's costume and similar to that found on the watch movement.
The three auction lots raised a US$6.65m, which was then boosted by an additional US$500,000 donation from Mr Hart, and then rounded up to US$8.00m after Mr Bennahmias pledged another half-million from AP.
---
Key facts and price
Audemars Piguet Royal Oak Concept "Black Panther" Flying Tourbillon
Ref. 26620IO.OO.D077CA.01
Diameter: 42 mm
Height: 14.6 mm
Material: Titanium
Crystal: Sapphire
Dial: Hand-painted Black Panther figure in 18k white gold
Water-resistance: 50 m
Movement: Cal. 2965
Functions: Hours, minutes, and tourbillon regulator
Winding: Hand winding
Frequency: 21,600 beats per hour (3 Hz)
Power reserve: 72 hours
Strap: Purple rubber strap with titanium folding clasp, and additional black rubber strap
Limited edition: 250 pieces
Availability: At AP boutiques
Price: CHF150,000, or about US$162,000
For more information, visit Audemarspiguet.com.
---
Back to top.
---
You may also enjoy these.