Interview: François-Henry Bennahmias, CEO of Audemars Piguet
On the Code 11.59 and something big in June 2020.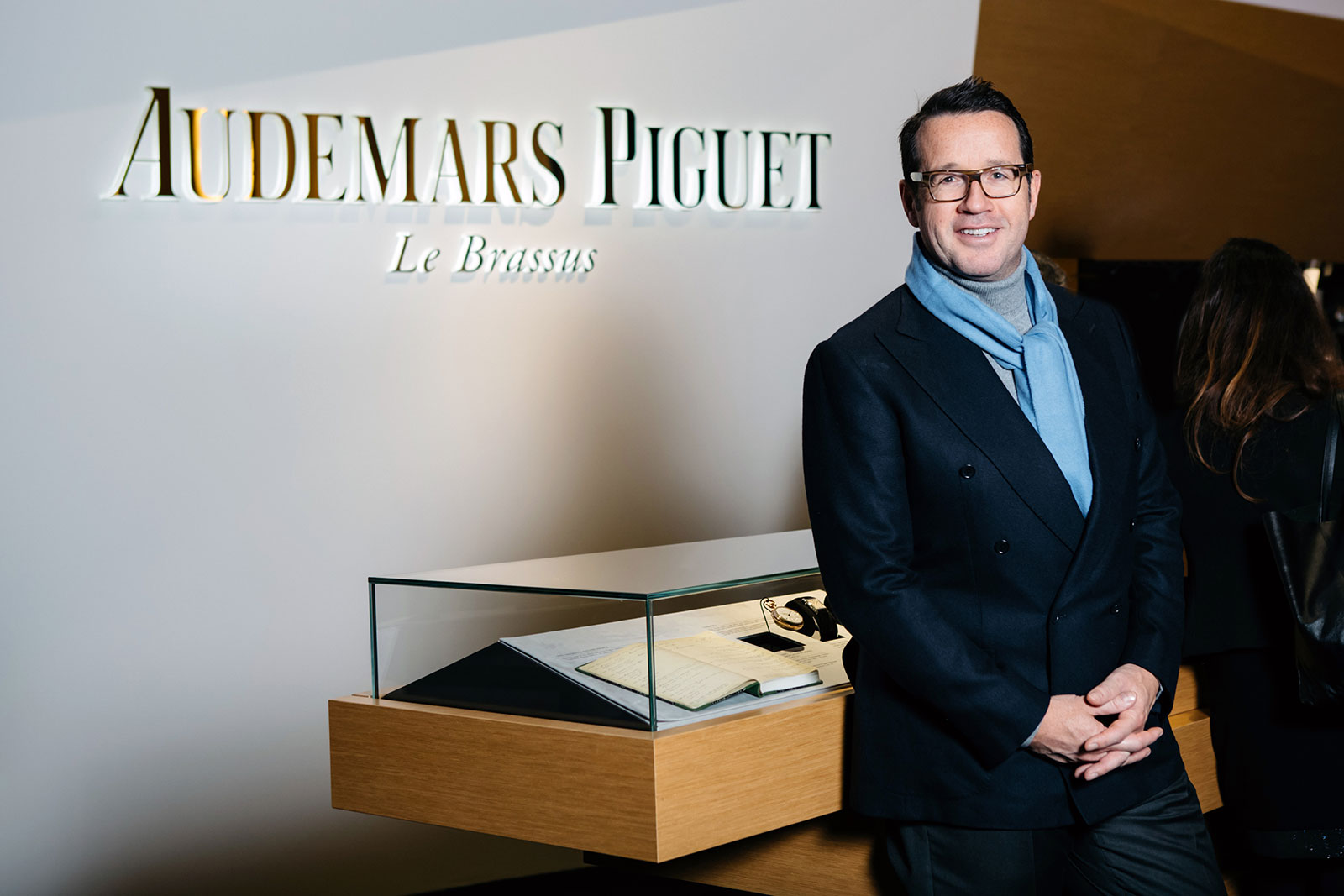 François-Henry Bennahmias is one of the most successful chief executives in Swiss watchmaking: since taking the top job at Audemars Piguet in 2012, revenues at the watchmaker have more than doubled, to well over a billion Swiss francs.
He took some flak earlier this year with the high profile launch of an entirely new line, the Code 11.59, which was widely panned at the time. But Mr Bennahmias appears to have been partially vindicated after the unique Code 11.59 skeleton tourbillon (which I was surprisingly drawn to) sold for a million francs – more than four times its presale high estimate.
But Mr Bennahmias does not seem to be the sort to look back reflectively, he is forging ahead full speed with rolling out new iterations of the Code 11.59, while also working on "huge" and "very cool" collaboration that will be announced in mid 2020.
During a recent visit to Singapore a month ago, Mr Bennahmias discussed the Code 11.59, while dropping a few hints about an upcoming vintage remake, as well as the upcoming partnership.
The interview was edited for clarity and length.
---
I really like what you have done recently with the Royal Oak Perpetual Calendar Skeleton in black ceramic. At the same time, I hear that there are some updates and extensions planned for the Code 11.59 in 2020. Can you talk anything about that?
No. [With a smile]
Can you say anything about the Code 11.59 for Only Watch, which is a two-tone skeleton of sorts? I saw the watch in Geneva; two-tone doesn't always work but this one works very well.
First of all, we are still in launch mode [for the Code 11.59]. Now we have a clear vision of where we want to bring the line in the next three to five years.
We have new mechanisms and materials. It's kind of cool to see the double materials mixed together [in the Only Watch piece]; it's a new type of "bi-colour" and gives the watch a cool new feel. The Only Watch is just the beginning.
So basically bi-colour is part of the vision for the line.
Yes, and obviously I've already seen the prototypes. There are great things to come.
Now you have the Royal Oak and the Code 11.59. For many of your competitors, a favourite theme now is the historical remake or reissue. Does AP plan to do anything there? You have a great archive, and a great museum.
We'll see. [With a smile]
We're going to open [the new] museum in April. There will be a watch created for the opening of the museum. That watch might look more like yesterday, rather than tomorrow.
So that will be just before SIHH next year.
Yes, the museum will be officially open then. We are very pleased with how it turned out; the watchmakers already working in the museum.
You mean the complications department?
Right. And they love it there. It's a beautiful piece of architecture.
Besides the museum and the hotel, you also built a new wing to produce the new movements for Code 11.59 automatic and chronograph. Do you plan to roll out these calibres in your other lines?
We're working on it actually. We've never been so busy working on new mechanisms. We have more than nine new calibres in the pipeline.
And the eventual goal is to use in-house movement in all the model lines?
Yes, except if quartz remains [in the line-up]. As far as possible [with mechanical], yes.
How long do you think it will take for you to go entirely in-house for mechanical?
It really depends. Don't forget, we were at 40,000 watches last year. We're going to need to increase it for next year, because we're short [in supply] everywhere. Stores have no inventory; [the shortage] got to a point where it's too much.
We know that our capacity will not be able to bring us to 55,000 or 60,000 anytime soon. We will need seven years before being able to reach those numbers.
The next big threshold is 50,000. And it will still take us years to get there. If we assess what's going on, the demand [for our watches] is really close to 46,000, 47,000 pieces. So the 50,000 mark is a no brainer, but we won't be able to do it overnight.
So what you're saying is that your goal is to have AP watches be desirable, but not impossible to get?
Not impossible to get, and you know what, we don't play that game on purpose. We've increased our production; in the year 2000, we were at 16,000 watches.
We want to remain very exclusive, but also much more inclusive, in a sense that we do not want to tell customers, "See you in seven years". We want to bring people to the brand, but they have to wait a little bit.
One of the most desirable watches is the Extra Thin Royal Oak. What else do you think a watch enthusiast should be looking at besides a steel sports watch and a ceramic perpetual? What do you think should be the next hot thing?
First of all, I do not like to put people in boxes. But I can tell you something: think about all the people who bought the [Royal Oak "Jumbo] 5402 in 1972. Let's say for argument's sake that these people now have the choice to do it all over again, knowing what's going on now.
How many would say, "I don't like the watch" or "That watch will never work"? So let's see what's going to happen with Code.
It's very common to see people coming back to Audemars Piguet after buying their first watch, so it's rarely a one-off purchase. Most of the time, it's two or three watches; it depends on your emotion and what you like to see in your collection.
You mentioned Code and I realized that, increasingly, that Code 11.59s I see on both customers and AP employees have straps in unusual, bright colours, and not the black or blue straps in the catalogue. Is this part of the plan?
Sure, and funny enough, a year and a half ago, when we saw the white dial [Code 11.59 automatic], we thought it would be the watch that would sell the least. Now it's our number-one bestseller, but it became more of a bestseller when we put bright, lighter-coloured straps on it.
When you have it in red like this, many more people love the watch. It makes it less ostentatious than with black alligator, and it's a bit cooler.
Now the Code 11.59 has more exciting colours for the straps, but the cases are still only in gold, while your other lines use many other materials. Beyond two-tone gold combinations, do you plan to do Code in other materials?
We'll see. [Big smile]
Okay, that's a good hint.
The number one hint? We are going to play with a lot of bi-coloured materials.
So less classical and a bit more modern. And, going forward, the focus is basically on the Royal Oak and Code, these will be the two…
And Millenary. We just launched the Millenary Philosophique, which is a really good-looking watch. We have already had great success with it; we have started to see people buying them, so I do believe we have something there. We are now working on the Millenary 4.0; we have good things in the pipeline.
And that will include men's complication also?
No, Millenary is going to remain a ladies line.
You used to do some jewellery, like Royal Oak jewellery for ladies. Is that still part of the offering?
No, we don't do it anymore, but it doesn't mean that we will not come back to that field at some point.
We have a lot of things in the pipeline. And one other thing I'm going to tease you with.
In June next year, in New York, we will announce a huge partnership – huge – with a brand. And people will understand why [New York]. And people will say, "How in the world did they pull that off?" We are going to surprise the world in a very, very cool way.
I look forward to June.
And the story behind it will be a beautiful story to tell.
Because on paper, it should have never happened. Never.
But because of me getting to know someone from something completely different. And then becoming friends with the guy, who opened the door that let us get the deal done.
So I'll hear from you in seven months?
Before that. We'll be prepping.
Maybe I'll speak to you at your event in April and you can tell me more.
Nope, I won't. [Smiles]
---
Back to top.
---
You may also enjoy these.