Alain Silberstein Reveals a Quirky, Bauhaus Clock
Funky, colourful, and impressively large.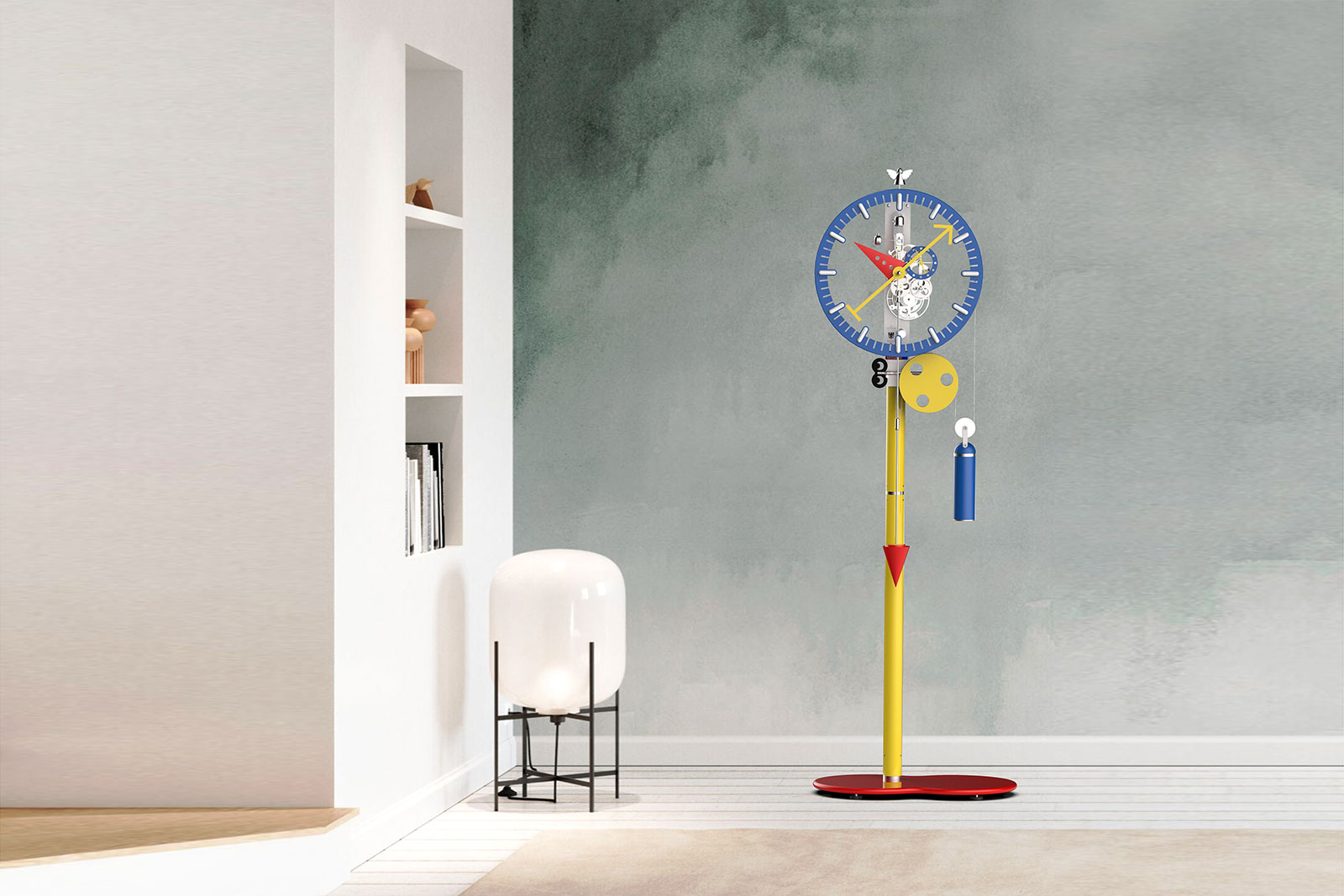 An architect turned watch designer, Alain Silberstein was a star of the 1990s, being perhaps the most avant-garde watch brand of the decade. The Frenchman's quirky and geometrical designs were the diametrical opposite of the classical style that was then the industry norm. Though his eponymous brand shut down a few years ago, Mr Silberstein is still active as a designer, most recently collaborating with Louis Erard on an affordable, regulator-style watch.
Now he is making a comeback in a big way – literally. With the help from French clockmaker Utinam, Mr Silberstein has taken the cover off the Kontwaz Bauhaus 2, KB2 for short. A monumental skeleton clock, the KB2 is available in two versions: a 2 m high standing timekeeper, or in a compact, wall-mounted form.
Initial thoughts
The KB2 is not Mr Silberstein's first foray into clocks. He designed several other versions of the Kontwaz Bauhaus in the 1990s, which were produced by a French clockmaker and occasionally pop up on the secondary market today. That makes the new KB2 is a pleasant surprise that harks back to his earlier career.
As with most Silberstein creations, the appeal of the KB2 lies in the design, which is complex and distinctive, yet composed of simple shapes. The geometrical forms and colours are lightly arranged in harmonious whole – an impressive feat, for a lesser designer would have just created a mishmash of elements.
The KB2 is based on the Utinam Pop Up clock, but it's clear that talent and effort went into its design, transforming it into an entirely different object, although the mechanics remain identical. Beyond adding colours and shapes, the moving parts of the clock have been streamlined and refined – even the wheels of the gear train and pendulum have been restyled – creating a cleaner aesthetic that is also whimsical.
The KB2 starts at €22,400 for the wall-mounted version, rising to €27,400 for the standing clock. It's a substantial price, but within the ballpark of comparable clocks by the likes of L'Epee 1839. Crucially, the KB2 is set apart by its design and designer, making it a very cool clock.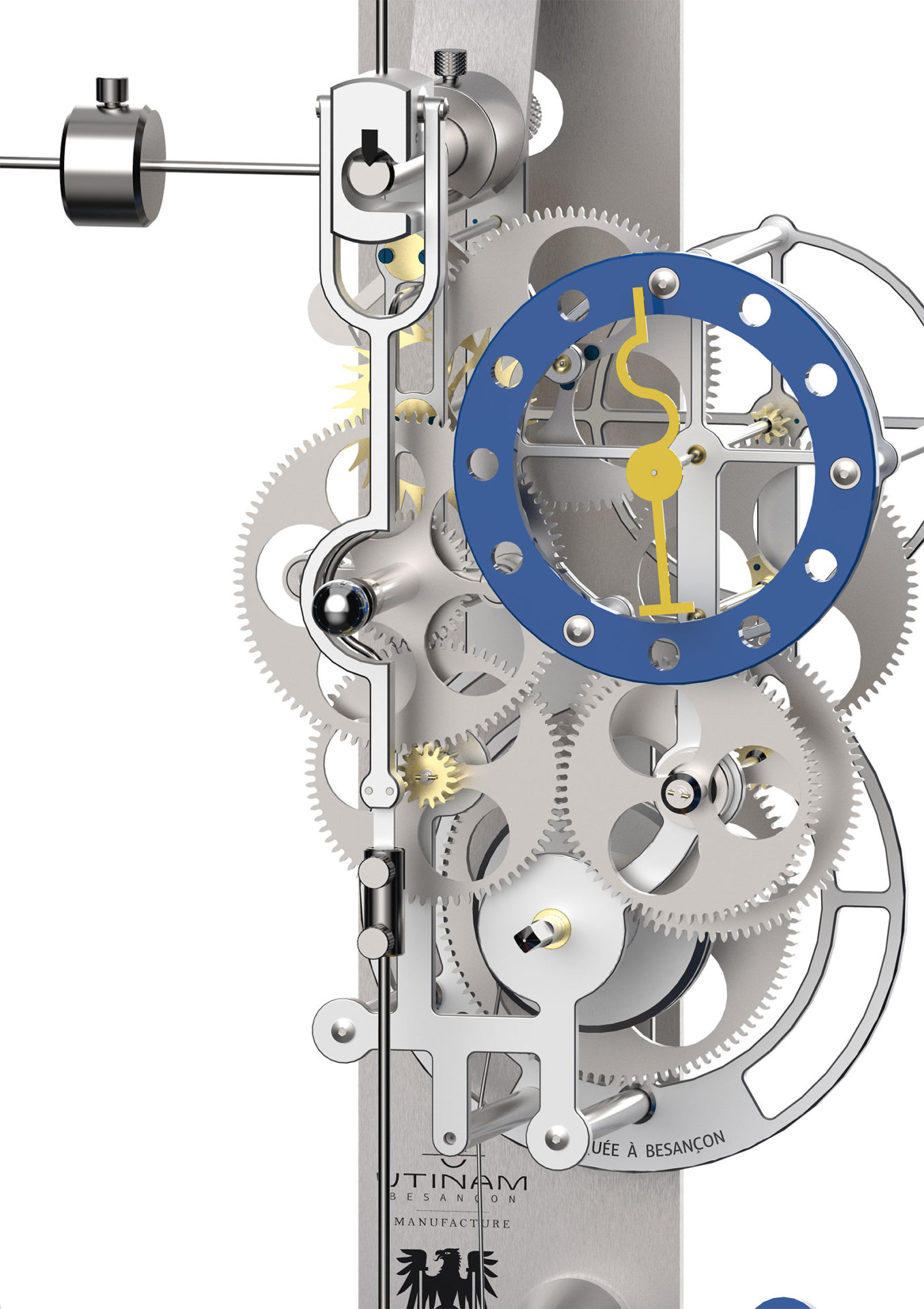 Utinam's pendulum clock
Founded by Philippe Lebru, Utinam is a clockmaker based in Besançon, the city was was once the centre of French watchmaking and chronometry, and also home to the Alain Silberstein brand before it went bust. In fact, Besançon's rich history has earned it the label of "Town of Art and History", while its medieval fortifications are a UNESCO World Heritage site. Over the last three decades, Utinam has become known for its monumental clocks, including a one-tonne, 9 m high clock in Tokyo's Aoyama district, winning several prizes along the way for its creative clockmaking.
The brand's own pendulum clocks are already modern, but Mr Silberstein has still managed to liven things up. The KB2 incorporates all of his quintessential design elements, namely the tri-colour combo of yellow, red, and blue, as well as basic geometric shapes like the triangle and circle.
Mechanically, the KB2 is straightforward. It's key wound, with a single barrel that provides a running time of 10 days.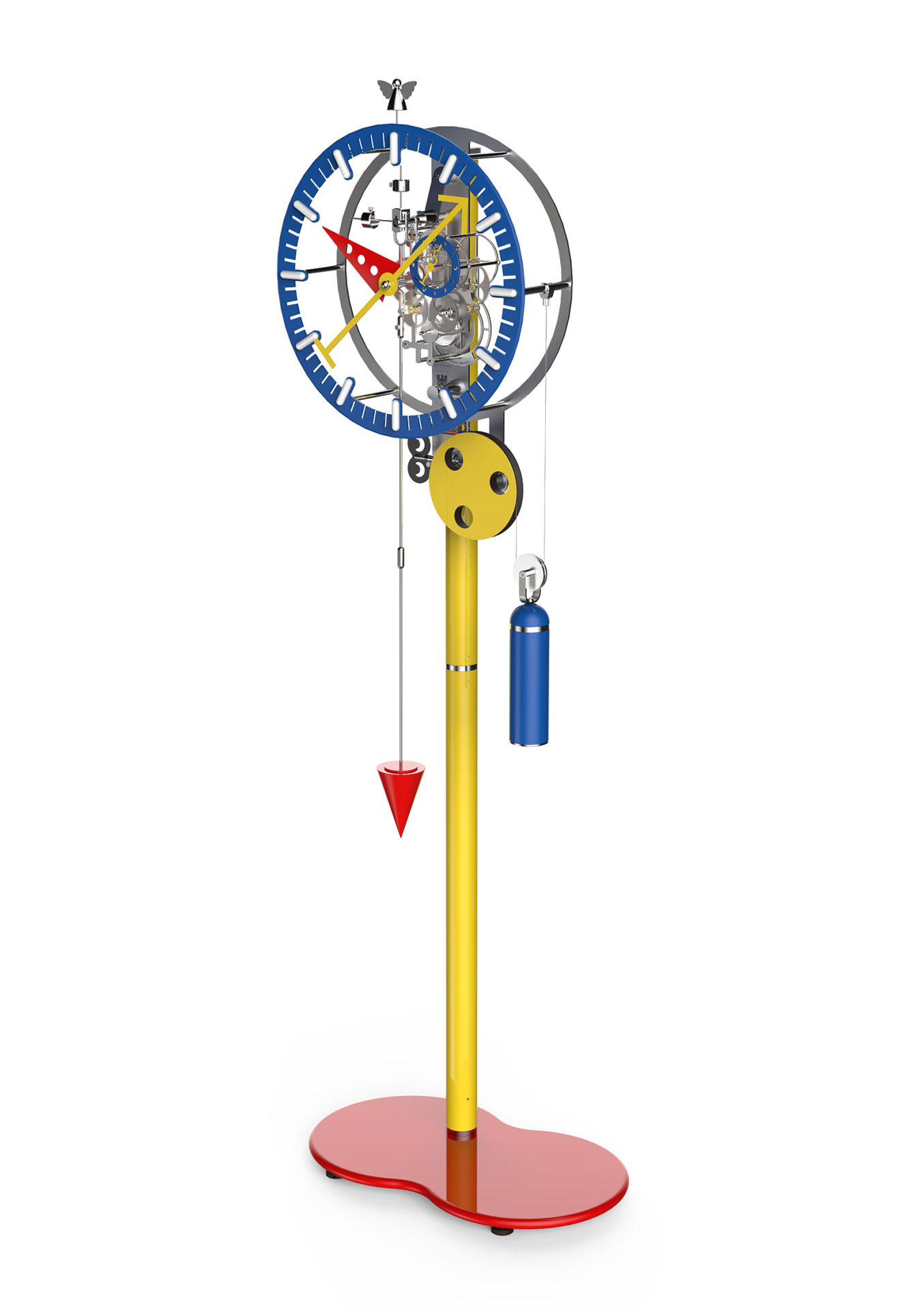 ---
Lebru x Silberstein Kontwaz Bauhaus 2
Height: 2 m (standing clock), 1.3 m (wall clock)
Material: Brass, steel, and resin
Features: Hours and minutes
Frequency: 0.5 Hz
Winding: Key wind
Power reserve: 10 days
Limited edition: 88 pieces
Availability: Starting Spring 2021 direct from Utinam's online store or boutique in Besançon, as well as the M.A.D galleries in Geneva, Taipei, and Dubai
Price: €22,400 (wall clock); €27,400 (standing clock)
All prices exclude tax
For more, visit utinam.fr.
---
Back to top.
---
You may also enjoy these.

From Daniels to Daners, by The Hour Glass.

The actor who plays Iron Man tells some entertaining stories while explaining his timepiece collection to GQ magazine.