De Bethune Introduces the DB28GS Yellow Submarine
A new look for the self-illuminating dive watch.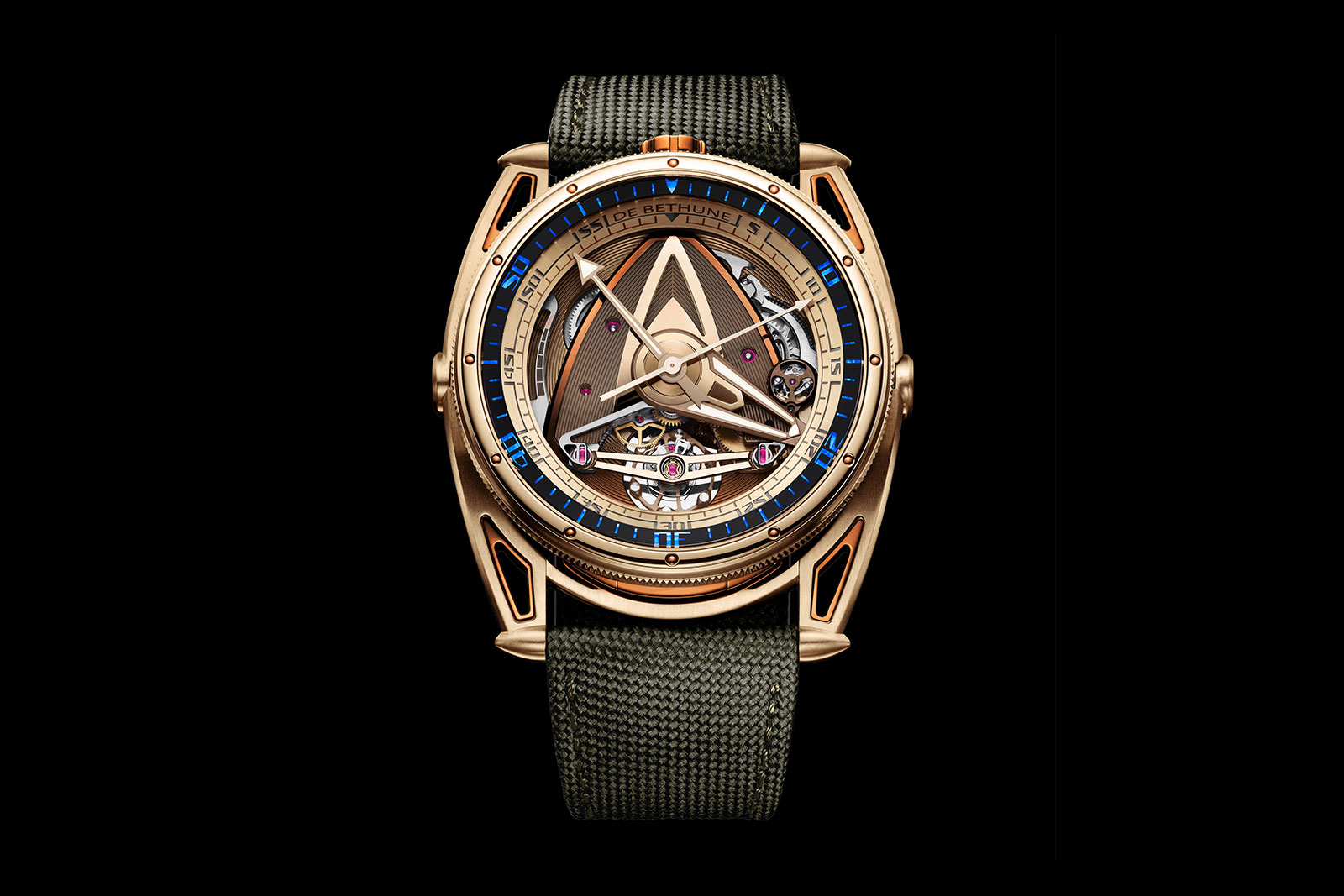 De Bethune builds watches that are deliciously futuristic in form and construction, though it has rarely applied its house style to sports watches. Last year's DB28GS Grand Blue is a bona fide sports watch, with plenty of water resistance and dynamo-powered illumination.
Now it's been given a new look with the DB28GS Yellow Submarine, which has a richly-gilded case that is actually titanium heat treated to create a bronze-gold oxide layer on its surface.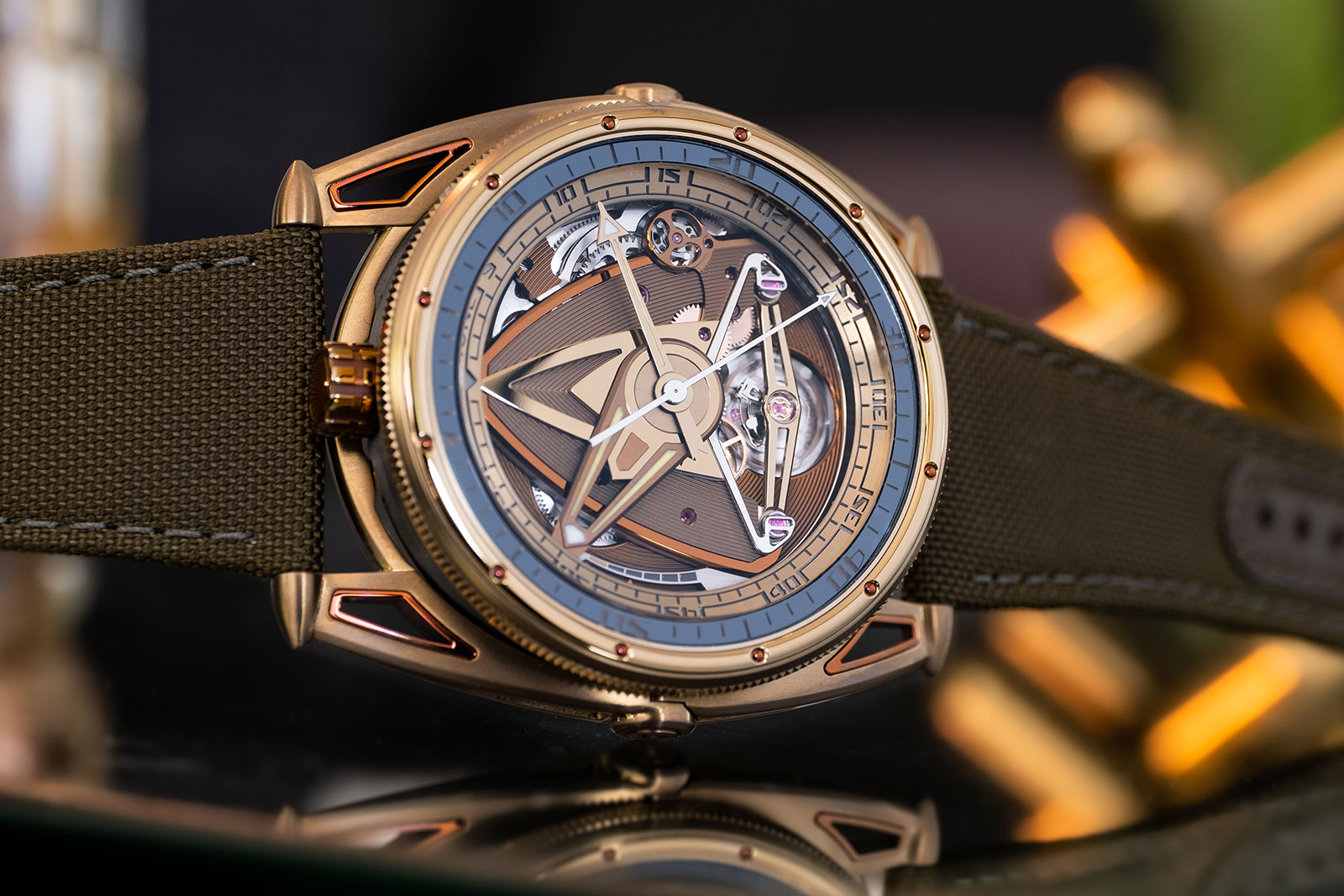 Initial thoughts
Measuring 44 mm wide and 12.8 mm high, the DB28GS is even chunkier than most De Bethune watches, which are already quite large. The original DB28GS Grand Blue is mostly a monotonous grey, with some blue accents, giving it a technical, rugged style.
Even though it is just a change in colour, the yellow case of the Yellow Submarine gives it an entirely new look. The gold finish is luxe but more bronze in tone, and also combined with a brushed surface finish, giving the watch a warm, slightly aged look. And the new case colour gives the watch more contrast – it definitely pops – making it more visually attractive than its predecessor.
The original DB28GS was a pricey watch, and so is the new Yellow Submarine. But fortunately it costs almost the same at 95,000 Swiss francs, or about 4% more than its predecessor.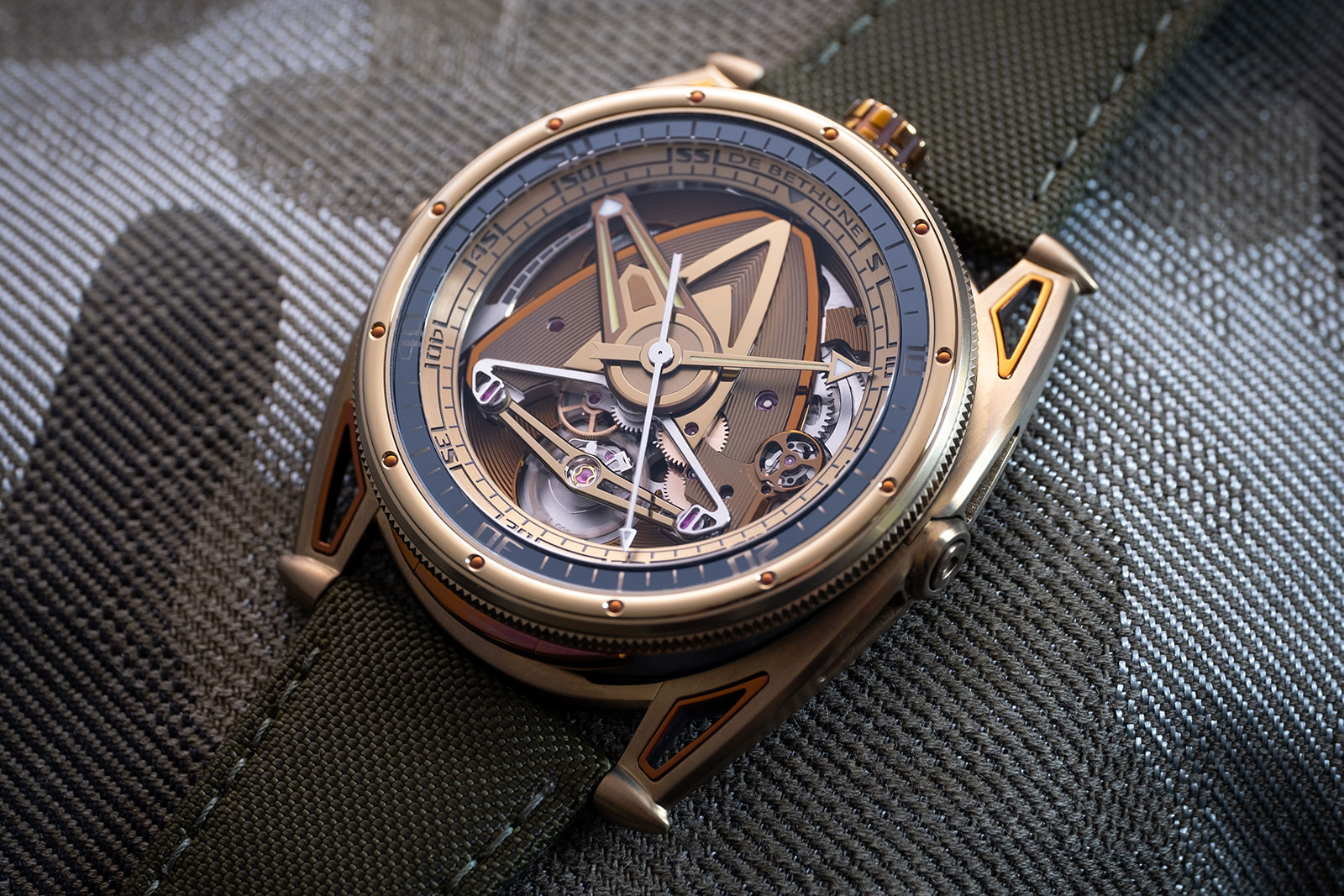 Yellow titanium
De Bethune's inventiveness is most prolific in its movements, but also extends to cases. Its signature case material is heat-blued titanium – where the alloy is heated over a flame to create an oxide layer that is a rich, brilliant blue. The yellow titanium case is created in the same manner, but at a different temperature.
As with blued titanium, the various components here require slightly different heat treatment, which results in slight variations of the golden finish, creating a perhaps unintended consequence of extra nuance on the case finish.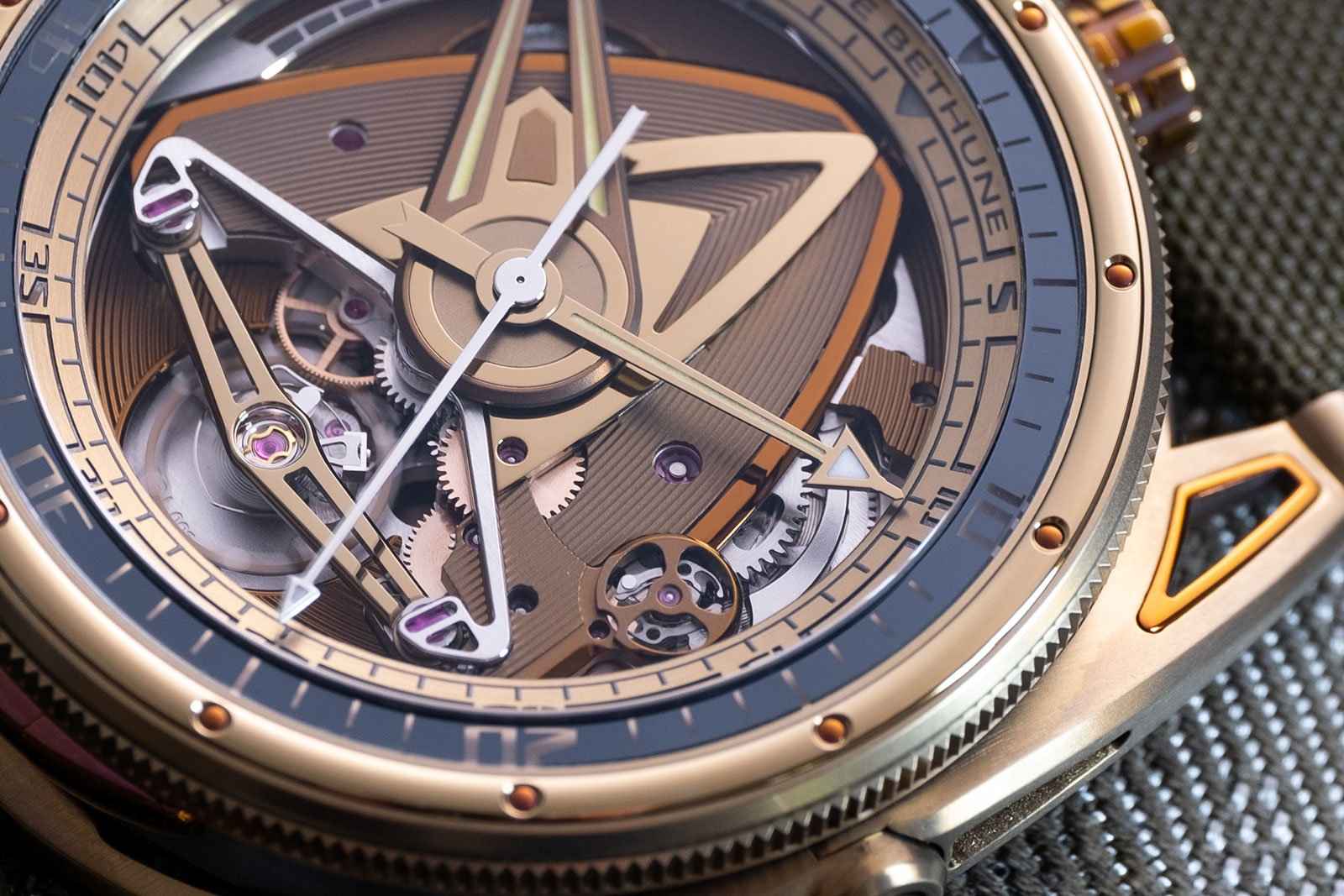 The case, however, is not entirely golden titanium. Only the bezel, lugs, and back are titanium, while the case middle is black-coated zirconium. Although black and yellow are a good pair for their high contrast, the zirconium is not very apparent as case middle is usually hidden by the lugs, which are the defining feature of the DB28 series. They are spring-loaded and articulating, allowing the largish case to sit comfortably on different wrists.
Innovative
The rest of the Yellow Submarine is identical to the Grand Blue, but it is hardly dull because it is truly avant-garde. Not only the design language one of a kind, the movement is kitted out with numerous innovations, like the triple "pare-chute" shock absorber and patented balance wheel.
A pusher on the case at six o'clock activates the dynamo-powered LEDs within the case that light up the dial. Pushing the button engages a secondary gear train that rotates coils within a magnetic field, generating the electricity that powers the LEDs.
But the light system is power-hungry and runs off the mainspring, which has a lengthy 5-day power reserve that can still be drained quickly be repeated use of the LEDs. To avoid the mainspring inadvertently going empty, the pusher for the LEDs automatically disengages once the power reserve is down to one day.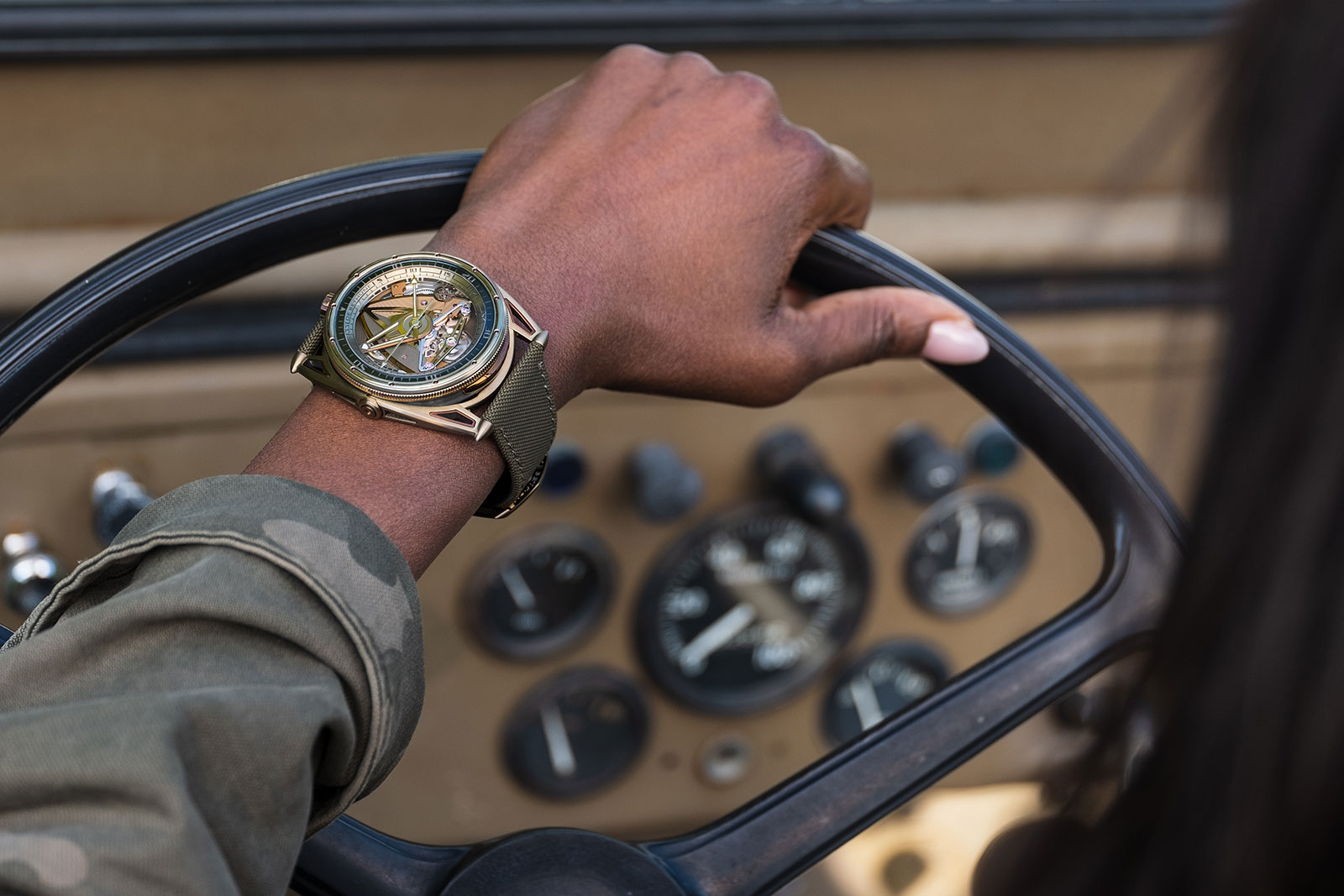 ---
Key facts and price
DB28GS Yellow Submarine
Ref. DB28GSV2Y
Diameter: 44 mm
Height: 12.8 mm
Material: Titanium bezel, lugs, and case back; zirconium case middle
Crystal: Sapphire
Water resistance: 100 m
Movement: DB2080
Functions: Hours, minutes and seconds; power reserve
Frequency: 28,800 beats per hour (4 Hz)
Winding: Hand-wound
Power reserve: 5 days
Strap: Rubber strap, and additional canvas or leather strap
Limited edition: 25 pieces
Availability: From now at authorised retailers
Price: 95,000 Swiss francs
For more, visit Debethune.ch.
---
Back to top.
---
You may also enjoy these.