Seiko Introduces the Presage Sharp Edged Series
A new case and dial design.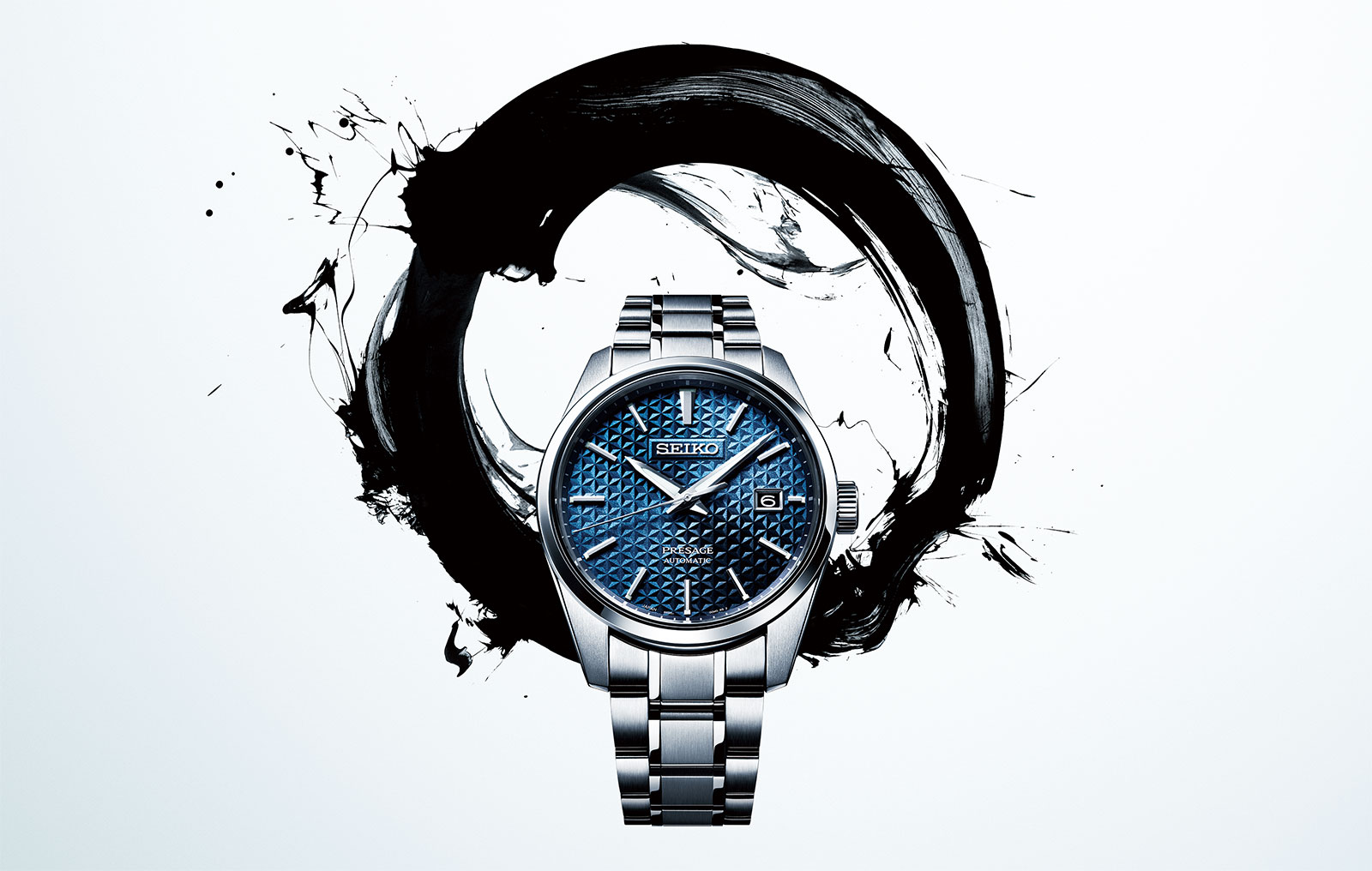 Well regarded for offering strong value, the Seiko Presage has seen a proliferation of variations in dial styles, ranging from stamped patterns to high-end materials like fired enamel and porcelain. The diversity of dials continues with the Presage Sharp Edged Series.
The new quartet of watches all feature a dial decorated with a repeating motif inspired by a traditional Japanese leaf pattern. But as the model name suggests, the new watches also boast a new case design that, with the use of edges and angles, creates the play between light and shadow – an attempt, in other words, to give the Presage a more upscale case finish.
Initial thoughts
The new Presage is slightly pricier than earlier models, but boasts several smart details that set it apart. Both the case and dial have been refined as compared to previous generations.
The case has slightly more elaborate finishing, while the dial is decorated with a stamped pattern that catches the light nicely. And that continues right down to details like the the applied markers and date window frame.
All of that makes it a value buy at US$1,000, though the higher price tag means it is not as much of a screaming deal as its predecessors.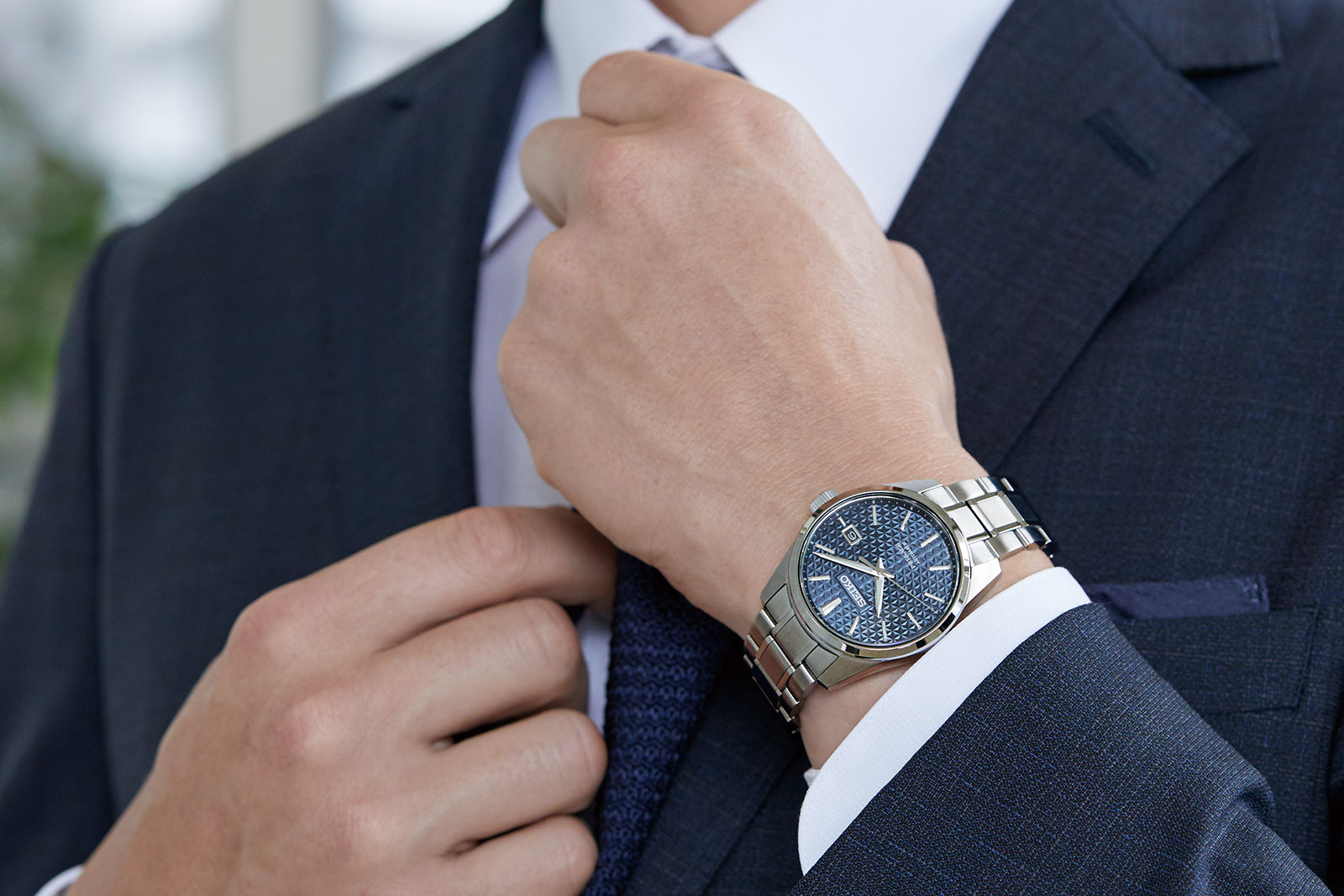 Refined case lines
At first glance, the angular case with its wide lugs is reminiscent of the 44GS case, perhaps is the most recognisable Grand Seiko case design. However, the Presage Sharp Edged is not merely Grand Seiko "lite". With a contrasting brushed top on the lugs, the watch looks sportier and more casual than a Grand Seiko. The contrast between the brushed and polished surfaces are accentuated by the lines of the case.
It is worth mentioning that the bracelet echoes the case design – and is also reminiscent of the Grand Seiko bracelet – not just in form but also in finishing, with alternating finishing on the bracelets links.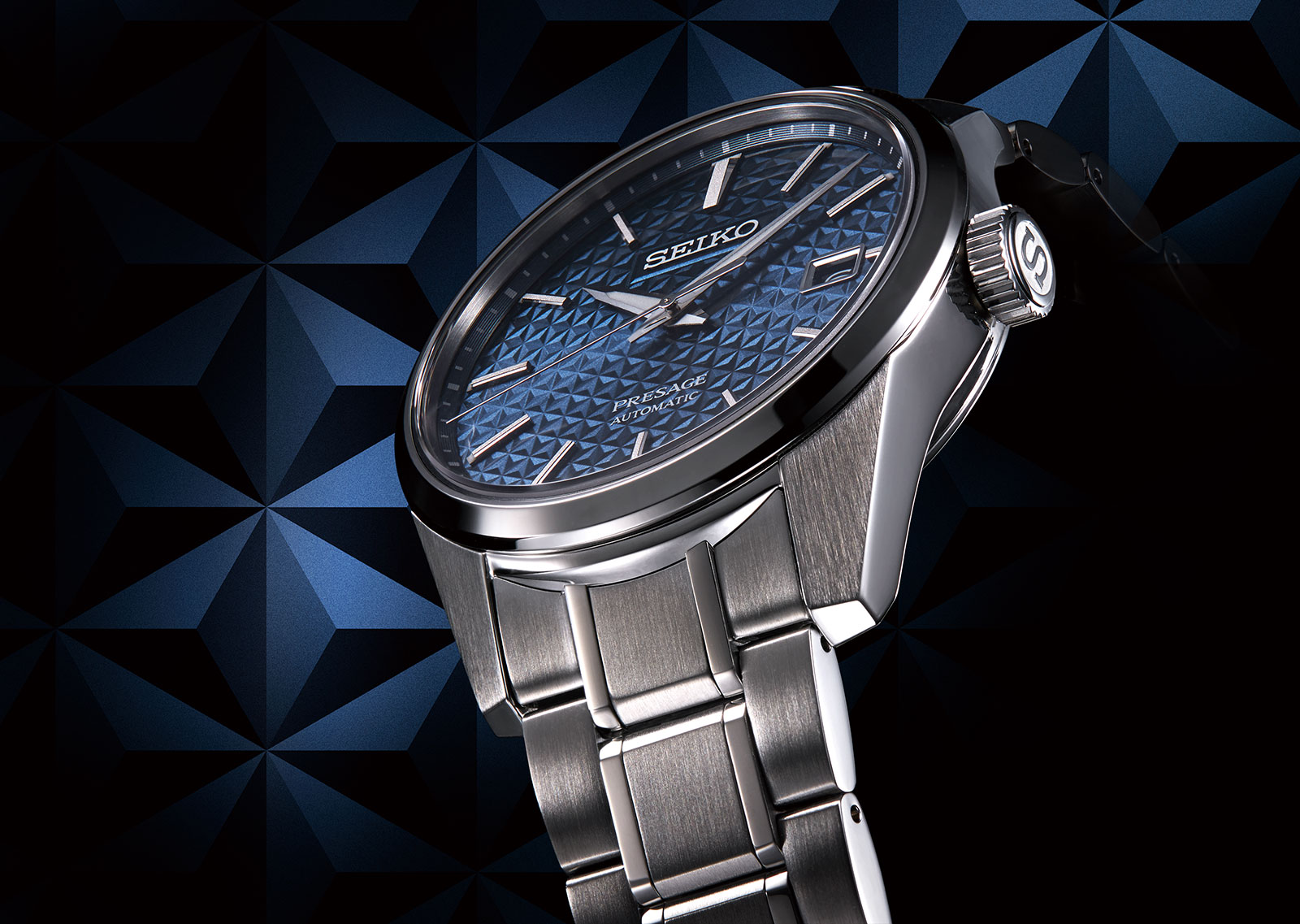 Quintessentially Japanese
Case aside, the dial has received an upgrade. Seiko frequently incorporates themes from Japanese culture in its watches, usually through reinterpreting landscapes or traditional themes to create dial patterns.
The latest such design is a geometric motif based on the the hemp-leaf pattern known as Asanoha. Over a thousand years old, Asanoha is symbolises prosperity and health, and is a recurring theme on fabrics and furniture. Notably, the dial motif is not simply printed but stamped to create three-dimensionality, which results in dynamic reflective effect.
Another example of the attention to detail in the new design are the hands, which are new. Wide and angular but with an elegant, pointed tip, the hands look at home with the sporty-yet-elegant case style.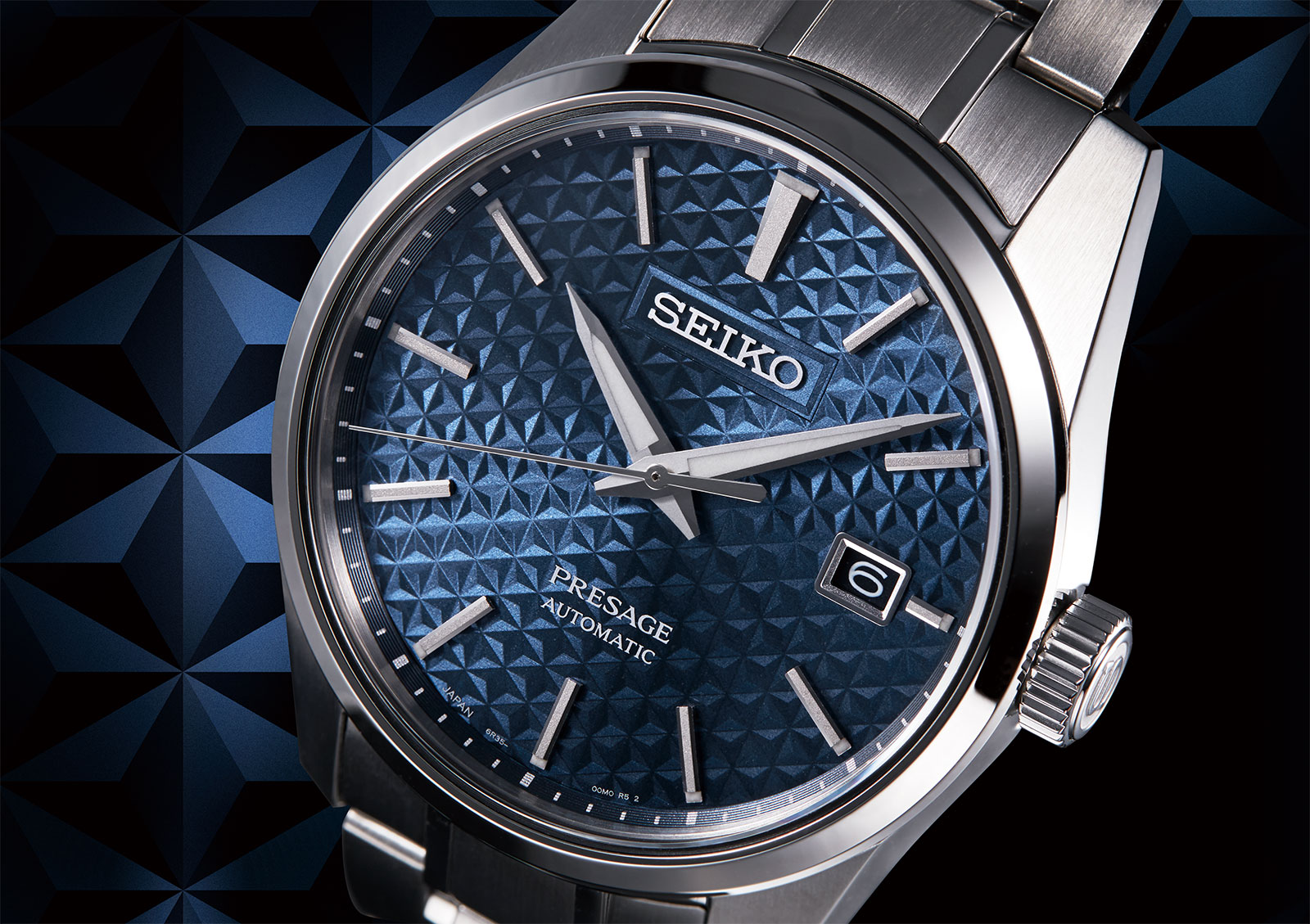 While the highlight of the new Presage is the case style and dial pattern, Seiko has also taken care of other less obvious details, including the case size.
At 39.3 mm wide and 11.1 mm thick, Seiko has reduced the case dimensions compared to earlier Presage watches, which were usually slightly above 40 mm wide. Though trimmed by a tiny margin, the reduced case size should increase the wearability, as the lug to lug span has also narrowed to 47.2 mm – long for a smallish case but still manageable for most wrists.
Workhorse function
With a running time of 70 hours, the 6R35 movement inside is one that complies with modern expectations for power reserve. And with a water resistance of 100 m, the new Presage can be worn easily on most occasions – a trait that is also helped by the versatile design.
---
Key facts and price
Seiko Presage Sharp Edged Series
Ref. SPB167 (blue dial)
Ref. SPB165 (white dial)
Ref. SPB169 (green dial)
Ref. SPB170 (brown dial)
Diameter: 39.3 mm
Height: 11.1  mm
Material: Stainless steel with hard coating or rose-gold plating
Water resistance: 100 m
Movement: 6R35
Functions: Hours, minutes, seconds, and date
Frequency: 21,600 beats per hour (3 Hz)
Winding: Automatic
Power reserve: 70 hours
Strap: Stainless steel bracelet or cordovan strap
Availability: To be announced
Price: US$1,000; or €990
For more, visit seikowatches.com
---
Back to top.
---
You may also enjoy these.

It's traditional Japanese artisanal craft.

Four versions of nutritious canned tuna, included a limited edition with mayonnaise.