Highlights: Independents and the Esoteric at Phillips' Hong Kong Auction
Interesting, obscure, and value buys.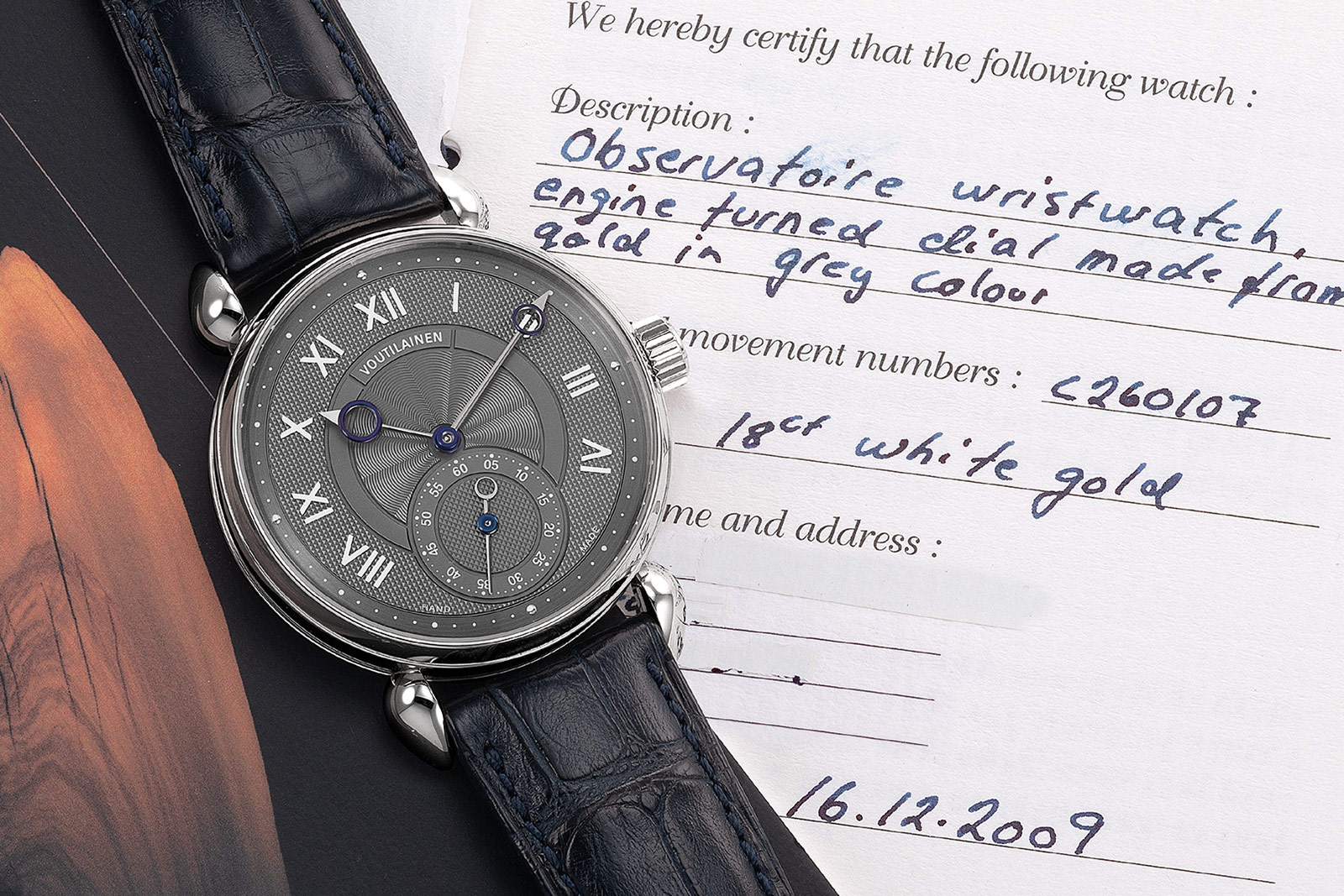 Taking place on July 10, The Hong Kong Watch Auction: X is the one of the first watch auctions in Hong Kong in 2020, a sign of the much-delayed auction calendar due to the pandemic. But the Phillips catalogue is still 269 lots strong, with a little bit of everything.
We took a look at some of the notable complicated watches last week, including the magnificent A. Lange & Söhne Tourbograph that's a strong value buy in uber-complications. Now, we'll take a look at some of the timepieces by independent watchmakers as well as a handful of interesting, esoteric, and well-priced watches. You can find the rest of the catalogue here.
---
Lot 806 – Girard-Perregaux Sea Hawk II Pro "Challenger of Record"
This sits squarely in the category of weird-but-cool watches. Extremely large at 44 mm, with massive lugs and an even larger crown guard, the Girard-Perregaux Sea Hawk II Pro "Challenger of Record" is a dive watch rated to 3,000 m – three-thousand metres, or 9,800 feet – with a sharply finished, tourbillon-equipped movement.
The combination is paradoxical, and slightly silly, but the watch has a peculiar charm, no doubt helped by its affordability (with a low estimate a little under US$20,000).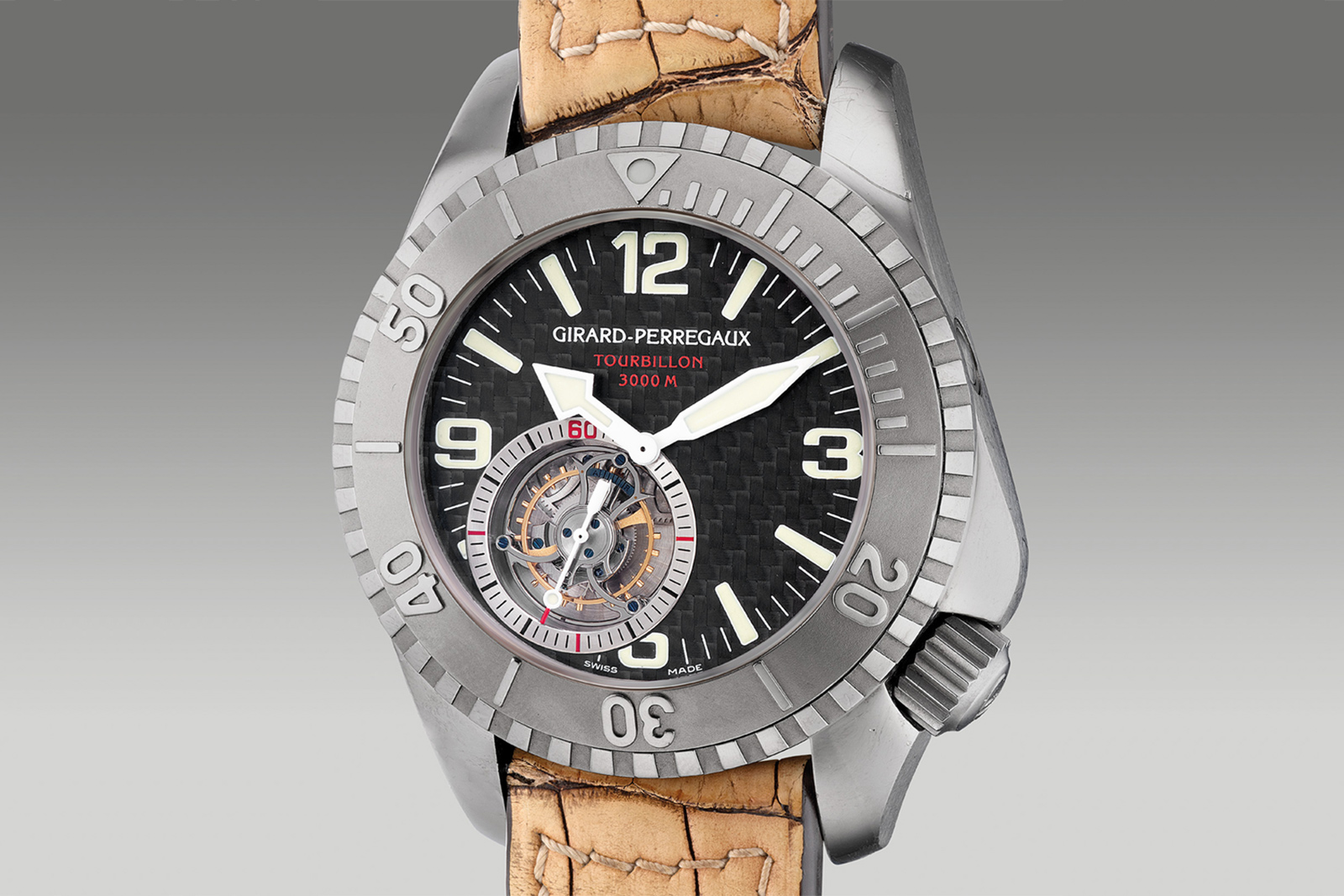 Made in 2006, a time when diving tourbillons were fashionable and when Girard-Perregaux was still a family-run firm owned by the Macalusos – the certificate for the watch is signed by the late Luigi "Gino" Macaluso – the Sea Hawk tourbillon was a limited edition of 32 watches to commemorative the Golden Gate Yacht Club's entry into in the 32nd America's Cup in 2007 (represented by the BMW Oracle Racing team).
The movement inside is actually a simplified variant of the calibre found in the Girard-Perregaux Tourbillon with Three Gold Bridges, an iconic tourbillon movement if there ever was one. But that also means it is manually wound, a bit of an inconvenience due to the screw-down crown, which is conveniently enormous.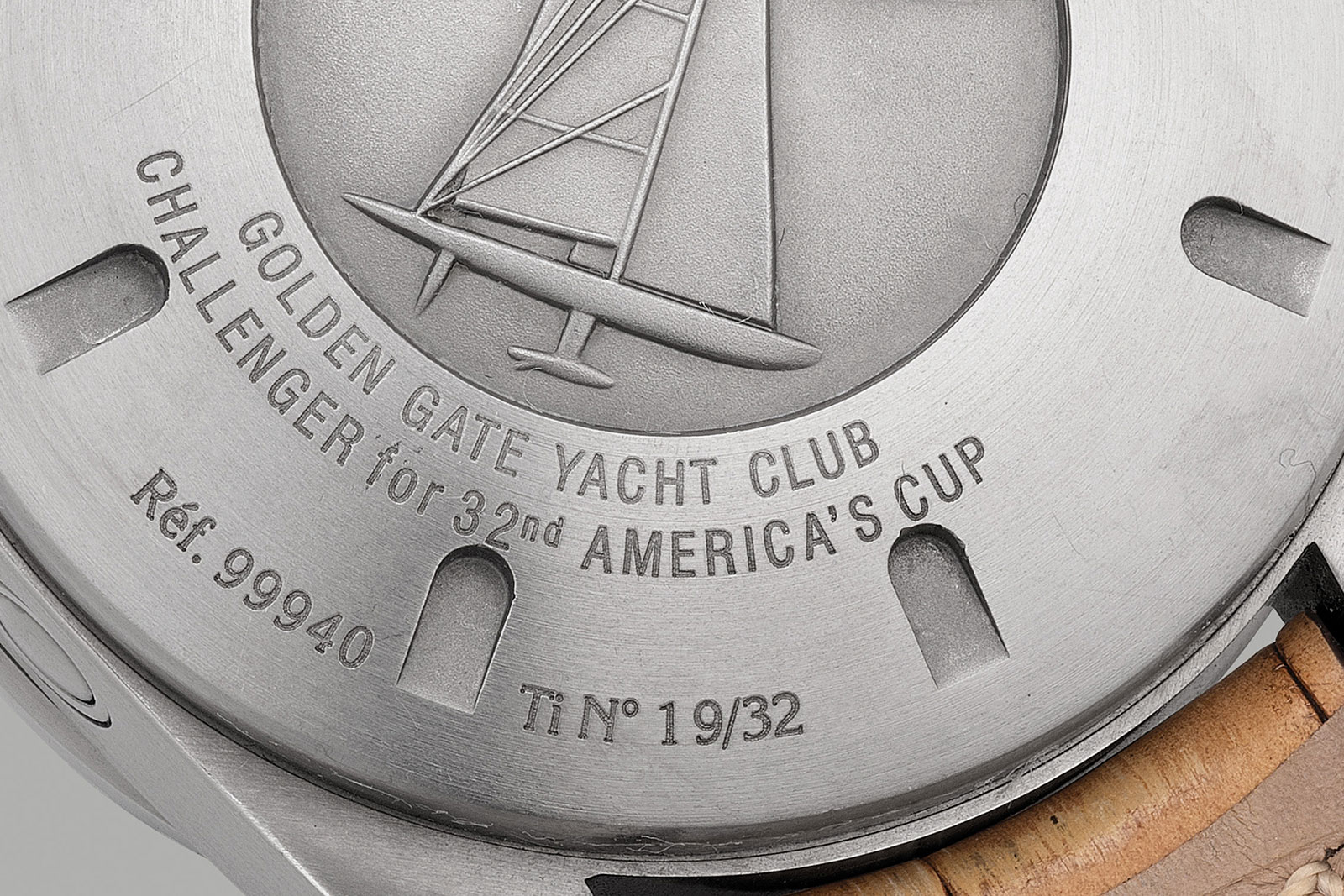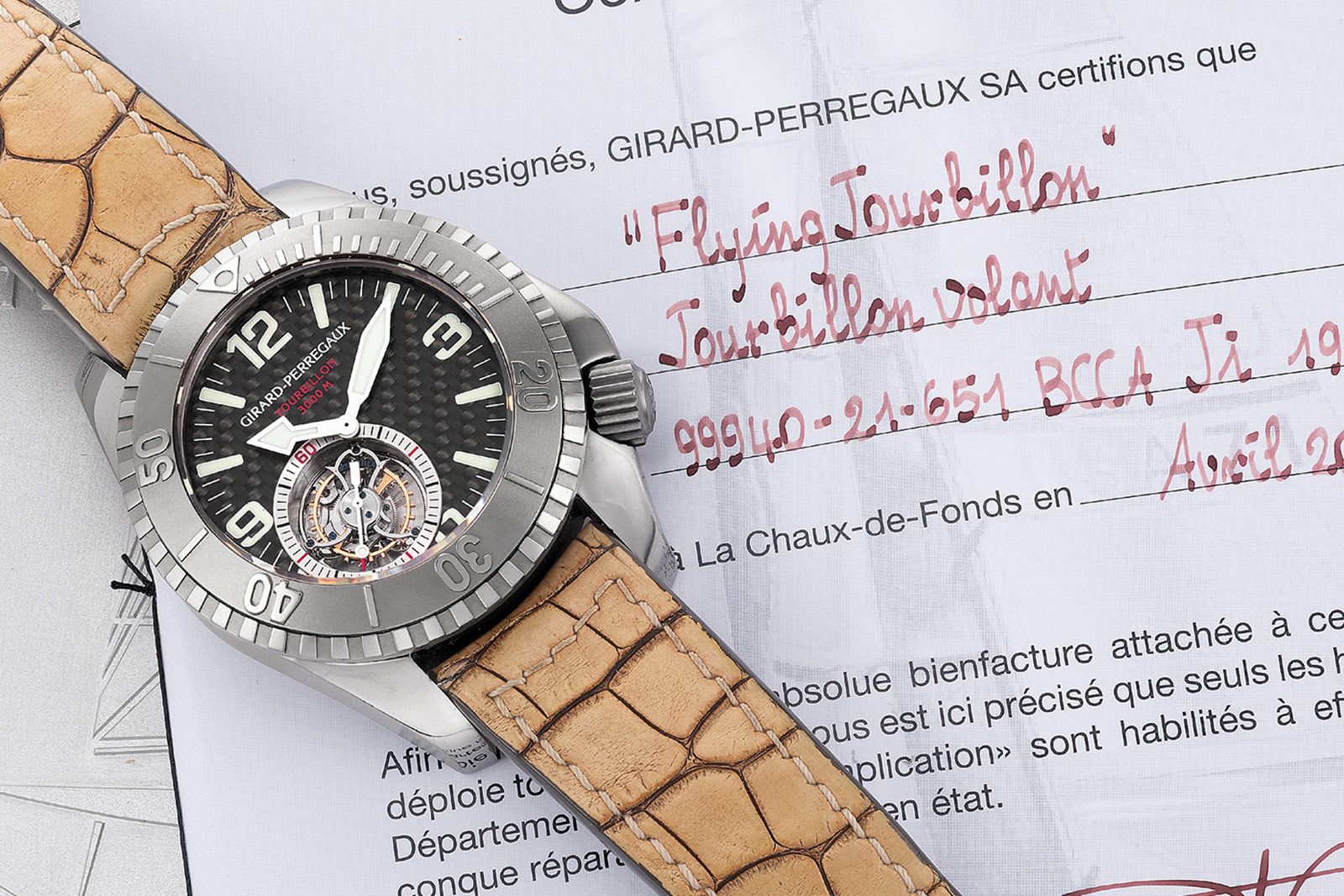 Numbered "19/32", this example has clearly been worn often, and the case shows noticeable wear. It is, however, complete with its original cylindrical box and all papers. It has an estimate of HK$150,000-250,000, or about US$19,200-32,100.
---
Lot 818 – Goldpfeil "Seven Masters"
Probably one of the best value buys in the auction in terms of watch per dollar is the Goldpfeil "Seven Masters" set, made up of seven wristwatches made by a diversity of independent watchmakers who were all members of the AHCI – Vianney Halter, Svend Andersen, Vincent Calabrese, Bernhard Lederer, Antoine Preziuso, Frank Jutzi, and Felix Baumgartner.
Conceived in 2000 by German leather goods house EganaGoldpfeil, the Seven Masters project was not unlike the Harry Winston Opus series. But it was dogged by inconsistency in terms of product, some of the creations, like the camera-inspired Vianney Halter, were brilliant, while others, like the Antoine Preziouso with an orange-leather dial, were not.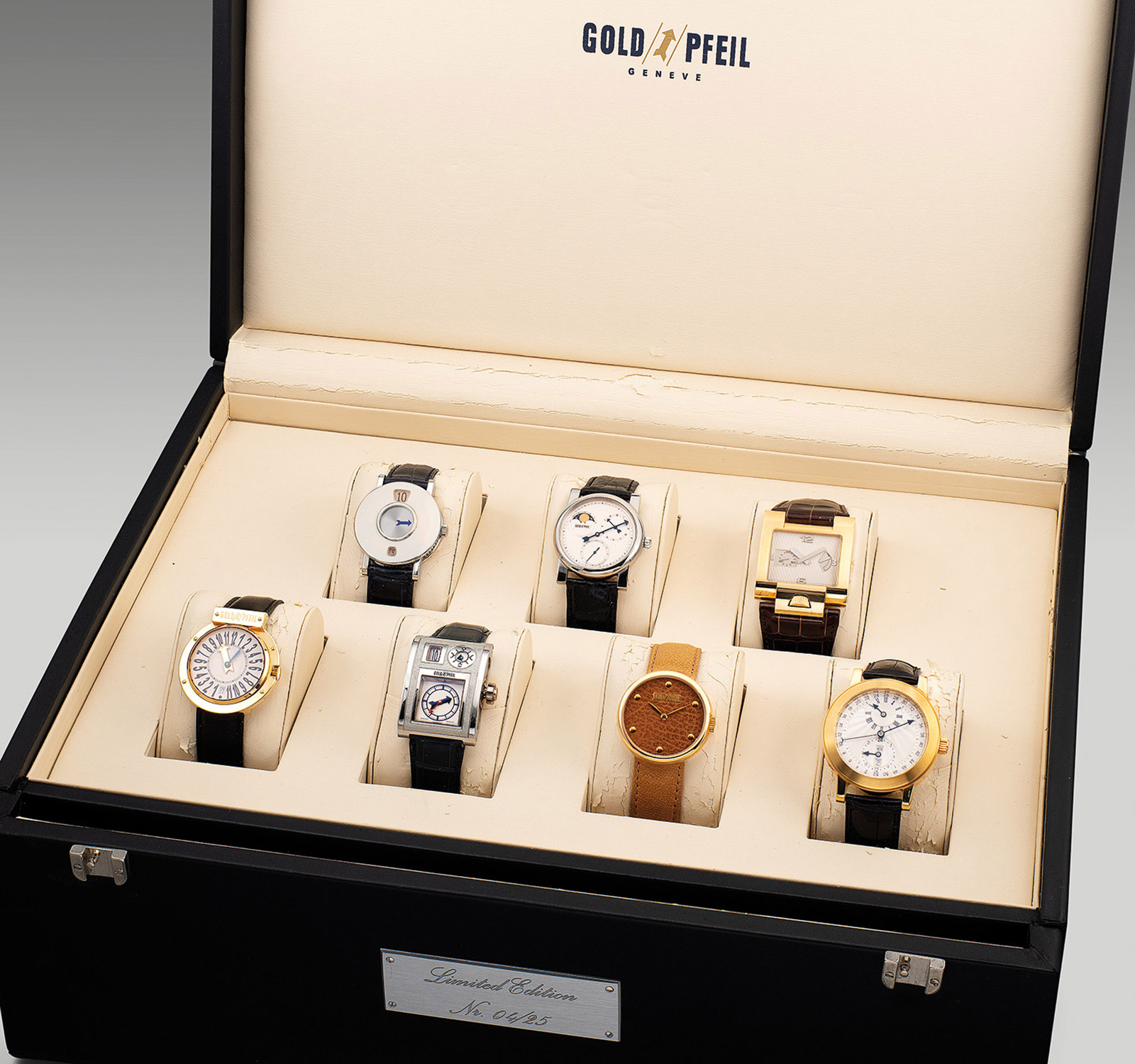 What eventually sunk the project was the bankruptcy of its EganaGoldpfeil, which went under in 2007 amidst a massive financial scandal, which meant the Seven Masters was consigned to being an obscure, historical curiosity.
But the watches, at least most of them, remain interesting, and now they are extremely affordable. Each piece captures the signature style – for better or worse – of its maker. The best known and most desirable is the Vianney Halter, which has a jump hour, moon phase, and hand-hammered case finish.
This set is rarely seen in its entirety, and here it has an estimate of only HK$155,000-310,000, or about US$19,900-39,700.
---
Lot 824 – Voutilainen Observatoire
The wristwatch that made Kari Voutilainen a watchmaking star, the Observatoire was a 38 mm wristwatch powered by a refinished and upgraded Peseux 260, originally a movement made in the 1950s specifically for wristwatches destined for observatory chronometer trials. And the Observatoire also created what is now the signature Voutilainen style, with its teardrop lugs, guilloche dial, and two-tone observatory-style hands.
One of an estimated 50 or so produced, this example from 2009 is in white gold, with a grey guilloché dial that boasts three different engine-turned patterns.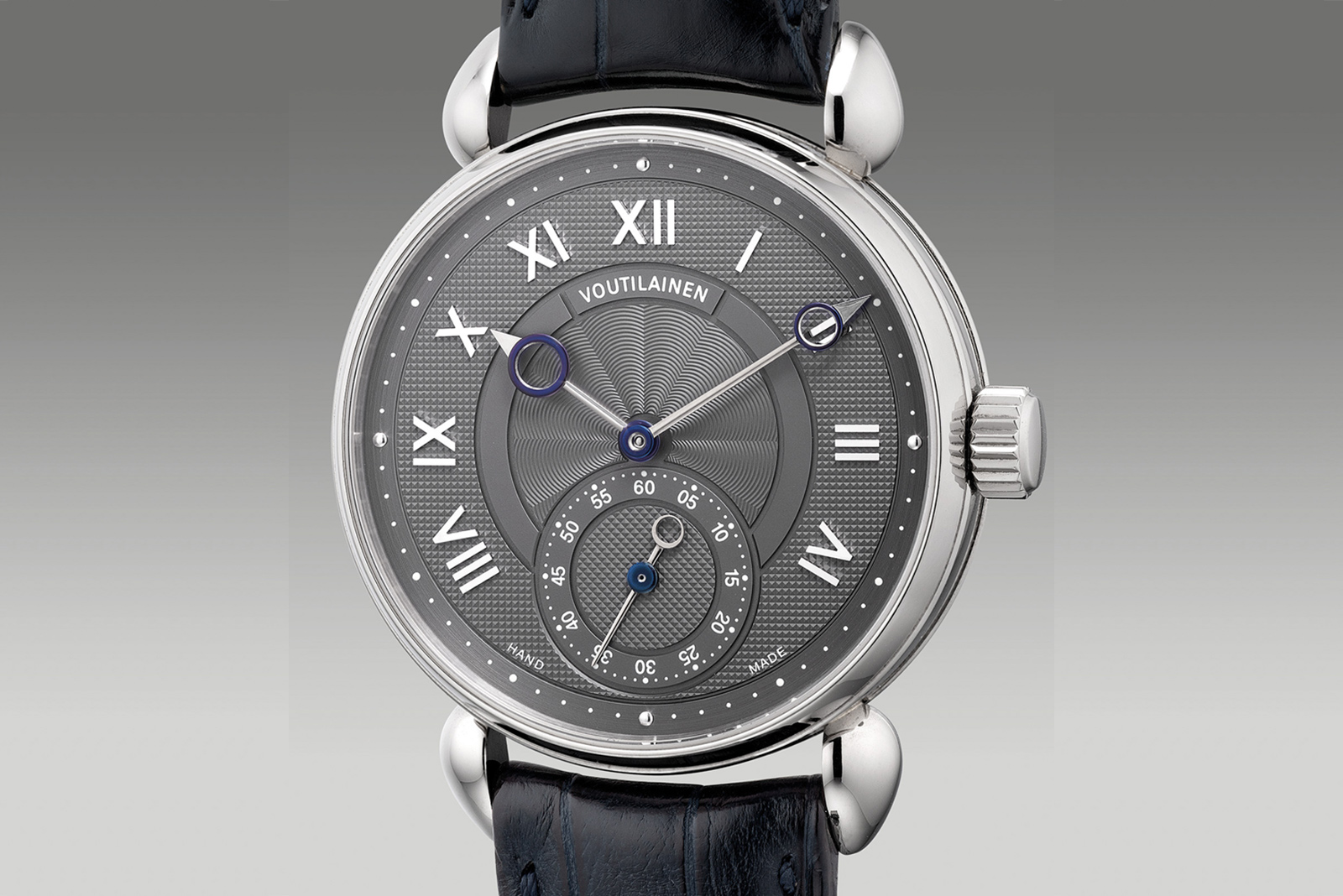 Though all Observatoires had the same base movement, they were finished in a variety of ways. This example has rhodium-plated bridges finished with Cotes de Geneve, as well as a polished, tubular balance cock.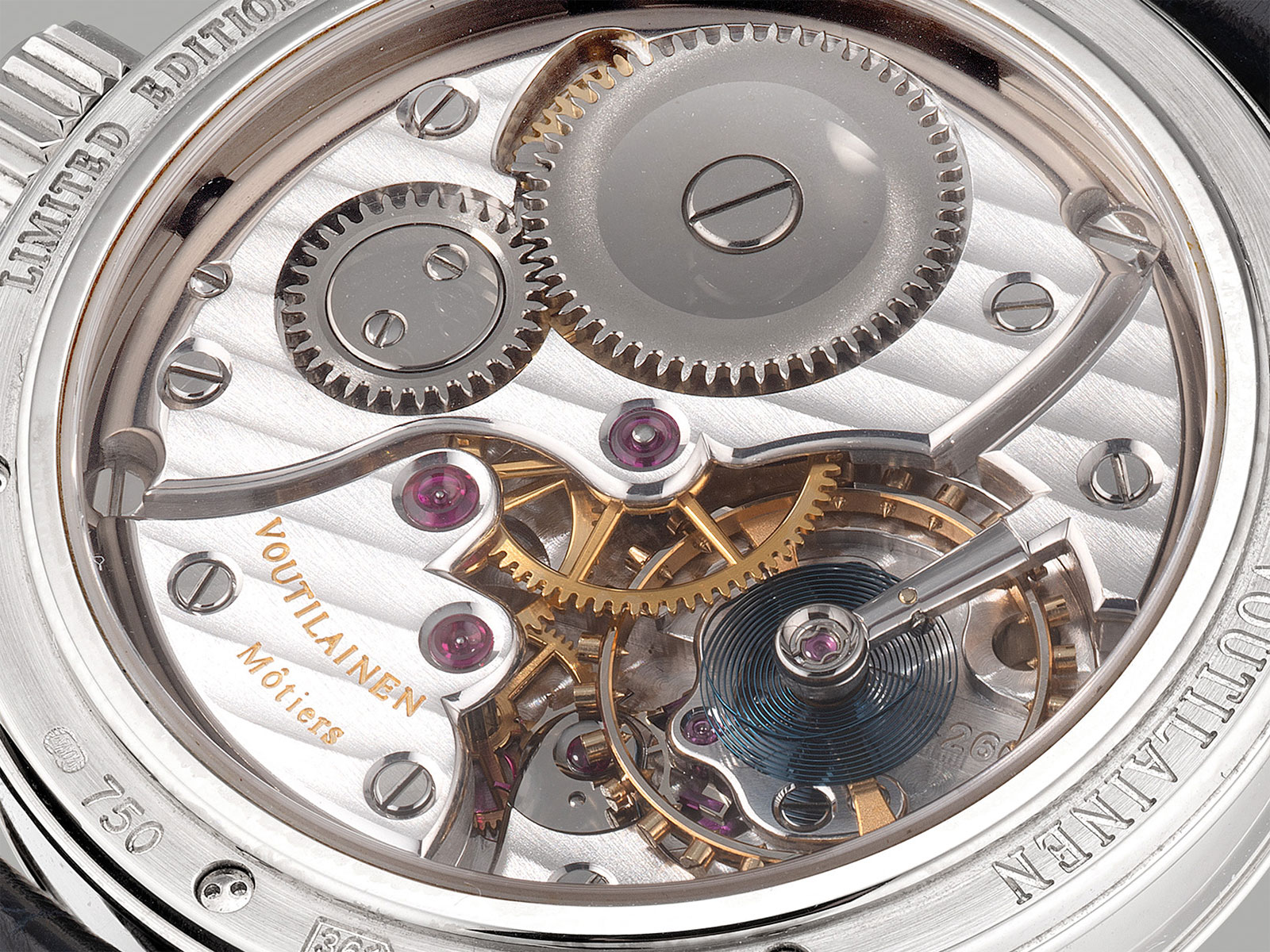 The watch is in excellent condition and is complete with its original box and papers. It is estimated at HK$310,000-470,000, or about US$39,700-60,300.
---
Lots 865 and 866 – Gérald Genta Royoma ref. G2391 tortoiseshell and ref. G2391 mother-of-pearl
These two pocket watches exemplify the works of Gerald Genta in the 1990s, when he was as much a watch designer as a creator of objets d'art that doubled as timekeepers. Both pocket watches demonstrate a degree of watchmaking skill and artisanal decoration that is either exorbitant or uncommon today.
Though they are separate lots, they have been consigned by the same owner. The pair are almost identical, with cases 42 mm in diameter, very thin, and doubtlessly hand made the old-fashioned way.
Genta's signature octagonal case form is obvious, but executed in precious materials – tortoiseshell and mother of pearl respectively. The same movement is found inside both: a hand-wound Frederic Piguet pocket watch calibre with a perpetual calendar module that's been artfully skeletonised, with many components engraved or blued for maximum visual effect.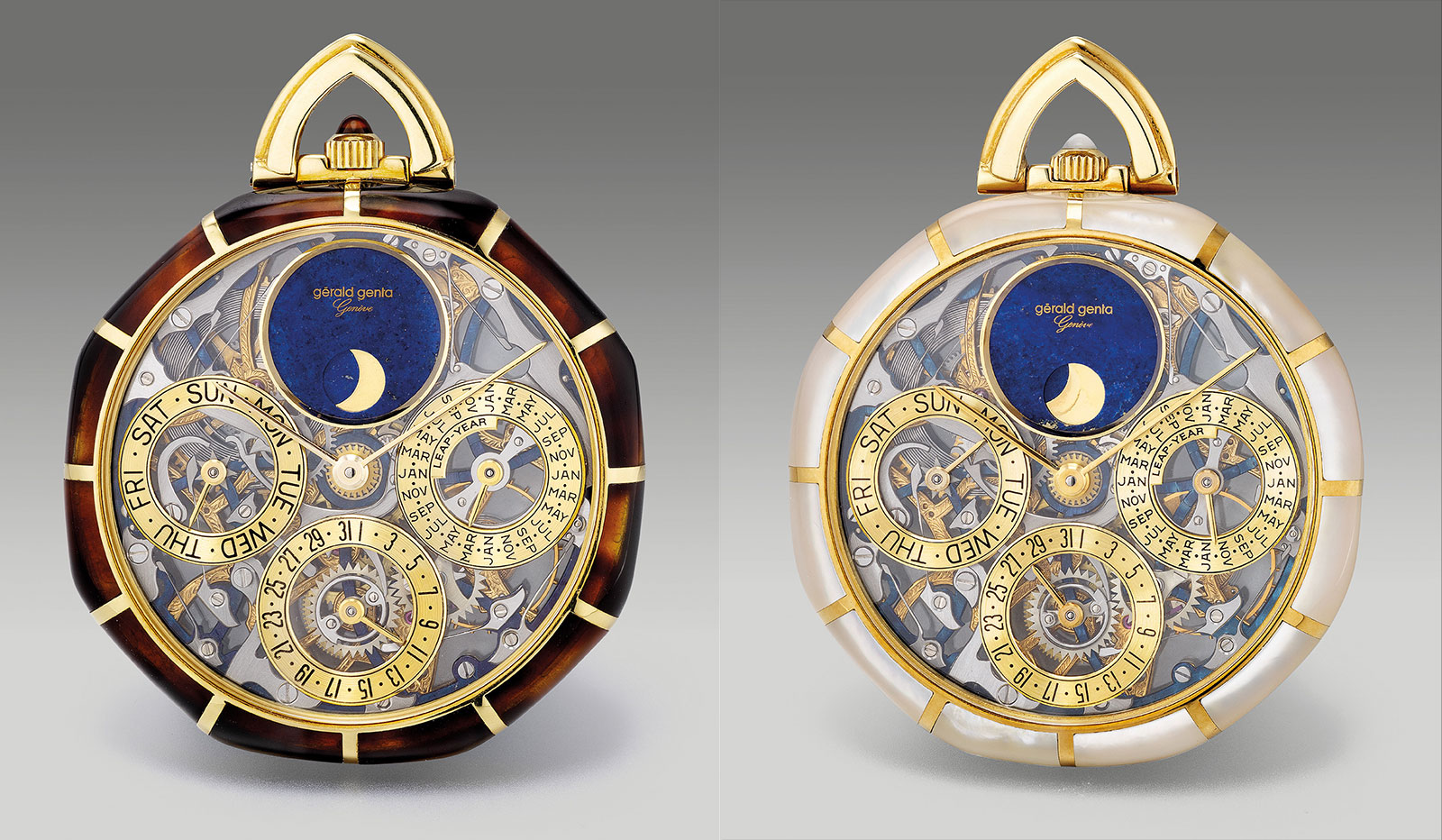 The first example has an unconventional case made of yellow gold inlaid with tortoise shell, with the variegated shades of brown especially beautiful when set against the yellow gold case.
Rarely used in watches due to its fragility, tortoiseshell is most often found on watch dials, and almost never on the case. But like many of Genta's pocket watches, this was as much a pocket watch as it as a desktop timekeeper, allowing for the beautifully delicate case.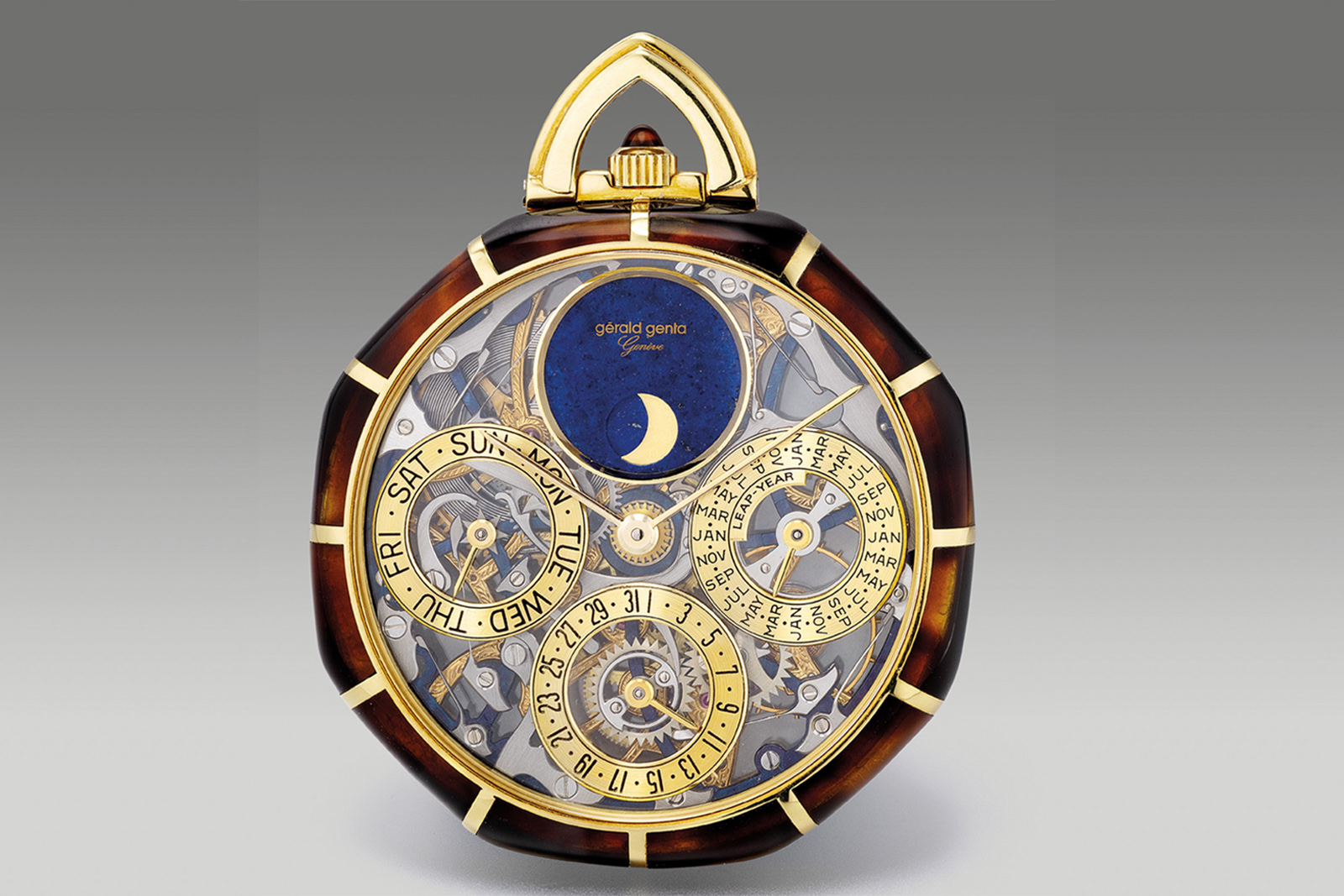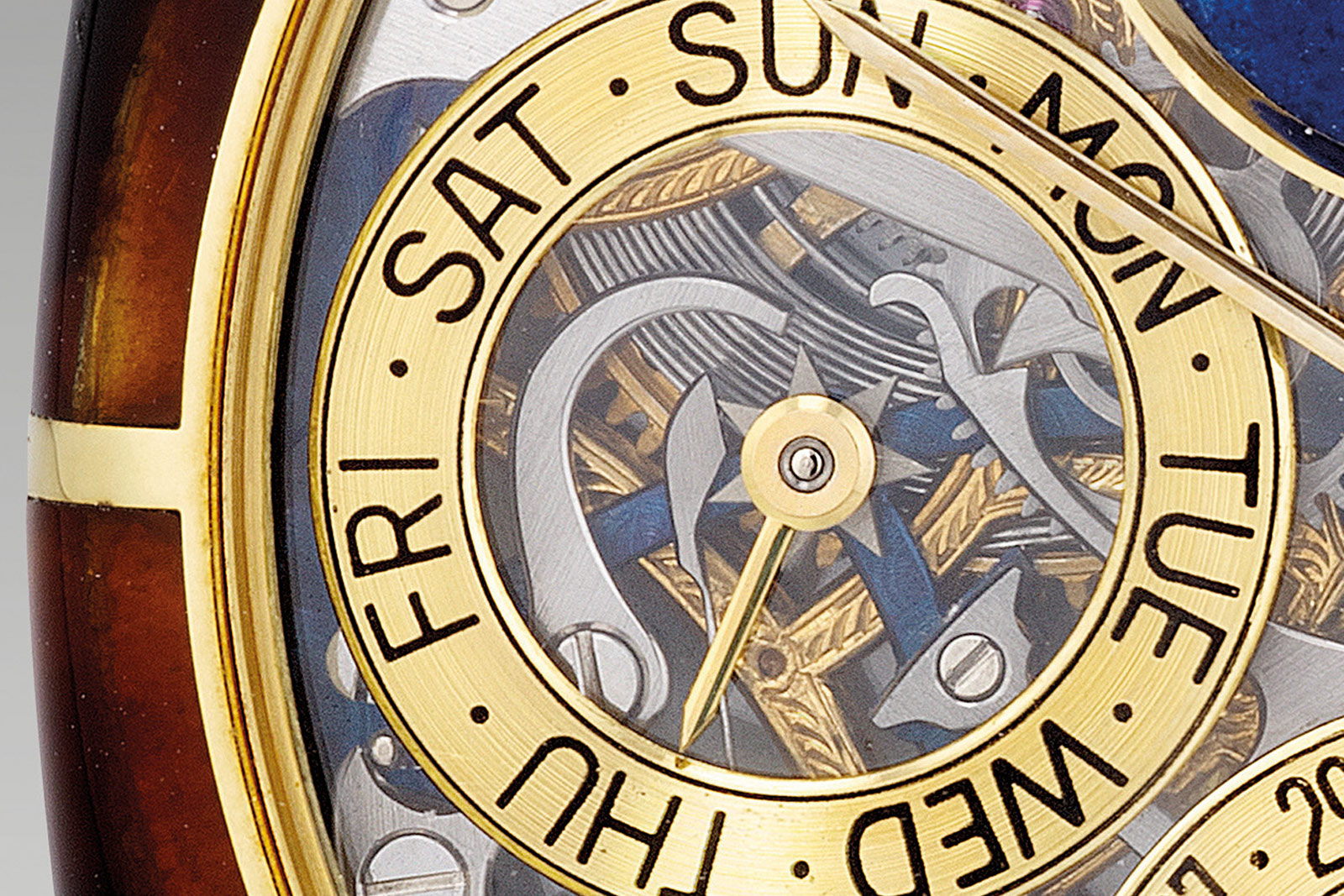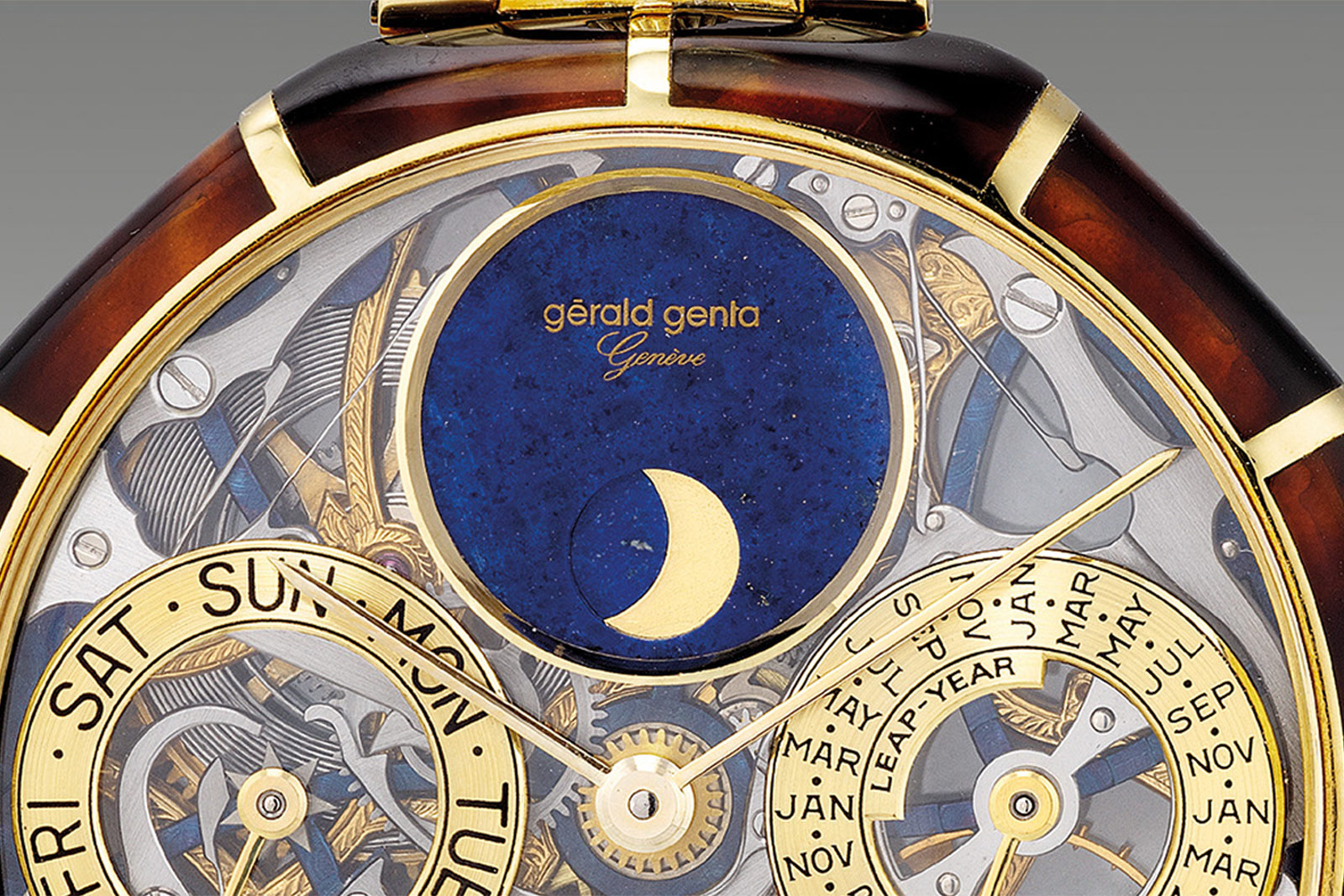 The watch is in excellent condition though it shows minor signs of ageing, including oxidisation on the chapter rings for the sub-dials. Importantly, the tortoiseshell inlay is intact and undamaged. It is accompanied by a stylus for the calendar and has an estimate of HK$78,000-155,000, or about US$10,000-19,900.
The second example is near identical, and also cased in yellow but panelled in white mother-of-pearl, giving it a slightly more feminine look. It is likewise in excellent condition, showing slight oxidisation on the dial and case.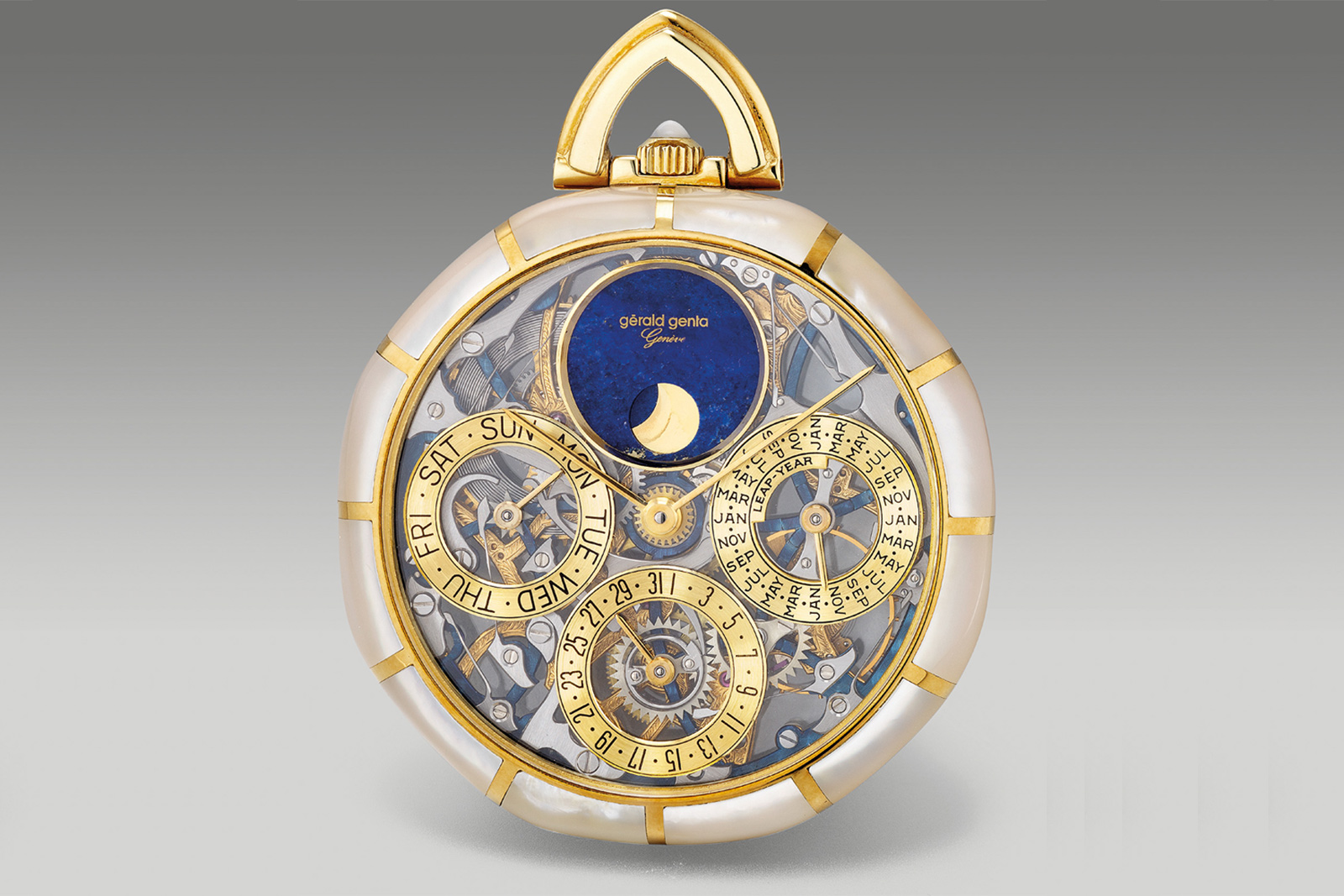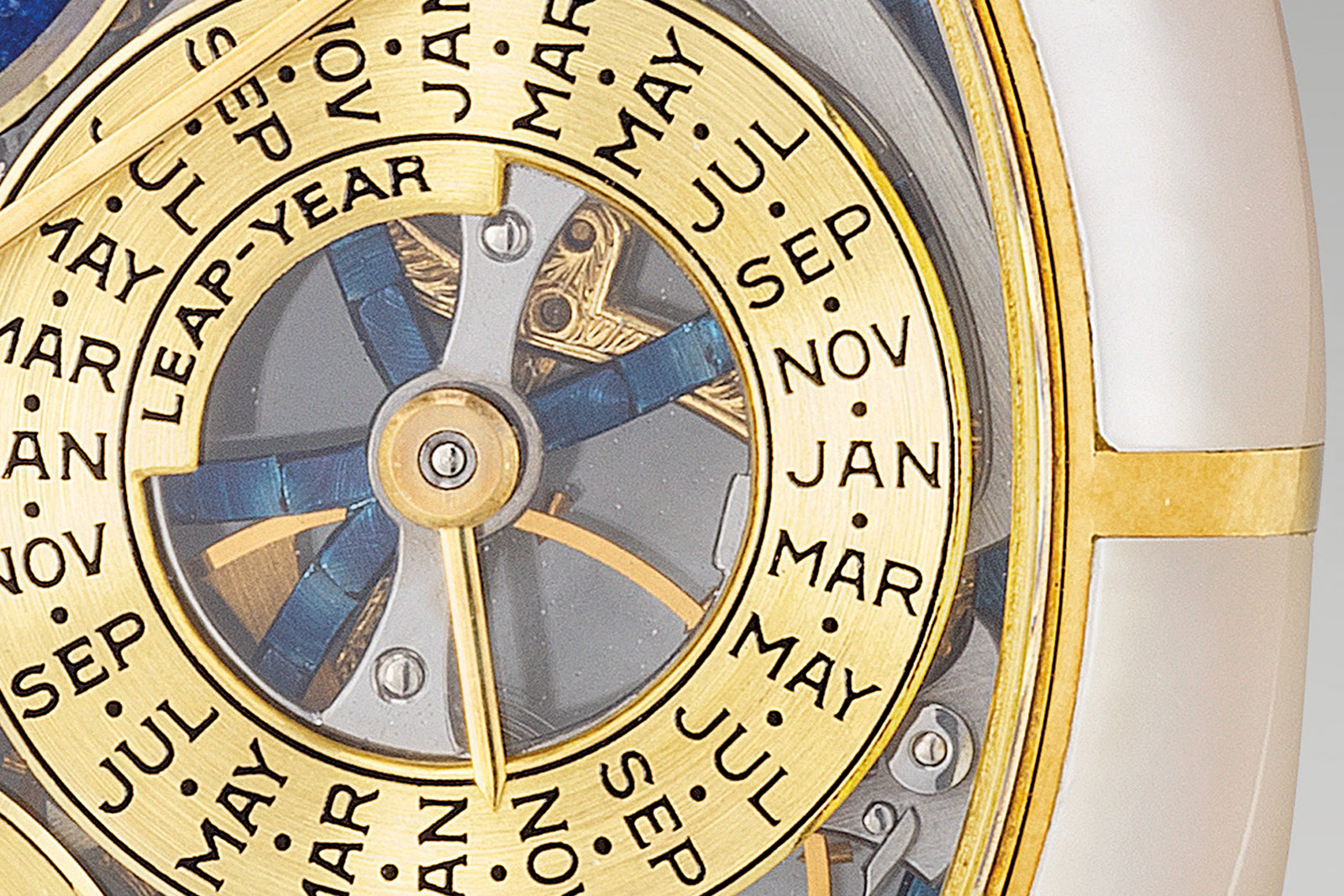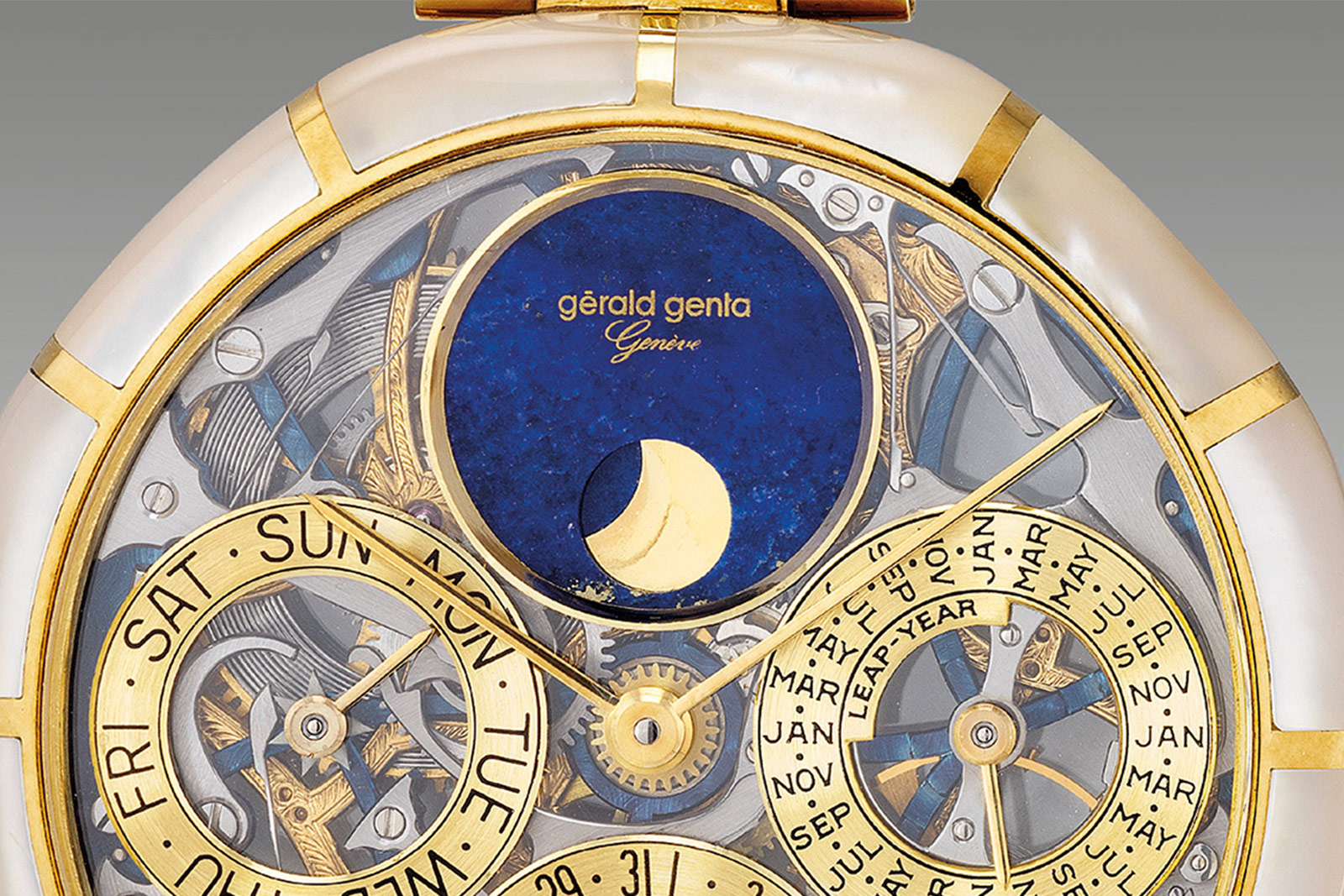 It also includes a calendar-setting pin and has an estimate of HK$78,000-155,000, or about US$10,000-19,900.
---
Lot 889 – Panerai Luminor PAM 130
From its reestablishment in 1997 until 2002, just as Panerai was shaping up to become the hottest brand of the decade, it dipped its toes into diamond-set watches, making both Luminor and Radiomir watches set with gemstones.
Legend has it that the brand's chief executive then, Angelo Bonati – basically the man who created the modern Panerai enterprise – believed the diamond-set watches were not in keeping with the spirit of Panerai, explaining the short production run and small numbers.
Thought catalogued as a PAM 30 (which was made in 1997), this is actually a PAM 130 made in 2001, one of the very last diamond-set Panerai watches made. The PAM 130 is one of the most tasteful of the diamond-set models, which were offered with diamonds on either the case or dial, or both.
Here the diamonds form the signature hour markers of the Luminor dial, with the baton indices being formed by baguettes and the Arabic numerals, brilliant-cut diamonds. At a distance, it can pass for an ordinary Luminor.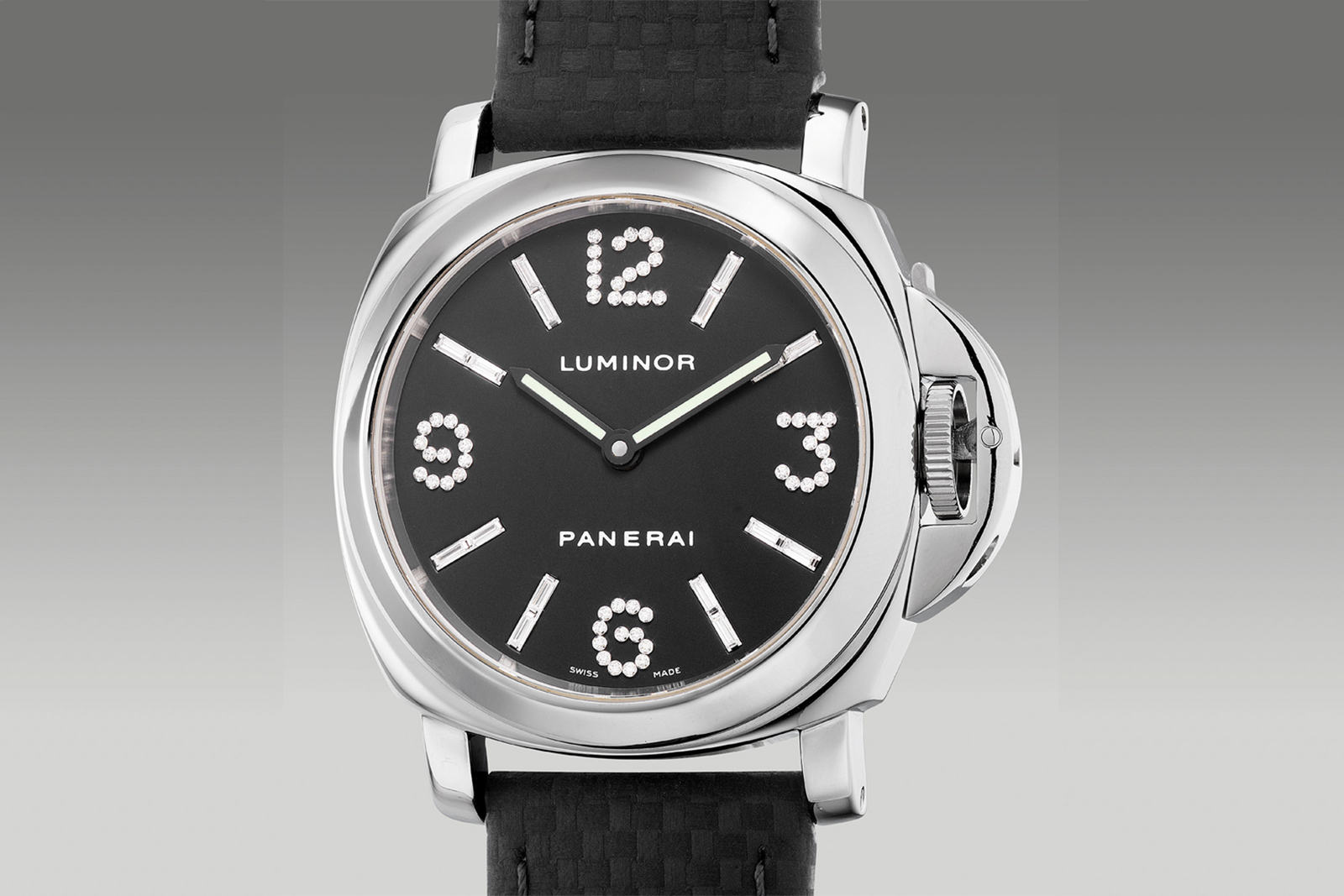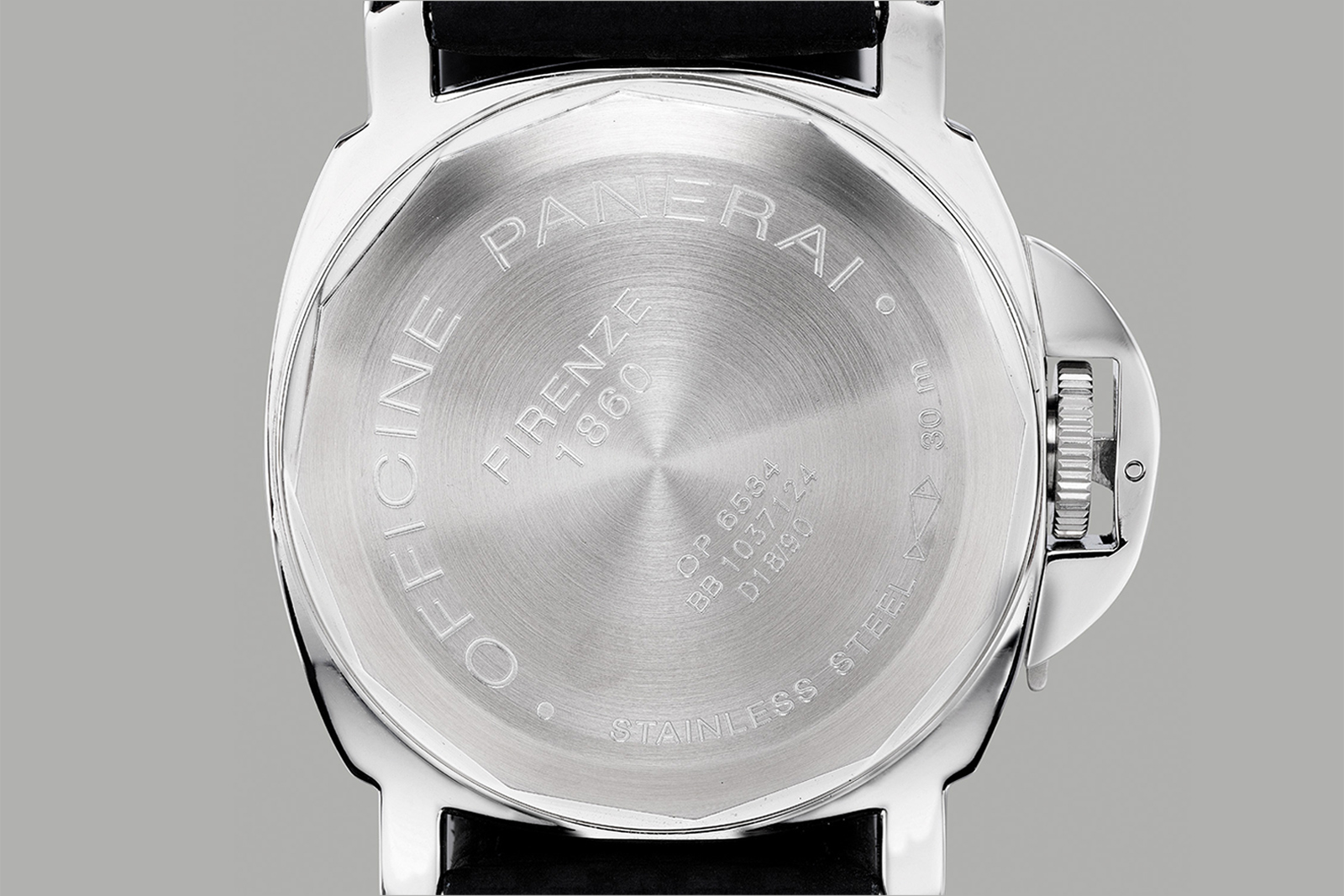 Given the soft demand for older, modern-day Panerai watches, this is a a historical curiosity that is eminently affordable. Priced essentially the same as an equivalent Luminor without diamonds, this has an estimate of HK$48,000-94,000, or about US$6,200-12,100 – but has no reserve.
---
Lot 960 – Moritz Grossman Benu Tourbillon Orange Titanium
Moritz Grossmann makes exceptionally high-quality movements – see for yourself – and this is an example of the most complicated watch it makes.
When the brand marked its 10th anniversary in 2018, it created 24 unique watches that were sold in an online auction at Christie's (which sadly didn't go very well for the brand in terms of prices achieved). This Benu Tourbillon is one of the 24 watches, and features a brushed titanium case and striking orange dial.
Given the large size of the case, 44.5 mm by 13.8 mm, lightweight titanium is a useful material. Granted, the orange dial is not for everyone, but it has a contemporary, sport  appeal.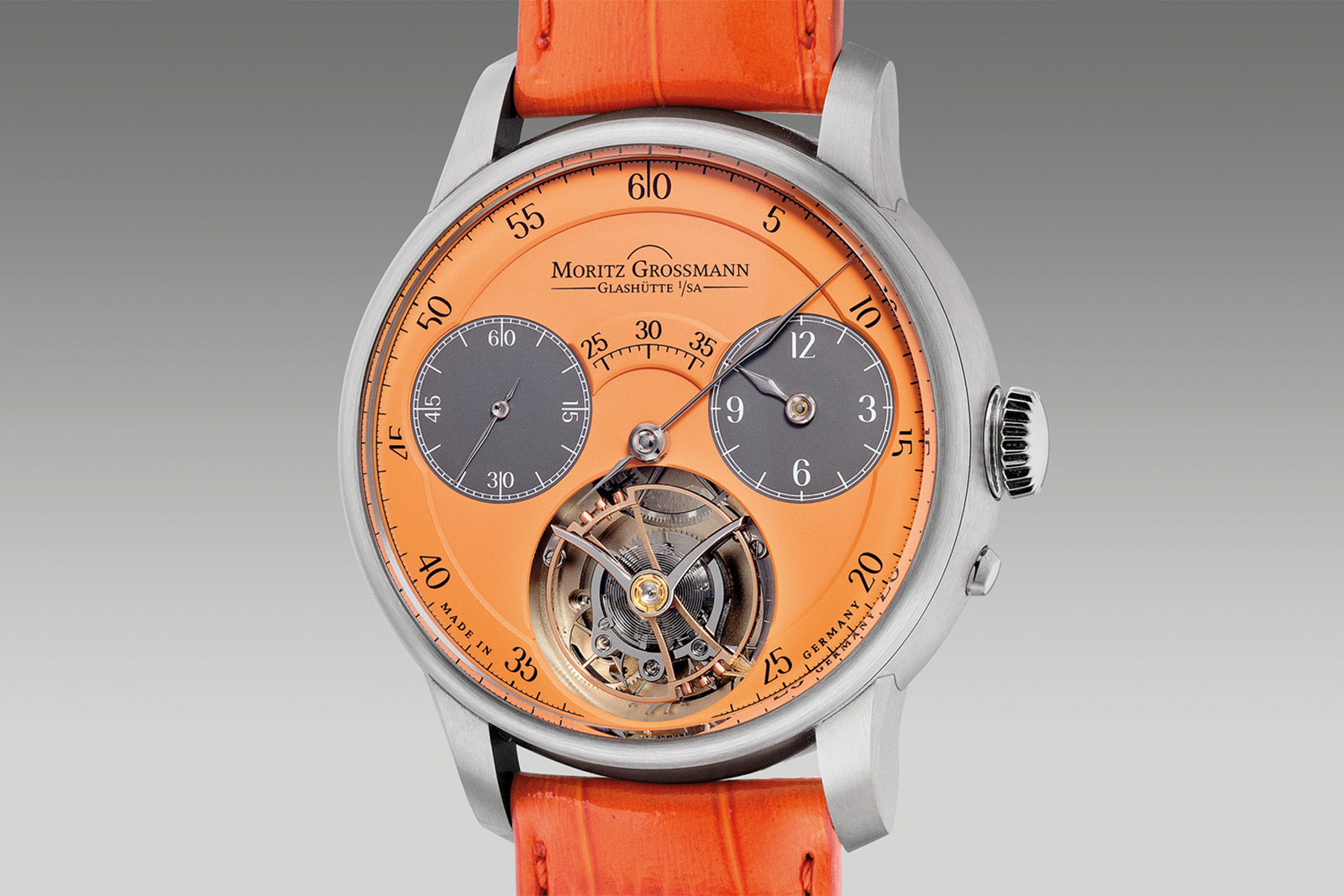 But there is no question about the appeal of the movement, which is finished to an extremely high standard. Every component is finished very, very well. Edges are chamfered, steel is mirror polished, and the barrel ratchet wheel is double solarised. You can see how well right here.
It's a hand-wound calibre with a three-minute flying tourbillon and a stop seconds mechanism that hacks the tourbillon in the most unusual way – pulling the crown moves a lever that touches the balance wheel, as most hacking levers do. But the lever is tipped in a tiny brush of human hair, in this case from the head of the brand's chief executive, which softly contacts the balance wheel, stopping it but not marking it in any way.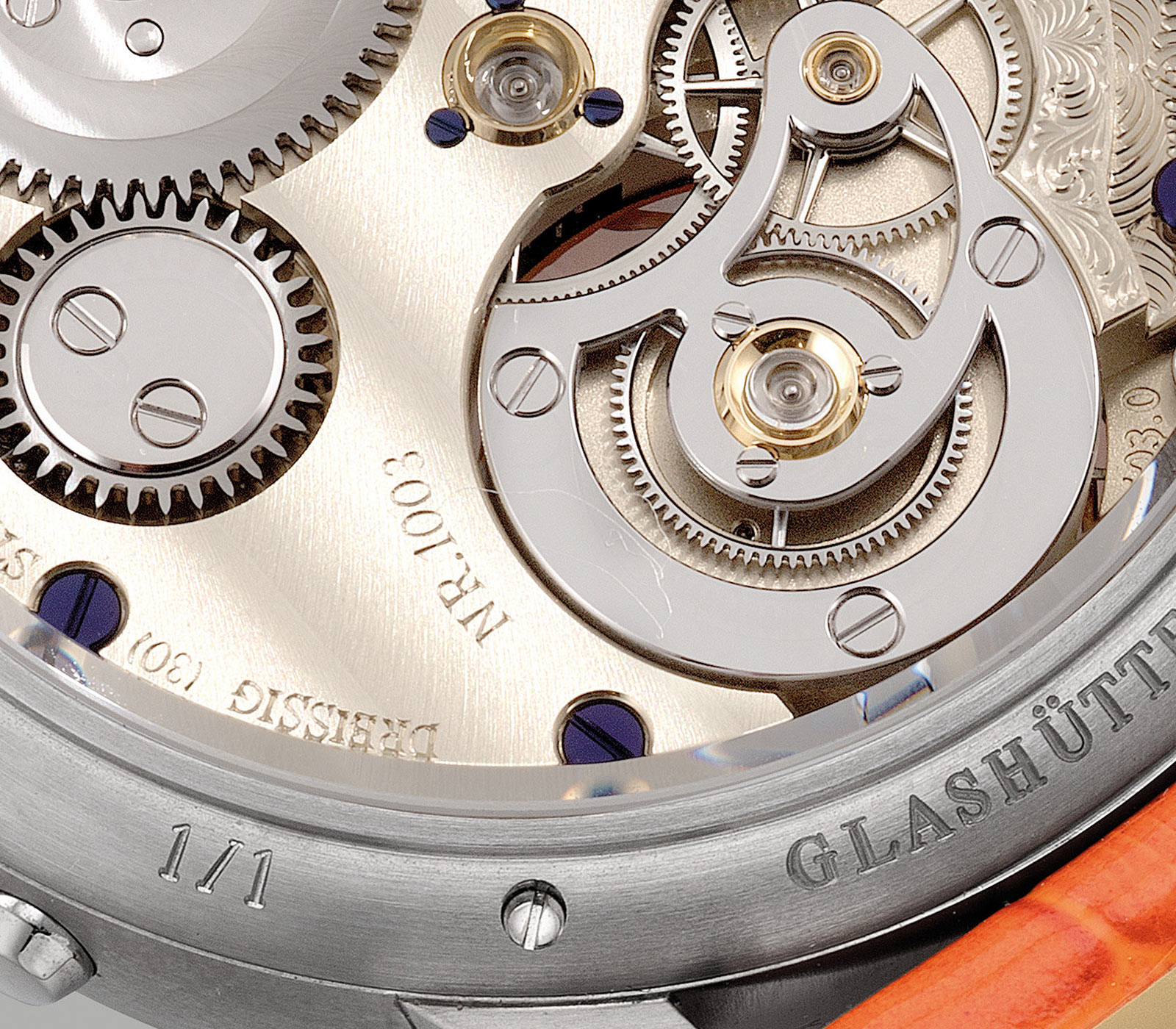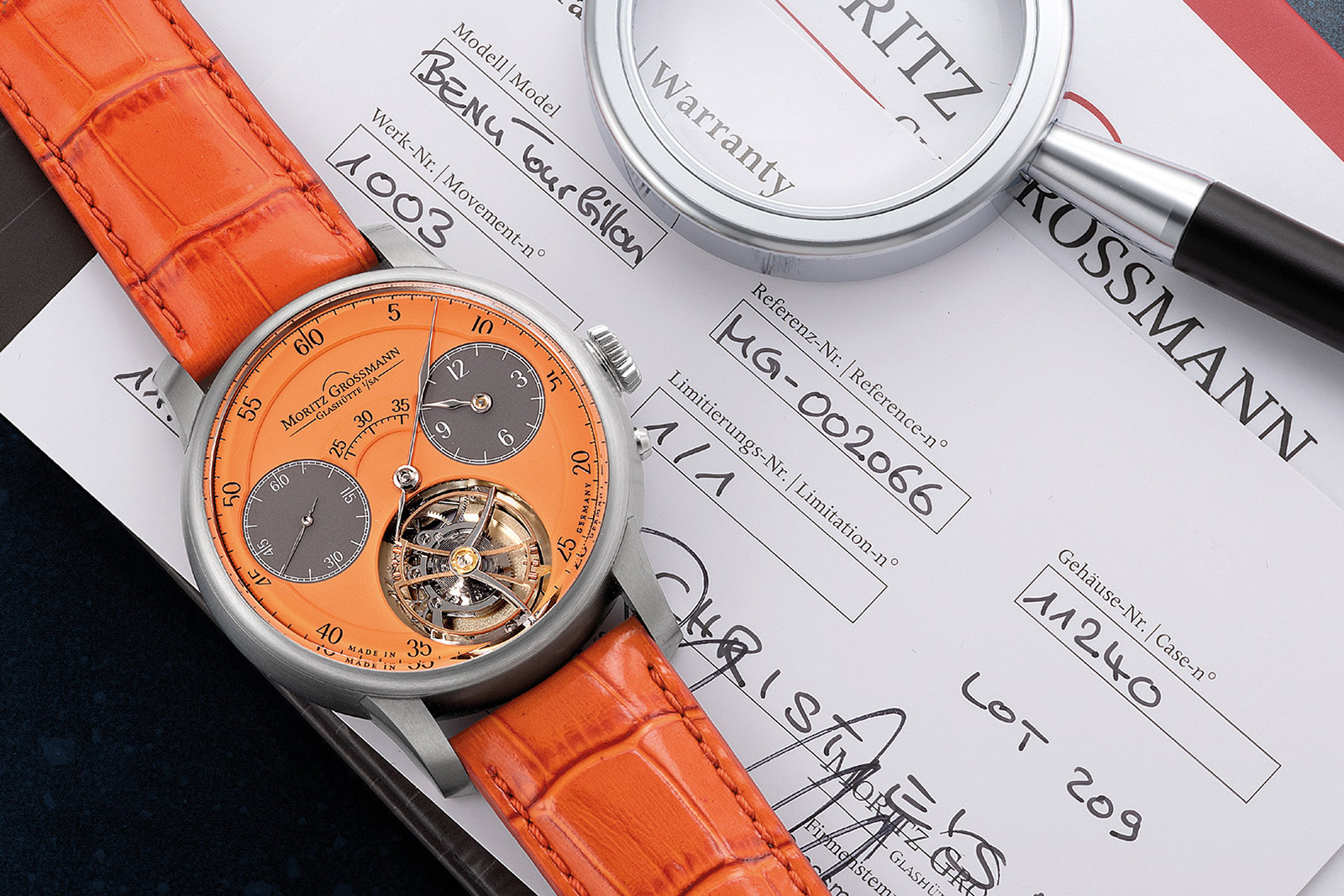 Purchased by the current owner in 2018 at the online auction, the watch is in excellent condition and remains under the factory warranty. It also includes the original box and papers. The estimate is just HK$300,000-460,000, or about US$38,500-59,000.
---
Lot 973 – Vacheron Constantin Medicus ref. 47152
Launched in 2000 as a modern take on the vintage doctor's watch, the Medicus featured a pulsometer scale on its dial and a cushion-shaped case. It was offered in both conventional and skeletonised form, with the top-of-the-line model being the 30-piece limited edition in platinum with a skeletonised movement.
This is one of the 30 in platinum. The dial is open worked, revealing the immaculately skeletonised and engraved movement. Unusually, the movement is a Lemania 1872, which is also the calibre found in the modern-day Speedmaster Professional Moon Watch. It's a hand-wound movement with a cam for the chronograph, instead of the column wheel typical of high-end watches.
While that might ordinarily be a shortcoming in a newly-launched watch, this is a 20-year old watch with a remarkable degree of decoration on the movement, so it is acceptable; the rest of the movement more than makes up for it.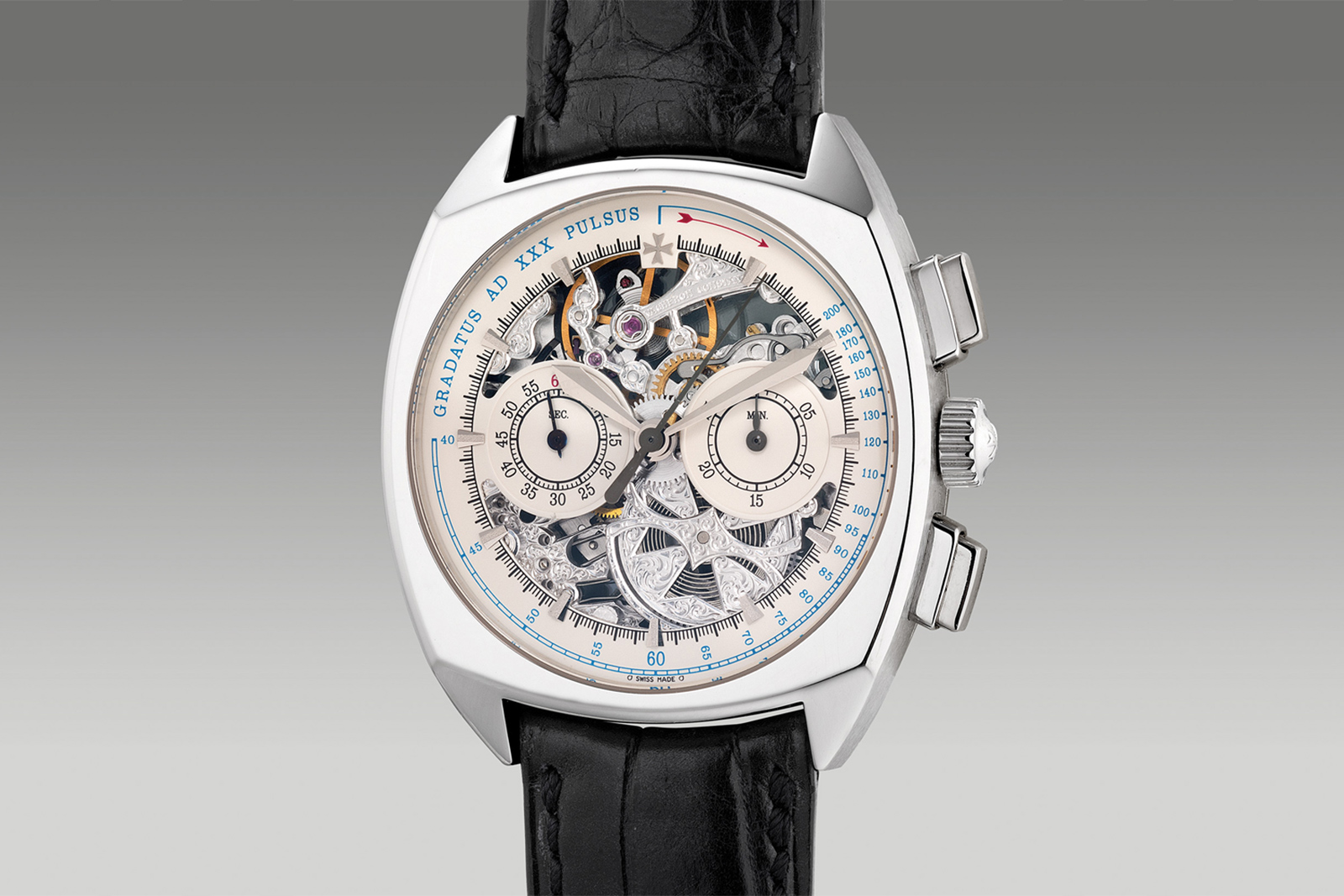 Numbered "15/30", this example is in excellent condition with few signs of wear, though it lacks the original box and papers. The lines of the tonneau-shaped case remain sharp and well defined.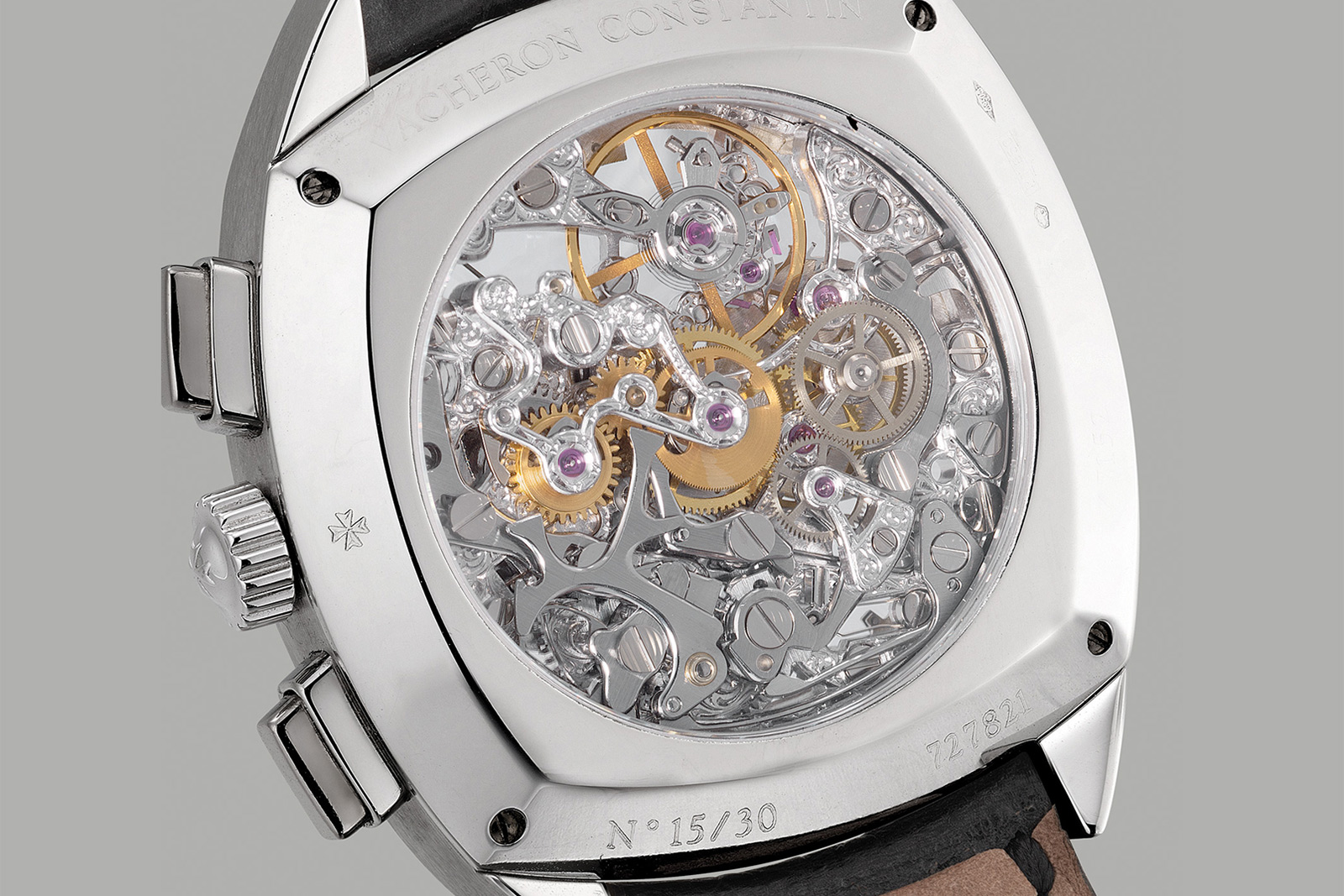 The Medicus is a value buy going by the estimate of HK$120,000-200,000, or about US$15,400-25,600.
---
Preview and Auction
The preview exhibition is open daily from July 4-9 at the JW Marriott Hotel.
The auction takes place on July 10, with the first session (lots 801-916) starting at 12:00 pm, followed by the second session (lots 917-1069) at 3:30 pm.
For the complete catalogue, as well as to place bids online, visit Phillips.com.
JW Marriott Hotel Hong Kong
88 Queensway
Admiralty, Hong Kong
This was brought to you in collaboration with Phillips.
---
Back to top.
---
You may also enjoy these.