Highlights: Christie's Hong Kong Watch Auction Fall 2019
Custom complications and value buys.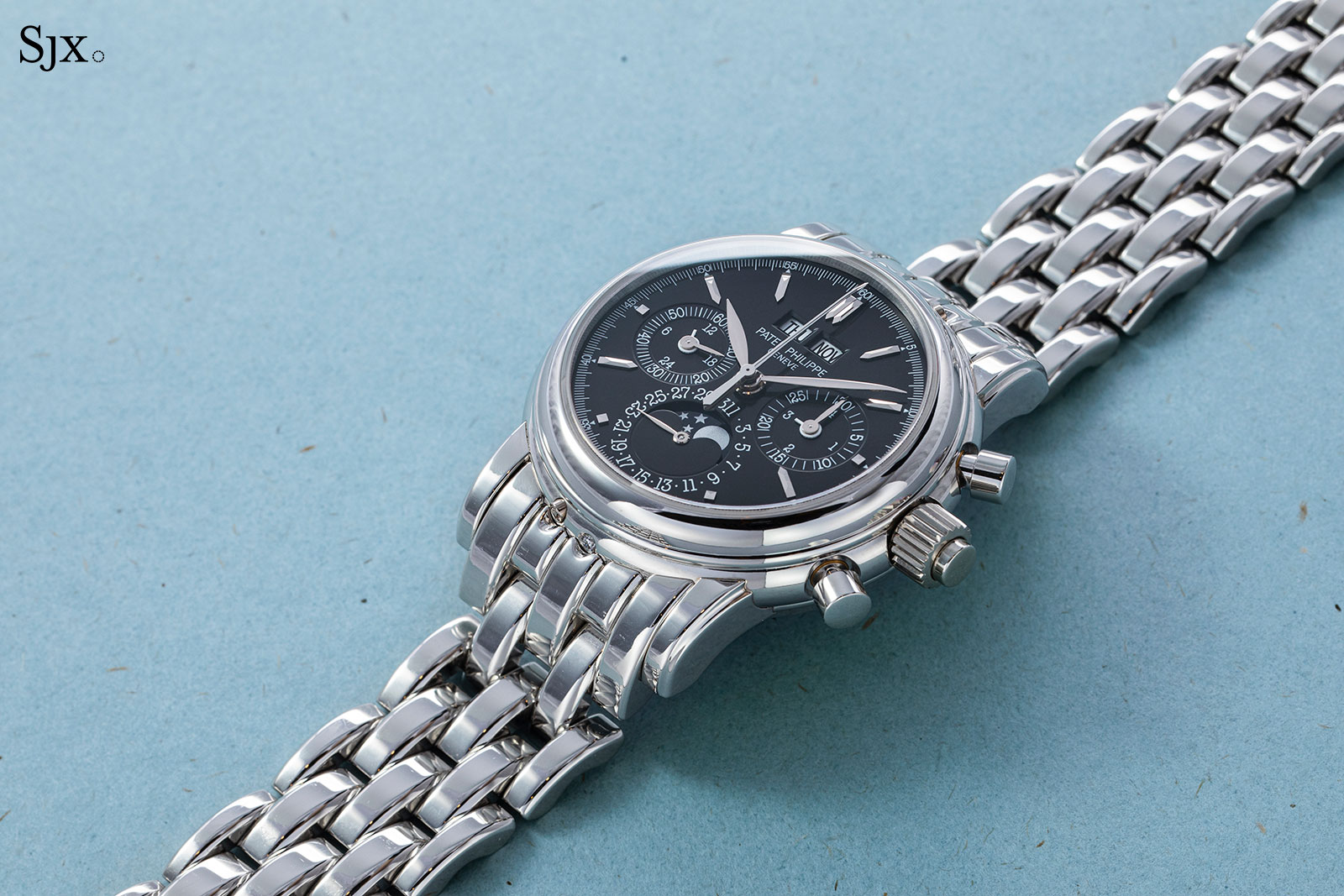 After a record-setting auction weekend in Geneva, the action moves to Hong Kong in the last week of November. Chatter about the Hong Kong auctions this year are dominated by one watch, the Patek Philippe ref. 2523 twin-crown world time in pink gold with a blue enamel dial, because it carries the highest pre-sale estimate in watch auction history of 55m-110m Hong Kong dollars, or about US$7m-14m.
Instead of being sold along with the rest of the watches on November 27, it will be the opening lot in the evening sale of 20th century and contemporary art on November 23. With the top lot in the evening sale – Five Nudes by Sanyu – having an estimate of HK$250m-550m dollars, or about US$32m-70m, the twin-crown world time hardly looks out of place.
But the ref. 2523 aside, the rest of the Christie's sale is made up of 239 more affordable timepieces, including an ultra-rare Patek Philippe ref. 3651 chronograph and a value-buy Audemars Piguet Jules Audemars Equation of Time in platinum. Here's a look at highlights from the sale.
And the full catalogue can be found here.
---
Lot 2298 – Patek Philippe Nautilus ref. 3800/108G in white gold, with diamonds and emeralds 
This is shameless 1990s bling – a Nautilus ref. 3800/108G. The suffix means it's 18k white gold, fully set with brilliant-cut diamonds and having 11 baguette-cut emeralds for the hour markers.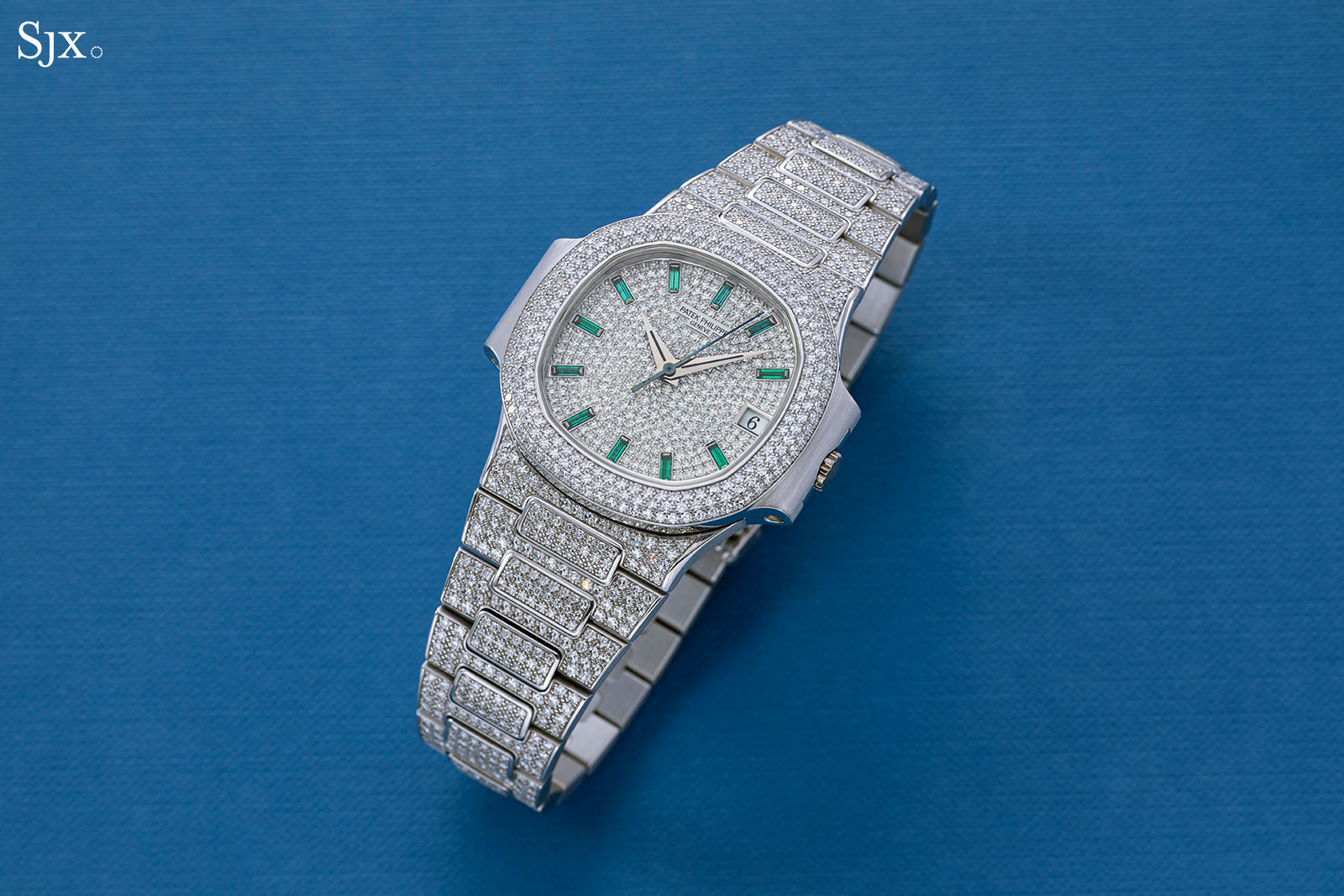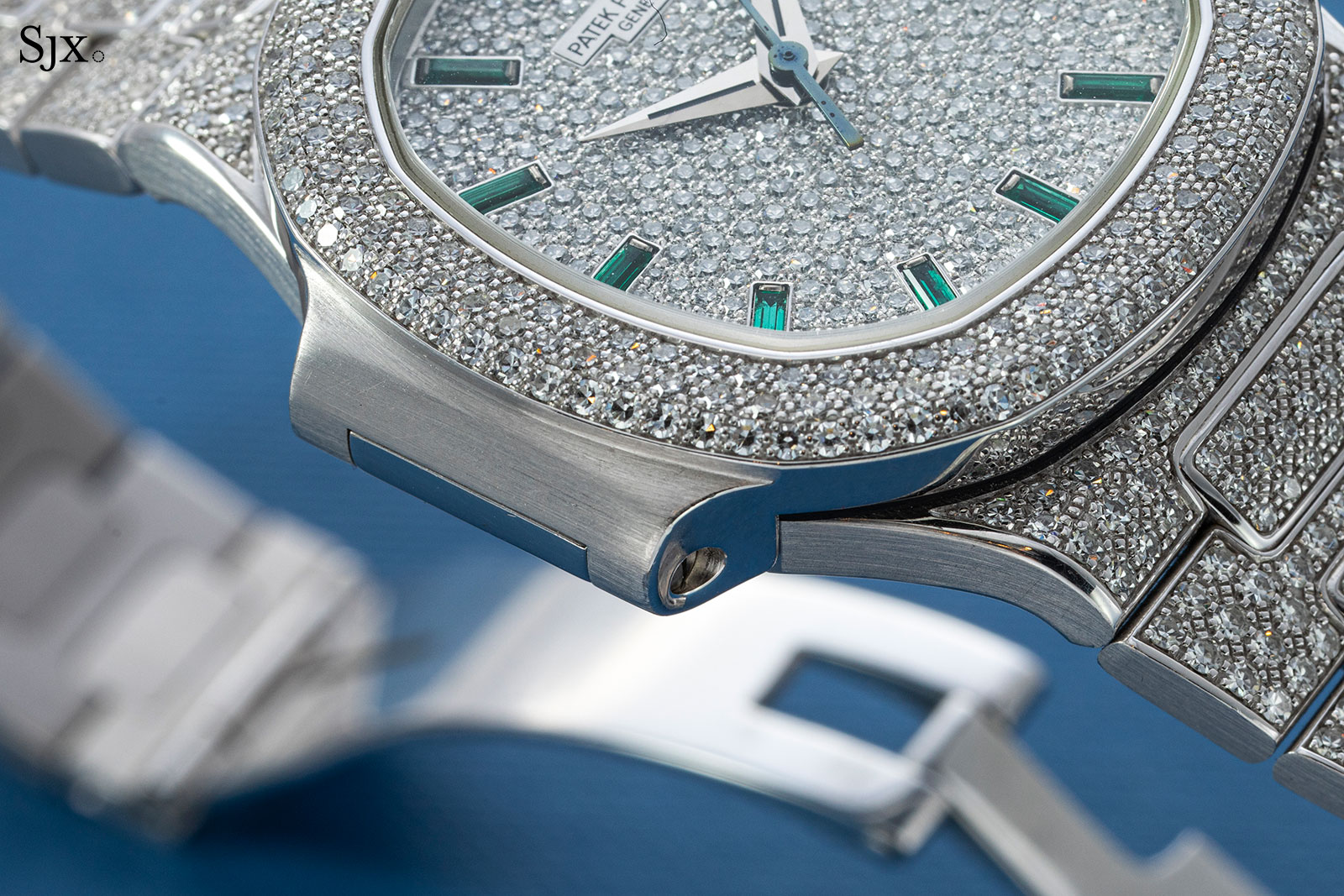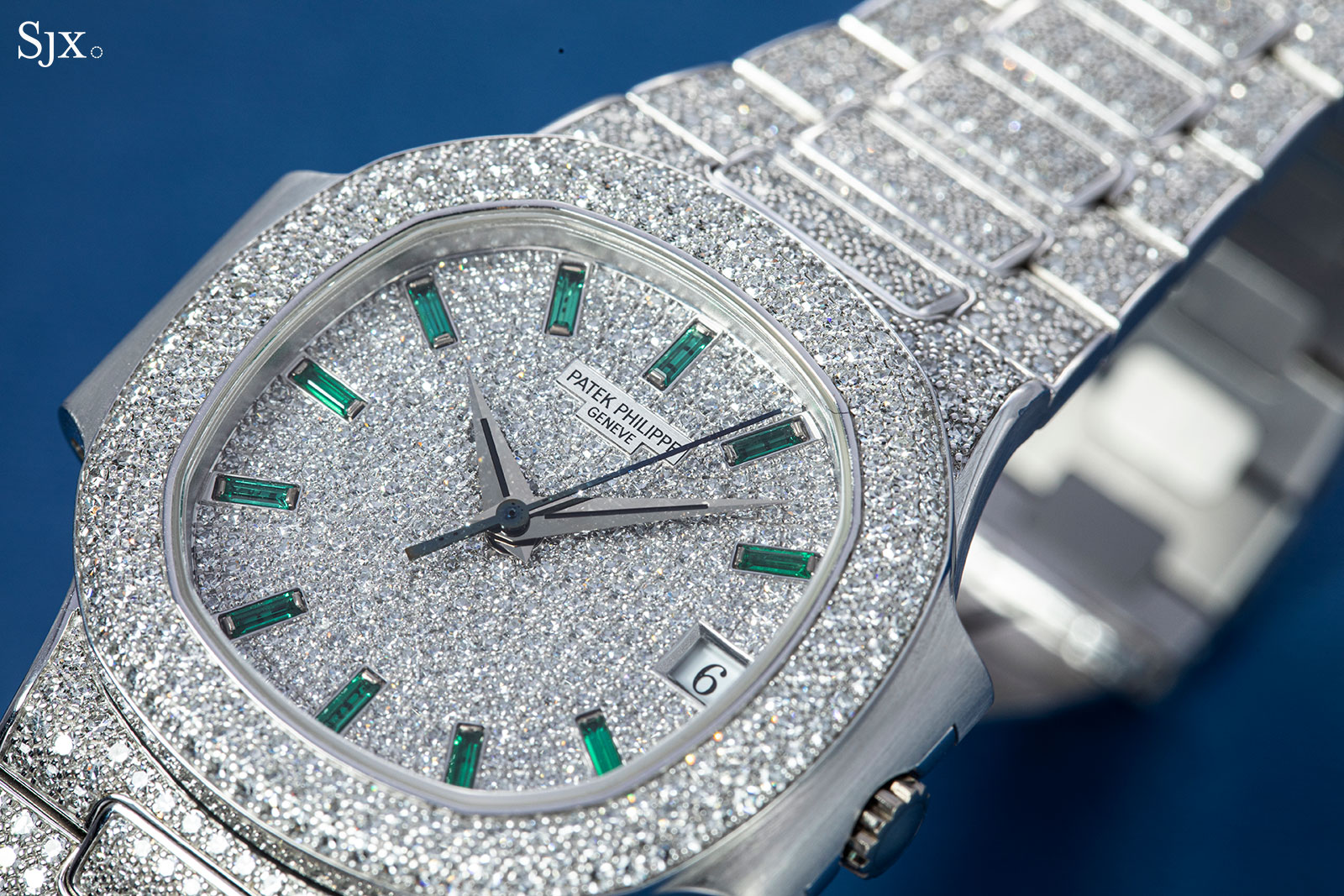 The watch feels weighty in the hand, though the case is compact. And the bling naturally gives it a lot of wrist presence. Though originally a men's watch, the 37mm case is small by modern standards, giving it a lot of appeal as a ladies' watch.
According to Christie's, there are only three examples of this specific Nautilus known. This particular watch is in excellent condition, seemingly hardly worn, despite having been produced in 1995. The case has its original finish, while the bracelet is tight. And it's also accompanied by its original certificate and accessories.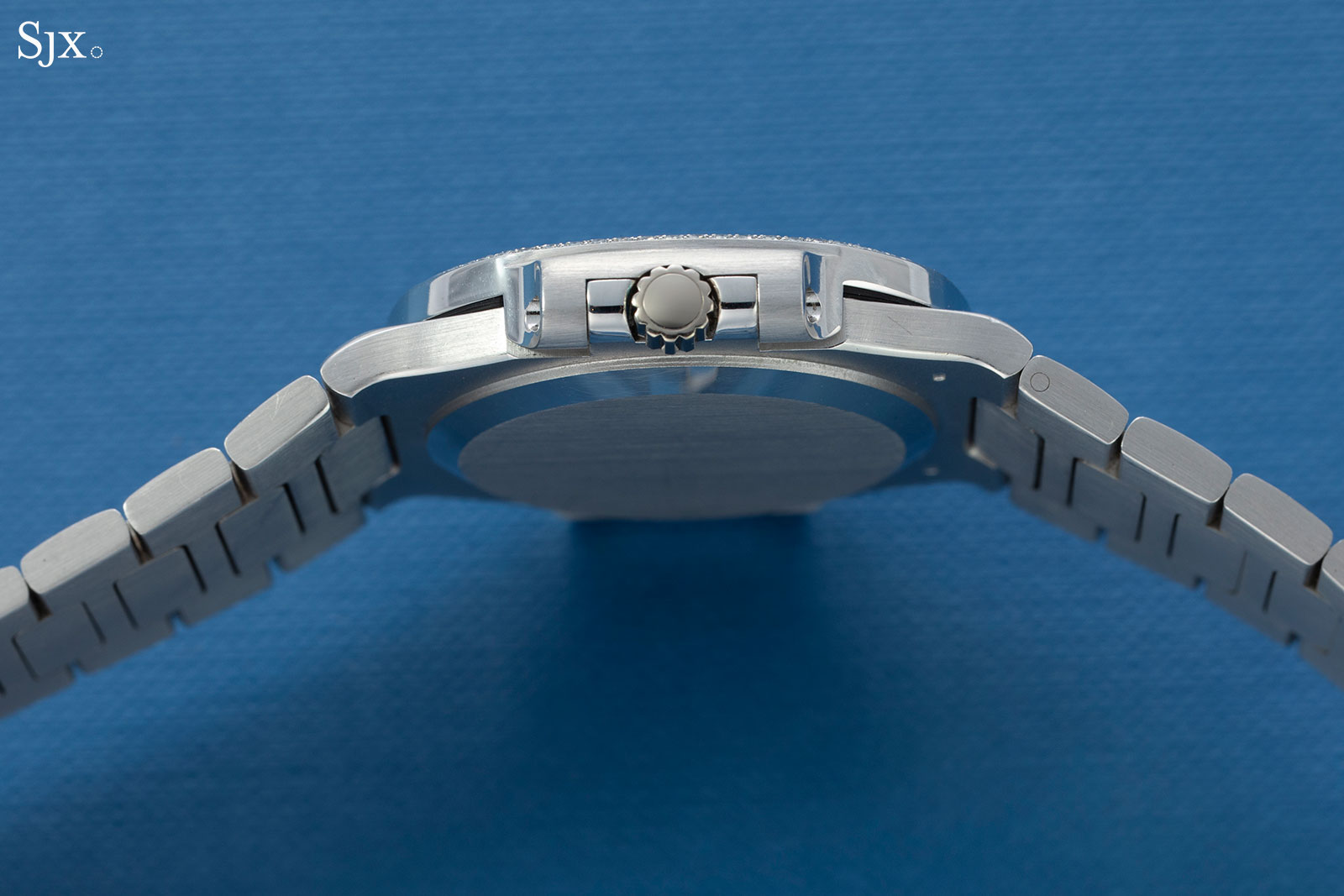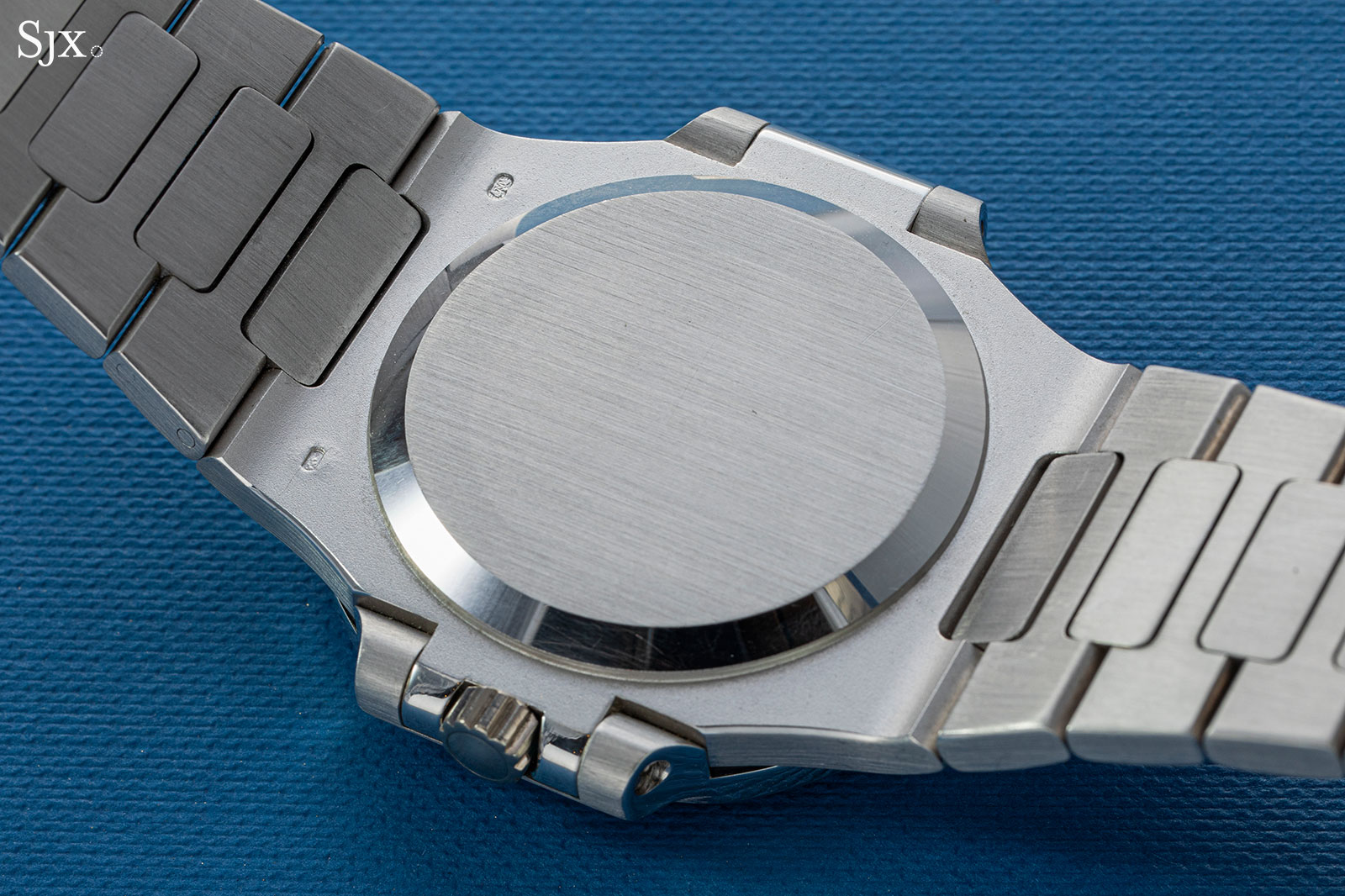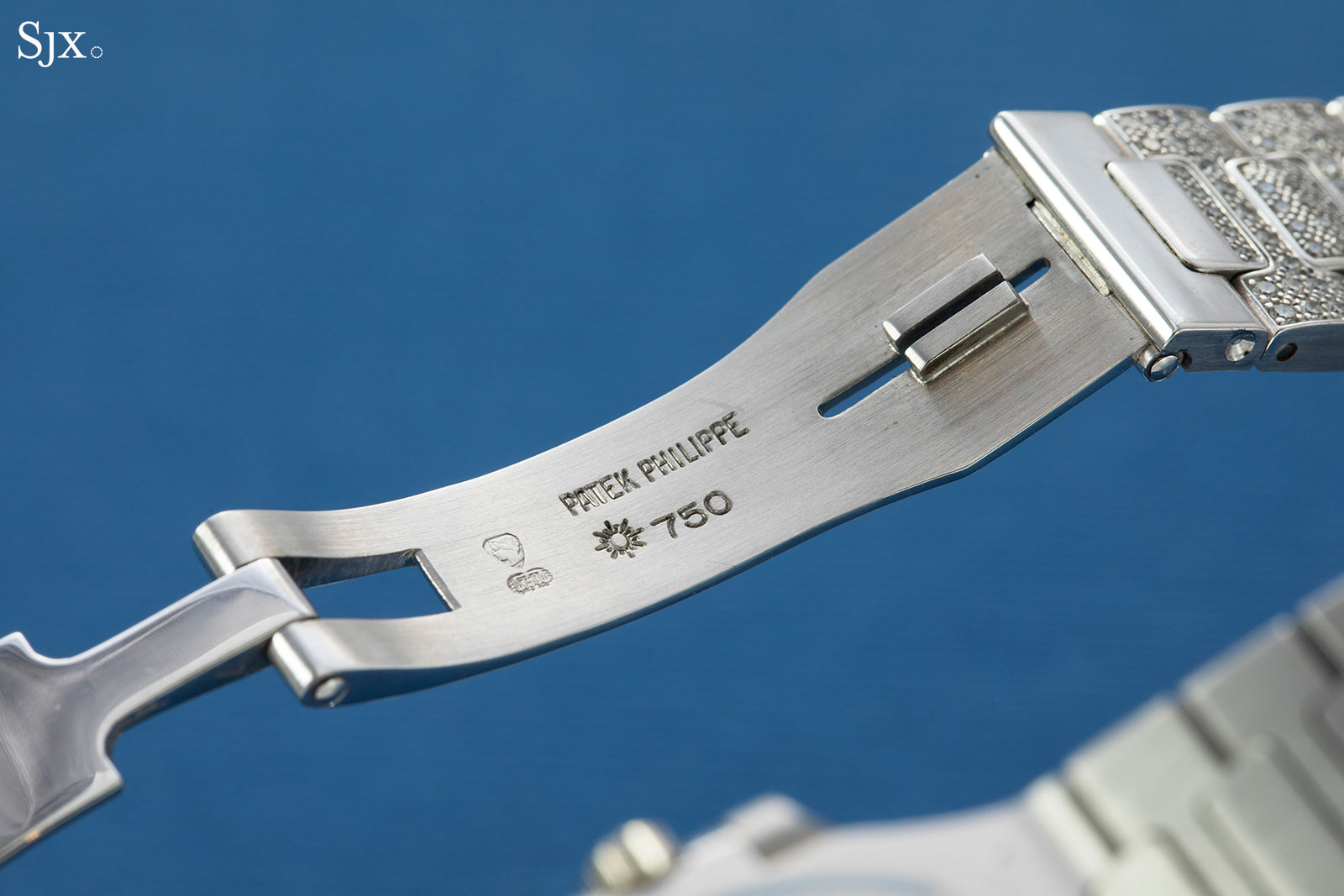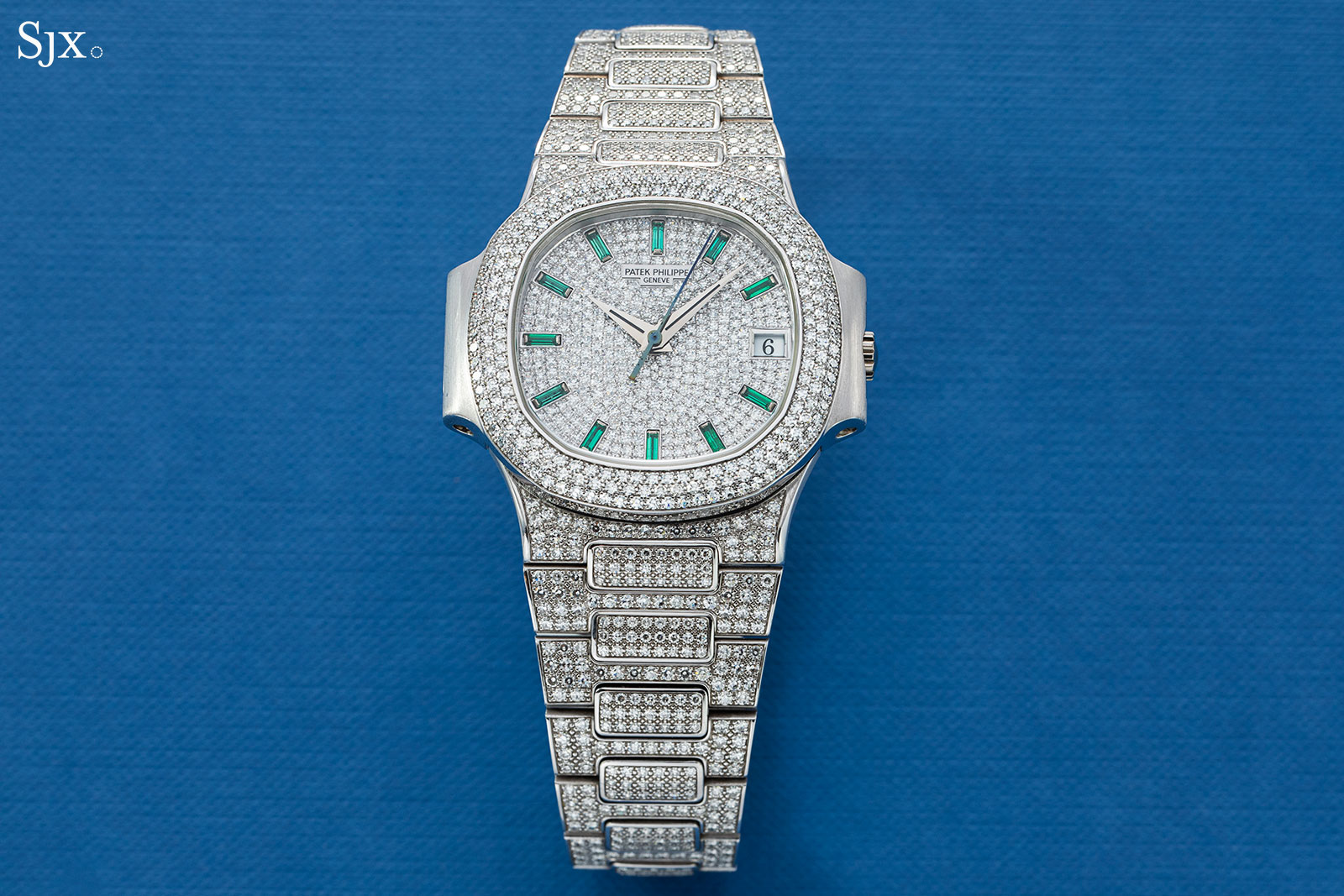 With the prices of steel Nautilus watches having skyrocketed – albeit corrected substantially in the last couple of months – smaller, precious-metal variants like this are relatively good buys. This has an estimate of HK$380,000-560,000, or about about US$48,000-53,000.
---
Lot 2348 – Patek Philippe ref. 3445 in platinum
The ref. 3445 is a fairly distinctive Calatrava, having a round case with straight lines and angular edges, combined with an automatic movement that has sub-seconds and a date. It was in production from 1961 to 1981, and is fairly common in yellow gold. But it is exceptionally rare in platinum, with just 11 platinum ref. 3445s known.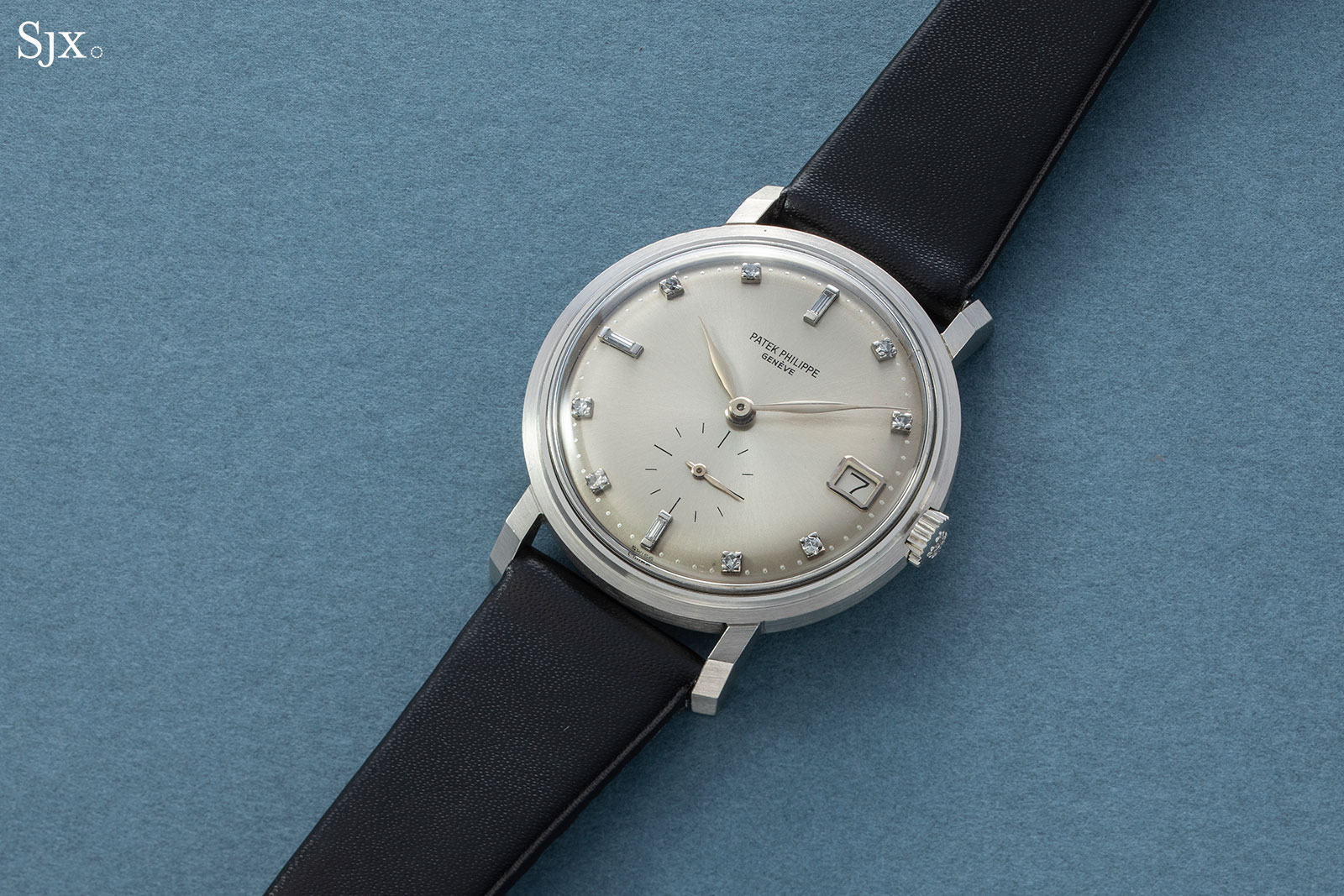 This particular example is widely known, having been sold at auction twice before – and I covered it when it was sold in 2017 – but more importantly, one of the best preserved. In fact, it is almost in "new old stock" condition.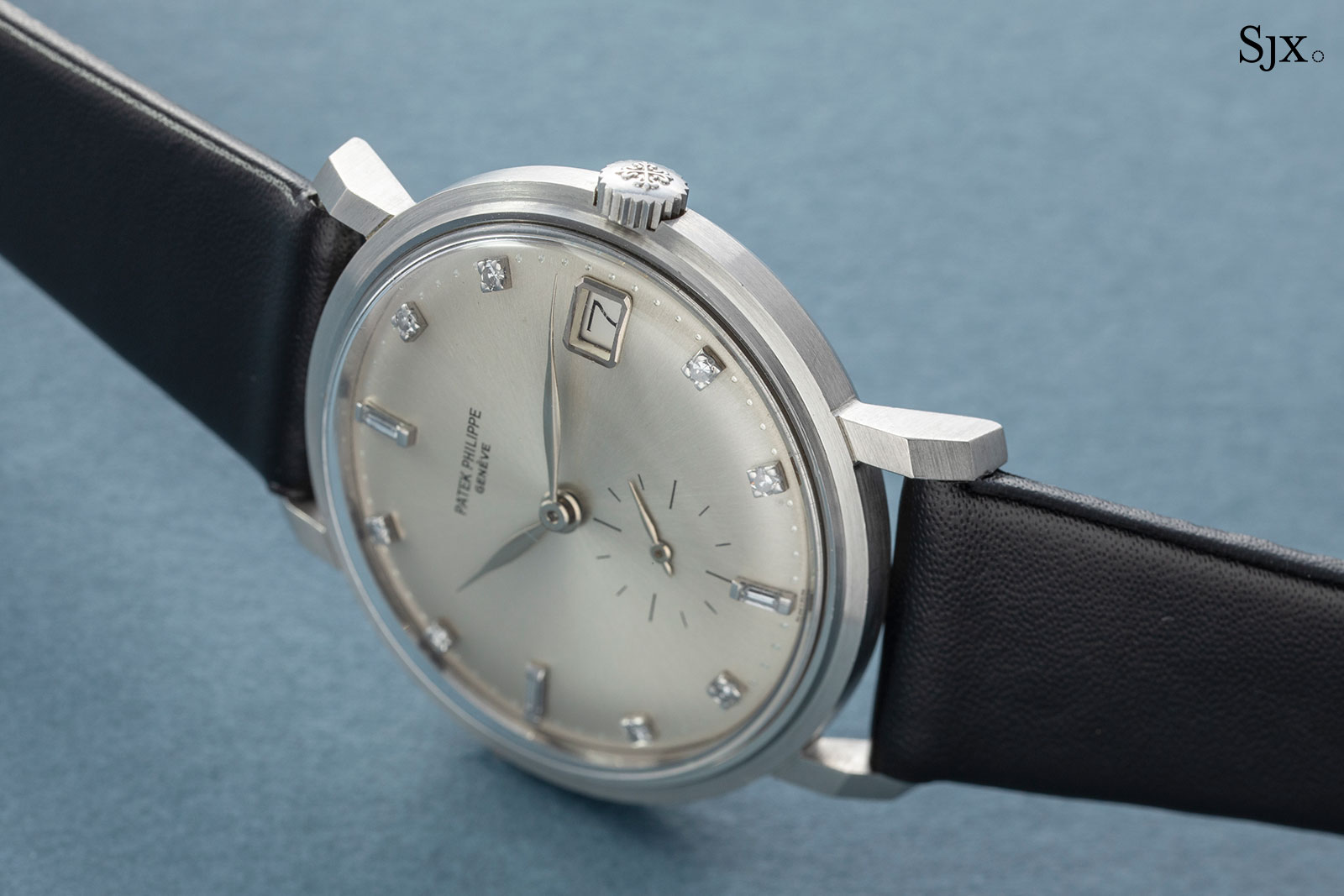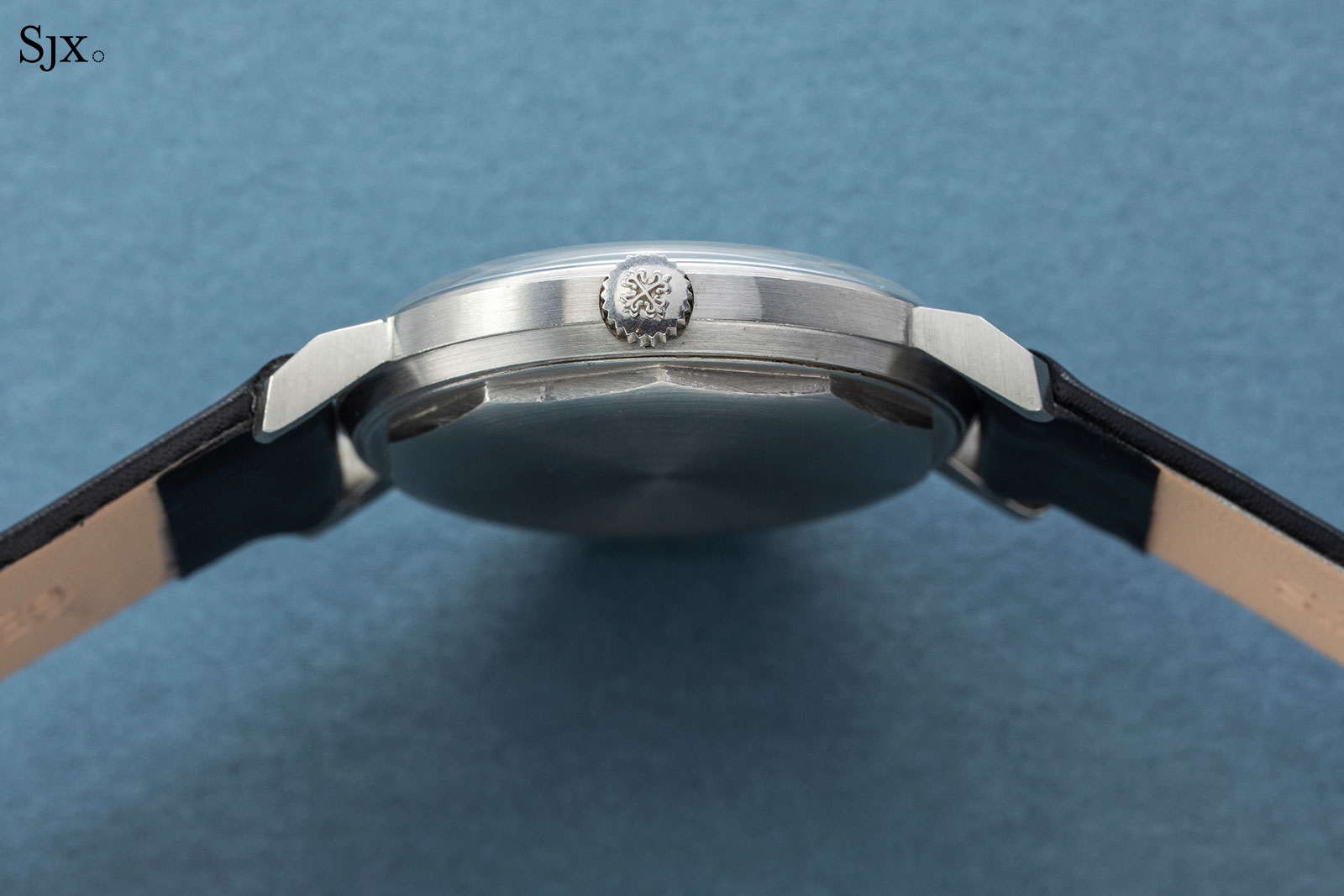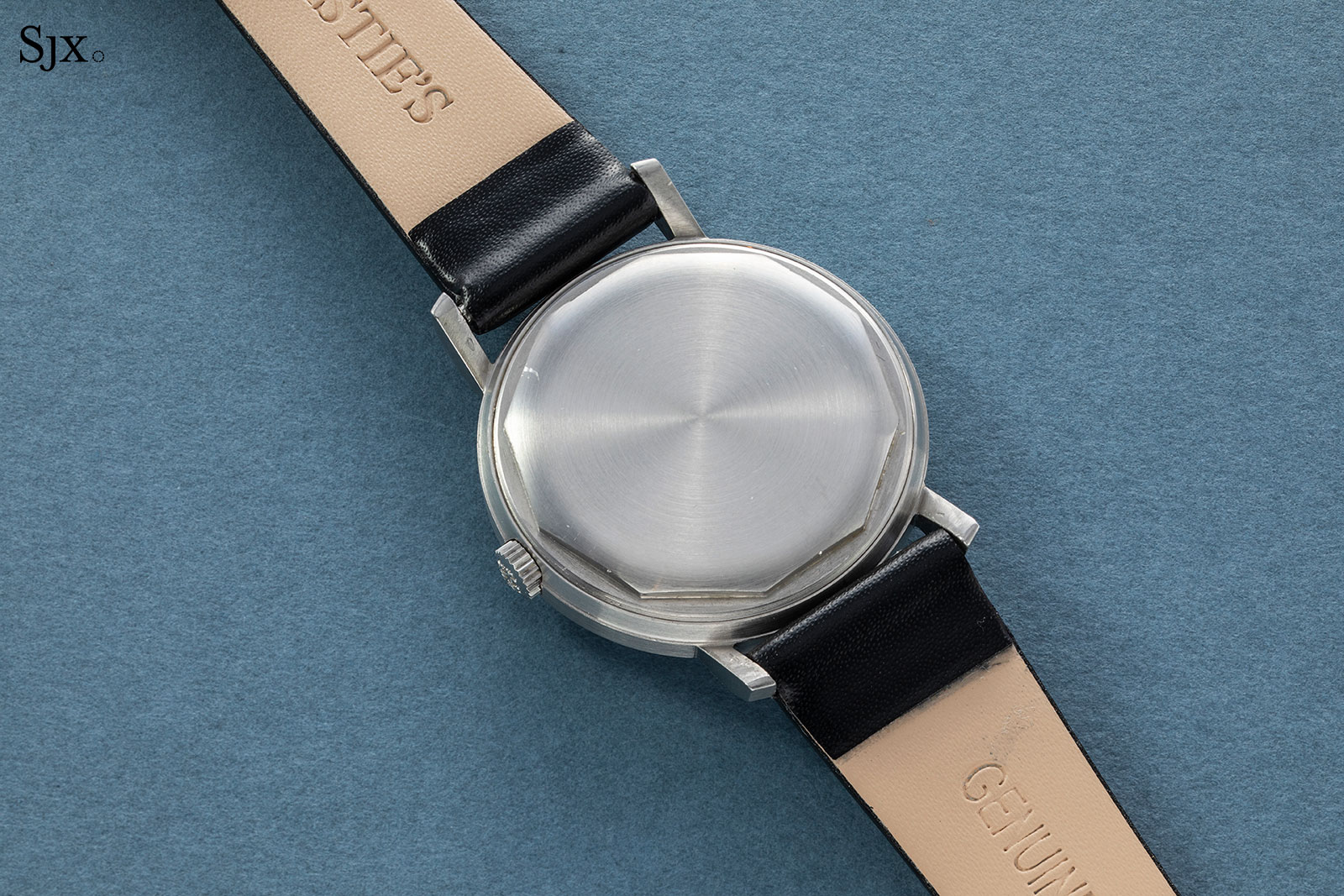 The case retains all of its original surface finishing and edges, with the facets on the lugs and step on the bezel all pristine.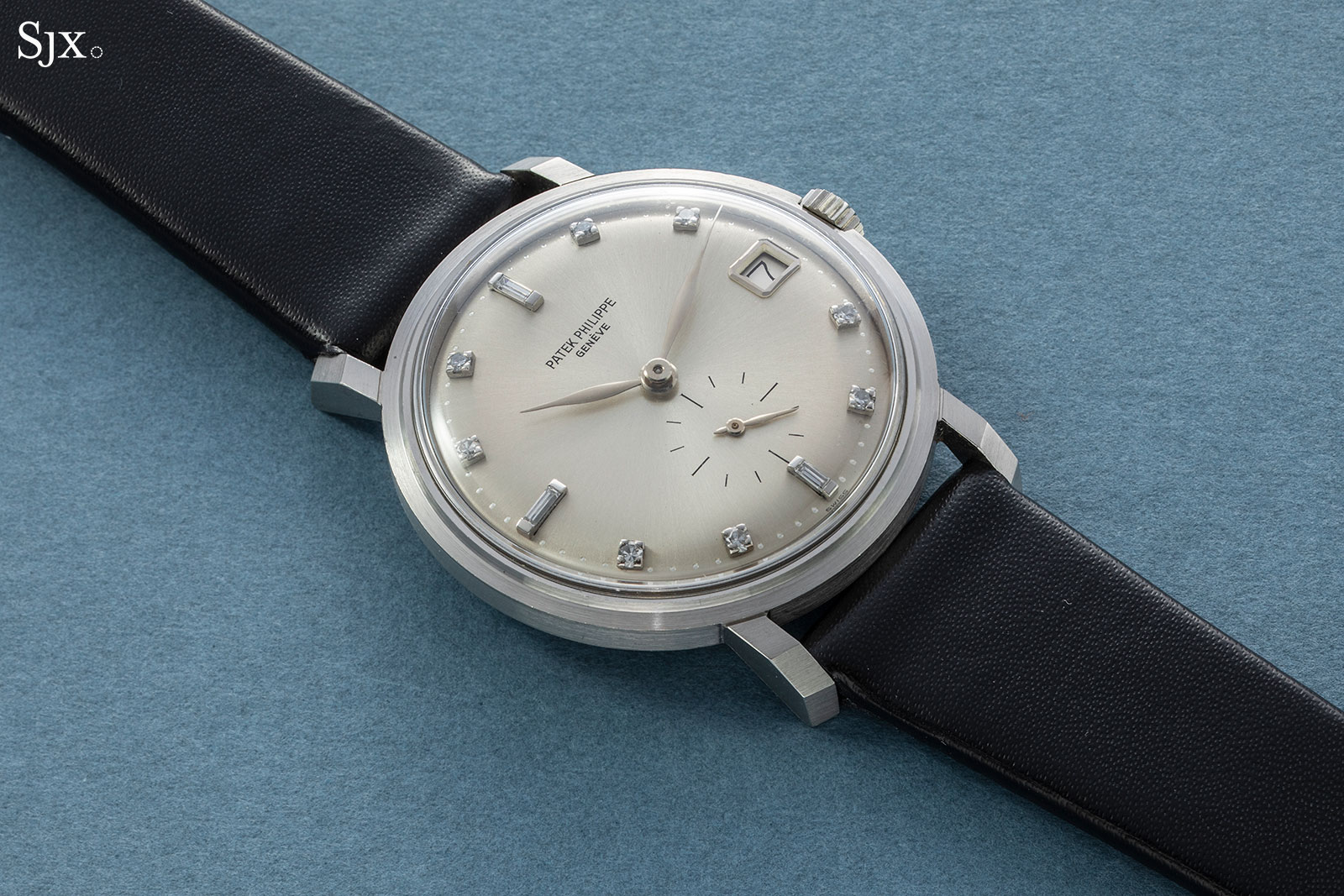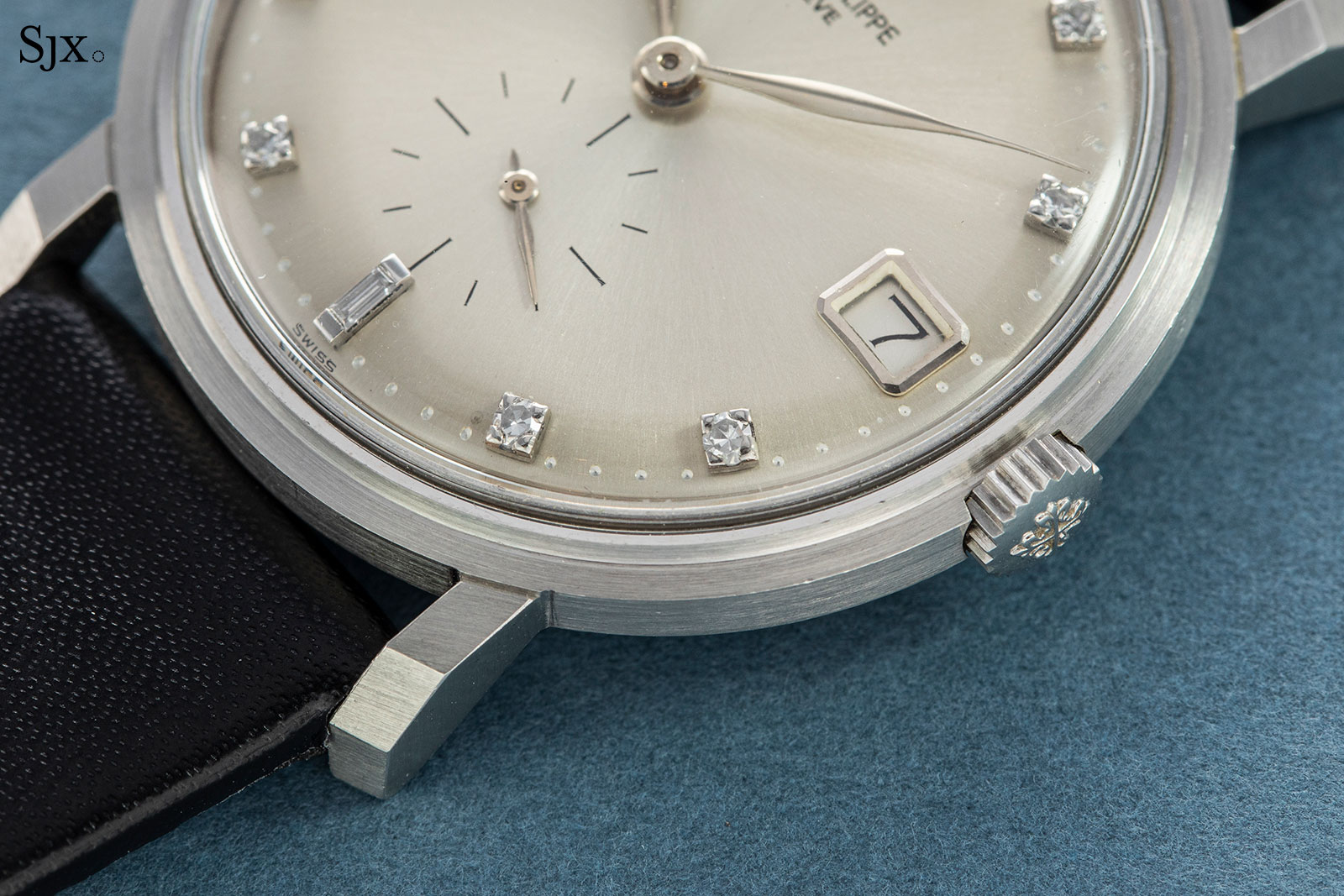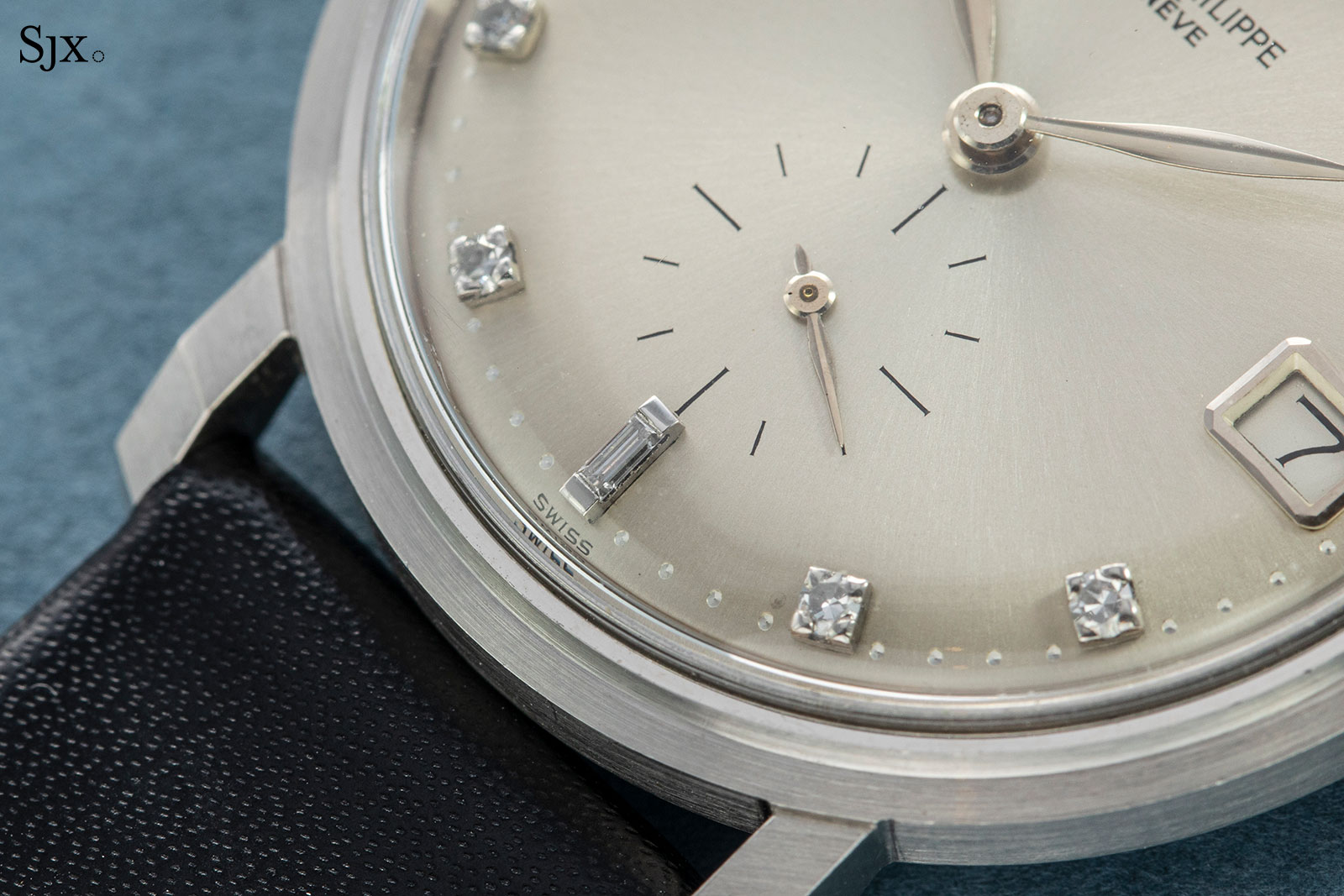 When this very watch first sold in 2013 at Sotheby's New York, it came direct from the original owner and fetched US$75,000. Then This it sold for HK$900,000, or about US$115,000, at Christie's Hong Kong in 2017. Now the estimate is HK$800,000-1.2m, or about US$100,000-150,000, and it'll likely sell for about the same as in 2017.
---
Lot 2352 – Patek Philippe ref. 1518 in pink gold with bracelet
The ref. 1518 is well known and highly desirable, being the first serially produced chronograph with perpetual calendar. Only 281 were made, with the majority in yellow gold, with perhaps about 60 in pink gold.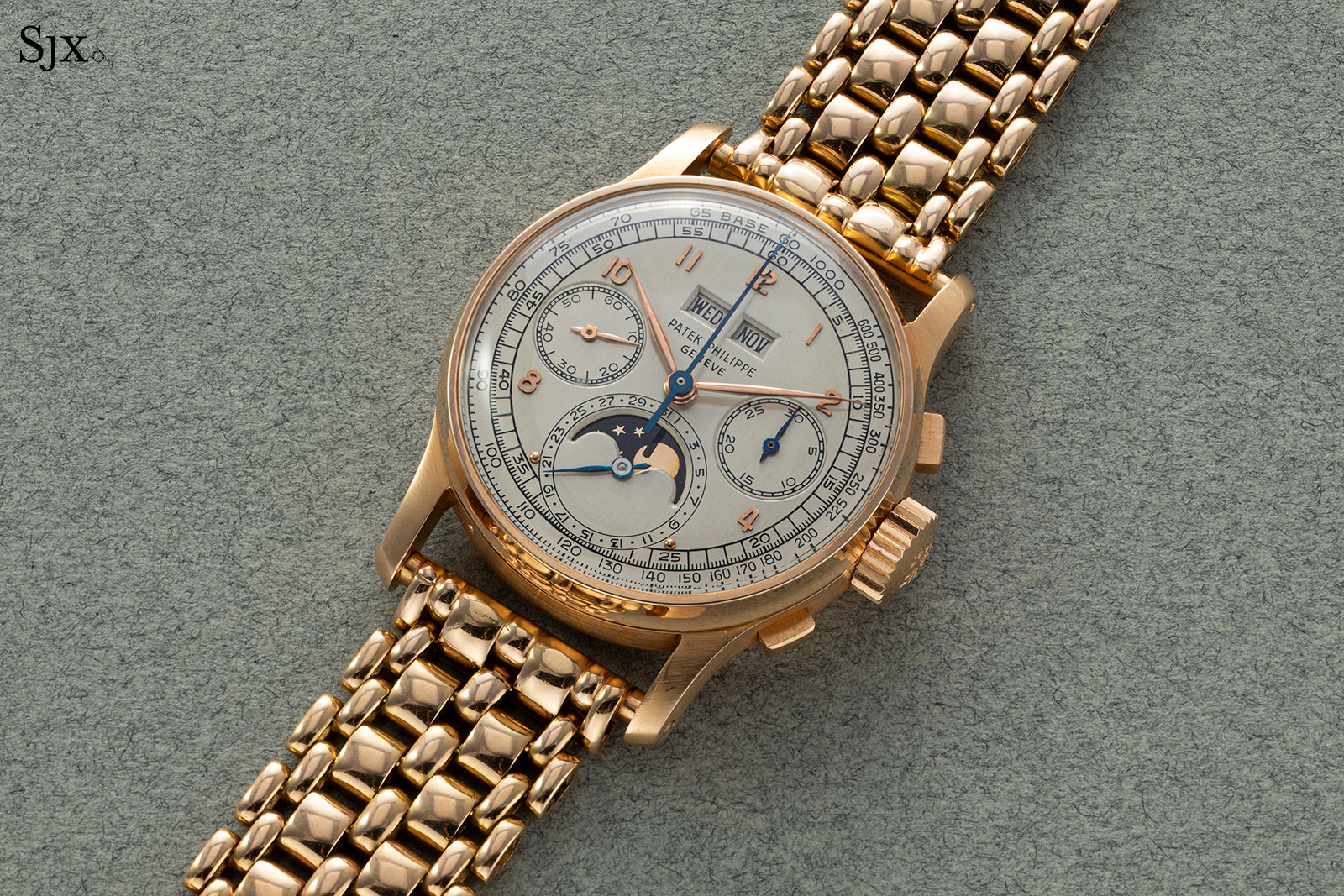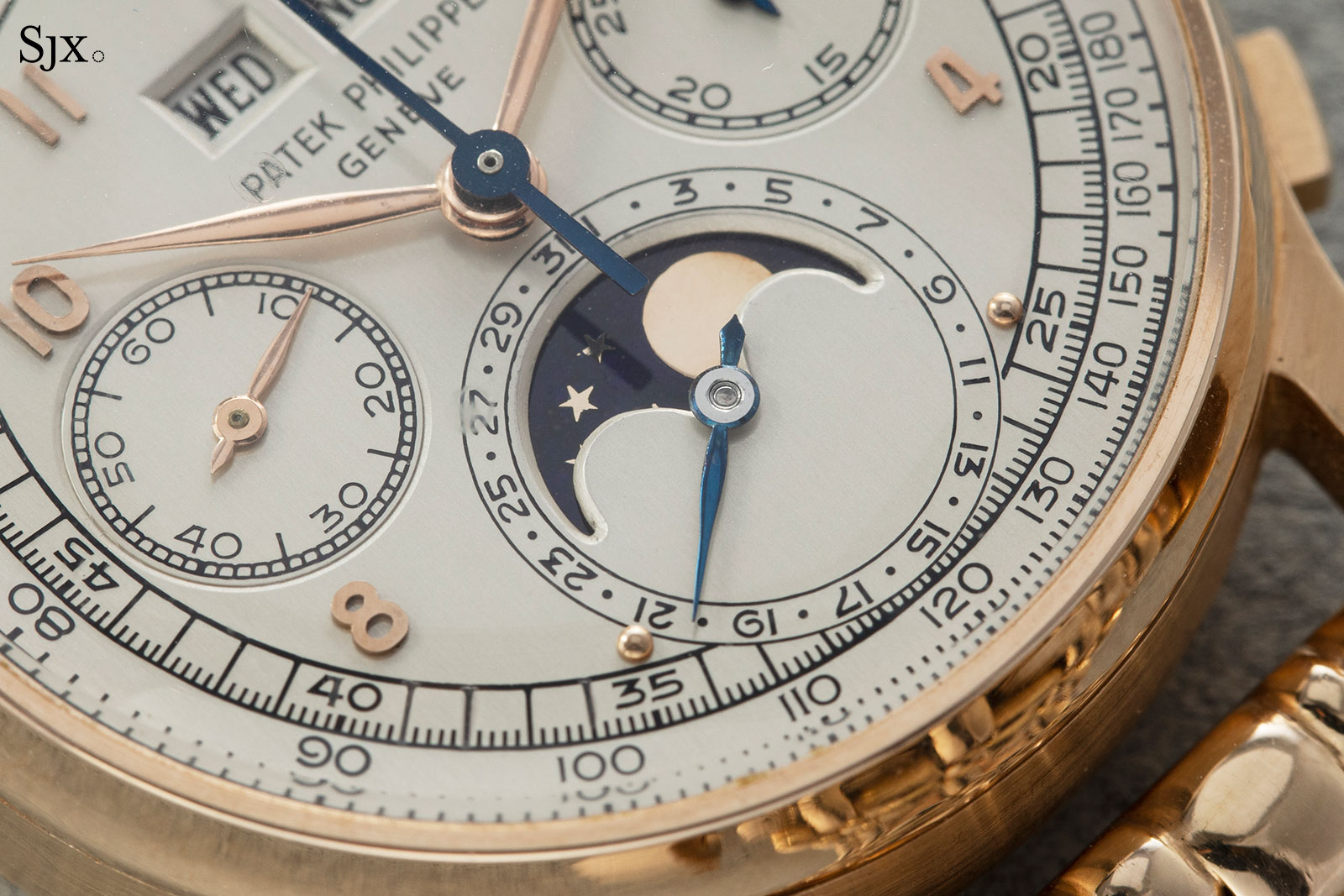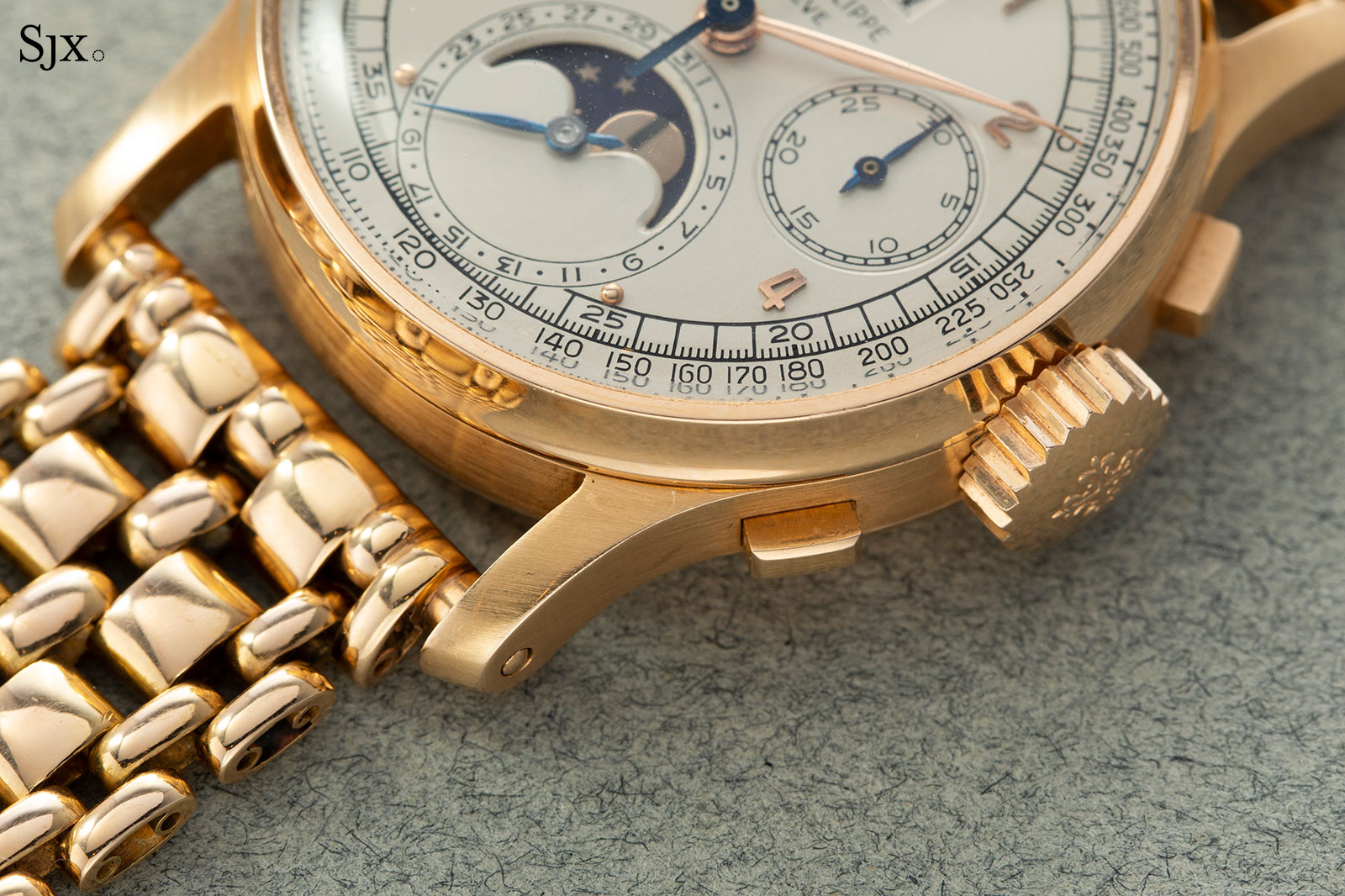 This particular example looks exceptionally good – crisp, fresh and clean. That's because some time in the last 20 years – during which it sold three times at Antiquorum – it received both a replacement, period-correct dial as well as a case restoration.
The watch is also accompanied by a period pink gold bracelet, and the archive extract notes a matching bracelet, though it is unknown if this specific bracelet is the one that was originally sold with the watch.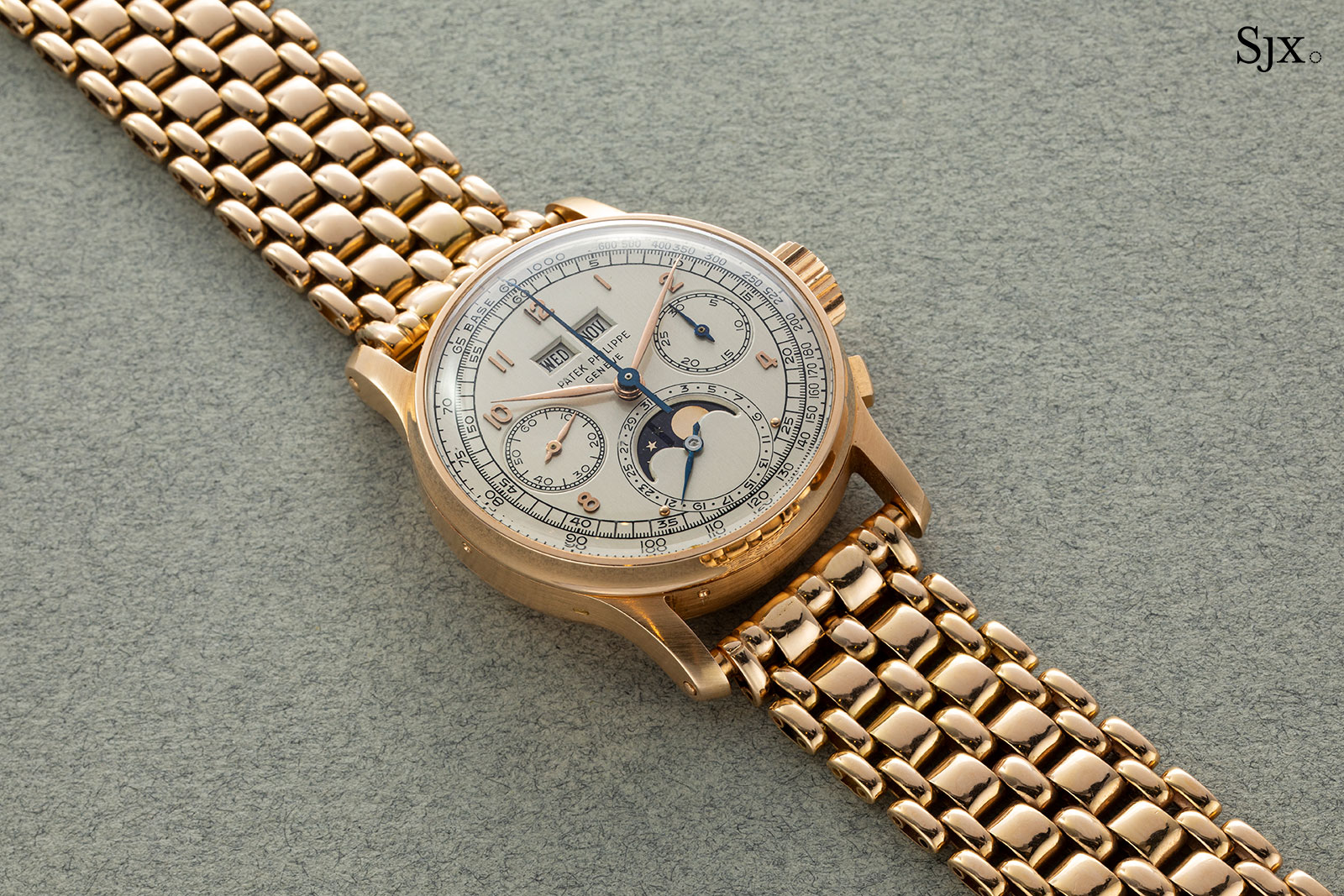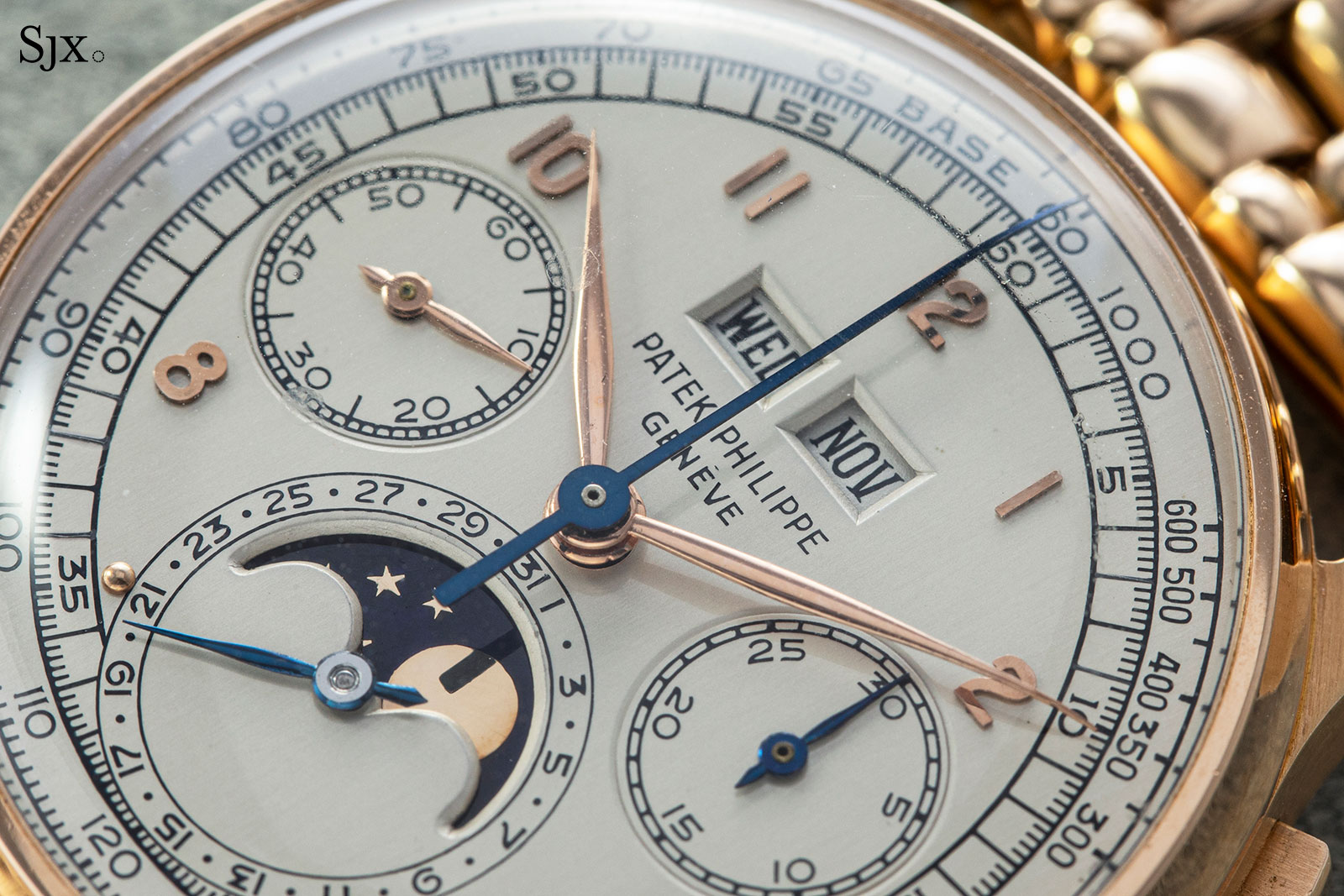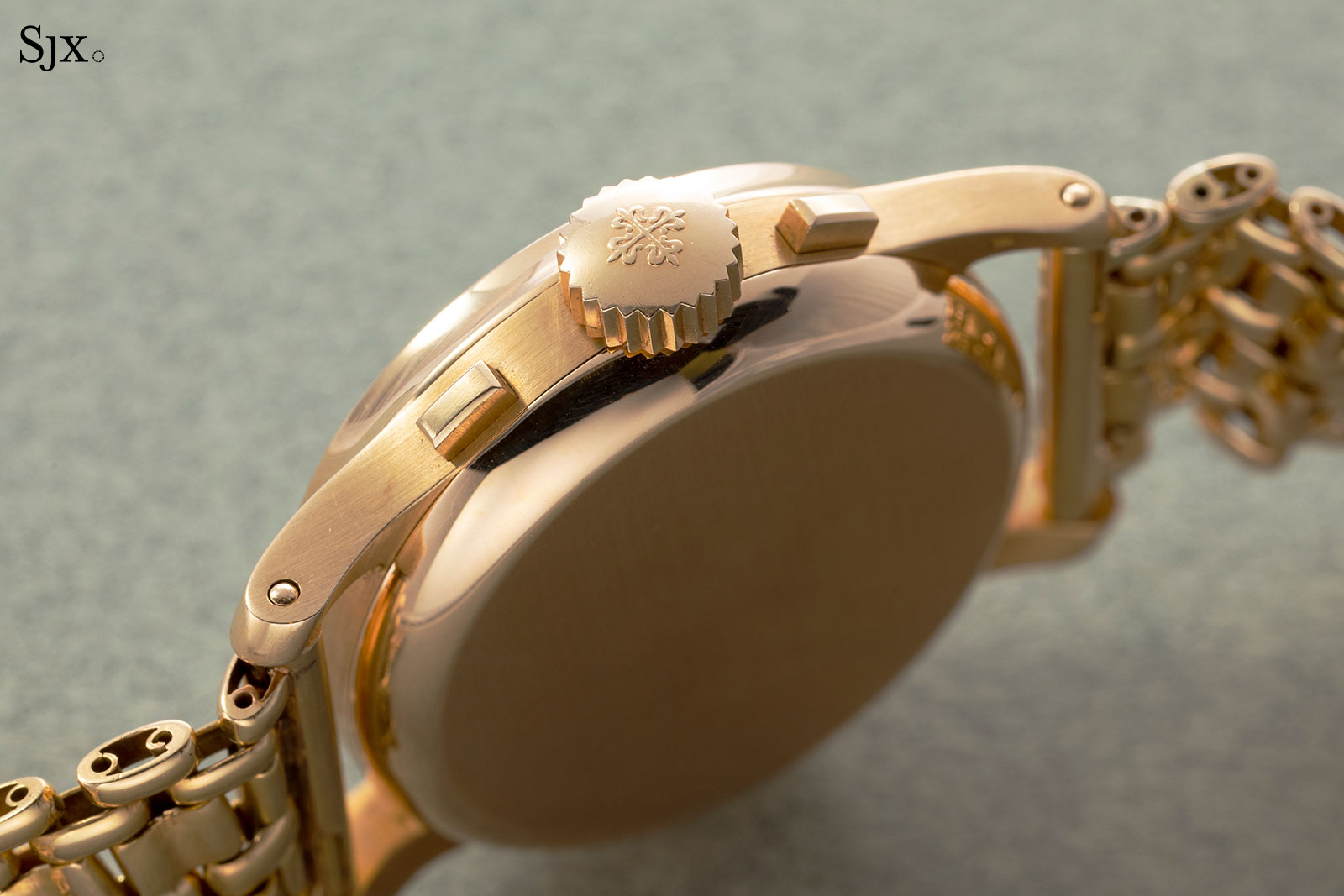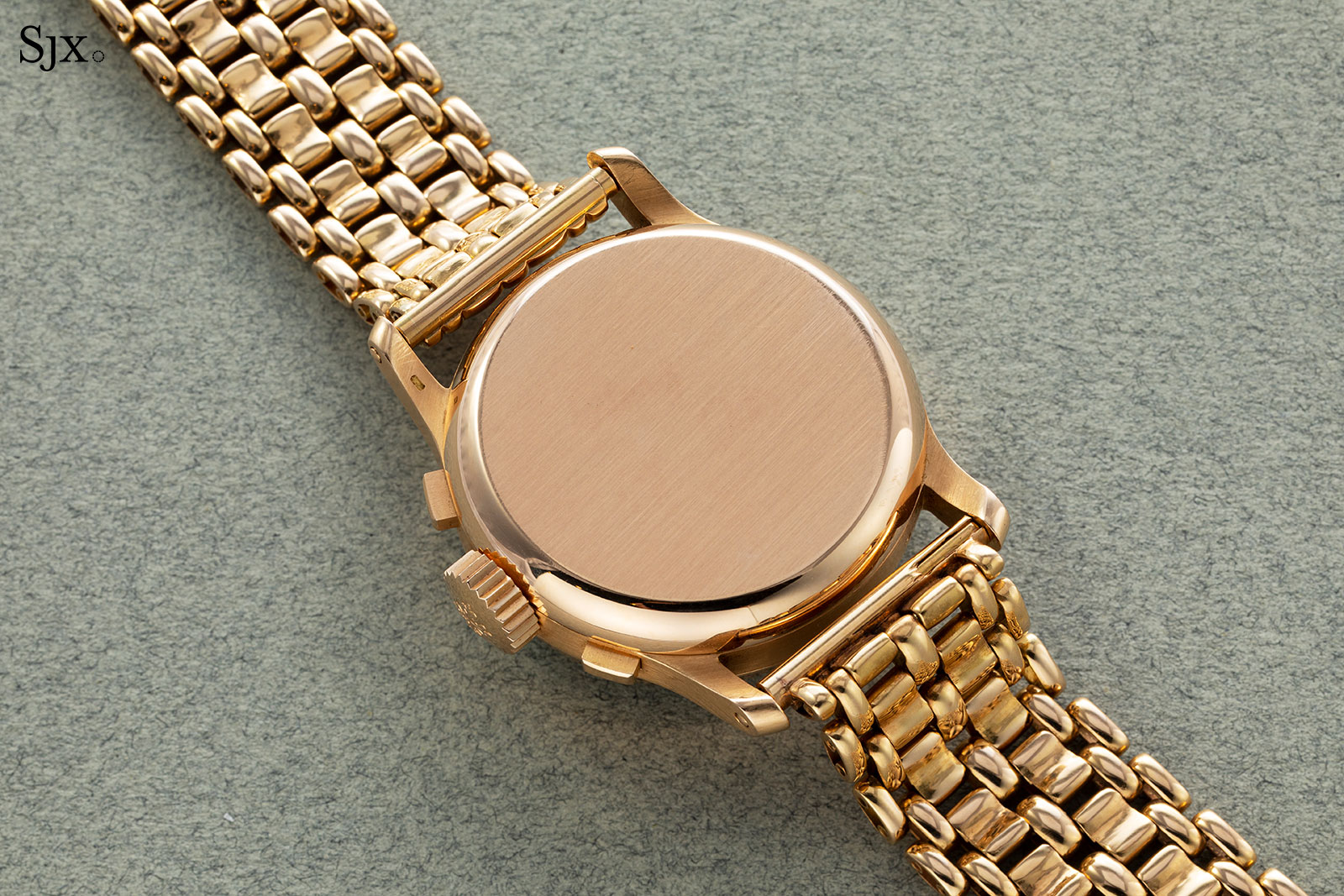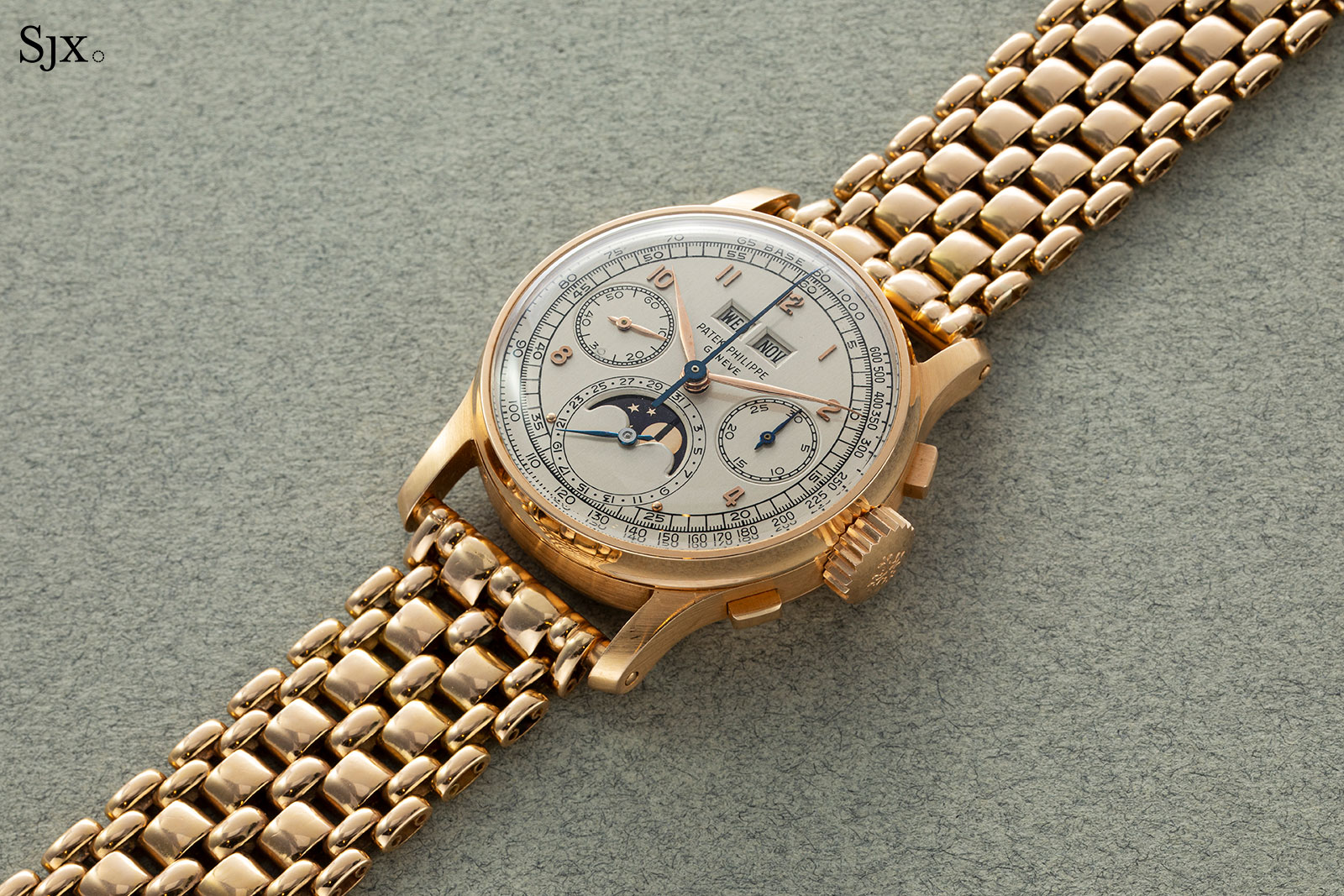 Originality is highly valued in watch collecting, so because of the restoration, this watch is affordable by the standards of a pink gold ref. 1518. It has an estimate of HK$6.0-9.0, or about US$750,000-1.15m. An excellent, entirely original example would likely be US$1.4m at least, which more distinguished examples would go for much more.
---
Lot 2353 – Breguet triple calendar wristwatch no. 1039
Most Breguet wristwatches look like, well, Breguet wristwatches. The house style is all about guilloche dial, Breguet hands and fluted case bands. But for several decades in the middle of the 20th century, when Breguet was owned by the Brown family, who were English transplants to Paris, the firm made a variety of wristwatches that are not instantly recognisable as Breguet.
Many of these watches are unusual and beautiful in their own way, as this one. It's one of perhaps five Breguet wristwatches with a triple calendar produced in the 1940s and 1950s.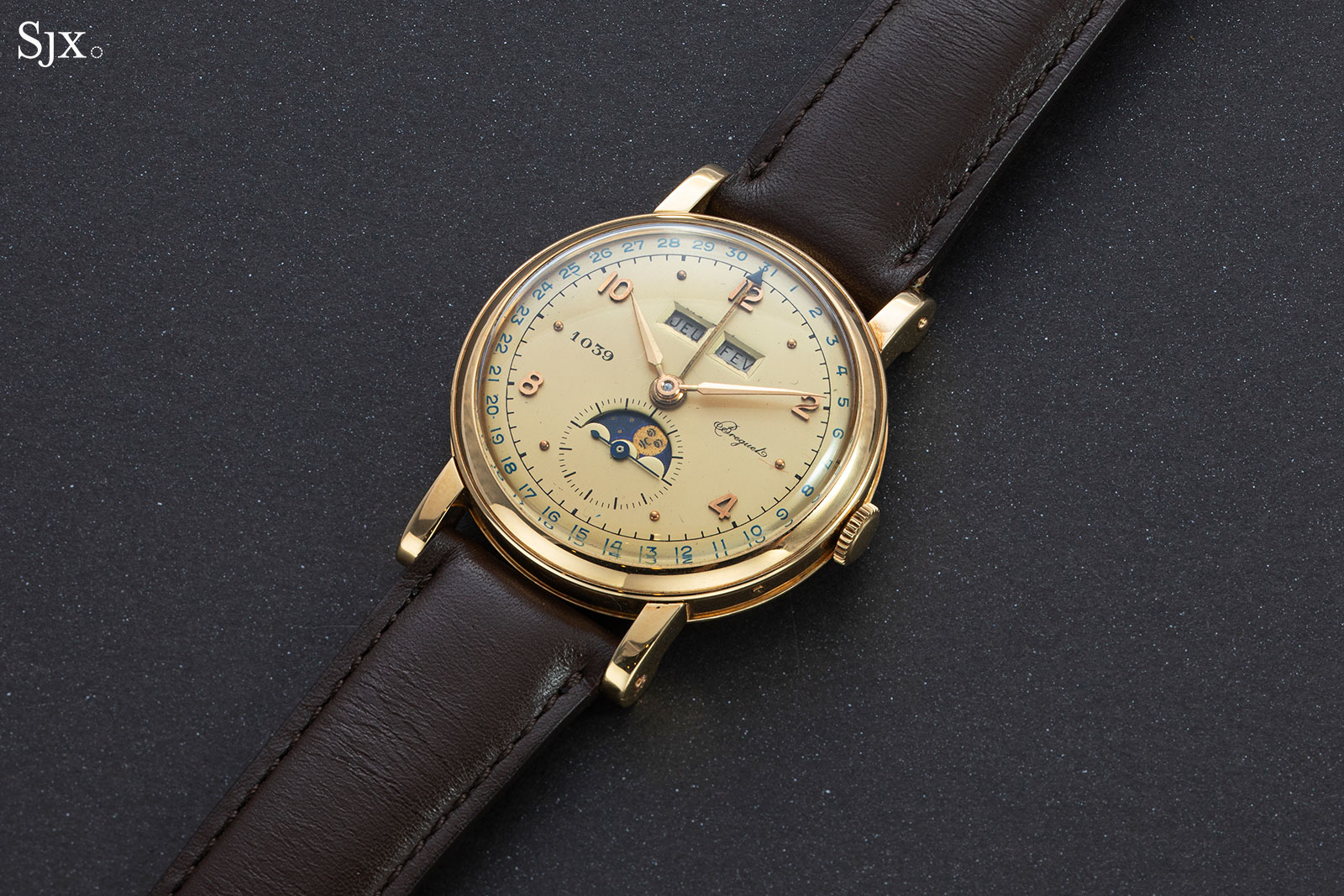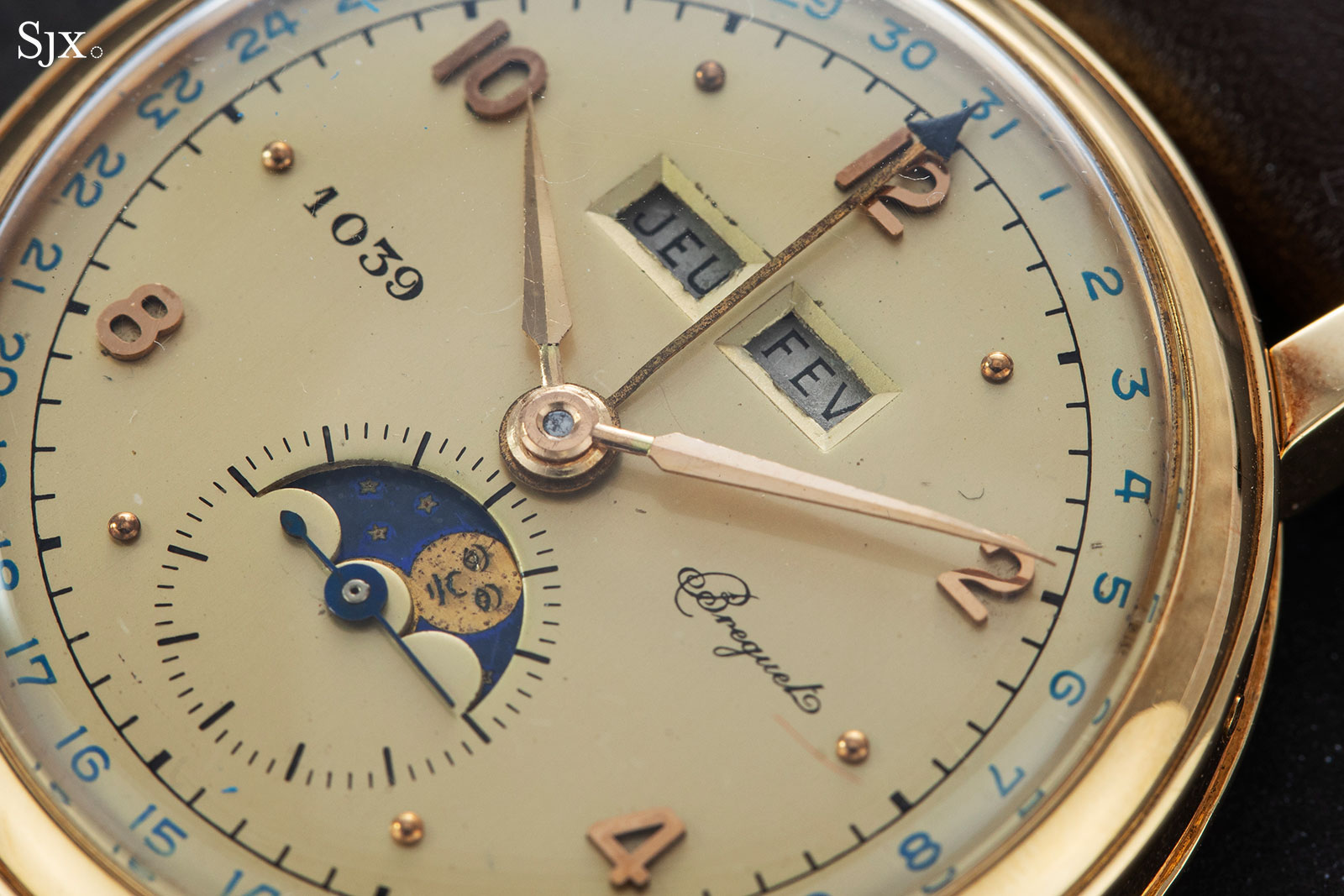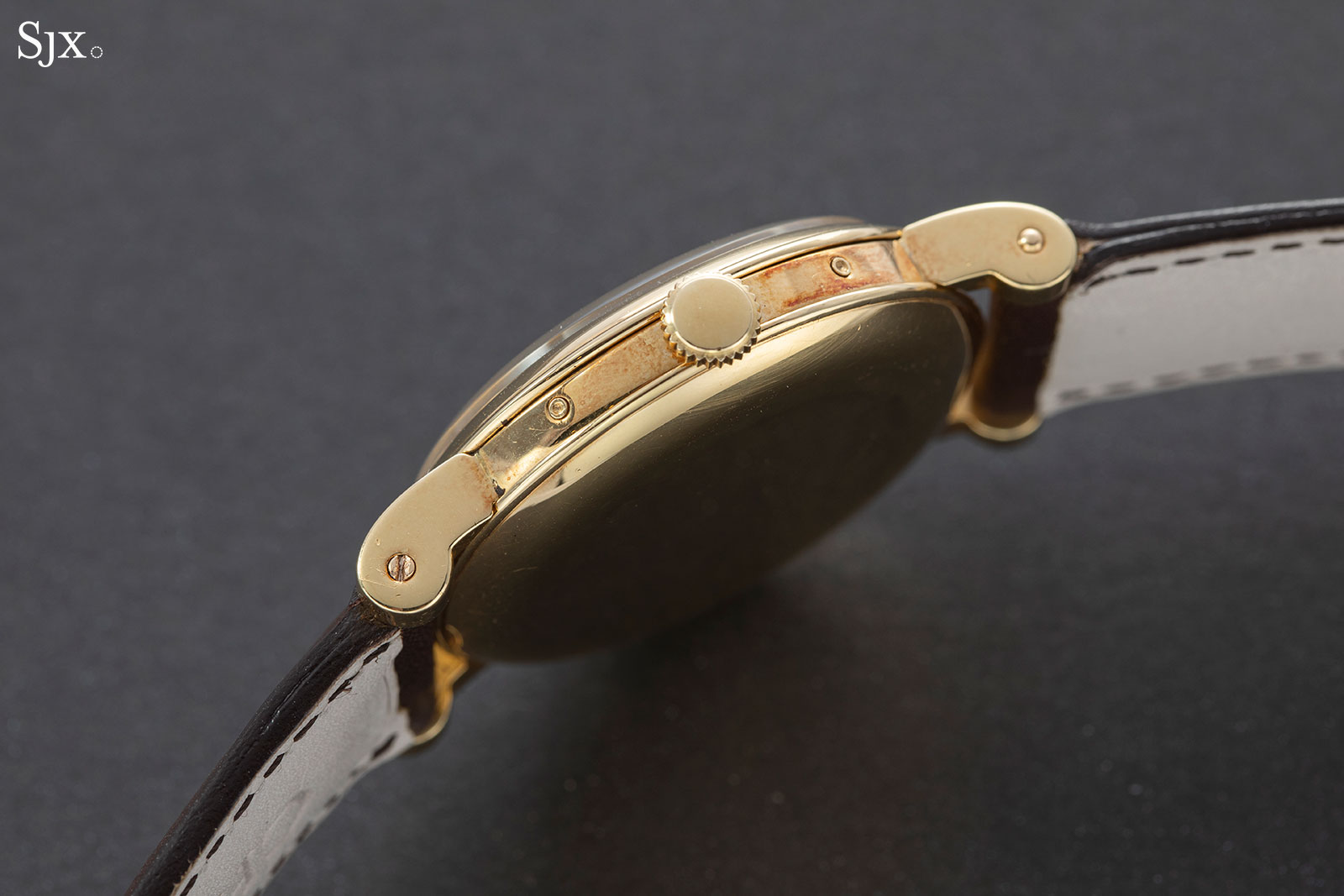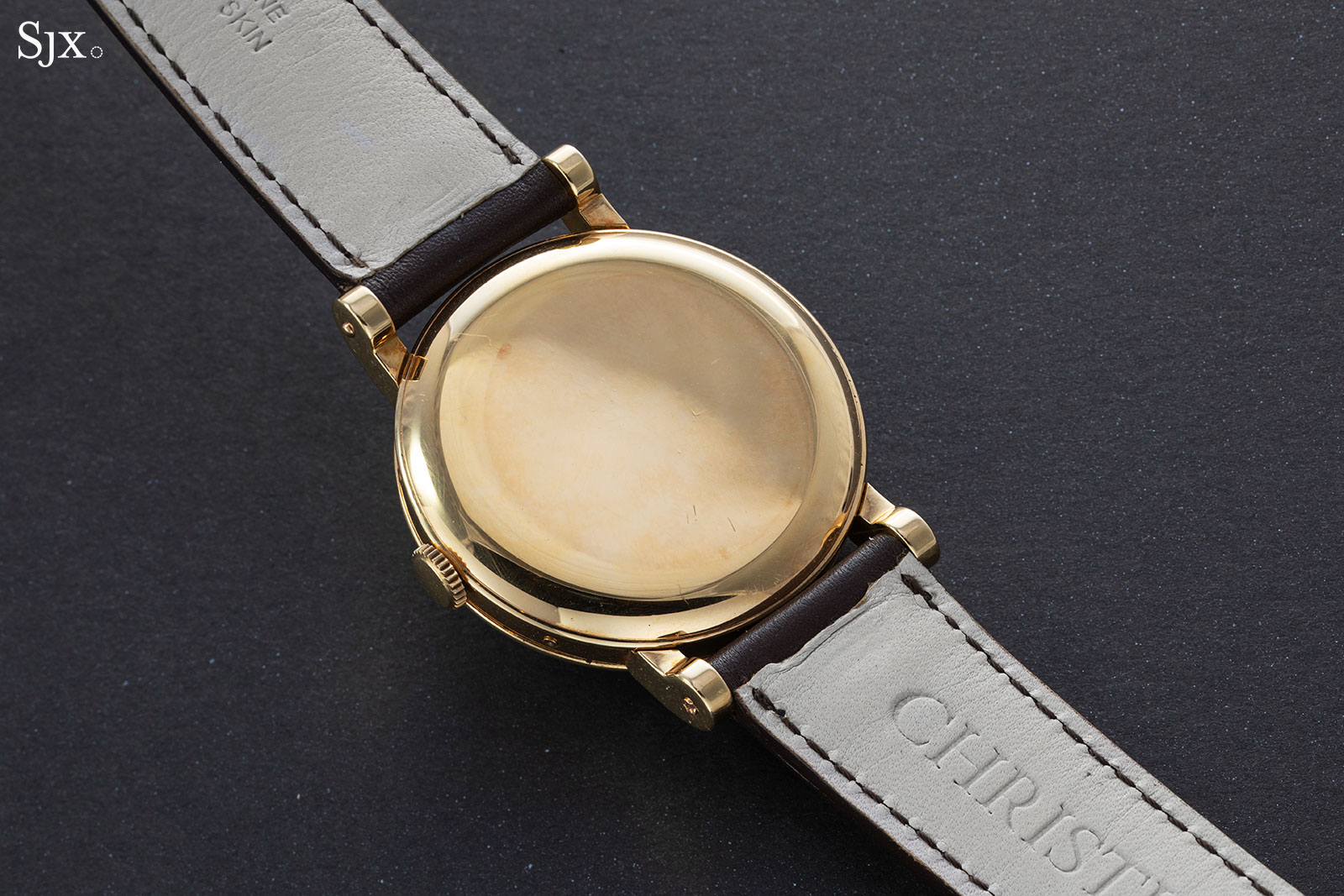 Originally sold in 1952, it has a yellow gold case, pink gilt dial, an lance-shaped hands that give it an elegant, midcentury aesthetic.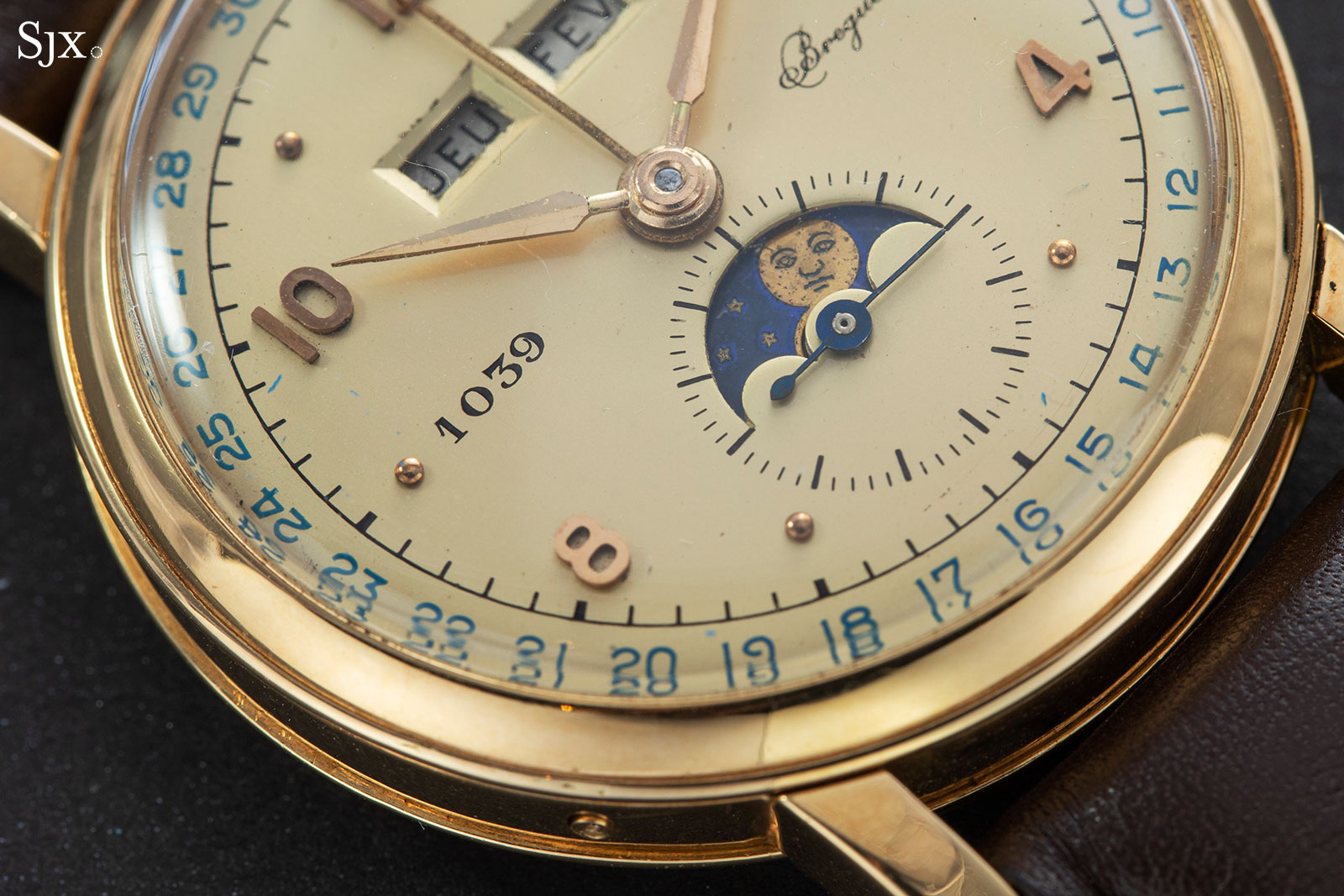 The profile of the case and lugs are reminiscent of Breguet's signature case style, but it is the serial number on the dial that is typical Breguet. That's a practice that began in the 19th century with its pocket watches and still continues today.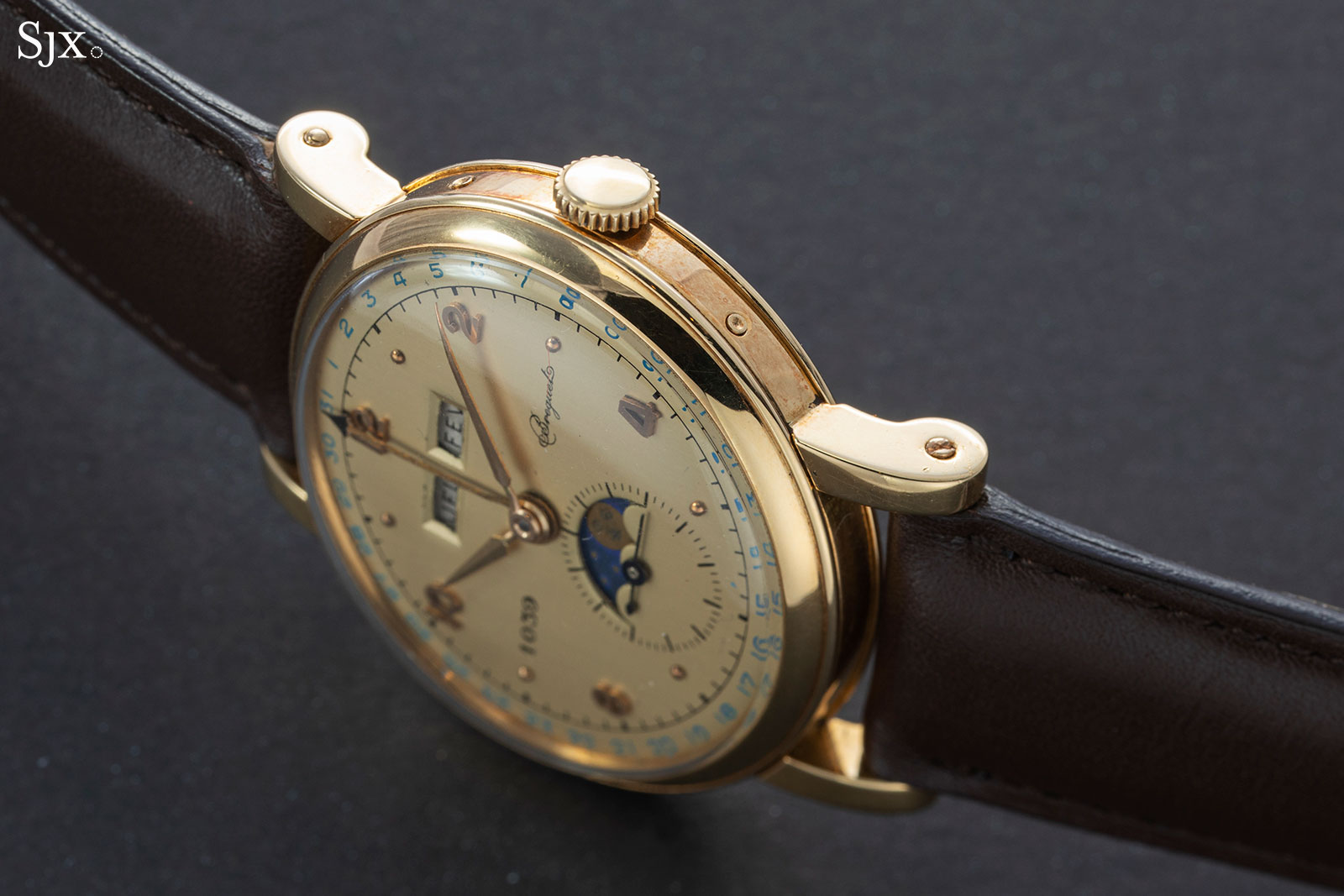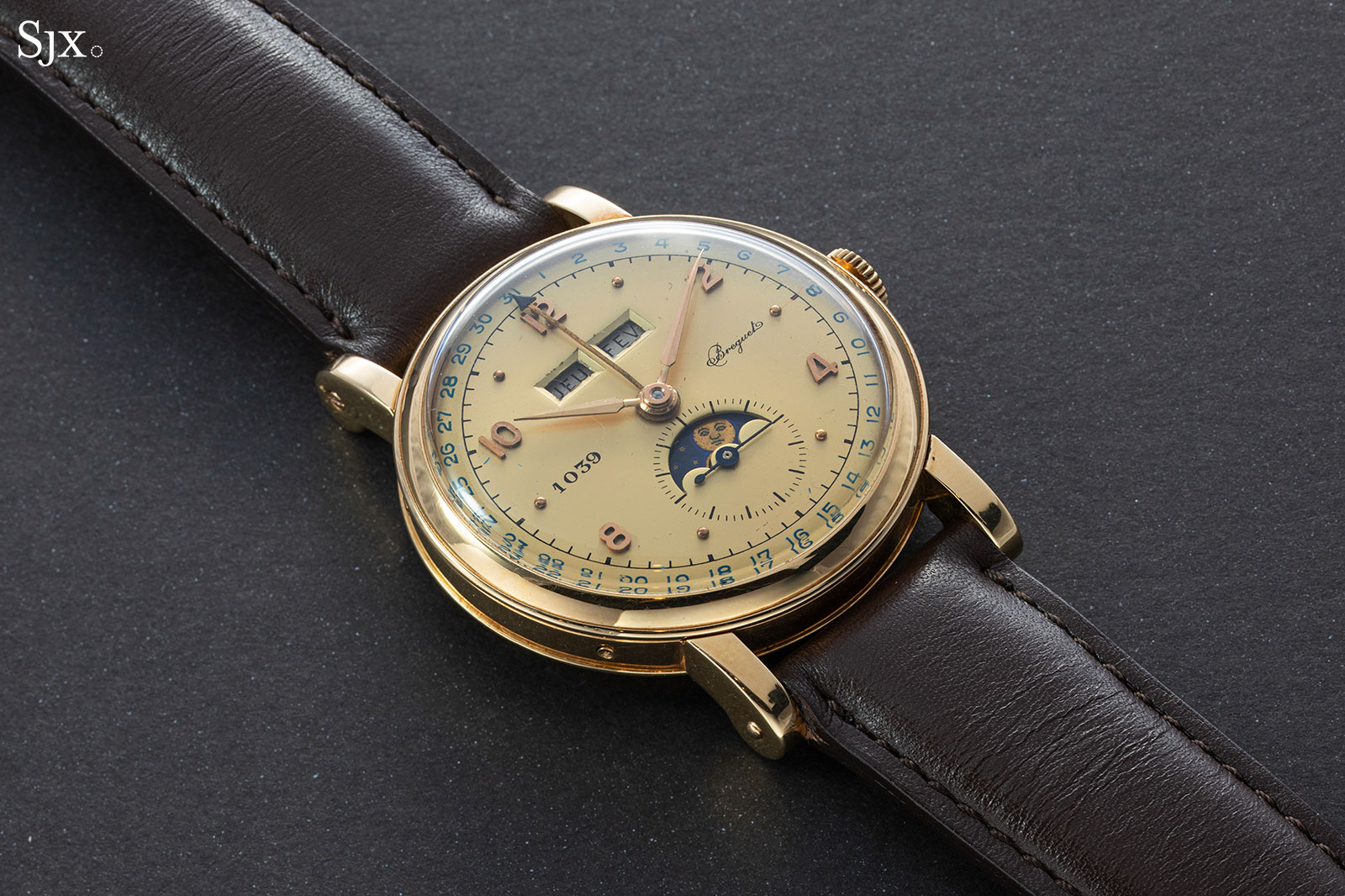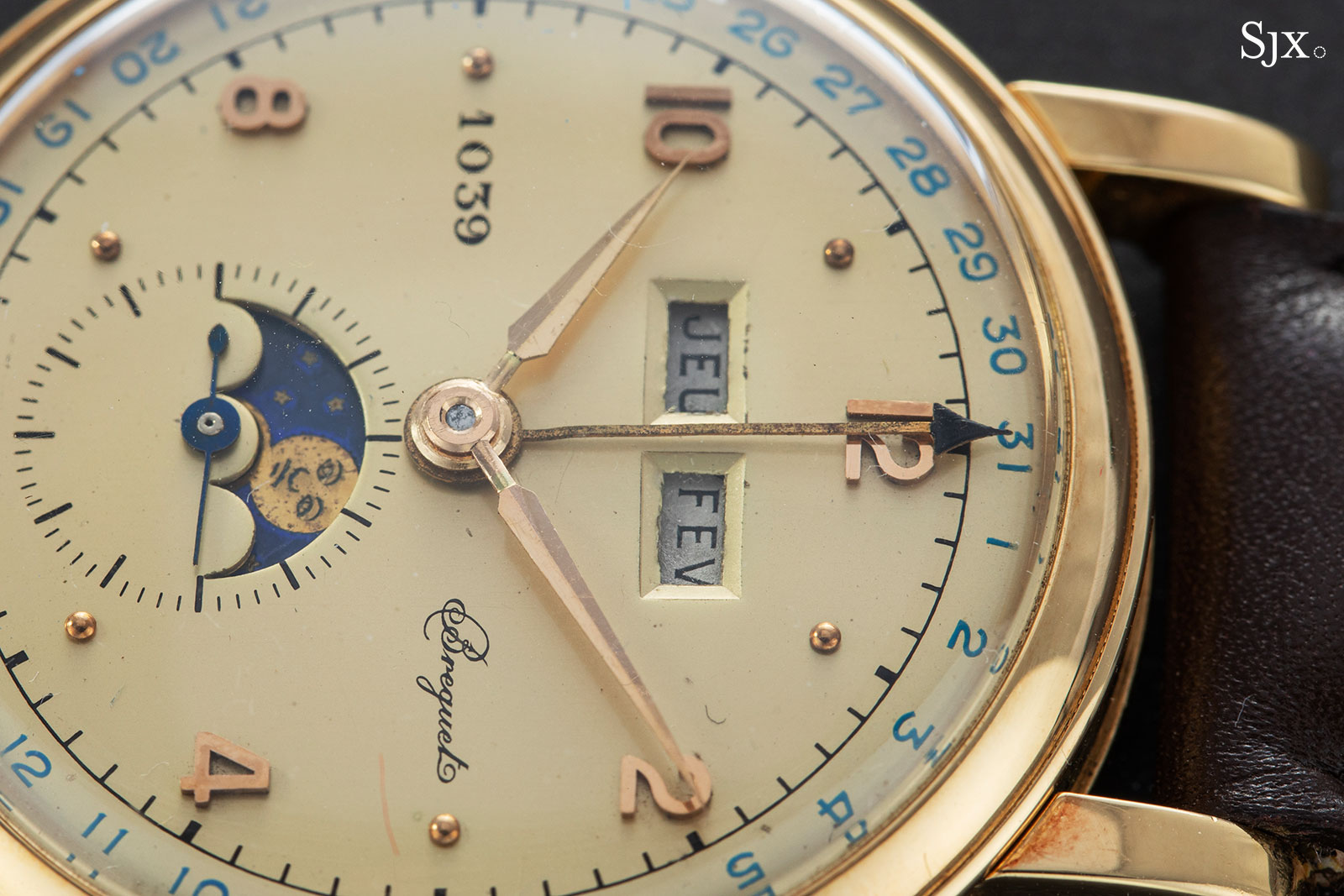 This achieved 137,000 Swiss francs when it sold at Christie's Geneva in 2016. Today it has an estimate of HK$1.0-1.6m, or about US$130,000-200,000.
---
Lot 2429 – Audemars Piguet grand complication pocket watch
When watchmakers were struggling during the Quartz Crisis in the 1970s, only a handful of firms continuing to produce traditional, highly complicated watches, most notably Audemars Piguet and Patek Philippe.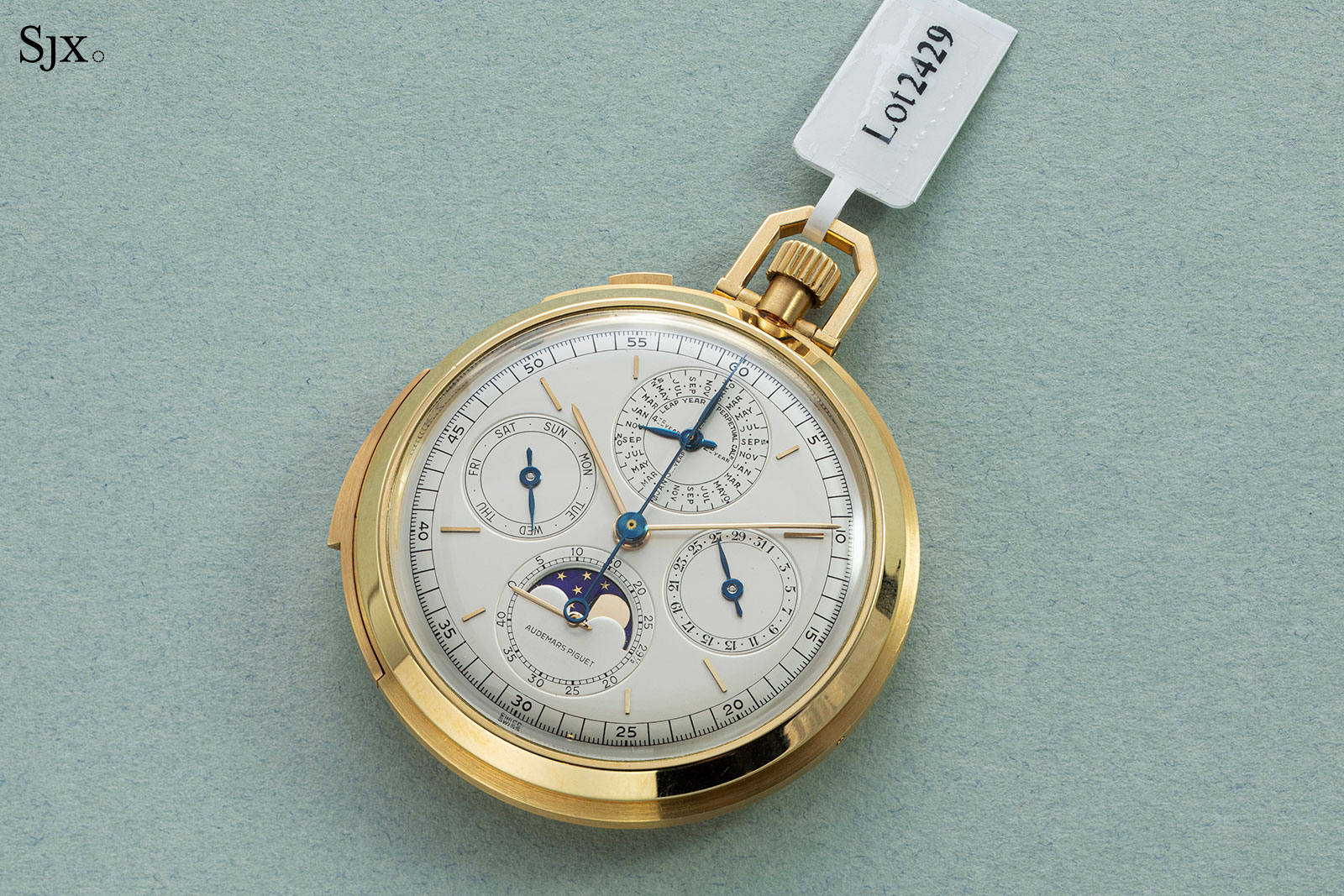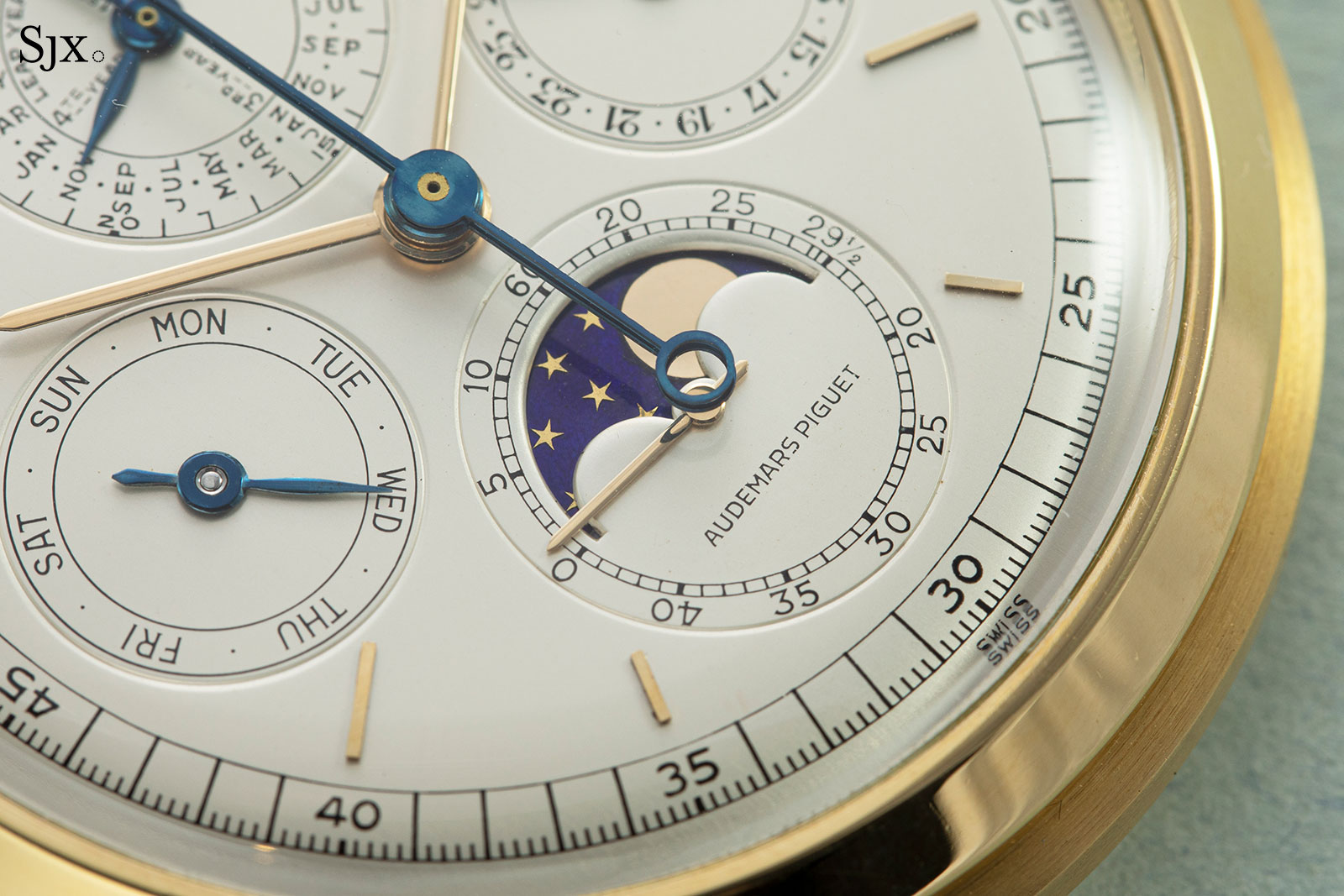 This is an example of one such watch, having been produced in 1972. Like many other such watches, the movement inside was probably produced decades before the watch was finished.
It is a split-seconds chronograph with perpetual calendar and minute repeater, powered by an 18"' movement that is typical haute horlogerie from the Vallee de Joux, the home of Audemars Piguet and widely regarded as the home of Swiss movement making.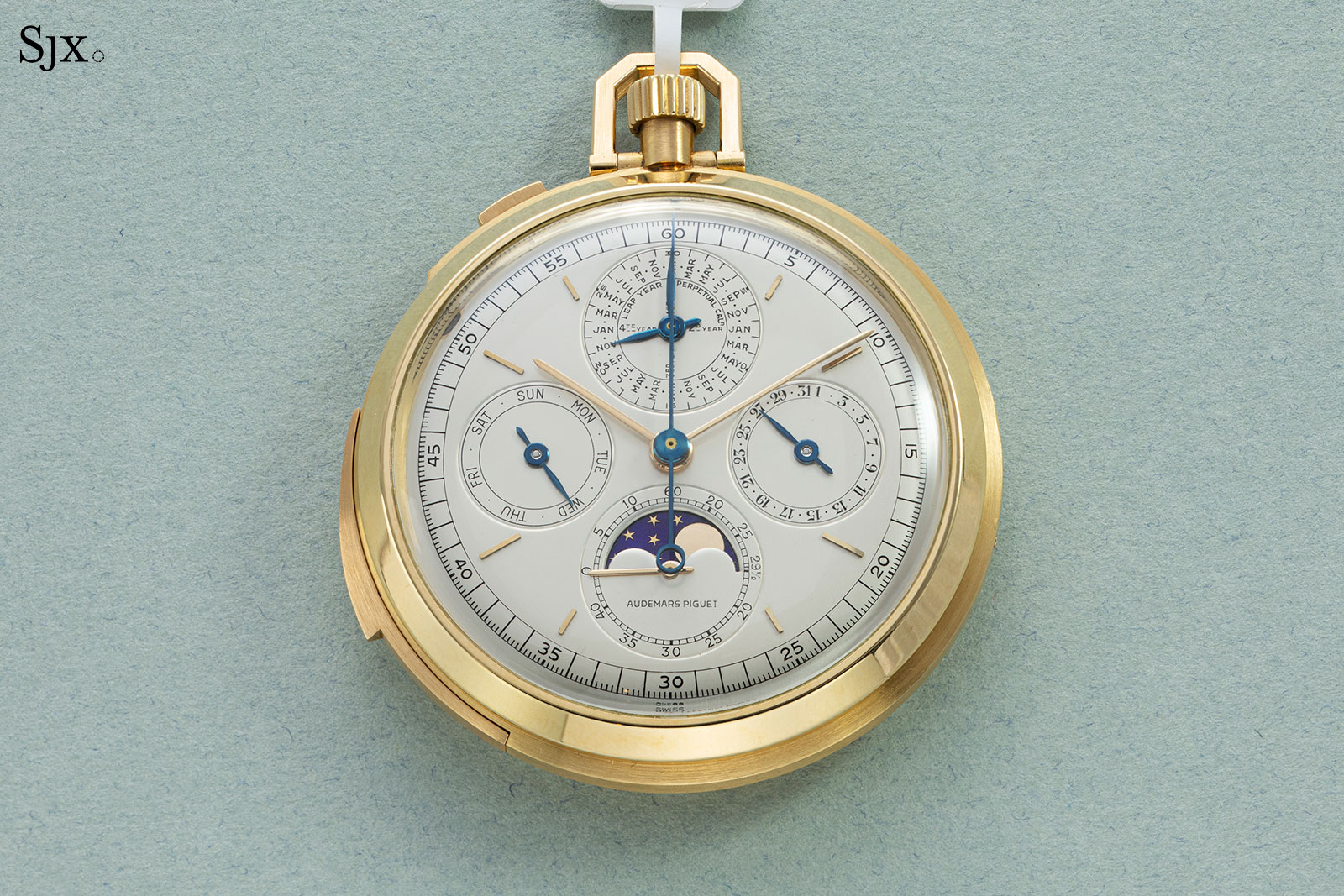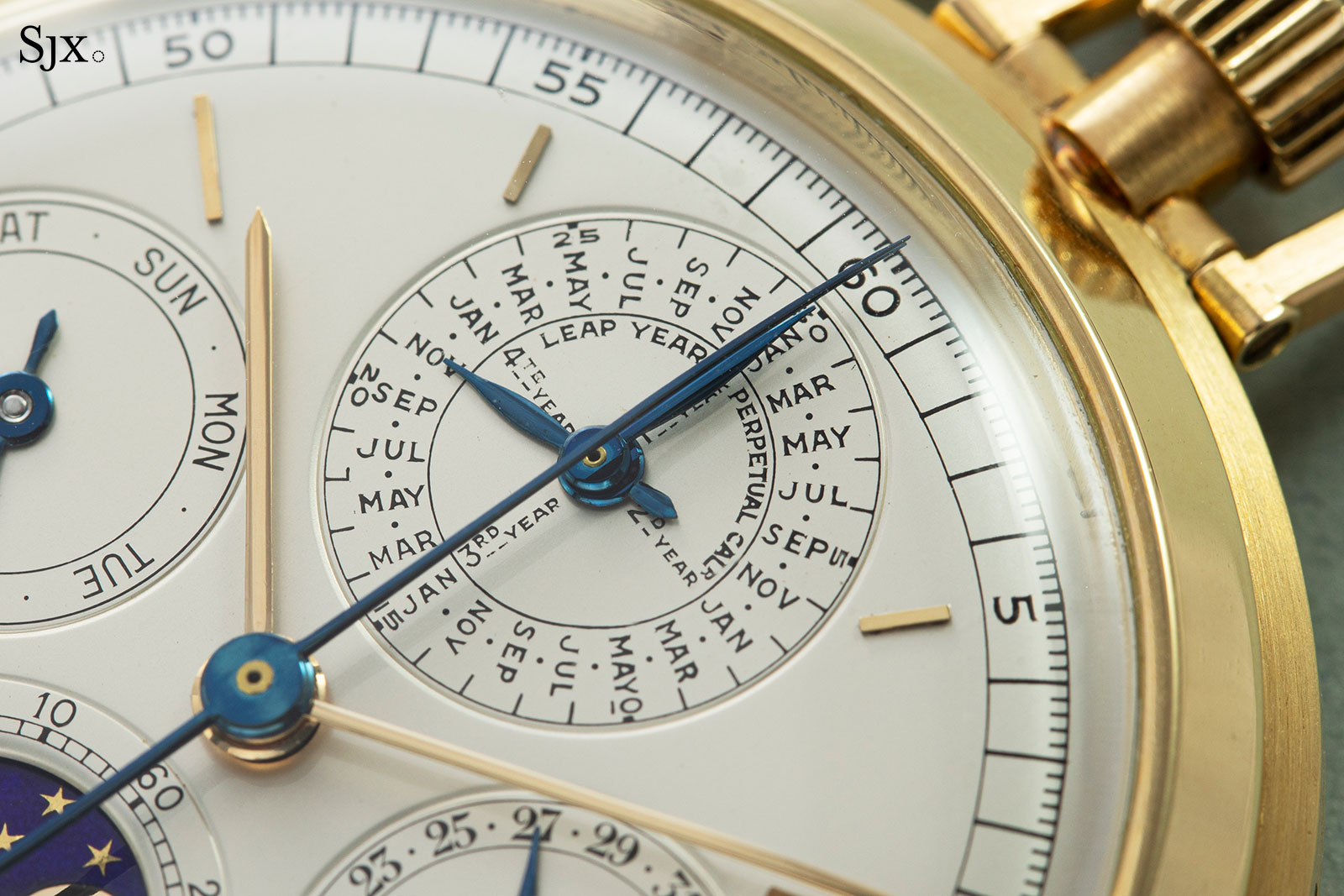 Best of all, this includes paperwork detailing a 2015 servicing by Audemars Piguet, an important detail for a watch as complicated as this. That also explains its excellent condition, inside and out.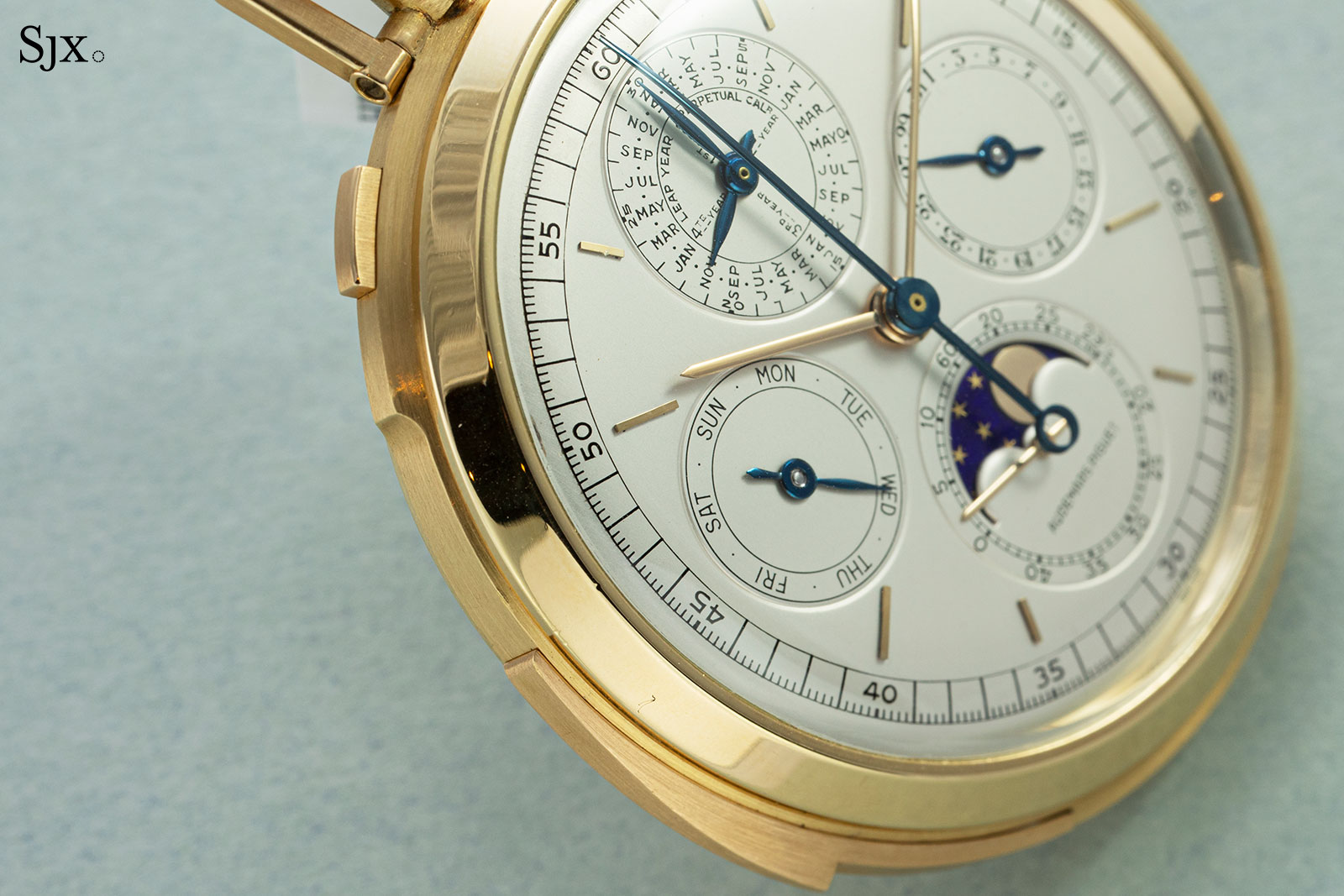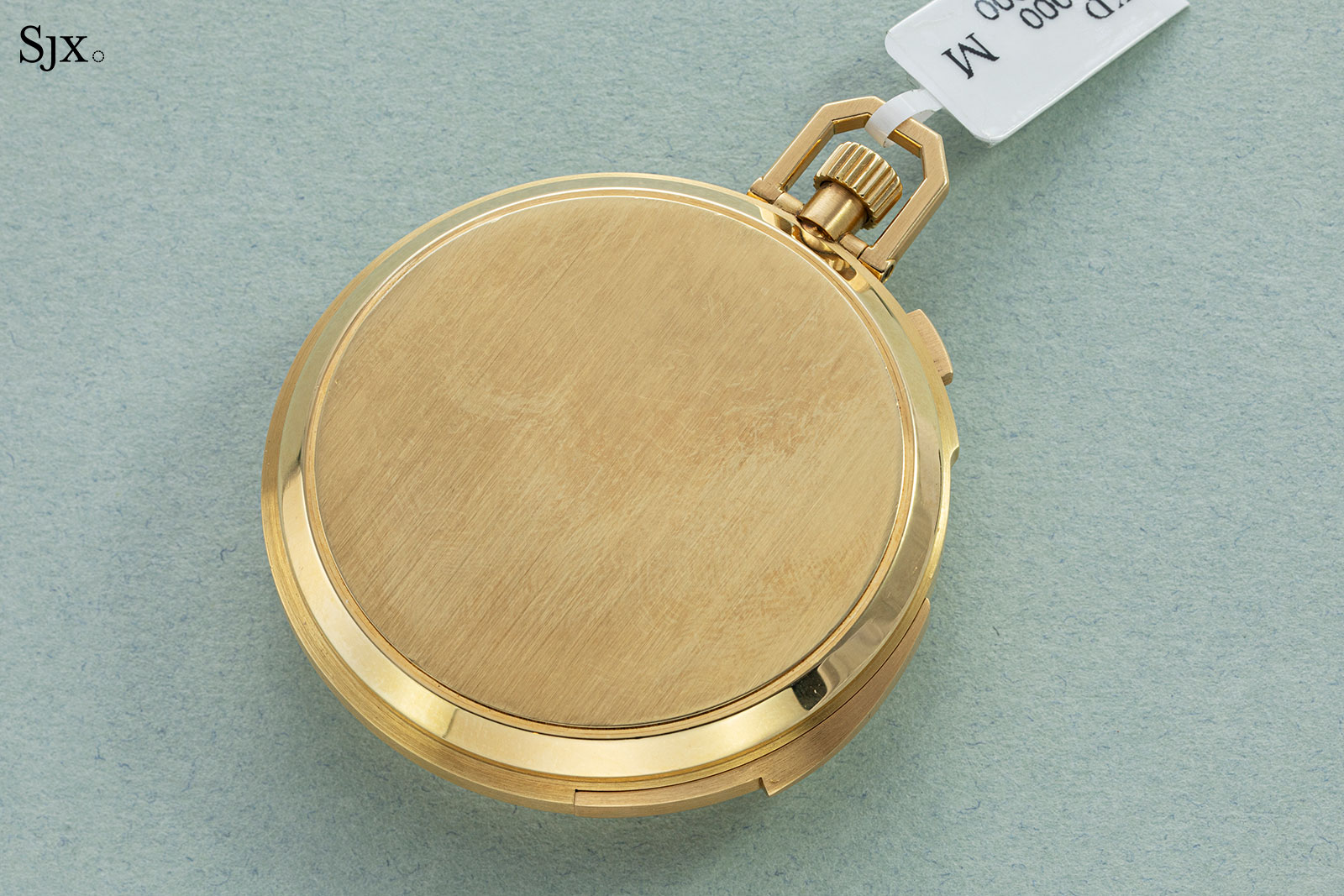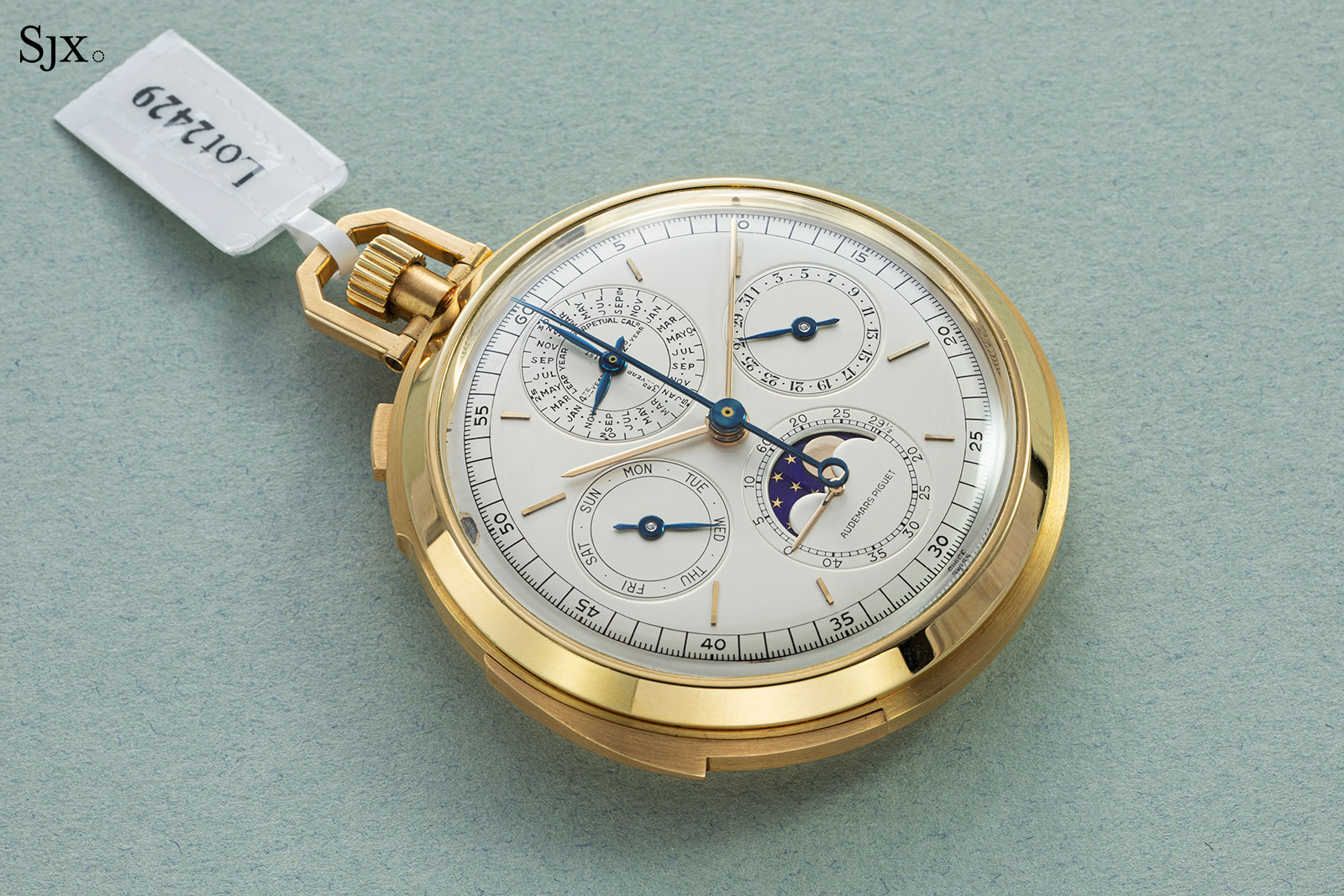 For the amount of sheer mechanical accomplishment inside the watch, it is going for relatively little money. The estimate is HK$750,000-1.2m, or US$95,000-150,000.
---
Lot 2436 – Audemars Piguet Jules Audemars Equation of Time
A value proposition of another sort can be found in the Audemars Piguet Jules Audemars Equation of Time. For those unfamiliar, the Jules Audemars was the pre-Code 11.59, a collection of round watches in production for years that never really took off.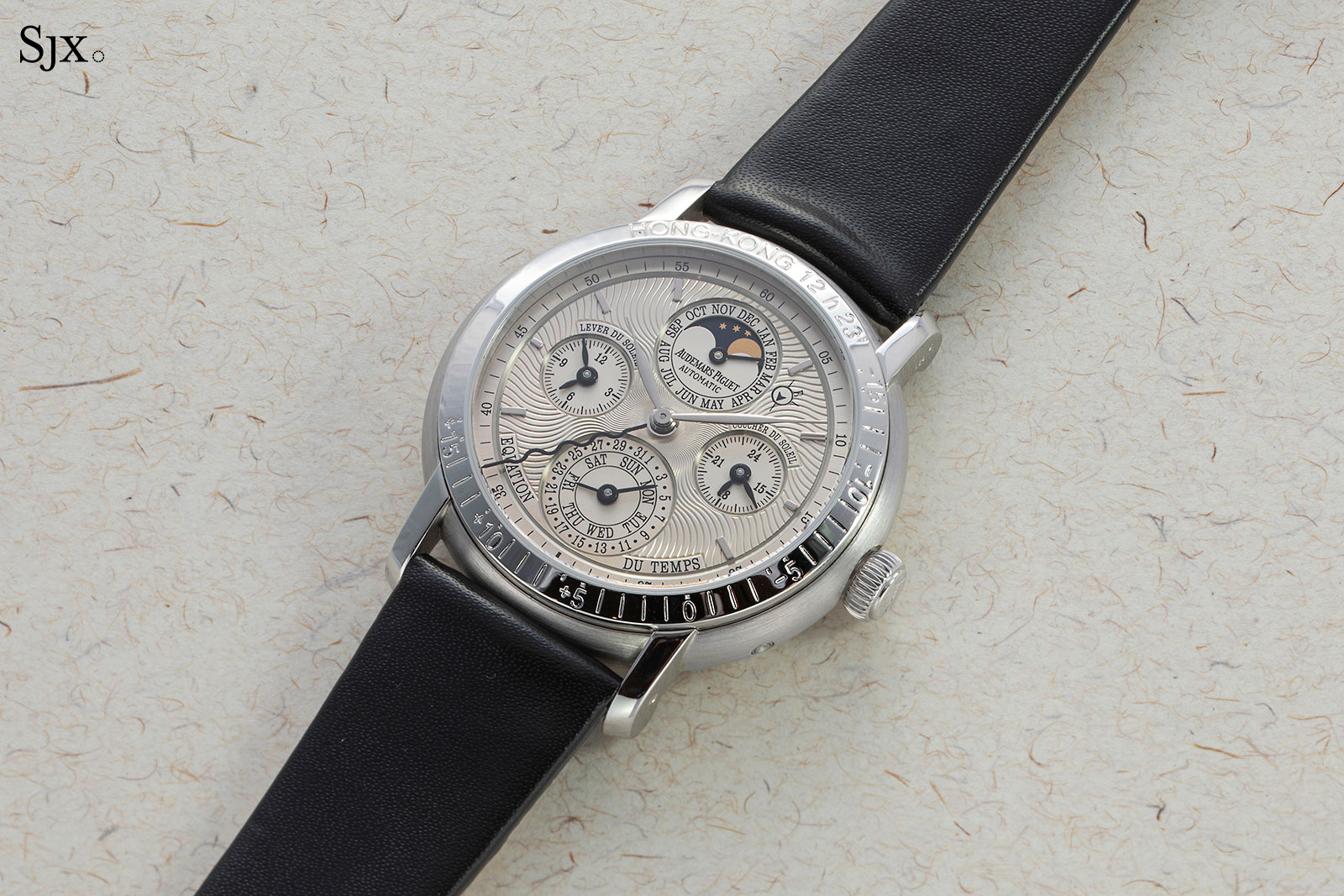 Despite that, the line included several interesting watches, including the Equation of Time. It combines a perpetual calendar with sunrise and sunset time displays, and most importantly, a central, serpentine equation of time hand. It indicates the daily difference between apparent solar time, based on the motion of the Earth around the Sun, and the standard 24-hour day.
The Equation of Time was produced in several variants, including a skeletonised model. This example is the top of the line closed-dial model, with a platinum case, and was limited to 20 pieces.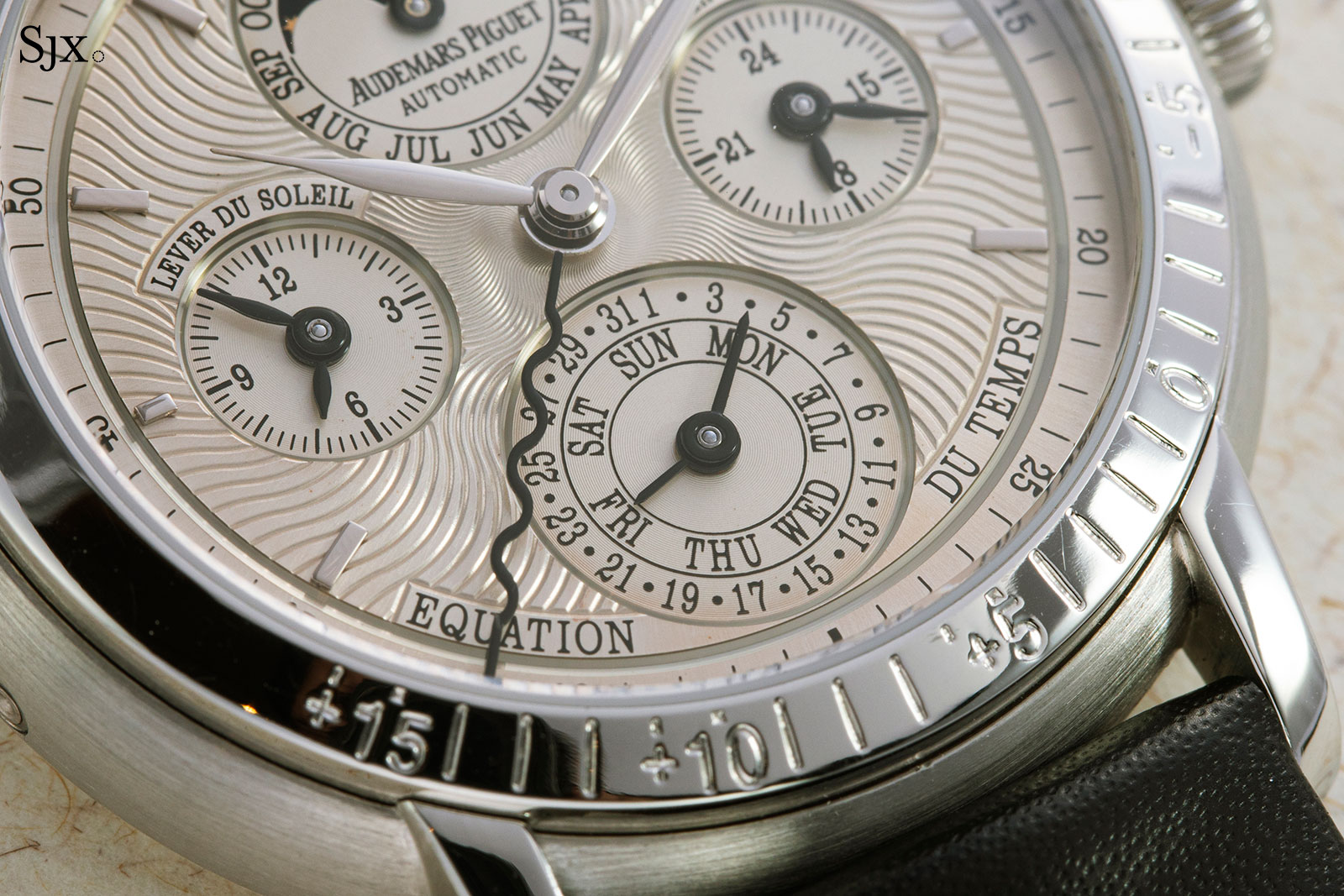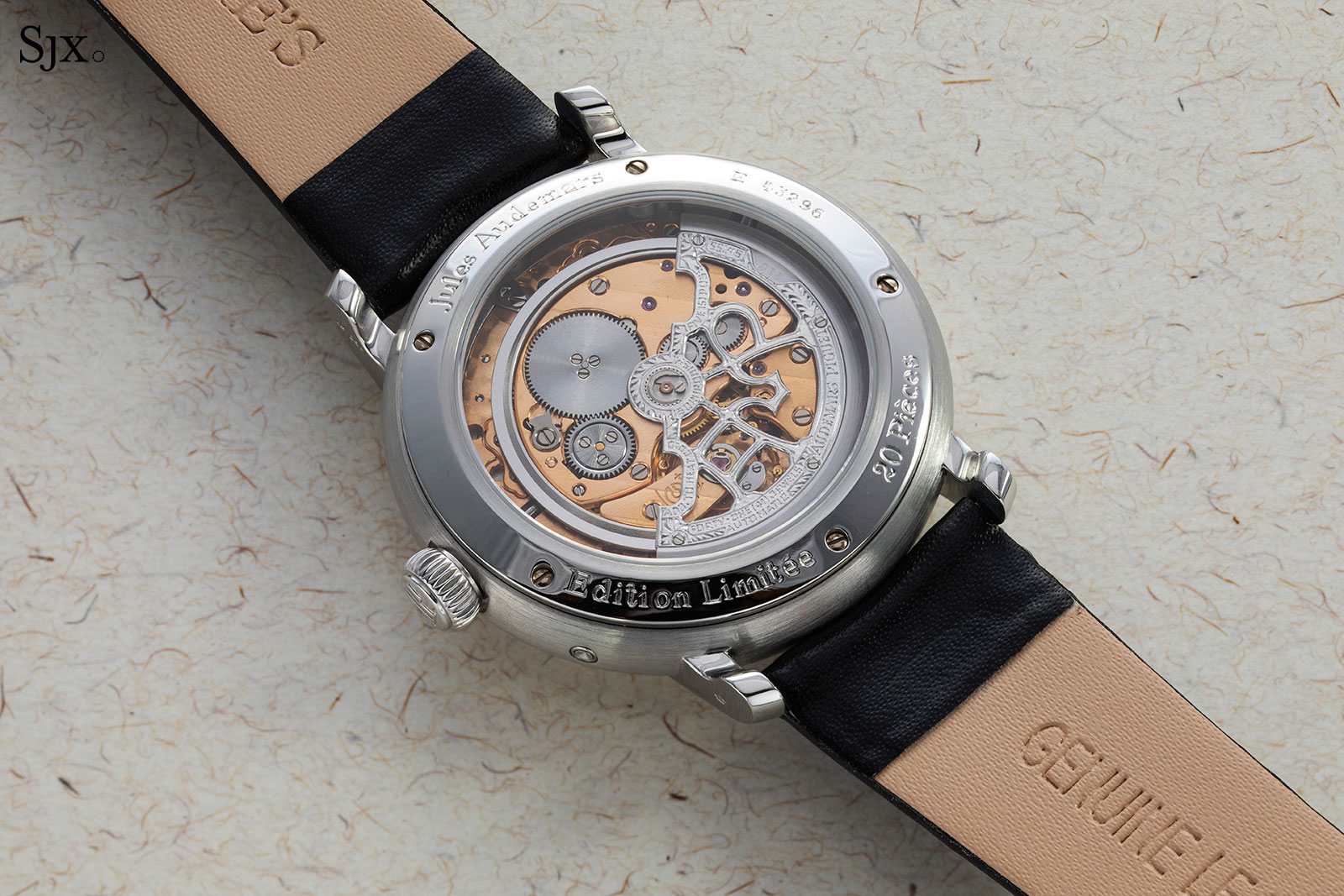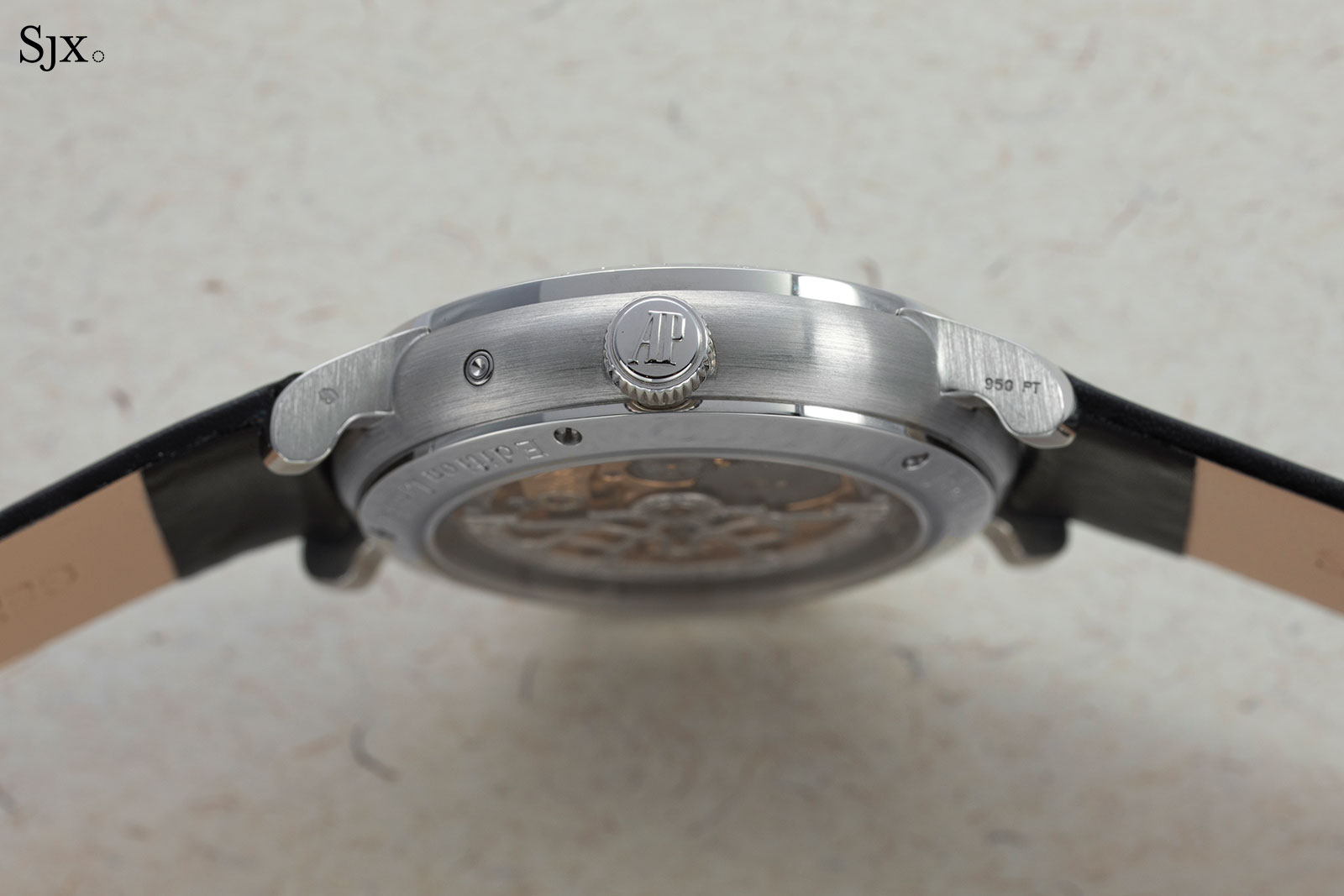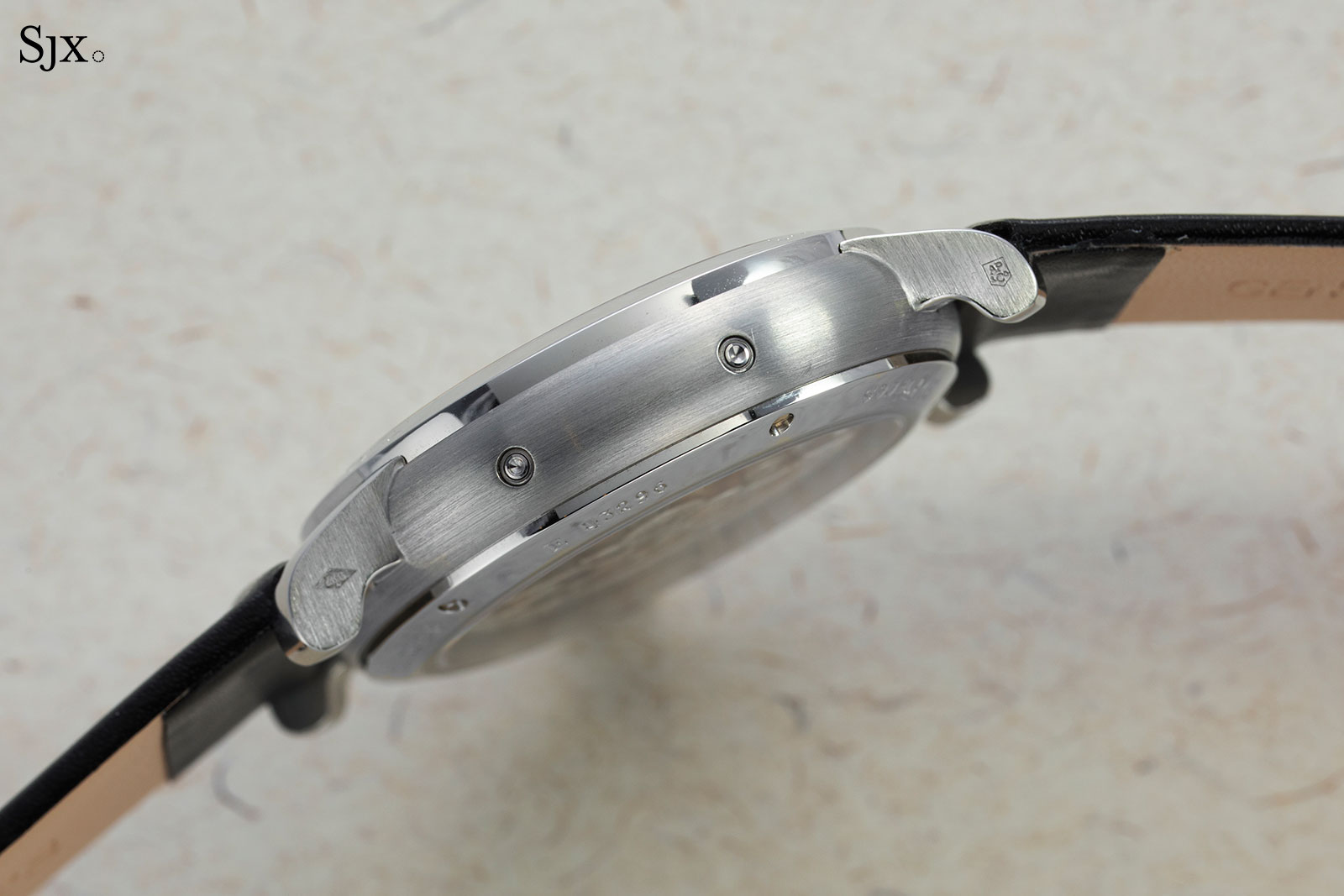 The Equation of Time watches were calibrated to the wearer's location, which was then indicated on the the bezel. This particular watch has the movement and bezel catered for Hong Kong, although three extra sets of bezels and gears are included, for Singapore, Moscow and Rome.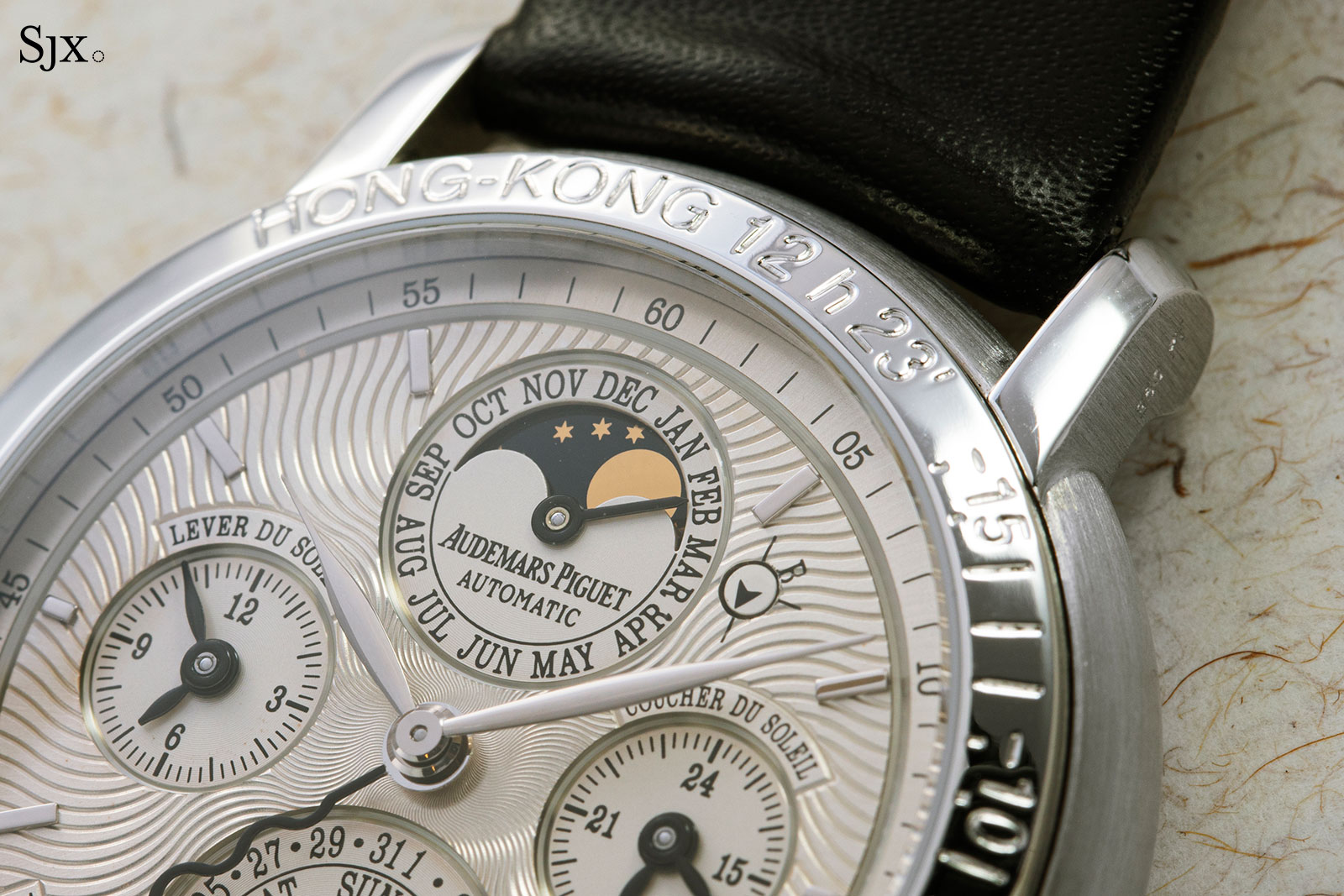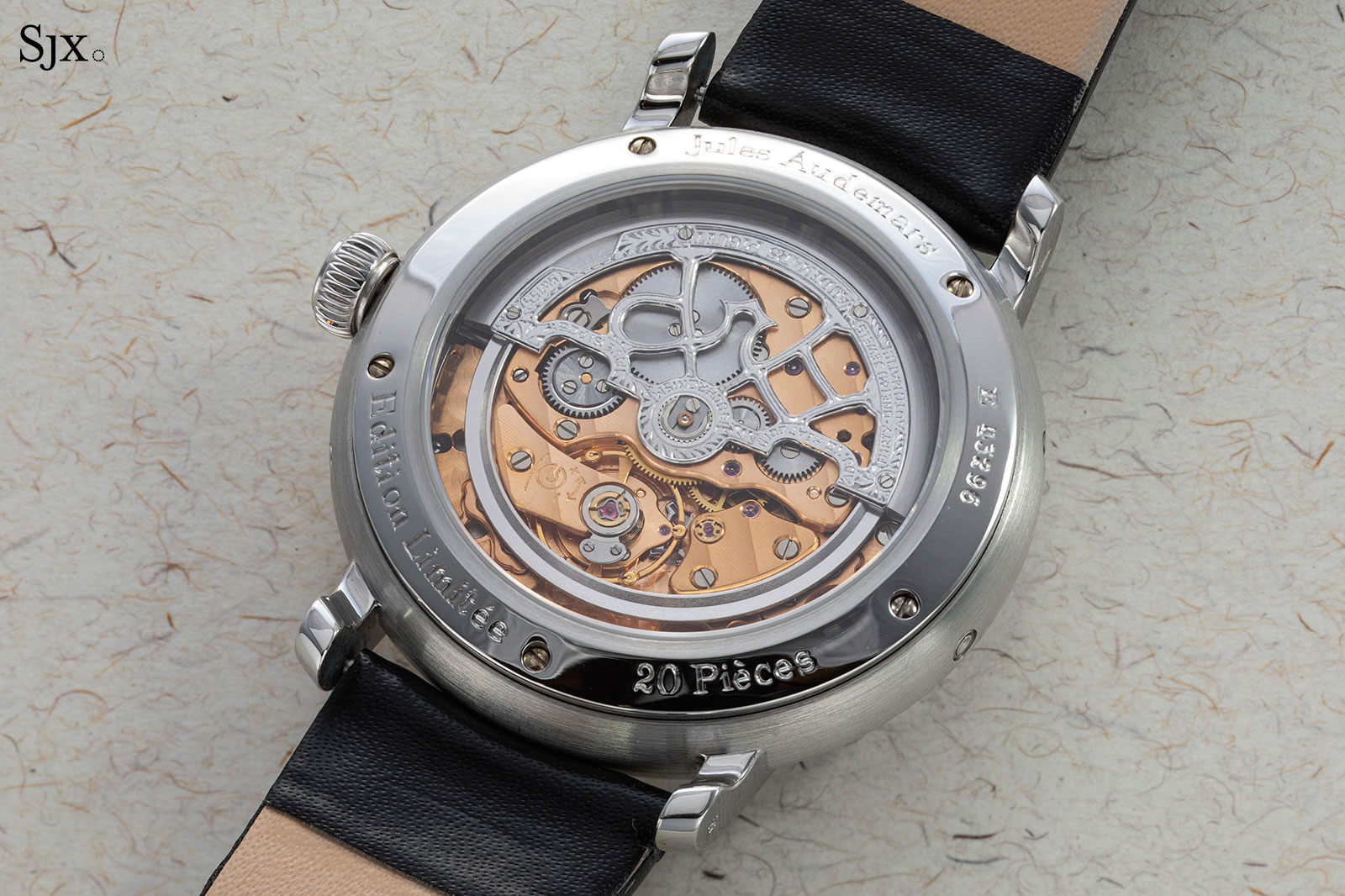 The watch is is excellent shape, save for slightly oxidisation on the lower half of the dial. It includes all boxes and paperwork, which notes it was originally sold in 2001. A mere fraction of its original retail, the estimate is HK$120,000-180,000, or about US$15,000-23,000.
---
Lot 2445 – Audemars Piguet Royal Oak Offshore Tourbillon Chronograph
Again an Audemars Piguet, but of a very different sort, is the Royal Oak Offshore Tourbillon Chronograph in platinum with a ceramic bezel. The watch is enormous, extremely heavy, and also quite complicated.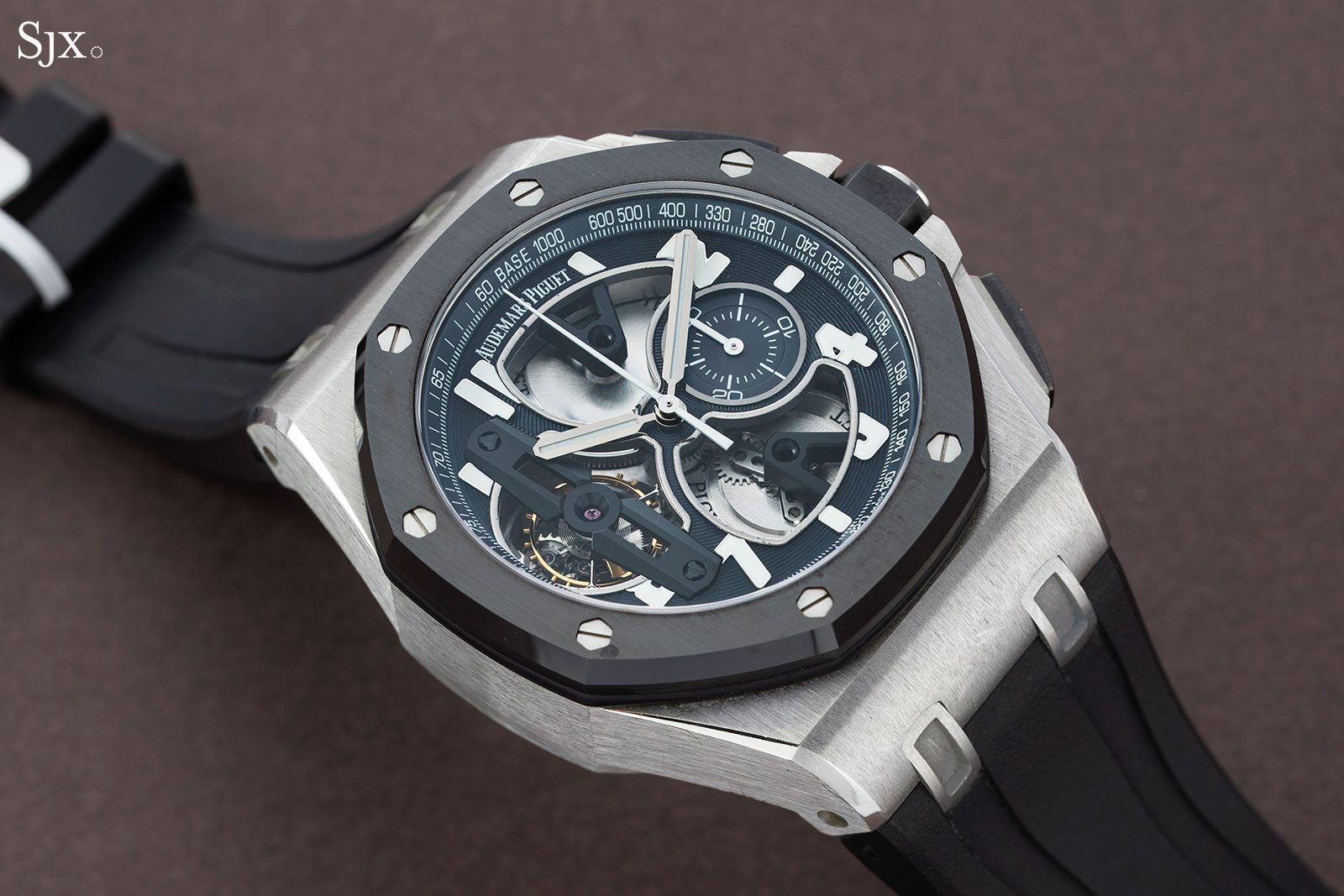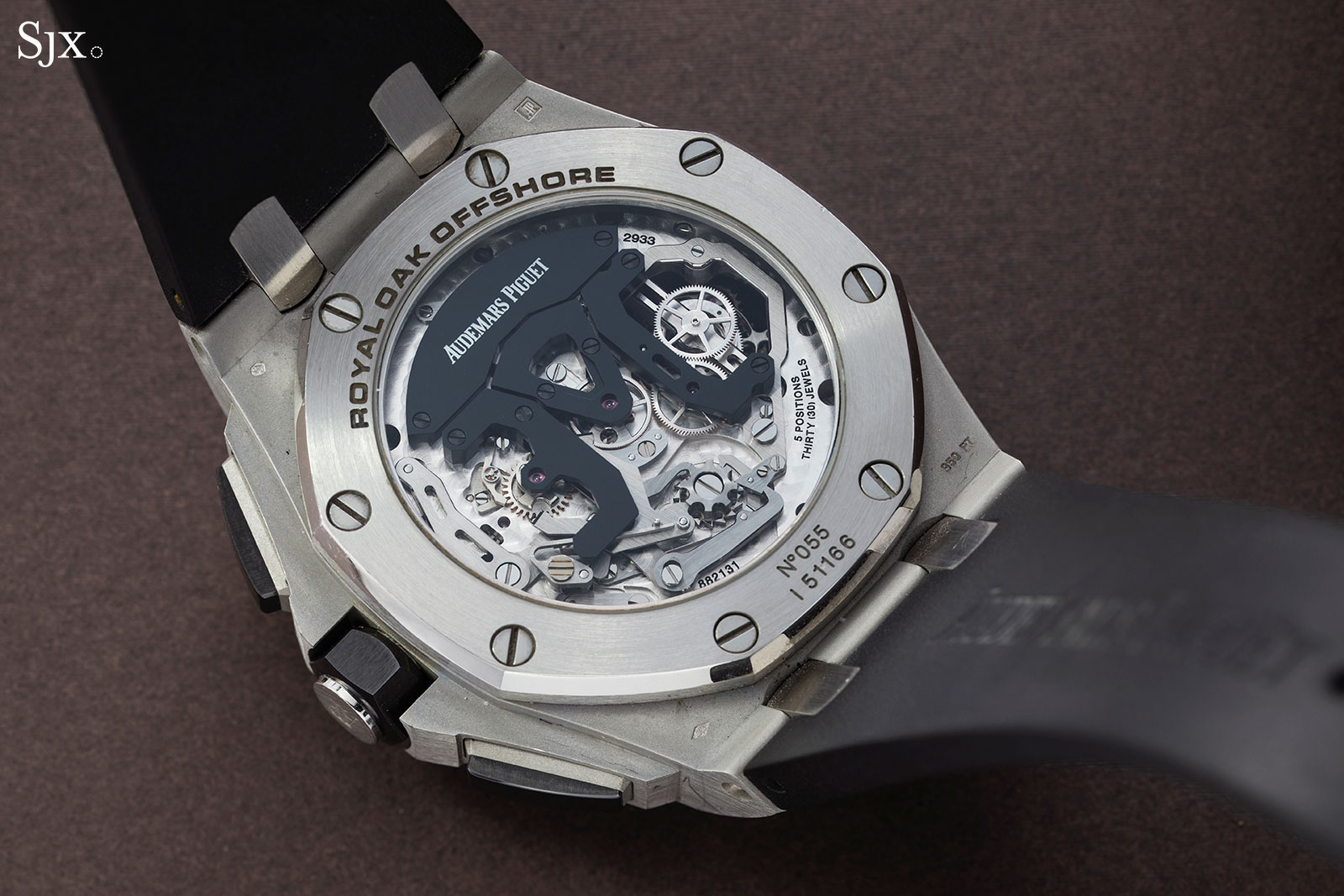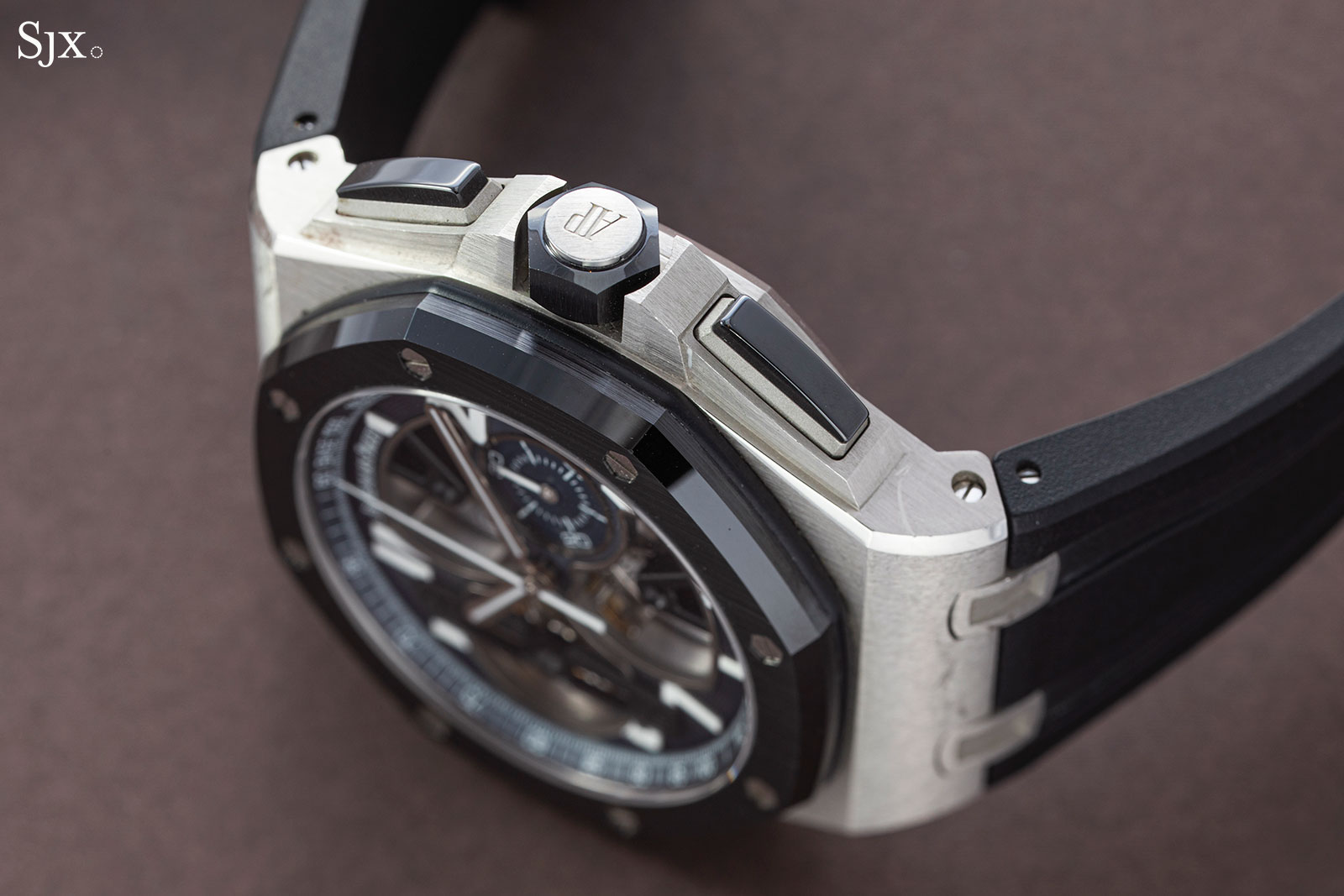 The movement inside is an exotic Renaud & Papi calibre that has a tourbillon, chronograph, and double barrels that give it a 10-day power reserve.
Both barrels are visible on the dial, though two large apertures at one and five o'clock – the barrel are so enormous they dwarf everything else on the watch, although they suit the scale of the 44mm case.
And on the back, the traditionally laid-out chronograph mechanism – with a column wheel and horizontal clutch – is visible.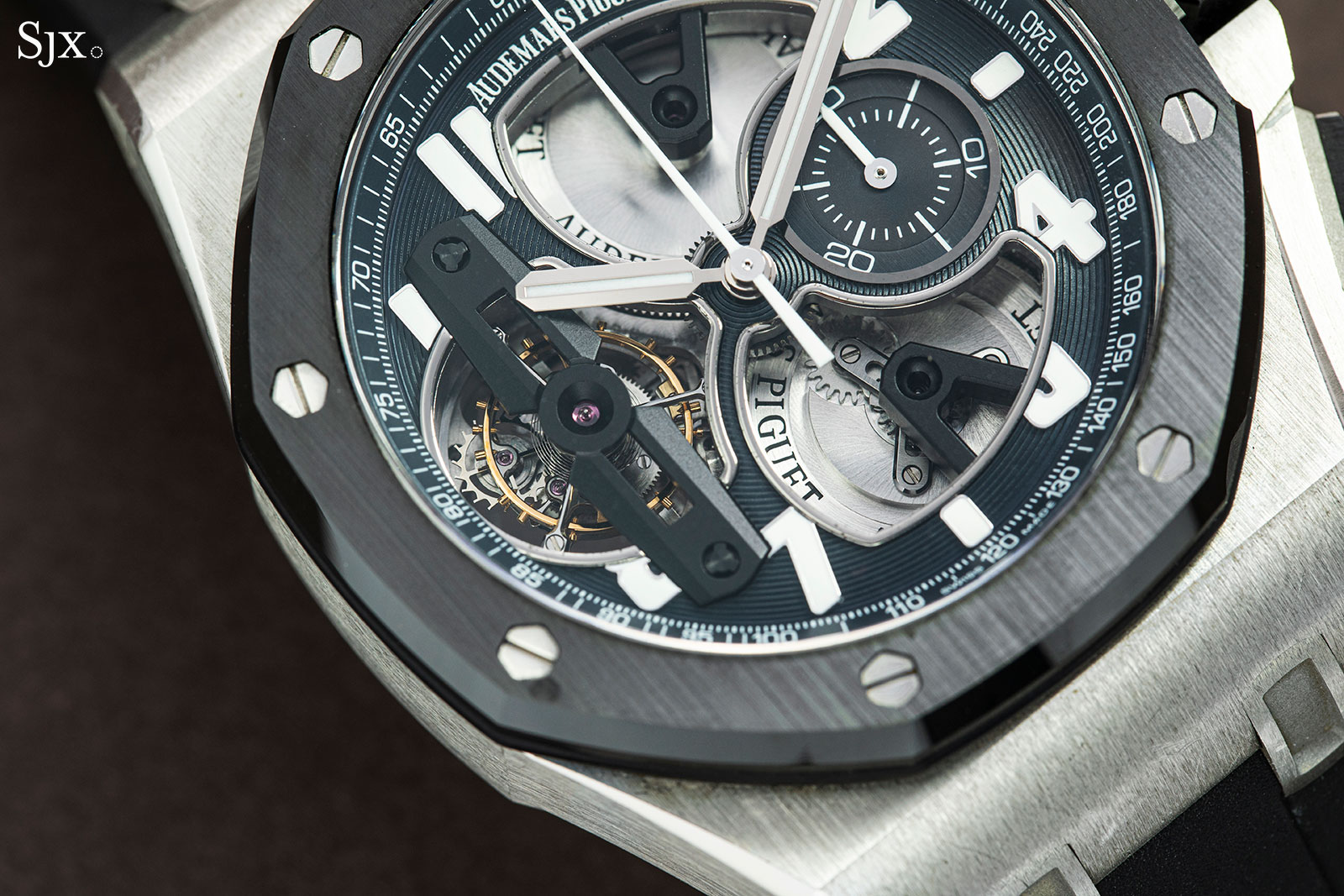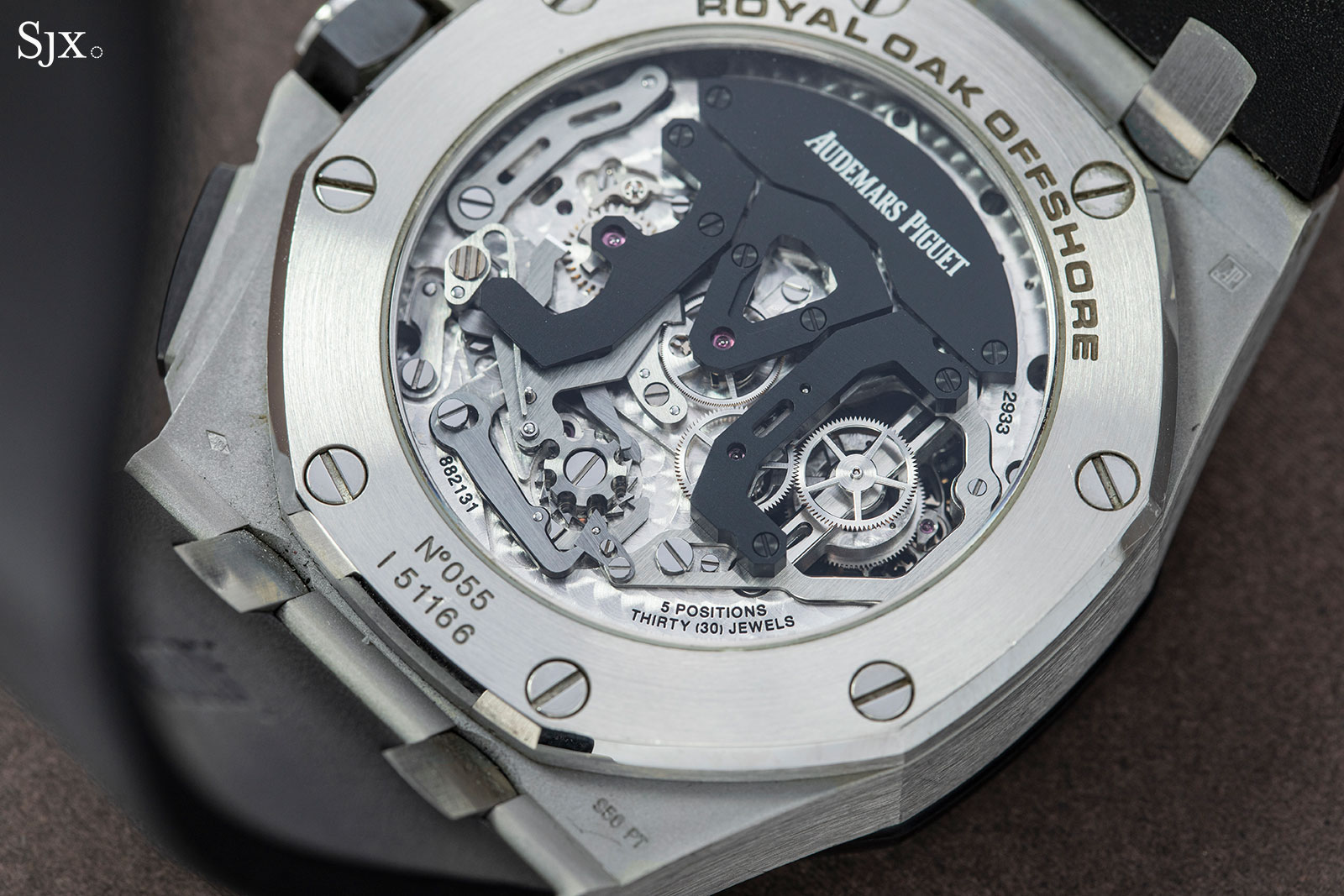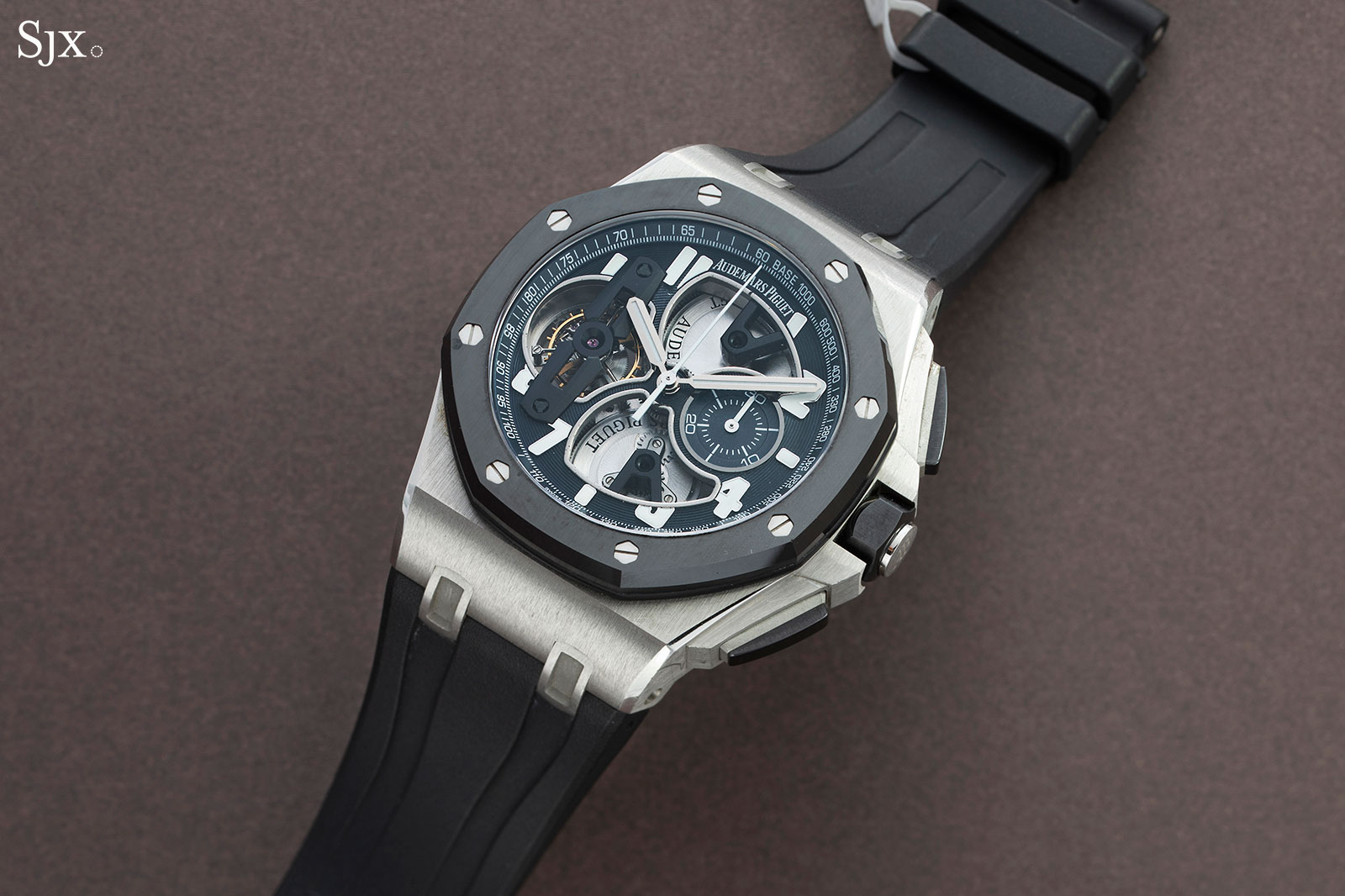 Originally sold in 2016, watch shows almost no wear, and includes all the original paperwork and accessories. The estimate is HK$900,000-1.4m, or about US$115,000-180,000.
---
Ref. 2337 – Patek Philippe ref. 3970E with special dial
Modern Patek Philippe chronographs with special-order dials pop up regularly at auction – often with Breguet numerals – but they remain highly desirable and also intrinsically beautiful watches.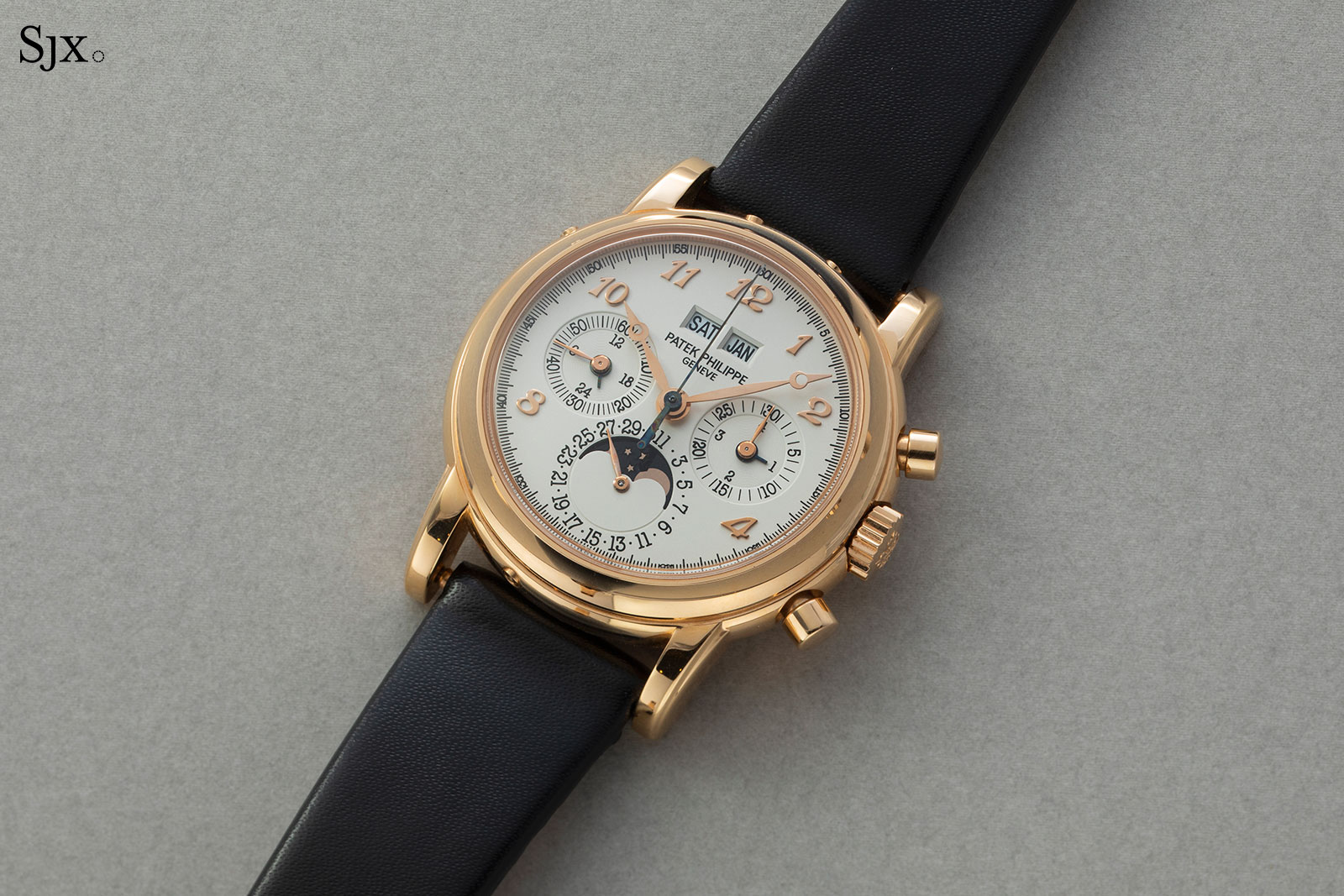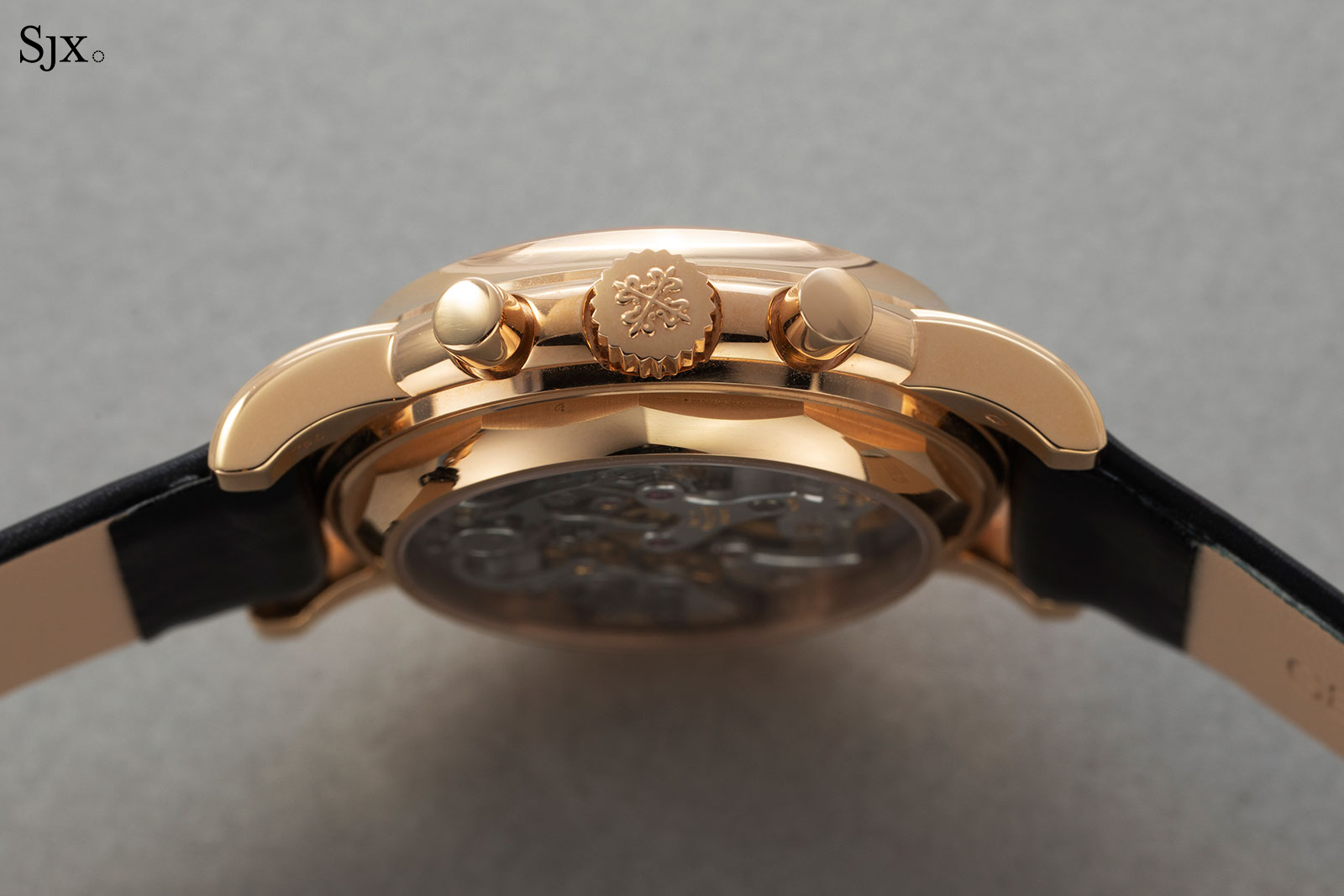 This is a ref. 3970ER in rose gold with a dial featuring pink gold Breguet numerals and hands. It was produced in 2006 and sold a year later by the Patek Philippe Salon in Geneva, presumably having been made for an important client who ordered it after the ref. 3970 was discontinued in 2004.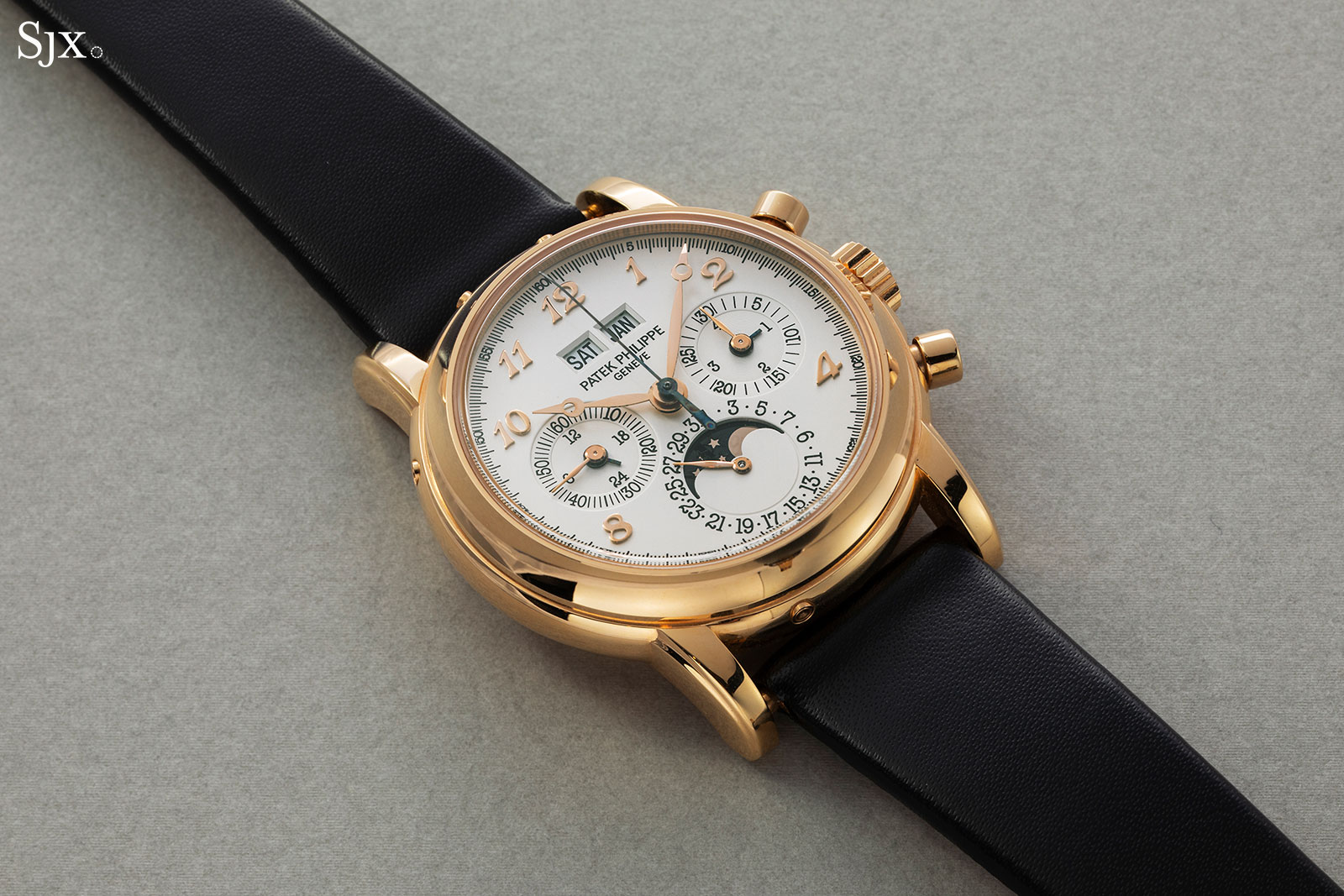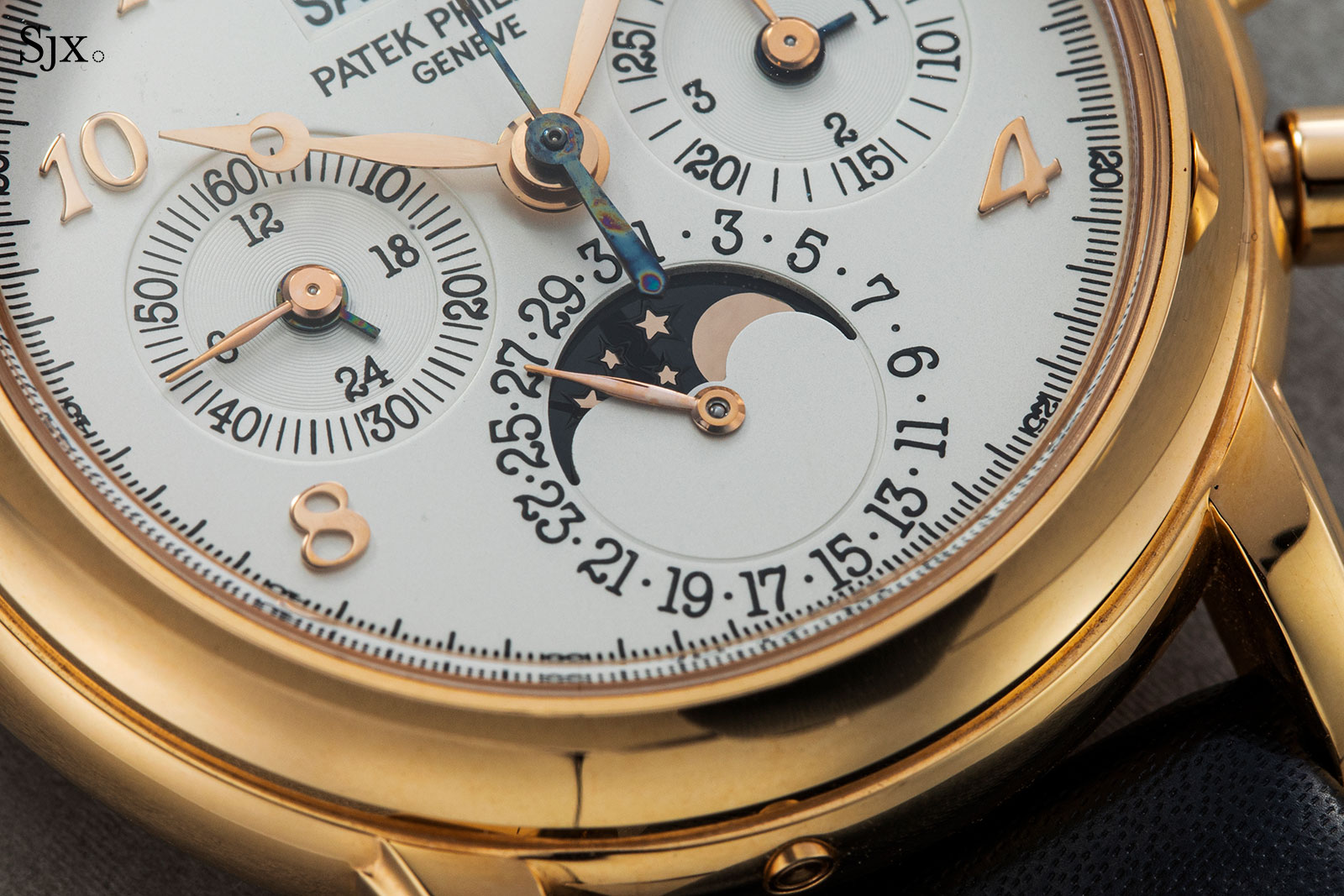 It is in excellent shape, seemingly hardly worn in the 13 years since it left the factory. There is a bit of oxidisation on the hands, but it is a common occurrence and easily fixed.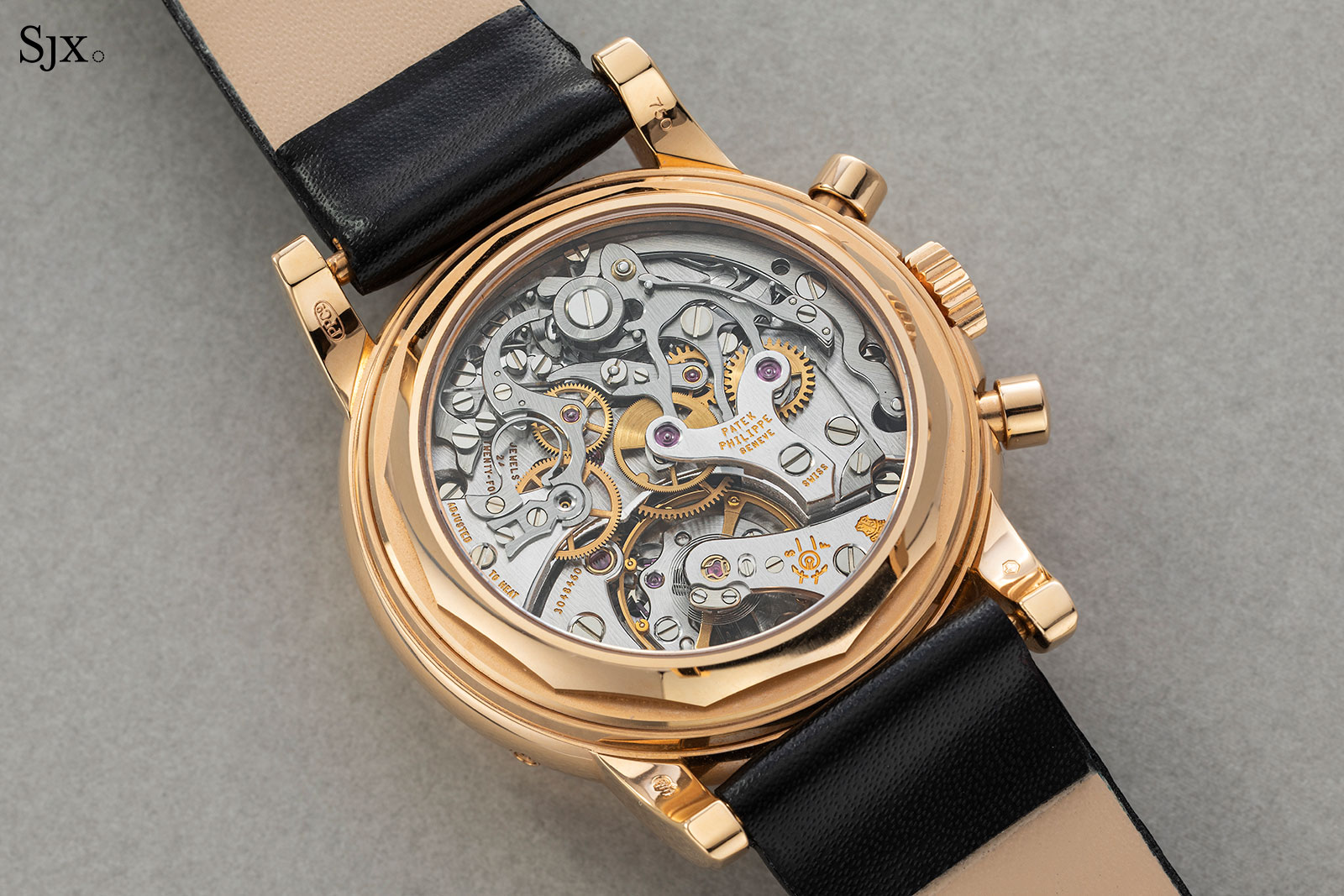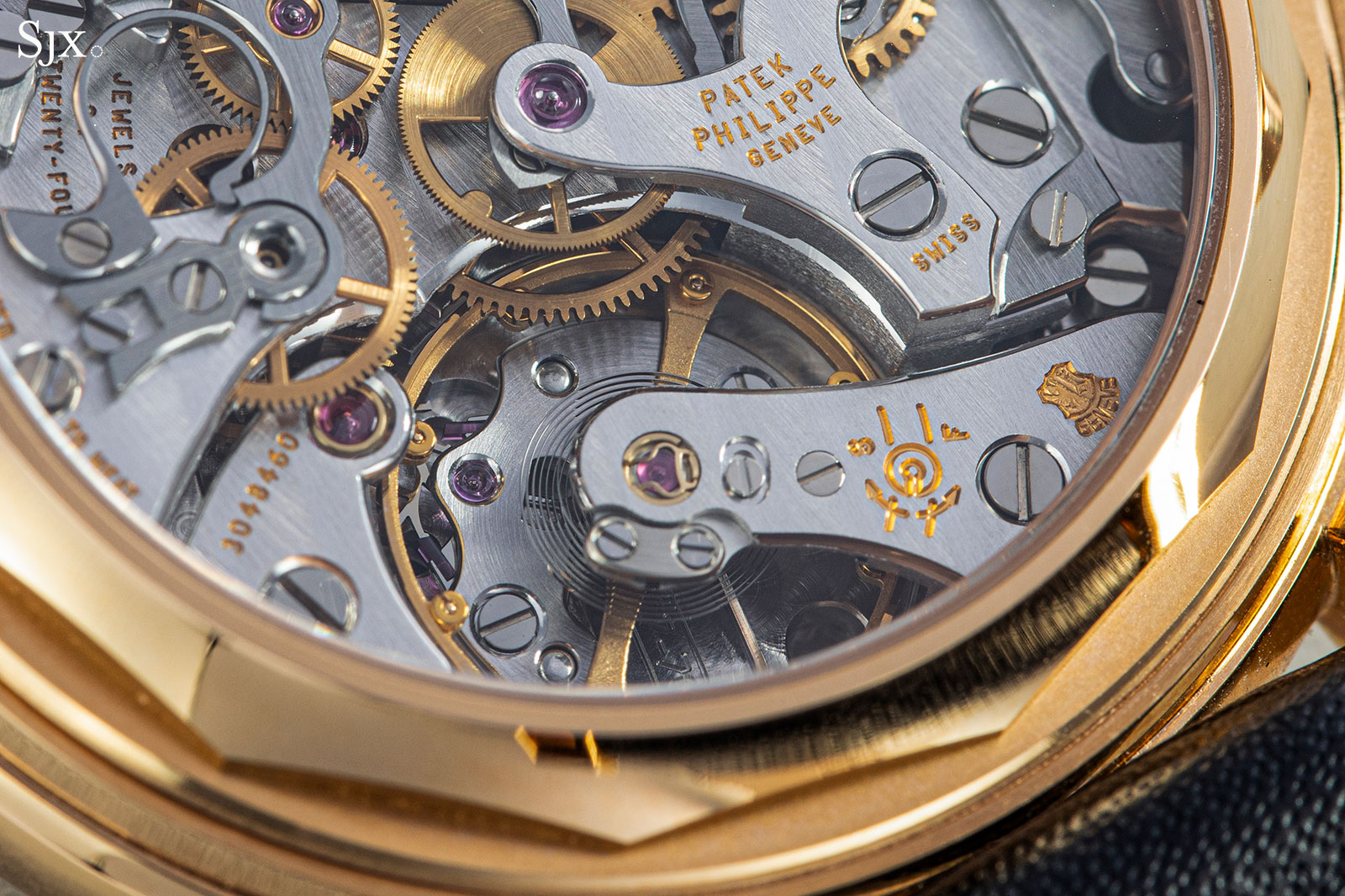 The watch includes all original paperwork and boxes, and also the solid case back. The estimate is HK$1.2-2.0m, or US$150,000-250,000.
---
Ref. 2341 – Patek Philippe ref. 5004P with custom dial and bracelet
This ref. 5004P – a split-seconds chronograph with perpetual calendar in platinum – is another Patek Philippe with a custom dial, but a slightly more interesting story. It was originally sold in 2009 as a standard ref. 5004P, which means a silver dial with Arabic numerals, something that's described on the certificate.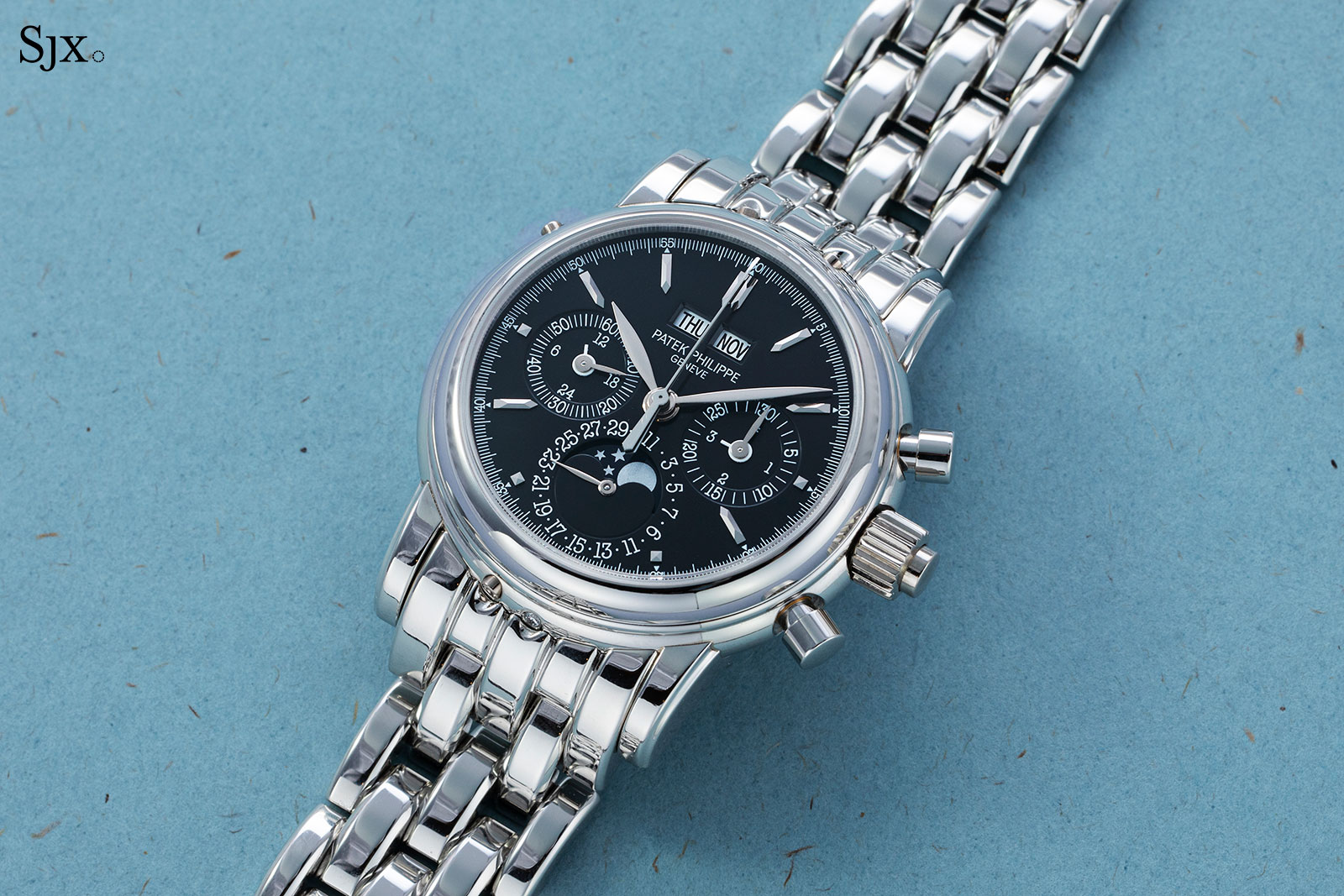 But in 2017 the owner returned it to Patek Philippe for a major makeover. The dial was replaced with a custom black dial, and importantly, matched with leaf-shaped hands instead of the standard lance-shaped hands. And a custom platinum bracelet was added, with both additions noted in the archive extract.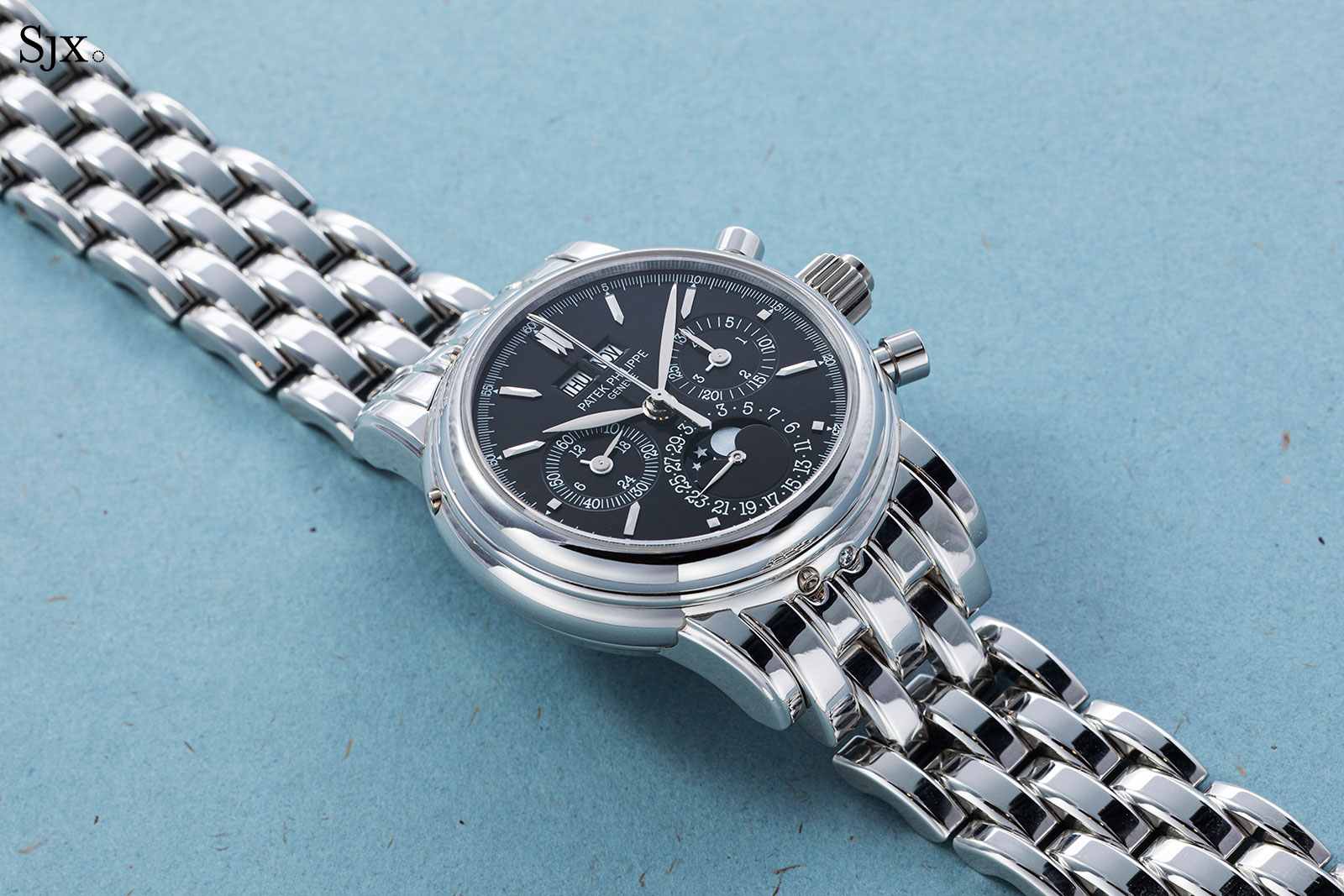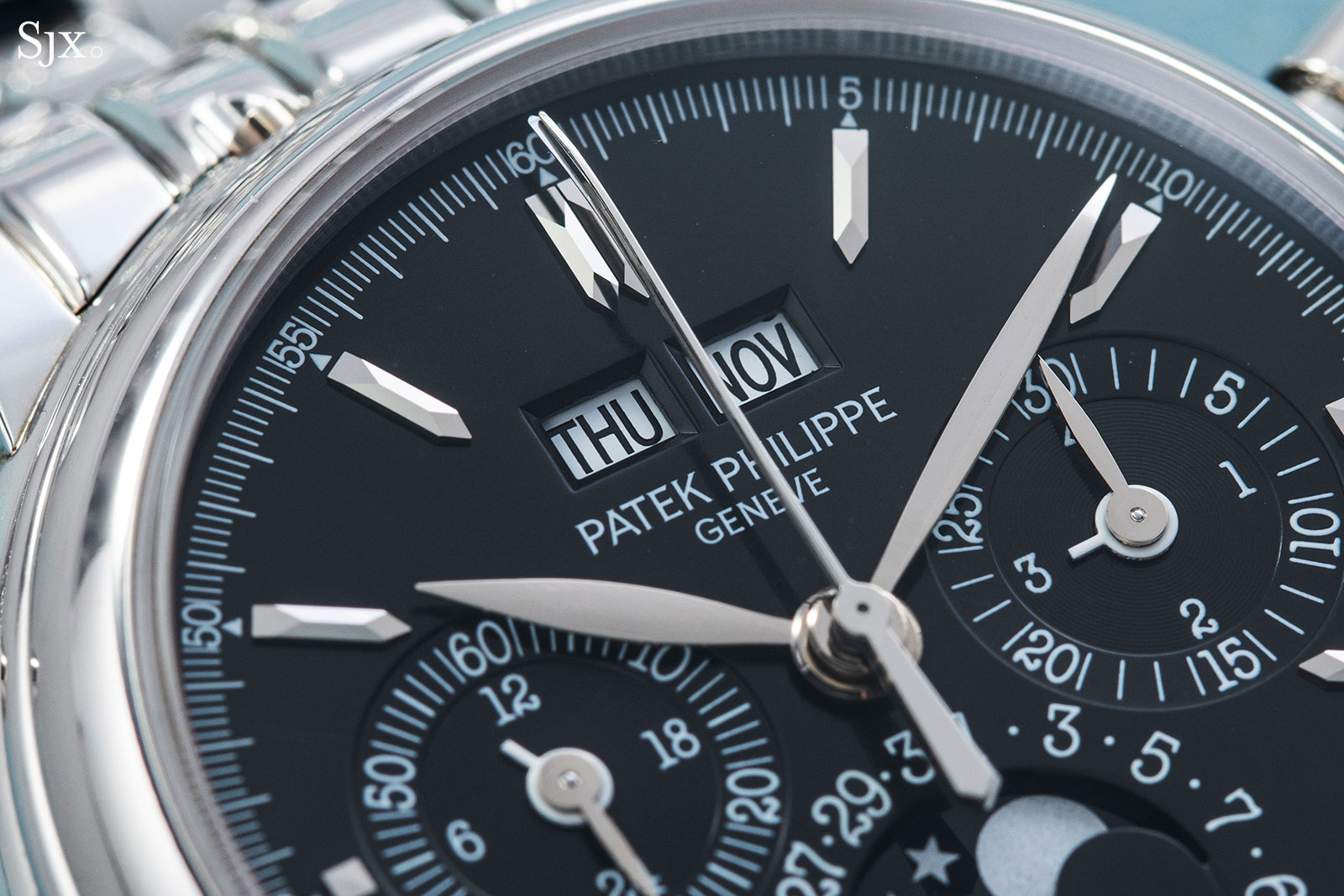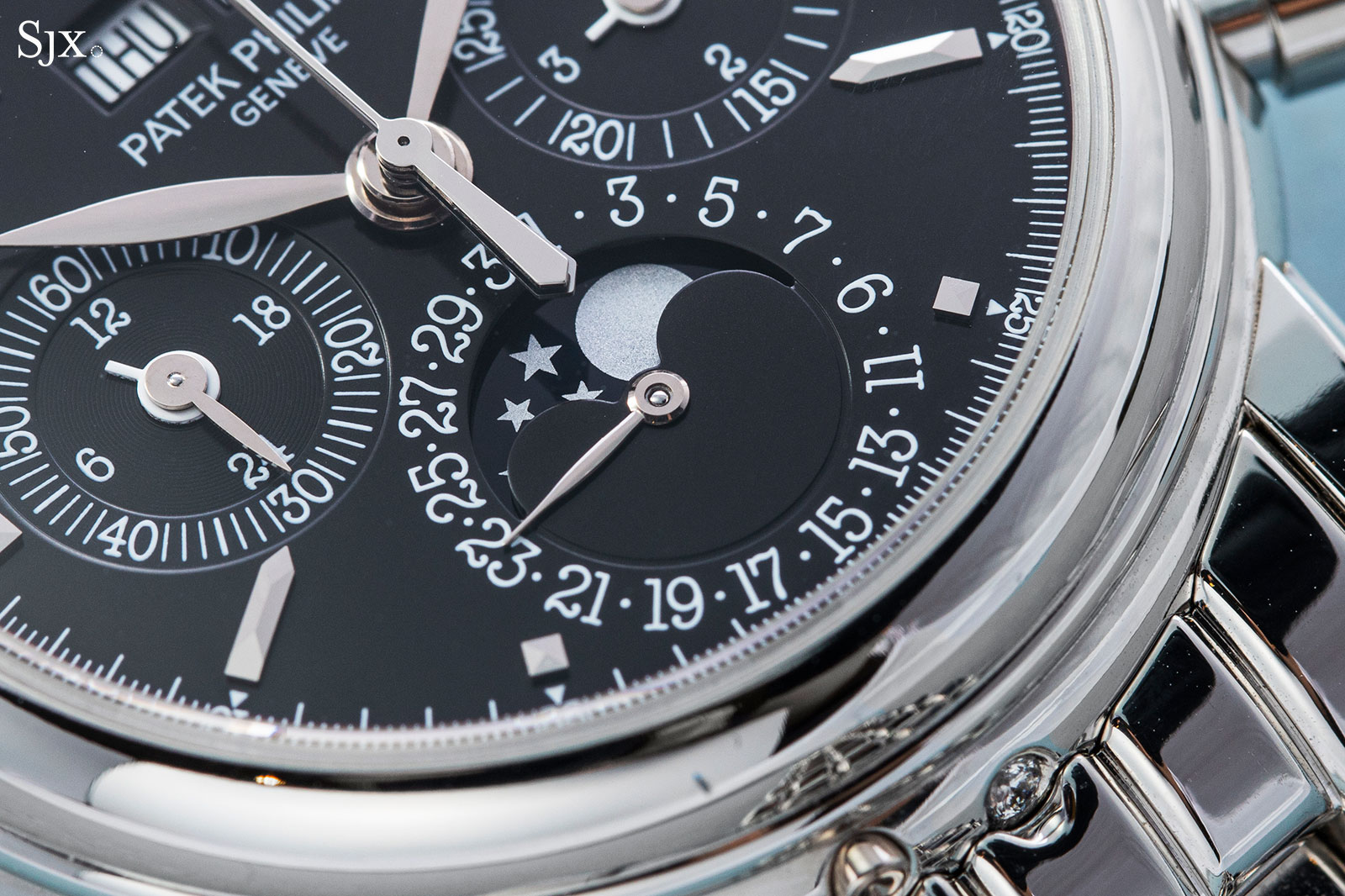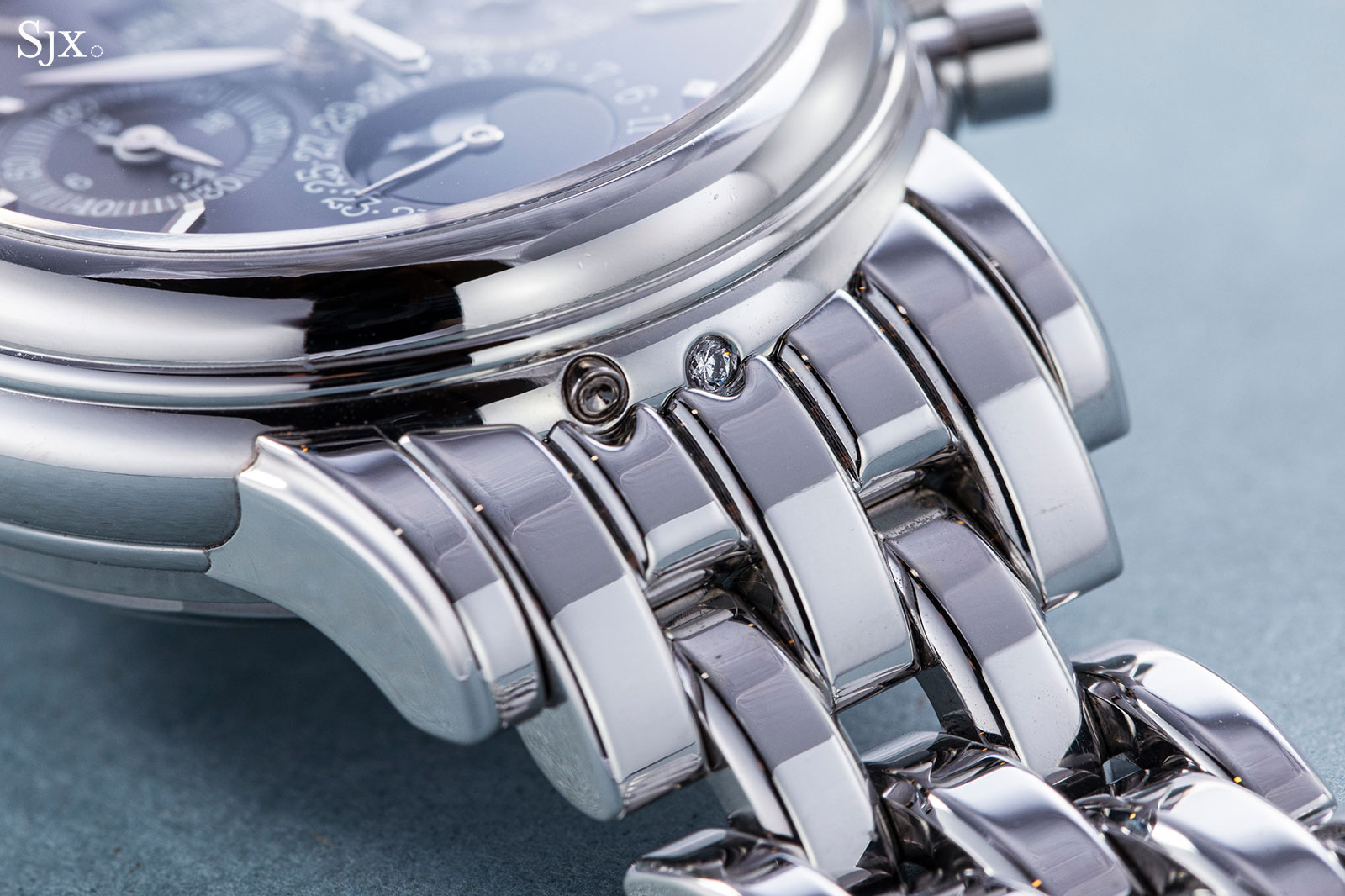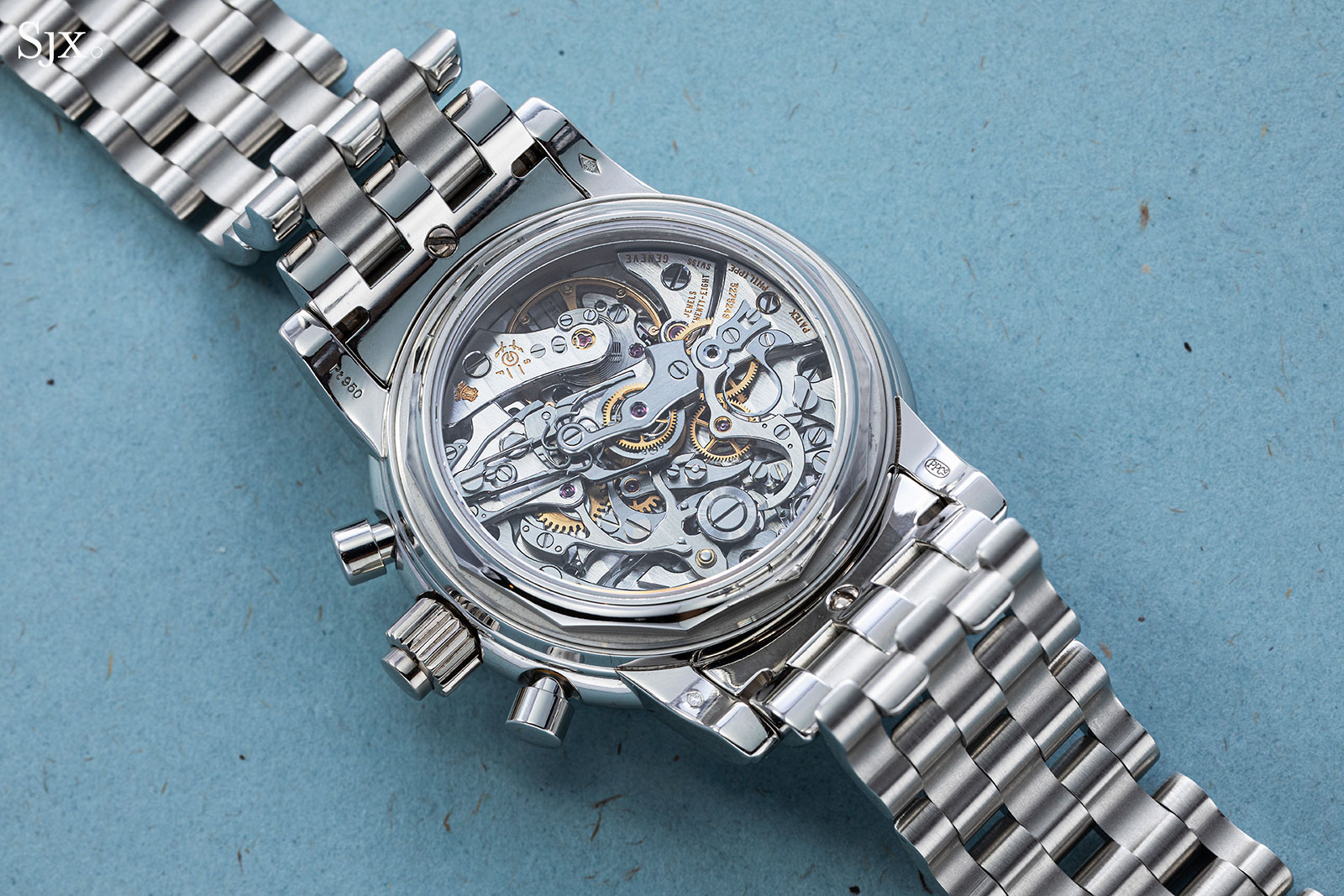 The watch is heavy and impressive, though the bracelet is has a "ladder" style clasp instead of the more common double-fold clasp, making it slightly more fiddly to take on and off.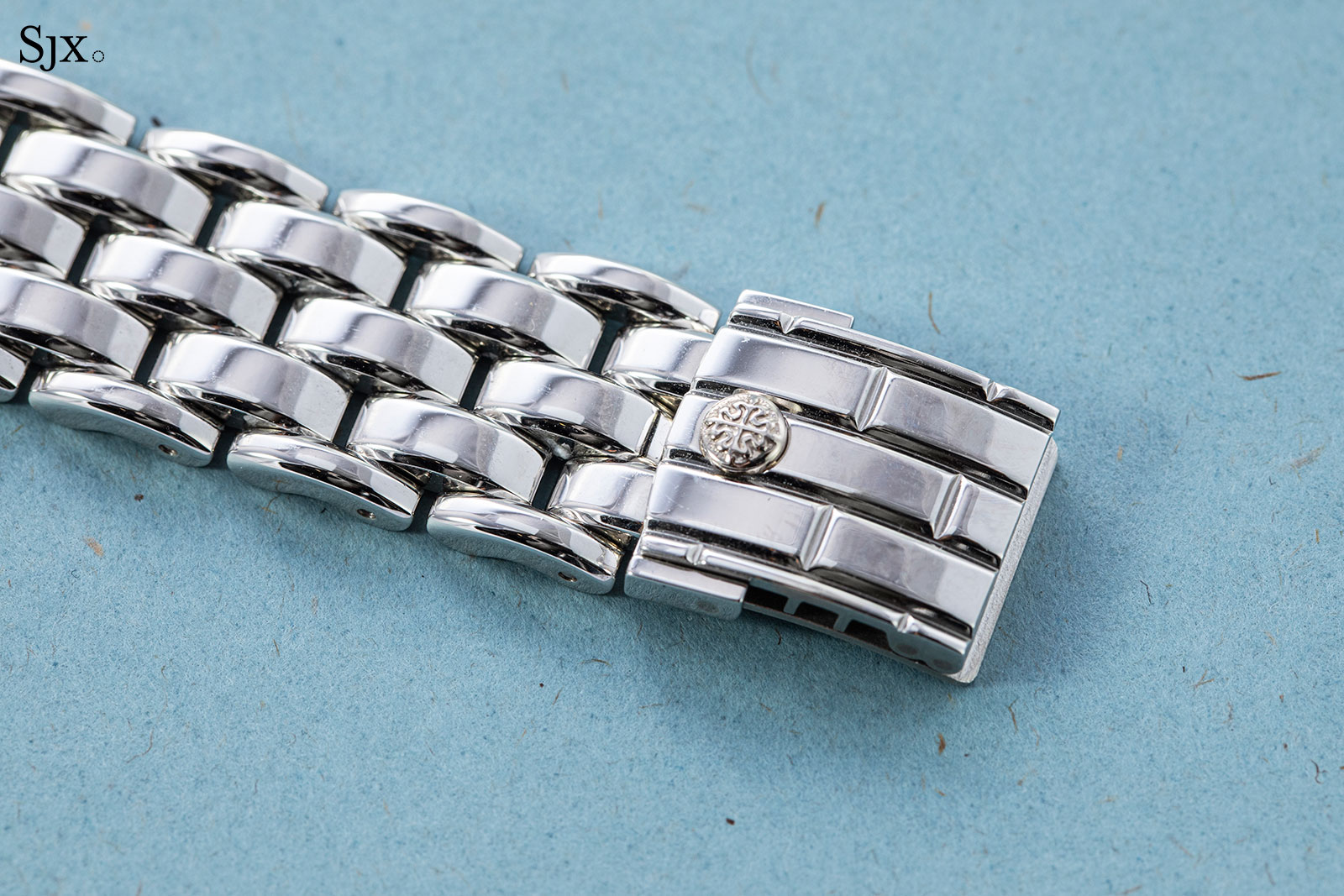 Also looking hardly worn, the watch is accompanied by all its boxes and papers. Its estimate is HK$2.4-4.0m, or US$300,000-500,000.
---
Ref. 2350 – Patek Philippe ref. 3651 chronograph
The ref. 3651 is one of the rarest and most intriguing of modern-era Patek Philippe chronographs. Only three have been sold publicly – though more were made – and all are powered by vintage movements from the 1940s or 1950s, mostly taken from the ref. 1463, but were re-cased by Patek Philippe in the late 1980s.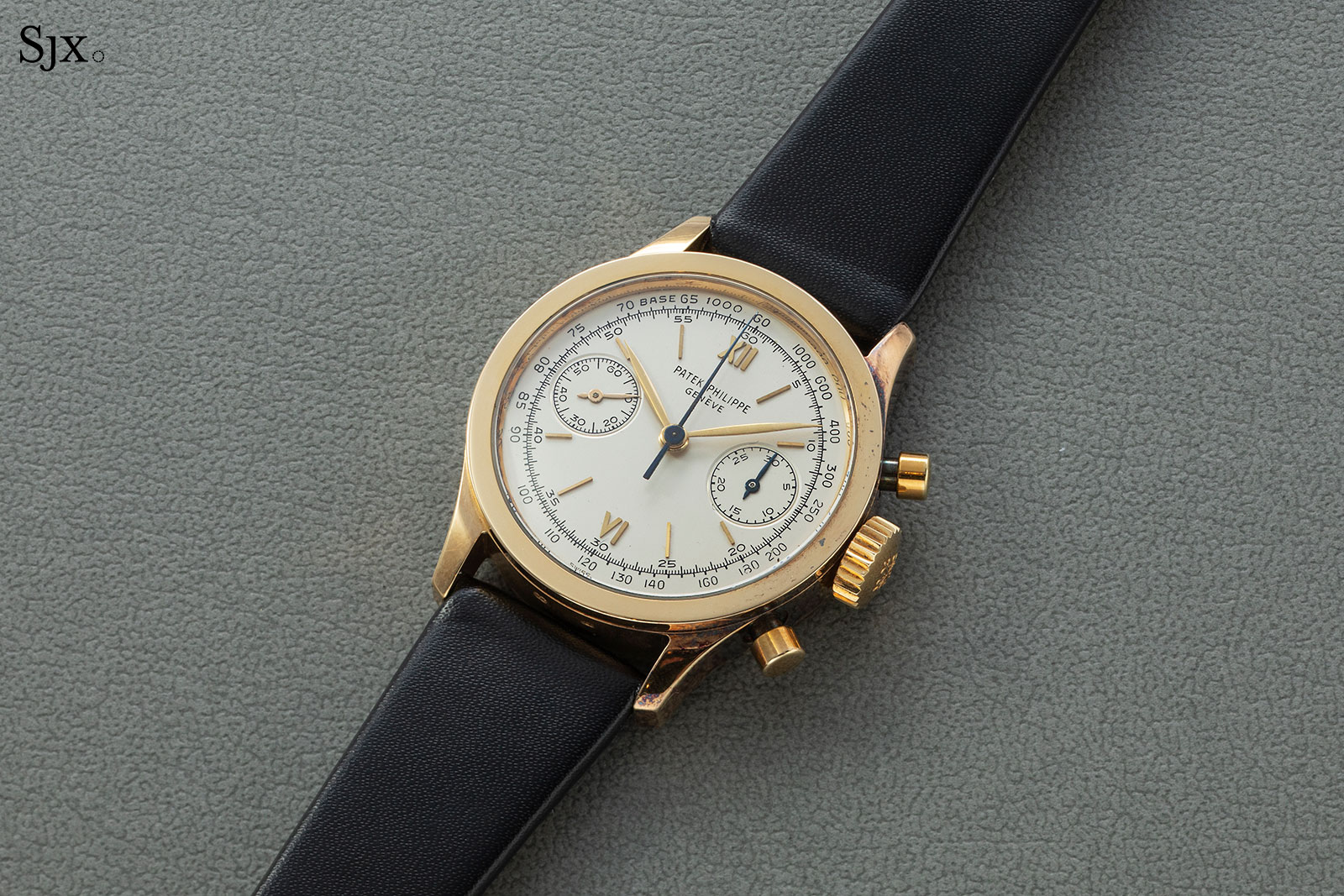 Patek Philippe was particularly prolific, at least compared to today, at re-casing vintage movements in the 1980s. Another example from the period is the unique minute repeating wristwatch ref. 3652 – just one number away from the reference of this chronograph – that was made in 1985 but powered by a 1920s pendent watch movement.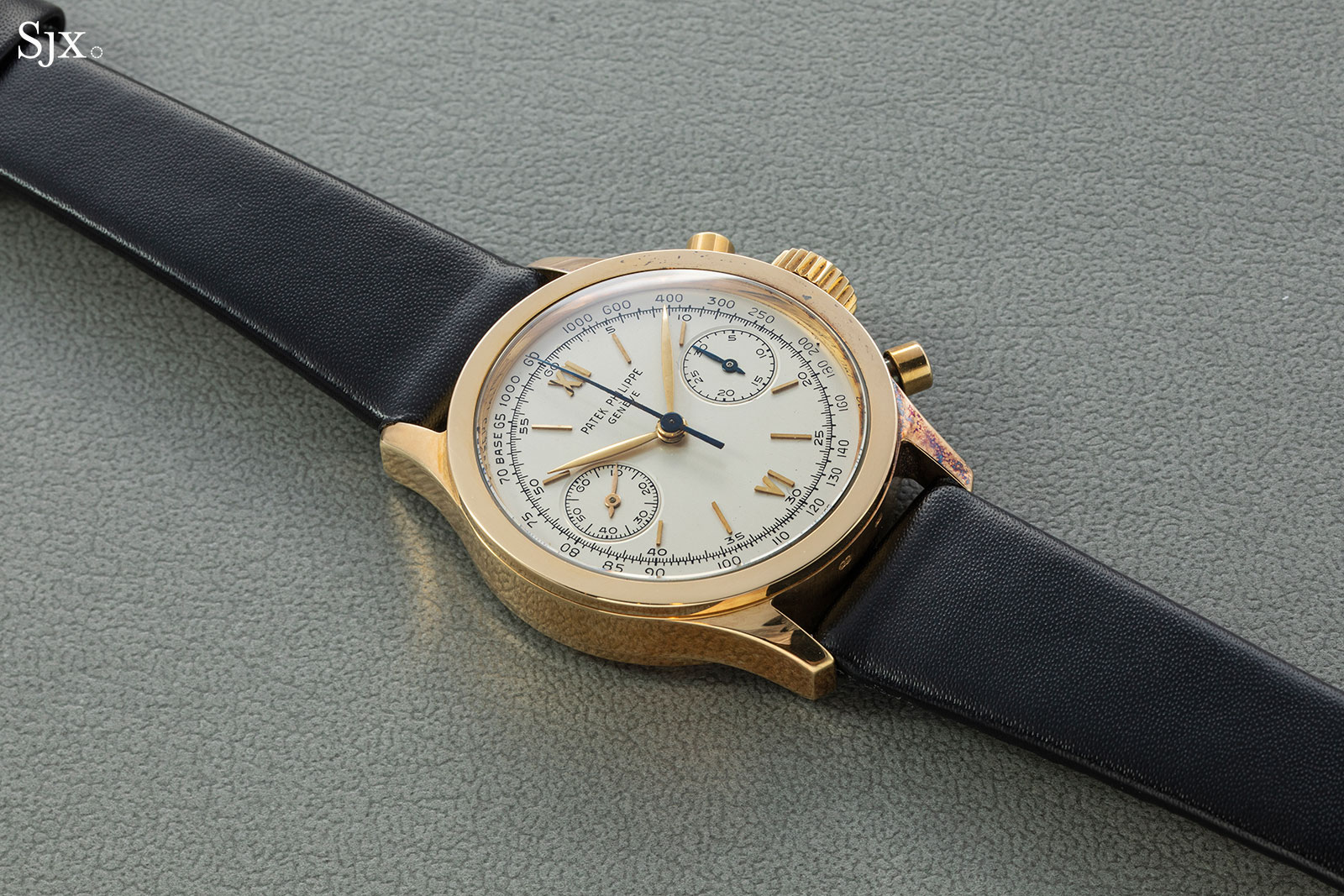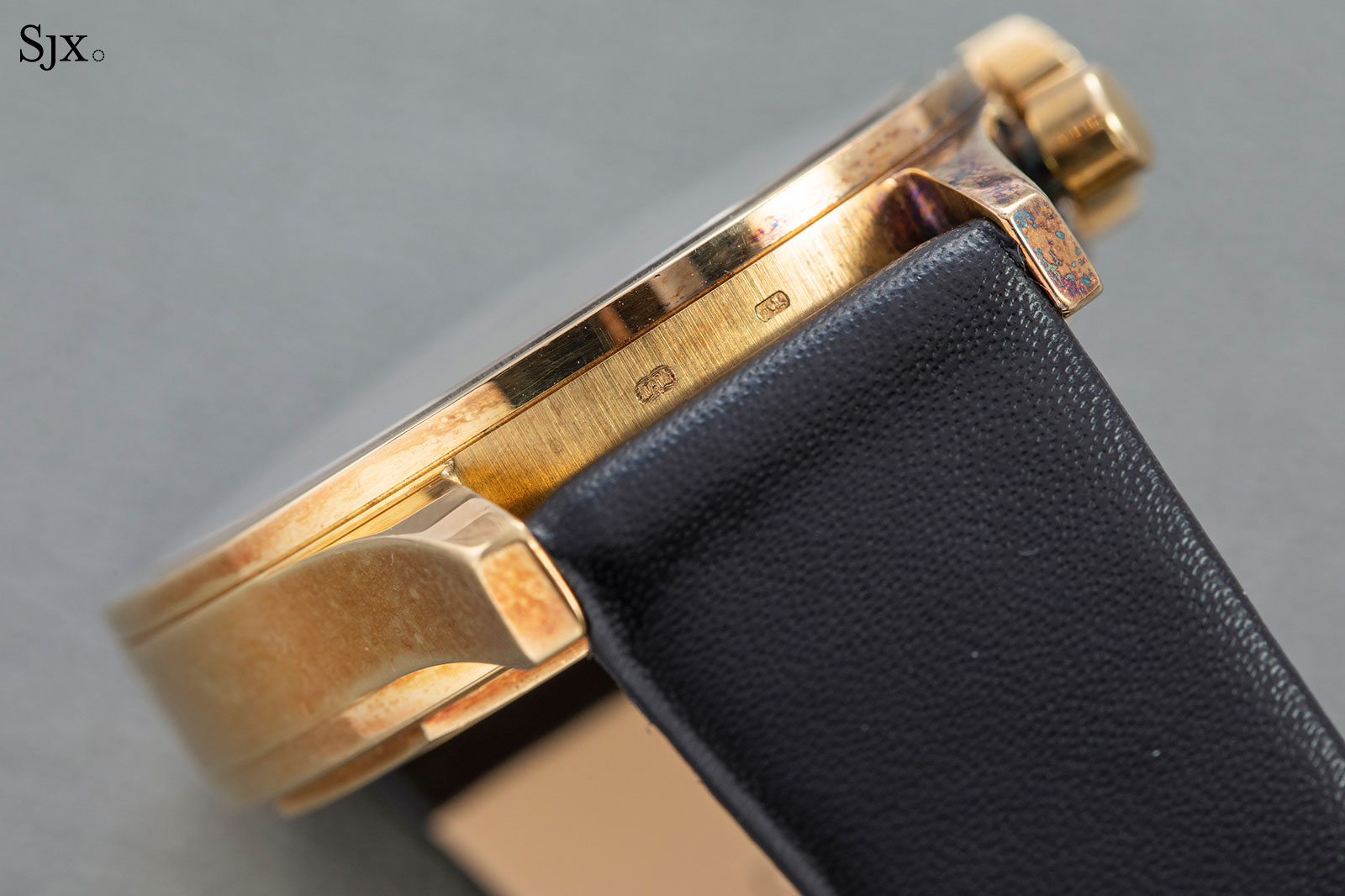 The ref. 3651 has a vintage look, largely thanks to the compact, 35mm case and the vintage dial that was presumably "new old stock" when Patek Philippe installed it in the late 1980s.
But the details of the case mark it out as modern creation. That's especially so with the shape of the lugs, which are short, wide, and with flat ends. And like the ref. 1463 that supplied most of the donor movements, the ref. 3651 has a screw-down case back.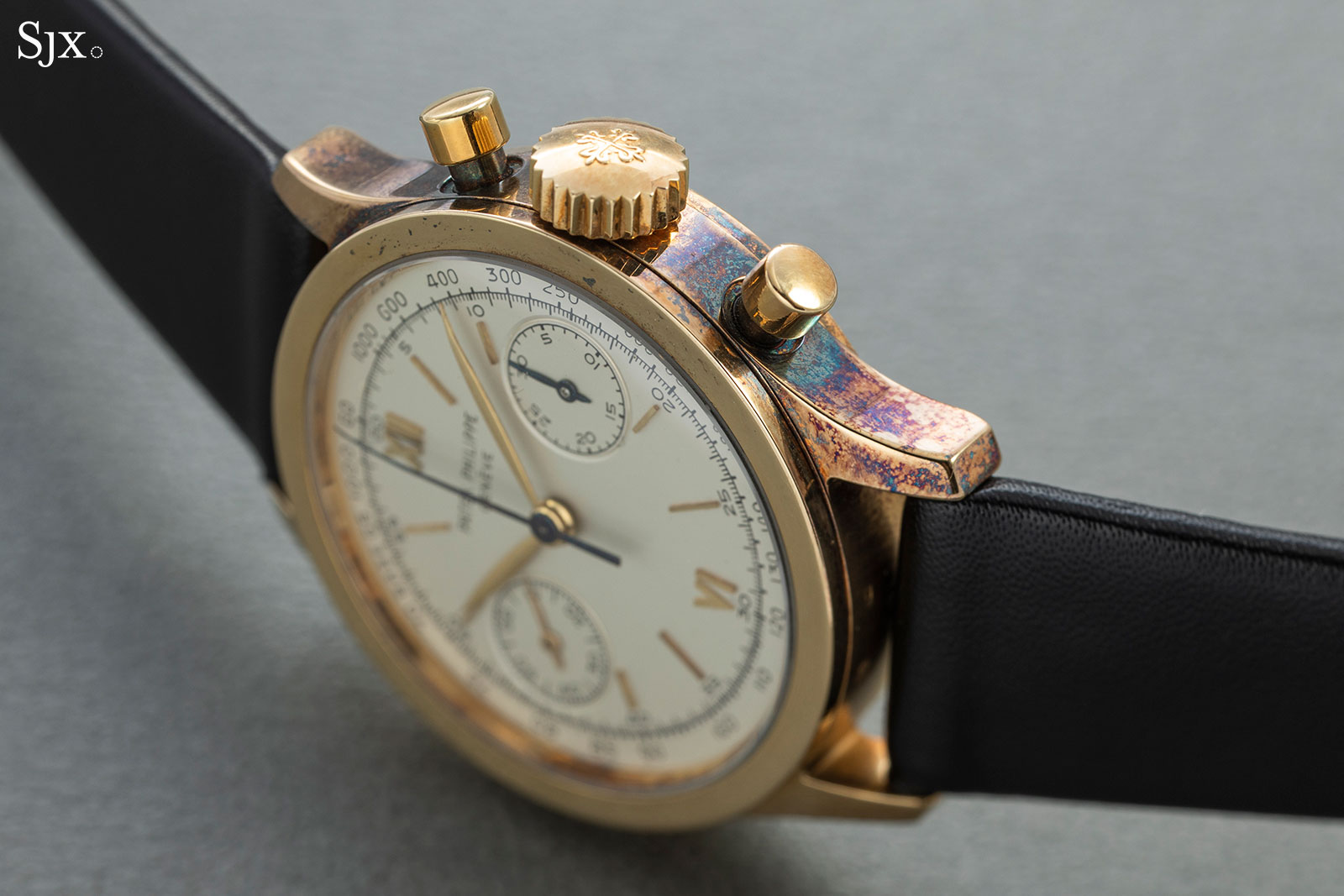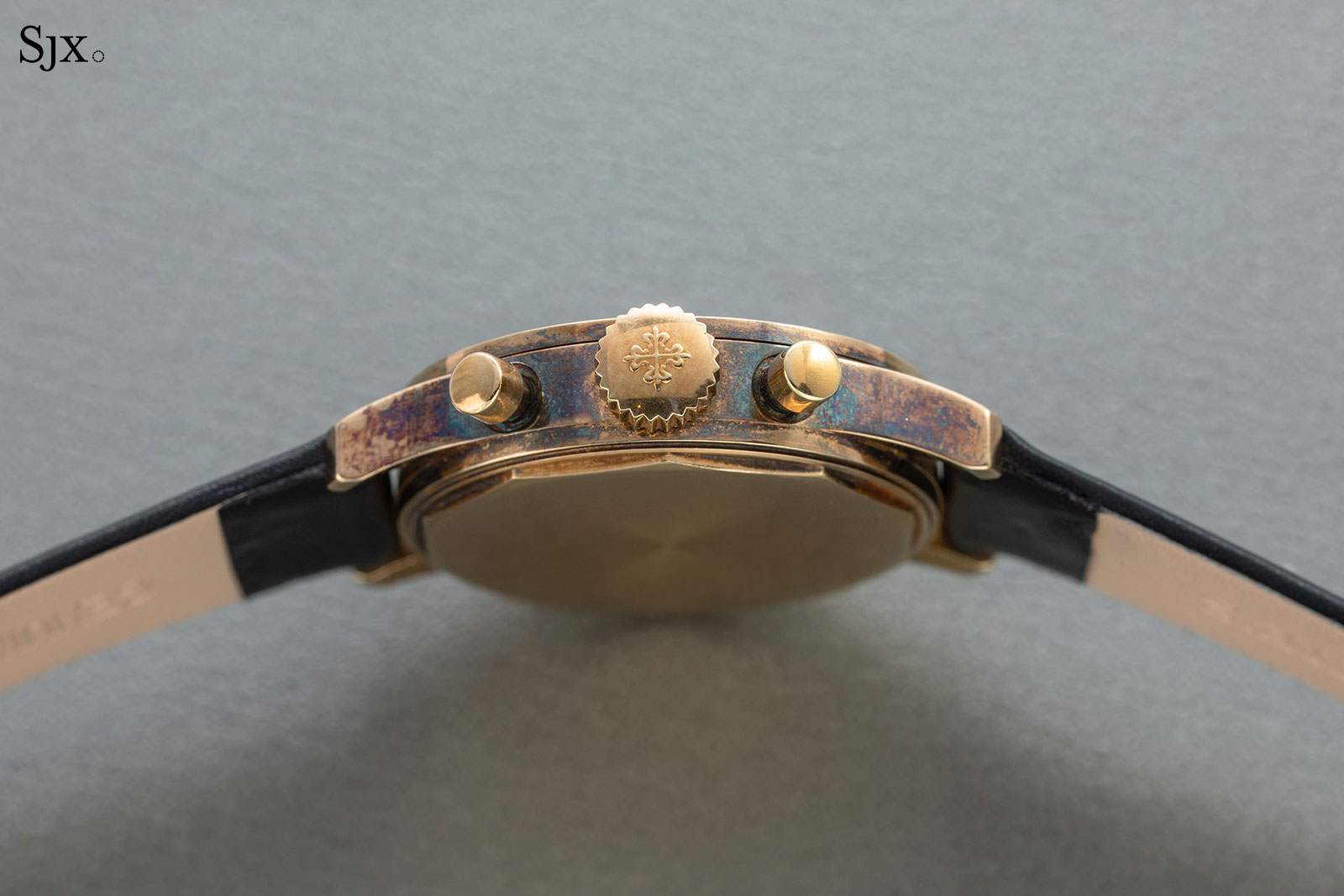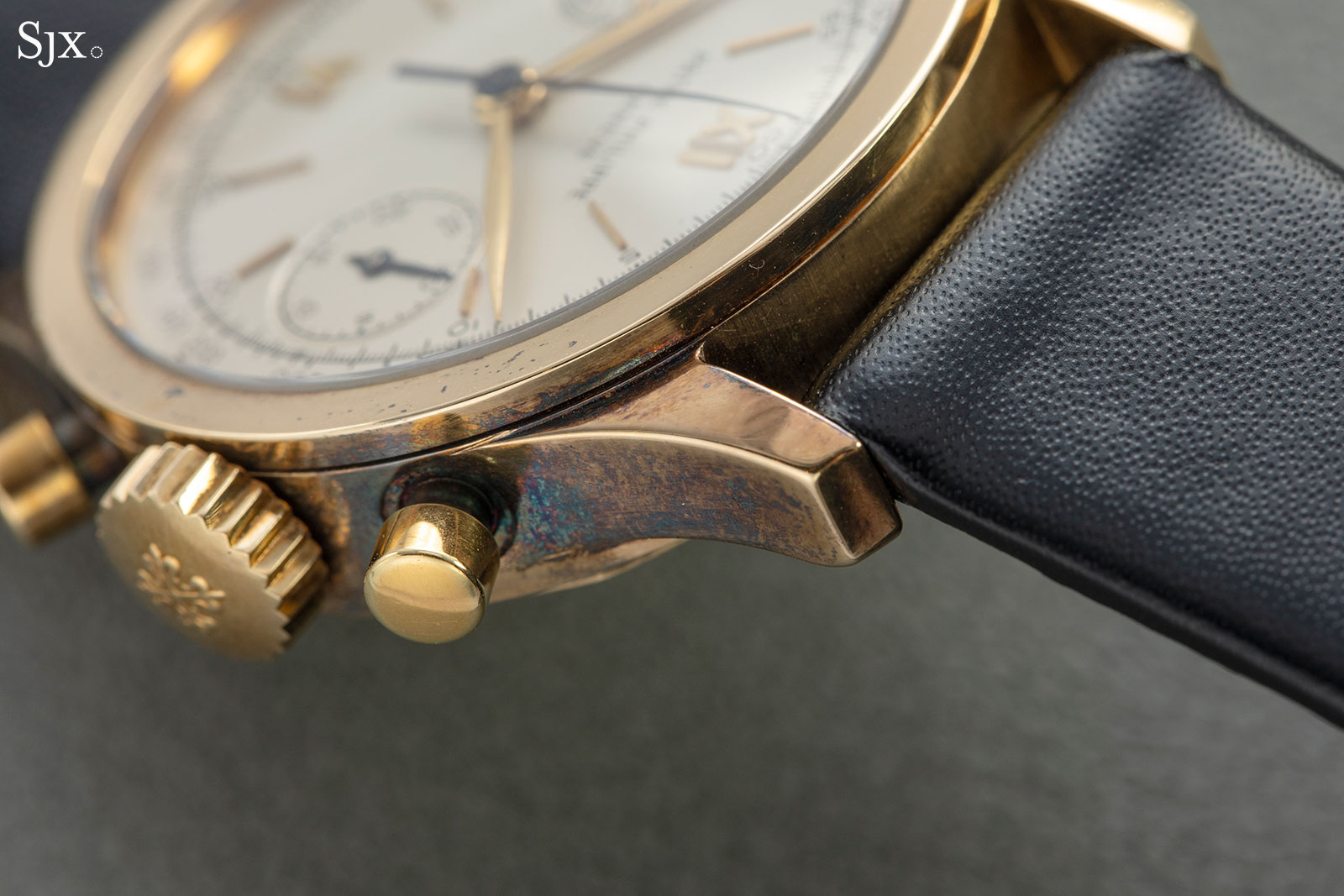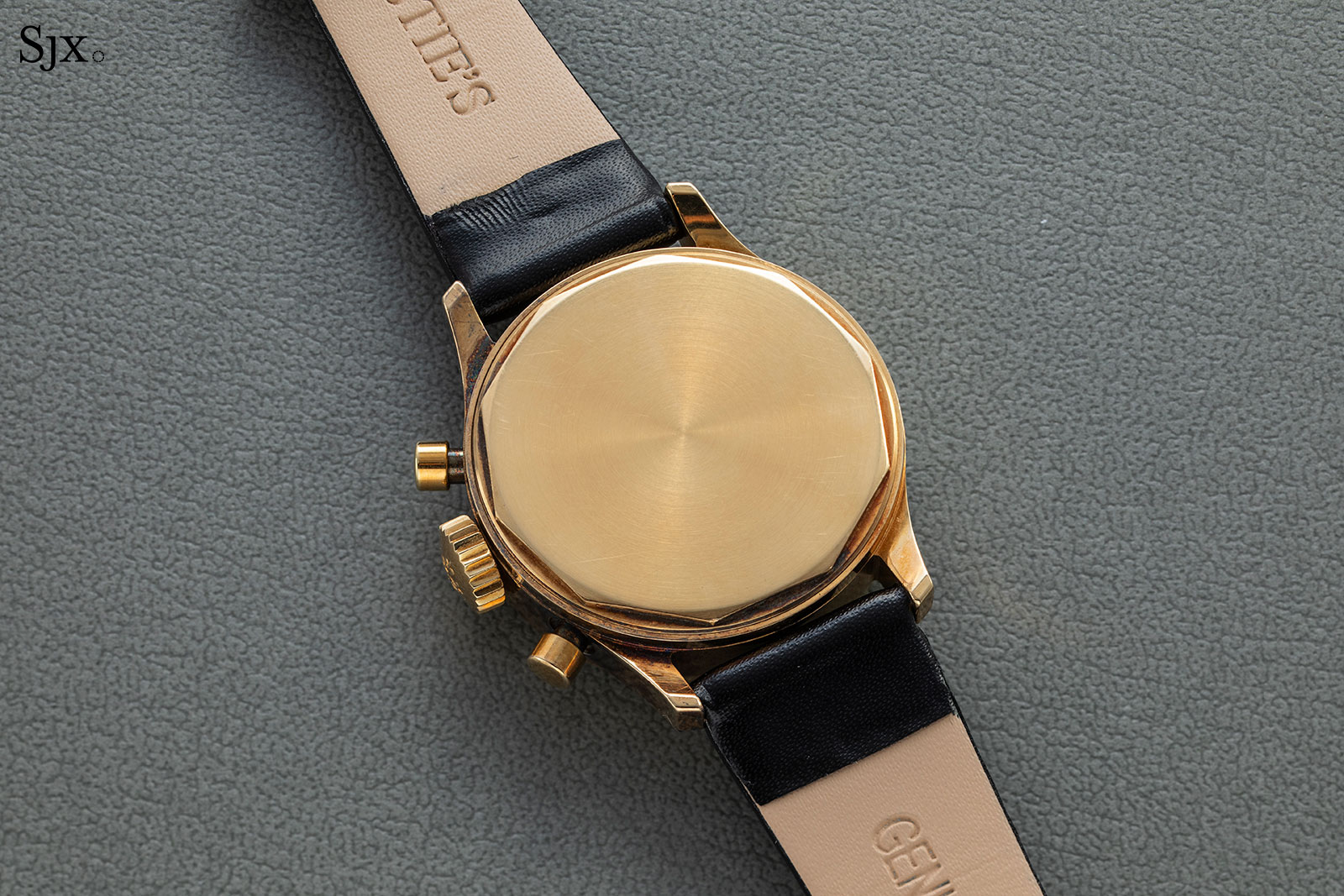 Last sold at auction in 2014 when it was included in Christie's Patek Philippe 175 sale, where it sold for 317,000 Swiss francs, this ref. 3651 has an estimate of HK$2.4-4.0, or US$300,000-500,000.
---
Preview and Auction
The preview exhibition takes place November 22-26 in the Grand Hall of the Hong Kong Convention and Exhibition Centre. The auction takes place in the same venue, starting at 11am on November 27.
The catalogue and online bidding is available here.
Hong Kong Convention and Exhibition Centre
No. 1 Expo Drive
Wanchai, Hong Kong
---
Back to top.
---
You may also enjoy these.