Interview: Patek Philippe Museum Curator Dr Peter Friess on Restoration
Originality, presentation, and the middle road.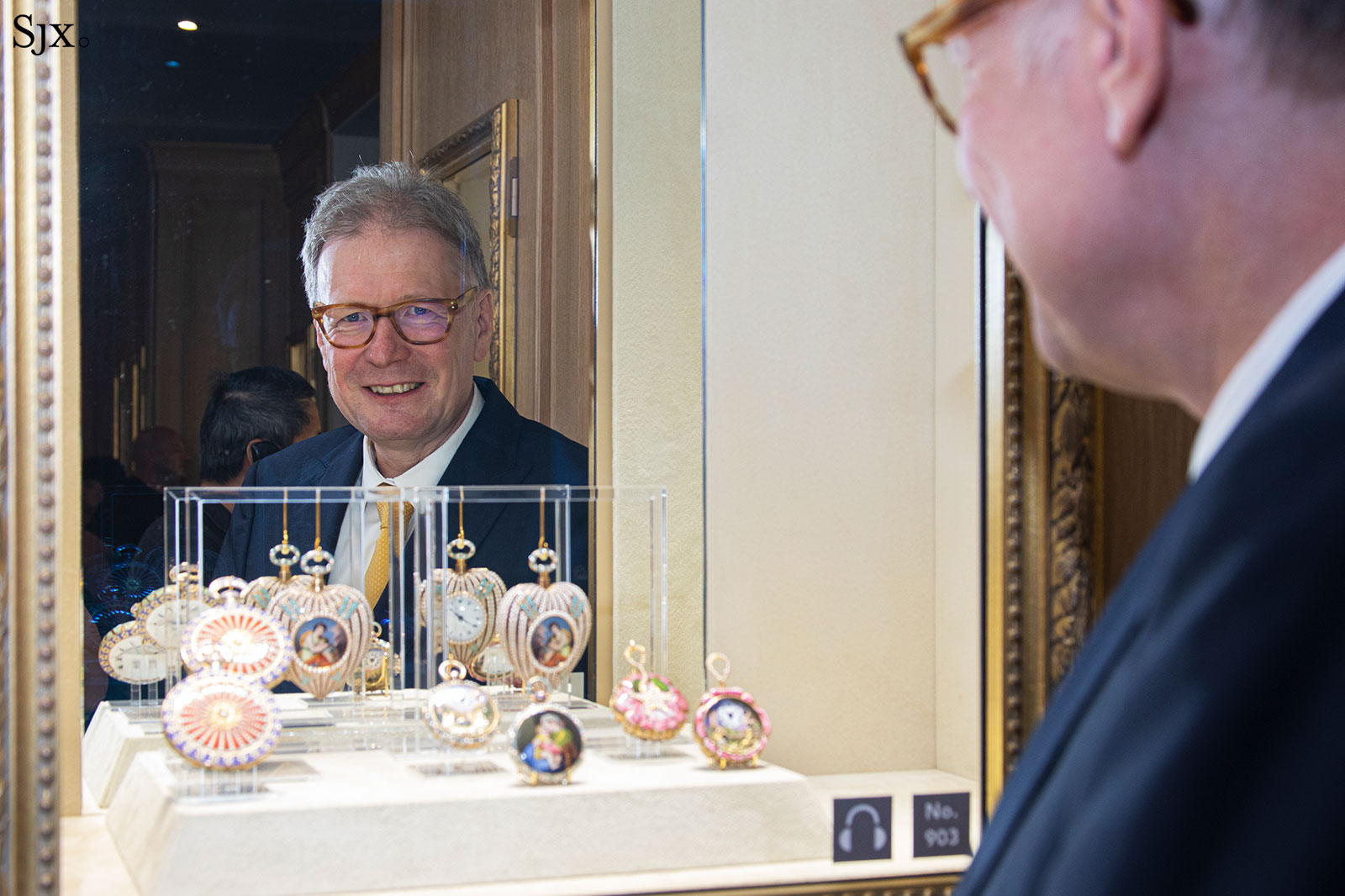 The epic Patek Philippe Watch Art Grand Exhibition Singapore 2019 was massive not just in scale and numbers, but also in the Patek Philippe executives who travelled halfway across the world from Geneva to Singapore just for the event. All of the company's top management is the town for the event, including president Thierry Stern, chief executive Claude Peny, and commercial director Jerome Pernici. But perhaps the most interesting personality for a hardcore watch geek is Dr Peter Friess, curator of the Patek Philippe Museum in Geneva.
A studied man who's spent his life in museums and cultural institutions, Dr Friess is an art historian by training but also a true horologist. He's the sort of guy who gets deeply excited over the "new old stock" 369-year old Cremsdorff pocket watch the museum recently acquired, and is familiar with the catgut used in 16th century chain and fusee mechanisms.
Unsurprisingly, the German native is also a professional watch- and clockmaker. Dr Friess joined the Patek Philippe Musuem as Director and Curator exactly seven years ago. Before that, he was President of the Tech Museum of Innovation in California, as well as a curator at the Smithsonian where he put together a travelling exhibition on the Nobel Prize, and a consultant to the J. Paul Getty Museum.
I got a few minutes with him during the exhibition, and managed a fascinating discussion on vintage watches and restoration. Read it below.
The interview was edited for length and clarity.
---
What part did you play in putting together this huge exhibition?
I'm part of the big family of Patek Philippe and I have the privilege to run the museum in Geneva, so I am also part of selecting the pieces for a show like this. Whenever we do a show for a different area or different culture, we try to evaluate what people are most interested in. [Southeast Asia] is a region that appreciates craftsmanship and artisans, so we have brought even more artisans here from our company than ever before.
After we knew what people like to see, we went through our collection, and hand-picked the best of the best, and we tried to make it very local in certain aspects. We have in a special room for Singapore with some enamel Dome Clocks, which were made for the region. We also have a very nice pocket watch, which was made in the 19th century for [King Rama V of Siam].
There are also pieces that are part of the history of the company, which we bring anywhere we go. So we have the milestone pieces like the first ever wristwatch by Patek Philippe from 1868, or the first perpetual calendar wristwatch, or the Calibre 89, a milestone in the history of Patek Philippe but also a milestone in the history of watchmaking.
The Patek Philippe Museum is one of the world's greatest collections of vintage and antique timepieces. For such watches, collectors often emphasise everything being original, even if it's in very poor condition, while museums often emphasise restoration in order to make things presentable. How do you balance the two approaches?
I've been aware of this issue since I was very young. There're different schools in the world when it comes to paintings; there are the schools where, when there's a missing part of the painting, you would not replace, you'd just focus on the original parts.
And there are other approaches, where [restoration] has a higher value. I also recognise that, in my visits around the world, when you go to Asia, especially when you go to China, it's more important that you can do it again. You would even destroy all of it in order to make something again [from scratch], and the [new creation] has a higher value. But when you go to Europe, you would keep every original piece and just present that.
It's very interesting now that in the antique market for watches, there is a huge behavioural change.
All of a sudden, patina, oxidation, basically, what we would just have wiped away 10 years ago, is now the whole value of the piece.
I think we have to find a little bit more of a way in between. It makes no sense to have, let's say, a dial that's not fully intact, and then to redo it completely. Then all of a sudden, the dial looks completely different from the rest of the watch. I think we have to figure out a way, a very sensitive way, so that all the parts look like they belong together.
So they look correct?
They look correct, but they also give you a feeling that they belong to each other. And, of course, the less you do, the less you can do wrong. But I don't think we have reached a very practical way at this point of time, to make a watch look good, while not damaging its value.
But this [exaggeration], making things too new, and polishing; whenever you polish the case, you lose material, so it gets weaker and weaker. The sharp lines they have in the case design, they suffer of course.
The best way would be "never touch it, never wear it". But most of the pieces that reach those high prices [at auction] have been worn for a long time. So for me, it's a very sensitive subject.
I think we all, whether it's at Patek Philippe, but also in the auction world or in the collectors market, we're still on the search for what's worth it, what's allowed, and what should not be allowed.
So in other words, what people desire and prefer is still evolving…
To be honest, I see a lot of nonsense, over exaggerations. But it's not a criticism, it's just an observation, and that's just an emotion from me. I have really seen a lot – not only looking at watches, I'm looking at paintings, sculptures, everything else – and I think we can learn a lot from those areas and have to apply that to the world of watches. Maybe that's the best answer for the moment.
In your personal perspective as the academic, what do you prefer?
You know, it's not the academic part, maybe the European roots – I'd like to see the difference between the original and what's not original.
Let's say you have maiolica or porcelain with a piece that has been chipped off. Of course, you don't like to see the chip right away. There are restorers out there who can colour it in a way that from a metre away, it's not disturbing. They don't even repaint it, they just colour it the same way such that it kind of blends in. But when you get very close, you can see there's something missing. There're very smart ways of doing that.
Is this all applicable for watches? I don't know; I've seen restorers for dials who can do even better dials than the original ones. We have to find a more pragmatic way of looking at this.
I understand watches in the museum are all restored mechanically to ensure they're in running condition?
We also restore our movements constantly; we repair them, clean them, and keep them mostly in running condition.
But we do not let them run; just imagine if you have had to wind 3400 watches every day. That's impossible and it's not good for the pieces as well. So we clean them, we do not oil them.
But sometimes we have film crews there, then we oil them quickly and let them run for the camera, and then we clean them again, and then there they are in the showcase, back without the oil.
---
Back to top.
---
You may also enjoy these.