Editorial: Movement Finishing in the Instagram Age
More complicated than the thumbnail.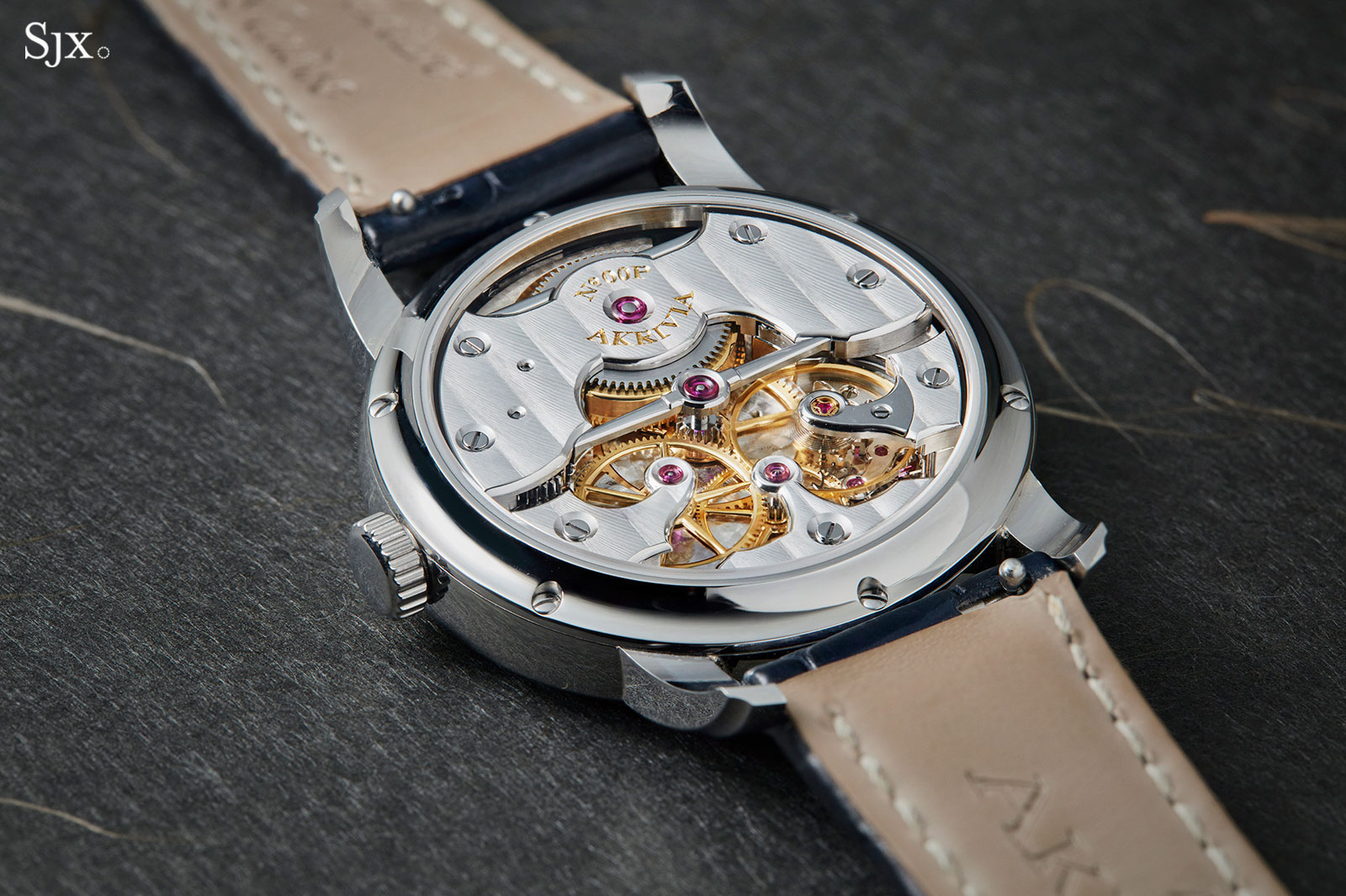 Thanks to Instagram, and social media in general, fine watchmaking has become something of a spectator sport.
Roger W. Smith's YouTube channel has over 10,000 subscribers, and though he produces only about a dozen watches per year, his video about polishing the flanks of pinions has been viewed more than 115,000 times. Akrivia, which produces watches on a similar scale, has almost 40,000 followers on Instagram and their videos, which focus on hand finishing techniques, get thousands of views and likes.
These numbers suggest a huge appetite among watch enthusiasts for information about movement construction and finishing. Yet while collectors now have unprecedented access to this kind of information, finishing is a highly nuanced topic that doesn't readily lend itself to the brevity of an Instagram comment. This can make it difficult, especially for new collectors, to understand how finishing fits into the overall value proposition offered by a fine watch.
What is finishing and why it matters
Finishing is the process by which the components of a watch movement are treated between fabrication and final assembly. At lower price points, finishing is done by machine. At higher price points, it is often applied by hand.
The results of good hand finishing are unmistakable, often cited as the main reason for drastic price differences between watches. I asked Akrivia founder Rexhep Rexhepi about the value of hand finishing, and he replied, "Let's face facts – the difference in price between an haute horlogerie timepiece and a watch off the shelf is all about handwork, history and the human element in the creation of a timepiece. It is the added human interaction that makes a timepiece valuable and rare." 
The Instagram influence
For anyone who spends a lot of time looking at watches on Instagram, it's probably hard to imagine that at one point it was considered gauche to gush over the finishing of a watch movement.
As George Daniels notes in Watchmaking, a tome that details how to make a watch by hand, in the 19th century elaborate finishing was considered just another form of marketing, something that "no gentleman would want to be thought to recognise". 
To say things have changed would be an understatement. Every day there are tens of thousands of social media posts and interactions about watches, many of which focus on movement finishing.
The scale and dynamism of the watch community on social media has taken Mr Rexhepi and his team by surprise. "Like other watchmakers, I also started off directly with social media, because it provided a direct point of contact with present and future clients without the need for large PR budgeting," says the watchmaker, "However, back then several years ago, I had no idea it would become as indispensable as it is today."
Given the ease of access that we now have to gorgeous macro images of anglage, perlage, and Côtes de Genève, it's easy to lose perspective on the relative value of these details. Finishing doesn't exist in a vacuum, and shouldn't be considered independently from the technical characteristics of the movement or the price being asked.
The economics of finishing
It's difficult to have a substantive conversation about finishing without addressing the direct relationship between finishing quality and price. The most beautiful types of finish can only be done by hand, which is labor, and therefore cost, intensive.
I asked Mr Rexhepi about the costs involved with hand finishing and he replied, "I have never really sat down and tallied up all the hours and costs involved just in finishing alone. Intuitively I can say for sure that it makes up a big percentage of the total price when I look at my typical working day."
Hand finishing contributes to the price of a watch in two ways. The first is the direct cost of labour. For example, Romain Gauthier has estimated that the Logical One movement requires 90 hours of hand finishing between fabrication and assembly. Assuming a reasonable hourly rate, this example suggests that the direct labor cost of finishing may account for roughly 5-10% of the six-figure retail price of a haute horlogerie watch.
But hand finishing's most significant contribution to price, as alluded to by Mr Rexhepi, is the value of its scarcity. Hand finishing techniques are difficult to master, practiced by few, and do not scale. As such, these techniques place a natural limit on production efficiency and output, and thus serve as a de facto guarantee of exclusivity.  
An understanding of the relationship between finishing quality and price can help us frame expectations and reach more meaningful conclusions when evaluating the finishing of a given watch.
I put the question to Maria and Richard Habring, four-time winners of the Grand Prix d'Horlogerie de Geneve (GPHG) and founders of Habring2, to explain their perspective on finishing especially in relation to their focus on more affordable watches that are mostly priced below US$10,000.
"Function is our priority; finishing, as a decorative aspect, comes second, as our main target with Habring² is simple reliability," says Mr Habring, "Finish in the classical form is a major cost factor today, when it is still done by hand. The daily challenge for us is to find a decent compromise between the finish level and the final price of the watch. To paraphrase F.A. Porsche, finish follows function!"
This pragmatic philosophy enables Habring² to balance low-volume production methods with prices that are competitive with those of mainstream mass luxury brands.
Good finishing starts with a worthy caliber
While it's easy to be seduced by sensuous anglage and crisp interior angles, connoisseurs of hand finishing should demand a movement that is actually worthy, from a technical perspective, of a costly finish.
Pioneering independent watchmaker Vincent Calabrese, who cofounded the AHCI, remarked in a 2002 interview that, "The quality and competence of a watchmaker can not be verified in the finishing, which is so much appreciated by enthusiasts, but in the quality of the regulation, on the safety of the functions, in the regularity of the play, [etc]."
However, in the age of social media and high-definition watchporn, the preoccupation with finishing has led some brands to cut corners, lavishly finishing the top plates of ordinary movements.
As Walt Odets, a technical guru once active on the Timezone watch forum, noted in his classic article The ABC's of Watch Finish: "Generally, one sees excellent finish work on otherwise excellent movements. But there are exceptions in which a mediocre or merely good movement is finished to standards that its basic engineering and construction do not seem to warrant." 
It is therefore necessary to include an objective technical assessment in any worthwhile evaluation of movement finishing.
Without x-ray vision and a watchmaking degree from WOSTEP, it can be difficult to make sense of the various components visible through the caseback of a watch. But with a bit of study, even a layperson can learn to recognise certain traits that often differentiate superior movements. Such characteristics include an efficient use of space within the movement to maximise the vital components – it's usually a good sign if the balance wheel and barrel are as large as possible – and an appropriate method of regulation, for instance a swan's neck regulator or adjustable mass balance wheel.
The watch that made Kari Voutilainen a star was undoubtedly the Observatoire, and a crucial factor behind its success was not only its finishing, but the fact that the movement was based on the Peseux 260, a sophisticated 1950s movement highly regarded for having won observatory chronometer contests on numerous occasions. And naturally it boasts a balance wheel that is almost as large as the barrel.
Good finishing is more than skin deep
Watch movements are usually appreciated through a transparent caseback, and it's this view of the movement that is typically shared on social media and subjected to scrutiny in watch articles and forums. But as Mr Odets pointed out, "Unfortunately, the very nature of such an enterprise encourages better finishing of visible components and neglect of more significant, but less visible, ones."  
I asked Mr Rexhepi how he prioritises the finishing of non-visible components deep inside the movement, versus those that will be perpetually on display through the case back.
"Finishing cannot really be prioritised into visible vs. non-visible areas. It is really important to remember that although there is a lot of visual pleasure for the user where finishing can be seen, finishing also has an important function to protect the movement from long term corrosion," responded the watchmaker. "When you 'work' a metal surface in any manner with various tools and techniques, you are actually effectively changing the material's molecular surface structure, partly sealing it off as well as work hardening it. This means that the seen and unseen areas of a movement are of equal importance." 
For collectors, it's very difficult to know what's going on beneath the top plate of the movement. Fortunately, in 2018, esteemed independent watchmaker Peter Speake-Marin launched a platform called The Naked Watchmaker, which includes step-by-step deconstructions of vintage and modern wristwatch movements – the site now covers almost 50 movements – from Philippe Dufour's Simplicity to the Zenith El Primero.
It's an incredible resource for collectors because it covers such a wide variety of movements from different brands, price points, and time periods. Never before has the watch-buying public had the opportunity to see what's really going on inside so many of their favorite watches, or to develop expectations about finishing based on such a large sample size of movements. 
Summary
There's no question that social media has helped democratize information about fine watchmaking. Unfortunately, it's common to see nuanced issues like finishing get dumbed down to suit the breakneck pace of an Instagram feed. It's frustrating because the topic of beautiful hand finishing is actually a perfect fit for a visual platform like Instagram, but the critical context is often missing.
For example, collectors on social media often decry visible machine marks on anglage, or the lack of interior angles in a movement. In my view, these objections seem to be less about craft and more about the mass production methods that these imperfections represent, which break the illusion of exclusivity. This noise makes it difficult for new collectors to form well-reasoned expectations about finishing.
What's missing from the discussion is that fact that good finishing is about so much more than just anglage. Good finishing reaches the depths of the movement to improve durability and performance, is applied sensibly to well-designed movements, and is consistent with the price being asked.
---
---
You may also enjoy these.