Interview: David Newman, Chairman of The George Daniels Trust – Part I
On Daniels himself, cars, and the co-axial escapement.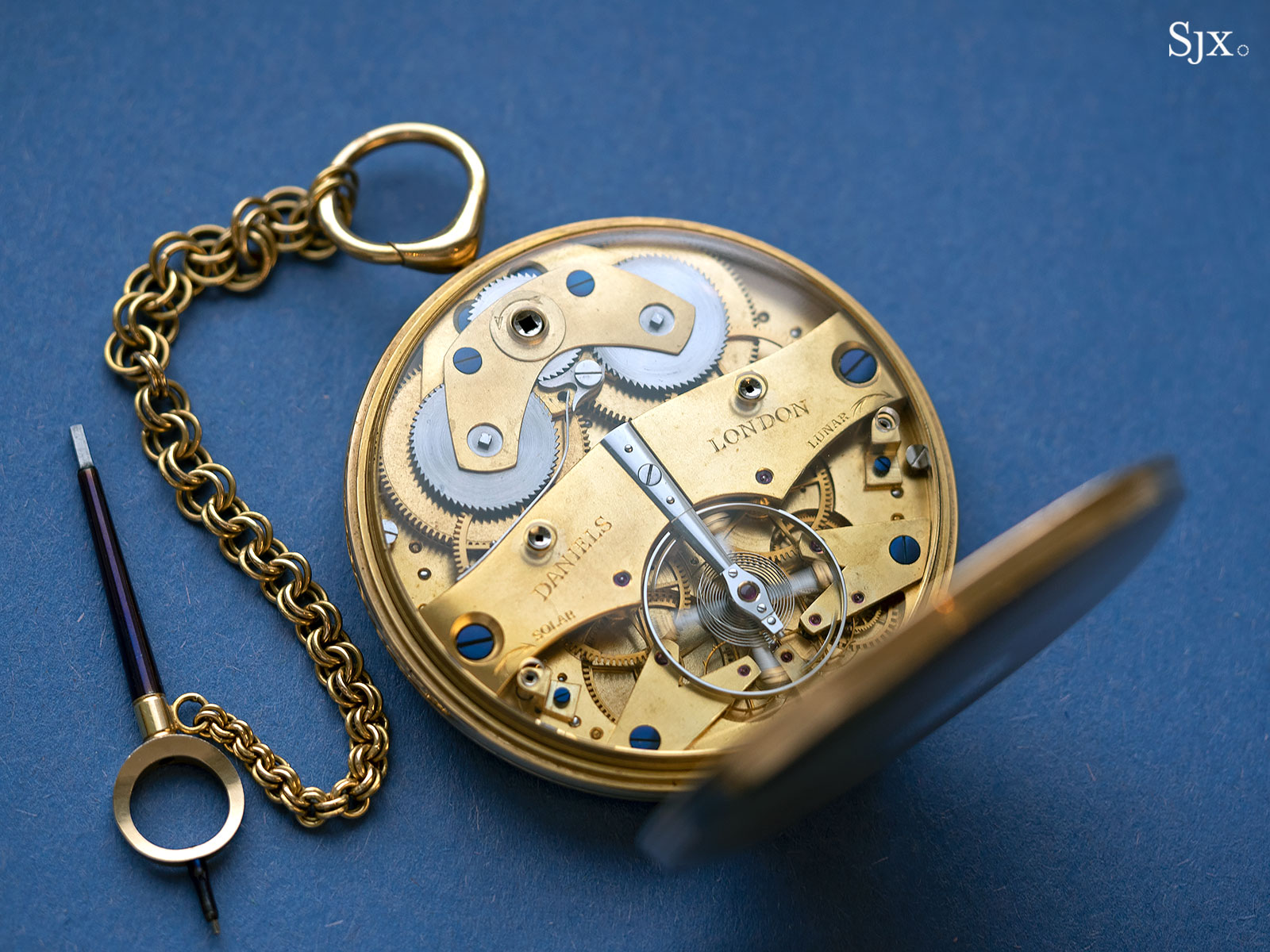 David Newman was one of George Daniels' oldest friends, having met the late watchmaker half a century ago. They shared a bond born out of a common love for watches, clocks and fast cars – Mr Newman is 78 but drives a Porsche 911. In fact, their friendship is best illustrated by a tale Daniels recounted with obvious relish in his autobiography All in Good Time: Reflections of a Watchmaker.
Sometime in the early 1960s, just after Daniels bought a new home, he and Mr Newman had to push a naked Bentley chassis from a rented garage, through South Norwood High Street, past a police station, over a bridge and railway line, in order to install the half-complete automobile in Daniels' new home.
The chassis naturally got stuck at the bridge, causing a traffic jam several blocks long made up of spectators who just left a nearby Crystal Palace football game. With help from passersby, the duo managed to get enough momentum for the chassis to roll along on its own, although only Daniels was on board.
More importantly, Mr Newman was also one of Daniels' most trusted friends – the watchmaker appointed Mr Newman chairman of the George Daniels' Educational Trust, making the former building surveyor the lead guardian of the Daniels legacy. Long retired from his professional career, Mr Newman now oversees the trust almost full time. Most of the trust's substantial income goes to fund education, a cause close to Daniels' heart.
Though a negligible portion of the trust's assets are in watches, most were sold at Daniels' estate sale in 2012, the year has been a great one for the George Daniels name. Several of his watches sold for record sums at auction, most notably the landmark Space Traveller I that sold in London last month for £3.62m, or about US$4.56m, including all fees.
Just a few weeks before the other major Daniels sale of the year, when the Grand Complication sold in May for 2.42m Swiss francs, or about US$2.48m, I had the privilege to spend some time with Mr Newman in London. It was a fascinating and lengthy deep dive into Daniels' life and work, as well as the ongoing activities of the trust.
I've split the interview into two parts: the first covers Daniels himself and the friendship they shared, as well as the co-axial escapement and Daniels' love for cars. The second, to be published next week, discusses the trust, Roger Smith, and the growing appreciation of high-end English watchmaking.
[To go straight to part two of the interview.]
The interview has been edited for clarity and length.
---
You were friends with George Daniels for an extraordinarily long time – how did that come about?
I met George 50 years ago. I was a young supplier working for the local council and George came to me for advice on building a garage. He was already a watchmaker working in a flat in south London. And he was acquiring a fine house with the help of [friend and patron] Sam Clutton.
When I asked what the garage was for, he said vintage cars. I had a great interest in vintage cars and actually had a car at the time. So we build up a friendship that initially revolved around vintage cars and motorcycles.
My office was only 10 minutes from George's house. We spent a lot of time together, working on cars and motorbikes. But [the friendship] gave me an immediate interest in horology, and I started collecting. I picked up a lot of horological knowledge just by watching over his shoulder. Watching George in the workshop also gave me some basic experience in servicing clocks, which helped me.
George later moved to the Isle of Man, and I went with him with the cars, motorbikes, and took all the clocks over.
We had a strong relationship. My wife was godmother to George's daughter. When George lived in the Isle of Man and came to London, he stayed at our house in Beckenham on numerous occasions.
Before George's death, it was very clear that he was ill, and he knew he was going to be passing. And we spent quite a long time together. I retired from work fulltime, so I was spending more time in the island. If you stayed with him, he was a great tea maker. We had a tremendous time together.
You must have spoken with him often when he was alive.
He used to phone every Sunday morning, before he phoned Derek [Pratt], at an unearthly hour. He was a great early morning telephone man. When he phoned, if you didn't enter into conversation, he would forget what he phoned for. So, I would ask him what he wanted first before the pleasantries.
When you look at his life and what he did, he was a remarkable person. Self-taught when he played the harmonica, self-taught when he learnt French, self-taught when he did the engine turning on the straight-line equipment that was over a hundred years old, and self-taught with case making.
I could go on and on about George. He was a bloody good friend. We shared a lot in common. And perhaps the nicest memories I've got are the lovely notations in my books. Not just signatures but his personal messages to me, my wife and the girls. He was a welcomed visitor at our house. He was a great friend, a brilliant man, and self-taught. We all miss him.
You mentioned Derek Pratt; did you know him as well?
Yes, George and Derek would spend every Sunday morning on the phone. I knew Derek through George. What I didn't know is Derek's sister lived opposite me. It wasn't until we were at George's house that I recognised Derek's car, a Mazda Wankel.
Derek was George's greatest horological friend. George trusted him and gave him all sorts of information. And they did work well together. Derek came to island not very often, but George used to stay at his seaside house in the country.
They had many common denominators. Derek was a very clever man, a gifted engineer, a motorcyclist, a car man, steam man. You could imagine them working at the workshop together, producing wonderful things.
Derek was a brilliant horologist. It's a delicate subject but Derek did a lot for George and the co-axial, a lot of work on the prototypes. But I don't think George gave Derek enough praise. George was devastated when Derek died.
What was George like as a person?
He was very demanding, but we never had a falling out. On a good day, he was brilliant. Certain things used to annoy him – people coming up to him calling him George and they never met him before. He was Mr Daniels or Dr Daniels. He didn't like that familiarity.
He was a stickler for punctuality, and for detail. You see his attention to detail in everything he did. If we were working on one of the vintage cars, the Bentley for instance, he wouldn't let you use the open-ended spanner or an adjustable spanner, it had to be a ring spanner so it didn't slip. Because if the spanner slipped, it would burr the edges of the nut.
When he bought the Bentley Single-Seater [once owned by Le Mans winner Sir Tim Birkin] – it was a nice car, but he brought it back to the island and stripped it completely because he wanted the very best.
He loved all things well-made and mechanical it seems.
George always said to me if you get an opportunity to look at a collection, or look at a watch or clock, and you don't take the opportunity, you'd regret it because you may not have it again. If you go to the house to look at somebody's collection, it's very important that you grasp it and get as much information as you can. George used to say he wheedled his way into many a household.
His time was before the internet, but I assume he got a lot of fan mail?
The postman would deliver the mail from all over the world, in a sack by a van. Mail started to get on top him, even with the secretary Caroline. What we used to do in the end was – there was so much correspondence – we get the letter, turn the letter over and write the reply on the back of the letter, then put it back in the envelope and send it.
And then of course, people would write to George a technical query and he would respond. They world write to him, why do you blue the screws behind the dial? George would give them the reason, and then people would take issue. Before long they would be creating a web of correspondence. George used to stop at that because otherwise he was spending hours sometimes.
But it sounds like he enjoyed such technical discussions.
He did. He loved the workshop. He would go to the workshop at the crack of dawn and he would leave as late as possible. He lived as a bachelor towards the last few years of his life. He had a good time, and had the cars.
He liked to wear watches, the Space Traveller, the Grand Complication, and that became a bit of a problem. Many a time I had to go to the room at the [Royal Automobile Club] and take away one of the watches and make sure they were safe.
Roger and I would both tell stories about those trips we had with George where we lost him or didn't know where he was, or what watch he had on. He was very organised but towards the end he was a bit forgetful, and he would worry a lot about silly things. Health really dragged him down.
Then we would get him to enjoy himself by getting one of the cars out. He would blast over the mountains in one of the cars. His cars were a massive relief.
It sounds like you and him really enjoyed the cars.    
We did. We drove all over the place with the cars and motorbikes. We both had Sunbeams and BMWs. And I was one of the only people allowed to drive his vintage cars. We had fun, whether it was cars, motorbikes, watches, clocks, steam trains.
During his funeral, we had all the vintage cars out and we drove over the mountain from the church to the place of cremation. Quite a big party came over from the UK. Francois-Paul Journe was there with us. It was a very emotional day.
Do you still involve yourself with cars?
I am still a member of the Vintage Sports-Car Club. In fact, I just had my 50thyear continuous membership badge. I still go to these meetings and I still got a great interest in vintage cars.
I've got a classic motorcycle. My last classic car was an MG. I sold that to a neighbour who kept on pestering me and I wasn't using it.
Now I drive a Porsche 911, a modern one. This is my fourth. I've had GTRs – a dozen of those. I drive a little Fiat 500 as an everyday car.
You retired from professional life but it seems like you're still enjoying what you do now.
George asked me if I would do it, and I knew what he wanted. And I gave him my commitment. I can't go on forever because I'm 78 this year. I'm in reasonable health but I've inevitably slowed down. I retired from my business a few years ago, but [the trust is] nearly a full-time job.
We've got good trustees, we've got good people on the succession plan and I'm happy that the future looks good for George, as it does for Roger. I think the legacy would live on.
Does Omega pay royalties to the trust for the Co-Axial escapement?
No, they bought it outright. Whilst George was alive they paid him a quarterly fee, which covered personal appearances, and George had to wear an Omega. I renegotiated it before George died because it was a little bit one-sided. Stephen Urquhart [the former Omega chief executive] was very good in letting us change the original agreement.
George never made a fortune out of the co-axial. And he didn't really get the recognition he deserved. The sad thing is had George lived another year, I think we would have got a Fellowship of the Royal Society [FRS] – that's all you need, you can forget absolutely everything. Good lord – George Daniels FRS. He had a lot of very important followers who would have supported him and he was very close to getting that; it would have been the icing on the cake.
It took George a long time to sell the co-axial, didn't it?
George battled for years. When you go to the archives and look at the correspondence between Switzerland and George and Derek Pratt, most men would have given up, but George got there in the end.
George wanted [the co-axial escapement] out there, being used. And Omega said yes. What would have happened if Patek or Rolex had taken it? The two Rolex's with the co-axial escapement are still working.
Were you there in the meetings with Hayek and Omega?
I met [Nick Hayek] with his father and sister, with George. It's a funny story because Hayek pulled out the reproduction of the Marie Antoinette [pocket watch by Breguet] and [George took out the] Grand Complication and Space Traveller. Nicolas Hayek put his hands up and said, "I give up".
The last visit to Switzerland with George for that fair was an emotional one for George. When we went to the private lounge upstairs, people were queuing up with watches to show George or to sign their books. We were waiting at the reception in the hotel for the chauffeur and a man came up to me.
"Is that Dr Daniels?" he asked. I said yes.
He said, "I'm a humble watchmaker. I'm just here on a holiday. Could I see if Dr Daniels has got a watch?" I said yes, he's got wristwatch and I took him over to see him.
He knelt on the floor, George showed him the watch and signed a menu card for him. And he left with his wife. He was the happiest man. It was by sheer chance. George gave him the time of day, which I thought was very nice.
Continue to part two of the interview with David Newman.
---
Back to top.
---
You may also enjoy these.