Interview: David Newman, Chairman of The George Daniels Trust – Part II
About the legacy, with the trust and its work, and in Roger W. Smith.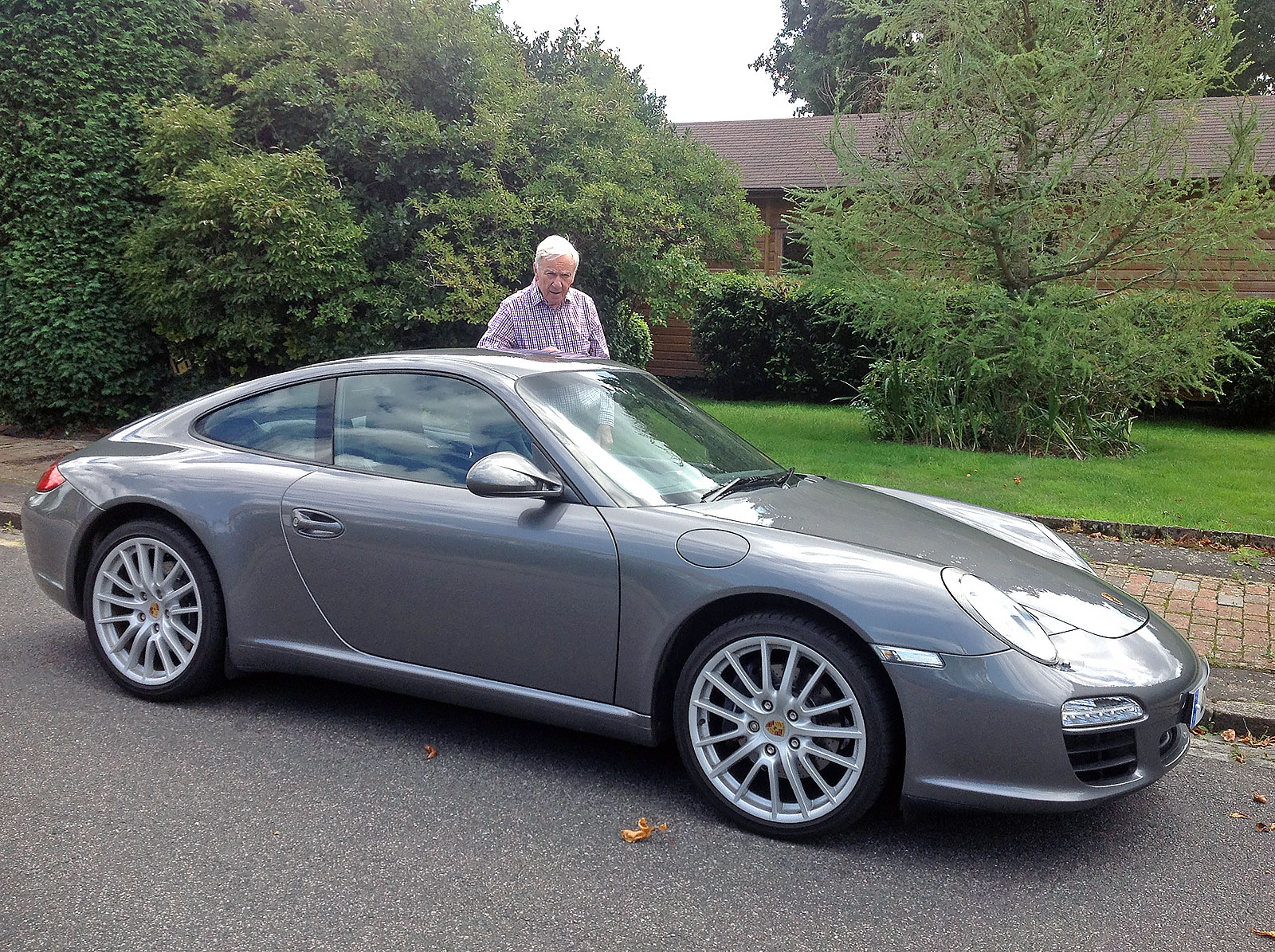 A watch and car man very much like George Daniels himself, David Newman – above in a recent picture with his Porsche 911 – is now the chairman of the George Daniels Educational Trust. Capitalised entirely by the proceeds from the sale of Daniels' estate, the trust funds students in the United Kingdom, including those pursuing watch- and clockmaking.
Mr Newman has overseen the trust since its inception, and shows no signs of slowing down. In the second part of my interview with him, he discusses how the trust came about, what it does today, and some of its upcoming projects. And Mr Newman talks about Roger W. Smith, the protege of Daniels and the torchbearer of his horological legacy.
This is part two of the interview. Remember to finish part one before continuing on below.
The interview has been edited for clarity and length.
---
Tell us about how the trust and its charitable works came about.
In the last ten years of George's life, he was very occupied with what would happen when he passed away. He wanted to make sure everything was in place.
I used to go to the island every three weeks. His kitchen had a very long table usually covered in correspondence and paperwork, and we spent hours there. He told me about the future and what he wanted to happen to his estate – his cars, motorbikes, clocks – which was important because he'd seen friends pass away and their collections dissipated. He was very aware that he was going to be passing away at some time and he wanted to dot the i's and cross the t's. He knew what he wanted, and he was very careful with the people he chose to help him.
George said to the lawyers once if you ask George a question and you ask David Newman the same question, we would both come up with the same answer. It was reassuring for George which is why he delegated so much responsibility to me. I feel very honoured.
George appointed me as chairman of his trust while he was alive. And – very unusually – George actually held a meeting of his trust while he was alive. He gave us quite firm instructions on what he wanted to do.
When he did pass away, it took about two years of hard work, disposing of the house, cars, watches, and clocks. George's library was about 350 books and he bequeathed it to the Worshipful Company of Clockmakers. All George's archives were also bequeathed to the Clockmakers' Company, now stored in the London Metropolitan Archive, and that took over 18 months of cataloguing and indexing. There is, from memory, about 11 linear metres of shelving with all the records and photographs and contracts.
What I'm trying to do at the moment though is to produce an idiot's guide to the archives that will be available online. I'm hoping that by the end of this year that will be in place because everything has been archived but not a lot of people have had access to it, which is sad because it's not what George wanted.
There's a 25-year embargo on media access to George's workbooks because it gave confidential names and addresses [of clients]. Having said that, I kept copies of relevant documents, and a lot of people have been coming to me for history about watches, George himself, even the cars and motorbikes.
And I understand the trust has been immensely successful achieving its goals and more.
We were able to put into place an action plan that has been very successful. When we disposed of all of the assets, paid the bills and bequests, the trust had £25 million that we've invested. We've been going on now since George died [in 2011] and to date we've given away nearly a million pounds. At the same time, we have also increased the capital sum.
George was very keen on the younger person studying. Indeed, as an example, my daughter, who is an arts graduate, was given by George a copy of The Art of Breguet and Watches with beautiful inscriptions and dedications. He thought that he should help in any way.
So we give away 40% of the income to horological applicants, 40% to engineering students from City University of London, where George obtained his doctorate. That's been very successful; perhaps the most successful element is the accommodation bursary.
Students come into the city of London to study, and accommodation is very expensive. What's been happening is that some of the students are spending an hour and a half a day travelling, which is crazy. So far we have funded a dozen or so students each year, assisting them with local accommodation.
Ten percent is allocated to post-graduate medical students who have lived in the Isle of Man, or were born in the Isle of Man. And there's a final balance of 10% we hold and distribute at the discretion of the trustees.
I'm curious. You said the trust received £25 million pounds from the sale of the estate. Was the car or watch collection worth more?
I haven't got the exact figures with me but they both fetched close to £10 million each.
The cars were sold first by Bonhams, with a 100% success rate. At the time the Bentley Single-Seater [Blower no. 1, once owned by Tim Birkin] fetched the world record price for a UK car [of just over £5.04m, or just under US$8.00m at the time].
The watches were sold at Sotheby's in November of that year. The Mudge and Dutton longcase clock didn't sell; the Tompion longcase clock sold but was withdrawn because there was a problem with the case. Only those two items weren't sold on the day of the sale, but they were sold by private treaty afterwards. So, we had a 100% success there too.
We then sold Riversdale in the Isle of Man with the land and the cottages, while the workshop was bequeathed to Roger.
George had a collection of paintings that were sold at Sotheby's, and a collection of Leica cameras that sold at Bonhams in Hong Kong. There was also some silver that sold at Sotheby's. And if you added everything up, it would produce a total in excess of £25 million.
Is the trust meant to be perpetual?
Yes. The idea is that we only give away 90% of the income, but not only do we give away 90% of the income, but that we also grow the capital. And in a good stock market year, we've done that. Last year wasn't a particularly good year, the last three months in particular, but we still turned out the right way. The idea is to keep it going. A good example of a long term trust is the Isaac Newton trust [that was founded in 1988] – it's still going.
My plan for the George Daniels' Educational Trust is long term. If we can increase the yearly income, I see no reason why this trust does not have a long term future.
Now we have four trustees. We can have five, but we kept it at four, the majority of which have to live in the Isle of Man. We meet four times a year – three times in the island and once in London. Roger is the youngest [and not yet a trustee] but quite clearly, he will eventually be a trustee. We have got a succession plan in place that will keep George's legacy alive.
Are any of George's family members trustees?
No, but George's ex-wife Julie still lives on the island. We've known her since she met George; she's very close to my wife and me.
Two of the trustees look after the Juliet and Sarah Jane Trust. And my wife is godmother to Sarah Jane [Daniels' daughter] so she keeps an eye on her.
And I assume you still get a lot of queries on Daniels' legacy even today?
Not a day goes by without a telephone call, a letter, an inquiry. People come to me for information as I know where it is. I can answer most of the queries. Roger helps me with the serious, technical queries.
The trust has some upcoming projects related to Daniels' books, correct?
We have reprinted the autobiography, All in Good Time, and we are working on a possible reprint of The Art of Breguet. We're are also looking at possibly reprinting English and American Watches and also Watches [by Daniels and Clutton].
There is an enormous market. Watchmaking has just been reprinted again and currently sells over a thousand copies a year. Amazon keeps on selling out and they keep on reordering. That's produced quite a good income for us in the trust.
And there's an unfinished George Daniels watch somewhere isn't there?
George's unfinished watch is in the Clockmakers' Museum, located in the Science Museum. I'm hoping it's going to be this year but maybe next year, Roger is going to finish it. The watch is a tourbillon with a 15-second remontoir and double barrels, and it's also got the Daniels keyless winding. What we do when it's finished, I don't know; initially we will leave it in the museum.
In the museum, there is also one watch that we bought at Sotheby's. The man for whom George originally made the watch never wore it. When the man died, it went to Sotheby's; the trust bought it and we've lent it to the Clockmakers' Museum. At the moment we're just leaving it there.
Are you surprised or pleased that the value of George Daniels' watches has continued to rise quite a lot after his death?
I've kept a detailed record of the movement of George's watches since he died. And to date, 19 Millenniums have been sold at auction and every one has gone up in price.
There's no doubt about it – anything to do with George is going to fetch good money; the cars, the motorbikes, and all the workshop equipment [from the estate auction]. I mean, one of the copies [of The Art of Breguet] fetched £6000 [in December 2018].
Tell me about Roger Smith's work with the trust.
Roger is not a trustee, but he is an advisor to the trust, having worked for George for that number of years learning the thirty-two individual skills [to make a watch by hand].
When George needed help with the Millennium project, he was very happy with Roger. George also commission Roger to complete the production of the Anniversary watch. When you think at the end, he left the whole workshop and all its contents to Roger. You must have had confidence in a person to do that.
Roger is doing some wonderful work, carrying on George's legacy. He was awarded an OBE in the Queen's New Year's Honours – it's a massive achievement. And he's got a good customer base, so Roger quite clearly is the future of bespoke English horology.
Do you think George has inspired a broader English watchmaking movement beyond Roger Smith?
Yes, I think so. It's happening because of serious collectors. People are getting interested in vintage watches and as a result they understand what a tourbillon is, what a remontoir is.
Roger makes, say 15 watches, and when they do come back on the market, and they sell very well. There are collectors in the world who always want something special.
And the new Charles Frodsham wristwatch is part of the renaissance of English watchmaking too.
Definitely. They are using the Daniels double wheel escapement, and it's the first time it's been used in a wristwatch that size. They're doing a good job.
Do you know most of the collectors of Daniels watches?
They're all nice, like-minded people. We catch up every now and again; we just have so much fun. George used to say, a watch man, a clock man, a car man, a motorbike man, generally speaking, is an all-round nice guy.
Revisit part one of the interview.
---
Back to top.
---
You may also enjoy these.