Highlights: Phillips x Blackbird Sports Watch Auction
The ultimate tool watches, and a couple of prize timepieces too.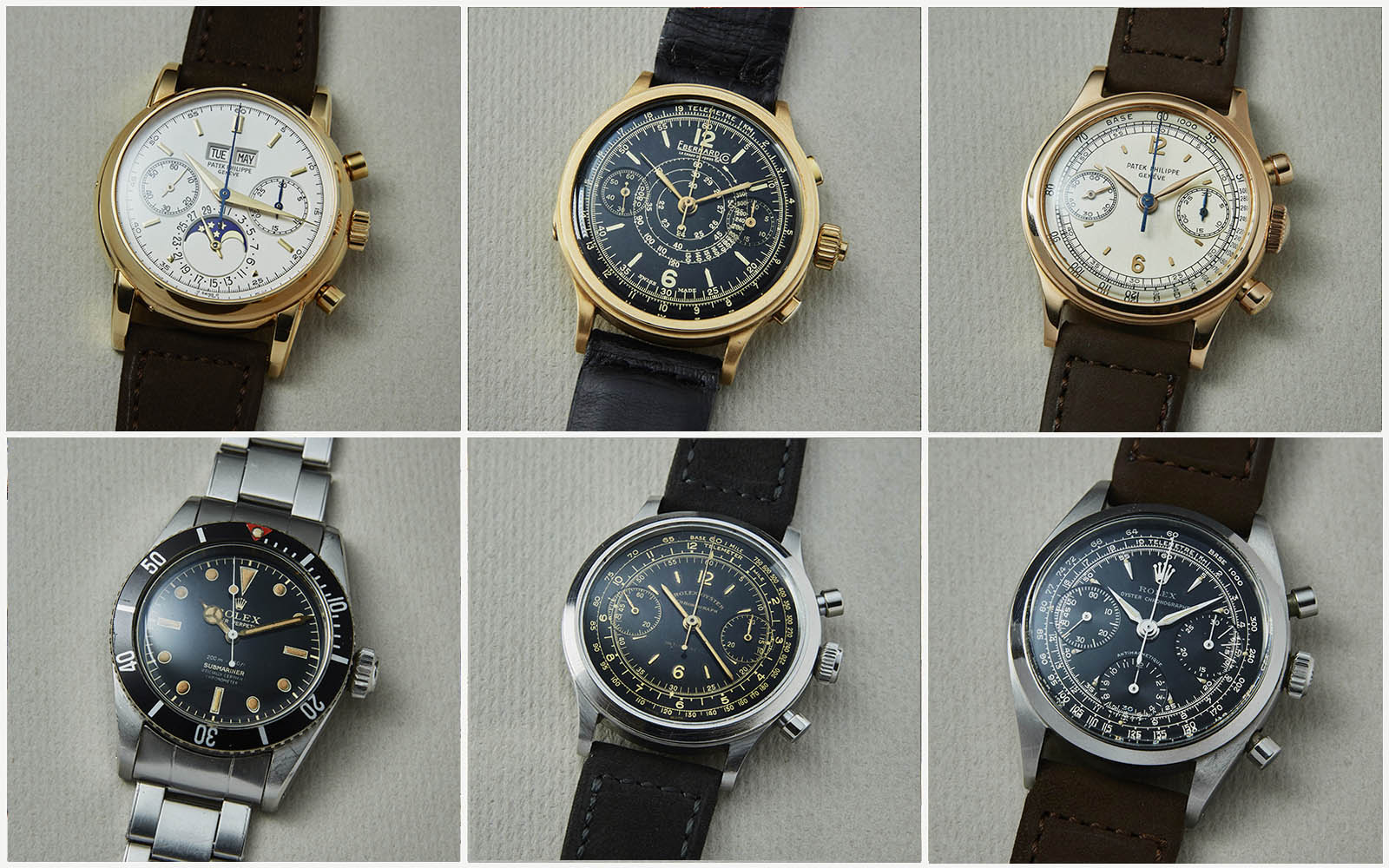 Later this month, Phillips will hold its first ever thematic watch auction put together entirely in Asia by its Hong Kong office and a prominent local collector, TK Mak, who earns the distinction of being the first Asian to curate a watch auction.
A Hong Kong-based entrepreneur who founded a constellation of fashion and luxury goods businesses, Mr Mak is probably best known for starting Blackbird Concessionaires, the distributor for Ferrari automobiles in the city, and more recently as the connoisseur who commissioned the custom Ferrari P80/C.
While the sale is a trim 82 lots, it amply demonstrates not just length and breadth of classic "tool" watches, but also the historical depth of sports watches – diver watches included obviously. Naturally, the sale is rich with vintage Rolex and Patek Philippe, but it also includes important recent watches from the likes of Richard Mille and Tudor. Importantly, the catalogue encompasses vintage watches that satisfy more obscure tastes in collecting, such as a Breguet Type XX and an Eberhard "pre-Extra Fort" split seconds chronograph.
Here's a roundup of the highlights from the sale, slated to go on the block on May 27, 2019, at the J.W. Marriott in Hong Kong. The full catalogue is also available here.
---
Lot 839 – Rolex ref. 3525 "Monoblocco"
While there are inevitably enough Paul Newman Daytonas in auction catalogues to bore auction veterans, the ref. 3525 "Monoblocco" in comparison is rarer, more affordable, and also of equal historical importance.
Produced for only six years, it was the first chronograph with an water-resistant Oyster case. As with many things in vintage Rolex collecting, the "Monoblocco" moniker is Italian and refers to the one-piece case that has the bezel and case middle as a single block, with a screw-down case back.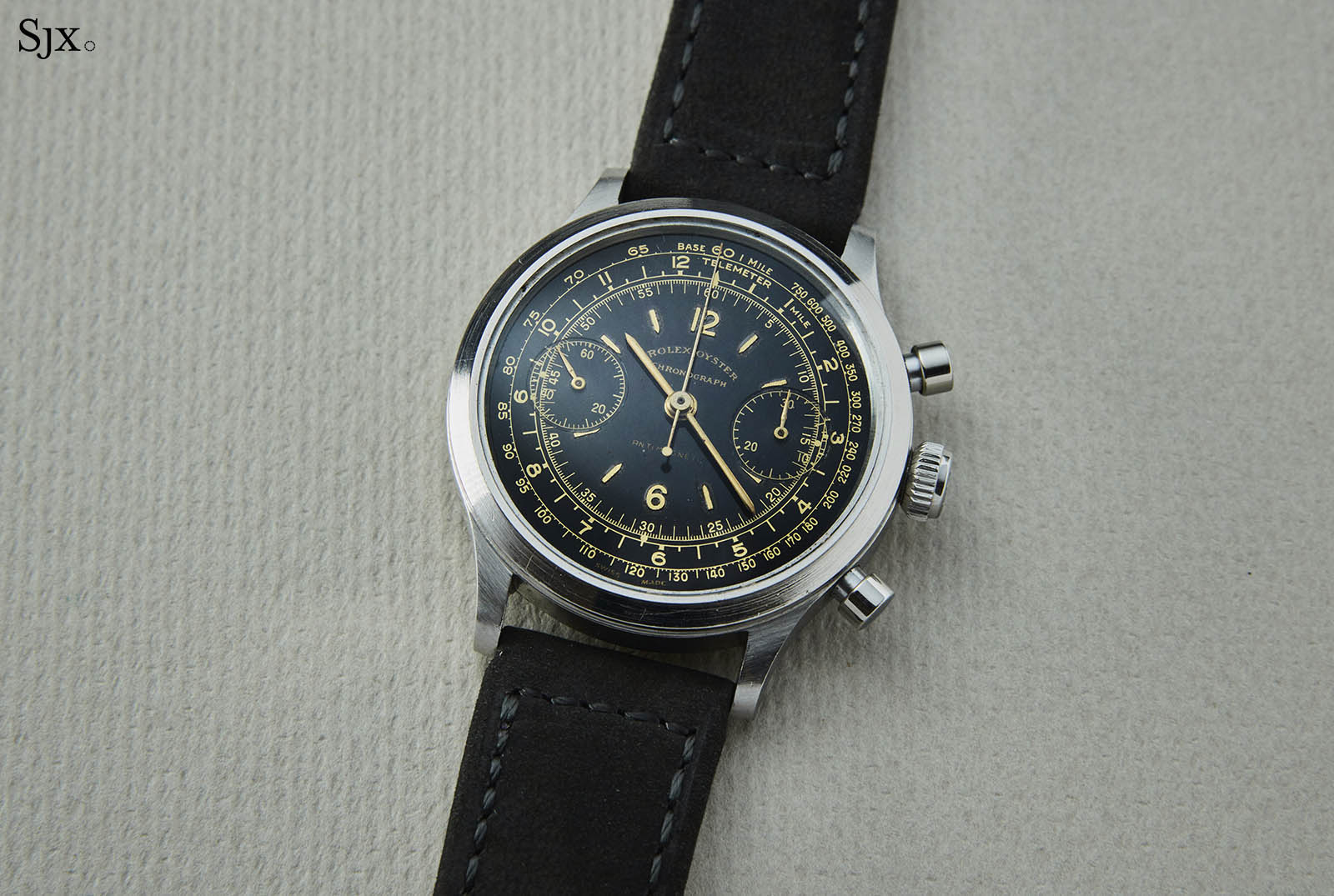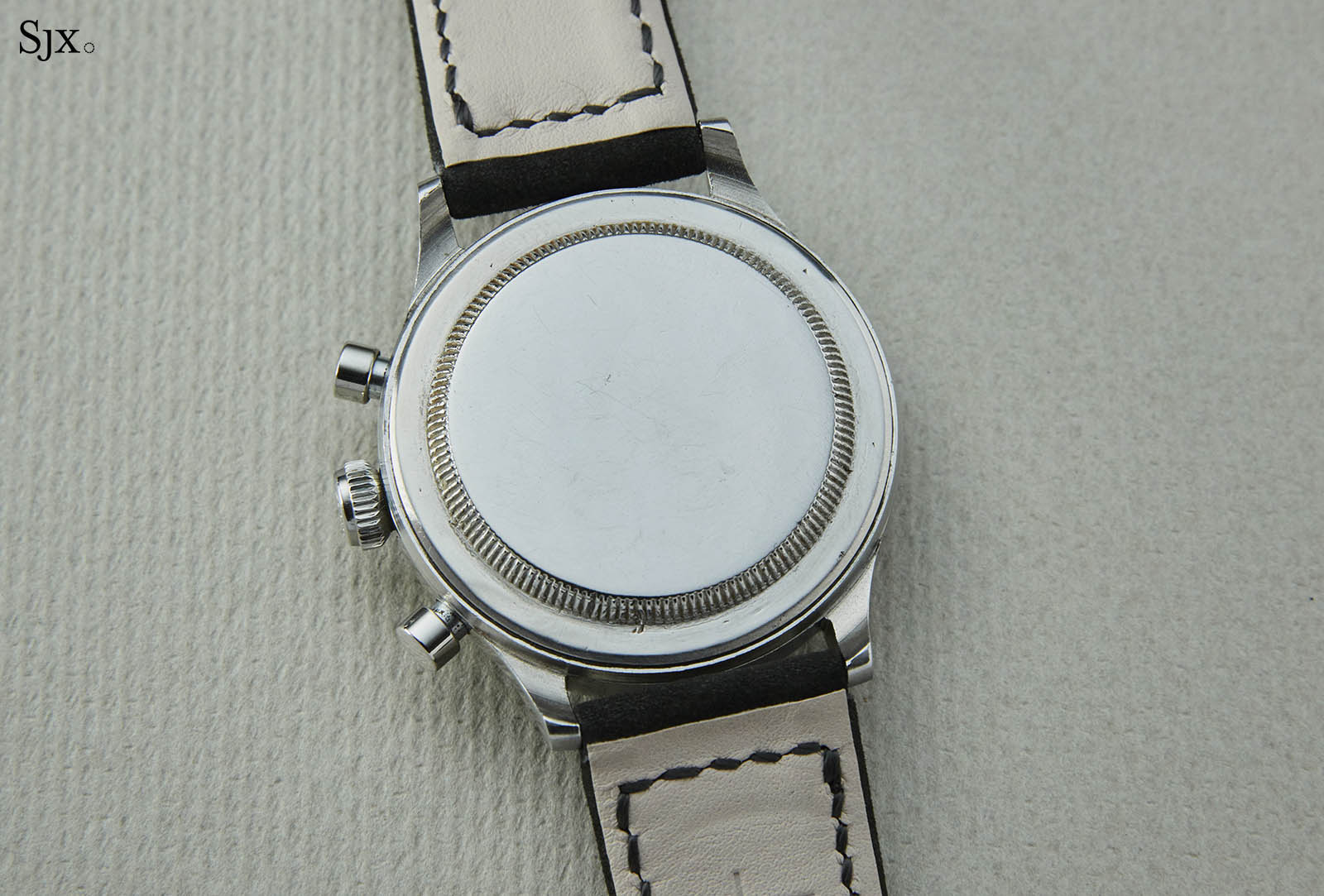 The case measures 35mm in diameter and contained the Valjoux 23 column-wheel movement.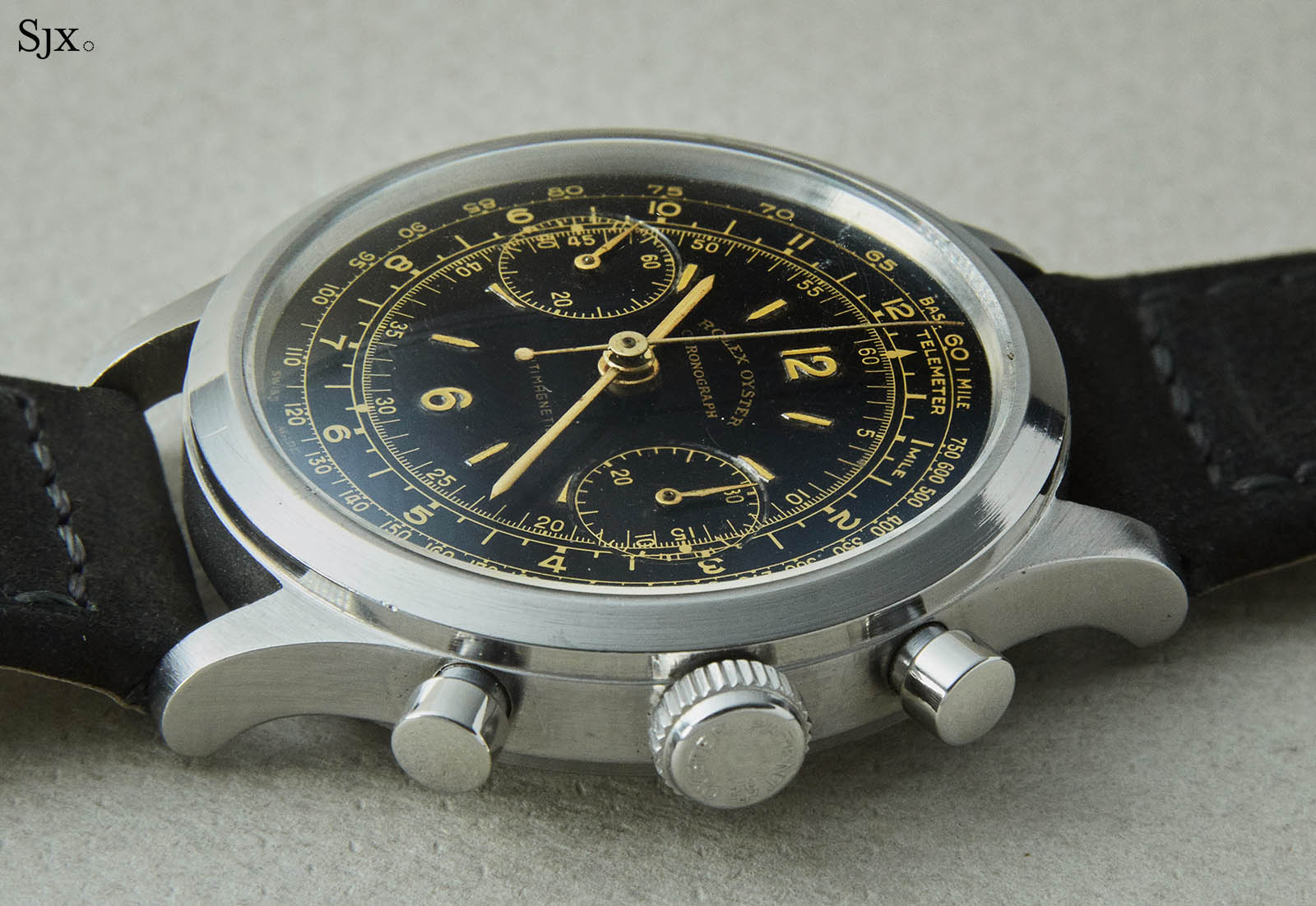 This particular example has a glossy black dial with "gilt" print, an especially desirable look for vintage watches. It features both a telemeter and tachymeter, and is notable for another reason: the dial type is similar to that found on most ref. 3525 watches Rolex offered, via mail order, to British prisoners of war during the second world war. And so another nickname for the ref. 3525 is the "POW".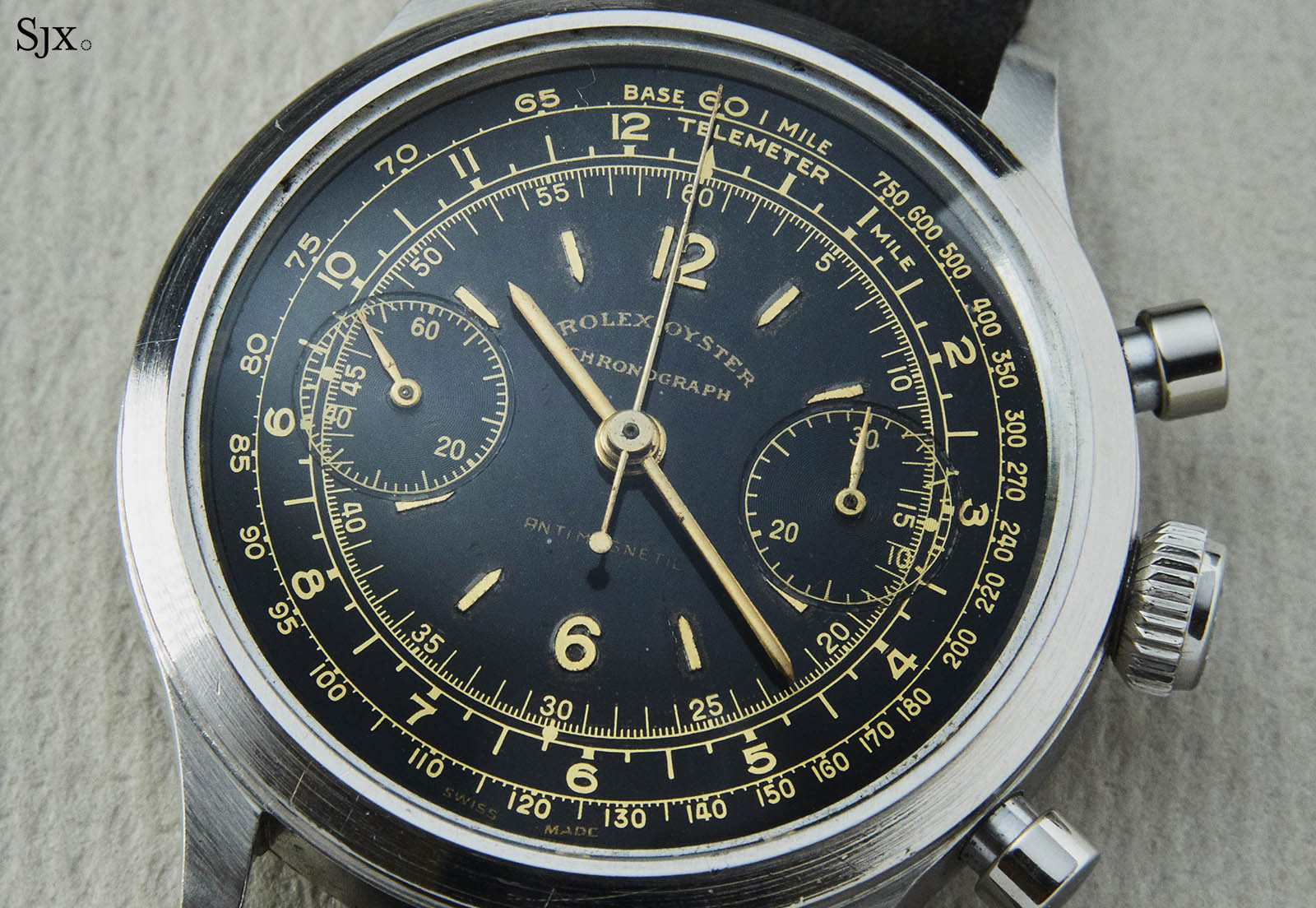 This example is well preserved inside and out. It has an estimate of HK$400,000-620,000, or US$50,000-80,000.
---
Lot 843 – Eberhard "pre Extra-Fort" split-seconds chronograph
Commonly found as a plain chronograph, the Eberhard "pre Extra-Fort" is unusual amongst vintage chronographs of the period for being exceptionally large for its time, with a case of 39.5mm. The "pre Extra-Fort" gets its name from the fact that it was produced before the Extra-Fort chronograph launched in 1947 that was identically large in size. The other defining feature of the two was the unusual function of allowing the chronograph to be locked while running via the sliding button at four o'clock.
This particular watch is a "pre Extra-Fort" with something extra – a split-seconds hand, controlled via the button that's co-axial with the crown. And the deceptively ordinary pusher at four is actually a slide that, when activated, stops the time and locks the chronograph, preventing accidental reactivation of the stopwatch.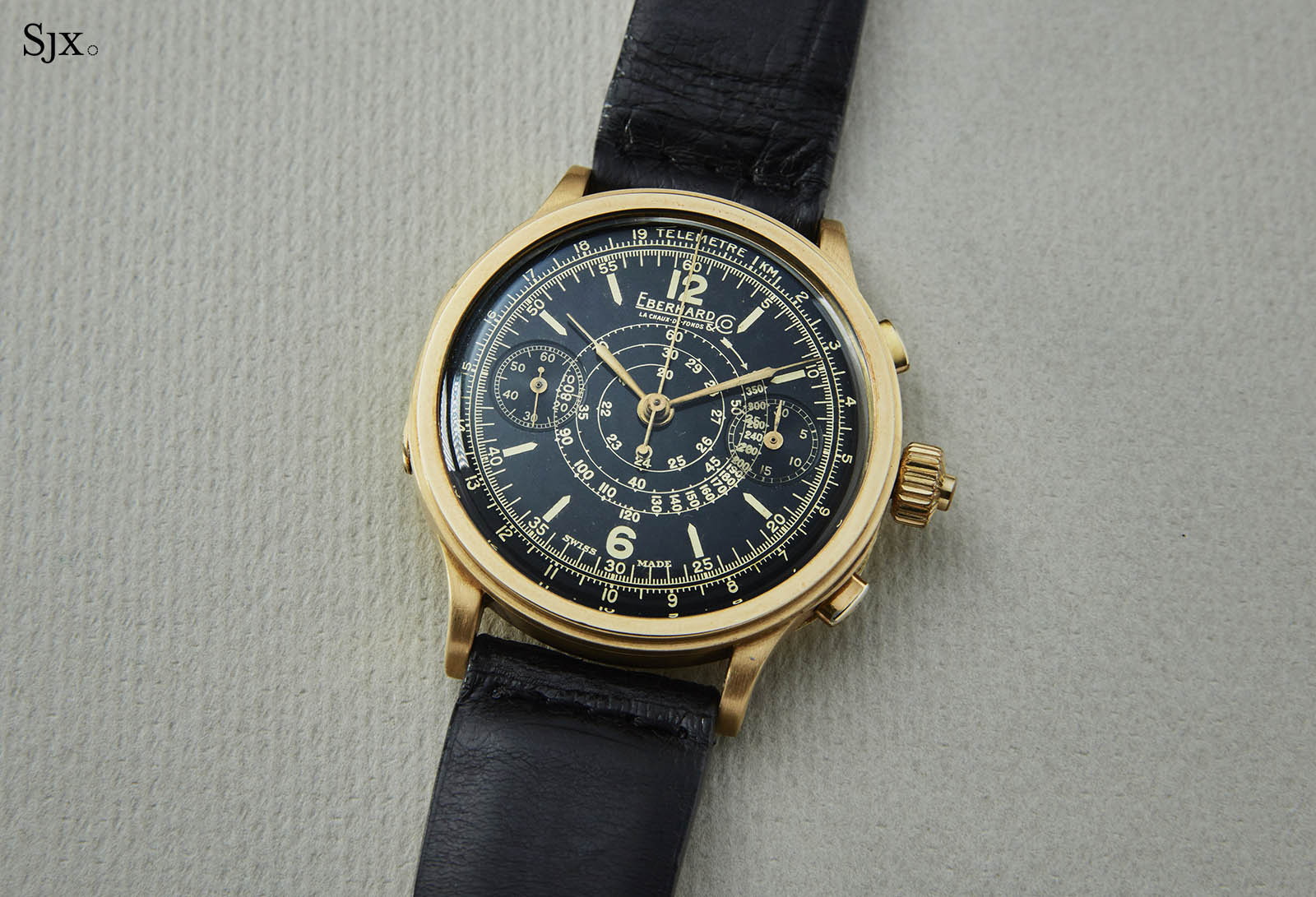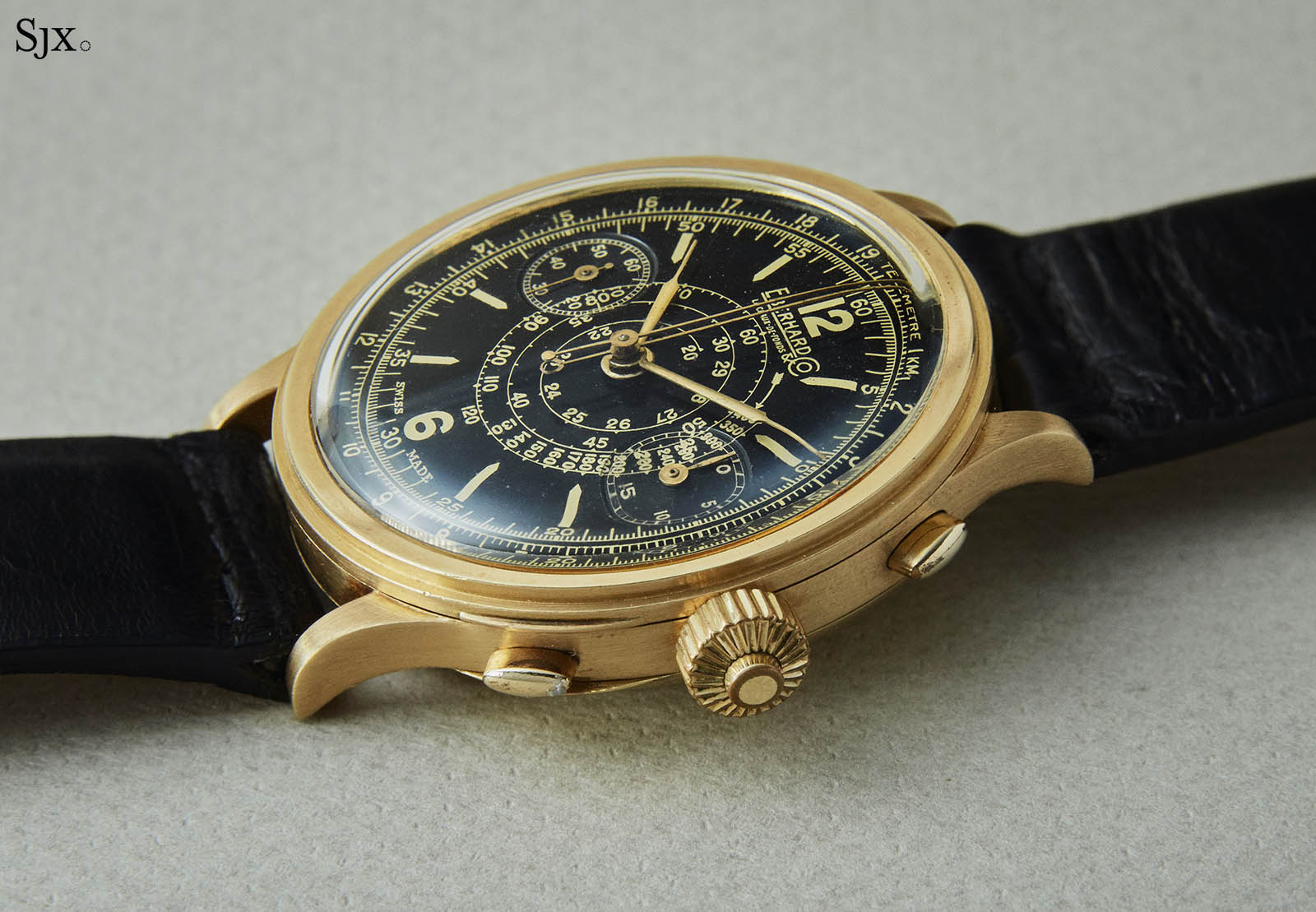 While "pre Extra-Fort" watches are found in a vast variety of dial configurations, most share a quality that distinguishes them from later Extra Fort chronographs – pleasingly busy dials covered in multiple scales. This particular example features a glossy "gilt" dial with the "snail" tachymeter in the centre, with an outer track for the telemeter.
Considering its age, the watch has been preserved in excellent condition, with the 18k gold case retaining its original form, including the stepped bezel. And like all "pre Extra-Fort" chronographs, this has a double-hinged case, allowing both the bezel and back to be lifted, under which is a Valjoux 86.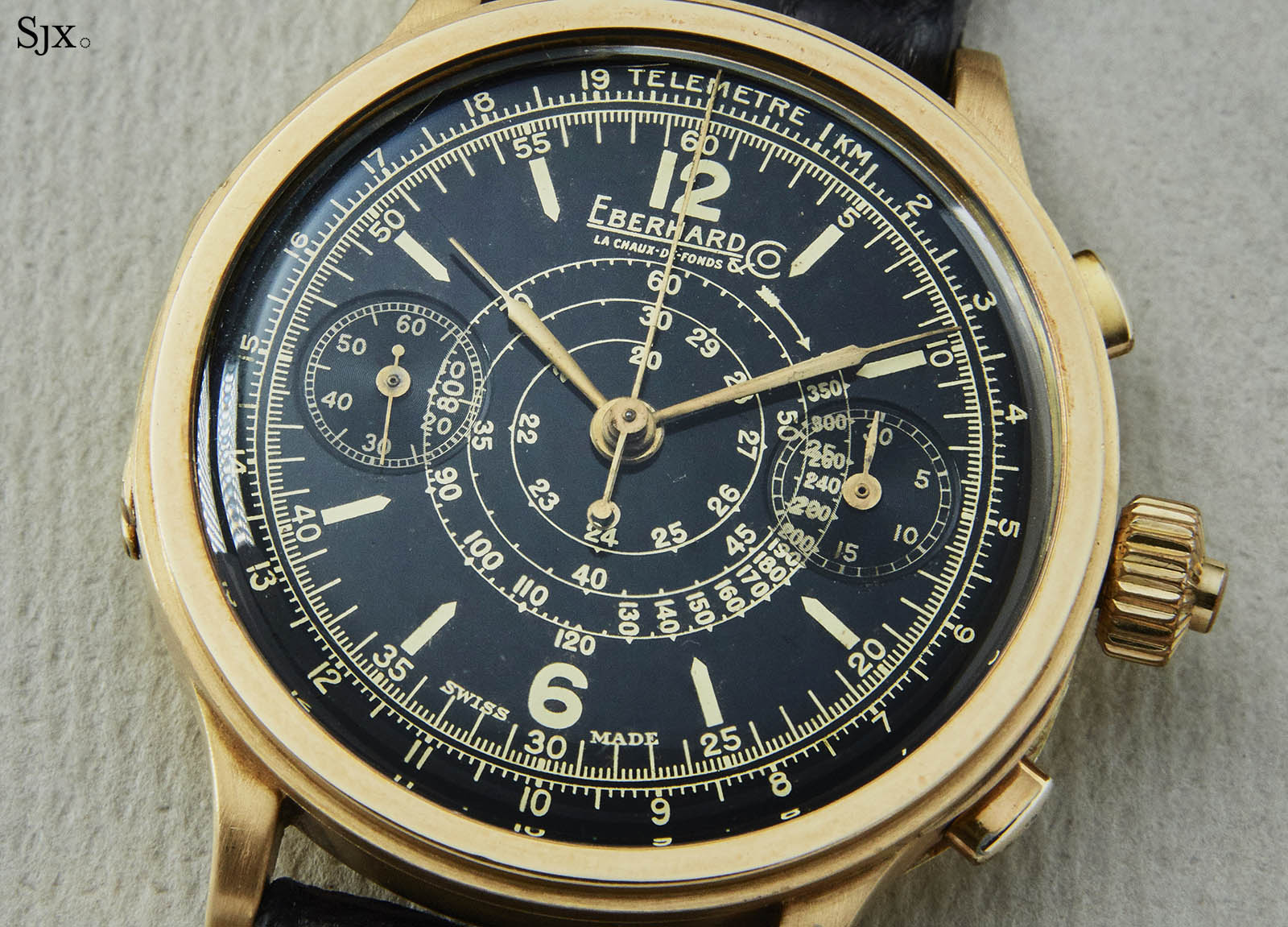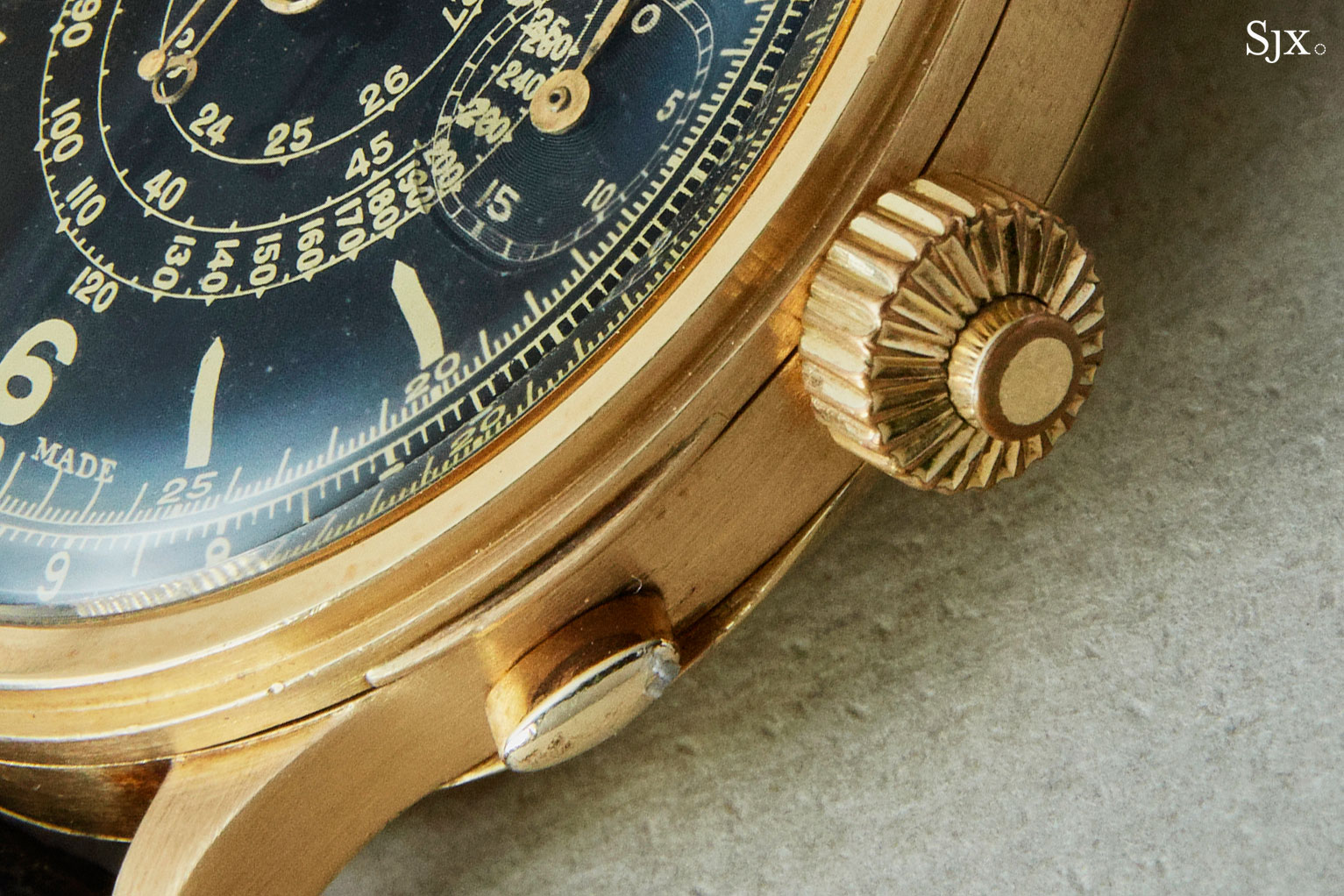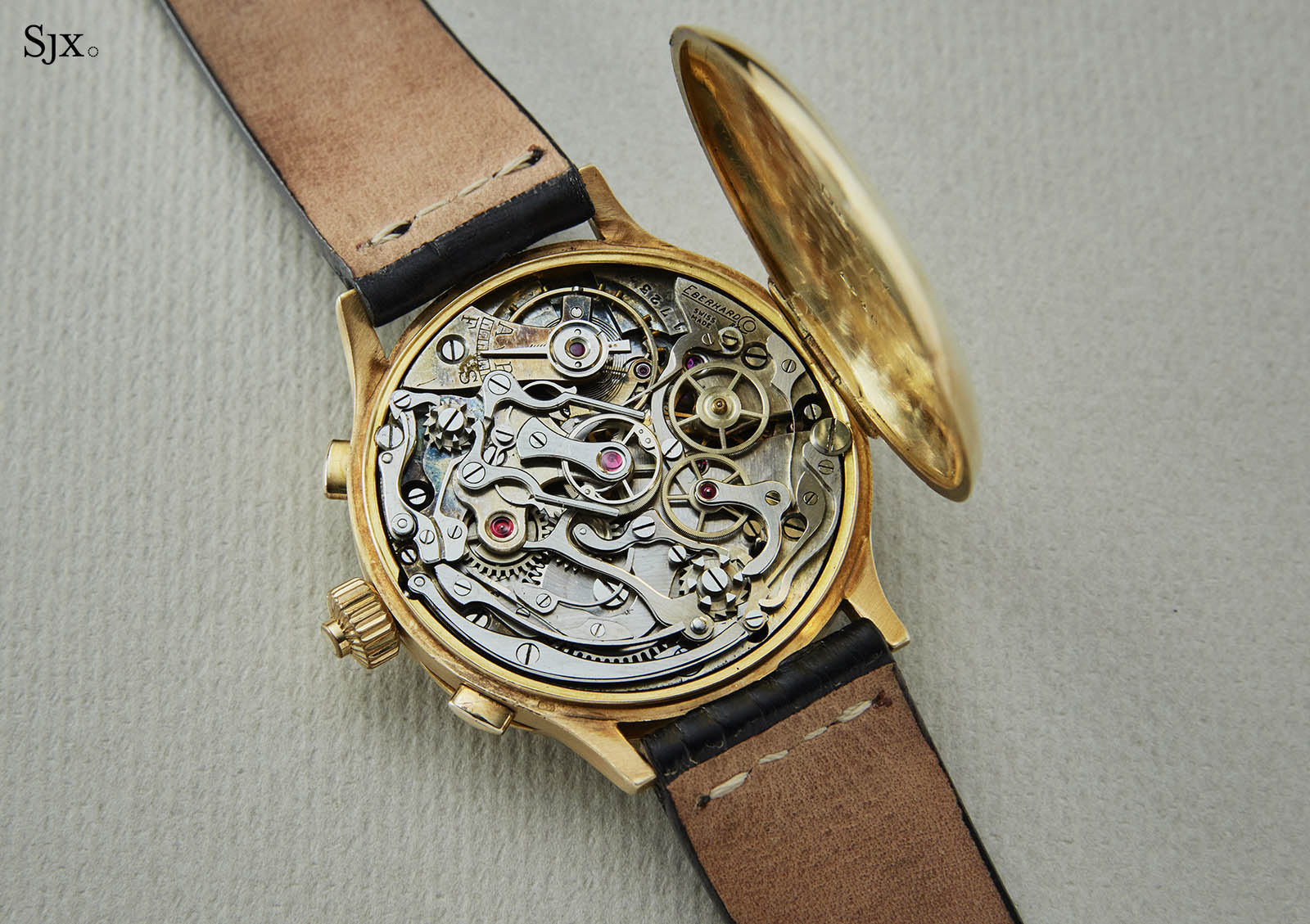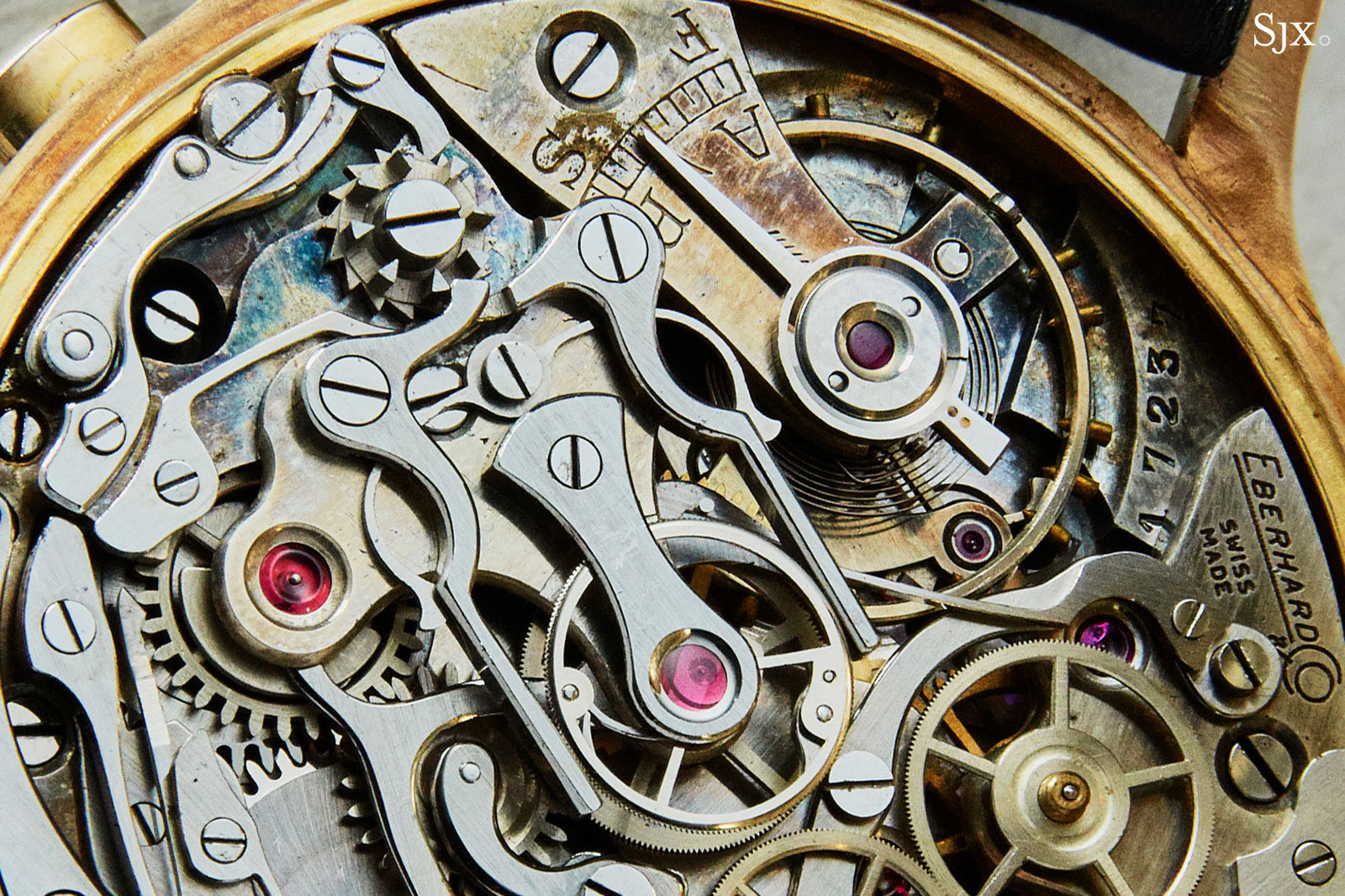 This has an estimate of HK$350,000-520,000, or US$45,000-65,000.
---
Lot 844 – Patek Philippe ref. 1463 "Tasti Tondi" in pink gold
A sports watch sale wouldn't be complete without Patek Philippe's first sports, or at least sporty, chronograph. Conceived for the midcentury gentleman sportsman, the ref. 1463 was the first water-resistant chronograph by Patek Philippe, thanks to its screw-down case back and "pump" pushers; its nickname, "Tasti Tondi", is Italian for "round buttons".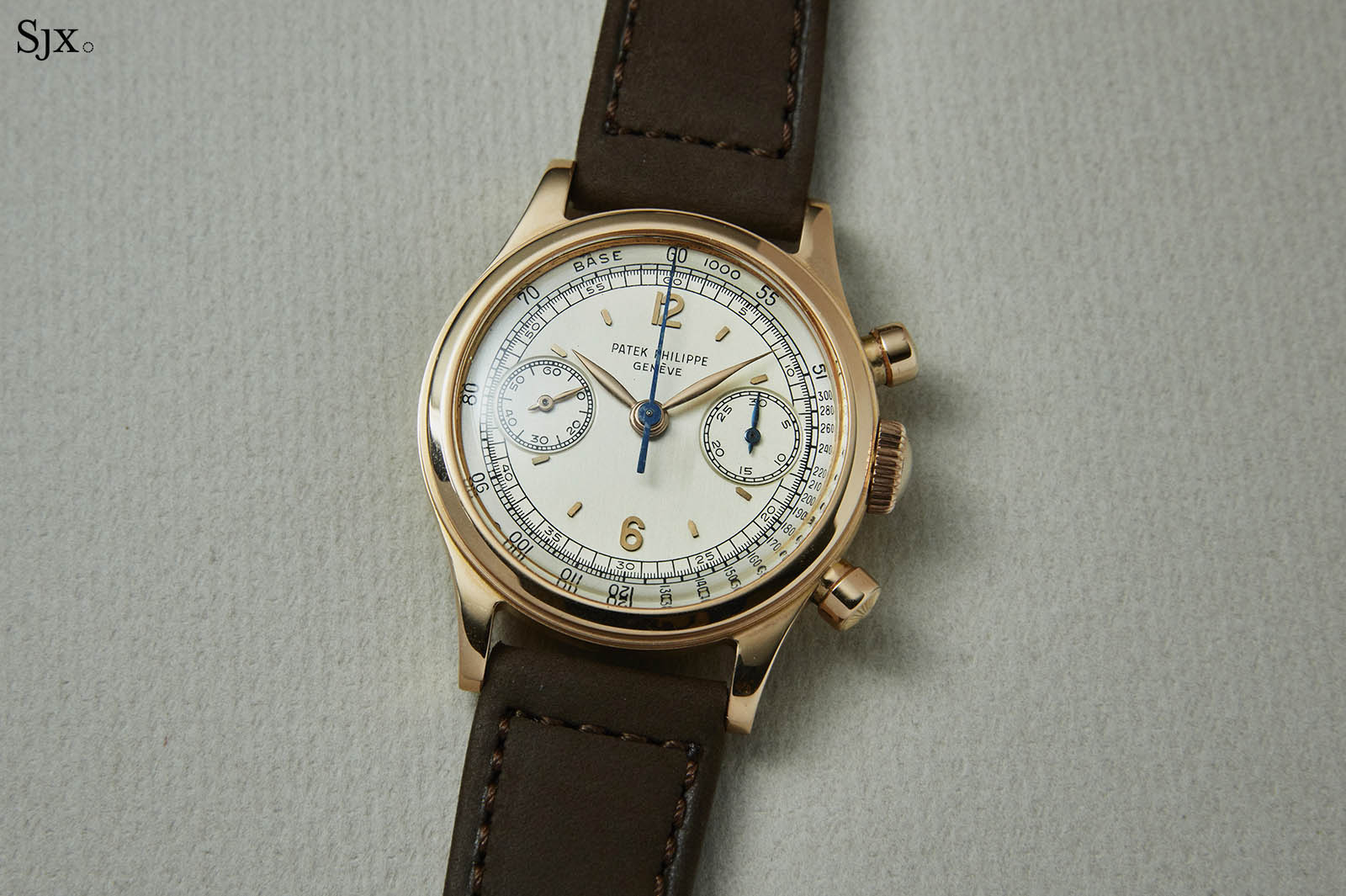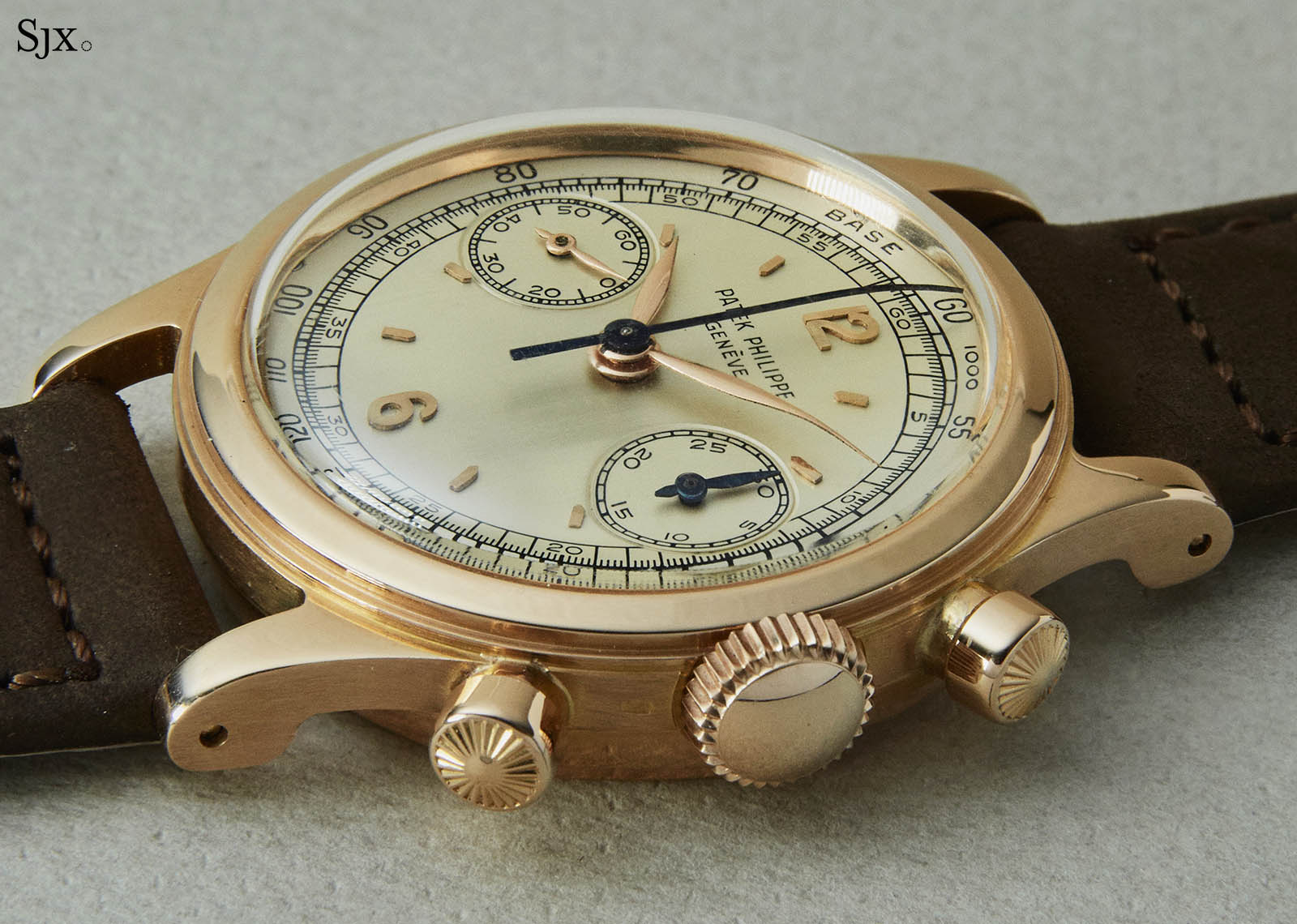 Though enough were made (widely believed to be 720 pieces in total) that a ref. 1463 appears at every major auction, this example is in pink gold, a rare metal for any vintage Patek Philippe and especially so for this reference.
It has a clean, subtly two-tone dial with Arabic numerals and leaf-shaped hands.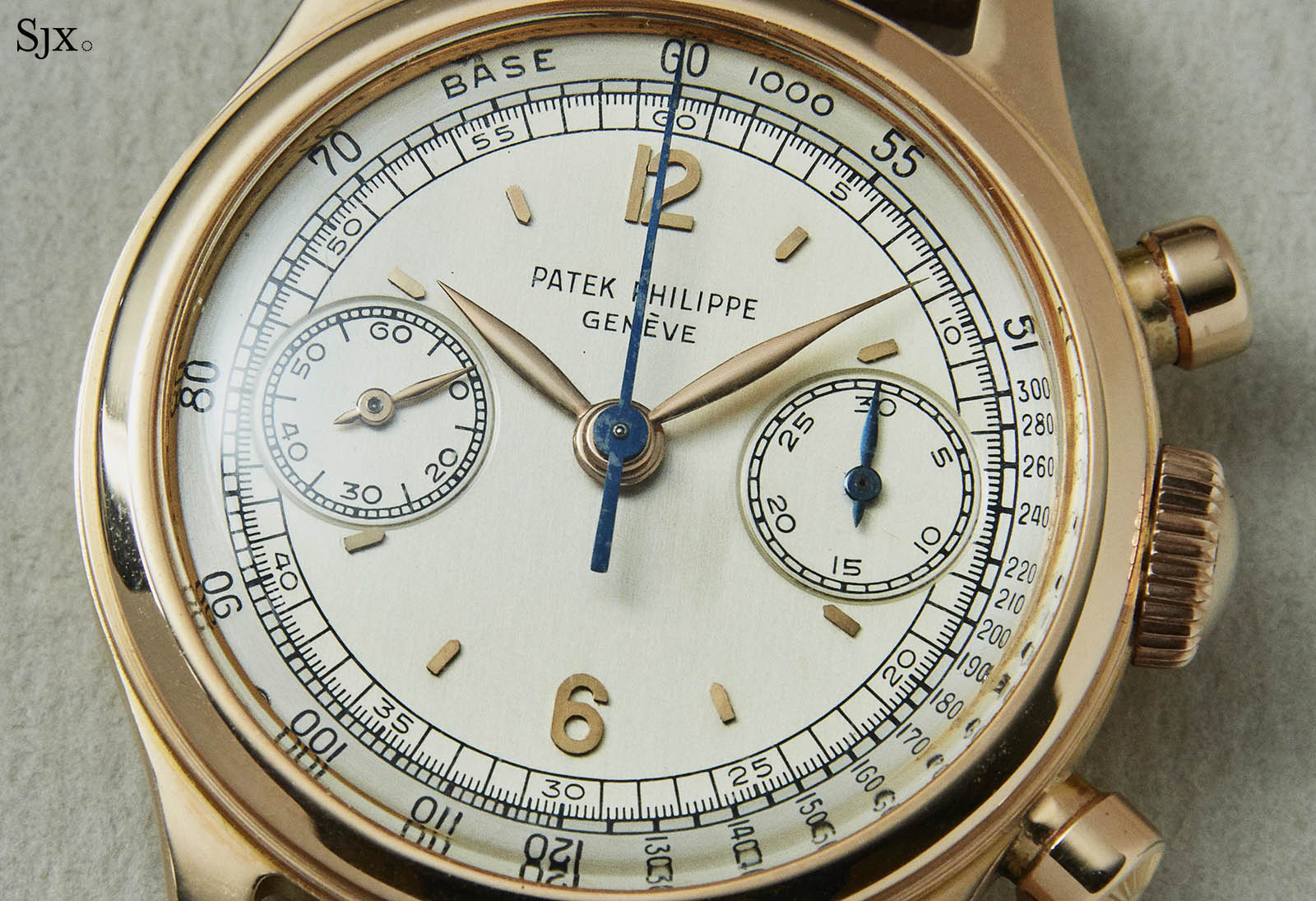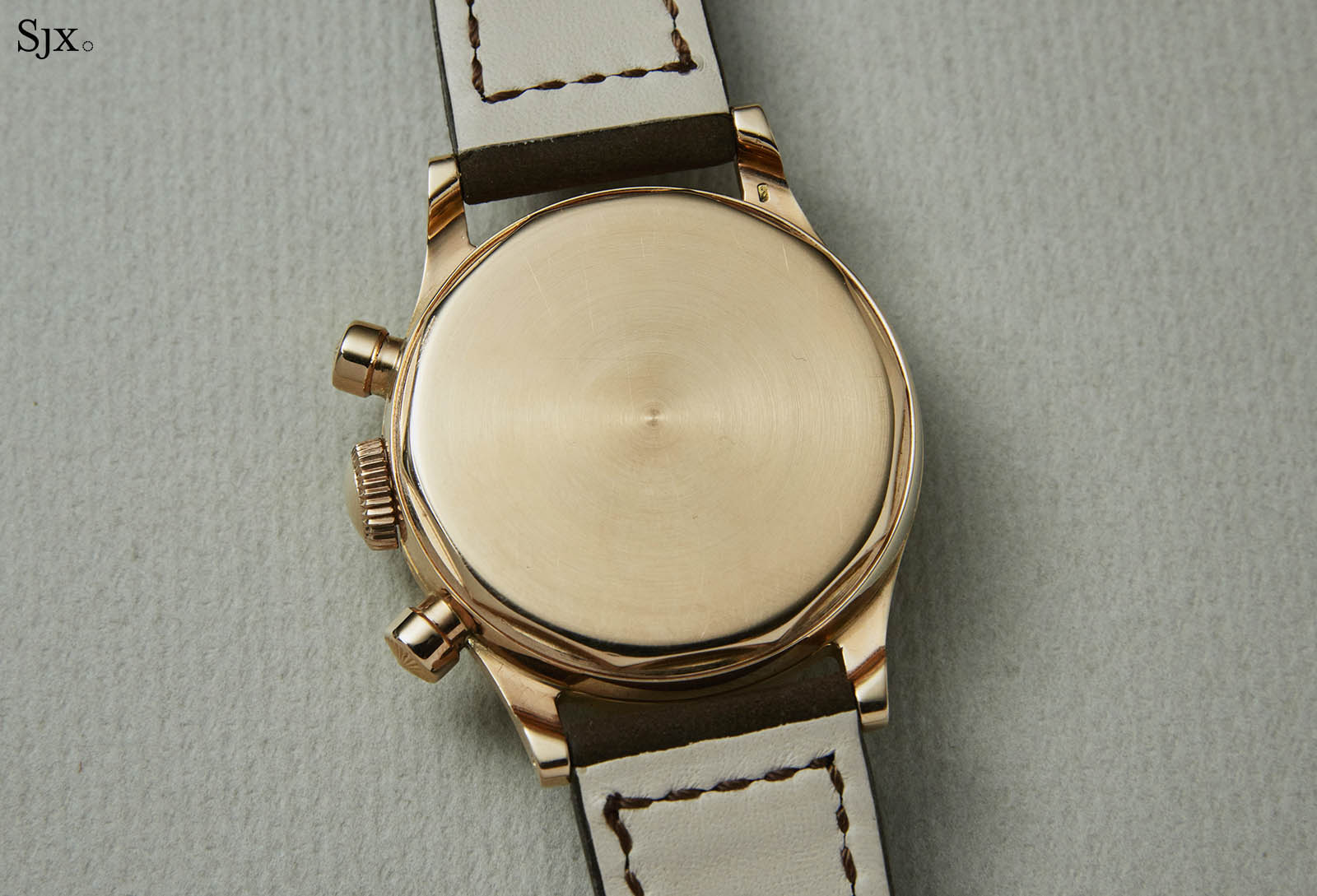 The watch is in excellent condition, with the hallmarks strongly visible on the dial. On top of that, the watch is fresh to the market, with an archive extract from Patek Philippe confirming that the watch was produced in 1952 and sold in 1954. It has an estimate of HK$2.3-4.0m, or US$300,000-500,000.
---
Lot 859 – Rolex Oyster Chronograph ref. 6234 "pre-Daytona"
Prior to the introduction of the Daytona in 1963, Rolex honed their Oyster chronographs, beginning with the earliest ref. 3525 "Monoblocco" above, and culminating in the ref. 6238 "James Bond", so named after George Lazenby wore one in On Her Majesty's Secret Service.
In between, in 1955 to be exact, came the ref. 6234, the last model before the introduction of the baton hands and faceted hour markers found on the ref. 6238 and subsequently, the Cosmograph Daytona.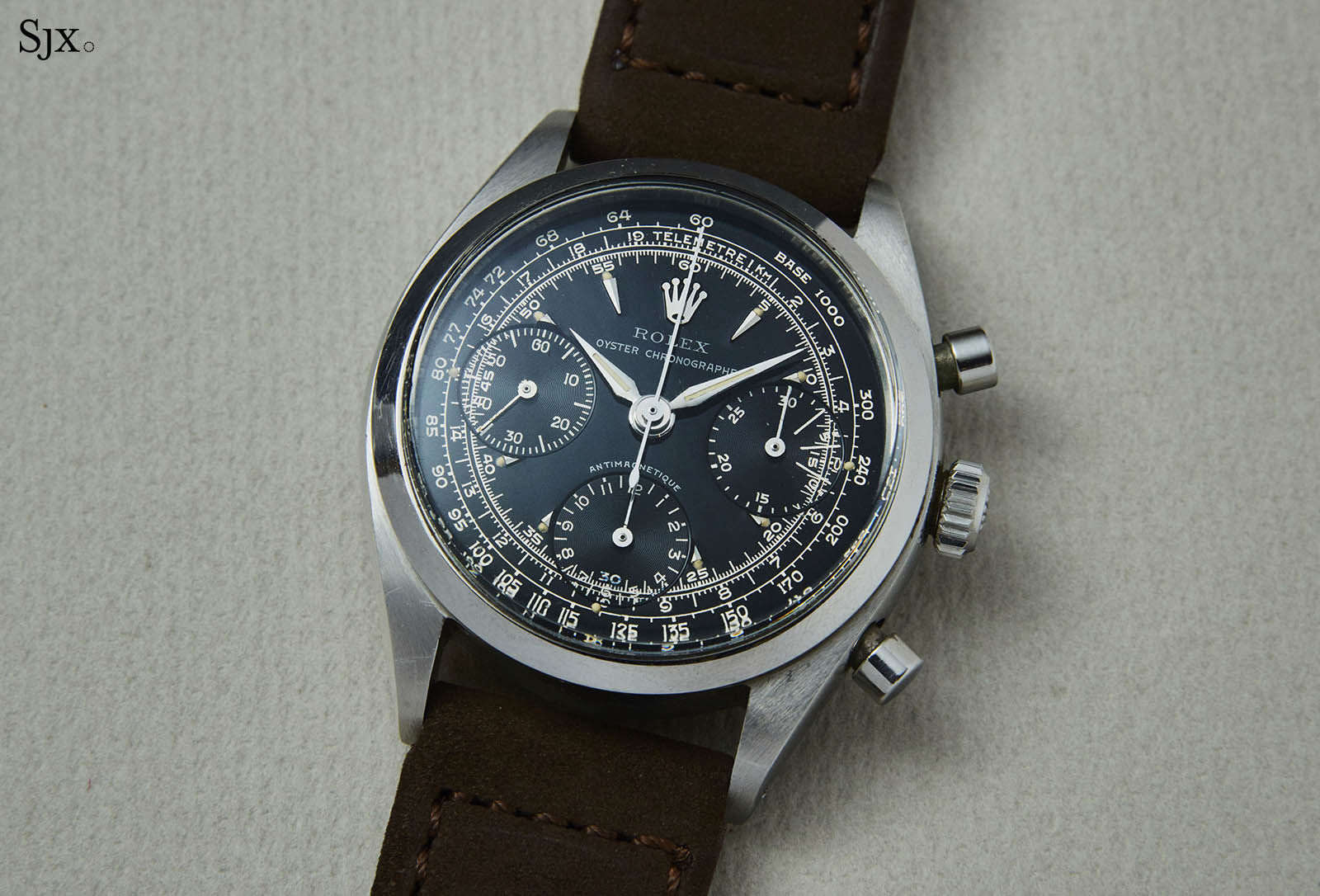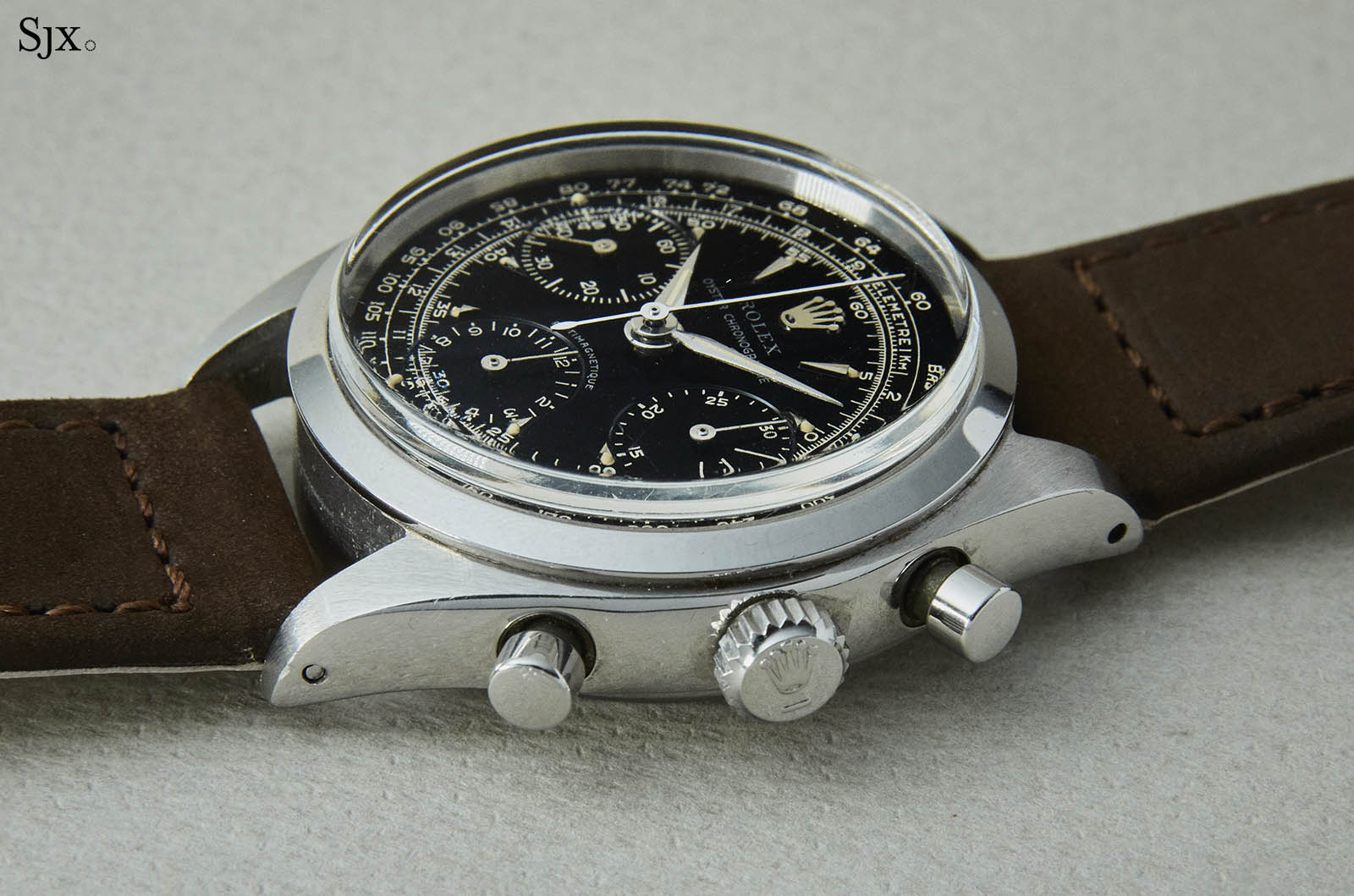 This example of the ref. 6234 has a rare, glossy black dial, with both a tachymeter and a telemeter scale. Additionally, it also has "T-SWISS-T" on the edge of the dial at six o'clock, indicating that tritium was used for the "lume" on the hands and hour markers. That, in turn, means this example was produced in the later years of its relatively short production run, after Rolex had stopped using radium, after it was found to be dangerously radioactive.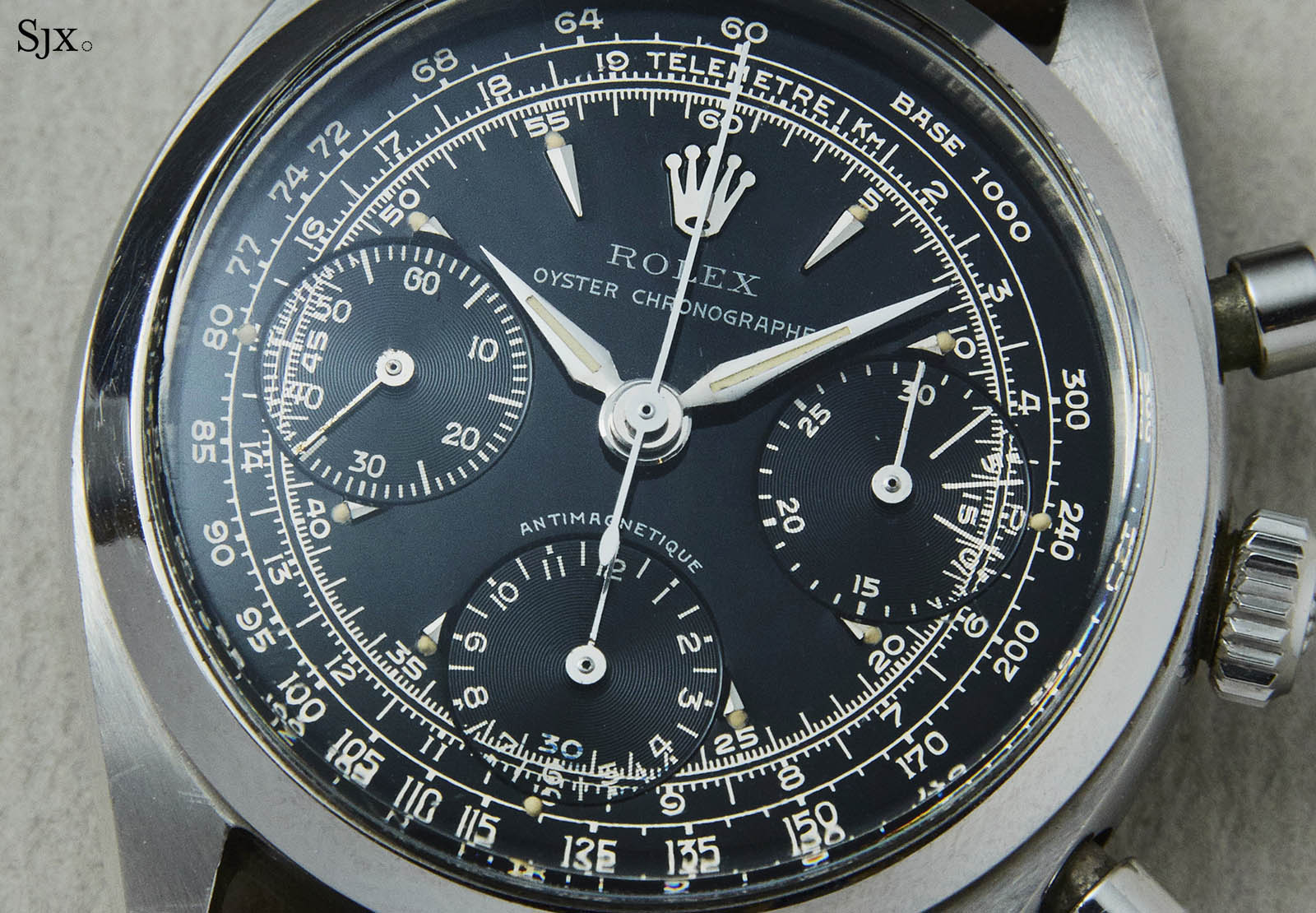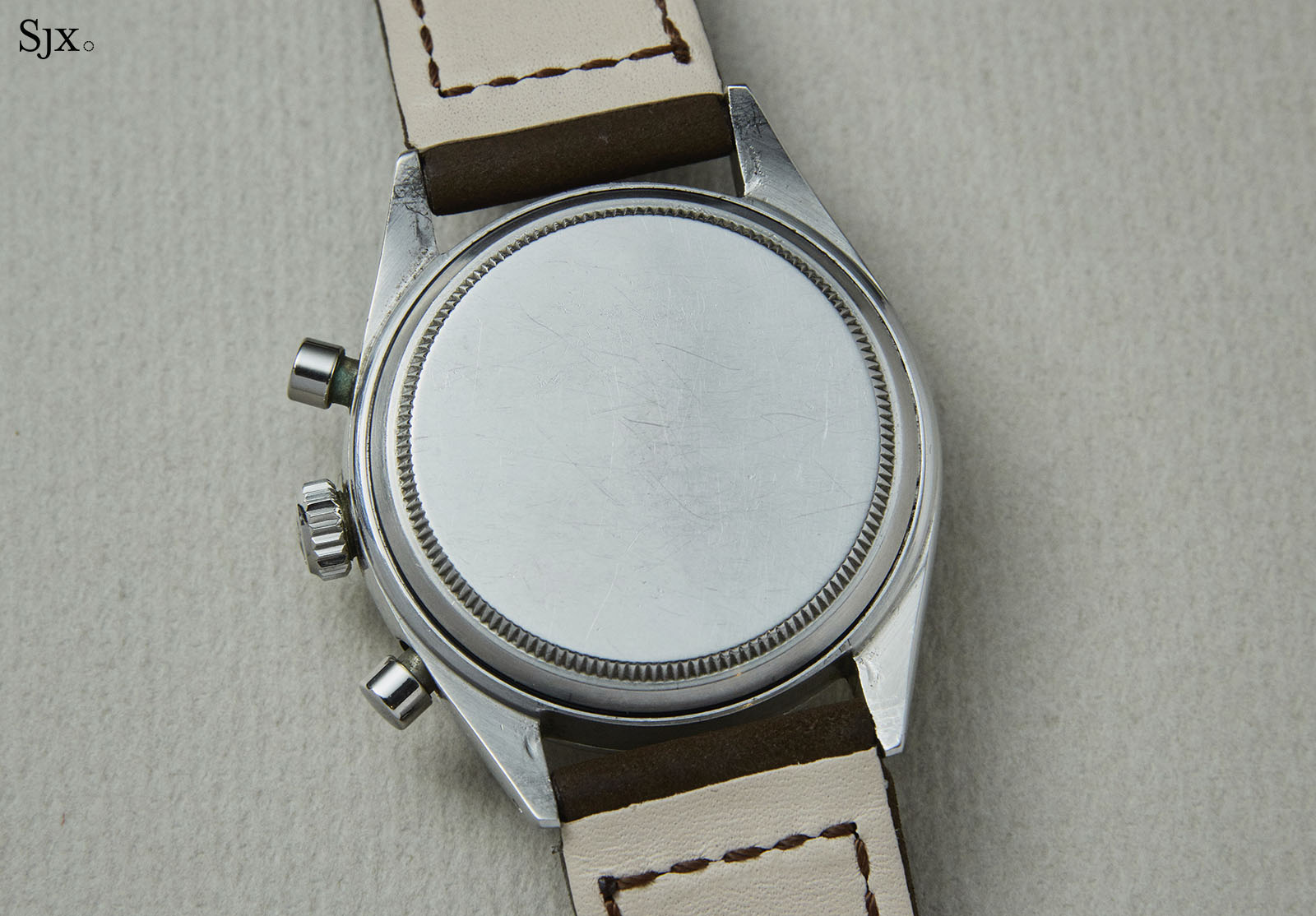 The "pre-Daytona" has an estimate of HK$2.0-4.0m, or US$250,000-500,000.
---
Lot 869 – Patek Philippe ref. 2499 "Fourth Series"
While not widely considered a sports watch per se, the ref. 2499 is included in the section of the sale dedicated to presentation or prize watches, which includes another Patek Philippe made for the centenary of A.C. Milan.
Unsurprisingly, the Patek Philippe ref. 2499/100 is the top lot in the sale (a distinction it shares with the Submariner "Big Crown" below). The successor of the landmark ref. 1518, the ref. 2499 is arguably the most sought-after perpetual calendar chronograph since anyone started collecting wristwatches.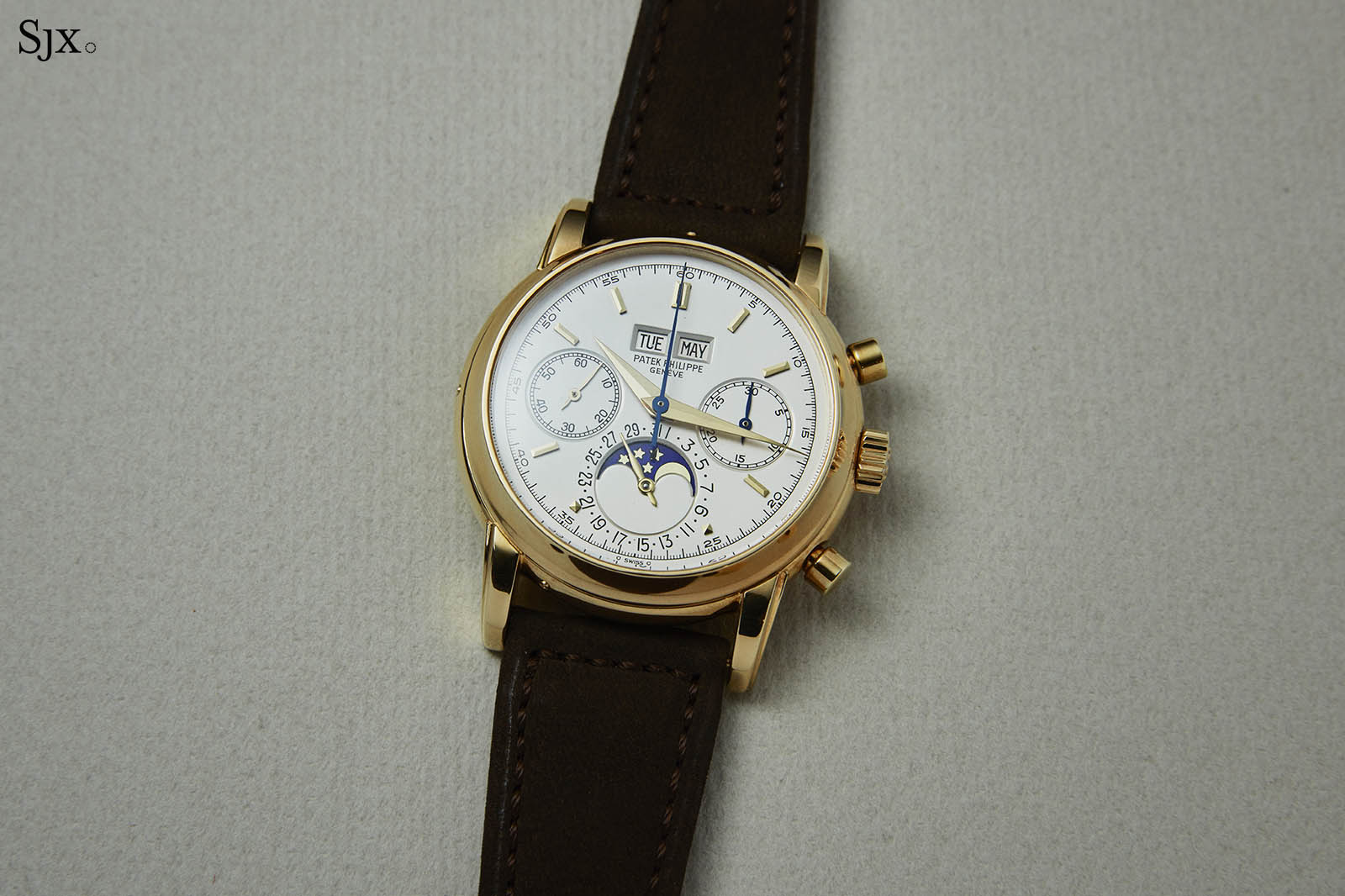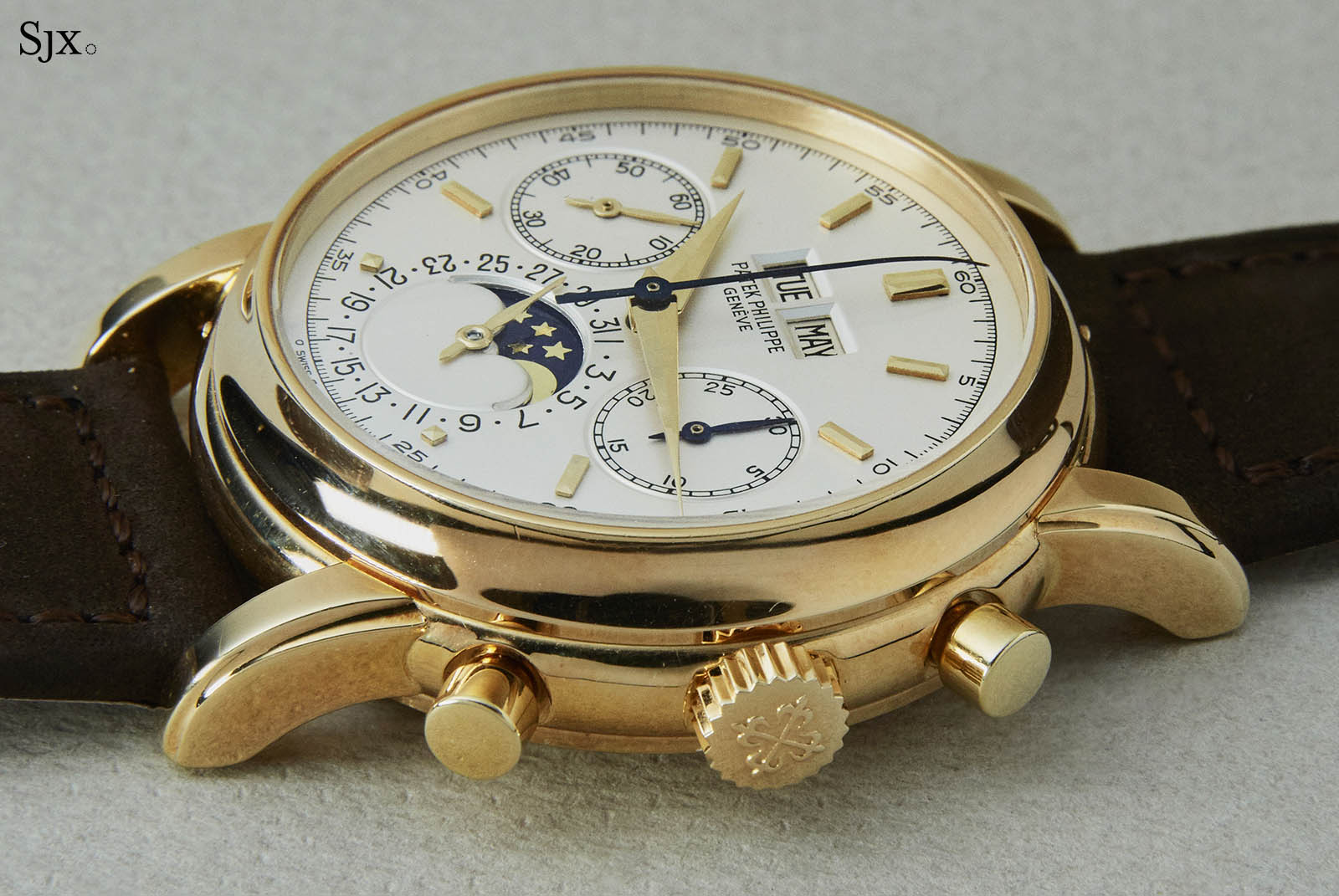 The ref. 2499 was produced from 1951 to 1985, with approximately 349 examples made, divided into four distinct series. Very much a modern watch in its construction, the fourth series was distinguished by its sapphire crystal, and like the third series, baton hour markers. In contrast, the earlier series usually had Arabic numerals and a tachymetric scale.
While the fourth series ref. 2499 is the most affordable, and also most common in yellow gold, this specimen is an exceptionally fine example.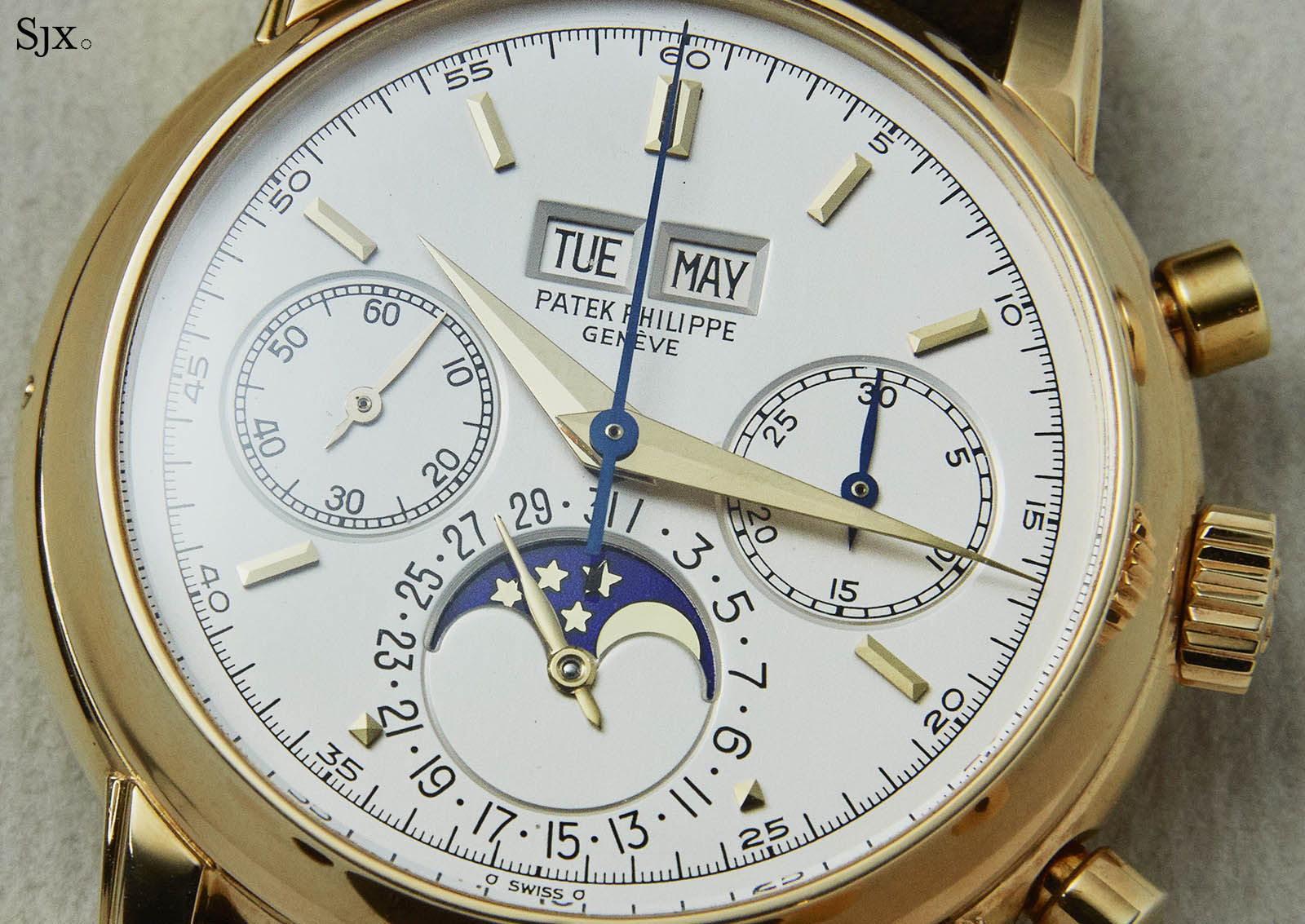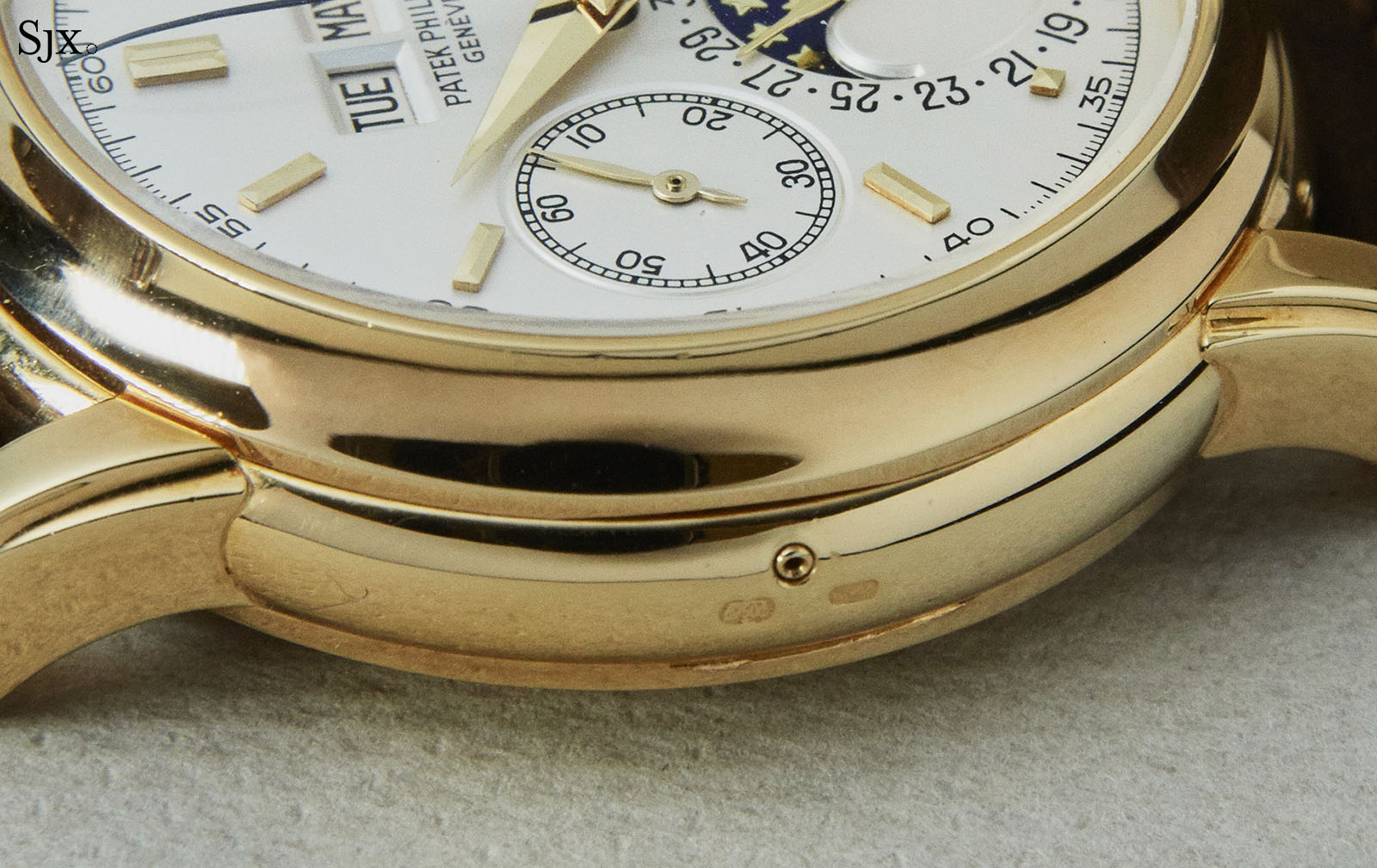 The dial is extremely clean, while the case is in superb condition, retaining incredible definition on its stepped lugs and hallmarks. A hallmark of note is the "18k" stamped on the case back, which is not found on all examples, and was likely due to local import regulations where it was original sold.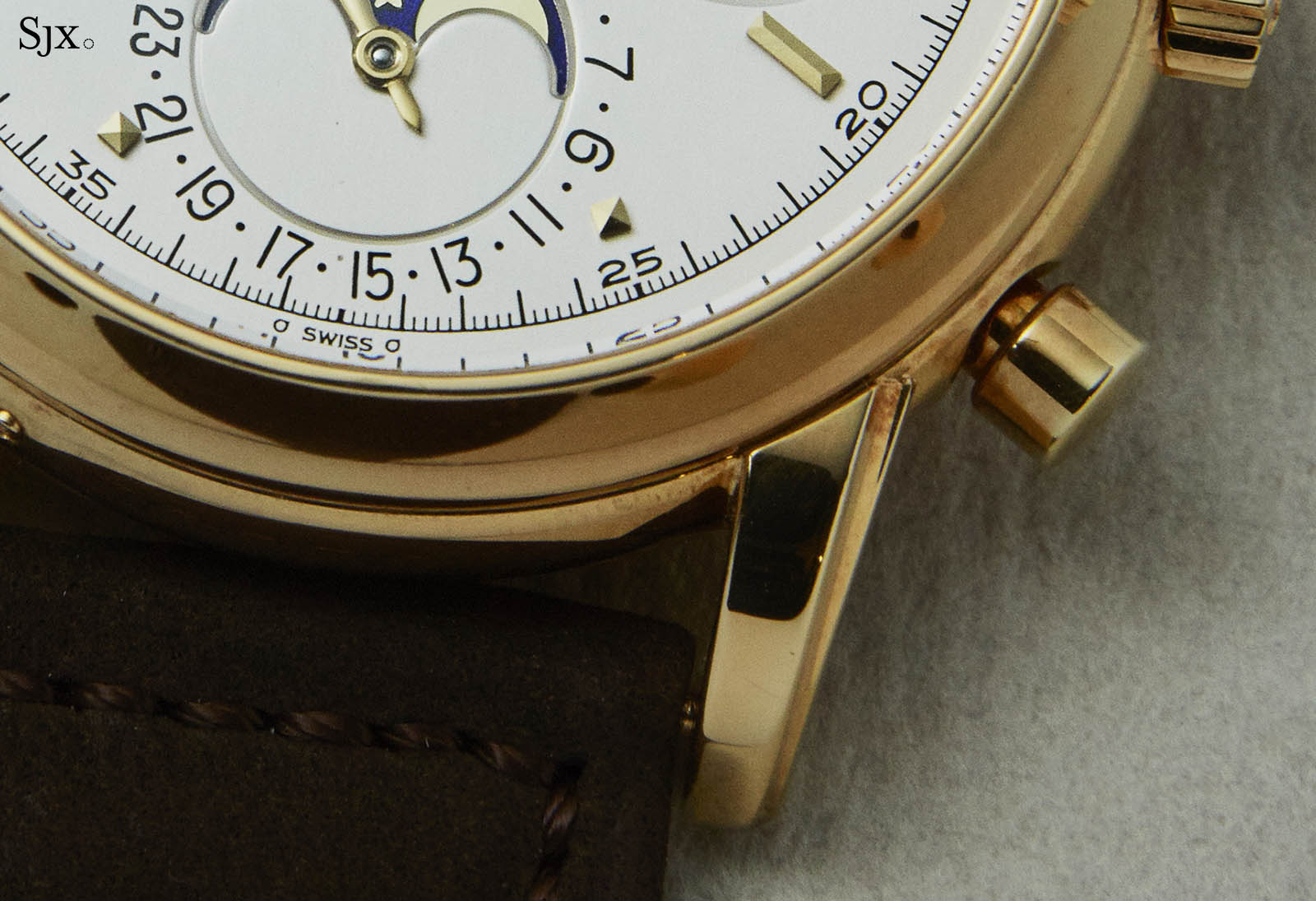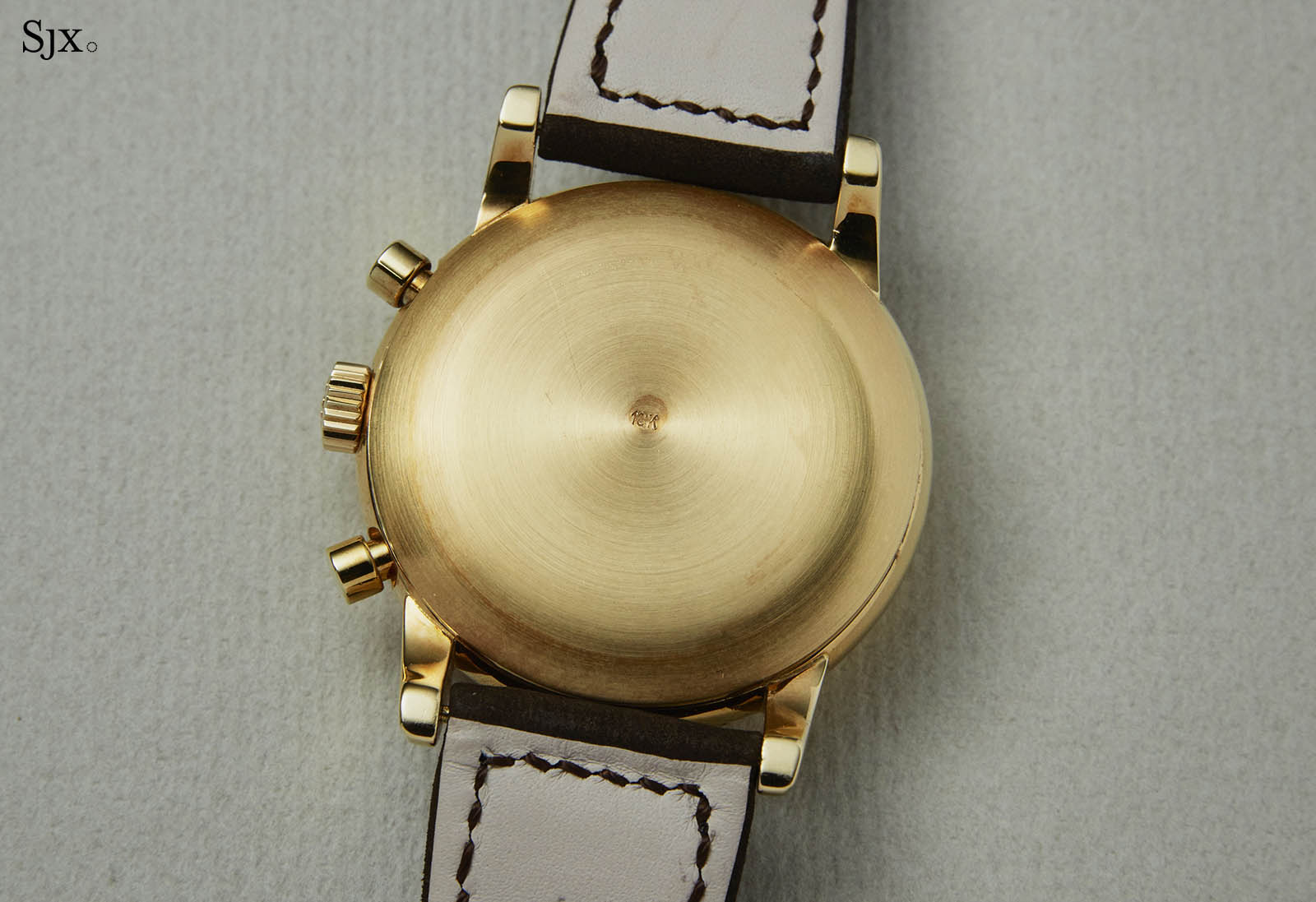 Produced and sold in 1980, this ref. 2499/100 is accompanied by a box, hang tag, and archive extract. It has an estimate of HK$3.2-6.2m, or US$400,000-800,000.
---
Lot 882 – Rolex Submariner ref. 6538 "Big Crown James Bond"
Though the ref. 6538 isn't the first Submariner "Big Crown" Rolex produced – that distinction goes to the ref. 6200 – it is perhaps the most famous, having been worn by Sean Connery in several James Bond films, Dr. No, From Russia with Love, Goldfinger, and Thunderball, which is why it is often regarded as the original James Bond Submariner.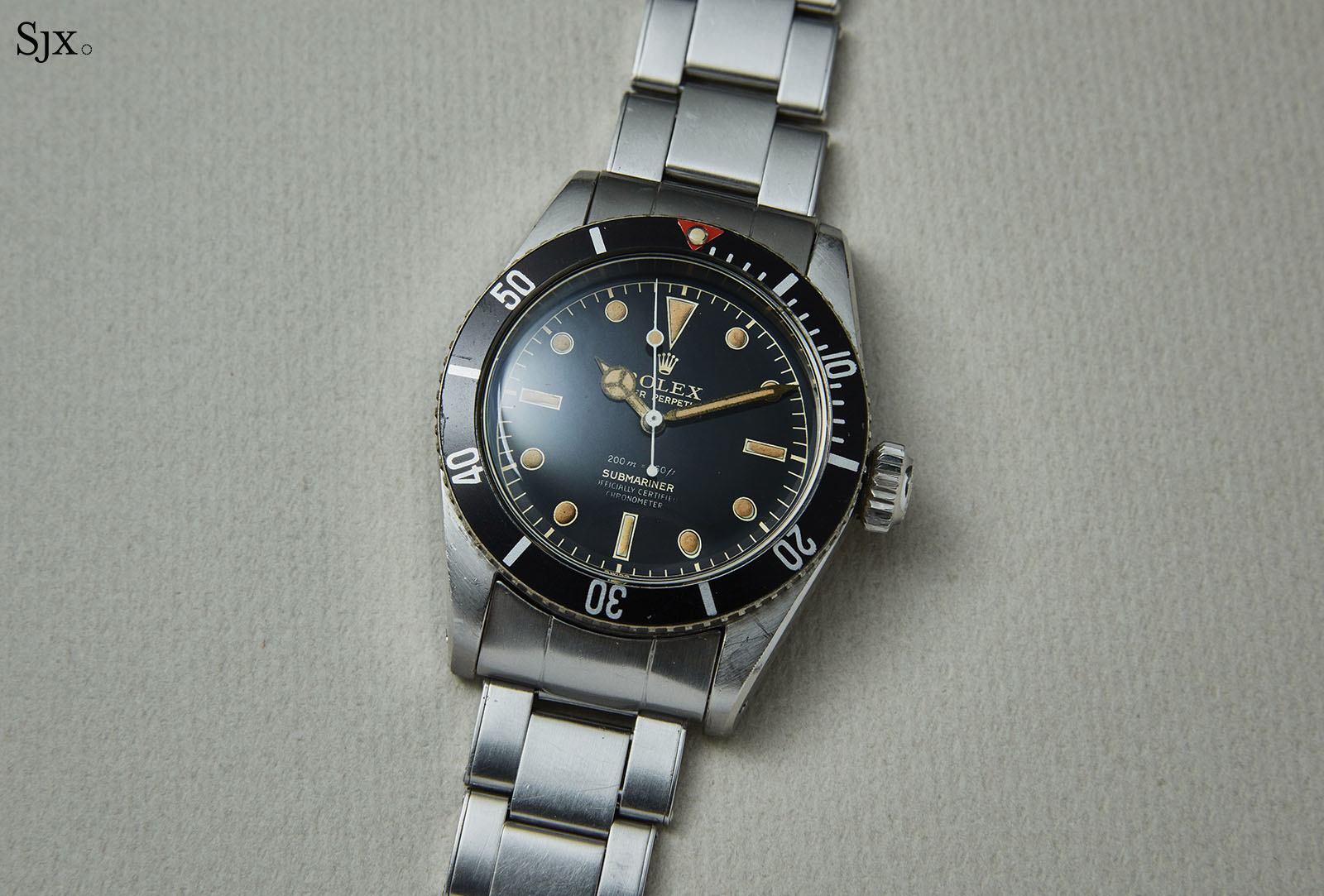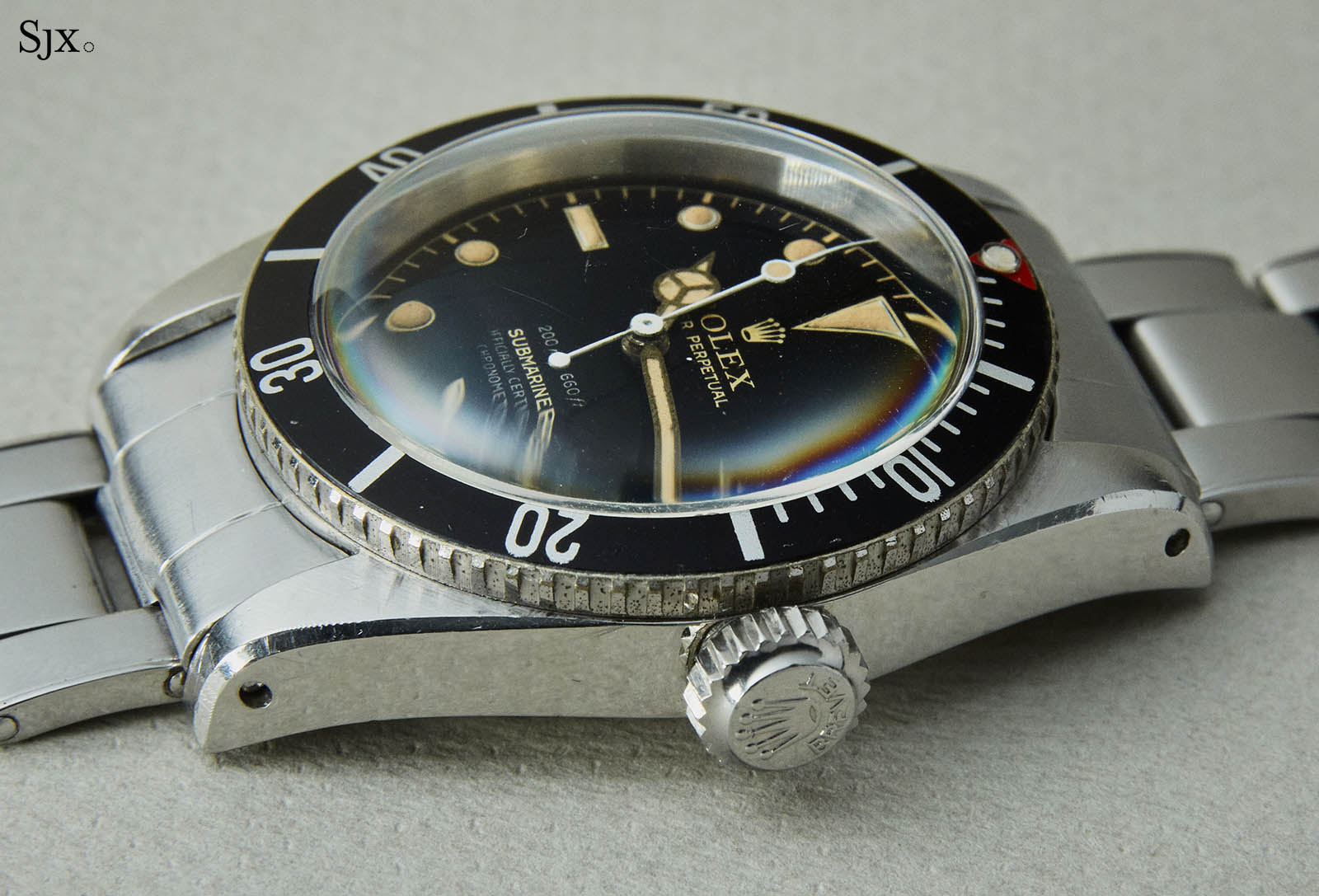 With the frenzy around vintage Daytona chronographs having tapered off, the market's attention has now moved on to Submariners, explaining why this is as valuable as a fourth series ref. 2499.
This is a stunning example with – make no mistake – an original dial, bezel and oversized crown. The bezel in particular is exceptionally well preserved, with both the red triangle as well as luminous "pearl" intact. The black lacquered dial is clean, with puffy radium plots that have aged to a warm hue.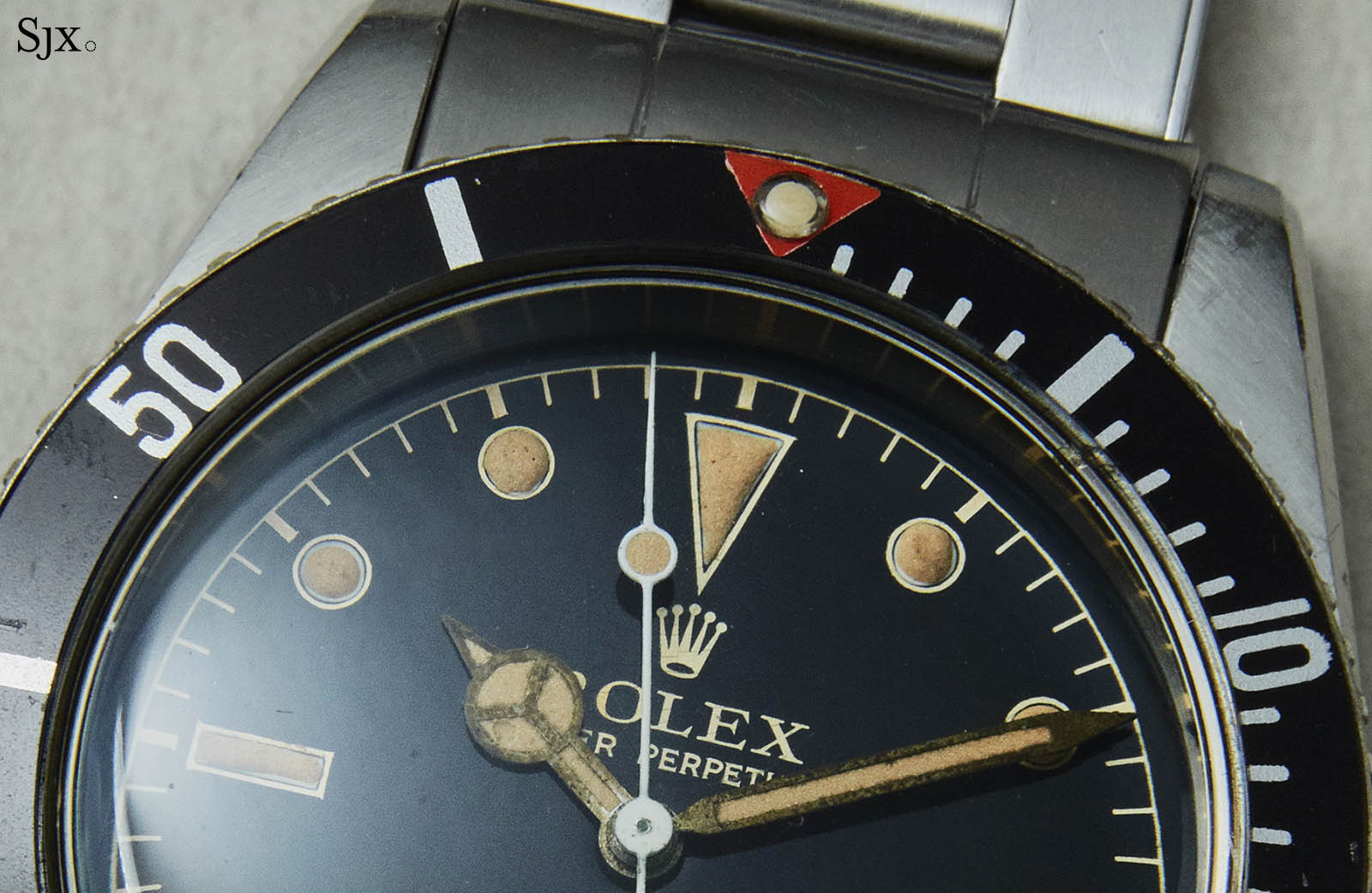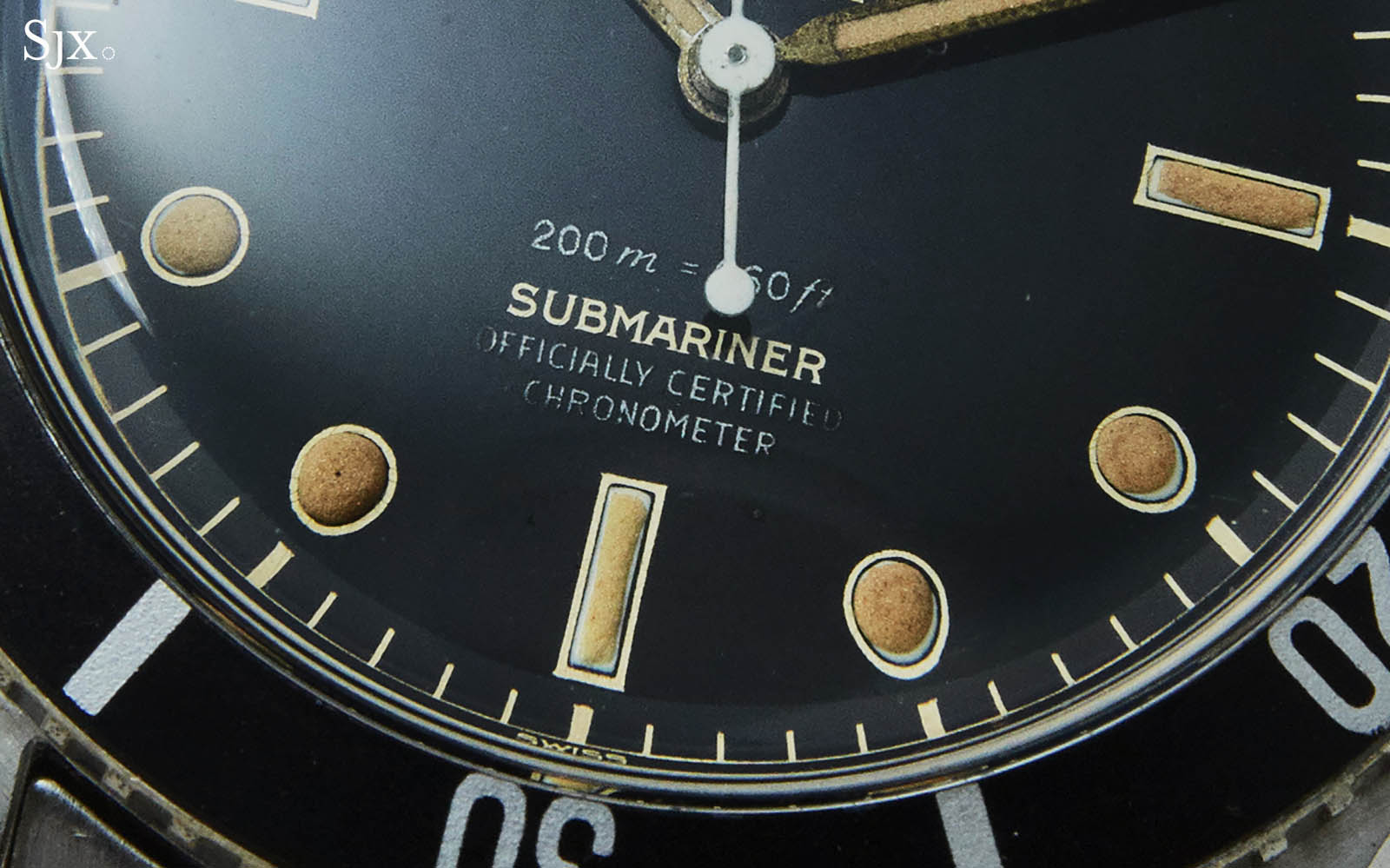 Apart from its condition, what makes it special is that it has four lines of text at six o'clock. While most dials of this reference feature two lines, namely the depth rating and "Submariner, this has an additional two lines for its chronometer certification.
The Submariner ref. 6538 has an estimate of HK$3.2-6.2m, or US$400,000-800,000.
---
Preview and auction
The preview exhibition takes place from May 23 to 27 at the J.W. Marriott hotel in Hong Kong. It is open daily to the public.
The auction will happen at the same location on May 27, starting at 6:30pm. The full catalogue and bidding information can be found here.
JW Marriott Hotel Hong Kong
88 Queensway
Admiralty
Hong Kong
---
Back to top.
---
You may also enjoy these.